Home Gallery How-To Books Links Workshops About Contact
Mercedes SL500 Specifications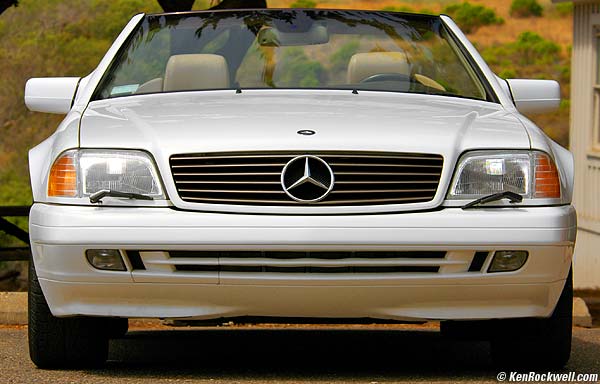 Montaña de Oro, California, July, 2004


Torrey Pines, California, July, 2004
skip straight to comparisons of model years

Palm Desert, California, May, 2004
The only convertible that looks sharp with the top up. Note the perfect flowing line from the top of the door moving rearward.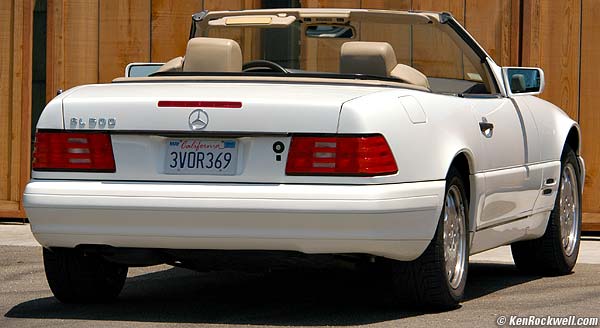 Cambria, California, July, 2004
Projecting perfect proportions from every angle, the R129 SL500 is the crown jewel of the automotive designers' art. Designed with passion and vision, the R129 SL500 looks as astonishing today as when it was introduced.
1997 SPECIFICATIONS
Production Levels:
There were 5,632 model year 1997 Mercedes SL500s sold in the USA.
About 8% were white, making only 451 white 1997 SL500s.
Only some have the optional heated seats.
A smaller percentage still have brown soft tops instead of common black.
Thus this featured SL500 may be rather unique as well as classic.
DIMENSIONS
177.1" long, 71.3" wide and 51.3" tall. This is shorter and wider than you suspect.
4,165 pounds, over two tons of Mercedes-Benz with none of the rollover hazards of SUVs.
Tight 35.4' turning circle for easy U-turns anywhere. The microscopic Mini only turns 7 inches tighter.
Roomy 7.9 cubic foot trunk, carpeted to match the interior. You can use all of its big rectangular space. None of it is wasted with the useless odd shapes and small nooks and crannies of other convertibles. Other convertibles are too shallow to swallow a grocery bag or allow the top to take up much of the trunk. The 1990 - 2002 SL500 has a full trunk with any top configuration, unlike the 2003 - on SL500 and SLK and other brand copy-cats like the Cadillac and Toyota (Lexus) which allow the roof to collapse into your trunk. TRICK: there is a light switch on the inside of the trunk near the latch on the body. It's not visible from behind the car, you can see it from inside the trunk to learn where it is. You use this switch to turn off the light if you choose to leave the trunk wide open in your garage till your next trip. It automatically resets the next time the trunk is closed. TRICK: There is a little black plastic slot on the bottom of the trunk lid visible while open. Insert the end of the strap which lifts the trunk's false floor to keep the false floor raised while working with the spare.
21.1 gallon fuel tank. My fuel gauge, like most Mercedes fuel gauges, is linear and accurate: each 1/4 tank mark corresponds to 5 gallons, and filling up from the "0" mark takes 20 gallons.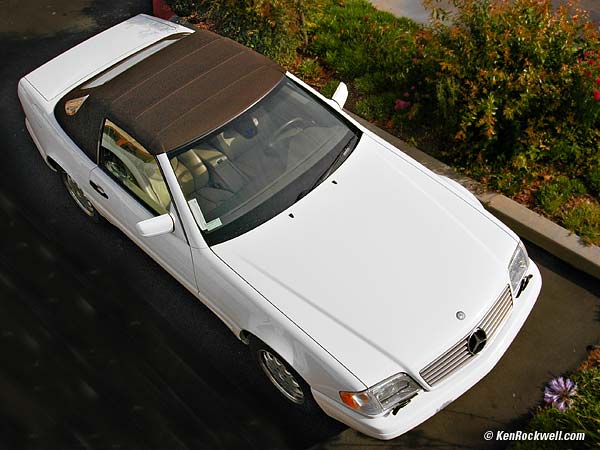 San Luis Obispo, California, July, 2004
1997 SL500 with almost unheard of brown soft top (click to enlarge)
ENGINE
V-8, 5.0L, 304 CID, DOHC, 32 valves, four cams, Variable Valve Timing (VVT)
347 ft-lbs torque @ 3,900 RPM, 315 Horsepower @ 5,600 RPM, more than a huge SUV, Escalade or Hummer. That's right, the SL500 has over twice the horsepower of a full military HMMWV Hummer H1. 347 foot-pounds of torque is what shoots the SL500 forward smoothly as if moved by the very Hand of God or a hydraulic carrier jet launcher. Many people exclaim "Jesus Christ!" the first few times they undergo this acceleration to confirm the Hand of the Almighty's involvement. The SL500 weighs over two tons and accelerates to over 100 MPH in under 15 seconds.
This dwarfs BMW's 12 cylinder 5.0l engine (1989 - 1994) which only has 296 HP and 332 ft-lbs of torque.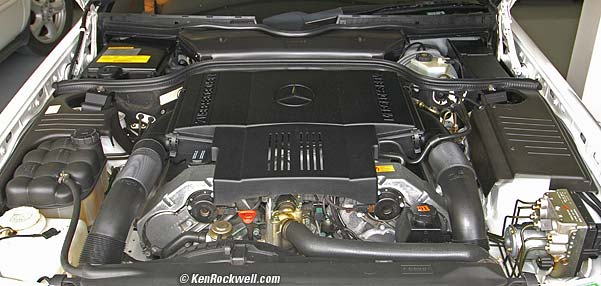 Olivenhain, California, July, 2004
The engine bay with standard dual ram cold-air induction system. The black circles on the ends of the intake cams are the electromagnetic clutches for the variable valve timing. (click to enlarge)
The SL500 accelerates smoothly and brutally at any speed. Acceleration comes from torque, not horsepower. The horsepower advertised by sub-six-figure vehicles has much less to do with acceleration than torque. A normal car has only about 150 ft-lbs of torque, peak. The SL500 not only has 347 ft-lbs, it does this over most RPMs.
This is more torque than tomorrow's new not-yet-available 2005 Ferrari F430, which only has 343 ft-lbs. Today's state-of-the-art 2004 Ferrari 360 Modena, for which many people are still on waiting lists, only has 275 ft-lbs. Chevrolet took out a three-page ad in Autoweek's January 24th, 2005 issue (pages 5 - 7) to brag about the power of their Vortec engine in their huge Silverado Z71 truck. It can't even make 300 HP. You could win more mud bog races with the SL500 powerplant than one from an exotic or an American truck, and the SL500 plant did this even 15 years ago.
The SL500 is more potent than almost anything. The 2005 Maserati GranSport ($98,172) has only 332 ft-lbs. The 2006 Aston Martin V8 Vantage ($110,000) has only 302 ft-lbs. The 2005 Porsche 911 Carrera S ($79,100) has only 295 foot-pounds. Torque is what accelerates a car, not horsepower. Horsepower only relates to top speed, and cars today are electronically limited for top speed so horsepower is irrelevant even if you could drive anywhere near top speed.
Variable Valve Timing. This give the engine the unGodly power above when you need it, and lets it idle almost silently and give fantastic gas mileage for normal use. Yes, the biggest problem with this usually silent engine is that you now are aware of everyone else's car maintenance problems since you can hear them so clearly with the top down. This advanced feature is what makes this engine have such extraordinary power and fuel efficiency and silence, all in the same engine.
96.5 mm bore, 85 mm stroke. Mercedes calls this the M119 engine. Aluminum alloy block and head. This 4-valve, quad cam high-performance engine is similar from 1990 - 1998, although the torque rating of the 1997 is a little more than any other year. In 1999 - 2006 Mercedes now uses a less powerful, less torquey 3-valve-only engine in all their 500 models.
Sequential Multiport Fuel Injection
Dual Ram-Air Cold Air Intakes, located to the sides of the radiator just hidden inside the front grille
Stainless steel exhaust. Oddly, this car makes all this power without headers!
DRIVELINE
5 speed automatic electronic overdrive lockup transmission
1st: 3.59:1 or 45 MPH max @ 6,000 RPM. (3,650 RPM at 45 MPH after upshift)
2nd: 2.19:1 or 74 MPH max @ 6,000 RPM. (3,850 RPM at 75 MPH after upshift)
3rd: 1.41:1 or 115 MPH max @ 6,000 RPM. (4,250 RPM at 115 MPH after upshift)
4th: 1.00:1, firmware limited to 155 MPH @ 5,650 RPM
5th: 0.83:1; firmware limited to 155 MPH @ 4,650 RPM
Reverse: 3.16:1 in normal mode, 1.95:1 in winter mode.
That's right: the SL500 has TWO reverse gears! Select the "W" winter mode for high-speed reverse driving. At redline you can hit 50 MPH in the usual reverse gear, or 84 MPH in the winter-mode reverse gear! I hope Mercedes' firmware stops you from doing this. Let me know if you try.
Changing a few lines of code in the engine management firmware ought to delay the upshift from fourth to fifth to 6,000 RPM at 165 MPH and hit 185 MPH at 5,600 RPM in fifth on level ground. Don't do this. I calculate if you found a long enough downhill with a strong tail wind you'd get to 198 MPH at 6,000 RPM in fifth!
The power never stops while shifting since each upshift puts you back on the top of the torque curve. There's no letdown of power at each shift giving the SL a seamless flow of power at any speed. There's no jerking forward and back like other cars searching for a powerband while shifting. You get thrown into your seat and aren't released till you cry "uncle!"
1,800 RPM @ 60 MPH in 5th
2.65 rear axle ratio
Standard tires: Michelin Pilot 225/55ZR16, 806 revs/mile.
W and S settings on transmission. Normal is S, which stands for Standard or Sport or Summer. W stands for Winter or Wet and gives 2nd gear start and a taller reverse gear to keep you from spinning your tires in crummy conditions.
The Winter position is quite clever: it gives smooth second gear starts in casual driving, and has no qualms about downshifting instantly back into first if you punch it. This needs more research since the Winter position might save fuel, give a comfier ride and not lose any performance.
SUSPENSION
Four-wheel fully independent suspension, just like the military HMMWV Hummer H1 and every Mercedes, BMW and other decent car made in the past several decades. Compare this to economy vehicles like the Hummer H2 and H3 and most Jeeps and Explorers and SUVs which lack independent suspension. Independent suspension means each of the four wheels can move freely without affecting the motion of any other wheel. Each driven axle requires an additional four universal or CV joints to add this feature. Lesser vehicles economize with a single solid axle for the front and/or rear wheels, which means that the motion of one wheel affects the motion of the wheel on the opposite side.
Independent suspension improves traction, road and trail holding and ride quality all at the same time, and it's expensive to add. That's why few American vehicles go to the trouble.
WHEELS AND TIRES
16 x 8.0" wheels, P225/55ZR16 tires, (806 revs/mile). Full sized spare. By comparison the $125,000 2004 SL55 AMG has NO spare, just a can of fix-a-flat and the same toll-free roadside service number! Many convertibles, especially those under six figures, are going this way today, so beware. Today's 2005 regular SL500 has a spare.
Automatic Slip Reduction (ASR) works at all speeds to eliminate rear wheel spin, called burnouts by we scientists. It helps prevent burn-outs at stoplights and also prevents wheelspin even at 70 and 80 MPH in corners and on crummy pavement. You can turn it off to do burnouts to impress the innocent.
The SL500's gears, tires and engines are calibrated to give maximum launch with the hammer down from a stop, presuming you have the correct OEM Z-rated sticky tires. If you've gotten cheap and replaced them with H-rated or discount tires you'll see the ASR traction control light blinking as you launch, meaning the less sticky tires started to lose contact and the SL500 had to shut down a little to let them hook up again. This really slows down your times so be sure to get the correct tires.
PRICE
The 1997's base price started at $89,900. That's $109,000 in 2005 dollars before sales taxes or options like CD player or heated seats.
MORE INFO
See also carsdirect.com and intellichoice (1997), and here (1999) here (2000) for more detailed specs.
Also see some collector sites at mbcoupes.com
Here's one with a green interior offered by Mercedes as a golf commemorative, press release here.
HISTORY and COMPARISON OF MODEL YEARS 1990 - 2005