Sony RX100 MK V
24~70mm (eq.) f/1.8~2.8
24 FPS @ 20MP, 4K video
World's Best Pocket Camera (2016-)
Sample Image Files Intro Specs USA Version
Performance Compared Usage Recommendations More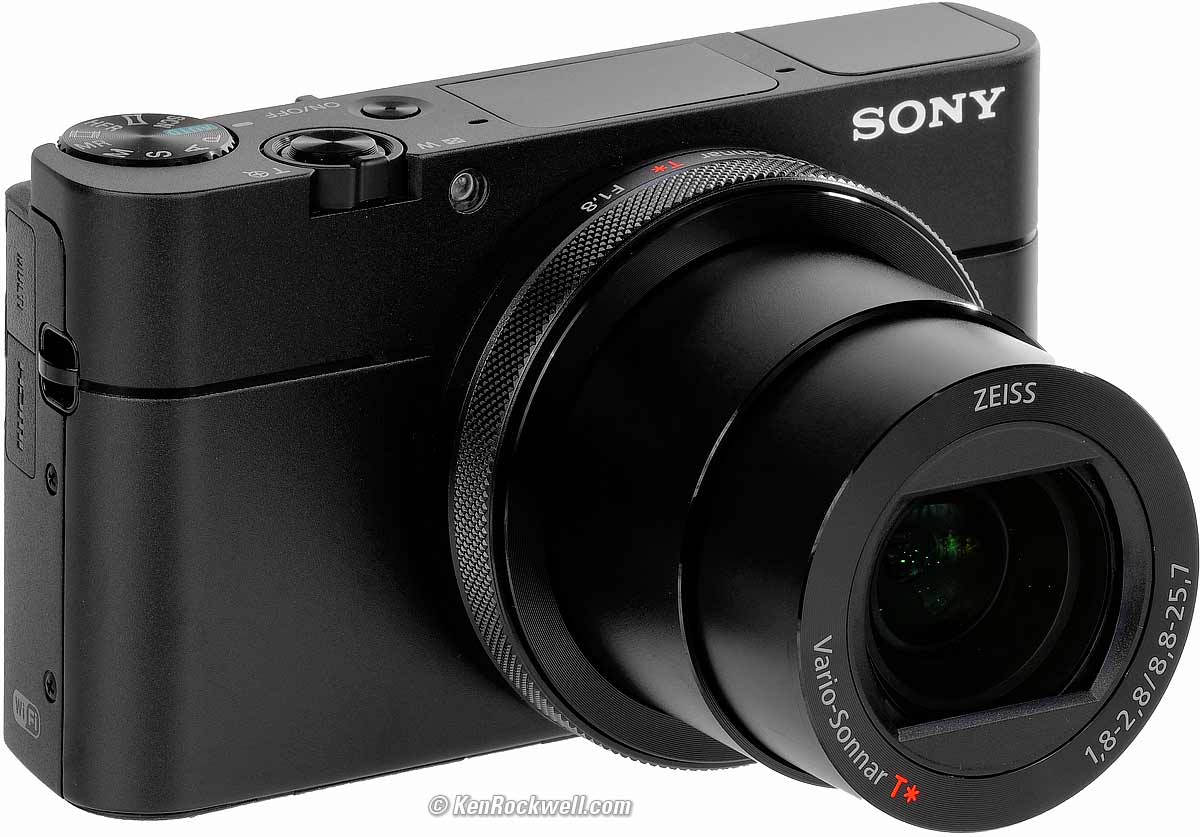 Sony Cyber-Shot DSC-RX100 Mark V (20 MP one inch sensor, 8.8-25.7mm f/1.8-2.8 lens (24-70mm eq.), 10.5 oz./298g with battery and card, about $998). bigger. I got mine at Adorama who also sells it for the same price and throws in a free $100 gift card. I'd also get it at Amazon, at B&H Photo or at Crutchfield.
This ad-free website's biggest source of support is when you use those or any of these links to approved sources when you get anything, regardless of the country in which you live. Sony doesn't seal its boxes in any way, so never buy at retail or any source not on my personally approved list since you'll have no way of knowing if you're missing accessories, getting a defective, store demo, damaged, returned or used camera. My approved sources ship from remote automated warehouses where no salespeople or lookie-loos can ever get their greasy fingers on your new Sony or drop it before you do. Buy only from the approved sources I use myself for the best prices, service, return policies and selection, and save yourself from a very expensive mistake. Thanks for helping me help you! Ken.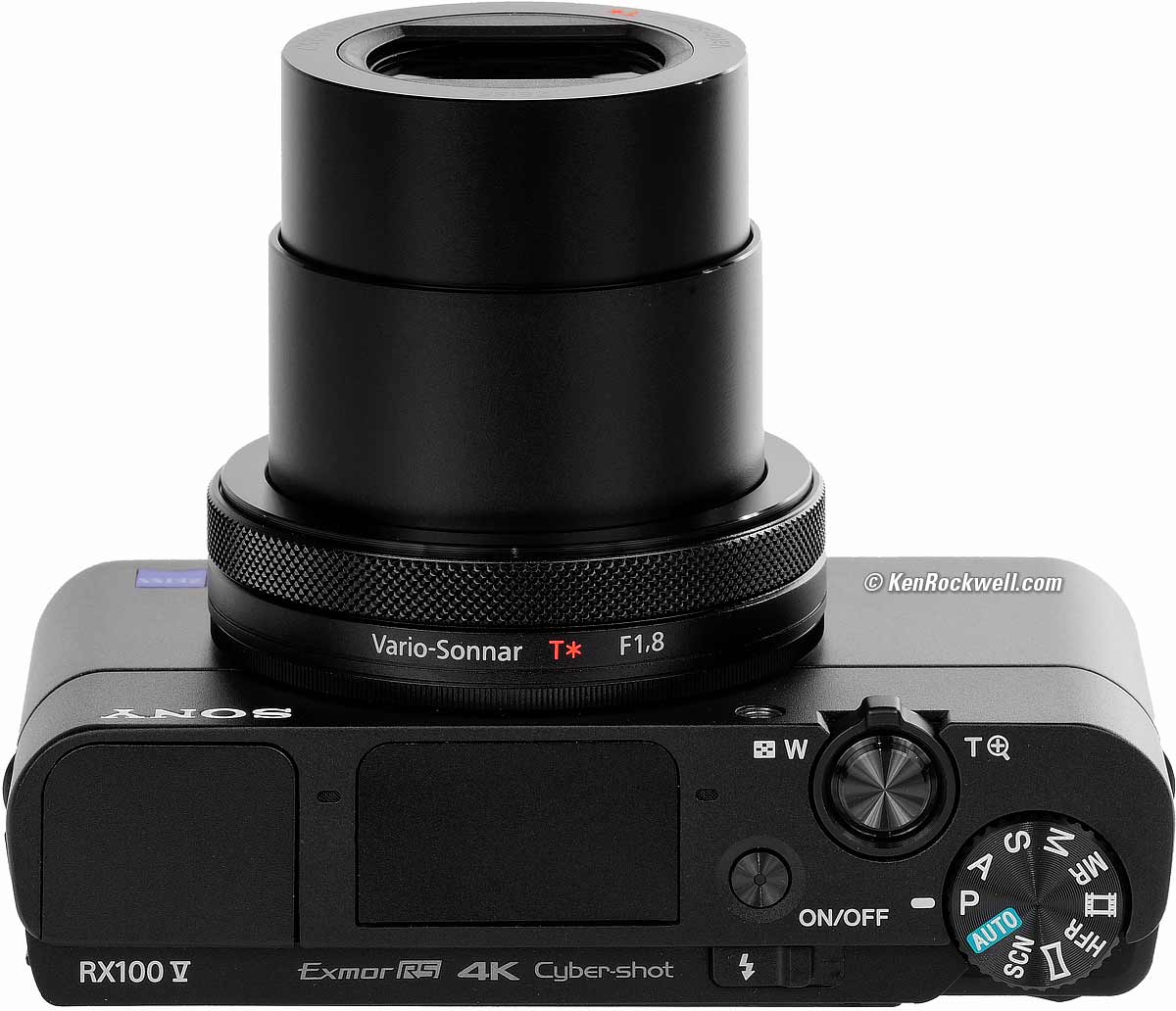 Top, Sony DSC-RX100 Mark V. top.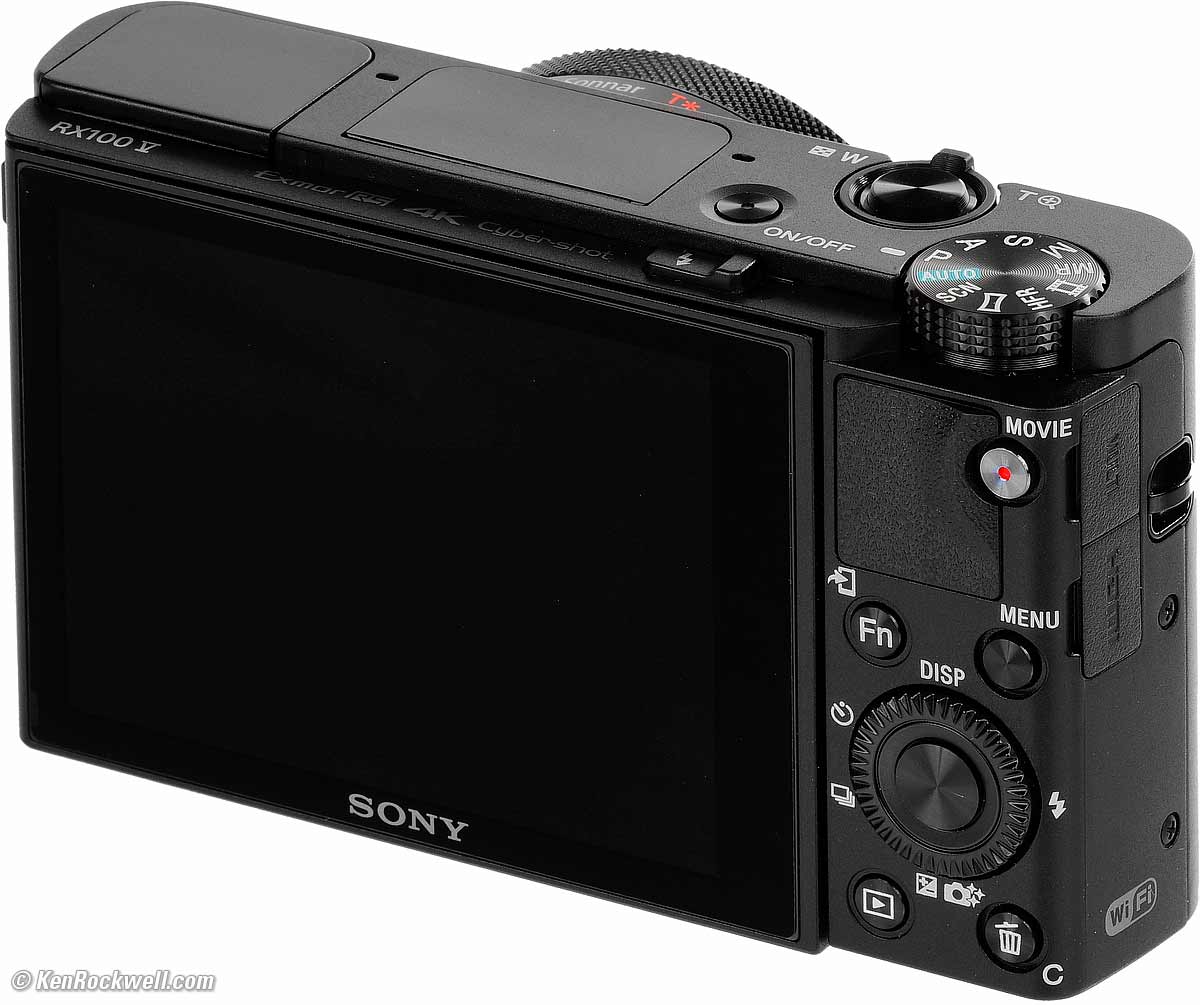 Back, Sony DSC-RX100 Mark V. The LCD flips. bigger.
December 2016 Sony Reviews Zeiss Nikon Canon Fuji LEICA All Reviews
NEW: All Sony Cameras Compared
MPK-URX100A underwater housing.
Old RX100 Mk IV Review (2015-)
Older RX100 Mk III Review (2014-)
Sample Images
Top   Sample Image Files Intro Specs
USA Version   Performance Compared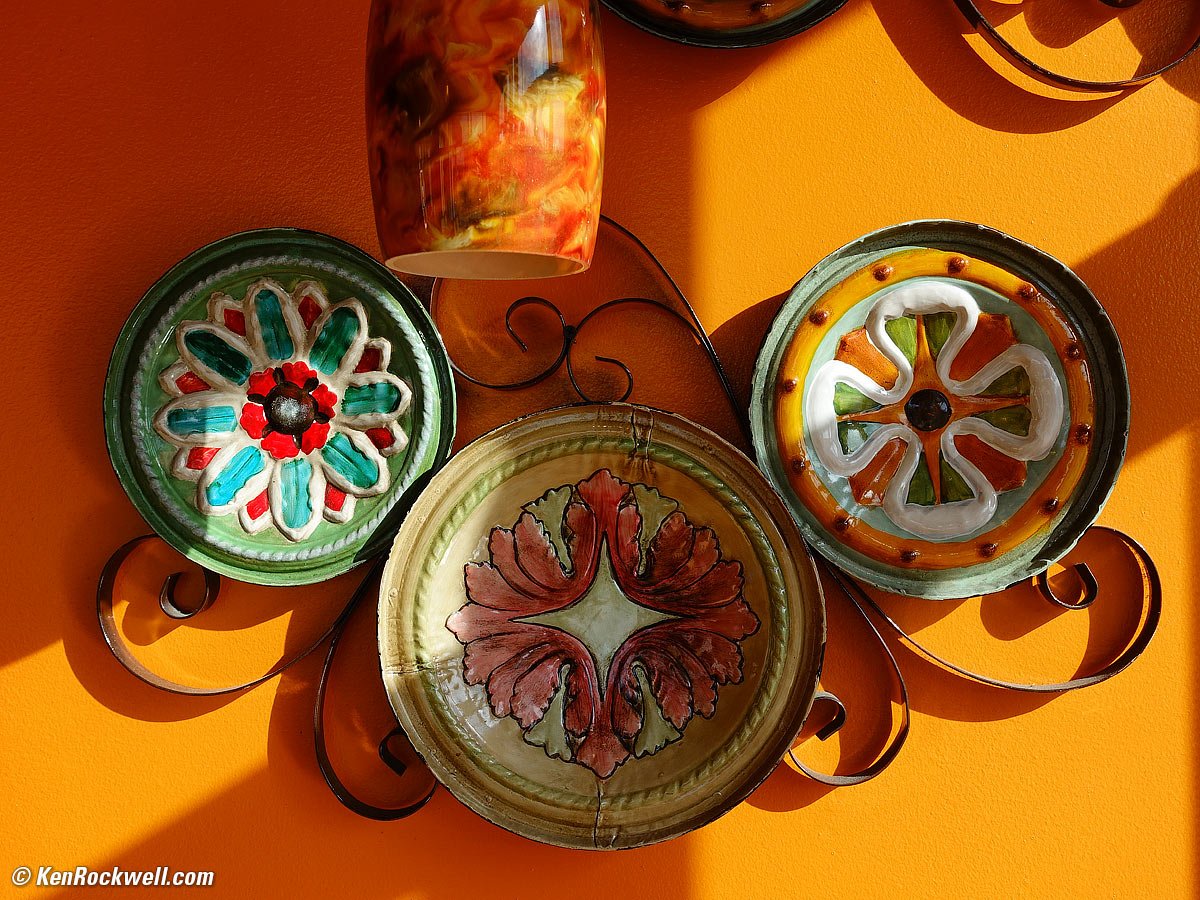 Orange Wall, Michoacán, México, 13 November 2016. Sony RX100 Mk V at 8.8mm (24mm eq.), f/4 at 30 seconds at ISO 125. bigger or camera-original file to explore on your computer.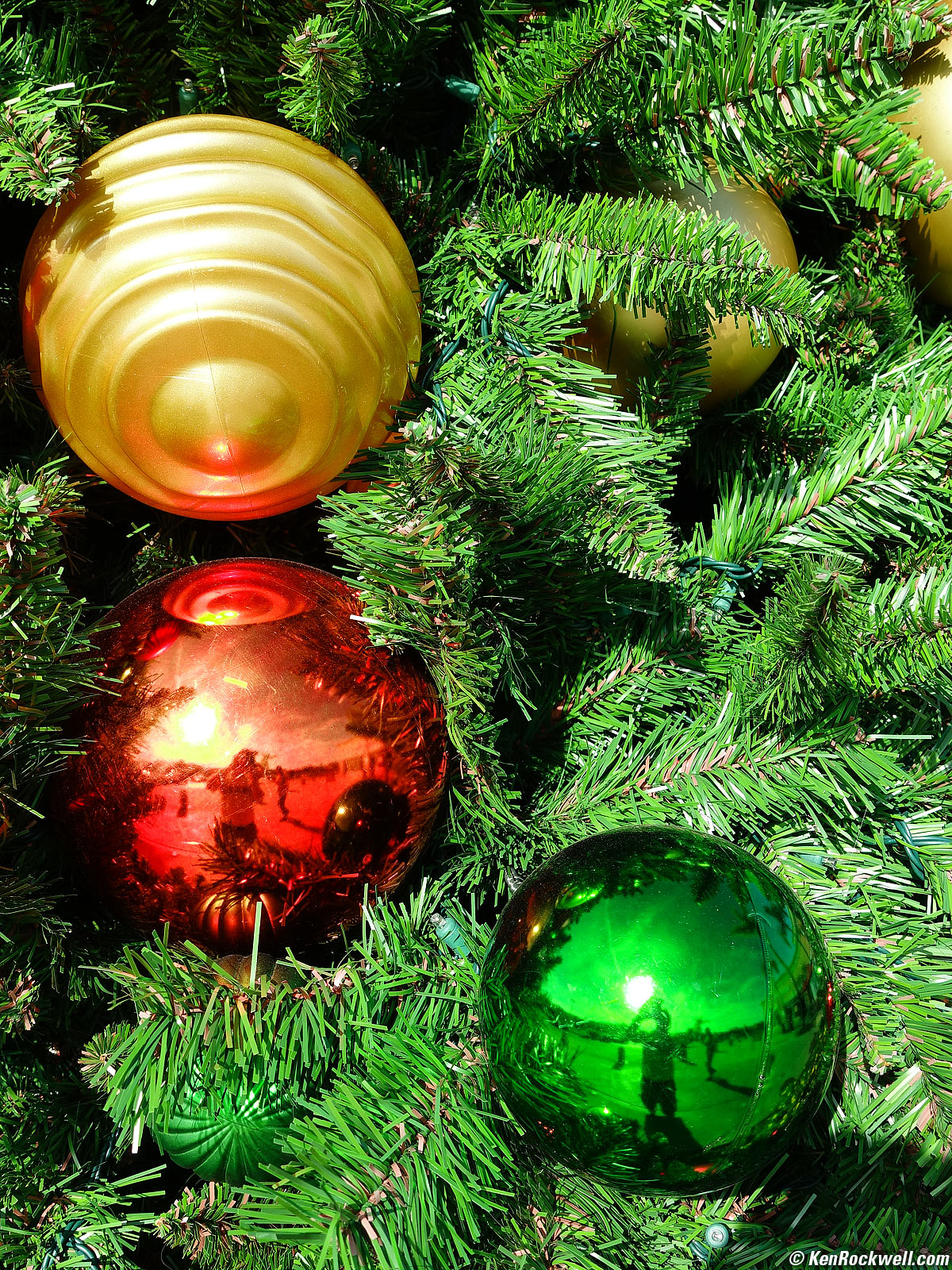 Christmas Ornaments, 15 November 2016. Sony RX100 Mk V at 11.9mm (32mm eq.), f/4 at 1/400 at Auto ISO 125. bigger or camera-original file to explore on your computer.
Pool by full moonlight, 13 November 2016. Sony RX100 Mk V at 8.8mm (24mm eq.), f/4 at 30 seconds at ISO 125. bigger or camera-original file to explore on your computer.
Introduction
Top   Sample Image Files Intro Specs
USA Version   Performance Compared
The Sony RX-100 Mk V is the same as last-year's world's-best RX100 Mark IV, and adds even faster focussing and higher frame rates. Otherwise it's the same superb camera with a great pop-up electronic viewfinder and built-in flash.
The Sony RX-100 Mk V shoots super-fast, handles nearly perfectly and makes great looking photos.
At 24 full-resolution 20MP frames-per-second, the RX100 Mk V shoots just about as fast as the world's top two professional DSLRs (the Canon 1DX Mk II and Nikon D5) combined, and it has the same resolution!
The RX100/5 works faster than just about any other camera and the pictures are always sharp and clear. This camera just gets out of the way by setting itself instantly and delivering fantastic pictures. There is no compact camera I'd rather carry around all day for shooting whatever comes my way. That's 99% of my review; the DSC-RX100 Mark V is an absolutely superb camera.
Set the zoom ring option, and you get smooth, continuous zooming with the big ring at the base of the lens instead of preset steps with the little lever around the shutter button. Use the ring, and you can shoot it like a real camera: zoom with your left hand and fire with your right. The RX100 figures out focus areas automatically with immediate tracking facial recognition; you don't have to twiddle with selecting AF areas.
The snaps in this review are what came out of the camera as JPGs with no fancy editing or color tweaking. I'm astounded at what I get by simply pointing and shooting. I see the picture in my mind's eye, and my RX100 Mk 5 silently and immediately just captures it. These samples are what the camera chokes out on its own in its automatic modes; I didn't have to tweak the colors or exposure later.
Also fantastic is how fast everything works. There is no waiting; everything just goes, and goes fast. Turn-on, autofocus and everything are immediate. It wakes up, focusses and shoots as fast as an iPhone, and this Sony can motor along silently at 24 frames per second for still photos!
How fast is it? It's faster in actual use than any of Sony's mirrorless or DSLR cameras! The small sensor and lens means that it doesn't have to move as far to focus, and thus Sony has gotten so smart that this tiny camera tracks action and focuses faster than their larger cameras. Whoo hoo!
Its pop-up finder makes it fast and easy to shoot in any light, and exposure and white balance are also perfect for each and every shot — better than any DSLR!
While its sensor is much smaller than a DSLR's, its sensor is larger than most other point & shoot cameras, so it usually performs better, especially in low light.
It shoots in any light, and given enough light, colors pop when turned up in the Vivid with +3 Saturation settings.
Fill-flash from the tiny built-in flash, with a 1/800 sync speed, also works perfectly, which is much better than most pocket cameras.
Its lens has to motor out and then back in after every photo. These complex and delicate lenses eventually break or get jammed, but people usually replace these cameras about the same time the warranty expires for the next model. The lens has a concave front element.
Once the lens motors into position, it shoots essentially silently.
It is made in China and charges via USB.
Auto ISO works great; it's easy to set the minimum and maximum ISOs as well as the minimum shutter speeds. Better, it's just as easy to program the slowest speed to vary with focal length, and we have several options to shift it (all automatically) from there. Auto ISO also saves and recalls with the Memory Recall modes.
Digital zoom works great. Especially if you shoot at the lower resolutions as I do for most general shooting, the Digital Zoom modes are smart enough to shoot at higher resolutions as you zoom, so digital zoom stay just as sharp as optical zoom!
The electronic viewfinder is always at the perfect brightness from night to direct sunlight.
My RX100 Mk V shoots instantly, fast enough even for drive-by-shooting, and my pictures look fantastic as-shot with no tweaking needed. This is what a camera is supposed to be; I can't help but love this Sony to death!
● Faster 24 FPS versus old 16 FPS frame rate, with 150-frame versus old 40-frame JPG buffer.
● Also shoots at 24 FPS in raw (was only 8.6 FPS in raw in Mk IV); 71-frame versus 28-frame raw buffer.
● New on-sensor 315 zone phase detection autofocus covers 65% of sensor and claims to be faster than the old RX100 Mk IV; but the Mk IV was also ultra fast using only contrast detection.
● AF-A mode automatically selects between focus-and-lock (AF-S) and continuous tracking (AF-C) modes.
● AF-C mode finder image is now always sharp; it doesn't weave in and out as it did in the Mark IV.
● Only 220 vs 280 shots rated battery life.
● 1,000 FPS for up to 8 seconds (old was only 2 or 4 seconds).
● S-Log2/S-Gamut video option.
Good
● Everything shoots super fast: fast focus and frame rate.
● Superb AF system finds and tracks motion and faces fantastically.
● Selectable aspect ratios work flawlessly with electronic finders.
● NFC & WiFi.
● 4k video with 5 minute maximum clip length
● No GPS.
● No touch screen.
● No second card slot.
● No Bluetooth (but does have WiFi and NFC).
● No mic or headphone jack.
● No battery percentage meter; just a four-segment battery icon.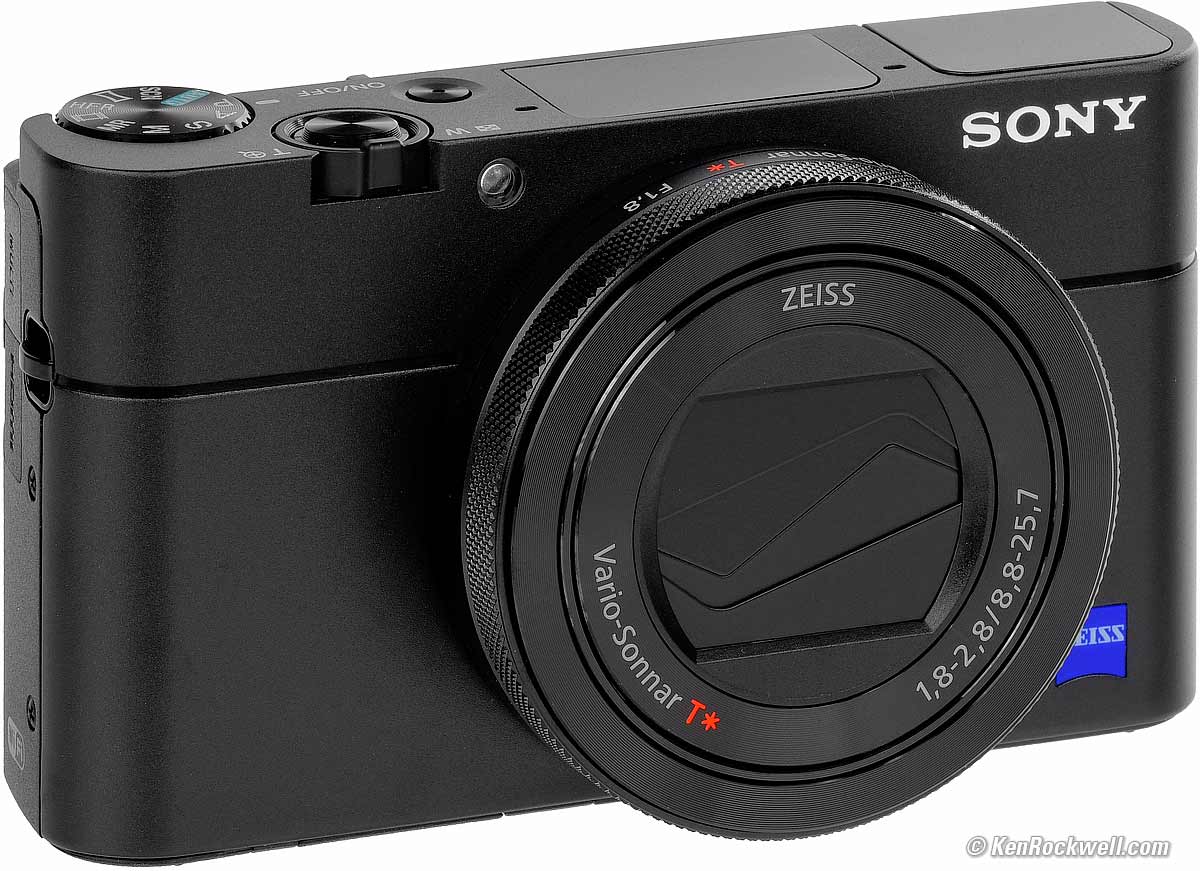 RX100 Mark V, power off. enlarge.
Specifications
Top   Sample Image Files Intro Specs
USA Version   Performance Compared
See also more specifications from Sony.
Lens
8.8 ~ 25.7mm (24-70mm equiv.) f/1.8~2.8.
Optical Design
10 elements in 9 groups. Concave front surface, claimed 9 aspherical.
Maximum aperture
| | | |
| --- | --- | --- |
| Actual focal length | 35mm equivalent | Maximum aperture |
| 8.8mm | 24mm | f/1.8 |
| 9.2mm | 25mm | f/2 |
| 9.5 ~ 9.9mm | 26 ~ 27mm | f/2.2 |
| 10.2 ~ 11.7mm | 28 ~ 32mm | f/2.5 |
| 11.7mm and longer | 32mm and longer | f/2.8 |
Diaphragm
Only stops down to f/11 because diffraction would make the images very blurry on its tiny sensor.
Neutral-Density Filter
Yes, lets us use larger apertures.
Close Focus
2" (5 cm) at wide; 12" (30 cm) at tele.
Image Sensor
20MP.
8.8 x 13.2mm, deceptively marketed as "one inch," which it is not. This "one inch sensor" is much smaller than a DSLR sensor, but bigger than a cell phone camera's sensor. Therefore its technical image quality falls somewhere in between the two.
5,472 x 3,648 pixels native.
ISO 125-12,800. (as low as ISO 80 in a trick mode).
3:2 aspect ratio, the wrong one. It should be 3:4, but sadly uses the too-long and too-short 3:2 (1.5:1) ratio of DSLRs. This means that just like DSLRs there's often wasted image area on the sides that gets cropped off and thrown away. If it was the correct 3:4 ratio then it would make the best use of the lens and image area.
Audio Sensor
Stereo microphone built in.
Formats
Still
JPG and/or raw.
Video
AVCHD, MP4, XAVC S.
It runs at 1,000 progressively-scanned frames per second at some resolutions; these aren't misprints.
3,840 x 2,160: 29.94p, 25p, 23.97p.
1,920 x 1,080: 1,000p, 960p, 500p, 480p, 250p, 240p, 59.94p, 50p, 29.97ps, 25p, 23.97p, 59.94i, 50i.
1,824 x 1,026p: 1,000p, 500p, 250p, 240p, 480p, 960p.
1,676 x 566p: 1,000p, 960p, 500p, 480p, 250p, 240p.
1,280 x 720: 29.97p, 25p.
Audio
AAC LC, AC3, Dolby Digital 2 channel, Linear Stereo PCM.
Finder
2,360,000 dot OLED electronic pop-up finder.
-4 to +3 diopters.
Shutter
Mechanical
1/2,000 to 30 seconds in all modes except AUTO, whose maximum time is 4 seconds.
Electronic
1/32,000 to 30 seconds in all modes except AUTO, whose maximum time is 4 seconds.
Anti rolling-shutter mode makes this shutter work without bending moving objects.
Storage
SD, SDHC and SDXC.
Various Sony Memory Stick formats.
LCD
3."
3:4 aspect ratio.
Swivels up and down, but not left and right.
Anti-reflection coated.
1,288,800 dots.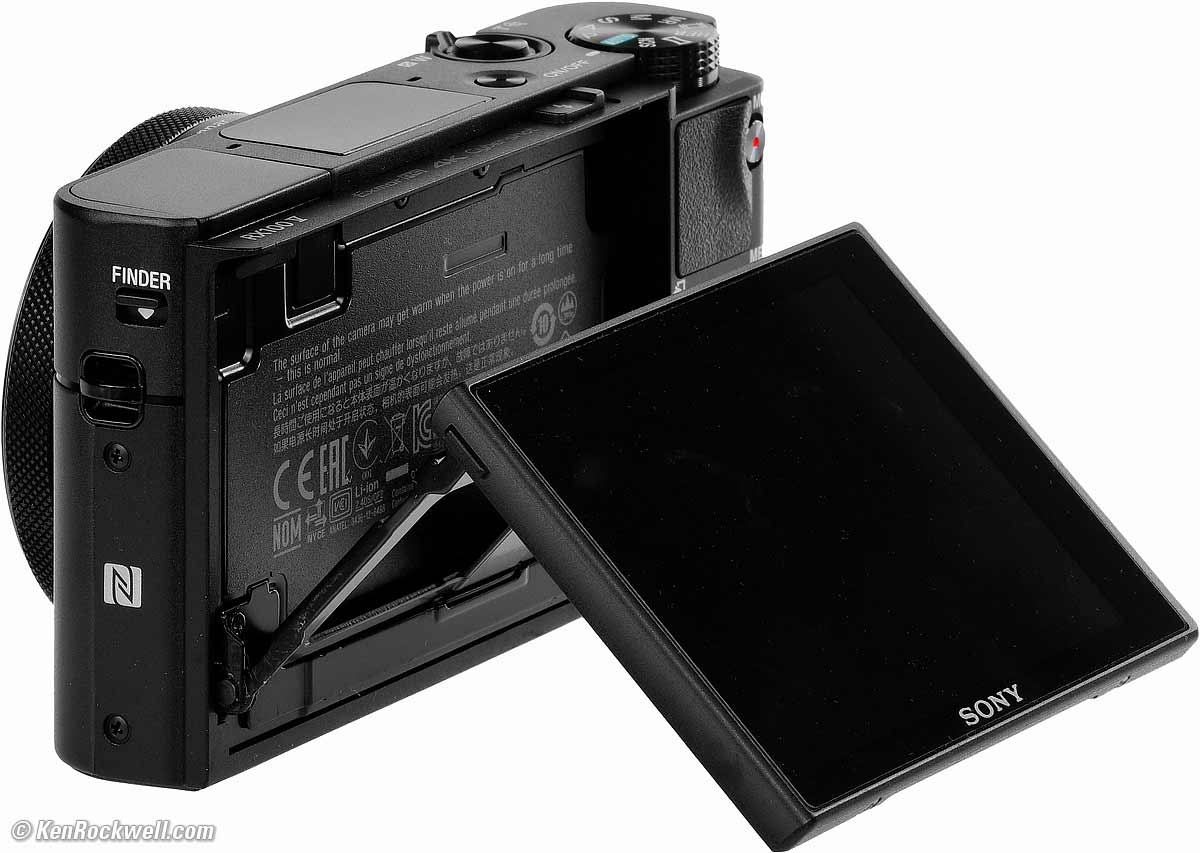 Sony DSC-RX100 Mark V folding screen. The LCD flips. bigger.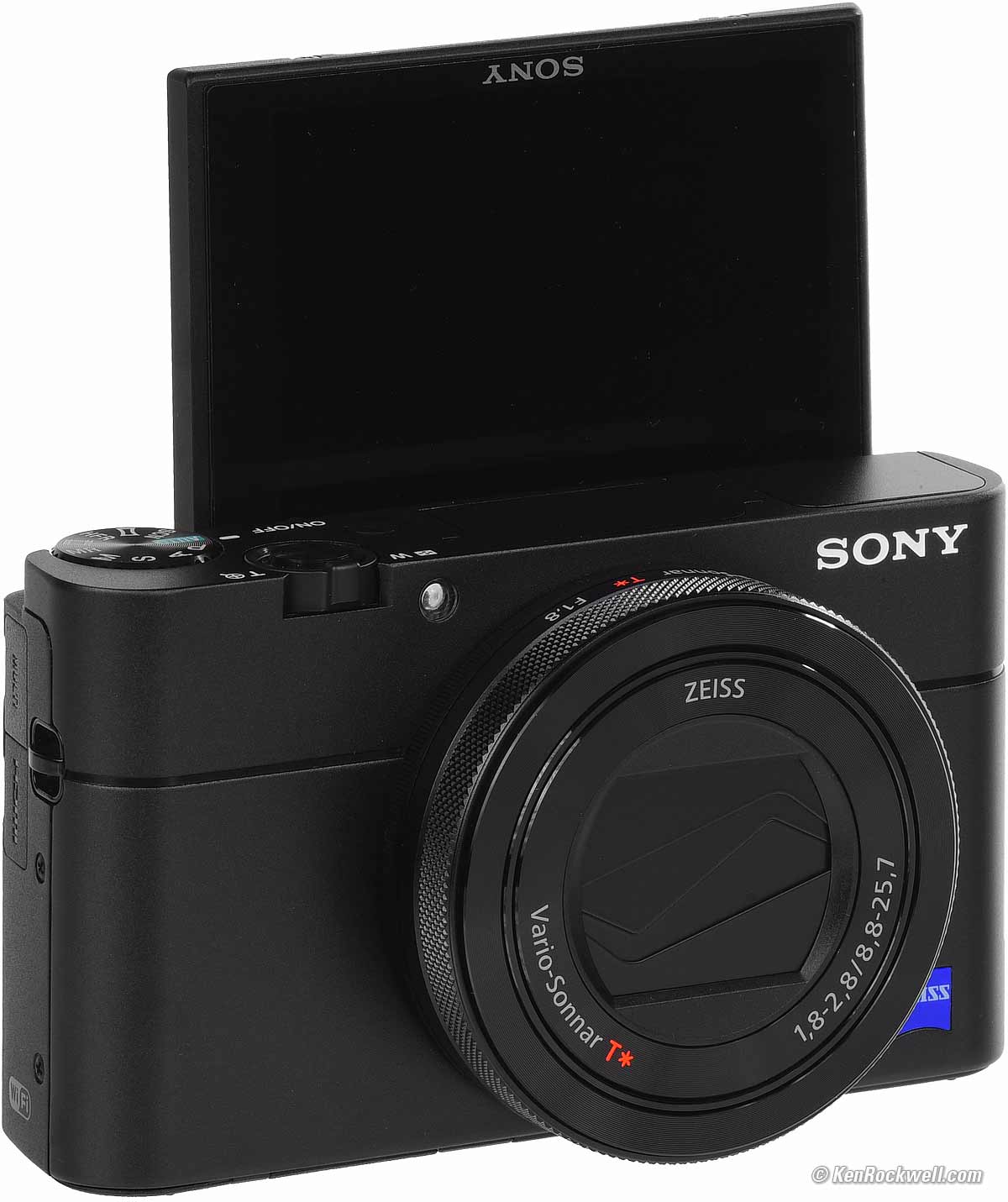 Sony DSC-RX100 Mark V folding screen. The LCD flips. bigger.
Storage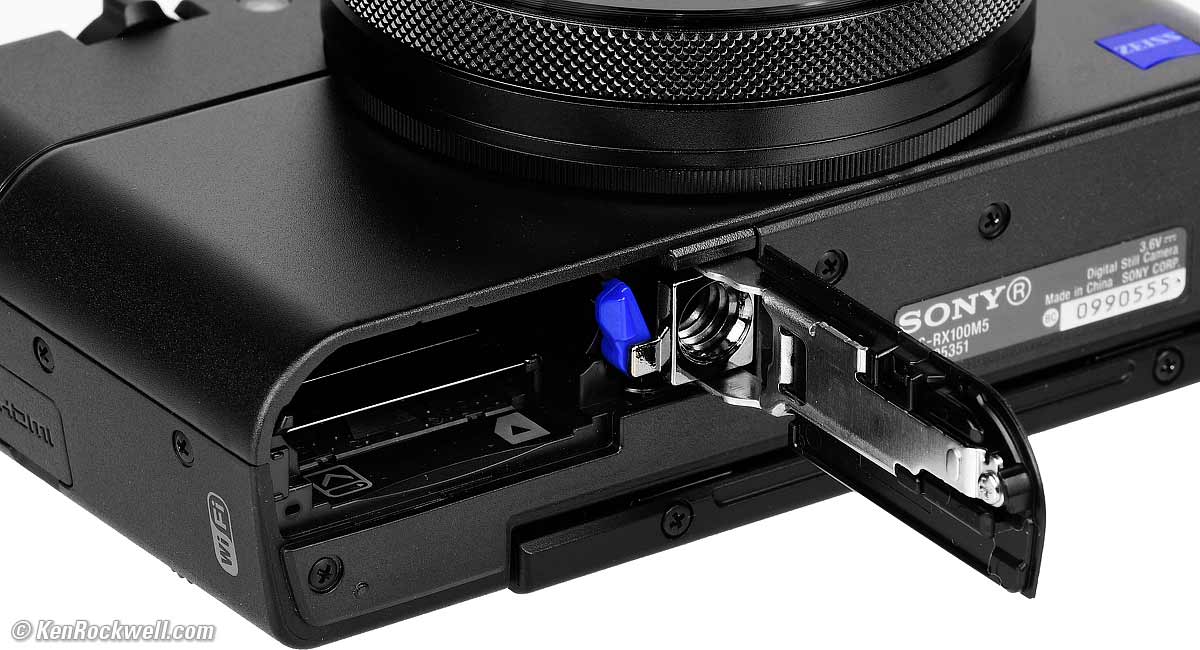 Card & Battery door, Sony DCS-RX100M5 bigger.
One SD card slot.
Connections
Micro USB 2.0.
Micro D HDMI.
WiFi
802.11b/g/n.
Environment
Operating: 0 ~ 40º C (32 ~ 104º F).
Storage: -20 ~ +60º C (-4 ~ +140º F).
Power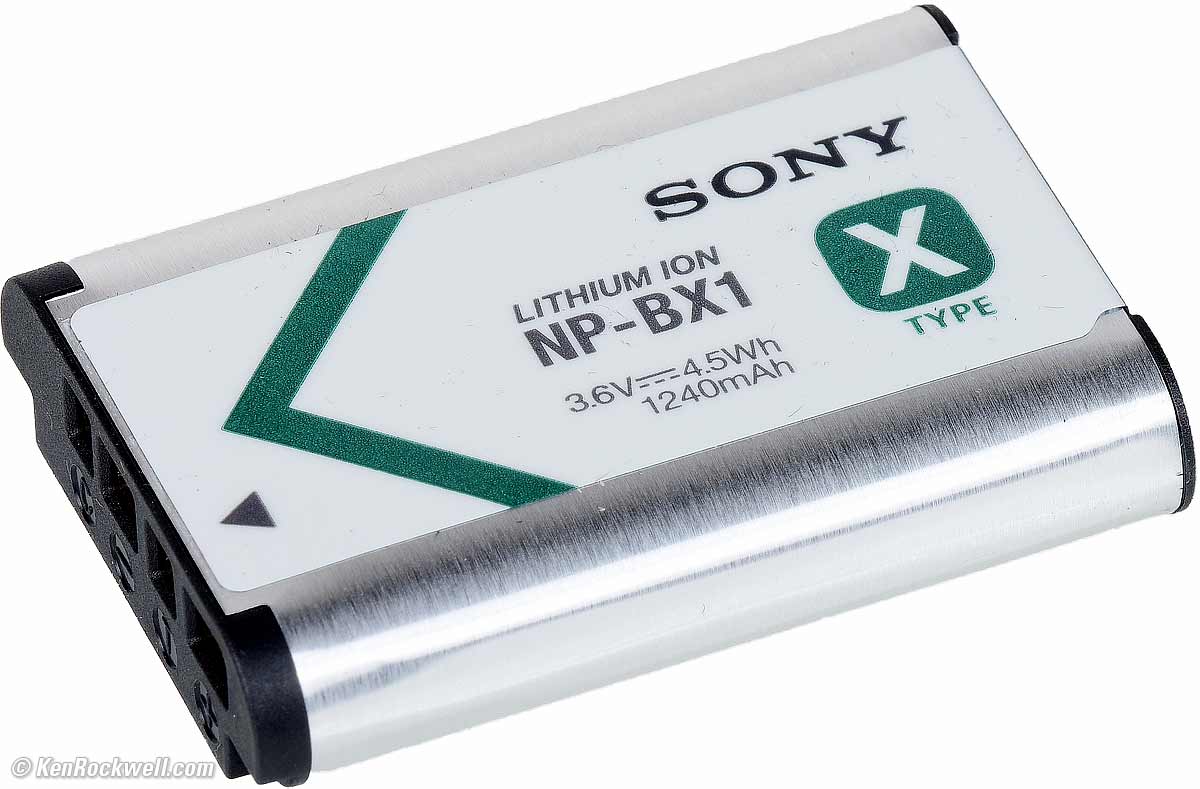 Sony NP-BX1 battery. bigger.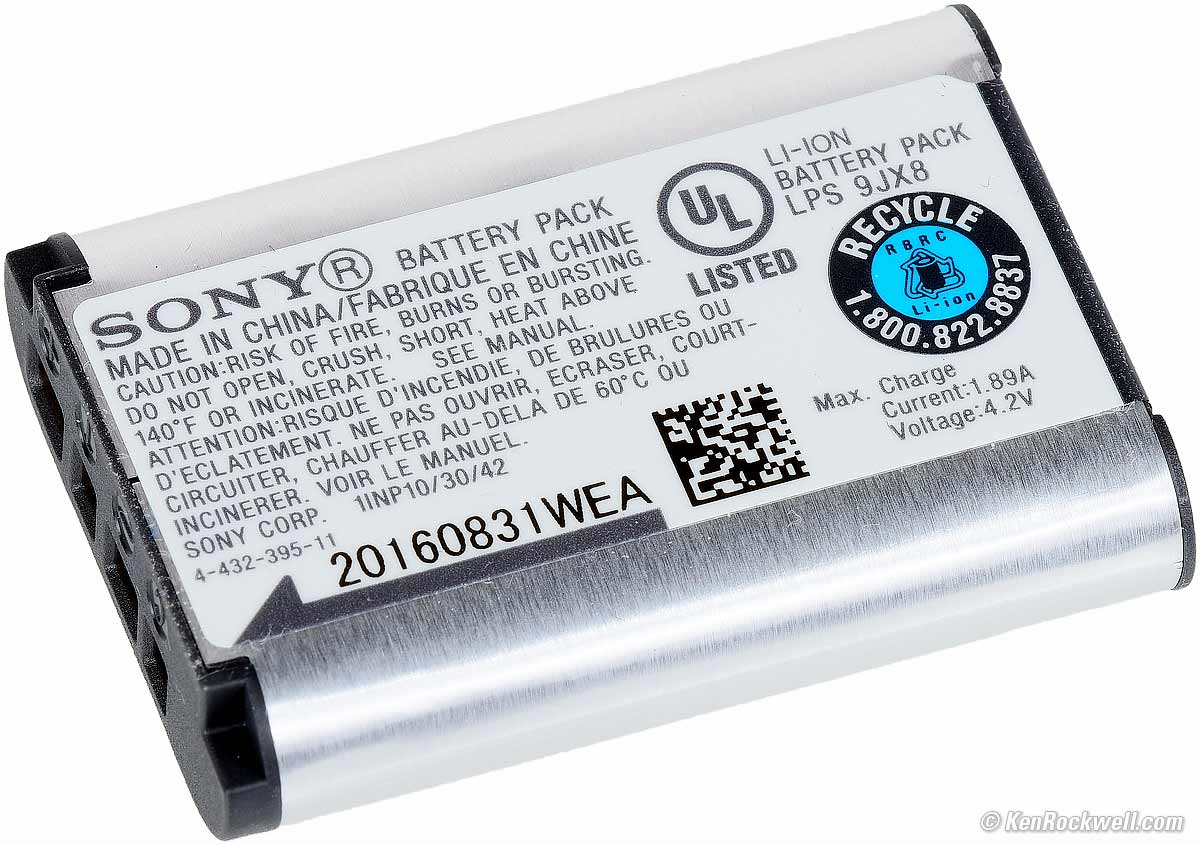 Sony NP-BX1 battery. bigger.
NP-BX1 Rechargeable Lithium-Ion Battery, same as in the Mark IV.
3.6 V, 1,240 mAh = 4.5 WHr.
Charges via USB. If you have no USB source, Sony includes a model AC-UB10 AC -> USB adapter.
Quality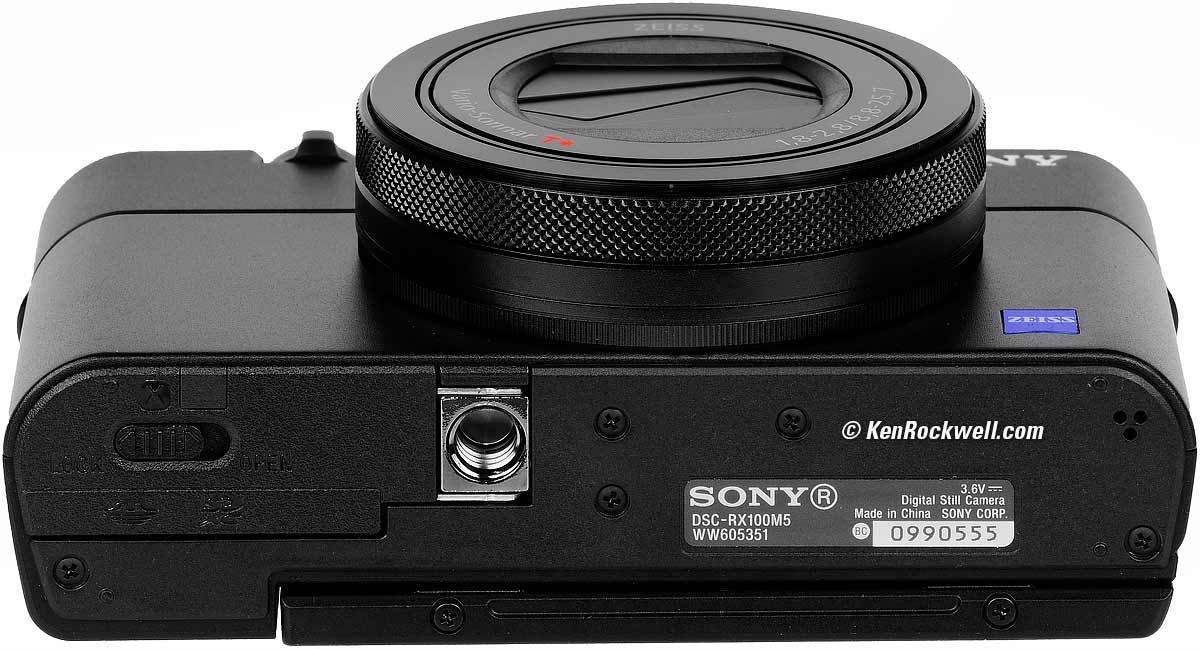 Bottom, Sony DCS-RX100M5 bigger.
Made in China.
Mostly metal outer shell with plastic innards.
Size
4.0 x 2.4 x 1.6 inches WHD.
101.6 x 61.0 x 40.6 millimeters WHD.
Weight
10.495 oz. (297.5g) actual measured weight with battery and card.
Announced
06 October 2016.
Available Since
Early November 2016.
Price
$999 with a free $100 gift card, Decemebr 2016.
$998, October~November 2016.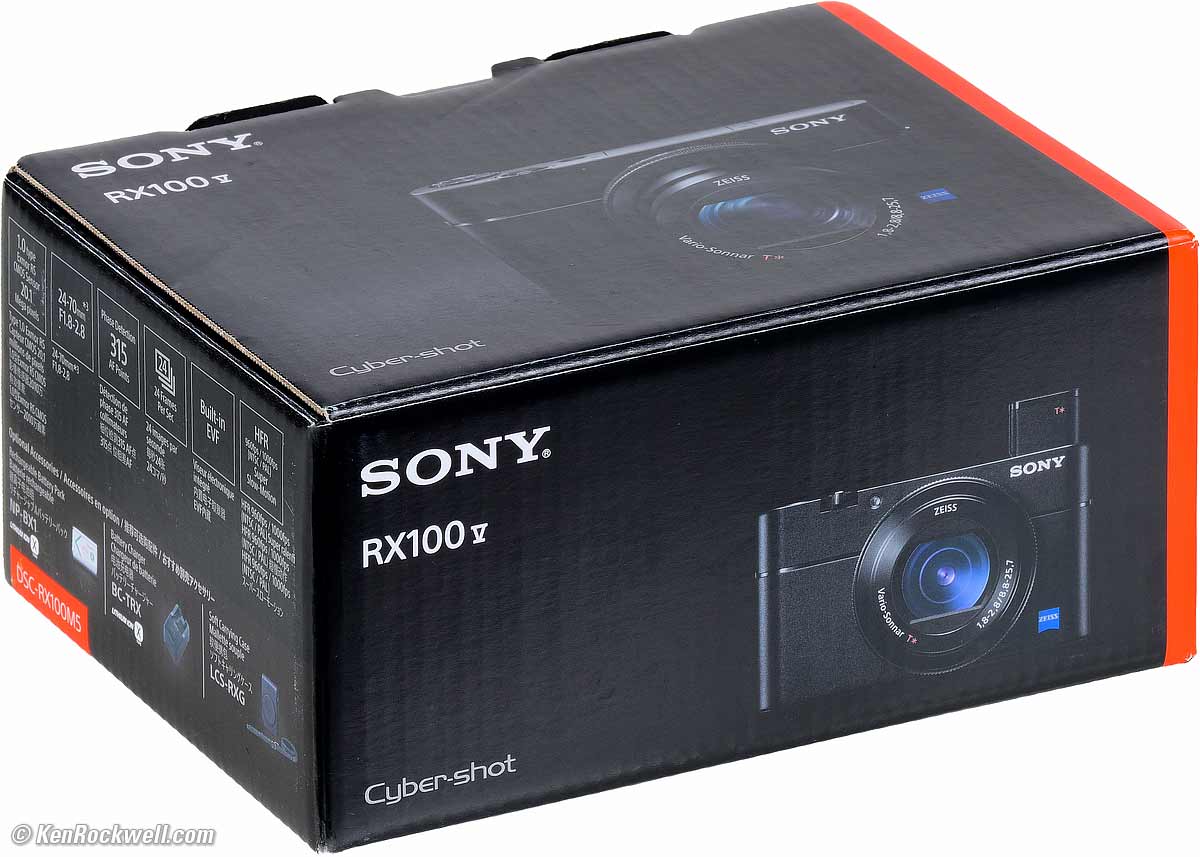 Sony RX100 Mk V box. bigger.
See also more specifications from Sony.
Getting a Legal USA Version
(for USA only)
Top   Sample Image Files Intro Specs
USA Version   Performance Compared
In the USA, be sure your box has a "UC2" shown near the bar codes: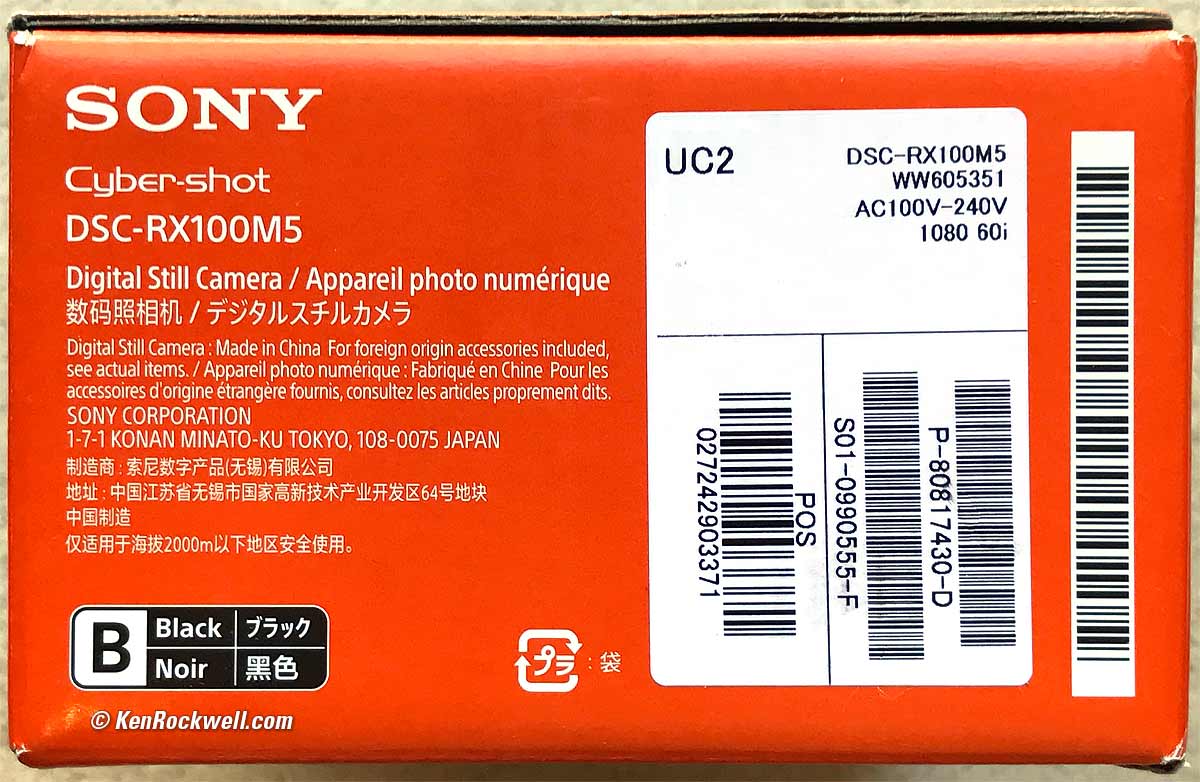 USA Sony RX100 V box end showing "UC2." bigger.
If the letters are different, you got ripped off with a gray market version from another country. This is why I never buy anyplace other than from my personally approved sources. You just can't take the chance of buying elsewhere, especially at any retail store, because non-USA versions have no warranty in the USA, and you won't even be able to get firmware or service for it — even if you're willing to pay out-of-pocket for it when you need it!
Always be sure to check your box while you can still return it, or just don't buy from unapproved sources, so you'll be able to have your camera serviced and get free updated firmware as needed.
The legal USA version also has a limited warranty card from Sony USA, which specifically mentions purchases made in the UNITED STATES: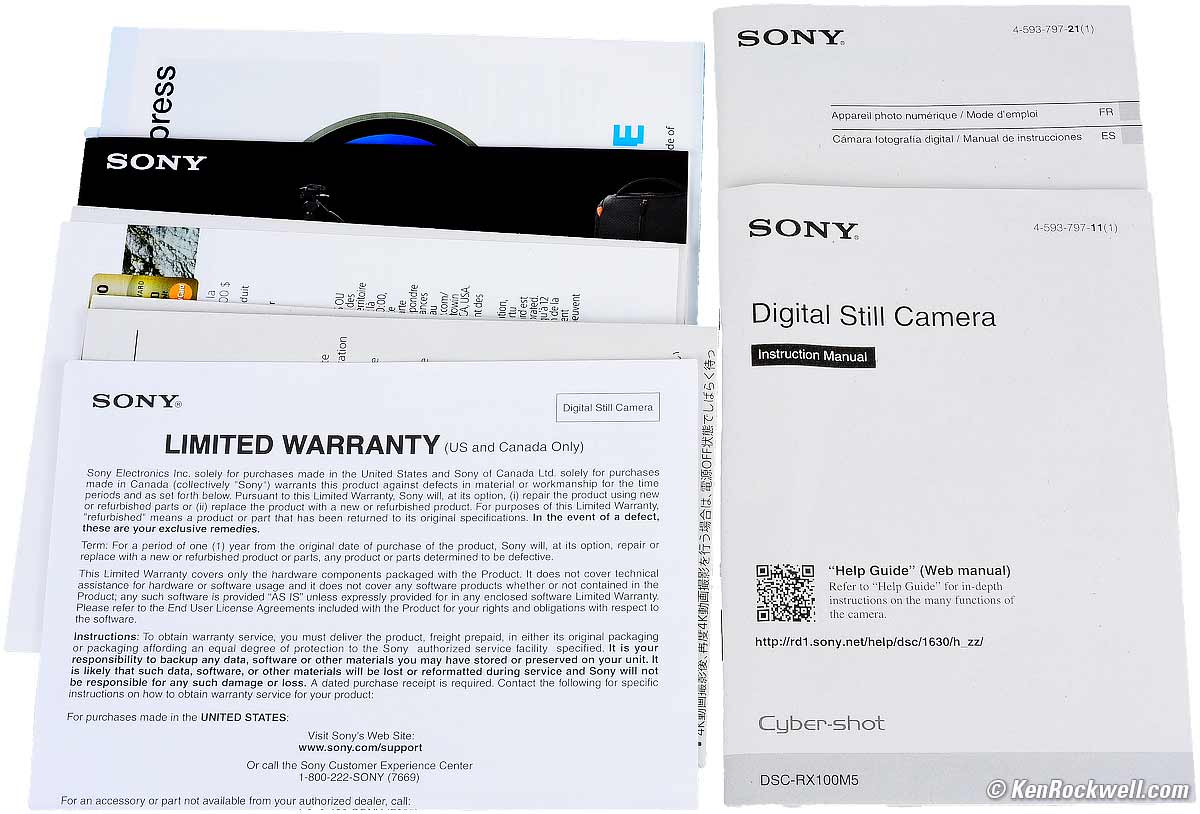 USA Sony RX100 V warranty card. bigger.
If there's a question, you can call the number on the card to confirm your serial number, or just get yours from the same places I do so you don't need to worry.
The USA version includes one printed English manual, shown on the right, and a second Spanish and French manual also shown on the right.
Performance
Top   Sample Image Files Intro Specs
USA Version   Performance Compared
Overall
I get great snaps with nearly no effort of both people and places. That's what makes this the world's best pocket camera: great pictures, easy.
Finder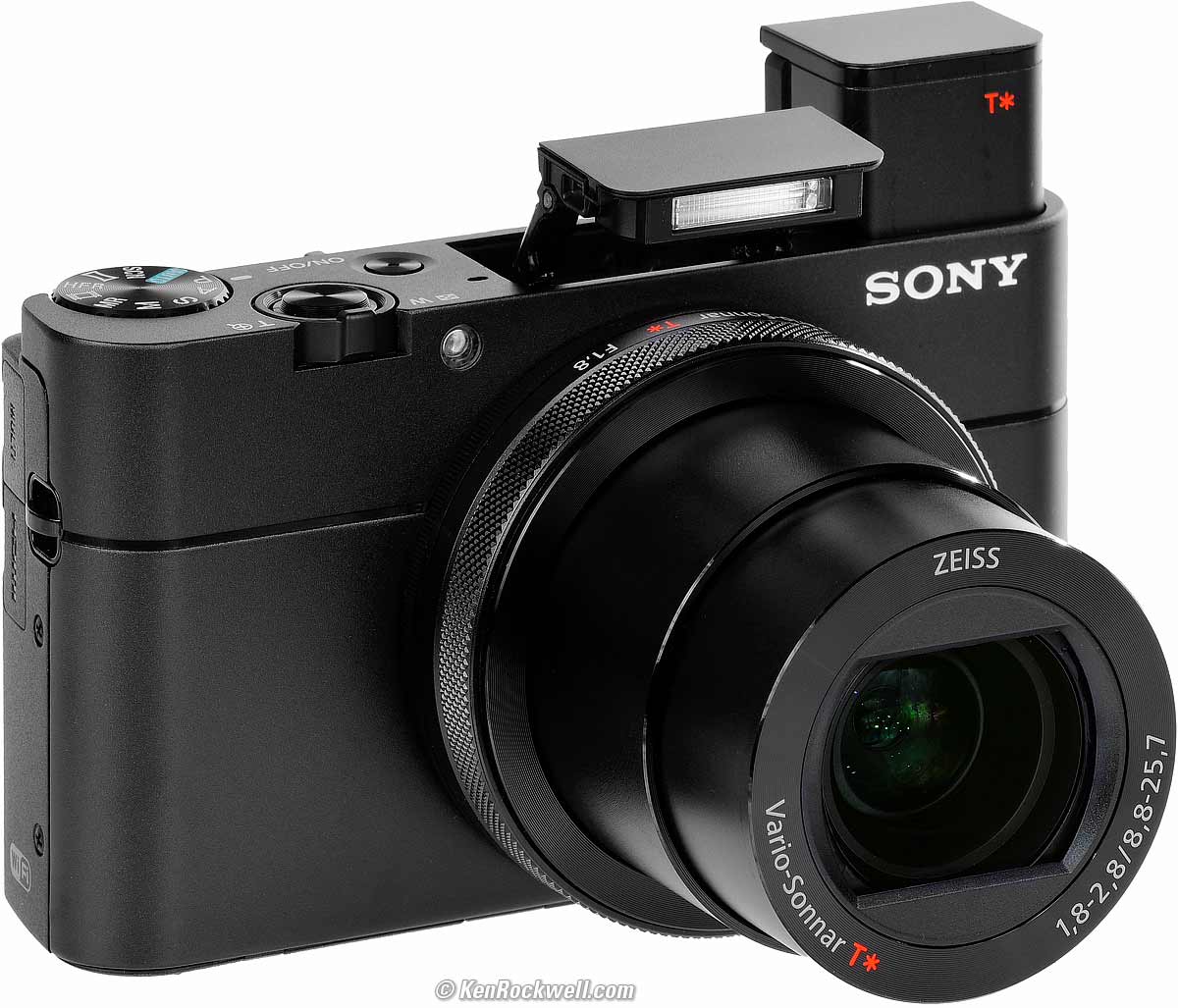 Sony RX100 Mark V with both flash and finder popped-up. bigger.
The electronic finder pops-up from the body. I use it all the time. The camera turns on and off as you pop the finder up and down. You can change this in a menu if you don't want it to turn off when you push in the finder.
The electronic finder is magnificent, except that it keeps getting knocked out of focus and it can fall apart if you pull it too hard.
It usually gets pushed-in a little and demands you fiddle with its focus lever, unless you go through a two-stage process to pop it back in after shooting, and then go through another two-stage process to unfold it every time you want to take a picture.
The focus adjustment is toy-like, flimsy and imprecise. It gets sharp, but the imperfect plastic-mounted optics don't get that sharp edge-to-edge since mechanically they never quite get or stay in the right position.
I've found it's best to leave it up and always pull it back every time I put it to my eye.
The electronic finder really does automatically adjust itself so that it's always at the perfect brightness, never too bright and never too dim, regardless of the ambient lighting. It never gets fooled and is much better than Fuji's cameras at this.
You can set the menus and everything through the finder.
The electronic level option works extremely well; it makes it easy to get straight shots.
Autofocus
Autofocus is fast and sure, even in dim light with the annoying AF illuminator turned off.
Face recognition works while shooting; it finds faces and focuses on them all by itself - and it's always right!
The AF-C (continuous) autofocus mode works great. It finds and tracks faces, and it always gets perfect focus.
Sony fixed the flaw in the Mark IV's continuous AF mode where the finder image was always weaving in and out of focus; this Mark V always looks sharp in AFC continuous tracking mode.
Exposure & Auto White Balance
Exposure and auto white balance are perfect!
The only camera with exposure and auto white balance as consistently perfect is an iPhone.
This says a lot; the Mk V never gets fooled so I never have to retake photos. Even under screwy light, it always looks great at its default settings.
Color & Tone
The Sony's images are optimized for places and things; people pictures are OK but skin tones aren't as magnificent as they are on a DSLR or a Fuji.
Color and Tone are the most important things that make up image quality, and colors, highlights and shadows look great with this Sony.
Auto White Balance also works great in every condition I tried it.
Low Light & High ISOs
I get very usable pictures at crazy-high ISOs. It's easy to shoot hand-held in available darkness.
If you want to count pixels, subtle details are smudged-over by noise reduction at high ISOs, as in all cameras. (Noise reduction removes subtle details along with the noise, that's how it works.)
This little camera can't hold a candle to a DSLR if you want to shoot at ISO 12,800 and look at the images at 100%; a full-frame DSLR will still be sharp and colorful at ISO 12,800 while this point-and-shoot will be softer and duller.
At reasonable print and web sizes, this Mark V makes swell images up to ISO 6,400 or ISO 12,800.
The RX100 M5 has a small sensor as serious cameras go, but a big one as pocket camera cameras go, so it works in the dark, but its images are victims of the severe in-camera noise reduction typical for all cameras used to keep noise manageable at insane ISOs.
Its Auto ISO programming opts for extremely high ISOs in dim light, which is great because they look wonderful.
ISO 5,000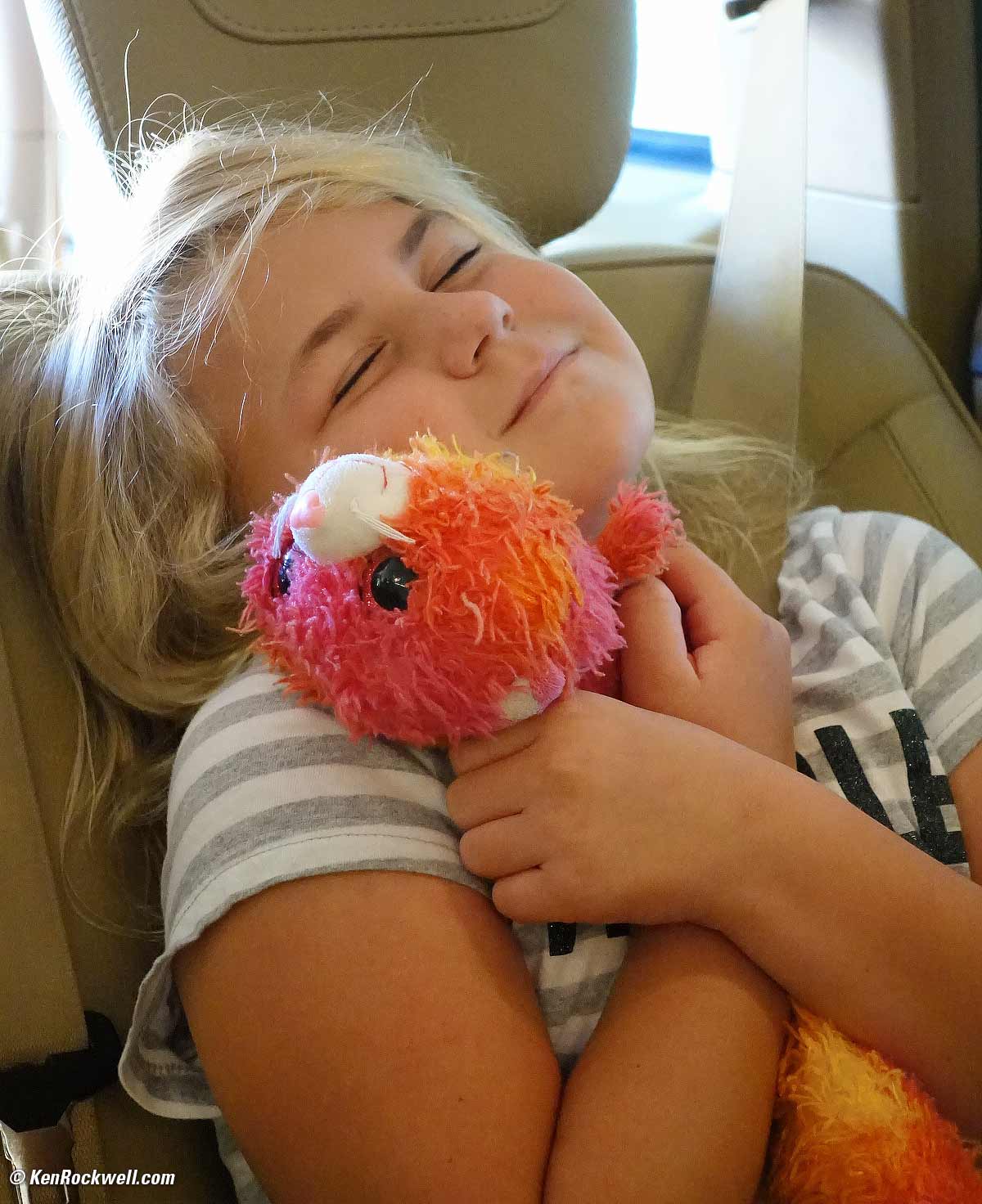 Katie with Gumdrop, her Fursian, 13 November 2016. Sony RX100 Mk V at 25.7mm (70mm eq.), f/2.8 at 1/125 at Auto ISO 5,000. bigger or camera-original file to explore on your computer.
ISO 6,400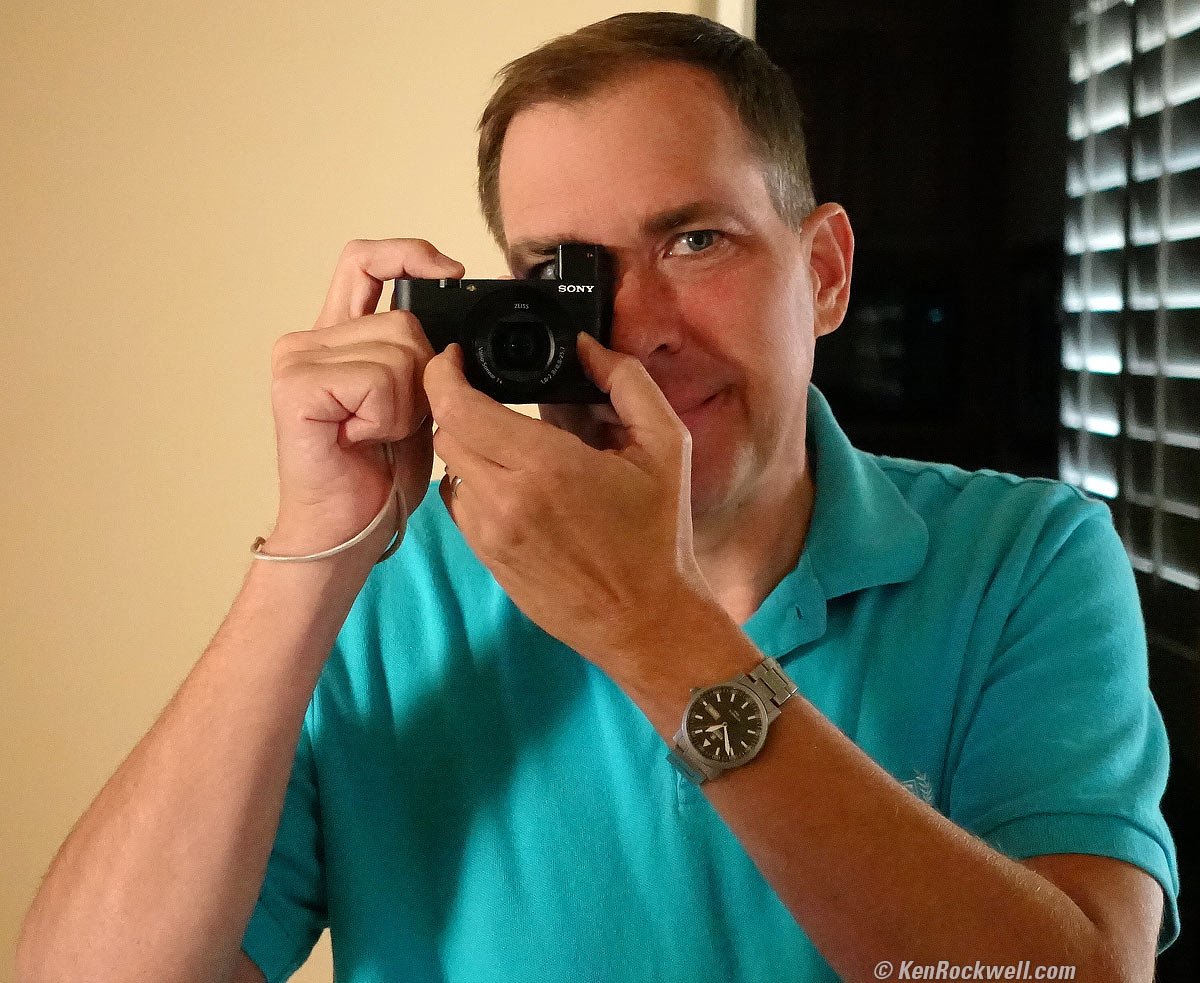 Ken Rockwell with the Sony RX100 Mk V, 13 November 2016. Sony RX100 Mk V at 25.7mm (70mm eq.), f/2.8 at 1/125 at Auto ISO 6,400. bigger or camera-original file to explore on your computer.
ISO 12,800
Door at night, 13 November 2016. Sony RX100 Mk V at 10.9mm (30mm eq.), f/2.5 at 1/30 at Auto ISO 12,800. bigger or camera-original file to explore on your computer.
Image Stabilization
It's trivial for me to hand-hold at the SLOWER auto shutter sped setting of Auto ISO, which is 1/8 at wide and 1/20 at tele.
The camera does make a slight hissing sound while the stabilizer is running.
Sharpness
The lens is super-sharp; no news here.
Better, the sensor and electronics do a better-than-average job of sharpening the JPG images as-shot.
This Zeiss-branded lens is certainly sharper than most of Sony's own DSLR lenses, which are pretty bad!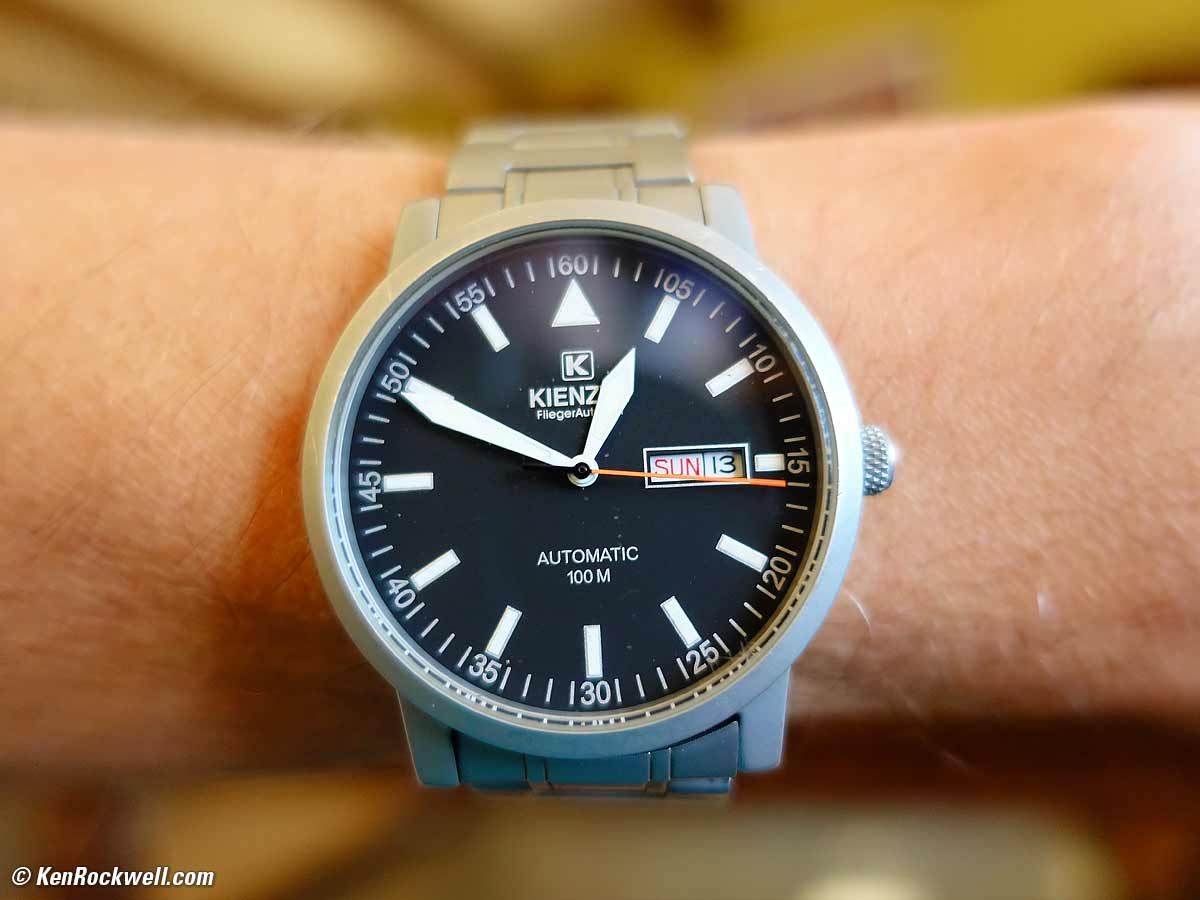 Kienzle Flieger Automat 800/2843 at close-focus distance at 8.8mm at f/1.8. bigger.
Like most point-and-shoots, macro gets very close at the wide end, and not as close at the tele end.
Shutter
The shutter is nearly silent, and the electronic shutter is silent. The only person who will hear it is you.
Even niftier is that even the mechanical shutter is silent as it opens; with long exposures the only thing you hear is it closing at the end of the exposure.
Ergonomics
The RX100 takes a while to get set properly, and once set, works extremely well.
Sony has the world's-worst menu system loaded with more garbage than a hoarder's garage, and there are too many clicks needed to swap from one memory setting to the next. It needs its M1, M2 and M3 settings on its top dial. I can still miss photos trying to scramble from one to the other, or Heaven forbid if I need to change even the simplest setting not preloaded by me into the twelve Fn locations.
Then again, its M123 settings still work better and faster than any of Nikon's better DSLRS, which lack this feature!
Once set, the Memory Recall modes let me reset my RX100 quickly to whatever I need. I which it took fewer clicks to get from one memory to the other, but even though it takes a few clicks it's still faster than having to reset all the individual adjustments I'd otherwise have to set. It also takes some practice not to erase the memories in the process of recalling them.
Once my Mk V is set (which it usually is), it shoots faster and better than anything anywhere near it's own size and weight. It outdoes most DSLRs for speed of shooting and ability to read light, focus and exposure by itself, and the images look great so long as I'm not pushing it too hard above ISO 6,400 compared to a DSLR.
It has the same graphics and general operation for the menus and settings as Sony's larger DSLRs.
After a day or so you learn to see past the fluff, but Sony really needs to work with some real photographers (not bloggers, fauxtographers or talkers, but guys who shoot all day for a living) and completely replace their user interface and menu structure.
If you already know Sony, then you're set; the RX100 M5 is the same as the rest.
There are no real strap lugs, just two little holes for tiny threaded wrist straps.
Flash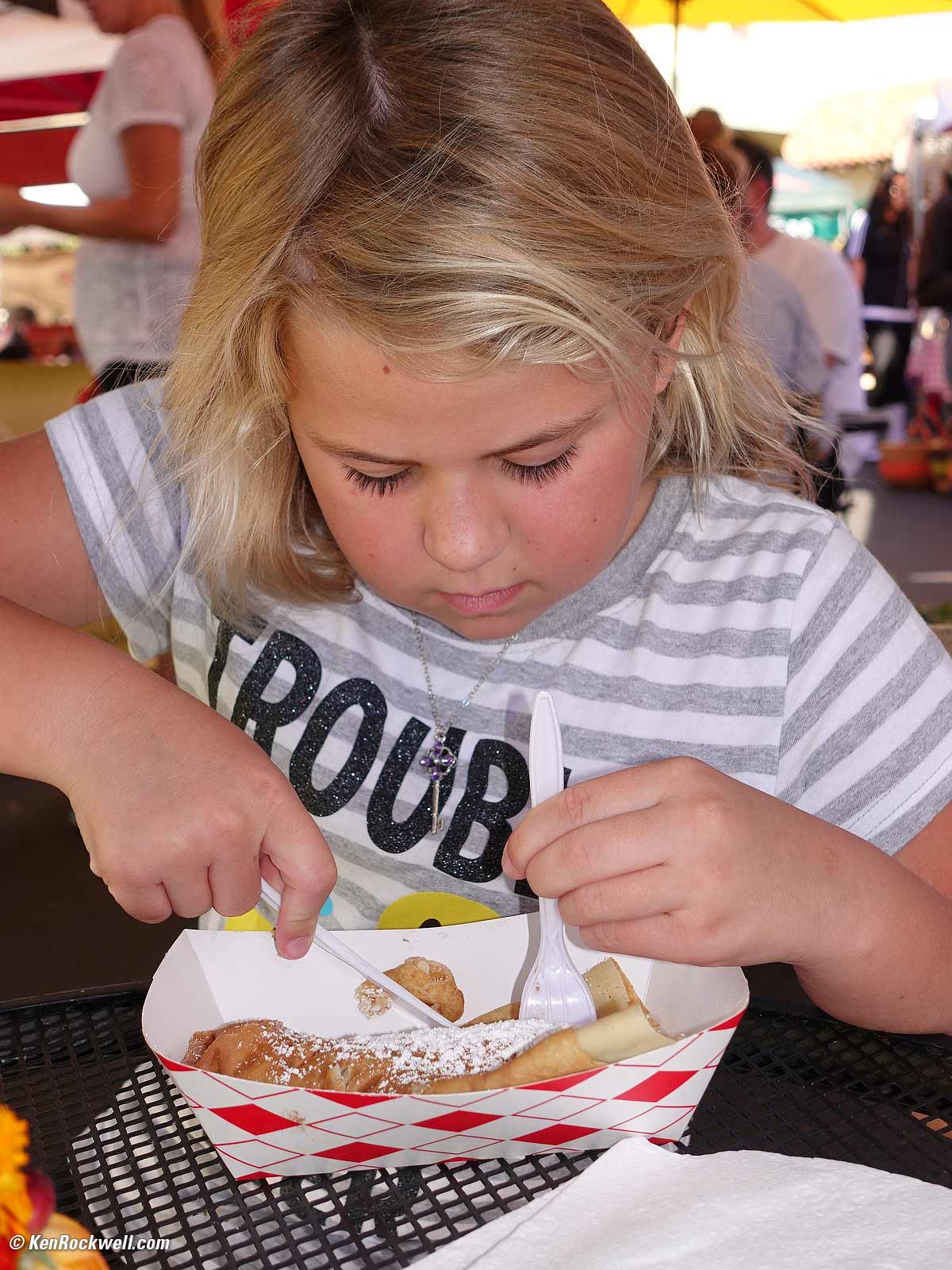 Katie enjoys a crepe, 13 November 2016. Sony RX100 Mk V at 18.7mm (51mm eq.), built-in flash ON, f/4 at 1/200 at Auto ISO 125. bigger or camera-original file to explore on your computer.
It balances extremely well for fill-flash during the day indoors and outdoors. With its 1/800 sync speed the tiny flash usually works well even in direct sunlight.
Slide a lever on the top and it pops right up, and push it back in to turn it off. Perfect!
There are no external flash connections. The tiny pop-up flash is all you have, and it works GREAT!
Exposure is usually perfect, although it can take a while to recycle if it has to fire at full power. This is extraordinary; few if any pocket cameras get flash exposure right, much less perfect, as does the Mark V.
Sadly the RX100-5 locks-up as the flash is recycling, meaning if the flash fires at full power, you're dead in the water for several long seconds until it's ready to fire again. The RX100M5 isn't smart enough to let you shoot without flash while it recharges; instead it locks-up the entire camera and won't shoot.
There can be a shadow cast from the lens if you're close and zoomed wide.
The flash isn't good at night. At night, the flash overpowers the ambient light and images have very black backgrounds:
Playback
The image rotates with the camera on playback just like an iPhone, but not while zoomed.
LCD
The screen can tilt up or down, but cannot swing left or right.
The LCD is anti-reflection coated.
Power
There is no battery percentage meter; just a four-segment battery icon.
You'll get many more shots than rated if you make sequences at high frame rates.
While rated 220 shots, after 367 shots my icon finally came off full, and at 388 showed half full.
It charges in the camera via USB. The power button has a tiny, dim amber LED to indicate charging, which turns off when done. It's green when turned on.
Since it charges via USB, it's easy to charge it from anything from a PC, wall plug, USB power stick, solar panel or rental-car USB jack. USB is everywhere!
Full charge time is rated 4 hours.
There is a simple battery-charge icon, but no percentage indicator.
Considering that Sony has been an innovator in batteries for many decades and pretty much invented the first percentage gauge for lithium batteries, it's weird that this camera's battery gauge is so primitive. There's no percentage indicator and the basic bar graph seems just to be a voltage meter that varies with load.
Data
Cards are not formatted properly. They are formatted as "NO NAME," not as SONY_RX or similar.
Good news is we can set the first three characters of our file name as we like; I set mine to "RX5......"
The still image folder is at /DCIM/100MSDCF by default.
I prefer to have the camera make a new folder each day, which then looks like /DCIM/10361116 on 16 November 2016.
The automatically-selected ISO in Auto ISO reads perfectly in Phase One Media Pro.
JPGs are coded efficiently, but otherwise data is handled poorly.
New cards require you to let the camera diddle around creating a "picture registry" in the card.
It takes a long time to format a card, about 15 seconds.
Vertical shots are not really rotated; they are merely flagged hoping that your software will recognize the flag and rotate it.
I set my RX100 to add my copyright information to each file.
Cards are loaded with junk folders making it more complex to find the file in which your images lie to download them. Worse, videos are hidden in a different folder, so I actually forgot to download them at times!
Video files paradoxically are named MAHxxxxx.MP4 and have a ghost .THM file along with them.
Video files are hidden in the NO NAME > MP_ROOT > 100ANV01 folder. Good luck!
Durability
The RX100 V is made in China for light duty. Consider it as an expendable, replacing it after a year of hard pro shooting with the next version — after which you'll have racked up enough great photos to pay for this little toy ten times over.
The corners of mine quickly wore from black to silver with use.
The pop-up finder is cheesy; I had the rear section pull out once. Therefore I'm always checking that it's still on, and have to keep pulling it out to keep it in focus. Pull too hard, and it pulls apart.
Compared
Top   Sample Image Files Intro Specs
USA Version   Performance Compared
NEW: All Sony Cameras Compared
Versus the Sony RX100 Mark IV
I've been comparing to the RX100 Mk IV throughout this review, where you can find the details, especially at New.
This Mk V has the same lens, the same sensor (with new DSP and new phase-detect pixels, and otherwise the same 20MP sensor) and same body and finder as the Mk IV.
The new autofocus system and new DSP let it run at 24 FPS versus 16 FPS.
Honestly, even 16 FPS is more than I need, so if money matters, of course save $100 and get the Mk IV instead.
See Is It Worth It. The Mark III, IV and V are all very similar.
Versus the Sony RX100 Mark III
The only real difference between the Mark IV and Mark III is $200.
The Mark IV only added minor tweaks to the perfectly good RX100 Mk III.
Some of the tweaks were:
4k video added.
16 FPS, up from 10 FPS, in still shooting.
Slightly sharper electronic finder with more pixels.
Insanely high video frame rates for slo-mo, but these are sometimes at lower resolution.
The image sensor is slightly different.
The Mark IV lets you set it so it doesn't turn off when the finder is pushed-in, if you so desire.
Versus the Fujifilm X-T10 and 16-55mm f/2.8
The tiny Sony RX100 Mk V is much better than my X-T10 and 16-55/2.8 combo!
The Sony images just look better: they are in better focus, and their exposure and color are better.
While they do the same thing on paper and the much larger sensor of the X-T10 gives a huge advantage in the lab at high ISOs, my RX100/5 shoots much faster, the pictures look much better, and the RX100 costs half as much and weighs much, much less! The RX100 is a dream to carry everywhere, while the X-T10/16-55/2.8 combo is an albatross.
My X-T10 / 16-55/2.8 combo doesn't work as well, with slower focus, less accurate metering, and less vivid images for photos of places and things. All my RX100 shots have perfect exposure with no fiddling, while my X-T10 shots just aren't as good.
The RX100 has memory ability to recall the complex combinations of settings I need for the different kinds of subjects I shoot. The X-T10 has some "preset memory" ability, but those memory banks do not save or recall what I need.
Sure, at ISO 12,800 the Fuji has a little more detail, but who cares if it's not in perfect focus? The Sony has the edge on sharpness in real life because its small sensor uses shorter lenses (3x crop factor) which have much deeper depths of field. The Sony does a great job of making great pictures with the noisy data that comes off the sensor; I have no problem publishing its ISO 12,800 shots.
Oddly Auto ISO in the Sony lets it go to ISO 12,800, while Auto ISO in the Fuji only goes to ISO 6,400, so shooting outdoors at night this weekend I had to set the Fuji manually to 12,800. It really slows down my shooting when I have to stop and reset the ISO depending on the direction I'm pointing my camera.
The Sony has the ability to make highly saturated images, while the softer pallet hard-burned into the Fuji line I only like for people pictures. For thing pictures, I have to goose-up the saturation from my Fuji images later. Fuji's "Velvia" simulation modes are poor, while Sony's Vivid and +3 saturation settings look great.
The Sony handles, focuses, sets and shoots so much faster than the clumsy Fuji. The Sony has much better fill-flash performance, especially because the Sony syncs at 1/800 and the Fuji only at 1/180, so the Sony has much more range in daylight. (Of course the X100T syncs at 1/2,000, but that's a very different camera.)
Sure, the X-T10/16-55 is a "better camera" because it's big and expensive, yet the Sony pocket camera is easier to carry and use and takes better pictures. The X-T10 is great if you want to use other lenses with it, but if you do, I always suggest stepping up to a real DSLR instead.
Versus the Fujifilm X100T
The Fuji X100T continues to reign as the world's best digital camera, period. It's a tougher, better made camera with a much larger sensor and a faster lens.
The Sony RX100 is a pocket camera with a small ("one inch," 3x crop factor) sensor and not as good in low light, while the X100T is a serious camera with a full-sized 1.5x cropped DSLR sensor with four times the sensor area of the Sony.
The Sony RX100 is lightweight Chinese-made pocket camera for casual use, while the MADE-IN-JAPAN Fuji X100T is a very serious piece of photographic iron — that's also super small.
The X100T has a faster fixed f/2 lens. The Sony only has a "sucker" f/1.8 aperture. It's only f/1.8 at its very widest setting; every other zoom setting is slower. It's f/2.8 at every setting from 11.7mm (32mm eq.) and longer, which is almost all of its range. Sony's f/1.8 number is only to fool the suckers; at 35mm equivalent, the Fuji is f/2 while the RX100 Mk V is only f/2.8!
Color wise, I prefer the Sony to the Fuji for places and things photos, and the Fuji for people.
Usage
Top   Sample Image Files Intro Specs
USA Version   Performance Compared
See also Sony's RX100 Mk V User Manual.
Carrying
It has no real strap lugs. It has two little niplets, one on each side, that accept the threads from a wrist strap.
It comes with two niplet adapters. Each has a thread loop that can wrap through each camera niplet, and the other side of each is connected to a metal cutout for a flat strap. Therefore with the two included niplet adapters you can attach the RX100 IV to a regular webbed strap, just like a Canon DSLR.
I use an American-made Op/Tech sling strap ($12) that connects to one niplet. It lets me carry my RX100 around my neck and shoulder for instant use.
Power
The battery goes in four ways. Only one actually works.
It charges via USB. The power switch glows amber while charging, and is off when done. It's green when on.
For vacation use, I always had enough charge for the day on one battery. It's always a good idea to carry a spare, charged NP-BX1 battery.
In fact, even with a 3rd-party Watson-brand battery I always had more than enough power. This battery comes in a little plastic case, so it's safe to carry everywhere in your pocket. It's rated a little less than the Sony battery but half the price. I couldn't wear one out even with a full day of shooting.
I brought a Watson-brand charger because it also has a USB socket. I can charge one battery in the Watson charger, and charge the other one in the camera with a USB cable plugged into the side of the charger! This uses only one power outlet to charge both at the same time, which may be the only outlet you get when traveling with your family in one motel room.
Better, the Watson charger comes as a kit with a battery for $5 less than buying them separately.
Lens Ring and Zooming
At its default, the ring at the base of the lens changes exposure combinations in Program mode.
The zoom lever at the shutter button only motors the lens to fixed zoom settings. I instead program the ring around the lens to zoom it, and now and it zooms essentially continuously.
Don't set this ring to exposure compensation because it's always getting knocked. I had my ring first set to compensation, and it was always moving by itself and malexposing my pictures.
Here's how and why I set my memories.
Each memory also recalls your zoom setting, so I set mine about midway between tele and wide so I'm at a normal setting at first.
| | | | |
| --- | --- | --- | --- |
| Memory Setting | MR1 | MR2 | MR3 |
| Subject | Places & Things | People | Sports & Action |
| Resolution | High | low* | low* |
| Creative Style | VIVID | STANDARD | STANDARD |
| Color Saturation | +3 | +1 | +1 |
| Auto ISO minimum speed | Vary automatically with zoom setting; typically 1/8 at wide and 1/30 at tele | 1/125 to freeze people | 1/250 or 1/500 to freeze action |
| AF mode | AF-A | AF-A | AF-C |
| Advance mode | Single Shooting | Continuous HI Shooting** | Continuous HI Shooting |
* With modern cameras, low is about 5-6 MP, which is more than enough for anything and increases my workflow speed and throughput.
** at 24 FPS I almost always get a sequence of at least several images every time I tap the shutter. If you'd rather just one frame, then set Single shooting.
When you change anything after you've recalled a memory setting, it stays changed until you recall another setting. Turning the RX100 V off and on won't reset the recalled memory setting.
The "Fn" button doesn't change setting with the wheel when MR1/2/3 are selected; you have to have to press center button before you can select which preset you'd like to recall from the Fn screen.
Hints
Sony's menu system is poor, so you'll wind up erasing and resetting these by accident for a while until you discover that SELECT REGISTER really means ERASE MEMORY.
If you're trying to recall a setting, only press things that say RECALL MEMORY. Be sure it says RECALL, or you'll erase your carefully set settings in one click.
Programming the Fn menu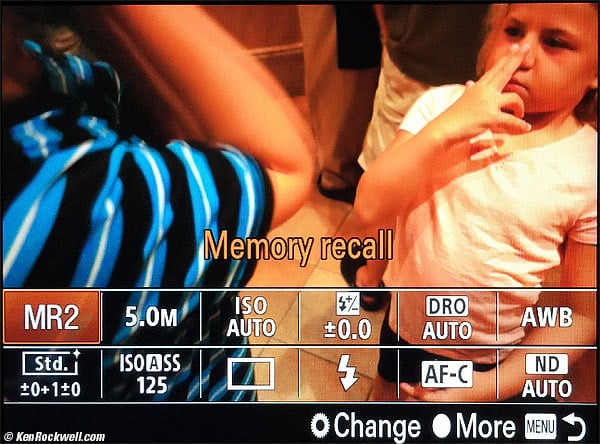 You can program which items are in the 12 boxes above that appear when you press the rear Fn button.
Sony's menu system is so awful that I've long forgotten how I did it or what they called them (try looking in the Gear 5 menus), but when you do find this option, you can set the function of each of these 12 spots.
Now when you tap the rear Fn button, this appears and you can set these functions quickly.
Aspect Ratios
I prefer to shoot in 4:3 as my default.
ND Filter
When left at its default of AUTO, the ND filter kicks in in daylight, and you're suddenly shooting at f/4 at 1/125 when you could be at f/5.6 at 1/500.
This was driving me nuts until I realized that it was doing this. I suggest setting the ND filter to OFF instead of leaving it on Auto.
Stabilizer
I never had to turn it off, even if on a tripod. I left it on for my 30 second moonlight shot above, and it's fine. The RX100 is smart enough to turn it off when it won't help.
Displays
Press the rear DISP button while either the rear LCD or the finder are active to select among their various display options.
The LCD and finder may be set to different kinds of displays, and each remembers your setting as you use the other.
Playback
Just hold the PLAY button for a few seconds and it will wake directly in play mode without needing to erect the lens.
Video Files
Video files are hidden in the NO NAME > MP_ROOT > 100ANV01 folder.
Be sure to make a point of looking there for every download, otherwise you may erase your card before you get your video files, since they are in a completely different place from your pictures!
Recommendations
Top   Sample Image Files Intro Specs
USA Version   Performance Compared
I review loads of cameras. The RX100 V stands out from all the rest because of how many great pictures I can make with it in such a short period of time, and how easy it is to do this.
Unlike many more expensive cameras, every shot from my RX100M5 is perfectly exposed, sharp and has great color — something that usually requires several fiddly attempts to get right with my LEICAs and DSLRs.
The RX100 Mk V is a fantastic point-and-shoot camera that quickly and easily makes great photos in any light, and its larger sensor gives sharper, cleaner images than cell phones or most other pocket cameras.
Better than most cameras, no one takes a point-and-shoot seriously. If you need to photograph sensitive people, things or locations, people are paranoid of cell phone cameras and DSLRs, but with this little gem, no one will notice. You'll get pro shots and no one will be the wiser.
If you think you want one, get one. This is a very popular camera for very good reasons.
It's a premium camera for premium people who deserve the best. If money matters to you, a Nikon D3300 will take technically better pictures for less than half the price, but it's much bigger, plasticier and bulkier. You pay a premium in the RX100 Mk V for small size and precise construction.
I got my RX-100 Mk V at Adorama; I'd also get it at Amazon, at B&H Photo or at Crutchfield.
When you use those or any of these links to approved sources when you get anything, regardless of the country in which you live, it helps me keep adding to this free website — but I receive nothing for these efforts if you take the chance of buying elsewhere. Sony doesn't seal its boxes so you have no idea if you're actually getting a used product if you risk buying at retail. Never buy at retail.
More Information
Top   Sample Image Files Intro Specs
USA Version   Performance Compared
Sony's RX100 Mk V User Manual.
Sony's RX100 Mk V Specifications.
© Ken Rockwell. All rights reserved. Tous droits réservés. Alle Rechte vorbehalten.
Help Me Help You
I support my growing family through this website, as crazy as it might seem.
The biggest help is when you use any of these links when you get anything. It costs you nothing, and is this site's, and thus my family's, biggest source of support. eBay is always a gamble (see How to Win at eBay), but all the other places always have the best prices and service, which is why I've used them since before this website existed. I recommend them all personally.
If you find this page as helpful as a book you might have had to buy or a workshop you may have had to take, feel free to help me continue helping everyone.
If you've gotten your gear through one of my links or helped otherwise, you're family. It's great people like you who allow me to keep adding to this site full-time. Thanks!
If you haven't helped yet, please do, and consider helping me with a gift of $5.00.
As this page is copyrighted and formally registered, it is unlawful to make copies, especially in the form of printouts for personal use. If you wish to make a printout for personal use, you are granted one-time permission only if you PayPal me $5.00 per printout or part thereof. Thank you!
Thanks for reading!
Mr. & Mrs. Ken Rockwell, Ryan and Katie.