Home Donate Search Gallery Reviews How-To Books Links Workshops About Contact

October 2011's News Hot Deals
all © 2011 KenRockwell.com. All rights reserved.

Nikon Canon X100 LEICA More Reviews random Ryan Katie
Recommended Cameras How to Take Better Pictures
NEW: Nikon D5100 App Nikon D5100 User's Guide D7000 User's Guide
31 October 2011, Halloween
Boo!
What's my costume?
The Invisible Man, of course!
The scariest thought is that maybe Nikon really is letting FX digital die. They've had no completely new FX cameras since 2008, and clearly DX works great and gets better all the time. There isn't much money in pro gear or FX compared to the mass-markets of DX, so maybe that's it for Nikon FX cameras. We'll see.
DEAL: Tascam DR-08 Stereo Digital Audio Recorder: $79.99
Just for you folks, use coupon code S1231399 on checkout to get your special price, with free shipping!!
It's usually $99.95, but click ADD TO CART, click PROCEED TO CHECKOUT, click ENTER CODE under "Gift Certificates" under "Payment Information," then enter "S1231399" into the "Enter Code Below" box, you'll be credited $19.96 off the price. Whoo hoo!
Use this little recorder for anything, especially audio for DSLR or other video. You put the recorder at your subject and let it run, then use software like Plural Eyes to sync the audio to video later. This way you shoot from where you need to shoot, and the audio is recorded clear and up-close in up to glorious 96kHz/24-bit digital stereo separately from your DSLR without any big mics on-camera or even any wires.
World's Best Pocket Camera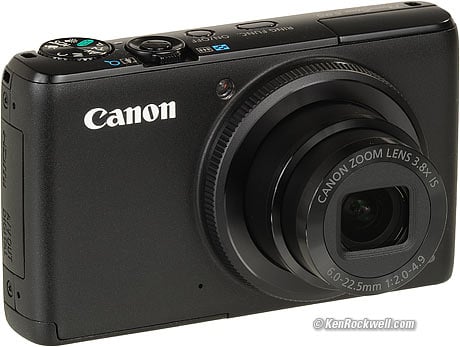 Canon S95: Still the world's best.
The Canon S95 is still the world's best pocket camera, since the new Canon S100 still isn't available yet.
Here's the good part: while the S100 is only orderable at $430, last-year's still-the-best-pocket-camera-in-the-world Canon S95 sells discounted for only $349 at Adorama and only $336 at Amazon, both in-stock, and with free two-day shipping at Amazon Prime.
As you can read at my reviews, the S100 only adds a slightly broader zoom range, GPS and 1080p vs 720p video over the S95, but with a narrower stereo image, a tiny bit more weight and loses some lens speed and an important programmable control button over the S95, so it's a wash. For photographers, the S95 could be the better camera for $100 less, while the S100 appeals slightly more to gadget-heads and video junkies.
Back to video, I prefer the video and s-t-e-r-e-o sound from my S95 to anything I get from any DSLR, and that includes the video I get from my Canon 5D Mk II and Nikon D7000, since getting great DSLR video and sound requires a lot of work with an external microphone system and very manual focus.
I paid $400 for my S95 last year, so as the world's reining best pocket camera and at under $350 today, it's a steal.
29 October 2011, Saturday
COMING: Think Tank Modular System, Version Two.
That link will get you on the list to know the moment they become available.
The current versions are still available at 20% off: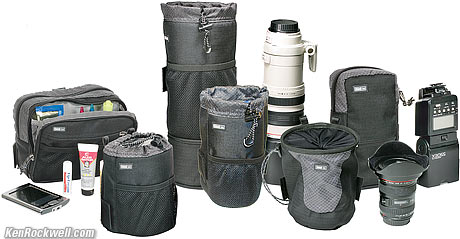 The other Modular Set components for sale individually are the Belly Dancer Harness, All the Other Stuff, Bum Bag, LARGE Lens Drop In, Lens Changer 75 Pop Down, Lens Changer 25, Lens Changer 35, Lens Changer 50, Lens Drop In, Lightning Fast, Modular Pouch, RU Thirsty, Speed Changer, Chimp Cage, Trim Changer, and Whip It Out.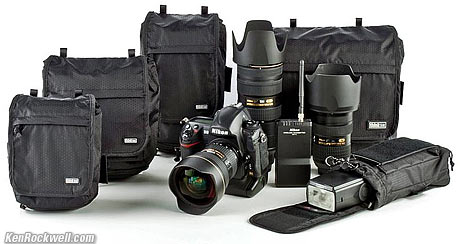 The other Skin Set components for sale individually are the Skin 50, Skin 75 Pop Down, Skin Chimp Cage, Skin Double Wide, and Skin Strobe.
See also Think Tank's site. You guys also get a special free gift with each order for being friends of mine. Yay!
27 October 2011, Thursday
DEAL: Sennheiser HD 218i iPhone/iPod/iPad Mic/Headphones 60% off.
These on-ear headphones have a mic and controls on the cord for use with Apple iDevices, and are 60% off. No I've never used them, but a deal's a deal.
26 October 2011, Wednesday
NEW: Photos from Yosemite and the Eastern Sierra.
What I did last week, all with only one Nikon, one lens and only 600 shutter actuations all week long. I needed no computer, and only one fraction of a memory card. Salvation!
Yes, the Nikon 28-300mm VR replaced everything that used to be in my bag: wide, normal, tele, macro and zoom. The 28-300 does everything, and certainly replaces the 70-300mm VR.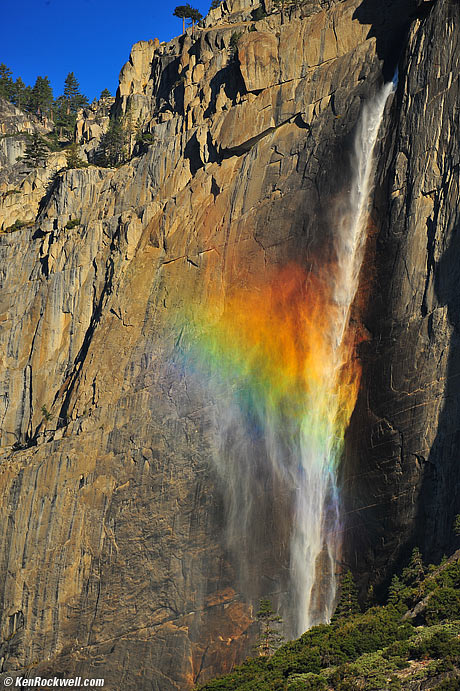 Yosemite Falls.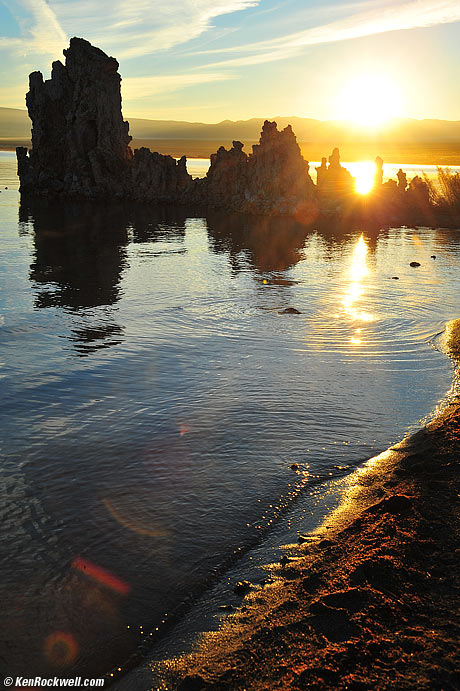 Mono Lake at Dawn.
Canon AE-1 Program
I see a new Canon AE-1 Program for sale over eBay. I have friends who've bought from this seller who've loved what they've gotten, so good luck.
See How to Win at eBay to win this for yourself. So many bidders, so many losers and only one winner — let that be you.
NEWS: Olympus Chairman Resigns after Firing the CEO.
Olympus' chairman just resigned; things have been out of control over there ever since Maitani passed away.
The CEO he fired now has a date with the FBI investigating the billions of dollars thrown to friends as "advisors."
New ScanCafé Code
Only for you readers and only for new customers and good from today only until 31 October 2011: 21% off ScanCafe photo, slide, negative, and video scanning!
Use code ROCKWELL21OCT11R. Not valid in combination with any other offer, or with value kits, or gift cards, or gift boxes, or photo restoration. Expires October 31, 2011, and is valid only for new customers.
24 October 2011, Monday
Yosemite and the Eastern Sierra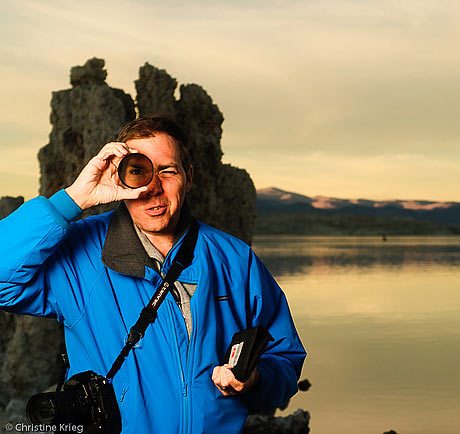 Rockwell at Mono Lake Saturday Night. (photo by San Francisco lighting expert Christine Krieg as a demonstration of off-camera flash. See also How to Use Off-Camera Flash.)
Whoo hoo!
I just got back from a week out shooting. All I needed all week was my D3 and the 28-300 VR. It does everything!
I only needed to make 600 exposures the entire week: I was paying attention to what I was was snapping; not snapping away blindly and hoping something might turn out later.
Much more later after I unpack.
Conditions up there are great!
14 October 2011, Friday
Nikon D7000 App
I know you're all waiting for it, and we've been working on it for some time. We got out the Nikon D5100 App the other week, and the D7000 App is expected well before Christmas. For now, my online guide will have to hold you.
Thanks for your patience! It's just me, and a couple of guys at Deepwell doing the app, that crank this all out, and we do it all by hand.
Ken
NEW: Canon 15-85mm IS Review.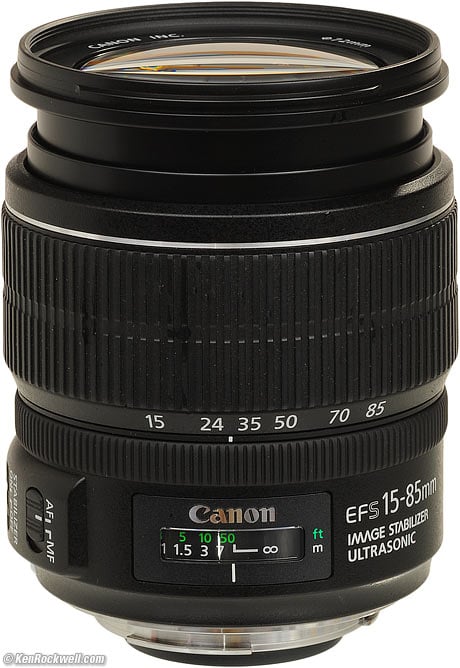 Canon 15-85mm IS.
My favorite lens for Canon's 1.6x cameras.
DEAL: Only for you readers and only for new customers: 21% off ScanCafe photo, slide, negative, and video scanning!
Use code ROCKWELL21OCT11. Not valid in combination with any other offer, or with value kits, or gift cards, or gift boxes, or photo restoration. Expires October 31, 2011, and is valid only for new customers.
Deal: As I check this (it always changes), Amazon has the outstanding Nikon 28-300mm VR in stock for $920! (28-300 review.)
13 October 2011, Thursday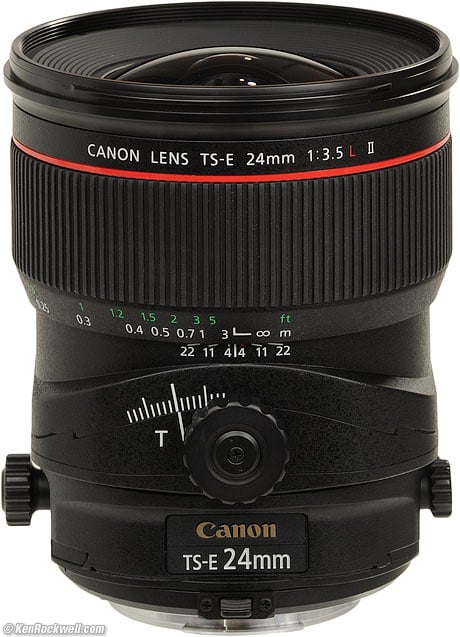 Canon TS-E 24mm f/3.5 L II.
NEW: Canon TS-E 24mm II Review.
A great tilt and shift lens.
12 October 2011, Wednesday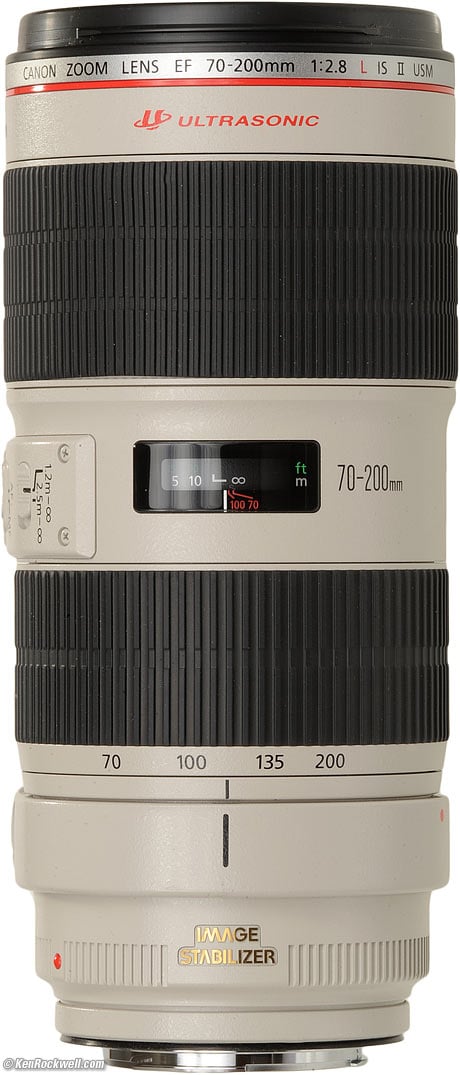 Canon 70-200mm f/2.8L IS II USM.
NEW: Canon 70-200mm f/2.8 L IS II Review.
The world's sharpest zoom.
$2,400 and worth twice as much!
D5100 Users Guide App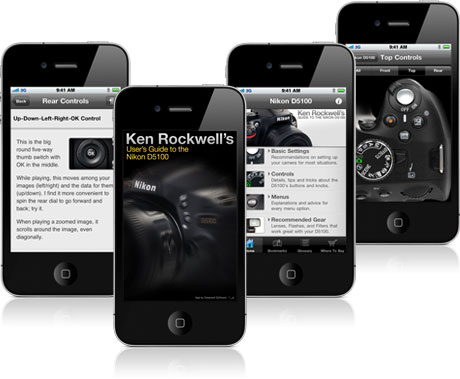 Nikon D5100 Users Guide App!
The Nikon D5100 User's Guide App is now here!
The Nikon D7000 User's Guide app is on the way, too.
New Fuji X10 now orderable at $599.95.
NEW: Voigtländer 35mm f/1.4 Review.
(different lens from the 40mm f/1.4 reviewed yesterday)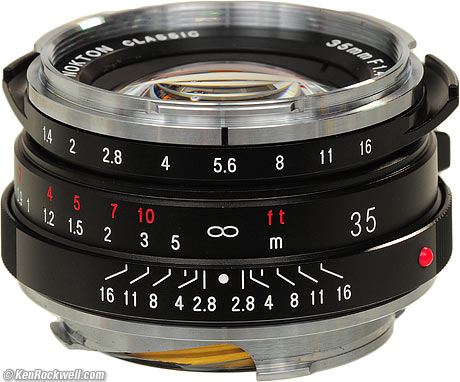 Voigtländer 35mm f/1.4 for LEICA M.
A very handy lens for LEICA M with excellent mechanics an ergonomics, sadly with inferior optics.
Should you upgrade to the SUMMILUX?
A reader with a perfectly good LEICA SUMMICRON 35mm asked if it was worth it to upgrade to the newest LEICA SUMMILUX-M 35mm f/1.4 ASPH with floating aspheric group (FAG).
My answer was that there is no such thing as an "upgrade" from a SUMMICRON; the SUMMICRON is the very best lens there is.
The SUMMILUX isn't an upgrade, it is a different lens. Not better, just different and more expensive.
The SUMMILUX is for people who need f/1.4, otherwise, the SUMMICRON is sharper and smaller.
However, in the specific case only of today's 35mm focal-length lenses, the SUMMILUX is more tempting, as only in 35mm is the SUMMILUX at least as sharp as the SUMMICRON. Given an infinite amount of money, which is usually the case with LEICA shooters, yes, get any of the SUMMILUX ASPH 35mm lenses becisue they are as good as the SUMMICRON, otherwise, in every other focal length, especially 50mm, the SUMMICRON-M is sharper than the SUMMILUX ASPH, and the other SUMMILUX are less sharp overall than their SUMMICRON brethren.
Japan's back, but now Thailand is under water
The Canon 24-70mm L I reviewed on Monday came from the recently opened Canon Sendai plant, but now Nikon has shut their Thailand factory in the latest catastrophe.
This means no more DSLRs except for the D700 and D3, so if you want a D7000, D5100 or D3100, now is the time to get it before they go out of stock and the price rises.
Ditto for the Thai lenses, like the 70-300mm VR and 28-300mm FX VR. It may be now or February.
11 October 2011, Tuesday
Did you ever notice how many Japanese brands are really just different divisions of the same larger corporation? Look at the brands "Nikon," "Canon" and "Tamron." Any wonder they all end in -on? They are all three different product grades from the same large private corporation!
NEW: Voigtländer 40mm f/1.4 Review.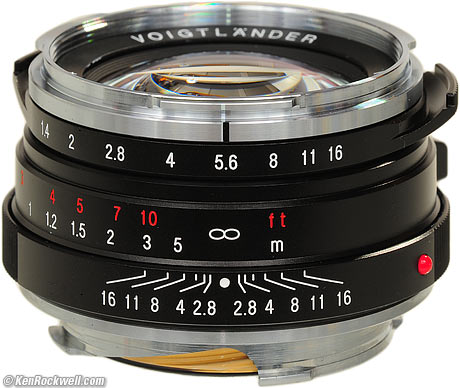 Voigtländer 40mm f/1.4 for LEICA M.
A relatively pointless lens for LEICA M, unless you really need f/1.4 for your Minolta CLE.
10 October 2011, Monday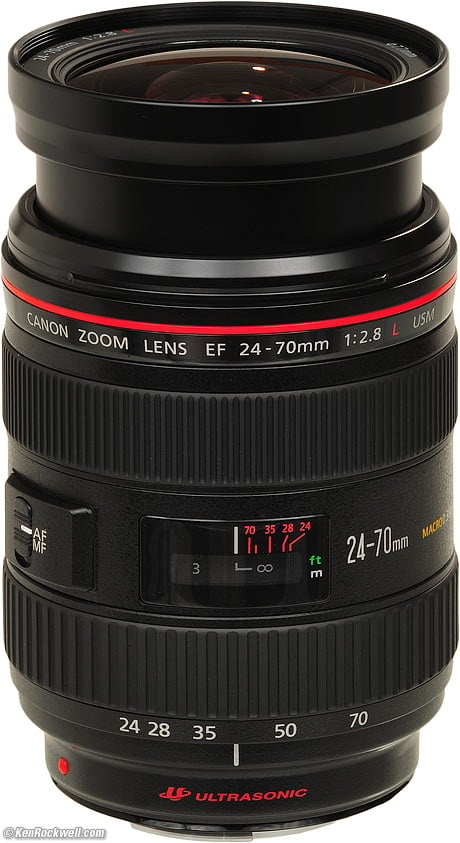 Canon 24-70mm f/2.8 L.
NEW: Canon 24-70mm f/2.8 L Review.
Canon's best professional midrange zoom.
07 October 2011, Friday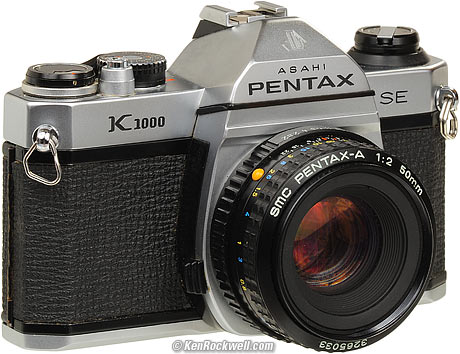 Pentax K1000 (1976-1997).
NEW: Pentax K1000 Review.
The K1000 is world's most classic classic camera, next to the LEICA M3. The K1000 is the camera that is just too tough to die.
Exactly like Apple and the LEICA M3, the Pentax K1000's strength is simplicity. It gets out of the way and lets us concentrate on our picture, and not on our camera.
Bravo!
06 October 2011, Thursday
RIP Steve Jobs
Steve Jobs, the brilliant individual who gave the world so much these past few decades, passed away yesterday afternoon.
I've already gone over how we'd all be staring at nothing more than a blinking green "C:>_" right now if it weren't for Apple introducing the point-and-click computer, the mouse, micro floppy discs, Firewire and the touch-screen interface. Heck, if it weren't for Apple, you certainly wouldn't be reading this on your smart phone at work right now.
Sure, some of these innovations were invented elsewhere, but it was Apple that took the risk for which no one else had the guts and introduced these crazy ideas in real commercial products. Most of what we take for granted in technology came from Apple. Everyone else piles-on and tries to copy — poorly — three months later and makes these innovations seem "obvious," but if not for Apple, there would be no Windows computers and only you computer science people would be looking at this on VT100 terminals right now — in green-on-black like this, without the pretty pictures or different sized and bold fonts.
I've covered this already. What I'll cover today is how this teaches us to be thankful for who we are.
Zillions of people used to wish they were Steve Jobs, a multi-billionaire who loved his work so much he worked for Apple for free, and who was loved everywhere and who was still cooler than any teenage rock star. Most billionaires are boring, old, work too hard, have few friends and no one knows them. Steve Jobs was a living legend — a rock star who didn't even need to wield an axe.
Steve Jobs was only 56 years old, and he died yesterday afternoon. Even with his unfathomable billions, 56 years young was all he got out of this life.
What was I doing yesterday afternoon when Steve Jobs died? Playing hooky with my kids at an indoor play place where we spent the afternoon sliding down a huge 35-foot-tall (10 meter tall) air-inflated jumpy slide. We had a blast, and as I was sliding down this huge thing with my kids on my lap, heard the words of one of my old friends here in New York, where one afternoon sitting around his backyard pool watching the kids he remarked:
"The only thing that matters is the time you spend with your family and with your friends. Everything else is bullshit." (sorry for the honest quote, but hey, we're to-the-point here in New York.)
I didn't hear that we had lost Steve Jobs until later yesterday.
Would I want to be Steve Jobs? No thank you. I'm very thankful to be myself and still be here today to be playing with my kids and writing this.
We all should be thankful for who we are. Beats me why so many people wish they were someone else, but as I've also said, no one else can be better at being you than you are. In art, be yourself, and shout it out.
More things for which we can be thankful are that Apple was founded by Steve 1 along with Steve Jobs. We still have Steve Wozniak.
Why do Apple products look better than anything else? Because they are sculpture. Their industrial design has been driven by Steve Job's appreciation that simplicity is power. His absolutely maniacal drive to rid everything of buttons, wires and fugly logos and stickers is what keeps Apple products simple, and therefore so powerfully attractive. Well, Steve has driven the simple, but Jonathan Ive is the sculptor (industrial designer) at Apple who has been doing the actual design, and he's still with us, too.
I hope the rest of the team at Apple continues to drive simplicity. Simplicity is everything. Simplicity is why I can find everything and do everything I need on my iPod Touch, while a lack of appreciation of the power of simplicity is why no one can figure out how to get their DSLR to take the darn picture half the time when we press the shutter. Oriental camera makers cram too much in to try to make them sell more. If they were artists, they'd understand simplicity, but they aren't artists.
So for what am I thankful today? I'm glad that Steve Jobs was so insistent on getting us brilliant new things without which I wouldn't be able to be doing this website or read it on the music player in my pocket (along with my 1,000 CD music library), and that Steve Jobs enforced that everything had to be simple so that we actually can use it. I'm thankful that Apple is still there and that we still have Steve Wozniak and Jonathan Ive, and most of all, I'm thankful that I'm me!
While you're here, have a read or look at Steve Job's address to the Stanford graduating class of 2005. He has a lot to say about what's really important.
The main thing is that he shared that every morning he makes sure that he's happy about what he's going to be doing that day. If he's not happy for a few days in a row, he does something to change it. Life's too short to waste it doing something that sucks. That means if you don't like your job, quit. Just walk out right now. You won't spend the effort to do better if you're still spending your time at a job you hate when you should be spending that time looking for something better. And guess what: working for someone else isn't the way. Here in America, anyone can found a company and become a billionaire, like that Facebook kid did a few years ago when I founded this site. Our only limitation in America is own own imaginations.
We will become and can do anything we choose to imagine, but we have to use our imagination and not waste our minds watching TV, U-toob, email or working for someone else instead. A mind is a terrible thing to waste.
05 October 2011, Wednesday
Who has a D3X to rent on Tuesday?
My friend Richard Schute of North Coast Photo needs to rent a Nikon D3X for a couple of hours on Tuesday. If you'd like to rent him one, or know who does, give him a call directly at (760) 685-5527. Richard is in Northern San Diego.
Thanks!
Ken
NEW: ADS L400 Review.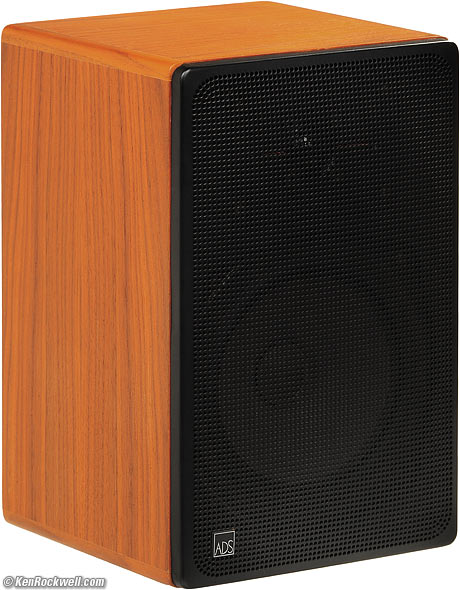 ADS L400 (1983-1986).
Sorry, the air quality wasn't what I needed for testing the Canon EF 24-70mm f/2.8 L, Voigtländer 35mm f/1.4 M and Voigtländer 40mm f/1.4 MI have in for testing, so you got an indoor speaker test today instead.
Count your lucky stars; I'm the only publication of which I know publishing real lab data measured in anechoic conditions with a real audio analyzer, not piecemeal "close-miked" simulations made with a computer sound card. Piecemeal measurements don't count because they don't measure a loudspeaker system operating as a whole; all they do is let someone working in an apartment make something that looks like a frequency response graph glued together from unrelated point-source measurements.
Thankfully now that I've moved back to New York, I've got a contact in a major studio who lets me come play in his lab to do these measurements.
04 October 2011, Tuesday
Nikon 135mm f/2 DC Deal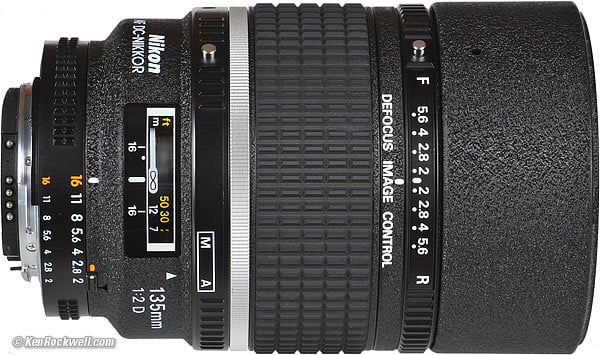 Nikon 135/2 DC.
DEAL: If you need one of the world's best portrait lenses, I found a used Nikon 135mm f/2 DC, for sale here at eBay at a great price from a fantastic store. I've bought from this store before, and service and product have always been just like new, so I'd go for it. This store is in Japan, and my items have arrived in just a few days via EMS!
Yes, for less than $999 delivered, you can get the world's best portrait lens that you'd ever want to carry on a camera around your neck.
See also see How to Win at eBay, as well as other ones at eBay, to see what a good deal this is on a great lens. They sell fast, so I suspect it will go fast at that price. Nikon can't make these fast enough.
In the Lab
I just got a Canon EF 24-70mm f/2.8 L, Voigtländer 35mm f/1.4 M and Voigtländer 40mm f/1.4 M in for review. Look for them over the next few days.
03 October 2011, Monday
Double-Takes
Things have been coming in twos lately. Here are some double-confirmed observations:
Nikon 1 = Nikon Pronea
A reader wrote, mentioning the chilling parallels he sees between the new Nikon 1/CX system and the dumpstered Nikon Pronea/IX system.
I got curious, and it turns out he wasn't commenting on my comments, but arrived at the same conclusion all by himself.
Not only is the Nikon 1 the new Pronea APS system, the old Pronea system is better than the new Nikon 1/CX system because:
1.) Most Nikon AF and DX lenses work perfectly on the Pronea bodies, no adapters required, while you have to buy an extra adapter to use these same lenses on the Nikon 1.
2.) On Pronea, the DX wide lenses are ultra wide, while the Nikon 1 system has such a tiny sensor that there are no wide lenses made for it.
Confirmed: Nikon 1 = Downgraded Nikon Pronea.
LEICA Neue SUMMILUX-M 35/1.4 ASPH Rules
I just got my hands on a second sample of the pretty much unobtainable new LEICA SUMMILUX-M 35mm f/1.4 ASPH (mit floating element group). It is also extraordinary!
I'm astounded at how LEICA took what was already by far the world's best 35/1.4, the previous LEICA SUMMILUX-M 35mm f/1.4 ASPH (1994-2010) and significantly improved it.
Confirmed: 35mm SUMMILUX-M f/1.4 ASPH is extraordinary. Both samples I tried from completely different sources are ultra-sharp and contrasty, especially at f/1.4, and focus perfectly.
LEICA SUMMILUX-M 50/1.4 ASPH
I tried a second sample of the LEICA SUMMILUX-M 50mm f/1.4 ASPH and confirmed that it indeed is less sharp than the LEICA SUMMICRON-M 50mm f/2.
The 50/1.4 ASPH is much better than the previous (1961-2004) 50/1.4 SUMMILUX, but is significantly less sharp than the current SUMMICRON-M if you're counting pixels for landscapes.
Also, both 50/1.4 ASPH I tested had enough focus offset on my camera that they both focused enough behind the intended subject (about half a foot at normal distances) that at large apertures you'd lose significant sharpness.
The 50/1.4 ASPH has much better bokeh (smooth out-of-focus backgrounds) than any other LEICA lens I can recall, but if you need sharpness for nature and landscape (or need your shots in focus), skip the 50 SUMMILUX ASPH and stick with the world's sharpest lenses, the SUMMICRONs.
Confirmed: 50/1.4 ASPH has great bokeh and is much sharper than the previous 50mm SUMMILIUX, but both samples from completely different sources I tested of 50 ASPH are not as sharp, nor do they focus as accurately as the 50/2 SUMMILUX-M (1979-today). For photographing people, bokeh is more important than sharpness, so go for the SUMMMILUX-M ASPH; just be sure it focuses well on your sample of body.
If sharp lenses don't matter, why do I talk about it?
Another great double-question is how and why do I go on and on about which ultra-sharp LEICA or other lens is sharper than the next, and then in the same breath go on to say that everything about lens sharpness and camera quality is completely irrelevant?
These are completely different issues. Camera or lens quality doesn't have anything to do with picture quality, but we like nice equipment, and you folks ask me to talk about it.
It's exactly like how we all prefer one kind of keyboard or tablet or mouse to enter things into our computers, iPads or whatever, but our choice of keyboard has nothing to do with what we have to say or the quality of the final result. It's only about the convenience we enjoy in creating whatever it is we're creating.
Lens sharpness or camera performance contributes less than 1% to the final quality of an image. More than 99% of what we see in an image comes from the imagination (or lack thereof) in the mind of the artist. Photos are all about what's in the photo, the lighting, the point-of-view, and what is the subject and the whole point of the photo in the first place. All a lens does is focus light, and as we see above for the LEICA 50mm f/1.4 SUMMILUX-M ASPH, it doesn't even get that right some of the time.
Even though lens quality has almost nothing to do with image quality, when you're a virtuoso and have your art at a level where you have mastered every possible technical aspect, you sometimes might consider (or not) the slight effect a lens might have on your images. Since distortion, flare, color balance, bokeh and sharpness might matter to some people, I report on it. The bad part is that 99% of us aren't good enough to be worrying about this baloney, but because it's so easy to write and read about, I do it anyway.
Confirmed: Rockwell is right for once, twice!
Canon's Watching Us, Too
Canon, as well as Kodak, also makes large focal-plan array sensors for spy satellite and space-based weapons systems.
Don't expect to find these in a camera; sensors like these are priced to be bought by national governments.
Confirmed: Watch the skies!
01 October 2011, Saturday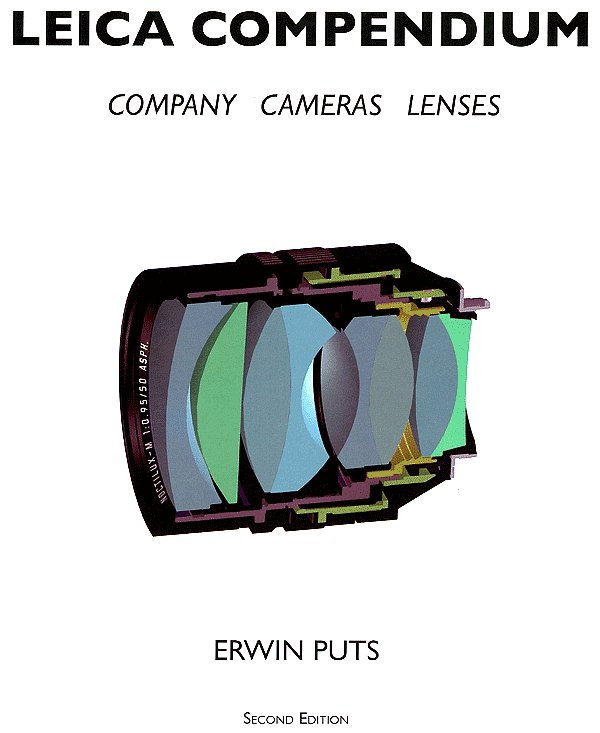 Leica Compendium by Erwin Puts.
NEW: Leica Compendium Review.
What Was New in:
Help me help you
I support my growing family through this website, as crazy as it might seem.
If you find this as helpful as a book you might have had to buy or a workshop you may have had to take, feel free to help me continue helping everyone.
If you've gotten your gear through one of my links or helped otherwise, you're family. It's great people like you who allow me to keep adding to this site full-time. Thanks!
If you haven't helped yet, please do, and consider helping me with a gift of $5.00.
The biggest help is when you use any of these links to Adorama, Amazon, B&H, eBay, Ritz, Calumet and J&R when you get anything, regardless of the country in which you live. It costs you nothing, and is this site's, and thus my family's, biggest source of support. eBay is always a gamble, but all the other places always have the best prices and service, which is why I've used them since before this website existed. I recommend them all personally.
Thanks for reading!
Ken
Home Donate New Search Gallery How-To Books Links Workshops About Contact