Home Donate Search Gallery Reviews How-To Books Links Workshops About Contact

November 2011's News Hot Deals
RSS: daily (continuous live updates)
all © 2011 KenRockwell.com. All rights reserved.

Nikon Canon X100 LEICA More Reviews random Ryan Katie
Recommended Cameras How to Take Better Pictures
NEW: Nikon D5100 App Nikon D5100 User's Guide D7000 User's Guide
30 November 2011, Whacky Wednesday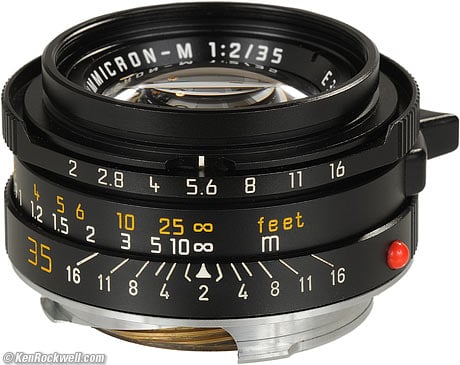 LEICA 35mm f/2 SUMMICRON-M (1979-1996).
NEU: LEICA 35mm f/2 SUMMICRON-M Review.
LEICA's lightest M-mount 35mm lens of all time and thus their best 35mm lens for travel.
29 November 2011, Taco Tuesday
Fuji X100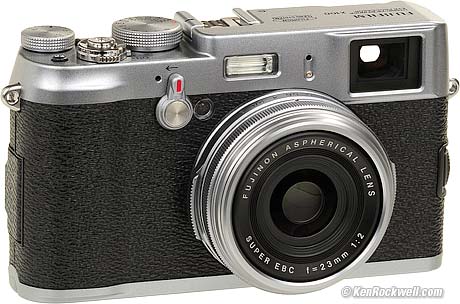 Fuji X100.
The Fuji X100 seems to be in stock now in most places, so you know it's what you want for Christmas.
Even though I have fancier cameras, the X100 is the only thing I grab when snapping my family, be it at home or out and about. There's nothing else like it. No DSLR or LEICA comes close.
DEAL: Think Tank Retrospective Shoulder Bags Rebate.
Get any of the Retrospective bags and get up to $20 back. You'll also get free gear. Whoo hoo! Expires 31 December 2011.
You also can get Think Tank gift certificates.
GIFT IDEAS
I have a Gift Suggestions section on my Recommended Cameras page. Send your family there.
28 November 2011, Cyber Monday
Cyber Monday is the day that everyone's back from enjoying a very long weekend away with family and friends, and finally gets back into work and gets down to real business: ordering everything online!
DEALS: Amazon's Cyber Monday Photo Deals.
DEALS: All of Amazon's Cyber Monday Deals.
DEALS: Adorama's Cyber Monday Photo Deals.
DEALS: Ritz' Cyber Monday Deals.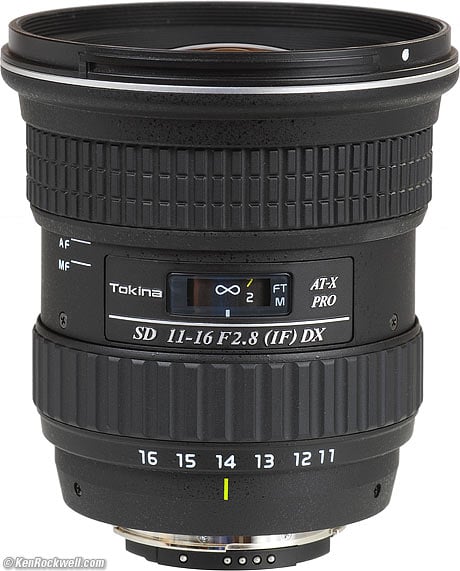 DEAL: Tokina 11-16mm f/2.8 for Nikon for only $669. The Tokina 11-16mm is the best ultrawide lens made for the D7000 and better DX cameras with a built-in AF motor. It's usually hard to find at any price because it's just that good - better than Nikon's own lenses!
DEAL: Tokina 11-16mm f/2.8 for Canon for only $669. Work great on all Canon 1.6x cameras.
DEAL: Tokina 11-16mm f/2.8 for Sony & Minolta Maxxum for only $669. Note: on 35mm AF Maxxum cameras, only works at longer than 14mm without cutting-off the full-frame corners — still a pretty darn slick way to get a real 15mm lens for full-frame!
DEAL: Sony ICDUX512 Stereo Digital Recorder for only $39 — with free shipping. (Sells for $73 elsewhere.)
DEAL: Pentax K-5 DSLR for $999.95, with free shipping.
DEAL: New Minolta X-700 on eBay for $390 (one only).
MORE: My Hot Deals Page.
MORE: Check the rest of my links for everyone else's Cyber Monday Deals.
In-Stock: Nikon 35mm f/1.8 DX at $196.95. The only lens I ever use on my D7000. (35/1.8 review.)
WEIRD: If you need one of the world's widest 220º fisheye lenses, I see a used Nikon 6mm f/5.6 for sale at eBay direct from Japan.
For sale is the 6mm 220º version of the more common 180º 7.5mm f/5.6 I have already reviewed. The same compatibility restrictions apply: you need to use it with a locked-up mirror because it pokes into the camera.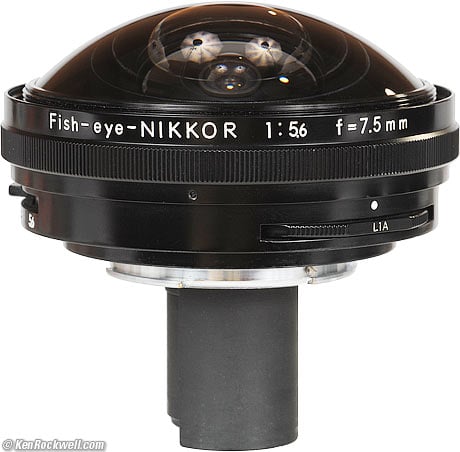 Nikon 7.5mm f/5.6.
See How to Win at eBay if you want to win.
24 November 2011, Thanksgiving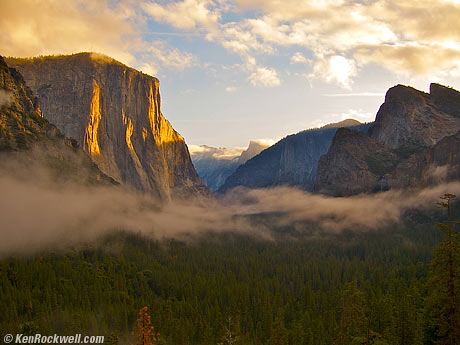 Tunnel View at Dawn. (Canon S95.)

NEW: Photographs from last weekend in Yosemite.

DEALS: Ritz' Black Friday Deals.

23 November 2011, Wednesday

The Power of Raw: See this example from the Canon S95 of what I can pull out of a Canon CR2 file with Apple Aperture's highlight and shadow sliders.

Not only can Aperture pull a better snap out of an awful one, it's a no-brainer, just move the sliders that are always in front of you, no clicks needed.

Of course if this was shot in decent light, it would have been even better.

PICK ONE: Tome uno.

A reader asked if I only got to pick one camera and one or two lenses for everything forever, what would it be? D7000? X100? M3? M9? Mamiya 6?

Easy: X100 for family, and LEICA M9 with SUMMICRON-M 50mm (1979-1994 lightweight A42-hood version) for everything else.

I would add an ELMARIT-M 21mm f/3.4 ASPH, SUMMILUX-M 35mm f/1.4 ASPH FAG and TELE-ELMARIT-M 90mm f/2.8 depending on if I'm allowed or not.

I shoot no sports, but if I did, only then would a DSLR enter my picture.

Of course if I had an iPhone (I won't pay $80 or more per month just to keep it alive; my iPod Touch has unlimited Wi-Fi data service for free), the new iPhone is probably the only camera anyone needs. If I was to buy an iPhone, it's a lot less expensive to buy one outright for $700 without indenturing yourself to an overpriced, customer-hostile phone company, and just pop-in your choice of SIM cards. Phone companies make billions because Americans can't think more than a month ahead.

An X100 and LEICA M9 are two cameras; the question was only asking me to pick one. Hmm, depending on if I value family over trees, it would be one or the other. The X100 is much faster to focus and much better in changing light, but its colors are muted for people shots. If I figured out how to get wild colors out of the X100, I'd pick the X100 over the M9, but if I couldn't, I'd probably deal with the clumsy LEICA M9 for everything.

SLRs and their big, fat lenses are too darn heavy for me. Their only advantage is for action, but I'm not shooting sports. Since I've been doing this for a few decades, I don't need zoom lenses or all the other fluff that Nikon and Canon love to sell people that require a bag to haul around. A fixed lens or two is all anyone needs.

22 November 2011, Tuesday

DEAL: Canon S95 for $289 with free shipping at Adorama and at Amazon. (Amazon's free shipping with Amazon Prime.)

The best keeps getting better; I paid $400 for my S95 last year. Canon must be blowing them out to make room for the more profitable $430 S100, which is the same thing with a slower lens and minus one custom function button, but adds some fluff features.

Don't come whining to me when the S95 sells out!

DEAL: Nikon 55-200mm DX VR for $146.95 with free shipping!

See the 55-200mm VR review for more links to other places with it at about the same price. It's one of my favorite DX lenses, yippee!

DEAL: Nikon 55-300mm DX VR for $249.99 with free shipping!

See the 55-300mm VR review for more links to other places with it at about the same price.

NEW: LEICA 50mm f/3.5 ELMAR Review.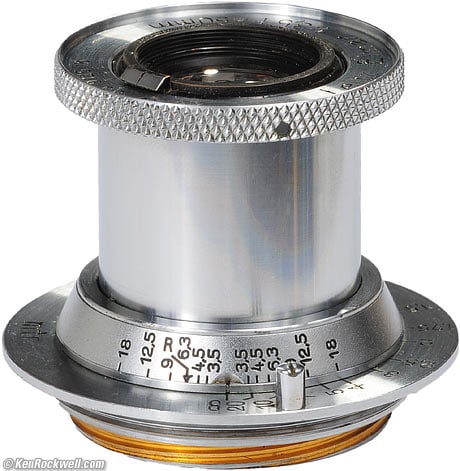 LEICA ELMAR 50mm f/3.5.
This is the lens that started 35mm photography. The 50mm ELMAR is the world's first interchangeable lens for a 35mm camera, and even today it still performs well. It is also one of the tiniest lenses ever made for photography, so it is the lens I chose last weekend to shoot in Yosemite to keep things light.
Yes, it is perfectly compatible with the newest LEICA M9-P, complete with full exposure automation.
21 November 2011, Monday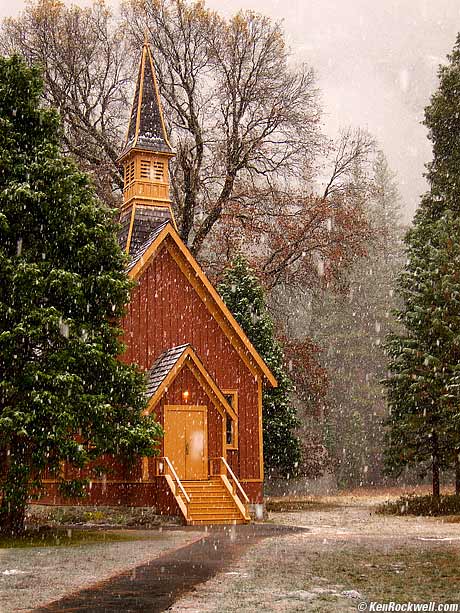 Yosemite Chapel in Snowstorm. bigger. (Canon S95)
YAY: I just got back from shooting in Yosemite this weekend. This was the snow yesterday morning. I shot the Canon S95, LEICA M9 (with a lens from 1934) and a 1964 LEICA M3.
As we await Santa's arrival here in New York City on Thanksgiving Day's parade later this week, a rant I think you already understand is the foolishness and selfishness of people who waste their time out burning gas, wearing out their cars and polluting our environment so their wives can go shopping at retail.
Duh, we can get it all online for less with better service, far broader selection and avoid wasting our wives' time and our car money and polluting our skies and the roads with traffic if we can show them how to stay home and save money — and the environment at the same time.
I'm amazed at how some otherwise intelligent people still shopped retail up until a few years ago, and it astounds me even more that some people who consider themselves "green" would drive a car to go shopping. It their time worth so little, and do they have such little respect for our world? What would take half a day to go shop for and over pay and not find in stock at retail I can gather in 10 minutes online, and then I can get out to real fun.
For instance, you can shop Amazon's Live Black-Friday Deals (all Amazon deals) right now, and for we Amazon Prime members, it will arrive here on Wednesday with free shipping, then we can go out and shoot for four long days of the Thanksgiving holiday.
One of the best Thanksgivings I ever had was back when some friends and I headed out to Utah and shot Lake Mead and the slot canyons. I needed four days off to get there and back, and it sure beats getting in an accident with some lady's minivan wasting golden time shopping at retail. Shopping retail is for perishable food and people who enjoy paying retail, but not for me.
Returns? Amazon lets me print a sticker and I just hand the box to the UPS guy, often at Amazon's expense. I never have to leave my house for returns.
Local economies thrive with the new Internet economy. Instead of just a few high-paying jobs for Home Depot, Target and Wal-mart being located in far-away states with only the low-paying checker and schlepper jobs offered locally, online sales brings the high-paid logistics, distribution and IT jobs back everywhere across the country, while we can flatten the old, empty big-box retail stores and return that land to the natural state from which it all came — just like when the Pilgrims first met the friendly American Indians.
There's a reason you never see retail stores in science-fiction movies and everything comes out of a computer: in the future, we're smart enough to lose the 6,000-year-old idea of an in-person "market" and really do let our computers bring us everything. No longer do things need to get shipped to a store and have people drive to a store and drive it home in three separate dedicated trips. Instead, the trucks just drop things off at our house along their regular route, often drop-shipped straight from the manufacturers. Online shopping saves all the extra trips and their pollution; my UPS guy drives by every day regardless of if he's got anything for me or not.
I don't know about you, but I'm not losing a week or two to the flu this season by catching it from strangers while out shopping; and the flu is the least nasty of the things can happen when out driving around. People die driving; no one ever got car-jacked (or had their credit-card skimmed by a retail checker or a scammer with an RFID scanner) shopping online. The future is now, hooray!
Think Tank Photo is offering your choice of one of eleven free goodies every time you place an order with Think Tank. (You'll be asked which one at check out.) There is no limit on the number of orders you can place; this is America. You receive free gear with every order, yay, Christmas in November!

To get this "free gear with every order" offer, use this link to Think Tank Photo.

Free Toy List (pick one per order):
Cable Management 10 (usually $16.75)
R U Thirsty (usually $19.96)
LARGE Lens Drop In (usually $31.96)
Whip It Out (usually $35.96)
Skin 50 (usually $22.36)
Skin 75 Pop Down (usually $28.80)
Skin Double Wide (usually $35.96)
Skin Strobe (usually $28.80)
Skin Chimp Cage (usually $31.96)
Pixel Pocket Rocket (usually $18.75)
Security Tag (usually $25.00)
16 November 2011, Wednesday
NEW: Sony PCM-M10 Review.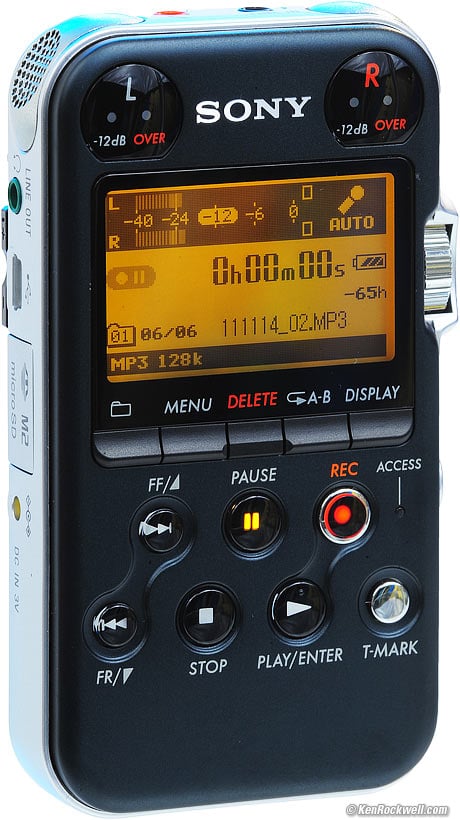 Sony PCM-M10 Digital Audio Recorder.
NEW: Tascam DR-08 Review.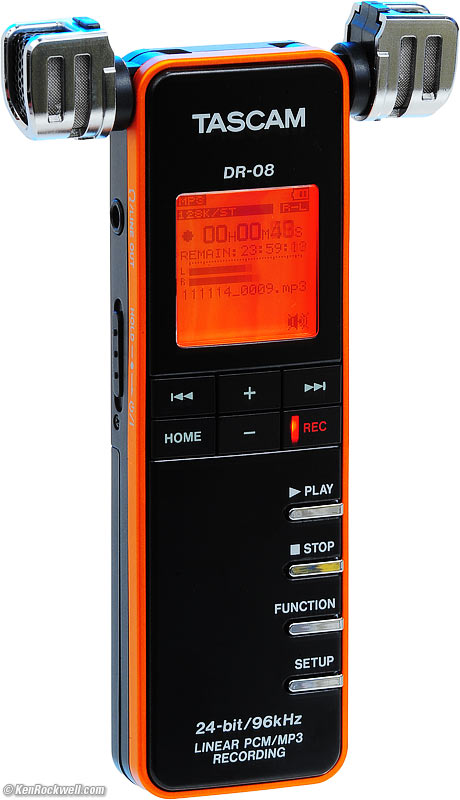 Tascam DR-08 Digital Audio Recorder.
The Sony PCM-M10 ($230) and Tascam DR-08 ($80), like the Zoom H4n ($300) reviewed earlier, are popular portable audio recorders for use with DSLR video.
Coming from a music background, I prefer the Sony PCM-M10, while the tiny Tascam DR-08 does pretty much the same thing for a lot less money. The Zoom H4n is popular if you need XLR inputs, 4-channel recording or phantom power.
I have to laugh; over 30 years ago I was the first person in America to own the world's first portable digital audio recorder ever made, the Sony PCM-F1 of 1981, and today, I seem to be the last publication left sharing any serious recording equipment reviews complete with laboratory measurements. The lab measurements quickly show Sony's mastery of this medium, while the others work great for video, but don't stack up as serious music recorders.
15 November 2011, Tuesday
WEIRDER: Today I see another 6mm 220º fisheye for sale, today the huge f/2.8 model that works perfectly with all Nikon SLRs and DSLRs.
Weird things come in twos.
14 November 2011, Monday
DEAL: Adorama "Slinger" bag for just $24.95 with Free Shipping! Just use coupon code S1114111 during checkout.
NEUE: Firmware 1.174 für LEICA M9 und M9-P.
LEICA claims to have fixed most of the problems related to the LEICA M9 and LEICA M9-P not bothering to record images.
LEICA suggests using only SanDisk cards, but not to use any of either the San Disk Extreme Pro UHS-1 or San Disk Extreme HD Video SDHC 1 if you actually want to use your image files.
WEIRD: If you need one of the world's widest 220º fisheye lenses, I see a used Nikon 6mm f/5.6 for sale at eBay direct from Japan.
This is the 6mm 220º version of the more common 180º 7.5mm f/5.6 I have already reviewed. The same compatibility restrictions apply: you need to use it with a locked-up mirror because it pokes into the camera.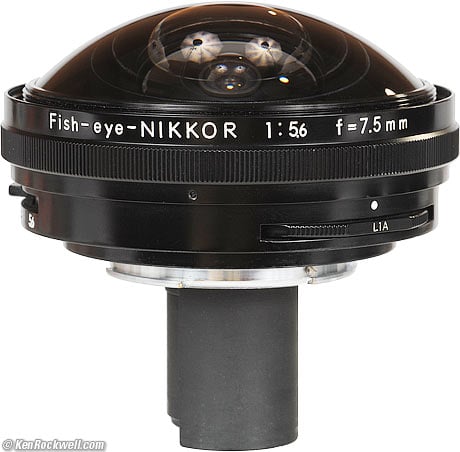 Nikon 7.5mm f/5.6.
See also How to Win at eBay if you want to win.
13 November 2011, Sunday
DEAL: Sony NEX-VG10 for just $1,299 (including lens; add to cart for this price).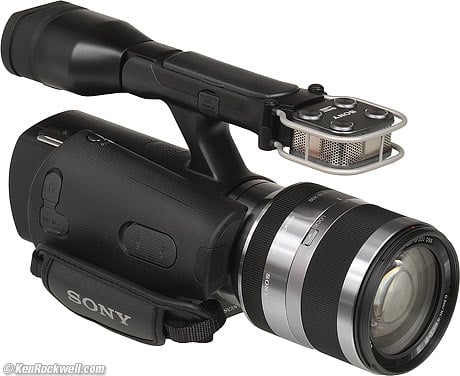 Sony NEX-VG10 with included lens.
Here's my Sony NEX-VG10 review; they sold for $2,000 back in May. To get this deal, you have to add it to your cart, and this price includes the 18-200 optically stabilized NEX E-mount lens.
Did I Say That?
A reader complimented me for saying "Thinking that a sharper lens or more feature-infested camera will make better pictures tomorrow is the coward's excuse for not making a great picture today. Right now is all that matters, and putting off the hard work until tomorrow is for wimps. Any pussy can think that if they only had some great new camera that they'd be making shots like the pros, but the fact is that the pros would be making the same pictures if you put your camera in their hands."
Pretty good, eh? That's from Should You Upgrade?
The funny reality of it is that as I write this, I have 31 of my best snaps of Ryan from the past year and a half uploading to print for a poster project. All were from the master files used for Ryan's website.
Of these 31 best-of photos as selected by my very normal wife, only six were snapped on a DSLR: two on my Nikon D3, two on my Nikon D7000 one on my Canon 5D Mk II and one on my 6-year-old Canon Digital Rebel XTi.
Of the remaining 25 snaps, 17 were snapped with my Fuji X100 posh point-and-shoot, and two were shot on my Canon S95 point-and-shoot.
Of remaining six shots, four were shot on my Apple iPod Touch, one was shot by mom on her LG VX11000 cell phone, and the last one was shot on a Yashica Auto Focus Motor II D loaded with Kodak Gold 100 — both of which I found in the trash.
These are the pictures that matter to my family. Did the camera matter? No. It's never about your camera. It's only about the picture and being there, and my Apple iPod Touch, Fuji X100 and mom's phone are always with us.
Here's the box score of what camera made the most winning family photos for us in the past 15 months:
| | |
| --- | --- |
| Camera | Winning Photos |
| | 17 |
| | 4 |
| | 2 |
| | 2 |
| | 2 |
| | 1 |
| | 1 |
| | 1 |
| | 1 |
| | |
| Total | 31 |
Text search box:
NEWS: Simplicity is Power: The World's Best Photo.
This modern photo by a living artist is worth over $4 million because it is simple.
It is valuable because it is art, not just a photo.
Rules are worthless. If he was just a photographer instead of an artist, he would have been crippled by the nonexistent "rule of thirds" myth, and put the horizon someplace else. In his case, the horizon slams right through the middle, which adds to the power by giving a sense of unease. Our minds ask "what's up with this? This is so barren and empty; where is this place?"
Likewise, if it's not captured on film, it is not art. Artists create art, not photographers. Artists may choose to work in photography, but being an artist is what matters above all. I can't think of any iconic photo ever created with a digital camera. People don't think (FART) when shooting digital, which renders zillions of meaningless "captures" every minute, but art requires concentration. "If you didn't FART, it's not art" as they say at Yale.
In this case, the world's best photo (as gauged by price, the way modern man values things) was shot on a Linhof large-format camera, not some SLR. Because his large-format camera allowed tilting the film and lens, everything from near to infinity was in perfect focus; no "depth-of-field" or stopping-down required.
If shot with a digital Nikon or Canon like amateur photographers, it would not have been art. If he used a zoom lens or many modern prime lenses, their distortion would have subtly curved the lines, weakening and destroying the artist's work.
You can jack all you want with Photoshop and printer profiles and megapixels, but if you don't get the basics right, it's pointless. In this work, the artist knew what he wanted, and did what he had to to make it so. The artist's vision is everything; his tools are nothing.
NEW: Canon 70-200mm f/2.8L Review.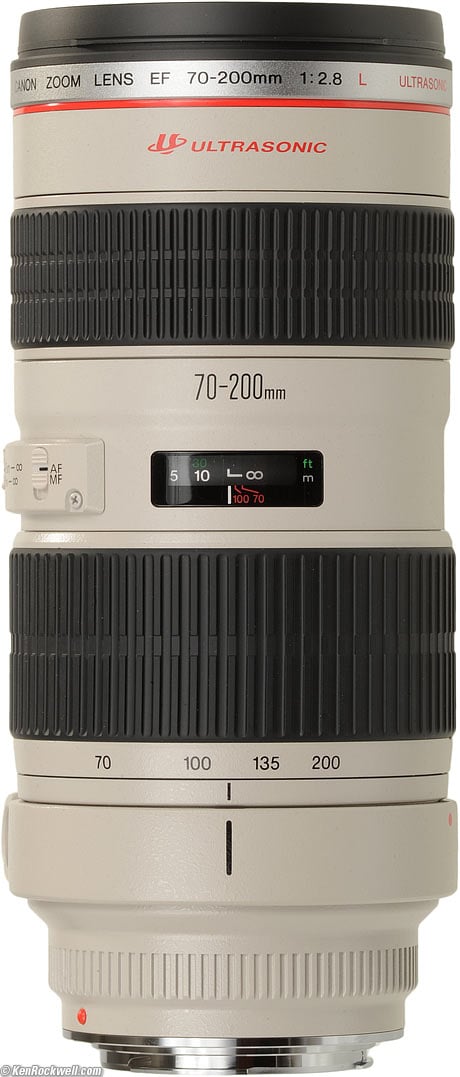 Canon 70-200mm f/2.8L.
One of Canon's biggest bargains, this original 70-200/2.8 sells for half the price of Canon's newest 70-200mm f/2.8L IS II, and is made just as well. If you don't need IS, I just saved you $1,200.
This non-IS lens is a bargain because its been sleeping in Canon's catalog since 1995. It is a first-rate professional lens.
In case you've lost track of the five different white Canon 70-200mm lenses, here's:
NEW: Comparison Table of all Canon's 70-200mm lenses.
11-11-11, Veterans' Day
SCOOP: Tokina 17-35mm f/4 FX Review.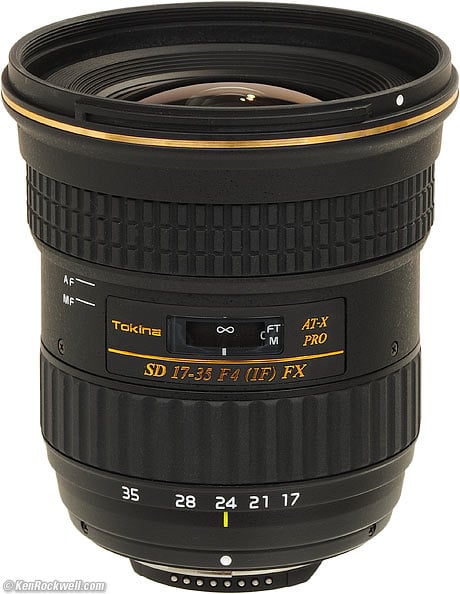 Tokina 17-35mm f/4 FX (Nikon version).
I managed to get the brand-new Tokina 17-35 f/4 FX lens in for review before it even made it to Tokina's own website. This is the world's first review, whoo hoo!
How did I get it before it even existed? Easy: I ordered it from Adorama and waited patently.
It's a perfectly good lens, for a fraction of the price of most other lenses, and also has the world's least distortion of any ultrawide zoom. How about that?
09 November 2011, Wednesday
DEALS: Amazon's Live Black-Friday Deals.
NEW: LEICA 21mm f/3.4 ASPH Review.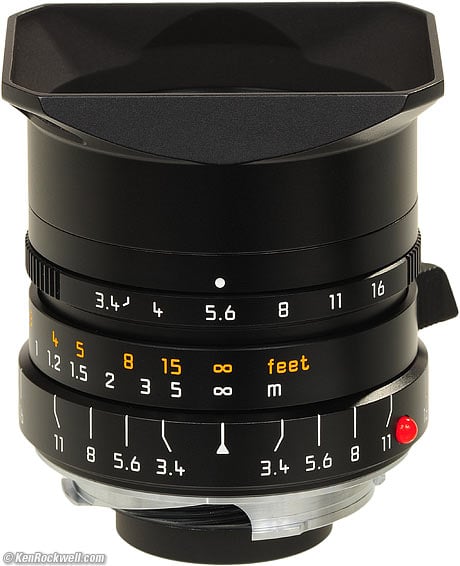 LEICA SUPER-ELMAR-M 21mm f/3.4 ASPH.
LEICA's best 21mm lens — ever. It's even better than the $6,500 LEICA SUMMILUX-M 21mm f/1.4 ASPH!
I've been dreaming about a lens like this for years, and LEICA finally made it: a compact, high-performance, 9-bladed 21mm lens like 1958's LEITZ SUPER-ANGULON 21mm f/4 that works with TTL meters.
Yipee!
08 November 2011, Tuesday
World's Best Pocket Camera: $299.99!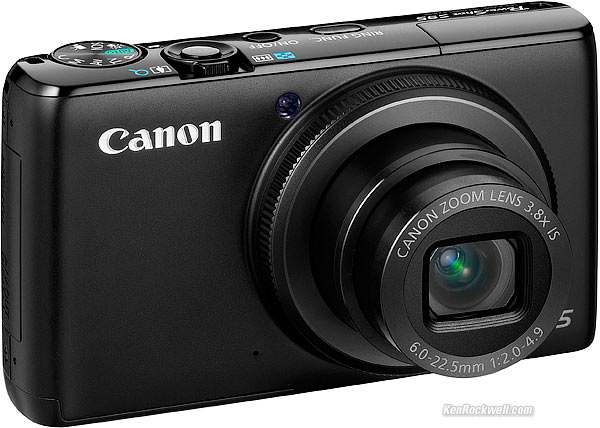 Canon S95: Still the world's best.
The Canon S95 is still the world's best pocket camera, since the new Canon S100 still isn't available yet.
Here's the good part: while the S100 is only orderable at $430, last-year's still-the-best-pocket-camera-in-the-world Canon S95 is now discounted to only $299.99 at Amazon, in-stock, and with free two-day shipping at Amazon Prime.
I shot a lot with my S95 last week in New Mexico, and it's awesome. If you have the cash and the time, sure, consider ordering the new Canon S100 for $430, but if you need a great compact, now it the time.
As you can read at my reviews, the S100 only adds a slightly broader zoom range, GPS and 1080p vs 720p video over the S95, but with a narrower stereo audio image, a tiny bit more weight and less lens speed. The S100 also loses an important programmable control button compared to the S95. For photographers, the S95 could be the better camera for $130 less, while the S100 appeals slightly more to gadget-heads.
I paid $400 for my S95 last year and I love it. As the world's best reining pocket at under $300 today, it's a steal.
Canon AE-1 Program: Los Angeles 1984 Olympics!
I see a boxed Canon AE-1 Program Kit for sale at eBay that's still in its boxes. It's the extraordinary 1984 Los Angeles Olympics version. Wow!!!! It's a good guy selling these, too.
In case you forgot, this was the official camera of the 1984 Olympic games. It sure wasn't Nikon!
Since this is an auction, the only way to win this is to bid high and to bid last. Don't even think about bidding before the last few seconds, unless all you want to do is lose and inflate the price for the real winner. I explain all this at How to Win at eBay.
07 November 2011, Monday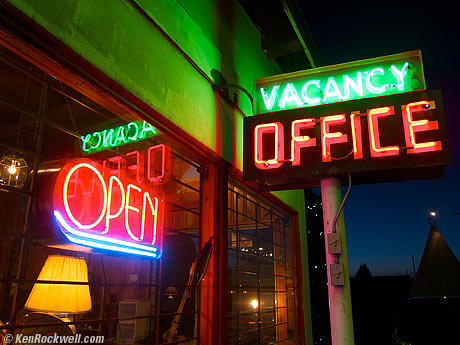 Wigwam Motel, Route 66. (snap: Canon S95.)
Just Back: I just returned from last week's trip to Route 66 in New Mexico and Arizona. Whoo hoo!
04 November 2011, Friday
DEALS: SanDisk Specials.
Great prices, and even better quantity prices, on SanDisk's best cards.
NEW: Only for you readers and only for new customers: 21% off ScanCafe photo, slide, negative, and video scanning!
Use code ROCKWELLROCKS21. Not valid in combination with any other offer, or with value kits, or gift cards, or gift boxes, or photo restoration. Expires November 30, 2011, and is valid only for new customers.
03 November 2011, Thursday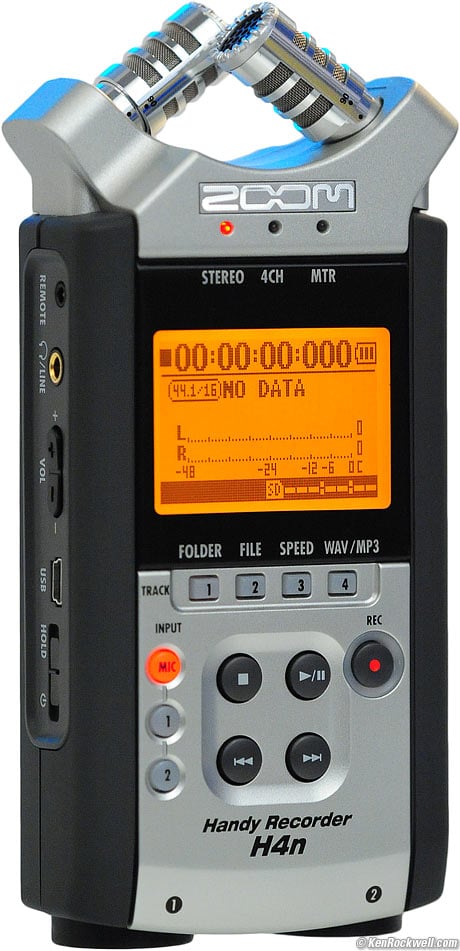 Zoom H4n.
NEW: Zoom H4n Digital Recorder Review.
One of the world's most popular audio recorders for use with DSLR video.
While the Tascam DR-08 does much of the same thing for under $80 delivered (use coupon code S1231399 on checkout to get this special price), the Zoom H4n is popular for pro use because it offers phantom-powered XLR inputs and four-channel recording.
DEAL: Refurbished Canon SX130IS (28-336mm eq. zoom) for just $144.95, delivered!
01 November 2011, Tuesday
NEW: What we did last night.
Every try photographing wild kids? They wait for no one. The Fuji X100 was my choice as it works far better than Nikon, Canon or LEICA in automatically balancing fill-flash and auto white balance in fast-changing conditions, and works effortlessly at ultra-high ISOs.
I was shooting at night, lit only by the neighbor's door lights, some of which were real, and some of which were those cancer-causing, low-color-rendering-index job-exporting lead- and mercury-laced CFL monstrosities pushed by big businesses onto gullible consumers. (My real concern is that colors look awful under these things, both in-person and on-camera. LED lights are a much better idea to save more electricity and look a lot better without the severe cancer risks; I'm less concerned with the mercury problems.)
Sure, if I shot in the raw I could have spent all day tweaking colors, but if I did, I never would have gotten to sharing anything since I don't have all day. If I shot other brands, they never could have handled the huge variation in light and color from door to door as the light faded — and I don't recall any of my other cameras performing so well at ISO 3,200. If you're shooting a zoom, you'd need ISO 6,400 to do at f/2.8 what the X100 does at f/2 at ISO 3,200.
Whoa — I just looked and the Fuji X100 is in-stock at Amazon right now at only $1,199.95, with free fast shipping for Amazon Prime members. It won't last.
What Was New in:
Help me help you
I support my growing family through this website, as crazy as it might seem.
If you find this as helpful as a book you might have had to buy or a workshop you may have had to take, feel free to help me continue helping everyone.
If you've gotten your gear through one of my links or helped otherwise, you're family. It's great people like you who allow me to keep adding to this site full-time. Thanks!
If you haven't helped yet, please do, and consider helping me with a gift of $5.00.
The biggest help is when you use any of these links to Adorama, Amazon, B&H, eBay, Ritz, Calumet and J&R when you get anything, regardless of the country in which you live. It costs you nothing, and is this site's, and thus my family's, biggest source of support. eBay is always a gamble, but all the other places always have the best prices and service, which is why I've used them since before this website existed. I recommend them all personally.
Thanks for reading!
Ken
Home Donate New Search Gallery How-To Books Links Workshops About Contact