Home Donate Search Gallery Reviews How-To Books Links Workshops About Contact

December 2011's News
all © 2012 KenRockwell.com. All rights reserved.

Nikon Canon X100 LEICA More Reviews random Ryan Katie
Recommended Cameras How to Take Better Pictures
NEW: D7000 App D5100 App D5100 User's Guide D7000 User's Guide
02 January 2012, Monday
NEW: Beyer DT 770 Review.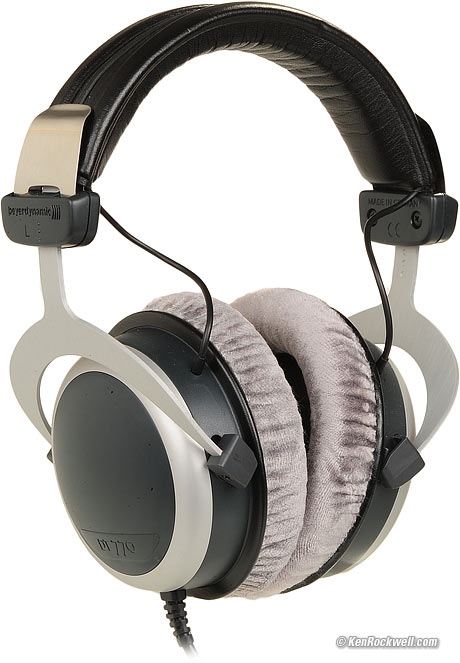 Beyer DT 770.
Second day of the new year, and the second headphone review. The DT 770 is the closed-back version of the DT 990.
I review what people loan me. If you don't love music, then don't come complaining to me about these audio reviews if you haven't done your fair share and loaned me some camera gear to review instead.
But seriously, folks, I do have plenty of photo gear to dig through here that you folks have been generous enough to send me, and the trade shows where all the new everything will be introduced start January 10th, and I'll be all over it.
01 January 2012, New Year's Day
NEW: Beyer DT 990 Review.
Beyer DT 990.
New year, new headphone review of almost the same thing as last year's DT 880 review.
31 December 2011, New Year's Eve
NEW: Beyer DT 880 Review.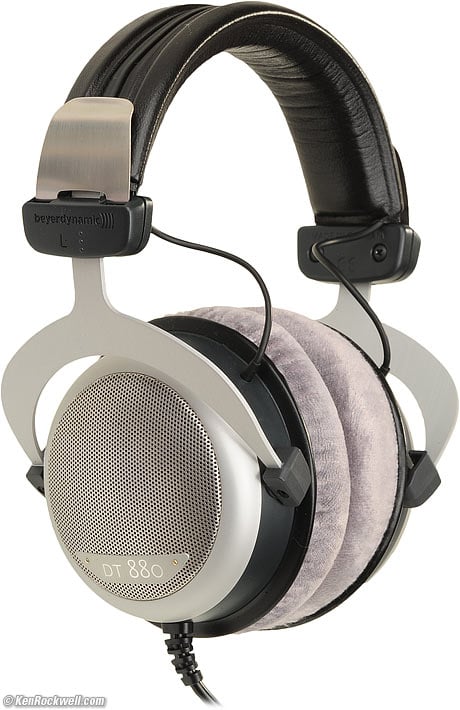 Beyer DT 880.
30 December 2011, Friday
Canon S100 In-Stock in Black and Canon S100 In-Stock in Silver.
28 December 2011, Wednesday
NEW: Risk Taking and Photography.
You have to be willing to lose a few to win.
DEAL: Canon T3i kit with 18-135mm IS and much more for $839.95 (regularly $1,235.75). Use Coupon Code S1234567.
DEAL: Canon T1i kit with 18-55mm IS for $499.
27 December 2011, Tuesday
Awesome New Book!
1X: Beyond 1X4.
I just got an absolutely brilliant book of great photos. Every shot is brilliant, simple and makes me want to make better photos than the slop I've churned out so far. It's a limited edition, but get it if you can. They included one of my shots, but other than that, ever other shot is incredible!
Does this ever stop?
I was hoping the deals would die down to a roar so I could write something new, but no! I hope this dies down for the new year.
DEAL: Sigma 105mm f/2.8 Macro for Canon, regularly $969, now $869. It may not go live until 7 PM NYC time, Monday night.
24 December 2011, Christmas Eve
NEW: ADCOM GFA-555 II Review.
Among the world's greatest power amplifiers of all time, selling used for a steal today.
I doubt that there is a significantly more powerful, cleaner or quieter amplifier available today at any price.
It's interesting to note that exactly 30 years ago tomorrow I got my Hafler DH-200 from Santa Claus for Christmas. I built it from a kit, and have used it ever since just about daily for enjoying my music. I love my DH-200 not only for its superior MOSFET sonics, but also because it has rear-panel speaker fuses which are included in the overall feedback loop, so they both protect my speakers from my own stupidity and they don't add any distortion or reduce the damping factor, as they would if I added them externally. I use 1A fuses for listening, and 5A fuses when testing, as recommended by Hafler.
The GFA-555 II bests my Hafler in every way in the lab (with even less idle power draw so it runs cooler), but I need to wire-up some fuses for practical use before I really trust myself hooking the GFA-555 II up to good loudspeakers.
23 December 2011, Friday
NEW: ADCOM GTP-500 II Review.
A classic remote-controlled preamp and tuner, great for desktop and remote use today.
More deals - is there ever an end?
Lighting Deals. A whole page of them!
Canon EF 14mm f/2.8L II USM. Canon's widest full-frame lens. Save 19%: Regular Price $2,359, Sale Price $1919.19.
Canon EF-S 10mm - 22mm Save 24%: Regular Price $859,
Sale Price $649. (add to cart for price.)
Canon TS-E 24mm f/3.5L II Tilt-Shift Save 18%: Regular Price $2,199, Sale Price $1,799.
Canon 60mm f/2.8 Compact Macro Save 26%: Regular Price $469, Sale Price $349!!!
Canon T1i with 18-55, refurbished Save 11%: Regular Price $539.95, Sale Price $479.95.
Canon Rebel T2i Save 11%: Regular Price $559,
Sale Price $499.
Canon Rebel T2i with 18-55MM, refurbished: Save 17%: Regular Price $639.95, Sale Price $529.
Canon T3i and 18-135mm f/3.5-5.6 IS: Save 24%: Regular Price $1,099, Sale Price $836.

Tokina 11-16mm f/2.8 for Nikon. Usually $719, now 669.
Tokina 12-24mm for Nikon. Usually $599, now 499.
Tokina 11-16mm f/2.8 for Canon. Usually $719, now 669.

Tokina 12-24mm for Canon. Usually $599, now $549.
Free Overnight Shipping
Most of my favorite stores are offering free overnight shipping to get you your goodies for under the tree.
I'm getting tired of all these hot deals, so I'll let you check each site to see if it applies to your order. Some have less restrictions than others, and I know you folks come from all over the world.
22 December 2011, Thursday
More Workshops
Colorado-based pro Dan Ballard does some awesome work, and now offers private and small-group workshops and instruction anyplace on earth.
I've added him to my Workshops page, and popped his ad in the banner on the right -->.
Tell him I sent you if you go on anything. His work is awesome!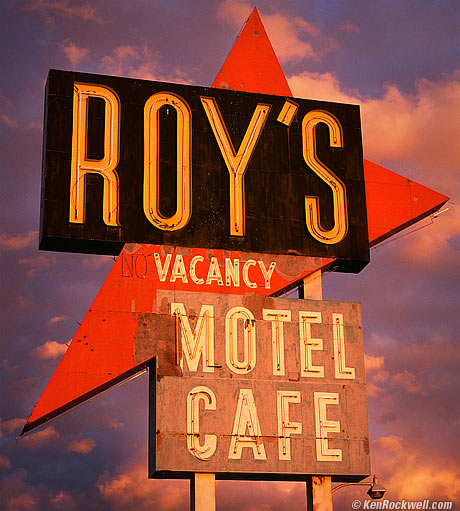 Route 66.
My own workshop schedule is getting trimmed-down a little for 2012. Ryan, now 5 years old, prefers I stay home and play with him instead of leaving for a week.
When Ryan asked me to stay home as I was on my way out to our Yosemite outing last month, I told Ryan that I'm going to help others learn "how to take better pictures, just as I help you take pictures."
Ryan sagely suggested that I instead "just call them and tell them which button to push." In other words, if you want to see me in a workshop, you'd better catch me as you can, because all anyone may be getting out of me in a while is a conference call to the motel!
But seriously folks, Dave Wyman and I are working on our 2012 schedule. I'm already on board for our annual Route 66 trip in February.
Registration is open, so I'll see you along Route 66 in February!
To register and for any questions, call (323) 377-7565 or eMail Dave.
The Real Afghanistan
We all have friends and family serving in America's humanitarian mission in Afghanistan, and we all have family and friends serving as journalists photographing it all as well.
We've all seen plenty of photos of Afghanistan as seen thorough American eyes, and even if you don't have family serving in the military over there, we certainly have all seen Steve McCurry's Afghan snap a zillion times.
Spreading the gift of freedom is swell (it's just doing our job for Americans, and a million thanks to all of you serving over there), but what does Afghanistan really look like through native Afghan eyes?
I've never seen that before, and lo and behold, among the zillions of you that I am privileged to have as readers, a reader from Afghanistan wrote asking for Nikon lens advice, and he shared with me his blog with some of his images of his native city of Kabul.
Hope you find it interesting. It's the first real snaps I've seen of Afghanistan as actually shown by a native Afghan.
21 December 2011, Wednesday
German Recognition
I am honoured that Germany's leading news magazine, Der Spiegel, just recommended my LEICA and Voigtländer lens reviews as the world's standard references. Read it in the original German, or in Google's English translation.
Even better, those reviews are growing all the time as I add to them.
I am one-quarter German, so I'm pretty stoked that a German Magazine recommended my English-language reviews as the gold standard.
Danke, Der Spiegel!
NEW: Fuji X10 Review.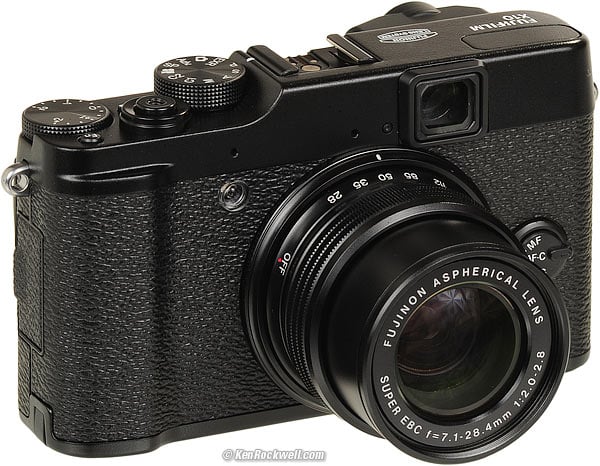 Fuji X10.
A great little camera, with typical tiny-sensor performance nowhere near the X100, but with a fantastic lens, superb fill-flash control and a real metal manual zoom ring — and no need for a power switch!
DEAL: Canon T3i body for $624.
DEAL: Canon T2i body for $499.
20 December 2011, Tuesday
Canon Deals
You guys know about the Canon 5D Mark II body kit for $1,989 and the kit with the 5D Mk II and 24-105mm f/4 L for just $2,799, but there's a new one: a Canon 5D Mark II with my favorite plastic 50mm f/1.8 lens, SanDisk 16GB Extreme CF card, Adorama Slinger Camera Bag, a second LP-E6 Battery, and free production software supposedly worth $599 for a mere $2,099. Use coupon code S1234567 on checkout for the deal with the 50mm lens.
More instant Canon rebates:
Canon 180mm f/3.5L Macro on special for $1,319.

Canon 24mm f/1.4L II on special for $1,429.

Canon 7D body on special for $1,329.
Film Scanner Deals
Pacific Image 120-format scanner for $1,499. Scans from 35mm to 6x12cm at 3,200 DPI.
Pacific Image 5,000 DPI 35mm scanner for $999. Scans up to 37x37mm super slides.
No, I haven't used either of these. The thing about scanners is that once you've invested in a good one, you never need another. I'd still be using my Minolta Multi Pro bought in 2002, except that I have North Coast Photo do all my scanning. Scanning is a tedious manual process best left to others to do for you, like color film processing.
19 December 2011, Monday
SUPER DEAL: Canon S95 for $229!!! (S95 review)
It was $229 this morning, and back up to $349 this afternoon. Hope you got yours at $229. Amazon changes prices every minute.
I know how you guys hate all this deal baloney instead of real content while I'm as busy as you this Christmas season, but come on — I paid over $400 for my own S95 last year. The new Canon S100 is just different, not better, so as far as still photography is concerned, so don't come crying to me if you don't get an S95 under your Christmas tree while the price is this low.
If the S95 isn't good enough for you, the Canon 5D Mark II body is now a steal as a kit for $1,989!! I paid about three grand for mine.
16 December 2011, Friday
NEW: Recommended Photo Apps.
Apps aren't photography, but seem to be the only thing people want to discuss while out on our photo workshops. Here are the hot ones.
NEW: Sony RDP-X500iP Review.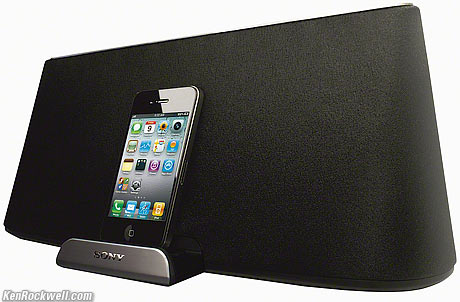 Sony RDP-X500iP iPod docking speaker.
What my wife's getting for Christmas, but don't tell her.
She's getting me the smaller Philips DC291/37 docking clock radio I picked out for my nightstand to replace the separate clock and iPod charger and cable that used to be there. Funny how it took only three years to realize that I could combine all those into one box. Duh!
Sigma Deals
Sigma 10-20mm, usually, $649, now $599 (Sigma 10-20mm review):
Sigma 10mm-20mm f/3.5 EX DC for Canon, and Sigma 10mm-20mm f/4-5.6 EX DC for Canon for just $449!
Sigma 10mm - 20mm f/3.5 EX DC HSM Autofocus Zoom Lens for Nikon.
Sigma 10mm - 20mm f/3.5 EX DC HSM Autofocus Zoom Lens for Pentax.
Sigma 10mm - 20mm f/3.5 EX DC HSM Autofocus Zoom Lens for Sony and Maxxum.

Sigma 10mm - 20mm f/3.5 EX DC HSM Autofocus Zoom Lens for Sigma cameras.


Sigma 85mm f/1.4, usually $969, now $ 869 (no review yet):
Sigma 85/1.4 for Sony and Maxxum.
15 December 2011, Ryan's 5th Birthday
NEW: Apple Airport Express Audio Measurements.
Well, not completely new, but I added some new analyzer measurements. Verdict: the digital output of the AirPort Express isn't a pure copy of what went in.
DEAL: Adorama 13' background Stand.
It's good only Dec 15-20, 2011. Use coupon code S1232100 to get it for $99.95, with free shipping!
New: LEICA S-Magazine iPad App (free).
It's a glossy fluff periodical about the LEICA S.
In-Stock: Nikon D3S at Ritz for $5,197.
14 December 2011, Wednesday
NEW: Which makes better Images: 5D Mk II or D7000?
Some original content for a change.
I've been trying to find the time to make Christmas presents for my family, and on top of that, deals are flying out of the internet like crazy, so it's been all I can do to get ready for Christmas myself and let you guys know all about whatever hot deals are out there. The reviews I'm writing keep getting pushed back in favor of family and letting you folks know what's hot out there.
There haven't been any completely new Nikon FX DSLRs since the D700 of 2008, so what's the rush?
STEAL OF STEALS: Canon 5D Mark II body KIT for $1,989!!! (kit with the 5D Mk II and 24-105mm f/4 L for just $2,799.)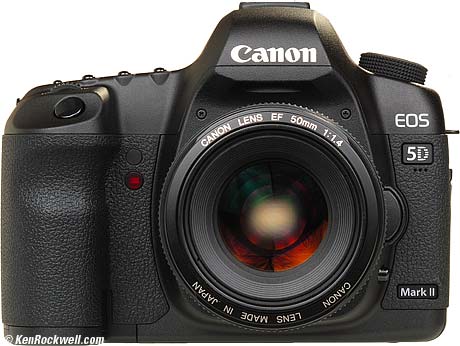 Canon 5D Mark II and 50/1.4.
These are the best prices ever for the world's best DSLR for nature and landscape photography. Canon 5D Mk II review. Canon 24-105L review.
Get this for yourself before Canon closes this down: Adorama is offering a kit with the 5D Mark II and a free bag and some software for less than anyone is allowed to sell the 5D body by itself. They're making it a "kit" and throwing in some goodies to excuse them from the price controls, so grab this while you can.
Sure, maybe a Mark III will come out tomorrow, but I'll bet you if it does, it won't be $1,999, and seeing how Canon dumbed-down the resolution of the S90 and S95 for marketing purposes so that when the S100 came out that they could ramp it up again as a "feature," and how the newest Canon 1Dx is only 18MP and not 21MP like the 5D Mark II, I'll bet you if a 5D Mark III comes out, it also will be only 18MP with "higher sensitivity."
I love my 5D and 5D Mark II, and I paid more for either of them than you can pay today. Jump on it.
NEW BOOK: Bruce Percy's "The Art of Adventure: 40 Photographic Examples."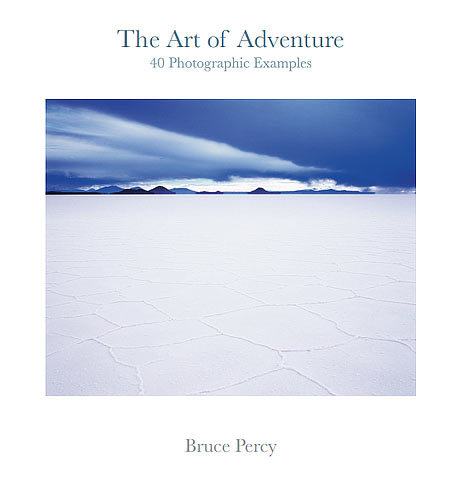 The Art of Adventure: 40 Photographic Examples.
Bruce Percy, one of the world's foremost photographic artists, has a new book wherein he describes the thought processes behind the making of 40 photographs.
It's a limited-edition book that only comes directly from the artist.
I've got one, and it's beautiful. For those of you who want to learn more about the seeing process of the photographic artist, the descriptions are very helpful.
It's loaded with both nature and people photos.
It's just over a foot square, and you can preview it online. For those of you outside the UK, note that the price is in pounds sterling (about $1.55 to the pound). Enjoy!
13 December 2011, Tuesday
DEAL: My favorite Dolica AX620B100 tripod is now $35, with free shipping!
It's all-metal, and lighter than any of the far more expensive brands that advertise like crazy. You and I pay for the ads, not the tripod company, so I'll stick with Dolica where we get a much better tripod for less money.
For $35, it includes a ball-head, quick-release and padded case!
NEW: Think Tank's new modular sets are now available.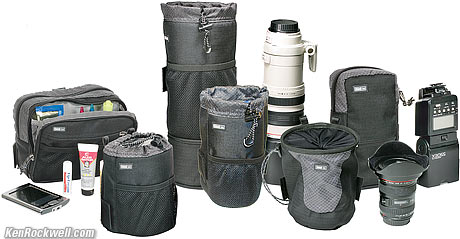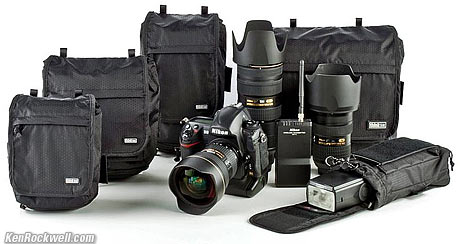 IT'S BACK: Tokina 11-16mm f/2.8 for Nikon for only $669. The Tokina 11-16mm is the best ultrawide lens made for the D7000 and better DX cameras with a built-in AF motor. It's usually hard to find at any price because it's just that good - better than Nikon's own lenses!
IT'S BACK: Tokina 11-16mm f/2.8 for Canon for only $669. Work great on all Canon 1.6x cameras.
These are hard to find at any price, much less a discount. They usually go for $720, and aren't ever in stock anyway. Get yours while you can.
DEAL: Canon 7D and 18-135mm IS for $1,699.99 with free shipping. I've bought from these guys before; they are a first-class operation for both new and used.
DEAL: New Olympus OM-4Ti on eBay for $850 (one only). No one makes them like this anymore.
12 December 2011, Monday
Busted!
You guys are tough. You know I do this site as a goof, and I'm just one guy cranking all this out when I'm not playing with my kids.
The wife had me doing all sorts of honey-dews last week, so I created nothing new.
You guys don't let anything slip. Last week I created nothing new and you bust me, but the week before I cranked out four or five full-length reviews, and I get no thanks. You're a tough crowd.
10 December 2011, Saturday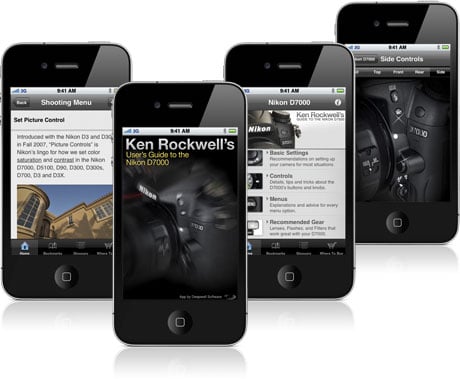 NEW: Ken Rockwell's Nikon D7000 User's Guide App.
Merry Christmas!
Free Warranty: With these refurbished Nikons, Ritz is throwing in a free 1-year third-party extended warranty:
DEAL: Nikon D7000 body (factory refurbished) for just $999.99 with free shipping & sales tax paid.
DEAL: Nikon D5100 with 18-55mm VR (factory refurbished) for just $649.99 with free shipping & sales tax paid.
DEAL: Nikon D3100 with 18-55mm VR (factory refurbished) for just $499.99 with free shipping & sales tax paid.
09 December 2011, Friday
DEAL: Nikon S4100 for just $69.69.
A great deal on a refurbished point-and-shoot. I've never tried one; point-and-shoots come and go too fast.
06 December 2011, Tuesday
The best just get better
While crappier photo labs go away (and to them, good riddance), the good labs are getting busier. North Coast Photo in San Diego is getting so busy they've had to hire a new guy just to run some of all the scans people want.
North Coast Photo runs real B&W, regular C-41 color and professional E-6 slides (transparencies) all day, every day.
03 December 2011, Saturday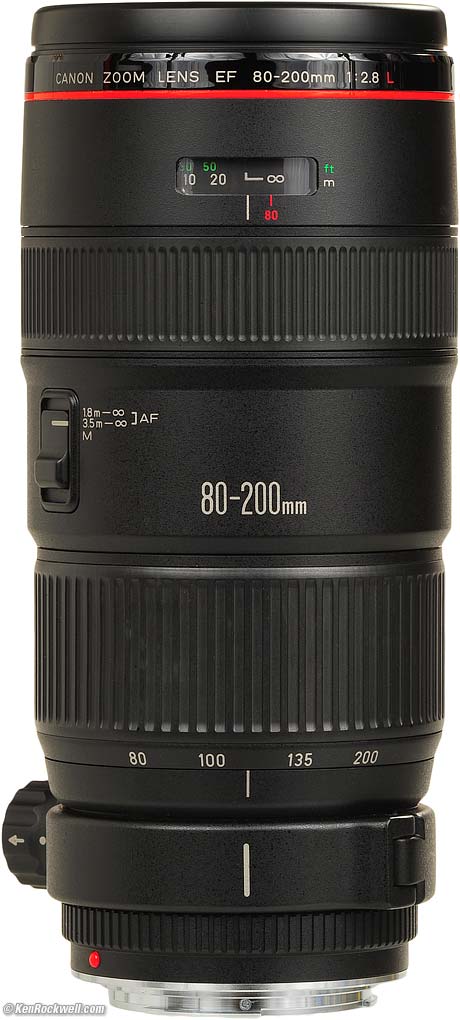 Canon 80-200mm f/2.8 L (1989-1995).
NEW: Canon 80-200mm f/2.8 L Review.
The world's top professional zoom from 1989-1995, and still a spectacular performer today for a bargain price.
Good Riddance to Bad Rubbish
As we've been saying in web development since the 1990s, Flash sucks.
Steve Jobs' martyrdom is complete. Flash is finally dead. Hallelujah!
Flash was clever in delivering motion graphics efficiently in the 1990s, except that it only really was used to animate advertisements and stupid "Flashturbation" website intros.
It was efficient with bandwidth for dial-up, but always used a lot of processing power to decode it on the receiving end, making it a battery-sucker in mobile devices, and why quality devices like Apple's simply wouldn't bother with it.
Flash sucks so much power to decode that the fans on my Quad G5 would have to spin-up just to crunch Legoland's page! If I forgot to close that page and got on to other things, the fan noise would get deafening and remind me to close it!
Here's one of the best uses of Flash I've seen. (warning: medical images, men and physicians only please.) I first saw this in 1999 at the very same sales meeting where I first registered the name KenRockwell.com out of boredom. We were all impressed when our boss scored 100%!
02 December 2011, Friday
Deal: Canon 17mm f/4 L TS-E for $1,939.
Use Coupon code# S5554444 on check-out. It's usually $2,500. Merry Christmas from Ken Rockwell!
NEW: Zeiss 25mm f/2 Review.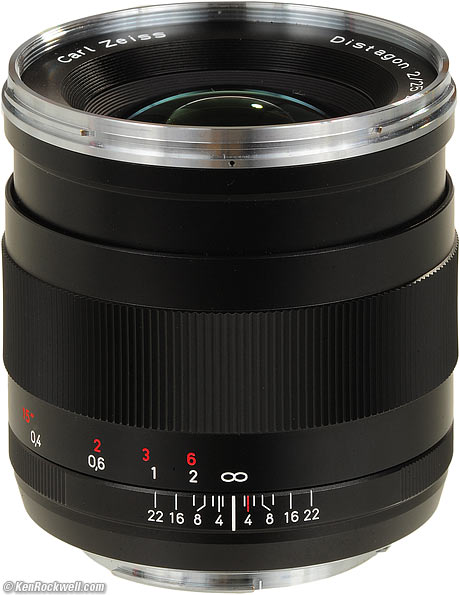 Zeiss 25mm f/2 for Nikon and Canon.
Optically better than anything from Canon, but manual-focus only.
01 December 2011, Thursday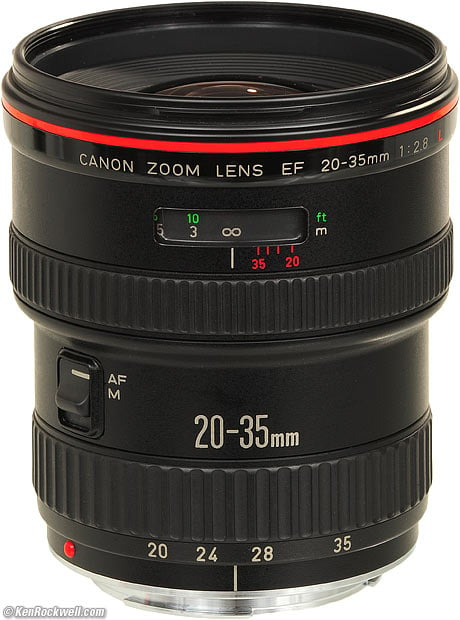 Canon 20-35mm f/2.8 L (1989-1995).
NEW: Canon 20-35mm f/2.8 L Review.
This is one of the lenses that helped Canon win the pro market away from Nikon in the early 1990s.
Today, it's still optically as good as newer Canon ultrawide zooms, and built tougher, with an all-metal barrel.
While I have your attention, apparently there's a new instant rebate on the Canon 17-40mm L and 16-35mm f/2.8 L II, so they are much less expensive than last month.
Deal: 16" x 16" Softbox for $31.95.
What Was New in:
Help me help you
I support my growing family through this website, as crazy as it might seem.
If you find this as helpful as a book you might have had to buy or a workshop you may have had to take, feel free to help me continue helping everyone.
If you've gotten your gear through one of my links or helped otherwise, you're family. It's great people like you who allow me to keep adding to this site full-time. Thanks!
If you haven't helped yet, please do, and consider helping me with a gift of $5.00.
The biggest help is when you use any of these links to Adorama, Amazon, B&H, eBay, Ritz, Calumet and J&R when you get anything, regardless of the country in which you live. It costs you nothing, and is this site's, and thus my family's, biggest source of support. eBay is always a gamble, but all the other places always have the best prices and service, which is why I've used them since before this website existed. I recommend them all personally.
Thanks for reading!
Ken
Home Donate New Search Gallery How-To Books Links Workshops About Contact