Home Donate Search Gallery Reviews How-To Books Links Workshops About Contact

April 2012's News Hot Deals
RSS: daily (continuous live updates)
all © 2012 KenRockwell.com. All rights reserved.

Nikon: D800 Canon: 5D Mk III Fuji LEICA More random Ryan Katie
Recommended Cameras How to Take Better Pictures
NEW: Photo Contest Winners.
Twitter Facebook Video Tutorials
27 April 2012, Friday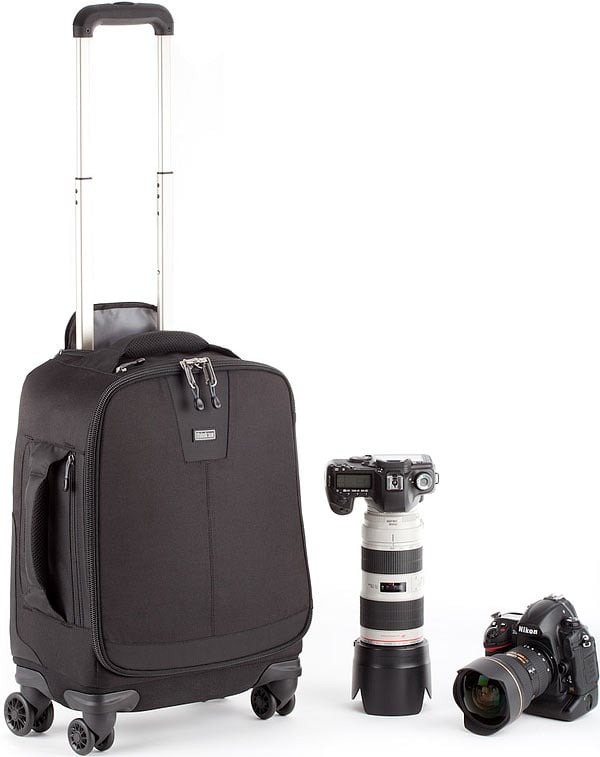 I just got hold of a new bag from Think Tank, the Airport 4-Sight. It's so new that they're not shipping yet, so to get yours, use this link to learn the instant they become available.
It's different from other roller bags because it has not just two wheels, but eight pivoting wheels.
Each of the four sets of wheels are double wheels, and each of them rotate to any angle. If you want to push the bag sideways through a narrow space or in any other direction, no problem.
Since pivoting roller wheels are on all four sides, you can pull it by the telescoping handle in any of four orientations!
It has handles on top, side and bottom so you can pull it out from bins, regardless of how it's packed.
It holds more gear than I'll ever need: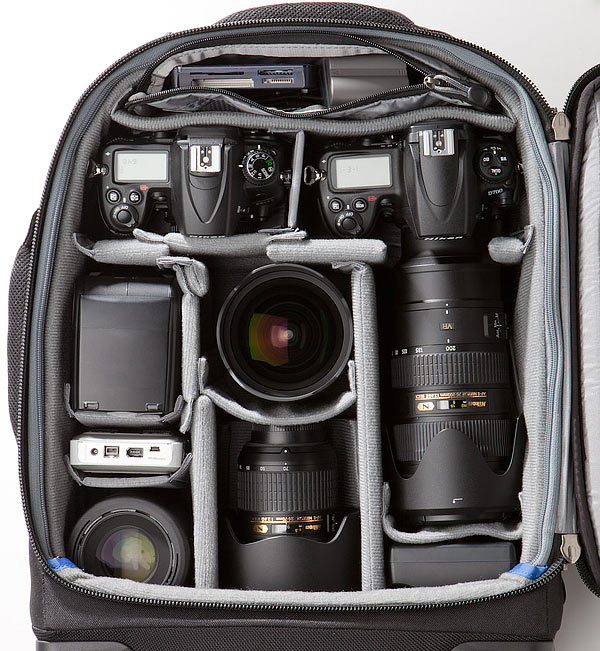 Inside the Think Tank Airport 4-Sight.
I've also gotten hold of two more favorites in more human sizes. I love my Think Tank Retrospective 10, which is huge (it comes bigger), and they now make a much more reasonably sized Retrospective 5.
I also just got a very new Retrospective 7, which is the perfect size, and even has a place to slip your iPad or 11" MacBook Air. It comes in slate blue, as well as black and my favorite Pinestone (green canvas).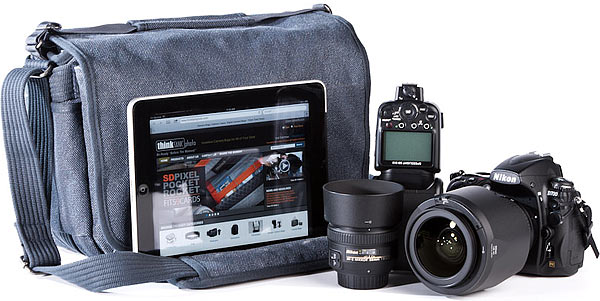 Think Tank Retrospective 7 in blue slate.
To learn the instant the new items become available, use this link.
Coming Soon: 17-20 May 2012: Spring Light Photography in Yosemite (Thursday-Sunday).
I won't be on this one because my kids are really starting to miss me, however I was on this trip last year, so I wanted to let you know about this great trip, too.
If you want waterfalls, this is your trip! The falls usually run like crazy in springtime.
Dave Wyman is teaching this one, but you register for it with the Yosemite Conservancy. Tell them I sent you!
26 April 2012, Thursday
Nikon D700 In-Stock
Adorama now has the D700 in-stock, for only $2,199.95.
The D800 none of us can get yet is swell, while the D700 has better AF controls for still shooting and probably a better LCD.
NEW: Photo Contest Winners.
Who won and why.
NEW: Ed Verosky's Photo eBooks.
Shutter Actuations
I'm always amused when hobbyists ask me with great concern if a used camera with 8,000 actuations is worth considering.
So? Cameras aren't even broken-in until they hit 10,000 or 20,000 shots!
My all-plastic, cheapest-DSLR-ever-made-by-Nikon D40 has about 50,000 shots on its clock, and still runs like new.
My professional D3 is up to 60,000 or more, and of course it runs exactly as it did in 2007 when I got it. It's the camera on which I shoot all the product shots you see in my reviews.
Your new D800s are rated for 200,000 shots, and the 5D Mark III is rated for 150,000 shots.
Guess what happens when you hit 200,000 shots on your D800: nothing! It keeps on going. Nikon's seen F5s with seven-figure shutter counts, and they are still going strong. The F5 was rated maybe 50,000 or 100,000 shots.
Guess what happens if you ever manage to wear out a shutter? You send it in for service and for just a few hundred dollars, Nikon or Canon can replace the shutter assembly, and you're back to shot zero again.
Used camera buyers are getting like Ferrari collectors, who flatbed their cars in for oil changes as not to rack up the miles. You'll see 10-year-old Ferraris for sale with 497 miles on them, as if that was good.
Tens of thousands of actuations is barely breaking-in a DSLR. When I get a new camera, I've already knocked-out a few thousand frames just getting familiar with it before I start any real shooting. Don't worry about it.
Tests of Time
My old 5D Mark II is a few years old now, and I'll have to compliment Canon: its self-cleaning sensor is still perfectly clean — and I change a lot of lenses doing all the testing I've done for you folks on it.
Bravo, Canon!
Likewise, I've had my ZTS-MBT-1 battery tester for about 4 years, and the batteries, which are always on and ready to test, are still perfectly good.
My ZTS Mini-MBT is also still working great on the 4-AAAs with which it came several years ago.
Bravo, ZTS!
Film Focuses Our Attention
All this digital stuff is fun, but film still looks so much better both technically and artistically.
Technically, a projected Fuji Velvia slide has visibly wider color gamut and contrast range than any print material, computer display or projector.
If all you're going to do is scan your slides, then sure, shoot digital, but if you look at your images the way they are designed to be seen, the difference is jaw-dropping when done well. Any online comparisons you've seen are meaningless because you're only seeing the comparison on your computer screen, which just can't duplicate the brightness, contrast and color gamut of a transparency on a light table.
Artistically, shooting a real camera always leads into deeper reflection as we shoot, leading to stronger images.
Snapping away mindlessly with "we can just delete the bad ones" digital leads to thoughtless images, while when we know we have to change film and pay for each shot, the small extra mental effort put into each shot leads to huge improvements in the final images.
I much prefer shooting and the results I get with real cameras as opposed to "digital."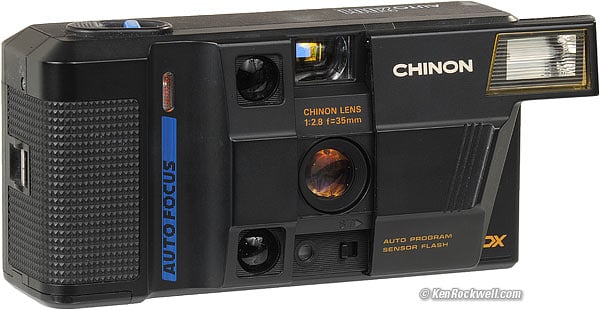 Chinon Auto2001.
NEW: Chinon Auto2001 Review.
A leftover from March 2009 that I never got around to finishing.
LEICAs Made in Portugal
Leica keeps this quiet, but most of the precision manufacturing and assembly for the LEICA M9 and other items have for decades been made in LEICA's huge Portuguese factory in Famalicão.
The German facility merely assembles the many smaller parts in Germany so the cameras can be labeled MADE IN GERMANY, much as Porsche Cayenne's are made in the Volkswagen factory in the Czech Republic, and does some final assembly in Germany so they can be stamped MADE IN GERMANY.
Here's an article from Der Spiegle about it. (German language version.)
LEICA returns to the Holy City
LEICA also just broke sacred ground in the Holy City of Wetzlar, to which it is relocating its camera division.
The 27,000 m² (290,000 ft²) facility ought to be operational in November 2013.
25 April 2012, Wednesday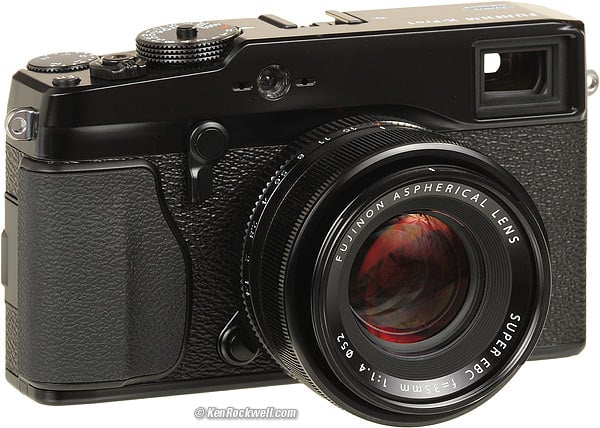 Fujifilm X-Pro1.
NEW: Fuji X-Pro1 Review.
While I've had a place-holder page there for weeks, only today does it contain a legitimate review.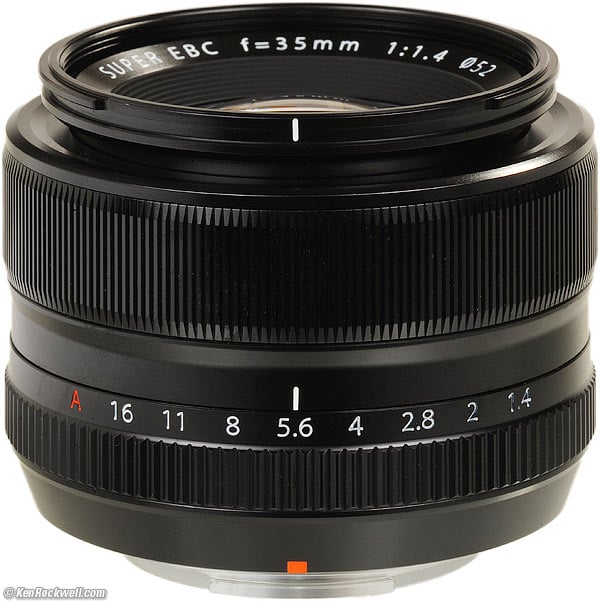 Fujinon XF 35mm f/1.4 ASPH.
NEW: Fuji 35mm f/1.4 Review.
One of the best lenses I've ever tested; better than LEICA's best!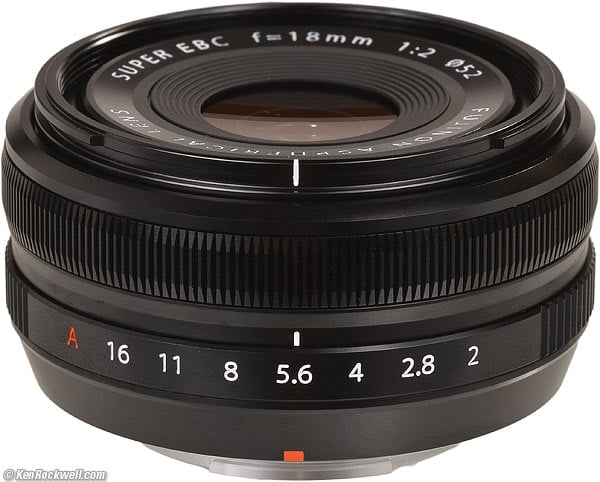 Fujinon XF 18mm f/2 ASPH.
NEW: Fuji 18mm f/2 Review.
An excellent lens, and the only autofocus wide-angle on Earth for the X-Pro1.
UPDATED: 2012 DSLR Comparison.
I added twice as many items and a few cameras, too.
How Sharp is the D800?
Have a look at this quick hand-held snap I just added to my Nikon D800 Review: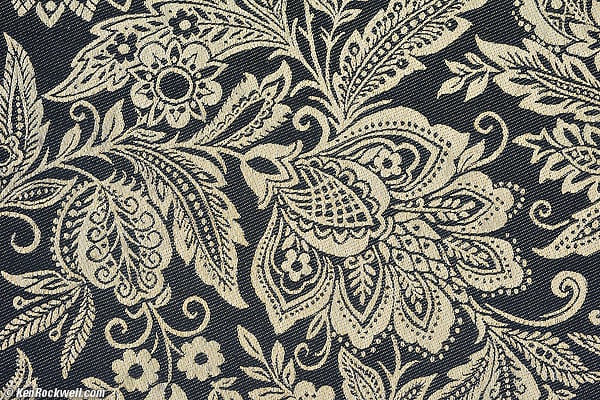 Lawn Furniture Fabric. 55mm f/2.8 AF (plastic lens, beater sample from 1988), f/8 at 1/250, ISO 100, VIVID +3 Saturation, sharpness-robbing Auto Distortion Correction OFF, Sharpening set to 6, hand-held. Camera-original © LARGE BASIC Optimum Quality JPG file.
The corners would have been sharper if my seat cushions were flat, and if I had the camera more properly aligned.
Nikon D800 & D7000 partial battery recall.
23 April 2012, Monday
Adobe CS6
I still need to learn what matters to photographers, but Adobe CS6 is here. I work in CS5 all day, every day, so I'm looking forward to whatever CS6 does to let me do more in a day. See also Adobe's deals for folks like myself who merely need to upgrade, as opposed to buy it all from scratch.
Kodak Still Rules
While most of us upgraded to Fuji slide film from Kodachrome back in 1990, Kodak still rules the black-and-white world, which is photography itself after all.
I just ordered another batch of T-Max 100 for myself, and some Kodak Gold 100 for fun. Heck, for $2 a roll, and as the world standard for printer color channels for accurate color, how can you go wrong?
Funny thing is that the black-and-white film now costs triple what color film does. Price never has anything to to with the technical complexity of a product; it has far more to do with economy of scale: people buy a lot more color film than B&W today, so it costs a lot less to make color rather than the lower-run B&W film.
Kodak has been discontinuing film for over 100 years, but it only discontinues what people don't buy. (Except for the Tri-X fiasco of the 1980s; Tri-X is still the world's biggest selling B&W film even though T-Max 400 is sharper and has less grain!)
Today, T-Max 100 is in stock in three different formats, and T-Max 100 and Gold 100 is in stock in 36- and 24-exposure loads for you lighter shooters.
Tri-X came out in the 1950s, and has long since has been surpassed technically, and we can still buy it in numerous formats, including Super-8 movie cartridges — in stock!!!!
Yes, Super-8 went obsolete for most of us in the early 1970s, but since professional filmmakers still buy it, Kodak still makes it.
It's never about what a company ought to make, it's all about what people actually buy.
Film is never going away, even if amateurs have flocked to digital so they can delete the bad shots while they're still learning.
Same for the D800E: there's less technology in it, but since Nikon sells fewer, they can charge more for it than the D800.
Don't forget the D5100
Hee hee, Nikon is sneaky. We all know that the D3200 is their cheapest camera, at only $699 for body and VR lens together.
But who's priced the D5100 lately? The D5100's price has dropped to the same $697 with 18-55 VR lens, and it also comes body-only for just $597!
My money's on the D5100 for the same price. It's a spiffier camera with its PLAY button where you can reach it with one hand and a flippy LCD.
No one needs 16MP for anything, much less the 24 MP of the D3200. DSLRs are now mature, so new models from Nikon aren't adding anything we need, just adding fluff we don't to sell more cameras.
Sandisk 32 GB Card Sale
I always keep a 32 GB card in the second slot of each of my cameras that has one, and run that slot as backup. Here's some deals. For backup, you don't need a fast card.
From today until 9 AM tomorrow, NY City time:
SanDisk 32GB CF UDMA 60 mb/s Reg $179.95 spec $87.95.
SanDisk 32GB CF UDMA 6 Extreme Pro 90 mb/s Reg $269.95 spec $139.95.
SanDisk 32GB SDHC UHS-1 30 mb/s Reg $49.95 Spec $25.95.
SanDisk 32 GB SDHC, class 10 45mb/s Reg $59.95 Special $38.95.
SanDisk 32GB SDHC Extreme Pro 95 mb/s Reg Price $109.95 Spec $77.95.
Critical Acclaim
One reader said it like it is about my Photos From California's Central Coast published last week:
"If I were Fuji, I'd be tempted to sue you for slander for the appallingly bad photographs you include with your review of the X-Pro1.
Your photos are so grotesquely oversaturated that only a silly schoolgirl could conceivably find them attractive. One day, perhaps you will understand that another word for what you call "wild colors" is "ugly."

The X-Pro1, in the hands of a good photographer, is indeed capable of magnificent work. But that, unfortunately, isn't you."
Right on!
20 April 2012, Friday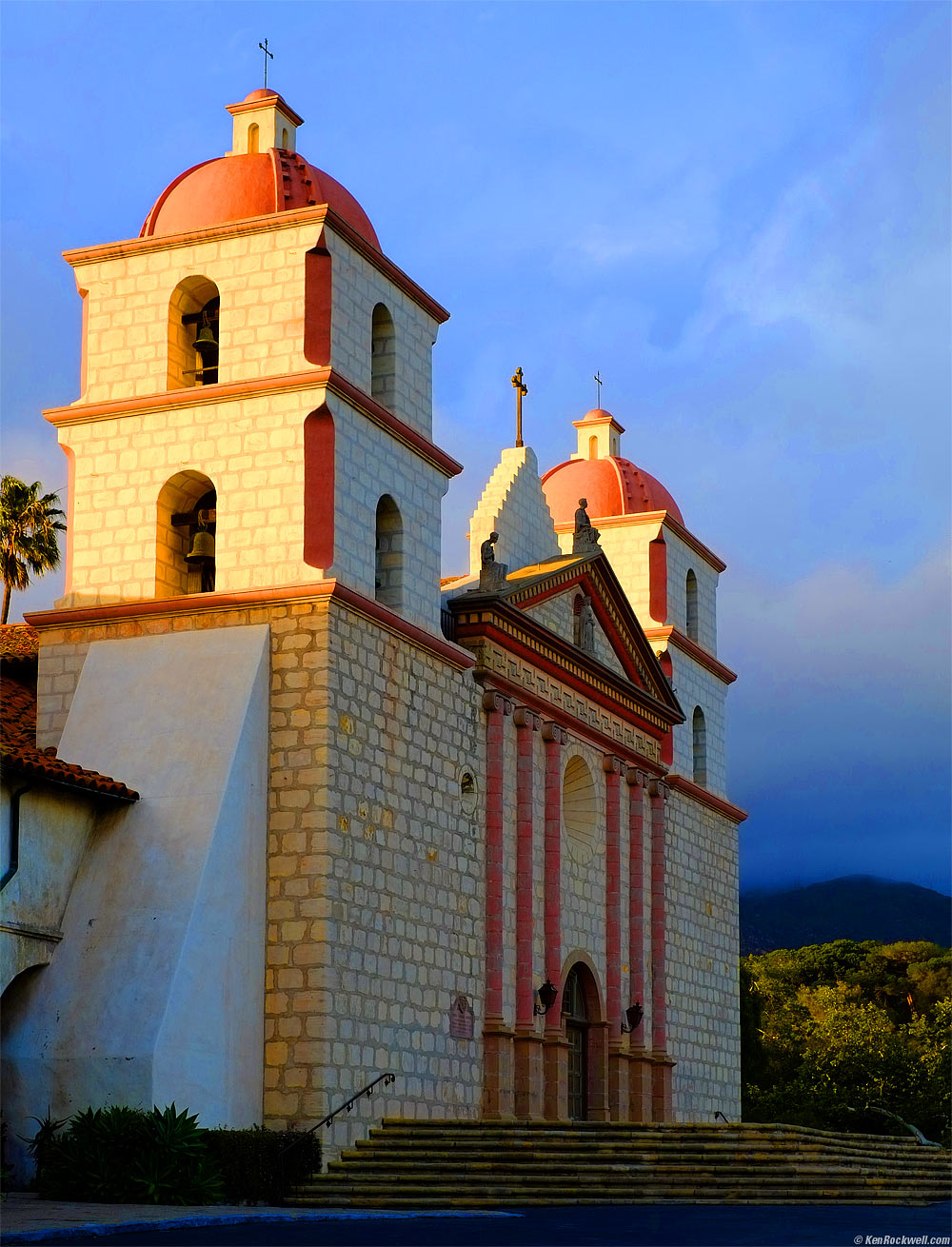 Mission Santa Barbara, Fuji X-Pro1 snap.
NEW: Photos From California's Central Coast.
What I did last week, including gobs of original sample images from the Canon 5D Mark III (looking great with cheap 20-35, 24-85 and 55-200mm lenses), and from the Fuji X-Pro1.
With these sample files shot on the 5D Mark III and cheap lenses, you can see how it compares to your own JPGs shot with more expensive lenses on your old 5D Mark II, and compare the Fuji X-Pro1 to anything you like.
Thanks!
Tripod Deal
Dolica ZX Series 60" Professional Carbon Fiber Tripod with Balanced Ball Head, Load Capacity 17 lbs: reg price $149.95, special: $124.95.
19 April 2012, Thursday
NEW: Nikon D3200.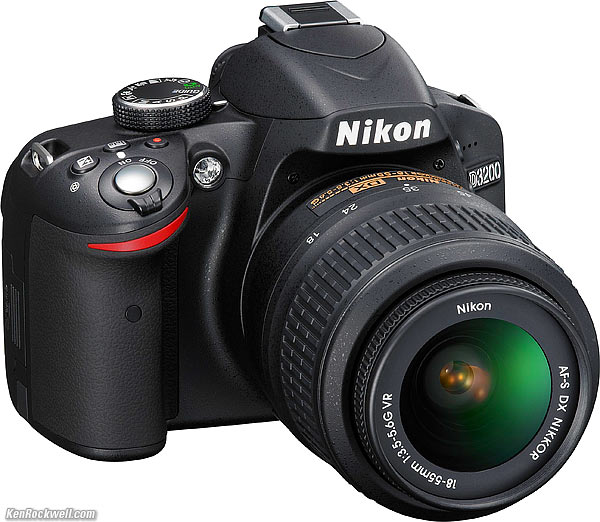 Nikon D3200 with 18-55mm VR.
NEW: Nikon AF-S NIKKOR 28mm f/1.8G FX.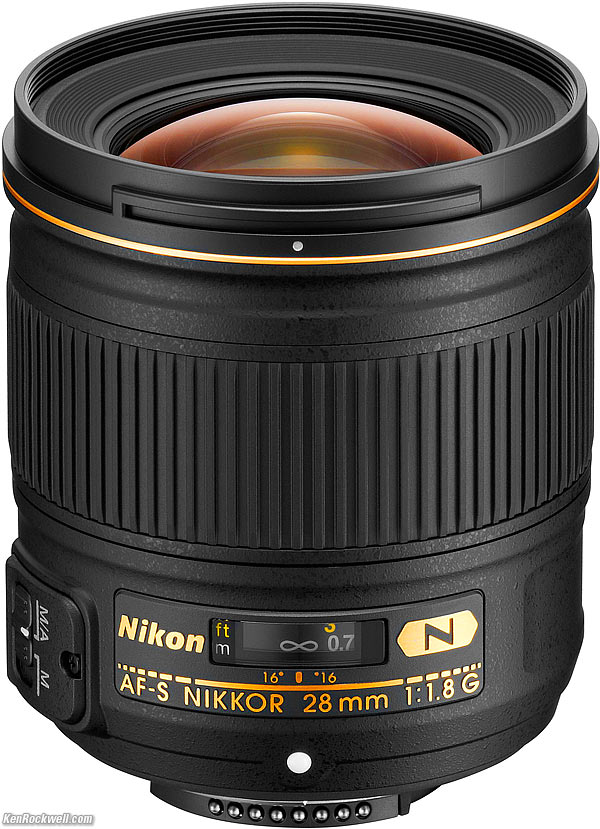 Nikon AF-S NIKKOR 28mm f/1.8G FX.
Instant manual focus override, 67mm filters, 11.6 oz./330g, late May 2012, $699.95.
11 elements in 9 groups; 2 aspherics and one nano-coated surface for good marketing. No ED elements, so it wears the Gold Band falsly, with no ED glass to show for it.
Rear focusing.
Nano Crystal Coat for better ghost resistance.
Silent Wave Motor (SWM): works with all digital and most 35mm autofocus cameras.
0.82 feet (0.25m) close-focus.
1:4.5 maximum reproduction ratio.
7 rounded-blade diaphragm.
2.9" diameter by 3.2" long.
73 mm diameter by 80.5 mm long.
Order yours at Adorama or at Amazon, expected late May for $699.95.
UPDATED: Canon 20-35mm USM Review.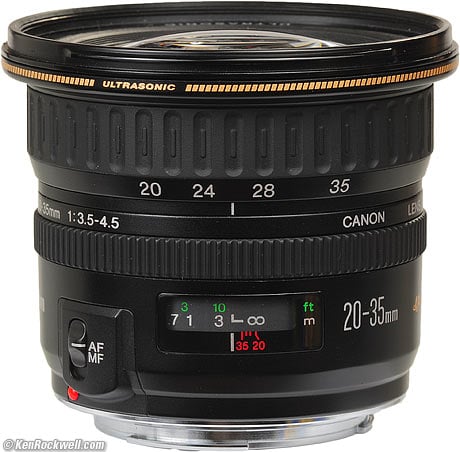 Canon EF 20-35mm USM.
I updated my review reflecting its use on the Canon 5D Mark III and added a sample file.
The 5D Mark III does a great job correcting what used to be crippling defects when used on the old 5D Mark II and similar cameras, so the 5D Mark III just brought this great-handling and super light lens back into my bag, replacing my big old 16-35mm f/2.8 L II and its pretarded 82mm filter size.
My 5D Mark III is going to pay for itself with all the money and weight I'm saving on lenses.
18 April 2012, Wednesday
D800 versus 5D Mark III vs. D4
NEW: 2012 DSLR Comparison.
I moved my growing comparison table here.
In case I didn't mention it, it's driving me nuts that the four most important cameras in several years just arrived for me to evaluate — all on the same day — last week.
It usually takes a couple of weeks to craft a thorough and intelligent review for just one significant camera, but in this case, we all need to hear about the Nikon D800, Nikon D4, Canon 5D Mark III and Fuji X-Pro1 now.
I shot the Canon 5D Mark III and Fuji X-Pro1 last week, and today want to get on sharing the photos. I reviewed the two lenses I used for which I didn't have reviews below, so I'll have pages to which to link from those photos.
I want to get the Canon 5D Mark III and Fuji X-Pro1 out of my system so I can focus on the D800, since once I start thinking in 36 MP, all this sub-30MP baloney will be yesterday's news.
10 MP is enough for anything, but when it comes to seeing whose is longer, more is always better. Here in America, too much is never enough. Just like a Porsche, no one needs all these pixels; we just want them.
I still need to compare sharpness of all these, especially throwing the X-Pro1 and LEICA M9 into the mix.
When I get all this done, hopefully my D800E will arrive, and I can drive the rest of these down to Goodwill with the rest of my spring cleaning. The D800E ought to eclipse all of these — in the lab.
D800 versus 5D Mark III Auto-Area AF Selection
Auto-area AF selection is the mode where we let the camera select where to focus. In this mode, the camera selects which AF areas to use. I love this mode when it works, since it saves me time if the camera can figure it out on its own.
While I whine about the removal of the AF controls on the latest batch of SLRs, the D800's AF systems has gotten so good that these levers aren't necessarily needed.
The D800's auto-area AF system ("auto" in the settings) has an astounding ability to locate and then nail focus on the subject's nearest eye, and ignore distracting junk in the foreground.
By comparison, the Canon 5D Mark III's auto AF area selection merely finds the nearest distraction, and focuses on that. Unlike the D800, the Canon just can't find the eyes.
Why is this?
Well, Nikon's better light meters have seen in full color since the Nikon F5 of 1996. Nikon's digital cameras since the Nikon D3 of 2007 have used this full-color information, along with distance information from D- and G- lenses, to locate faces, and if you set the AF system to the big white rectangle on the back (or "auto" in the D800), the camera knows to use the AF area that lies on the closest eye of the biggest face. Heck, most budding photographers don't even know that you must focus on the closest eye of a subject, but the D800 does!
Canon's 5D Mark III is clueless. It can't find a face to help direct its AF system for beans.
Why is Canon so much worse? I'm surprised you tech folks didn't pick up on this before I did: Canon's meters still can't see in color, so they can't find faces! The 5D Mark III can see in terms of cool-warm, but not full color.
Nikon still wins here — 16 years after the F5, and Canon's meters still can't see in color. Nikons, even the F5, use additional dedicated RGB sensors in the viewfinder.
NEW: Canon 24-85mm Review.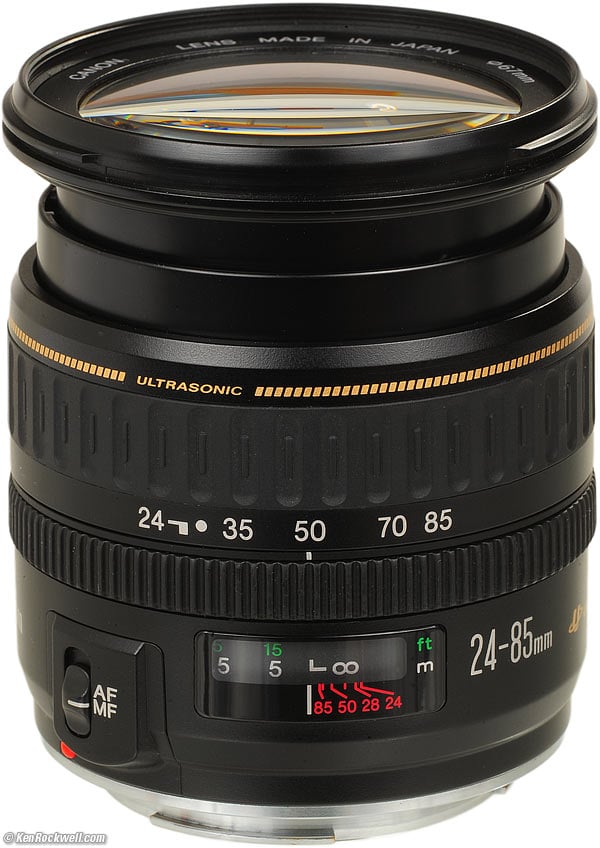 Canon EF 24-85mm USM.
A swell lens on the 5D Mark III, which eliminates the color fringes this lens used to have on every other Canon full-frame camera.
I would not look forward to carrying the optically excellent Canon 24-70mm or 24-105mm lenses all day, but now that the Mark III makes these lighter lenses perform so much better, they are what I'd rather carry.
NEW: Canon 55-200mm Review.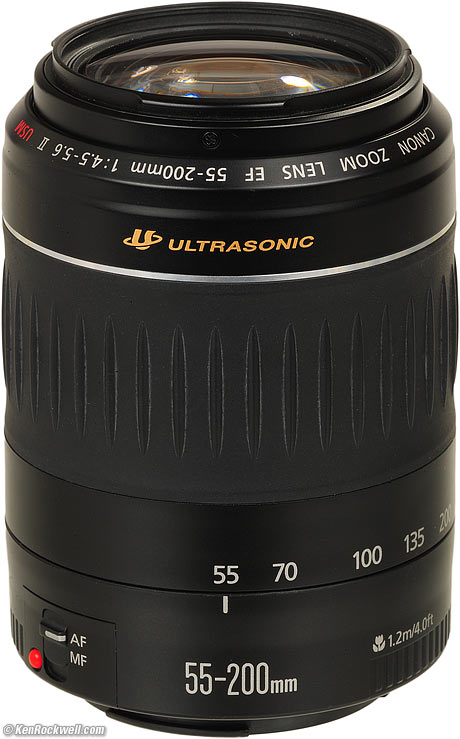 Canon EF 55-200mm USM II.
A crappy lens on the old 5D Mark II, but surprisingly useful on the 5D Mark III, which eliminates the color fringes this lens used to have on every other Canon full-frame camera.
(I have to churn out gear reviews first so I can can have someplace to which to link when I share all the images I shot last week.)
17 April 2012, Tuesday
5D Mark III better than D800?
I just got back from a week shooting my 5D Mark III with my lightweight 20-35mm f/3.5-4.5, Canon EF 24-85 USM and Canon EF 55-200mm USM II. These cheap plastic lenses work great on the 5D Mark III, and save a ton of weight. The Mark III's new lens correction abilities really do make these lenses work great, maybe better than my 16-35mm f/2.8 II L USM does on my 5D Mark II.
If I ever get to sit down at a computer, I'll be sharing these images in full-resolution. (When you shoot for a living, you spend as little time in front of a screen as possible, another reason I cannot read eMail.)
I also shot my D800 all day yesterday, and to be honest, if you ignore all the extra pixels no one needs, the since Nikon took away the U1 U2 and U3 dial control and the AF controls that the D800 was supposed to have, even the D7000 handles far better than the D800, and the 5D Mark III does, too.
Seeing how awesome are the results I got from my 5D Mark III this past week, I have a sneaking suspicion I might have to move the World's Best DSLR crown to the 5D Mark III. We'll see; the D800's yellow LCD makes shooting it no fun, and trying to use Shooting Banks still takes five clicks with three buttons to swap, and they still don't change half the things I need to change from snapping people or landscape shots. Canon so rules, and so does the X-Pro1.
The D800 is King for replacing medium format, but medium format has never been mainstream.
10 April 2012, Tuesday
Canon 5D Mark III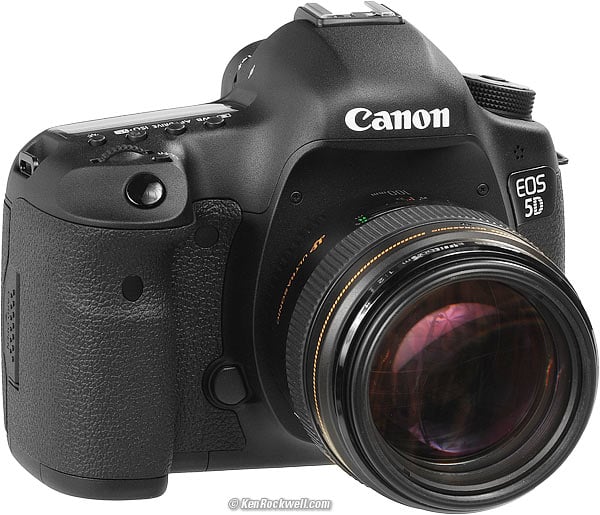 After shooting another day with my 5D Mark III, I am so digging it. Its magic in-camera lens correction is letting me shoot fly-weight plastic Canon lenses, like my weightless and ergonomically superior 20-35mm f/3.5-4.5, getting great results, and lightening my load, all at the same time.
Here's a snap from Easter with the ultralight 28-105mm USM II: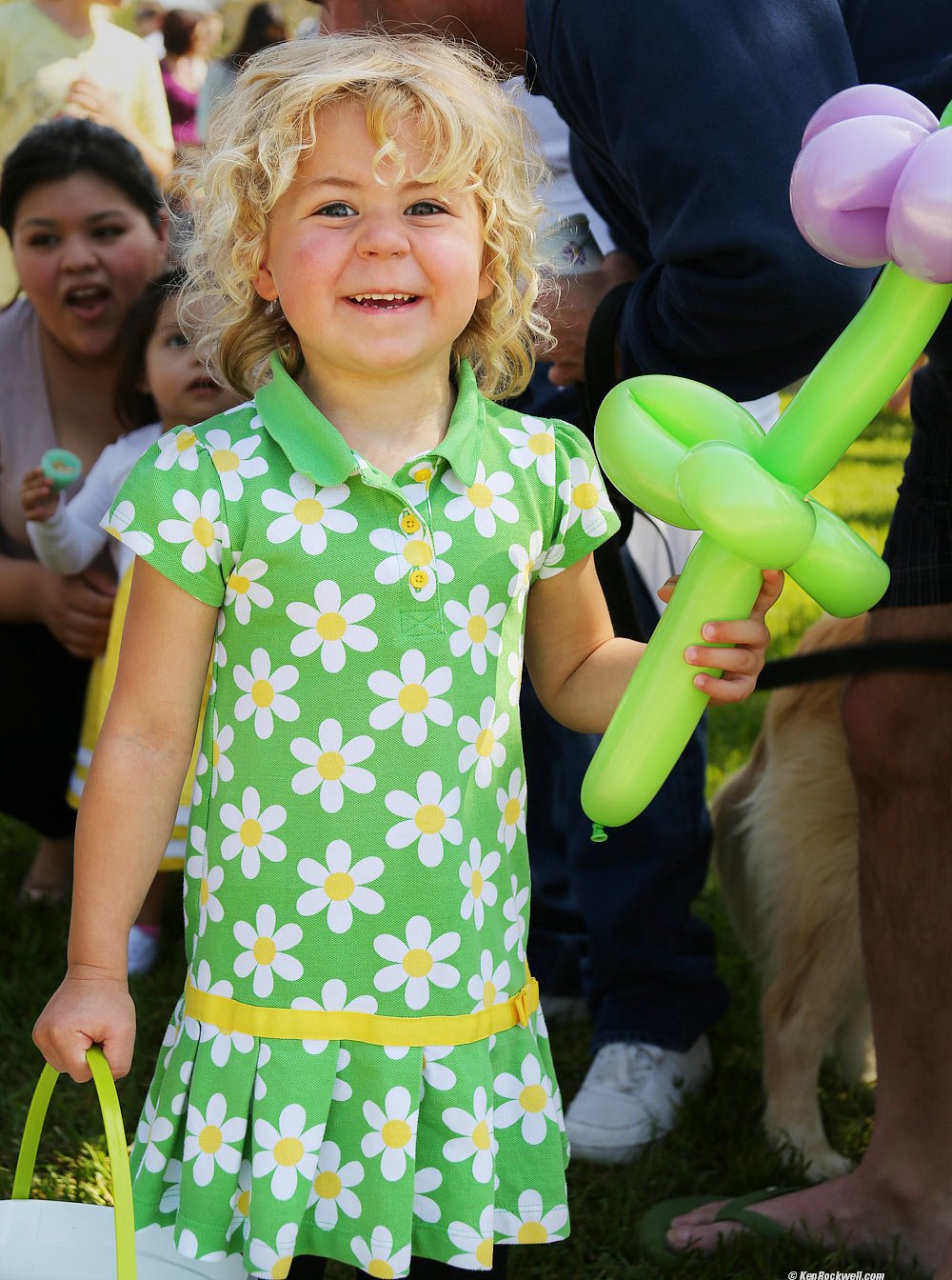 Katie with Easter flower. original file (rotated in iView 3.1.3), 5D Mark III, AUTO ISO 100, AUTO A4 White Balance, Canon EF 28-105 USM II at 63mm, f/7.1 at 1/160, -1/3 exposure compensation.
I'm going to need to amend most of my Canon lens reviews, because the 5D Mark III's automatic color fringe correction is making far better images from the older and less perfect lenses.
Yes, it also improves the newest Canon L lenses, but since the poorer lenses have more to correct, it does even more with the older, lighter lenses, narrowing the optical differences between old, lightweight lenses and the latest overweight pigs. The 5D Mark III lets us bring back great results while carrying a minimum amount of lens weight, a huge help for serious outdoor photographers, who have to backpack all this gear.
I'm working through my anger issues with the crippled AF system. I've had to use all three C1, C2 and C3 modes, one each for ONE SHOT, AI FOCUS and AI SERVO, so I've got that down, and it's working great.
Especially impressive is how well auto WB works indoors under tungsten.
Very impressive is how well AUTO ISO works when you let it reach up to ISO 25,600. With these crazy ISOs, I can use cheap, slow zooms without IS like the 20-35mm f/3.5-4.5 and 28-105 USM II in the dark hand-held, and they work great: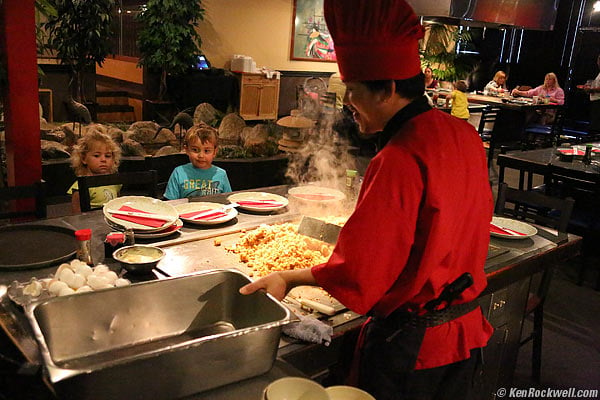 Ryan and Katie in Tokyo. bigger. 5D Mark III, AUTO ISO chose ISO 25,600, AUTO White Balance, Canon EF 28-105 USM II at 35mm, f/4 at 1/125.
09 April 2012, Monday
Canon 5D Mark III
After shooting with my 5D Mark III all weekend, I've updated my 5D Mark III review with the new observations. I'm liking it more and more; and it's popular. At the park for the Easter Egg hunt, two other parents already had them, too.
As I'm learning to use the AF system, I've realized that it will never make sense because the AF-Area settings were removed from the Quick Control screen. Now we always will have to look in two different places to set the AF Mode (AI SERVO, AI FOCUS or ONE SHOT), and someplace else to select the manner in which the various AF areas are used.
Oh well; the playback is a zillion times better than my crummy old 5D Mark II, and I'm also very much appreciating the huge performance improvement I'm getting with the 5D Mark III's auto color-fringe correction, which is letting me get better results with it from my cheap lenses, like the crummy and weightless 20-35mm f/3.5-4.5, as compared to what I got from my expensive 16-35mm f/2.8 L II on my old 5D Mark II. The Mark II had no ability to correct the 16-35, while the Mark III can.
I shot all weekend with a Canon EF 28-105 USM II I got from eBay for well under $150, delivered, and it performed great. I felt sorry for the moms and dads who were still humping their big heavy old 24-70/2.8 L and 24-105/4 L IS lenses around. The 28-105 USM II weighs nothing, focuses instantly, and I can zoom it with a finger from my shooting hand so I can shoot one-handed!
That's right: the 5D Mark III can help turn sow's-ear lenses into silk purses, meaning you no longer have to hump the newest heavy zooms around when older, lighter lenses can be made to perform better, at least in terms of color fringes, than the best L lenses did on the 5D Mark II last month. (Nikon's DSLRs have done this since the D300 and D3.)
07 April 2012, Saturday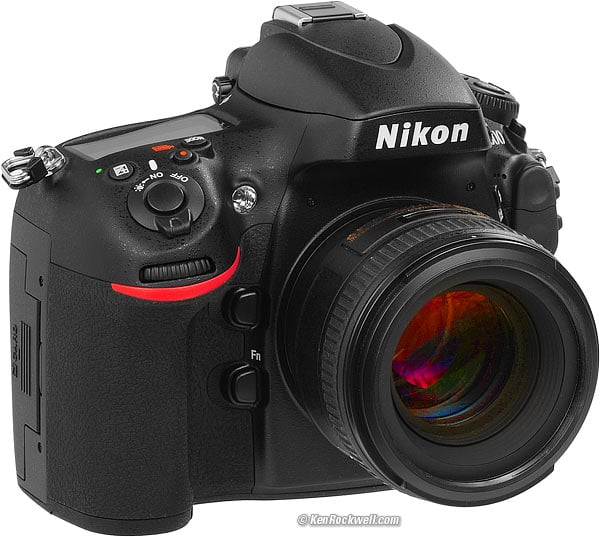 Nikon D800 and 50/1.4 G.
NEW: Nikon D800 Review.
I've been secretly updating my D800 page from a preview to a real-world review these past couple of days that I've had my D800. It's an awesome camera, so if you care and haven't read the whole review in the past hour or so, check it out again.
Like all my reviews, they're live and updated all the time. It's just that the entire thing's grown by three times in the past couple of days, and it will continue to grow.
I owe you guys user's guides and apps, too.
NEW: Fuji X-Pro1 Sample Images.
Holy moley, the no-anti-alias filter X-Pro1 is astounding sharp, as sharp as the LEICA M9, and Fuji's XF ASPH lenses are as good or better.
Neither of those Fuji reviews is even started, so don't dare read anything, but I just had to share these images.
06 April 2012, Friday
Eliminating moiré with the D800E
I added a section on How to Eliminate Moiré While Shooting the D800E to my Nikon D800 versus D800E page.
Canon 7D sale - too hot to publish!
Adorama's blowing out the Canon 7D and 24-105 IS for $500 off this week.
Use coupon code S0401201 on the checkout page under Payment Information (it's a small link to click to get the secret coupon code box to open).
This kit for just $2,500 total includes the Canon 7D and 24-105 IS and some Adorama brand accessories like a spare battery, a vertical grip, SanDisk card, bags and software.
Get it now before they pull it; these deals often go away fast.
NEW: High-ISO Comparisons of the Nikon D1, D3 (D700), D4, D800, D7000 and Canon 5D, 5D Mark II, 5D Mark III and Fuji X-Pro1 and X100.
The D800 wins, and you'll see that the D4's hyper-ISOs are lies. Hyper ISOs of the D4 look horrible (far worse than any other camera), and at the same stupid ISOs like 25,600, the D800 and 5D Mark III look as good as each other. Heck, the Fuji X-Pro1 looks great, about as clean as the D4 and sharper, too.
Nikon isn't raising the bar on ISO with the D4, it's lowering the quality bar to get there. For low-light, the D800 is best since it still has more resolution, but they're all about the same.
Two Steps Forward, One Step Back
That's how it's done in Japan.
Every new product adds a few great new things, and quietly and deliberately takes away some core capacity we really need.
By the time we realize what's missing, the new model comes out, putting that back in, adding more new things, and again quietly taking away something else that's necessary.
Does Nikon mention anywhere that they removed critical AF controls from the D4 and D800? No, they pimped the video features that replaced them, and for having more more resolution.
Two forward, one back.
The D3V, D700V and 5DV
I love my D4, 5D Mark III and especially my astonishing Nikon D800. They let me make better digital images than ever before, but their AF systems make me work a bit more than before.
With a day or two with the D4, D800 and 5D Mark III, I now realize why they are all about video, and worse for making still shots than the D3, D700 and 5D Mark II. Yes, they've got more pixels, but make it more difficult to shoot them well than their predecessors.
The D800 is really the D700V, the D700 optimized for video, and the D4 is the D3V, a D3 optimized for video, and the 5D Mark III is the 5D Mark II with better video controls.
No big deal; the video guys LOVE the D800, D4 and 5D Mark III. These are the new Messiah to them. Nikon and Canon did the Japanese two-step adding all the things vidiots wanted, added more resolution to stultify we still shooters with desire, and had to pull some of the things we still photographers need to make room for the video features.
Nikon's all about profits, not pictures. That's what drives all corporations, and that's good because it keeps them making what people want. Still photography is a sideline; video is king. That's great if you're a vidiot, but we still shooters are being marginalized, and it's about time.
Profits come from sales which come from people buying new cameras.
People buy new cameras when they think they're better than what they already have.
Adding new features makes people think this, which is why we have so many features we don't need that we cant' find those that we do.
I'm a photographic artist. That has nothing to do with video. I earned my living in Hollywood doing video for a decade, but that's not me; that was just earning a living since movies and TV have bigger budgets and more of them, not music and art. (We in the music biz have always patted ourselves on the back since a CD sells for about the same price as a DVD of the same concert, but I digress.)
Most people want video, not stills. Still photos are abstractions and require more concentration and intelligence to appreciate. Still photo appreciation is going obsolete, replaced by video viewing for most people.
Video really did kill the radio star. That Buggles tune was the first thing ever played on MTV. I know, my radio pals and I all sat around to watch it debut.
Just as live music performance at home was replaced by the radio in the 1920s, which was replaced by the hi-fi which was replaced by the stereo, and then all that was replaced by the VCR and DVD for most people in the 1980s and 1990s, video is killing photography.
Most people would prefer to watch TV or a movie than read a book or look at art. Reading and art appreciation require imagination, while TV renders imagination redundant. Every moron watches TV, and head-counting is all that matters at Neilson and Arbitron, so that's why shows like "The Ignorant Bimbos of Retard County" replaced the intelligent fare that cable channels like Bravo were founded to broadcast. There are far more stupid people than normal people, so catering to them is what's driven TV into the toilet ever since it was invented. Broadcasting ad dollars are based on viewer count, and rarely demographics. This is why the Internet is bigger than TV today in terms of advertising dollars; internet ads are targeted demographically and far more valuable to advertisers.
That's life, but there's another reason this video nonsense is growing like cancer in our cameras: it's all about profit, not pictures.
While very few DSLRs are bought for motion picture production, the fact that if one production company is paid to use one so that the manufacturer can let people know what some big Hollywood movie was shot in it, that gives immeasurable cachet to that camera.
That cachet leads to far, far more sales, even if video is of no interest at all to the people buying it. I'm pretty resistant to marketing BS, but even I'm compelled to shoot my Canon 5D Mark II because it's "cooler" than my Nikons, the coolness coming from the fact that big-time movies have been shot on it. Coolness sells.
The only big company that cares if its products actually work more than how many they sell is Apple. Otherwise, big camera makers can't stop to care about photographers when they really need to care about sales to stay in business to make anything at all.
Therefore, video is going to continue to crowd-out the still photo capabilities of our cameras.
While the D4 and D800 have more resolution and great video features compared to their predecessors (actual ISO capacity is the same), the older D700 and D3 have better handling and ergonomics for still photography.
Tough: two forward, one back. In the next iteration, the D900 will get a U1 U2 U3 command dial and some other great feature, and quietly take something else away.
I know I'm whining, and I love my new cameras to death, but I also see what's happening and why. It's just the natural way of things. Darwin didn't say the strong survive, he said those who survive are those who can adapt. Camera makers are adapting to video, and we still shooters have to adapt to our tools - or shoot our LEICAs that just get it right in the first place.
Lower-tier camera makers are seizing this opportunity to regain the photo market. The Fuji X100 is what I usually shoot day-to-day with the family, and the new X-Pro1 seems even better: a real photographer's camera.
Be Steve Jobs
Want to be Steve Jobs and change the world?
Most of you readers are software, computer and IT professionals.
The flaws in the D4, D800 and 5D Mark III for photographers are all firmware. Nikon and Canon have made the controls and operation do things that sell well in video, but take away from photography.
All you guys have to do is write your own code from scratch, and make the buttons do what we need them do to.
You know what we need, so stop posting to forums and worse and do something meaningful: write new code that changes photography. Write your own Nikon or Canon camera OS, and heck, you can sell it; just don't copy any of Nikon's or Canon's code. I'll even help you define it, and help you sell it.
Would I pay several hundred dollars for "The Photographer's OS" for my D800 or D4? Absolutely!
A camera is a computer like anything else, and if you're good, you can code for it. There's even a website for guys doing this for Nikon.
Be someone. Any moron like me can complain. It takes a real person to do something about it and make a difference!
Nikon D1.
NEW: Nikon D1 Review.
World's first practical DSLR.
OK, not really a full review, but a place-holder page with photos.
05 April 2012, Thursday
NEW: Nikon D800 versus D800E.
04 April 2012, Wednesday
Am I whining too much?
I'm upset by the removal of the AF system mode and AF Area control switches on the newest Nikon D800 and D4.
These functions were first removed from the camera and put in menus on the D7000, but that's OK because the D7000 did that so it can store and recall these settings with its U1 and U2 positions on its mode dial, so this was a big step forward. Canon's been doing this for years.
I was really looking forward to this innovation on the D4 and D800, but instead, Nikon took away the controls and hid them behind function buttons, command dials and LCDs, but don't let us store and recall them as U1 and U2 functions, thus we got screwed! The AF area mode control got replaced by the live view and video record switch.
Nikon's Settings Banks and Custom Settings Banks are baloney: they can't be locked, and even if they could, require too many button presses to recall while shooting, and even if you do, still don't recall everything about the camera's setup. Even if you use the save-to-card settings feature, you can't save or recall more than one state. I'm sickened to see these banks back in the D800 and D4; Nikon had already advanced beyond them in the D7000 back in 2010.
I'm always switching my AF modes as I shoot using these two levers, but now Nikon expects me to jack around with multiple steps where one easy click used to get the adjustment — and the shot.
My Canon 5D Mark II I easily can swap among and save and recall all these AF modes as I shoot, but the 5D Mark III got more complicated and now added steps to get from one mode to another — slowing me down and losing photos.
All this hiding the features we need to take pictures and making the fluff, like video, get the buttons, is really ticking me off. It's as if Nikon and Canon moved the shutter release to a function button that we need to hold while turning a dial to shoot, and then moved something bogus, like HDR bracketing order, to where the the shutter release used to be.
So anyway, am I whining about losing the ability to take pictures, or are we really seeing the beginning of the end of the usable DSLR? 35mm cameras summited around 1992, and have been going downhill ever since Canon invented the Custom Function to ensure no one would be able to figure out their cameras again, but about which it could sell more cameras based on their custom function count.
I'm the guy who paid more for a used Nikon F2AS back in 1983 than I could have paid for a brand-new state-of-the-art Nikon F3 because I didn't trust these new, unproven "electronic" cameras. In retrospect, the electronic F3 and FE proved to be great cameras, but I still didn't accept auto exposure as legitimate until 1992.
The only real technology I've been a fan of since before it was introduced is digital audio recording and the Compact Disc: perfect sound forever. I was the first individual in the United States to own a digital audio recorder in 1981, and my nearly 30-year old CDs still sound exactly as they did when new, and in the case of popular music, sound even better than remastered CDs of the same thing. My CDs from the 1980s still have their dynamics intact. Buy an SACD today of the same album, and it's been limited, multiband compressed, squashed and composite clipped as bad as if it were on the radio. They sound fuller to the ignorant, but are completely missing dynamics, one of music's only three dimensions. (The other dimensions are pitch and time. Everything comes from how pitch and level are combined together and controlled with time.) Popular music mastering today is like a landscape that's been completely flattened: percussion, impacts, louds and softs are all the same level, pegged at +10 VU, so they all sound as loud as each other on an iPod. Wonderful; 0 VU used to be -20dBFS.
A Nikon rep once observed that in Japan customers get all excited about all the new things they can do with each wave of new cameras, while Americans like me piss and moan about whatever was taken away. I don't know about you, but I like a camera that lets me take the picture. If I want a video game, I have an iPod Touch.
So anyway, am I whining, or do you full-time pros have a problem with Nikon and Canon burying the controls we actually use in favor of what sells well to casual buyers?
UPDATED: Nikon 85mm f/1.4 G Review: certified for use on the Nikon D800.
UPDATED: Nikon 85mm f/1.4 AF-D Review: certified for use on the Nikon D800.
UPDATED: Nikon 85mm f/1.4 AI-s Review: certified for use on the Nikon D800.
03 April 2012, Tuesday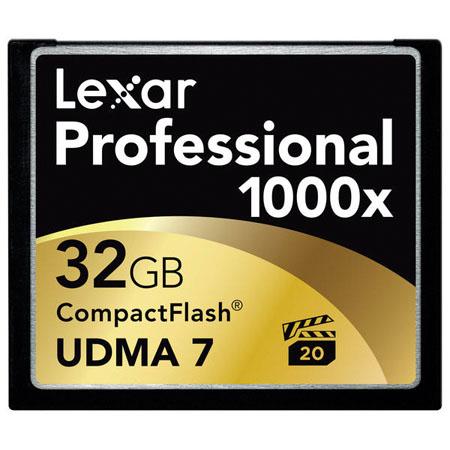 NEW: Lexar 1000x CF Card Review.

NEW: Lexar USB 3 Card Reader Review.

NEW: How to identify legal USA versions of the D800.

NEW: D800 Sample Snaps.

UPDATED: Nikon 85mm f/1.8 G Review: certified for use on the Nikon D800.

UPDATED: Nikon 85mm f/1.8 AF-D Review: certified for use on the Nikon D800.

UPDATED: Nikon 85mm f/2 AI-s Review: certified for use on the Nikon D800.

UPDATED: Nikon 85mm f/1.8 Review: certified for use on the Nikon D800.

D800 hits!

I've got my D800!

It's genuinely made in Japan, not Thailand as expected.

Maddeningly, just like the 5D Mark III, it now hides some of the critical AF system controls we need for instant shot-to-shot adjustment behind some menus, since the AF Area Mode lever has been removed from the D800 and D4 in favor of useless Live View and Video button fluff. In other words, this baloney is getting worse: the functions we need are getting pushed away into the menu system in favor of BS.

The D800's MODE button is no longer right under our trigger finger. The REC button is now there, while the MODE button moved further to the left.

Critical to me is that I usually shoot in all-area auto-select AF, and if the camera isn't doing it as I need, one flick of my D3's or D300's rear AF-Zone Select lever from ALL (big fat rectangle) to ONE (the little mark), and instantly and without taking my eye from the subject, I chose a sensor, and it magically tracks all around the finder as needed on my subject. Auto Select works great, and if not, 3D 51-zone works great, and I can flick between them instantly. My 5D Mark II allowed the same thing in a different instantaneous way.

Since that control lever has been removed from the D4 and D800, I now need to stop what I'm doing and and use two hands: one to press the AF mode button where the AFS-AFC-M lever used to be, and another hand to flick two dials among a zillion settings while I have to take my eyes off the subject and watch other parts of the finder to know when I got to the setting that I used to be able to get in an instant. Poop!

This new AF-button foolishness was OK on the D7000, on which it was used with the brilliant U1 and U2 recall functions to allow recalling all the settings of the AF system without needing to move the mechanical AFC-AFS-M switch of all AF Nikons made since 1986. Since neither the D4 or D800 have U1 and U2 instant-recall dial settings, Nikon has laid a big, smelly pile of poop right in our laps with this gaffe. (Sorry for the stinky smell, but with a kid still in diapers, we have a lot of it flying around here even without Nikon taking half the speed of our AF systems away from us.)

That's OK, since I don't shoot DSLRs for anything serious (I shoot LEICA ever since I wised up after Nikon tried to jack us with the D3X) or for photos of my family, for which I shoot X100. When I need an SLR, my 1971 Nikon F2S I just got back from an overhaul at Gus, so it's like new again.

I just got my film back from my 40-year-old F2S an couple of hours before my D800 arrived, and the film looks great, without any of the BS involved in an endless sea of digital camera menus that are doing their best to ensure that no one ever gets their shots again.

There is significant credence being given to accusations that Canon and Nikon are responding to the demands from professional photographers to make cameras so complex that once again, only pro shooters will ever be able to get great photos. For a while there, it was getting so bad in the pro arena that a lot of pros were losing jobs to weekend amateurs, since for a while, DSLRs were simple enough that any idiot could make marvelous professional photos with them.

The 5D Mark III and D800 are the best DSLRs ever made; I'm just sore over the usual Japanese trick of quietly taking away what we need and replacing it with fluff added just to sell cameras to the innocent.

Ignore my whining. 30 years ago I paid more for a used Nikon F2AS than a brand-new Nikon F3 because I didn't trust electronic cameras, obviously just flimsy cost-cutting excuses for real mens' cameras. I didn't even try an auto-exposure camera until 1992!

02 April 2012, Monday

Canon 10x Zoom Deal

Canon SX120 IS 10x zoom, 10 MP, 3" LCD camera, just $99 refurbished.

What the intelligent traveler takes on safari, with its 35-350mm (eq.) zoom and big LCD. It's perfect for Africa and the third world, running on AA batteries and being an inexpensive camera; buy a spare to take with you in case one gets stolen or situations get difficult.

It's got a fast lens, f/2.8-4.3, compared to the f/2.8-5.9 (1-stop slower at the long end) lens of the S100.

01 April 2012, Sunday

Nikon D800 versus Nikon D4

I've just read the manuals (see the Nikon D800 & D800E manual and Nikon D4 manual), and the D800 and D4 are the same thing! Except for some of the camera illustrations, most of the manuals are carbon-copies of each other, including most of the illustrations.

All the menus and features are 99% identical, which has never happened before in the history of photography: Nikon's top pro camera (D4) is the same thing as their top amateur camera (D800).

How about that? There are only a couple of very minor things that differ from one to the other, like having a button for taking voice notes on the D4, but all the other features are identical.

The D4 has a bigger battery and much bigger motors and AF-S motor drivers for faster autofocus and advance, and more controls will hopefully make it faster to adjust its features, but the firmware and features are 99% identical.

I'll be listing exactly what's going on later, but it was astounding to see how Nikon didn't hold anything back on the D800.

What Was New in:

Help me help you

I support my growing family through this website, as crazy as it might seem.

If you find this as helpful as a book you might have had to buy or a workshop you may have had to take, feel free to help me continue helping everyone.

If you've gotten your gear through one of my links or helped otherwise, you're family. It's great people like you who allow me to keep adding to this site full-time. Thanks!

If you haven't helped yet, please do, and consider helping me with a gift of $5.00.

The biggest help is when you use any of these links when you get anything, regardless of the country in which you live. It costs you nothing, and is this site's, and thus my family's, biggest source of support. eBay is always a gamble, but all the other places always have the best prices and service, which is why I've used them since before this website existed. I recommend them all personally.

Thanks for reading!

Ken

Home Donate New Search Gallery How-To Books Links Workshops About Contact