Home Donate Search Gallery Reviews How-To Books Links Workshops About Contact
May 2012's News Hot Deals
RSS: daily (continuous live updates)
all © 2012 KenRockwell.com. All rights reserved.

Nikon: D800 Canon: 5D Mk III Fuji LEICA More random Ryan Katie
Recommended Cameras How to Take Better Pictures
Twitter Facebook Video Tutorials
30 May 2012, Wednesday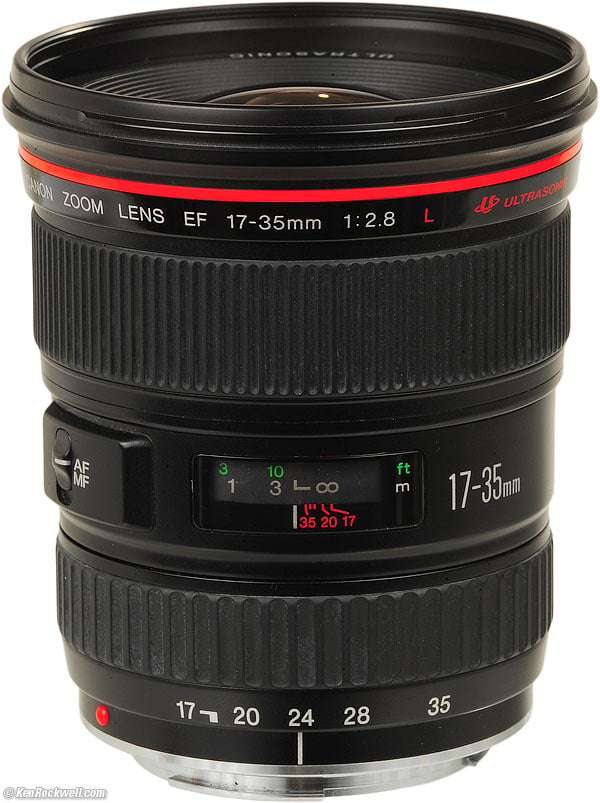 Canon EF 17-35mm f/2.8 L.
NEW: Canon 17-35mm f/2.8 L Review.
NEW: Comparison of all Canon Ultrawide Zooms.
The great news is that the automatic lens-correction ability of my Canon 5D Mark III is making older lenses work better than they ever have before.
On the 5D Mark III, the 17-35mm is 99% as good as the newest 16-35mm f/2.8 L II, but is smaller, lighter, and sells for only half the price.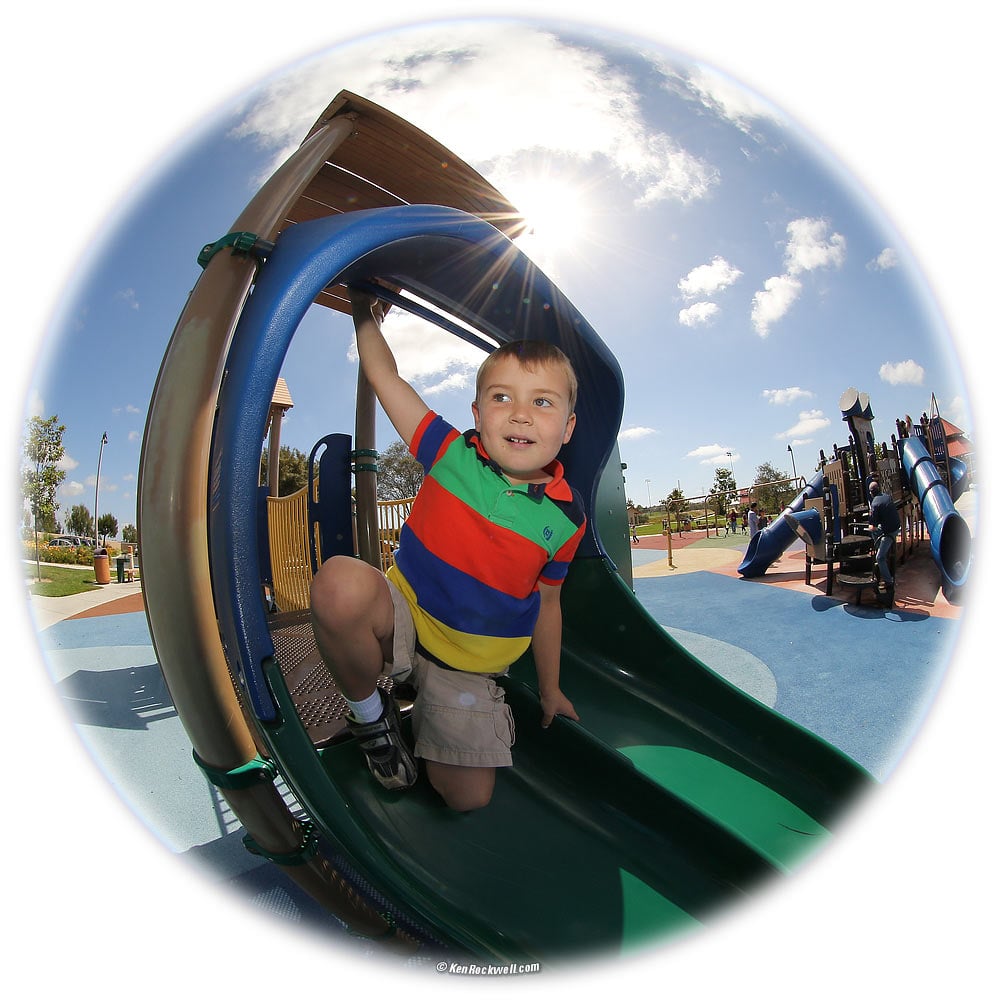 Updated: I added all-new sample images to my Canon 8-15mm Fisheye review.
Nikon 1 Specials
Adorama has some deals for you folks:
Nikon 1 V1 Mirrorless 10.1 Megapixels Digital Camera with Nikkor 10-30mm VR Zoom Lens, CMOS CX Sensor, 3.0 inch Display, USB, Black - Bundle - with 32GB SDHC Class 10 Memory Card, Camera Bag, 40.5mm Ultra Violet Filter: Reg $896.95, Instant rebate of $150: final price $746.95.
Nikon 1 J1 Mirrorless Digital Camera with Nikon 1 10-30mm VR Zoom Lens - White - Bundle - with 32GB class 10 SDHC Memory Card, Tiffen 40.5mm Ultra Violet Filter, Professional Lens Cleaning Kit:
Reg $646.95, Instant Rebate $100: final price $546.95.
29 May 2012, Tuesday
Sigma Rebates end soon.
Scanning Deal Expiring
Only for you readers and only for new customers: 21% off ScanCafe photo, slide, negative, and video scanning!
Use code ROCKWELL21. Not valid in combination with any other offer, or with value kits, or gift cards, or gift boxes, or photo restoration. Expires May 31, 2012, and is valid only for new customers.
28 May 2012, Memorial Day
Today is a day everyone gives thanks for those who gave everything in the past, so that the rest of us can enjoy our freedom today.
I give thanks each and every day, because if it wasn't for these brave folks who put duty before self, I wouldn't be able to enjoy just sitting here and having a nice day. Without these sacrifices, we wouldn't have much of anything except total chaos.
Today we have an all-volunteer military, and at least one American is killed every single day in the Middle East. I hope everyone realizes that these folks could have wimped out and stayed home, but instead chose to to risk everything to serve all of us, instead of themselves.
I give thanks everyday for everyone out risking their lives in the military, as well as police, fire and every other kind of public safety operation. There are no more honorable professions than these, where people risk everything they have every day so that total strangers — that's us — can live in peace. If you folks weren't out there every day, we'd still have total chaos!
THANK YOU!
Canon 5D Mark III In-Stock!
Last I checked, Adorama has the 5D Mark III in stock.
I own and use both the D800E and 5D Mark III, and the more I use both, the more I love my 5D Mark III.
The LCD of the 5D Mark III is so much better than the D800; not just in color rendition and automatic brightness control, but the D800 LCD is just glass, while the 5D Mark III is oil-repelling anti-refection coated, meaning the 5D Mark III's LCD can make blacks, while with my D800, I have to juggle my camera to avoid seeing reflections on the LCD.
The magic coating of the 5D Mark III keeps the glass looking black, and it really does resist nose oil. My D800E's LCD is just plain glass, so the blacks never look that black outdoors from the reflections.
But wait, each is rated as 3.2" diagonal, but the images seem much bigger on my 5D Mark III.
I got out the calipers, and here's what's going on:
D800/D800E LCD image area:
Maximum (zoomed image): 49.0 x 64.7mm (81.0mm/3.19" diagonal).
Aspect Ratio: 4:3.
Total area: 3,170 square millimeters.
Full image playback (D800): 42.0 x 63.3mm (76.0mm/3.00" diagonal).
Total area: 2,659 square millimeters.
When actually measured, when you're playing the full image, the D800 image never fills the full vertical or horizontal dimensions of the LCD!
5D Mark III LCD image area:
Total (zoomed image): 45.0 x 67.5mm (81.2mm/3.20" diagonal).
Aspect Ratio: 3:2.
Total area: 3,038 square millimeters.
Full image playback (5D3): 45.0 x 67.5mm (81.2mm/3.20" diagonal).
Total area: 3,038 square millimeters.
AHA! The 5D Mark III's LCD is the exact shape of the image, so when viewing complete images, the 5D Mark III is 7% bigger in every dimension (14% more area) than the playback on the D800.
When zoomed, each is as big, but when you want to see the whole picture, the 5D Mark III LCD is much bigger. Go compare for yourself.
The colors are the real difference; the D800 is too green/yellow.
My pictures look better from my 5D Mark III, too. Look at what I've shot this past month on Ryan and Katie's websites, and look at the colors and sharpness.
The D800 autofocus is clairvoyant in lighting the right sensor in the finder, but for actual results, I'm getting better from my 5D Mark III. Ditto for color; my D800E looks about like my D40's colors: usually pretty good, but often there's something missing, like a slight green or yellow tint to the final result, where with my 5D Mark III, I'm getting better pictures in actual use in the field.
You guys know I'm not sponsored by anyone, so when Canon makes a better camera than Nikon, I'll say it. You folks know me as the Nikon Icon, but since I'm not on Nikon's payroll like the guys you see in their ads and seminars, I shoot whatever it takes to make the best photos. Today, for me, it's the 5D Mark III. The D800E is the resolution queen, but as you know, pixels don't count so long as you have 3 to 6 MP. It doesn't matter how many pixels you have or how clean they are if they're not the right color, or if they're not in perfect focus.
What a camera does in the lab has nothing to do with how good it is in the field. I wrote this six years ago.
26 May 2012, Saturday
Canon 5D Mark III Lens Correction Data
I finally listed all the lenses for which lens correction data is available for the Canon 5D Mark III.
No data is available for the 15mm or 8-15mm fisheyes, so you'll still get color fringes.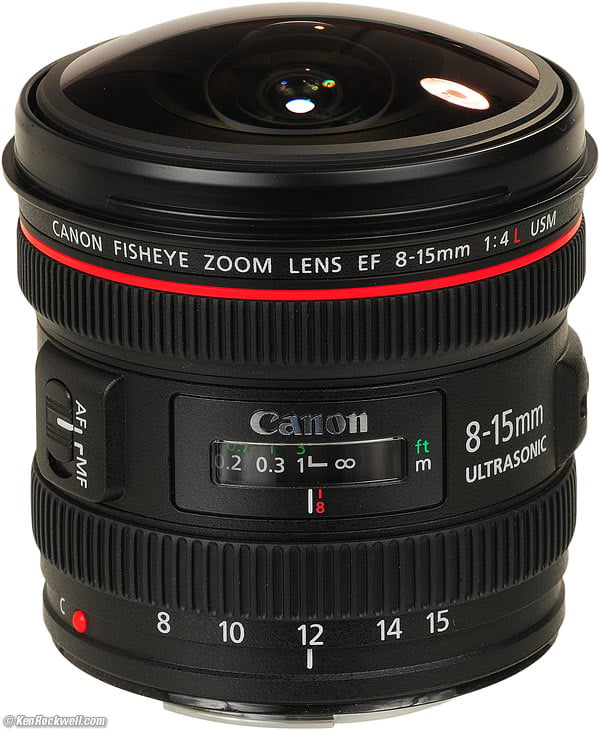 Canon 8-15mm f/4 Fisheye.
NEW: Canon 8-15mm Fisheye Review.

Sony ST-SA50ES Tuner.
NEW: Sony ST-SA50ES Tuner Review.
24 May 2012, Thursday
Free Think Tank Laptop Bags
Order any roller bag, and for the rest of May, Think Tank will throw in a free laptop sleeve.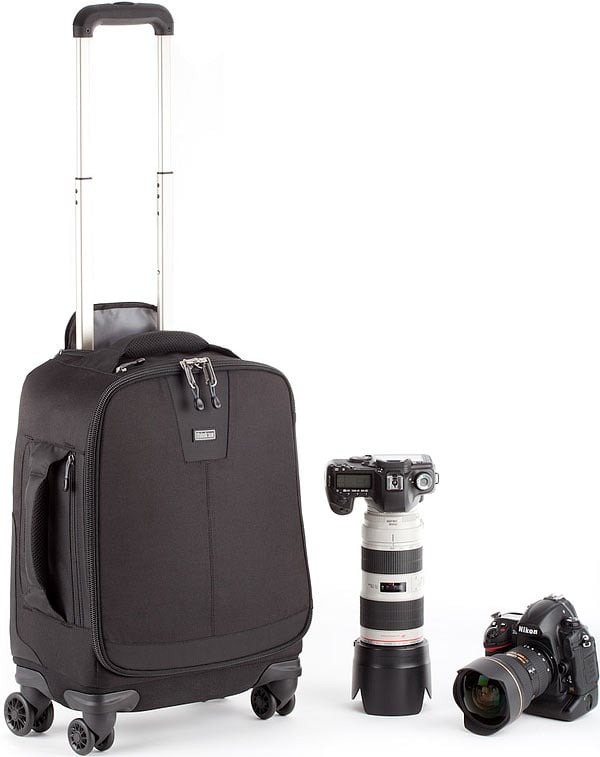 Think Tank Airport 4-Sight. sdddddddd (<- Ryan typed that)
Personally, my favorite is the brand-new Airport 4-Sight, with four swivel rollers that let me roll it from any direction. Today is the very first day you can order this great new roller bag!
LEICA Deals
What? LEICA and deal are rarely used in the same room at the same time, but Adorama has these deals, throwing in a FREE $150 Adorama gift card with each of these:

Leica V-Lux 3 Super Zoom Digital Camera With $150.00 Adorama Gift Card.
Leica V-Lux 3 Super Zoom Digital Camera Kit, with 16GB SD Memory Card, Camera Case, Spare Leica Li-Ion Battery , FREE!! $150.00 Gift Card.
LEICA M Adapter for Fuji X-Pro1
Adorama now has Fuji's own adapter listed.
I bought mine (Kipon) over eBay a month ago, and it works fine, too.
Photojournalism in the City of Angels
Ted Soqui still has a spot open for his Los Angeles photojournalism workshop.
Tell them I sent you!
23 May 2012, Wednesday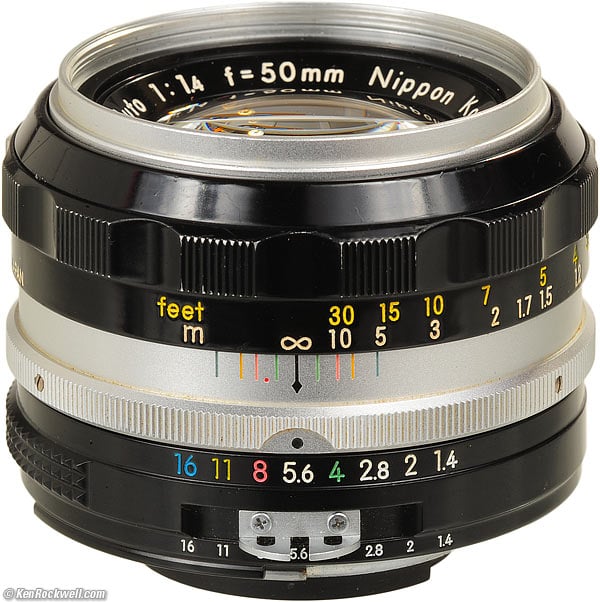 Nikon NIKKOR-S Auto 50mm f/1.4 (1967).
NEW: Nikon NIKKOR-S Auto 50mm f/1.4 Review.
Dan Ballard Workshops
Dan has added a few new workshops to:
Rocky Mountain National Park - July 28th, 2012
Grand Tetons - Aug 16 - 21, 2012
North India and Nepal - November 7-20, 2012
Tell them I sent you.
Personally, I'm spending all my time either working or playing with my kids who miss me if I leave, so my workshop load has been cut back.
My next appearance is in Santa Barbara in August, and then two right after each other in and around Yosemite in October: The Eastern Sierra 16-19 October 2012 and Yosemite 19-22 October 2012.
22 May 2012, Tuesday
Dear Apple Experts: Solved!
I asked how to get my Contacts and Bookmarks to Sync by wire to my OS 10.6 Mac again after I tried iCloud.
The answer is that after I turned off iCloud sync (since my older OS doesn't support iCloud), that my iTunes preferences reset not to sync for some things, so all I needed to do in iTunes was connect my iPod or iPad, click it in iTUnes, click INFO along the top of iTunes, and re-check everything I needed synced.
THANKS READERS!
Nikon D800 Snaps
Here are snaps from a month ago at gymnastics from Ryan and from Katie, shot with the D800 and 80-200mm AF-S. No big deal.
Santa Barbara PhotoAct

I will be presenting at PhotoAct 2012 the weekend of 24-25 August 2012 in the American Riviera: Santa Barbara, California,
Forget about coming to see me; Marc Muench, Bruce Barnbaum and others are presenting, and even if you hate photography, the whole world wants to be in Santa Barbara in the summertime.
Unlike seminars led by camera-company pitchmen, PhotoAct 2012 is lead by real photographers, and sponsored by a book publisher. No one is here to try to snooker you into buying a new camera when what you really want to know is how to take better pictures.
Early registration ends June 1st and space is limited, so let them know I sent you when you register.
21 May 2012, Monday
The Eclipse
Here's my eclipse shot: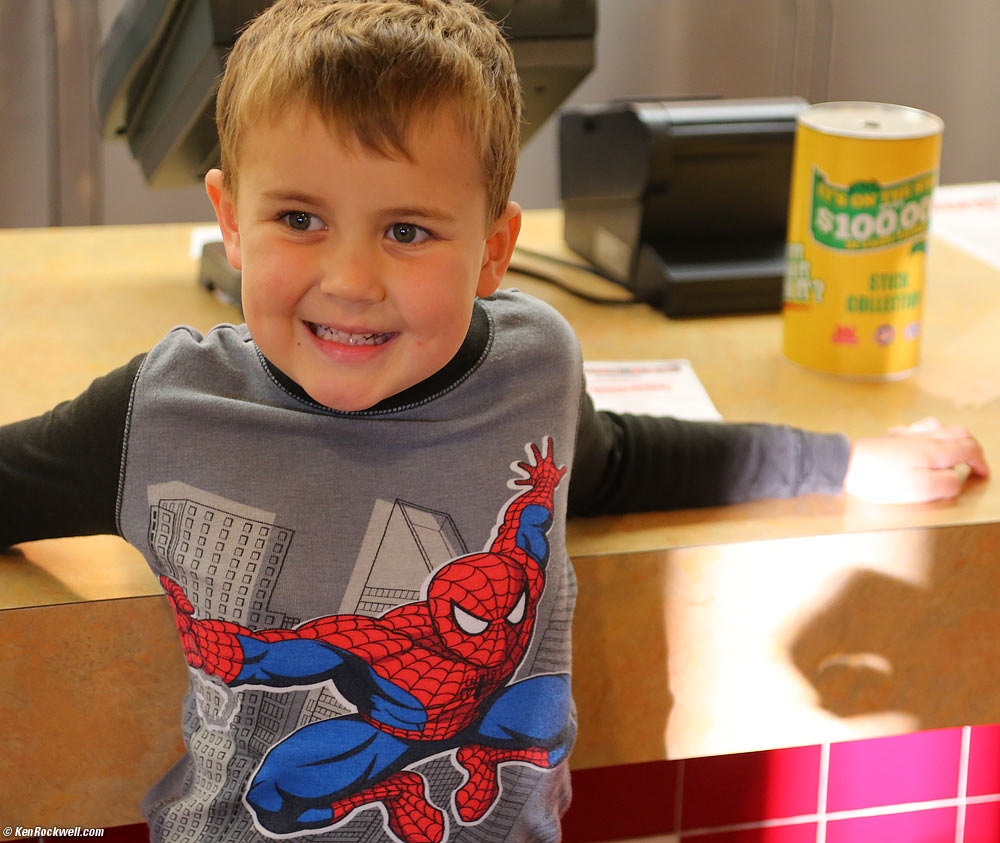 Ryan and the solar eclipse (see shape of solar disc in shadow of my hand). (Canon 5D Mark III, EF 28-105mm USM II.) bigger.
Where does he get it?
In this video, Ryan is sitting in a hot dog place and telling Mama that he's really upstairs in his bedroom.
Are all kids natural pranksters, or does Ryan get this from — his mom?
If anyone cares, take pity on my crappy 7-year-old GSM phone as seen in the video, which 7 years ago I bought for $20 as a refurbished-in-México used phone.
Poke all the fun you want, but I prefer my dumb phone and my separate iPod Touch, on which I can shoot video at the same time someone else is talking on my phone. I can be talking, and looking up the answers or taking notes all at the same time. My crappy old phone runs weeks on a charge, and my iPod likewise runs forever on a charge — and I pay only $39 a month for unlimited cell phone calls, and nothing for my free WiFi access.
Is it really smarter to pay over $99 a month so I could text while driving?
Simplicity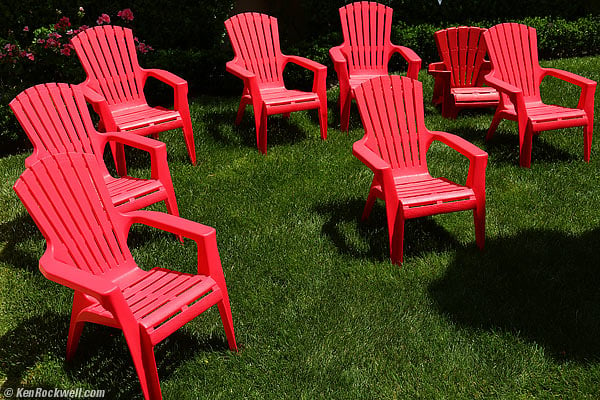 Looking at my 5D Mark III snaps from Katie's birthday party, I found a great example of how a little added simplicity goes a long way.
Screw Nikon
Yesterday's comments on why I prefer my Canon 5D Mark III over my D800 and D800E (I've owned all these already) focus on the fact that my 5D Mark III feels better in-hand and is more pleasant to shoot, works faster and more quietly, is far better for family men like myself who need to snap both kids and general photos from instant to instant, and because as I set my cameras, I have much better access to playback — with one hand — on my Canon 5D Mark III than I do with two hands on my D800E. To zoom in and out I spin a dial on the 5D Mark III, while with my D800, it's repeated idiotic button-pressing — with a second hand!
My Canon has a far more accurate LCD, while both my D800 and D800E (and D4!) have a slight, but ghoulish, yellow-green tint to them, so to my careful eye, nothing from my D800 or D800E has ever looked good on the camera's LCD. I'm very picky about color, and on my 5D Mark III, shots look great on-camera.
Of course once you get the images to your computer, the D800 looks marvelous, but I don't know about you, but to me, the shooting experience is important to me. Personally, when I want the best image and don't mind how much of a pain the shooting is, I shoot 4x5." The whole point of digital is ease of shooting; otherwise, why bother?
I'm tending to prefer the color rendition of my 5D Mark III for people shots in mixed light over my D800, but a lot of that will be learning what color settings work best.
If you have a D800, it's the world's best DSLR for careful landscape and nature shooting — but only if you have one.
The biggest reason I say screw Nikon is because Nikon refuses to make the required investment to fulfil our orders, has been doing this since the 1980s when no one could get the unimaginably awesome new Nikon F4 for quite some time. Likewise, even when Nikon's first consumer DSLR, the D100, came out, it was about a year and a half until they were in stock.
Screw Nikon for not being able to deliver. The D800 and D800E are great for the tripod and IT (computer) crowd, but I'm saddened that so many of you are waiting patently, and Nikon can't deliver.
Yesterday was explaining that if Nikon won't ship your camera, screw them; there are better options. I'm not married to Nikon, and there's no reason anyone else ought to remain in an abusive relationship if they aren't already married.
The 5D Mark III is somewhat backordered, but even if it's not in stock, you'll get yours much faster than if you ordered a D800 or D800E today, and if you prefer the accurate LCD and complete AF controls of the D700, that's also more available, and much less expensive.
Just like 35mm cameras in the 1990s, DSLRs have peaked today. From now on, real advances will be few and far between, so camera makers will be piling on junk features instead to get the innocent to "trade up" each year. In this case, Nikon threw a zillion pixels at us, but took away the good LCD. This "Two Forward, One Back" process is how they get us to buy the D800S in 2014, finally with an accurate LCD, just like we can get today in the D700.
Sorry to be honest, but while the D800E is fantastic, it's not if you can't get one. It's hard for me to feel good telling everyone about all the good points of my D800E if no one else can get them. It's like the common courtesy of waiting to eat until everyone is served. The D800E is great, but not perfect, and I really do prefer my 5D Mark III for family photos.
20 May 2012, Sunday
How to Get What You Can't Get
In How To Get It, I explain how to get all this gear first.
I'm not quite sure how people both read this site and then aren't able to get their goodies on time for upcoming vacations, but in case you don't yet have your D800E or LEICA 50/1.4 ASPH for an upcoming trip, here's how to work around it.
Ignoring buying from a scalper over eBay, which is a very bad idea because buying from a scalper is the only reason they scalp and make things less available for honest people.
If you can't get what you want, then get something better that you can get!
To be honest, my D800E is nice, but my Canon 5D Mark III is even better.
The D800 and D800E are steps backwards from the D700, just with more pixels, while the 5D Mark III is a subtly huge improvement over the Mark II. Canon finally overtook Nikon on this one; I still need to update my reviews to hand the BEST DSLR trophy to the Mark III. I prefer using my 5D Mark III over my clumsy D800E, and the real-world images usually look better, too.
36 MP is a goof and has nothing to do with making better pictures, and that — and clairvoyant autofocus — are the only things the D800 and D800E have going for them. My 5D Mark III feels better, shoots better, and makes better-looking pictures overall.
Problem is that 36 MP is a trick. I still need more time to look at more pictures, but at 36 MP, we're getting point-and-shoot image structure from the D800 at 100% at 36 MP, while the D4 and 5D Mark III with more reasonable resolutions look more like real photos. Worse, even the SMALL setting in my D800 is more resolution than I want, while my 5D Mark III again provides the real-world settings I demand.
Take away 36 MP from the D800, and it's less of a camera than the D700. The D800 is a step backwards from the D700 in ergonomics and in LCD color accuracy.
So, if you can't get your D800, screw Nikon. Upgrade to the 5D Mark III, or get a D700 at a discount. Either camera is better for most things, and you can get either much more easily. Nikon has never taken me to golf, never taken me to dinner, never sent me a Christmas card, and probably doesn't for you either. Nikon shows us no love, so why are we so faithful to them? Screw Nikon; at least Canon ships — and it's been this way for decades.
With my 5D Mark III, my favorite lens has become my inexpensive used 28-105mm USM (review coming). It's light and sells for about $150 used over eBay, so your "but I already own Nikon lenses" argument doesn't fly. Most 5D Mark III shooters lug the big 24-105mm IS, but it's big, heavy, and no faster than my old 28-105.
The D800 is great, but not if Nikon can't ship them. Forget the D800 if you're in a hurry.
LEICA is even worse. Everyone thinks LEICA is out to get them by not shipping their backorder, but not many people realize that LEICA only ships about one lens a week. No one can get them. Unlike Nikon, LEICA does like me, and my personal order for my 21/3.4 ASPH and 35/1.4 ASPH (neue) each took about six months!
No worries; if you can't get your 50/1.4 ASPH (I waited about a year and a half for one to review), don't worry, no one can. The only good thing about the 50/1.4 ASPH is marvelous bokeh, otherwise, any historic or current 50mm SUMMICRON is much sharper, and more available. Personally, I prefer my classic 1964 50/1.4 SUMMILUX if I need f/1.4, and those are easy to get.
If you want a 50/1.4 ASPH, of course you've got it on order, but don't hold your breath. All you do instead is buy a used 50mm lens over eBay as I do, and use that for the next year or so until your 50 ASPH arrives. Body caps take no pictures, so see my LEICA Lens Reviews and choose something you can get.
Here's another tip: All LEICA 50mm lenses have always been standard-setters. Even the 1934 sample I used of their first 1925 50mm ELMAR works great on every LEICA, especially the M9, M9-P and M9 Monochrom.
While your used classic LEICA lens is giving you a year of great photos while waiting for your 50/1.4 ASPH to arrive, you'll ask yourself why you even needed the bigger 50mm 1.4 ASPH anyway. I just saved you a few grand again.
While I love my D800E, if you can't get one, forget about it, and order a 5D Mark III, which will arrive much faster and be a better camera anyway. Why cry over spilled milk that never even arrived?
Even if the D700 or 5D Mark III are backordered, they will be much less of a wait than a D800 or D800E.
18 May 2012, Friday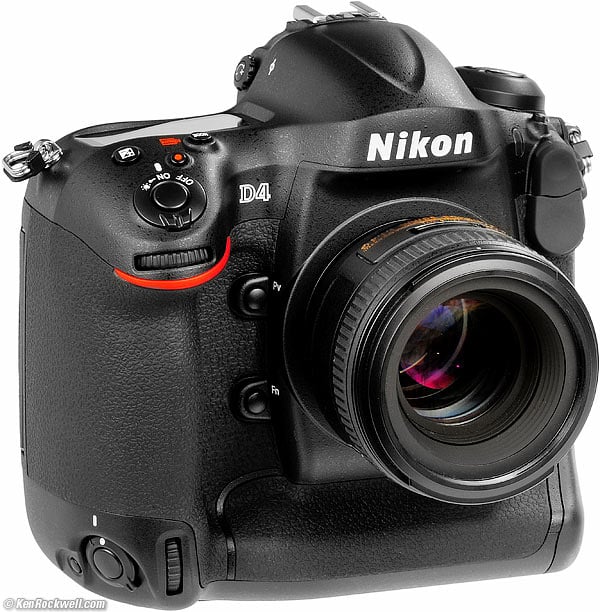 NEW: Nikon D4 Review.
Verdict: Nikon's best pro digital camera, duh.
What used to be just a page of specifications is now a full review. I've had my D4 for quite a while, but was working with the Fuji X-Pro1, 5D Mark III, D800 and D800E first, since those were of greater interest to most of you. I've been swamped the past two months!
I've also realized how Nikon's gotten smarter at sucking money out of Americans:
Cash Suck One
If you're a pro, you can't use the D800 or D800E because it can't repurpose itself fast enough from one set of SHOOT BANKS to the next. It lacks the D7000's U1 U2 control, and instead takes five clicks to swap just one bank, so you can't alter it from shot to shot. You can alter it from shoot to shoot, so for hobby use, it's fine.
Nikon carefully removed one CUSTOM SETTING, F16, from the D800's menu system. In the D4, this allows the D4 to swap SHOOT banks with the red button by the shutter, but not in the D800.
Very clever, and for those of us who shoot daily, enough to justify buying the D4, even if all the other reasons weren't enough.
Cash Suck Two
At first I praised Nikon for giving the D800 36MP, and not trying to screw us with an overpriced $8,000 D4X, but Nikon has gotten German in its cleverness.
Pros know 16 MP is more than enough for anything, and the 16 MP D4 has more than enough resolution for every pro assignment. Heck, I shoot my D4 down at its MEDIUM resolution.
However, by craftily offering amateurs the 36 MP D800, now once or twice a year, some not-that-clever photo buyer is going to ask for a job or files shot at 36 MP, because his cubicle-mate has a D800.
Bingo! Now every pro also has to shell out for a D800 for those few jobs where naive photo buyers are trying to cover themselves.
Genius!
17 May 2012, Thursday
New: I added the Nikon D4 to my huge 2012 DSLR comparison table. In the interest of sanity and legibility, I'm only including near-pro cameras (no DX DSLRs) on that page.
Secret: The Astounding Canon 5D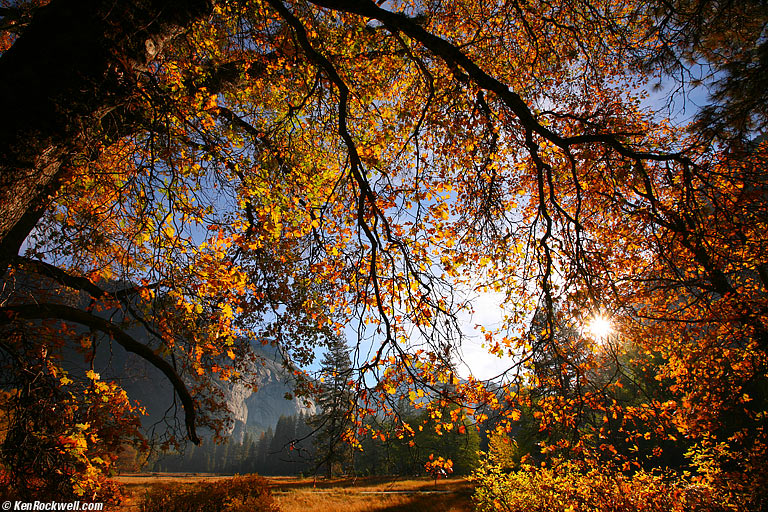 Yosemite Valley, 22 October 2007. Canon 5D, 16-35mm f/2.8 L II with Tiffen 812 warming filter at 16mm, f/11 @ 1/80 (Av mode), -0.3 exposure compensation, ISO 100, hand-held (tech details). Exactly as shot in JPG. Camera-original file © (6MB).
A reader just reminded me about the great photos I cranked out with my original Canon 5D.
See my sample galleries at Route 66, The Eastern Sierra , Yosemite Valley and Death Valley from five years ago. I leave these online forever, while Canon and Nikon would prefer these go away. They don't want you to know that the Canon 5D, now for about $800 used, makes pictures which look the same as the Canon 5D Mark III and better than the Nikon D3 or D700.
The 5D was the world's first full-frame digital camera for consumers, and has 13 MP, more than more than enough for anything. It lacks the automatic color-fringe correction of the 5D Mark III, but I used DxO software and got better results anyway — ha!
Of course I prefer my 5D Mark III for many reasons, but the main reason is far, far superior ergonomics, beautiful LCD and ease of getting great images — not ultimate picture quality. My original 5D has a hideous-looking LCD and most Canon wide lenses require software tweaking for best results, so just like shooting 35mm, you have to just have faith that your images will look awesome, which with the original 5D, always do.
If you're not loaded and willing to work a little harder, an original Canon 5D still creates extraordinary images. I paid about three grand for mine, so for $800, it's a steal today.
16 May 2012, Wednesday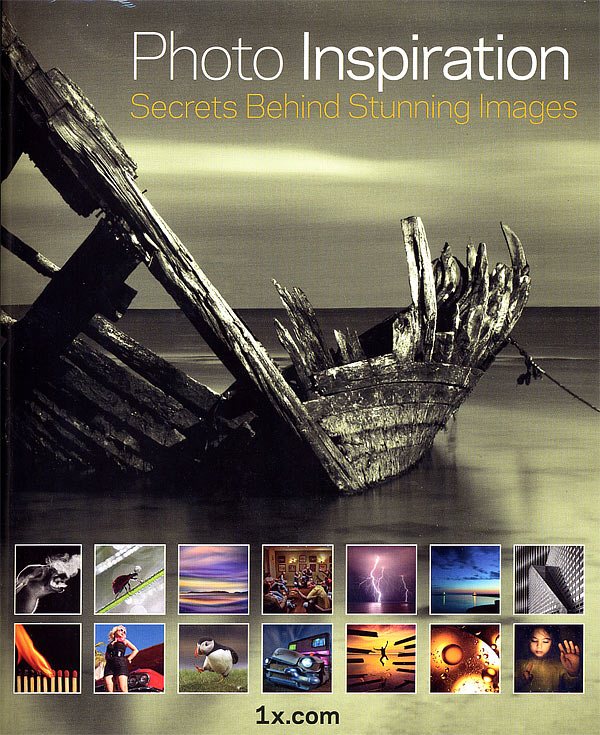 Photo Inspiration.
NEW: Photo Inspiration: Secrets Behind Stunning Images is a book with about a hundred different great pictures by about a hundred different photographers, each with an explanation from the photographer about how he created the image.
This book is exactly what so many of you have wanted: a modern book with explanations of how each shot was made.
As an added bonus for folks who get the book, go to pixu.com/offer for 6 months of a free online portfolio service which gives you an online location where the world can see and buy your own images. It usually costs $99 a year. (After one month you'll be asked for a secret code found in the book to weed out freeloaders who don't actually have the book.)
Optics Book
For those of you who are optical designers, Dr. Barry Johnson and Rudolf Kingslake's Lens Design Fundamentals has just been selected for the 2012 Joseph Goodman Book Writing Award jointly given by the Optical Society of America and SPIE.
This award is given every other year. "The award recognizes authorship of an outstanding book in the field of optics and photonics, published in the last six years, that has contributed significantly to research, teaching, or the optics and photonics industry."
Considering all the fine books on optics, I am truly honored that Dr. Johnson also reads this website. Yipee! I have a copy of the book; it's for lens designers, not hobbyists, so don't get too excited unless you really what to know how to design all sorts of lenses.
Nikon F3
I just got another load of film back from NCPS, and look what was on it: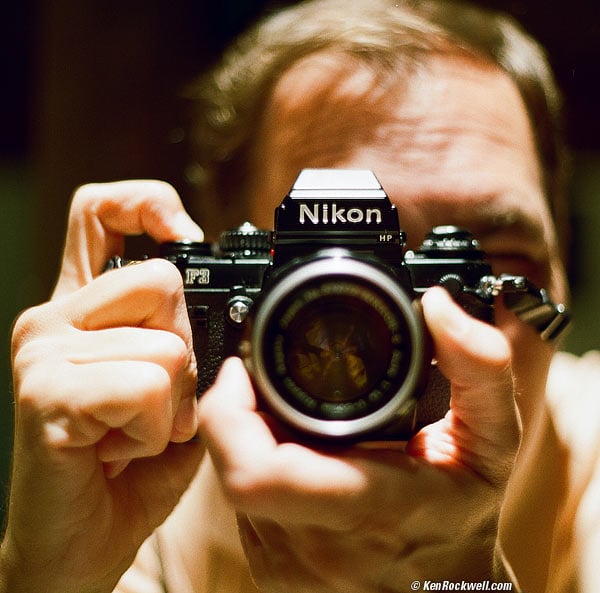 Nikon F3 and 1967 50/1.4 S in the mirror. uglier.
I shot this on Kodak Gold 100 at f/1.4 in AUTO, and that's it! (thanks Bert!)
Note the super-shallow depth of field, focused on the NIKON logo.
A great thing about C-41 print/negative film like Kodak Gold 100 is that the lab takes care of white balance manually. On slides or digital, this would have come out way too orange, but since a real person color-corrects each scan, I just shoot.
Ektar 100 is much better film than Gold 100.
Good God, time for me to give up: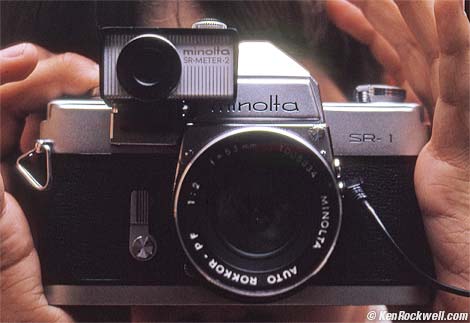 Minolta SR-1 and AUTO ROKKOR-PF 53mm f/2 in the mirror, 1974. Kodachrome, bounced flash.
I made this Minolta self-portrait in 1974, over 37 years ago! For the Minolta portrait, I was holding my hands to the side to show the camera. I was only 12 years old, and the color on Kodachrome is still better than print film.
Maybe some folks don't realize this, but I've been at this as serious as anyone on 35mm ever since I was 11 years old. I was at it before that on medium format! Maybe that's why I take this all so childishly; the only way anyone learns is with the open mind of a kid.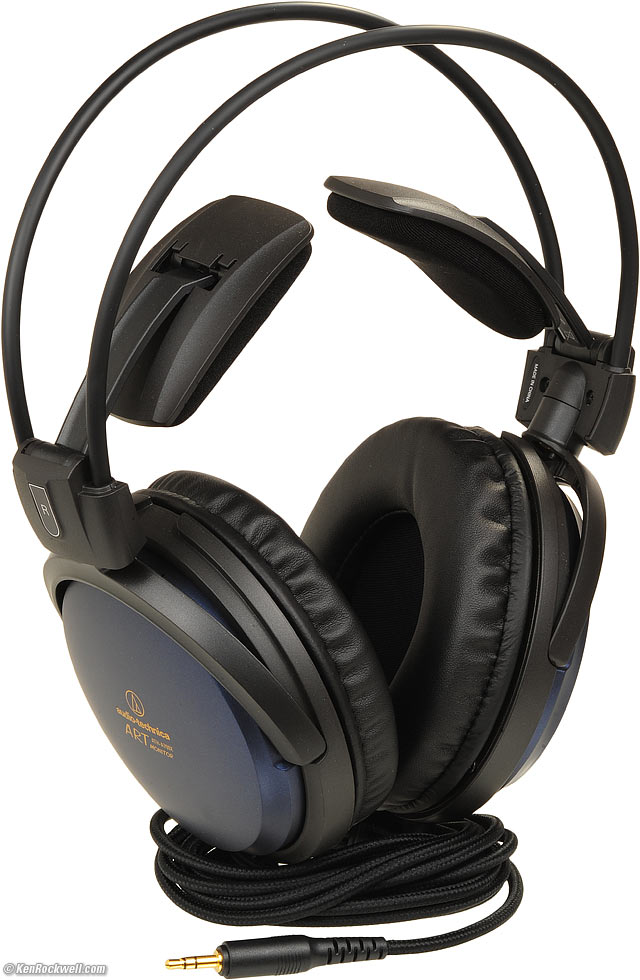 Audio-Technica ATH-A700X
NEW: Audio-Technica ATH-A700X Review.
15 May 2012, Tuesday
Updated: It's always been this way, but since folks wonder how I've got my D800E in my hot little hands (and my D4 and D800 back in March), I updated How To Get It with the latest insider secrets.
It's been this way forever; Nikon never ships on time. Thank your lucky stars that few of you shoot LEICA; LEICA never ships at all!
I don't keep any of this; my old D800 was given to charity last week, and they already sold it on eBay for more than I paid for it. My D4 will be there later this week after I finish my review.
The D4 is BOSS: fast and tight. For sports and action, screw portrait, nature and landscape cameras like the D800 and 5D Mark III; the D4 is unstoppable.
Deal: Adorama Flashpoint Dimmable 160 LED DSLR Video light: Regularly $58.95, special for you folks only: $49.95. Use coupon code S4995049 during checkout. expires next Wednesday.
14 May 2012, Monday
D800E vs. D800
I just added some new overview comments to my Nikon D800 vs. D800E article.
What's amazing is how few people will use the sharper Nikon 50mm f/1.8 D on their D800Es, but instead shoot the softer 24-70mm f/2.8 G zoom.
The 50mm lens sells for just $125, and is sharper than the 24-70mm, which sells for close to $1,900.
Geesh, it always pays to buy lenses when you want them. I bought my 24-70 back in 2007 when it came out, for hundreds of dollars less.
I never use the big, heavy 24-70, and use my 50 all the time on my D800E.
12 May 2012, Saturday
D800E vs. D800
NEW: Nikon D800 vs. D800E Sample Images.
As expected, it's not that big a deal, but if you worry about sharpness, the D800E wins.
I'm able to excite moiré because I know what I'm doing; it's not a problem in actual picture taking.
D800E vs. 5D Mark III
The more I work around my D800E and 5D Mark III, the more I realize we can summarize the differences between the two quite simply:
The D800E and D800 are for folks shooting but one kind of thing at a time.
If you want to shoot landscapes, and then turn and make a people snap, the D800 and D800E just can't reconfigure themselves fast enough. The Settings Banks are awful, slow, and incomplete, but if you're only doing one thing at a time, the D800E, its clairvoyant AF system, ease of instant 5:4 cropping and crazy resolution are extraordinary. Many of you do only one thing at a time, and for this, go D800E.
If you're a family man and need to snap people one moment and then landscapes the next as I do, the 5D Mark III is much faster and easier to use. Its C1 C2 C3 dial lets us reconfigure everything, even everything about the autofocus settings and all the Picture Control values for every setting, all with one click.
There is no way to get all these things to reconfigure on the D800, even using both settings banks! Nikon's settings banks don't recall basic AF mode settings (meaning AFS/AFC and the AF Area Modes like 1/51/3D/Auto etc.), and Nikon's banks all only pull from the same set of Picture controls, while Canon's C1 C2 C3 each recall from their own unique complete banks of Picture Controls, as well as everything about the 5D Mark III's AF system.
I'm being kind; I don't care about the sharpness difference between the D800 and D800E or even care about 36 MP vs. 23 MP; I care about getting my photos in focus and the right image size and with the proper colors, which the 5D Mark III's C1 C2 and C3 controls let me do.
Half you readers are computer experts. Please recompile the D800 firmware so the Advance Mode dial (S, Ch Cl, Self-Timer etc.) becomes a U1 U2 U3 U4 U5 U6 recall device, and relegate my advance modes to a menu. I'd pay $500 for this firmware, and so would a lot of others. If you can't do that, then the world needs an external accessory that plugs in to give us these extra global save and recall settings. Please get on it; this is why you have 8 hours in a work day but are only expected to do 2 hours worth of work for your employer. I did far better personal work back when I had a job and the time to work on personal projects at work. Thanks!
10 May 2012, Thursday
New Old LEICA
I have to laugh: the newest news from LEICA are all products I submitted to them years ago. Am I running the ship now at LEICA?
21mm f/3.4
I suggested a smaller 21mm with a 9-bladed diaphragm to them, and they did that last year. Thank you, LEICA.
I finally got my new LEICA SUPER-ELMAR-M 21mm f/3.4 ASPH, so my bigger, faster LEICA ELMARIT-M 21mm f/2.8 ASPH is now for sale at OC Camera via eBay.
Is my f/2.8 21mm any good? Here's a sample image, and here's the DNG file: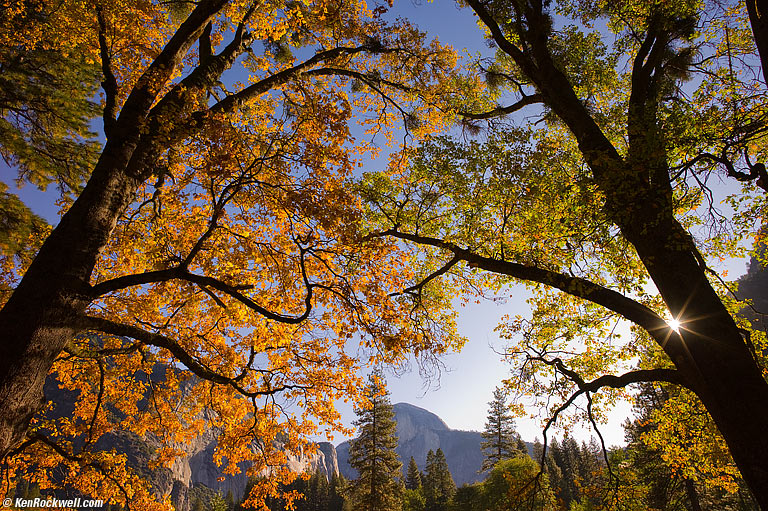 Yosemite Valley, Yosemite National Park, 9:11 AM, 20 October 2009. Full-resolution JPG and DNG file.
Want it? It's for sale at OC Camera via eBay, so buy-it-now.
LEICA M9 MONOCHROM: $7,950
On the topic of old news, a black-and-white version of the LEICA M9 was always obvious, since Kodak did that with a DCS DSLR about ten years ago. Removing the Bayer filter array from a "color" sensor allows triple the light sensitivity and double the resolution, so if you're shooting in B&W, this is a zillion times better than using a "color" sensor.
Kodak's camera failed since it came out at the same time newspapers were all starting to print in color, and when I submitted this to LEICA years ago, it seems like a great match as many LEICA photographers shoot real photos, which of course means B&W.
I suggested this formally to LEICA in 2010, and it was announced today, as the LEICA M9 MONOCHROM. I suggested calling it the M9s, but whatever.
Old news, and if you shoot B&W with your M9, the new model will be a huge improvement. Be sure to use LEICA filters when shooting outdoors: yellow usually, I prefer orange for more contrast, and red for the darkest skies. Just like with real film, you will need to use filters properly.
I prefer my LEICA M3 and T-MAX 100 for B&W shooting instead of cheapening my work with "digital," but some people prefer speed over quality.
LEICA APO-SUMMICRON-M 50mm f/2 ASPH
For years I've also been predicting this new lens. It's obviously the last shot to drop after every other LEICA SUMMICRON f/2 lens has been updated to ASPH: 28mm in 2000, 35mm in 1996, 75mm in 2005 and 90mm in 1998.
Today it's been announced.
I don't believe the price, $7,195, which is double the f/1.4 ASPH and double the other SUMMICRON ASPHs, all of which are lower-volume and bigger and more complex. Then again, LEICA shooters don't care about price, and if this helps get the lens in the hands of real shooters and away from those who would soil these lenses on NEX-7s and other trash, good show.
The present SUMMICRON-M f/2 is the world's best 50mm lens, and the new ASPH ought to be a little better, enough to replace the 90mm f/2 APO-SUMMICRON-M ASPH as the world's sharpest photographic lens.
For others, there's a new V-LUX 40 , X2 in black and in silver.
So what's new? When you make the best photographic lenses on Earth, no news is good news.
Thank goodness there's one company that listens to the needs of serious photographers: LEICA, as opposed to Nikon, Canon and the rest that are more concerned with the needs of their own marketing departments to move more cameras by impressing casual hobbiests with more useless features and pixels.
On that note:
Nikon D800E
Nikon D800E and Micro-NIKKOR 55mm f/2.8 AI-s.
Mine's here. Yes, it's a tiny bit sharper than my D800, and yes, I can get moiré if I shoot my screen window.
I prefer the sharpness of the D800E; the moiré isn't a problem, and easy to fix before I shoot. It can't be corrected after you shoot.
For the kind of guy who reads this page everyday, the D800E is the way to go. My D800's going to Goodwill this afternoon as soon as I run some parting comparisons.
09 May 2012, Wednesday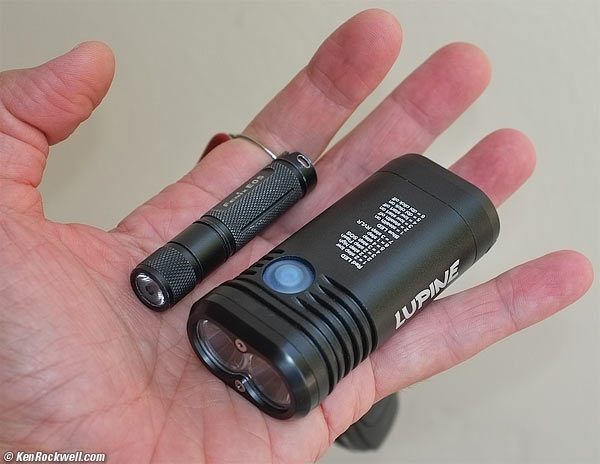 Fenix E05 next to Lupine TL Mini.
NEW: Lupine Piko TL Mini Review.
World's brightest smallest flashlight.
Quality: MADE IN GERMANY.
While we're on the subject of our very serious German friends, here are some other Germans who take dumpster photography very seriously.
APS Lives
I think my D800E might arrive tomorrow, so while I have your attention, here's a snap from the other weekend made on ten-year-old Fuji Nexia 400 film found in a Canon IX Lite APS SLR I bought over eBay.
I shot it with its fill-flash ON and with the Canon EF 22-55mm f/4-5.6 lens that came with the camera.
My genius plan was to get this 22-55mm full-frame lens for review.
The 22-55mm works fine on my 5D Mark III, but there is no lens profile for it. It's a weightless, plastic lens with a 5-bladed diaphragm and 1.2 foot close-focus — that covers every focal length a serious landscape shooter needs, for well under $100, including APS camera.
It's performance isn't that great, and there is no lens profile to fix the color fringes.
Ryan and Dada, self-portrait. uglier.
08 May 2012, Tuesday
Workshops Next Week
14-17 May 2012: Yosemite Water Works (Monday-Thursday)
17-20 May 2012: Spring Light Photography in Yosemite (Thursday-Sunday).
I won't be on these two this year because my kids are really starting to miss me, however I was on both last year, so I wanted to let you know about these great trips.
If you want waterfalls, these are is your trips! The falls are at their strongest in springtime.
Dave Wyman is teaching both of these. You register for the first one with Dave, and register for the second with the Yosemite Conservancy. Tell them I sent you!
They run back-to-back, so if you're traveling a long way, you may want to take advantage of doing both.
Fuji X100 Firmware
I just loaded v 1.21 into my X100. As always with Fuji, everything, even the date and time, are wiped and you must reset all the menus from scratch.
New is the ability to program the RAW button to the same things to which you could program the Fn button.
Rockwell, North Carolina
Hey, look at me!
07 May 2012, Monday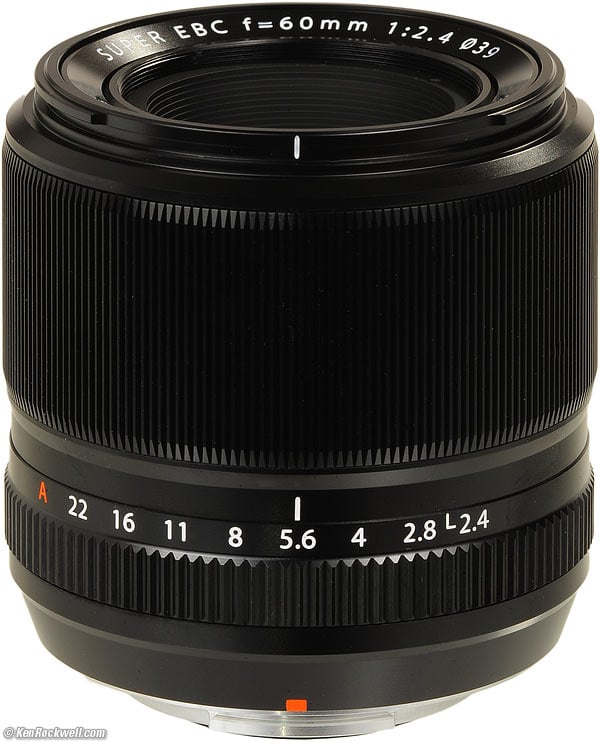 Fuji XF 60mm Macro (90mm equivalent).
NEW: Fuji XF 60mm f/2.4 Macro Review.
The telephoto and macro for the X-Pro1.
Imagination begets technology
The family and I were watching a DVD of The Wizard of Oz yesterday.
It looks great; the tornado was absolutely terrifying and real, and when it went psycho and turned color, the colors were better than 99% of the photos most people send me today or that I shoot myself.
The Wizard of Oz was shot in 1939.
There was no practical color movie film in 1939. The Wizard of Oz was shot on black-and-white film! Yes, the three-strip Technicolor process on which it was shot (I've touched this minivan-sized camera when I worked in Hollywood) shoots on three strips of black-and-white film. The images are later combined when printed with the Technicolor process.
Then it dawned on me that imagination begets technology, but that technology never creates imagination.
With imagination, anything is possible because imagination itself will create whatever it needs to realize what's imagined. Our only limit is our own imagination.
Nothing is impossible. If man needs or wants something, imagination and determination will make anything happen.
Artists know this same thing; our imaginations allow us to render whatever's inside our heads into tangible form.
With imagination, anything is possible, even if everyone knows it's impossible.
No color film, yet glorious color. Sending men to the moon — repeatedly. All totally impossible, yet men with vision have done it.
The key here is that imagination is the source of everything known to man. It creates technology and everything, while merely purchasing technology creates nothing.
Buy any camera you want, but no matter how fancy, it's not going to take any better pictures. With an artist's imagination, we can create great images with any camera.
Everyone has a "blog" handing out information about photo technology. Another great quote from The Wizard of Oz' scarecrow, when asked how he could be talking and asking for a brain if he had no brain, is that "Some people without brains do an awful lot of talking."
Last night I was at a dinner party, and the hosts wanted snaps of the guests with the huge spread of food. I had a Nikon F3 and Nikon Noct-NIKKOR 58mm f/1.2 around my neck, yet whipped out my iPod touch for the requested photos. One of the guests was almost offended that I didn't use my real camera, but as I pointed out, in the dim light, the Nikon wouldn't have gotten much in focus, while the iPod gets everything in focus.
Sony MDR-7506.
NEW: Sony MDR-V6 Review.
World's best $100 headphone for music, much smother than the more popular MDR-7506, which instead is optimized for live DSLR audio monitorring.
06 May 2012, Sunday
D800 Autofocus
While the 5D Mark III is my overall favorite for usability and the D800 my favorite for ultimate technical quality (usability is more important to me, while ultimate technical quality is more important to most of you), I will point out that the D800's mind-reading, face-recognizing Auto-Area AF mode is astonishing.
Set to AFC AUTO, the D800 just figures out on what eye of what face to focus, even if you have junk in the foreground in the sea of AF-Areas, and tracks it all around the frame.
My 5D Mark III can't come close; with my 5D Mark III have to jack-around the AF Area selection manually to find my subject, exactly as I had to do ten years ago.
If I set each camera to the mode where I select the starting AF point and let the camera track the subject (or my changing composition), the D800 stays stuck on my subject, while my 5D Mark III usually loses the subject and starts tracking something else.
There's a very basic reason for all of this: the D800's AF system sees in 3-D and in full-color, while the Canon, at best, sees only in cool-warm. The 5D Mark III lacks the basic hardware needed to give the processors enough information to let them identify faces and track any object well.
Too bad the D800's menus are so ridiculous. I council enough shooters to know that almost none of you, including myself, really know how to work all the menus in our cameras.
It's like the whimsical tent-cards in my hotel room in Amsterdam advertising various social services. When I asked some Dutch folks if prostitution was really all that popular and encouraged, and if so, was it a profession to which parents hoped their daughters would aspire, they laughed heartily. They said no, no, no; while everyone enjoys it, no one will admit to it!
Likewise, I think I'm the only one who admits that the menus of my D800 fluster me, and I know what they all do. They are sloppily organized, and put in just a few long menus that demand I click up or down through all of them just to find what I need. Often it's a wild goose chase for each item, unless it's something I use a lot, for which both the 5D Mark III and D800 have My Menu menus.
At least the 5D Mark III has all its menus arranged in pages, not in overly-long lists that require endless up and down clicks.
Neither is perfect. The 5D Mark III is better for shooting, and the D800 makes better files if everything holds still so I can reconfigure the D800 the hard way to each subject type. I bought both of them; do we all now have to buy both as well?
It's the 5D Mark III
If I only could keep one, it's my 5D Mark III. It even feels better in-hand, with a much better thumb grip than the D800. Canon made huge improvements over the 5D Mark II's grip, Nikon didn't.
Sorry Nikon; the yellow LCD, removal of the AF controls and no U1 U2 U3 U4 U5 positions on a mode dial renders the D800 a work in progress.
Yes, the technical image quality of the D800 is the world's best, but use the advance mode dial for the U1 U2 U3 U4 U5 settings and relegate the S, Cl, Ch, self-timer etc. modes to a menu or function button. Move the advance modes to a menu, not the AF controls for goodness' sake!
My 5D Mark III is so far ahead of the Mark II because Canon made huge improvements in the things it needed to, while Nikon regressed the ergonomics of the D800.
The D800 is still far ahead of the medium-format cameras it replaces, but behind the handing of other 24x36mm SLRs.
But I prefer my F3
Of course I'm actually shooting my Nikon F3 and 50mm f/1.4 NIKKOR-S from 1967 this weekend. It's so much easier to shoot than either of the latest DSLRs.
WIth the F3, I can control everything by feel with just a few fingers in the dark without having to take my eye off my subject.
I don't even have to look through the eyepiece or at the camera; on the F3, I can preset my controls by feel as conditions change — with the camera at my side as I'm walking to another area before I even raise it to my eye!
On the F3, each finger has a job, so I don't have to move fingers to change different controls. Focus, aperture, exposure mode, wind and shoot each has its own dedicated finger!
What little can be controlled on a DSLR through the finder still requires looking away from the subject at some sort of display, while everything on the F3 and its lens sets by feel. On the F3, I can track focus, even a kid on a swing, much better than any AF camera because I know when the kid is going to change direction.
As pro Nikon sports shooters pointed out in the early 1990s when Nikon's AF sucked, since they knew where the ball was going next, they could focus manually better than any AF system. AF systems can track steady motion, but they don't know who's hitting the ball in what direction next, as pro sports shooters can.
My F3 is so easy that my 5-year old can do it (video):
Pixel Counts
6 MP is enough for anything.
I've got beautiful, finely-detailed 20x30" prints from my 6 MP D40, and I've seen stunning 40 x 60" prints on display at NCPS from the D40. If you can't get great prints from 6 MP, you're not a great photographer. Buying more pixels won't make your photos any sharper if you're not already good enough to be pulling great, big prints from a 6 MP camera.
Setting a higher-resolution camera down to 6 MP gives even better results than a native 6 MP camera because Bayer interpolation goes away.
10 MP is more than enough for anything.
20 MP is stupid.
30 MP is beyond stupid.
36 MP makes seven-foot-wide (2 meter-wide) prints with the same sharpness as most 4x6" prints. We don't need this much sharpness in images this big (except for intelligence gathering), since we're not going to look at big prints as close as 4x6" prints.
Even if you want that much sharpness, have you ever actually printed at this size?
The limits of today's photo printers (Fuji, Noritsu, etc.) and our eyes at a few inches is 300 DPI. If all you ever do is print 13 x 19," that's only 3,900 x 5,700 pixels, or 22 MP in the drivers that write to the paper.
Since image pixels have to be resampled to match the print engine and the way paper works, we're only getting about 150 DPI actual resolution, which is 5.5 MP.
Walk into NCPS and look at the huge print by a real photographer from a D40, and that ought to set this straight. Every clown can zoom into images at 100% on-screen, but that's not relevant — but it sure helps sell more cameras!
6 MP is enough for anything.
05 May 2012, Saturday
D800 versus 5D Mark III
There are so many new cameras out that I've had a lot of stick-time (as we say in aviation) with the 5D Mark III, and less with the D800.
For those who ask, I'm liking my 5D Mark III much better than my D800. The 5D Mark III is what I grab much more often than my D800 because it just feels better.
Why?
The 5D Mark III is much improved over the already excellent 5D Mark II, while the D800 is actually an ergonomic step backward from the D700. The D800 has triple the pixels to let it replace medium format cameras, the D800 has far better ergonomics than medium format, but the D800 took away the external autofocus controls and accurate LCD of the D700. Whoops!
All the little improvements in the 5D Mark III (now called the "Canon 53" internally) and the yellow LCD and removal of the autofocus controls from the D800 are all little things taken one-by-one, but after you live with each camera for a while, they start adding up to a lot.
The only thing that matters in a camera is getting the picture in-focus and with the right exposure. Everything else is secondary after you get those correct. The Canon 5D Mark III gets me where I need to be faster and its much more accurate LCD makes shooting so much more fun.
As a family man, I need to swap all my camera settings back and forth from scenics to family shots instantly, and the D800 just can't do that. Nikon's idiotic Settings Banks from 2007 sucked then, and suck even more now, especially since the D7000 does this so much better. For the family man, the D800 can't do it, while the 5D Mark III makes it all easy. The 5D Mark III just gets out of the way, while the D800's obfuscated AF controls and dopey settings menus get in the way.
The D800 is spectacular for those who need 36 MP to replace medium format. The D800 handles and shoots much better than the medium format cameras it replaces, but for normal and family use, the 5D Mark III is winning.
I have weeks worth of notes to add to each camera's review, but as friends ask me which I prefer in actual practice (as opposed to laboratory test shooting), Canon wins.
Minutiae like resolution or shadow noise mean nothing if you can't nail the basics first, and for me, the 5D Mark III seems to be doing a better job of that. Of course if you're an online digital programmer more excited by resolution and shadow noise than pictures, sure, the D800 probably wins, but as a photographic artist, my 5D Mark III is ahead right now. Then again, the face-detection powered Auto AF Area Selection of the D800 is a decade ahead of the 5D Mark III's AF system, while Nikon still lacks the paged menu system of the 5D Mark III. This never ends, but the LCD and C1, C2 and C3 controls along with hugely improved image quality from automatic lens correction and better overall feel make the 5D Mark III my favorite. Automatic lens correction is letting me get awesome results from all my old Canon lenses, and I still need to compare an old, corrected lens on the Mark III to a new state-of-the-art lens on the old Mark II. I suspect the old lens on new camera wins.
The shooting experience is more important to me than technical minutiae. If you worry more about test charts and pixels, the D800 wins, but if you're more concerned about getting the shot in the first place and if you can use the LCD to gauge color, the 5D Mark III wins.
Real Nikons
Last weekend Ryan and I had a blast shooting our Nikon S3 and Nikon F3, many thanks to Bert Lein. Ryan now knows how to load and unload 35mm film, wind, focus and shoot. Easy.
We also visited NCPS and watched them process, scan, print and mount our slides. Whoo hoo! NCPS has just done some major upgrades to their film processors, since so many more people are shooting so much more film.
This weekend Ryan and I are having a blast just shooting the F3, with only one 50mm f/1.4 NIKKOR-S from 1967, AI-updated and again care of Bert.
When you're packing an F3, you're packing "a Nikon," not just another forgettable DSLR.
The F3 is awesome in any light: a big, clear viewfinder with no blinking lights or distractions, fully automatic operation, fast, easy focus, and most importantly, no BS between you and your photos. It just goes, and many pros will argue that the F3 is the best Nikon ever made. Nikon made them for over twenty continuous years, and was the world's top professional 35mm camera for many years.
It's inexpensive to shoot a real camera, especially compared to "digital." It costs me only 50¢ a shot for film, processing, high-resolution scanning and prints at a pro lab like NCPS (or 25¢ a shot at Costco.)
50¢ a shot sounds like a lot, until you do the math Nikon would prefer you don't. At 50¢ a shot all-inclusive for pro-level service, it will take you 6,000 shots on a D800 before you break even — and that's including prints you don't get from the D800. If you use Costco and don't have prints made, it costs less than 14¢ a shot for buying film, processing, scans and DVD backup, or costs less than a D800 until you shoot over 20,000 shots (or 25,000 shots on the 5D Mark III). Of course you need to buy memory and computers and software to use a digital camera, when you add these in, you have to shoot even more shots for a "digital" camera to make any economic sense.
OK guys, how many of you actually shot more than 20,000 shots on your last DSLR before you replaced it? If you did, how many shots were actually shots, and how many were just checking exposures and white balance and all the other wasted shots you won't need when shooting film?
Hmm.
I so love shooting a real Nikon. It just goes, and the fully professional F3 weighs much less than the amateur D800 or 5D Mark III. The F3 runs for years on a pair of A76 batteries that sell for less than a dollar. My 5-year old can figure it out, while not even I can figure out most of how to get a D800 to go. The F3's owner's manual is only 46 pages of well-illustrated simplicity, while the D800's manual is 450 pages of meaningless menu nonsense.
02 May 2012, Wednesday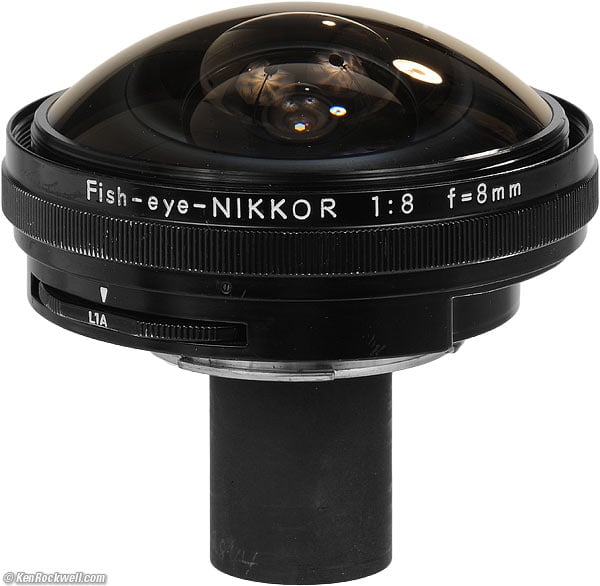 Nikon 8mm f/8 Fisheye.
NEW: Nikon 8mm f/8 Fisheye Review.
Works on D800.
01 May 2012, Tuesday
D800 Focus
If you're not getting sharp snaps in the AF-C (continuous AF) setting, it's because Nikon's firmware is deviously defective.
You need to reset Custom Setting A1 to any setting other than the default of RELEASE. (MENU > CUSTOM (pencil) > a Autofocus > a1 AF-C priority selection > FOCUS or RELEASE + FOCUS.)
As shipped, the RELEASE setting means the D800 shoots anytime you press the shutter, regardless of if it's in focus or not. Nikon does this to help the camera sell well during demos since it runs very fast, but also means most of the photos of anything moving in AF-C mode will be out of focus.
Resetting this ensures the D800 only fires when it's actually in focus. It won't run as fast, but that's OK, since it saves us from having to delete all the fuzzy ones later.
A Real Nikon: The Nikon S3
Ryan prefers real cameras. Here he is shooting the Nikon S3: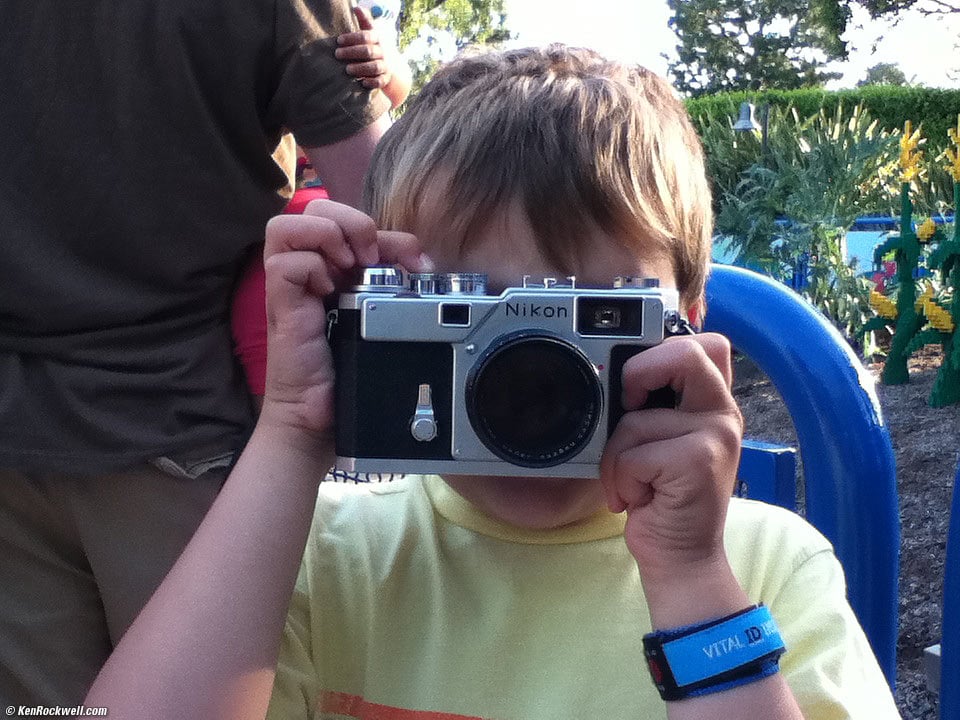 Ryan shooting the Nikon S3. Bigger.
Ryan had a blast loading and shooting the Nikon S3, and so did I. Ryan also loved shooting a Nikon F3 sent to me by reader Bert Lein. I feel like a King; Bert sent a whole case full of great classic Nikons to test. Thanks Bert!!!
D800 with 1960s Fish-eyes
Bert Lein sent me some old Apollo-era Nikon gear, including an old mirror-lockup 8mm f/8 Fish-eye-NIKKOR.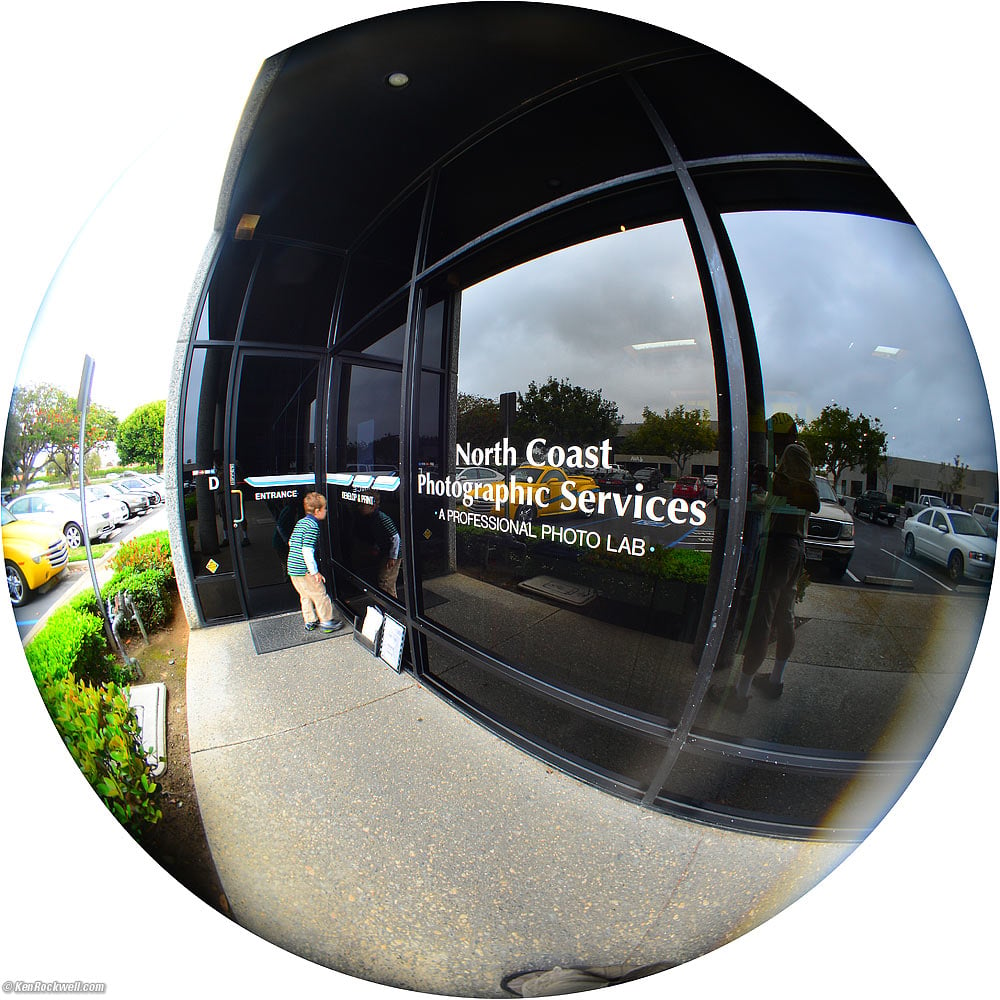 Ryan dropping film at North Coast Photographic Services. (Nikon D800, Nikon Fisheye-NIKKOR 8mm f/8 (1964), 1/30 at f/8 at ISO 250). Bigger.
What Was New in:
Help me help you
I support my growing family through this website, as crazy as it might seem.
If you find this as helpful as a book you might have had to buy or a workshop you may have had to take, feel free to help me continue helping everyone.
If you've gotten your gear through one of my links or helped otherwise, you're family. It's great people like you who allow me to keep adding to this site full-time. Thanks!
If you haven't helped yet, please do, and consider helping me with a gift of $5.00.
The biggest help is when you use any of these links to Adorama, Amazon, B&H, eBay, Ritz, Calumet and J&R when you get anything, regardless of the country in which you live. It costs you nothing, and is this site's, and thus my family's, biggest source of support. eBay is always a gamble, but all the other places always have the best prices and service, which is why I've used them since before this website existed. I recommend them all personally.
Thanks for reading!
Ken
Home Donate New Search Gallery How-To Books Links Workshops About Contact