Home Donate Search Gallery Reviews How-To Books Links Workshops About Contact

September 2012's Updates < < back to Today's News
RSS: daily (continuous live updates)
all © 2012 KenRockwell.com. All rights reserved.

Nikon: D800 D600 Canon: 5D Mk III 6D Fuji LEICA All random Ryan Katie
Recommended Cameras How to Take Better Pictures
Twitter Facebook Video Tutorials
29 September 2012, Saturday
NEW: I added sections on the D600's video performance as well as D600 sample video files for your perusal, as well as an ISO 6,400 sample file.
D800E Now Shipping
Adorama now has them in stock for you resolution hounds.
NEW: The D600, D800 and D4: All Have The Same Insides!
28 September 2012, Friday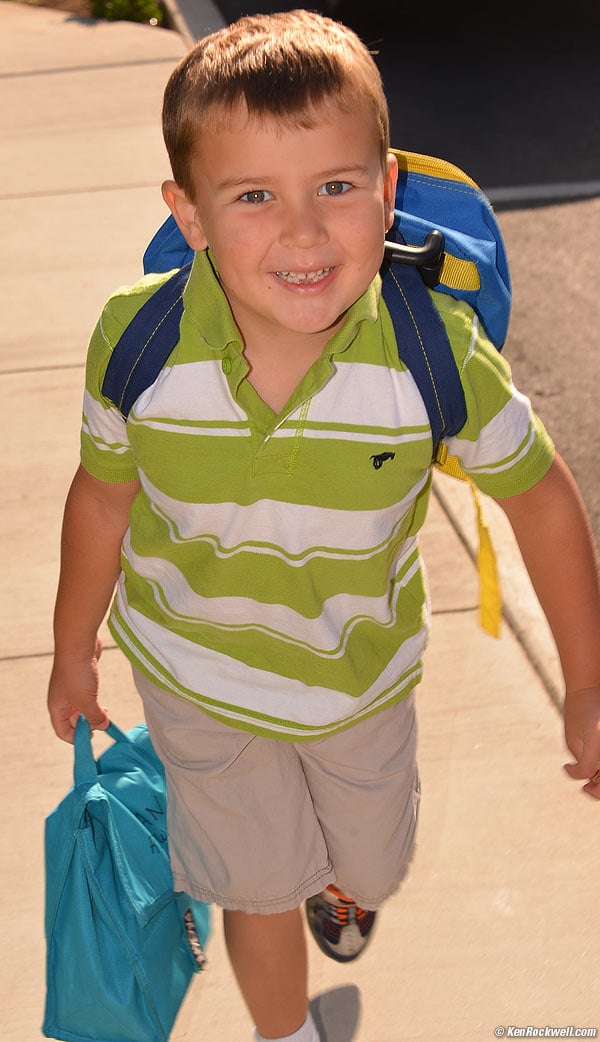 Ryan off to school a moment ago. (Nikon D600, Nikon 28-300mm VR at 70mm, f/8 at 1/200 at Auto ISO 100, AUTO WB A4 M1, STANDARD Picture Control with +1 Saturation, 6 sharpening. SB-400 for fill-flash, no dodging needed.)
Updated: I added some more examples and information to my fill-flash article.
Here's what you get without fill: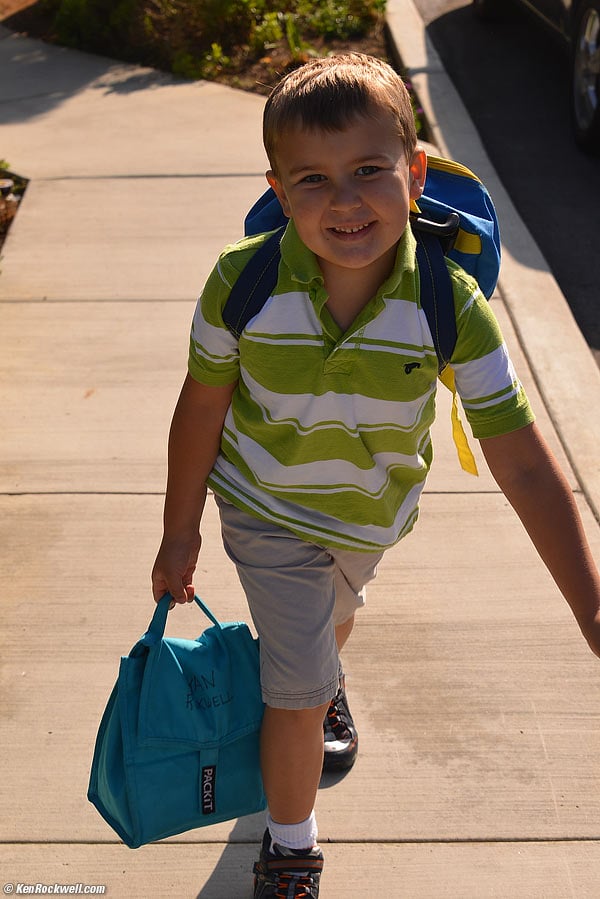 Fill flash is a zillion times more important than HDR.
Here's how the bad shot looks with some sloppy dynamic processing: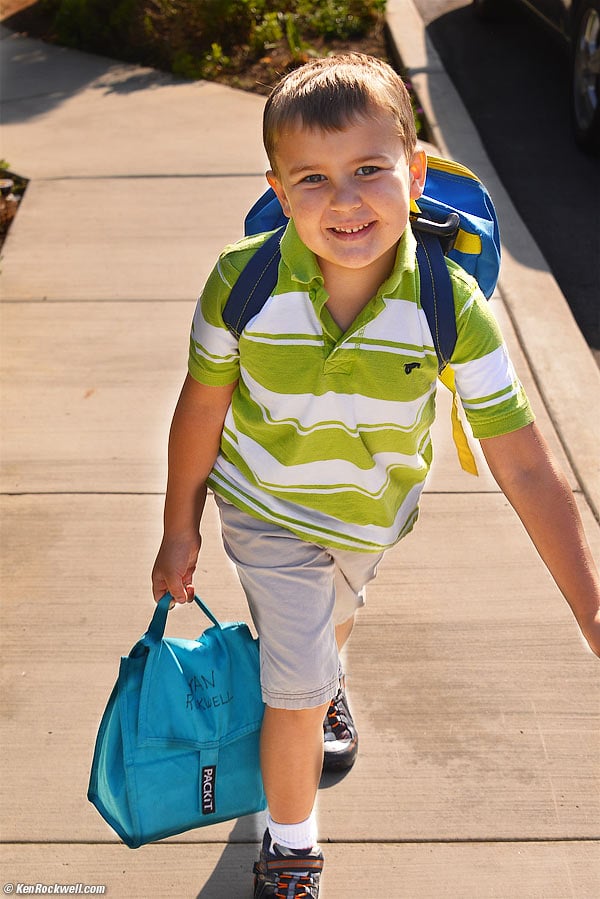 A serviceable shot, but still nowhere as well lit as the first shot with fill flash.
Fill Flash is easy: just pop up your flash and most cameras take care of the rest.
Zacuto DSLR Video Finder Close-out
Zacuto Z-Find-Jr Optical Viewfinder: Reg $251.75, Coupon Price $129.00, use Coupon Code S1024121 on check-out.
Nikon's Most Useless Lens
There's a Nikon 6mm f/2.8 220º fisheye for sale on eBay.
Fisheyes are the most difficult lenses to use well because it's nearly impossible to fill the frame with your subject.
220º fisheyes are completely useless because it is almost completely impossible to find any subject that subtends a visual angle greater than 180º, much less 220.º
Worse, the 6mm f/2.8 is huge, difficult to carry, difficult to hold, and easy to damage.
The only people who bought or buy them are collectors who think that owning one makes them cool. They aren't useful for pictures: everything becomes too darn small!
There's also, as always, an overpriced Nikon 13mm f/5.6 lens for sale on eBay. As usual, it's not going to sell, since it's overpriced. Nikon 13mm lenses now go for about $30,000 each, not $46k. They also are mostly bought by collectors, however they are still extremely useful for site surveys and by people who really know how to use an ultrawide lens.
It's been at least three or four years since either of these lenses appeared on eBay as a real auction or real-priced buy-it-now. These lenses often appear as buy-it-nows at foolish prices, just as people list their homes for sale at dreaming prices, and wonder why they haven't sold for months on end. (A house priced well sells fast for top reasonable dollar in any market; if your broker hasn't moved your house in a month, it's time for a real agent. Once a house sits listed for over 30 days, no one's going to look at at since buyers know that that house is no bargain — even in tough markets. Like everything, home sales is a very competive market.)
27 September 2012, Thursday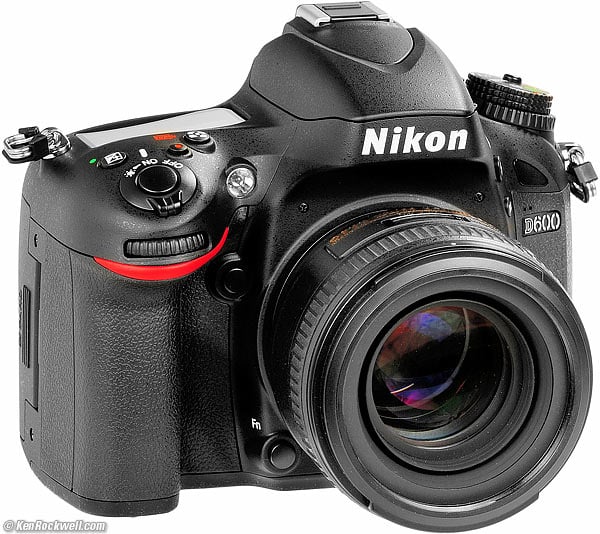 Nikon D600 and 50 1.4 G.
NEW: Nikon D600 Review.
Now that mine arrived Tuesday, my Nikon D600 page has been completely rewritten, complete with some sample image files.
I'll be working on this adding even more as time goes on and I have more than one day's shooting with it.
The D600 is Nikon's best FX DSLR. The D800, D800E and D4 pretty much have the same technical image quality and the same green-shift problems and yellow LCDs, while the D600 has far superior ergonomics and far less weight. This is why Nikon announced all these cameras in reverse price order, taking the rich guys and pros for a ride until Nikon finally announced what we really wanted in the first place: the D600.
26 September 2012, Wednesday
Nikon D600
Like most of the world, my Nikon D600 is here.
Its image quality is unbeaten, and it has the best ergonomics of any full-frame Nikon DSLR ever. Goodbye D4 and D800!
The only bad thing it has is that it shares the same green color shift problem of the D800 and D4; I have to dial-in M1 (extra magenta) in the white balance to get rid of the excess green.
Hey, if you have to do this color fiddling, may as well do it on the least expensive Nikon FX instead of doing the same thing on the far more clumsy D800 or D4! Do you miss the D7000, D700, D40 and D90 yet? None of Nikon's earlier cameras had this green shift problem; it is exclusive to, and identical in each of, the D600, D800 and D4. It's as if Nikon is dumbing-down the color actuary across the board, so when we finally get used to it, the next wave of cameras can feature "greatly improved color accuracy!"
In Japan, it's always two forward, one back.
If you can learn the tightly-guarded professional secret of how to fix this green shift, the D600, D800 and D4 all have swell colors. (don't tell anyone that the highly secret code is to press MENU > SHOOTING > White Balance > AUTO > right click to AUTO Normal > right click to the rainbow chart > click one down to M1 > OK.)
Much more to follow today.
NEW: Apple iPhone 3GS Review.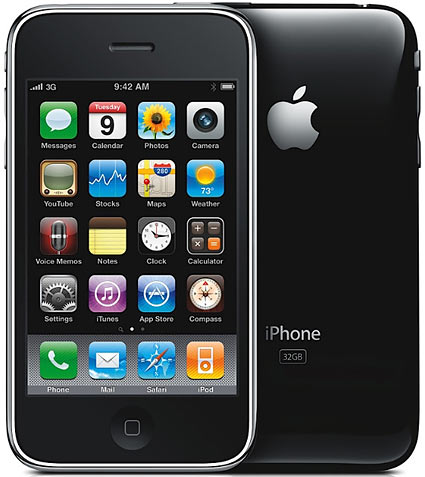 Apple iPhone 3GS.
My first iPhone, whoo hoo, and cheap, too, today.
22 September 2012, Saturday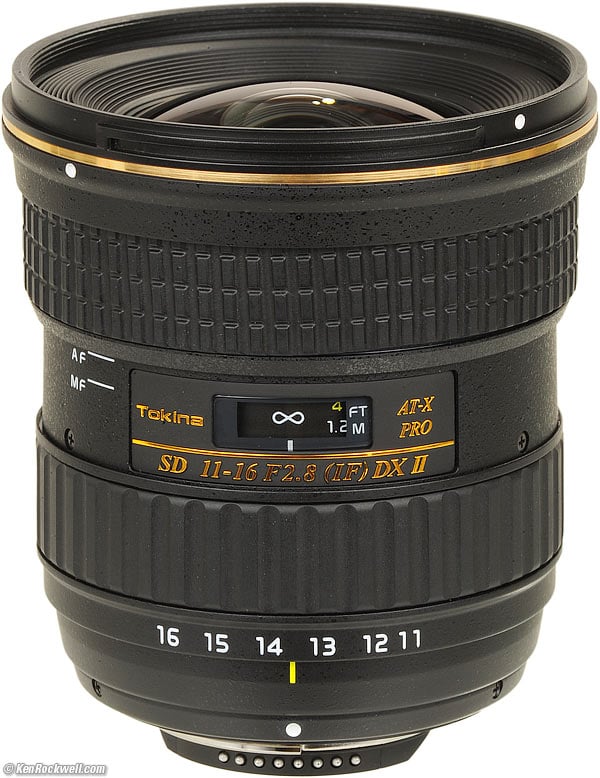 Tokina 11-16mm f/2.8 II.
NEW: Tokina 11-16mm f/2.8 II Review.
21 September 2012, Friday
D800 In-Stock at Adorama. D800E still on back-order.
D600's already shipped! I'm shocked; Nikon really caught Canon asleep here. Nikon's already shipping what's still science-fiction for Canon users for at least another couple of months.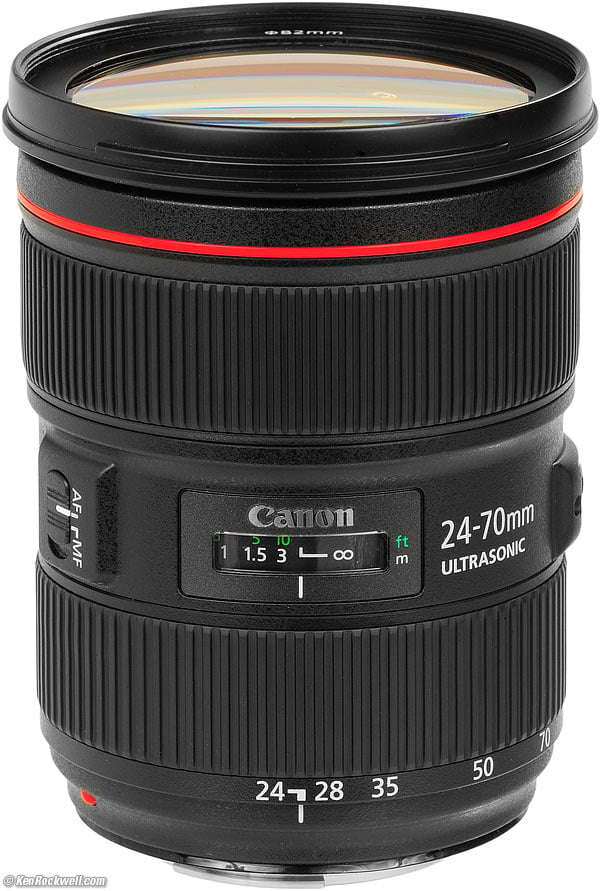 Canon 24-70mm f/2.8 L II.
NEW: Canon 24-70mm f/2.8 L II Review.
Holy cow! It's amazing!
19 September 2012, Wednesday
Nikon D600 is shipping!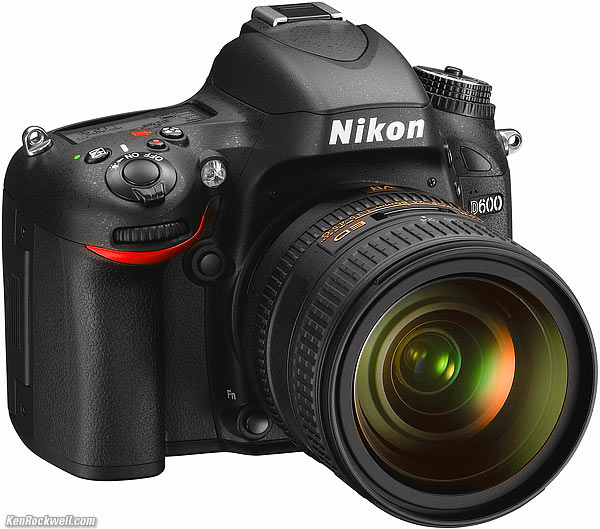 Nikon D600 and 24-85mm VR.
I kid you not: Adorama is already shipping the Nikon D600 today, just as Nikon claimed they would ship. Mine is already on its way.
Whoo hoo!
Nikon really caught Canon asleep; Canon's 6D is awesome, but not shipping until Christmastime.
EIther of these new full-frame cameras works great with any Nikon or Canon autofocus lens made since the 1980s; you don't have to buy new full-frame lenses unless you want to; they work great with whatever's in your dad's sock drawer.
New LEICAs
LEICA M: $6,950.
The LEICA M is the expected M10. It has 24MP with Live View. This seems like not a big deal, but with Live View, it is is the world's first LEICA in almost 100 years of their history to allow through-the-lens viewing with all lenses, especially ultrawides that need TTL viewing so we can compose well.
In other words, the LEICA M is the first LEICA with which we can compose accurately. It's about time!
LEICA M-E: $5,450.
The LEICA M-E is the new stripper digital model.
Poor man's LEICA; an M4 for digital.
It looks like the same thing as the M9, in an uglier color, so until I figure what, if anything, is missing, it would seem that this is now the go-to digital LEICA.
LEICA S: $21,950.
A big DSLR with non-standard image sensor (0.8x crop factor, just a little bigger than 35mm), and a non-standard lens mount.
LEICA D-LUX 6: $799.
Rich-man's Lumix.
LEICA D-LUX 4: $899.00.
Rich-man's Lumix.
10k
Not that anyone cares, but I just passed 10,000 shots with my 5D Mark III. Some shots even came out OK.
17 September 2012, Monday
I Told You So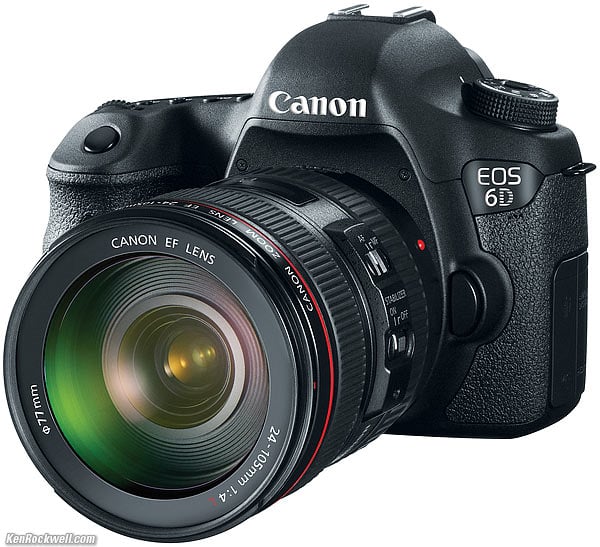 NEW: Canon 6D: 20 MP Full-Frame, $2,099.
NEW: Canon 6D versus 5D Mark III.
Canon's answer to the Nikon D600; Canon's smallest and lightest full-frame DSLR ever.
Since Nikon is promising the D600 to start shipping tomorrow and Canon is only saying "probably some time in December" for the 6D, we know who's ahead of who here.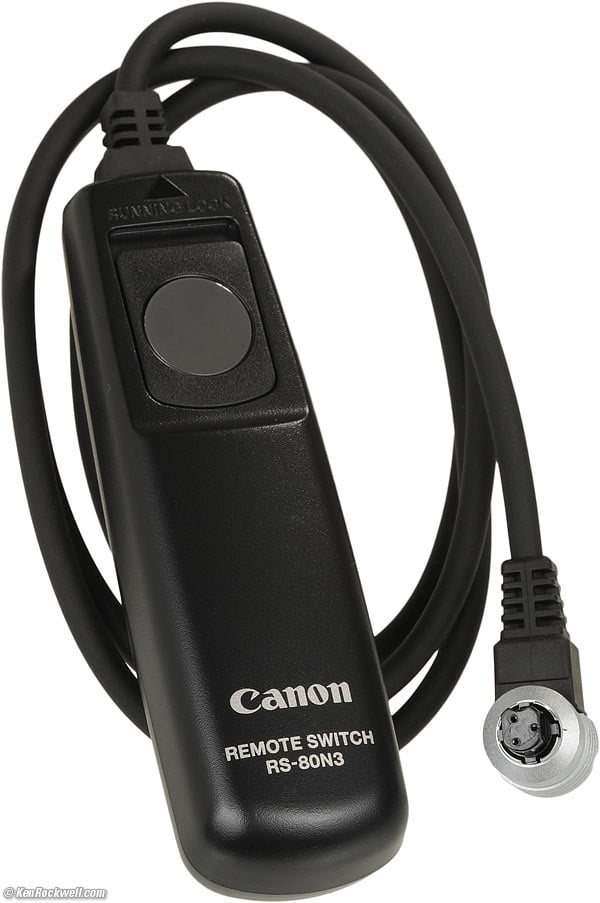 Canon RS-80N3 Remote Switch.
NEW: Canon RS-80N3 Review.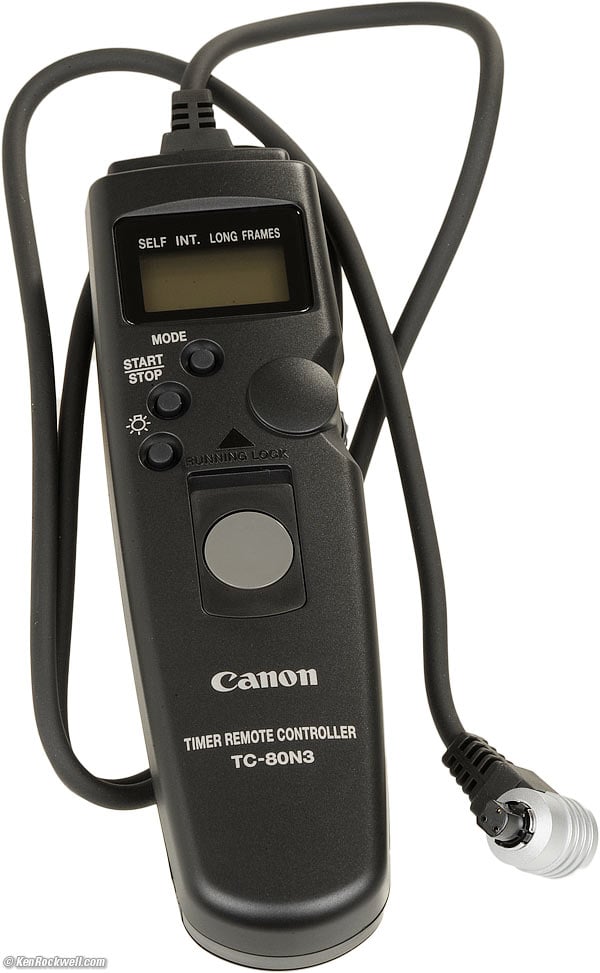 NEW: Canon TC-80N3 Review.
These two remote cords are the "incredible" reviews to which I alluded last week. I knew no one would guess!
15 September 2012, Saturday
NEW: Nikon D600 Comparisons.
NEW: Nikon D600 versus D700.
NEW: Nikon D600 versus D800.
NEW: Nikon D600 versus D7000.
14 September 2012, Friday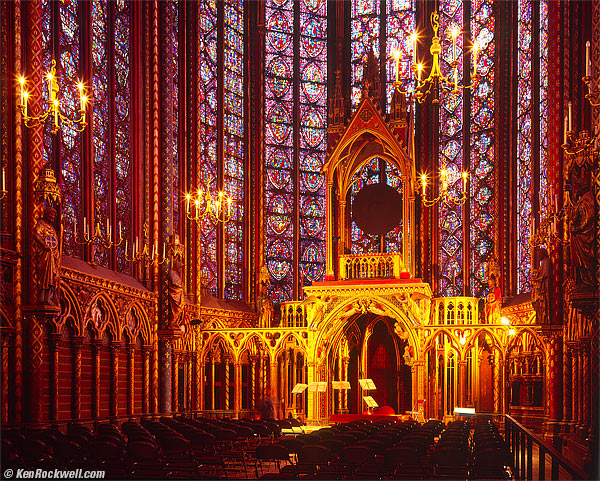 La Sainte Chapelle, Paris, France, Juin 1997.
Film saves the day
I had a call from some researchers in Hollywood investigating JPEG2000 compression algorithms for 4k digital cinema. They needed some uncompressed 16-bit TIFF images at very high resolutions with lots of crazy colors.
They wanted an image they saw here, and no problem, since I had shot it on 6x7cm Velvia on my Plaubel Makina - over 15 years ago!
I had scans at 4,800 DPI and 16-bits already on my hard drive from a gallery's print order I filled back in 2004, so I simply downsized it from 13,000 + pixels wide and made them their file.
Here's the little 4,096 pixel wide version, in 8-bit JPEG. I delivered what they wanted as an 80MB 16-bit TIFF, scaled down from my 1-gigabyte scan I did 8 years ago.
Not bad, and even better, what you aren't seeing because I had so much excess resolution in my original scan is that I applied a lot of perspective correction. My Plaubel was pointed way-up with its fixed lens, and certainly didn't look like it was shot with a tilt-shift lens as it does here.
If I needed more than 13,000 pixels wide, I could always go rescan it with a better scanner today.
13 September 2012, Thursday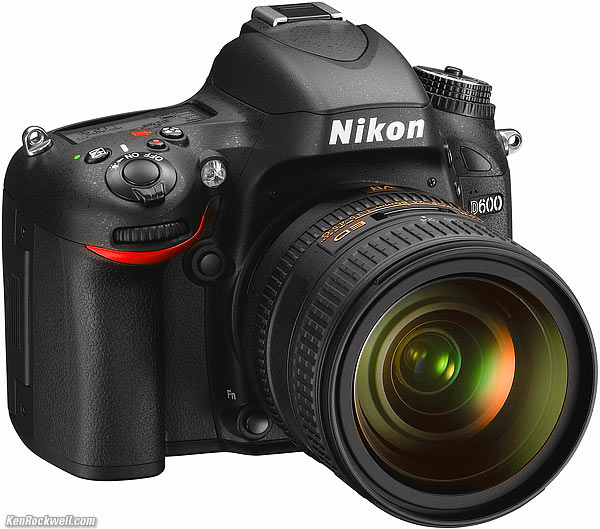 Nikon D600 and 24-85mm VR.
NEW: Nikon D600.
Full-Frame 24MP and works with all lenses since forever: $2,099.
I can't believe Nikon actually announced the D600; it's a better, faster, lighter version of the old D800 and D800E for only 64% to 70% of the price!
Except for testing lenses, I have no idea why I would keep my D800E anymore.
Is Rockwell's foolish affair with the Canon 5D Mark III finally over?
You have to hand it to Nikon's marketing, holding back the D800 and D800E so no one could get it so we all wanted it more, and releasing the D800E only after the D800 so guys like me have already blown $6,300 on one of each, only to Adorama both of them now and get the D600 we all really wanted.
Full-Frame Mirrorless: Sony DSC-RX1
The Sony DSC-RX1 is a 24MP full-frame ISO 25,600 mirrorless compact camera with a fixed 35mm f/2 lens.
For $2,800, too bad you can't change the lens (it is permanently attached, like the Fuji X100), and if you want a viewfinder, you also have to buy the unavailable FDA-EV1MK — otherwise you shoot this thing at arm's length! If you use the electronic finder, you lose your flash shoe. Wow, Sony really has this all figured out for $2,800. At least it has a built-in flash, but you have to let it pop-out from the camera first.
There is no shutter dial.
World's first fixed lens 35mm camera? Hardly; that was the LEICA in 1918. At least this new Sony also makes 1080P video and has a built-in S-t-e-r-e-O mic.
I do love that it has three C modes, just like the 5D Mark III. I don't know yet if they work as well. I also don't know if Sony put a deeper detent at zero on the big, beautiful exposure compensation knob on top, or if it will always be getting knocked and ruining photos, so we have another good reason to buy the next model.
Hallelujah, at least it takes a real screw-in cable release!
I expect the DSC-RX1to be very popular with the folks who always buy the latest new photo gizmos, and those who spend more time talking about them online than actually shooting them.
I like the idea, but I'll wait for the next version with an integral electronic viewfinder and a LEICA M mount. My Fuji X100 at less than half the price is looking like a better and better deal every day; I'll take the slightly smaller 1.5x sensor in exchange for a real optical and electronic viewfinder, a shutter dial and a flash that's always ready without having to pop up.
I love how this market is going; in about a year we'll have a version with interchangeble lenses.
12 September 2012, Wednesday
New Crazy Sony Camera: SLT-A99V
The new $2,800 Sony SLT-A99V is a full-frame 24MP camera with the same magical pellicle (half-silvered) mirror of the SLT-A55 I tested last year.
24MP is ideal, and it does full uncompressed 1080 HD.
It reads AF both reactively from the image sensor, as well as live in 3-D right off the lens' image via the pellicle mirror. (Sony's marketing people call the pellicle mirror "translucent" just to make it sound more mysterious, but if was translucent, you'd get no pictures!)
It's only 5 FPS, and faster in some trick modes.
It is not a DSLR; it has no reflex mirror for viewing. It is formally a mirrorless camera, using its pellicle mirror only for live autofocus assist. Its viewfinder is only an electronic one, which is excellent, but still not a live optical image.
This is a camera worth watching. I don't know if Sony has finally pulled it off, or if it has enough little glitches as in the A55 to make it still second-fiddle to Nikon and Canon's true DSLRs. I really love electronic finders if they're done right; they let me see playback and menus without having to take the camera away from my eye.
NEW: What About Mirrorless Cameras?
10 September 2012, Monday
In praise of light weight
As I went to school this morning with Ryan, what did I carry?
A Rebel G loaded with Fuji Reala, a 28-200mm USM so I could cover anything, even long shots, with a twist of the wrist, and my 220EX flash on top to give me enough range and fast recycling over the built-in flash.
Done.
In praise of light writing
In case you've wondered why so few updates this past week, I've been traveling in Tokyo and Germany getting the scoops on all the new stuff coming out for Photokina next week.
I also took a week off in August to travel back to California with my family to lead a workshop and to visit the in-laws, so I've been racking up a lot of miles. It feels so good to be back home in New York!
I've also been working on an extraordinary review of something very, very special that you'll never guess. I'd have an email contest to guess what it is, but with 128,483 unread messages in my inbox from the past seven weeks, that's not happening.
Back to my earth-shattering not-yet-published review of something very special.
Easy is Difficult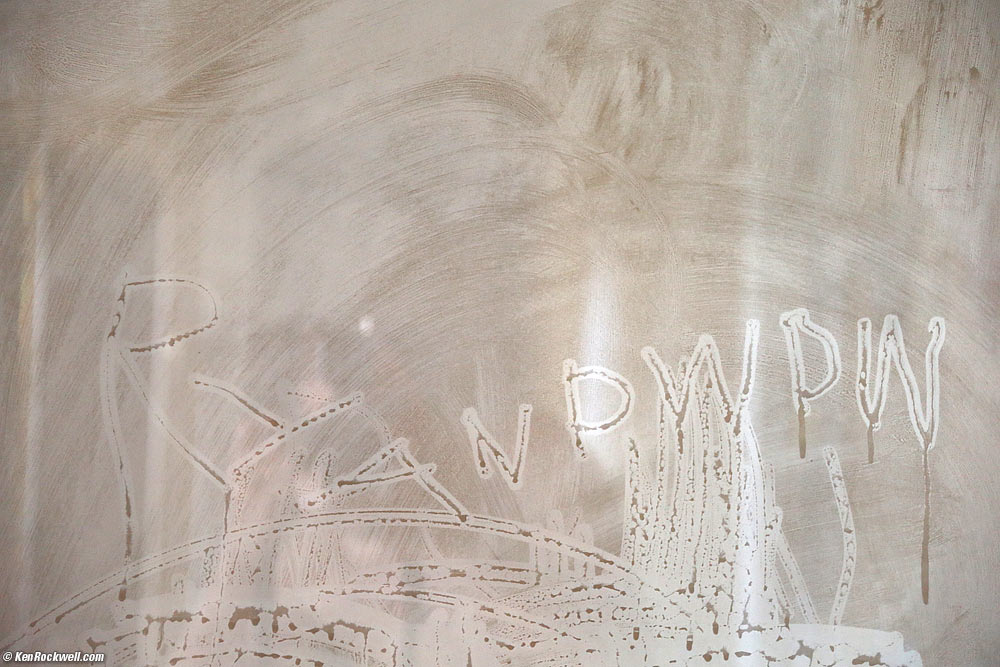 Ryan writes "Ryan Dada" on the shower door. Oddly he used a "W" for his "As." (Canon 5D Mark III, Canon 28-105mm USM II at 73mm, manual focus, f/4 at 1/125, AUTO ISO 4,000, 6 sharpening, 0 saturation, AUTO WB A4.) mas grande.
This was nearly an impossible shot to make. It was nearly impossible to make the letters legible!
I had to focus manually since the camera kept trying to focus behind the clear glass door or on the reflection in it, and you don't want to know what was in the reflection!
As I kept trying to get a shot that showed the letters clearly, I had to keep moving around to try to find a background that made the letters clear.
As I tried and tried, it became harder to see the letters — the fog was evaporating!
I had to turn the shower back on to make the fog, and thus the letters, return.
When I finally got the letters to return, I then had a bear of a time trying to focus, even manually: my lens was now fogging!
Finally I had to wipe my lens, set my camera, wipe my lens again, and shoot immediately.
Sometimes the simplest shots are the toughest. This is the toughest thing I've shot in a long time.
I flipped the negative in Photoshop CS6; Ryan drew it from inside the shower and I finally shot it from outside the shower. I also bumped-up the contrast with a levels adjustment layer.
08 September 2012, Saturday
Think Tank Specials
Order an Urban Disguise shoulder bag, you can receive an Urban Disguise Attachment Strap or a Shoulder Harness V2.0 for free!
Receive one of these free with your order: The Urban Disguise Attachment Straps lets you attach Modular, Skin, or Multimedia components to the sides, and a tripod to the bottom, of an Urban Disguise V2.0 shoulder bag. Or, receive a Shoulder Harness V2.0, which converts an Urban Disguise shoulder bag into a backpack.
New Fuji X-Kamera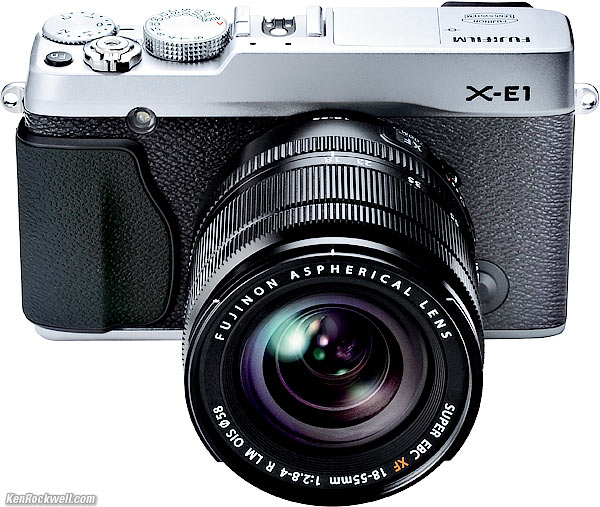 Fuji X-E1.
NEW: Fuji X-E1.
Same as X-Pro1, but with a better electronic finder and built-in flash, but without the optical finder. Also much smaller, lighter and less expensive, effectively making the X-Pro1 obsolete as of November.
"Obsolete" means there are better products available for less money; obsolete does not mean no longer available. Film, LPs and the Nikon D90 are obsolete for example, but people still buy them brand new and love them — and a milkman still delivers milk in my neighborhood here in New York most mornings, honest!
Obsolete, as LEICA has been since the 1960s, it simply means there are cheaper and/or more practical ways of doing the same thing. It doesn't mean that, especially with the application of much more concentration, that the results aren't better.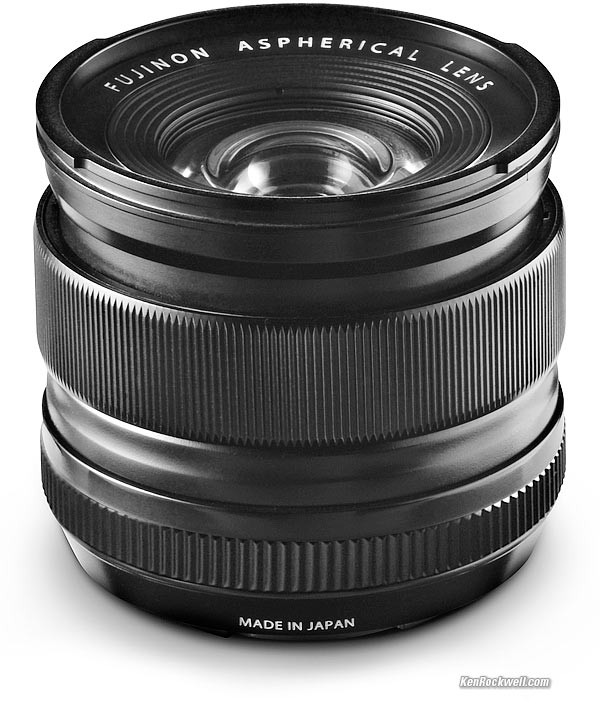 Fuji XF 14mm f/2.8 ASPH
NEW: Fuji XF 14mm f/2.8. For Fuji X-Pro1 and Fuji X-E1.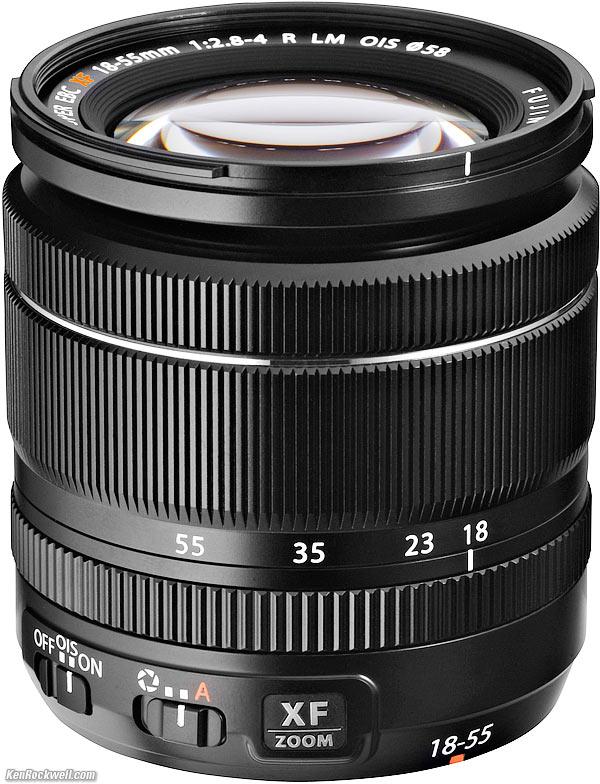 Fuji XF 18-55mm f/2.8-4 OIS.
NEW: Fuji XF 18-55mm OIS. For Fuji X-Pro1 and Fuji X-E1.
Sadly, Fuji has now set themselves up for failure professionally. These two new lenses take 58mm filters, while the 18mm and 35mm lenses take 52mm filters, and the 60mm takes 39mm filters.
If Fuji knew how to build a brand to be taken seriously by professionals long-term, it would have had the forethought to pick just one filter size, and stick to it religiously for our convenience for all the coming decades, not design each lens instead for the convenience of its own lens designers and allow them to chose whatever filter size they felt like each month as new lenses get introduced.
LEICA and Nikon each had this forethought in the 1950s. LEICA chose 39mm in 1952, and their truest lenses today, like the 28/2.8, 35/2, 50/2 and 90/4, are made with 39mm filters today 60 years later.
Nikon chose 52mm filters in 1959, and went through all sorts of optical and mechanical gymnastics to have their entire line from 20mm through 200mm work with 52mm filters, even their 35mm f/1.4. Nikon lost its way and started offering lenses with random filter sizes in the 1990s, and that's another reason they lost the pro market to Canon.
Consumers don't use many filters, but real photographers use them all the time. It's important to us that all our lenses take the same set of filters (see Assembling a System). As they said when "Blair Witch Project" brought in a quarter-billion dollars at the box office after being shot on a $200 camcorder, "Yes, we used a cheap camera, but we used $2,000 worth of filters to get the looks we needed."
While color balancing and conversion filters are less needed with digital and video cameras, polarizers and graduated ND filters cannot be simulated electronically as well as a real filter does its job.
06 September 2012, Thursday
Scanners
My friend Marty Knapp (check out his work) just asked me if I still recommend my Minolta Multi Pro scanner, and if so, if it will work on OS 10.6.8. Yes, it ought to run, but I haven't used my scanner in years. Today I let my lab scan my work as I shoot it. Scanning takes forever!
I'm on OS 10.6.8 and won't update to 10.7 or 10.8 because 10.6.8 is the last that runs Rosetta so I can run all my software. Apple lost me when they lost the ability to run critical software like Dreamweaver 8 with which I write this site; why would any sane person "update" to an OS that won't run the software I need?
I still use my Epson 1640 flatbed daily for flat art, not film. It runs great after 13 years, and I only paid $50 for it, refurbished, in 1999. I do this scanning in Photoshop CS2 which can run the old plug ins after setting it to "Open using Rosetta." Newer OSs can't run Rosetta, so again, why bother with new OSs?
If I bought a scanner today, it would be an Epson V700 (the Epson V750 is the same thing with wet-mounting), which ought to be at least as good as my ancient Minolta, and it will run on newer OSs.
I was at a trade show in about 2005 when Minolta didn't bring any scanners for the first time. I asked why no scanners, and the girl pointed at the Epson booth and said "Because they make scanners just as good that sell for one-tenth the price!"
What Was New in:
Help me help you
I support my growing family through this website, as crazy as it might seem.
If you find this as helpful as a book you might have had to buy or a workshop you may have had to take, feel free to help me continue helping everyone.
If you've gotten your gear through one of my links or helped otherwise, you're family. It's great people like you who allow me to keep adding to this site full-time. Thanks!
If you haven't helped yet, please do, and consider helping me with a gift of $5.00.
The biggest help is when you use any of these links when you get anything, regardless of the country in which you live. It costs you nothing, and is this site's, and thus my family's, biggest source of support. eBay is always a gamble, but all the other places always have the best prices and service, which is why I've used them since before this website existed. I recommend them all personally.
Thanks for reading!
Ken
Home Donate New Search Gallery How-To Books Links Workshops About Contact