Home Donate Search Gallery Reviews How-To Books Links Workshops About Contact

October 2012's Updates Hot Deals
RSS: daily (continuous live updates)
all © 2012 KenRockwell.com. All rights reserved.

Nikon: D800 D600 Canon: 5D Mk III 6D Fuji LEICA More random Ryan Katie
Recommended Cameras How to Take Better Pictures
Twitter Facebook Video Tutorials
31 October 2012, Wednesday
Sony NEX-5R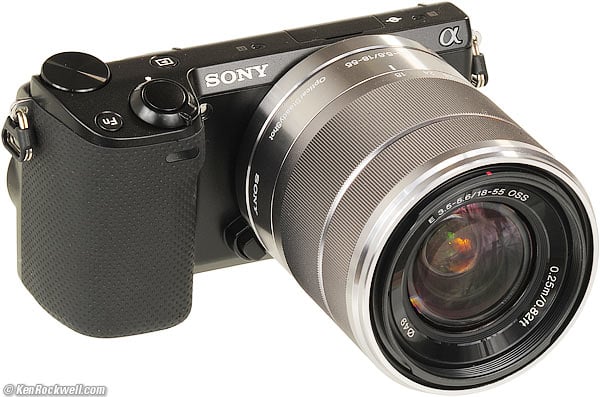 Sony NEX-5R.
I'm impressed: the Sony NEX-5R focuses and shoots super-fast! Its auto-everything face ID mode works instantly, catching my kids in motion completely by magic.
Once you get get it set up, which can take a while with the balky interface, it just shoots and shoots and shoots.
Presuming you use the external finder, it has no flash, so image quality for people photos outdoors is poor due to a complete lack of fill-flash. You need fill-flash for people photos in just about every light. Go look at your wife's People magazine; just about every shot is made with fill.
Some NEX-5R snaps from yesterday are at Katie's website; review of course under construction.
New York City's Alligators
Some have asked, and no, I have no idea how our alligator population is doing in our subways. I'll presume they love the water, but the rats probably flew the coop, and the reason we introduced alligators to our subway system in the late 1800s was to eat the rats.
Here's one of the trucks used to clean gator poop as seen in Harlem during my tip-to-tip walk across Manhattan in 2005.
30 October 2012, Tuesday
New York City Forges Ahead
Things are pretty messed up here. Most folks are without power, and thankfully coming from a broadcast background I've always ensured my facility has backup generators, as well as its own air, water, food, sewage and etc. support so, like being on a Navy ship, I can work and report independantly of whatever mayhem's going on outside.
There's plenty of flooding and trees knocked-down, which took the above-ground power lines with them, and thankfully just about everyone's OK. It's not like all the buildings have gotten blown over or fallen down, so most people including myself will be cleaning up for quite some time, and at least I can keep up and keep working here inside the studio.
Tough Lexar Card Reader
The biggest tech problem I had this morning was that a pin bent in the CF slot of my Lexar USB 3 card reader.
I was downloading my studio shots of the Sony NEX-5R that just came in for review, and the card wouldn't go all the way in. Weird.
Knowing that something must be fetorked, I pulled out the card, put on the magnifying goggles I use for detail work, and lo and behold, I'd bent a pin in the reader. I'm surprised it took this long to bend a pin; I put cards in and out all day long.
I pulled out my micro screwdrivers, and tried to see if I could bend the pin back carefully. Yes! It worked and I was back in business.
The Lexar reader uses tough pins, they took a good deal of force to bend back so I've got confidence that they'll last for a while.
I'm tough on card readers; most that I've owned simply crap out electronically after a few months. This Lexar has lasted since April and keeps working great.
Ignore USB 3; it's already a dead format and no professional computer every used it. I use the reader with its included regular USB cord.
It reads SD and CF cards, and I recommend and use the Lexar USB 3 card reader all day, every day.
HINT: I knew not to force anything. If I did as most people would have done, which would have been to push the card in harder, I most likely would have bent enough pins far enough to have destroyed my reader. Never force anything when working with CF cards!
29 October 2012, Monday
Amazon 2% Rewards Program
Amazon now offers a 2% rebate program on a lot of camera items, especially on some of the newest items like the Nikon 70-200/4 VR . (70-200/4 review)
Canon G1 X Storm Blow-out: $399!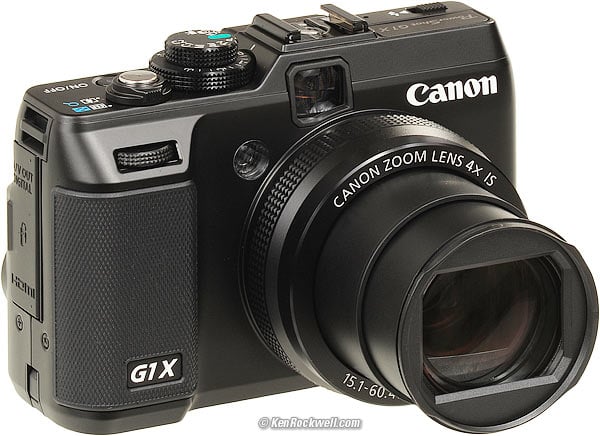 Here's a deal to get the Canon G1 X, some software and a Canon Pixma 9000 Mk III printer for just $399 after rebate!
The deal costs $799, has a $400 mail-in rebate, and so it only costs you $399, and you can eBay the printer and software for more cash back.
The Canon G1 X (review) is a premium point-and-shoot with real DSLR quality, and for $399, is finally a bargain.
Things are really starting to blow here in New York City! I don't know that these are going anywhere today; I suspect New York's transportation infrastructure won't start cranking again until after the storm blows through.
Nikon D3200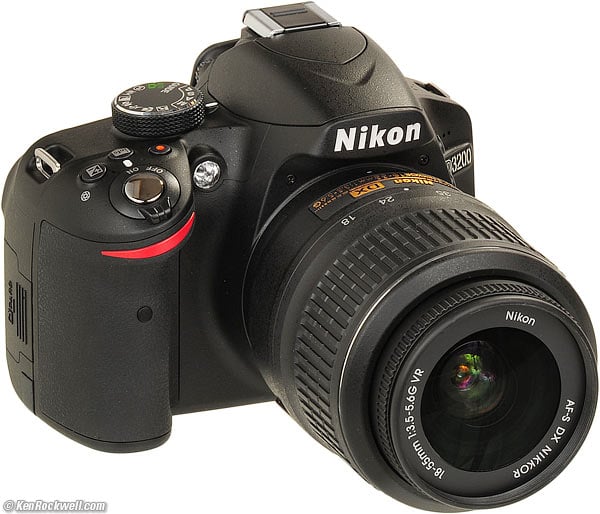 Nikon D3200
The Nikon D3200 is now just under $600, including lens.
It was $700 back in April when it was introduced.
Nikon 24-70mm f/2.8 G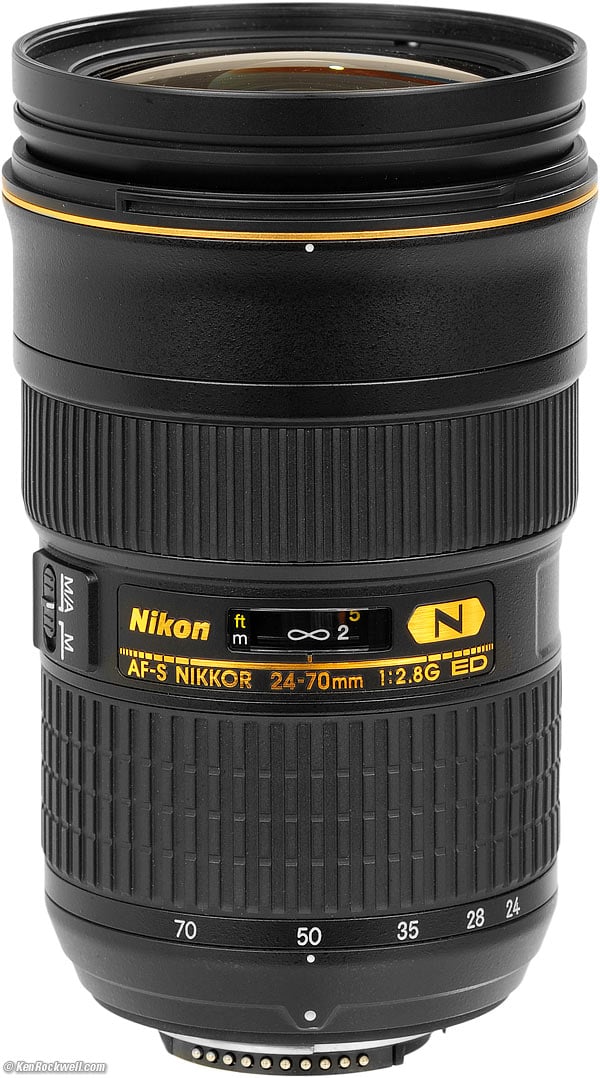 Nikon 24-70mm f/2.8 G.
UPDATED: After 5 years, I just re-wrote my Nikon 24-70mm f/2.8 G Review.
Nikon's best midrange zoom, with more data added.
27 October 2012, Saturday
D600 Built-in Flash
My D600's built-in flash is great: exposure is perfect, and it recycles fast. It just keeps belting out light, and the balance for fill-flash is always right on.
No longer do I have to carry my SB-400 just to keep the recycle time short; hooray, more weight saved!
Here are some examples from yesterday afternoon, along with some ISO 12,800 samples indoors without the flash.
f/4 or f/2.8?
I added samples showing how little difference there is between f/2.8 and f/4 in a tele zoom. Nikon doesn't want you to see this because there really isn't much difference at all between two lenses that weigh and cost twice as much as each other, the 70-200/2.8 VR II and the new 70-200/4 VR – and the new f/4 lens has better VR and focuses much closer.
While the f/4 vs. f/2.8 dilemma is a new one for Nikon shooters, for about a decade Canon has made four pro 70-200 zooms all at the same time. With Canon you have your choice of IS or no IS, and f/4 or f/2.8 in any combination you like. Today Canon makes all of the 70-200/4 L, 70-200/4 L IS (my favorite), 70-200/2.8 and 70-200/2.8 L IS II.
Personally, I prefer the f/4 VR or IS versions of tele zooms for digital. While I'll use my f/2.8 zooms for indoor sports or with 35mm's low ISOs, with digital for everything else, f/4 is plenty, and I enjoy having so much less weight around my neck!
Nikon D800 Sale
Adorama has a limited number of Nikon-refurbished Nikon D800s for sale for just $2,499.95 each — with free shipping!
My D800 and D800E are fine, but if you're a conspiracist, I'll presume that these units have all had their AF areas checked and recalibrated to perfection.
At this low price for 36 million pixels, this is less than 0.007¢ per pixel!
There aren't that many of them, so if you want one, get one now before they're gone.
26 October 2012, Friday
Vote for Freedom
I have no idea how this works, but my mom, the pilot and flight instructor, just sent me this link for you folks to vote for the 99s scholarship fund.
The 99s is a pilots' group to which my mom has belonged for decades, and they offer an Amelia Earhart scholarship to help pilots get their instructor's rating to teach yet more people to fly.
My mom first soloed when she was a teenager and has been flying ever since. She won this scholarship years back, and has taught many more people to fly, so your vote somehow helps the 99s get more funding for these programs from the organization handing out the gifts. Unlike the presidential election, only one vote per person, please.
Thanks!
25 October 2012, Thursday
Mono Lake Photo Contest
The Mono Lake Committee is looking for images for their 2014 calendar.
Images are due there by 31 October 2012 - next Wednesday.
Fuji X100 or Sexy One (X-E1)?
A reader asks.
I prefer the X100. The X100 already has the one lens I need, and is smaller than the X-E1 or X-Pro1 with their big interchangeable lenses.
I realize most of you guys like complicated and big, while I prefer small and simple. The X100 is relative perfection.
Beware: Fuji's colors are second tier, behind Nikon and Canon. For people pictures Fuji is great, but for nature and landscape, Fuji's color are relatively crappy, like LEICA's.
If I want complicated and interchangeable lenses, a small DSLR like the D3100 gives better results (colors) than the Fujis.
If you think Japan didn't deliberately name the X-E1 to imply "Sexy One" to boost sales, you don't know marketing.
24 October 2012, Wednesday
Nikon 70-200mm f/4 VR.
NEW: Nikon 70-200mm f/4 VR.
Thank goodness, finally an intelligent tele zoom from Nikon for digital. f/2.8 zooms are relics from 35mm days where we really needed that last stop of speed since we couldn't go above ISO 200 without things looking ratty.
UPDATED: Nikon vs Canon.
I just updated this page for 2012. Canon has addressed what were its faults, while Nikon has sat on its laurels.
Canon 5D Mark II Deals
Canon 5D Mark II body-only: $1,699.
Canon 5D Mark II with 24-105 IS: $2,499.
Add this printer to your order, and get an extra $400 rebate.
23 October 2012, Tuesday
D600
I've not seen any dust spots on my D600, since so many people ask.
You'll see dots on most any DSLR if you shoot the sky at f/22, but that's stupid because f/22 softens the entire photo! DSLRs are sharpest around f/8 to f/5.6.
While we're on the subject of conspiracies, what makes us New Yorkers laugh is how few people outside of New York realize that a third World Trade Center tower, WTC 7, also fell on September 11th. This is a bit odd, because no plane hit it; the plane that was supposed to crash into it fell instead into a field in Pennsylvania thanks to Mr. "Let's Roll," but the building still mysteriously fell straight down exactly like the others. Curious? Nah.
Scarier still is that the individual who held the lease on the World Trade Center complex collected over four billion dollars in insurance on a policy he had taken out only two weeks before. Suspicious? Not at all. (larger article.)
As a native New Yorker these incongruities seem more worthy of investigation than dust in other people's D600's, but as New Yorkers, we have real work to do instead of wasting time pointing fingers. We're more interested in fixing problems we can fix today, not wasting time fixing the blame for stuff that's already happened.
Back to dust, I always have crud on my D3 sensor which has no cleaner, however my 5D Mark II ran for a couple of years before I sold it when I got my Mark III, and it never had dust on it. Those little cleaners really work.
Canon defaults the cleaners to run every time you turn the camera off or on, while Nikons only run the cleaner when you tell it to. On Nikons, you have to set a menu to make it run every time you turn it on or off.
NEW: We now can get the Canon 18-135mm IS STM by itself without having to buy it as part of a kit with the T4i.
Whoo hoo, this is a great lens for all Canon 1.6x cameras.

Think Tank CityWalker 30, 20 and 10.
NEW: Think Tank CityWalker Review.
Very lightweight, high quality and high-capacity shoulder bags.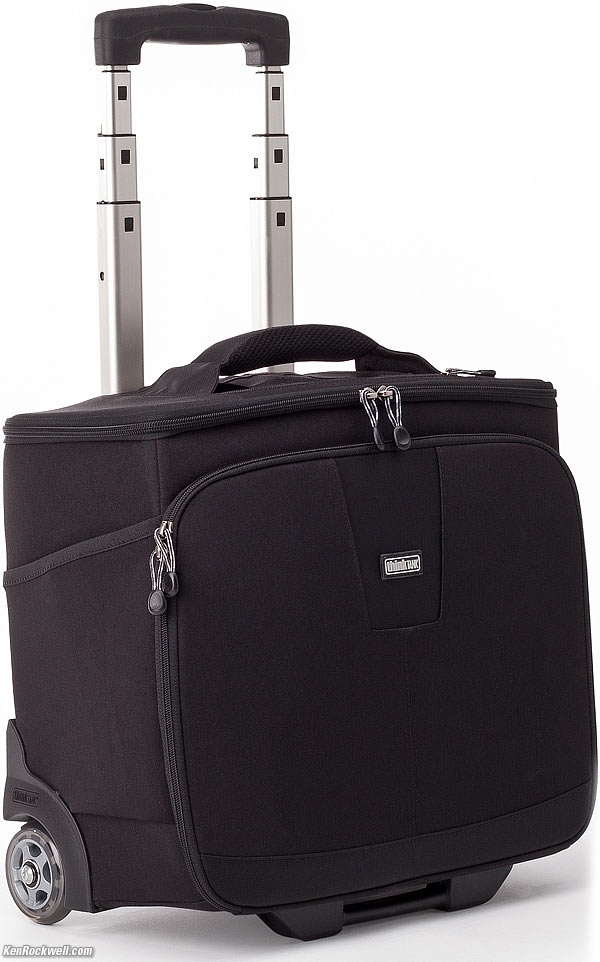 Think Tank Airport Navigator.
NEW: Think Tank Airport Navigator Review.
World's first roller bags with top and front access.
22 October 2012, Monday
OLD: The D600, D800 and D4 are the same camera inside!
I put this important article on its own page, and added comparison to Canon's three new full-frame cameras this year, which are different from each other.
NEW: Canon T4i & 40mm STM Secret Deal $686.95.
Adorama's got a secret deal running on a T4I bundle. To get it:
1.) click here to go to Adorama's T4i page, where the body only sells on sale for $748.
2.) Click the "Buy Together and Save $100" link towards the top of the page between the photo of the camera and the price.
3.) A new window opens with more stuff you can click to add to the order.
4.) Click the button next to the 40mm STM lens.
5.) Click the big ADD TO CART button.
6.) You'll see that magically there now is the T4i body, the 40 STM lens, some free printer paper, some software for 95¢, and a printer for $228. Your total is now $1,086.95.
7.) There is a $400 mail-in rebate on that printer, bringing your total outlay for this cornucopia of goodies down to only $686.95, which is a screaming deal for the T4i alone, much less with the 40mm STM lens. Ditch some of this loot on eBay, and your outlay is even less!
Nikon FM-10
I just added the Nikon FM-10 to my Nikon Lens Compatibility page.
The FM-10 is an inexpensive 35mm camera sold new by Nikon that takes the same pictures as the state-of-the-art Nikon F6; it just weighs less and costs less but you have to focus and set exposure yourself.
20 October 2012, Saturday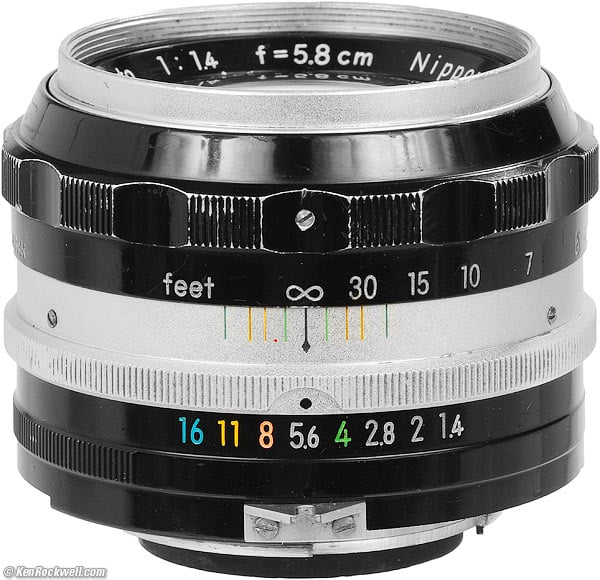 Nikon F 58mm f/1.4.
NEW: Nikon 58mm f/1.4 Review.
Nikon's first f/1.4 lens for an SLR camera.
19 October 2012, Friday
NEWS: Why Pros Shoot the Nikon D3.
A reader reports after his is run over.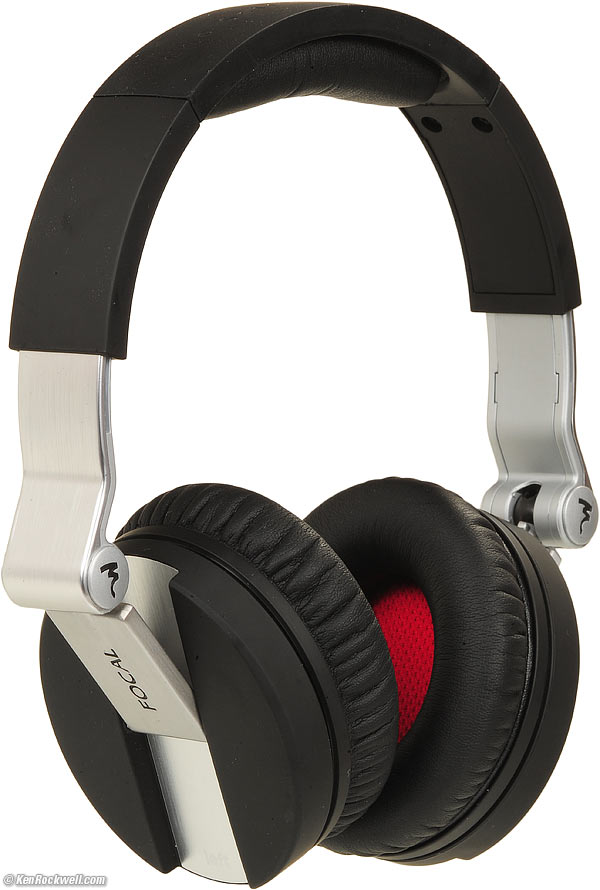 Focal Spirit One.
NEW: Focal Spirit One Headphones Review.
The world's best portable headphones, defining "portable" as folding flat for travel and including a remote control on the cord.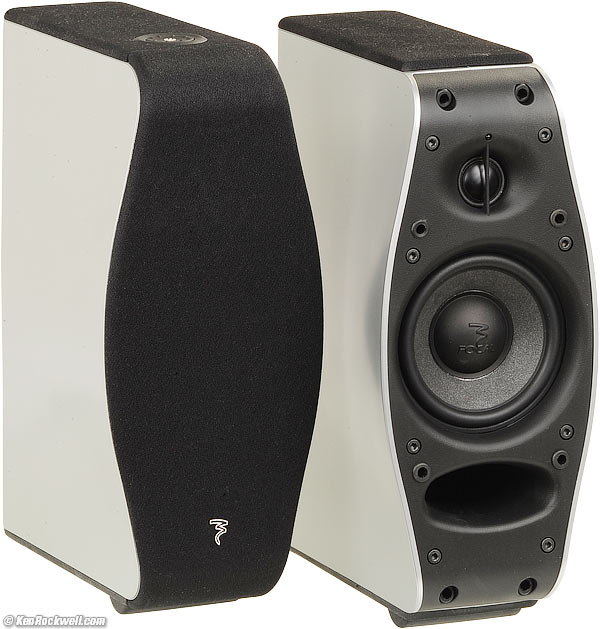 Focal XS Book speakers.
NEW: Focal XS Book Speakers Review.
Handy little A/V speakers.
18 October 2012, Thursday
Canon 1D X Improvement
Canon has a firmware update for the Canon 1D X.
It adds:
AF Point Illumination During AI Servo AF
The new firmware allows AF points in the EOS-1D X's viewfinder to be illuminated in red when the shutter button is pressed halfway during AI Servo AF, for easy viewing of the selected point.
To preserve exposure-metering accuracy, illumination is intermittent.
Three choices are available: Off, On (Normal) and On (Brighter).
Cross-Type AF Support at f/8
The EOS-1D X has up to 41 cross-type AF points depending on the lens in use.
Cross-type AF on the EOS-1D X has been limited to EF lenses and lens/extender combinations with a maximum aperture of f/5.6 or larger. The new firmware allows cross-type autofocusing with the center AF point even when the maximum aperture of a Canon EF lens/extender combination becomes as small as f/8.
If AF point expansion is selected with an f/8 maximum aperture lens/extender combination, the four AF points surrounding the center point will act as AF Assist points. This option effectively expands the size of the AF detection area to enhance autofocus performance with subjects that are small in the frame and difficult to track, such as small animals and birds in flight. AF points above and below the center will be sensitive to vertical contrast, while points to the left and right will be sensitive to horizontal contrast.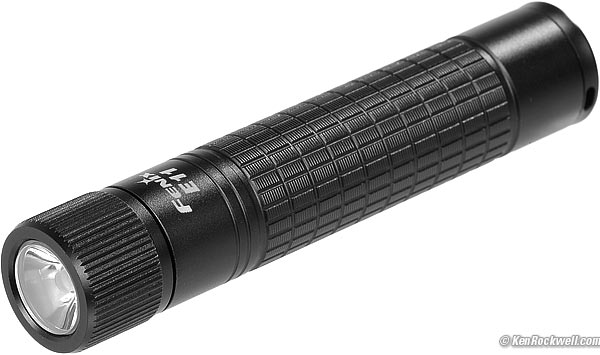 NEW: Fenix E11 (115 lm, 1-AA) Flashlight Review.
A swell little light that's as bright as my mammoth 5-D cell Maglite, and fits in my pocket.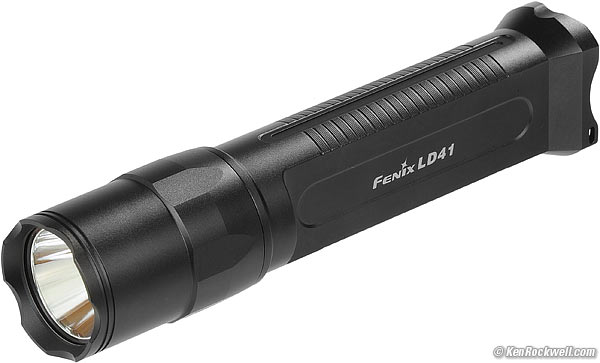 NEW: Fenix LD41 (520 lm, 4-AA) Flashlight Review.
A very bright light with a very narrow beam but too many features for me.
17 October 2012, Wednesday
Added: I just added several sample image files to my Canon 24-70/2.8 II review.
IN STOCK: Newest Sony NEX-5R with Sony 18-55mm: $748.
Sony's newest NEX. Smaller than a DSLR, but with no viewfinder so you have to peer at the back of the camera to try to see what you're doing. You can get a view that goes where the flash does, but it brings the whole package to $1,100, for which a real DSLR like the D7000 can wipe it. Even a D3100 can wipe it, for a lot less money.
I don't know that the smaller body, much slower handling and less superb cranked colors is worth the trade for the size, but many of you love these little things. I prefer a real DSLR; the little DSLRs aren't that much bigger, and handle so much better for me — but that's just me. Lenses are all the same size for these things.
Velvia 50 Forever: Lifetime Buy NOW
People are always writing me that Velvia's been discontinued, but I've never had a problem buying it.
In any case, if you depend on the superior color rendition of Velvia 50 for your work as I do; no problem. It keeps for at least 10 years in the freezer. I've shot 10-year-old frozen Velvia, and it's fine. In the freezer, it probably keeps for decades and decades with no problem; I just haven't shot anything older than 10 years yet.
Therefore, if you need Velvia, there's no time like the present to fill your freezer as I have. I did my lifetime buys some time ago. The only problem with hoarding is that guys like me buy a bunch, then stop. If we all do this, Fuji thinks we stopped shooting and stops production.
Fill your freezer now, because there is no replacement. You don't want to be paying $25 a roll over eBay next year if you don't. Even today, people are paying over $6 for used rolls of 120 that I put in my freezer at under $3 a roll last year.
Developing is no problem; so long as any E-6 film is made, there will be processing for it. The good labs continue to grow while the crap labs die. NCPS has just upgraded their three processors, one each for B&W, C-41 and E-6, and hired another employee as the serious film business continues to grow.
Umbrella Deal
Here's a nice silver 64" 16-rib umbrella for just $33.95, if you use coupon code S1030303 on checkout.
Why few Sigma and Tamron Reviews?
People are always asking me when I'm going to look at this or that from Sigma or from Tamron (Tokina is usually OK).
I rarely look at these junk brands because while their optics often are OK today, their mechanics are usually second-rate, and even if they work today, they are poor investments since 10 years from now it's not that likely that they'll work on the newest cameras.
The only reason people look down to Sigma and Tamron is to save money, not for quality. Personally, when money matters, I always buy used Nikon, Canon or LEICA lenses instead of new junk.
These junk brands are fading as most people make better decisions and buy online. Those brands were popular in the days of the old "retail" stores, because retail dealers pushed people into the junk brands because the stores made much higher profits. Junk brands give much higher profit margins to the store (much lower costs) than good brands. It was a perfect scam: the customer thought the salesman was being his buddy selling him a lens for much less money and often claimed to be made by the same company that makes lenses for Nikon or Canon (a common lie at retail), while in fact, dealers make more dollars on a junk brand sale because the profit margin is much larger on junk brands. A store might get a few percent profit on a name-brand lens (it's not much), and might make 20% on a junk brand. You do the math.
So, since you asked, I ignore Tamron and Sigma, and strongly suggest used Nikon, Canon and LEICA lenses instead if you want quality at low cost. For instance, the Nikon 35-70mm f/2.8D is a superb genuinely professional lens, and sells for only about $400 if you know How to Win at eBay. I'd much rather shoot with the pro Nikon lens than some Tamron or Sigma 24-70/2.8 blah blah blah.
The junk brands are all about additional dealer profit, not photography. The people pushing them know that people new to photography lack the experience to know what really matters in a lens, so they whip up something with nice specs like "24-70/2.8 VC III XR 123 XYZ" or whatever, but fail to deliver on the guts inside that you can't see.
When I have used junk brands, their mechanical quality does not impress, and most of the time when older junk brand lenses come into my ranch, they no longer work with current cameras. Old Nikon, LEICA and Canon lenses always work well when I get them.
16 October 2012, Tuesday
NEW: Photography: The World's Most Disrespected Art Form.
NEW: Zeiss Lenses Photo Contest.
Nikon 70-200/2.8 II Deal: Adorama will throw in a free circular polarizer, UV filter, Tiffen 812 filter and an Exposdisc, all for the same price as the lens alone!
The World's Sharpest Midrange Zoom — In Stock!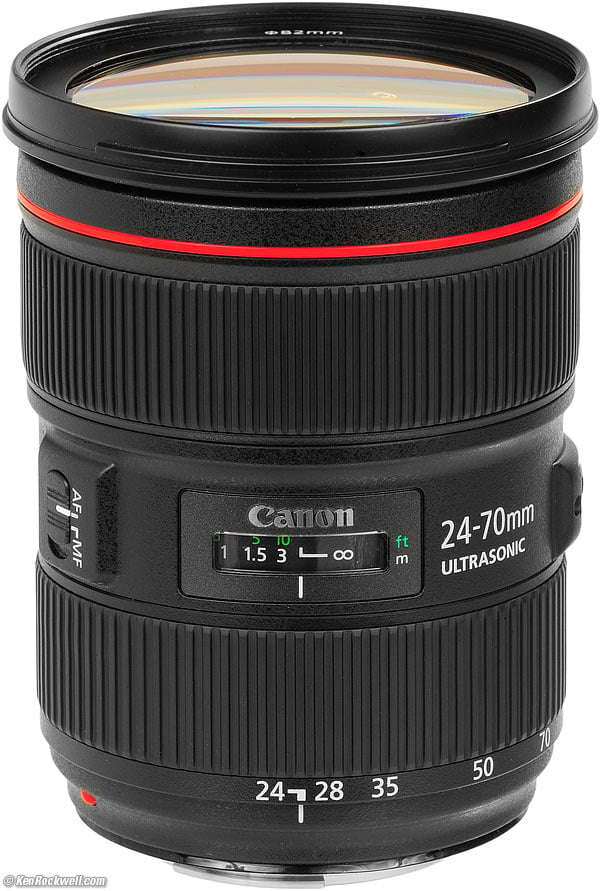 Canon 24-70mm f/2.8 L II.
Great news for everyone: The Canon 24-70mm f/2.8 L II is finally in stock. They won't last long, but they're there now if you'd like to get one pronto (I had to wait about six months for mine.)
Yes, it's insanely expensive, and it's insanely good. Cheapskate that I am, I actually bought one myself because it's just that good. Per my own tests, it's sharper than Nikon's 24-70/2.8G, and it's even sharper than fixed lenses like the 50/1.8, 50/1.4 and easily sharper than the 50/1.2 L. (The EF 50/1.2 L is designed to excel at f/1.2 compared to other lenses; but at normal apertures, the 50/1.8 is sharper and focuses faster and more consistently — sorry — and the new 24-70 II easily trounces them all.) If you're a consumer and want to see the extra sharpness for yourself, you won't see it in the center at f/8 where all lenses are pretty much the same. Look on the sides, and look at f/2.8, and this new lens wipes all the other lenses - even Nikon's 24-70/2.8G. Nikon's is the best zoom you can get for Nikon, but it's not even as sharp as Nikon's fixed 50mm lenses. (That's right: it doesn't matter how much resolution the camera, like a D800E, has, if its lens isn't up to it. To get the maximum out of the D800E, you need lenses from my Nikon Master Primes list.)
Remember: the smart money is always spent on lenses, not bodies. A $2,300 lens is inexpensive in the long view of things, while a $2,099 6D is expensive because you'll only get a few years use out of a body. Lenses are forever, and only go up in value. The previous lens sells used today for the same price or more than anyone ever paid for them new!
The Canon 24-70 II also has a nine-bladed diaphragm, and makes killer 18-pointed sunstars right where I need them. As a practical shooter, the sunstars I can see are much more important than lens sharpness that I only see under a microscope, but both ways, this new lens rules.
The new 24-70 II really caught me by surprise. If you're picky about lenses, this new Canon is incredible, and so agree my pro friends who've also gotten them. It's a new era!
13 October 2012, Saturday
Nikon D600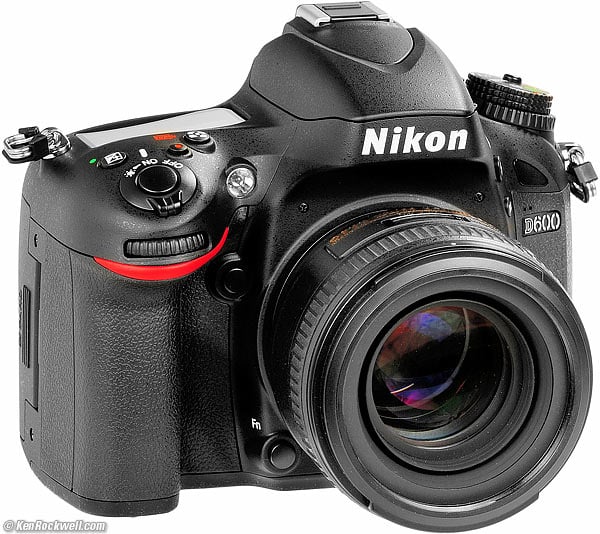 I got distracted while writing last week's "Where We Stand" ranking cameras, and never got to the main point I was trying to share.
I LOVE my Nikon D600. There is nothing it can't do well. Nikon missed nothing in the D600; it might be almost as perfect as the Nikon FE. I prefer it in every way, even resolution, to my old D800E. There are no ifs or buts; I greatly prefer the D600 for everything. Sure, I liked my D800 and D800E when I bought them back in the spring, but the D600 now fixes all my ergonomic complaints about the old D800 and D800E, so why waste anymore time on the old cameras? Things change too fast in digital to worry over last month's hot cameras, it's time to shut up, pack our cameras, and get out shooting fall colors and clouds.
I haven't even turned on my D800E since my D600 arrived. I find the D800E's idiotic user interface, completely lacking real AF system controls or any way to save and recall fixed camera-state settings, make my D800E just another dust-gatherer here, while my D600 is the best digital camera ever to come out of Nikon. It's the new D40: inexpensive, and in the case of the D600, with unbeaten technical performance, too.
Yes, the D800E has more pixels if you're a very experienced guy who also can work his way around a 4x5" with aplomb and don't mind all the obfuscated user controls, but for 99% of us including myself who does shoot 4x5," 36MP is irrelevant.
Remember ten years ago when all the amateurs printed everything on their Epsons at 13x19" and thought they were huge prints? Now that we all have iPads, amateurs don't print anymore at any size. The biggest anyone ever sees just about anyone's image is on an iPad, which even on the Retina display, has only three megapixels on screen. My 30" Apple Cinema Display only shows 4 megapixels. Did you know that? Show a 36MP image, and over 32MP are simply thrown away! Even with a 12 MP image from a D700, you'll probably never see all the resolution your camera actually has.
The only thing that matters in picture quality is color and brightness. Detail is trivial today, but few consumers know how to get perfect colors or stunningly simple and powerful composition to make their images look great, so they keep trying to buy more pixels instead. They just don't matter.
What is very relevant is that I use all my controls. Every shot usually has a zillion things set a little differently to get the look I demand. The controls I set for each shot matter and don't go away, even if I shot NEF.
Every time a new shot presents itself to me, I first have to "zero" the camera to my own suite of preferred settings as a rational artistic starting point. With dumb cameras like the D4 and D800 and D300, it can now take forever in five menus just trying to remember what to set where. Settings Banks are stupid, and don't lock, and don't recall everything either. If you actually shoot things that matter, those subjects don't wait around for anyone to find all the settings and to get them back to the right starting points.
Nikons have green reset buttons. In the old days ten years ago, these were helpful, since there were so few settings that it wasn't very difficult to reset from the green reset position to my own preferred settings, but with the complexity of today's cameras, green reset doesn't do anything for me anymore.
Only with cameras like Canon's "C" modes, the LEICA M9's four user recall settings or the Nikon D7000 or D600's U1 and U2 modes is there the ability to pick up a camera, and have it reset itself exactly as I need it.
I know what I'm doing. I shoot everything on auto, but all my white balances and shading and trim and color and contrast and saturation, and black point, and exposure and sync speeds and ISO floors and ceilings and slow shutter speeds and low-light flash sync speeds and TTL flash commander modes and AF settings and a hundred other things have all been pre-programmed to have the auto function come as close to nailing my shot on the first round every time. I'm on AUTO, but nowhere near default AUTO.
Boring photos wait. If you're shooting HDR panoramics on a tripod in the middle of the afternoon, nothing's moving that fast. You can take your time, and make plenty of detailed, high-resolution but completely uninspired images in your own time.
When I look the other way during a clearing storm late in the afternoon, and suddenly a golden ray of sunlight has burst forth from the heavens and highlighted the peak of a mountain against dark stormclouds, that doesn't last even the few seconds it takes to recall a few settings banks (which keep changing themselves anyway). For you folks who know outdoor photography, when the conditions that create award-winning photos happen, the light only lasts for a couple of seconds, not tens of seconds and certainly not a minute. When I see it, I have to be able to nail it instantly, as I do on my good cameras by selecting C1 or U1 as I turn to fire on the new scene.
For things that don't matter, sure, any camera will work. For my shots that do, I really love my Canons and my D600.
My D600 has no shortcomings. There is nothing I miss compared to my other Nikons, except the size and weight. Compared to my 5D Mark III, I really miss that no Nikon lets me control playback, zooming and scrolling all with one hand, but that's not today's sermon.
So, use what you want, but for those who ask about Nikon, get the D600 and forget the old D800. Yes, the D800 and D800E are old. It was announced eight months ago, and uses Nikon's same clumsy 2007 user interface that was crummy even back in 2007. I realize half you guys are computer whizzes so don't let me turn you off from the D800, but for me, it's the D600 all the way in Nikon.
06 October 2012, Saturday
Muench Workshops
I just spoke with Marc Muench about his upcoming workshops. Mark and his dad David are among the world's top outdoor photographers.
He was especially excited about his upcoming workshop in Africa, in Death Valley and in the Galapagos.
Nikon D600 Setup File
If anyone cares, here is my setup file for my D600. Get it while you can, since this is one of the few that doesn't have my name and address all over it.
This won't do anything online; you have to download it to a computer, copy it to a card, put the card in your D600, and hit:
MENU > Setup > Save/load settings > Load Settings > OK
and your D600 will be setup exactly as mine is today.
You may want to save and archive your own settings first.
I use U1 for nature and landscape (high resolution, high color) and U2 for photos of my family (low resolution and moderate color).
Another great thing about the D600 is it seems to be the first Nikon DSLR that always gets the exposure and auto white balance right. I rarely, if ever need to add any exposure compensation or tweak AWB; regardless of conditions. This is a major step forward; pixel count has been irrelevant for years.
05 October 2012, Friday
It Works!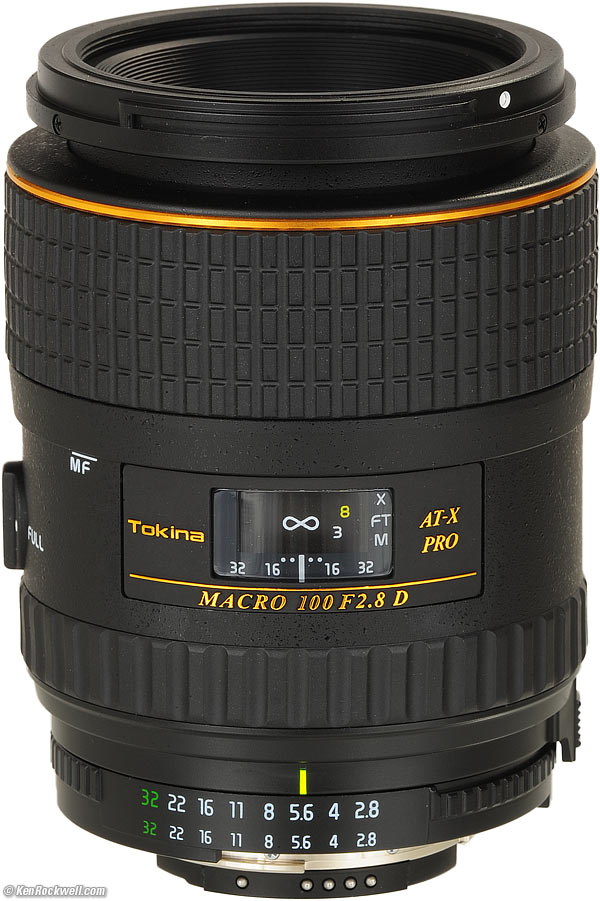 Tokina 100mm Macro.
I just tried my Tokina 100mm f/2.8 AF-D on my D800E and on my D600. It works great on each of them. This is one of the few lenses sharp enough to wring out every pixel on these high-resolution cameras.
Sometimes existing third-party lenses don't work on new cameras, and in this case, we're home free for under $500.
Where we stand
Loads of new cameras came out in the past weeks, and have changed the pecking order.
Let me clarify where everything stands today, since It takes a while to go back and rewrite all the old reviews. You need to understand how I use weasel words to carve-out smaller classes in which one camera or another can be "best."
The world's best camera, period, is the Mamiya 7 or Mamiya 6, depending on your preference for format and/or collapsing lenses. They are small, light, and are real medium-format cameras with all that that brings to the party.
The world's best 35mm camera is the LEICA M3. Nothing handles better or faster, and LEICA's lenses are better than any SLR lenses.
The LEICA M9 has been the world's best digital camera. Even if its color rendition is poor, people don't buy LEICAs to take pictures, so it doesn't matter. Its biggest drawback has been the lack of TTL viewing, and the newest LEICA M claims to add this in, so the LEICA M may be the new best. We'll see, and see if its color rendition has been upgraded to at least as good as a Canon point and shoot. We'll see.
The world's best SLR (note how the weasel word "SLR" now excludes all rangefinder LEICA) is the Nikon F6. What no one can figure out is how did Nikon get everything so right with the in-hand feel of the F6, and then lose it on other cameras introduced since?
The world's best DSLR is the Canon 5D Mark III, hands down. In this case, I'm weasel-wording by restricting the category to digital SLR. The F6 is better than the 5D Mark III, but if you're only considering digital, the 5D Mark III is the world's best DSLR. It has unbeaten image quality with none of Nikon's color-shift problems, along with far better ergonomics than anything from Nikon' DSLRs.
The Nikon D800E can be the top camera if you want the technically highest-resolution images in something reasonably portable that costs less than a new Mercedes, however people with the level or artistic vision and technical expertise to be able to take full advantage of the D800E usually aren't coming to me looking for camera suggestions. Heck, even I don't want 36MP; for me, 20-24MP is way more than enough and much easier to work with the volume I shoot, but if you're an NEF shooter, sure, go D800E.
Nikon's best DSLR is the newest Nikon D600. It's got the same guts as the older, heavier and more expensive D4 and D800, with far superior ergonomics at a much lower price. The D600 is a much better camera, and the fact that it costs much less makes it a no-brainer that the D600 is Nikon's best DSLR ever.
The world's best professional DSLR is the Canon 1D X. It's the world's fastest, and it's smart and very, very good.
Nikon's top professional DSLR is still the discontinued Nikon D3S, which is the same as the D3, with a sensor cleaner. The D4 has color shift problems just like the D800 and D600, and has no AF controls on the back of the camera, so my pals all bought the D3S on closeout when the D4 was announced.
The Nikon D3X was Nikon's top pro camera for nature and portrait and landscape work for years, but it was predatorily priced so no one bought it. Today we get the same 24MP FX images from the D600, so as of this week, the D3X can safely be forgotten. If you're rich and don't care about the price and the weight, the D3X is still a marvelous camera.
The Canon 6D won't exist for months. When it does come out, it may replace the 5D Mark III for most uses. I really do use both cards at the same time for backup, so for me the 6D, with only one card slot, won't cut it, but for most very serious amateurs, the 6D may become the ticket since as the world's lightest full-frame DSLR you'll be able to get farther with it to bring back more and better pictures.
04 October 2012, Thursday
Nikon 35-70mm f/2.8 AF-D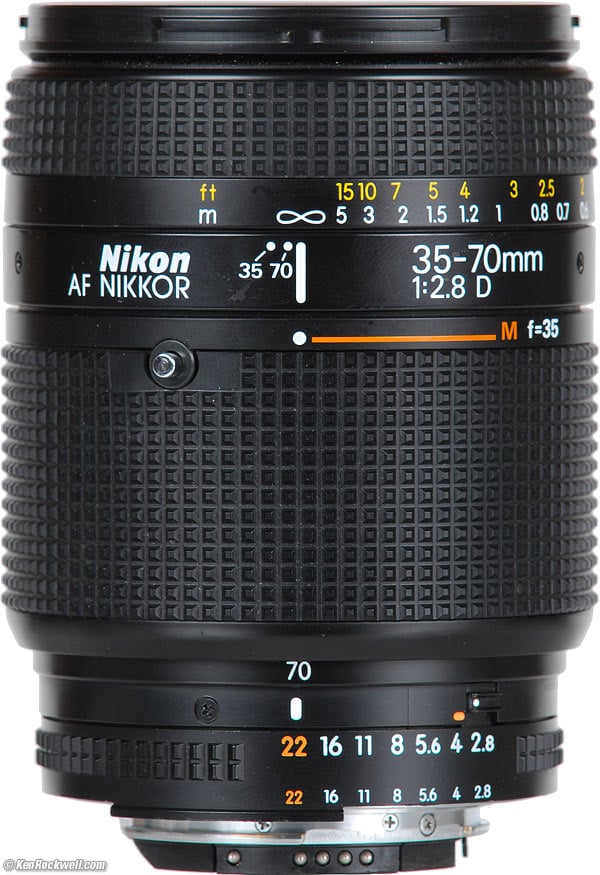 Nikon 35-70/2.8 AF-D.
Updated: I just updated my Nikon 35-70/2.8D Review for use with the Nikon D600, complete with more full-resolution samples.
It works GREAT, and so have the cheaper old zooms I've been using on my D600, like the 28-105D, 24-50mm AF-D and 35-70mm f/3.3-4.5 kit lens. Of course the 24-70/2.8G and 28-300 VR work great, too, but we expect that.
The D600 is so light I'm playing with lighter lens options. The 24-85 VR is nice, but I won't support off-shore manufacturing in Communist countries by buying one. With the D600, we can use any lens we want, and for only $400 you can get this professional 35-70/2.8.
Guess what: the Canon 24-70/2.8 L II smokes every midrange zoom ever made by anyone as far as sharpness goes. Nikon's 24-70 is the best made for Nikon, but this new Canon is even sharper. The title of "World's Sharpest Midrange Zoom" has now been crowned to Canon.
Nikon D600: No Conspiracies yet!
Every time a new digital camera comes out, it's only a day or two until the first weenie in his mom's garage manages to do something stupid and find one or two pixels out of place.
Oddly, the D600 is the first camera that's gone for over a week now, and no one's found anything. No black pixels, no shifted AF areas, no nothing except for the pictures being too green just like the D800 and D4.
I LOVE my D600!
03 October 2012, Wednesday
D600 Rules!
I've had my Nikon D600 a week. It's the best DSLR Nikon's ever made.
Its image quality is unbeaten (better than D4 and same as D800; resolution over 24MP is foolish in FX), and it's much more fun to carry, and has better ergonomics than any other Nikon DSLR, except its smaller DX brother, the ergonomically identical D7000.
My D600 is small, light, and has unsurpassed technical quality. There's nothing missing as far as I'm concerned, it's a complete winner.
Long live the D600!
The real question is how long will it take me to wise-up and dump my D800E for which I went through Hell and high water to get?
The D600 is swell even at ISO 12,800, and its built-in flash works wonders in any light: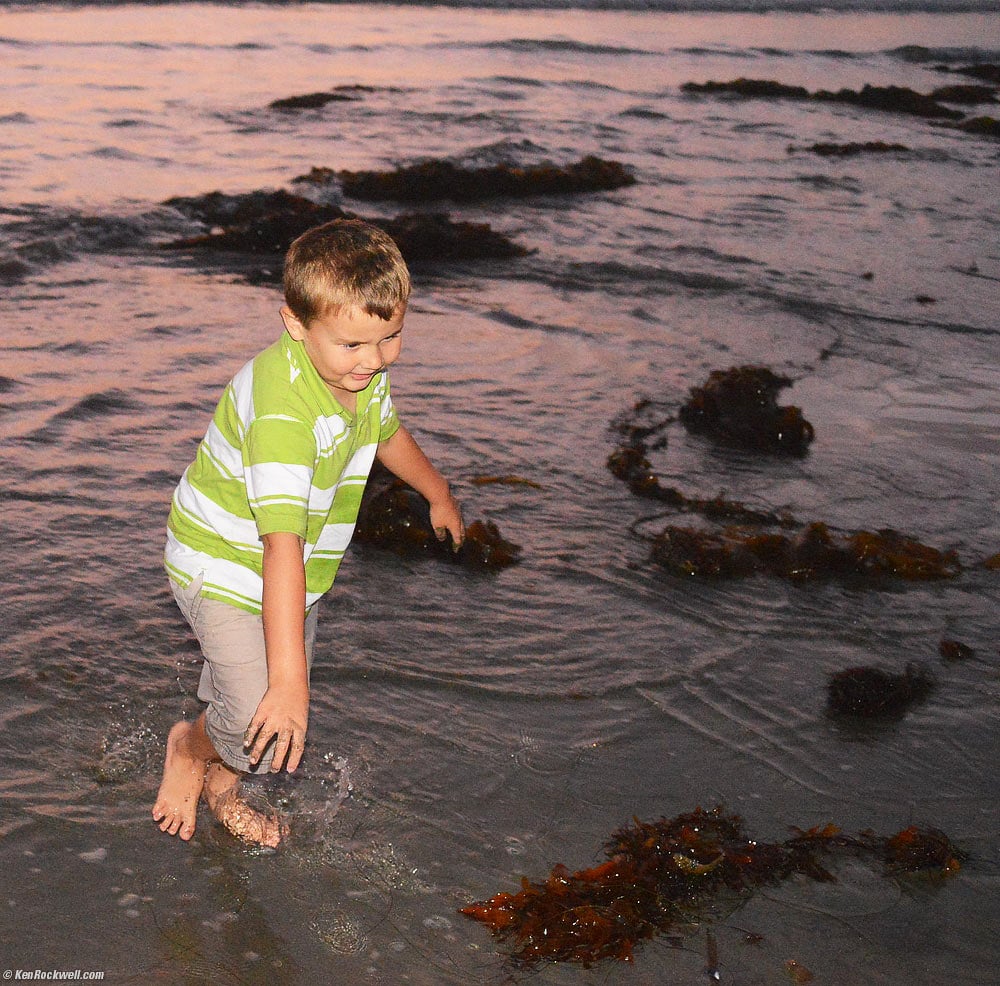 Ryan at the beach last night: ISO 12,800, 23 minutes after sunset (Nikon D600, built-in flash, Nikon 35-70mm f/3.3-4.5 AF at 38mm, Auto ISO 12,800, f/8 at 1/125, STANDARD Picture Control with +1 Saturation, 6 sharpening, HIGH HI ISO noise reduction, Auto White Balance with A4 M1 trim.) Camera-original © SMALL BASIC JPG, -1/3 stop exposure compensation.
I've been adding to my D600 review all week, and continue to add more every day.
California Radiation Levels
I just had another California Radiation Level Reading taken by my pal at UCSD, and nothing's changed back in San Diego.
02 October 2012, Tuesday
Ten Years of Road Trip!
Oh my gosh, it was exactly 10 years ago right now that I set of on one of the best things I ever did: I took a few weeks vacation all at once and drove my company car all over the American Southwest photographing.
See it live. These are the 10-year-old digital files shot on my D1H.
20mm AF or AI-s
A reader asks which is best for his new Nikon D600, the 20/2.8 AI-s or the 20/2.8 AF.
Simple: they have exactly the same optics.
For most people, get the AF version since it, duh, has autofocus, however for very careful work, the all-metal AI-s version is far, far better made and more precise if you don't mind focusing. The AF version is mostly plastic.
The good news is that the AF version also works on manual-focus cameras, and the manual version works on AF cameras, so either is a very good choice.
ScanCafe News and Deal
ScanCafe just extended their 21% discount deal for new customers through the end of the year.
Use code ROCKWELLUSA. Not valid in combination with any other offer, or with value kits, or gift cards, or gift boxes, or photo restoration. Expires December 31, 2012, and is valid only for new customers.
ScanCafe also has added a USA Express option for even faster photo scanning turn-around, and now also scans movie film and transfers video. See it all at their site.
LEICA Chronicle
I just got my copy of Erwin Puts' newest LEICA Chronicle, published a week or so ago.
It's very well printed in Europe, and is the first part of an upcoming series of LEICA volumes.
This book is the broadest coverage of LEICA history anywhere, covering from at least as far back as 1807 right up to last week's newly announced LEICA M and LEICA S, which I haven't even had the time to cover online — and Erwin Puts has already put this out in hard-cover, and shipped it direct from the Netherlands.
The lenses are also covered in this book, although there are more curves with them in some of the dedicated lens books, each has a performance report with it. Bodies are of course also covered, as well as all the serial numbers decoded.
If you're a LEICA aficionado, I'm sure you already have your own copy. If not, don't dawdle ordering, since these are self-published limited editions which usually sell out fast.
You also can order them direct, in both electronic and print formats.
Jack Brauer
I just saw Jack Brauer's gallery. Jack is a real photographer who's shot lots of 4x5," but last he updated his website, packs a Canon 5D Mk II when he travels light.
Mountain Shots?
A reader wrote from Italy who works every day in their scenic mountains to the north, and asked how to get shots beyond the same postcards and boring panoramics he keeps getting.
I suggested to look for amazing light, to shoot at night and at the ends of the day.
I also suggested not to look at the mountains themselves, but to look for and show the underlying big patterns of the shapes made by the highlights and shadows that fall across the mountains.
Deals
Sunpak PZ40X II Flash for Nikon 35mm and DSLRs: reg $179.95 special $69.95.
Nikon V1 with Nikkor 10-30mm VR: reg $896.95, $379 with Coupon Code S1111111 on checkout.

Sony Alpha NEX-5N with Sony 18-55mm OSS Lens: reg $679, special $419.
01 October 1982: Introduction of the CD
Anniversary: 30 Years of Perfect Sound Forever.
NEW: Why Compact Discs Sound Great.
NEW: Interesting CDs.
What Was New in:
Help me help you
I support my growing family through this website, as crazy as it might seem.
If you find this as helpful as a book you might have had to buy or a workshop you may have had to take, feel free to help me continue helping everyone.
If you've gotten your gear through one of my links or helped otherwise, you're family. It's great people like you who allow me to keep adding to this site full-time. Thanks!
If you haven't helped yet, please do, and consider helping me with a gift of $5.00.
The biggest help is when you use any of these links when you get anything, regardless of the country in which you live. It costs you nothing, and is this site's, and thus my family's, biggest source of support. eBay is always a gamble, but all the other places always have the best prices and service, which is why I've used them since before this website existed. I recommend them all personally.
Thanks for reading!
Ken
Home Donate New Search Gallery How-To Books Links Workshops About Contact