Home Donate Search Gallery Reviews How-To Books Links Workshops About Contact

April 2013's Updates Hot Deals
RSS: daily (continuous live updates)
all © 2012-2013 KenRockwell.com. All rights reserved.

Nikon: D800 D600 Canon: 5D Mk III 6D Fuji LEICA All random Ryan Katie
Recommended Cameras How to Take Better Pictures
Twitter Facebook Video Tutorials
30 April 2013, Tuesday
I just added some more sample images to my CONTAX T review. This is but one: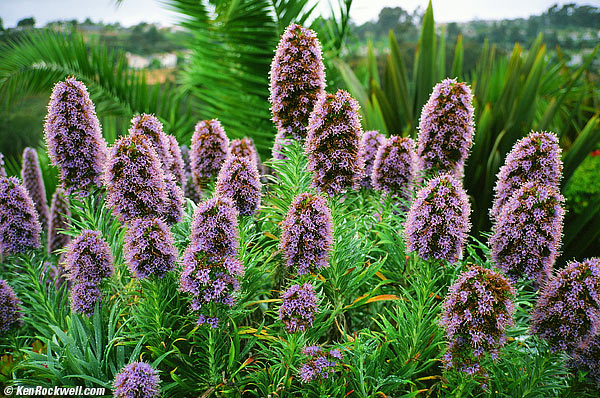 Dildoplant, 15 April 2013. (CONTAX T, Fuji Velvia 50, f/4 at 1/125, 1 meter focus, 9:37 AM, NCPS process and scan, Athentech Perfectly Clear plug-in.) © 7 MB JPG full-resolution scan.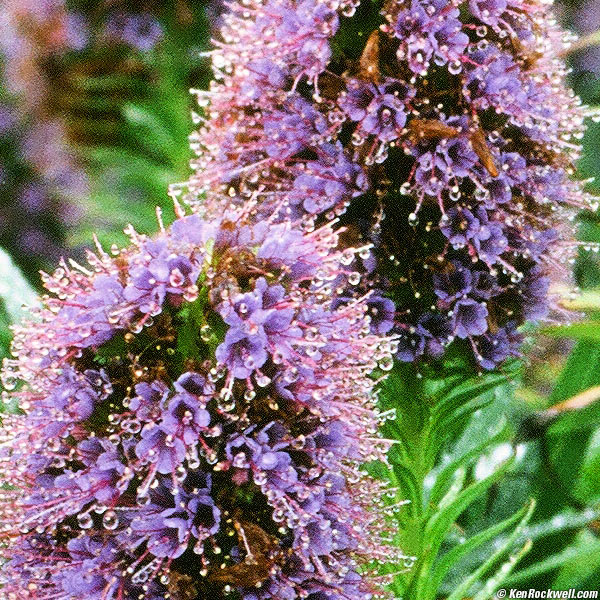 Crop from above scan. See the dewdrops! If this is 6" on your screen, the complete image would be 50 x 35" (1.5 x 1 meters) printed at this same magnification!
29 April 2013, Monday
NEW: Fuji XF 55-200mm IS/VR Lens.
THis is for the X-series Fuji cameras. Personally, I think the lens on my XFuji 100S is the best thing ever, but for you who like to carry too much, here's another lens for you.
Tinkerer vs. Pro
One huge thing that separates the pros from the hobbyists is that pros need to produce, while hobbyists enjoy piddling. Pros have no time or joy in piddling; they need to produce better and faster than the next guy in an extremely competitive market — or find a new job.
To a pro, anything that gets between them and creating and selling a picture must be eliminated. If there's any time left after producing photos, that time is spent looking for the next photo or the next job — or trying to get paid for the last one. Real pros avoid any time spent on a computer, be it for email, software tweaks or new firmware foolishness, like Herpes. To pros, the computer is like a toilet: get on and get off! It has nothing to do with photography (except as a subject).
Hobbyists on the other hand enjoy playing with the tools. For many, that means many minutes a day (or more) wasted on a computer just trying to get back to where we were, with software and firmware updates, color tweaks and Heaven knows what else.
This came to a head when a reader was all stammering over himself with excitement over a Sigma USB gizmo that lets one connect one's Sigma Lenses to a computer to screw with their programming.
Sigma lenses are for hobbyists, so their target market might like this, but to me, it's all FUD. When I heard about this foolishness, I had to go potty with laughter.
The Sigma gizmo claims it will let you tweak AF fine-tuning. You've got to be kidding; do you think I have the time to plug my lenses into a computer? No way, José.
Something we learn over time is that when a product offers more adjustments, it's because it needs them. Remember when TVs had Horizontal and Vertical Hold controls, as well as Fine Tuning controls? You had to adjust the tuning to get a clear picture, and the Horizontal and Vertical controls to keep the picture from tearing.
Today, no one expects these controls on a TV, and back in the day, many people looked at newer TVs that lacked these controls as if something was wrong with them. In fact, newer sets fine-tune themselves, and new sync separator circuits lock-on to the pictures so we haven't seen the picture tear in years. Hallelujah!
Likewise, needing to tweak a lens manually to get it to focus properly is bad news.
With Nikon and Canon, they do all sorts of secret-sauce tweaks inside their firmware to ensure their lenses and cameras work flawlessly together. Because it's secret, no one has any idea how many data points they use to get it all to work as it should; we don't care; it just works as it should.
That's why I choke at the Sigma USB thing. Goodness gracious, why should I waste productive time tweaking a Sigma lens, when I could have just bought a real Nikon or Canon lens in the first place, which would just work perfectly?
Sigma claims the ability to tweak many points of each lens as a feature, while I see having to worry about it as a product defect. Worse, no matter how you adjust a lens, if you really care about such nonsense, it needs to be adjusted differently on every sample of camera. Simply adjusting the lens won't apply to more than one sample camera.
Anyway, I never use AF Fine Tuning controls. My Nikons and Canons all have this figured out, especially with the newest lenses, and just work.
26 April 2013, Friday
WHOA: Refurbished Nikon D600 for $1,599!
Would I buy refurbished? You bet! I only bought my D600 new because I had to — there were no refurbs available when it came out. Today, duh, I'd much rather pay $1,599 for a refurb than $2,000 for a new one.
DEAL: Refurbished Nikon D7000 for $719.
The D7100 is my favorite Nikon DSLR right now, doing the same thing for all practical purposes as my FX cameras, but smaller, lighter and less expensive — and the D7000 is 99% the same as the D7100 anyway.
More deals:
Adorama's raised the rewards from 2% to 6% for many items from Canon, Canon Lenses, on Nikon and on Sony through May.
Get a free Gift Card when you purchase any of the point and shoots at this link.
Canon EF 50mm f/1.4 USM: $310 after you and it to your cart + 6% rewards makes it effectively $292 after you spend your rewards.
Canon 6D with 24-105mm f/4L IS USM and a printer: Reg. $3, 673.94, Add to cart Price $2,999.00 +$300 instant rebate +3% Adorama Rewards. (effective price if you spend your rewards $2,609.00.)
Canon 6D with 24-105mm f/4L IS USM, 16 GB Lexar card and bag and Canon monopod and video package $2,486.84!
This bundle includes the camera and lens, and FREE (you must select the Buy Together and Save option and scroll to the correct package and add it to the cart):
1.Lexar 16GB Professional 400x SDHC UHS-I Memory Card for Cameras
2.Canon 100-EG Custom Gadget Bag
3.Canon Monopod 500, 5 Section Leg with Mini Ball Head, Height: 21.9" to 64.5" - Supports up to 8.5 lbs.
4.Flashpoint Zoom Lever Gear Ring
5.Flashpoint Swivi HD DSLR LCD Universal Foldable Viewfinder Version II with 3.0X Magnification
6.Flashpoint VL-35, Camera & Video 35 LED Light with Bracket
Total Package $2486.84 + 6% Adorama Rewards. Effective price after you use the rewards: $2,342.84!
Canon 5D Mark III with 24-105 L IS. Reg. $4,099, add-to-cart and it's $3,799, and if you spend the 6% rewards, effective price is $3,572.00.
Canon T4i and 50mm f/1.8 lens and software: Reg. $929, Special $657! (select the Buy Together and Save option and scroll to the correct package and add it to the cart).
RIP George Jones.
25 April 2013, Thursday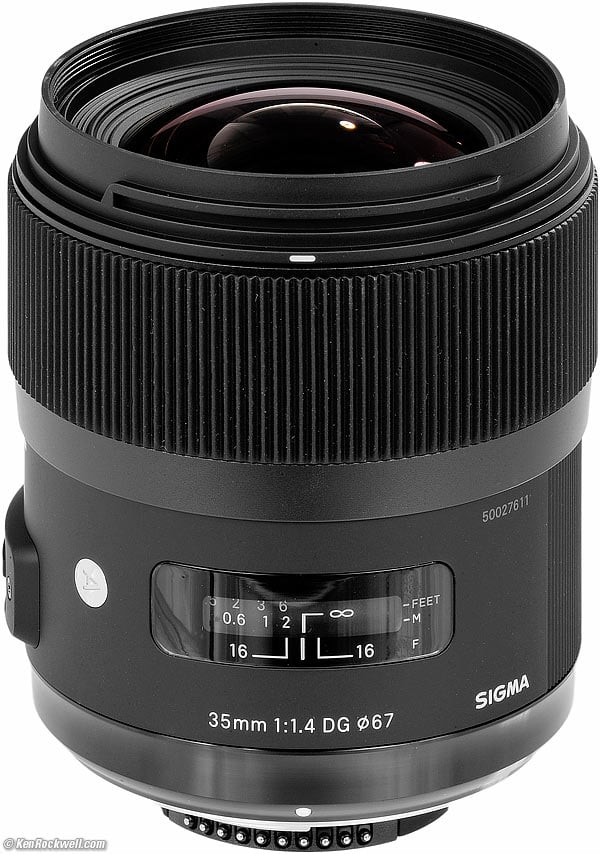 Sigma 35mm f/1.4 DG HSM.
NEW: Sigma 35mm f/1.4 Review.
Optically fantastic, but in an iffy package.
24 April 2013, Wednesday
Fuji X100S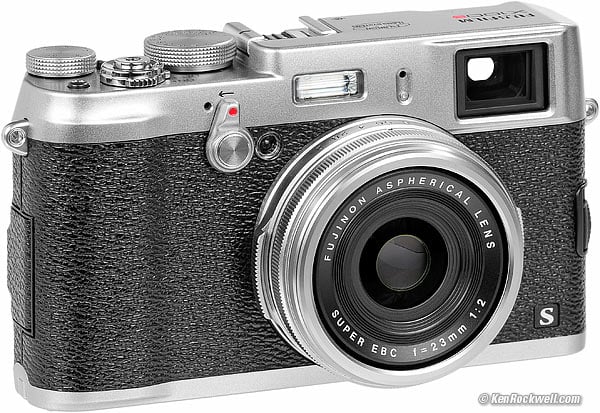 Fujifilm X100S.
I've got mine, and it's fantastic.
I've added a bunch of sample image files throughout my growing Fuji X100S review.
The X100S is soooo much better than overpriced clown toys like the Sony RX1. The X100S is a real camera with fantastic ergonomics and astonishing real-world image quality. It tames light like no other digital or real camera.
When I get the time after adding all the details to my review, I will most likely have to crown the X100S as the World's Best Digital Camera, earning the crown away from the LEICA M9.
Nikon D7100 Sample Images
I added a few Nikon D7100 full-resolution sample image files (scroll down to the new ones) to my Nikon D7100 review.
Nikon 105mm f/2.8 AI-s Micro-NIKKOR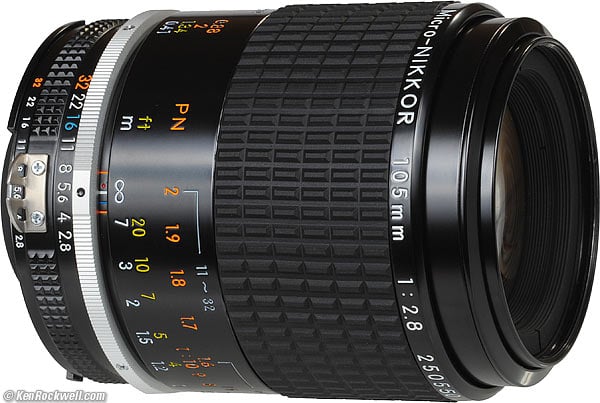 Nikon Micro-NIKKOR 105mm f/2.8 AI-s.
I just found the Nikon 105mm f/2.8 AI-s Micro-NIKKOR for sale at Adorama, Brand-new.
Although few people know about them, Nikon still makes AI-s manual-foicus lenses like this for professional use, and this all-metal professional 105mm AI-s sels for $200 less than the made-in-China VR version. Hmm.
23 April 2013, Tuesday
What a Whiner!
Don't you just hate people who complain about everything?
I just looked at my past two whines. Geeze, I'm never happy: first I whine about unqualified tech hobbyists handing out free information, and then I whine about advertising-sponsored big organizations handing out information, too. Am I ever happy?
Any idiot can complain, and no one wants to hear about it. By comparison, it takes a real man to hand out compliments instead.
Maybe what I'm really whining about is how hard it is for me to find useful information when I'm trying to research my own purchases. It's not helpful to me when all I find onlline are my own reviews! That's my real whine: the fact that not everyone else is both qualified, and then married as well as I did so they could sit around all day and share what they know instead of needing to work a real job.
Today, I just buy based on intuition, and in the unlikely event I hate it, I send it back. I've been doing this for decades.
22 April 2013, Monday
SlickPic
On our Central Coast trip last weekend I also got to see my friend who founded SlickPic.
SlickPic is a photo sharing and image hosting site. He tells me people are leaving Photobucket in droves to come to SlickPic because people got tired of Photobucket's new format. When I checked out SlickPic, I like it because galleries play well on my iPad and iPhone. It bugs me when other sites make it difficult to navigate around photos. As you may guess, I look at a lot of people's photos, and the faster and more easily I can see them, the more likely they are to be seen by anyone.
I haven't used sites like this for my photos since I use this site here (duh), but if you're like most people, check out SlickPic. I wouldn't use Facebook for sharing pictures since you have no control.
NEW: Why Mass Media Stinks.
20 April 2013, Saturday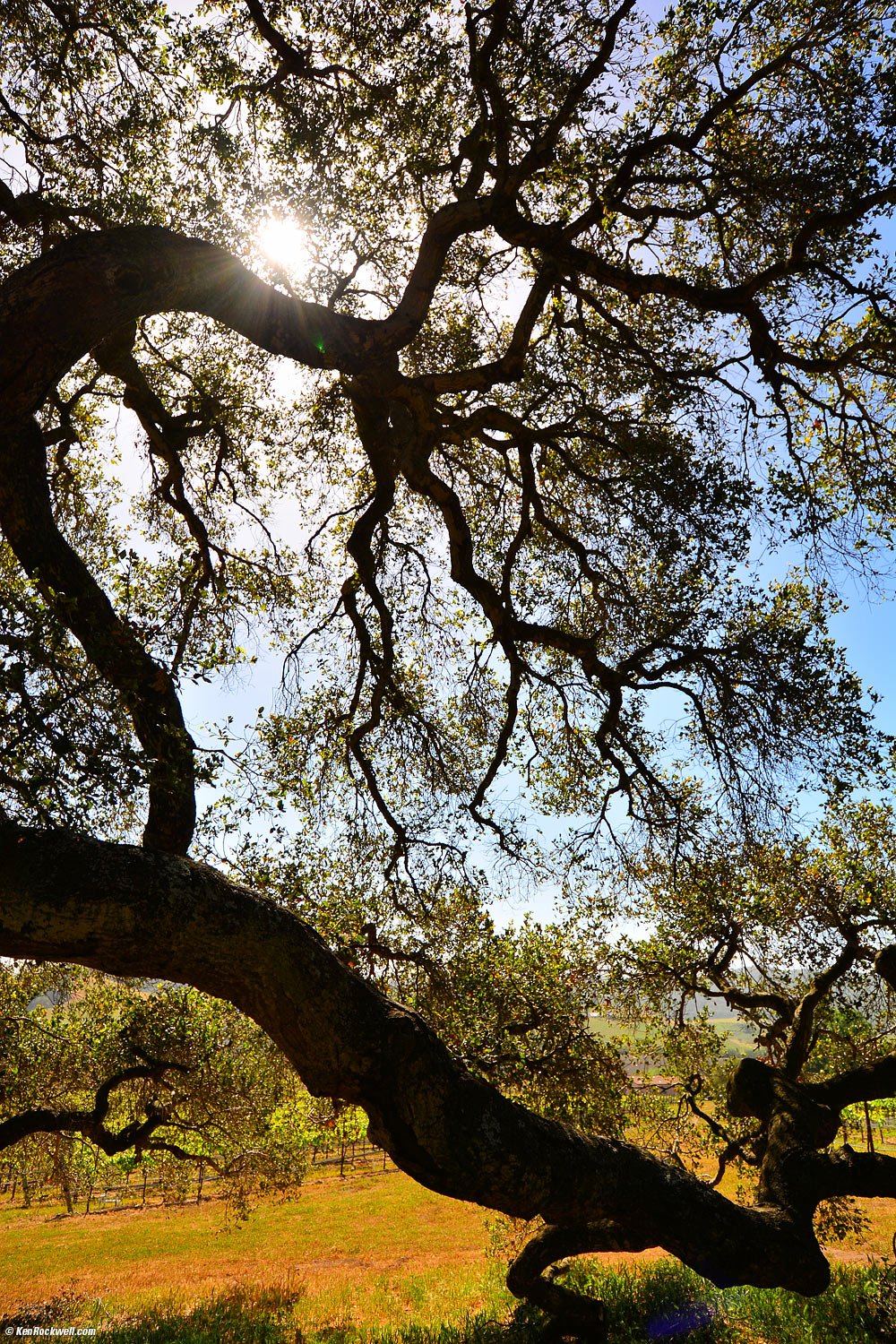 NEW: Central Coast Gallery.
What I did for a couple of days last week.
What's interesting is that in the hands of an artist, regardless of the tools, the results look the same. We force our work to conform to what we see in our imaginations, and lo and behold, all the shots in this new gallery pretty much look the same technically, regardless of if I shot them on my brand-new Nikon D7100, last year's iPhone 5, or my 1977 Nikon EL2.
Thus springs another observation: technology has developed so far that there are more computer hobbyists than ever handing out free camera information than ever. Any idiot can spew out tons of seemingly meaningful information (I'm proof of that), but watch out: always check out a man's gallery before taking anything to heart. Most of the people giving away free information are giving away information worth even less; look at their photos first to see if they have any credibility. Too many computer people whip up tech websites, and today anyone can use all sorts of free tools to go "online." Anyone can call themselves a pro photographer; photography is not a profession. The only way to gauge anyone is to see his body of work.
Not that my stuff is great, but at least I have a body of work. I have to giggle when people send me links to other far fancier-looking websites published by people with no work to show (they have no gallery section, or if they do, the photos are boring), and then some people take that information seriously!
Don't worry about if you need a new camera — you don't. The pictures won't look any better on a new D7100 or D800 than they will with an old used D40 — or my 35-year-old Nikon EL2.
Your camera never matters, unless you're merely a technician.
19 April 2013, Friday
NEW: Nikon EL2 Review.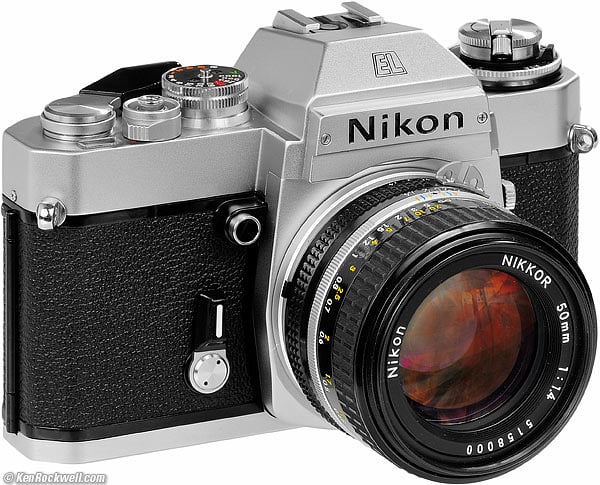 Nikon EL2 with Nikon 50mm f/1.4 AI-s.
A real camera for a change, hooray!
17 April 2013, Wednesday
NEW: Ricoh GR.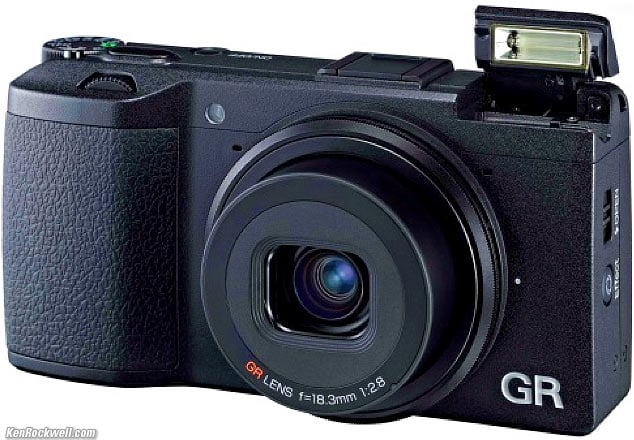 Ricoh GR.
No viewfinder of any kind (just hold it in front of your face like an iPhone to compose), no aperture or shutter-speed dials. It's like a car without a steering wheel; technical progress to some people means that critical functions be delegated to a menu or button and dial system.
Good luck!
The Fuji X100s is so much better; mine just arrived.
10 April 2013, Wednesday
NEW: Nikon D600, D7100 and D7000 Image-Quality Comparison.
Complete with original image files!
09 April 2013, Tuesday
Nikon D600 Firmware C:1.01
Nikon just released new firmware for the D600.
It's only a couple of minor fixes, but my D600 colors now look just fine compared to my D7000 and D7100, whoopee!
Is there anything else other than the D7100?
Nope. I've been on vacation the past two weeks shooting the heck out of my new D7100, and I still haven't found anything bad about it. It's another Nikon winner, with none of the color problems the new FX cameras give me.
D7100 battery life is also fantastic, 1,200 to 2,400 shots per charge depending on how much you shoot at each burst. I've even been using the D7100's on-camera flash a good deal for family shots, and I still get great battery life.
Bravo!
NEW: Woo Audio WA7 Fireflies Review.
Woo Audio WA7 Headphone Amplifier.
As I mentioned back in January, this is a fantastic headphone amplifier. I wish everything worked this well today!
04 April 2013, Thursday
NEW: Nikon D7100 High ISO Sample Image Files.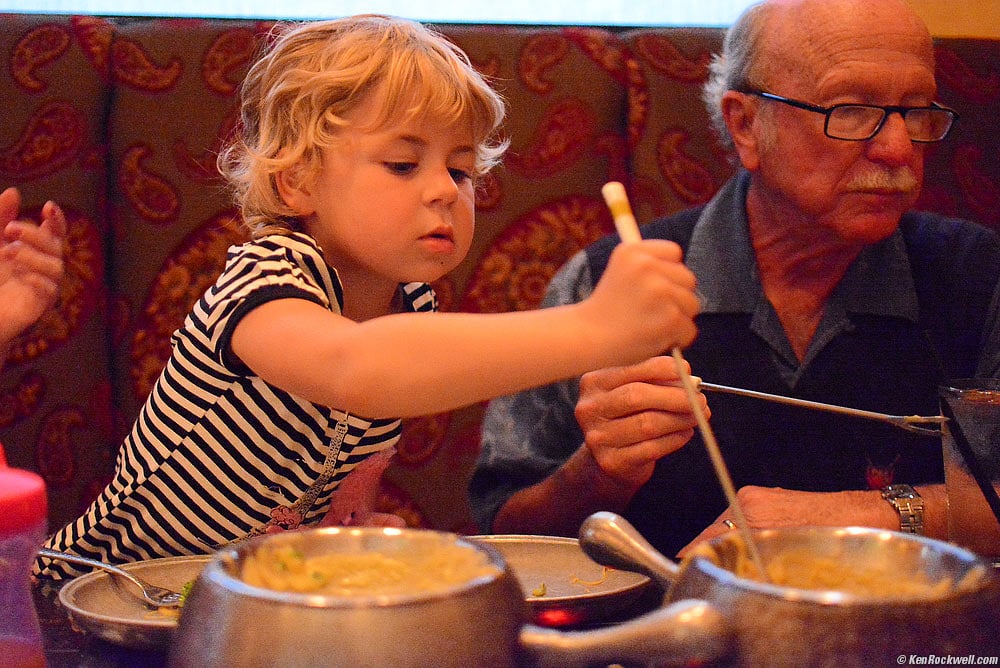 ISO 12,800. Nikon D7100, Nikon 35mm f/1.8 DX, AUTO ISO 12,800, f/1.8 at 1/60, AUTO white balance with A2 adjustment, STANDARD Picture Control with +1 Saturation and 7 Sharpening, Athentech Perfectly Clear plug-in.) Bigger or © Camera-Original BASIC SMALL JPG.
Oh my golly, the D7100 is fantastic at high ISOs, too.
So why do I even keep my D600 and D800E? Simple: to shoot old manual-focus lenses to their optimum. The only thing FX buys most people is simply a bigger viewfinder, not image quality 99% of the time. 99% of the time, nonsense like sensor noise and pixel-to-pixel sharpness are completely irrelevant — except to nerds who take crappy pictures anyway — and even if those tweaks are important, the images I'm getting from my D7100 in the real world seem as good as from my FX Nikons, except that the colors are better then from last year's FX cameras. THerefore, the D7100 makes better pictures than last years FX cameras. Color is everything!
The biggest difference you'll see in the dark between FX and DX is depth-of field: FX will have much shallower depth of field at the same aperture with a 50mm lens, versus the equivalent 35mm lens on DX. With more field, the DX photos in low light will be sharper at the same aperture at the same angle of view. Oh yes: the D7100's AF areas cover much of the finder, while they're all crammed in the middle on my FX cameras.
If you're a pixel splitter you might prefer last year's FX cameras (I've been having too much fun shooting my D7100 to waste time in the lab looking at pixels), but for actual photos, the D7100 is better because the pictures look better because the colors look better.
My D7100 also autofocuses better than my D600 in the dark. While my D600 sometimes stalls trying to focus in very dark conditions, my D7100 always can focus even in the darkest light so far. Whoo hoo!
Workshops
Next week I'm on our Central California — with a private chef photo tour. I hope to see you there!
For you even more adventurous folks, Marc Muench is running a trip to Greenland and Iceland this summer, as well as another to Tanzania, Africa, next year.
Marc's work has been everywhere, including National Geographic, and he's but one of the leaders of his workshops.
01 April 2013, Monday
NEW: Nikon D7100 Sample Image Files.
More family-photo samples under Nikon D7100 Performance.
The D7100 is a complete winner in every way. Its color rendition is great, without the flaws I see in my D4, D800, D800E and D600; and my D7100's LCD looks great, too.
Whoo hoo!
I'm having too much fun shooting it now that I just got back from a week in San Francisco with it, so you may have to wait a while for the specifics of the review. In a nutshell, it's everything great the D7000 is, plus a little bit more. It's a great camera!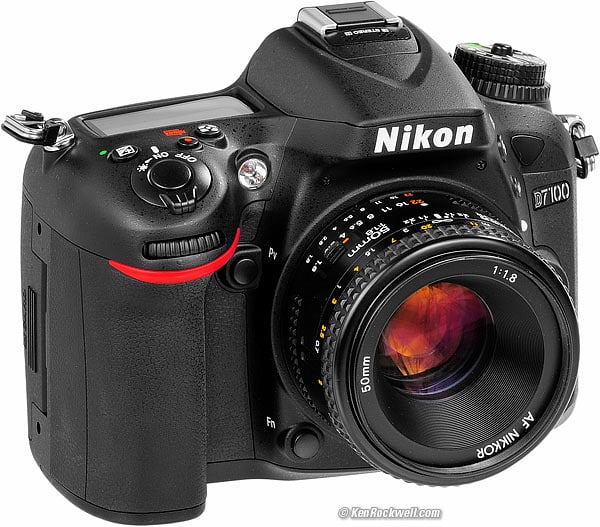 Nikon D7100 and 50mm f/1.8 AF.
Nikon Coolpix A?
My Nikon Coolpix A is on order, and you folks ask, but who cares?
The Coolpix A has no optical finder, no electronic finder, no aperture dial and no shutter dial, so seriously, compared to the superb Fuji X100 and Fuji X100S, why bother? Worse, the Coolpix' lens has to motor in and out every time you turn it off or on, which wastes time, and you know how reliable those mechanisms are. (The Fuji lens is always ready to shoot, no motors needed.)
Maybe when I get mine I'll see it differently, but even my kid's toy cameras have both rear LCDs as well as the optical finder lacking in the Coolpix A, so with the Fuji X100s at about the same price for a real camera instead of a throw-away toy, why bother?
We'll see.
What Was New in:
Help me help you
I support my growing family through this website, as crazy as it might seem.
If you find this as helpful as a book you might have had to buy or a workshop you may have had to take, feel free to help me continue helping everyone.
If you've gotten your gear through one of my links or helped otherwise, you're family. It's great people like you who allow me to keep adding to this site full-time. Thanks!
If you haven't helped yet, please do, and consider helping me with a gift of $5.00.
The biggest help is when you use any of these links when you get anything, regardless of the country in which you live. It costs you nothing, and is this site's, and thus my family's, biggest source of support. eBay is always a gamble, but all the other places always have the best prices and service, which is why I've used them since before this website existed. I recommend them all personally.
Thanks for reading!
Ken
Home Donate New Search Gallery How-To Books Links Workshops About Contact