Home Donate Search Gallery Reviews How-To Books Links Workshops About Contact

June 2013's News Hot Deals
RSS: daily (continuous live updates)
all © 2012-2013 KenRockwell.com. All rights reserved.

Nikon: D800 D600 D7100 Canon: 5D Mk III 6D Fuji LEICA All Ryan Katie
Recommended Cameras How to Take Better Pictures random
Twitter Facebook Video Tutorials
30 June 2013, Sunday
30-second book reviews
Here are some of the better books I've seen recently. If you want to learn, the Internet is not the place. I learned everything I know from my Dad, from reading books, and from trying it all out myself.
Here are the books that stand out as being much more than the usual books full of computer screen shots.
The New Art of Photographing Nature by Art Wolfe
Another basic photo book - but written and illustrated by a modern master. It doesn't waste too much time on equipment and technique, and spends plenty of time on what really matters: isolating the subject, composition and image design, perspective, color and light.
Of course it's loaded with pretty pictures, some of which are only digital, while the genuine photographs haven't been racially sanitized as too often happens, and they are credited in their full glory with what kind of film was used.
Night and Low-Light Photography by Lee Frost
Pretty good; it goes through all the things I do and use for my night photography. The photos in the book are quite good, showing us that Lee Frost knows what he's doing.
Film Is Not Dead by Canlas & Kalp
While the title and "A Digital Photographer's Guide to Shooting Film" subtitle might be considered offensive to photographers, this is the only book I've seen that attempts to explain real photography to those who haven't done it yet.
It's a complete guide to cameras, film, shooting, labs and lab work, and more; all the things you folks have been asking me to write.
Adventure Sports Photography by Tom Bol
This is a much better than average book. Instead of being another boring book full of cameras and settings, equipment suggestions and screen shots from Photoshop, it goes way beyond that easy garbage and covers how to pack for a trip and survive the elements, how to carry your gear, how to get power while out in the woods, getting through customs, liability and releases, checklists, loads about composition and lighting, tons more about more lighting, keeping your gear dry shooting in the water, and much more for people who want to bring back killer outdoor action shots.
This is a gear book with lots of pictures, and even more pictures of lenses. It's a big, pretty book.
It's loaded with a lot of facts, but not that much wisdom. It's more a summary of common knowledge you can get from the internet, but in a much nicer package, and all in one place.
Maybe I'm too formal; when it comes to lens books, I'm more a fan of the ones written for optical designers like Barry Johnson's Lens Design Fundamentals and the classics by Arthur Cox and Rudolph Kingslake. This NK Guy book reads more like overhearing a casual conversation; I personally prefer more complex engineering books when it comes to optics - but for most of you, this NK Guy book might just be the ticket.
Mastering the Fuji X100 by Michael Diechtierow
This is a basic nuts and bolts book on how to shoot the Fuji X100. It's the best I've seen for this camera.
Mastering the Fuji X-Pro1 by Rico Pfirstinger
This is a basic nuts and bolts book on how to shoot the Fuji X-Pro1. It's the best I've seen for this camera.
Mastering the Fuji X-E1 and X-Pro1 by Pfirstinger
This is seems to be the same as the above, with the X-E1 added, too.
Photography in Worship by Mike Overlin
Ignore the title.
This is a book for non-photographers who want to take great pictures. It's all about getting normal people up to speed in the art of photography by reading one book.
This is the book to get for family and friends who come to you trying to learn all you know about how to take great pictures.
This book is all about leading normal people to take great pictures, and how to avoid spending too much on the wrong camera.
Extraordinary Everyday Photography by Tharp and Manwaring
Just like my favorite Creative Nature & Outdoor Photography by Brenda Tharp, this book shows how to make great pictures anywhere, anytime.
29 June 2013, Saturday
NEW: Nikon 80-400mm AF-S Review.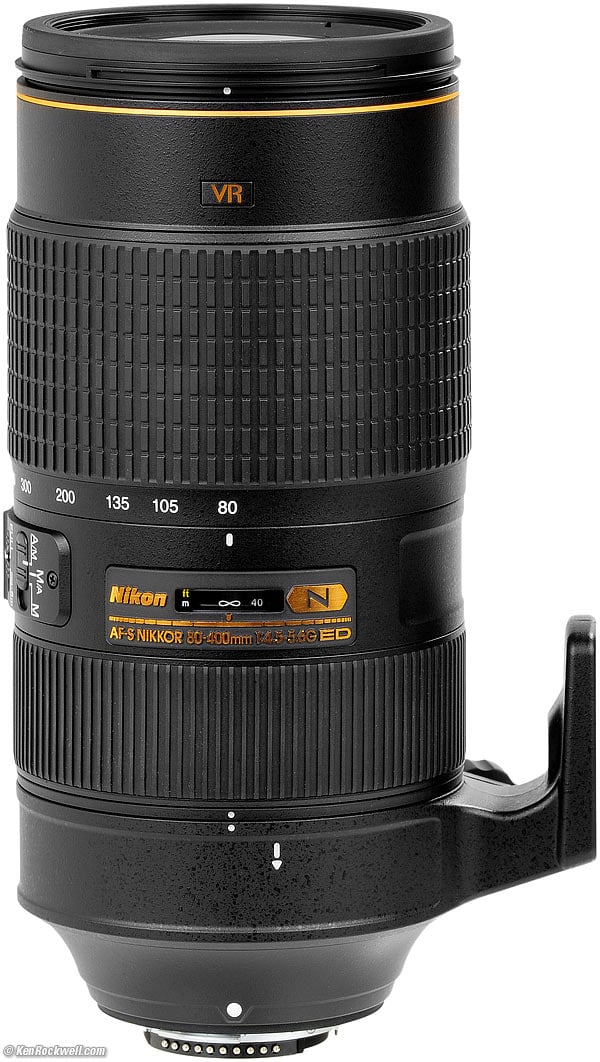 Nikon 80-400mm VR G AF-S.
28 June 2013, Friday
NEW: How to Shoot Macro.
NEW: Best Macro Lenses.
This is what I've been working on the past week. Whew!
My Nikon 80-400 AF-S arrived, and as expected for $2,800, its optics are nearly flawless. I won't mention that the older Nikon 80-400mm AF-D does the same thing for less money in a smaller and lighter package, and even can make closer-cropped images, and sells used for only about $800. Nope, my lips are sealed — but the new 80-400 AF-S focuses a zillion times faster and is sharper for pixel counters with D800Es.
Best film speed for Tech Pan
A reader asks how to determine this, as if I had a number for him. For real B&W, you don't read the numbers off the box. Ideally you test yourself, using the Zone System.
You'll need a densitometer, but not to worry; every decent lab has one and will make these readings for you if you ask nicely.
First you need to set development so that contrast index is about 0.71, then test for speed.
Once you have your development time calculated (or if you use whatever the lab uses for you), shoot a gray card at several ISOs. The correct ISO for you is the ISO that gives a density of 0.75 darker than base+fog when shooting that gray card.
If this is beyond you, just shoot with a yellow filter and set an ISO of half the rated ISO, or an orange filter outdoors and an ISO of one-quarter the rated value.
Shoot your tests through whatever filters you want to use. This way your system is completely calibrated as a system.
27 June 2013, Thursday
NEW: Sony HVL-F43M Flash.
NEW: Sony RX100M.
A new version of the old RX100. The RX-100M is the same thing as the RX100, with WiFi and a slightly different sensor.
NEW: Sony RX1R.
A new version of the old RX1.
25 June 2013, Tuesday
FREE: Tesla e-Book for Kindle.
NEW: Fuji X-M1 Body: $699.95.
A new X-series body for the for the XF lenses with 16.3 MP, a 3" Tilting Screen and WiFi.
It comes in black, in silver, and in brown.
The catch for the low price of the X-M1 is that it has no finder of any kind. It has no optical finder, and no electronic finder, either. It's just a box with a sensor in the front and an LCD in the back that takes the XF lenses.
I prefer the Sexy One for use with XF lenses because its electronic finder is everything, and I prefer my X100S over any of the interchangeable lens versions.
The X-M1 is like the idea behind LEICA MD of 1963 with no finder, intended for use with scientific instruments or the VISOFLEX.
NEW: Fuji X-M1 Body with NEW 16-50mm OIS lens: $799.95.
The new 16-50 lens comes only with this kit.
It also comes in black, in silver, and in brown.
NEW: Fuji XF 27mm f/2.8 (41mm eq.) pancake lens: $449.95.
It comes in black and in silver.
24 June 2013, Tuesday
How to Go Pro
I just updated How to Become a Professional Photographer, and uncovered some new statistics:
In 2010, the US Bureau of Labor Statistics documents that the median pay for photographers is $29,130 per year, or $14 per hour. "Median" pay means that half of photographers make less than this. You'd make the same as a bus driver, day laborer, security guard or a local delivery route driver — and each of those jobs has ten times as many jobs available as there are for photographers.
To make more money, you're far better off as a personal trainer, bug sprayer, massage therapist or secretary, and there are forty times as many secretary jobs as there are for photographers!
Get a real job like a cop or fireman and make twice as much - and there are also ten times as many of those jobs. Try being a farmer, who also makes twice as much as a photographer, and there are ten times as many farmer jobs as photographer jobs. Most other real jobs, like electricians, do much better than photographers.
Honestly, its difficult to find a lower paying job than being a photographer, and since there are so few photographer jobs, good luck!
Why try to become a photographer for low pay when there are so few jobs, when there are twenty times as many jobs as a top level executive — and they pay over $101, 000 per year! Honestly, you're twenty times as likely to become a CEO, CFO or Senior Vice President as you are to find a photographer job, so get real and enjoy photography as a hobby.
Why Jobs in Photography Pay Poorly
Photography is Not a Profession. Anyone can call themselves a professional photographer. There are no licenses and not even a college degree — or even high school — required. Therefore, you're competing against everyone else with a camera who'll do the job for free just to get the publicity.
Digital killed pro photography. When everyone can do it themselves or get the neighbor's kid to do it for free, forget trying to charge for it unless you are both extraordinarily talented and a top-drawer sales and marketing guy.
21 June 2013, Friday
Am I Dead Yet?
Not quite yet — I've been working on a big project for you guys all this past week. I hope to have it done next week. With that, here are some deals for you:
DEAL: Perfectly Good Tripod for $5.95.
DEAL: Canon T3i, 18-55mm, 55-250mm IS and PIXMA Pro-100 Printer + Photopaper $599.00. (Click on buy together & save and select the bundle, Expires 7/1/2013) Free Shipping!
DEAL: Lowepro SlingShot 102 AW: $49.99. Use coupon code: S4595955 during check-out, Expires 7/1/2013. Free Shipping!
DEAL: Canon EF-S 18-200mm f/3.5-5.6 IS (refurbished) and $50 Adorama Gift Card: $379.00 with free shipping! (Expires 6/29/2013).
14 June 2013, Flag Day
NEW: Minolta 100mm f/2.8 Macro Review.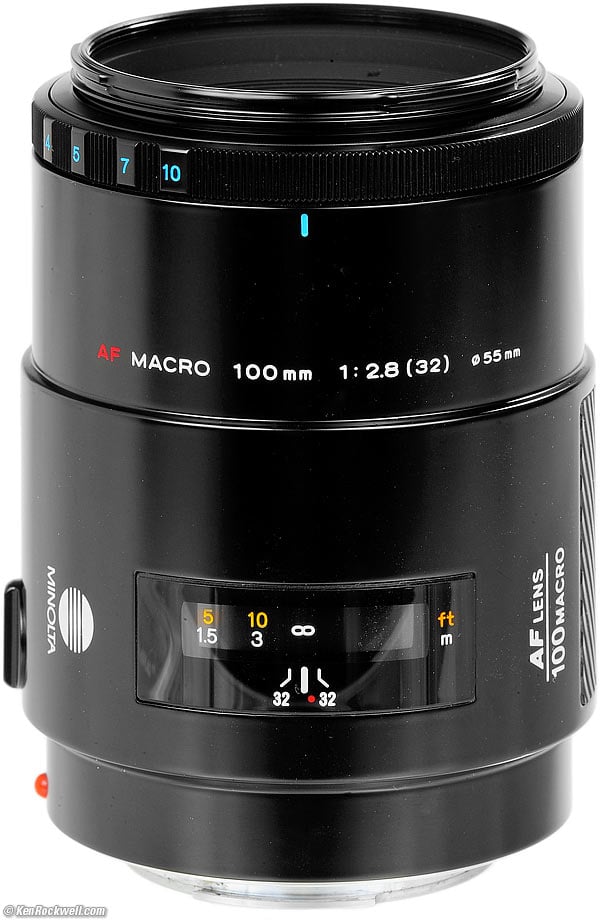 Minolta 100mm f/2.8 Macro.
Holy cow, this one caught me completely by surprise: for DSLRs, it's optically perfect!
Yes its' sharp, but it also has better sunstars than any other macro, and also unlike other 100mm or 105mm macro from anyone I've ever tested, it has no measurable distortion at any distance.
Whoa!
13 June 2013, Thursday
Dads and Doughnuts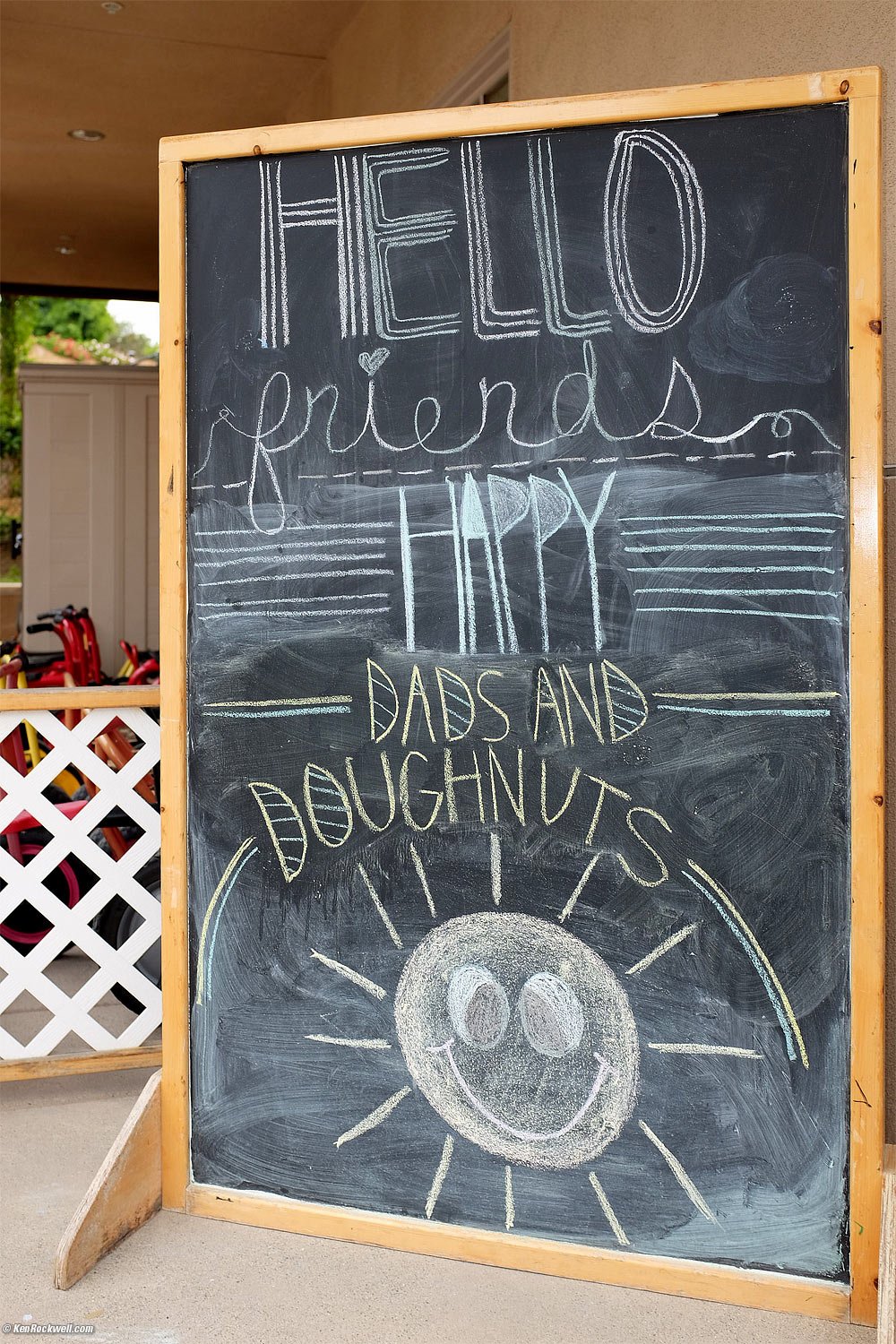 Dads and Doughnuts. bigger.
Just got back from school; nothing beats my Fuji X100S when it comes to people shots under any conditions, and it's tiny enough to take everywhere.
12 June 2013, Wednesday
Hot Video Tip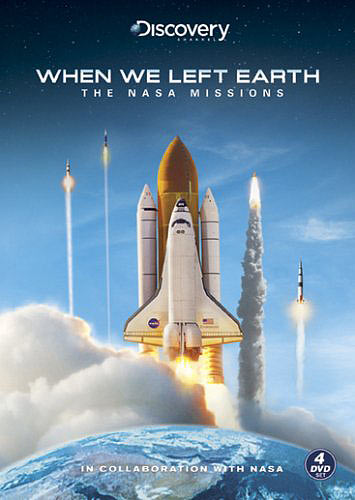 Y'all keep asking me about where to find my Apollo XI coverage, which started here.
As a kid, we all watched this live as it unfolded, and it changed us forever. We know that nothing is impossible.
I found something even better than watching it live! With all the excitement these past 40 years, I forgot that the only thing we saw live was video, captured both live and digitally. What we never saw live was the film that was shot at the same time for posterity.
Whoa, we are posterity, and the film looks awesome!
For $22 delivered, I just got a metal-cased 4-DVD set that documents the entire USA space program from beginning to end. (America's top bureaucrat canned the space program a couple of years ago, so unlike China who has an active manned space program and sent two men and a woman up on Tuesday, the USA has had no way to launch men into space since 2011. We have to ask the Russians for rides to the space station.)
When We Left Earth looks awesome, transferred from the original film. For the first time ever, I've been able to see the men live in the capsules before we sent up video cameras with them, too. The colors and images are awesome.
More important is the story. I've seen plenty of space shows, and by far this series documents the entire program from the time of Yuri all the way up to the recent 2005 shuttle flights better than anything. Many other documentaries have tried to use less-well restored and transferred versions of the same films, but never put them together properly as done here. My only complaint is that this DVD is in 16:9, meaning they cropped off all the tops and bottoms of all the film, shot in 4:3. This set also includes five original 4:3 NASA PR films from 1961 through Apollo XI
It's the best $10 you can spend if you care about Man's greatest accomplishment — or you can go back to watching cat videos on UBoob.
Need Hasselblad Sharpness?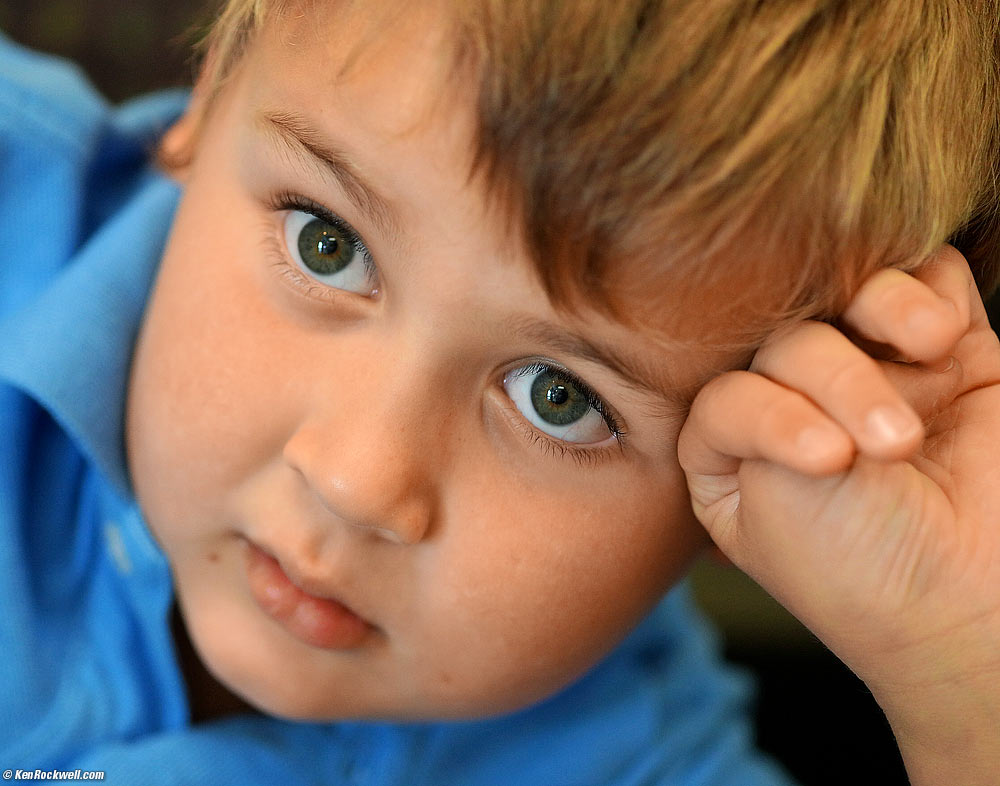 Before Ryan's haircut.
Crop from above - at f/2.8!
Then buy a Sony and use 25-year old lenses!
This was shot with a Sony A99, Minolta 100mm f/2.8 Macro, f/2.8 at 1/200 at Auto ISO 1,250. Bigger or Full-resolution SMALL JPG.
I shot this at the Sony's lowest resolution in available light. Heaven help me if I had strobes so I could stop down, and shot in full resolution!
NEW: LEICA X Vario.
Following in the footsteps of the Leica Minilux Zoom and the Leica AF-C1(which was a Minolta Freedom Tele with a Leica sticker put on it for triple the price), the Leica X Vario is another small-format point and shoot. Yawn.
If you want LEICA, for less money you can possess a real LEICA, like a LEICA M3 and some LEICA lenses. NCPS converts LEICA M3 shots to digital from as close as your mailbox from anywhere on earth.
As film continues to grow rapidly, I don't know if I've mentioned it, but NCPS has just done a lot of upgrades to its plant.
Now more than ever is the time to be a real photographer and shoot a real camera. Digital cameras, like digital car dashboards of the 1980s, are for snapshots - not photography.
For those still doing "digital," the new Vario does look nice, which it had better be for three grand. I'd rather shoot an M7 0.85 for a lot less money.
Full Frame for Pros?
I'm always amused at how comfortable it is to rationalize paying more for the full-frame DSLR you want by dreaming that "you're going to go pro in about a year, and want a camera that will work well in dark churches for shooting weddings."
Myth 1: Going pro. It's not happening. Pro photographers have already gone the way of milkmen. Yes, we still have plenty of milkmen (one comes to my street twice a week), but with digital and iPhones, everyone can get the photos they need and want without having to hire some other kid with a DSLR to come screw up your wedding photos while he learns about color profiles on your dime.
Myth 2: Needing full-frame. This was 2007. Today, full-frame's biggest benefit is that it uses the entire image field of legacy lenses. If you're a geezer-brain like me with a load of thrift-store purchased 35mm camera lenses, sure, guys like me love using a $3,500 Mk III, A99 or D800E just so our $25 lenses are used to their ultimate.
The other reason for full-frame is to get a slightly bigger viewfinder. That's it.
As far as low-light, the latest crop of DX cameras already see in the dark. The Nikon D7100 is absolutely incredible.
Yes, full-frame is slightly less noisy, but what many forget is that the latest round of cameras all work so well at five-digit ISOs that there isn't any significant difference since levels are so low already at any ISO worth using.
Myth 3: Interchanging DX and FX lenses. It's always a waste to use one on the other kind of body. Use only DX lenses on DX cameras. Using an FX lens on a DX body wastes most of the lens' performance — and you still have to pay for and carry the big FX lens. Use only FX lenses on FX cameras. DX lenses waste most of an FX camera's performance — and you still have to pay for and carry the FX camera.
A 35mm f/1.8 DX on a D7100 makes cleaner images in low-light than your f/3.5-4.5 zoom on a D800.
Get a D7100. It's awesome. Full frame is just to get a bigger finder and pay more money — and if you want to use old lenses.
NEW: Minolta 85mm f/1.4 Review.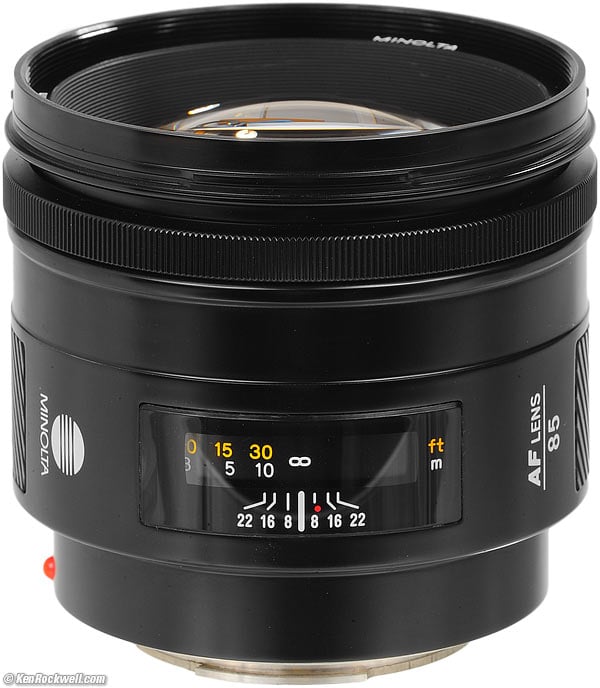 Minolta AF 85mm f/1.4.
For Sony Alpha, MAXXUM and Dynax cameras.
11 June 2013, Tuesday
HOT DEAL: Lumix G5 & 14-42 OIS: $398 + $50 gift card + free shipping.
Good through Saturday the 15th.
10 June 2013, Monday
DEALs: Sony A99 with different kinds of free stuff thrown in.
Get the A99 with a free pro flash and grip, or other deals with different free stuff — all for the same price as the body-only.
NEW: $16 for a 37-page Photoshop e-Book?
A reader who's never seen this ebook asks: "Nearly $16.00 for what appears to be a 77 page book is a bit steep?"
I checked, my copy is only 37 pages, and no, it's not "steep." It's the best $16 you'll ever spend on software or Photoshop books. Quality is never about page count, in fact like everything else in this world, quality is about getting the point across as clearly as possible in as few pages as possible.
It's never about how many pages it has. It's always about how much useful information it has and how clearly it can present it. Bruce's eBook has more useful information in it than I've seen in the past ten 400-page How-to Use Photoshop books I've been sent to review. The shorter, the better.
Just like poorly composed photos loaded with garbage, any idiot can throw together a 438-page Photoshop book. It will be loaded with screen shots and other stuff that looks great at first glance, and when you're done, it still hasn't taught you anything useful.
People send me loads of stuff hoping I'll mention it, and I only mention what's really useful. That's what makes me useful. This is why I suggest Bruce's e-Book. Do you know how to do layers and masks in Photoshop, the most important thing that can be done in Photoshop — and do you know when, where and why to use them?
If not, you need this eBook. It will be the best $16 you ever spent on software. It applies to pretty much the past 15 years or so in Photoshop, but not Lightroom.
This eBook shows exactly how to make localized adjustments in Photoshop, and just as importantly, why artistically you'd want to do what. 500-page books all tell us way too much wasting our time about all sorts of useless features, like content-aware scaling, pan-focus, text warping and blah-d i-blah, but no book I've ever seen before has actually shown how and why to do the most important basic things we need to do to every image in Photoshop. Bruce's book cover more than just layers and masks; he covers what the artist needs to know to make his images go from good to great. It's not just computer jockeying; it's also why you'd want to do what where.
It's an article I've needed to write for the past 15 years, but haven't gotten a round to it. So, yes, $16 is a steal for those of us on Photoshop.
Apple's Aperture makes it easy to use brushes to do the same things without the mechanics of layers and masks, but you still need to know when and where to do what with them. Bruce's book won't show you how to do it in Aperture (or Lightrom if it has localized adjustments), but it will show you when, where and why you'd want to adjust what if you already know your other software. That's what makes Bruce's book so unique, as well as how clearly he shows the tools in Photoshop.
07 June 2013, Friday
The Snail Family
I brought my Sony A99 and Minolta 85mm f/1.4 to school today, and the kids had made a snail farm. I snapped the group with my Sony rig, but to get close, all I had to do was pull out my iPhone 5: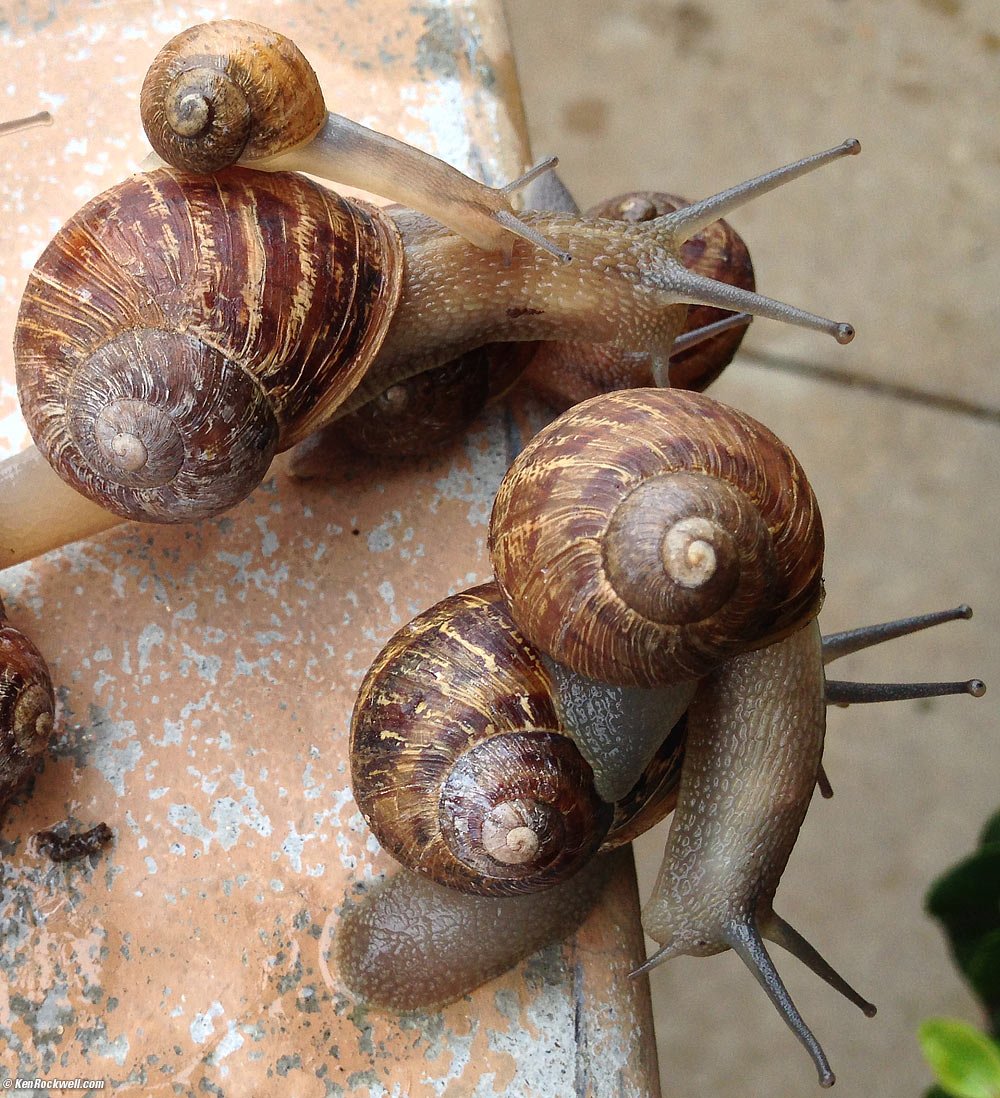 Snails are running away after kids put them on the bench. (cropped from iPhone 5, f/2.4 at 1/120 at ISO 50.) grosser.
06 June 2013, Thursday
LAST CHANCE: Nikon D90 with 18-105 VR: $599, with free shipping and 2% rewards. (usually $1,199)!
This deal expires at noon, New York City time.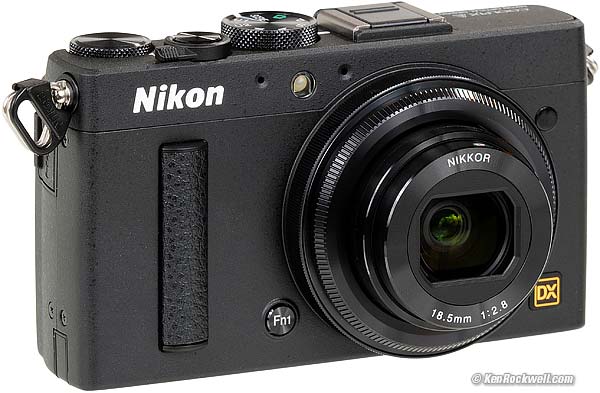 Nikon Coolpix A.
NEW: Nikon Coolpix A Review.
Wow! Better than DSLR image quality and shooting speed, and smaller than the X100S!
And for you few real photographers: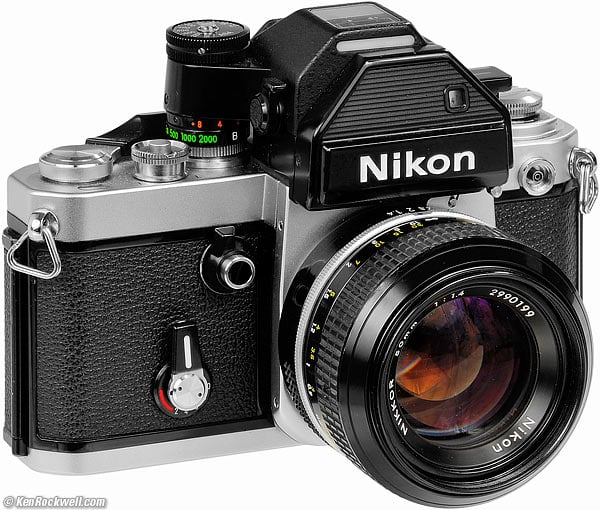 Nikon F2S Photomic.
NEW: Nikon F2S Review.
A real camera for real photojournalists. Hallelujah, a man's camera instead of more disposable digital crap.
In the interests of offending all people equally, I got some hate mail from some people distanced from reality who misinterpreted my piece a couple of days ago about the Chicago Sun Times modernizing their newsgathering. It's purely coincidence that my F2S review finally got published today, but before anyone comes whining to me about the death of photojournalism, I don't want to hear anything from anyone who hasn't shot an F2 for a living.
Even I shot my F2AS as a mere child for several years at a newspaper and for general work. The F2 was the professional standard of newsgathering for over a decade, and it remained so even after the introduction of the wimpy automatic electronic Nikon F3, so if you haven't ever shot an F2 for a living, you're a kid, not a photojournalist. You may as well use your iPhone; it's just as valid as any other digital camera. If it's digital, it's not "quality" journalism. The Nikon D1 and the Internet killed quality photojournalism back in 1999, not the Chicago Sun Times in 2013.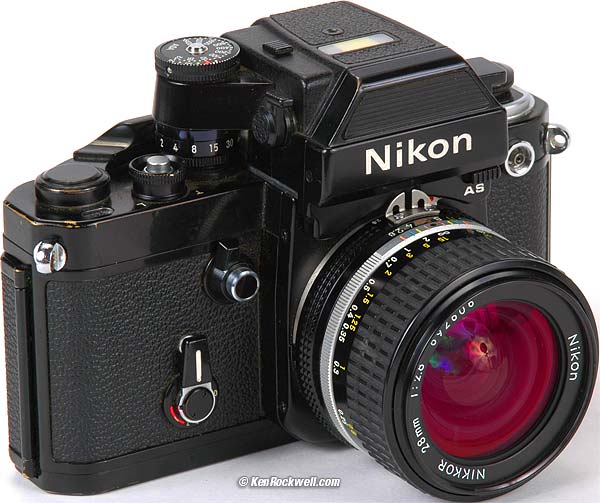 Nikon F2AS.
NEW: Nikon F2 Guide.
A guide to all the various Nikon F2 Models for those who weren't shooting for a living in the 1970s.
05 June 2013, Wednesday
NOW SHIPPING: Olympus 75mm 1.8 for Micro 4/3.
What Was New in:
Help me help you
I support my growing family through this website, as crazy as it might seem.
If you find this as helpful as a book you might have had to buy or a workshop you may have had to take, feel free to help me continue helping everyone.
If you've gotten your gear through one of my links or helped otherwise, you're family. It's great people like you who allow me to keep adding to this site full-time. Thanks!
If you haven't helped yet, please do, and consider helping me with a gift of $5.00.
The biggest help is when you use any of these links when you get anything, regardless of the country in which you live. It costs you nothing, and is this site's, and thus my family's, biggest source of support. eBay is always a gamble, but all the other places always have the best prices and service, which is why I've used them since before this website existed. I recommend them all personally.
Thanks for reading!
Ken
Home Donate New Search Gallery How-To Books Links Workshops About Contact