Home Donate Search Gallery Reviews How-To Books Links Workshops About Contact

November 2013's Updates Hot Deals
RSS: daily (continuous live updates)
all © 2013 KenRockwell.com. All rights reserved.

Nikon: D800 D610 D7100 Canon: 5D Mk III 6D Fuji LEICA All Ryan Katie
Recommended Cameras How to Take Better Pictures random
Twitter Facebook Video Tutorials
Deal of the Day (check each day like an Advent calendar)
27 November 2013, Wednesday
Nikon D610
I just got my Nikon D610. Give me a few days to play with it and I'll let know know what I think. I've already added two sample image files to my review.
Right now, I think it will be exactly like the D600, which is Nikon's best. I also think that since it ought to be the same, that your best deal is a refurbished D600 for $1,499!
1X6: Passion
I just got my copy of 1X' latest book, Passion.
Wow! This book is an inspiration. It's nothing but great photos, and I mean great photos. There are no technical pages or pages with bad poetry, just page after page of brilliant images expertly edited.
If you want to show your artist friends just how good the medium of photography can be, or want some inspiration to what a great photograph looks like, this latest book is a knockout.
Black Friday Deals
You asked, so here you go:
Adorama's Nikon Black Friday deals
Adorama's Canon Black Friday deals
Adorama's Fuji Black Friday deals
Adorama's Olympus Black Friday deals
Adorama's Panasonic Black Friday deals
Adorama's Flashpoint-brand Black Friday deals
Adorama's Sigma and Tamron Black Friday deals
Think Tank Black Friday special: order any rolling camera bag and get a $50 mail-in rebate. Order a roller plus an Urban Disguise shoulder bag and get a $100 mail-in rebate. As always, everything comes with free shipping.
Amazon's Countdown-to-Black-Friday camera deals
Amazon's Black Friday deals in electronics
Amazon's open-box & used photo deals
Nikon 6mm f/2.8 220º Fisheye
You don't see these everyday.
Nikon 13mm f/5.6
The crazy stuff is coming out of the woodwork!
22 November 2013, Friday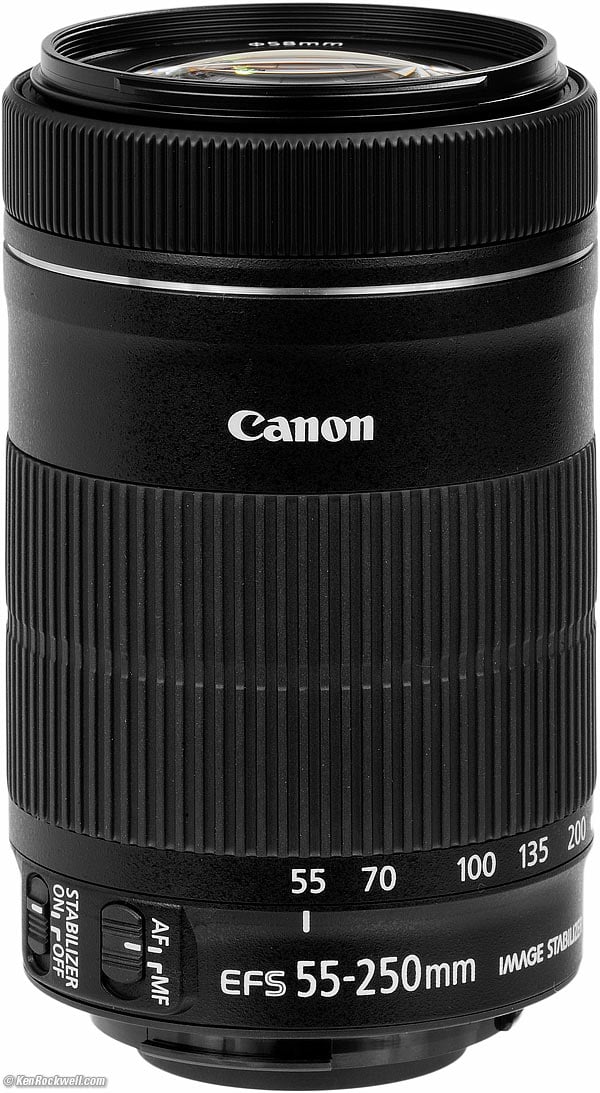 Canon EF-S 55-250mm IS STM.
NEW: Canon 55-250mm IS STM Review.
Fantastic optics in an inexpensive package.
21 November 2013, Thursday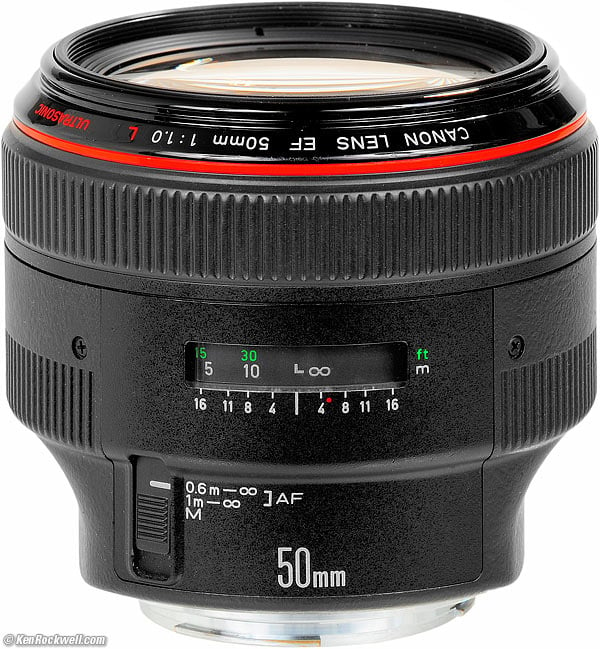 Canon EF 50mm f/1.0 L USM.
NEW: Canon 50mm f/1.0 Review.
With other brands nipping at Canon's feet, like Nikon with their 58mm f/1.4 re-do of their original 1959 58mm f/1.4, LEICA with their copy of Canon's original 50mm f/0.95 and Zeiss' new 55mm f/1.4 with only half the speed and no autofocus for the same price, it was about high time I borrowed one of these f/1.0 masterpieces for review.
Among other things, the Canon 50mm f/1.0 is:
The World's Fastest SLR Lens
The World's Fastest AF Lens
The World's Fastest DSLR Lens
The World's Most Advanced 50mm Lens
The World's Fastest Practical Lens
The World's Most Useful Super-Lens —
and it's still 100% available and perfect for use today on all of Canon's latest cameras. You can't get this for any other brand of camera. Unlike crazy lenses like a Nikon 13mm, this is an extremely useful lens for everything.
Anyway, I've spent most of the past three weeks working on this review, and it's the most explicit, detailed and profusely illustrated review I've done. I took that long both because the 1.0 is such an extraordinary lens, and when you borrow a lens like this, you're in no hurry to send it back!
Bravo!
Working the DEAL: Canon 50mm f/1.2 L for $1,259 — with free USA shipping and 4% rewards!
Now that you're paying attention, to get the masterpiece Canon 180mm Macro for only $1,249:
1.) Click this page and click ADD TO CART for the USA version. Price on this page is $1,439.
2.) A window pops up with a price of $1,619. Click CHECKOUT. Price is still $1,619.
3.) Click PROCEED TO CHECKOUT. Price drops magically to $1,439, and shipping is free, at least in most of the USA.
4.) When it arrives, fill out and mail page two of this form for a $180 American Express reward card to spend as you like.
Thus $1,439 - $180 = $1,259, and you also get a rewards card for 4% to use later at Adorama, heh heh. You can't afford not to get this deal.
DEAL: Canon 28mm f/2.8 USM IS for $349 plus 4% rewards and free USA shipping!
To get this price:
1.) Click on the item and click ADD TO CART. Price is $499,
2.) Click PROCEED TO CHECKOUT and the price magically drops to $349, no rebate needed. Shipping is free, at least in most of the USA, and Adorama puts 4% in your account for your next purchase.
Nikon?
My D610 just arrived. Stay tuned. I doubt it will be any different from my D600.
20 November 2013, Wednesday
The King Returns
Want a nice Nikon 13mm f/5.6, in the box?
There's one right now as a Buy-it-Now on eBay. Of course it's expensive, but its the only one I've ever seen for sale with its box, case, strap and instructions, so it's reasonable. Go get it!
Fuji X100
There's a new firmware version 2.01 today for the discontinued Fuji X100.
The X100 is discontinued, and therefore a huge bargain for under $860 brand new. The black model still sells for $1,300.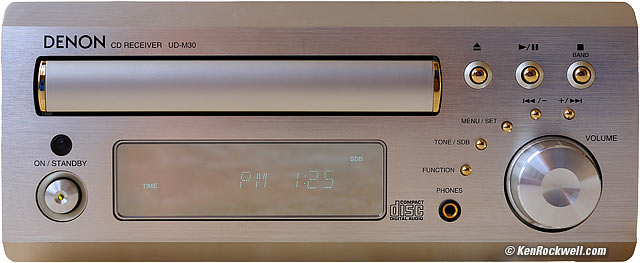 Denon UD-M30.
NEW: Denon UD-M30 Review.
19 November 2013, Tuesday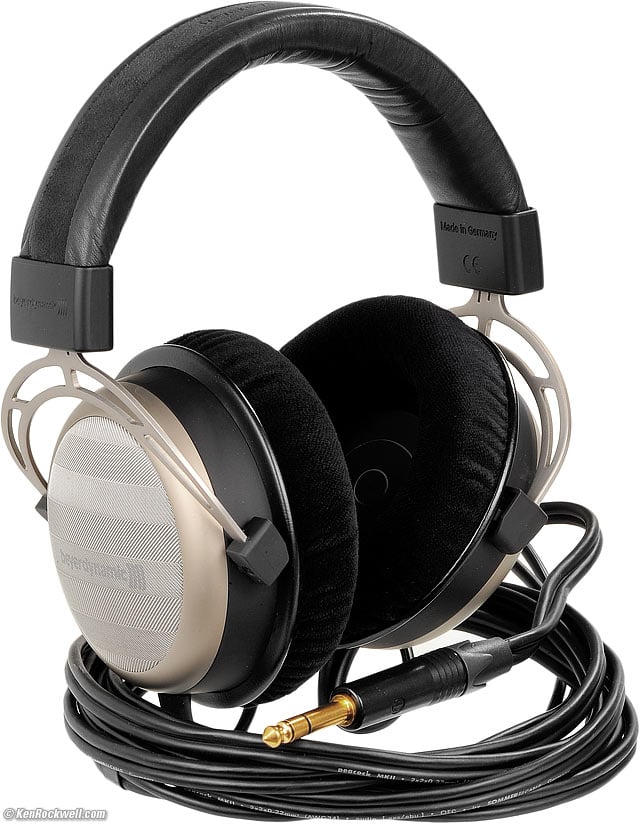 Beyer T1.
NEW: Beyer T1 Review.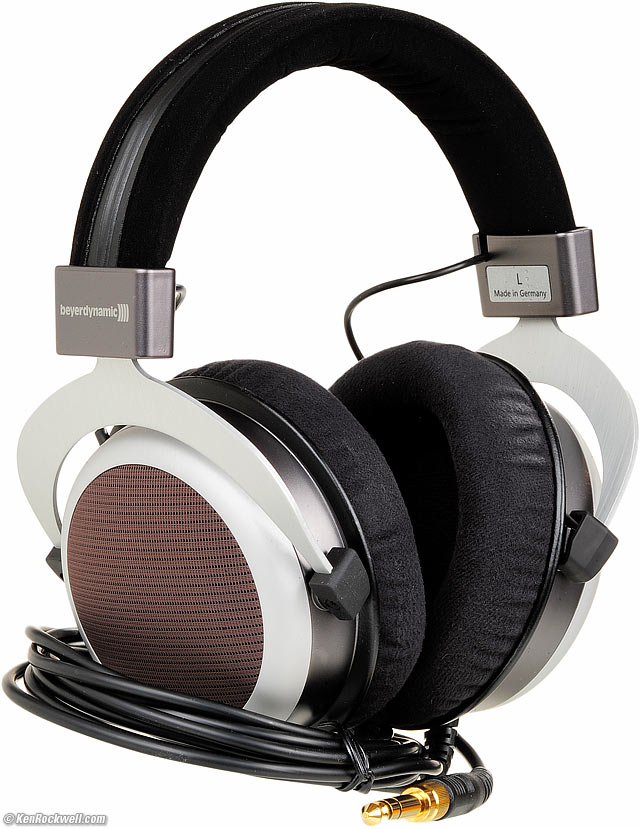 Beyer T90.
NEW: Beyer T90 Review.
17 November 2013, Sunday
These prices are for real, but you will have to work for them by following the instructions.
Working for the DEAL: Canon 5D Mk III and printer and more for $$2,999 — with free USA shipping and 4% rewards!
To get this price:
1.) Click on the item bundle and click ADD TO CART. Price is $3,875, including a nice printer, paper and 64 GB SanDisk card.
2.) A window pops up with a price of $3,875. Click CHECKOUT.
3.) Click PROCEED TO CHECKOUT. Price drops magically to $3,399, which is what you pay for now. Shipping is free, at least in most of the USA.
4.) When all this arrives, read the fifth page of this rebate form and fill-out and return the sixth page for a $400 American Express reward card to spend as you like.
Thus $3,399 - $400 = $2,999 for a 5D Mark III and more. In fact, most people simply eBay the printer and paper, making the final price even lower than $2,999 if you're really cheap. The printer alone sells over eBay for about $150.
But wait — there's more! You also get a rewards card for 2% to use later at Adorama, heh heh. You can't afford not to get this deal.
The 5D Mark III is the best DSLR ever made. I paid $3,500 for mine. Get it cheap while you can.
Working for the DEAL: Canon 180mm Macro for $1,249 — with free USA shipping and 4% rewards!
Now that you're paying attention, to get the masterpiece Canon 180mm Macro for only $1,249:
1.) Click on the lens and click ADD TO CART.
2.) A window pops up with a price of $1,579. Click CHECKOUT.
3.) Click PROCEED TO CHECKOUT. Price drops magically to $1,399, and shipping is free, at least in most of the USA.
4.) When it arrives, fill out and mail page two of this form for a $150 American Express reward card to spend as you like.
Thus $1,399 - $150 = $1,249, and you also get a rewards card for 4% to use later at Adorama, heh heh. You can't afford not to get this deal.
As always, for those willing to put in this effort, there are deals to be had.
Here are more Canon lenses with instant rebates, and Canon lenses with mail-in rebates. Sometimes when you check out there are these secret price drops as I've shared above.
14 November 2013, Thursday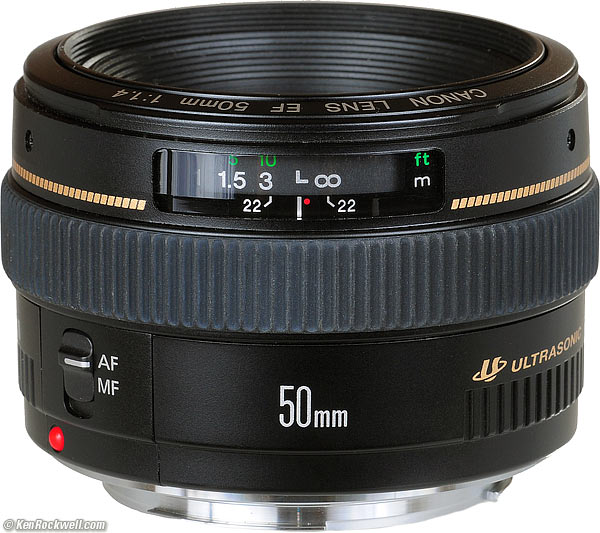 Canon EF 50mm f/1.4 USM.
DEAL: Canon 50mm f/1.4 USM only $314 at Amazon.
Canon EF 50mm f/1.4 USM review.
13 November 2013, Wednesday
World's best camera on sale
The Mamiya 7 is on sale for $3,456, complete with lens.
The Mamiya 7 has been the world's best camera since the 1990s.
It's the most portable, well thought-out and easiest-to-use camera, along with having the highest real-world resolution available in any hand-held camera, now for $1,400 off.
Nikon Df
As I eagerly await mine, it dawned on me:
1.) I'm stoked because I keep thinking it has a hole for the film to go. The Df is only digital; I hope that's not too much of a let down; I'm dreaming of my Df as an upgraded FE to be shot for real photos, not just digital.
2.) It might be that the digital back and grip comes off the Df and interchanges with the backs from the FE, revealing the Df's film cavity — and letting us use the back from the Df to shoot digital with the FE, FM, FA, FE2, FM2 and FM3a!
3.) The stupider people are whining about some sort of bad retro or hipster BS around the Df. Maybe children who have not yet learned How to Shoot Film don't understand real photographers' Christmas-morning enchantment with the Df, but for those of us who have already lived the dream that the hipsters hope to imitate (if I understand what a hipster actually is), the Df seems like the best camera from Nikon since the F6. Nikon's best camera before the F6 is the 35Ti, which I was shooting hard up in Yosemite as my main camera a few weeks ago before the Df came out.
4.) There was a funny article about a year ago titled something like "young hipsters astounded to discover that even with their plastic cameras and lots of Photoshop plug-ins that their photos still stink." The article goes on to explain that the hipsters were shattered when they discovered that their lack of talent wasn't hidden by getting a cool camera and software to imitate bad cameras.
5.) Weight loss: The Df has dropped down to 27 oz. (765 g), wet, Nikon's lightest FX digital camera ever. ("Wet" is an aviation phrase meaning loaded with fuel and oil; here it means loaded with battery, card and film.) The LEICA M typ 240 has bloated up to 25.0 oz. (710g) with finder, wet, LEICA's fattest M camera ever. The Df is essentially the same weight as the LEICA M typ 240!
The LEICA M9 is only 20.9 oz. (593g) wet, and the Sony A7, which should outperform any digital LEICA, weighs only 18.1 oz. (515 g) complete with LEICA M adapter! Don't even get me started on how the A7 ought to work great with LEICA's greatest 50mm lens ever, the LEICA SUMMICRON 50mm f/2 mit near-focusing range, while defects in the mechanical design of the M typ 240 prevent this meisterstück from working properly on the M 240. I think the A7 will probably also allow individual correction of peripheral color shift, so it might work far better with my superb LEITZ 21mm f/4 SUPER-ANGULON than on the M typ 240, which has no profile for this lens. We'll see.
11-12-13
There was a 220º Nikon 6mm f/5.6 fisheye for sale at eBay for $8,500. (it just ended.)
This isn't the huge f/2.8 beast that works with your mirror down; this is the much more useful f/5.6 version you use by locking-up (or pushing-up) your mirror and using Live View.
I've worked with this seller before; he provided me some of the information when I reviewed the Nikon 13mm lens.
11 November 2013, Veteran's Day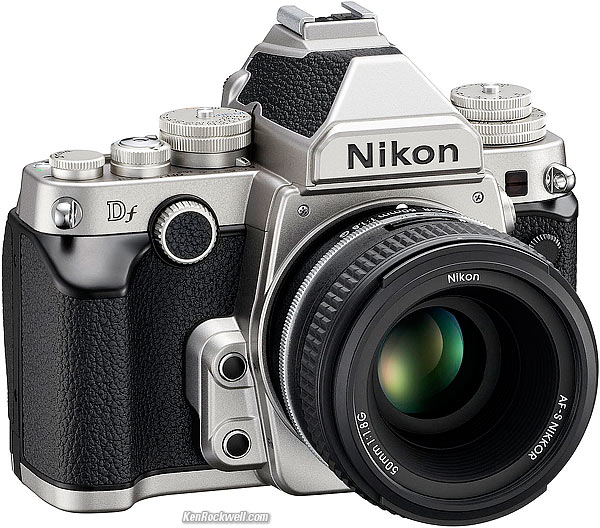 Nikon Df and 50mm f/1.8 SE.
I've just added a lot more information and pictures to my Nikon Df Review. Check it out again If you care.
After falling behind Canon in 2012 when the advanced 5D Mark III rocketed way past the straight-out-of 2007 Nikon D800, the Nikon Df is the best camera to come from Nikon since the Nikon F6 of 2004. (All the DSLRs I tout as "Nikon's Best DSLR" are just that, but not the best camera.)
As the decades progress, Nikon falls further and further behind Canon because Nikon did its best to repurpose its mechanical 1959 lens F lens mount for autofocus in the 1980s, when Canon dumped its entire camera line and created EOS from scratch as an entirely electronic lens mount.
Today it's a crap shoot as to which features do or don't work with any combination of Nikon camera and lens, while with every Canon SLR, DSLR and EF lens, so long as it mounts, every Canon camera and lens are 100% compatible with everything.
Canon took the long view in the 1980s and started with a clean slate, while Nikon used a short term work-around to satiate the existing pros. Today we're paying the price with Nikon.
Canon 4k Monitor
For you Hollywood types, Canon has just announced a 30" 4k reference monitor for telecine/DI type work. It's $40,000, which is about right. When I worked in Hollywood, we paid $30,000 for the Sony 30" CRT HD BVMs that were the standard.
05 November 2013, Tuesday
NEW: Nikon Df.
Oh my gosh, I can't even see through my own tears to write this. Nikon has made us a Nikon FE with the digital guts of the D4!
You'd better cover your ears, because when my D800E hits the dumpster, it's going to hit so hard that the sound will be deafening! (I'm keeping my D600, and have a D610 on order since you people want me to review it, even though it's the same as the D600 without the oil rumors.)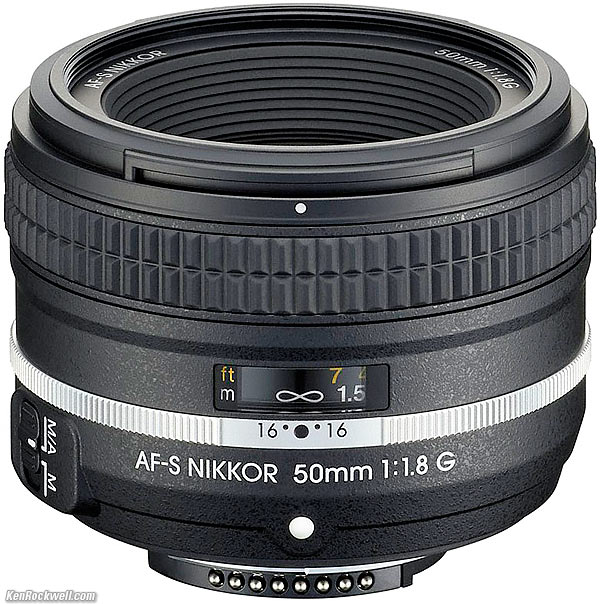 Nikon 50mm f/1.8 SE.

NEW: Nikon 50mm f/1.8 G Special Edition.

NEW: Canon 50mm Lenses Compared.

Canon's most useful lenses.

While Nikon has made dozens of 50mm lenses that fit modern cameras, Canon has only made six, so it's time for a table.

DEAL: The Canon 35mm f/2 IS is now down to $550.

It was $850 last year, but personally, I LOVE my 35/1.4 L which is a huge bargain for a much better lens at about $1,350.

03 November 2013, Sunday

Reset every one of your digital camera clocks!

While we're used to our Macs, iPhones, iPods and iPads resetting themselves, almost no digital cameras do — and it might be months until we realize that we forgot to reset them to standard time!

Therefore, make a beeline right now to reset every digital camera you own. Most of us forget how many we have sitting in the closet right now. Otherwise, it might not be until March that you notice that your EXIF data is all an hour ahead.

While you're at that,

Backup all your friends and family's pictures!

Clever folks back up all the time.

Most people have no idea what that means, and most people, when their crap-brand phone dies or they drop their iPhone in the toilet, have just lost months or years of very valuable photos and memories.

Worse, for the people who do copy all their photos into their computers regularly but forget to print or backup, today we are seeing record numbers of normal people who have been ingesting all their photos into a computer, and now that some of these computers are ten years old (about as old as consumer digital pictures) and starting to have hard drive crashes, normal people are starting to lose complete decades of memories.

Plenty of people have lost all their baby photos and photos of the first ten years of their kid's lives, sitting on a dead computer they won't throw away in the hope that some day it will turn on again.

You guys are smart; half of you are IT professionals. Therefore, you all really need to make it a humanitarian project to ask all your family members, especially those less close to you that you don't see every week, if they have backups or prints of all their photos, and help them if they don't.

Normal people just don't realize that the computer or phone they've been using may just stop working or fall into a toilet at any second, and that every photo that hasn't been printed or saved elsewhere is gone forever.

A friend was asking me about how to get all the pictures off her phone that would not boot up, and I wasn't going to say it, but of course it was an HTC phone. I've never heard of an iPhone doing stupid windows-like things, but the same people who accept second-rate user experiences are doing the same with their phones. Now I have to be technical support for people who made bad decisions when buying something that's supposed to be simple: their phone?

Yes, I know all you guys know everything techie and can work around this. I'm sad that normal people are being led down the same path of trading more useless sales features or meaningless specifications (like pixels or how many apps are available) that they'll never be able to find, see or use for basic quality, availability of good apps (like mine) and reliability, which have no ratings to compare and which are very important. One of my brothers (the professor) observes that it's so sad that Microsoft singularly has made much of the world perfectly happy to accept poor user experiences with operating systems that just don't work well. I'm not going to accept that, and certainly not from a phone. If I had a bad phone, I'd picket the phone store until they resolved it. Ask your local police department for details, but generally in the USA, it's perfectly OK to picket a store so long as you don't block traffic and you're on public property. If your phone doesn't work, whoever sold it to you had better make it right instead of turning their problem into your problem.

I'm going off on this as I am horrified that people will accept that something as basic as a phone is expected to start running more poorly over time and be replaced, as people have come to accept from windows computers. Geeze, my 12" iBook laptop still runs perfectly (with OS updates, it runs better than it did when new), and it turns 10 years old in February. Computers are among the most reliable things there are, so long as you don't run a junk OS that requires a technician like half of you folks to keep it going.

02 November 2013, Saturday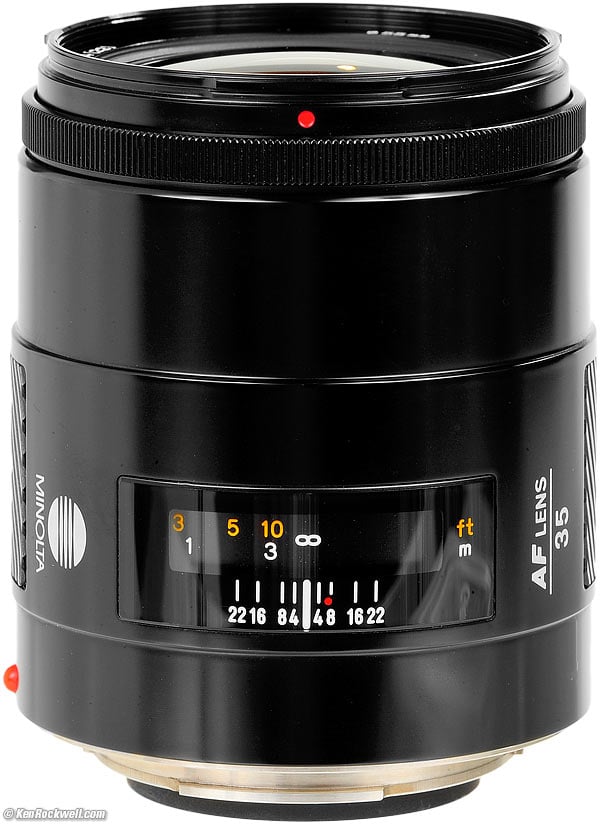 Minolta MAXXUM AF 35mm f/1.4.
NEW: Minolta AF 35mm f/1.4 Review.
Decades ahead of its time with excellent optics in a solid, precise package for Minolta MAXXUM and Sony Alpha cameras. Since it only works on Minolta or Sony, no one noticed!
What Was New in:
Help me help you
I support my growing family through this website, as crazy as it might seem.
If you find this as helpful as a book you might have had to buy or a workshop you may have had to take, feel free to help me continue helping everyone.
If you've gotten your gear through one of my links or helped otherwise, you're family. It's great people like you who allow me to keep adding to this site full-time. Thanks!
If you haven't helped yet, please do, and consider helping me with a gift of $5.00.
The biggest help is when you use any of these links when you get anything, regardless of the country in which you live. It costs you nothing, and is this site's, and thus my family's, biggest source of support. eBay is always a gamble, but all the other places always have the best prices and service, which is why I've used them since before this website existed. I recommend them all personally.
Thanks for reading!
Ken
Home Donate New Search Gallery How-To Books Links Workshops About Contact