Home Donate Search Gallery Reviews How-To Books Links Workshops About Contact

Jan-Feb 2014's Updates Deals
RSS: daily (continuous live updates)
all © 2014 KenRockwell.com. All rights reserved.

Nikon: D800 Df D610 D7100 Canon: 5D Mk III 6D Fuji LEICA All Ryan Katie
Recommended Cameras How to Take Better Pictures random
Twitter Facebook Video Tutorials
28 February 2014, Friday
In Stock: Panasonic Leica DG Nocticron 42.5mm f/1.2 for micro 4/3.
Nocticron? Really?
How about the Phramolux 3000?
25 February 2014, Tuesday
Nikon D4S.
NEW: Nikon D4S.
11 FPS, stupid-high ISO of 409,600 in a crazy mode, and otherwise the same as yesteryear's old D4 with 16 MP and very few changes.
One of these small changes, like now having six manual white balance presets, might make your day, and for an extra $500, I suspect the D4S will pay for itself in resale value over any newly purchased D4 at resale time in a couple of years when the Nikon D5 comes out at the end of 2015.
20 February 2014, Thursday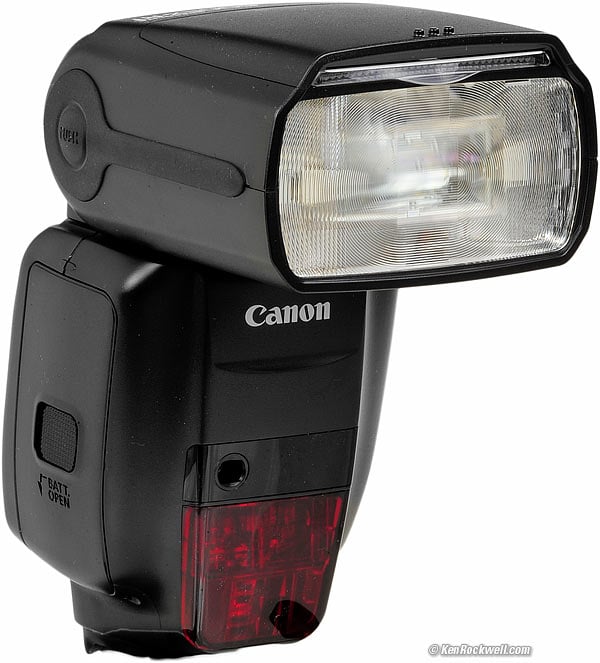 Canon 600EX-RT.
NEW: Canon 600EX-RT Review.
Canon's biggest flash. It adds radio triggering, something Nikon has yet to copy. With the 600EX RT, you can toss your PocketWizards.
18 February 2014, Tuesday
Apple Mac Pro
You have to hand it to Apple. The new Mac Pro (late 2013) I just got wakes from sleep and boots-up Dreamweaver CS5 from scratch in a few seconds so I can add this note, while our Sony HDTV and Blu-Ray player takes about 5 minutes to turn back on and get a show on Netflix running again after Ryan turned it off on Katie just to be a pill as he left the room. I hate poorly designed equipment that makes me wait around because its designers wouldn't spend enough of their time to get it right in the first place. I can get Netflix running in an instant on an iPad, for instance.
I never thought I'd live to see the day that a professional workstation can turn on and boot up pro applications ten times faster than a Sony TV can turn on! At least the picture quality of Netflix over Wi-Fi is stellar on that TV, and I spent the last decade of my real career working in Hollywood measuring picture quality. I'm astonished at the picture quality we can get at home over the Internet, while the cable TV company providing that Internet to us can't deliver a good picture!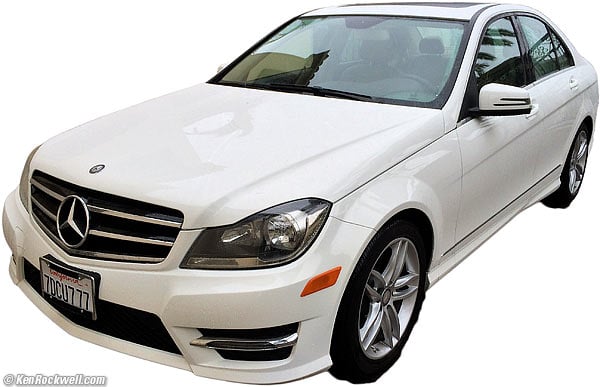 2014 Mercedes C250 Sport.
NEW: 2014 Mercedes C250 Sport Review. A friend let me try theirs, and I was impressed.
17 February 2014, President's Day
President's Day
For our overseas readers, President's Day is much like the American Groundhog's Day holiday.
President's Day is the holiday where the US President steps out of the White House in the morning. If it's clear and he sees his shadow, he'll go back inside and there will be another year of unemployment and economic depression.
13 February 2014, Thursday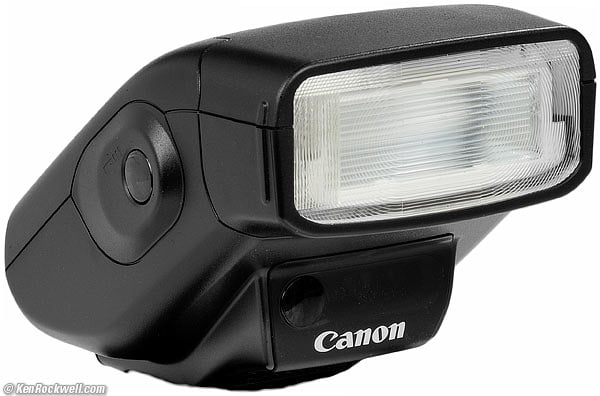 Canon 270EX II.
NEW: Canon 270EX II Review.
Better than nothing, but not better than the older Canon 220EX.
What is it with flash guns today? Nikon discontinued the fantastic SB-400, with no decent replacement, and Canon's discontinued 220EX is better than either of the 270EX or 270EX II replacements. What gives?
12 February 2014, Wednesday
NEW CAMERA ANNOUNCEMENTS:

Canon T5 with 18-55 IS II Lens: $549.00.
Another Digital Rebel; an inexpensive, lightweight DSLR for moms or travel.

Canon D30 Underwater Camera: $329.00.
Canon's third underwater point and shoot that replaces the D20 that replaces the D10. If you've been waiting for an underwater camera, it's time to get this and Canon rarely updates these.


Canon G1X Mark II: $799.00.
The G1X, a-near APS-C point-and-shoot, returns!
Canon Macro Ring Lite MR-14EX II: $549.00.
A little flash you stick on the end of your lens. Personally I shoot my macro in a studio with studio strobes.
And as always, more colorful point and shoots:

Canon SX700 HS in Black and in Red: $349.00.

Canon 150 IS ELPH in Black, also in Blue, in Red and in Silver: $149.00.

Canon ELPH 140 IS in Red and in Grey: $129.00.

Canon ELPH 135 in Black, in Silver, in Red and in Purple: $119.00.
New from Sony:
Sony DSC-H300: $218.00.

Sony DSC-H400: $318.00.

Sony DSC-HX400: $498.00.

Sony DSC-WX350 in Black or White: $318.00.

Sony DSC-W800 in Black or Silver: $78.00.
11 February 2014, Tuesday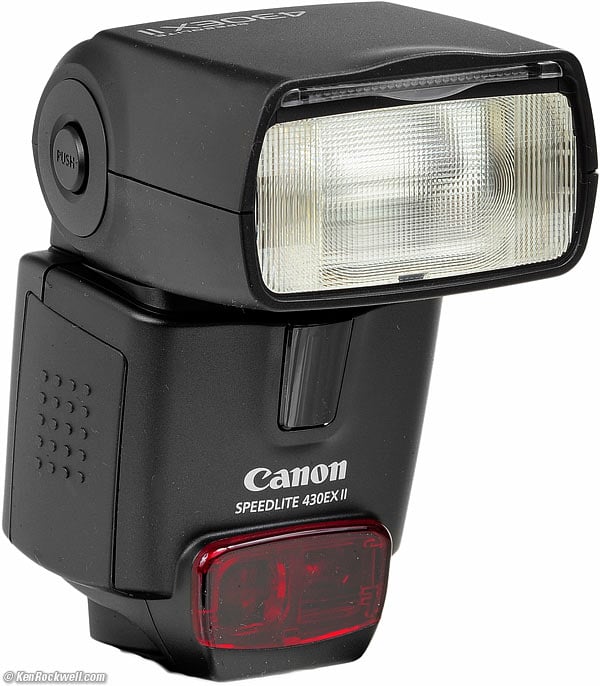 Canon 430EX II.
NEW: Canon 430EX II Review.
DEAL: Canon 50mm f/1.8 for $99!
To get this price, you have to add it to your cart and start the checkout process, otherwise it shows $125 in your cart.
DEALS: Nikon Lens Rebates!
10 February 2014, Monday
What I did this weekend
I was out shooting along Route 66.
What camera did I bring? I brought a 35mm rangefinder system from the 1950s.
I brought my designed-in-1958 Nikon S3 (Year 2000) with its 50mm f/1.4 NIKKOR-S, as well as a 21mm f/4 Voigtländer in Nikon S mount, an original 1957 W-NIKKOR•C 3.5cm (35mm) f/1.8 and original 1957 NIKKOR-P 10.5cm (105mm) f/2.5.
One of the reasons Nikon lost the rangefinder wars to LEICA was because Nikon was not a professional system: each of its lenses tended to use different sized filters, while LEICA's lenses all took 39mm filters for every focal length from 21mm through 135mm. Nikon learned its lesson, and it's new F reflex system of 1959 used 52mm filters for just about every focal length all the way to 200mm, and thus for this and other reasons Nikon replaced LEICA in the professional 35mm world until Canon replaced Nikon in the early 1990s as the camera of the news, magazine and sports pros.
Since I didn't want to spend time finding complete sets of Yellow, Green, Orange and Red filters for black-and-white film in both 43mm and in 52mm sizes for the 105mm lens, I got crazy and figured I'd shoot Kodak Ektar 100, a color negative film, and convert everything to black and white later in a computer. By using a computer, I'll be able to apply the equivalent of those colored contrast filters by adjusting the sliders in Photoshop CS6's B/W conversion adjustment layer.
Another reason to shoot Kodak Ektar 100 instead of my favorite Fuji Velvia 50 was because I've never gotten consistently perfect manual exposure with the Nikon rangefinder system. I used my Gossen Digisix, and with Ektar as a color negative film, I can just guess about exposure and so long as I'm not under by more than a stop or over by more than three, I'm good to go.
For digital, I brought an iPhone 5s, which was spectacular. It's a pleasure not to have to mess with extra chargers or memory cards. Did you know the iPhone 5s has a real, live sustained frame rate of 10 FPS? That's better than any DSLR short of a 1DX or D4, and it's sure a lot quieter. I had no problem with bursts of at least 24 frames at a time, all at full-resolution.
When I get my film back I'll share the results with you.
07 February 2014, Friday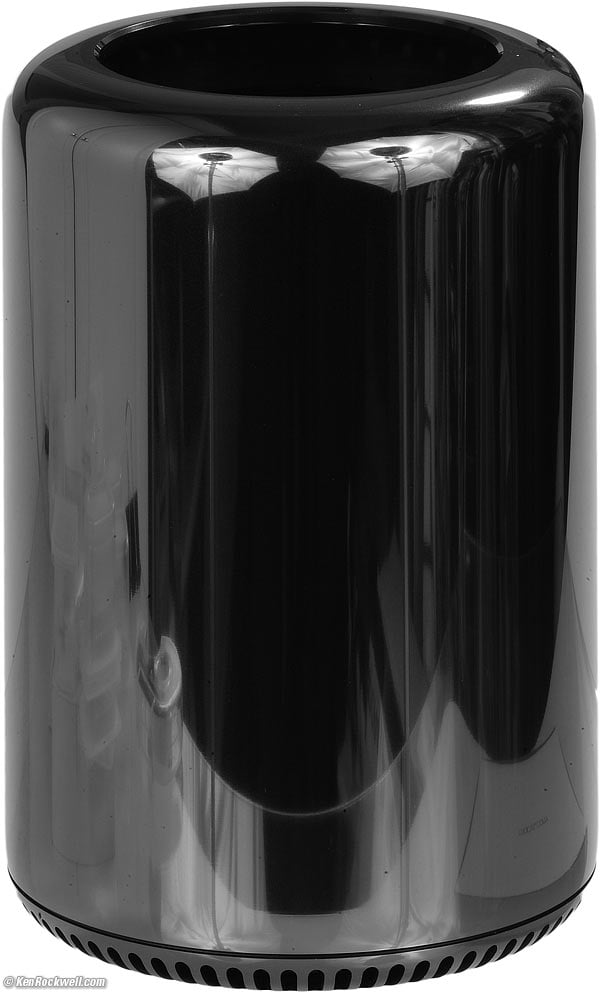 Apple Mac Pro.
NEW: Apple Mac Pro (late 2013) Review.
Silence at Last!
You haven't seen much on this page the past week because I've been playing with a new Mac Pro, the silent black orb that hovers over your desk.
I'm impressed that it's silent and about six times faster than my 2010 hex-core 3.33 GHz Mac Pro!
04 February 2014, Tuesday
Canon Rebates due today
Canon's Lens rebate forms have to be postmarked by today (Feb 4th) for any lenses you got between September 29th and January 4th.
I bit the bullet and got a 50/1.2L; it's just so good and the rebate made it such a deal that I couldn't resist.
03 February 2014, Monday
Smart Choices vs. Easy Choices
These are entirely different, and often opposite.
I realized this in a fast food restaurant on Saturday. All around we see promotional material pitching Smart Choices, subconsciously implying that so long as we read these things that we're good to go, and don't actually need to follow through with any of these choices so long as we've at least read the PR.
Well, no: smart choices are often the difficult choices; the choices that require more hard work and less instant gratification.
It's like talk radio; people think that by listening to it that they are part of an intelligent conversation, and that by listening to it they're helping some cause somehow. This stuff is compelling, but only deliberate action, not reading or listening, actually counts.
Take for instance computers and iPads. We can relax and play video games and watch cats sing on youboob all day long, or we can take more time and develop apps and websites and become billionaires instead in the same amount of time. Some kids dropped out of math class back in the 1990s and created Google while some other kid created eBay, all just by writing some code. They didn't even have to get out of their pajamas! I took this as a sign.
When I quit my real job exactly ten years ago today to work on this website full time, I sent everyone I knew in my former multi-billion dollar company a goodbye letter and admitted I was crazy, just like Neil Armstrong and Christopher Columbus and plenty of others who took crazy chances and won. I let everyone know that the Internet was an even bigger opportunity than were railroads in the 1800s or radio and TV in the 1900s, and pointed out that there were billions and billions to be made by anyone who at least gave it an honest try.
I've been right more times that I could have realized; KenRockwell.com was already known worldwide ten years ago as some kid created Facebook as a goof to rate girls. Then some guys came up with a way to share everyone's videos after the company Christmas party that would actually play on everyone's computers, and they sold that idea to Google for billions. It was called YouTube.
Many of these new billionaires weren't even born in the USA! Google's Brin was born in Moscow and eBay's Omidyar is a Persian born in France, for instance. People come here from foreign countries and are astounded at what unlimited opportunities there are here in America, and are equally astounded at how many Americans just sit around and complain instead of doing something about it.
Today, look to apps. Just throw together some code to do something simple that people need, and you're retired. It's far easier than working for someone else doing a real job. For instance, some teenager just sold a simple app to Yahoo and collected $30 million. Not bad for a kid still too young to buy beer.
Hint 1: think of something that annoys you or that's too complex, and solve it with an app. As I understand it, all that teenager's app did was aggregate news from a few sources to save him the time each morning of looking around.
Hint 2: Forget inventing an online photo community. Not only has it been done, I still get pitched every week by someone who thinks he just invented the idea for the first time and who wants me to write articles for it. Likewise, photo sharing and people trying to aggregate photo reviews have all been done already, so you need to identify some bigger and more universal annoyance you can help remove from daily life, and bingo, instant millions if you don't mind actually spending a little time on it instead of watching TV or otherwise wasting your time.
Hint 3: I stopped watching TV many decades ago. I've spent those decades learning and creating while half the developed world lies catatonic in front of their screens. Today, it's the lazier people wasting all day on youtube or facebook instead of making something useful.
Hint 4: Spend a lot of time with your kids. Kids are more creative, with much more active and flexible minds than grown-ups. Think like a kid, and your mind will be much more open to crazy ideas, and one of them might be the next Amazon. Who would ever buy something using a computer? Crazy!
Hint 5: Develop your apps while you're still working instead of wasting your time on Facebook during working hours.
Heck, you couldn't even write apps for smart phones until Apple opened it up to developers in March 2008. There are still billions to be made for anyone, anywhere, who can invent a better way to do something we all do. It's all about making it fast and SIMPLE. Making things simple is usually lost on technical people, which is why few tech people get ahead because they just can't make things simple enough for normal people to be able to use.
It doesn't take any more time today, it just takes more dedication to make the smart choices to use our willpower and create something valuable, versus taking the easy choices and putting off quitting your job until tomorrow. Tomorrow never comes.
Quit your job today and be the next billionaire, or at least enjoy being unemployed like me. None of these billionaires would be that way today if they were distracted by jobs working for other people. You need to be free to dream, not worrying about your job performance making someone else rich.
01 February 2014, Saturday
NEW: Rockwell in GQ Magazine.
What is this world coming to?
It's not so much my stunning sense of style, but more that they needed a good image of the extraordinary Contax G2, which is one of the world's best cameras.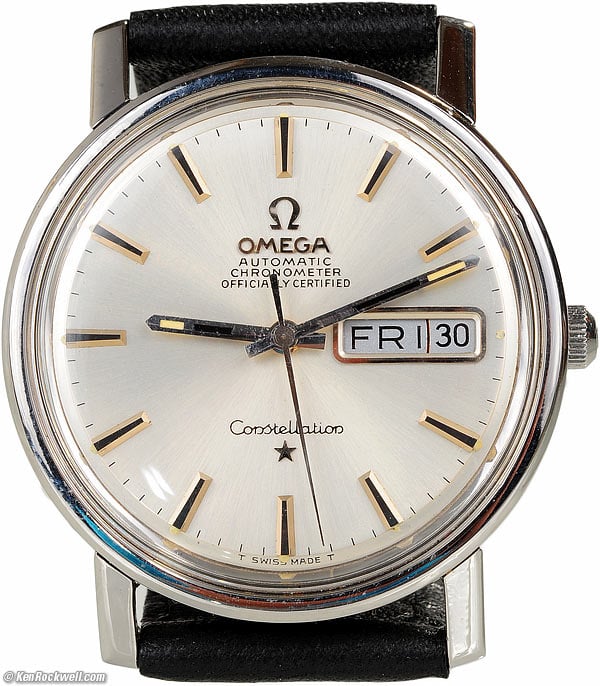 Omega Constellation, 1968.
NEW: Omega Constellation Review.
30 January 2014, Thursday
NEW: Central Coast Road Trip Gallery.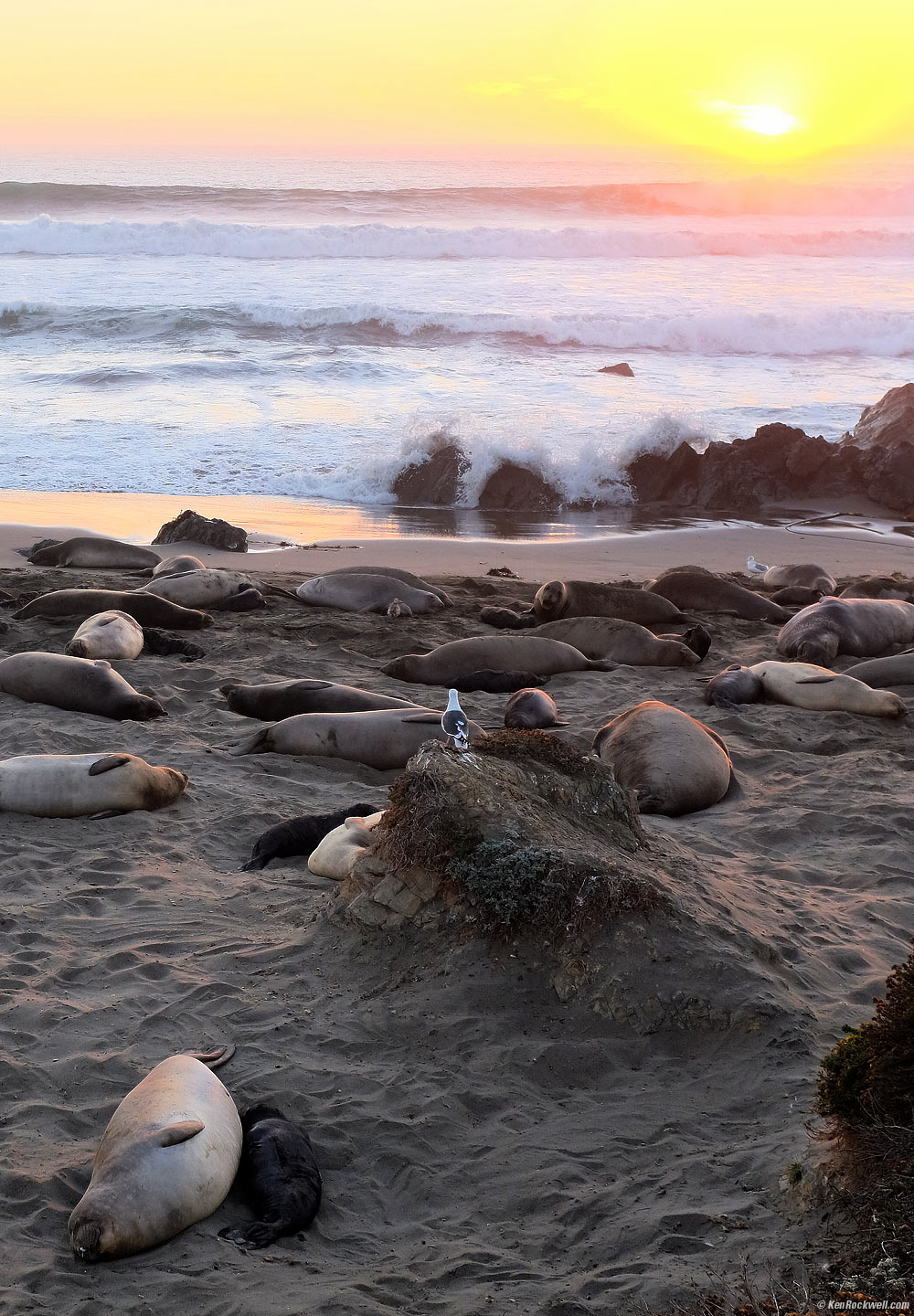 Sunset at San Simeon, 22 January 2014.
What I did last week after we declared a "snow week" closure in New York. Thank goodness my wife the bargain hound found us the deals to get out of Dodge on such short notice!
28 January 2014, Tuesday
Route 66 Fever
Route 66 fever is everywhere. I saw this a truck stop last week, nowhere near Route 66: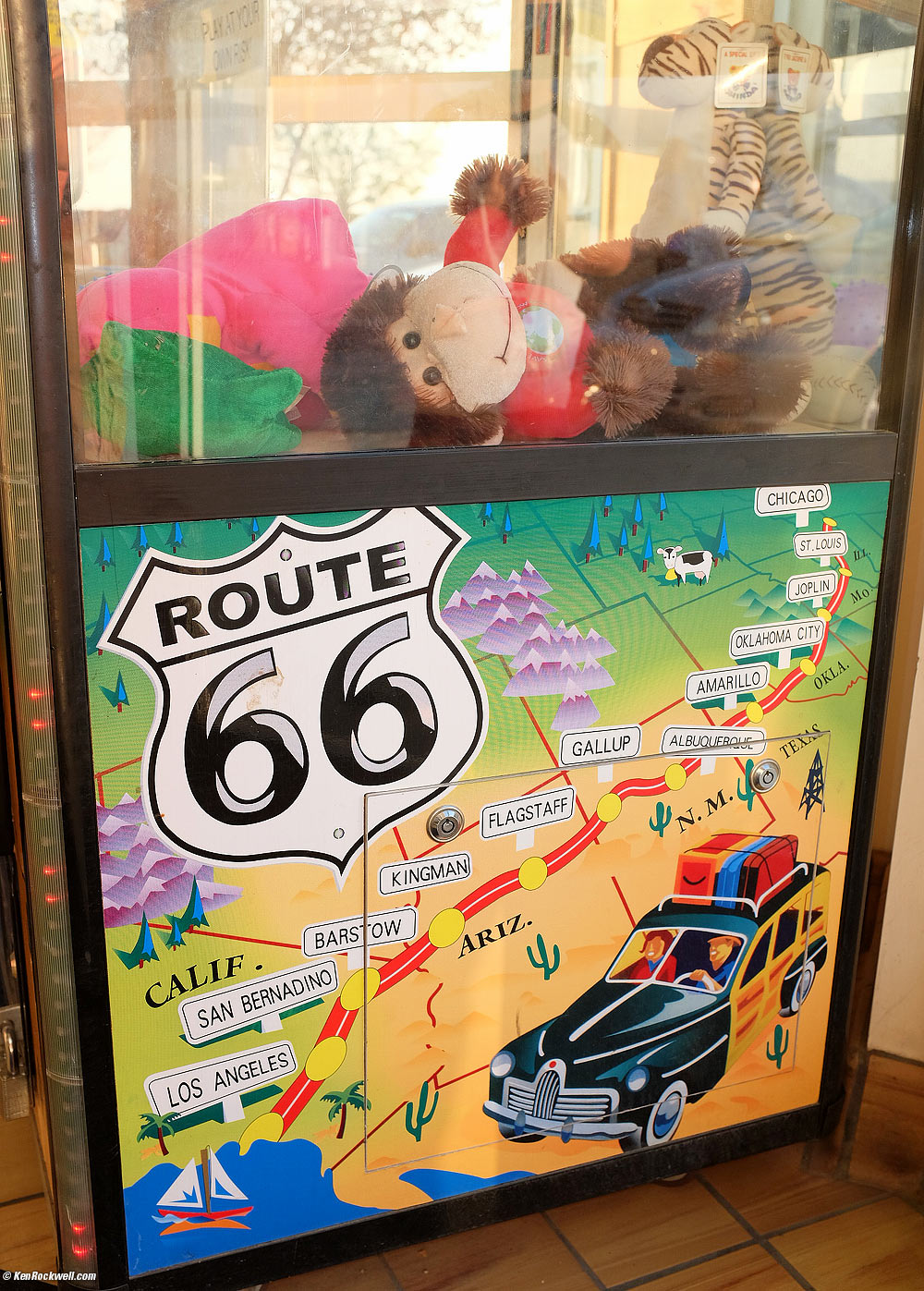 Rout 66 claw game. (Snapped with Fuji X100S). bigger.
California's Gold Coast Emergency Road Trip!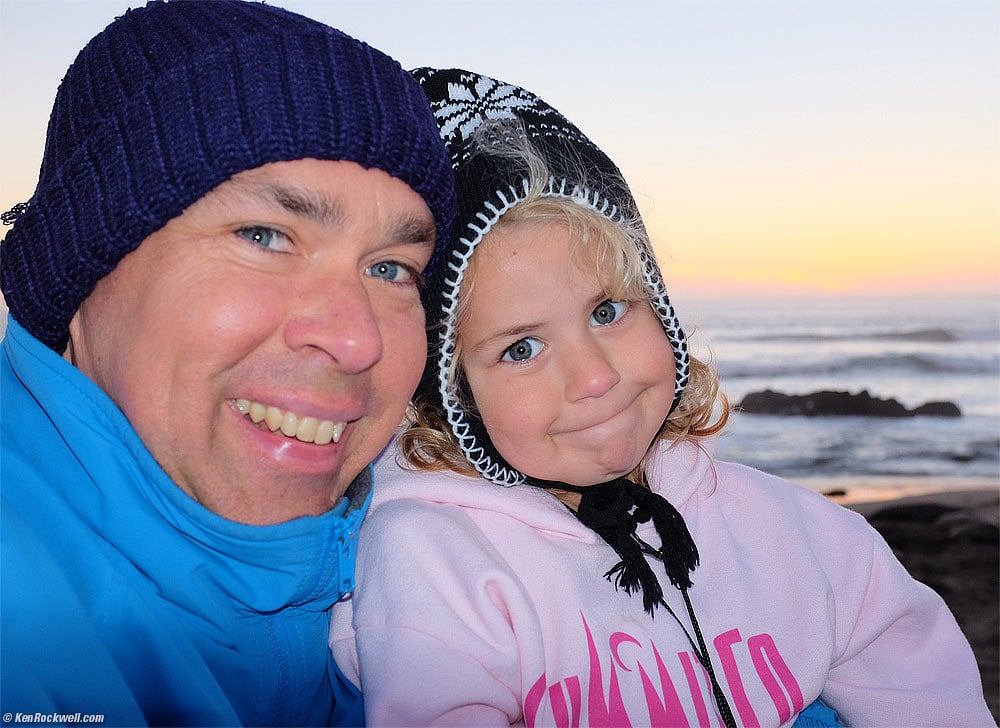 Arm's Length self-portrait: Dada and Katie at the Elephant Seals. Fuji X100S, flash ON, Program Auto picked f/5 at 1/140 at ISO 800, Perfectly Clear. Nothing else I feel like holding for a self-portrait will balance flash like this into the sunset all by itself. bigger.
My hat is from the 1970s when my grandparents brought it back from a Norwegian seaport. It looks ratty, and it's still warmer than any other I've found. I'd love to find another, but haven't.
Whoo hoo, I just got back from a week away shooting nothing but my Fuji X100S (and my iPhone 5 for video and sundries).
With forecasts of snow days (a foot in NYC) and a couple of federal holidays thrown in, the kids had off from school last week. My wife and I were entitled three days off for bereavement (our little dog Molly finally succumbed to life's vigors) and I needed to take my X100S on a road trip to demonstrate what it can do, so my wife looked and scored us some killer deals on hotels that we just couldn't refuse, so BINGO!, instant emergency family ROAD TRIP!
We flew out to San Francisco to see family, then drove the Pacific Coast Highway (PCH) south to Hearst Castle, elephant seals, San Luis Obispo and Santa Barbara. We took the week to slow down, goof off, play and do absolutely nothing.
What cameras and lenses did I bring for this once-in-a-lifetime opportunity to see family and the sights? Nothing but my tiny Fuji X100S. With the X100S, I bought a charger, a spare battery in my pocket, a spare SD card in my wallet, my JB Designs half case on the bottom of my X100S and I was done. Time to hit the road, with no laptop, either.
Did I miss anything? Not a thing. As I keep telling people, the Fuji X100S is the world's best digital camera. It worked flawlessly in every situation from blinding sun to deepest, darkest night, and didn't weigh me down like a dork with a DSLR with a fat lens and flash. DSLRs have their uses, which are not family vacations. I needed to make this trip to create a gallery of X100S shots as I did last year for the X100. Now all I need to do is edit it all so we can see if I got any good shots.
Stop asking about the interchangeable-lens Fujis. They are nice, but the X100 and X100S have far superior leaf shutters and either is much better at everything than any of the bigger Fujis. The iPhone, X100 and X100S already have the one and only best lens I need for everything already attached.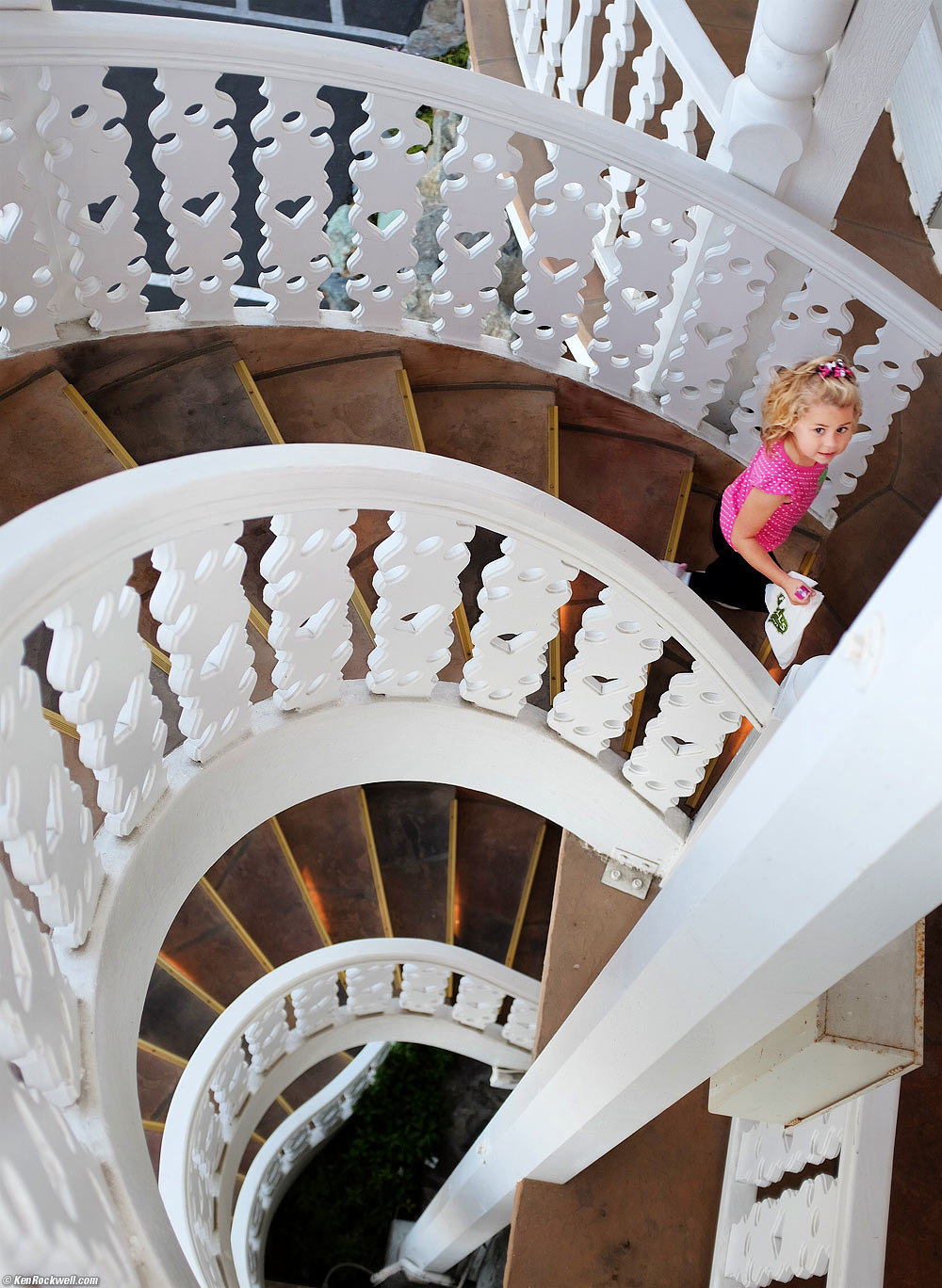 At the Madonna Inn. Fuji X100S, Programed Auto, Auto DR and Auto ISO picked f/2.2 at 1/125 at ISO 200, Perfectly Clear. bigger.
16 January 2014, Thursday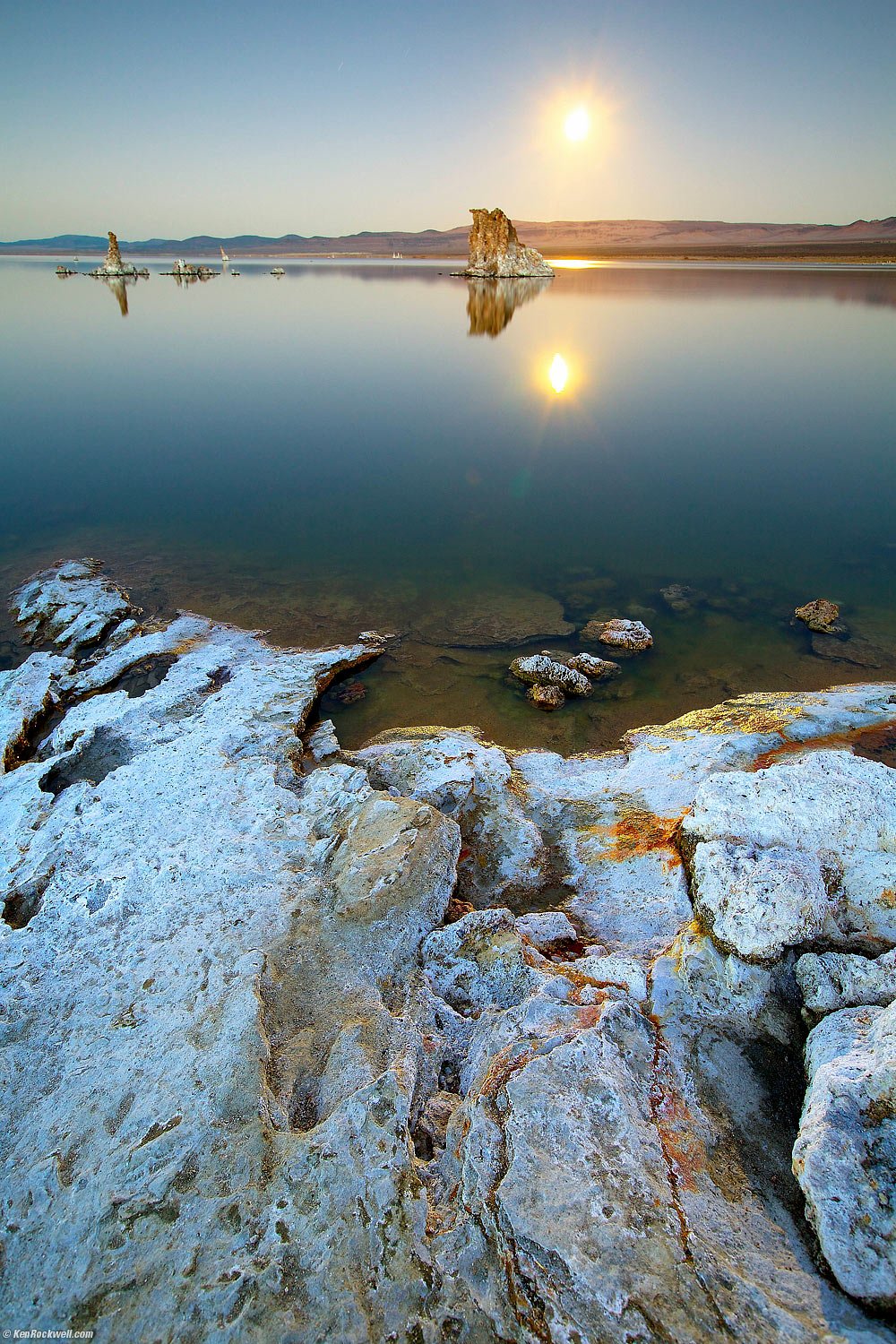 Moonrise Over Mono Lake.
NEW: Photographs from California's Eastern Sierra.
f/8 and be there. You really can't tell which photos were made with what camera, be it an iPhone or a LEICA, unless I disclose it. The artist makes the art, not a camera.
Reader Mailbag: AI vs. AI-s
A reader asks: "I do not see many AI lenses out there. Is the AI-s just as good or should I search out the AI?"
The AI and AI-s are identical!
AI were only made from 1977-1981, while AI-s have been made from 1981 up through today.
Therefore there are a lot more AI-s lenses out there. They all do the same thing. More on AI lenses versus AI-s lenses.
The AI-s version adds linear (actually logarithmic) diaphragm control with the position of the auto diaphragm pin to make automatic control by the camera faster. They also all paint the smallest aperture in orange to make setting the Program and Aperture-priority modes of contemporary Nikon cameras easier. Nikon created AI-s lenses for introduction of the phenomenal Nikon FA in 1983, which is one of the very few cameras that take advantage of linear diaphragm control with manual focus lenses. Nikon then started a FUD campaign to try to scare people into replacing their perfectly good AI lenses with AI-s, but in reality all native AI lenses work just as well on the FA; I've shot them all extensively.
15 January 2014, Wednesday
How sharp the Nikon 35Ti?
I just added this snap to my Nikon 35Ti review: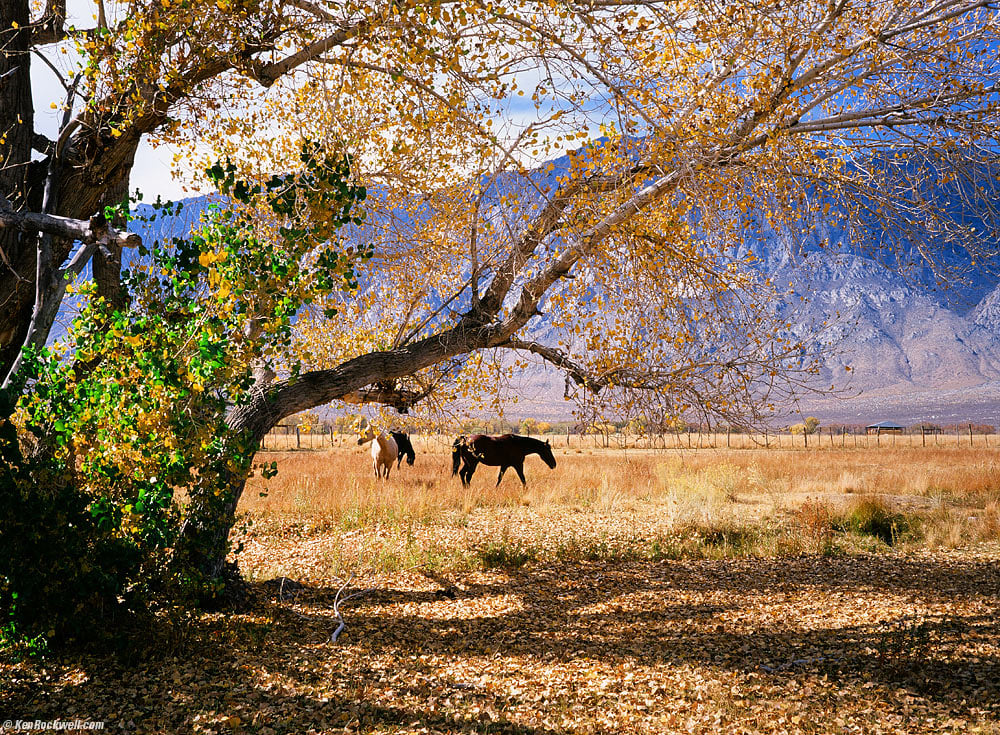 Paradise, California, 23 October 2013. bigger or 3,600 DPI scan.
It's sharper than a DSLR because the 35Ti's rangefinder-style wide lens is sharper than an SLR lens!
LEICA: Any good?
And I just added this snap to my LEICA M typ 240 review and my LEICA SUPER-ELMAR-M 21mm f/3.4 ASPH review: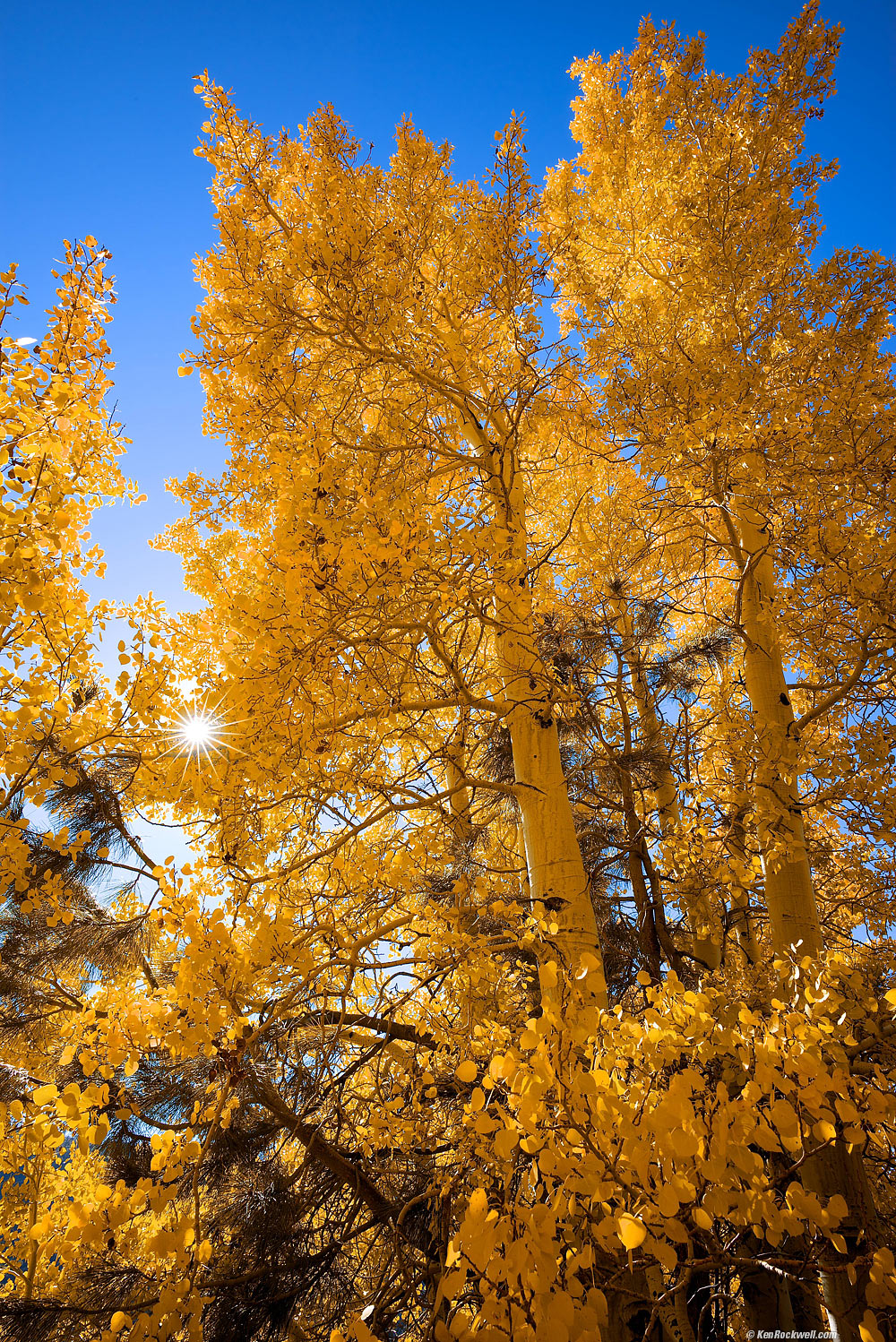 Golden Trees and Sunstar, June Lake Loop, 18 Oktober 2013. Shot as DNG at ISO 200 with LEICA SUPER-ELMAR-M 21mm f/3.4 ASPH at about f/11 at 1/60, processed in Aperture 3 into this full-resolution JPG. bigger or full-resolution JPG.
14 January 2014, Tuesday
Fuji X100S at ISO 20,000!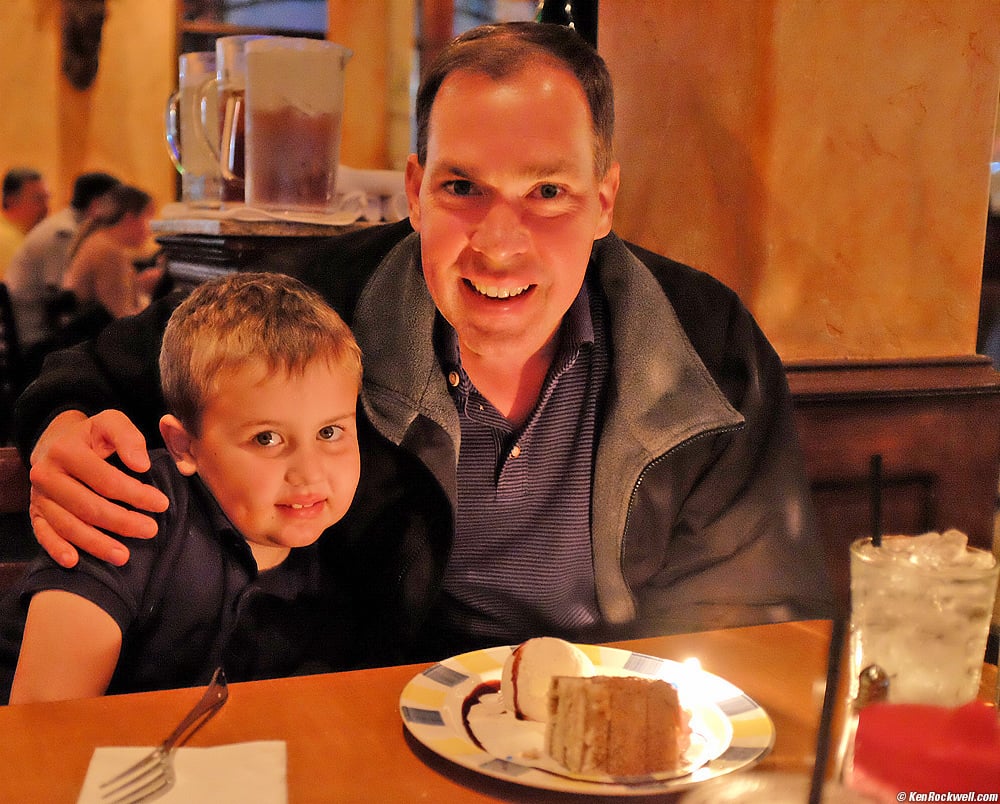 Lit by one small candle: Ryan and Dada at an early birthday celebration for Dada at Mangia Bene, 28 December 2013. (Fuji X100S pushed to ISO 20,000, f/2 at 1/45, Perfectly Clear.) bigger.
Not a great shot, but not bad for total darkness when handed to my wife to snap. I pushed the ISO in Photoshop CS6.
13 January 2014, Monday
Fuji Velvia 50 in 4x5" size
Fuji Velvia 50 has been the standard for professional nature and landscape photography, I have a lifetime supply in my freezer.
If you don't, you'll discover that Fuji USA stopped importing it, and the good news is that it's easy to get direct from Japan.
A reader writes that he gets his from:
Yuzo Kanda
You'll have to email him at info@naturephoto.co.jp to pick and ship some for you; it's not on his site.
The only thing that can beat 4x5" quality is a larger format, like 5x7" or 8x10;" 4x5" records over a gigapixel (1,000 MP) in each shot.
Good luck!
Canon 1DX firmware 2.0.3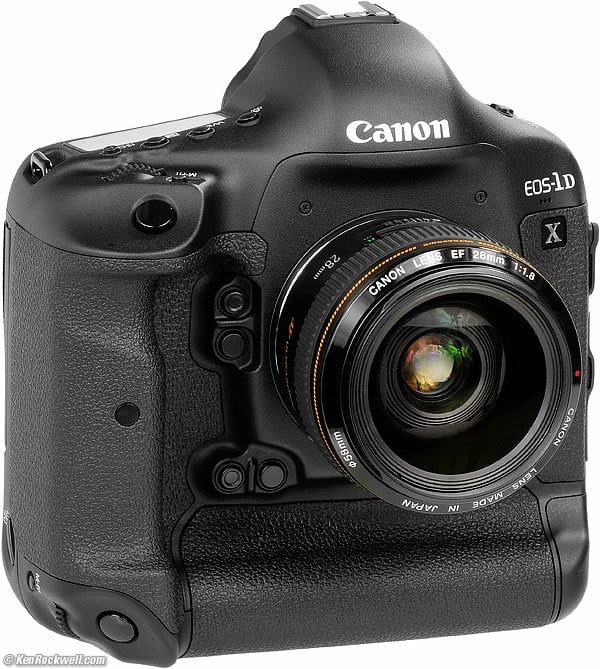 Canon 1D-x and 28mm f/1.8 USM.
11 January 2014, Saturday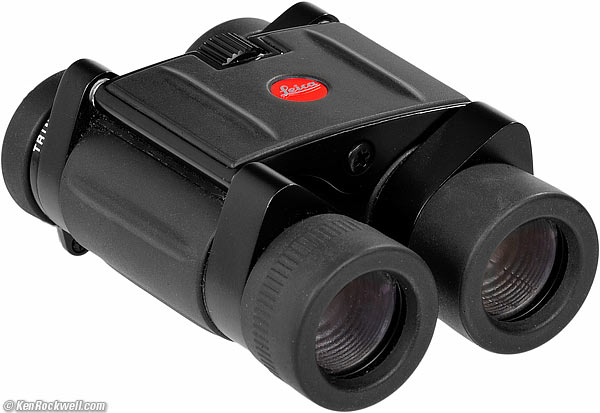 LEICA TRINOVID 8x20 BCA folded for storage.
NEW: LEICA TRINOVID 8x20 BCA Review.
Tiny binoculars to stuff in your bag or pocket.
10 January 2014, Friday
NEW TRIP: Spring in Yosemite 2014, Thursday-Sunday 15-18 May.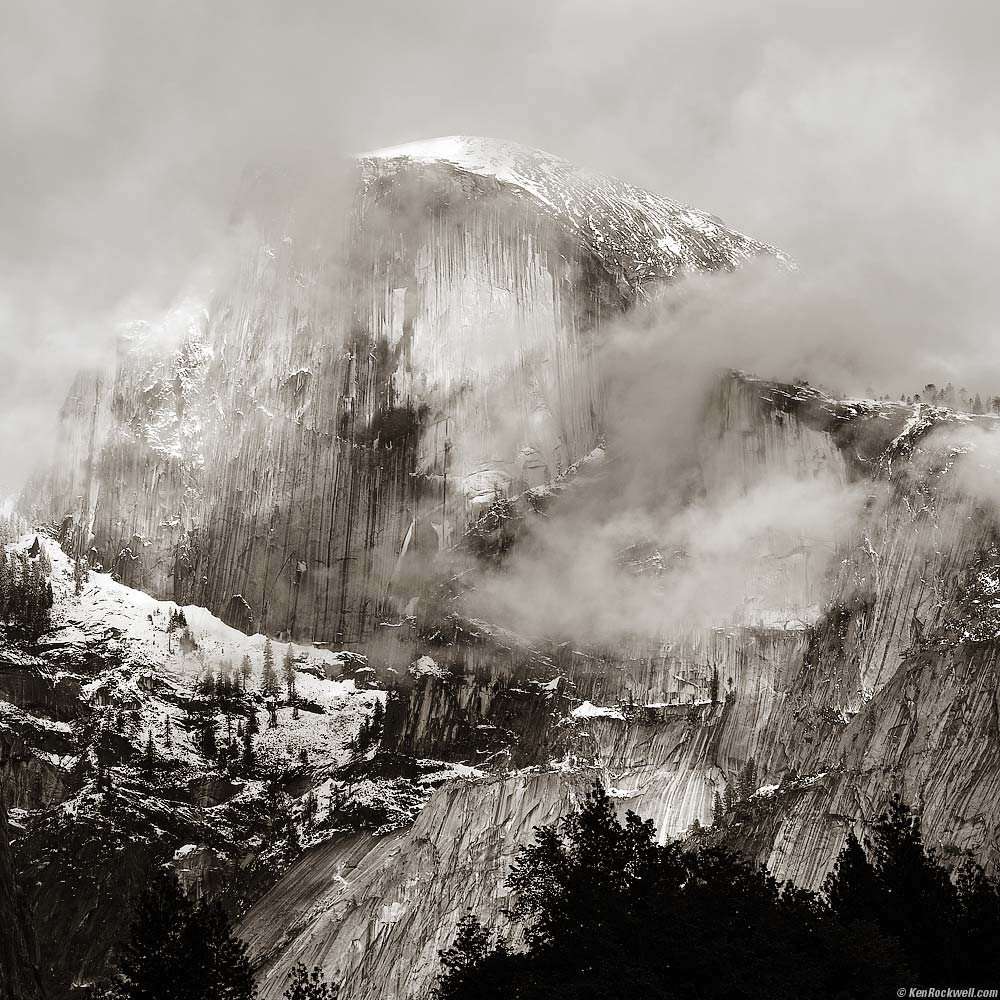 Half Dome. LEICA M9 + 90mm. bigger.
This tour is being taught by Dave and I, but registration is through the Yosemite Conservancy.
More photos from the 2011 trip.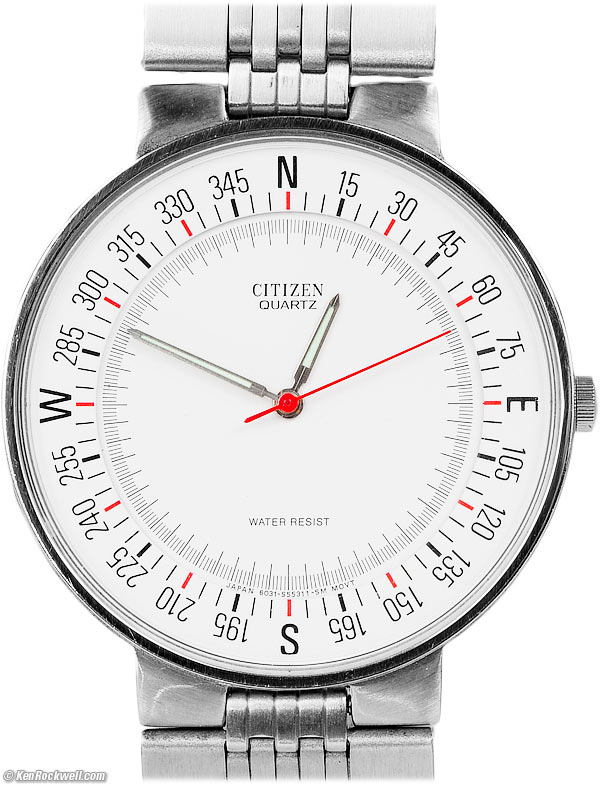 Citizen Compass Face Watch.
NEW: Citizen Compass Face Watch.
ADDED: A new sample image file to my Fuji X100S Review: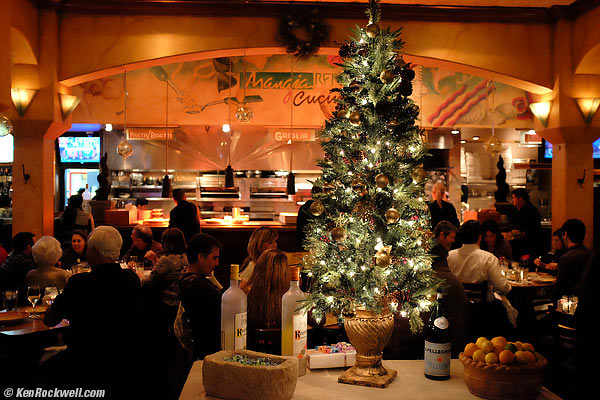 ISO 6,400: Christmas in Italy, 28 December 2013. Wide-open at f/2 at 1/58, Auto WB, Perfectly Clear. Full-resolution JPG, shot as SMALL NORMAL, and super sharp where focused on the tree!
Not only is the X100S super clean at ISO 6,400, it's also got fantastic bokeh, and even wide-open at f/2, ultra sharp as focused on the Christmas tree.
UPDATED: I've added a lot more to my Canon 5D Mark III vs. Fuji X100S image quality comparison, in case you read it yesterday or before. Reread starting at DSP or ISO. Thank goodness New York warmed up to the thirties yesterday; my neighbors were all having to burn their Al Gore propaganda to keep warm the past couple of days!
Nikon Service
Nikon stopped selling parts to unauthorized repair places about 2 years ago. People wrote me complaining, but to me this is no big deal because Nikon still sells all their parts to independent Authorized Service Centers (ASCs), of which there are about 22 in the USA. For the most part, this means that now you know that whoever is repairing your Nikon is probably authorized — and therefore trained and competent. If you start at Nikon's web site looking for service, Nikon will lead you to the ASCs that are certified for whatever piece of gear you need repaired.
With real cameras, any real repairman can make just about any part he needs in his machine shop. Real repairmen aren't just parts swappers.
With digital cameras, you can't just swap a part. You need specialized electronic test equipment to reprogram it, recalibrate the colors, and everything. The parts alone won't help you; you also need to buy very expensive and specialized repair jigs and equipment to repair digital cameras. That's why Nikon cut off the shops that just wanted parts, but wouldn't buy the special tools to go with them. If you have a shop and are willing to buy-in to what it takes to become authorized, as far as I know (I'm not a shop), Nikon will cheerfully sell you the test equipment, and train you for free on it. (As far as I know, Nikon cut off the sale of parts for real cameras, like battery covers for an F3, at the same time just out of inertia, but that's a different story.)
Anyway, I just heard from Kurt's Camera Repair in San Diego, who wanted to mention that they are very much a Nikon Authorized Service Center, and can handle any Nikon repair, including warranty repairs of even D800s and D4s. Bring it to Kurt's, and if it's under warranty, it's a free repair. Kurt's has all the specialized equipment.
Kurt's also specializes in fixing slide projectors. Especially if you're in San Diego, check them out. I haven't used them in a while since I moved back to New York and started sending my real cameras to Gus for service, and as far as I know, Kurt's is as good as ever. They work on most brands, too.
Kurt's Camera Repair
7811 Mission Gorge Road, #E
San Diego, CA 92120
kurtscamerarepair@sbcglobal.net
(888) 673-7811
(619) 286-1810
Fax: (619) 286-6093
09 January 2014, Thursday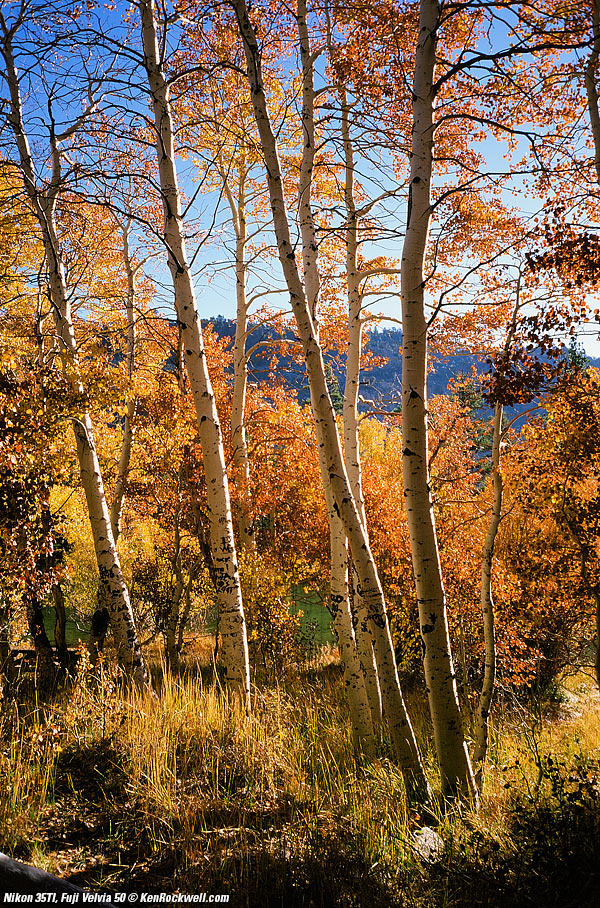 NEW: Canon 5D Mark III vs. Fuji X100S image quality.
Goodness gracious, I found a pair of similar shots from my October 2013 outing and the results are quite telling.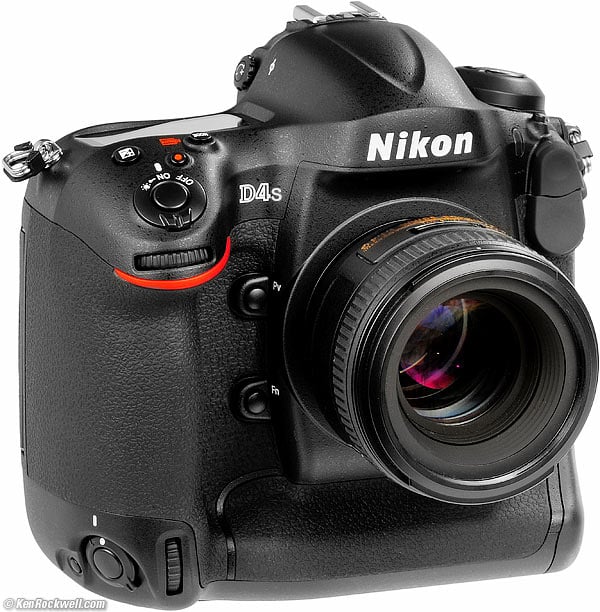 Nikon D4S with 50mm f/1.4 G.
NEW: Nikon D4S.
Yawn; just a mid-model refresh of the D4.
FOR PARANOIDS: I just updated my California Radiation Levels measurements.
08 January 2014, Wednesday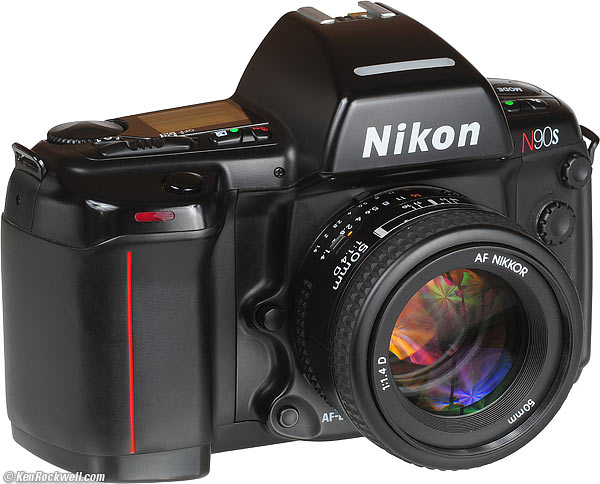 Nikon N90S and 50mm f/1.4 AF-D.
Updated: Nikon N90S Review.
While writing up the Nikon D4S, the N90S came to mind. The D4S is the Same (S) as the D4, as the N90S is the same as the N90 or the D300S is the same as the D300 or the N8008 is the same as the N8008S.
Nikon simply adds a "S" to a name when it makes some minor tweaks to give it an excuse to sell something "new" and degrade the resale value of the non-S models.
I'm astounded at what a great deal the N90S is today. When it came out, you all tripped over yourselves to get on waiting lists to pay the equivalent of over $1,400 for it. It was sold new until 2004. When I last reviewed it in 2008, it sold for about $100 used.
Today, they sell for about $25 used, and work just as well today as ever. The N90 and N90S all have extraordinary light meters, as well as fantastic performance with flash.
NEW: Fuji X100S in black.
The world's best digital camera, now painted to look like everything else. I prefer my chrome X100S because it looks like an old 35mm camera, so people leave me alone.
There are thousands of digital cameras out there. The X100 and X100S are the best, in either color.
NEW: Fuji X-Mount 56mm (85mm equiv.) f/1.2.
Fuji's interchangeable lens X system gets even better.
Personally I prefer the X100 and X100S because they are smaller, faster and quieter and already have the only lens I need already permanently attached, but for people who like to fumble with gear instead of just shoot, the interchangeable lens X cameras are the best mirrorless cameras around.
The X100 and X100S have the best finders of any camera on Earth. Even if you get the combined optical/EVF finder in an interchangeable lens X camera, the magnifications don't match between them as they do in the X100 and X100S.
As always, if you can't afford the X100S, just get the X100: it's 99% the same thing. The old X100 is still better than any of the newer cameras, except for the X100S.
More new cameras and lenses from Fuji.
New compact cameras, camcorders & projectors from Canon.
07 January 2014, Tuesday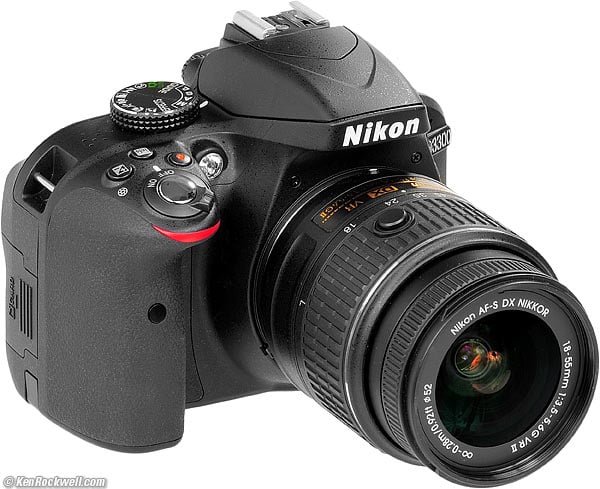 Nikon D3300 and 18-55mm VR II.
NEW: Nikon D3300.
Same as last year's D3200, but also comes in gray. Wow!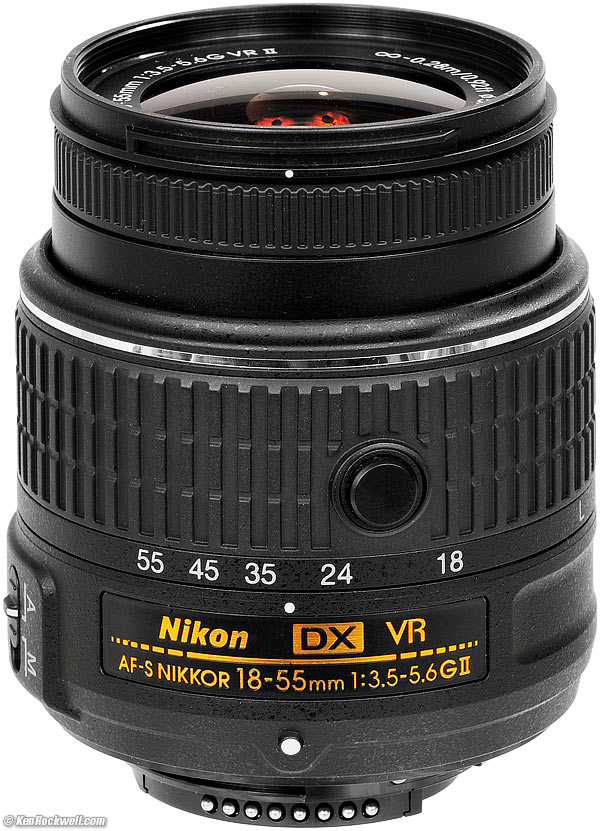 Nikon 18-55mm VR II DX.
NEW: Nikon 18-55mm VR II DX.
A new kit lens for the D3300, now collapses just like LEICA's lenses of the 1930s.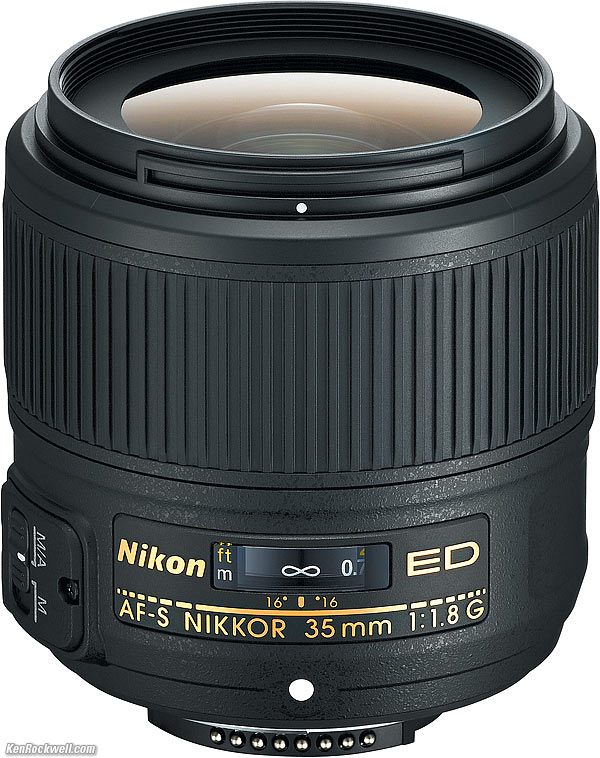 Nikon 35mm f/1.8 FX.
NEW: Nikon 35mm f/1.8 FX.
A great lens, but probably offshored to China so it's on my "Do Not Buy" list.
What Was New in:
Help me help you
I support my growing family through this website, as crazy as it might seem.
If you find this as helpful as a book you might have had to buy or a workshop you may have had to take, feel free to help me continue helping everyone.
If you've gotten your gear through one of my links or helped otherwise, you're family. It's great people like you who allow me to keep adding to this site full-time. Thanks!
If you haven't helped yet, please do, and consider helping me with a gift of $5.00.
The biggest help is when you use any of these links when you get anything, regardless of the country in which you live. It costs you nothing, and is this site's, and thus my family's, biggest source of support. eBay is always a gamble, but all the other places always have the best prices and service, which is why I've used them since before this website existed. I recommend them all personally.
Thanks for reading!
Ken
Home Donate New Search Gallery How-To Books Links Workshops About Contact