Home Donate Search Gallery Reviews How-To Books Links Workshops About Contact

Sept & Oct 2014's News
RSS Hot Deals

all © 2014 KenRockwell.com. All rights reserved. Ryan Katie

Nikon: D810 D750 D610 D7100 Lenses Canon: 5D Mk III 6D 7D II Lenses
Reviews: Fuji LEICA Contax Zeiss Sony Minolta Olympus Pentax
Recommended Cameras How to Take Better Pictures random
Facebook Twitter Video Tutorials
30 October 2014, Thursday
Yosemite Files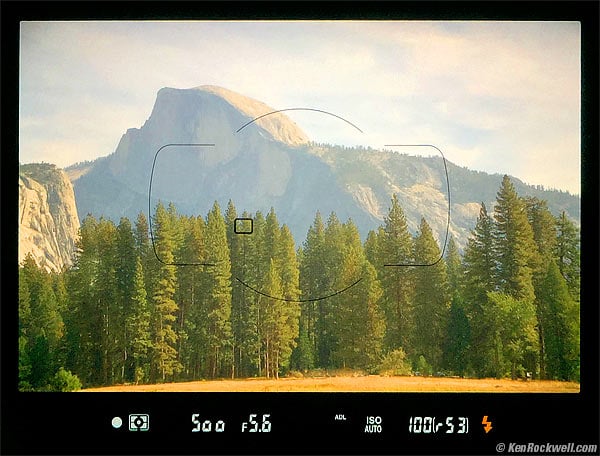 Nikon D750 Viewfinder (actual view).
As I'm sorting my images from the last few weeks for publication, I've added a new Nikon D750 finder image, and Canon EF 300mm f/2.8 L Bokeh samples to their reviews.
Here's a file from my D810 at ISO 7,200: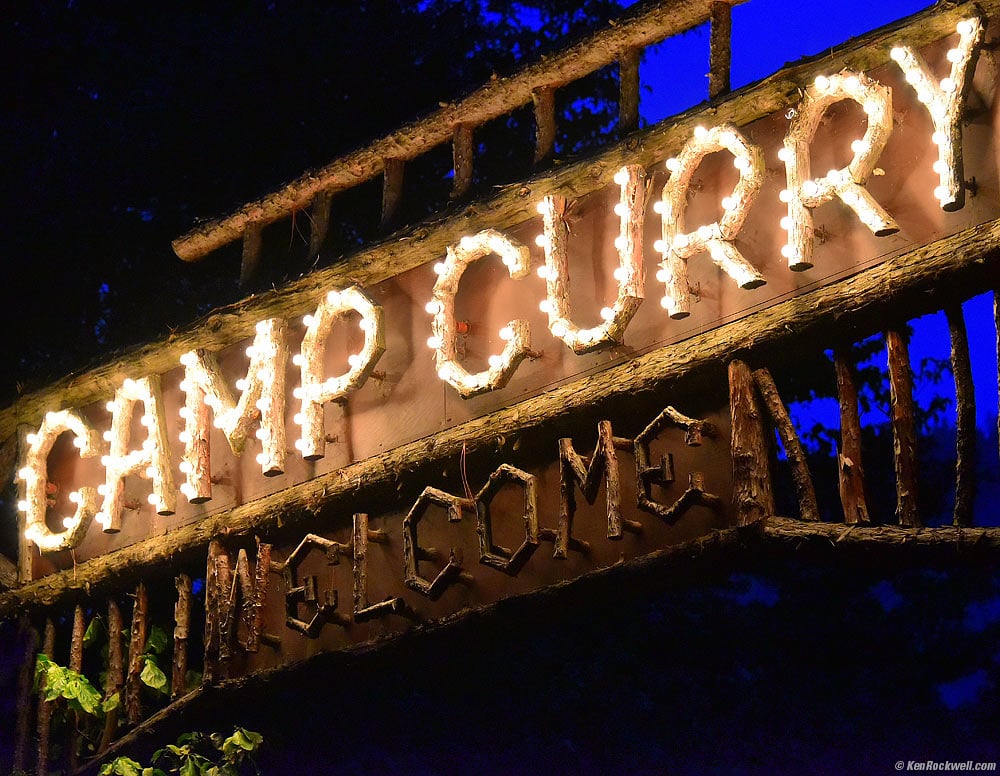 Camp Curry, Yosemite, 17 October 2014. (Nikon D810, 28-300mm VR at 100mm, f/5.3 at 1/125 at Auto ISO 7,200, Perfectly Clear.) bigger or Camera-original JPG file.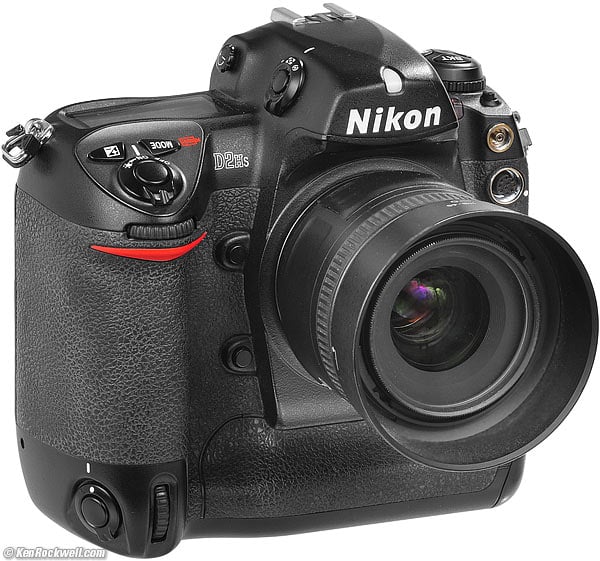 Nikon D2Hs and 35/1.8 DX.
NEW: Nikon D2Hs Review.
Nikon doesn't want you to know this, but while consumer landscape and portrait cameras like the D810 and D750 fill-in pretty well for sports shots now and then, frames-per-second always wins, and the D2Hs neatly beats any consumer DSLR for serious sports shooting.
Either of the D2H or D2Hs are fantastic for sports, and sell for about $300 used.
They have been bargains for years, and I finally gave the D2Hs a complete review.
The only gotcha is that pros know the D2Hs, so there aren't very many available for sale used, but when you get one, you'll finally know the satisfaction that only a fully professional camera gives if you don't have a D3 or D4 series yet.
The Canon 7D Mark II will also be a ground-breaker for sports as the fastest consumer DSLR of all time (10 FPS), but if you're a real budget shooter, the 7D Mk II still sells for $1,800, not $300.
I've been doing this site for just over 15 years . When I started this site in October 1999 I had already been shooting for over 30 years, and the cheapest shipping DSLRs cost $20,000 each. Everyone shot film back then, and DSLRs were exotic things only owned by a few news organizations, not individuals.
Buying new DSLRs has always been a rich man's hobby, but now that it's been almost fifteen years since the first "bargain" $5,000 DSLR (the Nikon D1 shipped for Christmas 1999), it's getting to the point that people who actually work for a living can start affording pro-level used digital gear. In this spirit I've reviewed the D2Hs against modern standards today.
Spending thousands of dollars is fine if you have them, but if not, a refurbished Nikon D3100 for $329.95 with lens still takes much better pictures than a LEICA digital, and a used D2Hs still shoots faster and better than any available consumer DSLR (the 7D Mk II isn't shipping yet) for sports.
29 October 2014, Wednesday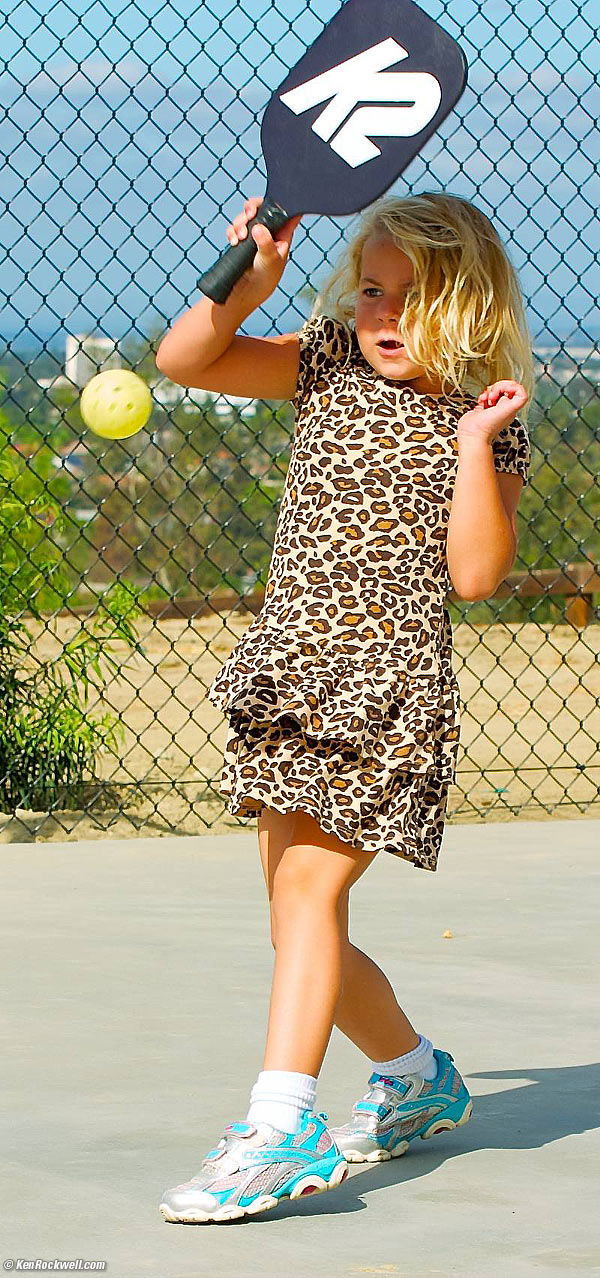 Katie, 26 October 2014.
NEW: Frames-per-Second: Why it Matters for Sports.
NEW: Nikon D810 image samples in all file types.
Want to see what a 115MB TIFF looks like? It looks just like a JPG! Now you can see for yourself.
DEAL: TASCAM DSLR pro audio recorder bundle: $210 with free US OVERNIGHT shipping!
Click "Add to bundle" for printer and paper, then click "Add bundle to cart."
IN STOCK: World's first 0.5 TB (512 GB) SD Card!
I shoot SMALL BASIC JPGs at about 1 MB each, so it would hold 500,000 shots. Would my camera last that long?
On my D810 shot as TIFF I could still shoot over 4,000 shots.
Seriously, though, these are a Godsend for travel in bad areas. Journalists back up all their work on these when traveling and sew these into their clothes, or get special belt buckles that hide a card or two. This way when their cameras or laptops get impounded, they still have what's important.
Ditto for the IE (Industrial Espionage) community; having this much storage on a postage stamp is very helpful.
25 October 2014, Saturday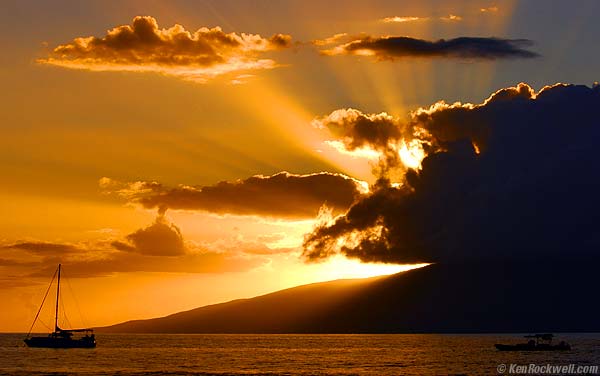 Sunset over Lanai as seen from Lahaina Harbor, Maui, Hawai'i.
NEW: No Regrets.
During one of my workshops this week, someone suspected that great photographers — or even I — must have regrets over all the missed photos we must have suffered over the years.
Nope!
Next week I'll talk about objectives.
DEAL: Canon T5 with two lenses and printer: $358!
Click "Add to bundle" for printer and paper, then click "Add bundle to cart."

Final price $358 (after mail-in rebate) for:
Canon Rebel T5
Canon 18-55mm f/3.5-5.6 IS II
Canon 75-300mm F/4-5.6 III
Canon PIXMA PRO-100 Professional Photo Inkjet Printer
Canon SG-201 Photo Paper Plus Semi-Gloss, 13x19," 50 Sheets

This is lower than printer alone!
Price in cart is $708 for the full bundle, minus Mail-in rebate of $350 makes it $358 afterwards.
Current mail-in rebate expires 10/25, new mail-in rebate will be updated on Sunday, 10/26.
22 October 2014, Wednesday
Live from the Sierras!
Hopefully you've all been following my live feed from Yosemite and the Eastern Sierra (or however you find my Facebook page) this past week.
I've been out shooting from dawn to dark, and been broadcasting live from my iPhone 6 Plus. I'm out shooting most of today, too.
I use my new backpack to haul way too much gear from my studio to the back of a car. No way do I use a backpack to hold gear as I'm out shooting; I only carry one or two bodies or lenses at a time while all the rest of the cameras sit by themselves in the backpack. I don't carry any camera cases or backpacks; the backpack never stays on my back longer than the time it takes to put it in a car or bring it into the motel.
I grab what I need from it as the day goes on, and never carry more than a camera or two around my neck.
16 October 2014, Thursday
I finally found a backpack I love!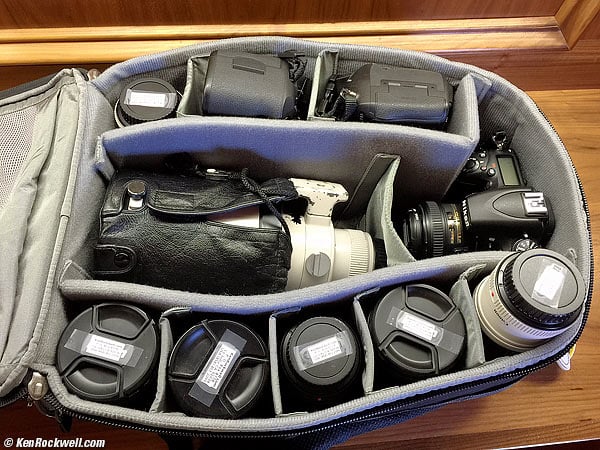 Think Tank Airport Commuter.
I've always hated backpacks, and just found one I love.
I needed some way to carry my 300/2.8 in the field, and my usual stuffing-it-in-my-pocket or a waist pack wasn't going to work.
I just got a Think Tank Airport Commuter, and it's perfect!
It holds my big 300/2.8, as well as a couple of pro bodies and a bunch of other lenses and accessories and a laptop and more, and it's actually comfortable.
The Airport Commuter weighs a lot less than I had expected, and it even comes with a cable and combination lock for additional security
It holds my D810, D750, 16-35 VR, 28-300 VR, 50/1.4G, Canon 5D Mk III, 16-35 IS, 24-70 L II, 70-200/4 IS, 1.4x and 2x extenders and of course my Canon 300/2.8.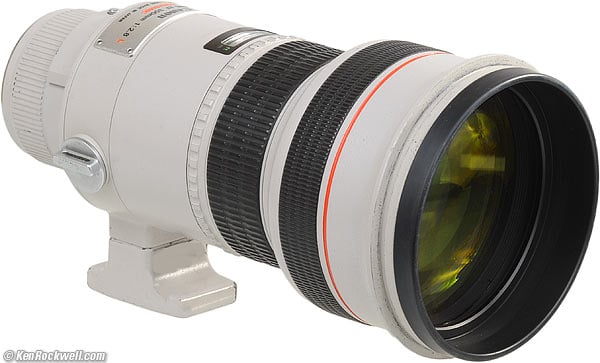 Canon EF 300mm f/2.8 L.
NEW: Canon 300mm f/2.8 L Review.
NEW: Canon 300mm Lenses Compared.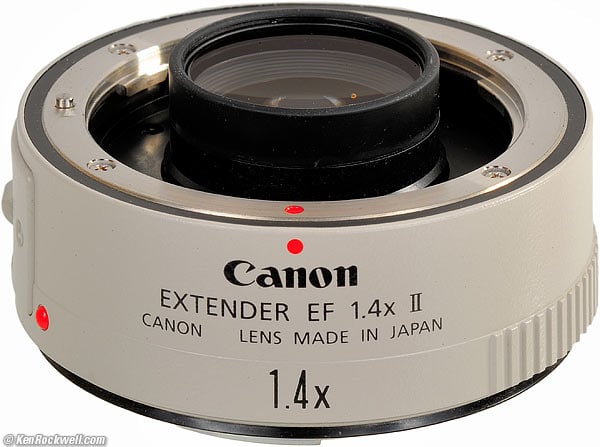 Canon Extender EF 1.4x II.
NEW: Canon Extender EF 1.4x II Review.
Canon EF 300mm f/2.8 L.
NEW: Canon Extender EF 2x II Review.
The Grail Stays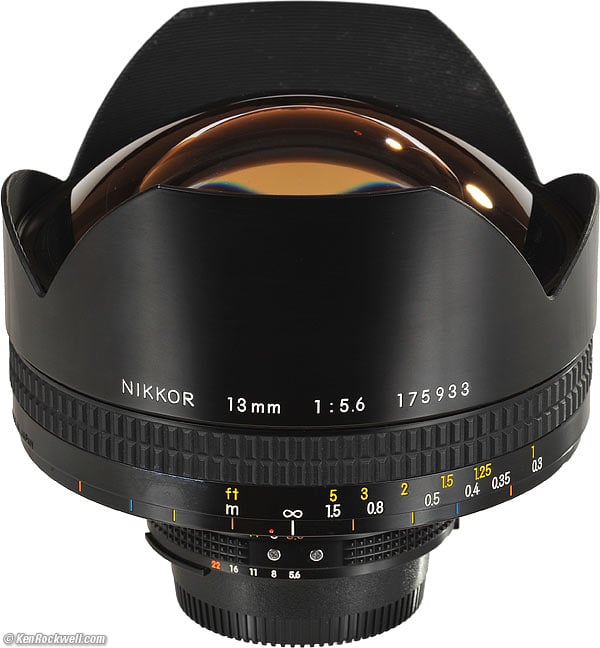 Nikon 13mm f/5.6.
A Nikon 13mm f/5.6 had been up for grabs on eBay, but the highest bid was only $24,500, which was nowhere near the seller's reserve. Therefore it remains unsold. These are unobtainable and sell for small fortunes, if they ever do sell.
I just tested a different sample on my D810. It works great; and the automatic lateral color correction also works great; much better than on earlier Nikons.
14 October 2014, Tuesday
iPhone 6 Plus battery life
I've been using my iPhone 6 Plus all day every day last week navigating and researching and emailing and buying things and generally being on it all day online, and its battery still has 35% left at the end of each day of unlimited use.
I just flew from NYC to California for my Yosemite workshops yesterday, so most of what I did was watch movies and enjoy music the whole day on the plane.
Holy cow!
After about 3 hours of music, a bit of the usual online eMail, messages and some phone calls before and after the flight — and after 4 and a half hours of watching movies on the plane — I still had 55% charge. I only used from 90% down to 60% on the plane for four and a half hours of movies and probably an hour of music. The flight had no restrictions on iPad etc. use so long as there was no cell usage, so I had music and movies playing for the entire flight cross-continent.
With the remote control of the Beyer T51i headphones, the iPhone sat in my pocket as I schlepped everything around airports and airplanes, and had music on call. I love getting to the airport an hour or two early so I can relax and enjoy my music.
In airplane mode, the iPhone 6 Plus runs longer than my iPad, which runs 10 hours on a charge. As I calculated it, I'd probably get 13 hours of movie playback on the iPhone 6 Plus!
I didn't even bother to find my charger when I got to California. I woke up this morning, and still have 55%.
I'm digging the iPhone 6 Plus. Big batteries rule!
13 October 2014, Columbus Day
Fast guide to better B&W
A reader asked about black-and-white shooting, so I reiterated:
Outdoors, use an orange filter otherwise the sky washes out to white. A yellow filter is OK, but a weaker effect. A red filter turns blue sky much darker, and combined with a polarizer makes it black — all while the clouds stay white.
Use about a stop more exposure than you think. Set the ISO to about half the rated ISO for starters. This will help make your blacks black and detailed, not gray and dull.
You have to get your system calibrated. Learn to make a "perfect proof," which means to use the minimum exposure needed to get the maximum black at the film edge on your contact sheet.
Make a test strip to determine the minimum time needed to get the film edges as 100% black as the paper around it. Use whatever the first time on the test strip os that there is NO visible difference between the black of the film base and the black of the paper next to it.
Once you get that down, set your camera exposure (ISO) to look correct in these proofs.
If you need different contrast, try different papers, presuming you're developing your film per manufacturers directions.
Trying to get the process nailed down with real optical printing takes a lot of trial and error.
Personally I send my film to NCPS for processing. Local labs rarely develop B&W film properly. I have NCPS scan everything and then I do my "printing," burning and dodging in my computer.
12 October 2014, Sunday
Fall Color
I'm a photographic artist (not a "blogger,") and like most photographic artists, I'm on the road all of October crisscrossing the country in search of the best colors. I'm on the east coast right now, and will be in Yosemite later this and next week.
I'll be on two workshops in the Yosemite area; the first has been wait-listed since the summer, while the second is more flexible if you'd like to join us and aren't registered yet.
I haven't had the usual office time and stop to share as much as I usually do, so here are some tidbits from the road:
Nikon D750
I love to travel light, so all I've been shooting the past week has been my new Nikon D750 and 20mm f/1.8G. I also have my 50/1.4G in my pocket.
I grabbed my D750 because I just got it and wanted to give it a solid work out, and also because it's Nikon's lightest full-featured FX DSLR. (My Df is great, but it's more of a showpiece than workhorse.)
I don't even bother with a camera bag. I wrap the D750 and lens in a shirt, and wrap the other lens in another shirt, and throw them in my carry-on bag. This way no one knows I'm carrying, and therefore no one is trying to grab my bag off the X-ray belt as I'm being probed at the airport. I stow everything shiny in my bag long before I get to check-in to make it less likely the bad guys see me stuffing my bag with cameras and iPhones and wallets. I don't want to put that stuff on the X-ray belt in plain sight. (If I was really worried, I'd carry crappy decoys I'd put in the baskets instead, but even I'm not that paranoid.)
As I walk around shooting, the D750 and 20mm are around my neck, while the 50mm is in the pocket of my cargo shorts.
I don't bother with a flash either; the built-in works great for the occasional flash fill.
I'll probably bring my D810 to Yosemite; that's when I get more serious.
For all my running around on both photo and personal business, the lightweight D750 is a dream. It's light enough with either of those lenses not to bog me down, and gives fantastic results.
I set my D750's Fn button to select crop modes. With this I can crop the 20mm to a 24mm or 35mm equivalent, and the 50mm to a 60mm or 75mm equivalent. Thus these two lenses are more than I need for everything these past weeks.
iPhone 6 Plus
My iPhone 6 Plus arrived as I was heading out, so I barely had time to transfer all my files and be sure I could log-in to all my apps.
I know you all want to know about it, so here are some quick observations.
Of course it's fantastic. The camera is the best pocket camera ever conceived. Sure, a Canon Powershot has a broader zoom range and more features, but since I'm already packing my Nikon and the iPhone 6 Plus, who cares? Not only is the 6 Plus camera extraordinary, I can do anything with the photos right from the iPhone, while I can't do anything with Powershot or Nikon photos until they are transferred to a computer — or the iPhone.
Of course the iPhone shots have fantastic colors (as good as Nikon and Canon and better than Fuji, LEICA or Sony (Fuji is great for people, but no mirrorless is as good as Nikon or Canon for everything else)), and they are super-sharp. As we expect, iPhone exposure is always right on, with a better hit-rate than a DSLR.
New in the iPhone 6 Plus is optical image stabilization, and it really works. Of course the photos are sharp in dim light, but more importantly, the iPhone 6 Plus shoots in much darker light than previous iPhones. I can shoot outdoors at night with no flash and get swell pictures, while my iPhone 5S just got black screens. The range of light over which we can shoot the iPhone 6 Plus has been significantly extended into darkness.
A DSLR still works better in the dark, since the iPhone 6 Plus tends to reduce color saturation to reduce noise, but so what: I can shoot in the dark and get real photos with the iPhone 6 Plus in conditions to which iPhone 5S used to be blind.
Also terrific about the 6 Plus is that it comes in a 128 GB version. I finally can fit all the music I actually listen to into it, as well as have plenty of room for hours and hours of video.
Because the iPhone 6 Plus screen is so big, I left my iPad at home and can watch movies on the iPhone screen instead. I travel as light as possible, and with my iPhone 6 Plus, the iPad isn't needed.
Some people wanted prints right away, and lo and behold, I got the Costco app and was able to send images to print at the Costco right near me. As soon as I went there, they were done.
Not only could I print the photos I just shot, they were real photo prints that look fantastic and will never fade like Polaroids. Just as easily as printing what I just shot on the iPhone, I was able to print any of the images I stored on the iPhone that I synced from galleries in my Mac. In other words, I could print on demand, and with the huge storage in the iPhone 6 Plus, had much of my archive in my pocket for instant printing.
The big battery in the iPhone 6 Plus lasts a long time, especially when using power-hog apps like Google Maps. The 6 Plus battery is big enough to light the big screen, while power-hungry apps don't draw any more power in the 6 Plus than they do on smaller devices. Thus the extra capacity goes a very long way so we can use these apps freely without having to charge during the day. I use my 6 Plus hard all day, and still have 35% left every night.
The big battery can take longer to charge, if you use the same iPhone charger that comes with it and every iPhone. Here's a tip: I use the larger iPad charger, and my 6 Plus charges in an hour. I suppose if it was completely dead it might take 2 hours to hit 100%, but since charges at about 1% per minute from an iPad charger it goes from 35% to 90% in an hour.
Like all cell phones, I usually can't understand anything over cell phone calls. Audio is usually garbled, dull and awful since cell companies limit the call's audio frequency response to about 3 kHz and then throw away most of the audio data as part of the very lossy data compression used to cram your call over as little bandwidth as possible, typically 16 kb/s.
Here's anther hint: Ryan now calls me over FaceTime and FaceTime audio. FaceTime audio is fantastic: it's full-bandwidth and sounds like he's right there. It's 100% clear and I can hear everything! FaceTime audio and regular FaceTime video also use very little data, so I don't see any extra cellular data usage. If you want to be able to talk on the phone as clearly as if you are in the room with someone, try FaceTime audio.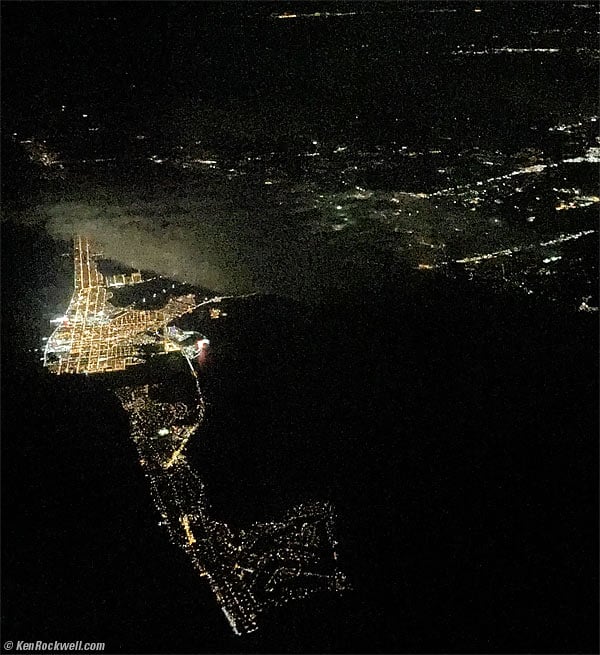 Shot out airplane window at night. (iPhone 6 Plus at f/2.2 at 1/15 at ISO 2,000, Perfecty Clear). bigger.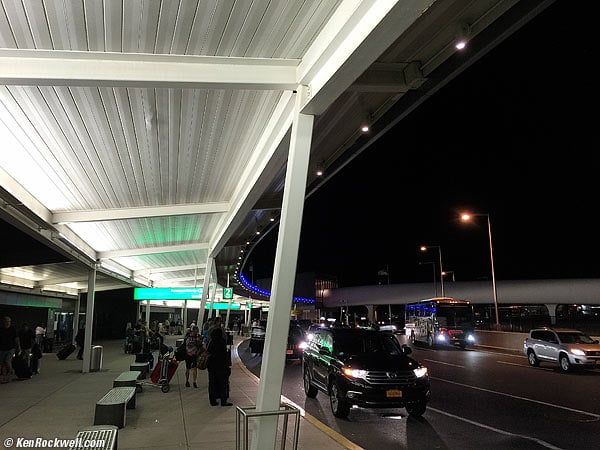 Jet Blue Terminal at JFK. (iPhone 6 Plus at f/2.2 at 1/15 at ISO 40, Perfecty Clear). Full-resolution.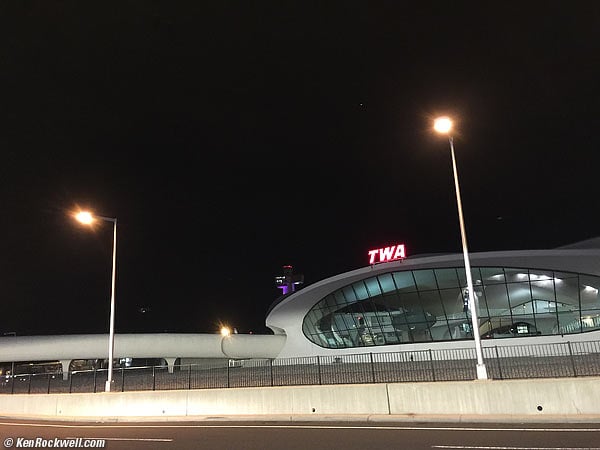 TWA Saarinen Terminal at JFK. (iPhone 6 Plus shot at f/2.2 at 1/4 at ISO 80, Perfecty Clear). © Camera-original file.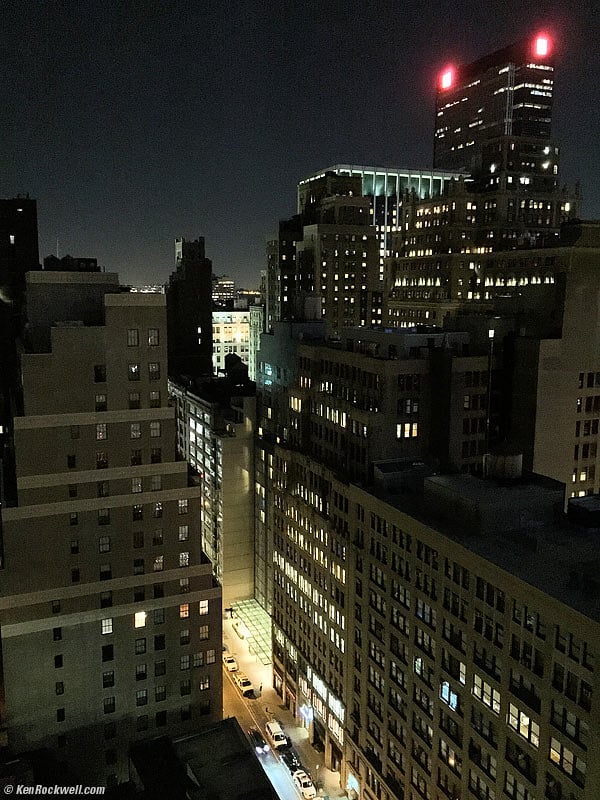 West 30th Street. (iPhone 6 Plus at f/2.2 at 1/15 at ISO 40, Perfecty Clear). Full-resolution.
MacBook Air
Some of you have been asking about computers, especially for kids homework.
I just got Ryan (7) and Katie (6) a MacBook Air. I got them the most basic and inexpensive 13" model and it's more than enough for anything.
We got them these as they work flawlessly, and seem to be kidproof. They have no moving parts; their storage is all solid-state so they can bang it around the house as they work on it.
They aren't disposable plastic toys like windows and chromebooks. If you're short-sighted (or a professional programmer) these might seem less expensive, but you'll have to throw them away after a couple of years at best.
In the case of the MacBook Airs, they'll last far longer. I'm still using my 2009 MacBook Pro from which I'm writing this on the road right now, and it works perfectly, as does my over-10-year-old 12" iBook I bought at the beginning of 2004!
I also have figured out the Apple ecosystem, so I have music, movies and online content playing all over the house controlled from any of our computers or mobile devices, and play this content from any device to any device, stereo, or TV. It still takes a while to put the AirPort Expresses, Apple TVs, the Apple Remote control app and Apple Home File Sharing together, and once I did, it's astounding how fluidly it all works together.
In fact, it's trivially easy to create multiple accounts on each Mac, so I almost swiped Katie's weightless MacBook Air for my trip. The only reason I didn't is that Mom caught me! All of us can log-on to anyone's Mac, and it's as if we're back to work on our usual Mac.
Beyer T51i headphones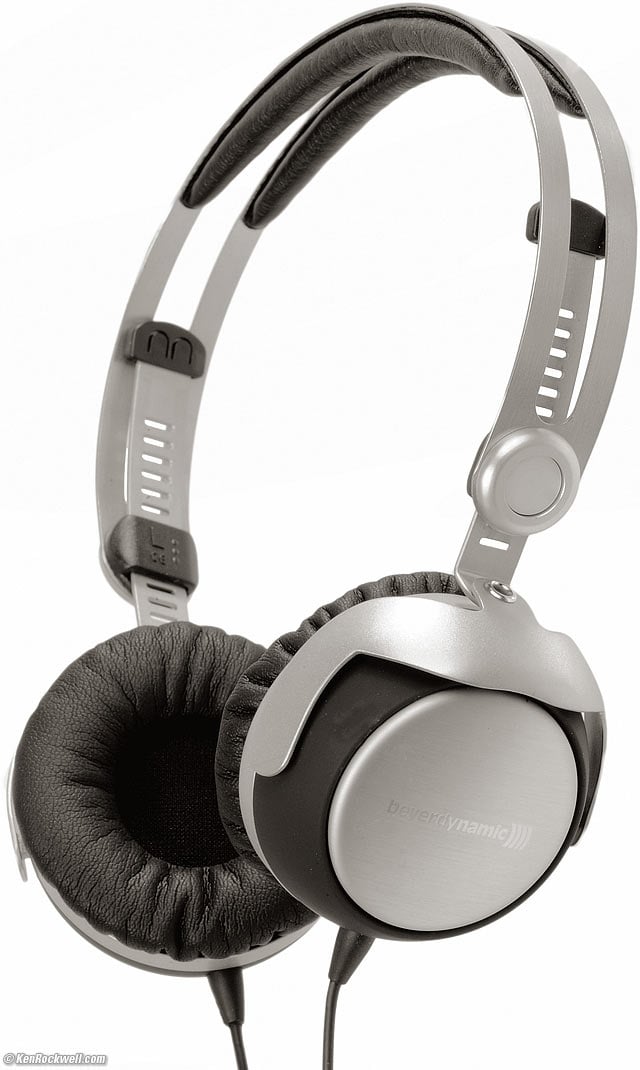 I also just got a pair of Beyer T51i headphones as I headed out on the road, and they are fantastic! They are real MADE-IN-GERMANY handmade precision. They are all metal, not disposable plastic junk offshored from China like most other expensive headphones today.
They have a mic and remote control that control not only iPhone, iPad and iPod; they even control my MacPro and MacBook Pro.
They sound so fantastic I'm always looking for excuses to hide out and enjoy my music. Delayed flight? Great! These give me big, smooth detailed 5th-row sound. They have concert-hall balance, sounding just like I'm sitting there in my suit for the 8 PM downbeat at symphony hall.
I like their sound a whole lot more than the huge Audeze LCD-X, and these Beyers are only $300 and small enough to come with me everywhere.
They're good enough for large complex symphonic and choral works, and have great, big bass that brings you on stage jamming with the band for everything popular. Add that they are small, light, portable and tough, and they just became The World's Best Portable Headphones. I need to review and crown them formally of course; they are far tougher and better than the Focal Spirit One from a couple of years ago. The Focals probably have more accurate sound, while these Beyers sound better. The biggest problem with the Spirit One is that they are made in China from plastic, but at least their price has dropped to about $180 today.
These Beyers grab you with any kind of music and you just can't put them down. They're tough and come with a very good tough case, so get yours and hit the road with quality of which you can be proud and sound that won't let you take them off.
$300 is cheap. Unlike computers or digital cameras or TVs, headphones last for decades. Get what you want, and you'll be enjoying them for decades to come. Headphones don't go obsolete.
10 October 2014, Friday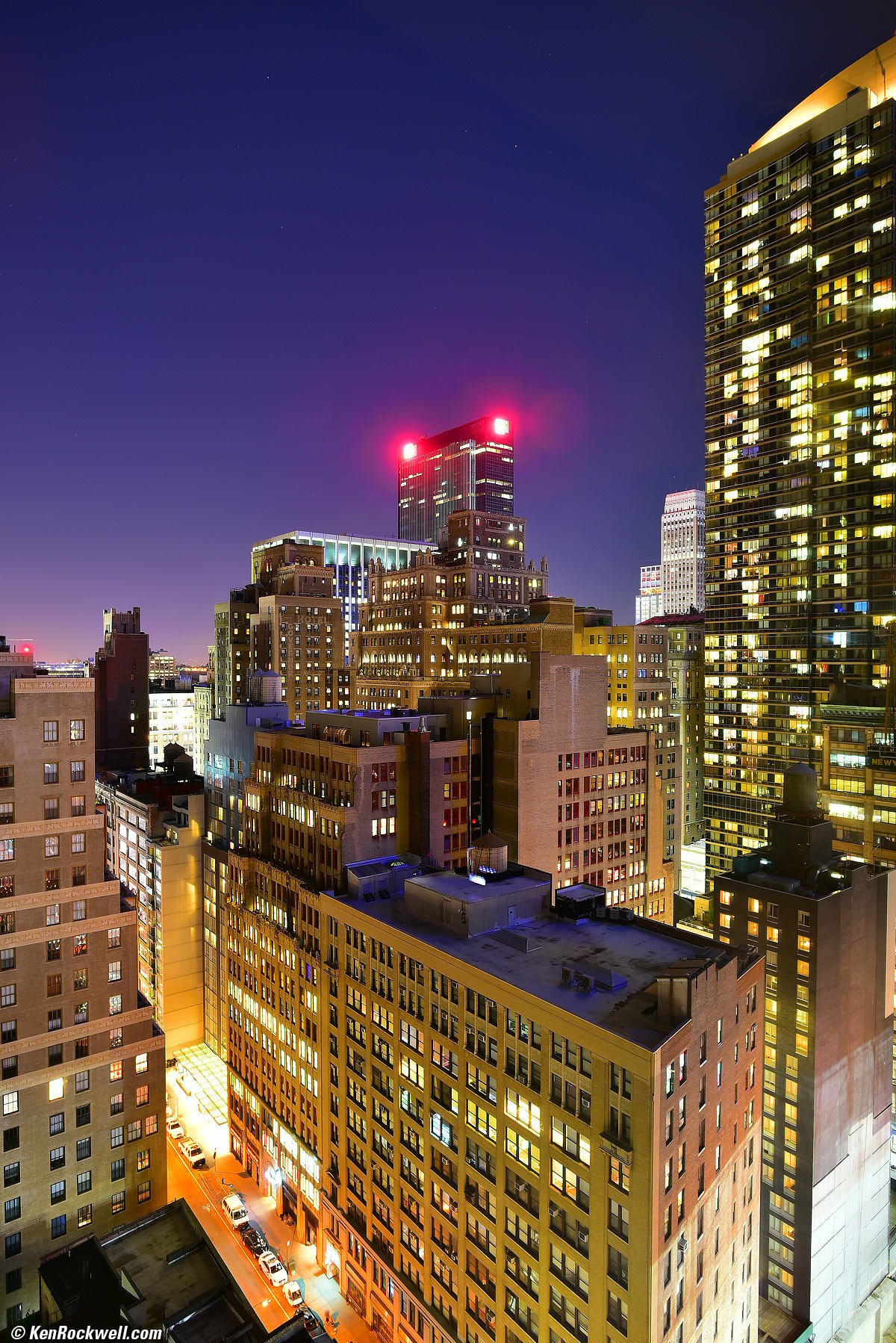 West 30th Street looking west at night, New York City. D750 in HDR mode, 20mm f/1.8, f/2.8 at 5 seconds at ISO 400, hand-held against tinted hotel window, Perfectly Clear. Full-resolution (13 MB JPG).
NEW: I added Sample Image Files to my Nikon D750 Review.
NEW: I added these same Sample Image Files to my Nikon 20mm f/1.8 Review.
As you'll see, the 20/1.8 is probably the world's sharpest ultrawide lens, as well as being so fast that I can shoot out of moving taxis at night at low ISOs.
You'll also see how great the D750's HDR mode works.
With this 20mm f/1.8G, the f/1.8G FX series is now complete with all the standard fixed lenses used by pro photographers: 20mm, 28mm, 35mm, 50mm and 85mm. No, I don't expect a 135mm or 200mm f/1.8 in this series of thinking man's lenses, nor do I expect a 24mm to add to this series. The 20, 35, 50 and 85 are the standard FX prime set; the 28mm is a gimme.
03 October 2014, Friday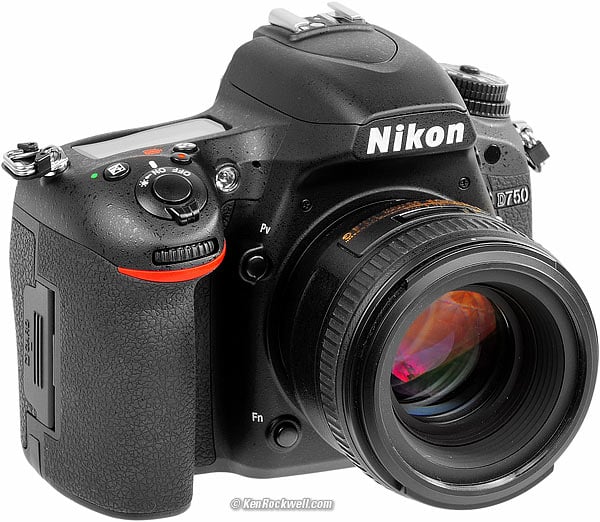 Nikon D750 and 50/1.4G.
NEW: Nikon D750 Review.
I got mine last week, and it's spectacular.
Bravo Nikon! AF is fantastic, and I love the light weight and stable U1 and U2 modes that let me recall all my image, focus and other settings at the flick of a dial.
I even have a Nikon D750 Users Guide as well as my personal settings for you to download if you care.
Plus, for you with the tweezers, I have 100 MB of camera-original files shot at various ISOs for you to see just how well the D750 looks even at ISO 12,800. Important is you can see not just the noise, which is almost nonexistent, but how details are altered at different ISOs.
Unlike the good old bad old days, the D750 looks fine at ISO 12,800.
Yosemite Workshops
Our Yosemite workshop 16-19 October 2014 has been sold out for months, while our Eastern Sierra workshop 19-22 October 2014 has just had a couple of spots open up.
The two tours run one right after the other; the Eastern Sierra is in the Yosemite area.
You register for our Eastern Sierra workshop with Dave Wyman this link or davewyman@imountainman.com or (323) 377-7565 for questions and registration. The Yosemite Conservancy handles the registration for the Yosemite trip.
Both workshops are more tour than workshop. We'll be out shooting every day from dawn through evening. There's all the one-on-one instruction you'd like, but the key is we're out shooting all day, not spending time in a motel looking at computers.
See you in October!
DEAL: Nikon D3100 with 18-55 VR, refurbished for $329.95.
DEAL: Nikon D3300 for $546 with lens and free shipping!!!
DEAL: Nikon D5200 for $448.95 with free US shipping (refurbished).
DEAL: Canon 70D, card, bag, printer, paper: $799.
Includes:
Canon EOS 70D body
Canon PIXMA PRO-100 Professional Photo Inkjet Printer
Canon SG-201 Photo Paper Plus Semi-Gloss, 13x19", 50 Sheets
Slinger Bag, Single Strap Backpack / Shoulder Bag, Black
Kodak 32GB Class 10 High Speed SDHC Card

Price in cart: $1,149 - $350 Mail in rebate = $799

Expires Tuesday 08 October 2014.

DEAL: Canon SL1, lens and printer: $479.95.
It includes the Canon SL1, 18-55mm IS STM, Canon PRO-100 printer, and 50 sheets of Canon SG-201 13 x 19" photo paper.
You pay more at checkout, and there's a $350 mail-in rebate on the whole thing that brings the effective price down to $479.95.
01 October 2014, Wednesday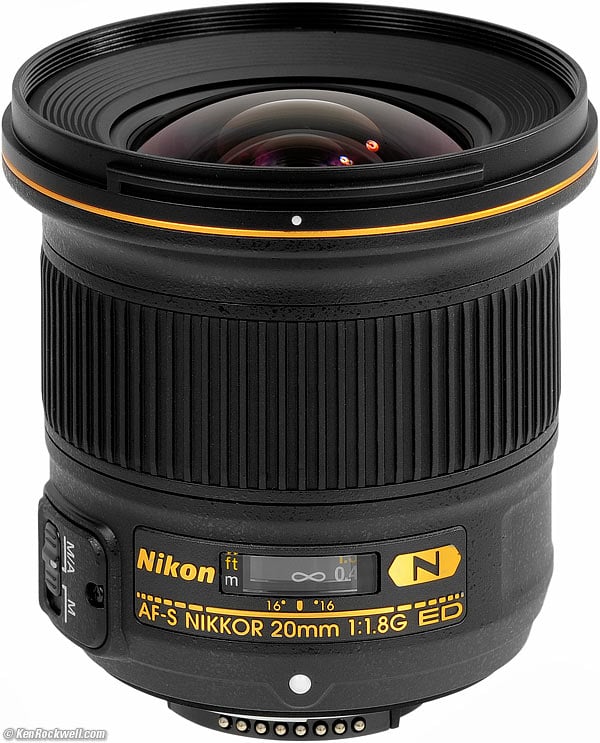 Nikon 20mm f/1.8 G.
NEW: Nikon 20mm f/1.8 G Review.
A complete review of what turns out to be Nikon's best 20mm lens ever. I'm very impressed with my 20mm!
My D750 is here and I'll be getting to that next.
26 September 2014, Friday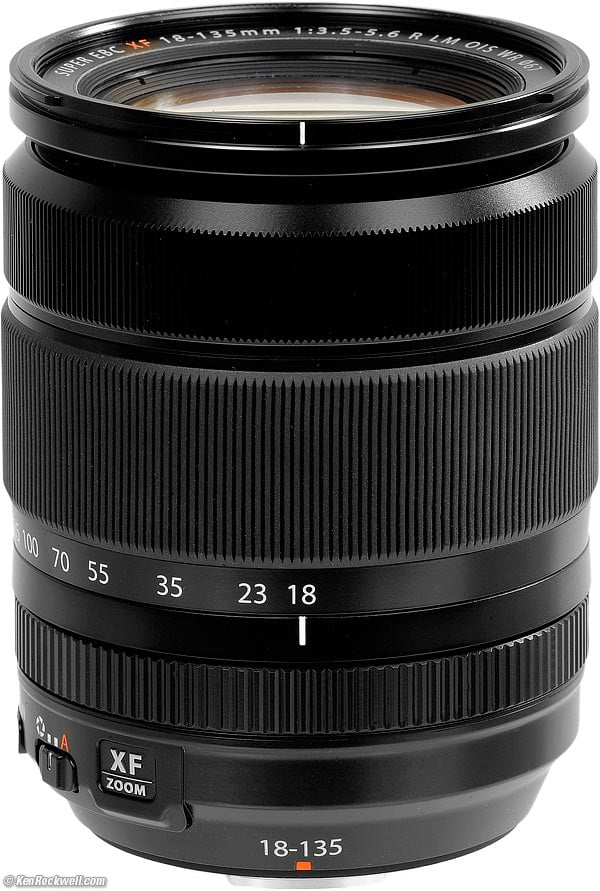 Fuji 18-135mm f/3.5-5.6 for X-mount cameras.
NEW: Fuji 18-135mm Review.
A great do-everything lens for Fuji.
25 September 2014, Thursday
In Stock: Nikon D750!
Adorama received their Nikon D750s yesterday, so we who ordered ours ought to have them today.
As far as I can see, Adorama has more in stock if you haven't ordered yours yet.
The Nikon D750 packs the superior AF performance of the D810 in the ergonomically superior D610 body.
24 September 2014, Wednesday
DEAL: Canon 5D Mk III with printer and more: $2,849 after rebate.
This includes the 5D Mk III, a PIXMA PRO-100 printer (Usually $398), 50 sheets of 13 x 19" Canon SG-201 Photo Paper Plus (Reg. $38.41), an Adorama Slinger Backpack/Shoulder Bag (Reg. $59.95), an extra Green Extreme LP-E6 Battery (Reg. $34.95) and an Adorama Flashpoint Battery Grip (Reg. $69.95).
To get the deal, you pay $3,399 at checkout, and get s $200 mail-in rebate on the camera and another $350 mail-in rebate on the whole shebang a total of $550 in savings. $3,399 - $550 = $2849!
All this, and it comes with free US shipping! This expires Sept. 27th, which is this Saturday.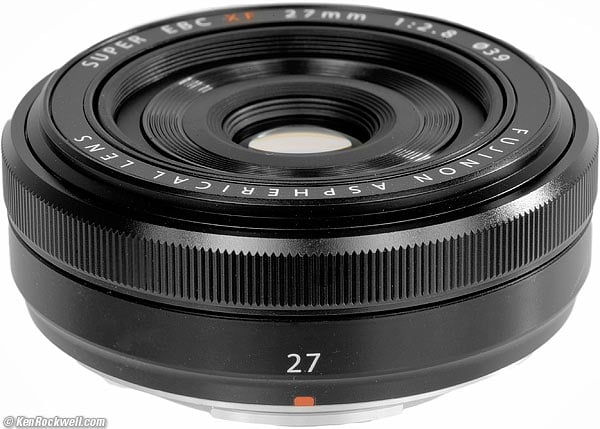 Fuji XF 27mm f/2.8.
NEW: Fuji 27mm f/2.8 XF Review.
A tiny perfect normal lens for Fuji X-mount cameras.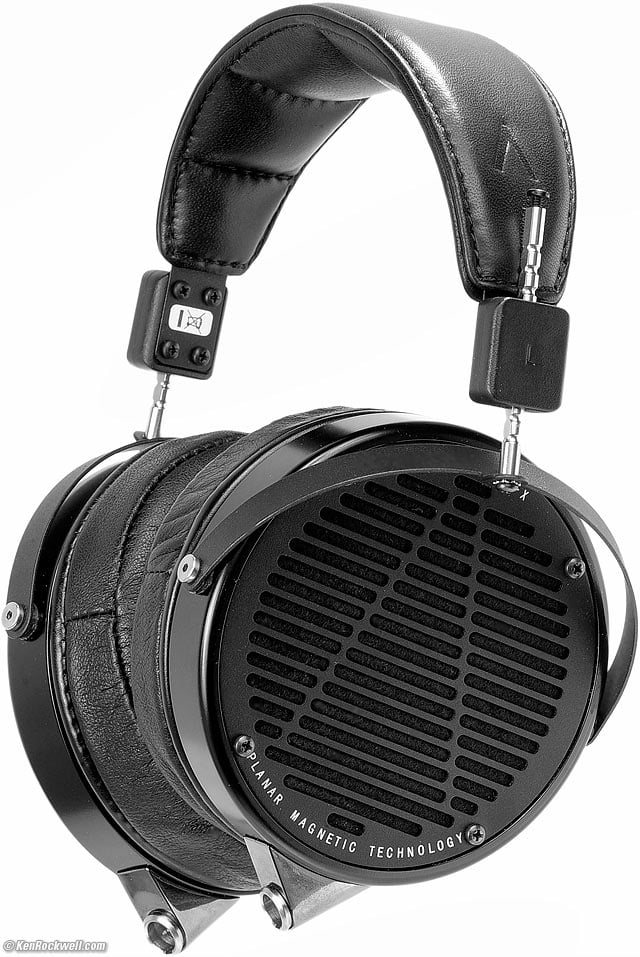 Audeze LCD-X.
NEW: Audeze LCD-X headphones review.
A higher-effifincy version of the LCD-3.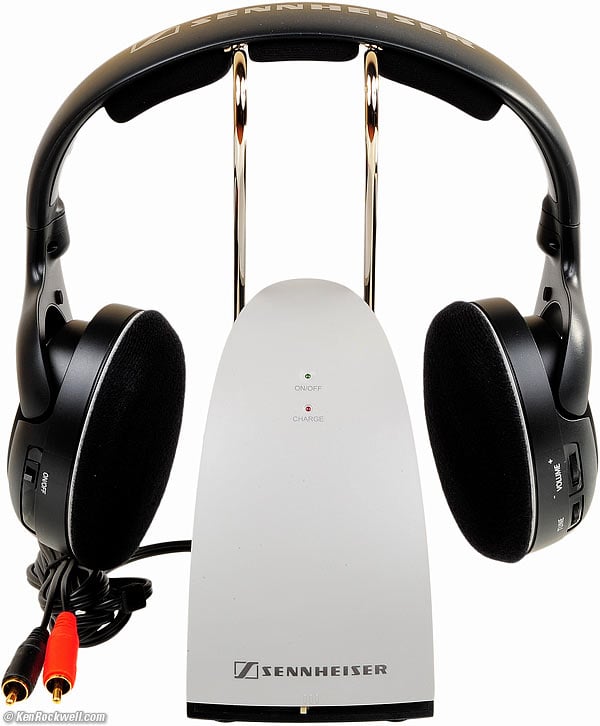 Sennheiser RS 120 system.
NEW: Sennheiser RS 120 wireless headphones review.
For $80, perfect for late night TV viewing.

AudioSource AMP 100.
NEW: AudioSource AMP 100 Review.
An automatic remote power amp for whole-house music systems. A steal at $125 brand new.

NAD 7100X.
NEW: Hitachi HMA 8500 Mk II Review.

NAD 7400.
NEW: NAD 7400 Review.
A classic high performance AM/FM stereo receiver.

NAD 7100X.
NEW: NAD 7100 and 7100X Review.
More classic AM/FM stereo receivers.
19 September 2014, Friday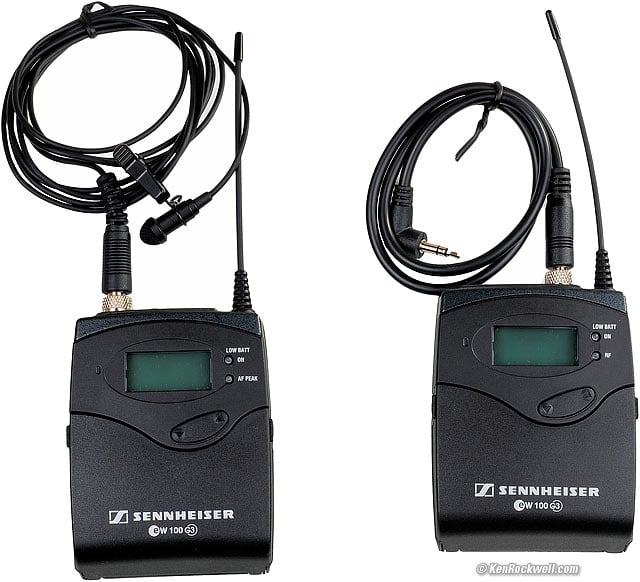 Sennheiser ew 112-p G3 wireless microphone set.
NEW: Sennheiser wireless DSLR mic review.
Complete with live truck video!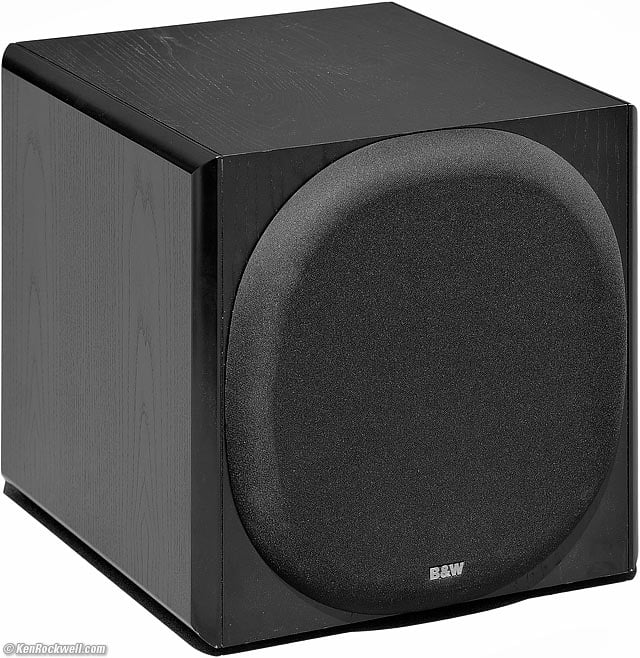 B&W ASW CDM Subwoofer.
NEW: B&W ASW CDM Subwoofer Review.
NEW: B&H now carries Audeze headphones.
I reviewed the LCD-3 recently as the world's best-sounding headphones that you can plug into a standard headphone socket, but you only used to be able to get them direct from the manufacturer. Now we all can get the LCD-3 direct from B&H.
These headphones are for serious music listening, not for field monitoring for recording video. For field monitoring as you'd use with the wireless mic above, the $100 Sony MDR-7506 are the world's most popular professional headphones. For slightly smoother sound but still with the same tough pro build, I use the $70 Senal
16 September 2014, Tuesday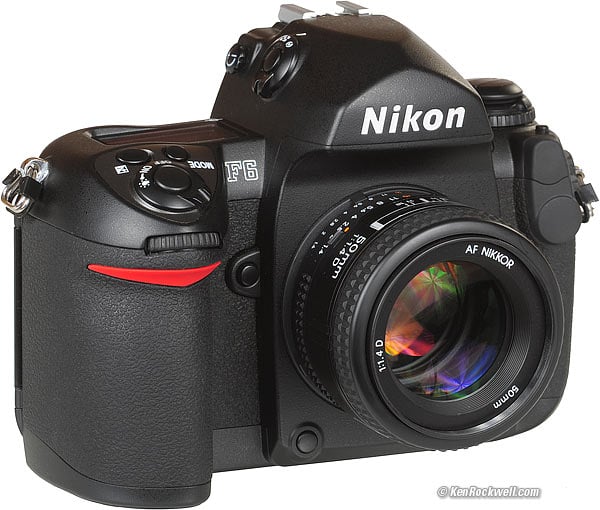 Nikon F6 and 50mm f/1.4 AF-D.
10 Anniversary: Nikon F6.
The Nikon F6 was announced on 16 September 2004, and ten years later, is still the world's best 35mm SLR.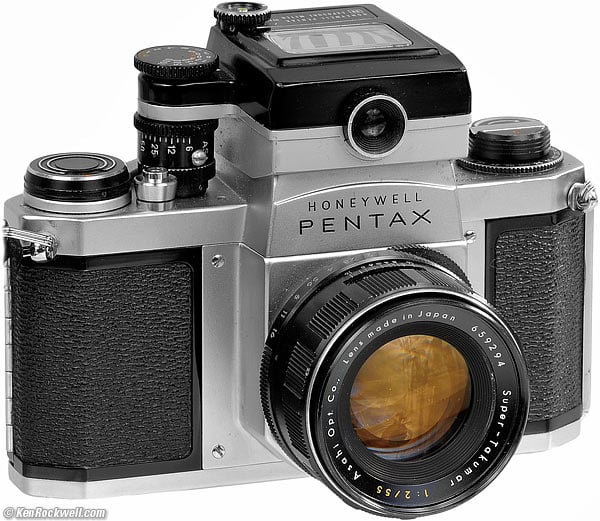 Honeywell Pentax H1a and clip-on CdS meter with Super-Takumar 55mm f/2.
NEW: Honeywell Pentax H1a Review.
15 September 2014, Monday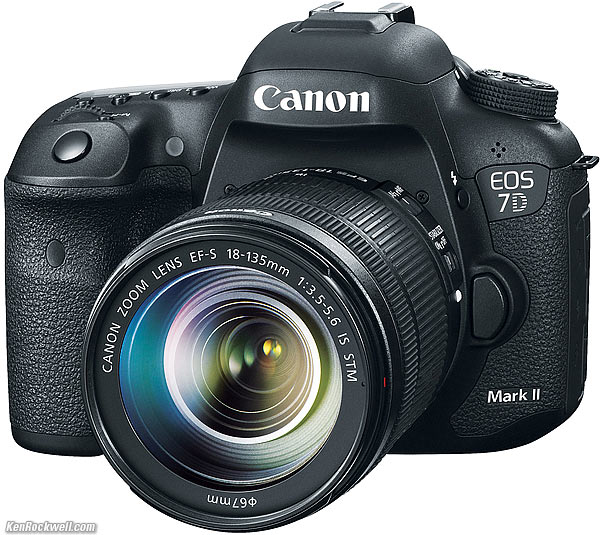 Canon 7D Mk II with 18-135mm IS STM.
NEW: Canon 7D Mk II.
Canon's replacement for the 5-year-old 7D. This new Mark II is now THE sports camera short of a $6,500 pro body, with 10 FPS shooting!
With the ability to synchronize itself automatically to flickering arena lighting, the 7D Mk II just became the world's best indoor sports camera at any price, unless you bring your own arena strobes.
NEW: Canon LP-E6N battery.
The 7D Mark II uses this new battery, which is included with the 7D Mk II. It charges in the usual Canon LC-E6 charger for the older batteries, too.
NEW: Canon WFT-E7A v2 wireless file transmitter for 7D Mk II.
Optional for 7D Mk II.
NEW: Canon BG-16 grip for 7D Mk II.
Optional for 7D Mk II.
NEW: Canon EF-S 24mm f/2.8 STM.
A tiny $149 normal lens for APS-C DSLRs.
NEW: Canon 24-105mm f/3.5-5.6 IS STM.
A bargain full-frame lens, just $599.
NEW: Canon 400mm f/4L DO-IS II.
The new version of the old 400/4 DO. They use a Fresnel element to weigh much less than a regular huge telephoto.


13 September 2014, Saturday
You have to love Amazon
Ordering is always easy from Amazon, and returns are even easier.
I just got a defective light switch from Amazon, went to the Amazon.com, and in about 15 seconds had a label printed out to return it.
Actually, all I did was stick the page in the box. Amazon is sending UPS back to my house to pick it up from me, free. I don't have to call anyone or drive anywhere to return it.
Nothing is more local than my front doorstep. Thank you Amazon!
12 September 2014, Friday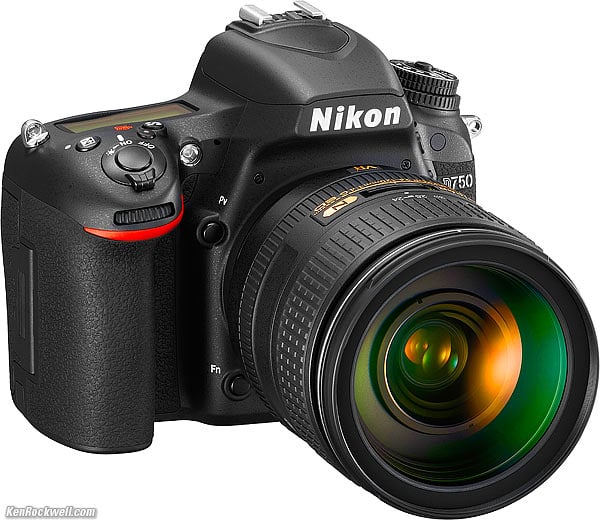 NEW: Nikon D750.
The D750 is a D610 with a flippy screen and the superior autofocus system of the D810.
NEW: Nikon 20mm f/1.8.
NEW: Nikon SB-500.
NEW: Nikon 52mm close-up lens.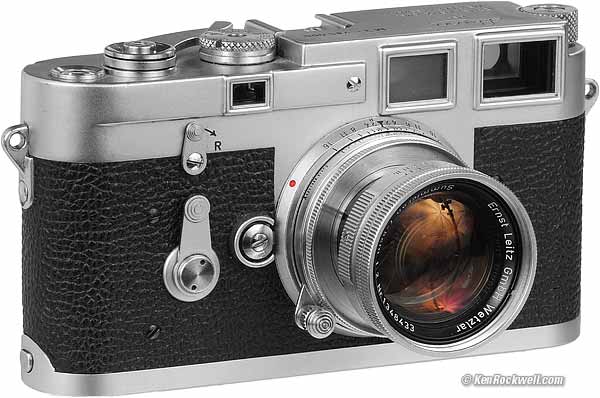 LEICA M3 and 50mm f/2 SUMMICRON.
NEW: Just Use It.
You can't wear out a good 35mm camera.
11 September 2014, Thursday
NEW: World's Largest SD Card: 512 GB.
But how will it fit my camera? Perfectly!
This new SanDisk card is the same size physically, but holds half a Terabyte. It must weigh a ton when full of pictures, though.
This series of card also comes in more reasonable capacities.
The biannual Photokina show is this coming week in Germany, so we'll be seeing new products announced all week.


10 September 2014, Wednesday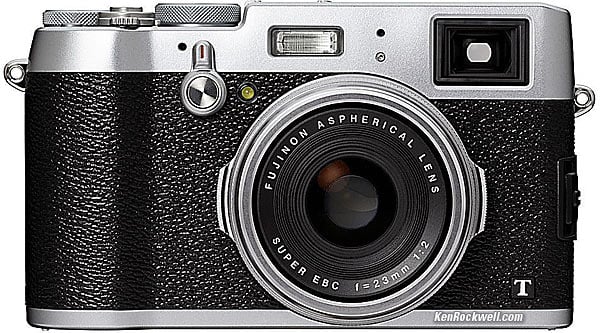 Fuji X100T.
NEW: Fuji X100T.
The X100T is the new version of the X100S.
It adds a bigger LCD, a new 1/32,000 electronic shutter, SEVEN customizable Fn buttons, Program mode goes to 4 seconds, ISO goes to 51,200, and a whole lot more — all for the same price as the old X100S.
NEW: Fuji X-T1 Graphite edition
Just a new color for the same great X-T1 (review).
Water-resistant pro tale lens.
Hepatization (APD) means that this lens is designed to give even smoother bucca than the regular XF 56mm f/1.2.
October Workshop Update
As usual, our Annual October trip to Yosemite is completely sold out and wait-listed. Who doesn't want to be shooting in Yosemite at the peak of fall color?
The good news is that we still have some room on our trip to the Eastern Sierra which starts immediately after the Yosemite trip.
See you in October!
UPDATED: Premium 50mm Lenses Compared.
I added links to all the more detailed comparisons I've made for each lens, and put those links in the master comparison. Now we have a comparison of comparisons!
UPDATED: Nikon D810 Review.
Actually I update this just about daily I added to the Performance section, and added an index, too.
NEW: Apple AirPort Express Audio Quality Review
it works great!
09 September 2014, Tuesday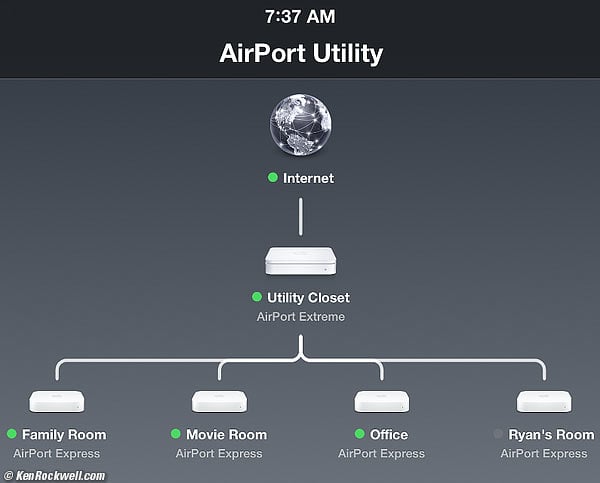 Apple AirPort Utility.
NEW: How to Create a Large Wireless Network.
Everyone says it's easy, but non one has ever actually documented this step-by step, as I just have.
I'm actually feeling pretty smart, because I actually just covered almost an acre of property with strong, fast Wi-Fi.
Now it's easy to set up your entire dorm building or neighborhood on one big happy network.
NEW: How to Create a Multi-Room Music System.
Once you've got your big network setup, all you need to do is plug it in.
08 September 2014, Monday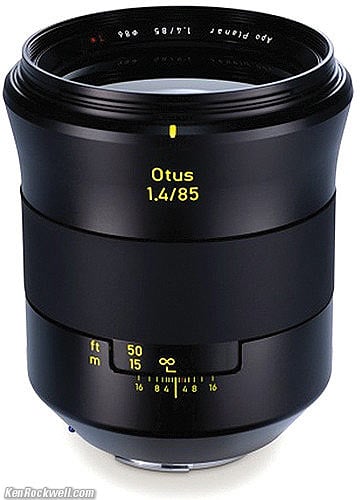 Zeiss Otus 85mm f/1.4.
NEW: Zeiss Otus Apo-Planar 85mm f/1.4 for Nikon and for Canon.
Another big, heavy ultra-high performance manual focus lens.
These are for the man who appreciates the feel of metal in his hand, and doesn't mind that autofocus is permanently broken on these Zeiss lenses. You people know who you are. If you appreciate that Zeiss also makes the lenses for the satellites I can't tell you about that can read the number off a golf ball from outer space, this lens is for you.
For me, I prefer my autofocus NIKKOR 85/1.4G, and the Canon 85/1.2 L II also has absolutely stellar performance, again for less than half the price of the manual focus Zeiss.
The Zeiss Otus is a special-purpose lens that shines for astronomy and for shooting from a tripod, and focussing with Live View.
04 September 2014, Thursday
NEW: Premium 50mm Lenses Compared.
A comparison of all the hot-rod 50mm lenses of today, with a few classics and f/1.8s thrown in for fun.
03 September 2014, Wednesday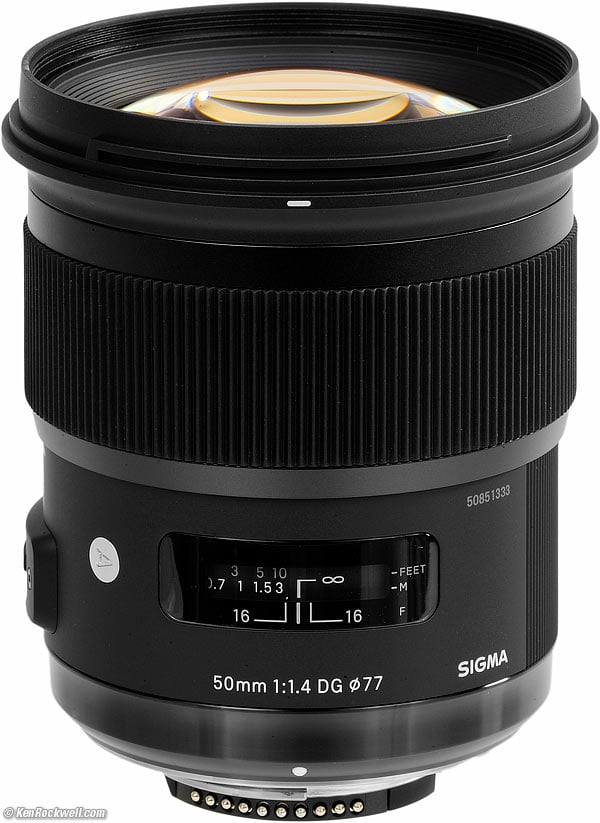 Sigma 50mm f/1.4 DG HSM ART.
NEW: Sigma 50mm f/1.4 ART Review.
02 September 1934, Tuesday
80th Anniversary of the first Canon camera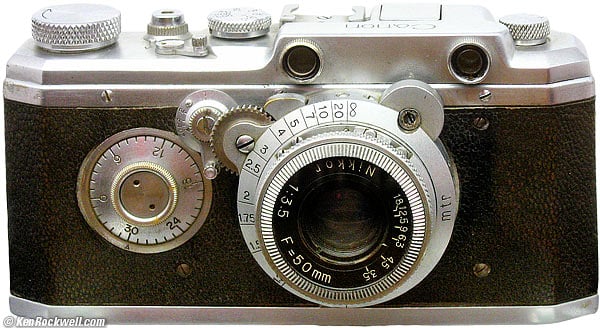 Kwanon Camera. bigger.
Canon was founded in a garage to make an inexpensive copy of the frightfully expensive new LEICA. The idea was to make the same camera, but at a price people actually could afford.
The Kwanon used a NIKKOR lens. Garage-shop Canon made no lenses, and since Nikon made no cameras, Canon simply had Nikon make lenses for them.
The Kwanon prototype came out 80 years ago, and production started in 1936.
These "Kwanon" cameras became very popular because they worked about as well as a real LEICA, and they cost much, much less. As always, Canon expanded the limits of technology and made cameras far more advanced than LEICA. For instance, Canon rangefinder cameras of the late 1950s and newer had life-sized viewfinders, something LEICA has never been able to do, and the Canon viewfinders changed their magnifications to match the lens used, something else LEICA has never been able to do. Canon leapfrogged LEICA in the 1950s, but LEICA has a saint and martyr, while Canon does not. Thus LEICA survives.
Today nothing has changed, except that Canon makes their own lenses, Nikon makes their own cameras, and Canon cameras still outperform and outsell LEICAs by a huge ratio.
What Was New in:
Help me help you
I support my growing family through this website, as crazy as it might seem.
If you find this as helpful as a book you might have had to buy or a workshop you may have had to take, feel free to help me continue helping everyone.
If you've gotten your gear through one of my links or helped otherwise, you're family. It's great people like you who allow me to keep adding to this site full-time. Thanks!
If you haven't helped yet, please do, and consider helping me with a gift of $5.00.
The biggest help is when you use any of these links when you get anything, regardless of the country in which you live. It costs you nothing, and is this site's, and thus my family's, biggest source of support. eBay is always a gamble, but all the other places always have the best prices and service, which is why I've used them since before this website existed. I recommend them all personally.
Thanks for reading!
Ken
Home Donate New Search Gallery How-To Books Links Workshops About Contact