Home Donate Search Gallery Reviews How-To Books Links Workshops About Contact

Dec. 2014's News RSS Hot Deals
© 2015 KenRockwell.com. All rights reserved. Ryan Katie

Nikon: D810 D750 D610 D7100 Lenses Canon: 5D Mk III 6D 7D II Lenses
Reviews: Fuji LEICA Contax Zeiss Sony Minolta Olympus Pentax
Recommended Cameras Gifts How to Take Better Pictures random
Facebook Twitter Video Tutorials
Ending this Week: Sale on Phil Steele Photography Courses
My friend Phil Steele has extended his private, members-only sale to all of us. Check out his previews to see why so many people love his courses. He's got a 60-day no-risk money-back guarantee, so you've got nothing to lose. Phil's courses are the best I've seen.
SAVE 33%: Secrets of Successful Event Photography.
SAVE 15%: Lightroom Made Easy.
SAVE 15%: Photoshop Basics for Photographers.
SAVE 15%: Pro Portraits with Off-Camera Flash.
30 December 2014, Tuesday
Loving my X100T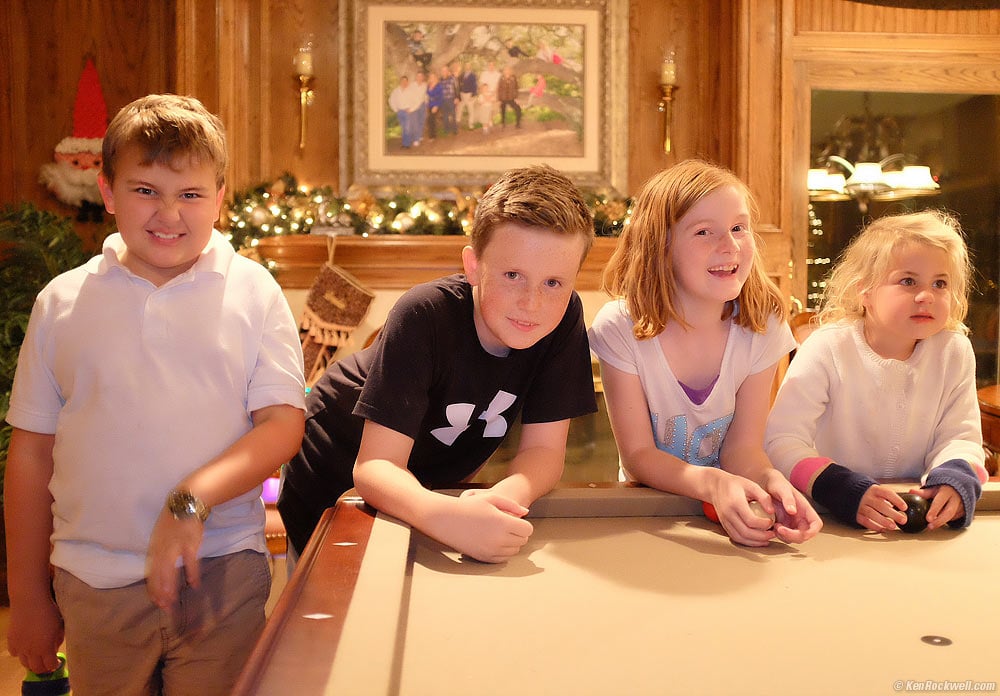 Ryan, Katie and the cousins. 29 December 2014, Fujifilm X100T, flash ON, f/2 at 1/125 at Auto ISO 6,400, Perfectly Clear V2. bigger or full resolution.
As always, this was a spontaneous grab shot last night under mixed indoor light — and skin tones and everything look great. Flash balances perfectly with ambient light to bring up the faces and add catch lights, without blowing out faces from too much flash or letting the backgrounds go dark.
I never can get this from my DSLRs or any other mirror less camera. The X100 series has magic flash that can dim down enough to balance at ISO 6,400 and f/2, while ISO 6,400 and f/2 let the backgrounds expose fully so the room doesn't look dark.
As I keep saying, I love my X100T because it sets all this all by itself for grab shots. It even found all the faces and focussed on them magically. Bravo! Now if I could just get them all to smile. My wife will make me take this down due to the foolish smiles, but I love how the glorious light envelops everyone.
Deals
One Day Sale on Select San disk Memory at Black Friday Pricing!
Today, 30 December 2014 only!
16 GB SD Cards, SDHC, SDXC, Flash Drives & More Starting at $8.99!
Adorama's End of the Year Specials and Rebates!
Manfrotto MT190CXPRO4 Carbon Fiber 4-Section Tripod with Horizontal Column: $369.90 (Regular $429.88) Free Shipping. Expires 01/05.
I also just found a slew of new Panasonic GH4 deals which I added about halfway down on my separate DEALS page.
29 December 2014, Monday

Canon 300mm f/4 L IS.
NEW: Canon 300mm f/4 IS L Review.
A faster, lighter, older and less expensive alternative to the awesome new 100-400mm L IS II. The new 100-400 II has become the new professional standard in zooms because the 100-400 II focusses closer than any 70-200mm zoom, and because the extra range to 400mm is so much more useful than the runty stub down to 70mm. I've replaced my 70-200 with the new 100-400 II IS — you gotta get one to believe it!
28 December 2014, Sunday
26 December 2014, Boxing Day
So what is Boxing Day?
After seeing this on calendars forever, I finally met some Canadians who explained it to me.
It turns out that it's a buying frenzy on the day after Christmas. Kids go spend their Christmas money, and grown-ups go get what they really wanted.
Back in the days of retail, Canadian stores used to run all sorts of sales, as it was a huge shopping day in Canada.
Today, Adorama and B&H all ship direct to Canada, too, eh.
Happy Boxing Day!
25 December 2014, Christmas Day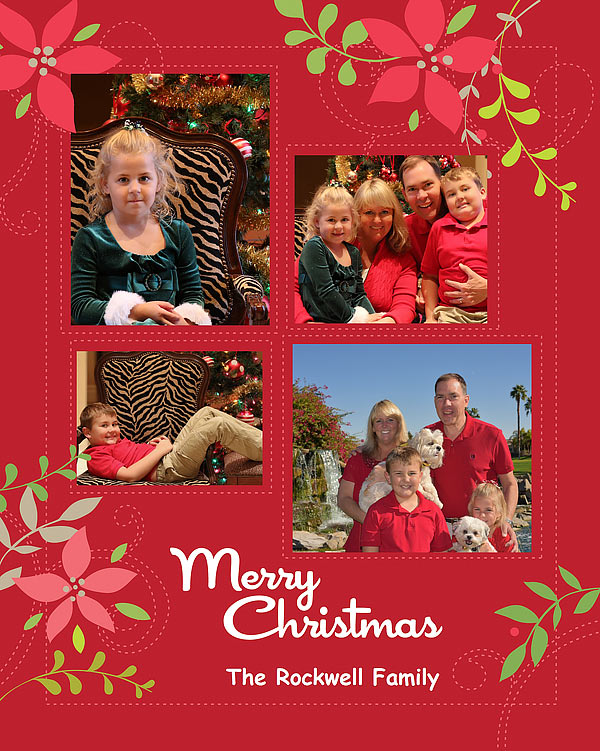 The completed card. Photos per description of 19 December 2014. Merrier.
24 December 2014, Christmas Eve
CRAZY NEW: Tokina 11-20mm f/2.8 APS-C Ultrawide
I kid you not, yes, the Japanese actually announced this on Christmas Eve while most of the world was celebrating!
It comes in versions for Nikon and for Canon.
It's a huge improvement to the previous 11-16mm f/2.8 in having a longer zoom range. The 11-16mm never really seemed like it zoomed at all.
23 December 2014, Tuesday
IT'S NOT TOO LATE: Adorama's offering free overnight shipping on many things.
Just be sure to place your order by 7:00PM NYC time, especially if you haven't ordered recently from them and they have to verify your credit card.
Drone exclusive
Adorama has an exclusive on the Aries BlackBird X10 Quadcopter for $699.99. Reg $799.99, with Free Shipping!

It's got 1080p, a 16MP Still/Cine Camera, 500 Meter Transmitter Range, GPS Precision, 6 Axis Gyro Stability, 2.4GHz Wi-Fi Integration and more.
Safe buying
A reader was curious about my warnings to avoid retail buying, especially wondering why the fact that camera boxes are not sealed by the manufacturer would mean anything.
The reason I warn never to buy from anyplace other than these approved sources of supply that I have personally checked out and use myself is that online giants ship from automated warehouses. Sales people and other customers never get near the items you'll receive. In fact, the big NYC online stores have their warehouses across the bridge in New Jersey so they can keep customers and salespeople far away from the goodies. What you get has never been touched by a salesman or other customer.
Buy from a store, and anyone and everyone has probably opened the item and played with it before you bought it. Sales staff is always running back and forth into the stockroom, and customers get their hands all over gear. Especially if a store has no used department, where do you think all the counter demonstrators go?
There's no stock control at retail, so you have no way to know if you're buying an item that's been used and returned — or dropped on the floor by accident at the sales counter or by a salesman playing with it after hours — since the boxes are not sealed in any way.
If you have a local store where the owner is there every day and they have only one location, don't let me rain on your parade, but I never buy at retail, and certainly never, ever from store with more than one retail location. Adorama and B&H also have but one store each, and their owner is there every day. (OC Camera in Orange County, CA, is the one good retail store of which I know, for walk-in customers.)
21 December 2014, Sunday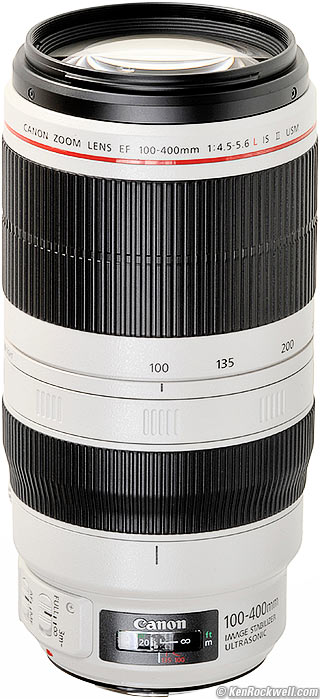 Canon EF 100-400mm f/4.5-5.6L IS II USM.
NEW: Canon 100-400mm L IS II Review.
The fastest autofocusing telephoto I've ever tested — and it focuses closer than any 70-200mm lens, too!
20 December 2014, Saturday
FREE OVERNIGHT SHIPPING: Adorama's offering free overnight shipping on many things.
DEAL: New Fuji 56mm f/1.2 R APD shipping Sunday: $1,499. This is the new version of the old 56/1.2 that adds bokeh optimization, called APD by Fuji. Free US overnight shipping, too!
DEAL: Canon SX400 with 30x optical zoom: $149. Free US overnight shipping.
DEAL: Canon SX520 HS with 42x optical zoom: $199. Free US overnight shipping.
19 December 2014, Friday
DEALS: Panasonic Lumix specials.
DEAL: ATH-M50x headphones & TASCAM DR-05: $189. It's like getting the recorder for free.

Tamron 150-600mm AF-S VR .
NEW: Tamron 150-600mm Review.
A swell performer at a bargain price.
Folding Travel Tripod
I've always wanted a folding travel tripod, and I finally got one. I just got a Dolica TX570B150DS.
While everyone makes a folding tripod today, you can't get one this nice for under $70!
It comes in a padded nylon case with a pouch for its included Allen key to adjust it, and really weighs just 2.768 pounds (1,256g) as I measure it, complete with ball head.
It's as nice as any other $300 tripod, with non-rotating leg tubes that make it easy to open and close, and has a very nice ball head.
The reason other tripods cost so much more is because they spend so much money on advertising. With Dolica, you're only paying for the tripod, not the ads.
Also check out the Dolica ZX600B103 carbon fibre tripod. At $100 including head, it's a steal.
Of course my favorite is the new Dolica GX600B200 because it's a first-rate tripod that sells for only $45. It weighs exactly 3.008 pounds (1,364g) complete with a nice ball head, and comes in a great padded case with tool. It's the only tripod anyone really needs, so why pay more if you rarely use a tripod?
I love my Gitzo M1228 mountaineer I bought in 1995 for over $500, but if I have to carry it outside my studio, I want something lightweight and easy to carry, set up and strike. I reserve my Gitzo for when I have something heavy to shoot, while I always have a Dolica in my trunk.
Nikon 2,000mm f/11
There's a Nikon 2,000mm f/11 available on eBay.
Personally I prefer my original orange Celestron 8, which is a 2,000mm f/10, and has a micro-adjustable alt-azimuth mount so I actually can photograph with it.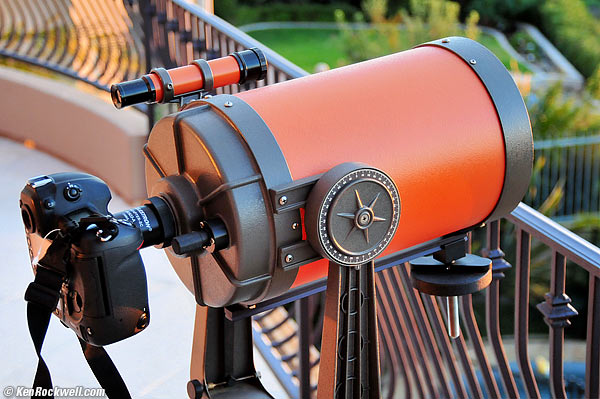 Nikon D3 on classic Celestron 8. bigger.
Get the 2,000mm Nikon lens alone, and you'll need a very special tripod head to use it well. I use a Bogen/Manfrotto geared head.
Annual Christmas Card Fiasco
We made our first attempt at a Christmas card picture back when we visited Palm Desert, California for Thanksgiving.
It was too hot and the family insisted on trying to pose in broad daylight, so even with fill-flash, without scrims and fill, we all squinted to much.
After numerous other failed attempts the past month, we tried again after school yesterday.
I got set up while we still had daylight to mix with indoor light, and it looked OK: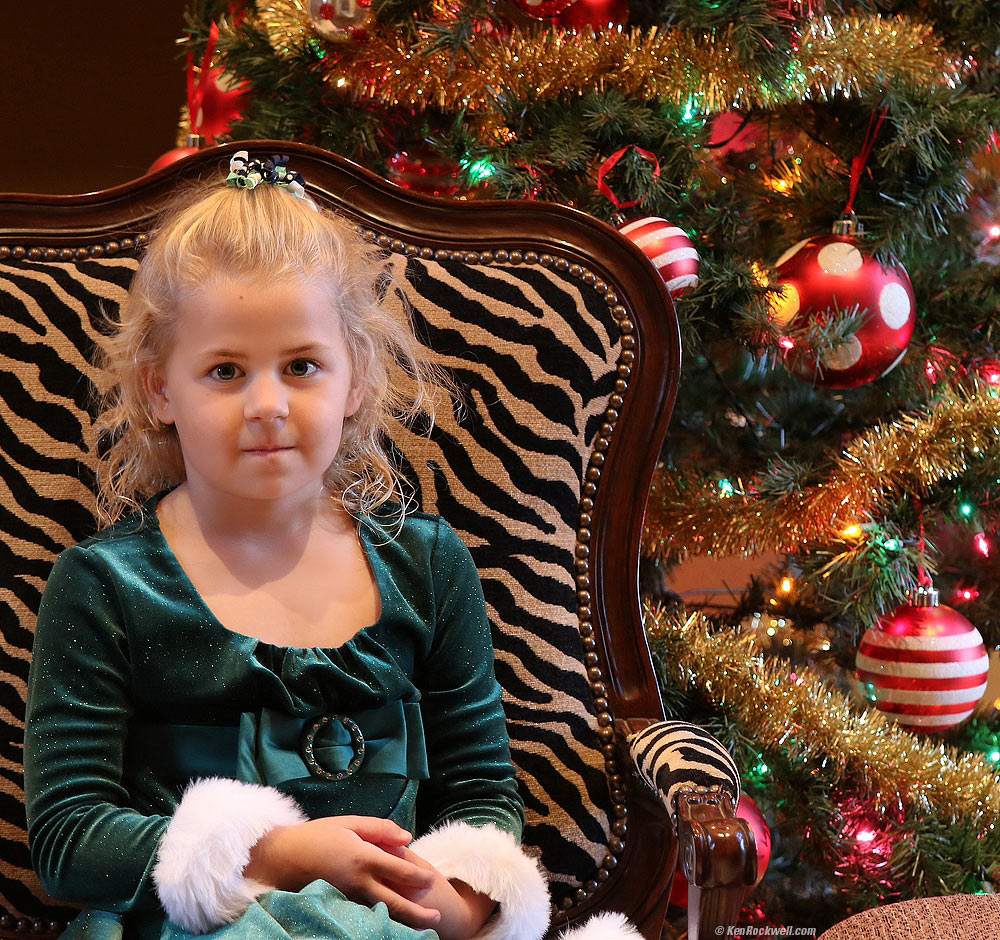 Katie poses for the 2014 Christmas Card. (Canon 7D Mk II at ISO 800, Canon EF 70-200mm f/4 L IS at 135mm, f/4 at 1/10, Perfectly Clear V2.) bigger.
By the time mom got the kids wrangled, this was the best I could get. Notice how the outdoor window light is now gone, tough. This is as good as we could get with the youngins fooling around: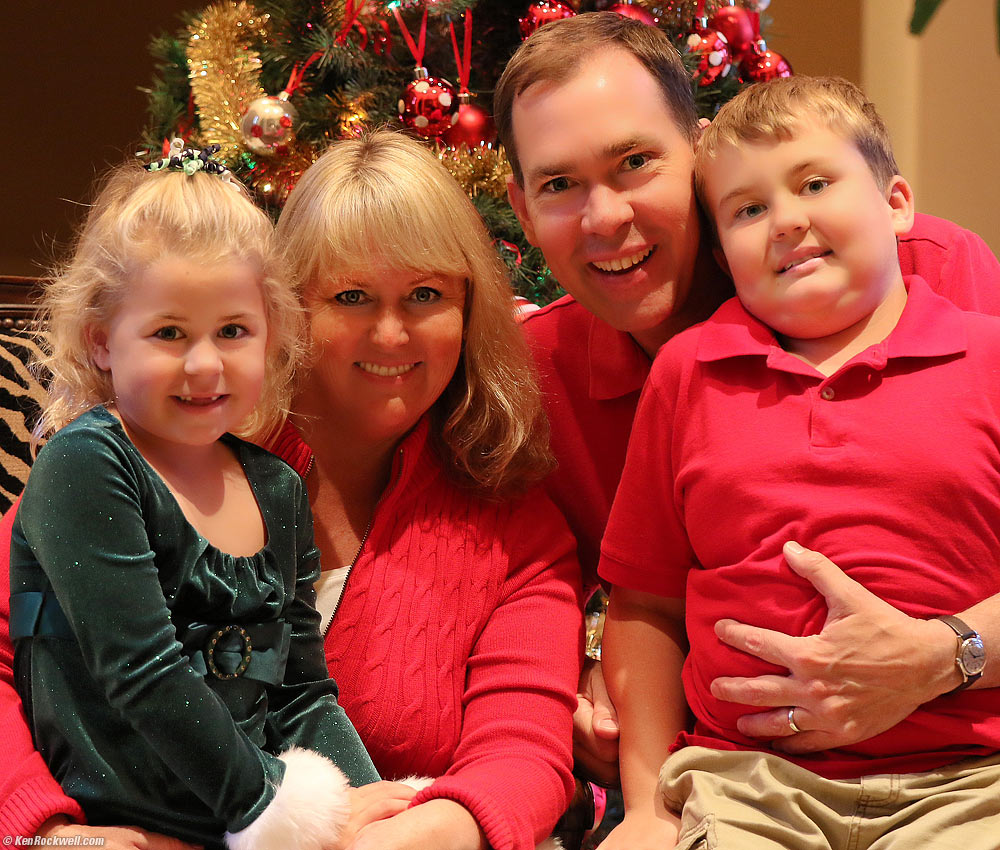 The 2014 Christmas Card. (Canon 7D Mk II at ISO 1,600, Canon EF 70-200mm f/4 L IS at 121mm, f/4 at 1/15, Perfectly Clear V2.) bigger.
After getting slim pickins, mom figured maybe we'd better try for single shots of the kids. Katie was a bust, but we had the image above from an hour ago, and I got this really nice one of Ryan: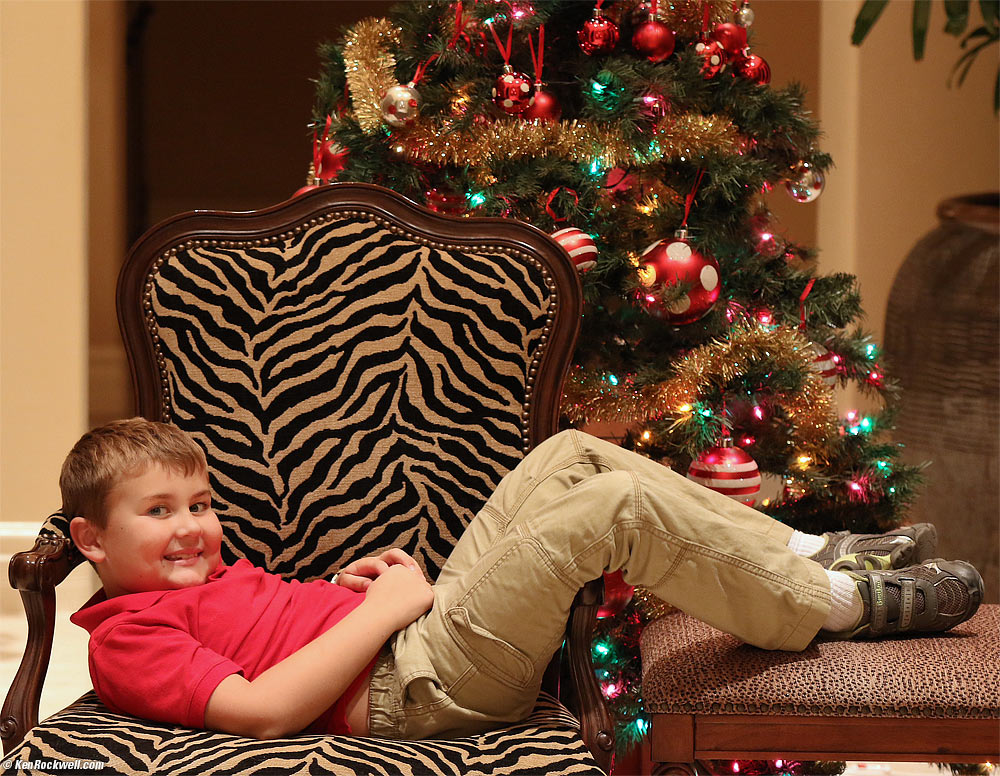 Ryan poses for the 2014 Christmas Card. (Canon 7D Mk II at ISO 1,600, Canon EF 70-200mm f/4 L IS at 93mm, f/4 at 1/15, Perfectly Clear V2.) bigger.
Oh well, the Palm Desert shot didn't look that bad in retrospect:
The 2014 Christmas Card, extra bonus image. Shot in Palm Desert over Thanksgiving with special guests Toby and Sasha. (Nikon D810 at ISO 100, Nikon SB-400 flash, Nikon 50mm f/1.4G, f/11 at 1/250, Perfectly Clear V2.)
Of course the cutest part of the card is Katie and Sasha, and with the D810, I have so much ability to crop that that's easy: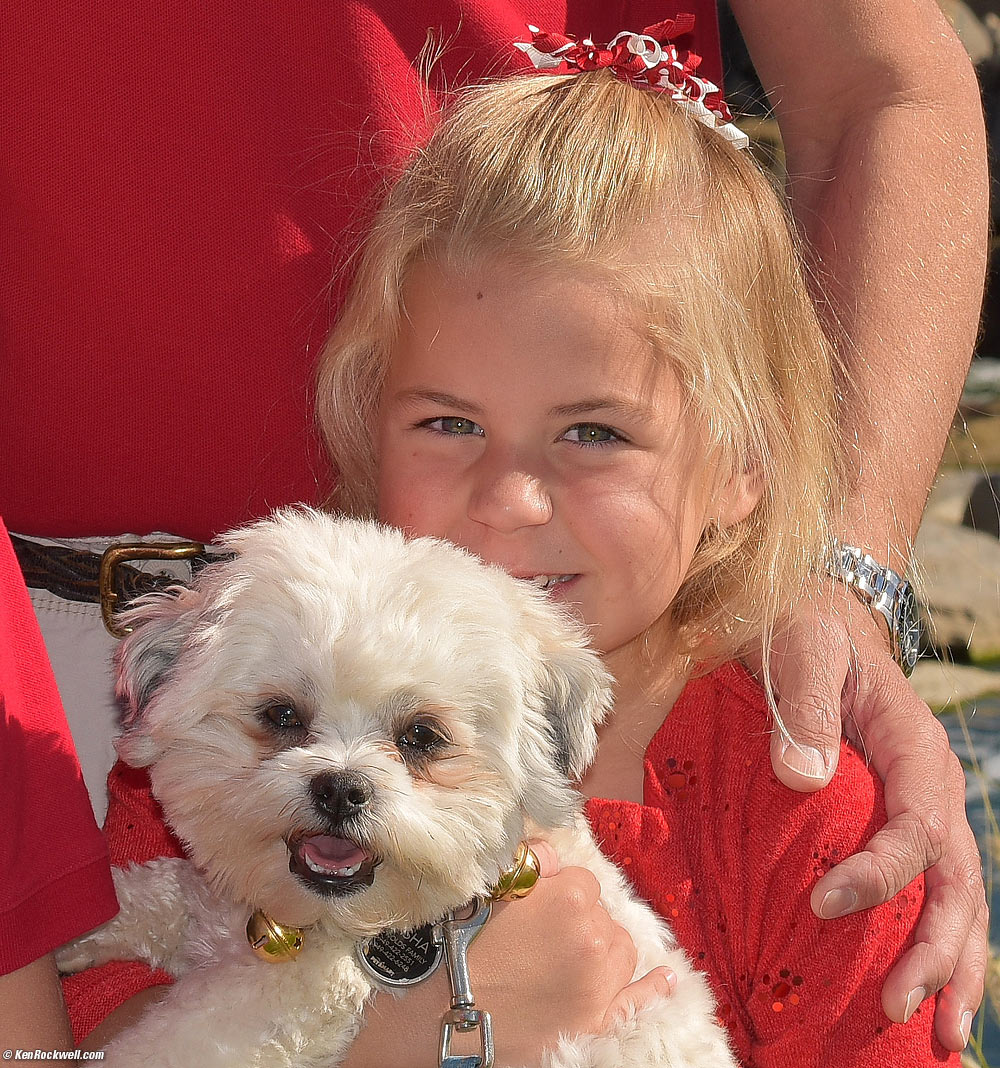 The 2014 Christmas Card, Katie and Sasha close-up. (simply cropped from above, Nikon D810 at ISO 100, Nikon SB-400 flash, Nikon 50mm f/1.4G, f/11 at 1/250, Perfectly Clear V2.) bigger.
Yes, the Nikon D810 has such ridiculously high resolution that you can read Sasha's tag, even at this lowered web resolution (the original file has way more resolution). If you need the best realtor in Southern California with over 30 years of experience, call the top number for Joan Reynolds.
18 December 2014, Thursday
Third night of Hanukkah 5775
Third week of Advent 2014
Canon Deals
Canon EF 24-105mm f/4L IS USM: $699.95. Free shipping, refurbished.
Canon Ï 320EX Flash: $134.95. Free shipping, refurbished.
Canon 270EX II Flash: $84.95. Free shipping, refurbished. (Regular $109.95)
Canon PowerShot N Digital Camera + 1 Year Digital Camera Service Plan: $109. Regular price on camera alone $299.99. Click your choice of color and then Add TO Cart to see the super price.
17 December 2014, Wednesday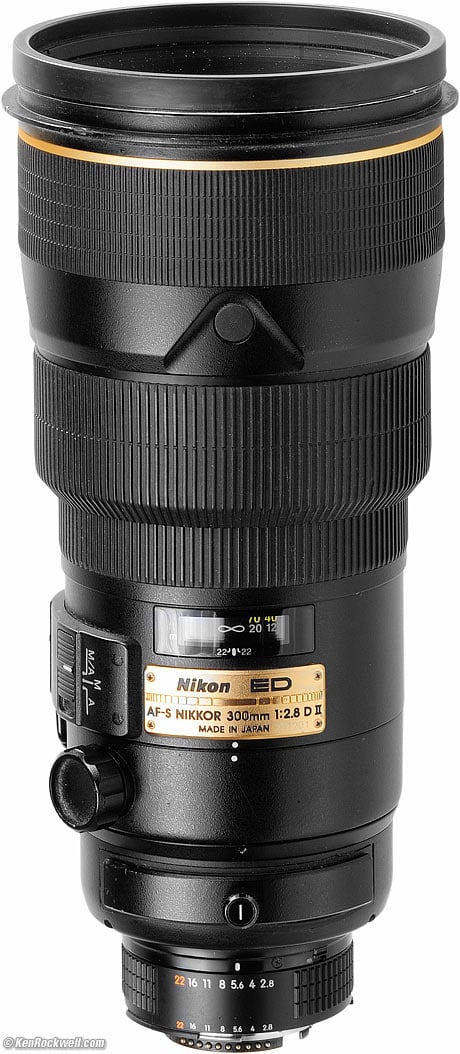 Nikon 300mm f/2.8 AF-S II.
NEW: Nikon 300mm f/2.8 AF-S II Review.
Nikon's lightest autofocus 300/2.8 ever, and a superb performer.
DEAL: Sennheiser HD 650 headphones for $359.95.
If you missed on on Adorama's $315 deal 10 days ago, here's another chance to get the HD 650 for much less than the usual $409.
I've got mine that I got from Adorama on my head right now, and they are fantastic. They've been Sennheiser's top model for many years, with only two other consumer models adding fancy cords and packaging to up the price to four digits.
DEAL: Nikon D3 in box for $1,348.
This might just be what someone wants for Christmas; I use my own D3 every day in my studio and love it. Know what camera I used to shoot every product photo on this page? Yip, my D3. Here's a full-frame 9 frames-per-second powerhouse for the same price as a new APC-C consumer camera.
I've bought from these guys in Japan before, and they are excellent. I get my goodies in a few days, faster than I usually get things from eBay sellers in the USA!
MAC Group buys HP Marketing
MAC group will represent Gepe, Novoflex, Heliopan and Kaiser in the USA effective February 1, 2015.
OmegaBrandess will take over the distribution Ansmann, Berlebach, Boblbee, Braun, BRNO, Giottos, Linhof, Rodenstock, Tetenal, Vue-All and Wista in the USA effective January 15, 2015.
This is more of interest to dealers than shooters, but I know you guys like to know all the details.
Hoya HD2 Filters
I have no idea why they seem to have vanished, but I found plenty of Hoya 49mm UV HD2 filters here as I use with my Fujifilm X100T.
Here are the all of the sizes and kinds of Hoya HD2.
The HD2 are made of super-tough hardened glass, and are coated to resist dirt and fingerprints. They really work!
Fancy Leather Strap
I was sent a fancy Cecilia strap to play with.
It's made in China of nice materials; smelling like leather and with metal buckles and strap keepers — not plastic.
The one I got has leather on the inside, and Peruvian alpaca wool on the outside, reminiscent of 1970's webbed straps.
It seems delicate, but it has a rated load capacity of 250 pounds, with nylon webbing running through the ends, tested with UL and Leather Industries of America.
Fun!

Apogee One for iPhone, iPad and Mac.
NEW: Apogee One for iPad, iPhone and Mac Review.
The best portable DAC and headphone amp I've tested, and it's only $349.
DEAL: Canon 5D Mk III and printer: $2,449. After rebate, expires Thursday, free US shipping.
DEAL: Canon D20 waterproof: $169. After rebate, expires Thursday, free US shipping.
Lost in Santa Monica, CA
A reader, Peter Mueller, writes that he left his Nikon D5300 s/n 6121686 and Nikon 18-200mm VR II s/n 46192801 in the changing room of the Aviator Nation Store and Fred Segal in Santa Monica at 5PM on December 7th, and hasn't seen it since.
Let him know if you come across it.
16 December 2014, First night of Hanukkah 5775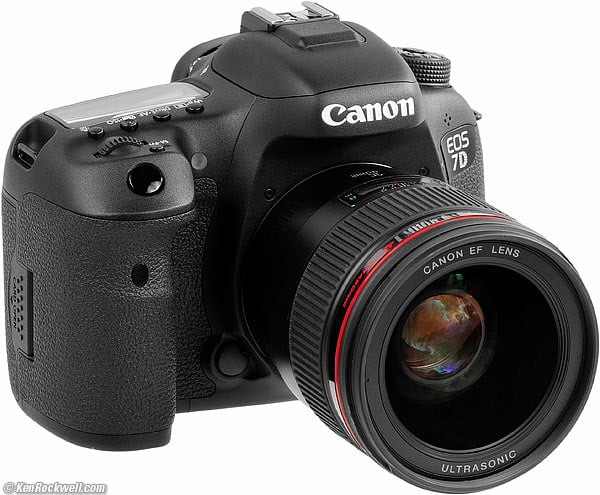 Canon 7D Mk II and Canon EF 35mm f/1.4 L.
NEW: Canon 7D Mk II Performance.
NEW: Canon 7D Mk II High ISO Sample Images.
I'm just starting on my formal review, and the good news is that the 7D Mk II is awesome.
You may find my Canon 7D Mk II High ISO Sample Images particularly interesting. The 7D Mk II seems as good as last year's full-frame.
A good investment in bad photography
Looking at my comparison to other 24mm f/1.4 lenses in my Nikon 24mm f/1.4 review, I was tickled to discover that while all other similar lenses, as well as the Nikon 24/1.4 have dropped in price in the past 5 years, the rich get richer, and the LEICA SUMMILUX-M 24mm f./1.4 ASPH sells for more than it did 5 years ago. Indeed.
DEAL of the DAY: Nikon D7000 for $489.
DEAL: Nikon D7100: $699.95. Refurbished, reg. $799.95, with free US shipping!
DEAL: Panasonic eneloop AA, 8-pack: $18.99. After rebate, with free US shipping!
DEAL: Panasonic eneloop AAA, 8-pack: $12.99. After rebate, with free US shipping!
DEAL: ATH-M50x headphones and TASCAM DR-40 4-track DSLR recorder: $219. After rebate, Reg. $189 for the headphones and $175 for the recorder, with free US shipping!
DEAL: Sennheiser MKH-416 Shotgun Mic with Zoom H6: $1,099. Reg. $1,399.94, with free US shipping!
DEALS: SanDisk cards.
14 December 2014, Sunday
DEAL of the DAY: Nikon D7000 for $499. Amazon, yay!
DEAL: Nikon D3200 for $349.99 with free US shipping. I don't know this particular dealer, but eBay is always there to help if there are any concerns. See also How to Win at eBay.
DEAL: Canon SX50 HS (50x Optical Zoom) with a ton of extras: $349.
DEAL: Fujifilm X-A1 with 16-50mm and 50-230mm with case and card: $449! Free US shipping.
13 December 2014, Saturday
DEAL: Nikon D7100 for $699.95 with free shipping. Refurbished.
My 7D Mk II just arrived, and it's incredible. Even the finder is bigger and brighter than I had ever imagined. It's as good as full-frame; and the finder seems to have better data display than the older 5D Mk III and 6D. Stay tuned next week as I tell all.
For nature and landscape it's full-frame, but for sports and birding at 10 FPS, the 7D Mk II is the new king.
12 December 2014, Friday
UNDERWATER: Nikon WP-N1 Waterproof Housing for Nikon 1 J1 & J2 for $99. Free US shipping, too! Did you catch that? It usually sells for $747! It's rated for 131 feet/40 meters depth.
11 December 2014, Thursday
Full Frame for Christmas!
Nikon D610 $1,497 CHRISTMAS SALE: After rebate, the Nikon D610 is just $1,497 at Adorama, at Amazon and at B&H.
Nikon D810 $2,997 CHRISTMAS SALE: After rebate, the Nikon D810 is just $2,997 at Adorama and at Amazon and at B&H.
More Full-Frame Nikon deals from Adorama. Great thing about Adorama is that they're also throwing in free next-day shipping and a 1-year drops and spills warranty at these same prices as everyone else.
NEW: Nikon D810 vs D750. What's really different.
Canon 6D $1,499 CHRISTMAS SALE: After rebate, the Canon 6D is just $1,499 at Adorama, at Amazon and at B&H. If you've been dreaming of a Full-Frame Canon, Santa has heard you!
Canon 5D Mk III $2,799 CHRISTMAS SALE: After rebate, the Canon 5D Mk III is just $2,799 at Adorama, at Amazon and at B&H. I love mine, and I paid the full $3,500 for mine when it first came out.
Canon 5D Mk III + 24-105L + printer & much more: $3,099 CHRISTMAS SALE: After rebate, this whole bunch of goodies is just $3,099 at Adorama.
Canon 24-70/2.8 L II $1,849 CHRISTMAS SALE: After rebate, the Canon 24-70/2.8 L II is just $1,849 at Adorama, at Amazon and at B&H. It's such an awesome lens that I'm not sore that I paid the full $2,300 for it when it first came out. It's that good.
Canon 70-200/2.8 IS L II $2,049 CHRISTMAS SALE: After rebate, the Canon 70-200/2.8 IS L II is just $2,049 at Adorama, at Amazon and at B&H. It's the world's sharpest zoom lens.
NEW: Route 66 Photo Tour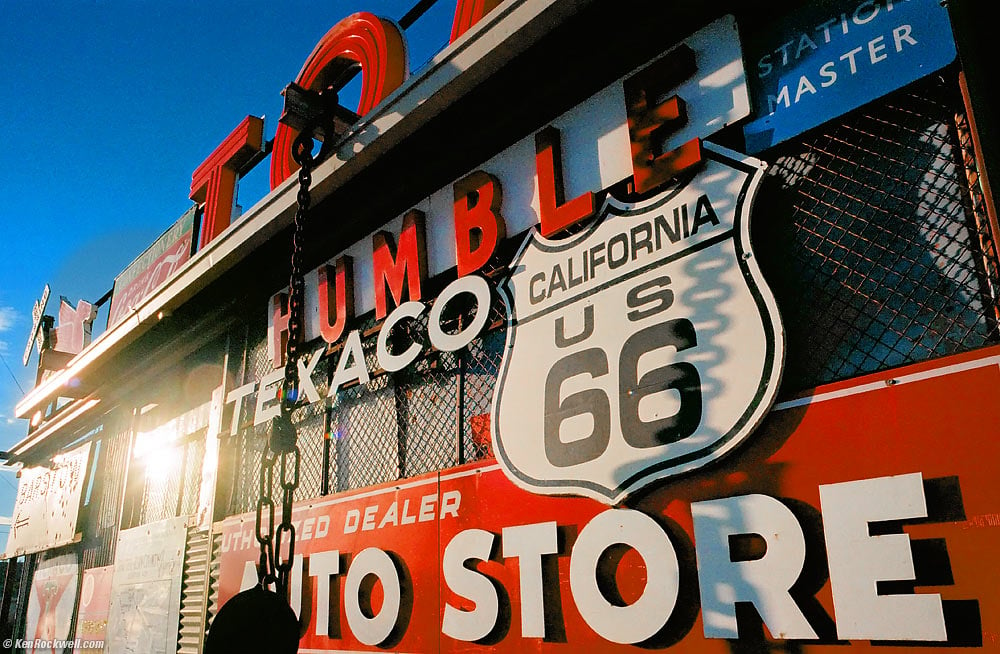 Signs, Tom's Welding, Barstow, 4:40 PM, 07 February 2014. (Year 2000 Nikon S3, Gossen Digisix light meter, Voigtländer SC Scopar 21mm f/4, Kodak Ektar 100, NCPS process and scan, Athentech Perfectly Clear.) bigger.
We've just picked the date for next year's Tour of California's Route 66. It's Friday-Sunday, 06-08 February 2015. We meet in the afternoon Friday and shoot just about nonstop until Sunday morning.
Here are snaps from 2014's tour, and here's more about the tour and how to register.
Most people bring DSLRs, while myself and others always love to bring period cameras. I usually bring 35mm rangefinders or 120 Brownies, or whatever strikes my fancy as I'm heading out.
NEWS: Peter Lik Snap sells for $6.5 Million.
Wow; a living artist outsells the rest. Astounding too is that Peter's work is classical nature and landscape work. Good job!
10 December 2014, Wednesday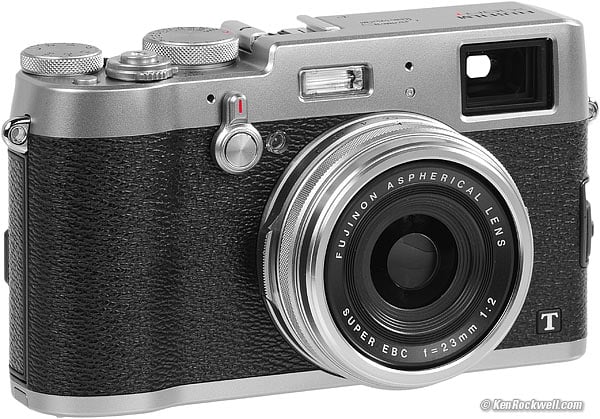 Fujifilm X100T.
NEW: Fujifilm X100T Review. Finally!
The world's best digital camera. It's that good.
DEAL: Profoto B1 500 AirTTL Battery Powered 500 WS Monolight: $1,845. Regularly $1,995, and includes free US Shipping.
DEAL: Profoto B1 500 Air Battery-Powered 2-Light Location Kit, Includes 2x B1 500 AirTTL Battery Powered Flash, Battery Charger, Car Charger, Backpack M: $3,650. Regularly $3.950, and includes free US Shipping.
These above are pro lighting.
DEAL: Fujifilm X-A1 with 16-50mm and 50-230mm:
$499. Regularly $999, and get 4% in Adorama rewards and free US Shipping.
DEAL: Panasonic Lumix DMC-GX7 2-lens kit: $499. Regularly $697.99, and get 4% in Adorama rewards and free US Shipping.
DEAL: Panasonic Lumix DMC-G6K with 14-42mm: $547.99. Includes 4% in Adorama rewards and free US Shipping.
DEAL: Sennheiser Momentum Headphones: $179. Regularly $228, and get free US Shipping. These are extremely popular headphones; I have not heard them yet.
09 December 2014, Tuesday
NEW: The World's Best Flashlight.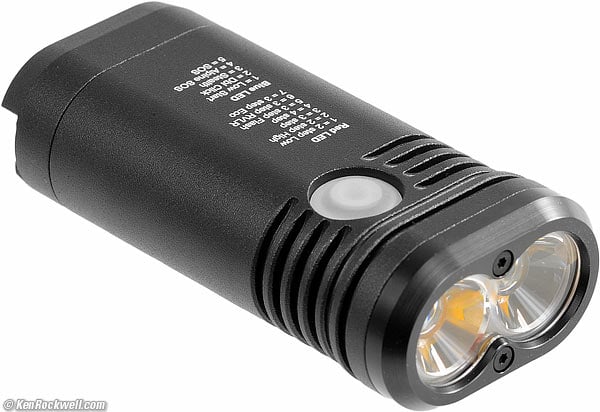 Lupine Lighting Systems Piko TL MiniMax.
Christmas came early. I just got the newest version of my older Lupine Piko TL which I use everyday, and I last charged it seven months ago.
This new palm-sized light is as bright as both of a car's headlights put together (over twice as bright as my three-year-old one), and has the same battery life thanks to a better battery and more efficient LED.
DEAL: Nikon D7100 for $799. (refurbished)
DEALS: Numerous factory-refurbished Nikon DSLRs, lenses and kits from $299.99 with free US shipping.
I've bought factory refurbished before, and they are usually just like new, just without the fancy box.
08 December 2014, Monday
Deals
I keep finding new deals a few times a day, but they were clogging up the top of this page, so I moved them all to my separate Deals page.
I'll post what's new here, but the rest of them will only be found on the Deals page.
You have to be sharp. For instance, there were some fantastic music deals yesterday, Sunday, but they expired the same day. The speakers that sold for $199 yesterday are back up to $330 today (which is still a great price compared to Amazon at $360) and the HD-650 headphones that were $314.99 are back to the usual $409, also a good price, but nowhere near the steal-them-now price yesterday of $314.99.
The best deals, like the best pictures, come to the most observant.
Fuji X100T
I finally got my Fuji X100T when I returned to New York from my Thanksgiving vacation in California, and I'm loving it!
I'm adding to my X100T review all of today.
The 100T is all the old X100S was, and the X100T is completely silent with its new electronic shutter.
The X100T also has real face recognition that works, so it finds and focuses on faces all by itself as I'm shooting. No longer do I have to move my AF areas around manually; my X100T now sees around closer objects to nail the faces behind them.
With my X100T, I now can shoot faster and more quietly than ever before with my old X100S.
DEALS: Amazon's Green Monday Deals.
I have no idea why people are coloring days today, but it might refer to the fact that buying online is always far better for our landscape than buying at retail.
Even if you walk or take your bike to a local or big-box store it still does far more to destroy our landscapes than ordering online, since all those local and big-box stores wouldn't have been built if we all did the right thing and ordered online. As an artist I live in our environment and landscape. Retail stores, and customers and their employees driving to and from them, cause half the pollution and half of the land that gets tilled-over each year. The more people take the risk of shopping retail, the less nature we have left.
I rarely shop retail, but I did need to bring home 250 pounds of lumber from Home Depot yesterday. I was amazed at a new risk of buying at retail. I was minding my own business, and some salesman from someplace like Green Energy starts harassing me with his obnoxious sales pitch — while I'm in Home Depot trying to pick up my stuff. Just wait till Amazon carries lumber!
Deal of the Day
Amazon has the Sennheiser RS 120 wireless headphones I bought for $80 this summer on sale today only for $59.99.
It comes complete with rechargeable batteries, charger, transmitter stand and headphones: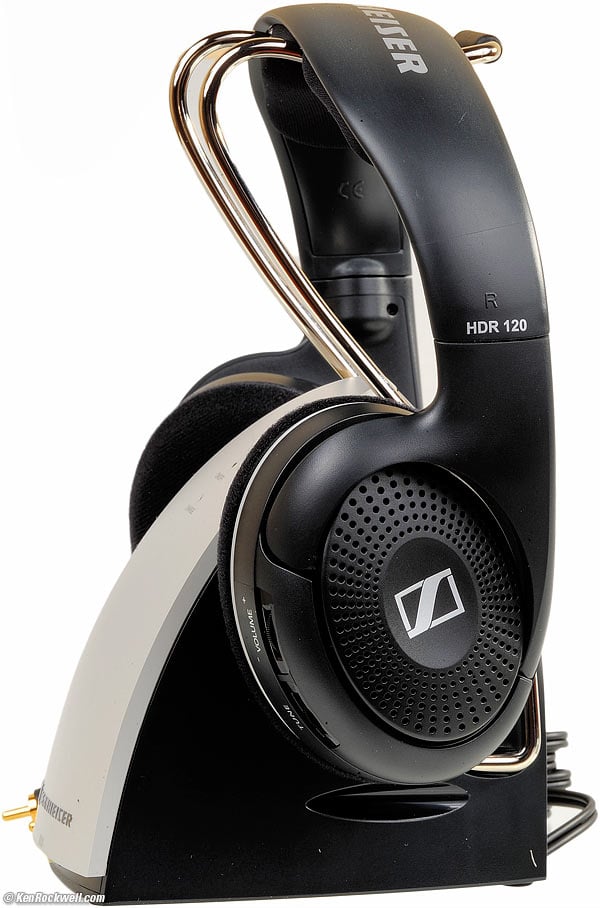 07 December 1941, Pearl Harbor Day
STEAL of the Day: Sennheiser HD-650 for $314.99. Free shipping, too!
These $500 headphones are the real thing: one of the few models of professional headphone used throughout the music recording world where a reference is needed for the best quality music reproduction. These are open-back, non-isolating headphones.
The other studio standard is the closed-back ATH-M50 and ATH-M50x, used not so much for ultimate audio as for its pretty good quality with excellent isolation and abuse resistance worn by talent while tracking in the studio, and of course the Sony MDR-7506 is #1 in radio and TV for its low price, decent sound and pretty good abuse resistance.
The Sennheiser HD-650 usually sell for $500 and rarely drop to $400 even on sale.
I'm getting myself a set to review, but the HD-650 is already a legend in its own time as one of, if not the top performer for ultimate headphone sound quality. Spending more on the HD-800 or AKG K812 mostly just gets you fancier packaging. The HD-650 are the headphones to which many music recording professionals, audiophiles and music lovers reach when they want the best-sounding open headphones they can get. For closed (isolating) headphones, I LOVE my Beyer T51i.
This $314.95 deal ends today, Sunday, December 7th, so order them while you can. If you hate them, you have 30 days to return them for a full cash refund, so get them while you can. "Today" means NYC time, which means 9PM for you Californians.
STEAL of the Day: M-Audio 8" bi-amped monitors: $199 the pair. Free shipping, too!
Amazon sells them for $390, so for $199 the pair these are a steal for anyplace you need self-powered speakers. They are internally bi-amplified, so they can plug right into your computer or portable device, too. Just be sure you have the right professional cables or adapters to connect them; as studio gear they have 1/4" and XLR inputs. You also plug each into a power cord to power the speaker, which as a pro monitor will go loud enough to deafen the dead.
At $199 delivered, these will cream anything else you'd put on your desk for your computer. Plug them into an AirPort Express or Bluetooth receiver and for $300 complete you've got the world's best wireless speakers. Use a cable like this to connect them to the AirPort or your PC or like these to RCA outputs.
Hey - the $100 AirPort Express is on sale for $89 at Amazon. I use them all over as wireless DACs that connect to my system from iTunes or iOS for full bandwidth, lossless digital audio. I plug it into my Hi-Fi and use them in remote parts of my house to feed different zones with music — and it's trivial to play to some or all of them to fill the whole house with music and control each level right from your Mac or iOS device with the Remote app. Better than earlier AirPorts, today's AirPort Express has a great DAC built-in, or plug its digital output into another DAC.
Just plug these monitors into the AirPort, and then you can play to them from any of your devices in a click, always ready to play.
This deal ends today, Sunday, December 7th. "Today" means NYC time, which means 9PM for you Californians.
06 December 2014, Saturday
Apple 27" iMac with 5k Retina Display
Holy cow! I just got an Apple iMac with 5K Retina Display, and it just redefined how we display photographs.
It is the world's highest-resolution computer sold to the general public. The 5k iMac has so much resolution that it obsoletes the concept of 100% magnification.
"5k" means it has more then 5,000 pixels across its monitor, over twice as many as an HDTV and more than even a 4k TV.
Its bold, bright, sharp, contrasty and accurate display immediately made my 30" Cinema Display look like it's a relic from the 1950s. Most people have no idea how incredible images will look on a 5k iMac until they see it for themselves. Even turned off, the ultra-black anti-reflection coated screen is stunning.
Photos look stunning on this iMac, and it looks stunning all by itself. I put mine on top of built-in wall cabinet, and plugged the power cord invisibly into the wall socket behind it. Everything else is wireless, so for the first time ever I genuinely have a computer with no visible means of connection to anything.
When I got mine, it took only 150 seconds from pressing the power button to enter my iCloud account and wireless network information and get on and to the Desktop. All my notes and bookmarks and everything on iCloud were already there, letting me start playing in less then three minutes. BRAVO!
In iTunes on my new 5k iMac, all I had to do was click iTunes, go to the Home Sharing icon at the top left, and since I had already logged into iCloud when starting the iMac for the first time, bingo, my entire 215 GB music and movie library on my main Mac showed up on the iMac, all ready to play just as if it were already there. Think that's cool? I have another 400 GB of movies on an external drive connected to my main Mac, and those also play on the new iMac just as if they were there, too. In other words, I've only used 20GB of storage on the new iMac's drive, and in seconds I already had access to about a terabyte of media on my other Mac, no copying needed. Of course the new iMac already has access to my whole house of TVs and multiroom audio; all care of iCloud.
Phone ringing? The iMac rings. I click Accept, and it quiets my music and calls up its own internal speakerphone. My music still plays softer, and I can hear my call. When the call's done, my music pots back up. Cool.
Hint: If you set it up as an new computer using iCloud, your screen unlock password isn't what you're using on your other computers; it will be the password of the iCloud account to which you started the iMac. You can change it later. I usually Migrate from a previous computer, which migrates the same password; but start from scratch and it will use your iCloud password.
I always get Apple's extended warranty, Apple Care. It always costs me a couple of hundred dollars for my pro machines ($169 for the iMac) and covers me for a total of three years for parts and labor and unlimited and good tech support.
Here's a tip: Adorama includes Apple Care for free with all Mac Minis and all 5k iMacs, so that's saving you even more. I'd therefore get it at Adorama.
Every photographer deserves one of these for Christmas; your photos never looked so good! Be sure to tell Santa; it's at the top of my list of Best Gifts for Photographers. Of course if you're giving executive gifts, it's a safe bet that no one has one yet and you'd be giving a great gift, just as everyone got iPads for Christmas in 2010 when they first came out.
05 December 2014, Friday
DEAL: Audio-Technica ATH-M50x pro headphones and TASCAM DR-05 recorder for just $169! Free US shipping, too!
One Year, One Camera, One Lens
Hobbyist Paul L. Ghica set a challenge for himself to shoot with only one camera, with only one fixed lens, for a year and see what happened.
As I suspected, his work is pretty awesome. He saw his work get better and better as the year went on and he become more and more familiar with the camera so he could pay attention to his picture, and not think about the camera.
He used a Yashica Electro 35 GSN.
As a digital equivalent, you'd want the Fuji X100T.
WAY CRAZY!!: Nikon 6mm f/2.8 220º Fisheye at eBay.
LESS CRAZY: Nikon 8mm f/2.8 Fisheye at eBay.
NEW: Canon EOS C100 Cinema camera.
04 December 2014, Thursday
DEAL: Fuji X Lenses up to $200 off. Free US shipping!
FREE GOODIES: If you want the new Canon 100-400mm IS II that sells for about 2,200, Adorama just created a kit that throws in some free goodies for the same price.
Color film for B&W?
You can shoot color film and then convert it to B&W later in Photoshop (Layers Pallet > Click the Half and half black and white circle > Black and White, then move the sliders to taste.)
An advantage to this is not needing any colored contrast filters because you can use the color sliders in Photoshop's convert-to-B&W adjustment layer to simulate a contrast filter, but this doesn't work as well as you'd think. It turns out that scanned color film lacks the dynamic range needed for this trick to work well, especially when trying to increase contrast — which is usually the point.
You can see some samples of color converted to B&W at my 2014 Route 66 gallery. The problem is phantom bright lines at the edges of sky areas I'm trying to darken with a simulated red filter.
I prefer the look of real B&W film shot with contrast filters over shooting color print film and simulating those filters later. The color to B&W conversion doesn't work as well in Photoshop compared to shooting B&W film directly with filters.
Loads more at How to Shoot Film.
I Shoot in Pro (Program) mode
Some people have this funny idea that pros shoot in Manual exposure mode.
The only people who shoot everything in manual mode are students working under mean, old frustrated photo teachers who force them to shoot in Manual so the kids can learn how tough things were back in the 1950s and before.
Today, pros shoot in Pro mode. That's why it's called Pro mode: because pros use it most of the time.
I shoot in auto everything!
I use Pro (a.k.a. Program) automatic exposure mode.
I use Auto ISO. Auto lowest shutter speed in Auto ISO.
I use Auto white balance, and so forth.
I only pull it off AUTO if something isn't setting itself correctly in the AUTO modes.
The key is that by taking a lot of time to program all the Auto everythings to set the camera as I would have set it myself, I can shoot much faster. This way the camera sets all the easy stuff itself so I can concentrate on finding the picture.
I often will change something from Auto, and the important point is knowing what to change when.
If I want a lighter or darker photo, I use the exposure compensation button — while in Pro mode.
If I want a larger aperture or different aperture, I turn the dial while in Pro mode. It's much faster than changing to aperture or shutter-priority mode, and a zillion times faster than manual.
The only time I use Manual mode is if I'm in my studio working with controlled lighting, or if for some reason I need the camera's exposure not to wander from frame to frame.
Maybe I confuse people by listing my exposure times and apertures for photos, but I only do that because you asked. 9 times out of 10 the camera was in Pro mode and picked that particular combination by itself while I was busy looking for the picture.
03 December 2014, Wednesday
Just Discovered: Film Rescue.
A place that claims to develop any kind of old film.
Another place that's been around forever is Rocky Mountain Film Lab.
I haven't used any of them; they specialize in ancient formats like Kodak Disc and 110.
Even my local Costco is still APS certified, and I process all my film as I shoot it at NCPS. I rarely shoot 110 or come across random rolls of film in the back of a drawer — but when your Mom gives you the old family camera and there's a half-shot roll of film in it from 1986, these could be your guys.
02 December 2014, Tuesday
NEW: Light, Gesture and Color.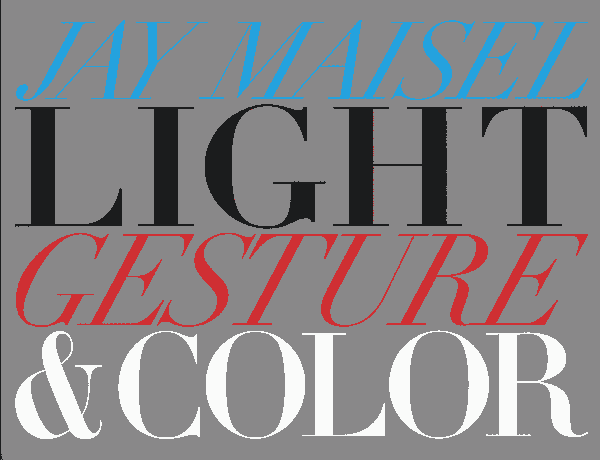 Light, Gesture and Color by Jay Maisel.
A new classic is born! This is a fantastic book in which Jay Maisel, one of the world's very greatest photographers of all time, finally writes down everything he's learned in over 60 years of professional photography and the fine-art world.
As a native New Yorker, Jay doesn't beat around the bush. Jay's book gets to the point. Unlike Bruce Barnbaum's superb Art of Photography which is a very long and difficult read, I finished Jay's book in one evening. I bought The Art of Photography a few years ago, and I'm still not finished, while with Jay's book, I'm done and can get back to shooting.
Jay stresses that photography is all about relaxing and finding the picture, not futzing with camera settings or Photoshop.
Light, Gesture and Color is a mandatory read for everyone interested in photography. Jay finally writes down all the secrets I've been trying to write down myself.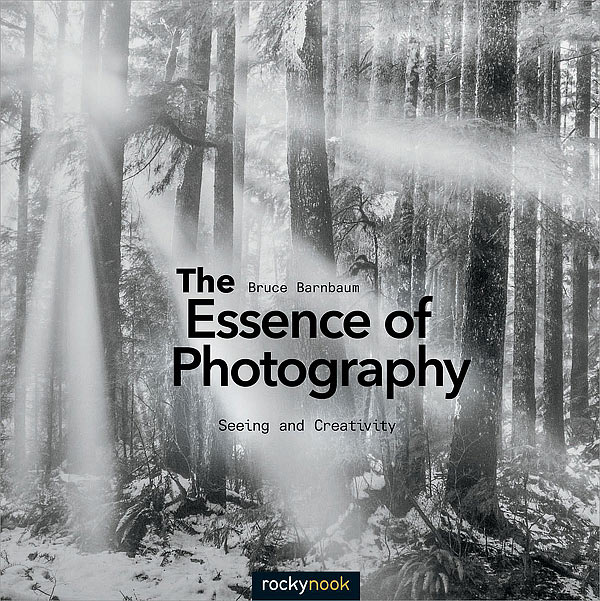 NEW: The Essence of Photography.
An all-new book from Bruce Barnbaum, author of the superb Art of Photography. It's an in-depth work and a deep read, so it will take me a while to finish it before I can comment.
UPDATED: Canon 5D Mk III vs. Canon 1D X.
I added a summary at the top.
I had all the details, but hadn't quite given the important basics.
01 December 2014, Cyber Monday
Step up to Full Frame for FREE!
Look at the deals above, and you'll find the Canon 6D for less than $1,250 after rebates, and that even includes free shipping and a printer and accessories!
Iin the world of full frame, under $1,250 for a new Canon is free.
Black Friday
Today's news is our online deals we can shop from the comfort of our office.
California
I just got back from 10 days in sunny California visiting family, with plenty of photos eventually to share from my D810, 20/1.8G, 50/1.4G and 80-200/4.5-5.6D.
What's a 80-200/4.5-5.6D? It's Nikon's smallest and lightest telephoto zoom, and I didn't feel like hauling anything heavier for the holidays.
35mm film developing at Walgreens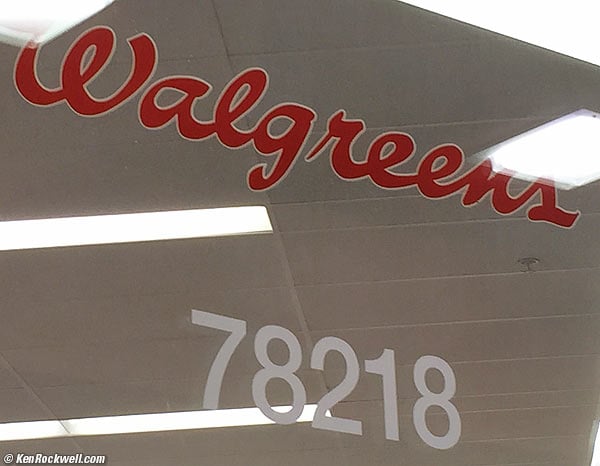 Walgreens in Palm Desert, CA.
While in Palm Desert, California, I asked at the Walgreens at 78218 Varner Road right off the I-10 in the same shopping center as Mario's, and they cheerfully developed regular C-41 35mm film — and scan it to a CD — for about 8 bucks, in an hour. You can get prints, too, of course.
They said they were one of the only few in the area who do this in-house, but so? Worse comes to worse, I could drive a few miles to the next one.
I send my film to NCPS, but if I needed fast local processing and scans, if your local Costco can't do it, there is always someone who can.
Film is not going away in my or my childrens' lifetimes, but as it becomes more of a fine art, it will become a little harder to find. I don't think Walgreens carries oil paints, canvas or stretchers, either. No big deal, I've always had to order my professional film directly from New York; I've never bought it at retail since 1975.
When you're an artist, you have to look a little harder, and you always find for what you're looking. Film is easy to shoot.
What Was New in:
Help me help you
I support my growing family through this website, as crazy as it might seem.
If you find this as helpful as a book you might have had to buy or a workshop you may have had to take, feel free to help me continue helping everyone.
If you've gotten your gear through one of my links or helped otherwise, you're family. It's great people like you who allow me to keep adding to this site full-time. Thanks!
If you haven't helped yet, please do, and consider helping me with a gift of $5.00.
The biggest help is when you use any of these links when you get anything, regardless of the country in which you live. It costs you nothing, and is this site's, and thus my family's, biggest source of support. eBay is always a gamble, but all the other places always have the best prices and service, which is why I've used them since before this website existed. I recommend them all personally.
Thanks for reading!
Ken
Home Donate New Search Gallery How-To Books Links Workshops About Contact