Home Donate Search Gallery Reviews How-To Books Links Workshops About Contact

June 2015's News RSS Hot Deals
© 2015 KenRockwell.com. All rights reserved. Ryan Katie

Nikon: D810 D750 D610 D7200 Lenses Canon: 5DS 5D Mk III 6D 7D II Lenses
Reviews: Fuji LEICA Contax Zeiss Sony Minolta Olympus Pentax
Recommended Cameras Gifts How to Take Better Pictures random
Facebook Twitter Video Tutorials
Lightroom Made Easy
My friend Phil Steele's updated "Lightroom Made Easy" course for Lightroom 6/CC is still on sale. His courses are the best I've seen: clean, clear, to the point and very helpful.
He's offering 15% off the course! It's now just $39, and if you don't like it, he has a 60-day money-back guarantee. You can't miss! Check it out.
30 June 2015, Tuesday
IN-STOCK: Canon 100-400mm L IS II.
The world's best telephoto zoom; replaces all 70-200mm lenses, and Nikon has nothing close. It focuses faster and closer than anything, and goes all the way to 400mm, and is made better than anything else out there, especially the plastic Nikon 80-400 that costs even more.
Get it now while you can from B&H.
JUST ANNOUNCED: Olympus AIR 01
The AIR 01 is a tiny micro 4/3 body that works with any smartphone. It comes as the body only, or as a kit with a zoom lens.
The AIR 01 is the size of a small teleconverter or large lenscap and has a 16 MP sensor. It talks to your phone wirelessly via its own app, and can store photos either in your phone or in its own micro SD slot. It also can shoot by itself with limited function.
They come in black or in white finishes.
It's less expensive than the DxO ONE, even buying the kit with zoom. It can use any micro 4/3 lens, has a much bigger sensor, and works with all smartphones, not just iOS.
It looks like it just rendered the DxO ONE obsolete; you gotta love this about Japan. When it comes to cameras, they make the craziest things that we all have to have.

Olympus AIR A01 - Black Body only: $299.99 with Free Shipping. also at B&H.

Olympus AIR A01 - White Body only: $299.99 with Free Shipping. also at B&H.

Olympus AIR A01 - Black body with the 14-42mm Black Lens.
$499.99 with Free Shipping. also at B&H.

Olympus AIR A01 - White body with 14-42mm Sliver Lens
$499.99 with Free Shipping. also at B&H.
Amazon has the Olympus Air A01 with lens, also in white with lens.
And while I'm here, save up to $200 on select Olympus lenses and Save up to $300 on select Olympus cameras.
Deals
Zeiss 5 x 10 T* Monocular: $129.95 (Regular $199.95) with free shipping.
Lowepro Photo Sport 12L Shoulder Bag, Purple/Gray: $14.95 (Regular $39.95), with free shipping.
29 June 2015, Eight years of iPhone
It changed our world, so it's hard to believe that the iPhone was first unveiled today in 2007.
NEW: Canon 5DS vs. 5D Mk III High ISO Comparison.
As expected, they are the same. Canon simply won't let you set the 5DS so high that it looks bad, as you can with the 1D X and 5D Mk III.
Card and Camera Deals
Nikon Df for $1,768 on eBay. I buy from these folks in Japan often. The items show up in a few days, and they are usually just like new.
SanDisk and Lexar specials.

$200 Price Drop on the Panasonic DMC-FZ200, LEICA 25-600mm (eq.) f/2.8: $397.99 with free expedited shipping.
Audio Deals
Audio-Technica ATH-M50x headphones, Focusrite Scarlett 2i2 USB Preamp and Samson MTR101 1" Diaphragm Condenser Microphone, Shockmount & Pop Filter: $269 (Regular price $438.99!) — with free shipping,
ATH-M50x Headphones, Focusrite Scarlett 2i2 USB Preamp, Samson MTR101 1" Diaphragm Studio Condenser Microphone, Shockmount & Pop Filter, Tascam VL-S5 5" monitors: $399.00 (Regular price $736!) — with free shipping.
25 June 2015, Thursday
Deals
Save Up to $400.00 on the Profoto B2 250 AirTTL Kits.
Tenba Camera & Laptop Messenger Bag: $49.95 ($93 everywhere else!) with Free Shipping.
Tamrac 5588 SLR Backpack: $179.95 ($319.95 elsewhere!) with Free Shipping.
Apple 11.6" MacBook Air 1.7GHz, 8GB RAM, 512GB Flash Storage: $999.00 (Regular $1,199.00) with Free Shipping.


25 June 2015, Thursday
Now Orderable: DxO ONE for iPhone & iOS.
This is the camera that attaches to your iOS device with a much bigger sensor than the iPhone's.
NEW: Kodak PixPro SP360.
Kodak's not quite dead yet. Here's a clever camera that sees 360º and lets you edit the videos it makes after the fact. You can select what crop you want out of it on the fly.
Lens Adapters: Don't Do It!
People keep getting all excited about putting good LEICA lenses and NIKON NIKKOR manual-focus lenses on their mirrorless cameras. These contraptions work poorly, but mirrorless camera and adapter makers fuel the fire, so people keep doing it.
FrankenKameras are a bad idea. LEICA lenses on other cameras work WORSE than using the camera's own-brand lenses! The $500 Canon 20/2.8 USM works better on a 5D Mk III than a $5000 LEICA lens works on the Sony A7!
AND - the adapted lenses are a farce. They won't focus or stop down their apertures or do much of anything. Adapting lenses is mostly a prank for people who talk more than shoot.
What works best is to use the lenses sold for your camera. Use Sony NEX lenses on Sony, and use Fuji X lenses on Fuji, and use 4/3 lenses on 4/3 (they all interchange among 4/3). The optics are at least as good on these cameras as using LEICA or NIKKOR lenses, and they add zoom and autofocus and automatic exposure, and here's the biggie: using the right lenses have diaphragms which stop down when shooting and then open again automatically for focussing. Adapted lenses demand you flick the diaphragm ring back and forth for each and every shot, unless you are shooting wide-open or want to focus stopped-down.
It seems like fun to use real-man lenses on girly-man cameras, but honestly, the plastic girly-man zooms sold today work better on these cameras than the real-man lenses from the good old days do.
I was going through a few new Fuji lenses I bought for use with my X-T10 that just arrived from Adorama, and thinking about how different the packaging was from the Pentax lenses I use got from B&H along with a Pentax K3 II, the differences are so real that I just had to write.
As you know I buy this all for myself. Yes, I return a lot of it, but no camera companies are loaning anything to me or paying me anything for anything. I can speak freely, since it doesn't matter if they like me or not; I'm not taking ads or money from them.
Here's what I see as so much of this gear goes through my hands:
Nikon
Medium quality. Most gear is made wherever it's cheapest, like China or elsewhere. Almost everything is made of plastic.
Packaging is also of moderate quality.
Only the most expensive signature items made domestically (Japan), everything else sent overseas. Even the $2,000 300mm f/4 PF is made of plastic in China.
Nikon's DSLRs have fantastic color rendition. I shoot as JPG and get the eye-popping colors I demand right out of my camera.
At least in the countries I've been to, Nikon seems to look at its customers and dealers as an annoyance, hoping we leave them alone so they can get back to whatever's more important in their day.
Nikon's phone support at (800) NIKON-US for 35mm was always superb, and their support at (800) NIKON-UX for digital was great until recently. Nikon's phone support today is poor; you wait a long time to talk to someone who has no answers.
Canon
A classy operation. Almost everything is made domestically in Japan. Only the least expensive items are offshored, and then to Malaysia or Taiwan.
Packaging is typical, although it's a class act that their cameras, from most to least expensive, all come delicately wrapped in something like cloth inside bubble wrap. It's like the angels that assembled it want it to go delicately into the world.
While Nikon's mechanical quality is feeling dinkier and dinkier as the optical quality goes up, Canon's mechanical quality is actually getting better. Take the awesome new 100-400 L II for example, which went back to being mostly metal with metal filter ring.
Canon seems to like its dealers and customers. When I call Canon's phone support at (800) OK-CANON, there isn't much of a wait at all, and the first person who picks up the phone usually knows the answer to my oddball questions right off the top of their head.
Canon's DSLRs also have fantastic color rendition. I shoot as JPG and get the eye-popping colors I demand right out of my camera.
While I like Nikon's DX cameras, Canon is the way to go for full-frame. You people think I'm on Nikon's take, but I don't get anything from either Nikon or Canon. Canon invented the full-frame DSLR, and while I own Nikons mostly to shoot my manual focus NIKKOR lenses, my 5DS is what I grab when I want it done right.
Bravo, Canon!
Sony
Sony's cameras vary. I've never liked their color rendition, it's second rate compared to Nikon and Canon — but keeps getting better.
Yes, Nikon often uses Sony sensors and Nikon DSLRs often have great color rendition. Color rendition does not come from a sensor. It comes from a camera, in which the sensor is but one very small part. Nikon and Canon have and have spent the corporate resources to develop the secret sauces (transfer functions and color matrices) to get great color out of whatever sensors they use, which no other maker other than Nikon, Canon and Apple have had the resources to develop.
Sony's ergonomics vary all over the map. They usually throw way too much garbage in our faces, designing their cameras for people who talk about photography more than actually do it.
Sony's packaging isn't that exciting, and in my tests, their zoom lenses are the worst. Hey, when I say Nikon and Canon and LEICA make great lenses, Sony is the foundation against which the others look so good.
Fuji
Fuji is a very classy act. It was my unwrapping of my Fuji X-T10 which inspired this article. Fuji makes their cameras better than others, and also takes pride in how they package them.
While no camera maker seals its boxes, meaning you should NEVER buy a camera at retail since there is NO way to know if you're getting a new or used or incomplete camera, at least Fuji puts a sealing sticker on the bag that holds the camera body. While with Fuji, just like every other maker, you can't tell if you're getting all the accessories or an old returned battery with your "new" camera," at least you have a little confidence that the body itself may be virginal. (I only by online from approved sources, which all ship from secure remote warehouses where no one gets to fiddle with or open boxes. Hint: all decent cameras stores have used departments. No used department means not a place for the intelligent to buy cameras. Even Amazon sells used.)
Fuji makes real camera with real knobs. That costs money. Fuji isn't selling disposable, forgettable consumer electronics with more menus than buttons.
Fuji makes them all in Japan, and they make them out of at least as much metal as does LEICA. The X-T10 is all metal with engraved knobs, a real camera and not a plastic dog plop.
Likewise, Fuji's lenses are made as they should be: out of metal with engraved markings.
Fuji's cameras handle as they should, being designed for photographers and not for people who'd rather just talk about it. Fuji also has a line of serious lenses not available anywhere else, like the 16mm f/1.4 that just arrived. It's equivalent to a 24mm f/1.4 on full frame, and just one of many innovative lenses no one else makes. That's why I get excited about Fuji and don't talk much about Sony.
Fuji's colors are great for people, but inferior to Nikon and Canon for photos of places and things.
LEICA
LEICA hasn't been about photography since rangefinder cameras went obsolete in the 1960s. Ever since the glorious LEICA M3 of 1954, every new LEICA has been a crummier, more cost-reduced version. The key is that the huge 0.91x M3 finder is the best finder ever, and every LEICA since has used cheaper, lower magnification finders to save money as LEICA desperately tried to stay competitive.
The LEICA was replaced by SLRs. The Nikon F of 1959 was the first wildly successful SLR with a full system of lenses, and that system is alive and well today. The Japanese have a saying that it takes 10 years for anything to change, and by 1969, LEICA was essentially gone, like vacuum tubes.
LEICA makes crummy digital cameras. The M9 is buggy and has awful color rendition for anything, unless you shoot DNG and process it in Aperture, which will at least get second-rate results.
The M240 has much better color rendition than the M9 and is much less buggy, but it's too darn big and fat. The M240 weighs more than many DSLRs today, and its optional electronic finder — the whole point of the M240 — is plastic junk from China, so who cares?
Yes, I say glowing things in my LEICA reviews because LEICA cameras have merely been jewelry for men for the past few decades. I'm mostly kidding; you'd have to see my tongue in my cheek as I write them. Note the pompous air I take on, as is expected when reviewing the very best, deserved only by the very few.
Like other jewelry, LEICA packages most of its products extravagantly.
LEICA does make superb lenses, and always has. All their lenses from the 1950s and newer are still spectacular today — but they are best used shooting 35mm film. Heck, every lens they've made is great; I can get super shots with my 1930s LEICA lenses. Their digital cameras are merely jewelry. Any of the Fuji X100, X100S and X100T run circles around any LEICA when used for street and reportage photography. I know, I own them all.
Panasonic
I don't know; I don't own any.
Panasonic, like Sony, makes most of their own ICs and transistors and capacitors and batteries and just about everything that goes into their cameras themselves.
Olympus
Olympus was the king of the practical 35mm rangefinder. For fun, I prefer my 35SP to my LEICAs.
I haven't tried much of their digital offerings — and I see a lot of innovative 4/3 lenses from them.
Mirrorless
People use mirrorless to carry less, which is a great thing, but I prefer my iPhone 6 Plus when I'm going light.
I prefer the ultralight Canon SL1 DSLR otherwise. It's the same size and weight as a mirrorless camera, but has full DSLR quality, speed and sensor size — for half the price!
Pentax
Opening my Pentax K3 II and some Pentax lenses also inspired this article — in a different way.
Pentax is pretty junky, like it's some sort of kid's toy or counterfeit iPod product.
The packing is cheap, and the thin cardboard is dinkier than used for many of my kid's toys, and Pentax' graphics look to inspire the worst in people.
Trying the K3 II, I had to laugh: autofocus sounds like its from the 1980s. They must be kidding, but it also solidifies why Nikon and Canon own the DSLR market: because they make much better cameras.
Apple
Obviously Apple packages everything brilliantly, and their products look and feel better and are more precise and more beautiful than anything from anywhere.
The iPhone 6 Plus has an exceptional camera as well. iPhones have superb color rendition, as good as Nikon and Canon and better than Fuji, better than Sony and much better then LEICA — so my iPhone pictures look better.
The iPhone is the camera I grab first when I'm loaded with DSLRs when I need a close-up, or need a good shot in weird light where I have no time to fiddle with white balance. My iPhone just nails it.
The iPhone has always excelled in giving better-looking pictures in one shot than any other camera. No other camera automatically switches-in a painless, instant HDR mode as needed, for instance. While I usually can fiddle with my other cameras to get a great shot, my iPhone always nails it the first time. My iPhone is a serious part of my photo arsenal.
Your iPhone probably takes better pictures than most other cameras. The 6+ is way better than earlier models, and even shoots outdoors at night in many conditions with no flash.
24 June 2015, Wednesday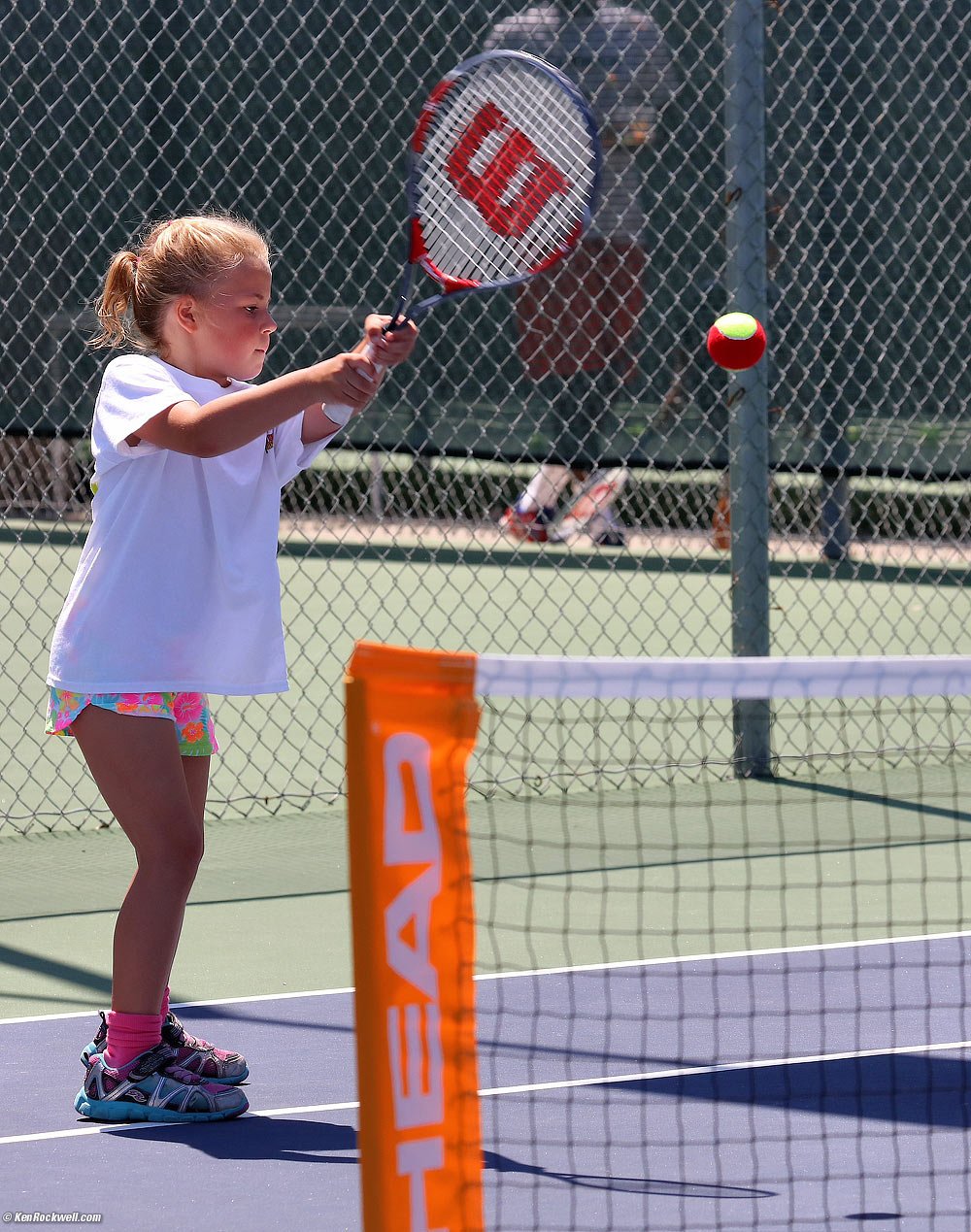 Katie learning backhand for the first time. (Canon 5DS, Canon EF 100-400mm IS L II at 200mm, f/10 at 1/640 at Auto ISO 400, Perfectly Clear V2.) bigger.
NEW: Canon 5DS sports performance.
While the 7D Mk II is twice as fast for half the price, the 5DS is no slacker, either.
Just announced: Tokina 24-70mm f/2.8 for Nikon and for Canon.
23 June 2015, Tuesday
NEW: How to Make a Multi-Room Audio/Video System.
I completely re-wrote my article from a year ago, expanding and adding tricks and answering common questions.
For a tiny fraction of what a custom installer would charge, I have every room inside and outside my house all interconnected so I can play anything from anywhere to anywhere, and I control it all from my iPhone.

DEAL: Canon 70D Bundle: $999.99 after $200 instant and $250 mail-in rebate.
Bundle Includes:
Canon 70D
Canon 50mm f/1.8 II ($125.00 Value)
Canon PIXMA PRO-100 Printer ($298.00 Value)
Canon SG-201 Photo Paper ($38.41 Value)
Lowepro 17L AW Shoulder Bag ($59.95 Value)
Corel Digital Creativity Suite ($199.00 Value)
Of course you can sell the printer and other items, making this even less exensive.
21 Juin 2015, La Fête de la Musique
NEW: Canon 5DS vs. 5D Mk III Resolution Comparison.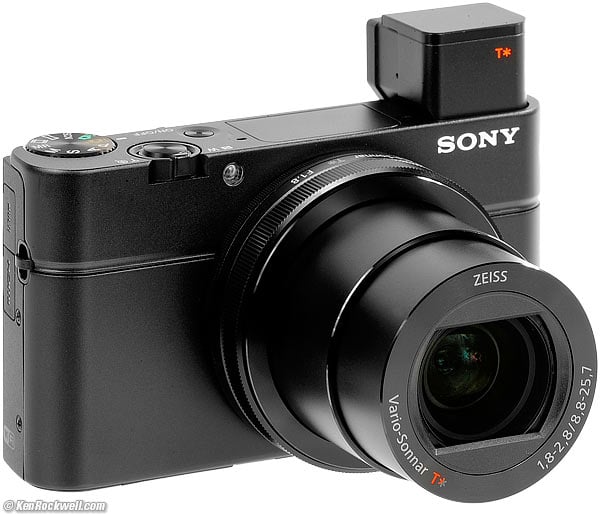 Sony DSC-RX100 Mark III.
NEW: Sony RX100 Mk III Review.
$100.00 OFF: Sony RX10: $898.00 with Free Expedited Shipping.


DEAL: Tamrac Travel Pack 73 Photo Backpack: $29.95 (Regular $59.95), with Free Shipping.
20 June 2015, Saturday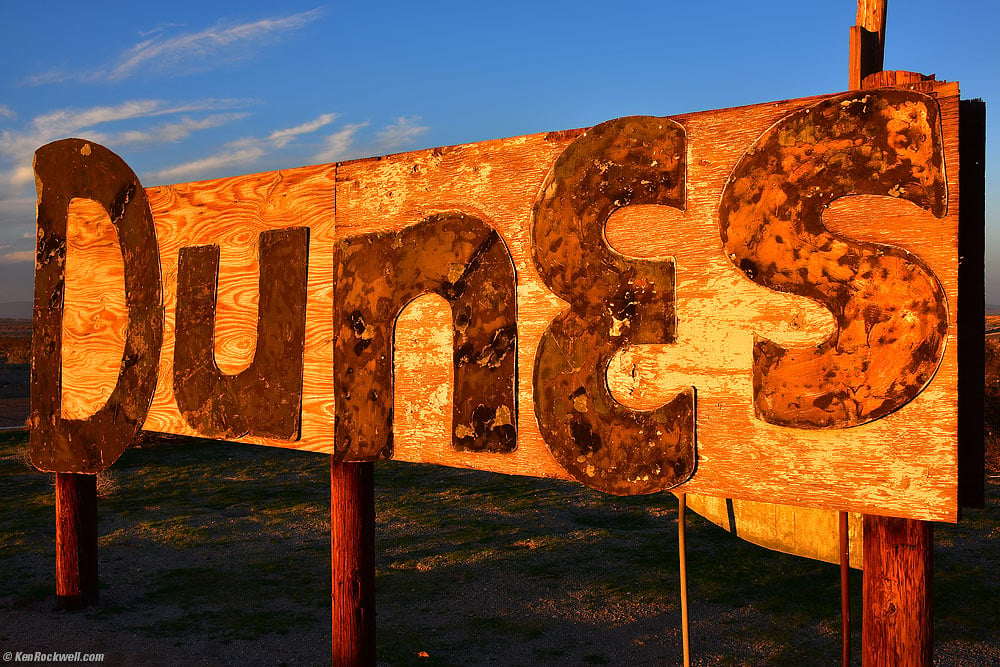 California's Route 66.
NEW: Photographs from California's Route 66.
The pictures Nikon doesn't want you to see.
I shot this all on my D810, with old manual-focus lenses whose optical designs were introduced 40 to 60 years ago.
I share full-resolution 36MP files, and they look fantastic.
Sure, you can pay more for Nikon's newest offshored plastic zooms, but the real reason I still keep my Nikon DSLRs around is because I can use my ancient lenses which feel so much better in my hands — and create spectacularly sharp images.
Newer zooms sell for more, but don't take pictures any better than Nikon's oldest lenses.
When I want autofocus, I shoot my Canons, but when I want to fool around with old gear, Nikon was the top pro full-frame SLR camera from the 1960s until the 1990s until Canon replaced them.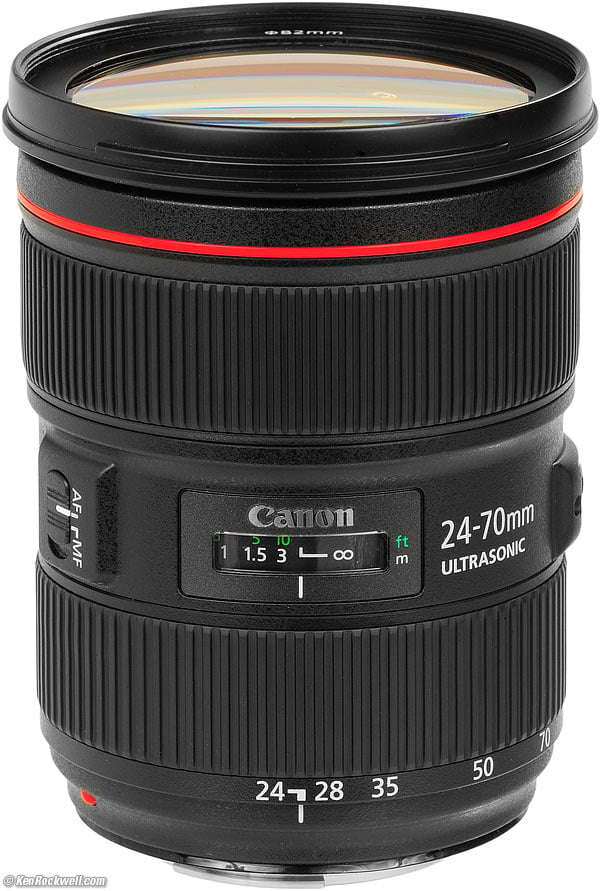 Canon 24-70mm f/2.8 L II: World's Sharpest Midrange Zoom.
NEW: Canon's Best Lenses.
It's about time I wrote this; these are the only lenses you need for shooting Canon, especially the 5DS.
NEW: The Myth of the One Inch Sensor.
Some camera makers are calling little 9 x 12 millimeter (0.35" x 0.47") sensors "one inch." Here is the explanation behind how they lie about this.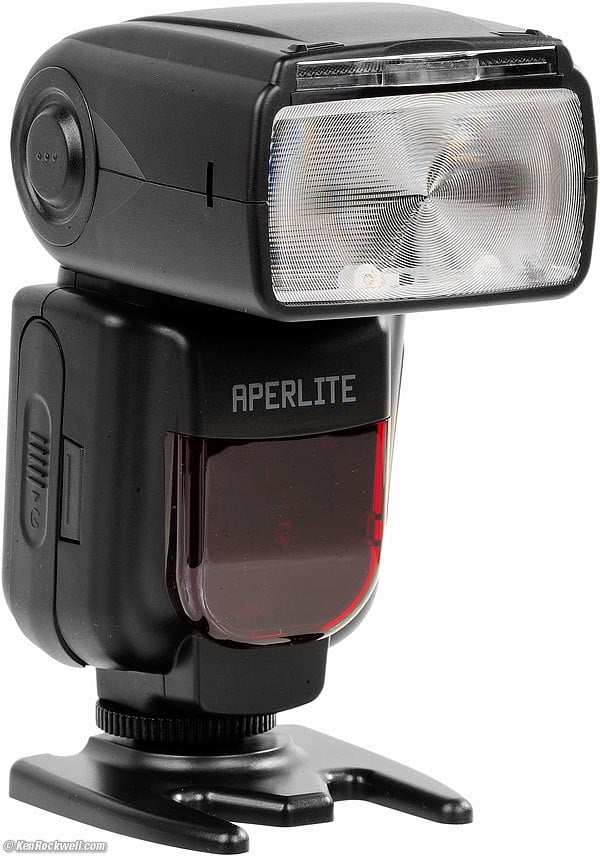 Aperlite YH-700.
NEW: Aperlite YH-700 Flash Review.
This $90 flash really does work flawlessly on my Canon 5DS. It also comes in a Nikon version.
It's powerful and recycles ultra fast. I'm impressed!
19 June 2015, Friday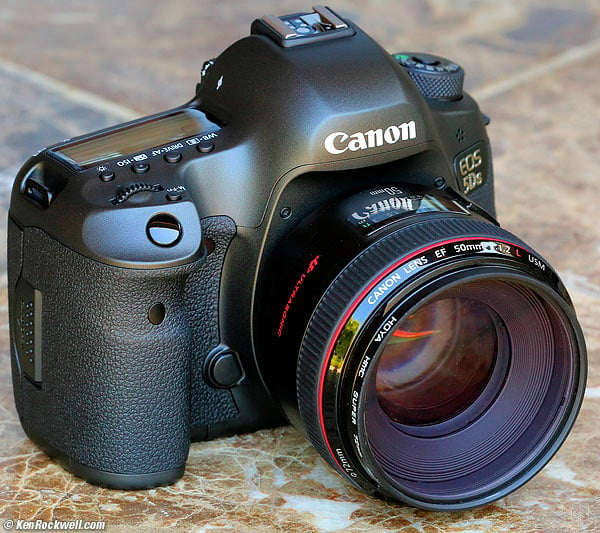 Canon 5DS and 50mm f/1.2 L.
NEW: Canon 5DS High ISO Sample Image Files.
NEW: Canon 5DS Sample Image Files.
Half a gigapixel of real-world images (9 snaps published at 50MP each = 450 MP), and I haven't even gotten started!
In Stock: Fujifilm X-T10 and X-T10 with 18-55mm. My X-T10 is on its way to me already, yippee! There are more versions in stock, but not all yet.
New Sony Zeiss Zooms

Sony 16-35mm f/2.8 Vario-Sonnar T* ZA SSM II Zeiss Lens, Alpha DSLR Mount: $2,248.

Sony 24-70mm f/2.8 Vario-Sonnar T* Zeiss ZA SSM II, Alpha A DSLR Mount Lens: $2098.
Deals
Tamrac Travel Pack 73 Photo Backpack: $29.95 (Regular $59.95), with free shipping.
Pair of PreSonus Ceres C3.5BT Two-Way 3.5" Powered Studio Monitor Speakers with Bluetooth: $99 after $20 mail in rebate.
ARE YOU KIDDING: New Sigma 24-35mm f/2
Sigma has a new 24-35mm f/2 zoom for Nikon, for Canon and for Sigma.
24-35mm isn't a zoom range; it's essentially a fixed lens with a little wiggle room! I remember when the exotic Nikon 20-35mm f/2.8 AF-D came out in 1993: when you turn the zoom ring, not much happens. This new Sigma covers only half of that range!
Get a real NIKKOR 28mm f/1.8 for Nikon or a real Canon EF 28mm f/1.8 for Canon and they are smaller, lighter, less expensive and faster and cover essentially the same zoom range: nothing!
18 June 2015, Thursday
IN-STOCK! Order your 5DS now from Adorama or from B&H and get FREE NEXT-DAY DELIVERY!!!
My 5DS just arrived. It takes the same battery as my 5D Mk III, so I swapped batteries and am good to go!
First top-secret Canon 5DS test shots. No worries, the same awesome Canon colors and flawless handling I love so much, with over twice as many pixels.
New features are the ability to set sharpening radius and sharpening threshold in-camera, the ability to shoot-through flickering artificial light (the world's first full-frame camera that can), as well as easy crop modes which are handy when shooting with fixed lenses — or when you want to get closer but can't. I set my M-Fn button to select the crop, and the finder blurs-out the cropped parts of the image. Perfect!
Technically, the 50MP works great. It's just as sharp pixel-to-pixel as my 5D Mk II, but now has more than twice as many of them.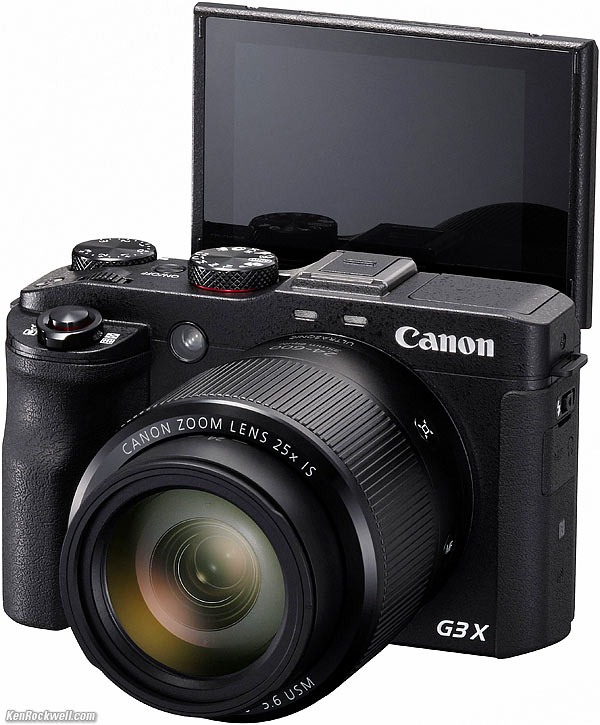 Canon G3X. bigger.
BRAND NEW: Canon G3 X
The G3 X has a 20 MP midsized sensor (3x crop factor; smaller than DSLR and bigger than most point and shoots) and a 25x optical zoom.
Canon Powershot G3 X: $999.00.
Canon LH-DC100 Lens Cap & Filter Adapter for the G3 X: $47.50.
Canon PSC-6200 Deluxe Soft Case for the G3 X: $69.95.
BRAND NEW: Ricoh GR II
Ricoh GR II: $799.95. Also at B&H.
DEAL: Canon 17-85mm IS: $299.
This is a great do-everything lens for Canon's APS-C DSLRs. It used to sell for twice as much when it first came out.
ANNOUNCED: DxO ONE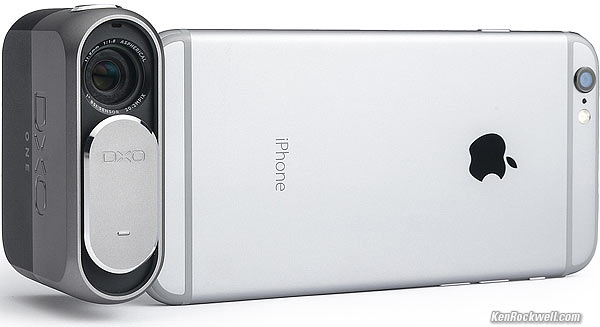 DxO ONE, attached to an iPhone.
Promised for September, the new DxO ONE is a camera head that attaches to an iPhone or other lighting-connectored iDevice.
It has a fixed 12mm f/1.8 lens with a 6-blade iris, not a 7-blade so the sunstars will only have 6, not 14, points.
It uses a 20 MP, 8.8 x 11.9mm sensor with a 3x crop factor. The sensor is much smaller than a DSLR sensor but much bigger than a camera phone sensor, so technical quality will be somewhere in between.
The crop factor makes the lens about a 32mm equivalent.
It runs on its own battery, which you have to charge separately from your phone. It also has its own memory card, and/or you can simply store everything shot on the iPhone's own camera roll.
You can shoot raw and/or store JPGs on the iPhone so you can actually do something with them. It has plenty of options for what formats you'd like to store where, and also shoots video.
You control just about everything and view through the iPhone. You can shoot the ONE by itself, but with no controls and only a small data-only screen and no finder. It lives to be connected to your iPhone, iPod Touch or iPad.
This is a clever merging of a serious camera with an iPhone, although the iPhone 6 Plus is already a very serious camera. It's for people who love gadgets to attach to their iPhones.
DxO is a Parisian company and some work was done in the USA, but it's made elsewhere.
You can't order it from any approved source yet. It should soon become available for order from approved sources, and should start shipping in September 2015 for $599.
16 June 2015, Wednesday
New Sonys now orderable
Sony A7R II: $3,198.00 with free US shipping. (also at B&H.)

Sony RX10 II: $1,298.00 with free US shipping. (also at B&H.)

Sony RX100 IV: $948.00 with free US shipping. (also at B&H.)
16 June 2015, Tuesday
Canon SL1 Deal
The Canon SL1 is a superb ultralight DSLR. It really is a real DSLR with the real quality and autofocus that needs no excuses, and it also weights nothing.
Here's a huge deal on a huge kit that includes:
Canon SL1, the world's lightest DSLR and 18-55mm f/3.5-5.6 IS STM Lens (Regular $499)
Canon EF 75-300mm F/4-5.6 III Autofocus Telephoto Zoom Lens (Regular $199)
Canon EF 50mm f/1.8 II Standard AutoFocus Lens (Regular $125)
Canon PIXMA PRO-100 Professional Photo Inkjet Printer (Regular $298)
Canon SG-201 Photo Paper Plus Semi-Gloss, 13x19", 50 Sheets (Regular $38)
• Lowepro Nova Sport 17L AW Shoulder Bag, Slate Gray (Regular $59)
Your price is just $549 after $250 mail-in rebate — and you can resell the printer for more cash. Whoo hoo!
I tell my fiends to get the SL1, and not an expensive, lower-performance mirrorless, when they want a light camera to take on vacation.
This deal comes in black and comes in WHITE!
15 June 2015, Monday
IN-STOCK: Canon 5DS!
Order now from Adorama or from B&H and get FREE NEXT-DAY DELIVERY !!!
Adorama also has a very limited supply of 5DS R in stock ready to ship.
14 June 2015, Sunday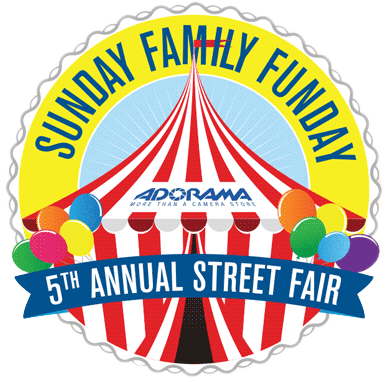 Street Fair
Adorama took over 18th Street in NYC between 5th and 6th Avenue in front of their store for their 5th Annual Street Fair Sunday.
These and many other online specials are still good most of this week:
Aries BlackBird X10 Quadcopter with built in 16MP Still/Cine Camera: $299.00 after $500 off (Reg. $799.00)


Beyerdynamic DT 990, 32 Ω: $289.99 after $110 off (Reg. $399.99)


Flashpoint Bella Book Bound Album, Holds 36 5x7 Photos, Color: Ivory Pages, Ivory Cover with Gold Foil and Gold Metal Edged: $24.99 after 50% off (Reg. $49.99).



11 June 2015, Thursday
Sigma 50/1.4 ART Rebates
$100 Instant Rebate on the Sigma 50mm f/1.4 DG HSM ART Lens for Nikon, for Canon, for Sony, and for Sigma.

Better, Adorama offers the same lens with free goodies for the same price, so use these links for it to the lens and goodies for Nikon, for Canon and for Sigma.
Sennheiser Mic Deal
Sennheiser Clip Mic Digital Mobile Recording Lavalier - Utilizes MKE 2 Omni Capsule: $199.00 (Reg. 248.75) with Free Expedited Shipping.
10 June 2015, Wednesday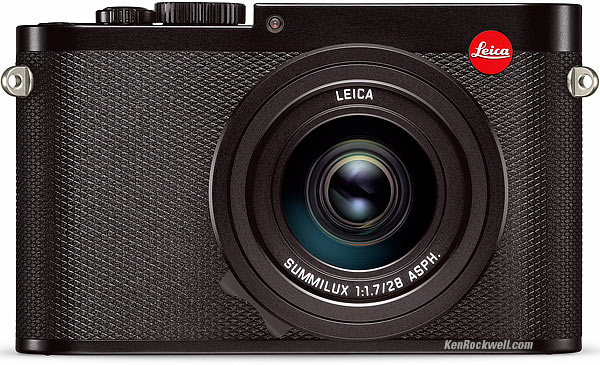 LEICA Q. bigger.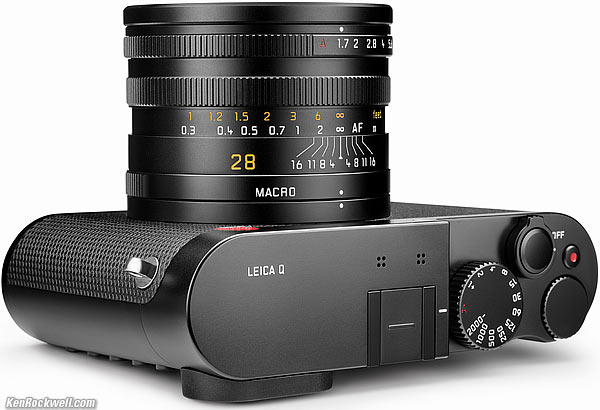 LEICA Q. bigger.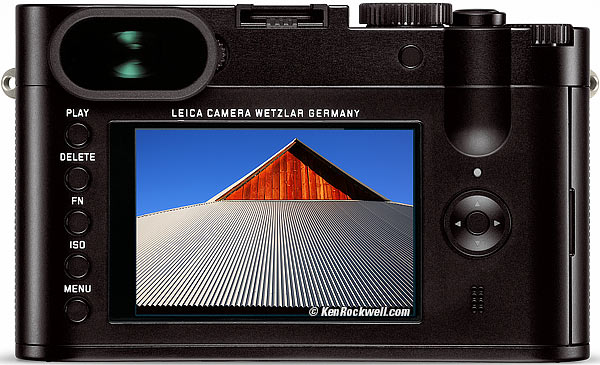 LEICA Q. bigger.
NEW: LEICA Q typ 116.
The LEICA Q is a fixed-lens 24 MP full-frame point-and-shoot for $4,250. It has a non-removable 28mm f/1.7 lens and autofocus.
Intriguing is the built-in electronic finder. This bodes well for the camera for which I've been asking for years— from anyone, preferably Canon — that's a full-frame sensor mirrorless with a native LEICA M mount.
The Sony A7 doesn't work that well with adapted LEICA lenses, and the Fuji X100T has no M mount.
What I really want is a full-frame Fuji X camera with M mount, and what I really, really want is Canon to make a camera with one of Canon's sensors and an M mount.
This is because LEICA lacks the budgets and know-how to do digital as well as Nikon or Canon do. Nikon and Canon cameras make better-looking images because they get the colors right better than any other brand: better than LEICA, better than Fuji and better than Sony. It all comes down to having the right secret sauce to extract magnificent color from whatever sensors they are using.
Fuji makes the best rangefinder-style camera, far better than anything from LEICA, but Fuji's color palettes are strongly optimized for people at the expense of colors for photos of things.
LEICA makes the best lenses, but they make the worst digital cameras. Adapting LEICA lenses to other cameras doesn't get the performance you expect.
Canon and Nikon give the best color rendition, so when I want the best picture, I grab a Nikon or Canon.
NEW: LEICA SUMMILUX-M 28mm f/1.4 ASPH. Only for M-kameras, not the Q.
NEW: Sony A7R II. (also at Adorama).
NEW: Sony DSC-RX10 Mark II. (also at Adorama).
NEW: Sony DSC-RX100 Mark IV. (also at Adorama).
For Sale: Pentax 85mm f/4.5 UV lens. I didn't even know Pentax made these special purpose lenses; few people even know that Nikon made these.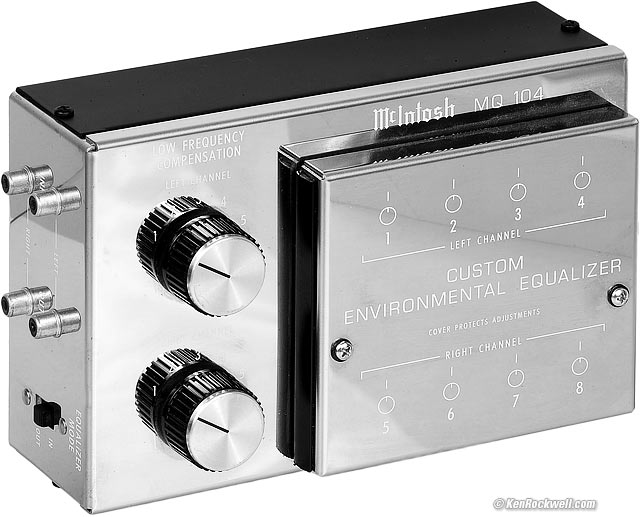 McIntosh MQ 104.
NEW: McIntosh MQ-104 Review.
Printer Calibration
Silverfast Software has just added a new printer calibration feature in their scanner software. It allows you to produce a scanner ICC profile for any printer/paper/ink combination when used with a target and your scanner.
New Panasonic camera and phone
Panasonic DMC-CM1P 16GB Camera and Smartphone: $999.
Deals
Canon 70D, PIXMA PRO-100 printer, Canon photo paper and Corel software: $849.99 after $250 Mail in Rebate ($1,099.99 checkout price - $250 Rebate = $849.99) — with free US shipping!

The deal behind this deal is you probably don't want the printer, so you eBay it and pocket the cash, making this even more of a deal.
Canon 70D review. It used to sell for $1,200 just for the body.
Panasonic DMC-GX7 with 14-42mm & $50 Adorama Gift Card (also in silver): $547.99 (Regular $647.99), with free US shipping.



Save Up to $400 with Instant Rebates on Profoto B2 Flash Systems.
Lumex BeamPod MX-65 PicoMax VGA Projector & WD My Passport Ultra 1TB Portable HDD Black: $279.99 (Regular $339.99) with free US shipping.
Samson MTR101 1" Diaphragm Studio Condenser Microphone with Shockmount and Pop Filter: $79.99 (Regular $119.99) with free US shipping.
Sennheiser CX 475 Premium In-Ear Noise Blocking Headphones, Black: $17.99 (Regular $29.99) with free US shipping.
PreSonus Ceres C4.5BT Two-Way 4.5" Powered Monitor Speakers with Bluetooth: $139 (Regular $189) with free US shipping.
05 June 2015, Friday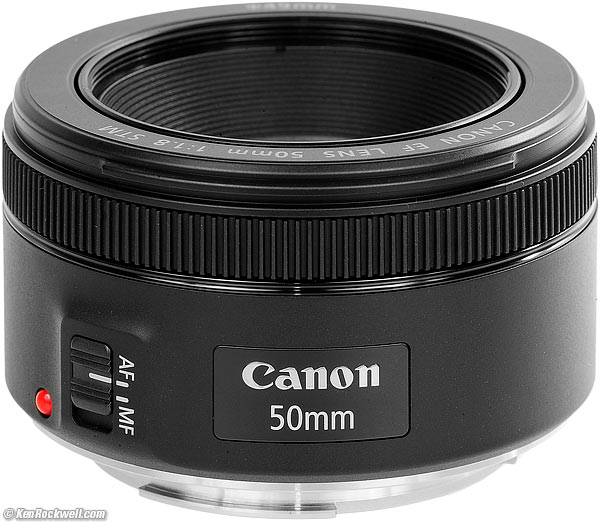 Canon 50mm f/1.8 STM.
NEW: Canon 50mm f/1.8 STM Review.
The newest version of the classic from Canon, and already their top seller.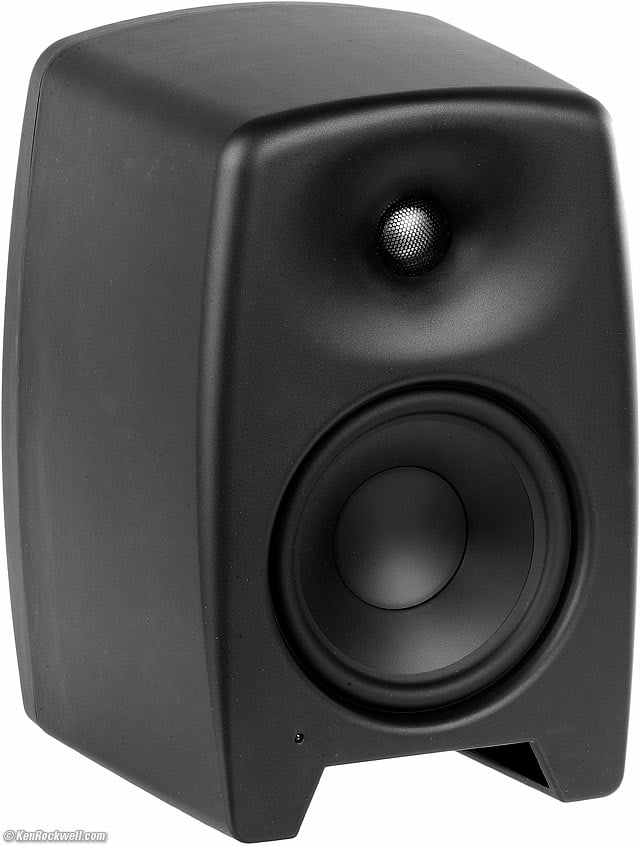 Genelec M040.
NEW: Genelec M040 Review.
Best under-$1,000 monitor I've tested.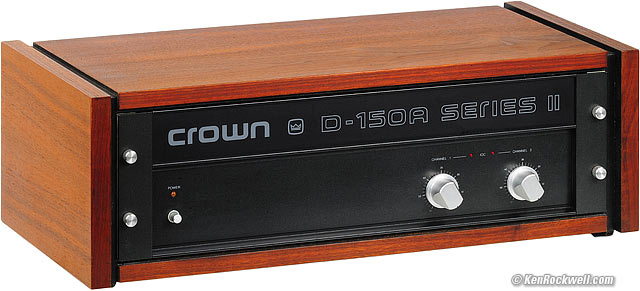 Crown D 150A Series II in optional walnut cabinet.
NEW: Crown D 150A Series II Review.
A bargain price on a top professional amplifier.
Photographer's California Dream Home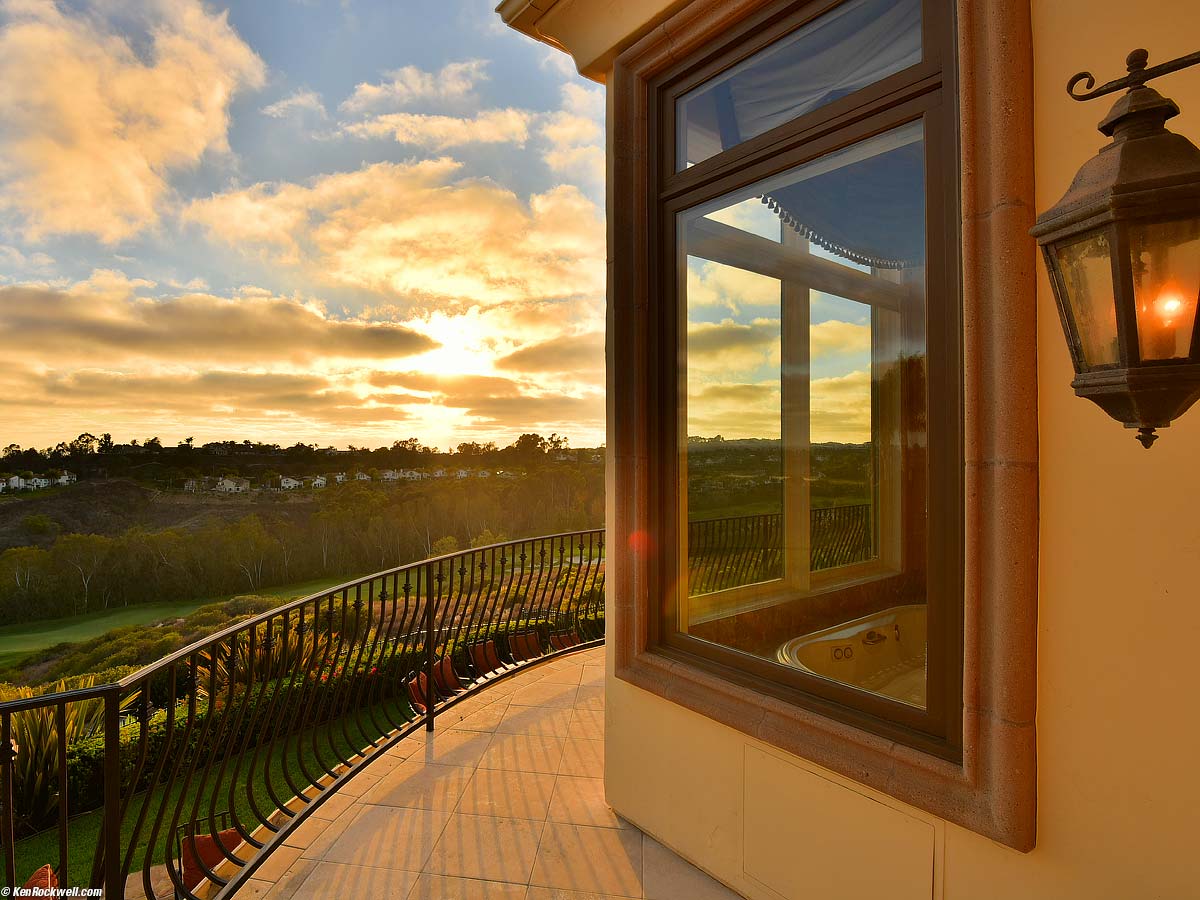 Northern San Diego. (Nikon D810 HDR, Nikon 14-24mm.)
My friend in northern San Diego (Carlsbad) still has his house with the unobstructed panoramic ocean view for sale. It's a steal, considering it has a 10-million-dollar view. Honestly, I've been to his house a lot, and you can't find a view like his, which stretches from Mexico out to Catalina and San Clemente Islands, in any other house for less than $10,000,000. It's not just on a golf course, it's on a private street that's the only one that actually goes through the middle of the golf course, letting you look down to see the 4th hole and out to the Pacific Ocean beyond.
If you're interested, call his broker listed at that link.
Here's a time exposure of the moonlight glinting off the glassy sea at night as seen from his balcony: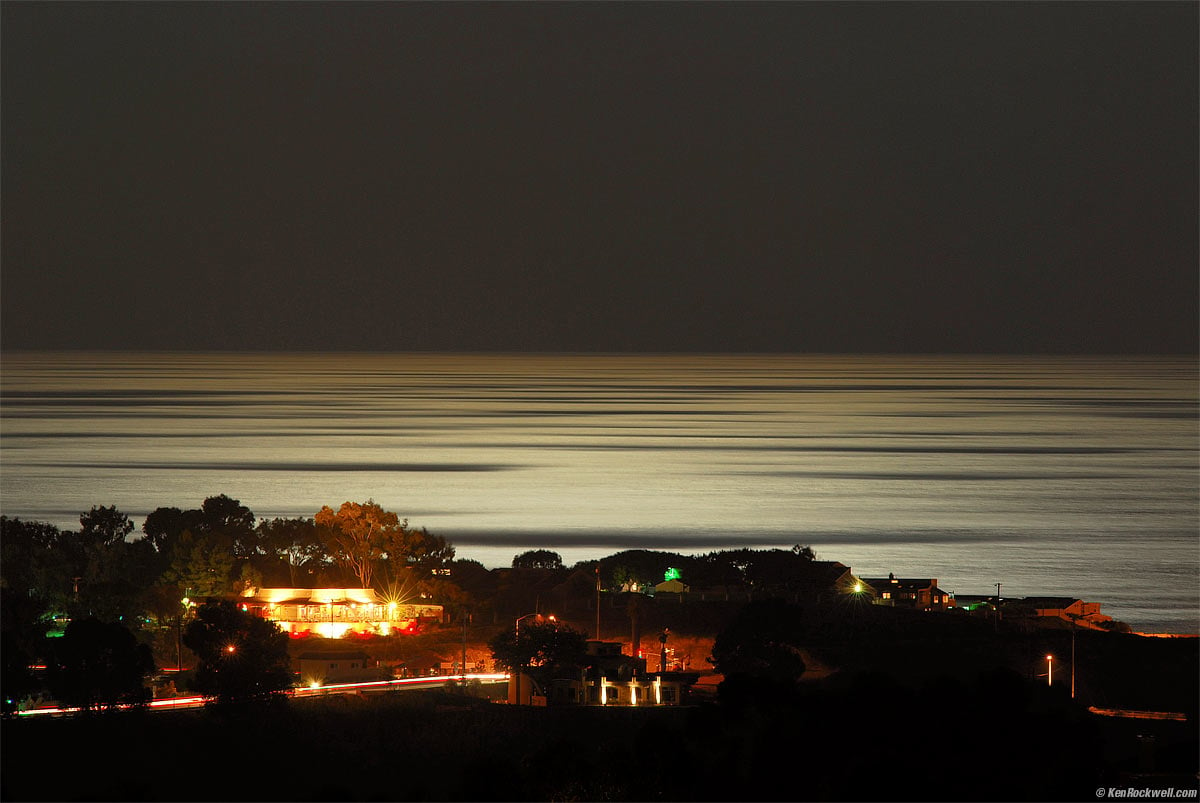 Moonlight over South Ponto State Beach. (Nikon 300mm f/2.8 ED.) bigger.
Nikon Deals
Nikon has a plethora of rebates depending on what combinations you get. Here are all the SLR deals, and here are the deals for everything including mirrorless and pocket cameras.
Lexar Deals

Lexar Father's Day Specials. Free shipping!
04 June 2015, Thursday
Deals
Nikon D7200 body: $1,196.95 with free next-day US delivery.
Nikon D7200 & 18-140 VR: $1,496.95 with free next-day US delivery.
Manfrotto MMC3-01 Compact Monopod, Black: $14.95 (Regular $24.95), free US shipping.
Lexar Memory Promotion with Prices Starting at $9.95, free US shipping.
Wacom CS150K Bamboo Stylus Duo Pen for Mobile Devices - Black: $1 after $10 mail in rebate with free US shipping (limit one rebate per customer).
HP 10.2" Mini Sleeve for Notebook Computers, Charcoal: FREE after $10 Mail in rebate, with free US shipping! (limit one rebate per customer).
Tamrac 5587 Expedition 7x Backpack for SLR Camera, Flash with Accessories & 15.4" Laptops, Black: $169.95 (Regular $279.95), free US shipping!
03 June 2015, Wednesday
Amazon finally kills retail!
I told you so: Amazon is now delivering same-day in many places — for free.
For environmentalists, this will save tons of car emissions, accidents and traffic, and let productive people be productive instead of driving to old "retail" stores to pay more and get less.
Whoo hoo!
Nikon D7200 deals
You can buy a new D7200 for $1,200.
The D7100 is the same camera, with the ability to control the camera from its INFO screen graphically (no longer in the D7200), and you can get the D7100 for $699.95, refurbished.
The D7000 is the same as the others, except its in-finder data display is backlit in green instead of white and the sensor doesn't have as much resolution as the others, but still has so much resolution that I sold a D7000 image I shot at ISO 2,000 to McDonald's — for use on a billboard. You can get the D7000 for $499, refurbished.
I've owned all three of these. Any of them is more than good enough to create images good enough for the biggest multibillion dollar international clients. They are all superb cameras for anything. You can pay more for the newer models if you like to pay more, but if money matters to you, the older refurbished models should be like new and all make the same pictures as well as the others. Having owned all of them the biggest difference is what color is the finder display, and that the D7200 took away the ability to set things directly at the INFO screen.
Suit yourself, but if I didn't have to report on the newest cameras for a living, I'd get a D7000 for $499.95 and call it a day.
$1,000 off the Sony NEX-FS700

Sony NEX-FS700 R 4K Sensor High Speed NXCAM Super35 Camcorder Body, 8.3MP HD, 3.5" LCD Screen, Up to 960fps Super Slow Motion, 2 XLR/HDMI & 3G/HD-SDI: $4,999.00 after $1,000 Instant Rebate (Reg. $5,999.00).


Sony NEX-FS700 RH 4K Sensor High Speed RAW NXCAM Super35 Camcorder with 18-200mm Power Zoom Lens, 8.3MP HD, 3.5" LCD Screen, 2 XLR/HDMI & 3G/HD-SDI: $5,599.00 after $1,000 Instant Rebate (Reg. $6,599.00).


Sony FS700 R/7QPAC Odyssey7Q Vocas Acquisition System, Includes Camera, Odyssey7Q RAW Monitor/Recorder, RAW Option, 256GB SSD, Battery Plate, BNC Cable: $9,899.00 after $1,000 Instant Rebate (Reg. $10,899.00).


Sony FS700RH/7QPAC Production Pack, Includes NEXFS700RH Camera, Monitor/Recorder, RAW Option, 256GB SSD, Battery Plate, USB3 to SSD Adapter, BNC Cable: $10,399.00 after $1,000 Instant Rebate (Reg. $11,399.00).
02 June 2015, Tuesday
Fuji X100T Secret Sale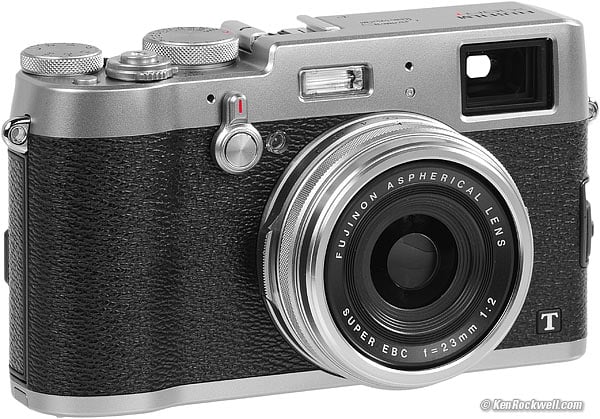 Fujifilm X100T.
The world's best digital camera, the Fuji X100T, is now on sale at Adorama and on sale at B&H for just $1,099.
Since it's a secret sale, you have to add it to your cart to get the lower price.
This is awesome; I paid the full $1,299.99 and love mine to death. For the same price as a decent Japanese SLR lens alone you get a lens as good as the $3,150 LEICA SUMMICRON-M 35mm f/2 ASPH and a fantastic body, and the whole thing works together far better than any of my digital LEICAs — for about a tenth the price of camera and lens combined. LEICAs are to hold and to love and show off to your friends, while Fujis are for people who actually shoot.
SanDisk Deal

SanDisk 64GB Ultra microSDXC UHS-I Class 10 Memory Card, U1, 48MB/s, with SD Card Adapter (New Faster Version)
$24.94

Lowepro Deals
Lowepro Nova Sport 35L AW Shoulder Bag for 1-2 Pro DSLRs with Attached Lens, Pepper Red: $23.95 (Regular $79.95) with Free Shipping.
Lowepro Photo Sport 12L Shoulder Bag, Purple/Gray: $17.99 (Regular $44.95), Free Shipping.
Lowepro Passport Sling II Camera Bag, Black/Red: $19.95 (Regular $39.95), Free Shipping.
Lowepro Passport Sling II Camera Bag, Grey/Pink: $18.95 (Regular $39.95), Free Shipping.
JVC Deals
JVC GY-HM200U 4KCAM Compact Handheld Camcorder with Integrated 12X Lens: $2,295.00 after $400 Instant Rebate and Free Expedited Shipping.


JVC GY-HM170U 4KCAM Compact Handheld Camcorder with Integrated 12X Lens and an XLR Hand Unit: $1,795.00 after $100 Instant Rebate with Free Expedited Shipping.
Computer Deals
Dell B2360dn Mono Laser Printer, 40ppm Letter/38ppm A4 Simplex Print Speed, 1200x1200dpi Resolution: $139.99 (Regular $234.99), free shipping.
OKI Data B431dn Monochrome Workgroup LED Duplex Printer, 40ppm Print Speed, 1200x1200dpi Print Resolution, 150 Sheets Standard Paper Output: $164.99 (Regular $329.99), free shipping.
01 June 2015, Monday
Canon 50mm STM: Yes!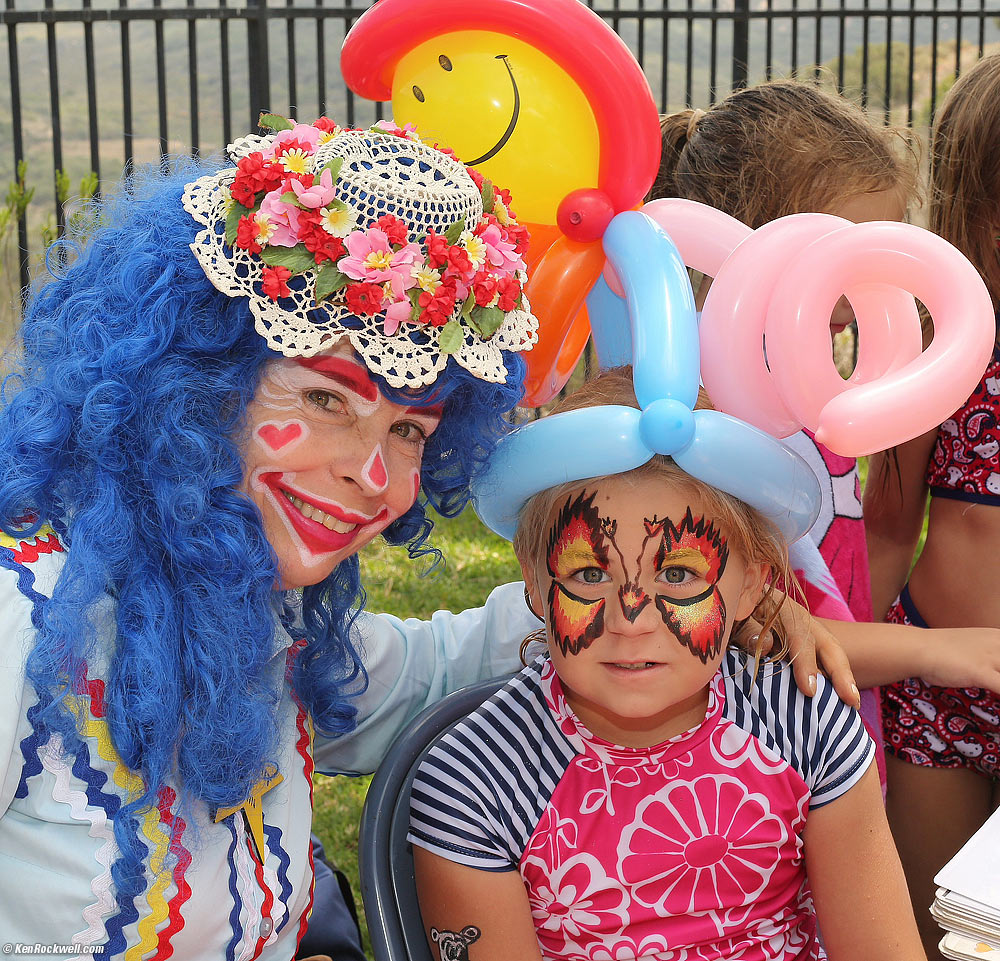 Katie and Free Spirit the Clown. (Canon 5D Mk III, Canon 320 EX flash, Canon 50mm f/1.8 STM, 1/200 at f/13 at Auto ISO 400, Perfectly Clear V2.) Bigger or full-resolution.
My new Canon 50mm f/1.8 STM arrived Friday, and I used it all yesterday. It looks awesome! The full-resolution snaps look better than what some makers send out for promotion. Heh, I couldn't have asked for a better subject.
I'll be writing its review this week. For the same price as the old model, it's built much better and has always been one of Canon's sharpest lenses, as well as Canon's least expensive.
Helping Nepal
We all want to help; I donated through my church and Lutheran World Relief (LWR) the day after it happened.
Now there's another great way to donate through Adorama.
It turns out that one of Adorama's people, Joshua Wright, was on vacation shooting in Nepal just days before the earthquake hit. Adorama came up with the brilliant idea to collect donations and send 100% of the money directly to GlobalGiving, and as an extra incentive, Adorama is making prints of Nepal for us at its own expense as an incentive to us to donate.
In other words, while it looks like Adorama is selling prints, what's actually happening is that Adorama is giving everything directly to GlobalGiving to get to Nepal, while Adorama is printing and shipping the prints to donors at Adorama's expense. Adorama is donating the prints as its contribution to incentivise us to donate.
If you check these out, you'll discover that LWR is superb and GlobalGiving is even better, and either of them is much better than giving to bloated organizations like the Red Cross.
The key here is how much of what we give gets to where it needs to go, versus how much gets skimmed off by people inside these organizations long before it goes to help anyone in need. Those links give ratings, and if I read them correctly, the America Red Cross keeps three times as much for itself (9.6%) as does Global Giving (2.8%).
NEW: Nikon Summer Sale
Nikon has loads of combinations of lenses and bodies on sale.
That link gets you to a matrix where you can select a body and then see what lenses get you what instant rebates.
Zeiss Tuit Sale
12mm f/2.8 (18mm equiv.) Zeiss Touit lenses and bundles: $699.00 after Instant Rebate (Reg. $999.00).

32mm f/1.8 (50mm equiv.) Zeiss Touit lenses and bundles: $499.00 after Instant Rebate (Reg. $720.00).
What Was New in:
Help me help you
I support my growing family through this website, as crazy as it might seem.
If you find this as helpful as a book you might have had to buy or a workshop you may have had to take, feel free to help me continue helping everyone.
If you've gotten your gear through one of my links or helped otherwise, you're family. It's great people like you who allow me to keep adding to this site full-time. Thanks!
If you haven't helped yet, please do, and consider helping me with a gift of $5.00.
The biggest help is when you use any of these links when you get anything, regardless of the country in which you live. It costs you nothing, and is this site's, and thus my family's, biggest source of support. eBay is always a gamble, but all the other places always have the best prices and service, which is why I've used them since before this website existed. I recommend them all personally.
Thanks for reading!
Ken
Home Donate New Search Gallery How-To Books Links Workshops About Contact