Home Donate Search Gallery Reviews How-To Books Links Workshops About Contact

July 2015's News RSS Hot Deals
© 2015 KenRockwell.com. All rights reserved. Ryan Katie

Nikon: D810 D750 D610 D7200 Lenses Canon: 5DS 5D Mk III 6D 7D II Lenses
Reviews: Fuji LEICA Contax Zeiss Sony Minolta Olympus Pentax
Recommended Cameras Gifts How to Take Better Pictures random
Facebook Twitter Video Tutorials
31 July 2015, Friday
Today Only: Rokinon 8mm Fisheye for Nikon: $214.00 (Reg. $399.00) with Free Expedited Shipping.

Deal: Rokinon 8mm Fisheye for Sony E-Mount DSLR: $199.00 (Reg. $329.00) with Free Expedited Shipping.
Why I Love Photoshop

I've used Photoshop for all my image editing for over 20 years.
While simpler programs like Aperture and Lightroom come and go, when you really need to get under the hood, nothing cooks like Photoshop.
This became apparent as I needed to make a logo for an upcoming photo essay about The Bahamas. It's trivial in Photoshop to put a photo inside lettering like this, and if you don't know how, it's equally trivial to search The Internet for free instructions.
With Photoshop, every trick I've learned over the past decades still works, like putting a Stroke around text that I learned 12 years ago. I had to teach myself to use a Clipping Path to pull the trick above, but it was simple.
For the background image, don't tell anyone but I took one frame and copied it twice, adding it to the left and right, so I had a long enough scene of sky, water, beaches, palm trees and pools.
I use Photoshop CS6 all day, everyday today, but any version from the past decade or so ought to be able to do all this.
New: Windows 93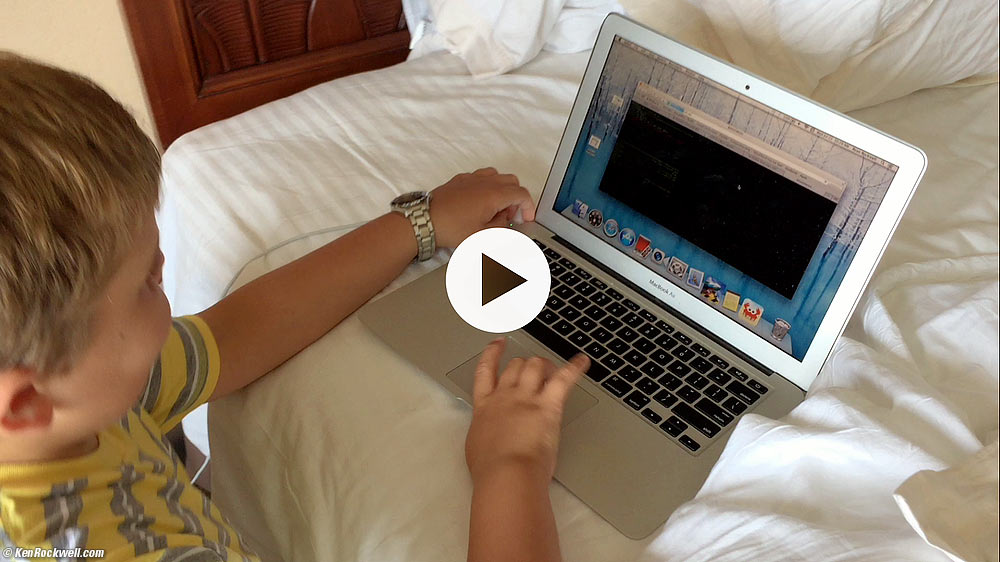 LIVE VIDEO: Ryan uses the Windows 93 operating system. (iPhone 6 Plus emailed video.) PLAY VIDEO.
My son finds all the good stuff I miss. He found a free online game that simulates Windows 95, and has a hoot of a time trying to get it to work and work around virii, phony cures, ASCII-based animations and everything else, like having to hit START to turn it off. I especially love playing the Hydra.exe virus.
The funny thing is how well it duplicates Windows 95, but I had to explain that this game actually runs much faster, cleaner and with fewer bugs than Windows ever has. The also lacks one of the best features of Windows, the Blue Screens of Death, which is pretty much how every real attempt to run Windows ends.
It also just closes down instantly when you tell it to. I was always in stitches back when I had a real job and they used Windows PCs, and the things would crash in the middle of trying to shut down.
Wow, so a new version of Windows. How many times will people believe the lines of "more stable operation, better access to the internet..." from those people?
I was also in stitches while we were in the Bahamas last week, and the resort couldn't print wristbands for the pool for several hours while its towel-hut kiosks all displayed white screens with big exclamation points and meaningless gobbeldy gook error messages which told us that the resort made the very expensive mistake of listening to its IT department whose jobs depend on these things breaking all the time; sort of like the guy who hires a stranger to rob another friend so he can "save" the friend and look like a hero.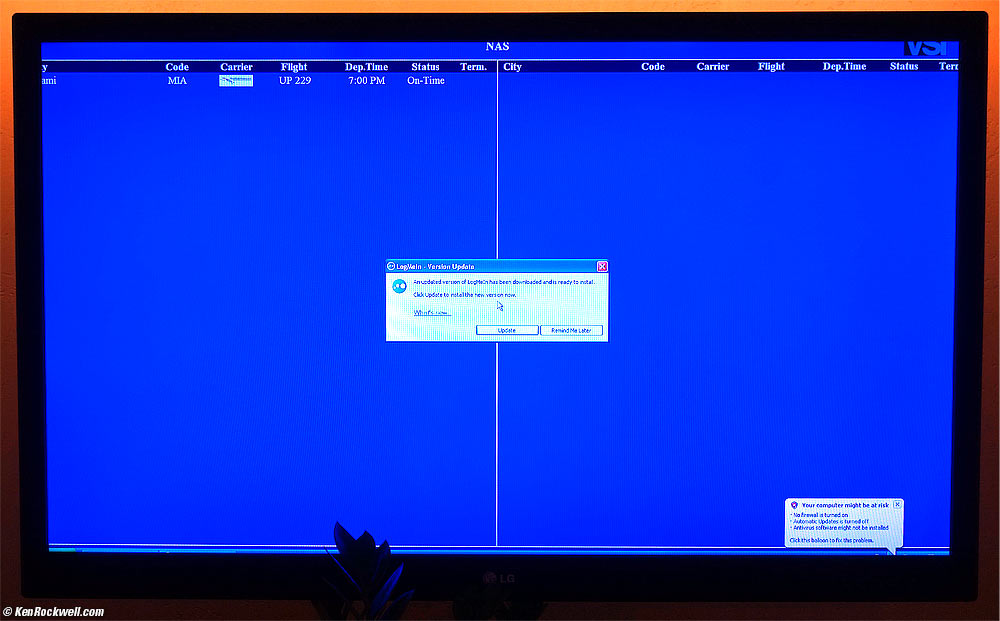 Airline departure screen in resort. buggier.
Anyway, the same resort had other big screen TVs around showing airline departures. A few days into our trip they started displaying meaningless Windows error messages, telling the traveler that the resorts computers were crummy or whatever, and a few days later, those monitors were turned off for the rest of our trip since I'll presume no one could figure it out.
My son was in stitches as we discussed the expensive mistakes businesses make when trying to save a few hundred dollars on cheap computers.
Ryan told us how the Windows PC in his 1st grade class had a virus a year and a half ago, and his teacher called the phone number that popped up. I nearly spit out my drink with schadenfreude-fueled laughter, since we all know that if your computer pops up a number to call, that you don't do it!
Anyway, when I explained to him that number calls the virus makers directly, he couldn't stop laughing when he told us that "yeah, my teacher kept calling that number, and the computer just ran worse and worse every time she did." I felt sad after a minute when the laughter wore off, because that school district has been making those same mistakes for decades. I remember in the 1990s when they bought all new low-dollar PCs, and forgot to buy any software to go with them! The kids had no way to write letters or play games, so I loaded an old copy of Photoshop and Dreamweaver on my girlfriend's classroom's PC so the kids could have something with which they could write text; as purchased, they had no way to use those new PCs!
We moved to a better district that uses real (Apple) computers, and I kid you not: my 1st and 2nd graders were taught how to run Keynote (the professional version of Powerpoint) and Pages (the professional version of Word), and when they have assignments my munchkins just get on a computer and belt out presentations better than I can! When you have equipment that just runs, you can get work done instead of spending all your time fixing it.
In any case, I'm giddy that some clever programmer took it upon himself to write a parody of Windows that lets us all laugh at how bad it's been — even if it lacks the blue screens of death. I've been using a potent Mac Pro for the past year and a half, and all it does is sit there silently and belt out the work as fast as I can hit it with commands — and never a glitch.
iPhone Trick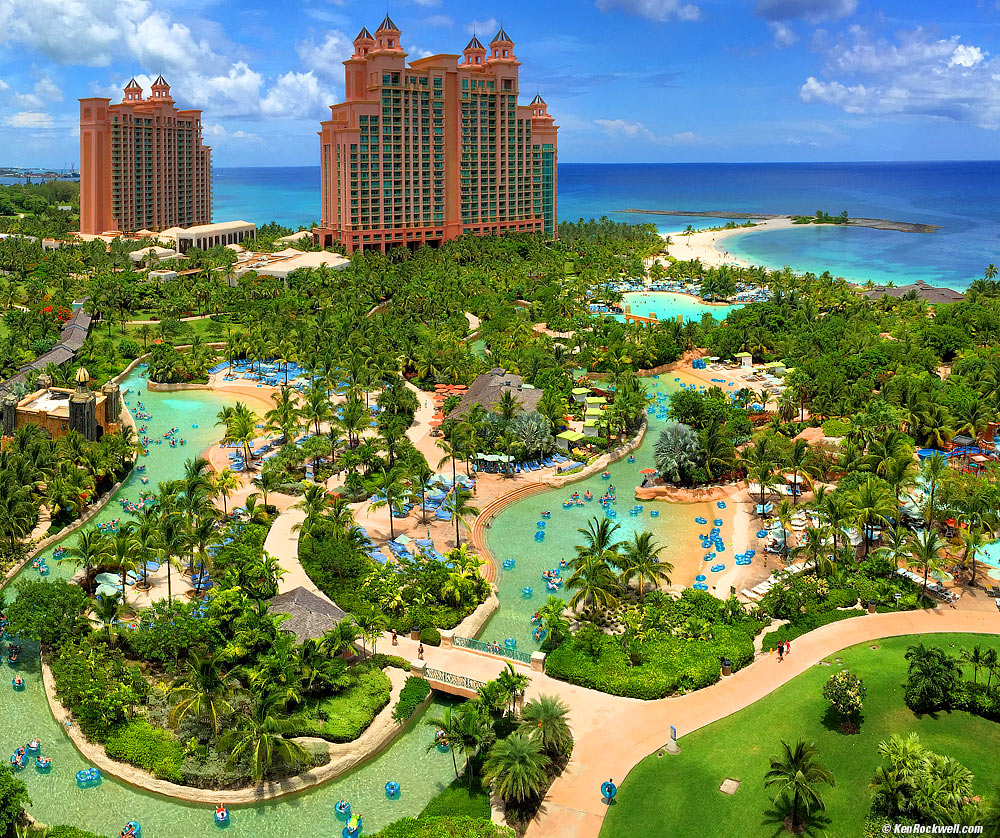 Lazy River, Atlantis, Bahamas. (iPhone 6 Plus panorama, f/2.2 at 1/2,639 at ISO 32.) bigger or full-resolution.
While this nearly-square shot doesn't scream "panorama!," you'll notice that the verticals are all vertical, and might notice that the vertical angle-of-view is about 50% more than you get with the usual horizontal iPhone orientation.
Many people don't know that you can tilt an iPhone up or down in Panorama mode, and it works great, moving the horizon whenever you need it.
Another beauty is that the iPhone cam make panorama of whatever angle you like, from narrow angles like this up to 270º!
In this case, I cropped the sides, and this trick still plays to grab a wider angle than I could otherwise get, and to keep verticals vertical.
Nikon 13mm
I found another Nikon 13mm on eBay.
I'm a little suspicious because it's only a 3-day auction, but no worries, if it's a scam or you don't get what's described, eBay's money-back guarantee really works.
Sunday update: I was right! It was bogus and eBay took it down.
Deal: Lowepro Nova Sport 7L AW bag: $9.99 (Reg. $39.95) with Free shipping.

Deal: Lowepro Passport Sling II Camera Bag, Black/Red: $17.95 (Reg. $69.99) with Free Shipping.
30 July 2015, Thursday
Canon 50mm f/0.95
The fastest lens in photography is the 50mm f/0.95 made by Canon in the 1950s for their rangefinder cameras. Nothing is faster. LEICA copied it decades later, but no one has made a faster 50mm for full frame. Funny thing is that the world's fastest SLR lens and world's fastest autofocus lens is also from Canon, the EF 50mm f/1 L.
I found a 50mm f/0.95 on eBay from a great place in Japan I've used before. Things I've ordered from them show up in a few days, and they are in great shape.
1950s lenses are usually pretty beat up today, but if you need one, this one looks pretty nice and it's already converted for LEICA M. Good luck!
Ending: ZEISS lens rebates end tomorrow at midnight, NYC time.
In Stock: Nikon ME-W1 Wireless Microphone for D7200.
Deal: Mackie CR3 speakers & Audio-Technica ATH-M40x headphones: $114.95 after $20 rebate (regular $198.99) with free shipping.
Deal: Pentax K-3 & 50mm f/1.8 & AF-200FG flash: $749.85 w/ free shipping (add the lens and the flash to the bundle and then add bundle to cart to get this secret price).
Deal: Manfrotto Advanced Gear Backpack: $74.95 (Regular $129.95) with Free Shipping.
Deal: Manfrotto Stile MBSH-2BB Solo II DSLR Holster: $17.95 (Reg. $29.88) with Free Shipping.
Deal: Two PhotoVision 6" Calibration Target with DVD: $19.95 (Reg. $49.95).
29 July 2015, Wednesday
iPhone anyone?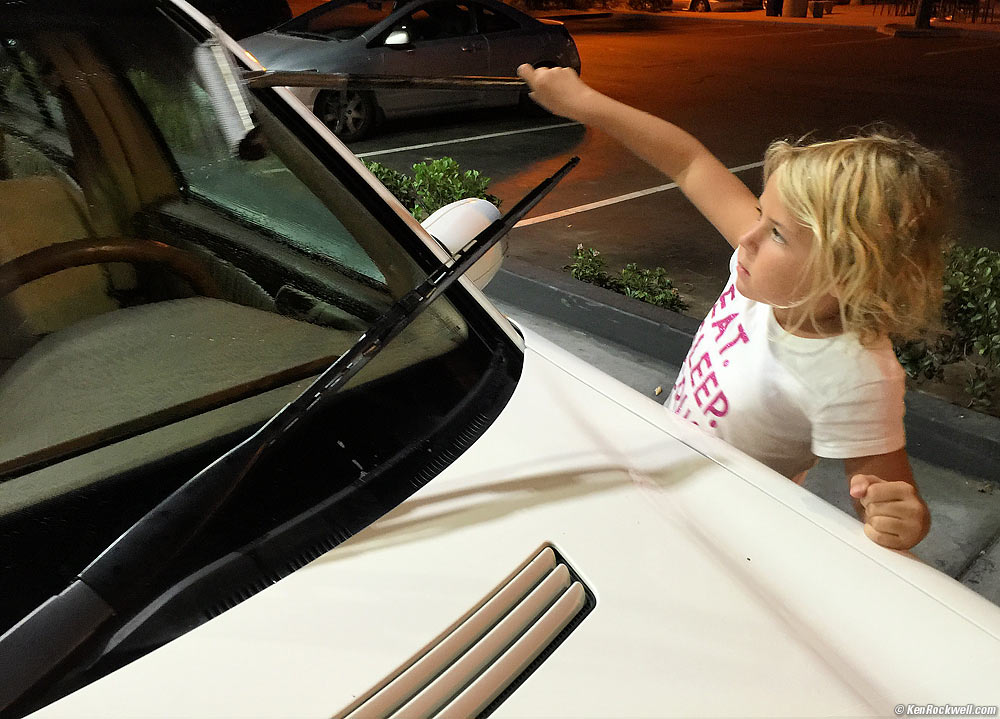 Katie washes Dada's E430 windshield. (iPhone 6 Plus, f/2.2 at 1/15 at ISO 64, Perfectly Clear V2.)
A reader wrote whose photo experience only included her iPhone, and she included a few snaps. Her snaps are better than what people send me 99% of the time from fancy cameras.
She has gotten excited about shooting, and took a 2-day photography class, which only confused everything with numbers and rules and complexity — but never helped her take better pictures or find he heart in them. All the class did was sour what she did by distracting her from her images.
She discovered why I suggest avoiding photography classes. They aren't about photography; they are about numbers and computers and everything except photography. Even "film" classes are about chemicals and reciprocity failures and everything else but photography itself.
Photography is all about seeing with your soul. Find what excites you, and show what excites you in the strongest possible way. That's photography.
Cameras and settings and software have nothing to do with photography any more than hammers and rulers and city plans are a house. That baloney are simply tools, but in no way the final product.
With a simple camera like iPhone, all the baloney is gone, and we're free to concentrate on the picture — which is the only thing that matters.
It's always best to spend your time around painters and sculptors and musicians and designers and every kind of artist you can find, and avoid people with too many cameras.
With iPhone, there's no need to concentrate about anything other than the picture.
A simple camera frees the spirit so you can concentrate on the picture and not on your camera. The RX100 Mk IV is also a very simple camera once you get it programmed that lets you concentrate on the picture, not the camera.
Shoot whatever you want, but know that simpler cameras always lead to better pictures.
Film Camera EXIF Data
I'm going to try a product called Meta35, which is software and cables to let me pull shooting data from cameras like my Nikon F6, Nikon F100, Canon EOS 1V and others, and then get this data into my scanned image files.
Right now I use the Nikon MV-1 card reader to pull the data from my Nikons, and manually enter the date and time into my files in Phase One Media Pro, which is a very slow solution.
Canon 5D Mk III deals
Here are some Canon deals. As always, resell the tablet to lower your effective price even more.

Canon 5D Mark III body w/Wacom PTH451 pen & touch tablet: $2,499.00 after $300.00 instant rebate (Reg. $2,799.00).

Canon 5D Mark III w/24-105mm f/4L IS & Wacom PTH451: $3,099.00 after $300.00 instant rebate (Reg. $3,399.00).

Canon 5D Mark III w/ 24-70mm f/4L IS & Wacom PTH451:
$3,249.00 after $300.00 instant rebate (Reg. $3,549.00).
Canon 7D Mk II deals

Canon 7D Mark II w/Wacom CTH480 tablet: $1,499.00 after $300.00 Instant Rebate (Reg. $1,799.00).

Canon 7D Mark II and EF-S 18-135mm IS STM w/Wacom CTH480 tablet: $1,849.00.
Deal: New Canon 24-105L on eBay for $615.99. These are white-box pulls from kits. I can't discern if either of these are USA product or not, but both come with free shipping and money-back returns if you don't like it, so give these a shot.
Deal: New Canon 55-250mm STM on eBay for $169.95.
28 July 2015, Tuesday
Filth on the Freeway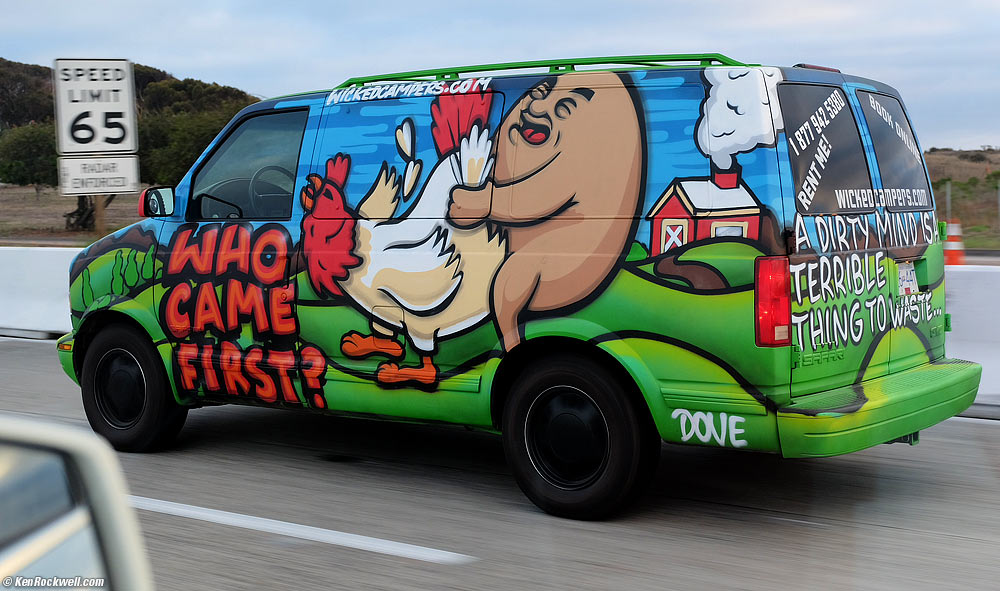 Filth on the freeway. (Fujifilm X-T10, XF 16-55mm f/2.8 WR at 27.4mm, f/3.6 at 1/150 at Auto ISO 200.) more offensive.
This is what happens when artists have too much freedom. Our angelic children thought this van was absolutely hilarious. It had Canadian license plates, ahem.
As every newsman knows, always have your camera ready for anything.
Fuji vs. Sony
Yesterday's monologue may confuse, since I said the Sony RX100 Mk IV is a much better camera than the Fujifilm X-T10, XF 16-55mm f/2.8 WR combination, and illustrated it with a decent snap from the Fuji.
Yes, the Fuji excels in dim light, and that was a dim light shot. The Sony would have made the same picture, but not as cleanly.
I still prefer the RX100 Mk IV; its better to carry and works much faster and the images in most light are better for photos like that of places and things.
Deal: Mackie CR3 speakers & Audio-Technica ATH-M40x headphones: $114.95 after $20 rebate (regular $198.99) with free shipping.
Deal: Bose SoundSport n-Ear Headphones for Samsung: $99.95 (Regular $149.95), Free Shipping.
Lightroom Made Easy
My friend Phil Steele's updated "Lightroom Made Easy" course for Lightroom 6/CC is still on sale. His courses are the best I've seen: clean, clear, to the point and very helpful.
He's offering 25% off the course! It's now just $59, and if you don't like it, he has a 60-day money-back guarantee. You can't miss! Check it out.
27 July 2015, Monday
RX100 Mk IV vs. X-T10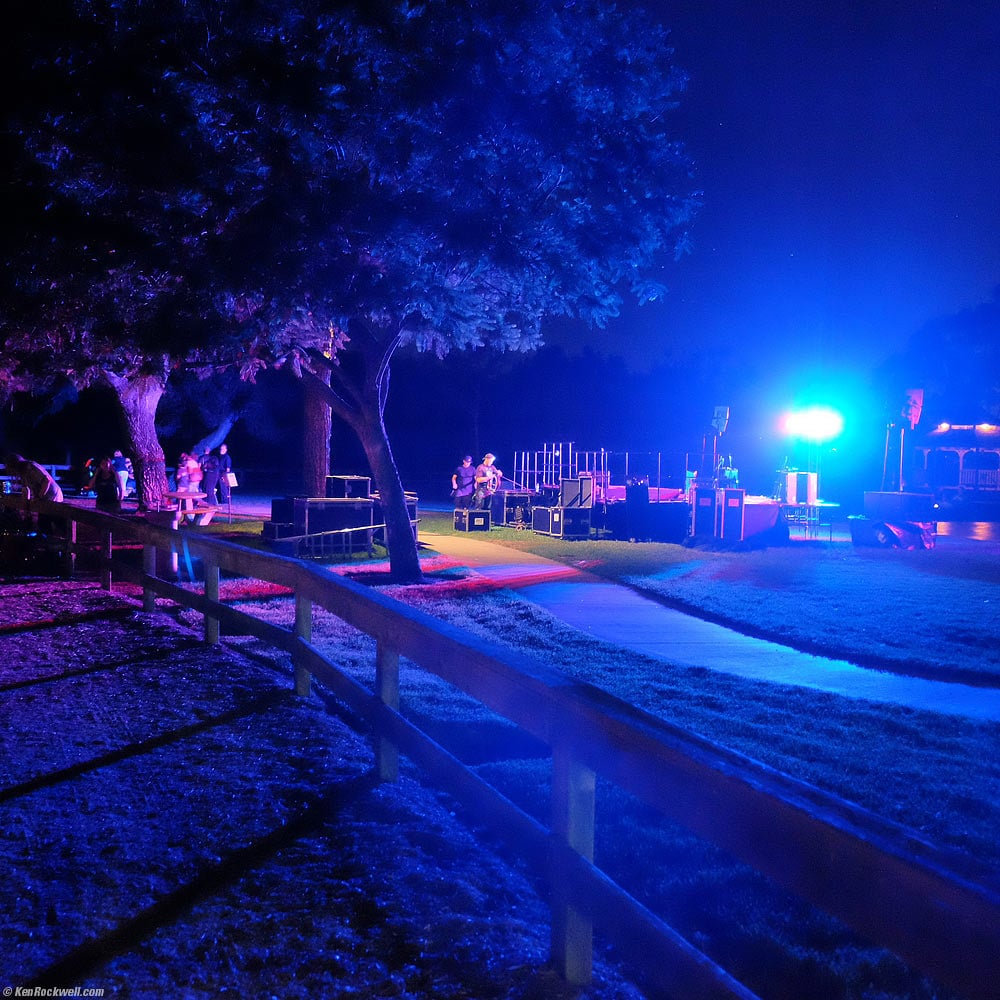 Blue light at the concert in the park. (Fujifilm X-T10, XF 16-55mm f/2.8 WR at 20mm, f/2.8 at 1/13 hand-held at Auto ISO 6,400.) bigger or Camera-original © file.
I love the square setting of the X-T10 and most Fujis. Ansel Adams preferred the square format for most of his career because it saved him the time of having to rotate the camera for horizontal or vertical; we simply crop as needed afterwards. It makes it even faster to shoot since we never have to jerk our camera around; we just shoot.
Since I rarely shoot at a camera's highest resolution setting, I simply shoot my Fujis at the square setting one resolution step higher than I'd shoot otherwise. Ideally Fuji and Sony would use the correct 4:3 aspect ratio for their cameras instead of the old "Barnack's Folly" 3:2 ratio, but since 3:2 is usually too wide, I prefer 1:1 instead of 3:2 if I can't get 4:3. Got it?
Yes, a good photographer (or even I every once in a few years) can make good photos with anything, but now that I'm back from shooting the Sony RX100 Mk IV in the Bahamas the past two weeks and picked up my new Fujifilm X-T10 and XF 16-55mm f/2.8 WR (24-85mm eq.) when I returned, the difference is so obvious that you've got to be kidding me!
The tiny Sony RX100 Mk IV is much better than my X-T10 and 16-55/2.8 combo!
While they do the same thing on paper and the much larger sensor of the X-T10 gives a huge advantage in the lab at high ISOs, my RX100/4 shoots much faster, the pictures look much better, and the RX100 costs half as much and weighs much, much less! The RX100 is a dream to carry everywhere, while the X-T10/16-55/2.8 combo is an albatross.
Full reviews on the way this next week or two, but if you want a light camera for travel, the RX100 Mk IV is the way to go.
My X-T10 / 16-55/2.8 combo doesn't work as well, with slower focus, less accurate metering, and less vivid images for photos of places and things. All my RX100 shots have perfect exposure with no fiddling, while my X-T10 just isn't as good.
The RX100 has memory ability to recall the complex combinations of settings I need for the different kinds of subjects I shoot. The X-T10 has some "preset memory" ability, but those memory banks do not save or recall what I need, which for all my cameras are:
| | | | |
| --- | --- | --- | --- |
| Memory Setting | One | Two | Three |
| Subject | Places & Things | People | Sports & Action |
| on Nikon | U1 | U2 | U3 |
| on Canon | C1 | C2 | C3 |
| on Sony | MR1 | MR2 | MR3 |
| Resolution | High | low* | low* |
| Color Saturation | extreme | moderate | moderate |
| Auto ISO minimum speed | Vary automatically with zoom setting; typically 1/8 at wide and 1/30 at tele | 1/125 to freeze people | 1/250 or 1/500 to freeze action |
| AF mode | Focus and lock: AF-S or ONE SHOT | Auto select or continuous: AF-A, AF-C or AI FOCUS | Continuous: AF-C or AI SERVO |
| AF Area selection | One or autoselect | Auto select or face detect | 3D tracking |
| Advance mode | Single or CL | About 3 FPS; CL | About 5~10 FPS, CH |
* With modern cameras, low is about 5-6 MP, which is more than enough for anything and increases my workflow speed and throughput.
The real killer is that the Sony images just look better. They are in better focus, and their exposure and color are better. Sure, at ISO 12,800 the Fuji has a little more detail, but who cares if it's not in perfect focus? The Sony has the edge because its small sensor uses shorter lenses (3x crop factor) that therefore have much deeper depth of fields. The Sony does a great job of making great pictures with the noisy data that comes off the sensor; I have no problem publishing its ISO 12,800 shots.
Oddly Auto ISO in the Sony lets it go to ISO 12,800, while Auto ISO in the Fuji only goes to ISO 6,400, so shooting outdoors at night this weekend I had to set the Fuji manually to 12,800. It really slows down my shooting when I have to stop and reset the ISO depending on the direction I'm pointing my camera.
The Sony has the ability to make highly saturated images, while the softer pallet hard-burned into the Fuji line I only like for people pictures. For thing pictures, I have to goose-up the saturation from my Fuji images later. Fuji's "Velvia" simulation modes are poor, while Sony's Vivid and +3 saturation settings look great.
The Sony handles, focuses, sets and shoots so much faster than the clumsy Fuji. The Sony has much better fill-flash performance, especially because the Sony syncs at 1/800 and the Fuji only at 1/180, so the Sony has much more range in daylight. (Of course the X100T syncs at 1/2,000, but that's a very different camera.)
This underscores what I've always said: for a small camera, use a compact or your iPhone and don't bother with interchangeable lenses or other baloney, and if you want a real camera with interchangeable lenses, step straight up to a real DSLR and don't bother with mirrorless. The Canon SL1 is lighter than an X-T10, and does so much more; and my 5DS R with its lenses aren't that much more to carry to do the job right than to carry the X-T10 (small) and its better lenses (not small).
The interchangeable-lens Fujis and the magnificent X100 series are completely different. I LOVE my X100T, but don't love Fuji's interchangeable lens cameras.
While the Fujis are the best mirrorless, I find mirrorless a pretty poor compromise: image quality isn't any better than my iPhone 6 Plus, and they are about as big and clumsy as a real DSLR system.
Mirrorless image quality suffers because neither Canon nor Nikon make serious mirrorless cameras for the USA (they get the best looking colors and images), and mirrorless cameras are almost as big and clunky as a real DSLR — but the home-stereo and TV makers who sell mirrorless cameras still haven't got the colors right for serious work.
I am hoping that since Sony finally got the colors right in the RX100 Mk IV that the new A7 version I have on order will have the same, and that might make the A7 fun — but again, who cares if an A7 system has lenses just as big as a real DSLR? Adapting manual lenses to mirrorless is a foolish hobby: it takes a lot of twiddling, and adapted lenses never work as well as they do on their native cameras.
Sony still hates me; I'm not getting sent on any of their press boondoggles or getting free cameras (I can't even get them to reply to my emails with questions); the RX100 is simply this good. Nobody pays me anything for this; I simply call it like I see it.
Sure, the X-T10/16-55 is a "better camera" because it's big and expensive, yet the Sony pocket camera is easier to carry and use and takes better pictures. The X-T10 is great if you want to use other lenses with it, but if you do, I always suggest to step up to a real DSLR instead.
Deal: Canon ELPH 350 & PIXMA MG3522 printer: $199 (Regular $249) with Free Shipping. Also comes with silver camera.
24 July 2015, Friday
I'm back!
I was in the Bahamas shooting with the Sony RX100 Mk IV these past two weeks, and now I'm back.
I need to complete my RX100 4 review, and then I have a bunch of Fuji gear as well as my 5DS R to get to.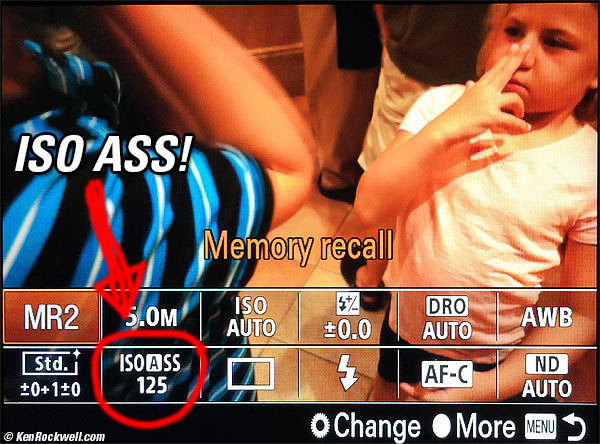 "ISO A SS" is short for "Automatic ISO Minimum Shutter Speed" on the Sony RX100/4. You have to love the Japanese! In this case, I set it to 1/125 for my people shots.
Nikon Full-Frame and DX deals

Nikon D800, refurbished by Nikon: $1,699.00 with Free Shipping.
Nikon D610, refurbished by Nikon: $1,099.95 with Free Expedited Shipping.

Nikon D5300 w/18-55mm VR II Lens, refurbished by Nikon: $489.00 with Free Expedited Shipping.
New: Polaroid Cube+ cameras. The new Cube+ are cameras you connect and control via an app on your phone. You control and shoot them remotely
Canon 70D Deals
Canon 70D bundle: $649.99 after $350 Canon Mail in Rebate.
Canon 70D & 18-55mm bundle: $749.99 after $350 Canon Mail in Rebate.
Canon 70D & 18-135mm bundle: $949.99 after $350 Canon Mail in Rebate.
Bundles include:
· Canon 70D and possibly the 18-55mm STM or my favorite 18-135mm STM lens
· Canon PIXMA PRO-100 Professional Photo Inkjet Printer
· Canon SG-201 Photo Paper Plus Semi-Gloss, 13x19", 50 Sheets
· Lowepro Nova Sport 17L AW Shoulder Bag, Slate Gray
Sell what you don't need and these are even better deals.
23 July 2015, Thursday
Deal: Nikon 200mm f/4 AF-D Micro for $1,068 on eBay.
The Nikon 200/4 AF-D Micro is the world's best macro lens. It's optics are optical perfection and its mechanics are nearly military grade.
It's usually $1,800 new, and hard to find even at that price since it's made in limited quantiies. If you need one, I found one on eBay from a great place in Japan I've used before. Things from them show up in a few days, and they are usually just like new.
I usually shoot mine in manual focus mode. Avoid the older manual-focus AI-s 200/4 micro; while its mechanics are superb, it has a lot of lateral color fringes at macro distances.
Now shipping: Canon G3-X w/25x optical zoom: $999.00 with Free Expedited Shipping and a New Leaf PLUS 1 Year Camera Warranty and Red Giant Production Bundle.
Waterproof deal: $50 Instant Rebate on the waterproof Panasonic Lumix DMC-TS30 Cameras.

Deal: Eye-Fi 16GB WiFi Class 10 SDHC Memory Card: $49.95 (Reg. $99.95) with Free Shipping.
Deal: Tenba ProDigital 2.0 Small Messenger Satchel:
$69.95 (Regular $104.95) with Free Shipping.
22 July 2015, Wednesday
Deal: Nikon D3300, 18-55mm VR & 55-200mm VR: $646.95.
New: Canon T5i with 18-55mm & video mic kit.
New: Canon T6i with 18-55mm & video mic kit.
New: Canon 70D with 18-135mm & video mic kit.
New: 6th Generation Apple iPod Touch and 4th Generation iPod Shuffle.
21 July 2015, Tuesday
World's Best Pocket Camera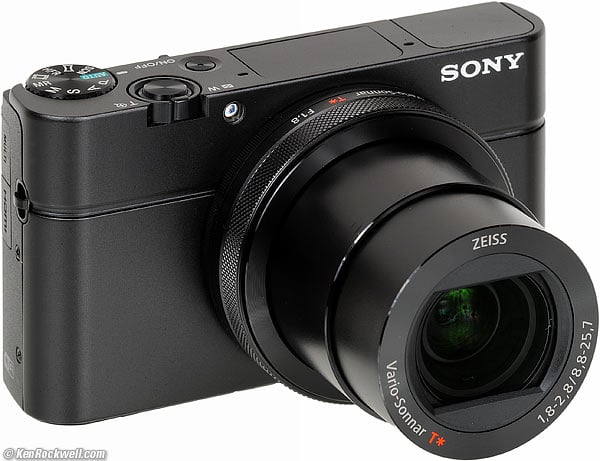 It's official: The Sony RX100 Mk IV is now the World's Best Pocket Camera.
Canon got booted out; they have nothing that works as quickly or has a pop-up electronic finder. Canon's DSLR-sensored Powershots work too slowly and can't focus closely; this little Sony works as fast as a DSLR and its images look absolutely fantastic for all casual uses. Sony has really stepped up its game with the RX100.
The Fuji X100T continues to reign as the world's best digital camera, period. The Sony RX100 is a pocket camera with a small ("one inch") sensor and not as good in low light, while the X100T is a serious camera with a full-sized 1.5x cropped DSLR sensor with four times the area of the Sony. The Sony RX100 is lightweight Chinese-made pocket camera for casual use, while the Made-in-JAPAN Fuji X100T is a very serious piece of photographic iron — that's also super small.
The X100T also has a faster fixed f/2 lens. The Sony only has a "sucker" f/1.8 aperture. It's only f/1.8 at its very widest setting; every other zoom setting is slower. It's f/2.8 at every setting from 11.7mm (32mm eq.) and longer, which is almost all of its range. Sony's f/1.8 number is only to fool the suckers.
These are minor points; for something that slips in a pocket, nothing beats the Sony RX100 Mk 4.
Deal: Fujifilm X-PRO1 with SF 35/1.4 and XF 27/2.8: $948. To get this deal, go there, click Camera Lens Deals, click ADD TO BUNDLE on each lens, and ADD BUNDLE TO CART.
Deal: Lowepro Nova Sport 17L AW DSLR Shoulder Bag: $16.95 (Regular $47.95!), with free shipping.
Deal: $50 Instant Rebate on the Panasonic Lumix DMC-TS30 Cameras!
Deal: Samsung TabPro 12.2" 3GB RAM, 32GB Storage, Android 4.4 KitKat: $349.99 (Add to cart for this price) Also in white, free shipping.
Deal: Gold 12" MacBook, 1.1GHz, 8GB RAM, 256GB Flash Storage & AppleCare 3 Years & extra Corel software: $1,325 after $100 mail in rebate. (You must be an Adorama VIP member (free to join) to get Apple products from Adorama.)
Deal: Free Samsung Galaxy S6 (your choice of carrier) when you get one of Samsung's new SUHD TVs. Details.
20 July 1969: Men Walk on Moon!
The End of Impossible
46 years ago today, two American men first walked on the moon.
This wasn't the only time; we sent 10 more men up there who eventually drove cars and played golf on the lunar surface.
It's about time someone else got up there, too, but so far, no one has been able to duplicate, much less exceed, Man's greatest achievement.
The reason this is so important is that it shows us that nothing, and I mean nothing, is impossible if you put your mind to it. Philosophers, Jesus, Tony Robbins, and just about every visionary has been telling us for thousands of years that our minds are our only limitations, and 46 year ago, America proved it. If you can dream it, you can make it happen — no matter how crazy it might seem. As Einstein said, if an idea doesn't seem completely insane at first, it's probably not that great an idea.
Build a ship, fly men to the moon, walk around, and fly back? No problem!
Nothing is impossible.
Earlier Visitors to Earth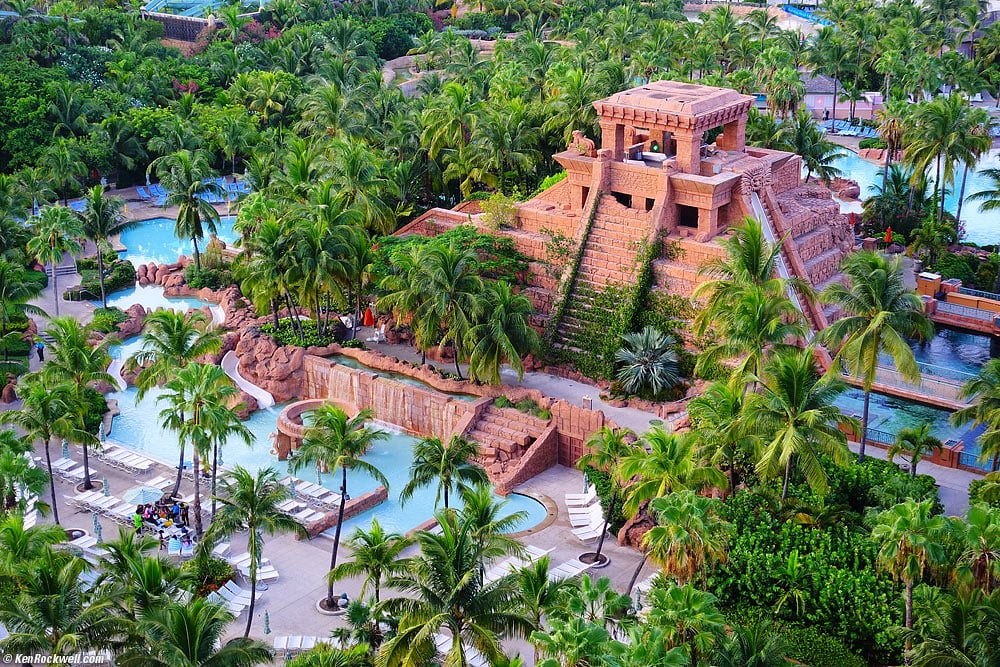 Mayan Temple surrounded by Palm Trees. Sony RX100 Mk IV, f/3.5 at 1/180 at 21.6mm at Auto ISO 125, VIVID setting at +3 Saturation, Perfectly Clear V2. bigger or Full-resolution.
While it took America until 1969 to get men to the Moon, visitors from other worlds made it to Earth some thousands of years ago. What are called Mayan Temples are actually just a few of the many stone relics like the Egyptian pyramids left by these clever and mischievous visitors. They are called the Menehune in Hawaii, the Druids in the UK, the Anasazi in the American Southwest, the Leprechauns in Ireland and many more names in other places. They all left about 900 years ago.
See Von Daniken, who was the first to realize that these crazy little mystery men from all over the world were all related. Deny it all you want, but just about everywhere on Earth there were mischievous little people running around who built amazing things from stone, and then suddenly all left one night about 900 years ago, never to be seen again.
It's All About Full Frame
Yes, I'm loving my Sony RX100 Mk IV, but for serious work, it's all about full-frame.
What is serious work? Work that's for print. If I need a gallery-sized print, the tiny sensor of the Mk IV won't cut it. Look at the samples; even at ISO 125 its noise reduction is working overtime to bring noise into line. Look at the corners of the Full-resolution image; the palms are softened by the noise reduction to look more like fluff than fronds.
There's simply more picture left when you shoot on full frame or with a DSLR than from any point and shoot — but for online use as you're seeing here, the Mk IV rules. Noise reduction today erases much of the finer details in its quest to remove noise; the main advantage of the larger formats is that more picture is left after noise reduction does its thing.
Most people never use their work for anything bigger than an 8x10" print or online. I'm one of the few who still needs to have images go to print.
Canon 5DS vs. 5DS R
I've been having so much fun with my RX100 I forgot to mention that my Canon 5DS R came in, and I compared it to my 5DS.
The only real difference between them is $200. The pictures between them are almost indistinguishable.
The difference is so slight that the easiest way to tell them apart is by the EXIF (read what camera was used), the file name (My 5DS file names are programed as 5DS_1234.jpg and my 5DS R is programmed as 5DSR1234.jpg), or the fie size. Compared at 100% they look the same. Any sharpness difference is most visible by reading JPG files sizes; the sharper JPG image having a slightly larger file size.
In all honesty, if money matters, of course get the 5DS and save your $200. However, if you do this for a living, just like any other highly competitive sport, even the tiniest difference between your shot and a competitor's might mean the difference between you getting the job or the other guy, so of course that's why I'm going to be using my 5DS R from now on.
Just like any other sport where a thousandth of a second can be the difference between winning and being the first loser (second place), when you do this for a living, even the tiniest advantage can be what it takes to win. With every amateur in every national park shooting the D810, 5D Mk III or the 5DS/R, you'd better believe you need the best to survive in a world where it's more competitive every day.
You can ignore lab tests comparing Nikon vs. Canon; they measure things we can't see — and lab technicians don't buy pictures. What does make a sale is when an art director needs a file to print 27" wide at 300 DPI. Nikon's files can't do this as-shot, while the 5DS files can. (27" x 300 DPI = 8,100 pixels).
Only amateurs and camera designers worry about abstract things like noise or dynamic range. Photographers worry about getting the light right to fit the range of the camera, and being sure we get enough light so that we can shoot at lower ISOs so that noise reduction isn't erasing half our picture. (Hint: fast $500 f/1.4 lenses let pros capture four times as much light as a consumer shooting a $1,900 f/2.8 zoom!)
Photography has never been about ISOs or sensors; photography has always been about light for nearly 200 years.
19 July 2015, Sunday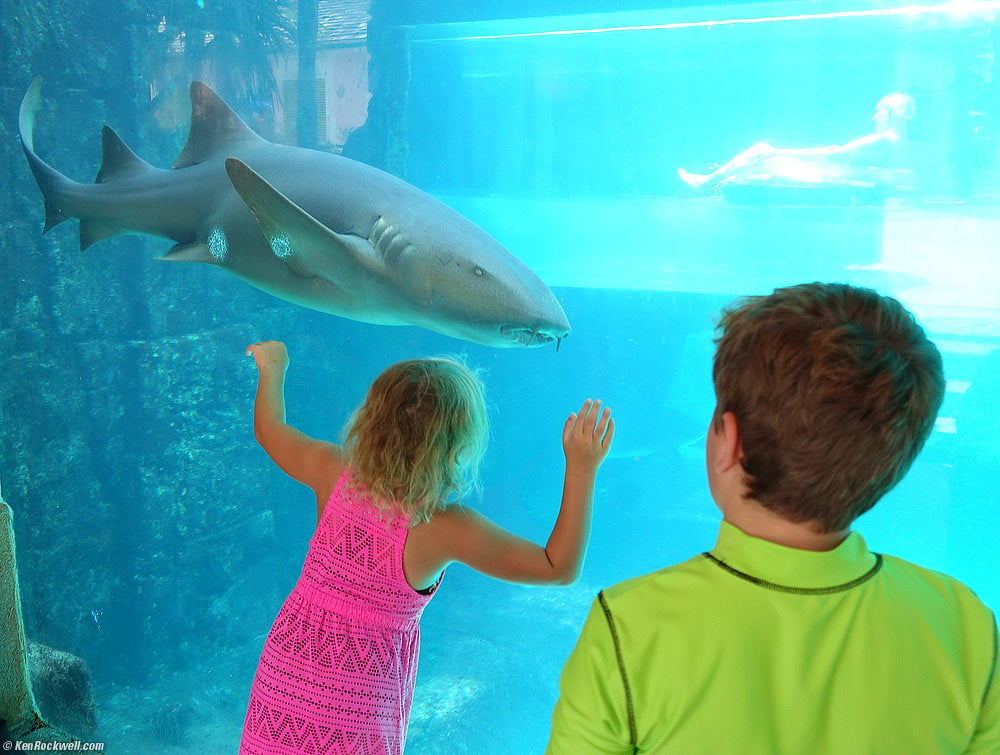 Kids check out the shark. (Sony RX100 Mk IV at 13.3mm, flash ON, f/2.8 at 1/125 at Auto ISO 200.) bigger.
This is straight from the RX100 Mk IV. Fill-flash, colors and exposure are awesome right out of the camera! Bingo!
18 July 2015, Saturday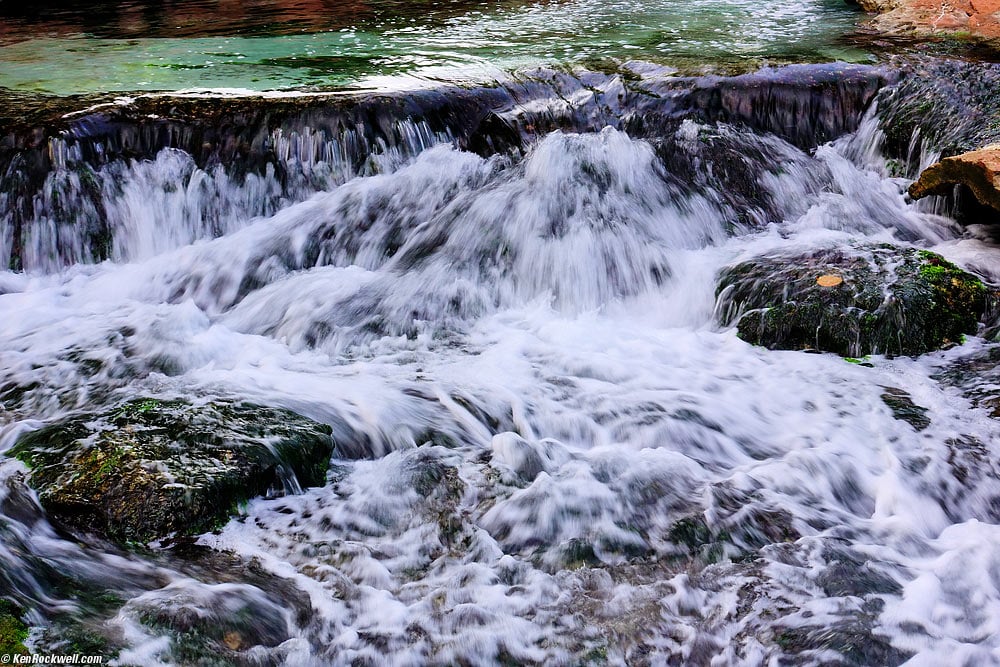 Waterfall. Sony RX100 Mk IV at 25.7mm, f/6.3 at 1/25 hand-held at Auto ISO 125, Perfectly Clear V2. Stabilization is swell for hand-holding at 1/25 at 70mm equivalent zoom for walk-by running waterfall shots. bigger or Full-resolution.
17 July 2015, Friday
Now orderable: Sigma 24-35mm f/2 for Nikon, for Canon and for Sigma. Also at B&H for Nikon, for Canon and for Sigma.
Deal: Original model Canon 100-400 IS L for $1,399 with free shipping.
16 July 2015, Thursday
Not as exciting as the lightning, but here's what I dug up last night with my Sony RX100 Mk IV: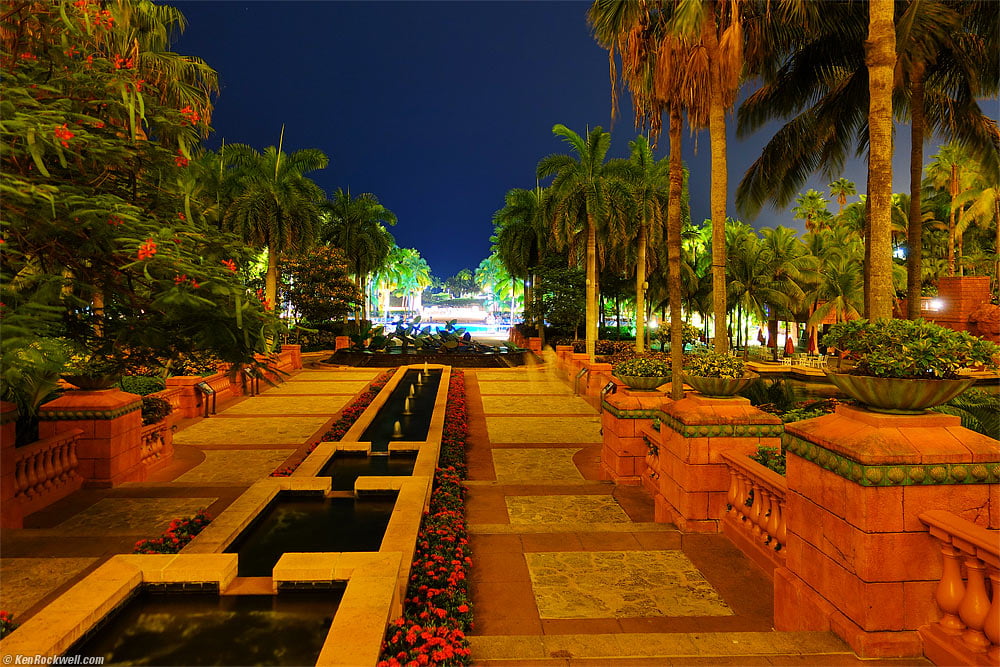 Walkway at night. Sony RX100 Mk IV at 8.8mm, f/1.8 at 15 seconds at ISO 125, Perfectly Clear V2. bigger or Full-resolution.
This was easy; I forced ISO to 125 instead of leaving it at Auto ISO, and I rested the camera on a railing. These are walk-by shots; I left everything in Program mode and everything else in Auto as usual.
What's blurry is moving; this is a 15-second time exposure.
New: Panasonic FZ300 25-600mm (eq.) lens, 4k/12MP splashproof, also at B&H and at Amazon.
New: Panasonic GX8 micro 4/3, 4k/20MP, also at B&H and at Amazon. Also comes in silver at Adorama, at B&H. and at Amazon.
Deal: Manfrotto Professional 30 Shoulder Bag, Black: $49.88 (Original $154.88), free shipping.
Deal: Lowepro Scope Photo Travel 350 AW Backpack, Dark Olive: $39.95 (Regular $149.95), free shipping.
Deal: Waterproof Panasonic Lumix DMC-TS30 Digital Camera with $40 Adorama Gift Card in blue, in black and in red.
15 July 2015, Wednesday
Wow, look what I shot yesterday on my Sony RX100 Mk IV: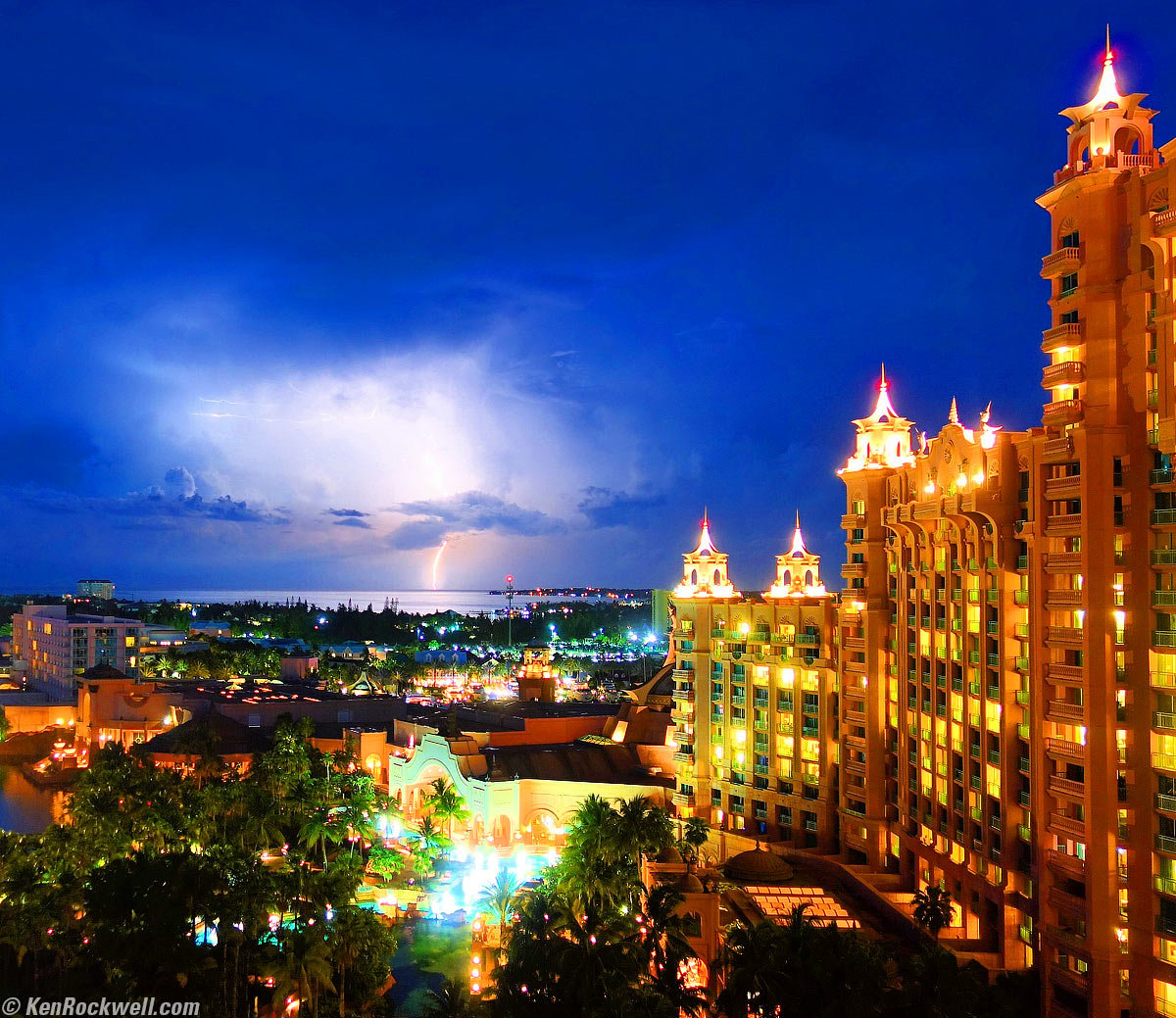 Lightning over resort at dusk. (Sony RX100 Mk IV at 8.8mm, f/1.8 at 1 second at ISO 125, Perfectly Clear V2. bigger or Full-resolution or camera-original © file.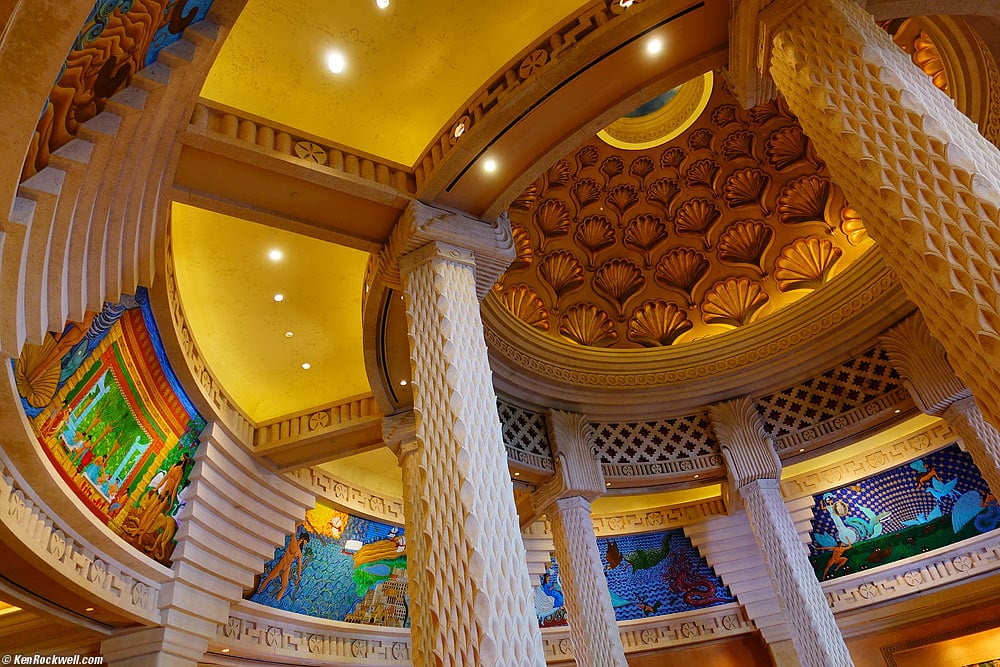 Ornate ceiling. Sony RX100 Mk IV at 8.8mm, f/1.8 at 1/13 hand-held at Auto ISO 125, Perfectly Clear V2. What's nifty here is that I have Auto ISO programmed in my M1 memory setting to optimize itself for slow shutter speeds and low ISO, so in this case it sets 1/8 of a second, which is easily hand-held with stabilization, and can run at its low default of ISO 125 even indoors for ultra-sharp results. Wow! bigger or Full-resolution.
NEWER: Sony RX100 Mk IV Review.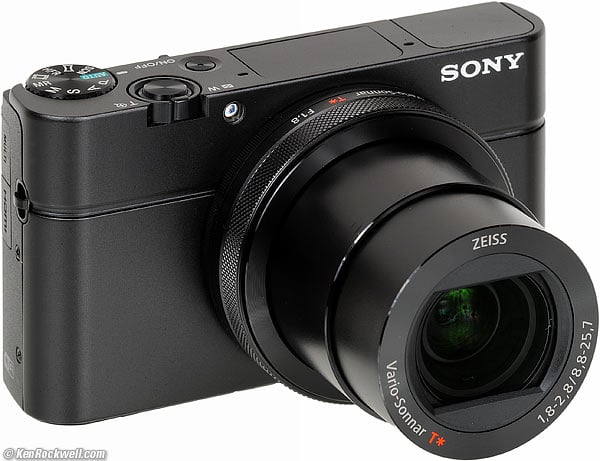 Sony RX100 Mk IV.
I was working with the RX100 all last weekend and this week, and its review is completely re-written from what it was on Monday, so if you're interested, check it out again. It's loaded with new material, and continues to grow each day.
Sony is finally off my naughty list. My RX100 Mk IV shoots fast in any light and finally gets the colors and exposure dead on for the first shot, every shot. Whoo hoo!
The Fuji X100T is still a better made and tougher camera, especially for people and reportage shots. It has a better fixed lens and a much larger sensor. The X100T sensor has four times the area of the RX100; I wonder why no else ever points this out?
The RX100 M4 is smaller and dinkier, but its color pallet is better suited for shots of places and things.
Color palette? As artists know, everything responds differently to color. Lab tests mean nothing; what matters is when you try to tweak the camera's settings to get the look you want, can you get the look you want?
The RX100 can get much more saturated colors and snappier images best suited to places and things, while the Fuji has a softer look — regardless of how you set it — ideal for people and family shots. None of the Fujis can make the really punchy colors I need for non-people shots in-camera, while this RX100 looks great set to its Vivid setting and +3 Saturation, adjustments missing in Fuji cameras.
Just look at what I'm getting right out of my RX100 M4 as JPGs. This is insanely good. Sony finally got it right.
Deal: $10 Savings on the Fuji Instax Mini 8 Cameras. Use coupon code MINI871515 at checkout to save $10 = $59.99.
Today only: SanDisk Extreme 64GB microSDXC Class 10 UHS-I Memory Card with SD Adapter: $29.95 (Regular $39.99).
Deal: Samson MTR101 1" Diaphragm Studio Condenser Microphone with Shockmount and Pop Filter: $64.99 after $20 mail in rebate (Regular $119.99)
Deal: Samson CS Series Handheld Microphone with CS1 Vocal and CS2 Instrument Capsules: $26.99 after $10 mail in rebate (Regular $39.99)
In Stock: Olympus OM-D E-M5 Mk II, also at Adorama.
In Stock: Sigma Quattro dp0.
In Stock: GoPro Session.
Deal: Lexar July card specials.
Deal: Canon T5 with 18-55 and 75-300mm: $499.
Deal: Canon 5D Mk III body with free goodies: $2,499.
Deal: beyerdynamic DT 880 headphones & Apogee Groove USB DAC & headphone amp: $399 after $30 mail in rebate (Regularly $574.99.)
7/11 2015, Free Slurpee Day
Yum! Perfect for a grab shot with the RX100 Mk IV's flip screen as I shot from the waist: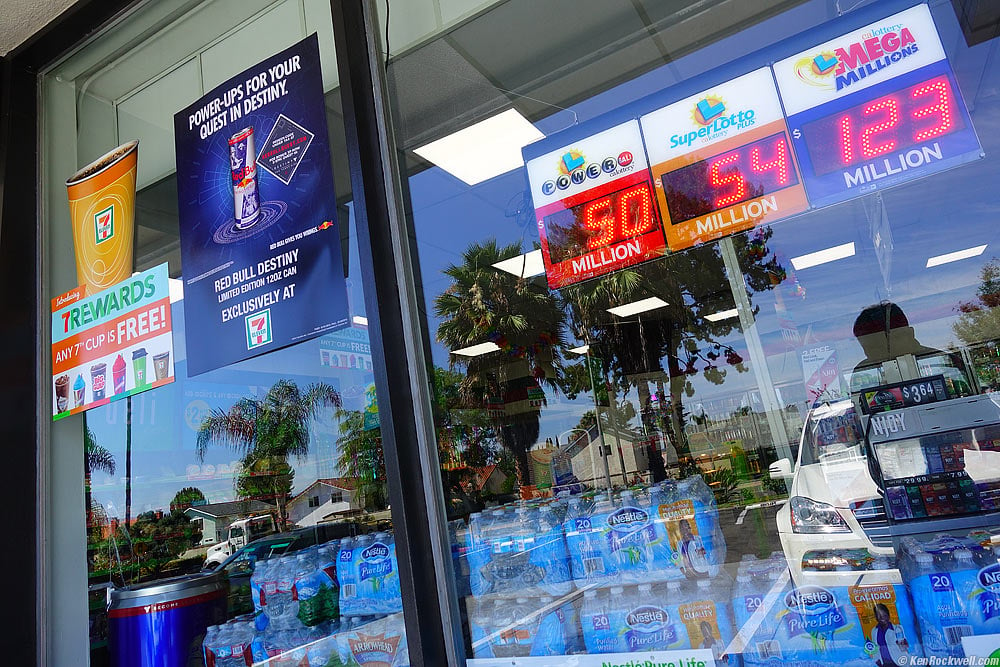 7 to 11 Store, 7/11/2015. Sony RX100 Mk IV, f/4 at 1/200 at 8.8mm at Auto ISO 125, VIVID setting at +3 Saturation. Camera-original © file.
09 July 2015, Thursday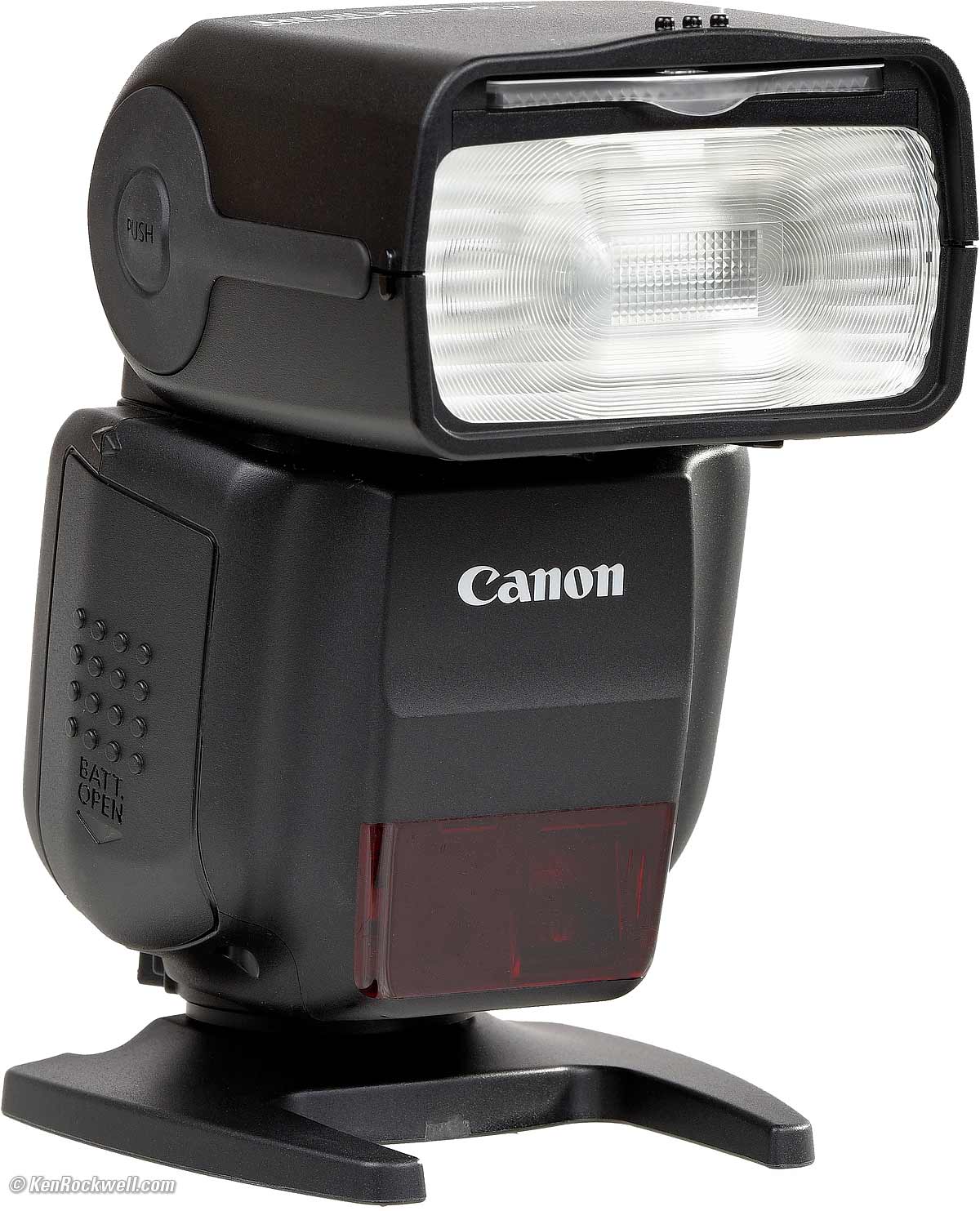 Canon 430EX III RT.
NEW: Canon 430EX III RT Review.
GoPro Deal
GoPro HERO4 Black: $439.99 (Reg. $469.99) With Free Expedited Shipping.
MacBook Air Deal
Apple 11.6" MacBook Air 1.7GHz, 8GB RAM, 512GB Flash Storage: $999 (Regular $1,199), with free shipping.
You know you want one; I do too. I'm still lugging my 2009 13" MacBook Pro around.
Nikon Df Deal
Nikon Df for $1,748 on eBay. I buy from these folks in Japan often. The items show up in a few days, and they are usually just like new. This is another one; they had one last week that sold immediately for $20 more.
TV Deal
Samsung UN88JS9500 88" Class 4K SUHD 3D Curved Smart LED TV: a steal at only $19,997.99.
08 July 2015, Wednesday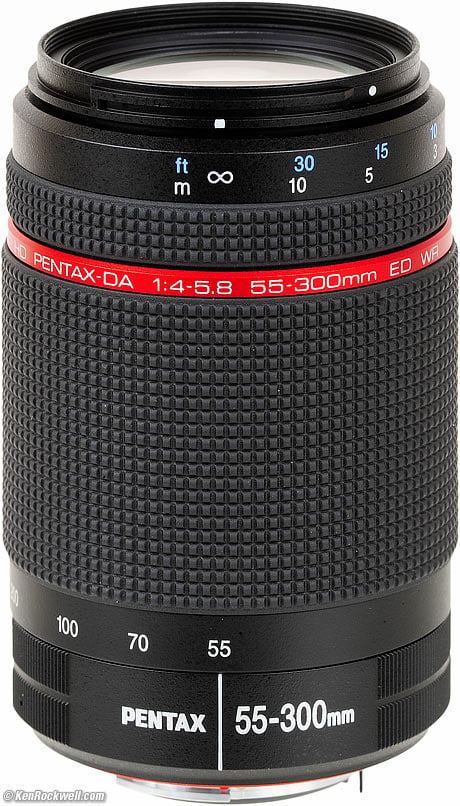 Pentax 55-300mm WR.
NEW: Pentax 55-300mm WR Review.
DEAL: Canon 6D, 24-105/4 L IS, Mic, ATH-M50 headphones, printer and much more: $1,999 after $350 rebate.
Includes:

Canon 6D 24-105mm f/4L IS USM
Canon PIXMA PRO-100 Professional Photo Inkjet Printer
Canon SG-201 Photo Paper Plus Semi-Gloss, 13x19", 50 Sheets
Audio-Technica ATH-M50x Pro Monitor Headphones
Audio-Technica AT8024 Stereo/Mono Camera-Mount Microphone
Audio-Technica ATW-1701L System 10 Camera Mount Wireless Microphone System
Lowepro Nova Sport 17L AW Shoulder Bag, Slate Gray
New Leaf 1 Year Drops & Spills Extra Protection


110 MILLION: Canon EF Lenses.
Canon just made their 110-millionth EF lens on Monday, June 22nd. Canon EF lenses are those that mount on their EOS SLRs and DSLRs, and the cool part is that every single one is fully compatible with every EOS camera they've made since 1987, without exceptions.
EF 11-24mm f/4L USM ultra-wide-angle interchangeable zoom lens.
The 110 millionth lens was an 11-24mm, or so they say. It probably really was a 50mm STM, but that's not as impressive.
They hit 10 million in 1995, and 50 million in 2009.
DSLRs went nuts, and they hit 100 million in April 2014, the first se
Some other firsts:
EF 300mm f/2.8L USM: World's first Ultrasonic Motor for focus (USM), Nov. 1987. Nikon copied it as SWM, silent wave motor.
EF 75-300mm f/4-5.6 IS USM: World's first Image Stabilizer (IS) lens, Sept. 1995. Nikon took a few years to copy IS and call it VR in their original 80-400 VR. (Nikon did have a 35mm point-and-shoot camera with VR earlier.)
EF 400mm f/4 DO IS USM: World's first use of a diffractive optical (DO) lens element, Dec. 2001. Canon just came out with the Mk II version.
EF 24mm f/1.4L II USM: World's first use of Subwavelength Structure Coating (SWC), Dec. 2008. Nikon calls their version Nano coating, which came out two years earlier in 2006.
EF 100mm f/2.8L Macro IS USM: Oct. 2009. World's first use of Hybrid IS, which compensates for both angle camera shake and shift camera shake. So? Pros shoot macro with strobes and don't care.
EF 8-15mm f/4L Fisheye USM: July 2011. World's first fisheye to zoom to show both 180º full-frame and 180º circular views.

EF 200-400mm f/4L IS USM Extender 1.4x: May 2013. World's first super-telephoto zoom lens to employ an internal extender. Actually, I think Canon and Schneider and the rest have been doing this for television lenses for many years.

EF 11-24mm f/4L USM: Feb. 2015. World's widest lens; world's first rectilinear 11mm lens for the 24x36mm format.
07 July 2015, Tuesday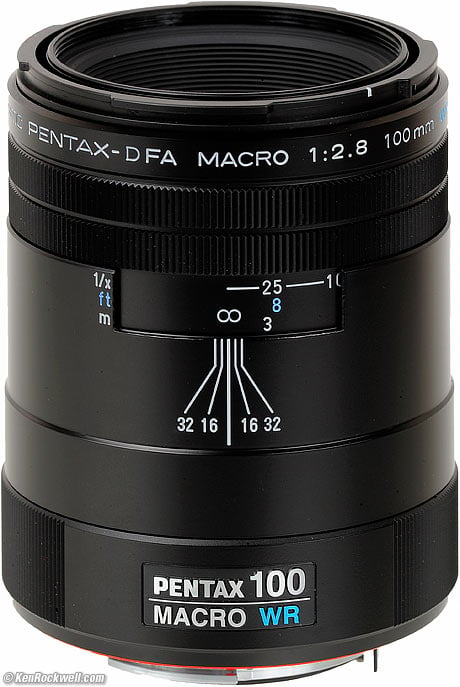 Pentax 100mm f/2.8 WR Macro.
NEW: Pentax 100mm f/2.8 WR Macro Review.
DEAL: Nikon 35mm f/1.4 AI-s on eBay.
This is a nice copy of the lens I used with my D810 on Route 66 this February and I've bought great things from this seller before. I prefer the all-metal AI-s version to the plastic autofocus version. 35/1.4 AI-s review.
04 July 1776, Independence Day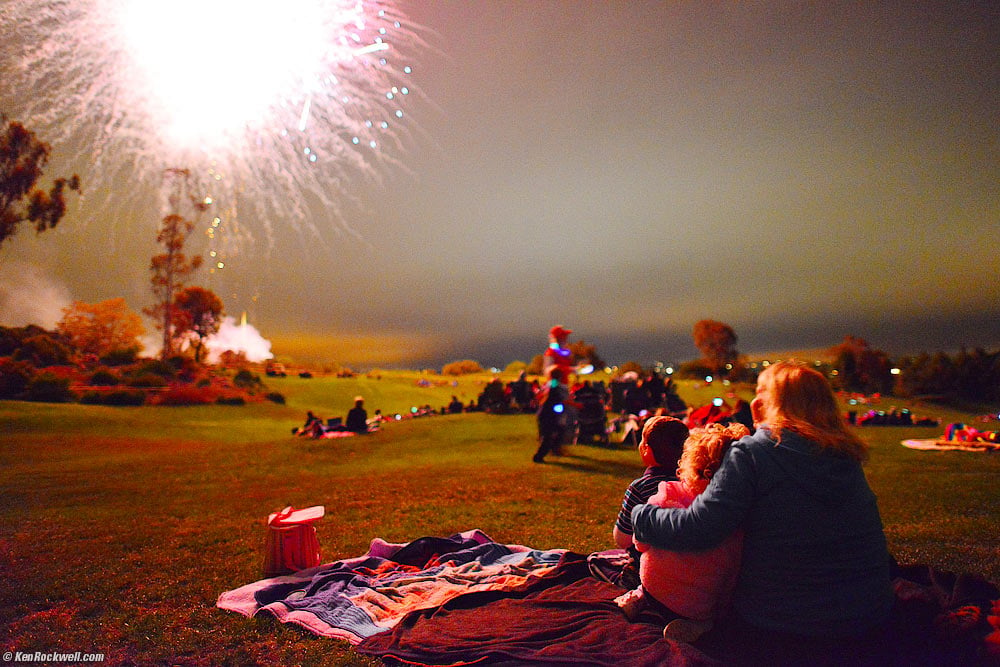 CLASSIC: How to Photograph Fireworks.

Fostex CR300.
NEW: Fostex CR300 CD Recorder, DAC & ADC Review 08 July 2015
4th of July Sale on Perfectly Clear
I use Perfectly Clear on most of my photos. It makes them look better faster than I can do the hard way in Photoshop.
The great news is that it's 25% off for the 4th of July. The sale only runs through July 6th.
SALE: B&H's 4th of July Sale.
Adorama's 4th of July specials
Audio-Technica ATH-M50x Professional Monitor Headphones: $99 (Regular $169). Also comes in white. This really is a deal; I think my old model ATH-M50s cost about $159 when I got them.
Canon MG2520 All-in-One & 3x3" Pocket Size Inkjet Photo Album with Software: $19.99 + 0.80 shipping. Click the blue "add to bundle" and it will add both the printer & photo album to your cart.
03 July 2015, Friday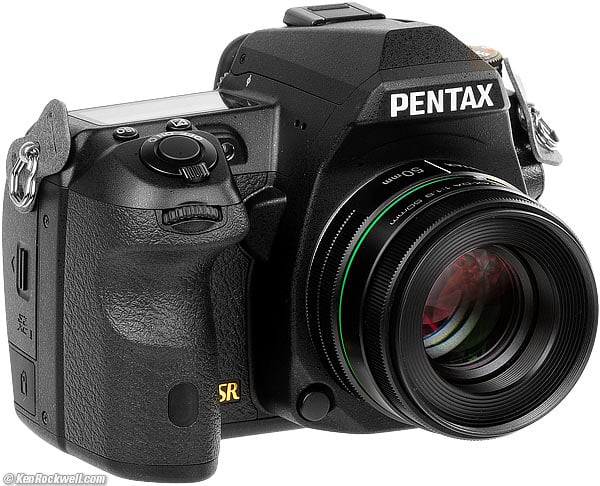 Pentax K3 II and Pentax 50mm f/1.8 DA.
NEW: Pentax K3 II Review.
NEW: Pentax 50mm f/1.8 DA Review.
NEW: Two new backpacks from ThinkTank.
The Trifecta 10 is designed for DSLR systems, and the Trifecta 8 is designed for mirrorless systems. These sling backpacks let you get in from the left and from the right.
The rear panel also offers complete access to gear. You'll get some free goodies with your order, as well as free shipping, whoo hoo!
NEW: Three new trekking backpacks from MindShift.
Therse are designed to carry big lenses, and fit on planes.
The FirstLight packs come in three sizes for anything from a 70-200 to a 600mm.
02 July 2015, Thursday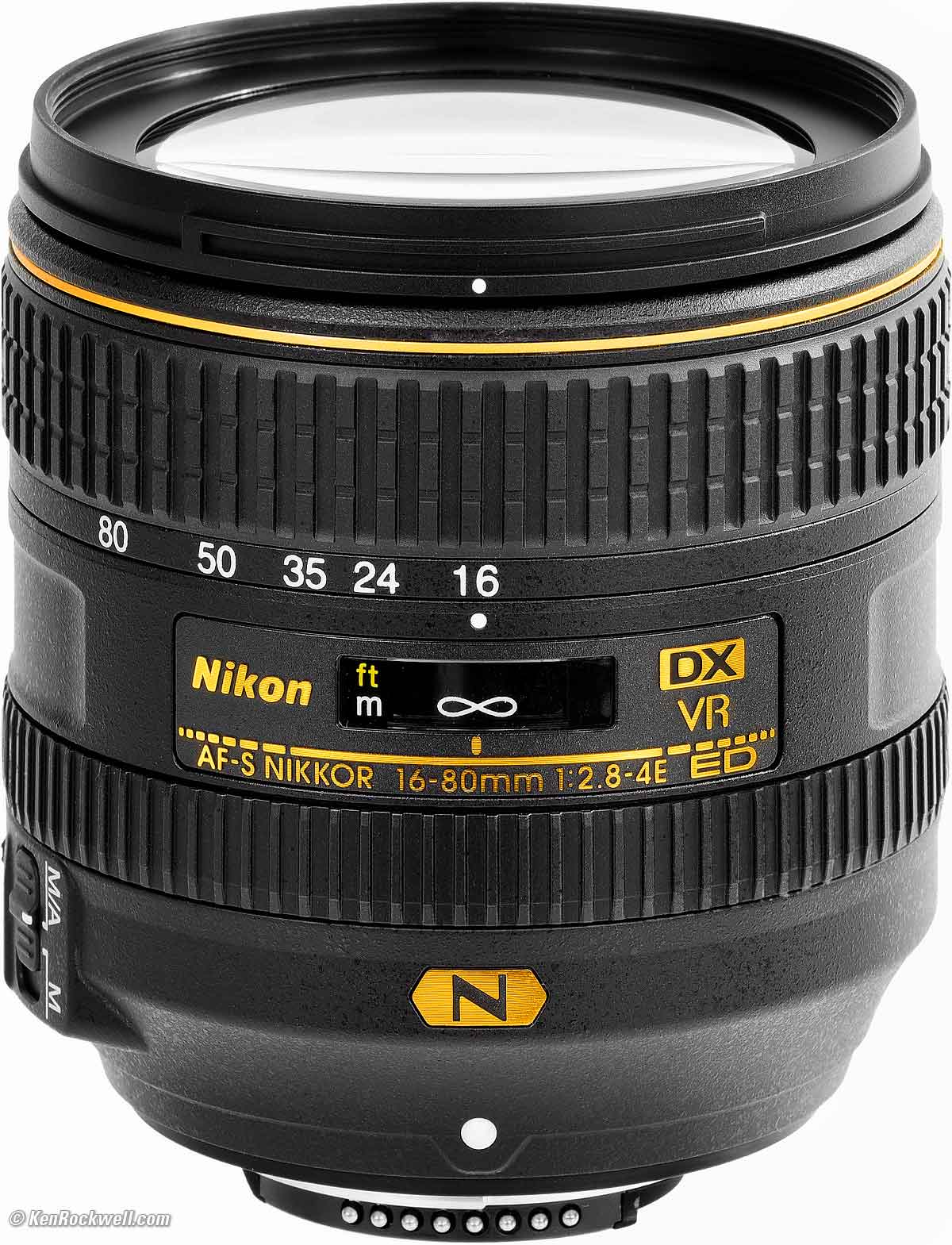 Nikon 16-80mm f/2.8-4 DX VR.
NEW: Nikon 16-80mm f/2.8-4E VR DX.
NEW: AF-S NIKKOR 500mm f/4E FL ED VR. Two pounds lighter than last year, $10,300. Also at Amazon and at Adorama.
NEW: AF-S NIKKOR 600mm f/4E FL ED VR. Three pounds lighter than last year; $12,300. Also at Amazon and at Adorama.
These two teles and the 16-80 are "E" (electronic) diaphragms that won't work on older cameras. All Canon lenses since 1987 have had electronic diaphragms, so there's no compatibility problem in the Canon system as there now is in Nikon.
Just to keep us all guessing, Nikon Series E lenses have nothing to do with today's E-diaphragm lenses; Nikon simply re-used the letter E.
Sadly Nikon today is like Canon in the early 1980s: too many clumsy and incompatible lens technologies loaded with baggage from eons ago. Canon threw it all out the window and started the EOS system from scratch in 1987. Today Nikon has two different diaphragm control systems (mechanical or electrical), some lenses have aperture rings and some don't, and two completely different AF technologies (mechanical or electrical), so the Nikon system today is a mish-mosh of what works or not.
See also Nikon Lens Compatibility, which still needs to be updated for E-diaphragm lenses These E diaphragm lenses only work properly on cameras introduced since about 2007. On older cameras, these lenses will always shoot with the apertures wide-open — oops!
NEW: New Search Boxes.
Somehow Google stopped supporting the iFrame search boxes I had been using, so I put up new ones. Hope they work!
NEW: Canon 5DS Accessories.
It took me all day to find all these, and now you have the world's most complete list of grips and eyepieces and power adapters and everything else.
Yes, use eBay!
A reader wrote, expressing concern over using eBay to get his used gear as I do, since he wasn't sure how to figure out if an eBay seller was "on the level."
I get all my used gear over eBay. I have a series of articles on How to Win at eBay, which also explains how to size up a seller.
Few people realize that buying on eBay isn't gambling any more. If you don't get what was described, the seller has to take it back or make it right, even if marked NO RETURNS, and the seller has to refund 100% of your money and your shipping, and has to ship it back at his expense.
Unlike a few years ago, there is nearly no risk and no cost if we don't get what was promised. It's not our problem, as it should be. It's a huge pain for sellers, but easy street for buyers.
Unlike a few years ago when I wrote How to Win at eBay, eBay now has a money-back guarantee that really works, so eBay is one of your safest bets. Most people haven't figured this out yet. You no longer have to worry about anything since if you don't get what you ordered, the seller, or if not, eBay, will make it right!
eBay's money-back guarantee really works. Out of the thousand things I've bought, I had one guy several months ago ship me something that arrived broken, and he just wanted to ignore me. Most sellers know that eBay polices everything with an iron fist, and respond instantly to any problems, but one guy thought he could just ignore the whole thing.
No worries for me. I clicked the button for eBay's help after getting no help from the seller, and eBay, not the uncooperative seller, gave me a full cash refund, including my shipping.
Since eBay refunded me and the seller was doing absolutely nothing to help, again no worries: I didn't even have to return it since no one asked! I threw it away and that was the end of it, at no cost to me.
Unlike a few years ago, it's not your problem if you buy over eBay and don't get what was described, it's the sellers. It's also the seller's responsibility to get it to you undamaged; if he packs it poorly and it gets damaged, it's also his problem, not yours. See also How to Pack and Ship.
So yes, bid at the last second to win, and don't worry about it. Just be sure to read everything carefully; there's plenty of junk out there, but that has to be disclosed.
NEW: Apogee Groove USB DAC & 'phones amp.
State-of-the-art, and made in USA.
In-Stock: Panasonic CM1P 4K camera & phone.
$999.99 unlocked, with free expedited shipping

01 July 2015, Wednesday
Sigma Deals
Sigma has upped their instant rebates for the 10-20mm F/3.5 and for the 17-50mm F2.8 from $150 to $200.

They also have a $50 Instant Rebate on the 15mm F/2.8 Fisheye.
What Was New in:
Help me help you
I support my growing family through this website, as crazy as it might seem.
If you find this as helpful as a book you might have had to buy or a workshop you may have had to take, feel free to help me continue helping everyone.
If you've gotten your gear through one of my links or helped otherwise, you're family. It's great people like you who allow me to keep adding to this site full-time. Thanks!
If you haven't helped yet, please do, and consider helping me with a gift of $5.00.
The biggest help is when you use any of these links when you get anything, regardless of the country in which you live. It costs you nothing, and is this site's, and thus my family's, biggest source of support. eBay is always a gamble, but all the other places always have the best prices and service, which is why I've used them since before this website existed. I recommend them all personally.
Thanks for reading!
Ken
Home Donate New Search Gallery How-To Books Links Workshops About Contact