Home Donate Search Gallery Reviews How-To Books Links Workshops About Contact

September 2015's News RSS Hot Deals
© 2015 KenRockwell.com. All rights reserved. Ryan Katie

Nikon: D810 D750 D610 D7200 Lenses Canon: 5DS 5D Mk III 6D 7D II Lenses
Reviews: Fuji LEICA Contax Zeiss Sony Minolta Olympus Pentax
Recommended Cameras Gifts How to Take Better Pictures random
Facebook Twitter Video Tutorials
30 September 2015, Wednesday
LEICA vs Sony vs. Canon: die M9 ist KAPUTT!
Having shot my LEICA SUPER-ELMAR-M 21mm f/3.4 ASPH on my Sony A7R II on my Novoflex adapter last night, and seeing how suboptimal are the results, this morning I set out to shoot a comparison among the:
A:) LEICA SUPER-ELMAR-M 21mm f/3.4 ASPH on Sony A7R II mit Novoflex adapter.
B.) LEICA SUPER-ELMAR-M 21mm f/3.4 ASPH on LEICA M9.
C.) Canon EF 20mm f/2.8 on Canon 5DS.
Trying to open my LEICA M9 DNG files, they looked horrible. They looked all smudged over, as if noise reduction had gone insane. I started down the usual troubleshooting tree, first making sure that they hadn't actually been shot at ISO 10,000 or something crazy. I tried opening the DNGs in Photoshop CD6 and Apple Aperture, and they were unusable fuzzy in both.
I tried shooting the M9 as JPG to see what was going on (in case it was my my software that was kaputt), and saw that there was reticulation in the sky. What?
Since it was early morning, a panic response was that my sensor might have had dew on it. (I was grasping for straws; the cameras were warm and they had no dew on the outsides more exposed to the cool morning air; dew forms on cold, not hot, objects.)
I thought maybe my sensor had some sort of weird growth or decay on its front, and put my M9 on bulb and looked at it.
Weird, it was dull and had dots on it like fungus!
Off to the web I went, and thank goodness, LEICA admits it used bad sensors — and will be replacing them for free. The only bad news is that LEICA claims they took the time to get a replacement that has the same image rendering qualities. That's bad because the M9 has the worst color rendition I've seen, and any change would be an improvement. The Olympus TG-4 has far better color rendition than the M9; that's why I have to shoot my M9 as DNG and try to improve the colors later in Aperture.
Whew! I was afraid that my M9 had somehow decayed due to poor storage conditions on my part, which would mean that my other cameras would be doing the same thing.
Whew! Every brand makes mistakes. What's important is how each maker deals with those mistakes. In this case, LEICA is replacing them for free. Danke, LEICA!
29 September 2015, Tuesday
iOS 9 Notes: YAY!!!
I was afraid that my notes wouldn't sync across my fleet of Macs and iOS 6 devices if I updated to iOS 9, but I did it, and they sync just great!
The key is that you need to select "Upgrade Later" as you activate Notes the first time after updating your iOS or getting a new phone.
They even sync to my Yosemite Mac (or probably any ancient Mac that can get the Internet). All you do to see, create, and edit and delete Notes on any Mac is not to use the Notes app, but log into iCloud.com and work on your notes there. In fact, little did I realize that they are bigger and more legible at iCloud.com than they are in the Notes app on Mac.
Hey - I just tried, and counter to what the online experts warned, my Notes app in Yosemite (OS 10.10.5) also syncs perfectly. The key is not to "upgrade" Notes to use crazy formatting, which I don't need or want. For me, plain text notes are the most legible and useful.
"Upgrading" simply unlocks a host of crazy editing features that I don't want, and would forever make notes go dark on anything but the newest devices.
Just select "Upgrade Later" and you're good.
Bravo!
28 September 2015, Monday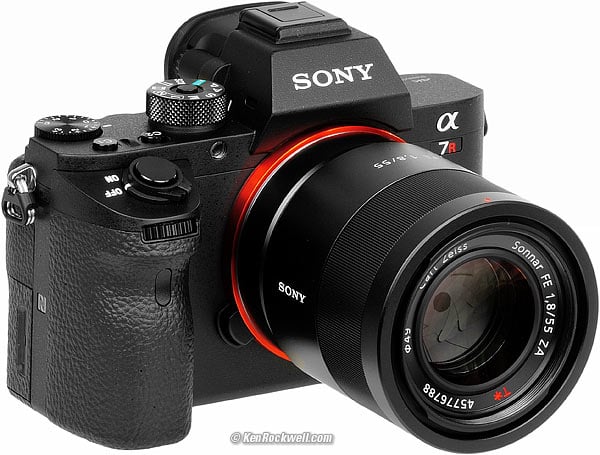 Sony A7R II with Zeiss FE 50mm f/1.8.
NEW: Sony A7R II Review.
27 September 2015, Sunday
10 years of this page
This page has been here for 10 years today.
I'd been on the air for almost 6 years, and you folks kept asking how to figure out what was new, so I added this page.
All the old pages are archived, just go to the bottom of this or any of the other pages and you can see links to everything.
26 September 2015, Saturday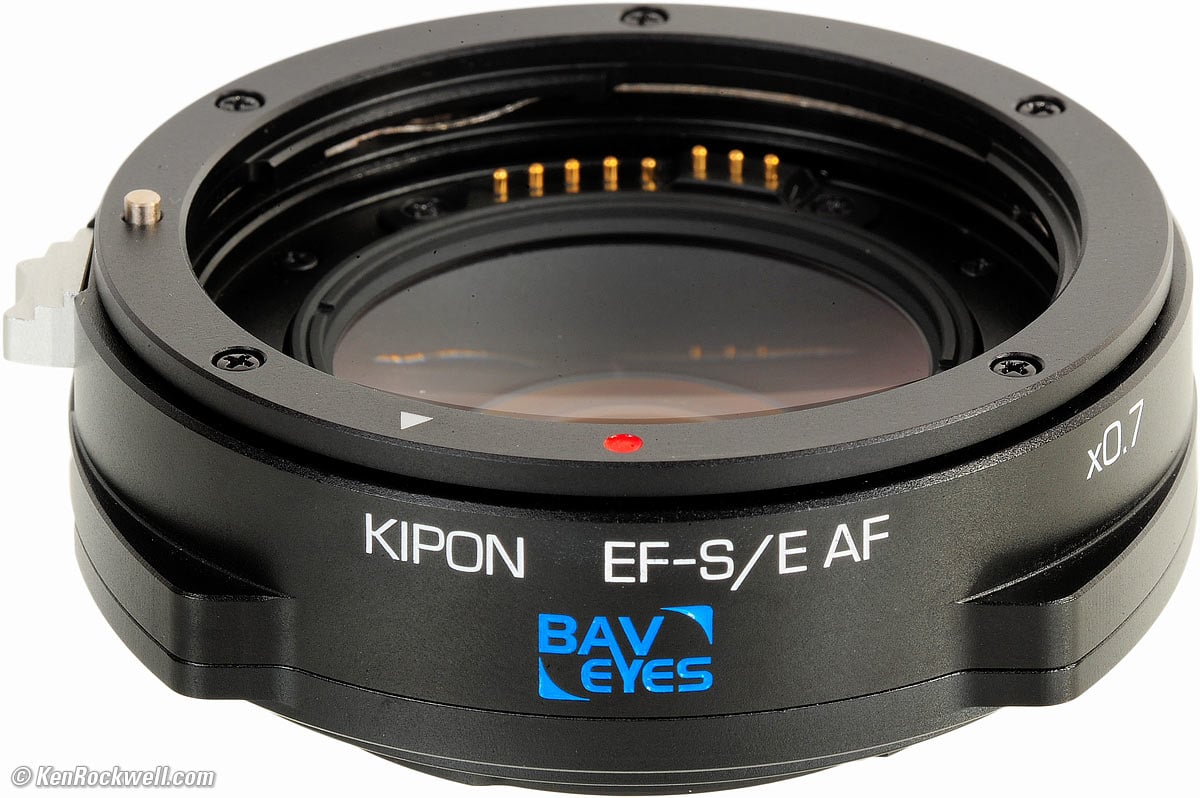 KIpon Baveyes 0.7x Adapter.
NEW: Kipon Baveyes 0.7x Adapter.
Breakthrough X3 ND Filter.
NEW: Breakthrough X3 ND Filter Review.
25 September 2015, Friday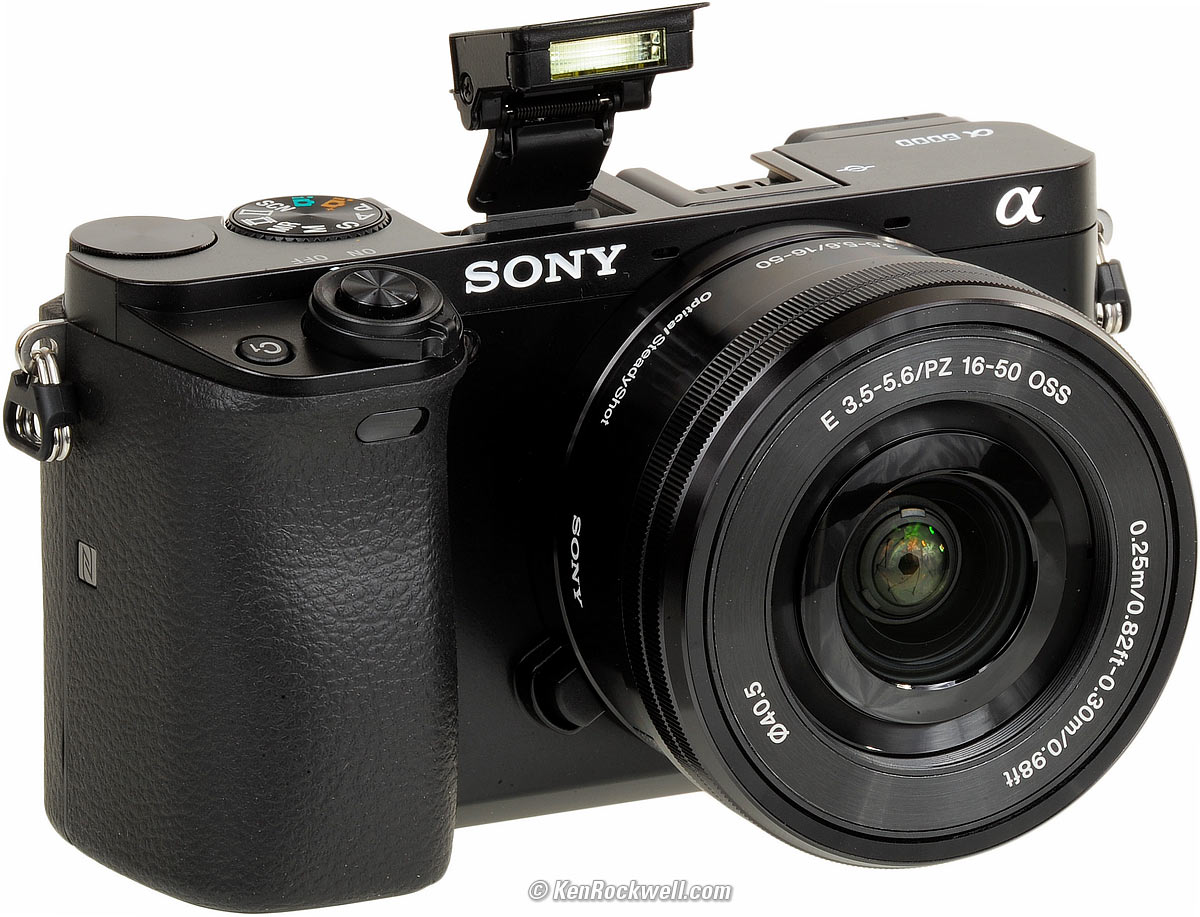 Sony A6000 with PZ 16-50mm OSS.
NEW: Sony A6000 Review.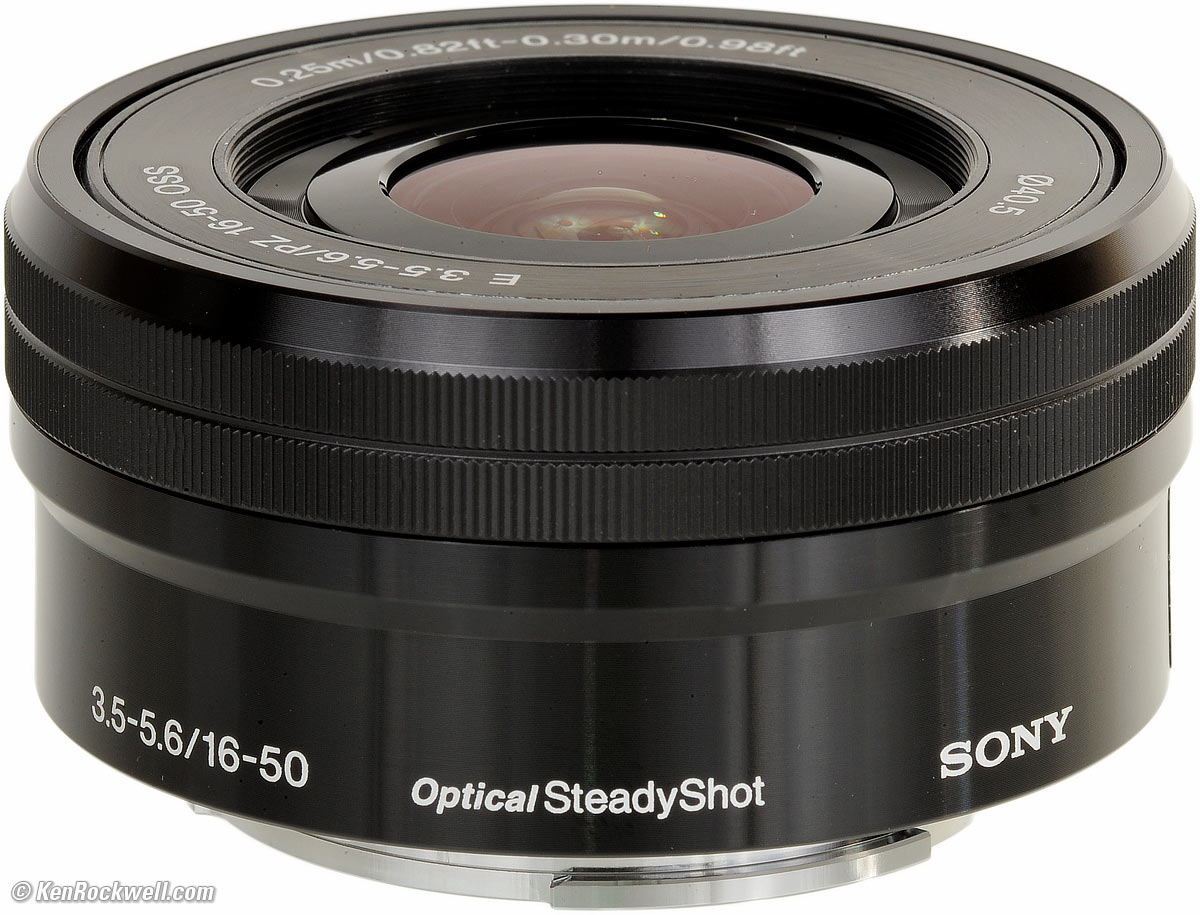 Sony PZ 16-50mm OSS.
NEW: Sony PZ 16-50mm OSS Review.
A tiny power zoom lens for APS-C NEX.
24 September 2015, Thursday
New Mirrorless Lenses from Rokinon
These come in most mounts and are manual-focus only. They only cover cropped sensors.

21mm f/1.4 and 50mm f/1.2.
Starting the weekend early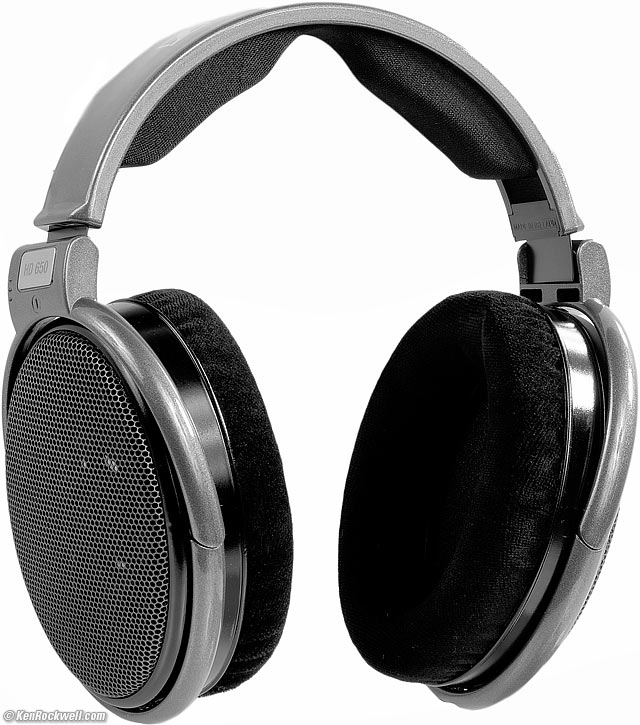 Sennheiser HD 650.
NEW: Senheiser HD 650 Review.
Sennheiser's top pro headphones. (The HD 800 and HD 700 are consumer headphones, and also very good but more expensive.)
DEAL: HD 650 with free $300 Apogee Groove DAC!
I have an Apogee Groove on the way to review; it's a $300 professional Made-in-USA USB DAC & headphone amplifier.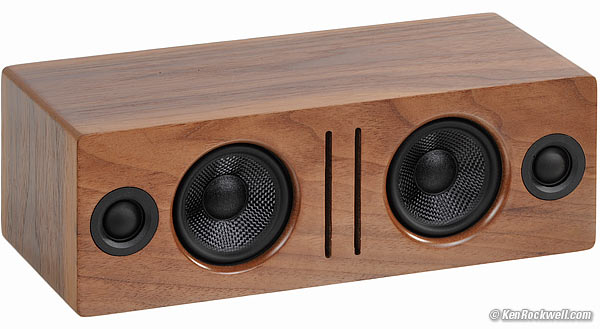 audioengine B2 Bluetooth Speaker.
NEW: audioengine B2 Bluetooth Speaker Review.
For those who demand real wood.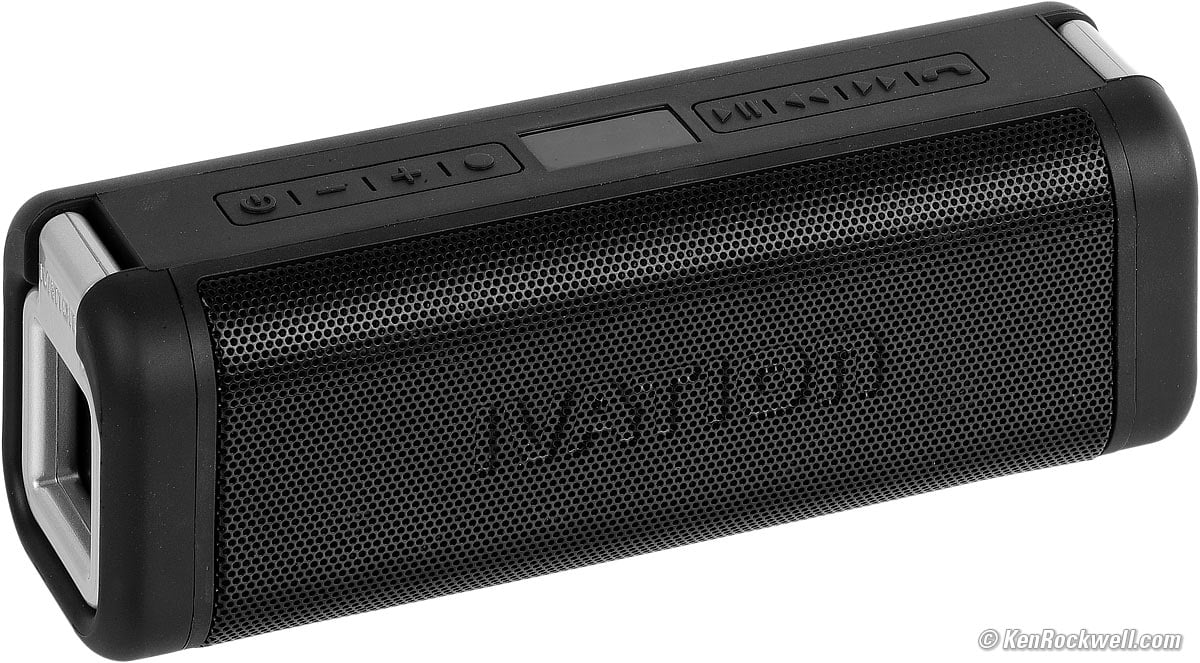 Ivation Acoustix Bluetooth & FM Speaker.
NEW: Ivation Acoustix FM & Bluetooth Speaker Review.
For those who want an FM radio in a waterproof speaker.
Amazon Sony Trade-in Deal
Amazon's offering a couple of hundred dollars if you trade-in a nice camera in the process of getting a Sony A7-series camera and FE lenses.
The trade-in values look pretty low; I think you'd get much more on eBay, but hey, it's something.
Deal: Nikon 1 AW1 Waterproof with AW 11-27.5mm: $429.95 with free shipping (Refurbished, Regular $699.95)
Deal: Tamrac 5723 Zuma 3 Photo/iPad/Netbook Bag: $29.95 with free shipping (Regular $59.95)
Deal: Think Tank My 2nd Brain Briefcase 15: $54.95 with free shipping (Regular $95)
Deal: Brenthaven BX2 Messenger Bag, fits 15" laptop & DSLR: $49.95 with free shipping (Regular $99.95)
22 September 2015, Tuesday
Last day: Summer Sale on Phil Steele Photography Courses
Summer ends today, so this private summer sales ends today, too.
My friend Phil Steele is having a private sale on his courses. Phil's tutorials are the best I've seen; check out his previews and see for yourself. He has a 60-day no-risk money-back guarantee, so you've got nothing to lose and everything to gain. You can watch them from anywhere on just about anything, far better than a book, file or eBook.
SAVE 33%: Secrets of Successful Event Photography.
SAVE 25%: Lightroom Made Easy.
SAVE 15%: Photoshop Basics for Photographers.
SAVE 15%: Pro Portraits with Off-Camera Flash.
19 September 2015, Saturday
America Starts Building the World's Largest Camera
America starts construction of the 3.2-gigapixel digital camera for the Large Synoptic Survey Telescope (LSST).
18 September 1965, Friday
NEW: Sony A7R II vs A6000 vs Canon 5DS R Comparison.
The Canon 24-70mm f/2.8 L II handily wipes the Zeiss FE 24-70mm f/4 off the map, and the Canon lens is now $500 less than I paid for mine!
Bird & Macro Workshop
The Birdman of San Diego, Steve Cirone, is teaching a workshop this Saturday. Check it out; Steve has been my friend since the 1990s and is the greatest bird & bug shooter I know, as well as being a fantastic teacher.
50 Years of Get Smart
In celebration of the 50th anniversary of the first broadcast of of Get Smart on September 18th, 1965, LEICA offers the LEICA Edition 50 Jahre «SIEGFRIED» to honor the show's German character.
A unique commemorative edition, not simply the same old LEICA with a commemorative sticker, die LEICA Edition 50 Jahre «SIEGFRIED» showcases the following innovations critical to mission success for the evil, murderous East-German KAOS agent:
• Integral 22LR pistol holds 12 rounds in a detachable internal magazine. The weapon is hidden inside the camera and fires out stage left (as seen by the shooter) through what looks like a PC flash connector, which flips out of the way.
• Loads from the bottom, just like other LEICAs.
• 90° viewfinder: you look forward and see to the left where your weapon will fire.
• Internal X-ray compensator plate lets the camera go through X-ray machines without detection. Remember, this is for secret agents who travel without calling attention to themselves. For instance, it ships in a plain, flat box marked "Grußkarten" (greeting cards).
• The preselector lever allows the user to select shooting film or lead. It doesn't really shoot film; the magazine is located where film would go, but this lets secret agents click the camera to prove it's not a weapon.
Struck as an edition of 1965 pieces, it ships with a radioactive collapsible SUMMICRON-M 50mm f/2. If you don't collapse the lens, it will hold a second spare loaded magazine, again loaded from the bottom.
Like most of LEICA's better special editions, it's already sold out.
The LEICA Edition 50 Jahre «SIEGFRIED» has a price of $18,919.65, which considering that it's a fully functional firearm with a 1.5x magnifying sight, is quite the bargain.
Back-to-School MacBook Air
It's been a year since we got Ryan his first MacBook Air.
I'm impressed that it's easily taken a year of continuous abuse from my 7- and now 8-year old, and works like new.
I giggle at ads trying to get people to buy new Dells or Sonys or whatever plastic junk running Windows, which probably need to be replaced each year.
Ryan on the other hand has spent hours a day for a year playing every free online video game, downloading flight simulator and other software, configuring email and resetting everything to his own preferences, watching youtube and generally doing whatever crazy things a kid will do exploring everything on a computer for hours a day, and not had a single problem with anything.
He's taken it with me to Hawaii twice as well as the Bahamas and everyplace else we travel. He beats it around physically and operationally as a kid will, and it works perfectly after a year of this. (An Olympus TG-4 only lasted 2 days with him, for instance.)
No viruses, no hiccups, no crashes and no problems.
My 12" iBook from 2004 still works perfectly, but when a kid can do every crazy online thing with a computer for a year and not get hit by a single crash or virus or scam, I'm very impressed.
Obviously we paid more to get him the cheapest model of MacBook Air instead of a disposable windows laptop, but we don't have to replace it each year, either. It ought to last him many more troublefree years.
I know half of you people are IT professionals and can work around windows, but I'm not. I use Apple precisely because I don't have the time to deal with windows problems. I use Apple because I have work to do.
17 September 2015, Thursday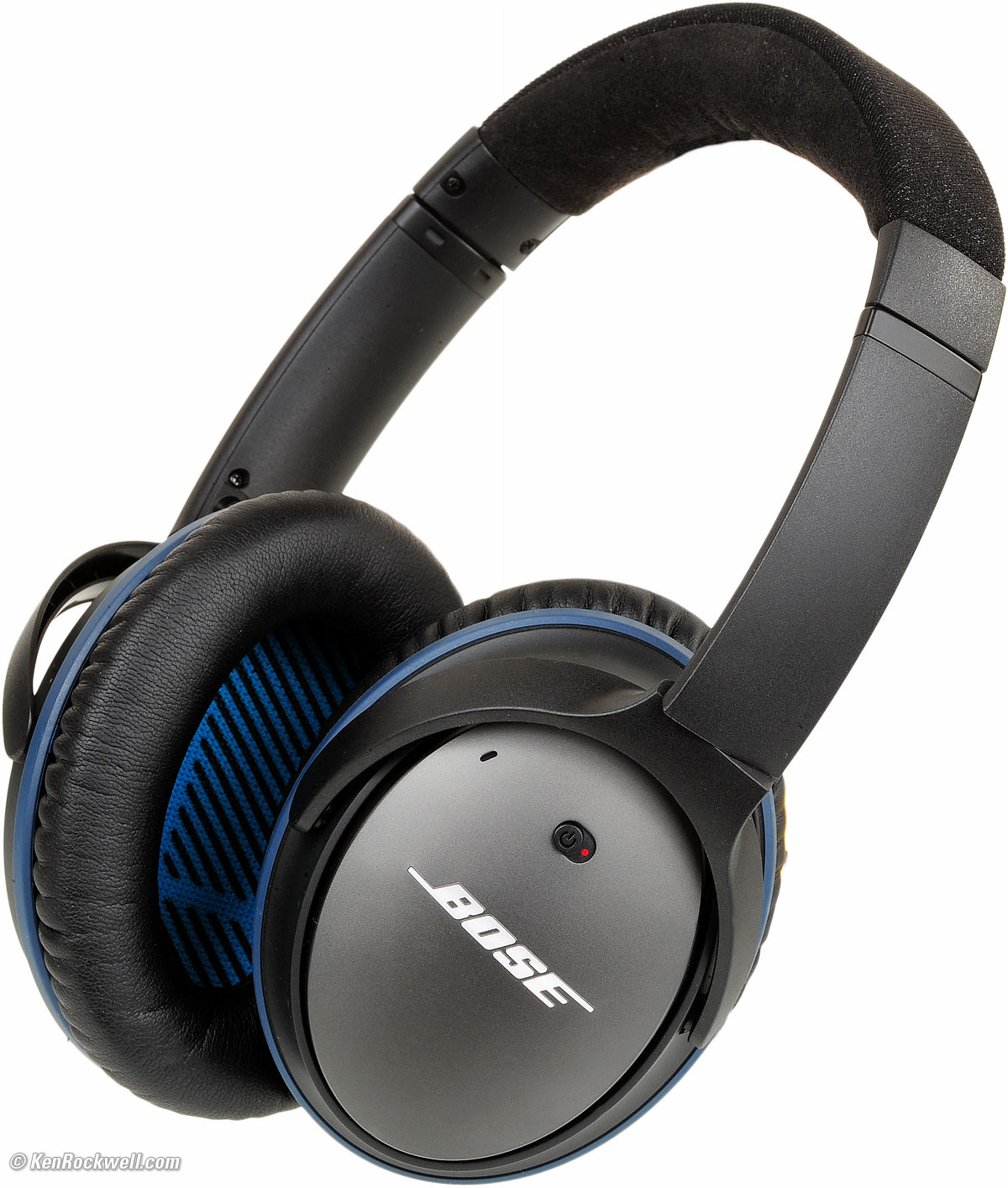 Bose QC-25 Noise-Cancelling Headphones
NEW: Bose QC-25 Noise-Cancelling Headphones Review.
Flying? Then you need these, and they sound great at home, too.
New: Sony A7S II.
Crazy Camera Items at eBay
You can find anything on eBay.
Back in the 1990s and before you couldn't find most of these things anywhere, but today with eBay, they are just a click away.
Here are some samples:
Of course Nikon's rarest SLR lenses are always available on eBay:
Deal: Rokinon is running a special on their Xeen line of lenses. Save $300 on one lens or $1500 on all three.

16 September 2015, Wednesday
Sony Zeiss FE 24-70mm f/4 OSS.
NEW: Sony Zeiss FE 24-70mm f/4 OSS Review.
The best normal zoom for Sony E-mount.
15 September 2015, Tuesday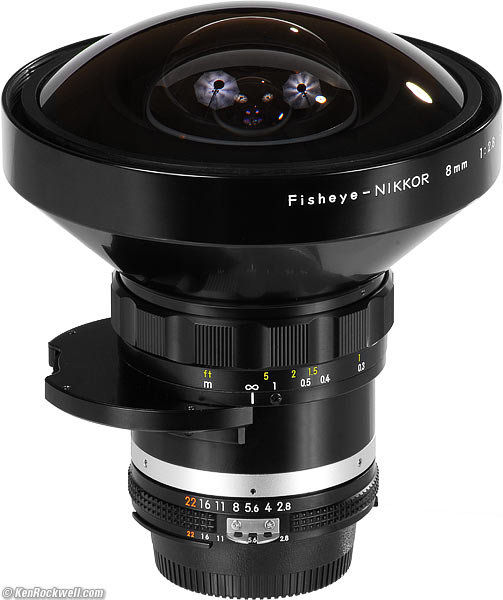 Nikon 8mm f/2.8 AI-s Fisheye.
Found: a Nikon full-frame circular 8mm f/2.8 Fisheye on eBay.
I've bought from these guys, and the gear arrives within days from Japan and looks great. These guys in Japan sell much nicer than usual gear.
See my Nikon 8mm f/2.8 Review. Slick thing about this full-frame circular is also what it does on DX.
14 September 5776, New Year's Day
Resolution: The Power to Incriminate
We had a great laugh while visiting California last weekend.
We all saw this great DOUBLE REWARDS sign as we walked into a store:
DOUBLE REWARDS!!!
Ryan, with extraordinary powers of observation, noticed something amusing, since he saw the tiny asterisk after DOUBLE REWARDS* and tried to see what was the gotcha: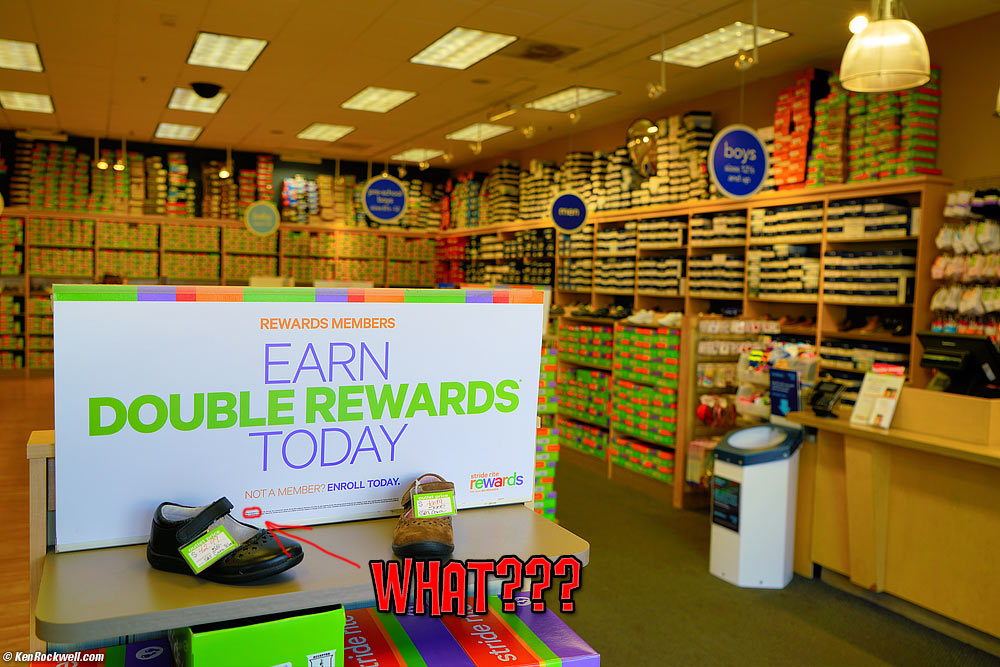 Invisible fine print.
On this sign, in print too small to read, even up close, was this: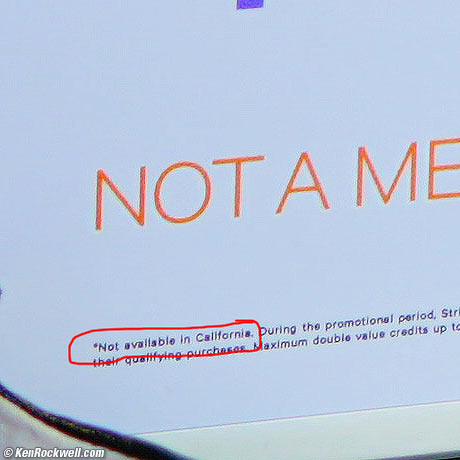 Not available in this state. Camera-original © file.
Ryan asked "Aren't we in California today?" Yip, we were, and that sign was completely misleading: there were NO double rewards available today or any other day!
Scam? Easy to document with one shot. The Sony A7R II and Zeiss 24-70mm f/4 not only has enough resolution to show the whole store, it lets us go in later to enlarge and read this teeny-tiny micro printing — and it's silent when shooting in its silent mode (hidden in gear menu column 5).
Funny thing is that Ryan, Mr. Facts, pointed this out to the manager, the manager simply shrugged her shoulders and was like ""so?"
I avoid retail, but mom had us with her.
New Bags from Think Tank
New: Leather versions of the Retrospective bags. I love my canvas Restropectives.
New: A new size in the Mirrorless Mover series.
New: get a free Camera Support Strap V2.0 when you get a backpack.
12 September 2015, Saturday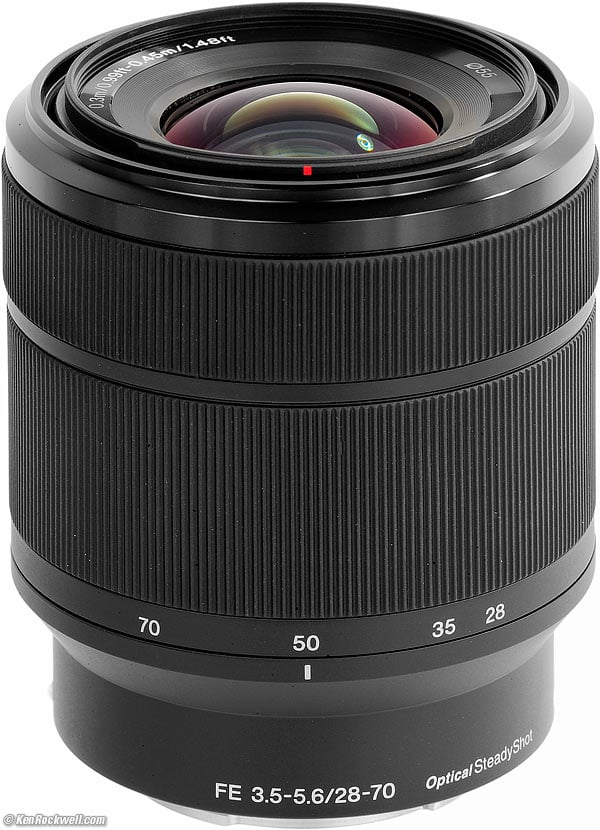 Sony FE 28-70mm OSS.
NEW: Sony FE 28-70mm OSS Review.
A lightweight, inexpensive lens more than good enough for use on Earth.
11 September 2015, Friday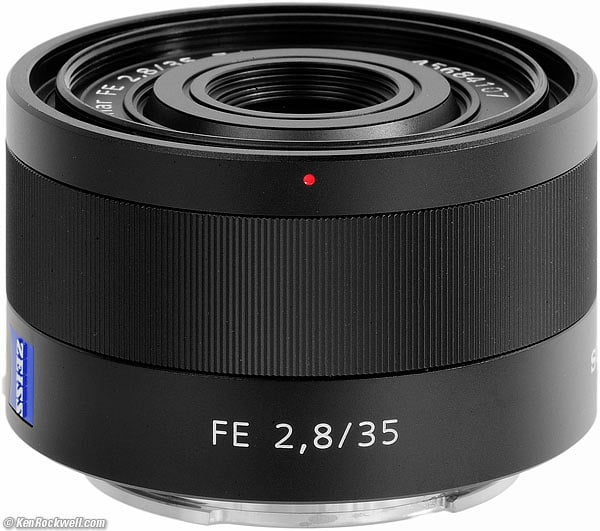 Sony Zeiss 35mm f/2.8 FE.
NEW: Sony Zeiss 35mm f/2.8 FE Review.
More satellite-grade optics for Sony E-Mount (NEX and A7 series etc.).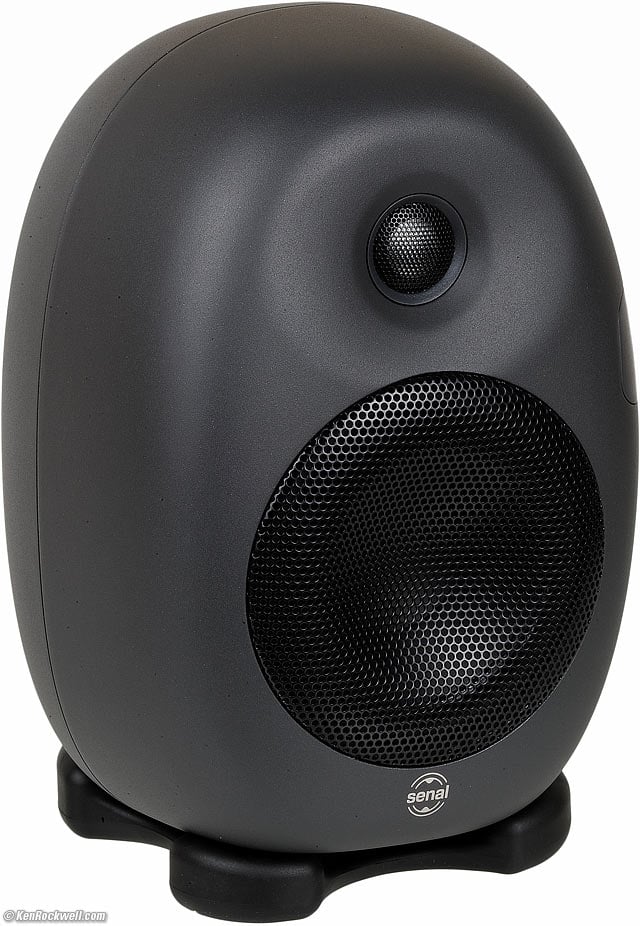 Senal ASM-5.
NEW: Senal ASM-5 Review.
Perfectly good and indestructible pro monitors for a fraction of the price of similar European monitors.
Coming: Sony A7S II.
12MP full-frame.

5 FPS, ISO 409,600.
Can't buy it yet.


NEW: Sony PXW-FS5 (also with lens)

Handheld Super35 camcorder


10 September 2015, Thursday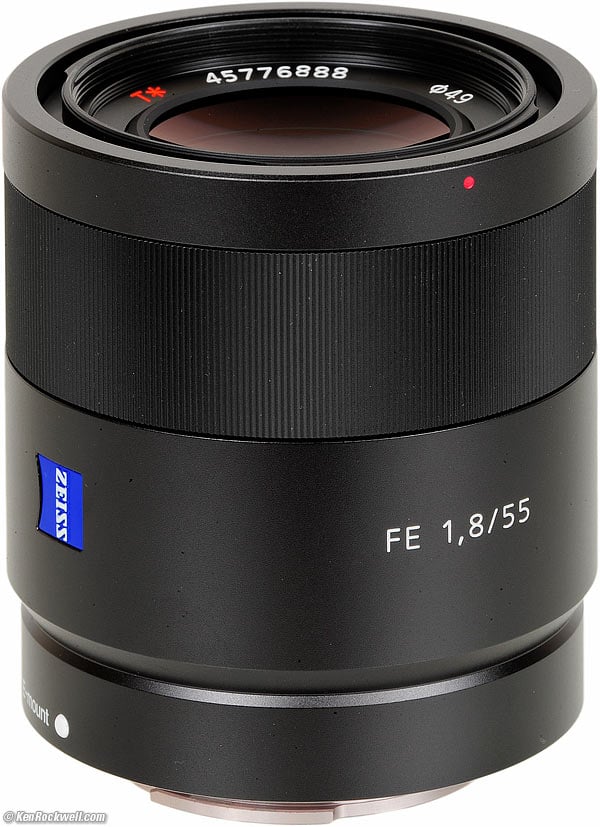 Sony Zeiss 55mm f/1.8 FE.
NEW: Sony Zeiss 55mm f/1.8 FE Review.
Satellite-grade optics for Sony E-Mount (NEX and A7 series etc.).
LEICA News
In case you missed it, check down past yesterday's Apple & Fuji news for three hot items from LEICA.
Zeiss News
Zeiss has several new Milvus lenses out for Canon and Nikon.
Zeiss says "Now ZEISS has developed a new family of products designed to unleash the performance of modern, high resolution DSLR cameras. ZEISS Milvus lenses are the next step in the evolution of tried-and-tested SLR lenses for F and EF mount. From portraits and landscapes to architectural and street photography, ZEISS has the right focal length and the best imaging performance for every situation. With optimum image quality, full focus control, and a cutting-edge design, you can be confident of getting your subject and its creative potential firmly in the foreground, giving unique results every time."
And of course I laugh, as all good lenses made in the past 50 years are more than enough for use with 50 MP sensors. Just look at the files I got shooting JPGs on my D810 with 40 year old Nikon lenses. When Zeiss says "full focus control," those are weasel words for "no autofocus at all."
09 September 2015, Wednesday
The new iPhone 6 S Cameras
New in the iPhone 6 S and iPhone 6 S Plus are a 12 MP camera, and now all still photos are captured as series of 12 MP images 1.5 seconds before and after the moment you pressed the shutter. These will play like video clips if you simply touch them, with sound, as you view what you thought were your still images on your iPhone, iOS and Mac devices.
These are called "Live Photos" and are cleverly encoded so they don't take as much file space as you'd think, especially since the extra frames are all shot and stored at 12 MP.
It's also got faster autofocus, tougher ion exchange glass, twice as fast WiFi and twice as fast touch ID. The front camera goes to 5MP, and the front camera now uses the front display as the flash — and color-corrects it to match ambient light.
The new iPhones shoot in 4k video if you like.
The new iPhone 6 S also add touch-sensitive displays.
They should be available on 25 September 2015.
iOS 9 is available on 16 September 2015.
The new iPad Pro
The new iPad Pro is the biggest iPad ever, with a 12.9" 4:3 display. It weighs 1/2 oz. more than the first iPad. Its vertical dimension is now the same as previous iPad's horizontal dimension, and it can use this extra space to let us run two apps up at once.
You guys who edit on your iPads are going to love it!
It's the highest-resolution iOS display ever, with 5.9MP displayed. It's the first to use a variable display refresh rate to save power.
It has 4 speakers and is 6.9mm thick.
It has a new optional keyboard that attaches via a special connector.
It should be out in November.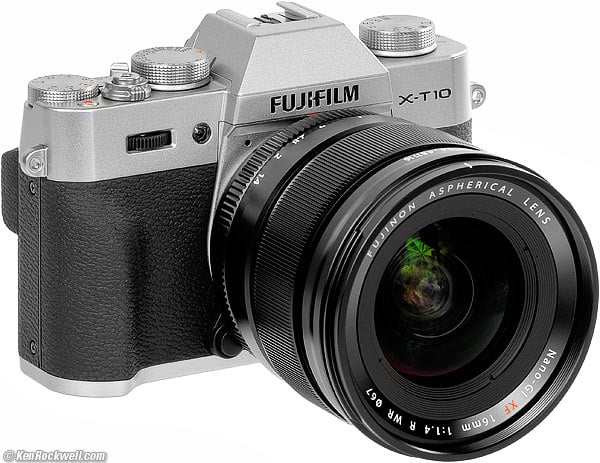 Fujifilm X-T10 and XF 16mm f/1.4.
NEW: Fuji X-T10 Review.
Fuji's best interchangeable-lens camera yet, adding a flash and more to the X-T1.
Deals:
Canon SL1 with 18-55mm IS STM, 75-300mm III, bag, printer & more (also in white): $449 after $350 rebate.
Olympus 1s camera, 10.7x Optical Zoom: $599.00 with Free Expedited Shipping.

Panasonic DMC-FZ200 w/Adorama $100.00 Gift Certificate & 16GB Card: $397.99 with Free Shipping.

Panasonic DMC-TS30 Waterproof (also in red and in blue): $99.00 (Regular $129.99), with Free Shipping.
LEICA user becomes longest-reigning UK monarch
Queen Elizabeth II just became the world's longest-reining UK monarch, having served for over 63 continuous years as queen.
The Queen has been a LEICA user for most of these years. You'll see her with her LEICA M3 und LEICAMETER on her 60th birthday stamp!
6 Years of the LEICA M9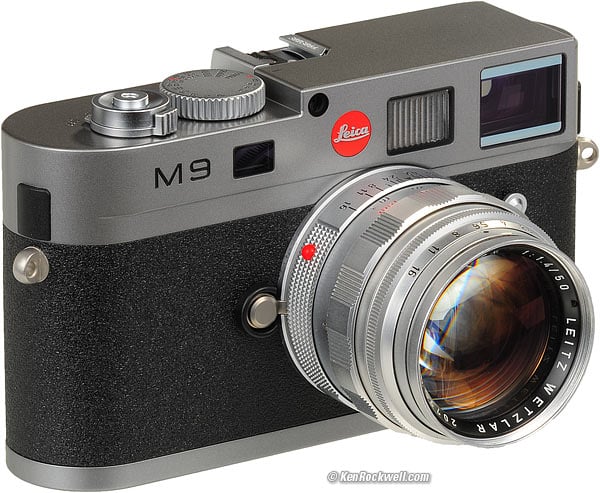 LEICA M9 und LEITZ SUMMILUX 50mm f/1.4.
LEICA, with ingenuity directly in step with the fabric of the universe, knew that today, September 9th 2015, would be the Queen's special day, and knew that back when they introduced the M9 on 9/9/9: September 9th 2009.
Happy anniversary LEICA M9, LEICA's best digital camera. (The M240 is too big and heavy, makes iffy DNGs and has a crummy plastic electronic finder that's made-in-China.)
07 September 2015, Labor Day
Why avoid manual lenses on an A7 when they rock on my D810?
A reader had me stumped for a good minute when they asked me how I could warn that adapting manual lenses for use on mirrorless cameras like the Sony A7R II was silly, while I went on about how great they work on my Nikon D810.
I thought they had me, until I realized that the gotcha is that my Nikon AI-S lenses and DSLRs are all part of the Nikon System, and that they all communicate with each other so the whole thing works great — which adapted lenses do not.
There are huge differences between Nikon manual lenses on my D810 and manual lenses adapted to any mirrorless camera.
With Nikon, everything is 100% integrated as a system. There is both data and operational communication between the manual Nikon lens and the Nikon digital camera. It's done mechanically, and it all works great (LEICA has none of this technology, which is why LEICA digital cameras are also so silly).
The Nikon lens communicates its set aperture to the camera, which the camera uses to calculate the correct exposure, offering color matrix metering and correct aperture data for encoding in the resultant file's EXIF.
The Nikon system shows the set aperture in the finder, so we never need to look at our lens as we shoot.
All Nikon DSLRs operate every Nikon lens' automatic diaphragm, so the lens stops down to our chosen aperture the instant the shutter fires, and opens it again as the shutter closes. This way the finder stays bright, and more importantly, allows precise auto or manual focus at full aperture all the time.
With a manual lens on a mirrorless camera, you get nothing.
The mirrorless camera can't calculate exposure anywhere near as well, and everything slows to a crawl as you are forced to operate the lens' diaphragm manually for each and every shot — and you have to take your concentration away from the picture to stop and look at the lens as you stop it down. It's as slow as a view camera: open to focus, close-down to shoot, repeat. Heaven forbid anything's moving! Even if you have a fancy adapter with a fast stop down lever, you don't get the aperture displayed in the finder or anything else. To stop down a manual lens on a mirrorless, you usually have to turn the ring to the exact aperture while you look at it; there are no "preset" rings anymore.
As I've shown in my A7 vs 5D MK III comparison, adapted lenses work poorly optically; mirrorless sensors are not optimized for random lenses. The gotcha is that each SLR maker tends to put their lens' rear nodal points in about the same place and optimize the microlenses on their sensors for that. Mirrorless sensor makers do the same thing, optimizing their sensors for the rear nodal points of their lenses. Put an SLR or DSLR lens on a mirrorless camera, and Heaven only knows what will happen. Ditto for putting a LEICA lens on a mirrorless camera; you're experimenting. Good luck.
This is why LEICA digitals have such bad high ISO sensitivity. LEICA has to design their sensors to work well with a huge range of rear nodal point positions (that's a good thing for film rangefinders and bad for digital), so LEICA has to deoptimize their microlenses to accept light from a huge range of angles. This makes them far less optimized so they are much less efficient at collecting all the light.
Good luck, but I've already shown a $500 Canon 20/2.8 USM makes better images on a Canon DSLR than the images from a $3,000 LEICA SUPER-ELMAR-M 21mm f/3.4 ASPH on a Sony A7.
If you buy an A7, save yourself money and stick with Sony's ZEISS lenses.
Sony A7R II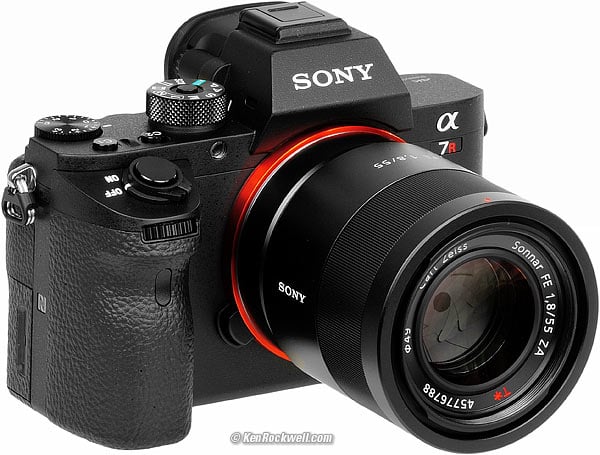 Sony A7R II and Zeiss FE 55mm f/1.8.
Now that I've been shooting my Sony A7R II and Zeiss FE 55mm f/1.8 for 24 hours, I'm really liking it.
While it has slower handling than a DSLR and not my choice for serious work (it only has one card slot for instance), as a fun hobby camera, it's awesome.
Presuming you shoot it with the Sony ZEISS FE lenses, the system works great. The biggest negatives are a very limited selection of lenses (adapted manual focus lenses aren't a good idea if you care about image quality or convenience, but definitely fun for hobbyists), and Sony's user interface is too sloppy to handle well under pressure for news or sports, but hey, use the real E-Mount Zeiss lenses designed to take full advantage of this mount, and it's awesome.
Reviews coming.
05 September 2015, Saturday
NEW: All Fuji Cameras Compared.
04 September 2015, Friday
Next Month's Photo Tours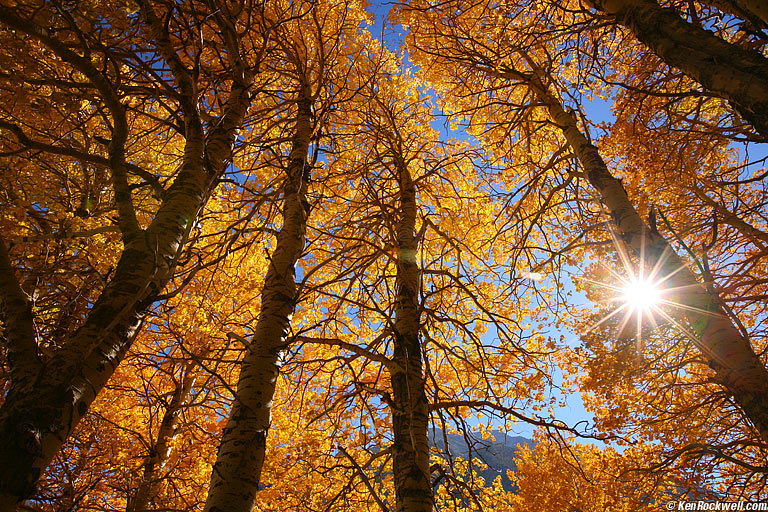 These, along with late winter's Route 66 trip, are my favorite tours of the year:
18~21 October 2015: California's Eastern Sierra.
22~25 October 2015: Autumn Light in Yosemite.
These two tours run one right after the other in the same region, so by all means try to register for both (they usually fill up almost immediately). Especially if you have to travel to the area, register for both and you'll shoot twice as much for only a few extra days away.
See you there!
Some Real Work by Rockwell for a Change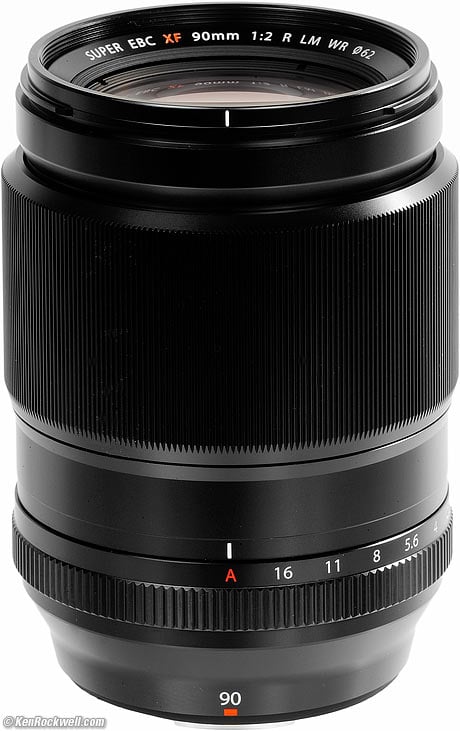 Fujinon 90mm f/2.
NEW: Fujinon 90mm f/2 Review.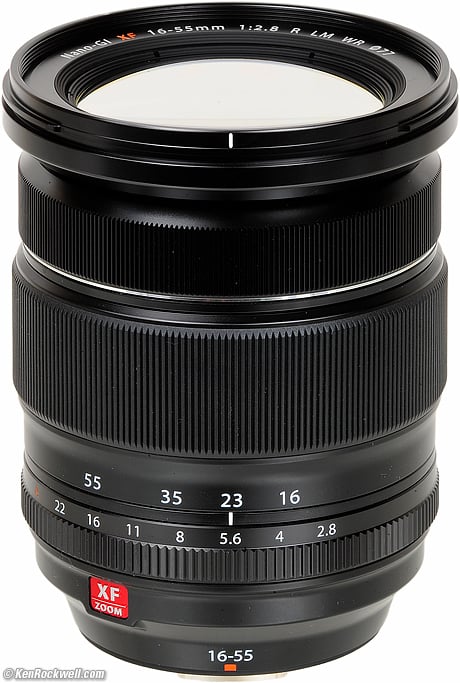 Fujinon 16-55mm f/2.8.
NEW: Fujinon 16-55mm f/2.8 Review.
Rocky's Current Gear
So if I have access to any and every camera ever made, what do I grab when I actually want a picture? Easy:
iPhone 6 Plus: Always in my pocket for anything. World's best camera for its ability to get the best tones and colors for any kind of subject on the first and only shot I may get off, also the world's fastest camera from draw to getting off that first shot. Turns on faster, sets faster and focuses faster than anything — and that first shot is usually perfect.
Fuji X100T: Always by my side day and night for photos of people, family and kids. This is the World's Best Digital Camera, period. Fuji's colors are unbeaten for people pictures, but not as hot for photos of people and places.
Canon 5DS R: Much as we carry a pistol when we're not expecting trouble and a rifle when we are, my 5DS R is what I carry when I'm making a dedicated effort at shooting something. I usually use only my 50/1.2L or 50/1.8 STM for most photos, and carry my 16-35/4 L IS and/or 100-400 L II IS if I need other focal lengths. I'll dump those and carry only my 35/1.4 L if I'm walking around after dark. These are the only Canon lenses anyone needs for anything and everything.
We'll see how great is the new 35/1.4 L II; it's significantly bigger and heaver than the original, so my advice now is to get a classic 35/1.4 new while you still can, since it's going to sell for more used a year from now than it sells for new today. Canon Japan has already pulled it from their website; it's only on the US website for as long as it takes to sell the old stock. I'm gambling the old one — which is the only one actually available for sale today — may be the more useful one for those of us who actually shoot.
Everything else is fluff. As I keep proselytizing, interchangeable-lens mirrorless is an expensive compromise; a real DSLR like the Nikon D3300 (455g) or Rebel SL1 (403g) is the same size and weight, makes better pictures, is faster and costs half as much as interchangeable-lens mirrorless. I use my Nikon D810 and LEICAs for trips down memory lane with my classic lenses. For 35mm, I shoot my 1955 LEICA M3. For medium format it's my 1995 CONTAX 645 or 1997 Mamiya 7 or 1992 Mamiya 6, and for 4x5, it's my 1980 Tachihara or 1956 Linhof Technika IV.
Weekend Report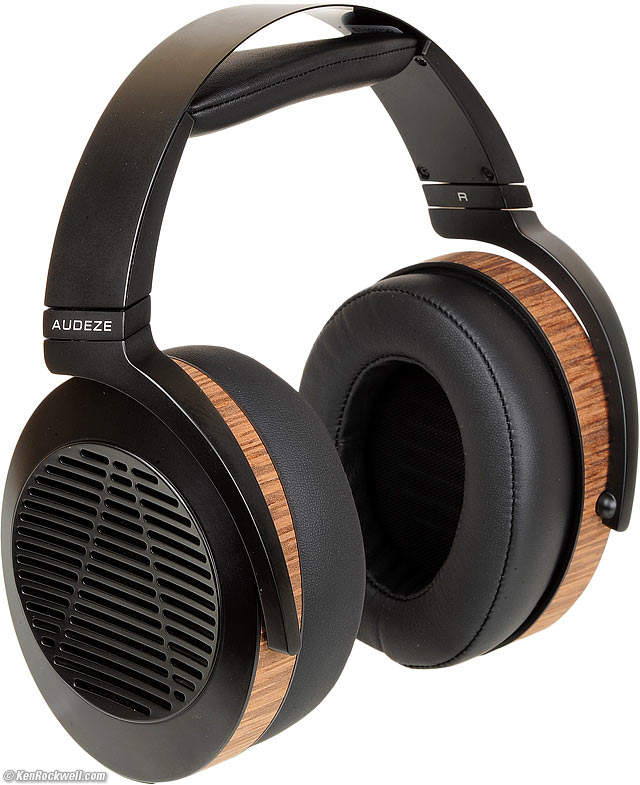 Audeze EL-8.
NEW: Audeze EL-8 Review.
Deal: Audio-Technica ATH-M70X headphones & Focusrite Scarlett 2i2 USB Interface & Samson MTR101 1" Diaphragm Condenser Microphone with Shockmount: $329 (Regular $543)
03 September 2015, Thursday
NEW: Tamron 35/1.8 and 45/1.8 full-frame lenses. Also at Adorama.
DEAL: Canon SL1 for $379.95 with 18-55mm IS STM!(refurbished)
I have to giggle at how people pay more for mirrorless cameras that weigh as much and don't work as well as a Canon SL1.
If you want to carry less, get an ultralight DSLR like the SL1.
Nikon Deals
Nikon D7100 with 18-140mm VR & 55-300mm VR Lens: $1,346.95 after $780.00 Instant Rebate (Reg. $2,126.95).


Nikon D4S with goodies: $5,996.95 after $500 Instant Rebate (Reg. $6m,496.95).


Nikon COOLPIX P610 w/60x Optical Zoom: $396.95 after $100 Instant Rebate (Reg. $496.95).


Nikon 1 AW1 Waterproof w/AW 11-27.5mm: $696.95 after $100 Instant Rebate (Reg. $796.95).


All Nikon Lens & DSLR Deals.


All Nikon Deals.
02 September 2015, Wednesday
Lowest Canon Prices of the Year
Canon 24-70mm f/2.8L II: $1,799.00 after $100 Instant Rebate (I paid $2,300 for mine!)
Canon 70-200mm f/2.8L: $1,249.00 after $100 Instant Rebate (Reg. $1,349.00). Includes case and hood, but this isn't the IS version.
Canon 100mm f/2.8 USM Macro: $549.00 after $50 Instant Rebate (Reg. $549.00).


Canon T5i with 18-55mm IS STM, RØDE Mic & Sandisk 32G SD Card: $699.99 after $200 Instant Rebate (Reg. $899.99).


Canon 5D Mk III: $2,499.00 after $300 Instant Rebate (Reg. $2,799.00) — or 5D Mk III with printer and more for $2,499 after mail-in rebate.


Canon 6D: $1,399.00 after $300 Instant Rebate (Reg. $1,699.00) — or 6D with printer and more for $1,149 after mail-in rebate.
Deal: $150 Rebate on Gitzo Tripods.
Now in Stock: Manfrotto Series 290 tri- and monopods.
01 September 2015, Tuesday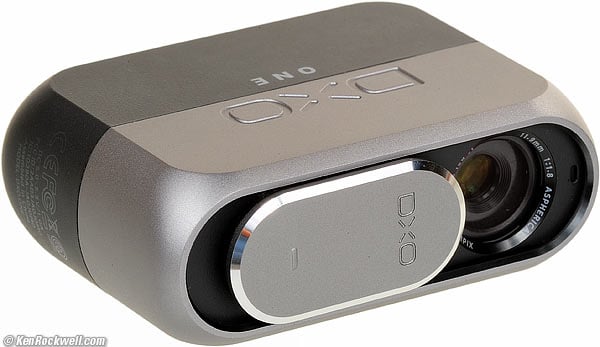 NEW: DxO ONE Review.
New from Panasonic:
Panasonic 14-140mm /f3.5-5.6 OIS
Panasonic Lumix G 25mm f/1.7 ASPH also at Adorama
Panasonic LUMIX G VARIO 45-150mm f/4~5.6
Panasonic 14-42mm f/3.5-5.6 f/DMC-GX8 DUAL IS
Panasonic V-Log L Function Activation Code for Lumix DMC-GH4
What Was New in:
Help me help you
I support my growing family through this website, as crazy as it might seem.
If you find this as helpful as a book you might have had to buy or a workshop you may have had to take, feel free to help me continue helping everyone.
If you've gotten your gear through one of my links or helped otherwise, you're family. It's great people like you who allow me to keep adding to this site full-time. Thanks!
If you haven't helped yet, please do, and consider helping me with a gift of $5.00.
The biggest help is when you use any of these links when you get anything, regardless of the country in which you live. It costs you nothing, and is this site's, and thus my family's, biggest source of support. eBay is always a gamble, but all the other places always have the best prices and service, which is why I've used them since before this website existed. I recommend them all personally.
Thanks for reading!
Ken
Home Donate New Search Gallery How-To Books Links Workshops About Contact