October 2015's News

Nikon: D810 D750 D610 D7200 Lenses Canon: 5DS 5D Mk III 6D 7D II Lenses
Reviews: Fuji LEICA Contax Zeiss Sony Minolta Olympus Pentax
Recommended Cameras Gifts How to Take Better Pictures random
Links: Adorama Amazon B&H Crutchfield eBay Video Tutorials Facebook Twitter
31 October 2015, Saturday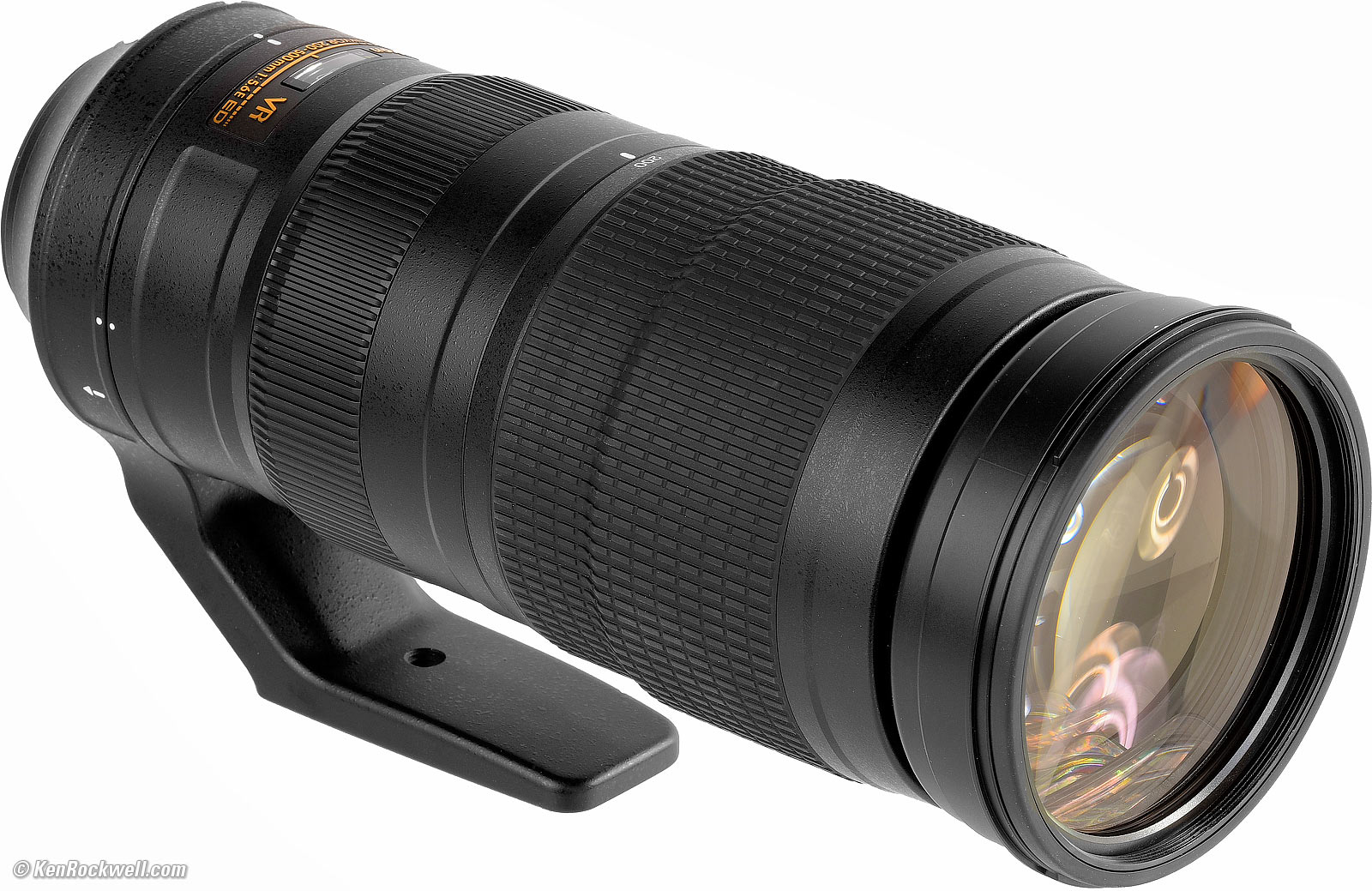 Nikon 200-500mm.
Yes! An awesome lens for a reasonable price. Get yours before the price goes up. Like the 35mm f/1.8 DX, this is a great lens for half of what Nikon usually charges for these sorts of things.
30 October 2015, Friday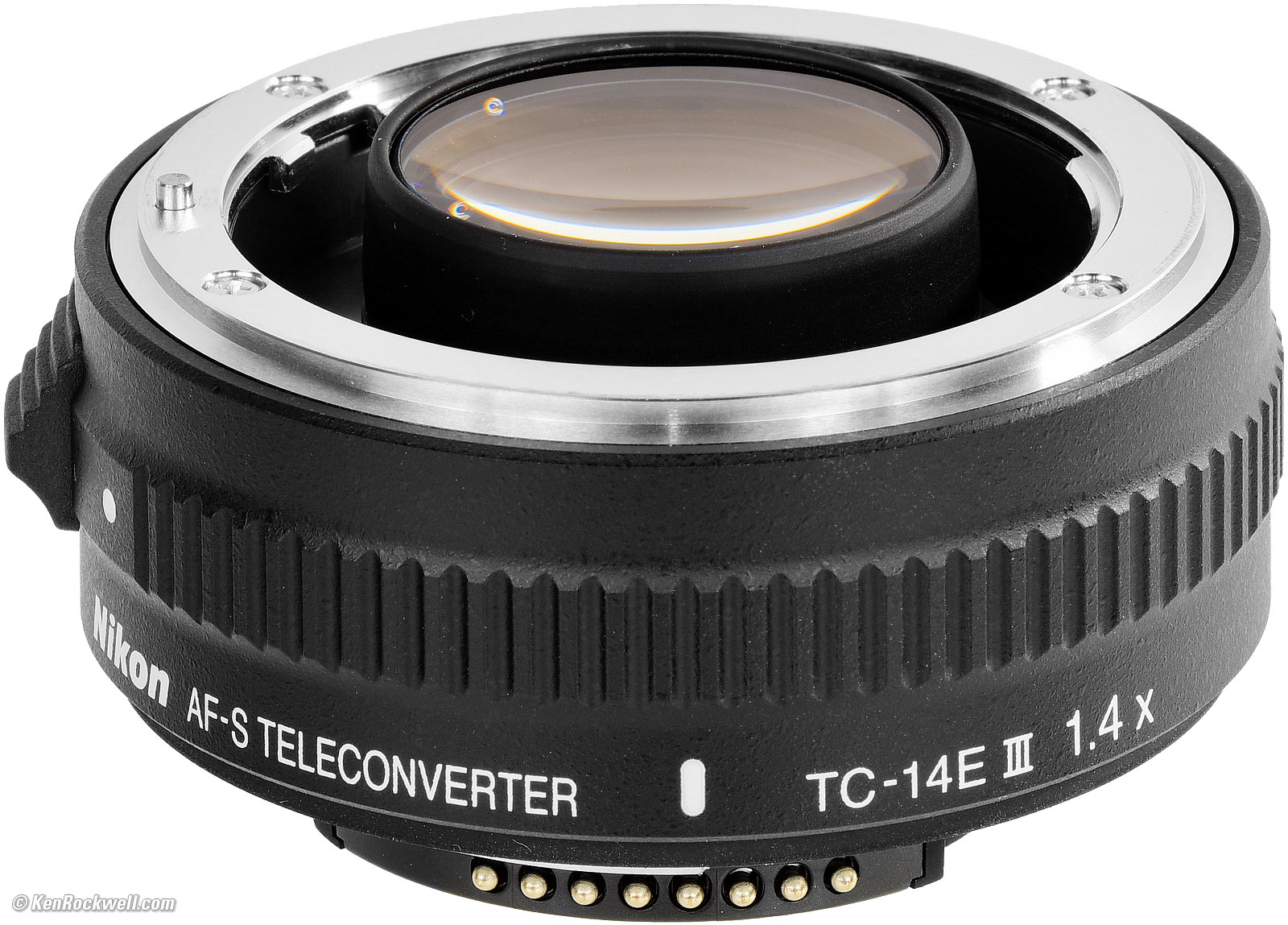 Nikon TC-14E III.
Another collateral review supporting my secret Nikon 200-500mm review effort.
28 October 2015, Wednesday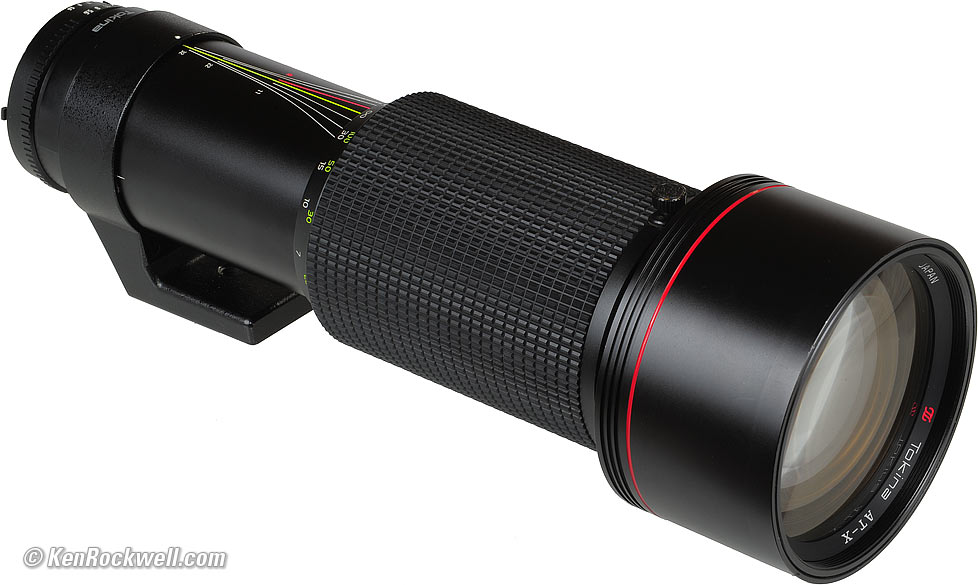 Tokina 150-500mm f/5.6 AT-X SD.
27 October 2015, Tuesday
How do you like me now?
600 pixel this page - 800 pixel 1,000 pixel
I've just returned from a week in the Eastern Sierra and Yosemite. A thousand thanks to all of you fantastic readers who took the time to send me your comments on how my attempt at a bigger page looked: too big! I do this all for you, and want to do it however it looks best for each and every one of you. I LOVE you folks!
While some of you liked what I thought was a reasonable update to a 1,000 pixel-wide page, it turned out that 9 out of 10 of you preferred my previous 1990s-standard 600-pixel wide layout. I suspect that this is because no one wants to read line of text 10" wide; a 6" wide column is about right on a computer, regardless of text size.
Obviously I've resisted the temptation to fill today's wider screens with three columns of crud surrounding the actual content, so when I tried to fill a wider page with 100% content, it was too much.
Just for laughs last night, I drew this 800-pixel version, and so you've preferred it to either other size 20 to one. How about that?
This is an 800-pixel-wide version of this page. I'll be fiddling with it as time goes on; but how do you like me now? Be sure to let me know if you prefer this 800-pixel page or the 600 pixel page or 1,000 pixel version, and on what you're reading it.
Hint 1: I updated my new reviews to High Definition about a month ago, meaning the pictures on these pages will be twice as sharp on Retina displays.
Hint 2: For those who prefer a different size, just press CMD and Plus to enlarge the page on your computer. The images will stay super-sharp due to my high-definition conversion. The new pages for the past month or so now look pretty awesome filling a 27" display, as well as on mobile devices, even if you zoom-in with your thumbs.
Hint 3: On Mac Safari, double tap an Apple Magic Mouse (that's double-tap, not click) and any page will grow to fill the screen. Do it again to bring it back to normal.
Hint 4: On Mac Safari, do a two-finger-tap on the Apple Magic Trackpad and any page will grow to fill the screen. Do it again to bring it back to normal.
Hint 5: When you've zoomed your screen in or out on Mac, CMD+0 will return it to normal size.
23 October 2015, Friday
Canon at Night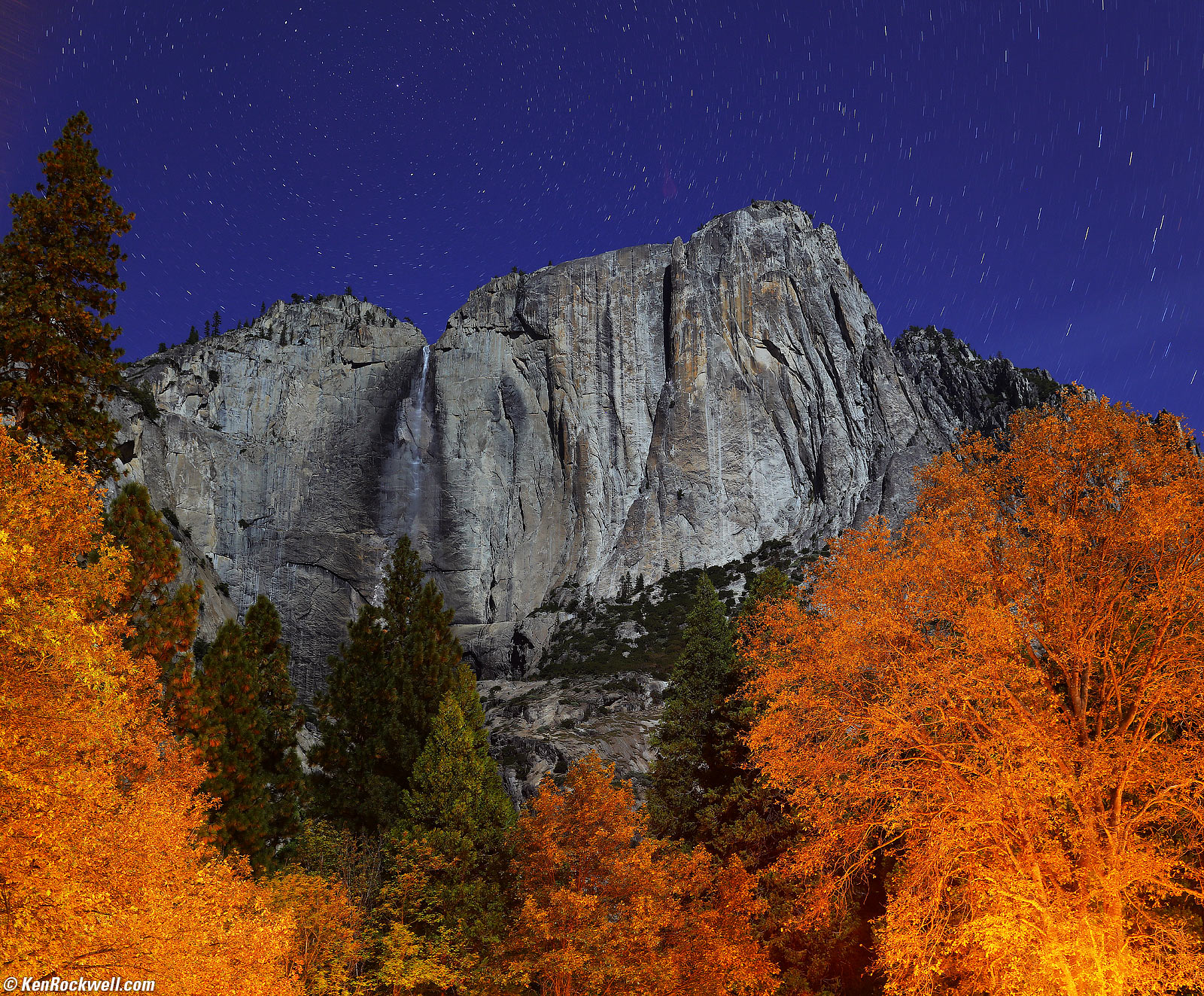 Yosemite Falls at Night. Canon 5DSR, Canon 24-70mm f/2.8 L II at 39mm, f/2.8 at 4 minutes at ISO 100. Full 50 MP Resolution (20 MB download to explore on your computer).
HA! No one saw me with my Dolica ZX600B300 tripod, Novoflex Mini Magic Ball head and Canon RS-80N3 remote cord.
I didn't need the remote cord; with the Canon 5DS' new Bulb Timer feature (hidden in the fourth red camera menu) it's easy to program the camera to run for 4 minutes all by itself and not need a remote release or timer.
I'm really loving my 5DSR. I hadn't realized how tough it is. While the mode dial is plastic, the entire top and entire bottom, front and back are all solid alloy. It's also not black, but a dark titanium/anthracite color.
Even with 8 minute exposures that looked like daylight, there's no need for long exposure (dark-frame subtraction) noise reduction. Any weird shading you see above is flare from passing cars; each exposure was done when it was done with no waiting around for noise reduction.
I'm also digging how sharp is my 24-70 L II; I can shoot wide-open at f/2.8 and ISO 100 and it's super-sharp; no need to stop down and have to wait around a half hour exposure or use higher ISOs for lower quality.
22 October 2015, Thursday
Loving my Canon 5DS R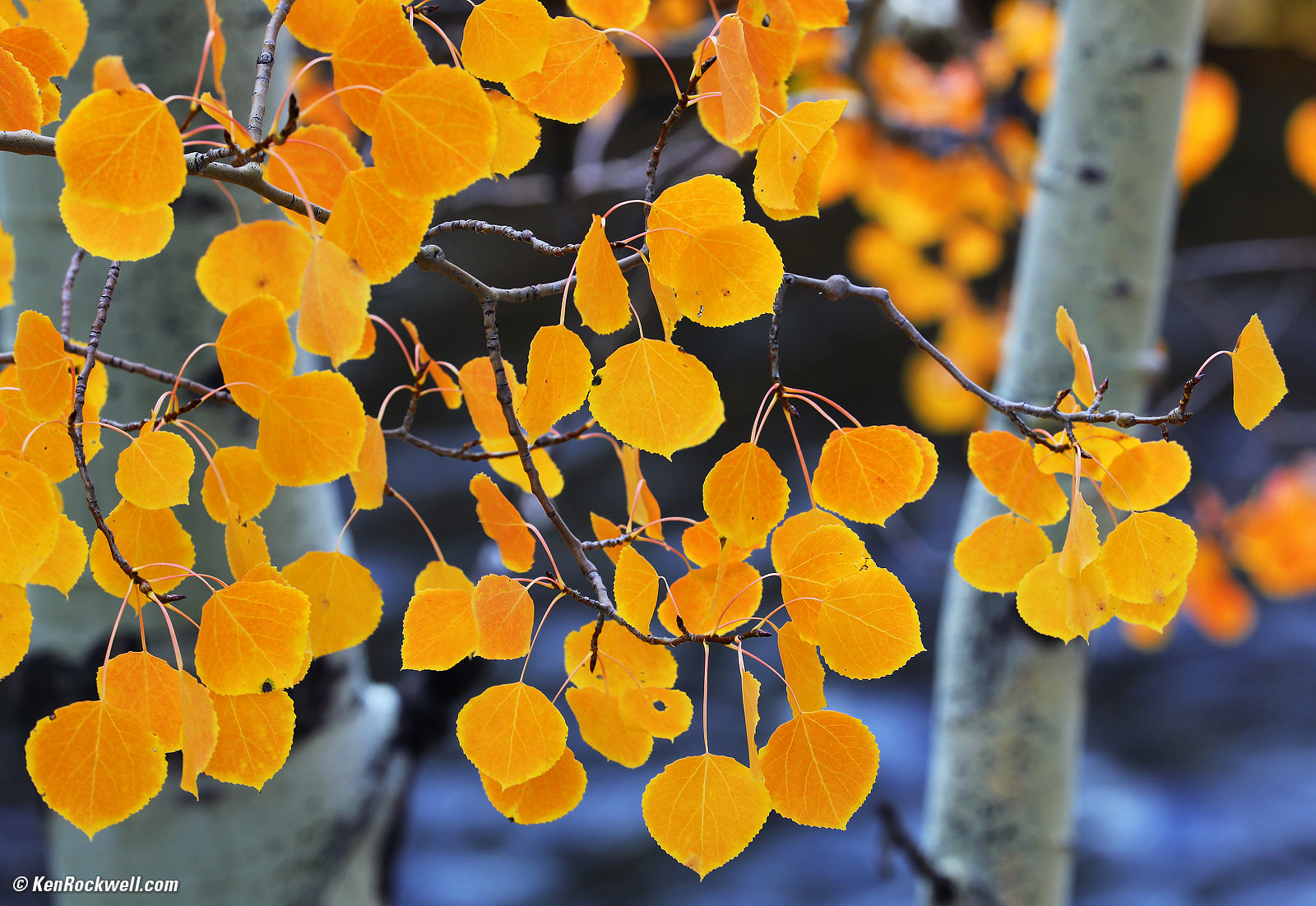 Aspens. Canon 5DSR, Canon 100-400mm IS L II at 400mm, f/10 at 1/30 hand-held at Auto ISO 100.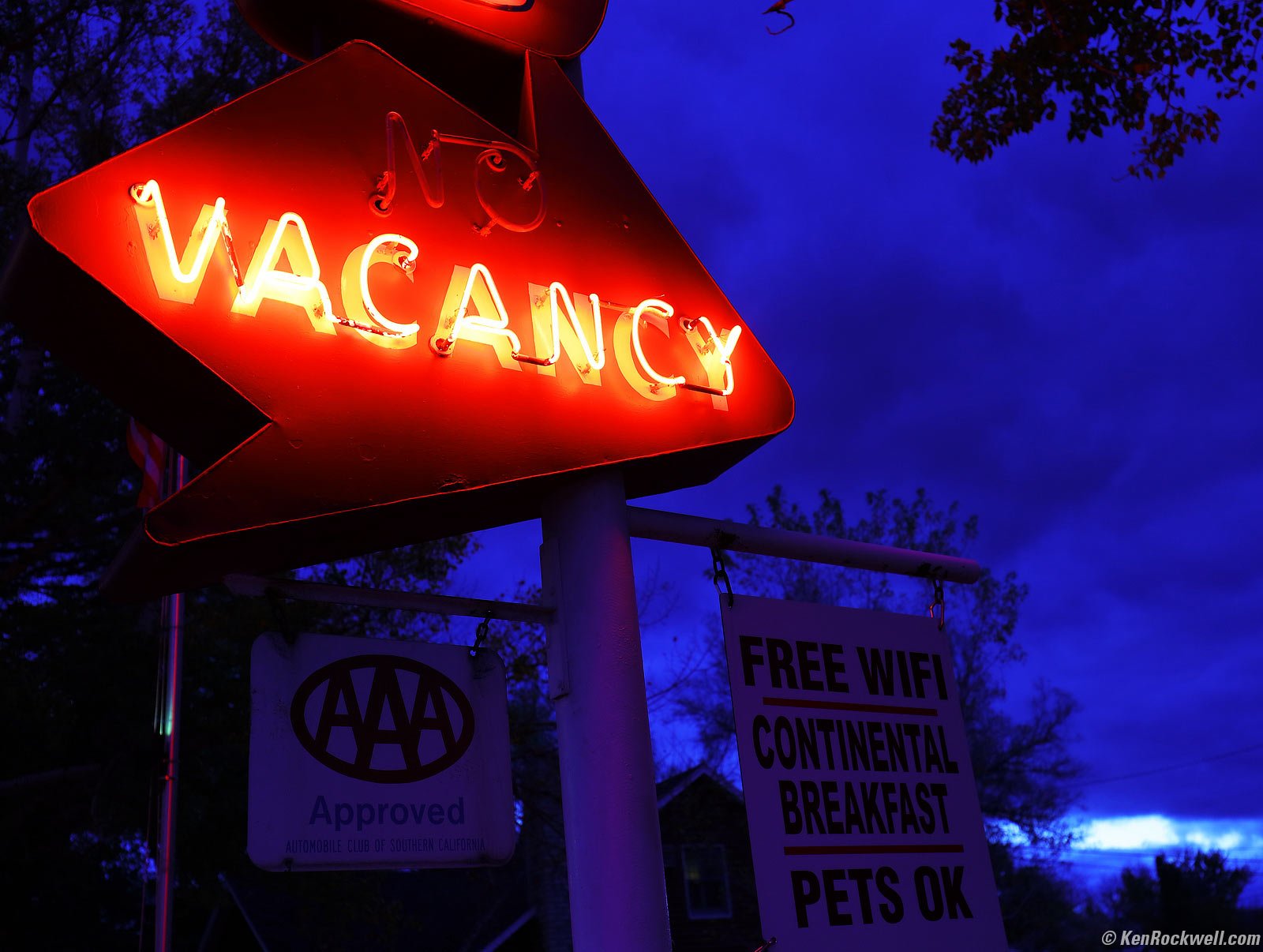 No Vacancy. Canon 5DSR, Canon 16-35mm IS L at 35mm, f/4 at 1/10 hand-held at Auto ISO 200.
21 October 2015, Wednesday
Back to the Future
Today is hoverboard day; the future day to which they traveled in Back to the Future back in 1985.
Neu von LEICA
NEU: LEICA SL: $7,450.
Mirrorless.
24 x 36mm sensor.
24MP.
New lens mount for new lenses, or adapters for screw, M, R and more.
Weighs 850g mit card und battery, so it's the heaviest M kamera ever.
You know you want it, even if a D750 weighs less.
NEU: LEICA 24-90mm f/2.8-4: $4,950.
For the (Leica) SL.
17 October 2015, Saturday
Sony vs. Canon
NEW: How well do Canon Lenses work adapted to Sony Bodies? A7R II vs. 5DSR.
Turns out even with the same lens, the Sony looks awful with ultrawides compared to just shooting on the 5DSR.
Deal: Canon SL1, 18-55mm & 75-300m & more: $449 after $350 mail in rebate.
Includes:
• Canon SL1 with EF-S 18-55mm f/3.5-5.6 IS STM, and EF 75-300mm F/4-5.6 III
• Canon PIXMA PRO-100 Professional Photo Inkjet Printer
• Canon SG-201 Photo Paper Plus Semi-Gloss, 13x19", 50 Sheets
• Corel Digital Organization Creativity Software Kit, Includes PaintShop Pro X7, AfterShot Pro 2, Nuance OmniPage 18, FileCenter Standard 7
• Lexar 32GB Class 10, 200x Platinum II Series Secure Digital High Capacity (SDHC) Memory Card
• Canon 100-ES EOS Shoulder Bag (Black)
16 October 2015, Friday
New from Sigma
NEW: Sigma 20mm f/1.4.
Comes in Nikon, Canon and Sigma mounts.
New from Zeiss
NEW: Zeiss Otus 28mm f/1.4 for Nikon and for Canon.
Gossen Rules!
While I have to carry spare batteries just to shoot a hard day with a mirrorless camera, the battery test on my Gossen Luna-Pro F for the first time read low. It was working OK, but it was time for a new 9V battery.
I took out the old one, a Rayovac industrial 9V, and looked at the date I installed it: it had been running since November 2003. (I always Sharpie the date on batteries or printer ink when I install them.)
Not bad: 12 years of service on the same battery, and this meter doesn't even have an OFF switch. Bravo!
Cards with Cases
Call me picky, but when I buy a new memory card, I expect it to come in a plastic dust case so I can carry it around without getting dust in its lock slide switch or in its pins.
The 32 GB SanDisk CF cards I bought last year just came in an envelope, not even with any packing to keep them from banging around as shipped to me. Turns out they went bad in a week and I had to send them back.
I just bought two 64GB Lexar 800x cards, and thank goodness, they come with free recovery software, and more importantly, inside those little translucent plastic cases so that I can keep them clean in my bag or pocket.
Thank goodness!
I only use these huge cards in the second slots of my 5DS R and D810 as long term backups.
For actual shooting, I use 2GB or 4GB SD cards, and if in the field all day, swap them out every day or two until I get back to my studio to download them.
If gone for a week or more I may bring my 2009 MacBook Pro, but only as a place to back them up until I return.
Card Readers
I also finally killed my old Lexar card reader from 2012. I bent a pin a few months ago, and yesterday one of the SD prongs fell off and won't let the card go all the way in.
It's lasted longer than any; these wear out with daily use. With the precise tolerances and all the card jamming all day, every day, I'm amazed it lasted this long.
Since it's the best, I just bought another one that ought to last another few years. When you beat on these as hard as I do all day, all the others I've had fell apart or stopped working after only a few months.
I hear the new iMacs may have wider-gamut monitors. This is nice, and doesn't require any changes on our part because Mac OS and its color management, a native part of the Mac system for at least the past 20 years, just deals with it.
A larger display gamut is a good thing, but a photo isn't a photograph until its printed. If you're only finishing online, then you're stuck in sRGB anyway since that's the standard.
If you print, the last I tested, my "wide gamut" Epson as well as Fuji Supergloss on a lightjet printer both looked the same trying to print a 100% saturated color ramp from either sRGB or Adobe RGB. There was no difference in color with a wider dataspace. If you have everything properly calibrated (a rarity among people who mess with these things), then it all looks the same. That's the point of color management, which with Mac at least, has all been done by the OS for us for quite some time. The only time there are problems is when people with technical backgrounds think they know everything and start trying to mess with it — and mess it up!
See also Color Management is for Wimps, written years ago and even more relevant today. I haven't bothered to calibrate a monitor in about 7 years. I calibrated my 30" Cinema Displays when I got them last decade, and they don't vary with time. Even as I get new computers, the calibration files and inputs to the monitors are digital so they don't vary, so they still apply as you use different computers. (It will apply with analog monitor outputs from VGA and similar connections.)
I shoot everything in standard sRGB JPG and have no problem licensing my images for thousands of dollars to major clients.
As artists, the only thing that matters is what's in the picture. We do what we have to until it looks as we want it in its final redition, and buyers pay what they do based on what's in the picture; not the media in which it's contained.
Now you can get the essentially 3-D Retina screen in 21.5" as well as 27" sizes — but you know you want the 27." Honestly, I'm looking forward to a 45" Retina Monitor to use on my desk with my Mac Pro, but nothing yet.
I've thought about using a 45" 4k TV on my desk and plugging it into the HDMI port on the Mac Pro as a monitor, but the gotchas are 1.) it's only 30 FPS, so mouse movement might be less fluid, and 2.) brightness won't respond to the keys on my keyboard. I'm constantly having to vary brightness as the day goes on and depending on if I'm working with text (dim) or pictures (bright). Someone needs to make an OS which varies backlights by apps; picture apps need much more backlight to give the same brightness with pictures as for white-background text.
15 October 2015, Thursday
Jim Cline free photo presentation tonight
JIm Cline will be presenting at 7:00 p.m. at Wesley Palms Center, 2404 Loring, San Diego, CA.
14 October 2015, Wednesday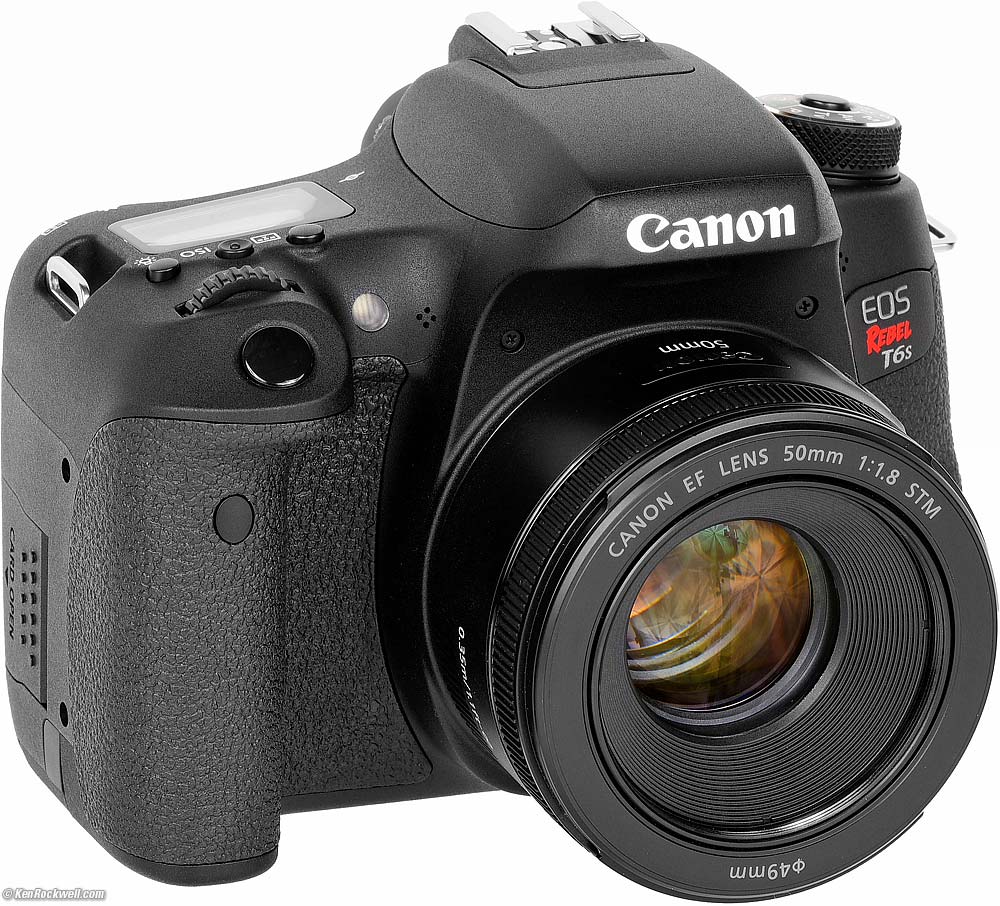 Canon T6s and 50mm f/1.8 STM.
NEW: Sony DSC-RX1R II.
42MP, fixed 35mm f/2 lens.
13 October 1775: US Navy founded
13 October 1999: KenRockwell.com founded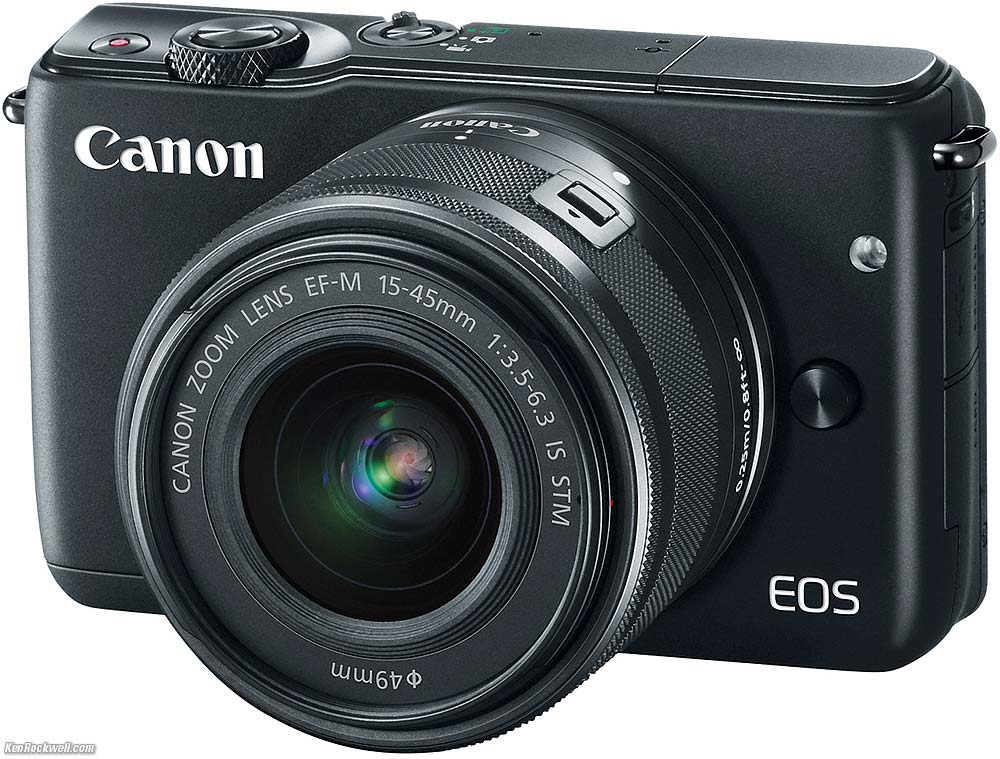 Canon EOS M10 and Canon EF-M 15-45mm.
NEW: Canon EOS M10.
New Powershot from Canon
New: Canon G5X (also at Adorama).
New: Canon G9X (also in silver, and also at Adorama and at Adorama in silver).
Deal: Nikon D3200 for $259.95 (Regular $329.95). refurbished by Nikon U.S.A, with free us shipping.
Deal: Lowepro Passport Sling II Camera Bag: $16.95 (Regular $39.95)
Deal: Lowepro Photo Sport 18L Shoulder Bag: $14.95 (Regular $39.95)
Deal: Tamrac 5502 Explorer 2 Shoulder Bag: $19.95 (Regular $49.95)
Deal: Tamrac #5766 Velocity 6x, Compact Sling Pack: $19.95 (Regular $64.95)
Deal: Brenthaven Collins Vertical Messenger Shoulder Bag: $29.95 (Regular $59.95)
Sensor Fun
Infrared Conversions
I suspect you already know about LifePixel, who probably do more conversion of digital cameras to infrared than anyone.
Camera sensors are very sensitive to infrared, and so they all have filters to block this so our pictures look normal.
LifePixel removes the IR blocking filter, so the camera now is very sensitive to infrared. With Live View or mirrorless, it's easy to see the effects as you shoot. With a DSLR viewfinder, you have a normal view and the results are crazy; it's your choice.
Infrared conversions have been around for ten years or more, and many people love sending their old camera to be converted instead of throwing it away. It's like getting an almost free IR camera.
After doing as many conversions as they do, there's now much more they do for normal photography:
Sensor Replacements & Repair
With all the filters they've removed from the fronts of other people's sensors, they have more than they know what to do with.
If you've scratched your sensor, instead of throwing away the camera of paying for a replacement at the manufacturer, LifePixel is just as skilled at replacing the cover over your sensor that you just damaged! They only charge about $250 ~ $300 for this.
Most people don't realize that the "sensor" is really a complex multi-layer sandwich of many layers. It's the top layer, the outer cover, that boneheads damage, and it's these that LifePixel takes off when they do conversions, and so they have an unlimited supply of them.
But wait, there's even more:
Anti-Alias Filter Removal
You could buy a new model camera or pay more for a version where the maker doesn't bother to include the anti-alias filter for sharper pictures.
LifePixel is also skilled at removing the anti-alias filter from the camera you already own.
This is a much less expensive way to update to the newest sensor technology. They can remove the anti-alias filter and leave the infrared filter alone for normal use.
12 October 1492, Columbus Day
Mac OS 10.11 El Capitan
I usually don't update my computer's operating system except when I get a new machine since the process usually takes more time than it's worth, but the new El Capitan/iOS 9 system font and the ability to have the top menu bar get out of my way automatically had me update both my 5k iMac and Mac Pro over the weekend.
It was the easiest update ever: 20 minutes to download a 6GB file, then about 20 minutes for the machine to chew on it, and bingo!, I was updated.
The important part is that I had no idea if my programs would all run. Internet ramblings suggested that some wouldn't, but those ramblings are always from developers playing on betas, which by definition aren't supposed to work. When it gets fixed, no one takes the time to go back and correct that it now works, so we honestly never know what works until we try it ourselves.
The great news is not only is this update trivially easy, only taking time to download and then write itself into my machines, as soon as it was done, everything worked great.
I was afraid that Photoshop CS6 and Dreamweaver CS5 might not work due to a foretold Java problem, but no problem: I got a warning box, which lead me to the version of Java I needed to install, and all works great.
Specifically, these work great in El Capitan on both my machines:
Photoshop CS6 (and Perfectly Clear V2 plug-in)
Dreamweaver CS5
Apple Aperture 3.6
Canon EOS Utility 3
Canon Digital Photo Professional
(I run no Nikon software; it never runs properly on anything)
iView Media Pro 3.1.3
Phase One Media Pro
Apple Numbers '09 (and it cheerfully opens all my spreadsheets from 2007)
Dirac Audio Processor & Calibration Tool
AudioLeak Leq
iMac 5k
By the way, if you do photography on your computer, you need a 5k iMac. I'm always amused at how hobbyists will worry themselves sick about lenses and resolution, and then seem to forget that even a 30" Apple Cinema Display has barely four megapixels, and projectors have much less than that. The Cinema Displays aren't available anymore; the current 27" Thunderbolt display has less than 3.7 megapixels — less than a digital camera from over ten years ago. No matter how many megapixels you have, pixel dumping means most of the pixels have to be thrown away since you're limited to the screen's resolution.
Unless you have a 5k iMac, every other display has only a few megapixels at best. Laptops usually have about one megapixel. With 15 megapixels, the iMac 5k is the only computer legally sold to the general public with anywhere near the resolution we need for modern photography.
The reason you need a 5k iMac is because the images look sooooo much better than on any other computer. The 5k iMac make your images, as we used to say about the sharpest Nikon lenses back in the days of film, look three-dimensional by comparison. When you look closely at your screen, instead of seeing the screen's pixels, all you see is your image. It's fantastic; I'm surprised everyone doesn't have these yet.
I have a hot-rod iMac with lots of RAM and processor and SSD; and it runs through my photography cranking as quickly as my hot-rod 8-core, 32 GB RAM Mac Pro.
Why you'll probably never see most of your pixels.
10 October 2015, Saturday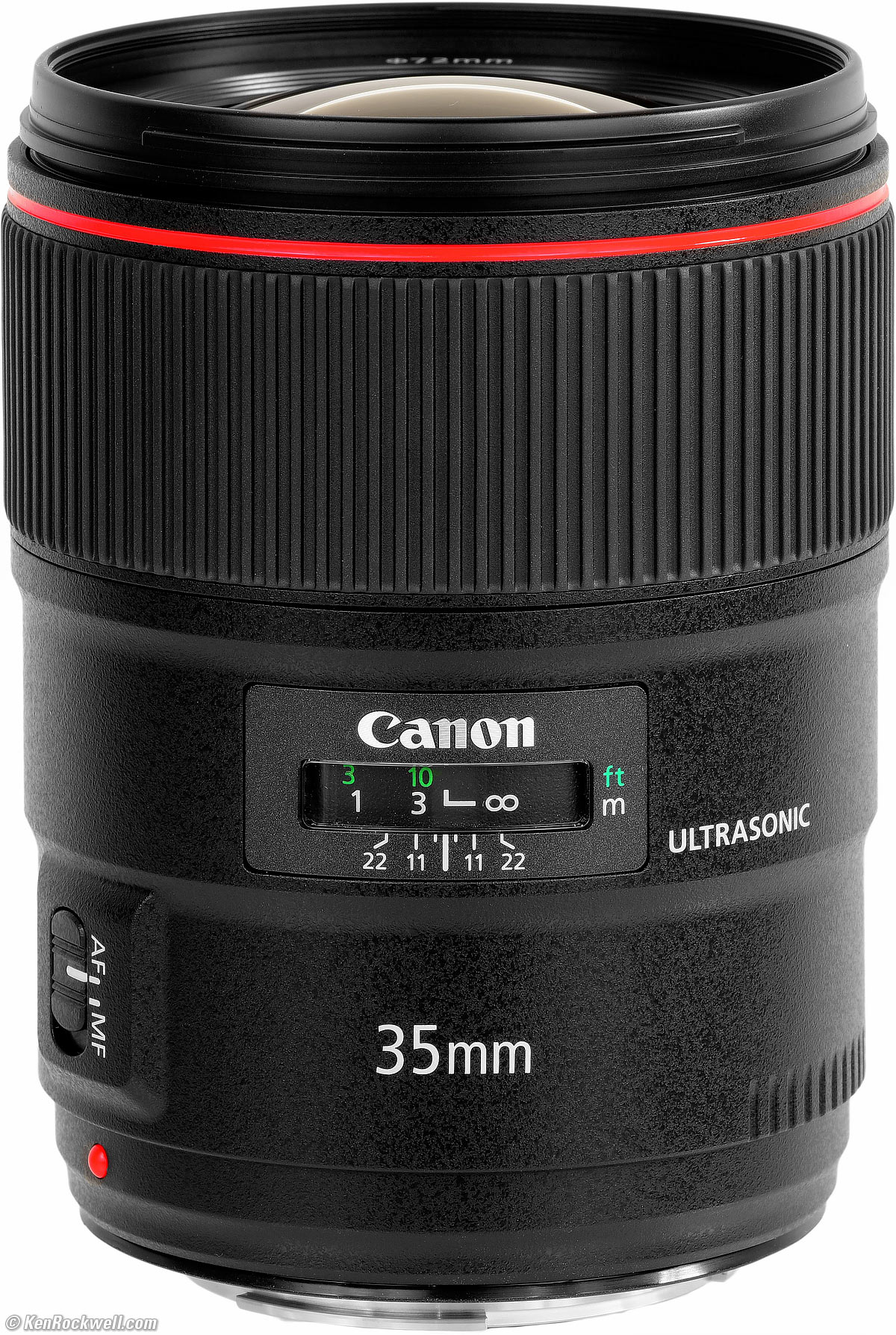 Canon 35/1.4 L II USM.
World's sharpest 35mm f/1.4 SLR lens.
Deal: Canon T6i DSLR w/ 18-135mm STM & more! $799 after rebate, with Free Shipping
Bundle includes:
• Canon EOS Rebel T6i DSLR Camera with EF-S 18-135mm f/3.5-5.6 IS STM Lens
• Canon PIXMA PRO-100 Professional Photo Inkjet Printer
• Canon SG-201 Photo Paper Plus Semi-Gloss, 13x19", 50 Sheets
• Lowepro Nova Sport 17L AW Shoulder Bag for DSLR with Attached Lens, Slate Gray
09 October 2015, Friday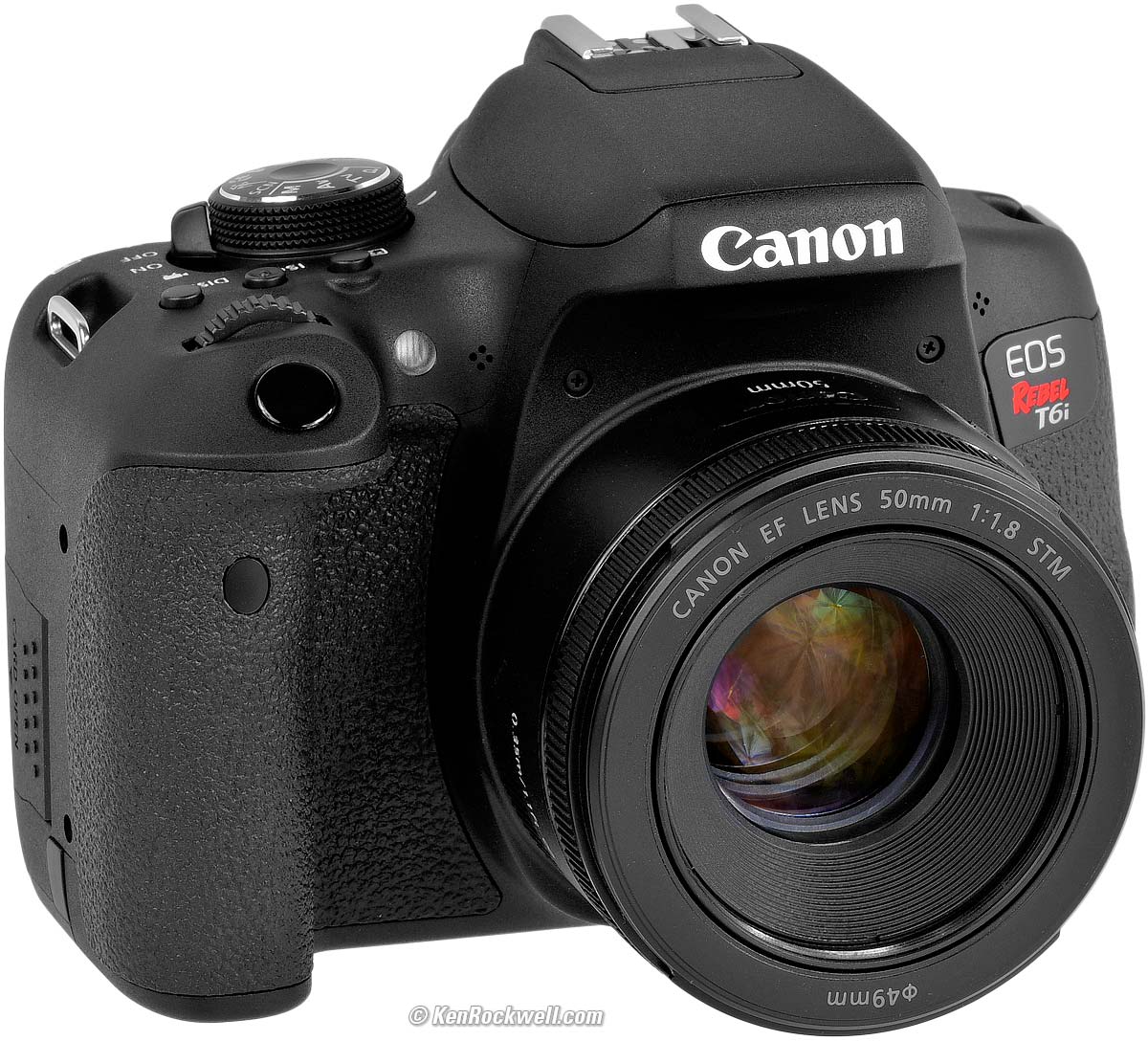 Canon T6i and 50mm f/1.8 STM.
07 October 2015, Wednesday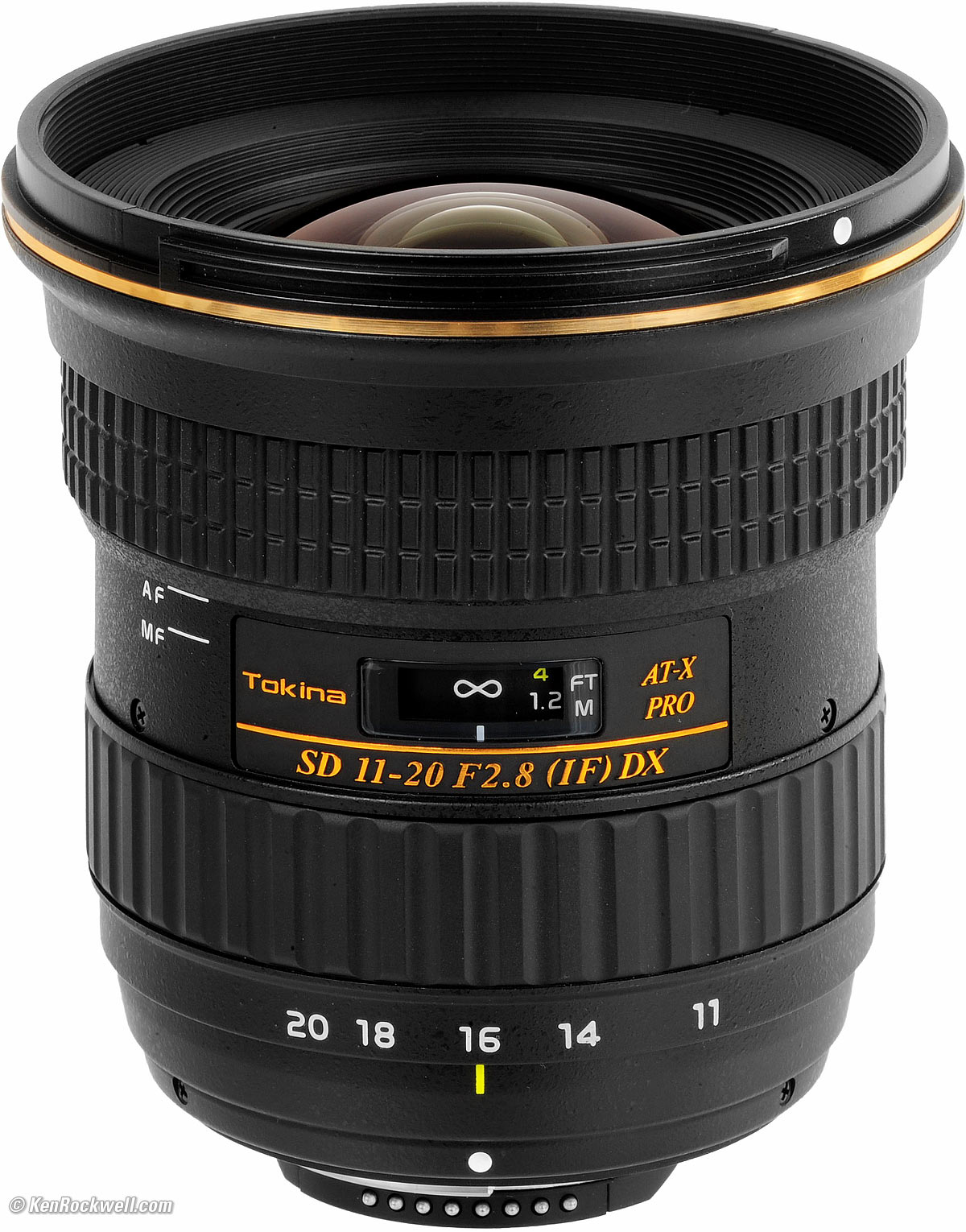 Tokina 11-20mm f/2.8.
Faster and tougher than anything similar from Nikon or Canon!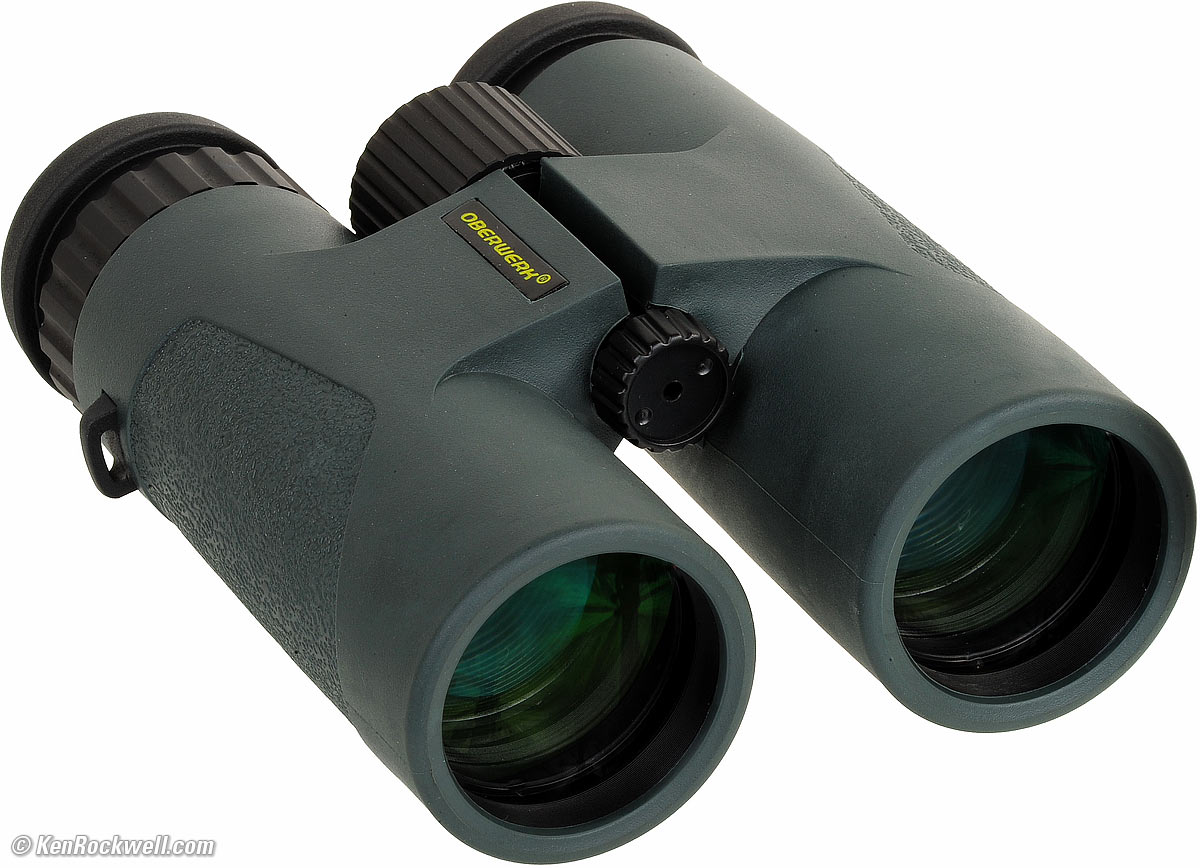 Oberwerk 8x42 ED.
All with free shipping:
Deals: Nikon Instant Rebates.
Deal: Nikon D750 (Body Only): $1,896.95 (regular $2,296.95) + 2% in Adorama rewards.

Better deal: Nikon D750 + free stuff (Body + stuff): $1,896.95 with free shipping (Regular $2,296.95)+ 2% in Adorama rewards.
Deal: Nikon D810 (Body Only): $2,796.95 (Regular $3,296.95)
+ 2% in Adorama rewards.

Better deal: Nikon D810 + goodies (includes Tripod, Remote Shutter Release & More): $2,796.95 (Regular $3,296.95) + 2% in Adorama rewards.
Better deal: Nikon D810 + Wacom PTH451 Pen and Tablet ($249 value!): $2,796.95 w/ Free Shipping (Regular $3,296.95).
Deal: Nikon 55-200mm f/4-5.6G ED AF-S DX: $69.95 (Regular $99.95). Refurbished by Nikon U.S.A
Deal: Nikon 55-300mm f/4.5-5.6G ED AF-S DX VR: $199.95 (Regular $229) - Refurbished by Nikon U.S.A.
Deal: Nikon WU-1a Wireless Mobile Adapter $24.95 (Regular $29.95). Refurbished by U.S.A.
Deal: Toshiba Class 10 16GB FlashAir II Wireless SD Card: $19.95 (Regular $29.95).
06 October 2015, Tuesday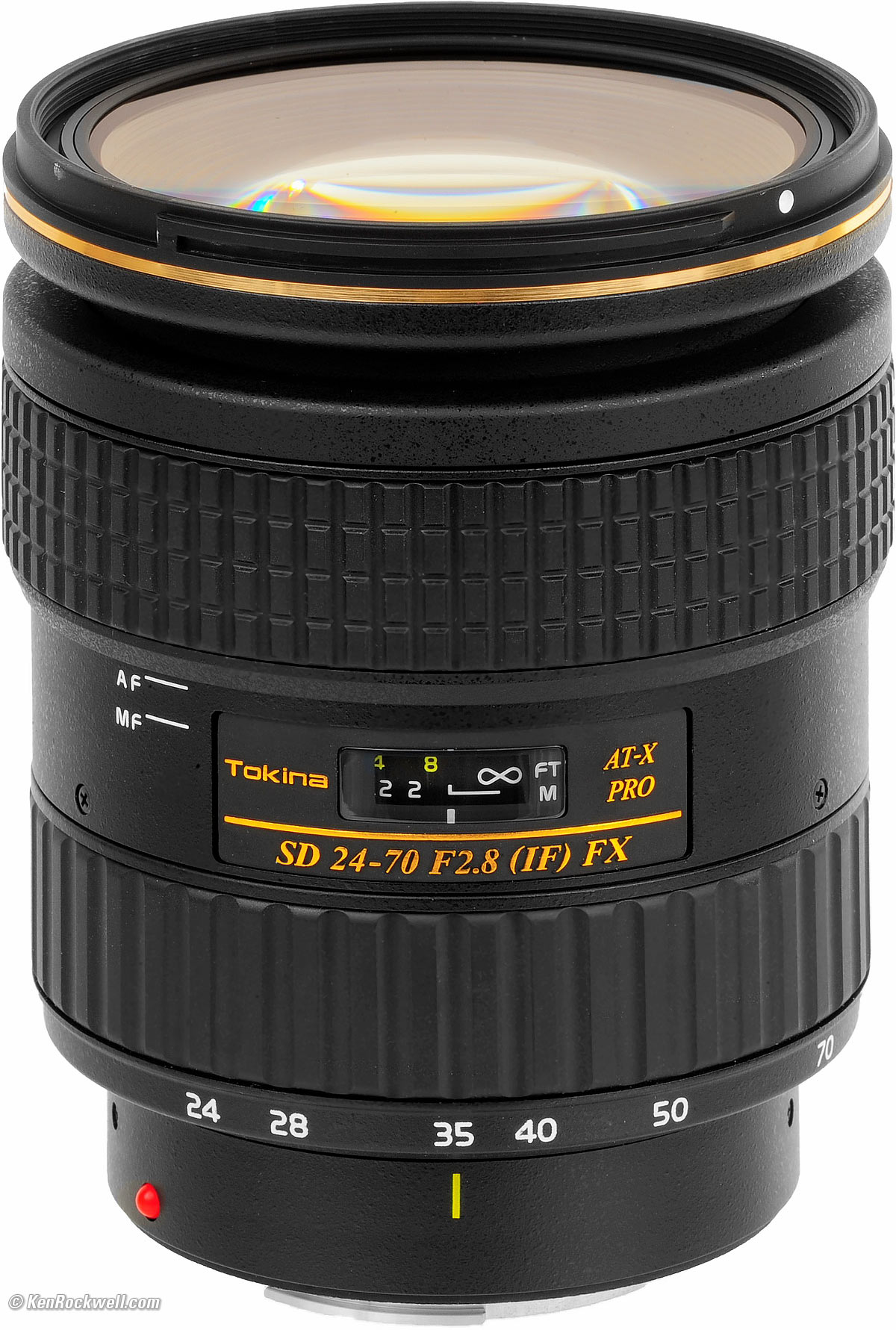 Tokina AT-X 24-70mm f/2.8 PRO FX.
Optically as good as Nikon and Canon's top pro zooms, built tougher, and sells for $800 less!
05 October 2015, Monday
I added the camera-original files for you to investigate on your desktop computers.
Classic Canon lenses on 5DSR: Yes!
Ryan on his way to school. Canon 5DSR, Canon EF 300mm f/2.8 L, f/2.8 at 1/160 at Auto ISO 250, Auto White Balance, Standard Picture Style, +1 Saturation, -2 Contrast, Perfectly Clear V2. full resolution © file.
I have a portrait shoot tomorrow, and snapped the kids on their way to school to check out how well my EF 300mm f/2.8 L worked on my 5DSR. Works great!
As I keep saying, when you get a quality lens, it produces for you for decades. My 300/2.8L was introduced almost 30 years ago with the birth of the EOS system 1987.
Here's a crop from a 100% image: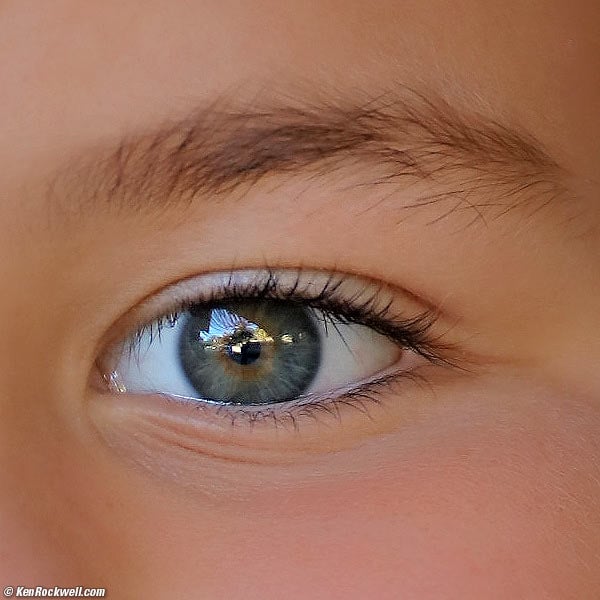 Ryan's Eye, cropped from above. bigger or full resolution © file.
Not bad, especially when you realize that this is with my 5DSR sent to SMALL 1 resolution, or "only" 12 Megapixels. I shoot my portraits between 6 and 12 MP simply because 6 MP is more than enough for anything, and I can make more pictures faster.
That's the thing about anyone who actually shoots: I have more people asking me for more images than I have the time to crank out. Anything I can do to help me crank out more good images faster helps everyone. I love pictures, but hate cameras. The camera's job is to get out of my way, and nothing more.
What Was New in:
Help me help you
I support my growing family through this website, as crazy as it might seem.
If you find this as helpful as a book you might have had to buy or a workshop you may have had to take, feel free to help me continue helping everyone.
If you've gotten your gear through one of my links or helped otherwise, you're family. It's great people like you who allow me to keep adding to this site full-time. Thanks!
If you haven't helped yet, please do, and consider helping me with a gift of $5.00.
The biggest help is when you use any of these links when you get anything, regardless of the country in which you live. It costs you nothing, and is this site's, and thus my family's, biggest source of support. eBay is always a gamble, but all the other places always have the best prices and service, which is why I've used them since before this website existed. I recommend them all personally.
Thanks for reading!
Ken