January 2016's News

Nikon: D5 D810 D500 D750 D610 D7200 Lenses Canon: 1DX2 5DS/R 5D Mk III 6D 7D II Lenses
Reviews: Fuji LEICA Contax Zeiss Sony Minolta Olympus Pentax
Recommended Cameras Best Cameras  Gifts How to Take Better Pictures random
Links: Adorama Amazon B&H Crutchfield eBay Video Tutorials Facebook Twitter
Adorama's Daily Deals Amazon's Deals-of-the-Day B&H Deal of the Day   Crutchfield's Sales
Phil Steele New Year's sale: 53% off Event Photography, 25% off Lightroom Made Easy, 15% off Photoshop Basics and 15% off Pro Portraits with Off-Camera Flash.
29 January 2016, Friday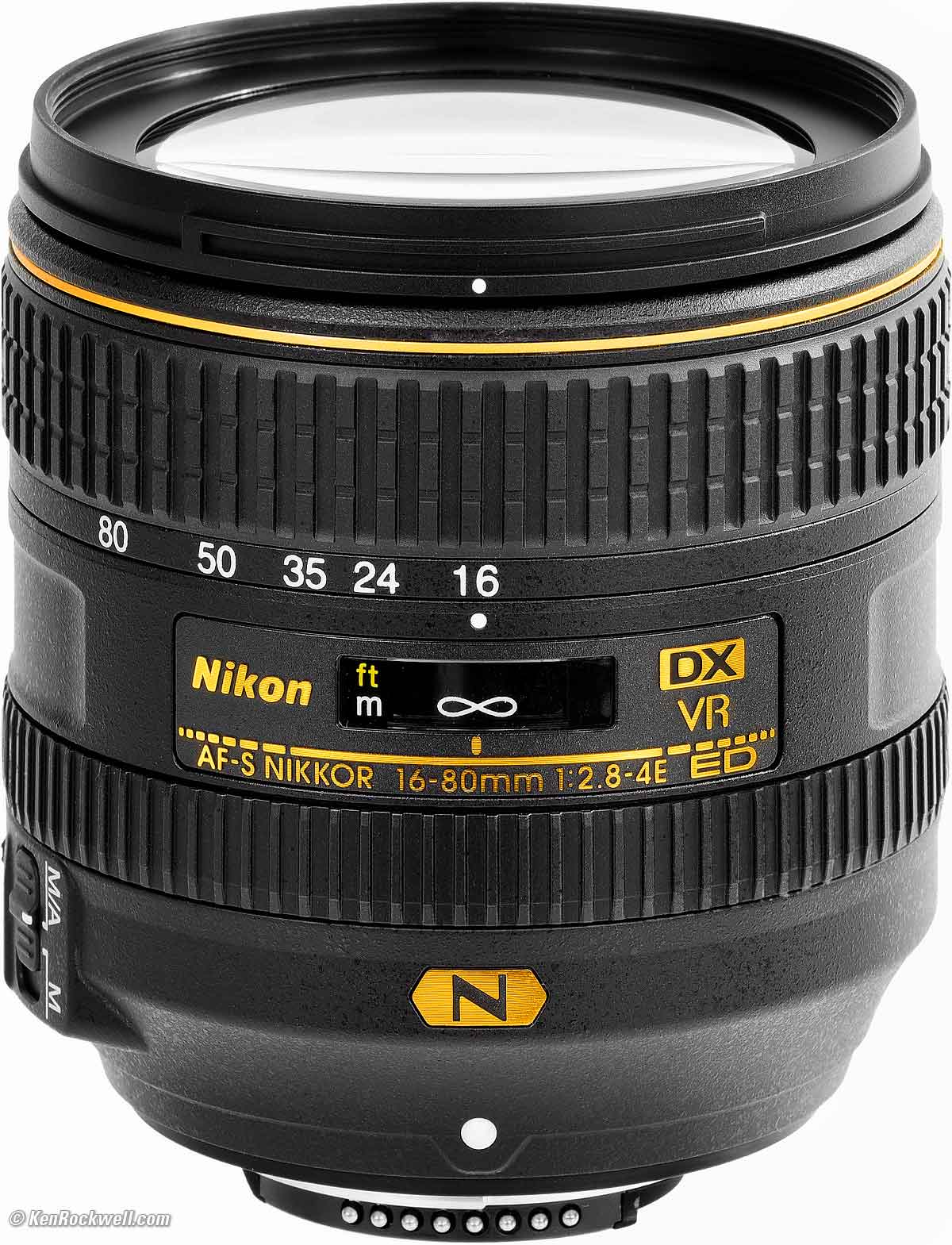 Nikon 16-80mm f/2.8-4 DX VR.
It has the best VR I've ever tested, as well as being a stop faster than similar lenses.
Monitor Calibrator Deal
B&H has two versions of a Spyder system on its Deal of the Day today.
28 January 2016, Thursday
D500 or D750?
Since the prices are similar, people ask which is better.
Easy!
The D500 is for sports, birds and action.
D750 is for broad landscapes and things that don't move that fast.
The D500 is all about its frame rate and catching things in motion — nothing more. Of course for birds, sports and action, that's very important.
The D750 is for things not moving as fast.
There is little to no picture quality difference. The biggest difference between FX and DX is that DX has deeper depth of field, and FX has less depth of field.
Australia Day Sale - Free Shipping Down Under!
Ending today: B&H is offering free shipping to Australia, so no more whining about shipping charges from our Aussie pals. Viva Paul Hogan!
Sales for everyone
Lowepro Pro Runner BP 450 AW II Backpack: $149.95 (Regular 249.95), with free shipping.
Nikon D5300: $399.99 (regular $499, refurbished), with free shipping.
Nikon D5200 w/ 18-55mm VR & Lexar 64GB Class 10 SDXC Card: $379.95, (regular $449, refurbished).
27 January 2016, Wednesday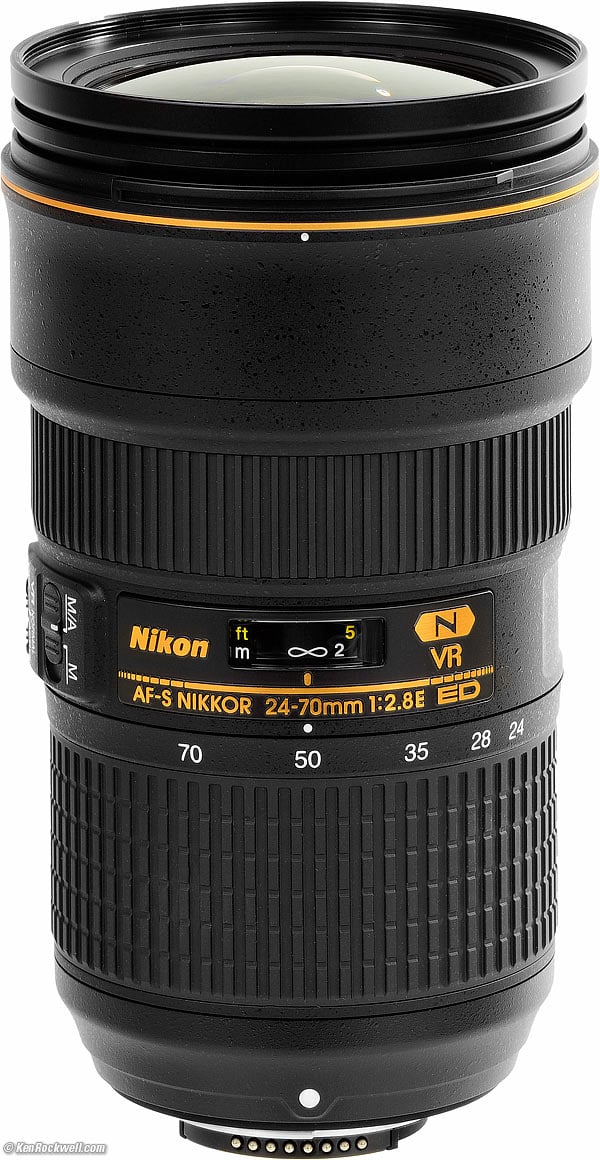 Nikon 24-70mm f/2.8 VR.
Nikon's sharpest midrange zoom of all time — and also their most distorted. That's OK, as FX DSLRs usually can fix the distortion automatically.
Nikon, Canon, Tokina, Sony, you name it, they're all here.
What really stands out is how competitive is the Tokina 24-70mm f/2.8, and it costs a fraction of any of the other lenses.
Sixth Anniversary: Introduction of the iPad, 2010
Yip, it's only been six years of the iPad. Actually less; they were impossible to get for quite a while. Most people, myself included, got them as Christmas gifts in December 2010, so it's really only been 5 years of iPad. How fast things change; the iPhone was only introduced in 2007— less than 9 years ago.
E-M10
E-M10 Mk II with 14-42mm lens: $899.00 (also at B&H). Order today to get it at the end of February.
Pen F
Pen-F (also in silver, also at B&H and also in silver at B&H) $1,199.99. Order today to get it in March.
Obviously the Pen F is like a computer printer; they'd give it away if you'd take it because they make their profit on the accessories. Look at these; reminds me of LEICA:
CBG-11 PR premium leather bag for Pen F: $489.99.
CS-48 PR premium leather wrapping cloth for Pen F: $149.95. Wrapping cloth? What's that? It's a $150 Domke wrap.

ECG-4 metal grip for Pen F: $129.99, also at B&H.
CSS-S120L PR premium leather strap for Pen F: $119.99.
CS-47B leather partial case for Pen F: $52.95, a bargain.

Pocket Monocular

6X16 monocular i: $89.95. (also at B&H)
This is a nifty pocket monocular: it's multicoated with a phase coated prism. It's waterproof to 1 meter and nitrogen gas filled.
26 January 2016, Australia Day
Fast or Quiet?
People ask how to get a quiet camera.
In Nikon, the D810 is its quiet mode is significantly quieter than the D800, D750, D610 or D600.
In Canon, the 5DS/R and 5D Mk III are very quiet in their quiet modes.
Crop-sensor cameras are also usually quiet. See each's review, and the least expensive little plastic cameras are usually very quiet and refined.
What are so loud I can hear their shutter sounds bouncing off neighboring buildings are the pro cameras like the D3, D4 and D5. The faster they are, the noisier they are.
To make this perfectly clear, a D4 set to its quiet mode is much louder than a D810 in its regular mode — and the D810 gets even quieter in its quiet mode.
Bag Sale - Today, Tuesday, Only
B&H has the Lowepro Whistler BP 450 AW on sale for half price.
Less than two weeks: California's Route 66 Tour!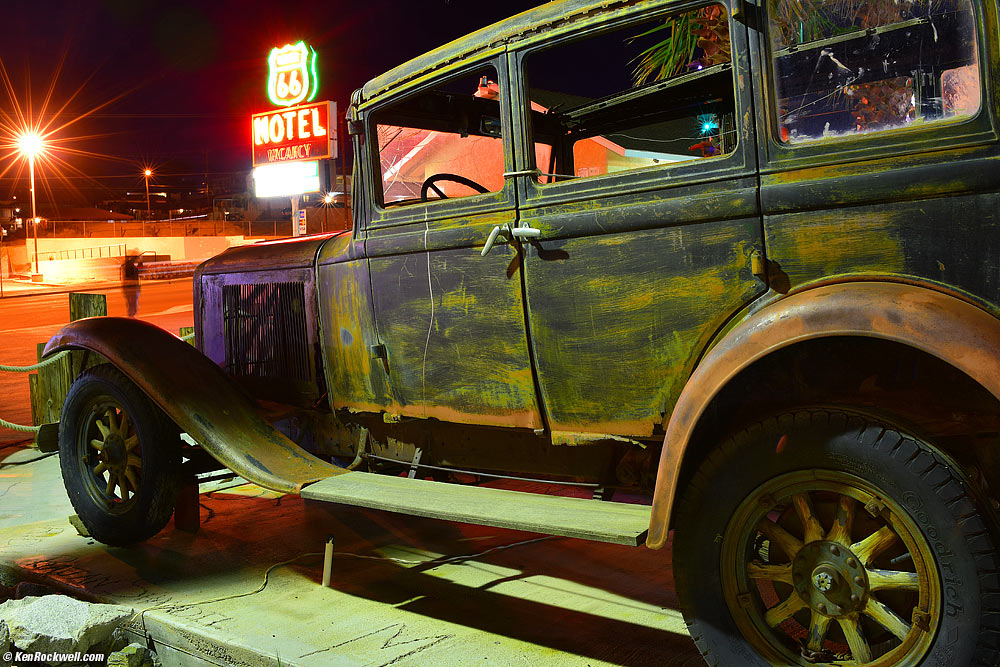 Photo from last year's trip. More photos from that trip.
Celebrating the tenth anniversary of our annual trip, we'll be exploring California's Route 66 starting Friday afternoon, February 5th and shooting continuously through Sunday morning, February 7th 2016.
It's primarily a tour of great locations with just one short presentation, and plenty of time for questions and hands-on help in the field.
You'll get all the one-on-one time you want for questions and individual instruction, as well as be in the field making great photos all weekend.
Here's more about the trip and how to sign up. Call or eMail Dave Wyman at (323) 377-7565 in Los Angeles. Dave usually is out shooting, so he's rarely sitting by his phone or computer.
See you there!
Camera Supports
Adorama's Orbit camera supports.
21 January 2016, Thursday
Kodak versus Fuji
I just was shooting some new TMX 100 in 120 size I got from B&H, and after shooting so much Velvia in 120 size, it is sad how primitive Kodak's film packaging is compared to Fuji's.
Packaging
I use five-roll pro-packs of 120-size TMX 100.
These 5-roll boxes have NO film box end tabs to put in my Hasselblad magazine's film reminders. None.
I had to flip over one of my Fuji box ends and write "TMX 100" with a sharpie.
Fuji's multipacks have perforated tabs on the box we can tear out and use. I tried one small inside flap from the Kodak box, but it is way too small and falls out of film box-end holders.
Printing
While Fuji's printing on the film back looks like it comes from a civilized country, Kodak's printing is primitive; like it's from a dot-matrix printer of the 1970s.
New Film Sticker
It's easy to remove the stickers from new rolls of Fuji film. Just life one end and lift it off. I show this in my How to Load a Hasselblad Magazine videos (also in color high-definition) and it's no big deal.
Contrast this to Kodak, where there is no obvious end to the sticker, and I very carefully have to scrape it off. This wastes time, and sometimes results in more than one piece of sticker floating around to have to catch and throw away without littering the landscape wilt little dots of yellow paper.
Tabs and Spools
Fuji's 120 and 220 film has been "Easy Load" for about 20 years. Their spools have little catches inside their slots, so they easily catch Fuji's perorated film leader tabs. Just put the film leader in the tab, and it's locked so you can complete loading the film.
Contrast this to Kodak that still lacks any of this. Kodak's leaders have no hole and their spools have no tabs, so use a Kodak take-up spool or use Kodak film, and you have to be very careful that your leader stays in the spool as you load the film.
With Fuji, the leader stays in the spool and just loads.
Digital Encoding
All Fuji's 120 and 220 films are "Easy Load," which also means that they are printed with digital codes to program the film speed and film length into modern cameras like the Contax 645 automatically. In fact, in modern cameras you no longer need to line-up arrows; they just read the coding printed on the leader and figure it out.
Kodak is still back 100 years here. You still have to line up arrows and set ASA and film length manually, even in modern cameras. (of course my 1955 Agfa Super Isolette always automatically indexes any film, no need to line up arrows in it either.)
Film-End Stickers
With Fuji, you peel back an adhesive tab and stick it to the film. Done. I show this in How to Unload a Hasselblad Magazine (also in high definition).
With Kodak, just like 100 years ago, you have to lick the sticker and stick it on. This is easy in nice weather with the spool out of the camera, but I much prefer being able to stick-down the end of my film before I pull it out of a camera. This lessens the chance of having the exposed film come off the spool if you drop it, and lets you keep your tongue in your mouth in freezing weather or blowing sand and dirt.
So?
I love the look I get with TMX 100; it has the same fine grain of ASA 50 Pan F Plus, with an extra stop of speed, but maybe it's time to try Fuji Acros Neopan 100. TMAX is a winner because it uses tabular-shaped grains (that's the "T" in T Max) to increase sensitivity with less grain over conventional randomly-shaped grains, but I'll bet Fuji has copied this, too. Looking at the data, it seems Fuji 100 has finer grain than TMAX 100, a better spectral sensitivity curve, much better reciprocity characteristics and the same high resolving power, so I'll try Fuji next time.
When it comes to a film's "look," what's sad is how few, if anyone today, runs the proper zone system tests to get their process down. Most people simply shoot film at its rated speed, use no filters, and get relatively crummy results — but they don't realize it.
When you properly calibrate your process, most B&W films look about the same. What the inexperienced see as "look" if they compare films themselves is how close their sloppy process gets to being correct — not anything to do with the film.
Hint: your lab has a densitometer. Shoot gray cards or anything neutral at different film speed settings, and use the speed that gives a density of 0.71 over the density of the clear film base.
If you don't want to do all this, you'll be pretty close if you use a film speed of half the rated value with a through-the-lens meter, and use a yellow or orange filter outdoors. Don't shoot unfiltered outdoors; it will make the sky look overcast even on sunny days!
Underexposure and lack of filters is why most people's B&W shots look so dull.
See The Zone System and The Negative for details.
20 January 2016, Wednesday
eBay Bidding
People always suggest genius bidding plans for eBay to me, but all any early bidding does is inflate prices. The less interest shown, the better for you.
As you all should know from my How to Win at eBay series, never bid until the last second. Not the last minute, and not even the last ten seconds, but the very last second that you reliably can place a bid. He who bids last, wins.
High bids don't scare people away; all it does is encourage them to bid more. Your high bid never makes the price go up until someone else bids high, so a high bid just raises the price for whoever eventually wins, and it attracts more attention to the auction.
The only time when an early bid might be acceptable is to make a very, very low initial bid to ensure that the seller isn't likely to cancel the auction. Sellers can cancel an unbid auction at any time if they get cold feet because there are no bids yet, but as soon as the first 99¢ bid comes in, the seller has to pay eBay it's full typically 10% commission if they withdraw it — so they almost never will. A tiny bid will ensure that the item probably won't be withdrawn, but don't do this unless it's something you really want and can't find elsewhere. This tiny first bid will result in a higher closing price, but at least it probably will close. It is very, very rare that people cancel auctions and patience always lets me find any rare item again, so I would never do this, but if you're in this situation, it's OK to place a tiny bid — but only place one more bid, your one real bid, at the very last second.
I explain all this and more at How to Win at eBay. I've won over 99.5% of everything on which I've bid ever since the 1990s, so this comes from real experience.
LEICA introduces a $3,000 underwater digital point and shoot:
16 MP APS-C.
23 mm f/1.7 ASPH lens
Rated to 15 meters depth (49 feet).

3-inch LCD.
Built-in flash, but very close to the lens.
1,080 or 720 at 30p MP4.
Made in Germany.
Should be available in a couple of weeks, if you order now.
19 January 2016, Tuesday
Wow, it's been 10 years since I left Hollywood ad bot have things changed. This gizmo is an OLED picture monitor, digital recorder and waveform monitor, and sells for a fraction of what just a waveform monitors used to cost — and this includes the digi8tal recorder that used to sell for $250,000 just for standard definition!
16 January 2016, Saturday
All New from Fujifilm
Fujifilm X-Pro2: Replaces the ancient X-Pro 1: 24MP, ISO 51,200.
Fujifilm X-E2S, also in Silver. Also comes as a kit with 18-55mm lens, and this kit also comes in silver. The X-E2S has a new grip, an electronic shutter and new menu system over the old X-E2.
Fujifilm XF 100-400mm f/4.5-5.6 R LM OIS WR. New ultra tele for the Fuji system.
Fujifilm X70, also in silver. An APS-C camera with a fixed 18.5mm f/2.8 (28mm equivalent) lens, coming February 2016,
Fujifilm XP90 underwater cameras. Comes in Key Lime, Orange Mango, Lemon, and Blueberry.
14 January 2016, Thursday
NEU: Objektive von Leica
LEICA SUMMICRON-M 28MM f/2 ASPH, also at B&H.
LEICA SUMMICRON-M 35MM f/2 ASPH BLACK, also at B&H.
LEICA SUMMICRON-M 35MM f/2 ASPH SILVER, also at B&H.
LEICA ELMARIT-M 28mm f/2.8 ASPH, also at B&H.
12 January 2016, Tuesday
08 January 2016, Friday
New Video Cameras from Sony
FDR-AX53 4K: $999.99
HDR-CX455/B HD: $399.99
HDR-CX675/B HD: $549.99
HDR-AS50 HD "Action Cam": $199.99
   Sony Underwater Housing for HDR-AS50: $59.99
   Sony AKA-CAP1 Cap Clip for Action Cam
New from Olympus
Olympus 300mm f/4 ED Micro 4/3: $2,499.99 and $125 in Adorama rewards.
Olympus TG-870 waterproof, also in green and in white: $279.99
Deals
$100 instant rebate on the Canon EF 100-400mm L IS II USM. $2,099 (Regular $2,199). You'll also get $83.96 in Adorama Rewards — all with free shipping.
This is the first deal I've seen on the world's best telephoto zoom.
Tamrac 5531 Adventure Messenger 1: $14.99 (Regular $34.95)
SanDisk 64GB microSDXC UHS-I Class 10 with SD Adapter: $19.95 (Regular $24.95).
06 January 2016, Wednesday
New Nikons
I worked on the D5 and D500 all yesterday, so if you haven't read them today, they are completely different from yesterday's first drafts.
05 January 2016, Tuesday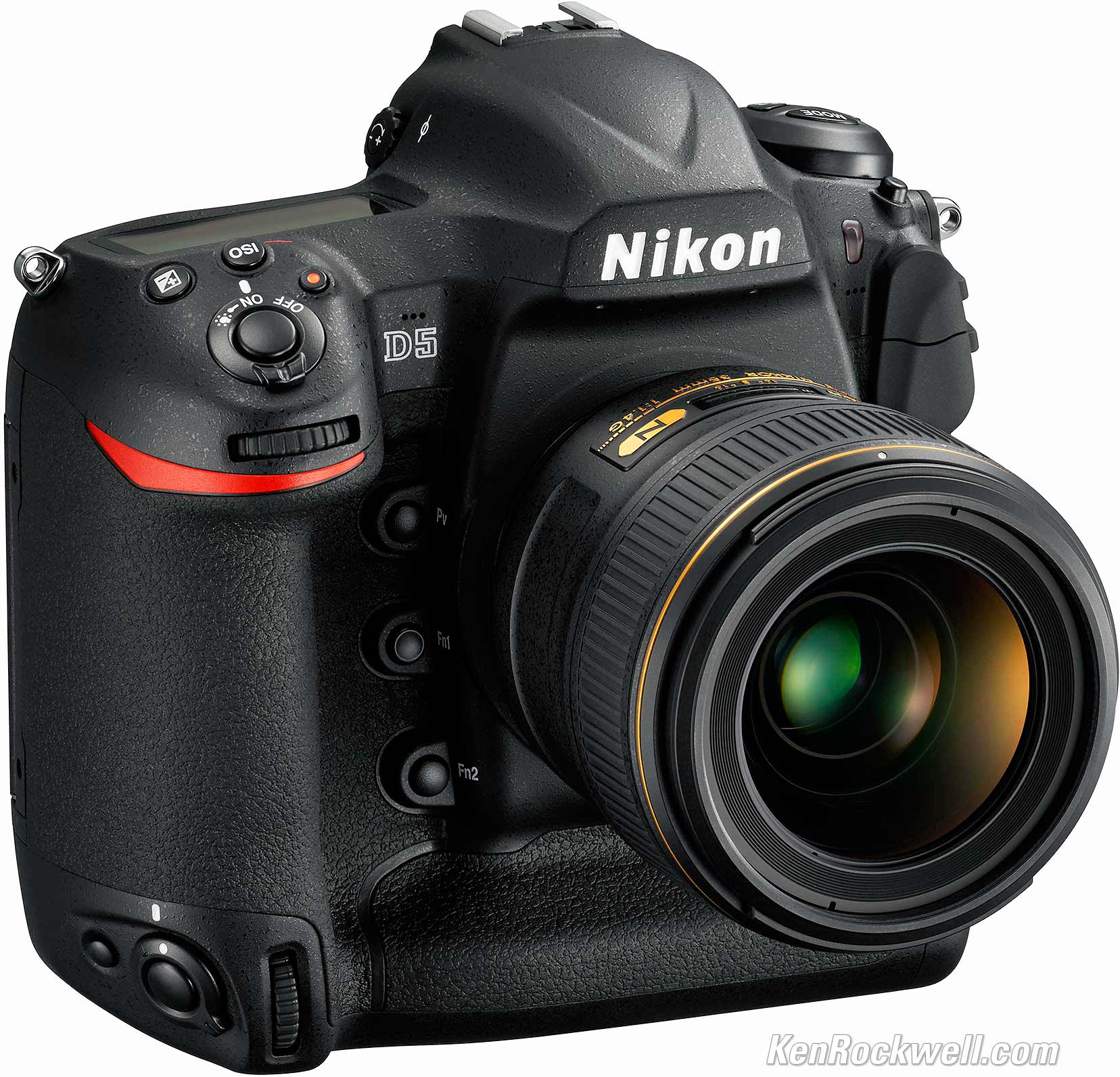 Nikon D5.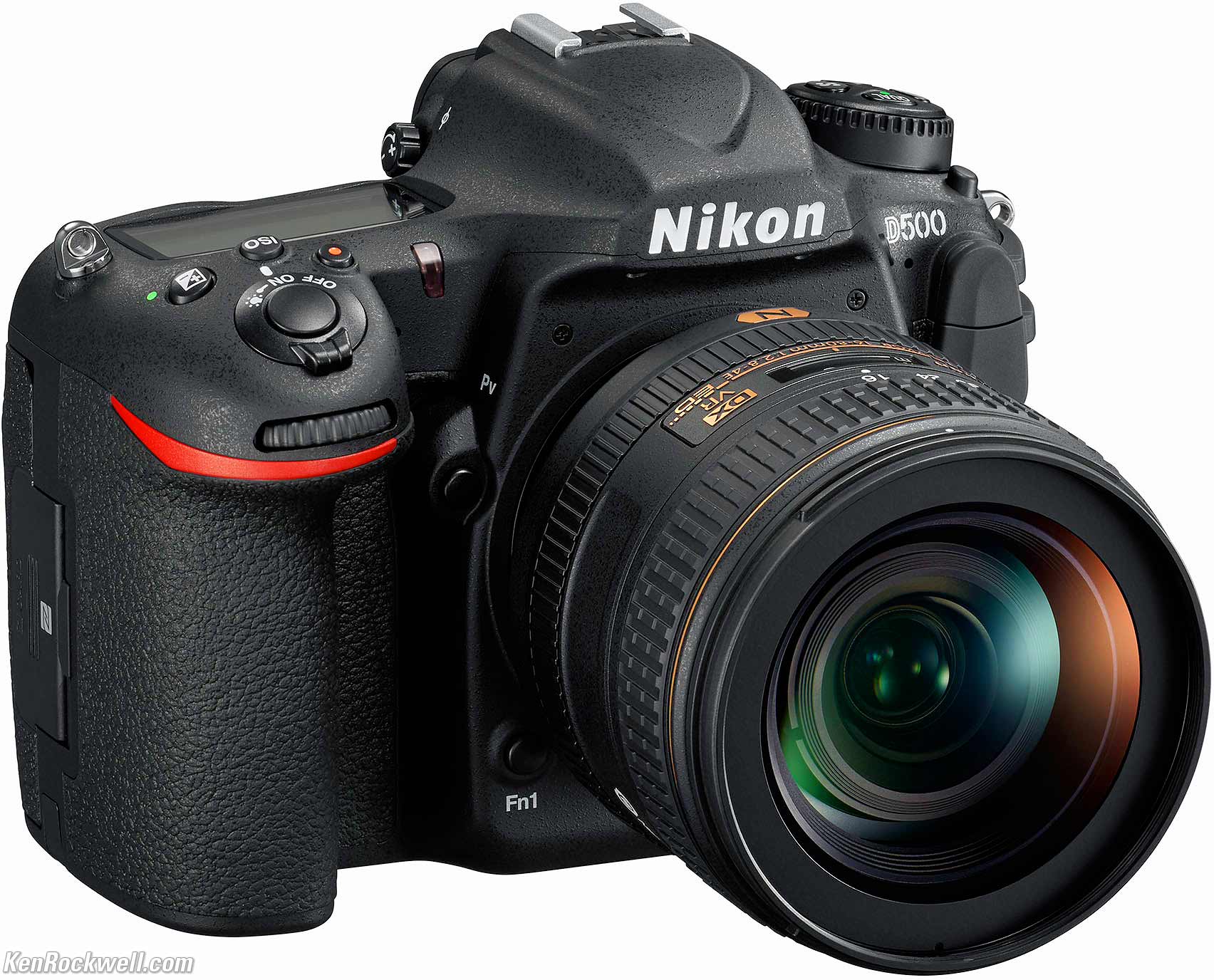 Nikon D500.
New from Canon
SX420 IS $299 in black and in red.
ELPH 360 HS $209 in purple and in silver.
ELPH 190 HS $160 also in red and in blue.
ELPH 180 $119 in silver and in red.
New from Panasonic
Here's everything new from Panasonic:
Lenses & Cameras
Panasonic Leica Vario-Elmar 100-400mm for Micro 4/3: $1,799.99.
Panasonic DMC-ZS100, also in silver, $699.99.
Panasonic DMC-ZS60, also in silver, $449.99.
Video
Panasonic WXF991 4K Camcorder with WiFi: $999.99.
Panasonic VX981 4K & Still Camcorder with WiFi: $899.99.
Panasonic W580 HD Camcorder with WiFi: $399.99.
Panasonic V380 HD Camcorderwith WiFi: $329.99.
Panasonic V180 HD Camcorder with 50x Stabilized Optical Zoom and Touch-Enabled LCD: $229.99.
New Copter
DJI Phantom 3 w/ 4K Camera, Gimbal & Remote Control: $799.
Deals
Copter Deals

DJI Phantom 3 Standard Quadcopter Aircraft with 3-Axis Gimbal and 2.7k Camera, with Remote Controller: $499 (was $699), with Free Expedited Shipping


DJI Phantom 3 Advanced Quadcopter Aircraft with 3-Axis Gimbal and 2.7K Video Camera, Remote Controller Included: $799 (was $999), with Free Expedited Shipping.
04 January 2016, Tuesday
Sigma Rebates
02 January 2016, Saturday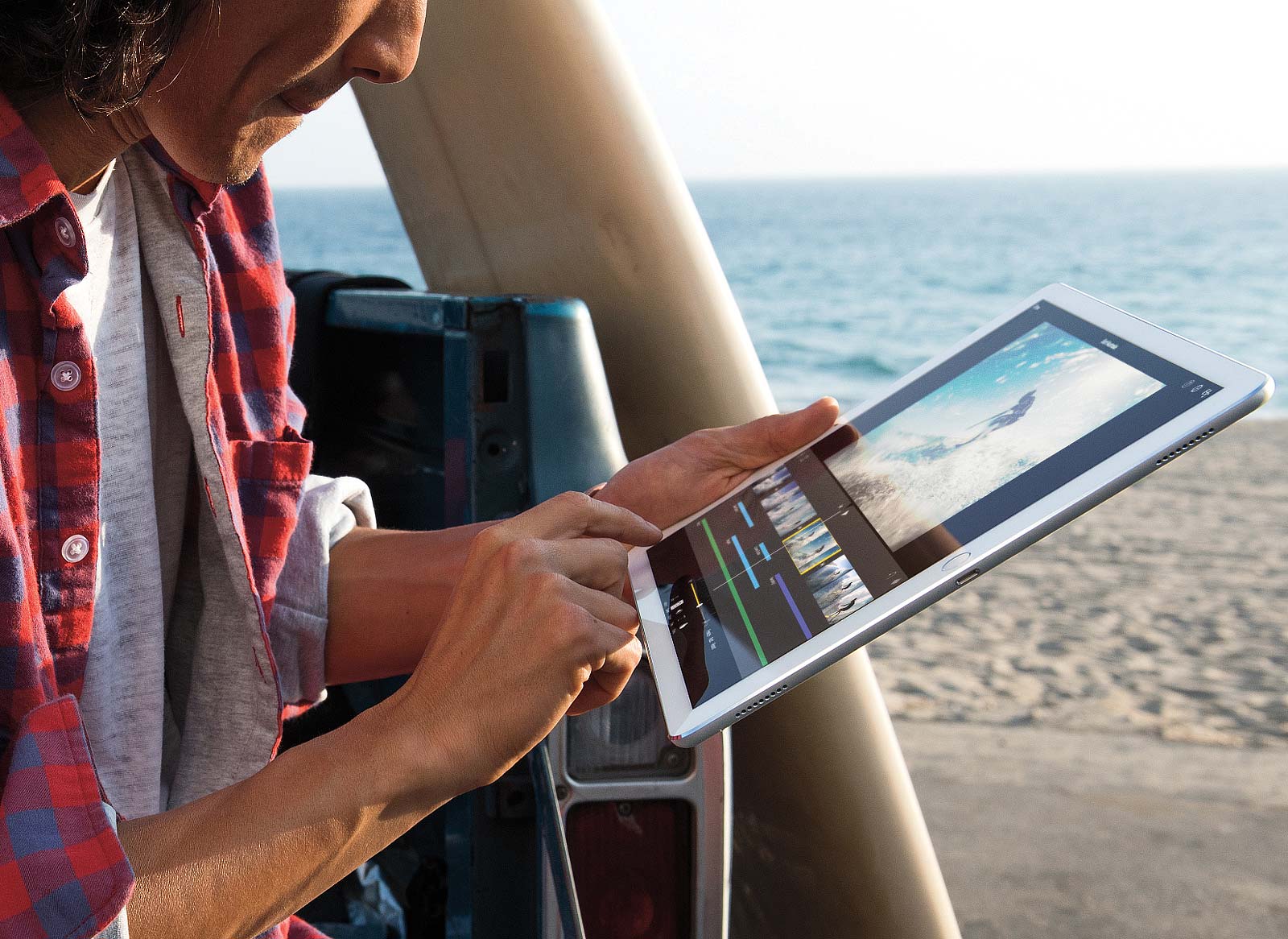 iPad Pro.
Apparently I was very, very good in 2015, because Santa brought me an iPad Pro for Christmas.
Phil's Gone Mad
My friend Phil Steele for some reason has dropped the price of his Event Photography course by 53%!
He's still offering 25% off Lightroom Made Easy, 15% off Photoshop Basics and 15% off Pro Portraits with Off-Camera Flash.
Phil's online videos are the best, and if you don't agree, he offers a 60-day money back guarantee, so you can't lose.
What Was New in:
Help me help you
I support my growing family through this website, as crazy as it might seem.
If you find this as helpful as a book you might have had to buy or a workshop you may have had to take, feel free to help me continue helping everyone.
If you've gotten your gear through one of my links or helped otherwise, you're family. It's great people like you who allow me to keep adding to this site full-time. Thanks!
If you haven't helped yet, please do, and consider helping me with a gift of $5.00.
The biggest help is when you use any of these links when you get anything, regardless of the country in which you live. It costs you nothing, and is this site's, and thus my family's, biggest source of support. eBay is always a gamble, but all the other places always have the best prices and service, which is why I've used them since before this website existed. I recommend them all personally.
Thanks for reading!
Ken