March 2016's News

Nikon: D5 D810 D500 D750 D610 D7200 Lenses Canon: 1DX2 5DS/R 5D Mk III 6D 7D II Lenses
Reviews: Fuji LEICA Contax Zeiss Sony Minolta Olympus Pentax
Recommended Cameras Best Cameras  Gifts How to Take Better Pictures random
Links: Adorama Amazon B&H Crutchfield eBay Video Tutorials Infrared Facebook Twitter
Adorama's Daily Deals Amazon's Deals-of-the-Day B&H Deal of the Day   Crutchfield's Sales
31 March 2016, Thursday
Deals
Nikon D7200: $769.95 (regular $899, refurbished).
Nikon COOLPIX S6900: $89.99 (regular $129, refurbished).
Nikon 18-140mm VR DX: $209.95 (regular $249, refurbished).
Nikon 55-300mm DX VR: $194.95 (regular $229, refurbished).
Yes, Nikon refurbished is just like new, but with a shorter warrenty and without the fancy box, for a lot less money.
Audio Deals
SMS Audio BioSport earphones & mic w/heart monitor: 29.99 (Regular $59.99), also in blue.
Polk Audio 9500 Bluetooth Home Theater System: $369.99 after rebate (Regular $799.95).
29 March 2016, Tuesday
New from Sony
Sony DSC-RX10 III: super point & shoot
Sony FE 50mm f/1.8 It's about time!
Sony FE 70-300mm f/4.5-5.6 G OSS
New from Sigma
Sigma 150-600mm "Contemporary" & TC-1401 1.4x Teleconverter Kit
Sigma 150-600mm "Sports" & TC-1401 1.4x Teleconverter Kit
Sigma 18-35mm f/1.8 & 50-100mm f/1.8 Kit
25 March 2016, Friday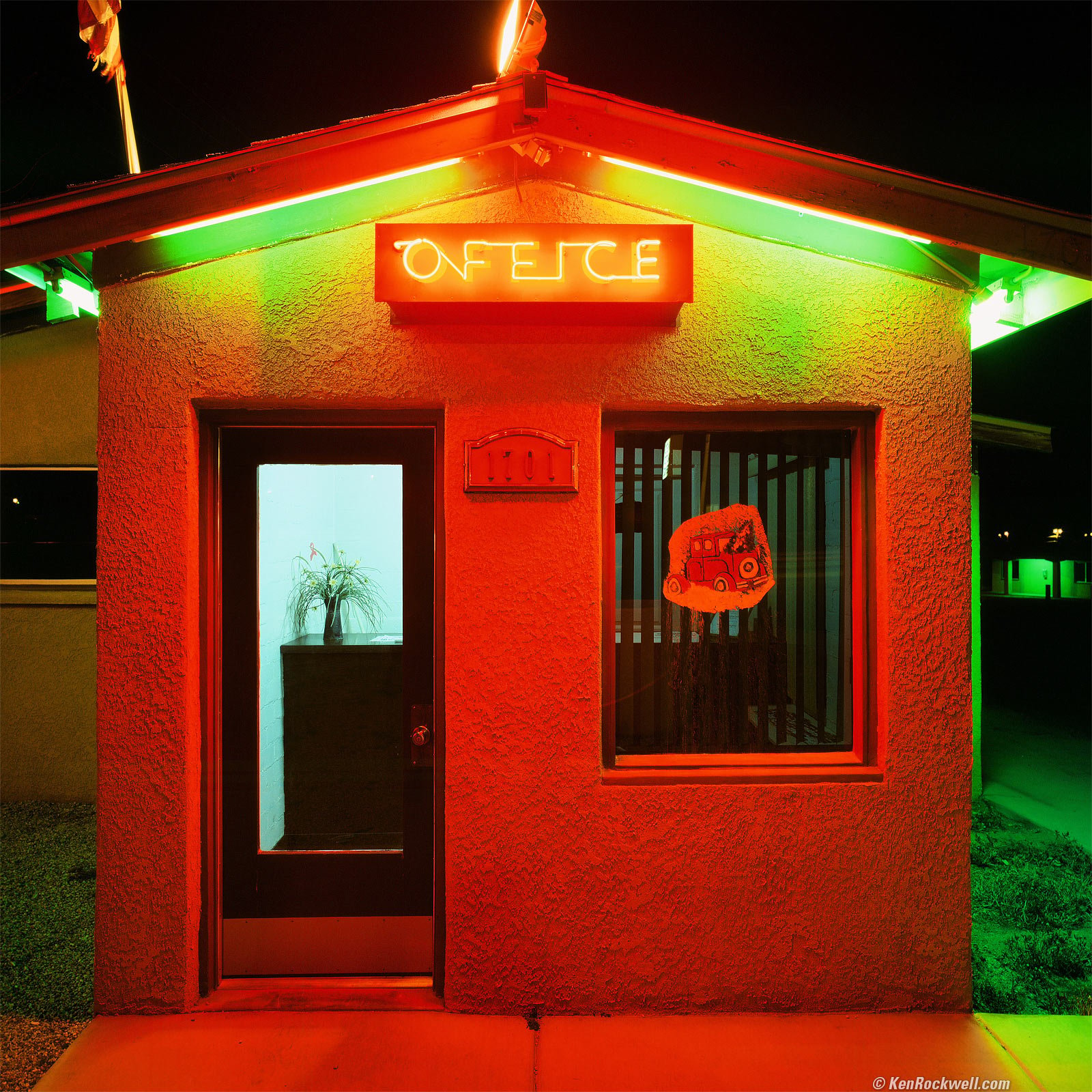 Red Neon Office Sign at Night, Route 66, February 2016. 1989 Hasselblad 903 SWC, no filter, 8.5' focus distance, Fuji Velvia in 1996 Hasselblad E24 magazine, f/9.5 at 25 seconds. bigger.
Here's a simple way to calculate the correct exposures for shooting Velvia in the dark.
These figures have been written on stickers my light meters since 1992, but since I haven't gotten any new light meters since I put this site on the air in 1999, never added them here.
I just got a Gossen Luna Pro SBC to work in even dimmer light, so I had to make a new sticker and figured it was time to document it.
Last Chance: Phil's Sale
There's been a sale on Phil Steele's video classes, which end next week:
15% off Pro Portraits with Off-Camera Flash.
Weekend Canon Deals
Good through this weekend only:
Canon T5i, 18-55mm STM, 75-300mm, Pro-100 Printer & paper: $449.99 after rebate, with free shipping!
Canon T6i, 18-135mm IS STM, PRO-100 printer & paper: $749.99 after rebate, with free shipping! This includes my favorite 18-135mm lens.
Nikon Deals
Nikon D7000: $379.95 (regular $449), refurbished, with free shipping!
Nikon D750 & 24-120mm VR: $1,999.95 (regular $2,199.95), refurbished, with free shipping!

Nikon D800: $1,699.95 (Regular $2,199.95), refurbished, with free shipping!
24 March 2016, Thursday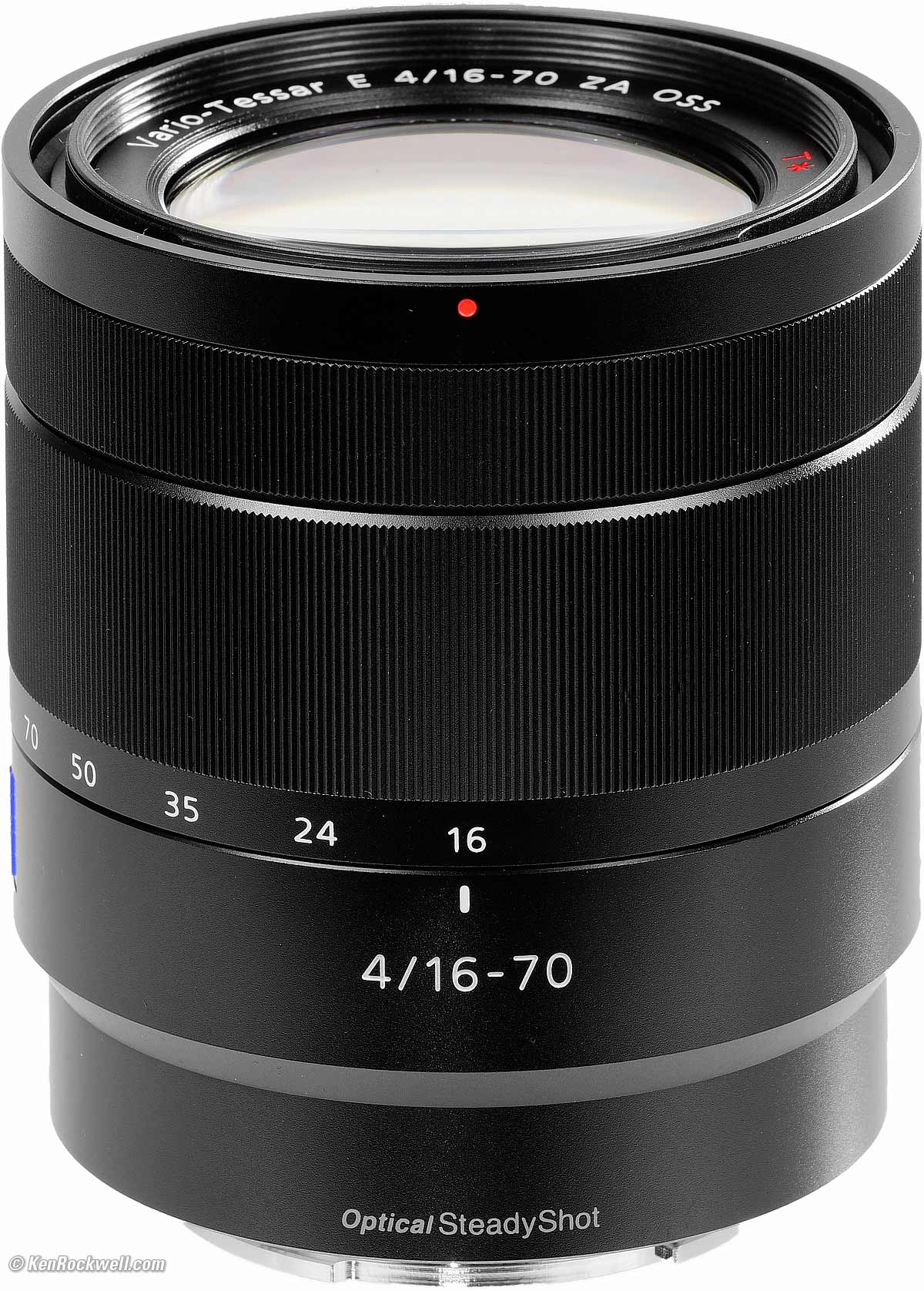 Sony Zeiss Vario-Tessar T✻ 16-70mm OSS.
The best midrange zoom for Sony APS-C cameras.
23 March 2016, Wednesday
The Unobtainable Holy Grail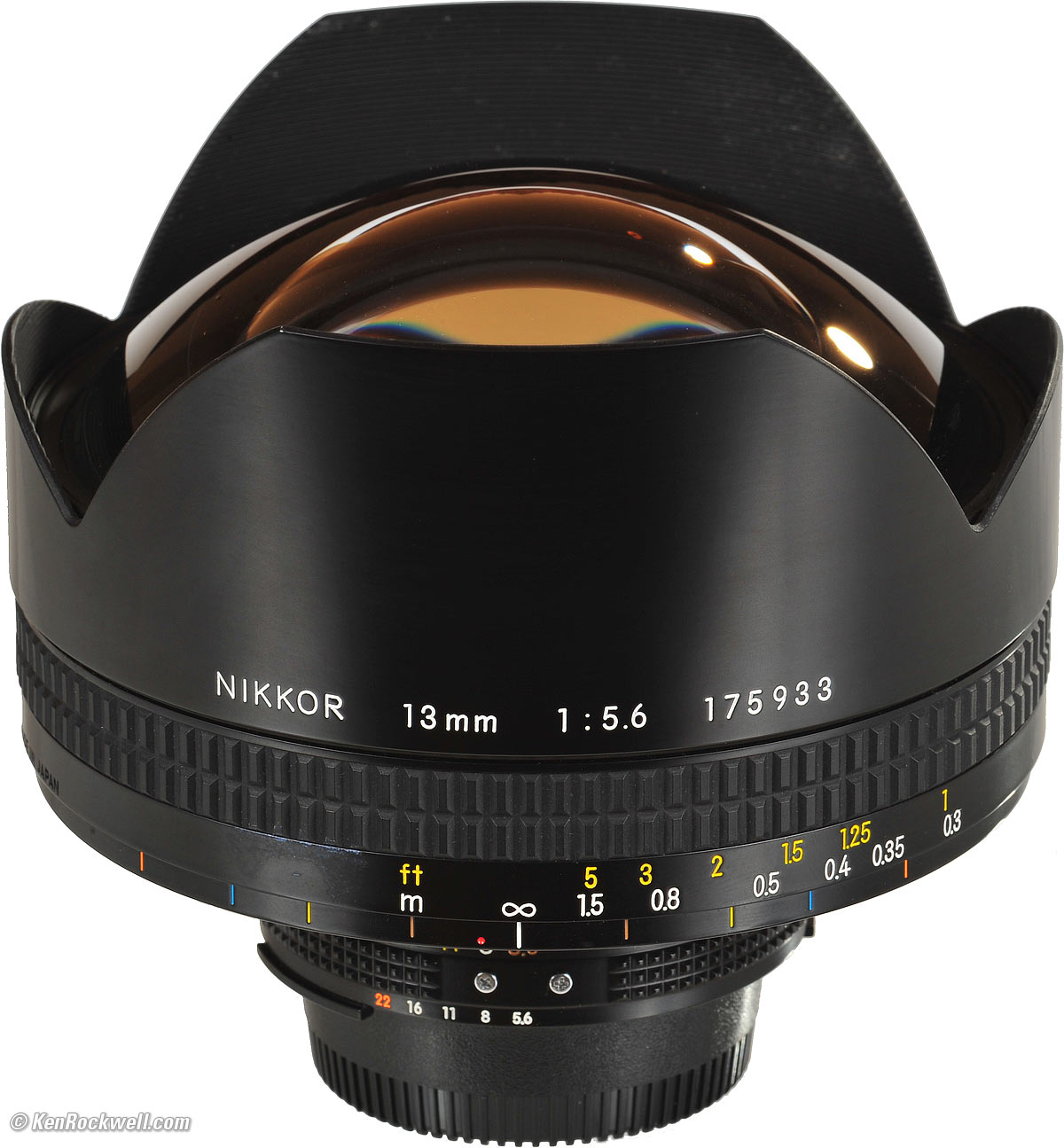 Nikon 13mm f/5.6.
There is yet another Nikon 13mm f/5.6 lens for sale on eBay. As you know, the Nikon 13/5.6 was only made to order and cost about six month's salary. There are few to none out there, and when you find one, expect to pay between $25,000 and $30,000 as of 2016. Their value continues to explode, since they are harder and harder to find, and they remain as Nikon's widest non-distorting lens ever, and because these 13mm lenses all work flawlessly on all of Nikon's newest DSLRs. Nikon only made a few hundred of these, compared to literally millions of each of its more popular lenses, so the people who want the 13mm have them, and they aren't letting go.
This looks like a bogus listing since it's from a virginal seller and has little to no information, which is all the better if you actually want one of these. Go ahead and bid high and bid last and you'll win the auction, and since it looks bogus, you'll be bidding against a lot less competition. See How to Win at eBay for all the details.
Good news is so long as you pay with Paypal and follow eBay's rules, if it's bogus, you don't lose any money, and if it's legitimate, you win.
You have to be willing to lose to win. It's been the way of the world for thousands and thousands of years.
π 2016, Monday
Set your camera clocks ahead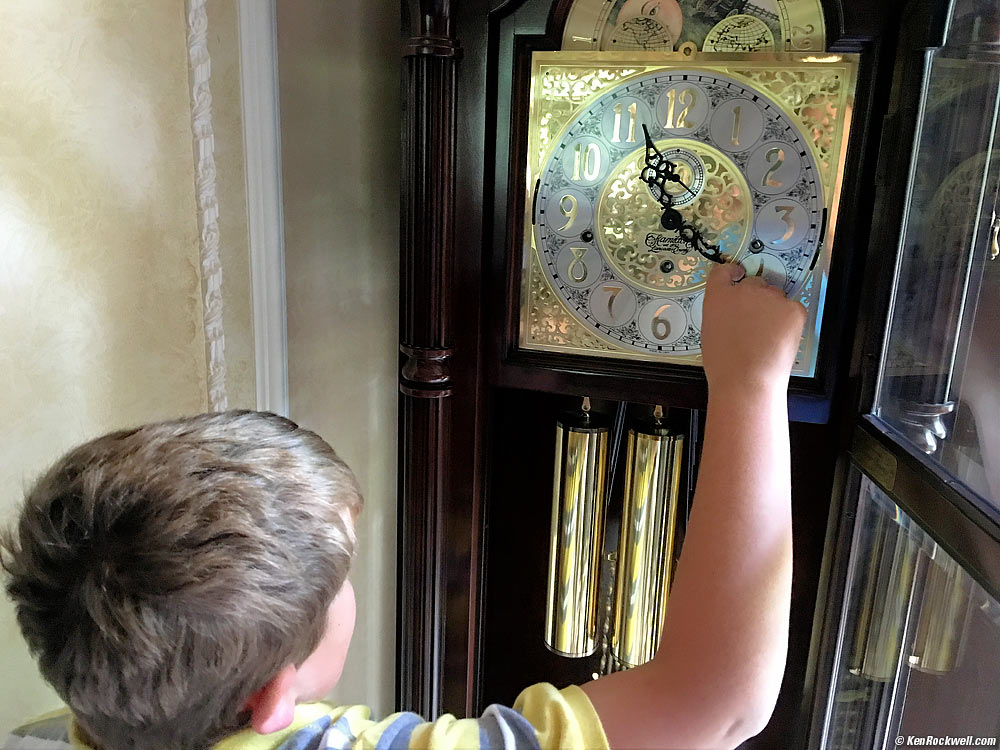 Ryan sets the clock ahead to daylight time. (iPhone 6s Plus, f/2.2 at 1/4 at ISO 80, Perfectly Clear.)
Be sure to go find all your cameras (and that also means your Nikon F6 35mm SLR and any other camera with a clock) and set all your clocks ahead an hour.
While clever things like our iPhones set themselves automatically, very few cameras do, and if you don't make a point of setting your cameras ahead, you might not realize it until August, and all your photos will have the wrong time in their EXIF.
While you're checking this, also check the date. As this was leap year, not everything knows that, and some of my clocks are a day ahead as well, having forgotten about February 29th.
Redesigned Sony Page
I redesigned my Sony index page so it makes sense again.
Sony keeps changing the names of their mounts and how they do their cameras, so I brought this page up to date.
The problem is that Sony first made the Mavica in the 1990s, then bought Minolta and their MAXXUM line, which Sony called Alpha.
Then they invented a shorter mount, the NEX, also called E-Mount.
Since the NEX cameras are doing great, Sony is putting the old Minolta-based alpha SLR line out to pasture, but still using the Alpha name with the new NEX mount cameras like the awesome A7S II.
Problem is that the NEX cameras may be called "alpha," but they use a completely different mount than the original alpha, which messes up my categorisation as to what fits what.
Of course there is a great adapter to use old Alpha-mount and MAXXUM lenses on the E-Mount cameras.
And so it goes.
12 March 2016, Saturday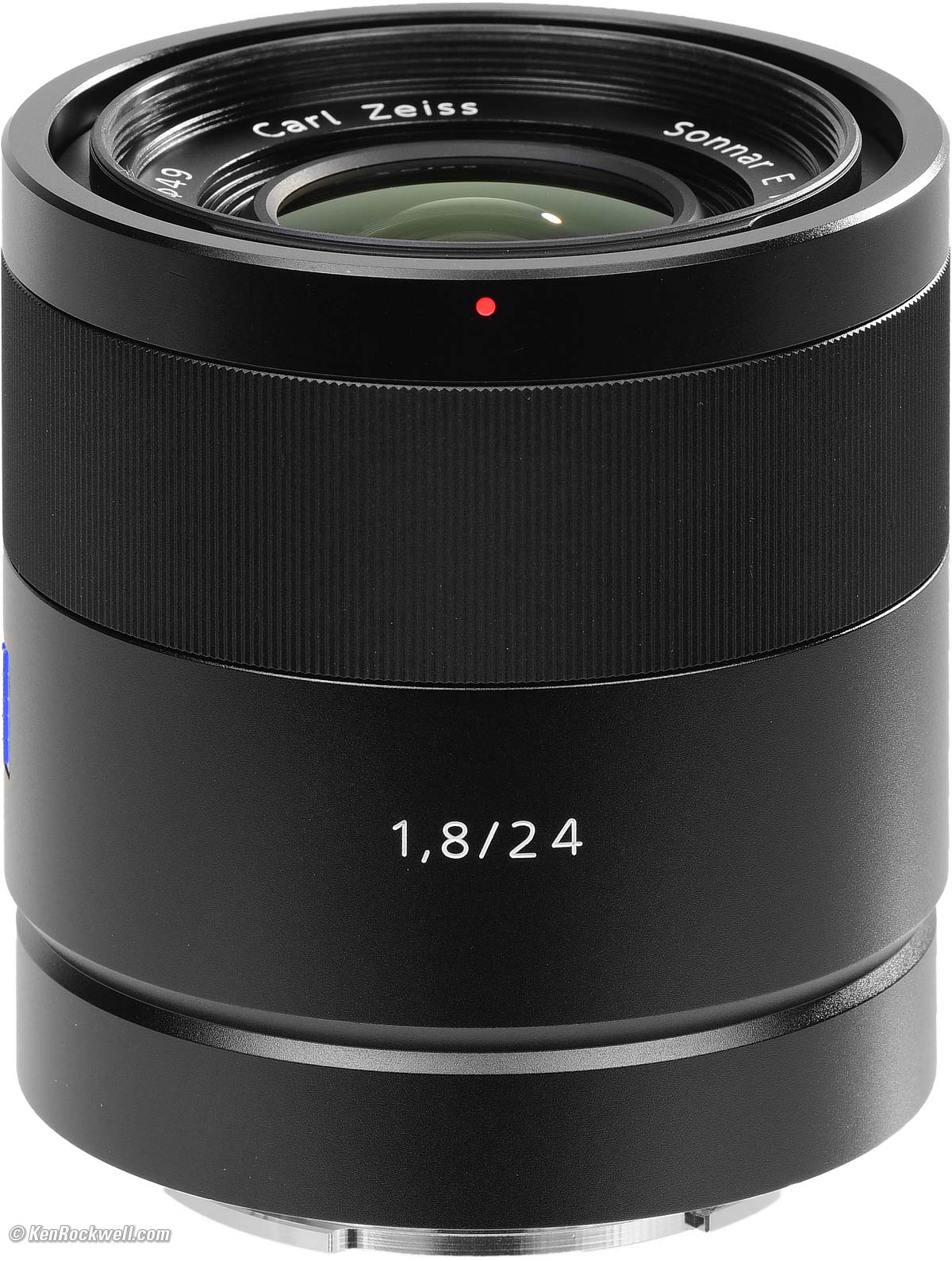 Sony Zeiss Sonnar T✻ 24mm f/1.8.
The best normal lens for Sony APS-C cameras.
11 March 2016, Friday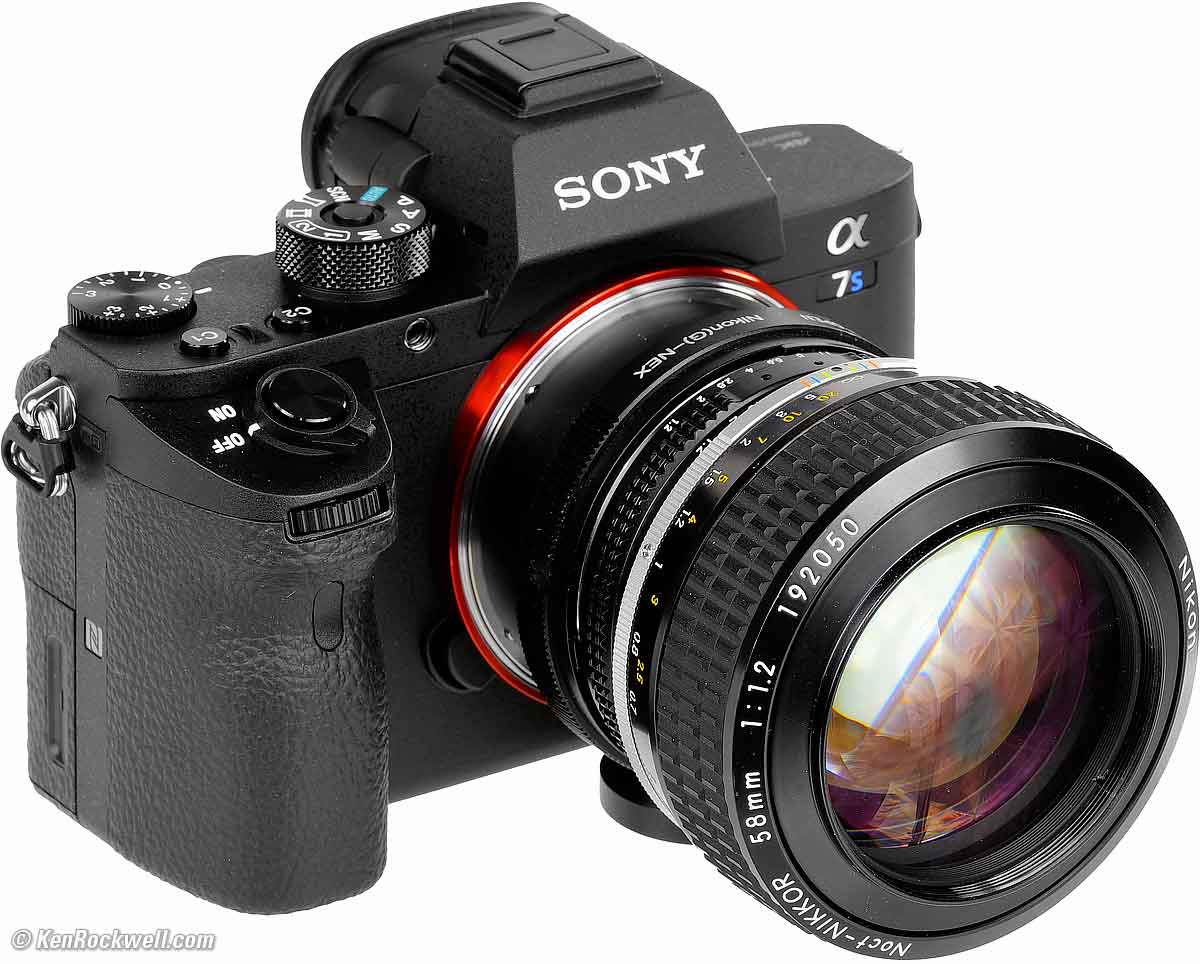 Sony A7S II and Nikon NOCT-NIKKOR 58mm f/1.2..
Sony's best camera.
Full-Frame Good Times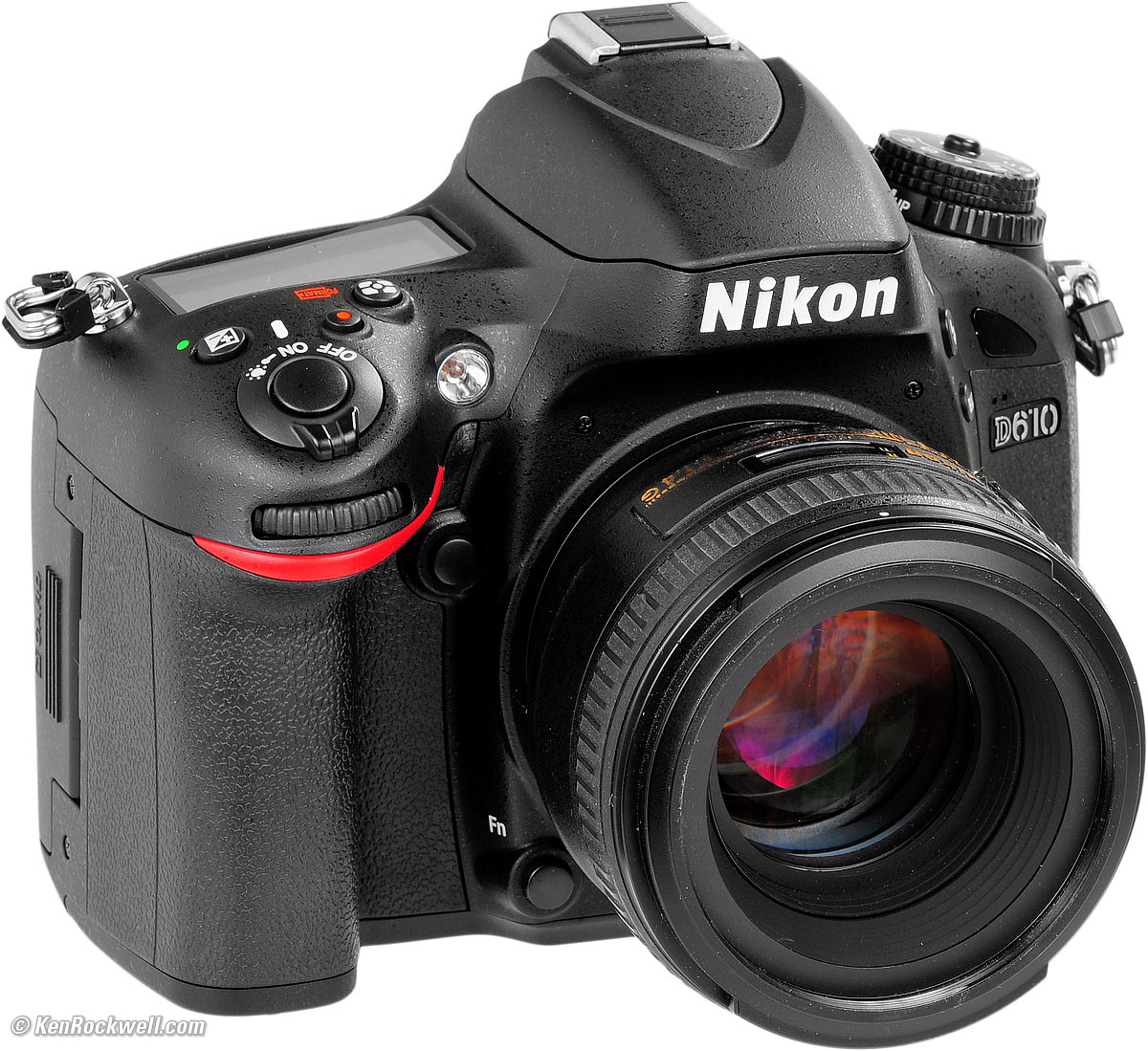 Nikon D610 and 50mm f/1.4 G.
The Nikon D610, which sold for $2,000 without a lens when it came out in October 2013, today is selling for just $1,297 brand new.
It's a steal that Nikon doesn't want you to know about, hoping you throw more money at the pretty much identical D750 instead. The only real difference is that the D750 autofocuses swell in pitch black darkness, while the D610's AF system sometimes gives up if it's too dark to read printed text —  so dark you probably aren't trying to photograph anyway. For $700 off from a D750, I'll use the D610's built-in AF illuminator, which makes the problem go away.
Get them now before Nikon comes out with a new model that's the same, except for a higher price.
Canon 35mm f/1.4 L: $999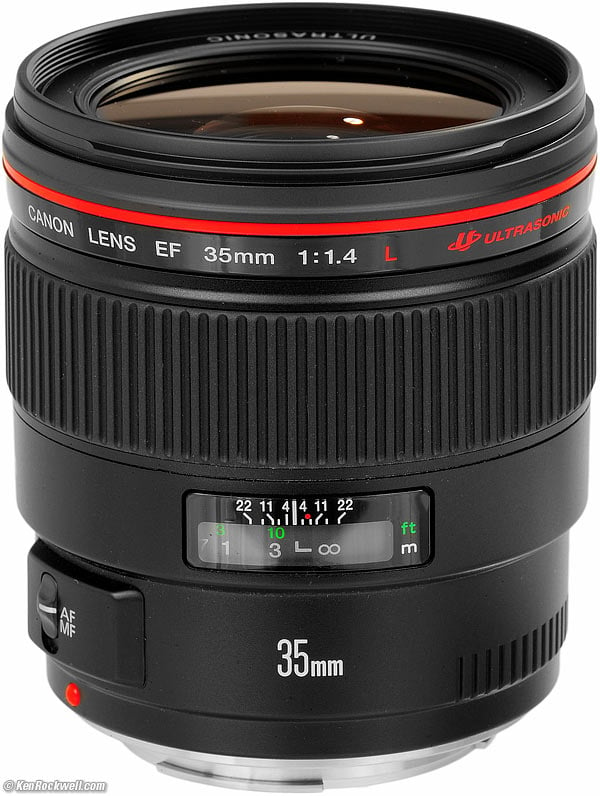 Canon 35mm f/1.4 L.
The Canon EF 35mm f/1.4 L is now just $999 at Adorama; Amazon, B&H Photo and Crutchfield.
It was $1,500 when I got mine a couple of years ago.
Over 15 Years of good CD-R backup
So I dug down and found my CD-R backups from November 2000. They are burnt on basic Fujifilm CD-R.
They read perfectly! All my backups from over 15 years ago are just fine, thank you.
I wanted to see how my site looked. This whole site was only 14 MB total.
I added my home page from 07 November 2000 from this CD-R to my archive of old index pages.
10 March 2016, Thursday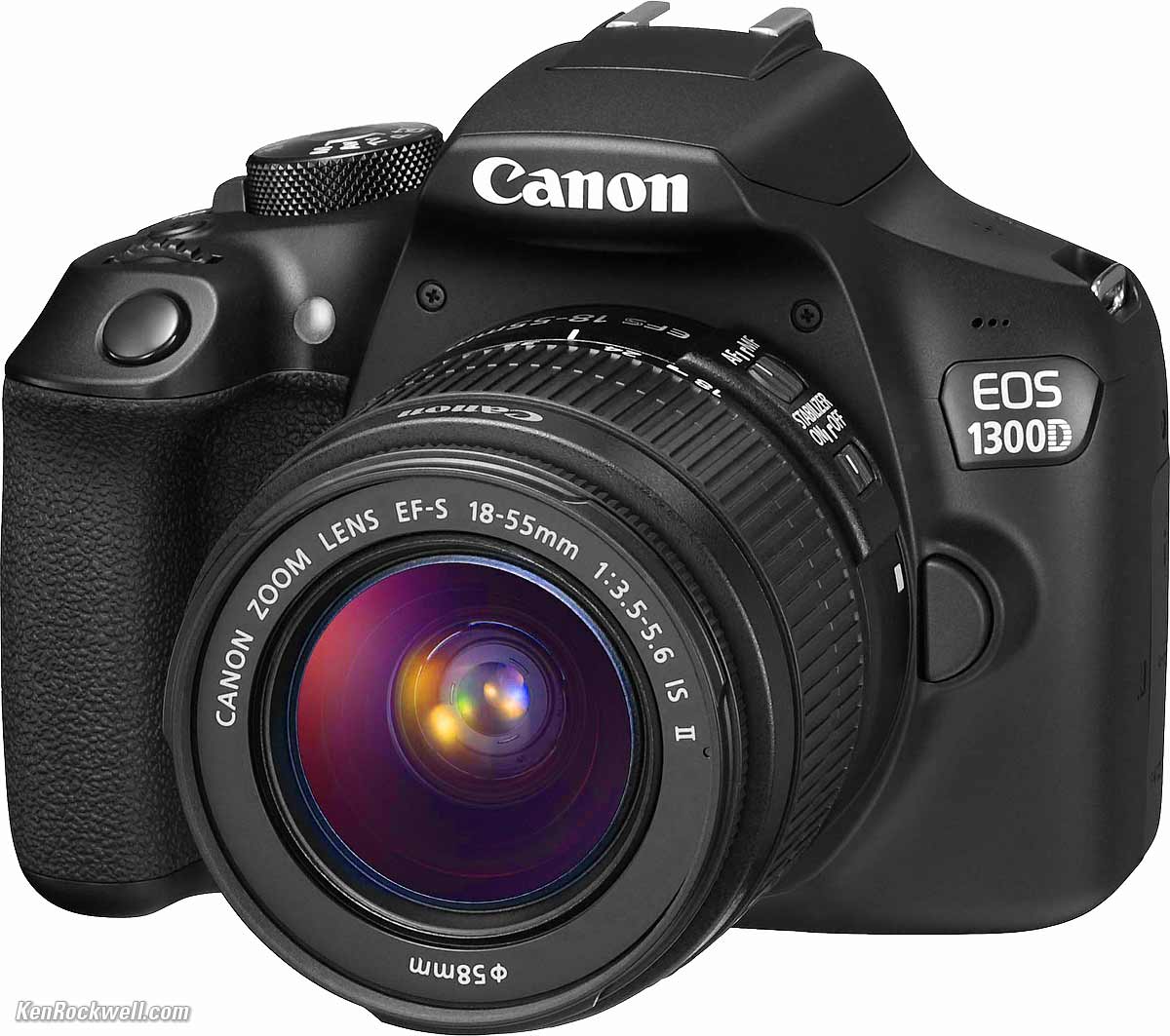 Canon T6 with included Canon 18-55mm STM
08 March 2016, Tuesday
The craziest camera of 2016, and it's practical, fun, and inexpensive. Everyone ought to have one of these.
06 March 2016, Sunday
Whoo hoo! Lowest prices ever on the D750, D610 and more!
eBay Returns: Easy!
eBay rules. It's not like it was a few years ago when it sometimes it was a lot of work to return junk.
I just bought an old electrical item described as "good condition," but it didn't work properly.
I checked the box to "ask the seller about the item" to ask nicely for him to resolve this, and he was of no help.
No worries, I then checked the box to ask for a return since the item wasn't as described, and the seller claimed he never said it worked, just that it was in "good condition," so that indeed it was as described.
I laughed, knowing that this seller obviously doesn't know how eBay works and had no idea what was going to happen next.
As I sat at my pool on Sunday, I clicked the box on my iPhone to "ask eBay to step in and help," and only three minutes later eBay had reviewed the facts (the listing and the seller's claim that "good condition" doesn't mean it works), and eBay provided a prepaid label for me to print and slap on the box to return it — at the seller's expense.
I sent it back, and got a full refund for everything. The seller was out not only what I had paid, but also the seller had to pay for shipping both ways.
eBay no longer has any tolerance for sloppy sellers. eBay wants to be the next Amazon, and is doing everything it can to be sure we buyers get exactly what's described, regardless of the ignorance of a seller.
It's a tough time for schlocky sellers, and a great time to buy on eBay. eBay is doing a great job of weeding out the bad ones; you just have to be sure to follow eBay's rules and schedules.
More at How to Win at eBay and Returning Junk.
04 March 2016, Friday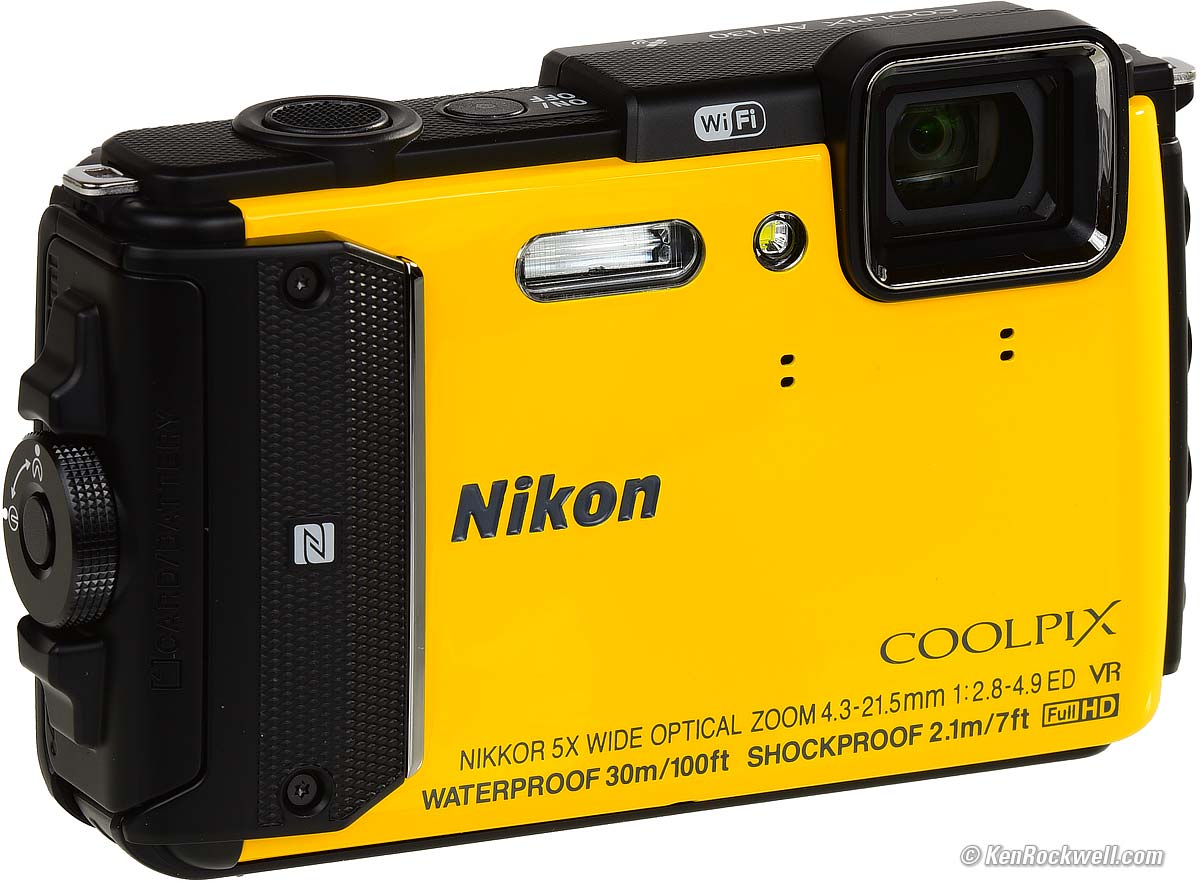 Nikon AW130.
A very tough camera at a reasonable price.
03 March 2016, Thursday
D3300 Deal
Nikon D3300 w/ 18-55mm VR II: $329.95 with free expedited shipping, regularly $449.95 (refurbished).


Too much noise?
Many thanks to those who replied to me wanting to clean up all the links and search bar at the top of this page.
It turns out that almost all of you use some of the links at the top, and almost no one has any problem scrolling past them, so stay they will.
Thanks!
01 March 2016, Tuesday
I rewrote much of The Best Camera to update it for the newest 1DX Mk II, D5 and D500.
YES! This is when I get my goodies; when it's on rebate. it looks like just about every lens form Canon is on rebate now, whoo hoo!
What Was New in:
Help me help you
I support my growing family through this website, as crazy as it might seem.
If you find this as helpful as a book you might have had to buy or a workshop you may have had to take, feel free to help me continue helping everyone.
If you've gotten your gear through one of my links or helped otherwise, you're family. It's great people like you who allow me to keep adding to this site full-time. Thanks!
If you haven't helped yet, please do, and consider helping me with a gift of $5.00.
The biggest help is when you use any of these links when you get anything, regardless of the country in which you live. It costs you nothing, and is this site's, and thus my family's, biggest source of support. eBay is always a gamble, but all the other places always have the best prices and service, which is why I've used them since before this website existed. I recommend them all personally.
Thanks for reading!
Ken