June 2016's News

Nikon: D5 D810 D500 D750 D610 D7200 Lenses Canon: 1DX2 5DS/R 5D Mk III 6D 7D II Lenses
Reviews: Fuji LEICA Contax Zeiss Sony Minolta Olympus Pentax
Recommended Cameras Best Cameras  Gifts How to Take Better Pictures random
Links: Adorama Amazon B&H Crutchfield eBay Video Tutorials Infrared Facebook Twitter
Adorama's Daily Deals Amazon's Deals-of-the-Day B&H Deal of the Day   Crutchfield's Sales
DSLR or Mirrorless?
My friend Phil Steele just released a free video tutorial looking at DSLRs versus mirrorless cameras. If you think this is helpful, check out the rest of his free tutorials and full-length photography courses.
30 June 2016, Thursday
Ricoh R1 next to a 35mm Kodak film can.
An ultracompact, ultralight point and shoot.
Rebates Ending Saturday
As I explained last week about Fuji's rebates that end this weekend, Sony's rebates also expire on Saturday, and they come with 4% rewards from B&H and free expedited shipping.
Panasonic Deal
Here's a free lens and $100 Adorama Gift to go along with the DMC-G7 kit:
Panasonic DMC-G7 w/14-140mm, 25mm f/1.7 & $100.00 Gift Certificate: $997.99, with Free Shipping, while supplies last.
29 June 2007: One More Thing
It was only 9 years years ago today that Steve Jobs pulled an iPhone out of his pocket.
It was just a few years later that most of the developed world was changed, and today just 9 years later, the entire world spends most of its day staring at little screens — and can't put the things down for more than 5 minutes at a time.
9 years and a day ago no one had ever heard of an iPhone, and today we speak of the "days before the iPhone" as if they may as well have been prehistoric.
It hasn't even been ten years, and most people today would go bonkers if they didn't have their iPhones or copies thereof.
Crazy 360º GoPro Mounts
Freedom360 F360 Broadcaster Mount for GoPro
360Heros Pro10 v2 360° Plug-n-Play Holder for GoPro HERO4/3+/3
Freedom360 Broadcaster 3x Spherical VR Mount for Modified
GoPro Cameras
Kodak PIXPRO SP360 4K Action Camera Premier Pack
Deals
HP 8040 Wireless All-In-One Printer: $169.99 (regular $299), with Free Shipping.
Tascam DP-008EX 8-Track Recorder: $114.99 using coupon code 1MOVN2JULY at checkout (Regular $119), with Free Shipping.
Samson C01UCW USB Condenser Microphone & Shock Mount: $49.99 after rebate, with Free shipping.
Samson SR950 Headphones: $29.99 (Regular $69), with Free Shipping.
The Biggest Confusion in Lightroom
My friend Phil Steele released a video tutorial a few weeks ago clearing up confusions about the Lightroom Catalog, what it is, and how it manages your photos. If you think this is helpful, check out the rest of his free tutorials and full-length photography courses.
24 June 2016, Thursday
New from Sigma
Deals
Canon 1D-X: $700 off + $150 free goodies
Zeiss Tuit 32mm f/1.8 for Fuji: $499
Lumix DMC-G7 w/ 14-42mm: $200 off
22 June 2016, Wednesday
New Hasselblad Medium-Format Mirrorless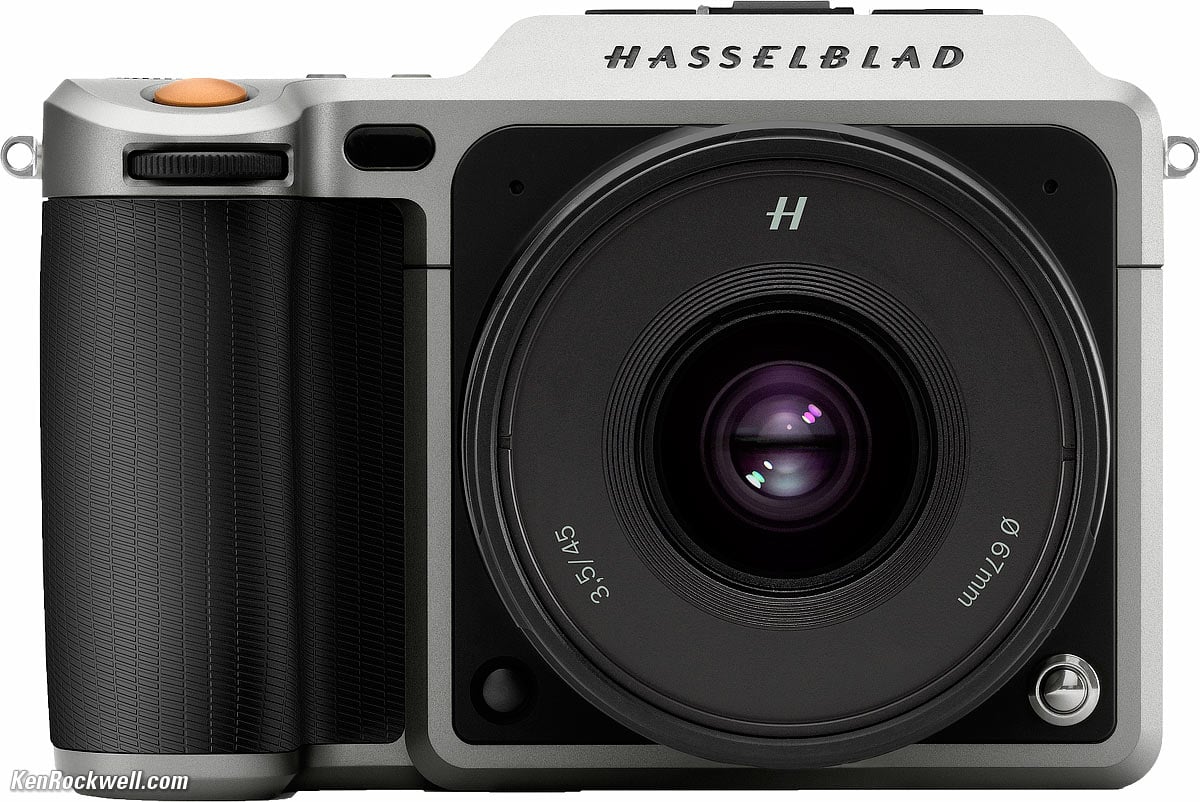 Hasselblad X1D and 45mm f/3.5.
Holy cow: Hasselblad just announced the system I designed back in 2009 for Nikon. I'm still telling the world that Nikon and/or Canon need to introduce new "halo" medium format mirrorless systems, with a complete set of all-new larger-format lenses, to let them leapfrog Sony who has been leapfrogging Nikon and Canon.
In Stock
Nikon D5 in-stock at $6,497, with free next-day delivery!
More Deals
27" iMac 5k for $650 off. You know you deserve one; it's the world's highest resolution way to see your photos!.
13" MacBook Air: $799 and the loaded one for $899.
Cullmann CONCEPT ONE 622T Aluminum Travel Tripod with Ballhead: $79.95 (Regular $199), with free shipping.
WD My Passport Ultra 1TB 3.0 USB Portable Secure Hard Drive, Black: $49.99 (Regular $59.99), with free shipping.
Xerox Travel Scan 150 Simplex Scanner: $49.99 (Regular $79.99), with Free Shipping.
Yamaha FGX800C Traditional Western Cutaway Acoustic Electric Guitar: $239.99 using coupon code 1MLEARNING at checkout (Regular $299), with Free shipping.
Pair of Fender Fortis F-12BT 12" 1300W 2-Way Powered Speakers: $949 using coupon code 1JUNESVNGS at checkout (Regular $1,299), with Free Shipping.
Mackie FreePlay Battery-Powered Stereo PA System: $229.99 after rebate (Regular $399), with free shipping.
Fender Deluxe Roadhouse Stratocaster Electric Guitar: $439.99 (Regular $699), with free shipping.
Clever Wireless Presentation Remote Control C760, Black: $7.99 (Regular $19.99), with free shippng.
As always with these deals, only valid while supplies last.
21 June 2016, Tuesday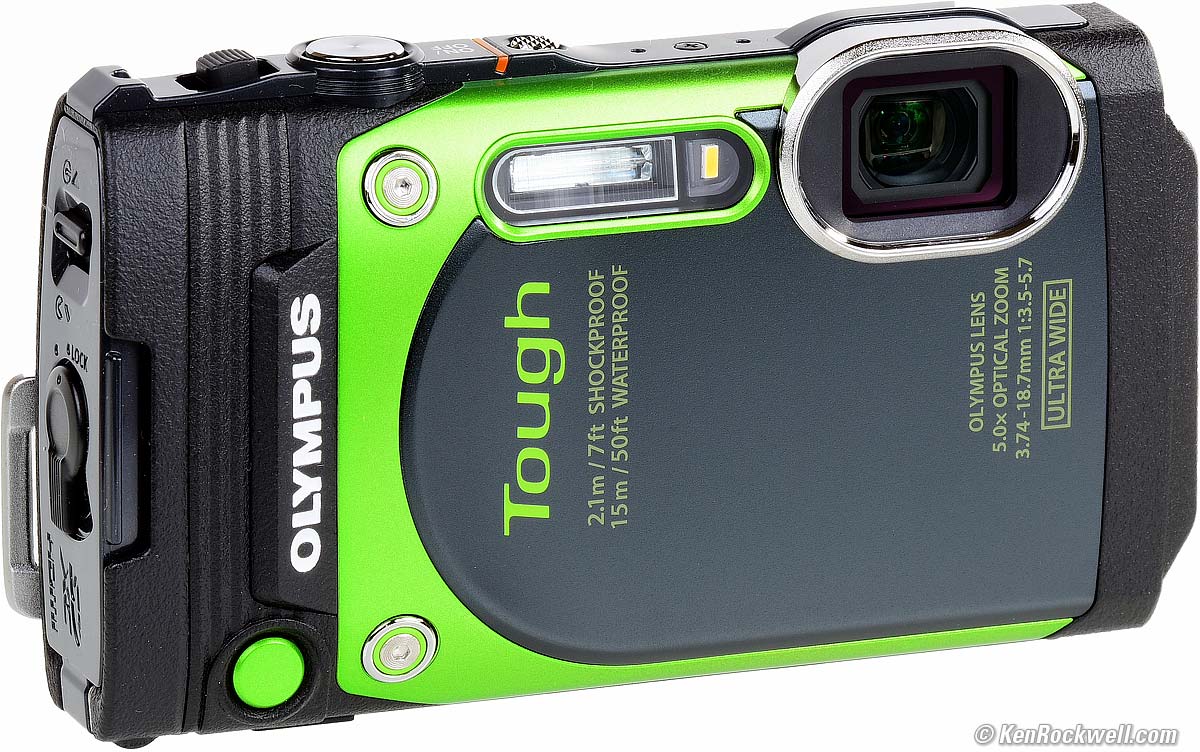 Olympus TG-870.
Here's a swell underwater camera at a bargain price, and it has a 21  ~ 105mm equivalent lens, too!
I just got back from a couple of weeks in Hawaii shooting it.
Super Sale on Super Headphones
Sennheiser HD650 Headphones: $499.95, and includes a free Adorama $200 gift card and free shipping. They usually sell for much more.
See my Sennheiser HD650 Review.
17 June 2016, Friday
Deals
Today, Friday, only: Amazon's Deal of the Day: 24% off the Celestron AstroMaster 70AZ telescope
AUDEZE EL-8 Planar Magnetic Headphones with mic and standard cable (made in USA): $449.99 (Regular $699), with Free Shipping. Audeze EL-8 review.
Panasonic DMC-TS6 Waterproof Camera: $169 (Regular $209), with Free Shipping.
Vanguard ABEO Plus 363 Carbon Fiber Tripod: $209.99 (Regular $429.99), with Free Shipping. Includes free Vanguard VS-62 Table Top Aluminum Tripod.
Fender Deluxe Stratocaster HSS Plus Top Electric Guitar with iOS Connectivity: $359.99 (Regular $699.99), also in aged cherry burst, all with Free Shipping and while supplies last.
Canon MF216n Laser Multifunction Printer: $99 (Regular $124), with Free Shipping.
15 June 2016, Wednesday
More about why I love 600mm
Here's a sunset snap from last night at 35mm equivalent; about what you get with an iPhone: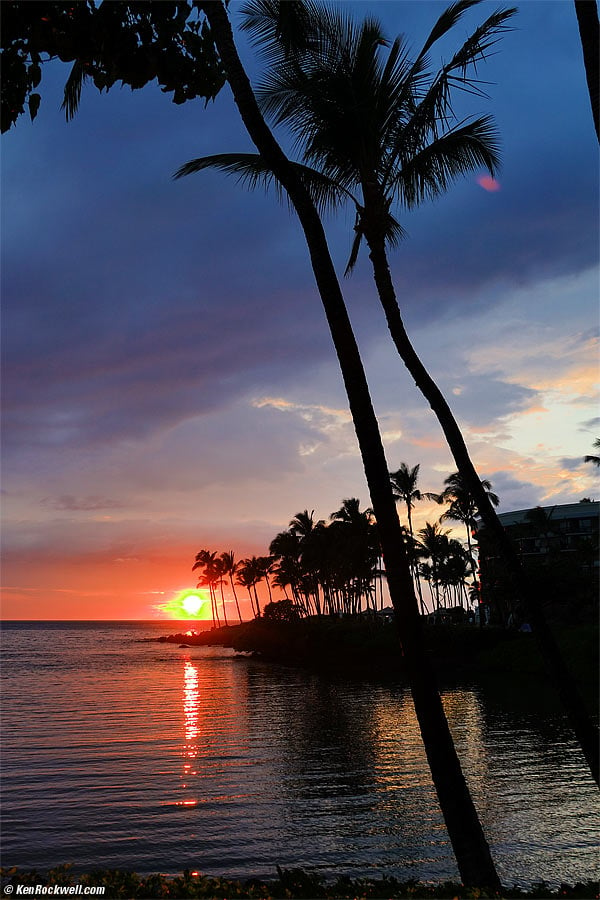 Sunset in Palm Trees, 14 June 2016. 2016 Sony RX10 Mk III at 35mm equivalent (13.3mm actual), f/3.2 at 1/160 at Auto ISO 100.
And here's what you get zoomed-in: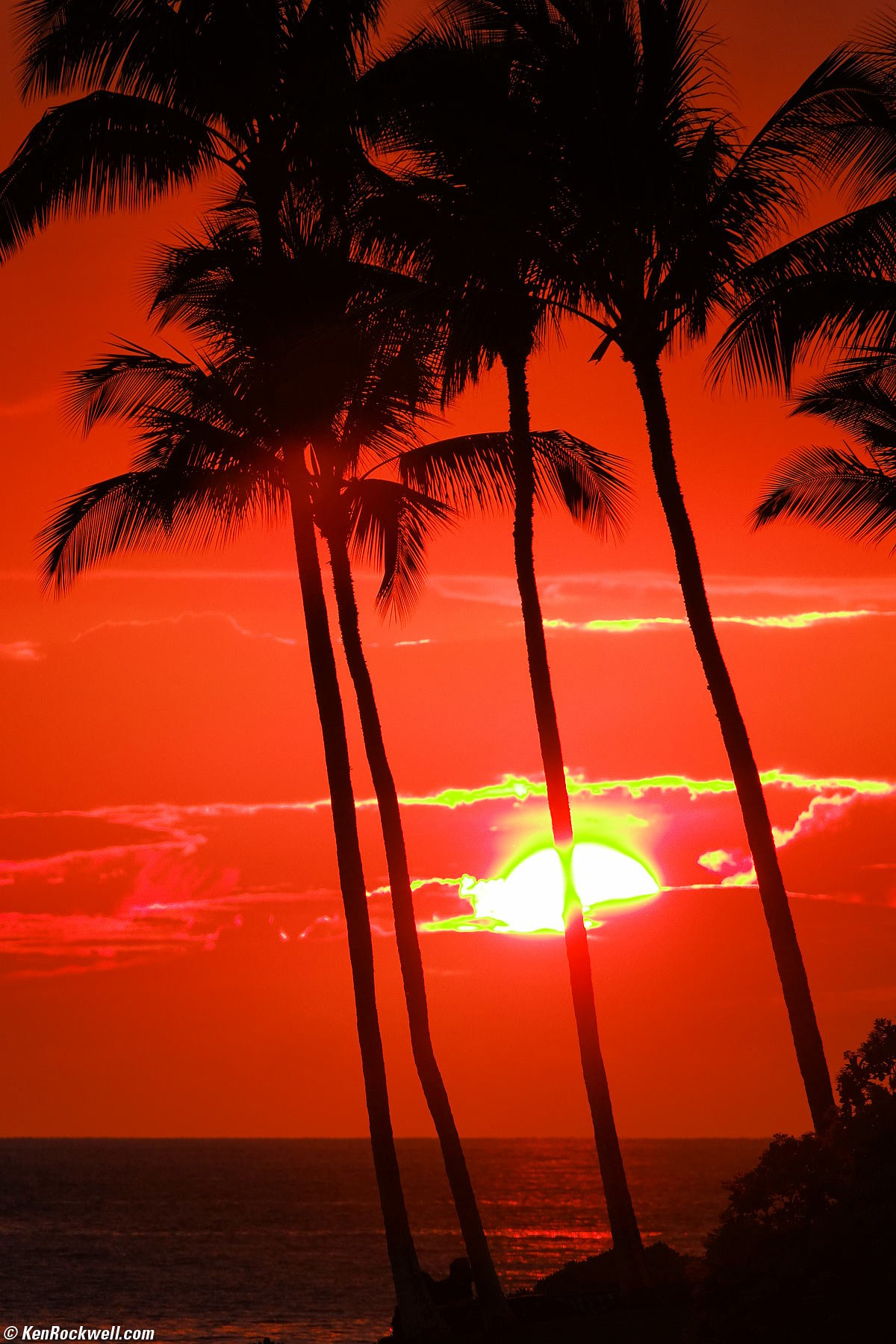 Sunset in Palm Trees, 14 June 2016. 2016 Sony RX10 Mk III at 500mm equivalent (187mm actual), f/4 at 1/200 at Auto ISO 100. bigger.
The whole point of ultra-tele lenses is that you can turn every ordinary little sunset like this one into an epic sunset by zooming in. By filing the frame with whatever little red there is, BAM!, the whole frame explodes with color. These are JPGs essentially as they came from the RX10 MK III without any color fiddling.
Another advantage of an ultra-tele is that you make the disc of the sun huge. In this case I didn't move between these two snaps; I just zoomed-in. The palms you see in the better image are a very long way away. The very long lens enlarges everything to make a strong shot out of a dull one.
You have to consider depth of field; long lenses have very little. In this shot the trees are in focus, and the water beyond is not.
Brand New From Panasonic
12mm f/1.4 LEICA SUMMILUX DG lens for Micro 4/3.
It's roughly equivalent to a 24mm f/1.4.
Back in Stock
Nikon D500 & 16-80mm in-stock.
Panasonic DMC-GX85 & 12-32mm in-stock.
Deals at Amazon
$200 off the Canon T6 with 18-55mm & 75-300mm lenses
$250 off the Olympus OM-D E-M10 16 MP Mirrorless Digital Camera with 14-42mm 2RK lens
15% off the DJI Phantom 3 Advanced Quadcopter with 2.7K HD camera; use code DJI15
25% off the Nest Cam security camera
25% off the Zmodo Pivot 1080p Wireless Security Camera and All-in-One Smart Home Hub
14 June 2016, Tuesday
Gotta Love 600mm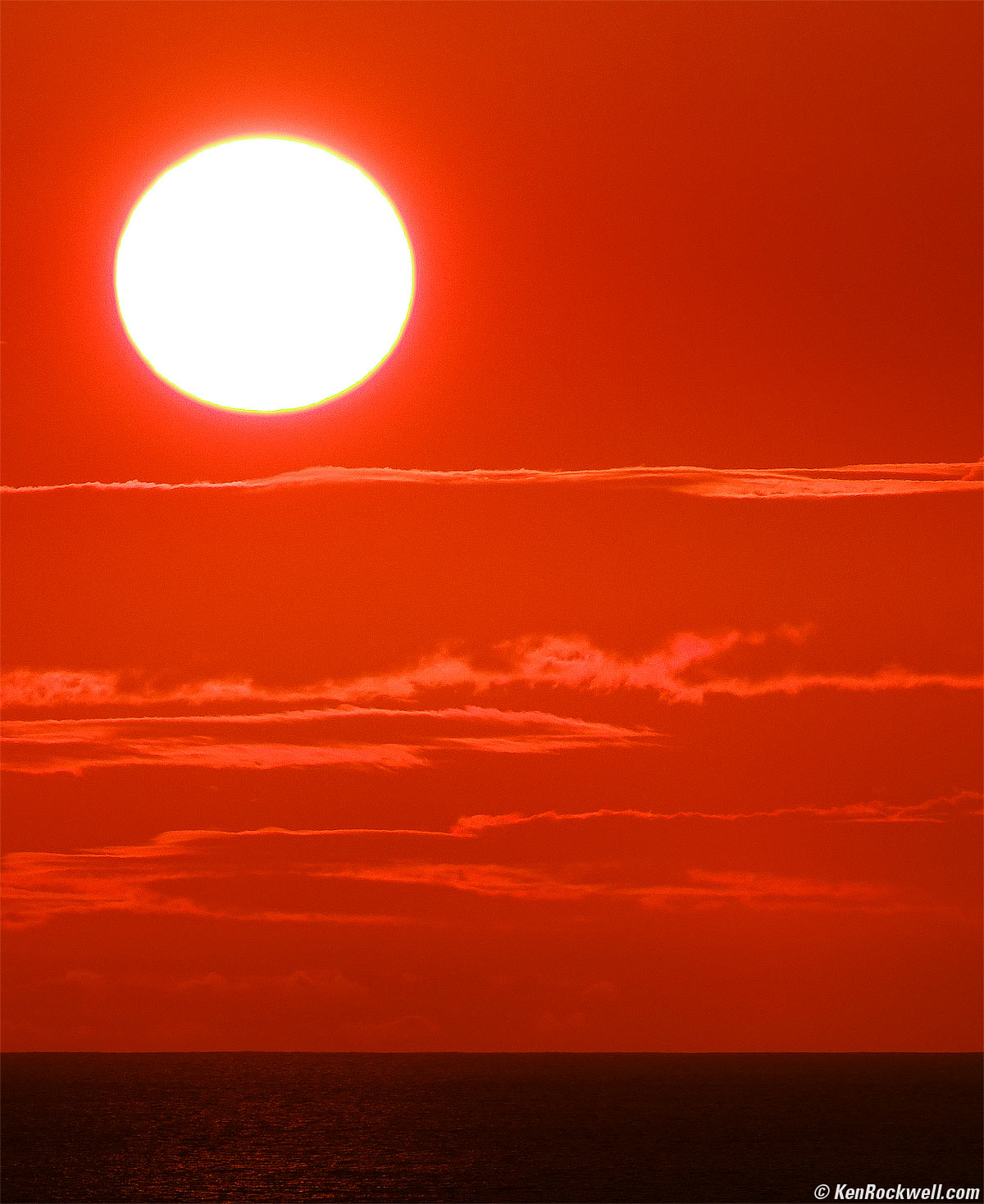 Sunset, yesterday. 2016 Sony RX10 Mk III at 600mm equivalent (220mm actual), f/5.6 at 1/1,000 at Auto ISO 100. bigger.
The Sony RX10 Mk III makes these shots so easy. With the equivalent of a 600mm f/4 on tap, it makes these shots so much fun, too. I remember the fun I had back in 1992 way before DSLRs when I got my first Nikon 600mm f/5.6 AI-s and it opened up all sorts of new worlds for me — until I got tired of carrying it. Now with this Sony, I can take it everywhere and shoot all this hand held.
Fill Flash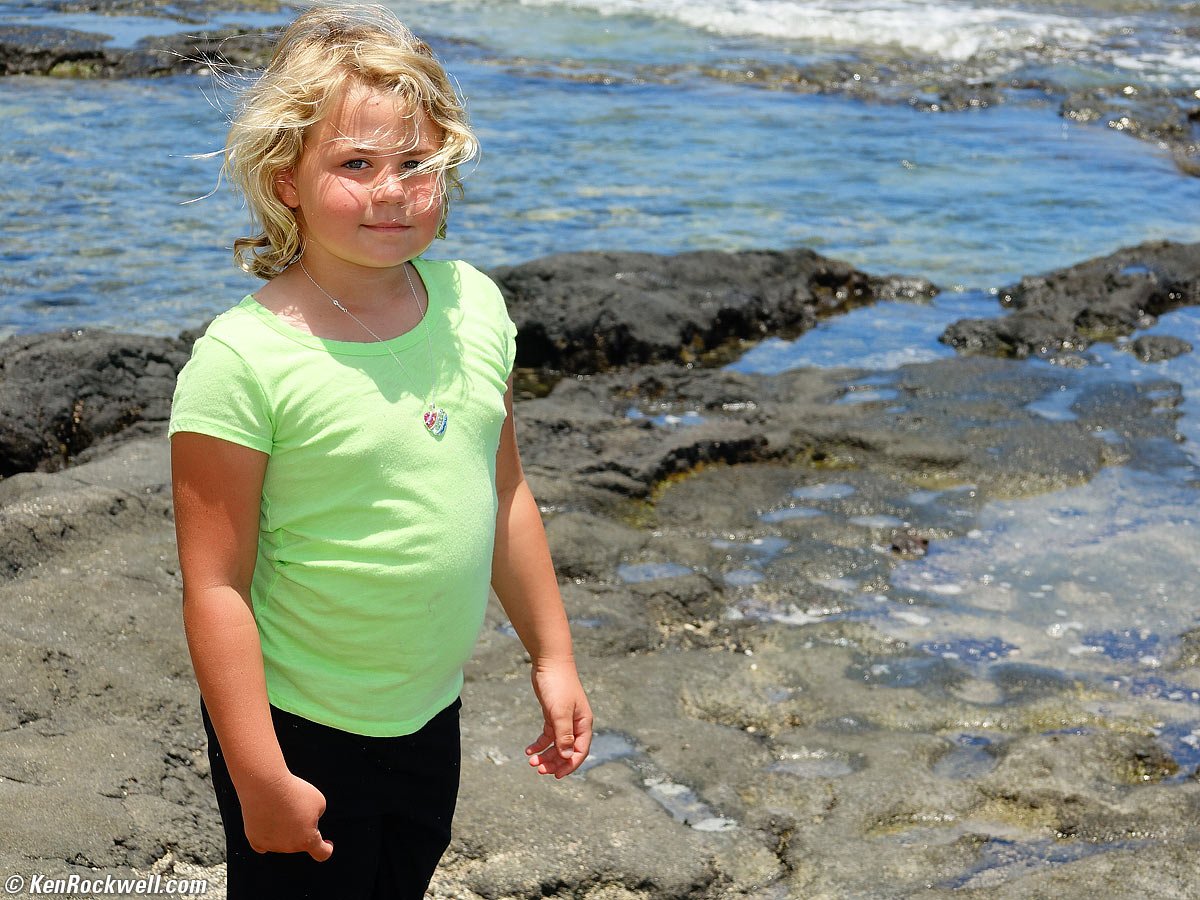 Katie at Tide Pools, yesterday. 2016 Sony RX10 Mk III at 80mm equivalent (29.7mm actual), built-in flash ON, f/4 at 1/800 at Auto ISO 100. bigger.
Oh man, this Sony RX10 Mk III is killing me. With it's 1/1,000 sync speed, its built-in flash easily and automatically balances with daylight at all the distances I need it. Not only do I not need to carry a slew of lenses, I don't need to bring a separate flash to get enough power for daylight fill. Here in this telephoto shot the built-in flash balanced perfectly with harsh daylight - something that would have required a shoe-mount flash with four times more flash power for the same results on a camera with only 1/200 sync like a DSLR.
Photos Too Tall?
If you're on a "widescreen" laptop and these photos are too tall to fit the three vertical inches on your screen, simply drag-in the right side of your browser window to make the window narrower. My photos will shrink magically to fit any size browser window. ("Widescreen" is a marketing euphemism for "too short.")
11 June 2016, Saturday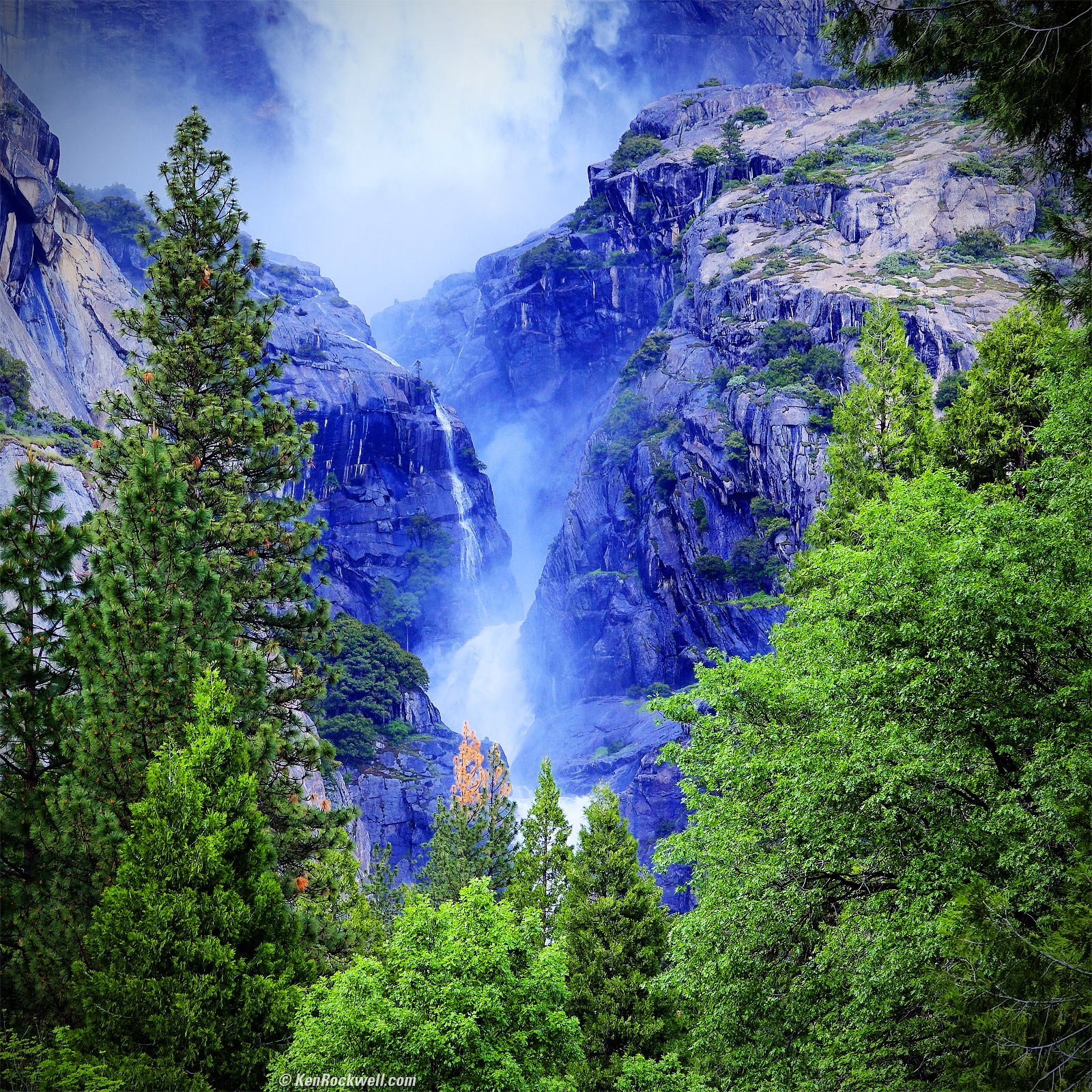 Green Falls, Yosemite Valley.
More snaps made with the Sony RX10 Mk III.
I'll be adding the shots from my Hasselblad 500 C/M later.
10 June 2016, Friday
Fuji 1.4x converter.

Refurbished (was $349), with Free Shipping. Wow, a fresh Nikon DSLR for $270! D5000 review.

About $20,000 each, for follow-focus cinema use on 24x36mm cameras.

They've been around in Nikon, Micro 4/3 and Canon mounts, too.
Loving the RX10 Mk III
I'm still giddy shooting the Sony RX10 Mk III.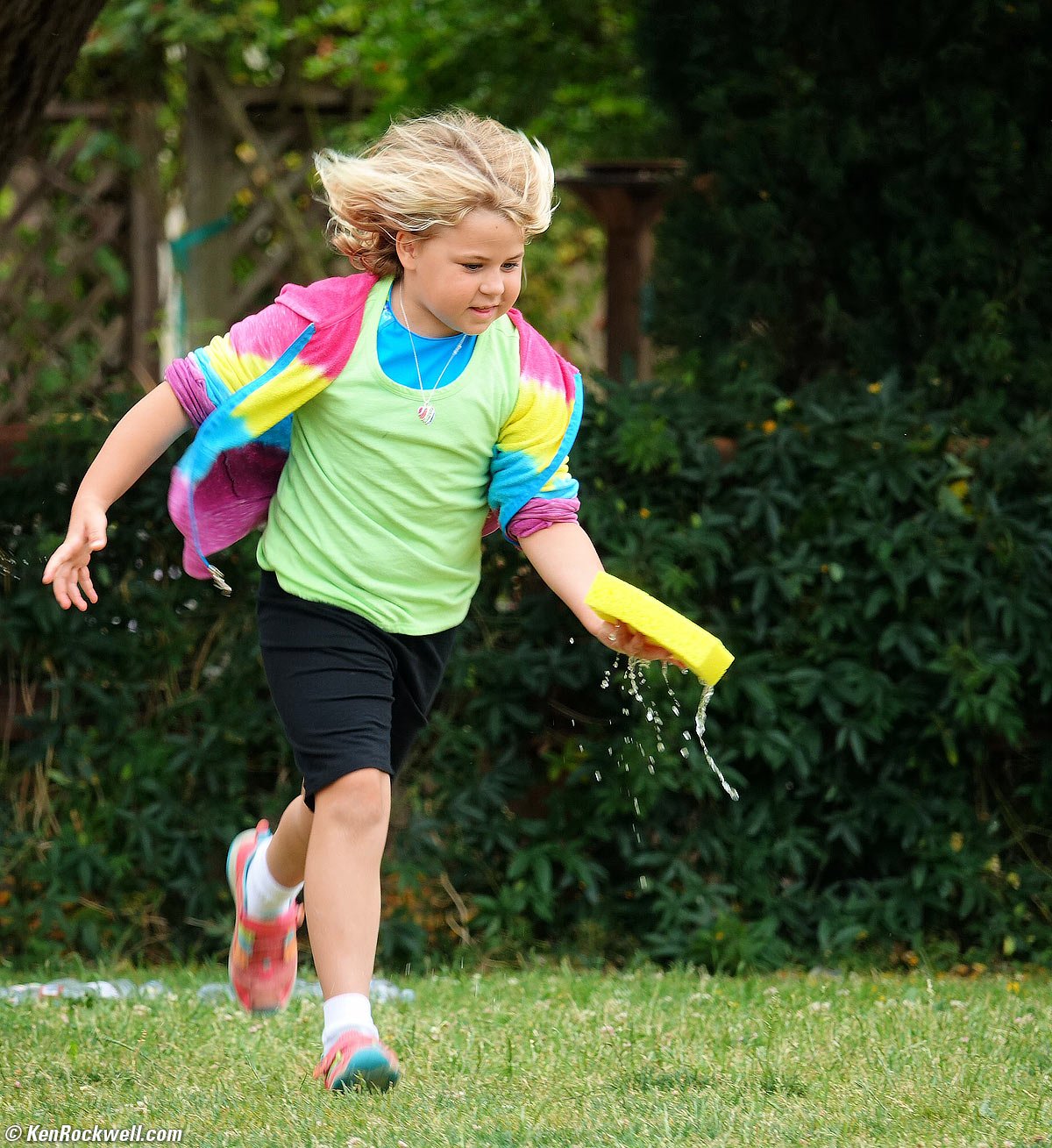 Katie runs with a sponge at her second-grade field day. (Sony RX10 Mk III, lens at 435mm equivalent (160mm actual), wide-open at f/4 at 1/160 at Auto ISO 100, Perfectly Clear. bigger or full-resolution file to explore on your computer (mobile devices rarely display full resolution images at full resolution).
I've been shooting all our school's end-of-school events and field days with it, and it's astonishing how well it works shooting sports. It locks-on and tracks better than most DSLRs and tele lenses at its default settings. Unlike a DSLR that takes me a while to get set, the RX10 III just goes. It really lets me shoot with its silent shutter at 5 tracking, in-focus frames per second, and with it's 24~600mm lens, lets me get head shots across the field, and then zoom out for close-in shots before and after the game, and it's all good.
I added my settings and tips for shooting sports to the Usage section my RX10 Mk III review.
This crazy super zoom is the real deal; it's not 2014 any more.
09 June 2016, Thursday
New from Pentax
Pentax just announced the new K70, which is a "rugged" dust and weather resistant 6 FPS, 24 MP APS-C DSLR. It claims 4k video, but that's only in interval shooting.
It has:
● No anti-alias filter over the sensor
● In-body sensor stabilization
● Cockamamie "Pixel Shift Resolution" feather with "Motion Correction"
● 11-point AF
● ISO to 102,400
● Works to -10º C/14º F

● Tilt LCD
● WiFi
Pentax K-70, black: $649.95
Pentax K-70, silver: $649.95
Pentax K-70 w/18-135mm, silver: $899.95
Pentax 55-300mm f/4.5-6.3: $399.95
08 June 2016, Wednesday
Holy Gray Market!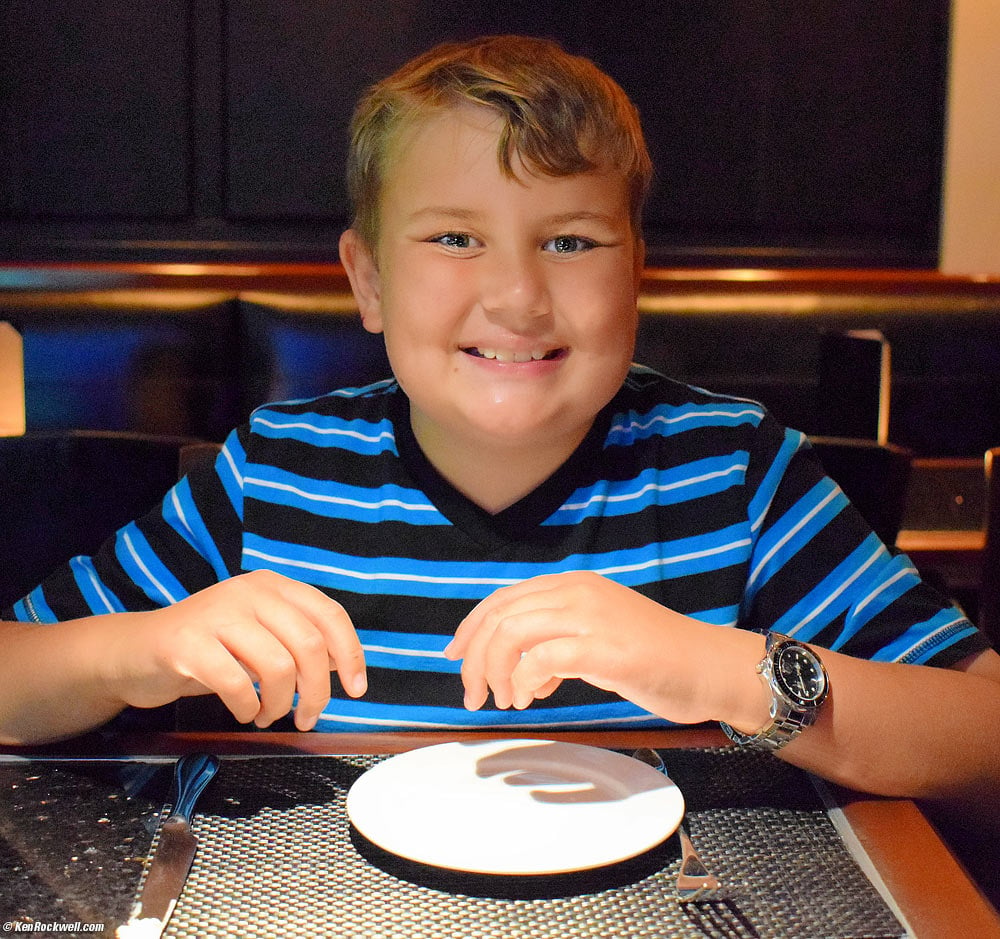 Ryan at West, 07 June 2016. Nikon D3300 with Nikon 18-55mm VR AF-P (gray market) at 24mm, f/4 at 1/40 at Auto ISO 8,000, Perfectly Clear. bigger.
I just got my hands on a gray-market Nikon D3300 with the new Nikon 18-55mm VR AF-P kit lens. Not only is it $100 less expensive than the legitimate USA version, the lens now has the new AF-P stepper-motor that I don't think we can get otherwise in the USA.
This new kit lens (full review coming) is unusual in that it loses the VR and AF slide switches; these functions are now controlled in the camera.
What's slick about this new lightweight collapsible lens is that:
1.) AF is ultra fast, and not only is it as fast as my own eyes focus, it focuses that fast even in near darkness. Even in the darkest shadows of a dark restaurant, it slams from subject to subject immediately, far faster and surer than the Fuji X-Pro2! The Fuji simply gives up in light this dark, while the D3300 and 18-55 AF-P just focus. It focuses in light so dark (much, much darker than where I made the photo above) that the finder screen is so dark that I can't even see if it's really in focus or hardly see what's in my photo— but the IN FOCUS dot lights up and the photos are dead-on!!! In this case, the camera is seeing even better than my own eyes, and this is with the plastic kit lens.
2.) This curious new AF-P system finally gives instant manual focus override. No more need for an AF-MF switch; just turn the ring with the camera's AF system running, and it focuses manually and just holds it there. Tap the shutter again and it focuses automatically again. Perfect!
3.) This new lens is only compatible with the newest cameras like the D3300. It is not compatible with older cameras like the D3200. Nikon apparently needs more secret sauce in the newest cameras to drive these new AF-P lenses.
4.) This new AF-P lens has an extra aspherical element not in the older 18-55mm VR II lens we get in the USA, and now the AF-P kit lens takes a 55mm filter. This new AF-P has 12 elements in 9 groups (2 aspherical), while the old 18-55mm VR II lens we get in the USA has only 11 elements in 8 groups with only one aspherical element.
More coming, but its focus abilities wowed me. Of course the D3300 still has the same Nikon DSLR image quality as every other camera in their line; just that it weighs a lot less and has fewer control buttons. The D3300 still has more resolution than a D5. The D3300 has been on the top of my Recommended Cameras list for about 2 years now, no news here.
Here's Nikon (Japan's) press release on the new AF-P lens which came out in January, at least in Japan.
07 June 2016, Tuesday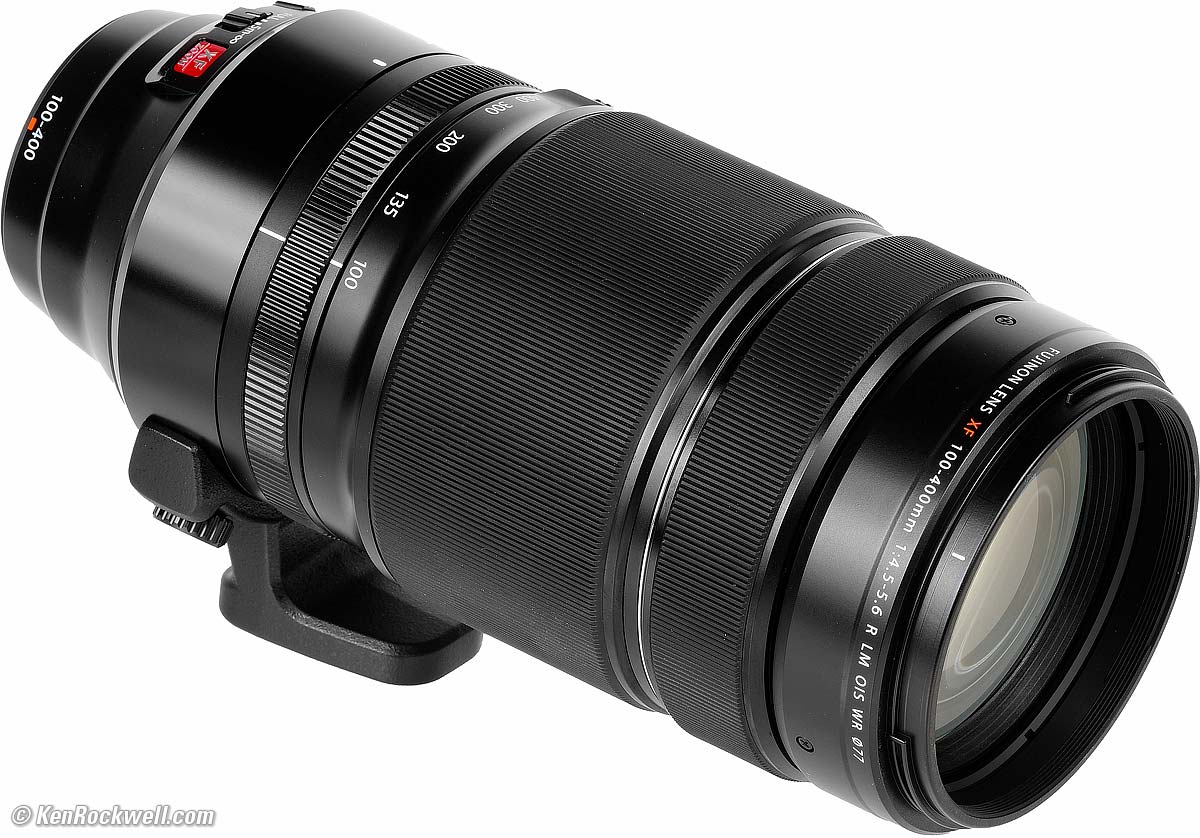 Fuji 100-400mm OIS.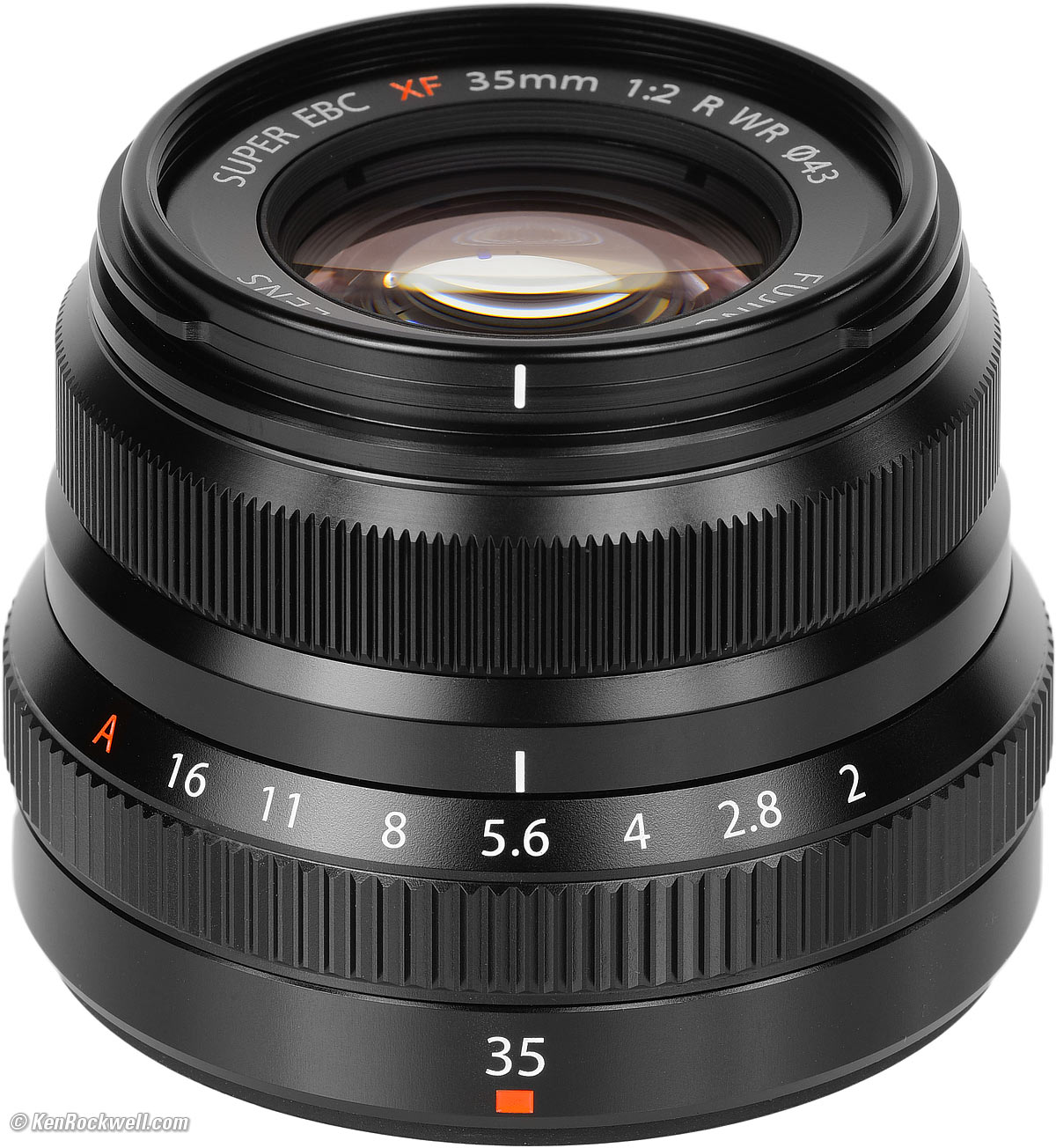 Fuji 35mm f/2 WR.
Deals
Nikon D3300 & 18-55mm VR P: $446.99 (gray-market)
Epson PowerLite 3020 3D 3LCD Projector: $899 (Regular $1,349), with Free Shipping.
Ricoh SP C250DN Color Wireless Laser Printer: $69.99 (Regular $99.99), with Free Shipping.
Sunpak PRO 523PX2 Carbon Fiber Tripod with Pistol Grip QR Ball Head: $74.99 (Regular $119), with Free Shipping.
LG 24MP48HQ-P 24" IPS HD LED Monitor: $99.99 after rebate (Regular $149.99), with Free Shipping.
06 June 2016, Monday
With the continued strength of the dollar versus the yen, gray-market deals like this continue to be found on eBay. These usually sell for $898 as USA versions.
Gray Market means that this seller is importing these themselves and passing the direct prices on to you, bypassing Sony USA and their markup (and warranty). The gamble is that if anything goes wrong, the seller is offering its own warranty; Sony USA won't be there to help you.
For $200 off from the USA price, I'd definitely get one of these for my Sony if you don't already have one. Lenses rarely need any kind of service, and for $200 off, I'll take that chance. See my Zeiss 55/1.8 Review; it's an insanely good lens.
Adorama's rebate deals also include a filter (or even more in a kit), free shipping and 2% rewards, for the same price as the lens alone.
04 June 2016, Saturday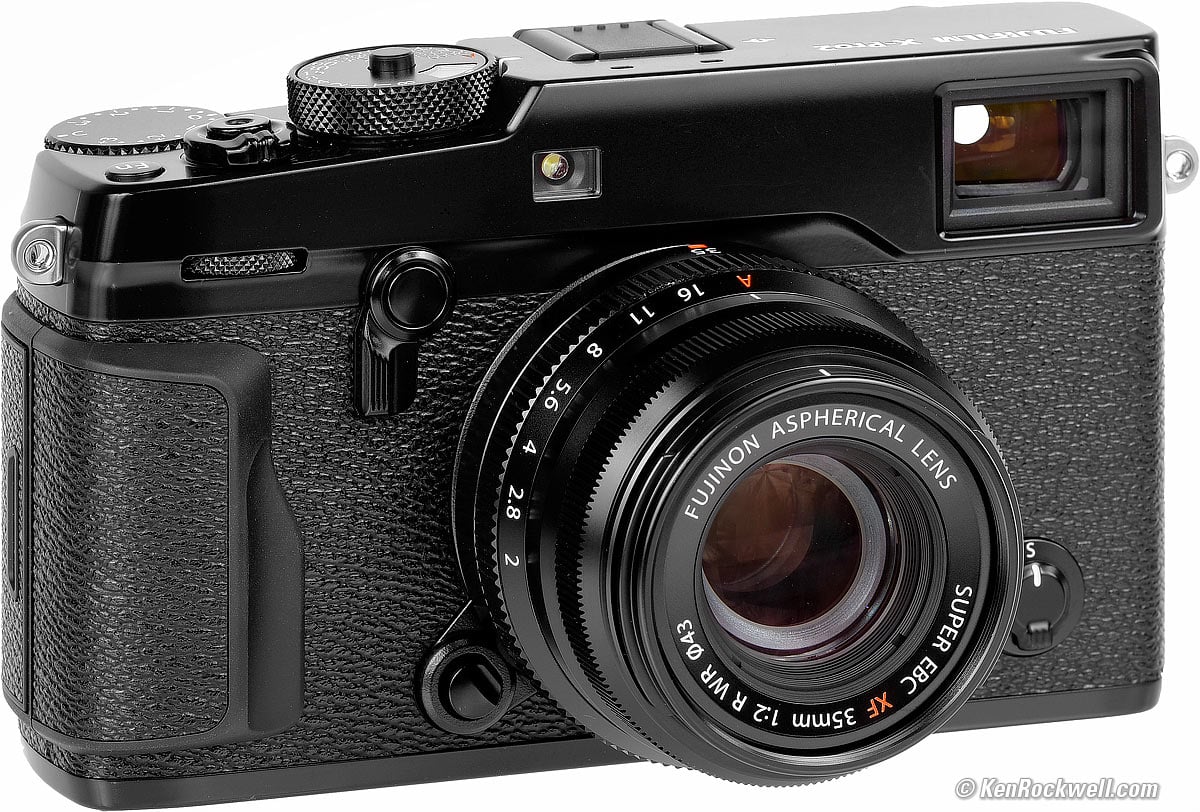 Fujifilm X-Pro2 and 35mm f/2 lens.
03 June 2016, Friday
Color Rendition Compared
As I work on my Fuji X-Pro2 review, I added this table at the Compared section. I thought you'd get a kick out of it; it's what I've been saying for years.
| | | | | |
| --- | --- | --- | --- | --- |
| | Fuji | Sony | Nikon & Canon | LEICA |
| People | Superior | Good | Very Good | Fair |
| Places & Things | Poor | Good | Superior | Poor |
I also added the X-Pro2 to All Fuji Cameras Compared.
iPad Case Dilemma Solved!
The ultimate leather iPad case for ladies and gentlemen has been found, and it's only $20. This case from "WizB" for iPad Air 2 satisfies all the criteria laid out on Monday below.
What's astonishing is how there were no suggestions from people for one that really met all the requirements; although goods from a couple, ,like Knomo, looked promising. There were plenty of cases that used plastic or had too much stuff on them, but none that made the iPad a joy to use, feel and carry.
The great news is my $20 WizB case is all I needed for the iPad Air 2, and a tenth the price of some of the others, hooray— but still looking for one for my iPad Pro.
02 June 2016, Thursday
New Month, new size
As I continue to fiddle with page sizes, I just rendered this page so it magically scales to fit whatever.
Look OK? If you have any comments, be sure to let me know on what sort of gizmo you're reading it, with what browser.
What Was New in:
Help me help you
I support my growing family through this website, as crazy as it might seem.
If you find this as helpful as a book you might have had to buy or a workshop you may have had to take, feel free to help me continue helping everyone.
If you've gotten your gear through one of my links or helped otherwise, you're family. It's great people like you who allow me to keep adding to this site full-time. Thanks!
If you haven't helped yet, please do, and consider helping me with a gift of $5.00.
The biggest help is when you use any of these links when you get anything, regardless of the country in which you live. It costs you nothing, and is this site's, and thus my family's, biggest source of support. eBay is always a gamble, but all the other places always have the best prices and service, which is why I've used them since before this website existed. I recommend them all personally.
Thanks for reading!
Ken