Home Donate New Search Gallery Reviews How-To Books Links Workshops About Contact
Aiptek ZAC-STD-5 Tripod
$14.95 — including case!
©2013 KenRockwell.com. All rights reserved.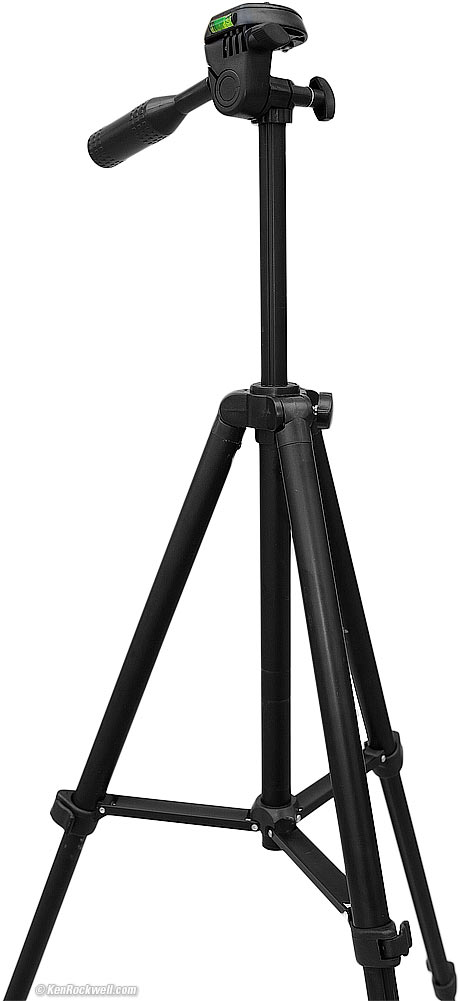 Top half of Aiptek ZAC-STD-5 (20.5oz./581g total, 17"/43 cm folded, 49"/1.25m maximum height, about 15 bucks). enlarge. I bought mine at Adorama.
This free website's biggest source of support is when you use that or any of these links when you get anything, regardless of the country in which you live — but I receive nothing for my efforts if you buy elsewhere. I'm not NPR; I get no government hand-outs and run no pledge drives to support my research, so please always use any of these links for the best prices and service whenever you get anything. Thanks for helping me help you! Ken.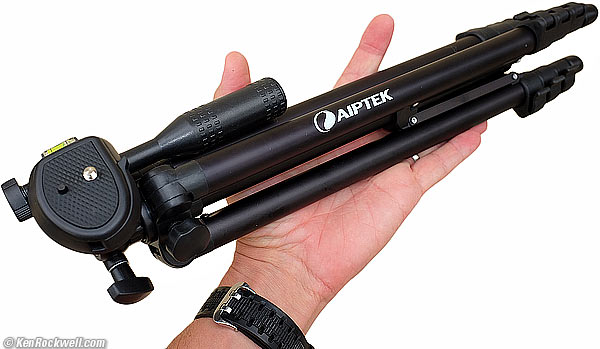 In-hand. enlarge.
April 2014 Better Pictures Nikon Canon Fuji LEICA All Reviews
Introduction top
This is the least expensive and lightest full-size tripod I've ever seen, making it the best tripod I've ever seen.
Sure, for $14.95 it's not as tough as my $500 Gitzo, but so what; my $500 Gitzo is so heavy I never carry it outside of my studio.
At $15, think also what a great lightstand this would make, buying a few for your lighting system.
When the light gets bad and if I need a tripod for a long night exposure of for shooting real photos in many sorts of lighting out in the field, this lightweight tripod in-hand is far better than my $500 Gitzo left back at the car or hotel.
If you want to be spendy, the Dolica AX620B100 is far nicer if you're going to use it more than once or twice, but weighs almost twice as much. The Dolica is all metal, for a lifetime of service, while this $15 special has metal legs, spanners, and screws but otherwise mostly plastic mechanical parts.
Yes, the pan-tilt head is all plastic and isn't what I'd use to hold a Hasselblad or Linhof, but for a point-and-shoot or small DSLR, this tripod is surprisingly sturdy.
It uses a square, plastic quick release plate that seems to go in any of four ways.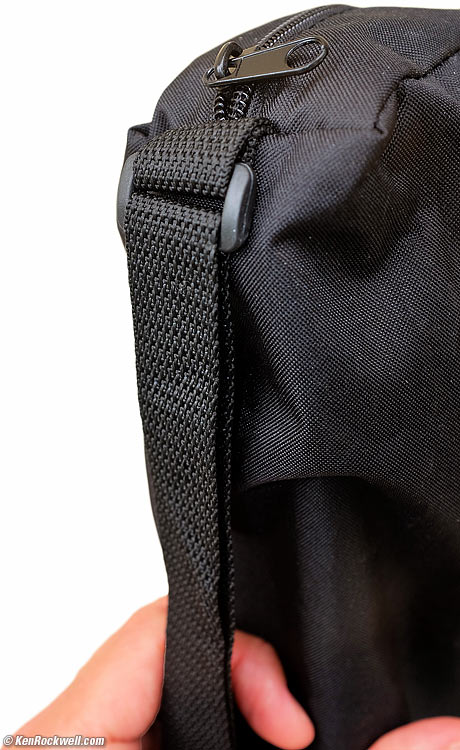 Includes case with strap!
Good
$15.
Super light weight.
Non-rotating legs and flip locks make set-up and strike fast and easy.
Case included to keep it clean in your trunk or the back of your pickup truck.
Cross-braced and surprisingly sturdy.
Only goes to 4 feet tall so you don't set it too high and become less stable.
Center column.
Head. enlarge.
Bad
Cheezy build quality if you're planning on using it a lot. Even the quick-release plate and receiver are all plastic. (Legs, screws and camera screw are all metal.)
So what; for $15, you couldn't buy the case alone from another maker.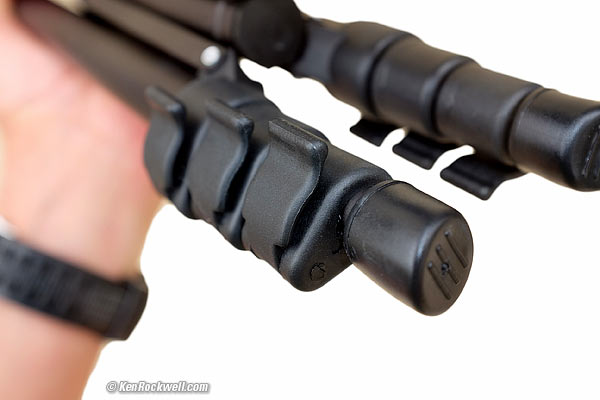 Feet. enlarge.

Extra Features
Case included.
Flip locks.
Non-rotating legs.
Level.
90º rotating top plate for vertical shots.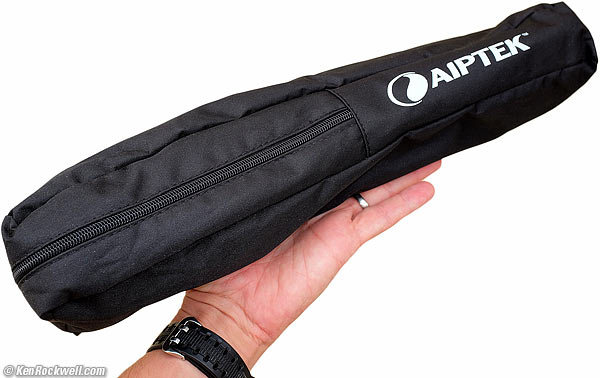 Case included! enlarge.
Specifications top
Size
17" (43 cm) folded.
49.25" (1.25m) maximum height.
16" (41cm) minimum height.
0.75" (19mm) maximum tube diameter.
Weight
20.500 oz. (581.2g), actual measured.
23.010 (652.3g) measured in case.
24 oz. (630g), rated.
Rated Load
4.4 pounds (70 oz. or 2 kg).
Included
Box.
Tripod.
Unpadded case with strap.
Price, USA
$14.95, April 2014.

Recommendations top
This is a great tripod to keep in your trunk or hidden in a corner of your case so you'll always have it for when you need a tripod.
If you are a regular tripod user, it's too light and won't take much usage; splurge and get the all-metal Dolica AX620B100, whose case is padded!
This tripod only is rated to hold 2 kg (4.4 pounds). If you're the sort of goon who shoots big cameras or lenses, this light tripod won't hold it. I did try it with a Canon EOS 1V, 24-70mm L II and 540EZ flash (5.4 pounds or 2.4 kg) and it held, but I doubt it would hold it if I didn't have it well-balanced on the head.
Hey, for fifteen bucks, this is a far better tripod to keep handy in boat, dorm, or school locker for whenever you might need one. Your big tripod is less than worthless if it isn't with you. Stick one of these in your kid's stroller or backpack so you have it if you need it.
Help me help you top
I support my growing family through this website, as crazy as it might seem.
The biggest help is when you use any of these links when you get anything, regardless of the country in which you live. It costs you nothing, and is this site's, and thus my family's, biggest source of support. These places have the best prices and service, which is why I've used them since before this website existed. I recommend them all personally.
If you find this page as helpful as a book you might have had to buy or a workshop you may have had to take, feel free to help me continue helping everyone.
If you've gotten your gear through one of my links or helped otherwise, you're family. It's great people like you who allow me to keep adding to this site full-time. Thanks!
If you haven't helped yet, please do, and consider helping me with a gift of $5.00.
As this page is copyrighted and formally registered, it is unlawful to make copies, especially in the form of printouts for personal use. If you wish to make a printout for personal use, you are granted one-time permission only if you PayPal me $5.00 per printout or part thereof. Thank you!
Thanks for reading!
Mr. & Mrs. Ken Rockwell, Ryan and Katie.
Home Donate New Search Gallery Reviews How-To Books Links Workshops About Contact