Home Donate New Search Gallery Reviews How-To Books Links Workshops About Contact
Bushnell Spacemaster II
60mm Prismatic Telescope (1971)
© 2011 KenRockwell.com. All rights reserved.
Intro Specs Performance Compared Usage Recommendations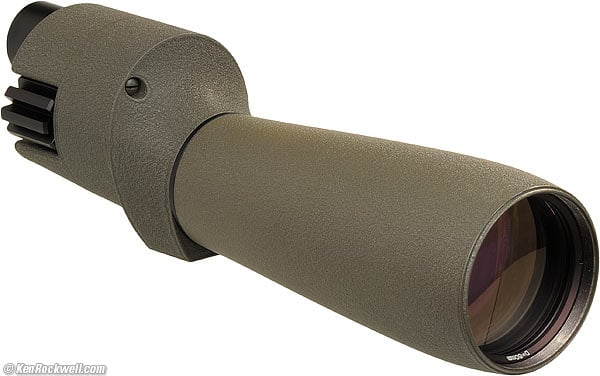 Bushnell Spacemaster II. enlarge. (60mm objective, 15x - 60x depending on eyepiece, 32.552 oz./922.85g with 25x eyepiece, about $175 used.) This free website's biggest source of support is when you use these links, especially this link directly to them at eBay (see How to Win at eBay). It helps me keep reviewing these oldies when you get yours through these links, thanks! Ken.
July 2011 More Reviews
Introduction top
Intro Specs Performance Compared Usage Recommendations
Bushnell has been making Spacemaster spotting scopes in various iterations since about the 1940s, when the USA was preparing as usual to fight the last war. These were developed as tough, lightweight, high-power spotter's telescopes for trench warfare.
They are still made today, and sell for about $300 brand new. They are mostly used at shooting ranges on short tripods.
I am reviewing this sample from 1971. I can't speak for earlier or today's Spacemasters.
I borrowed one to review after I tried one about this old sitting out in a kid's play area of a local nature preserve, and its optics were far better than expected.
Optical and mechanical quality is first class: it has a 20-year warranty! It has an olive-drab, crinkle-coat cast-aluminum body with internal focusing. The focusing knob is solid aluminum, and its set screw is sealed to ensure unauthorized people don't screw with it. The serial number and "D=60mm" is engraved into the front retaining ring.
In its day, it sold for the equivalent of about $500.
There were seven different eyepieces available: 15x, 20x, 20x wide-angle, 25x, 40x, 60x and a 20-45x zoom. The eyepieces screw into the back of the prism housing.
The Spacemaster trademark was first used on October 14, 1952, registration was filed March 14, 1958, and was registration was granted on January 13, 1959. It was renewed in 1999 and is still used today.
Spacemaster means something. This 1971 sample probably looked at the moon while we had men on it.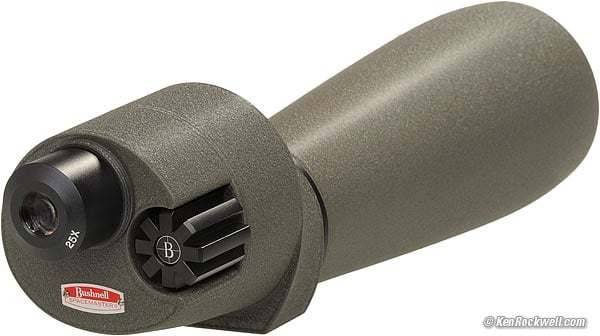 Bushnell Spacemaster II. enlarge
Specifications top
Intro Specs Performance Compared Usage Recommendations
Optics
60mm, 3-element objective.
Single-coated.
Plenty of baffling.
Prism erector.
Internal focus.
Close focus: 8.2 meters (27 feet).
Focal length: about 300-450mm. (The camera adapter makes foolishly long focal lengths, like 2,000mm, but that's because the camera adapter uses eyepiece projection.)
Eyepieces: screw into rear of scope. The eyepieces have a male thread, about 27 x 0.75mm.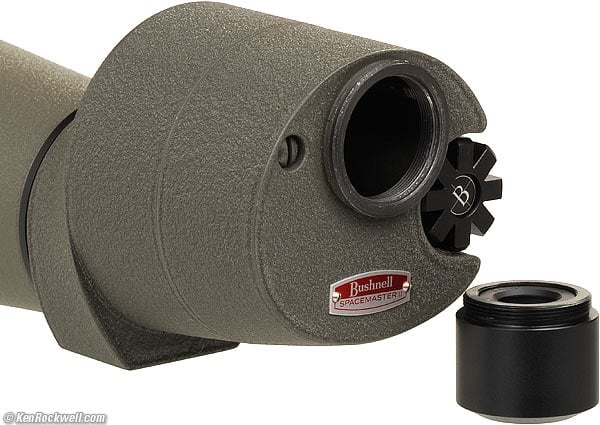 Bushnell Spacemaster II. enlarge
The scope body also has a male thread of about 34 x 1.0mm to which adapters, or the rear cap, may be attached.
A machinist could make an adapter to attach 1¼" eyepieces to the rear 34mm threads, however most ¼" eyepieces would not allow infinity focus — they need to poke into the scope body.
If you get really lucky, you may be able to unscrew a 1¼" barrel and thread some 1¼" eyepieces directly into the Spacemaster II, but why bother when you can use the compact original eyepieces?
Here are the eyepieces and their order numbers as included with the scope: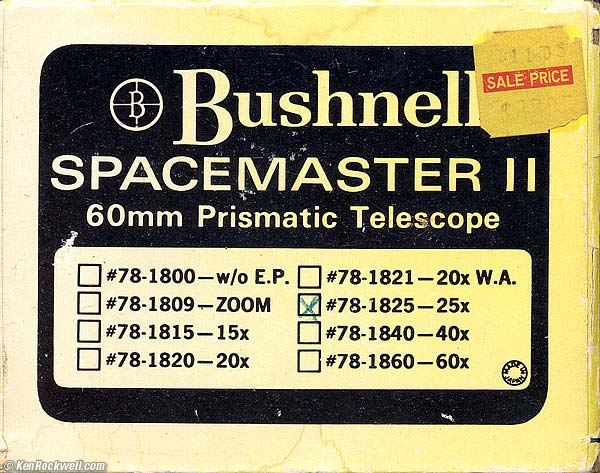 Box end: order numbers and options.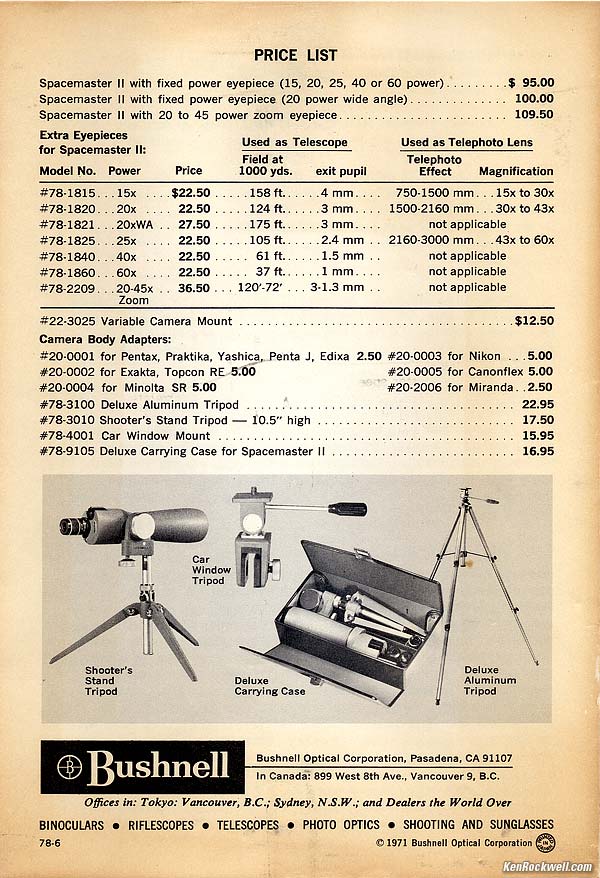 List prices with fields-of-view and part numbers. (Multiply prices by 5.57 to get equivalent prices in 2011 with inflation.)
For angles-of-view, the math tells us that:
25x eyepiece is 2º actual or 50º apparent field.
20x WA eyepiece is 3.3º actual or 67º apparent field.
etc.
Accessories
Caps (included)

Bushnell Spacemaster II, capped. enlarge.
The Spacemaster II comes with a plastic screw-in front cap, and a plastic screw-over rear cap. The rear cap covers the rear of the scope with or without an eyepiece
The front thread is about smaller than 65.5 x 0.75mm, so no standard screw-in camera lens cap works.
Nikon's current snap-in 67mm cap works great, since its spring-loading easily adapts to the smaller size.
Cases and Mounts (optional)
From the price list above: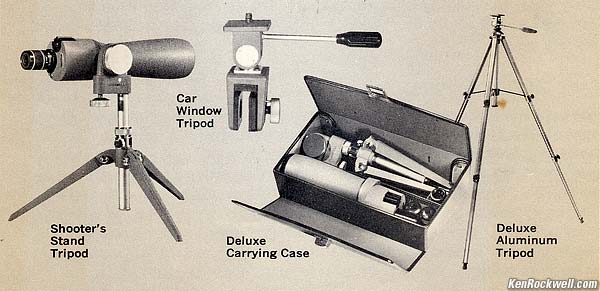 Accessories. enlarge.
Camera Adapters
The camera adapter, part number 22-3020, attached between the Spacemaster II and a standard T-mount adapter to attach to your camera. You left the eyepiece in place, otherwise the image would be inverted in your finder.
Price
The scope seen here was $95 list, while the actual price sticker was $83.
With inflation, that makes it a $500 scope in its day.
Today, they sell for about $175 used, or $300 brand new for the latest version.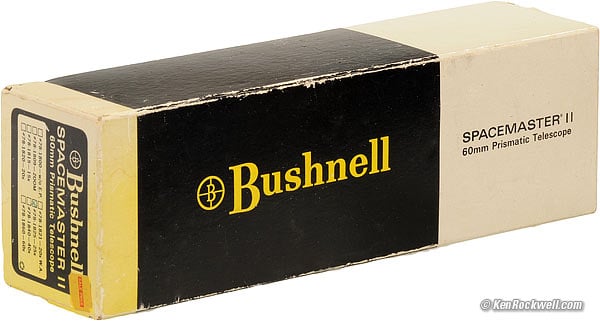 60mm Prismatic Telescope box. enlarge.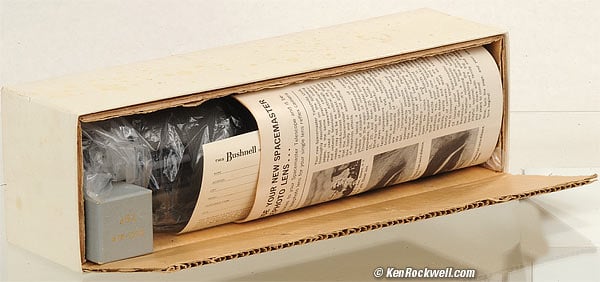 A rich kid's Christmas dream. enlarge.
Size
11.375" (289mm) tip-to-tip with 25x eyepiece
3.31" (84mm) tall, tripod foot to top of prism housing.
Weight
32.552 oz. (922.85g) without caps but with 25x eyepiece.
Warranty
20 years.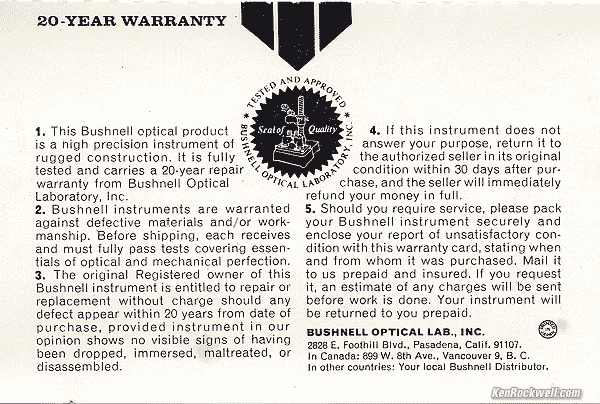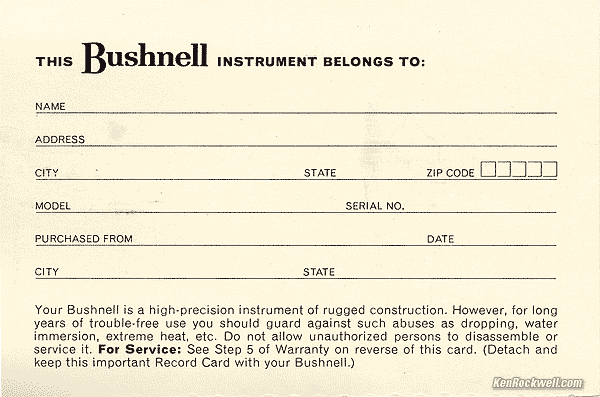 Performance top
Intro Specs Performance Compared Usage Recommendations
It's super-sharp. The biggest limitation to its sharpness is atmospheric heat shimmer, not the scope.
With the 25x eyepiece, it's super-sharp right out to the edges, with only the slightest pincushion distortion and almost no secondary axial chromatic aberration, visible only on out-of-focus objects. When you're in-focus, there is no chromatic aberration and the image is extraordinary.
I've seen much more expensive new scopes today with much poorer performance.
With the 25x eyepiece, it's trivial to read a license plate or see what sort of socks a suspect is wearing at 500 meters (1/3 of a mile), and at 2 kilometers (1¼ miles), it's easy to read street and traffic signs or recognize a person. At 100 meters (330 feet) it's trivial to read an expiration sticker or read the time off a wristwatch.
At 12 meters (40 feet) at 25x, every barb of each of a dove's feathers are visible. There is more in this scope's image than 20/20 vision can resolve.
Focus
Focus is easy. It can be turned from the side with the side of a thumb, or turned from its front edges.
It's geared just right: easy to focus precisely.
The focus knob turns easily and smoothly. 4 turns bring it from beyond infinity to the close-focus stop.
Focus is precise: if you're focused at infinity, you'll have to refocus for a subject at 1/4 mile.
Eye Relief (with 25x eyepiece)
There's lots of eye relief; keep your eye back from the eyepiece for the best view. The view isn't critical of eye position.
Even better, there's plenty of wiggle-room: if the scope is on a stand and you bring your head to it, as your head moves around, the image in the scope stays fixed, sharp, and doesn't black out.
Eye position is not critical. During the day, black-out is minimal as you move your eye.
Night
During the day, the 25x eyepiece is fantastic. It's razor-sharp right out to the corners.
At night, this scope isn't the brightest at 25x; its 2.4mm exit pupil is the same as only a 7 x 17mm or 8 x 19mm scope.
If a suspect is indoors and has his lights on, it's easy to see everything (or what he's watching on TV at 500 meters), but if he steps outside into the dark, your binoculars will see better.
Longevity
This sample is 40 years old, and works great. There is only the slightest haze visible with the flashlight test, and it's invisible in actual use.
This scope is built to last. It's solid cast aluminum. With a 20-year warranty, I suspect it will last forever with just a cleaning once or twice a century.
Compared top
Intro Specs Performance Compared Usage Recommendations
I'm reviewing the classic Spacemaster II. I have no idea if today's Spacemaster is anywhere near as good as this classic.
Sure, I suspect the latest LEICA scopes will be a little bit brighter and maybe a little sharper, but not always.
I'm astounded at how well this scope works, as well as how well my collapsible Russian 20x50mm scope works compared to all the other things out there.
The advances made in the past 40 years have been rubber coatings, slight increases in light transmission, waterproofing and improved close-focus distances. The basic optical quality hasn't changed much. In fact, go find a classic brass scope with a five- or ten-foot-long tube from 100 years ago, and you'll be astounded at how well it works! The worst part about the past 100 years is how much crappier most scopes have gotten, as people cheerfully buy disposable, low-price scopes, and accept their sloppy performance.
Measurebators will argue these points with online experts, but looking thoeugh this classic scope, it's hard to see why you'd want to pay ten times as much for a Swarovski, unless you just like to buy shiny things cased in rubber.
This is a great scope. If you're more of a talker than a shooter, get a Swarovski or LEICA, but if you're a shooter who wants to see what he's hit, or who's about to hit you, this Spacemaster II is small, light, useful and sharp.
Usage top
Intro Specs Performance Compared Usage Recommendations
At 25x, hand-holding works, but isn't optimal.
It's best to get a tripod with fine-tuning, micro adjustments or "slow-motion" controls to point the scope exactly where you want it. Any regular tripod works, but it's a brain-drain trying to point it by moving the whole scope back and forth. The special shooter's tripods have slow-motion controls to allow precise pointing.
You'll want some sort of a solid mount. With a photo tripod, I use my too-heavy Manfrotto 410 (3275) geared head to allow me to point the scope precisely.
New scopes come with little tripods for use at your shooting position.
Here are small micro-adjustable tripods by NcStar and Alpen.
You might want this Bushnell car-window mount, but as you move around in the car, the car, and therefore the view through the scope, moves, too.
Recommendations top
Intro Specs Performance Compared Usage Recommendations
Need a small, light powerful scope with great performance?
Scope out the SPACEMASTER II !
More Information
Help me help you top
I support my growing family through this website, as crazy as it might seem.
The biggest help is when you use any of these links to Adorama, Amazon, eBay, B&H, Ritz, Calumet, J&R and ScanCafe when you get anything, regardless of the country in which you live. It costs you nothing, and is this site's, and thus my family's, biggest source of support. These places have the best prices and service, which is why I've used them since before this website existed. I recommend them all personally.
If you find this page as helpful as a book you might have had to buy or a workshop you may have had to take, feel free to help me continue helping everyone.
If you've gotten your gear through one of my links or helped otherwise, you're family. It's great people like you who allow me to keep adding to this site full-time. Thanks!
If you haven't helped yet, please do, and consider helping me with a gift of $5.00.
As this page is copyrighted and formally registered, it is unlawful to make copies, especially in the form of printouts for personal use. If you wish to make a printout for personal use, you are granted one-time permission only if you PayPal me $5.00 per printout or part thereof. Thank you!
Thanks for reading!
Mr. & Mrs. Ken Rockwell, Ryan and Katie.
Home Donate New Search Gallery Reviews How-To Books Links Workshops About Contact