Home New Search Gallery How-To Books Links Workshops About Contact
VTech KidiZoom
© 2009 KenRockwell.com. All rights reserved.
Intro Specs Performance Usage Recommendations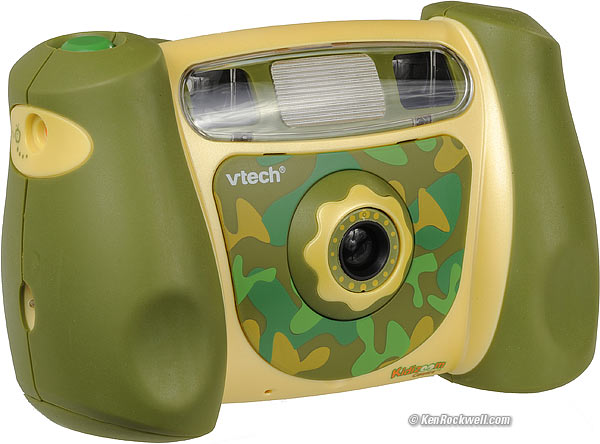 VTech KidiZoom 773. enlarge. You can get this at Amazon in the special safari edition shown here (complete with custom safari case and etc.), or get it in many other less expensive versions I presume to be the same camera. It helps me keep adding to this site when you use these links to get yours, thanks! Ken.
April 2009
Introduction top
Intro Specs Performance Usage Recommendations
I couldn't resist this camera when I saw it at Price Club for $45.
When I finally convinced my wife that our 2-year-old son needed it, it had dropped to $27 on rebate. Whoo hoo!
The reason my son needs it is because it has a binocular viewfinder. There are two viewfinder holes. When I let Ryan play with my Nikon D3 or other camera, he has no problem shooting with them, but hasn't gotten the hang of one-eyed viewing. The people at VTech obviously have this one figured out.
I have the custom version that comes with a case and also does movies and adds fun safari graphics if you like. I haven't tried the less expensive versions.
Specifications top
Intro Specs Performance Usage Recommendations
Power: 4 AA, two in each side of the camera. You need a Philips-head screwdriver to change them.
Auto Power Off: Of course!
Flash: Built-in, automatic and ON and OFF modes.
Flash Sync Speed: Slow; usually grossly overexposes any forced flash-on shots in decent light.
Focus: Fixed, covers about 3 feet (1m) to infinity.
Zoom: None, that's just the model name. Ha ha!
Photo Resolution: 640 x 480 pixel JPG.
File Size, JPG: 50kB typical, 28kB - 85kB depending on subject complexity.
Video Resolution: 160 x 120 pixel AVI.
Video File Size: 710kB for a 10-second clip. As far as I know, you can shoot any length file you like.
Storage: 12 MB internal. (specified as 16MB, but only 12MB is available.) This is enough for about 250 still photos, with no need for a memory card.
Optional Storage: SD card slot for up to 2GB SD cards.
Data Transfer: USB cord (included). An Audio/Video cord is also included, and both are in safari green.
Case: Waist pack included, in custom safari camouflage.
Software: None needed.
You don't need software; just plug the camera into your Mac with a standard tiny-digital-camera to to USB cable (one is also included in color-coordinated safari green) and drag-and-drop the files.
Some Windows software is included, but I don't use any of it since it won't work on a pro computer (Mac).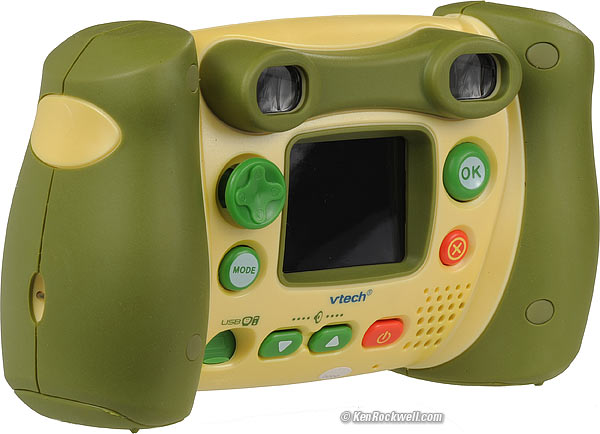 Rear, Kidizoom. enlarge.
Performance top
Intro Specs Performance Usage Recommendations
Ease of Use
Read the two pages of the manual and you'll figure it out. It's a lot easier than any other digital camera.
It just shoots: there's no WB, no ISO, and none of that other crap to adjust.
Much better than almost any other digital camera, it has a dedicated, stand-alone flash mode button: the (X) button. Tap it for forced ON, OFF, or default AUTO modes.
To play, move the multi-selector up or down.
To add fun borders and safari scenes as you shoot, move the selector right or left to select. Your pictures will have these fun things in the JPGs.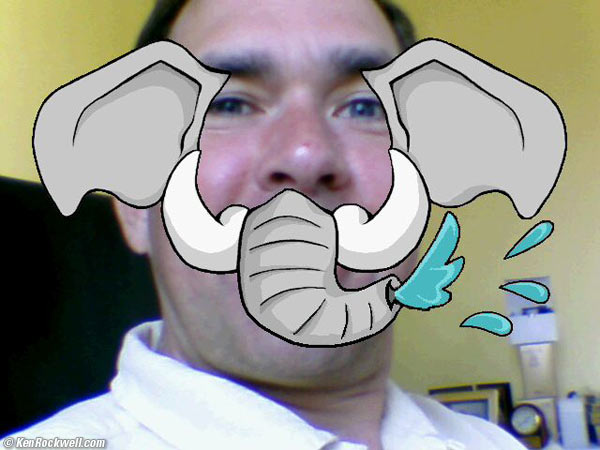 Ken Rockwell on Safari, as-shot by the Kidizoom.
Shooting Delay
It's fast!
Since focus is fixed, it just goes when you press the button, hallelujah!
THe only delay is that each photo hangs on-screen a few seconds after each shot, after which you can shoot the next one.
Photo Quality
Picture quality is like a 1970s VHS camcorder on a bad day, and that's for still images. The Movie mode is even worse: jumpy and tiny.
So what? This is a kid's camera. My two-year-old loves taking pictures of the floor with my Nikon D3. Now that he can see through the viewfinder, he'll love this even more!
The single-element plastic lens is loaded with blue and red color fringes on any bright edge or object.
There is very little distortion; straight lines stay straight.
My sample of Kidizoom looks to the left. I kid you not: use the LCD to compose, or all my photos looked off to the left a bit!
The flash is very weak. It only reaches about as far as the closest distance that just starts to become almost in focus.
LCD Screen
The 1.8" LCD works fine. It's not that bright, but bright enough for use even in daylight if you have a good imagination.
I was happy to pay over $1,000 for my Nikon D70 with the same size screen a few years ago.
Fun Operational Sounds
Unlike most digital cameras, the Kidizoom makes fun sounds for everything. I wish my Nikons did this!
Color
Bright colors are bright, but subtle colors will probably be plagued by our inability to adjust the white balance. Then again, most people don't know how to adjust WB, in which case, color ought to be about the same as the D3X.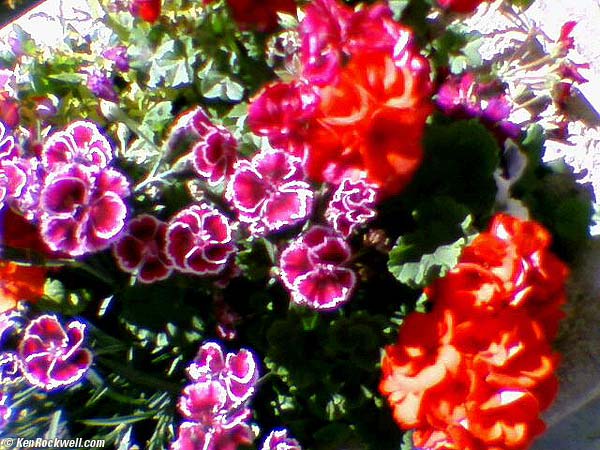 Flowers. As shot by the Kidizoom.
Usage top
Intro Specs Performance Usage Recommendations
To Shoot
Turn it on and press the shutter. The (OK) button does the same thing as the shutter button.
Flash Modes
When shooting, the (X) button cycles through the modes.
Beware; the Kidizoom wakes back up in your previous flash mode. It doesn't automatically wake up in AUTO.
Forget these. FLASH ON in daylight shoots at so slow a shutter speed that everything is washed-out. FLASH OFF doesn't let the camera make a longer exposure, so dark things come out even darker.
The yellow Flash icon on the LCD is very smart. If the flash is going to fire in Auto mode, the yellow A+ symbol shows. If not, you'll see no icon. If the flash isn't ready, it shows a hollow bolt, if the flash is ready, the bolt is solid yellow.
Remote Flash Triggering
The built-in flash is useless for just about anything other than as a trigger for a real flash.
Use the slave mode of a real remote flash (or a Nikon SU-4) to let the wimpy flash of the Kidizoom to trigger the real flash for much better photos.
As a benefit, I suspect the kids will love seeing the other flash go off.
Adding Fun Borders as You Shoot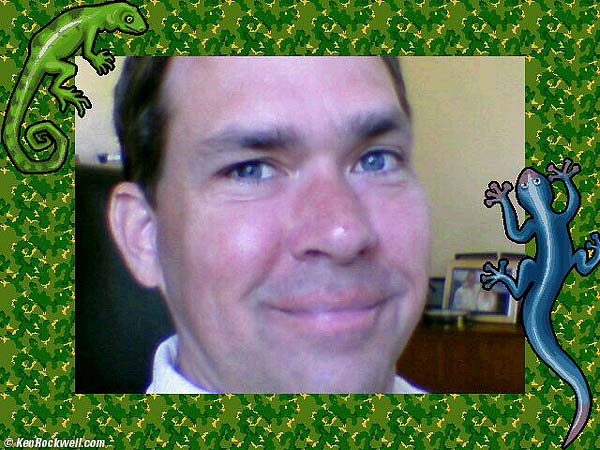 Border, as shot in the Kidizoom.
Press the multi-controller left or right to cycle through these.
You'll see them on-screen, and this is how they'll be recorded.
You can add them later if you like, too.
Playback
To play, tap the multi-controller up or down to go through the photos.
To Delete Photos
While playing, press (X) , click to the left (yes), and press (OK).
To Return to Shooting from the Play Mode
While in play mode, tap the shutter, or tap the multi-controller left left or right to return to shooting.
Edit Modes
You can play in-camera and add these same fun designs (there are about a dozen), as well as add fisheye and other effects.
Battery Changes
If you're using the internal 12MB memory, which is all you need for still photos, swap the batteries within a minute or so, since it will forget (erase itself) if you take too long changing batteries.
If this is a problem, use an SD card which won't erase itself if the batteries die.
Recommendations top
Intro Specs Performance Usage Recommendations
I don't know that I'd spend $230 on this, but I'll certainly spend $59, or $27 as I did.
I'm having a blast with it, and I haven't even given it to my son for whom we got it!
PLUG
I support my growing family through this website.
If you find this as helpful as a book you might have had to buy or a workshop you may have had to take, feel free to help me continue helping everyone.
If you've gotten your gear through one of my links or helped otherwise, you're family. It's great people like you who allow me to keep adding to this site full-time. Thanks!
If you haven't helped yet, please do, and consider helping me with a gift of $5.00.
The biggest help is to use these links to Adorama, Amazon, B&H, Calumet, Ritz, J&R and when you get your goodies. It costs you nothing and is a huge help to me. eBay is always a gamble, but all the other places have the best prices and service, which is why I've used them since before this website existed. I recommend them all personally.
Thanks for reading!
Ken
Home New Search Gallery How-To Books Links Workshops About Contact