Home Donate New Search Gallery Reviews How-To Books Links Workshops About Contact
Oberwerk 8x42 ED
6' close-focus, 8.1º/65º FOV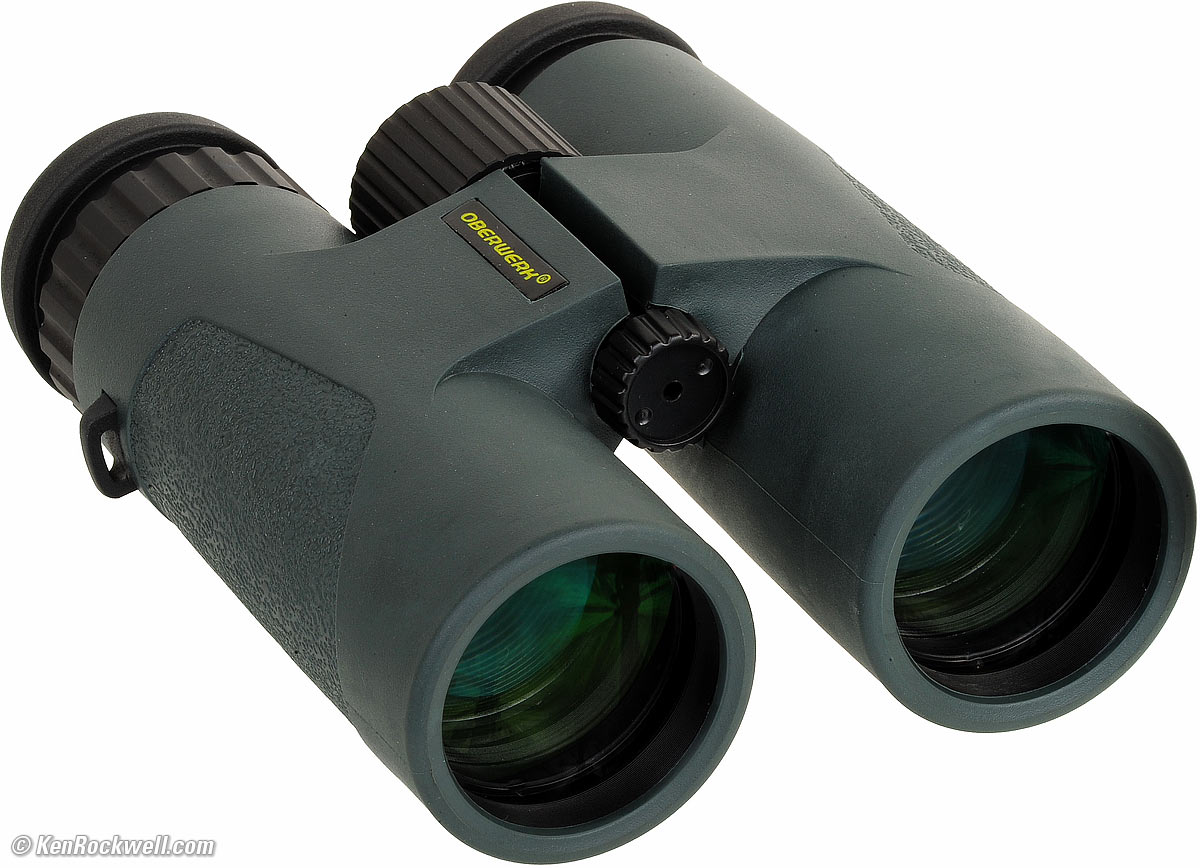 Oberwerk 8x42 ED (24.7 oz./699 g, 6'/1.8 m close focus, about $299, also comes as 10x42 ED). enlarge.
This ad-free website's biggest source of support is when you use those or any of these links to approved sources when you get anything, regardless of the country in which you live. Buy only from the approved sources I use myself for the best prices, service, return policies and selection. Thanks for helping me help you! Ken.
October 2015 LEICA TRINOVID Reviews Fujinon Reviews All Reviews
Introduction top
These inexpensive binoculars stand out for their ultra-close focussing and their freedom from color fringes due to their use of ED glass.
They also stand out because every sample is 100% hand-tested and adjusted by the owner of Oberwerk in Ohio to ensure that they are in perfect alignment.
Specifications top
Glass
Made with extra-low dispersion glass for reduced secondary (green-magenta) chromatic aberration.
Multicoated.
Prism
Roof.
Phase coated.
Field of View
8x42: 8.1º actual, 65º apparent, 141 meters at 1,000 meters.
10x42: 6.5º actual, 65º apparent, 113 meters at 1,000 meters.
Close Focus
6 feet (1.8 meters), measured.
6.6 feet (2 meters) rated.
Exit Pupil
8x42: 5.25mm.
10x42: 4.2mm.
Eye Relief
8x42: 18mm.
10x42: 16mm.
Case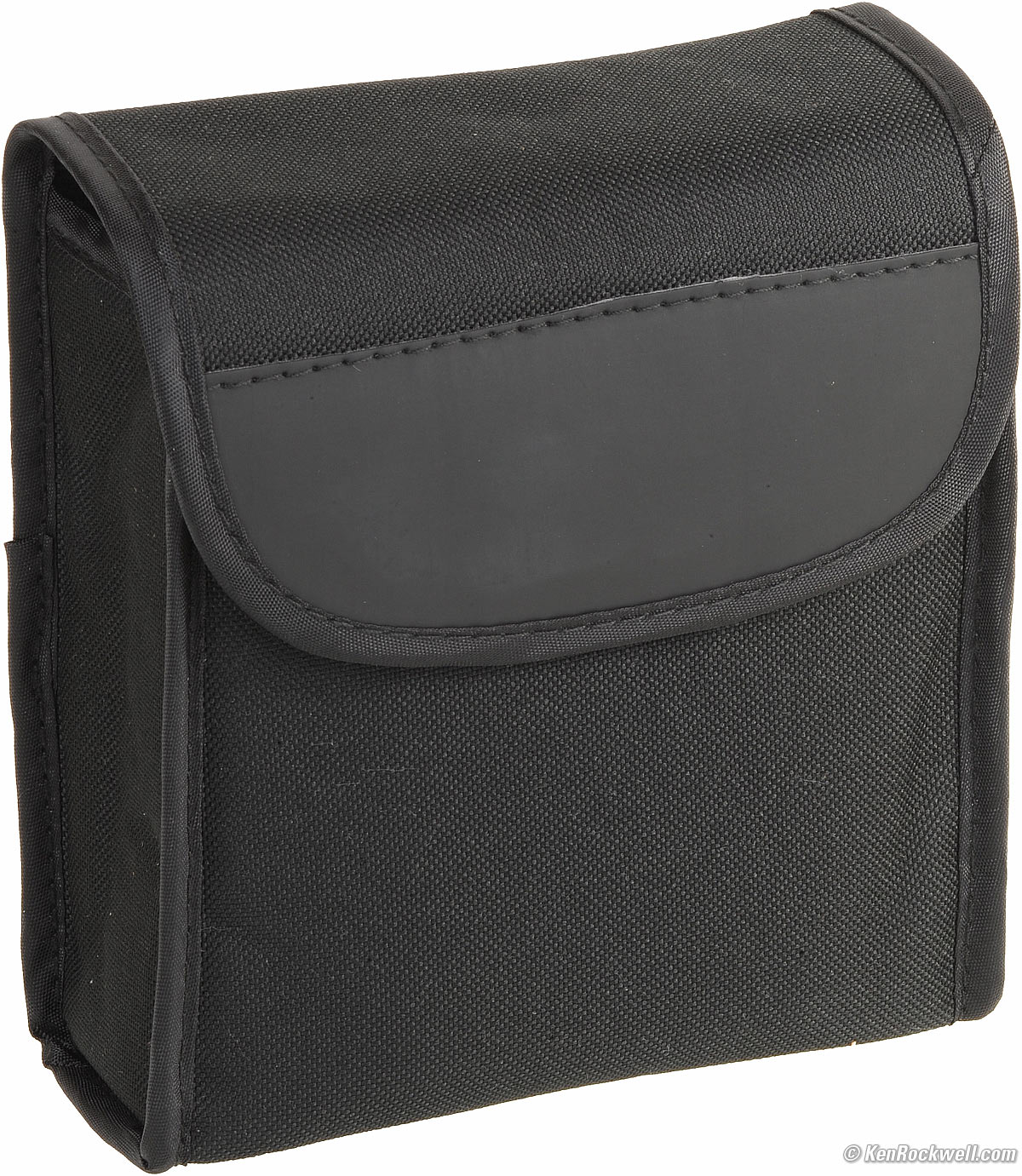 Oberwerk 8x42 ED case. bigger.
A padded velcro-closing case is included.
Quality
Made in China.
100% hand-tested in USA.
Weight
24.665 oz. (699.3 g) actual measured.
32 oz. (907g) rated.
Performance top
Optics
Collimation
The most important part of binocular performance is collimation. Collimation is whether or not the left and right sides are aligned to each other. To check for this, once you set the distance between the two sides and set the focus for each eye, the two images in each should merge into one 3-D image.
While most binoculars give a merged image, the test for proper collimation is simply to look at something far away, and then slowly pull the binoculars away from your eyes and be sure that the images from the two sides remain as one image. They should remain merged at least until the binoculars are a foot (30 cm) away from your eyes; if the images separate before that, your binoculars are out of adjustment.
The reason collimation is critical is because while our eyes and brain can usually compensate for minor misadjustment, this stresses our eyes and leads to fatigue over time.
It drives me crazy how many expensive binoculars I see or buy that can't pass this test. Collimation is critical, and it's not always right on sub-$1,000 binoculars.
The great news is that both pairs of these I've tried have been perfect. Hallelujah!
Proper alignment is the most important thing there is when it comes to binoculars, and these pass with flying colors.
Focus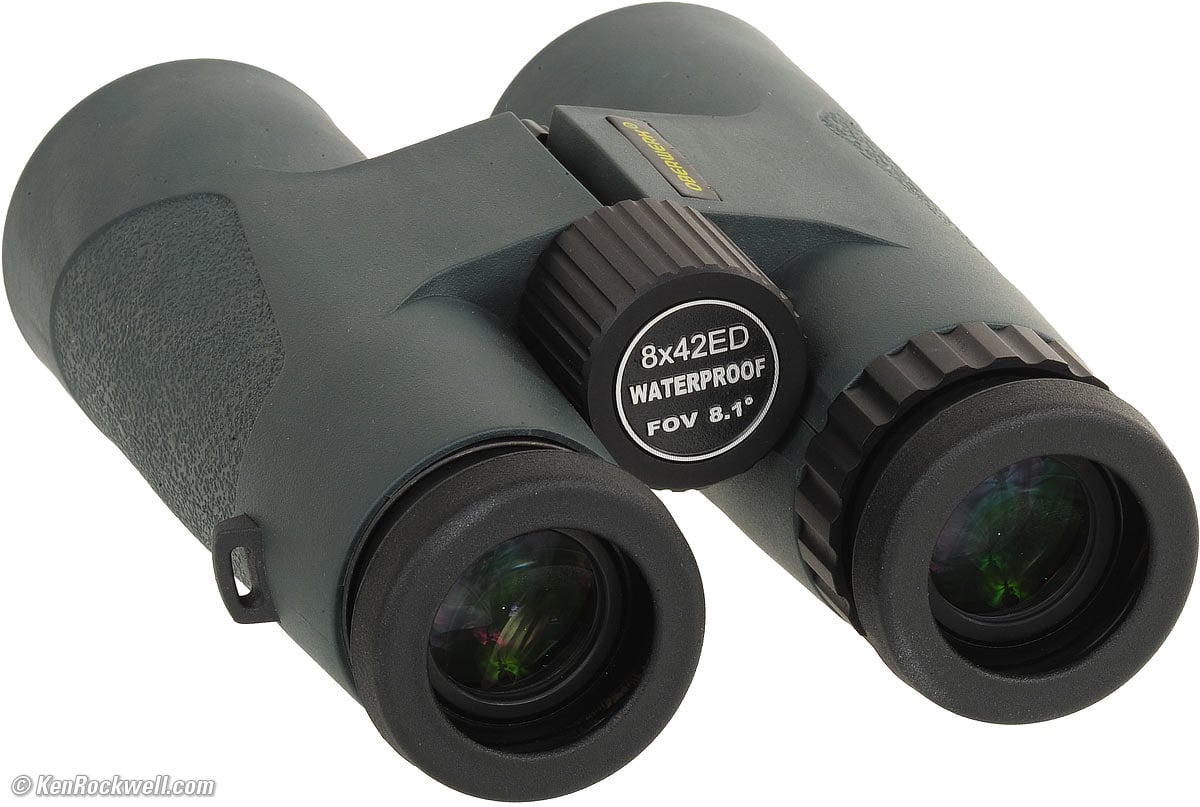 Rear, Oberwerk 8x42 ED. bigger.
These focus extremely close, almost right up to my feet!
The focus knob is metal.
My pair's focus knob turns ¼ turn past infinity.
They really do focus as close as 6 feet from my eyes, or 5½ feet from the objectives, which is better than specified.
There is some rotational play (a small dead zone) in the focus knob, but no wobble.
Better than some of my older LEICAs that will vary from side-to-side, the two sides of this Oberwerk stay tightly in focus as focussed to different distances. Bravo!
Chromatic Aberration (color fringes)
There is nearly no secondary (magenta/green) lateral (side) chromatic aberration, and no visible spherochromatism.
Spherochromatism is when out-of-focus highlights take on green (background) or magenta (foreground) color fringes.
While my TRINOVIDs put color fringes on out-of-focus highlights, these Oberwerk 8x42 ED do not; their images stay neutral regardless of where you're focussed.
These are much better than my LEICA TRINOVID 8x42 BN and LEICA TRINOVID 10x50 BN, which have minor (8x42) to strong (10x50) spherochromatism
When it comes to chromatic aberration, these ED binoculars are much better than my LEICAs.
Sharpness
Of course they're sharp, but manufacturing tolerances for centering means that both samples had some visible astigmatism on one side. They're sharp, but not as sharp as $1,000 LEICAs.
Blackout
These have huge eyepieces, and presuming all is adjusted properly, there's no problem with blackouts as you look around.
Brightness
These have nearly 100% light transmission.
As you can see here, the view through the glass has no visible dimming: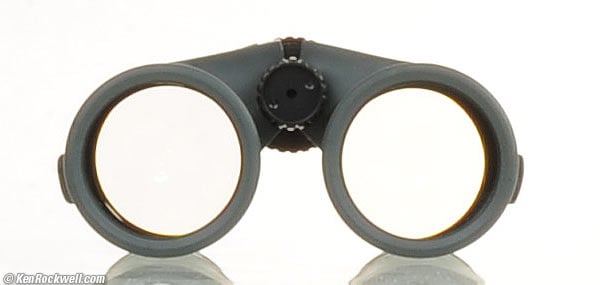 Photon's eye view, Oberwerk 8x42 ED from about 10 feet.
The only thing that more exotic binoculars can offer is more contrast, which gives detail to the shadows, but you can't get any 8x42 visibly brighter than these.
Ergonomics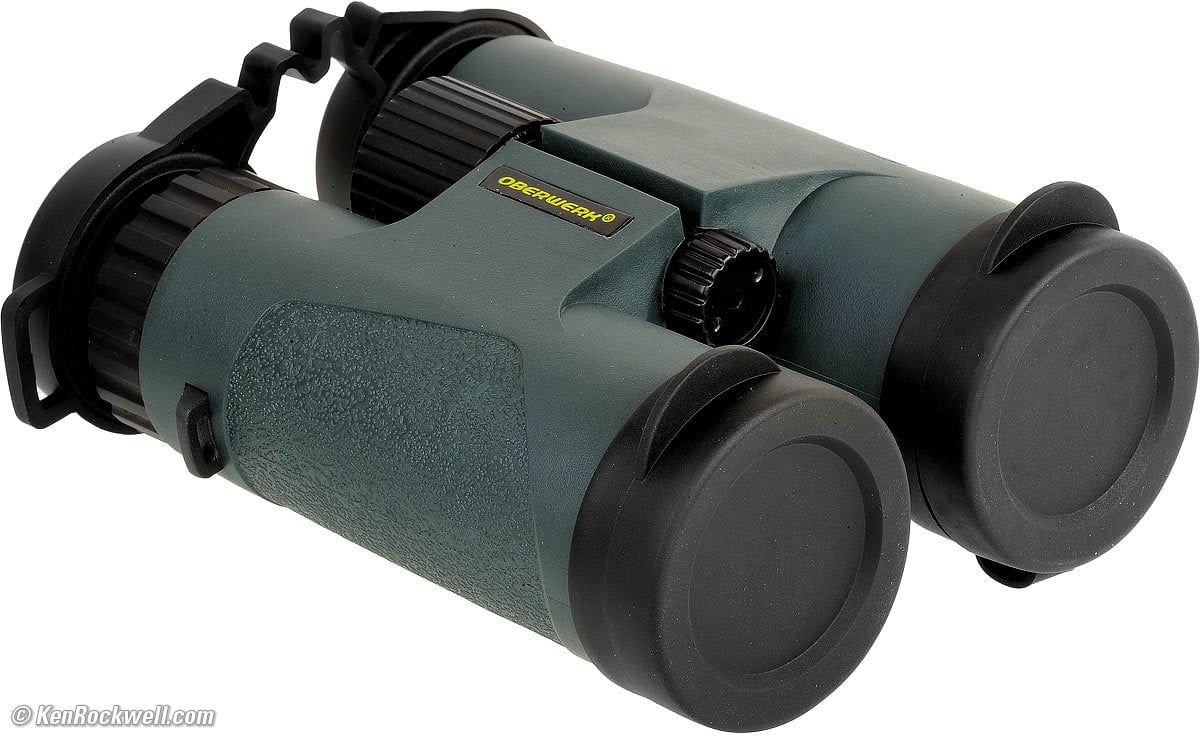 Oberwerk 8x42 ED with caps. Bigger.
They're covered in green rubber.
The interocular adjustment is nice and firm. It should stay set.
The adjustable eyecups are always a little loose and rattly when extended. They screw in and out.
Nice is that the focus knob is made of metal. The focus knobs of my TRINIVID BNs are made of plastic!
The eyepiece cover has two slots so you can attach it to your strap.
Each flop-down front cover has a friction-fit keeper attached to each objective. They come off if you prefer.
Compared top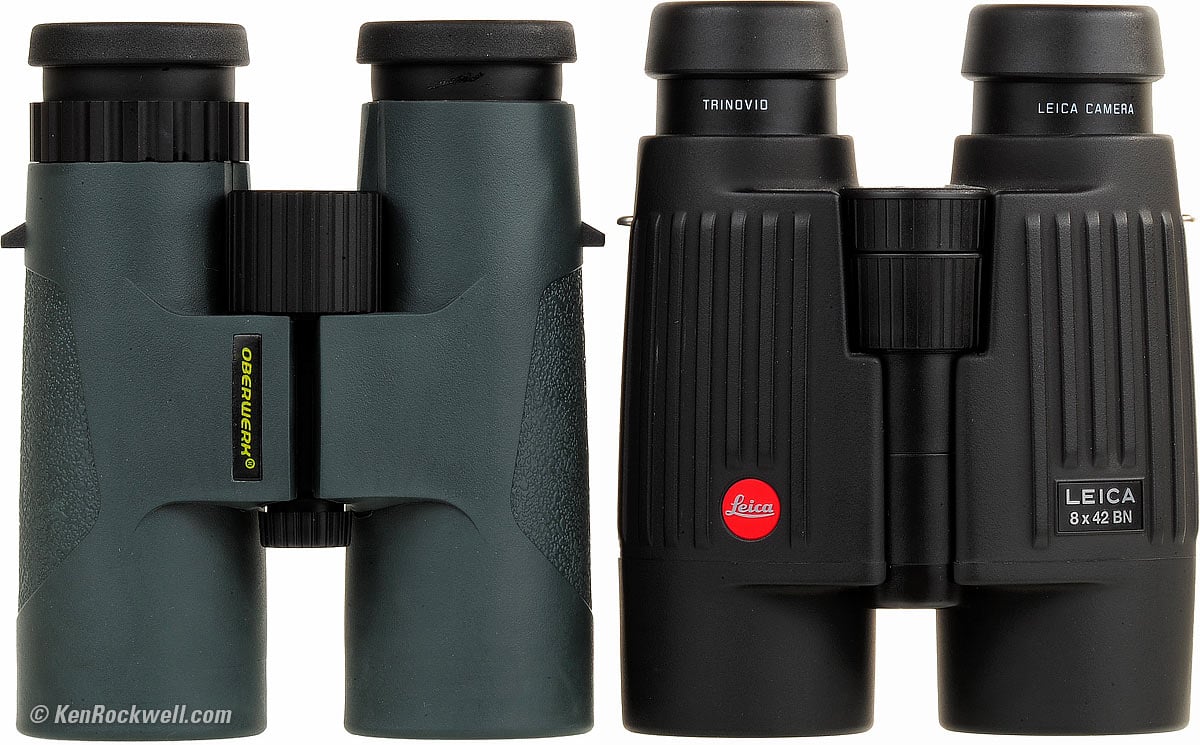 Oberwerk 8x42 ED and LEICA TRINOVID 8x42 BN. bigger.
| | | | |
| --- | --- | --- | --- |
| | | | |
| Glass | ED | ED | Regular |
| Close-Focus* | 6'/1.8m | 7.8'/2.4m | 8.5'/2.6m |
| Field of View | 8.1º | 6.3º | 7.4º |
| Field at 1,000m | 141m | 110m | 130m |
| Field at 1,000 yds | 423' | 330' | 390' |
| FOV, apparent | 65º | 47.5º | 59.5º |
| Eye Relief | 18mm | 19.5mm | |
| Water Resistance | "Waterproof" | "Waterproof" | 5 meters |
| Made in | China | China | GERMANY |
| Weight* | 699g | 590g | 912g |
| Price, 10/2015 | | | |
* actual measured values for the Oberwerk and LEICA.
Versus the LEICA TRINOVID 8x42 BN
I was hoping that manufacturing efficiencies would let a $300 Chinese-made binocular easily outperform my classic LEICAs. Unfortunately the LEICA is still many times more expensive to buy used, and feels, looks and works that way. The LEICA's plastic focus knob turns with much less rotational play and less damping than the Oberwerk.
The LEICA 8x42 BN feel much tighter, like a rock. The LEICA feels as if everything, including its retractable eyecups, are all hewn from a single solid block of alloy, and that its rubber covering is somehow molecularly bonded to it.
I prefer the locking central dioptometic adjustment of the LEICA over the right-side adjustment on the Oberwerk.
The LEICA has perfect centering, and is devoid of any related astigmatism, making it sharper.
The LEICA sees better in the dark, with more details in shadows. For astronomy I can see dimmer stars more clearly.
While the LEICAs rule the night, by day these Oberwerk focus closer, weigh less, and have none of the chromatic aberrations of the LEICAs.
These Oberwerk have no spherochromatism (color fringes on out-of-focus highlights), but they have astigmatism. The LEICA are sharper day or night, but what are you expecting from binoculars that sell for three times the price, used?
Versus the Nikon 8x42 Monarch 5
The Nikon Monarch 5 8x42 sell for about the same price and also use ED glass, but they don't focus as close (7.8'/2.4m) and have a much narrower field (6.3º/47.5º).
I haven't tried them.
Versus other $300 8x42 binoculars
I'll admit that I have no experience with other $300 binoculars.
$300 buys you a lot of great choices from Nikon, from Pentax, from Olympus, from Celestron, from Bushnell and from Leupold, so I can't say.
Recommendations top
The biggest problem in binoculars is sloppy collimation, which varies from sample to sample. I'm happy to report that both samples of the Oberwerk I've tried were perfect, which says a lot. Oberwerk's founder personally checks each one, and the two I tried were better collimated than some of my old LEICAs.
These are ideal if you need to focus very closely, need a wide field, and if you're concerned about color fringes. These have much less color fringes than my classic LEICAs.
This ad-free website's biggest source of support is when you get yours via these links to it at Amazon in 8x42 (or at Amazon in 10x42). When you use those or any of these links to approved sources when you get anything, regardless of the country in which you live, it helps me keep adding to this free website
Thanks for helping me help you!
Ken.
© Ken Rockwell. All rights reserved. Tous droits réservés. Alle Rechte vorbehalten.
Help me help you top
I support my growing family through this website, as crazy as it might seem.
The biggest help is when you use any of these links to approved sources when you get anything, regardless of the country in which you live. It costs you nothing, and is this site's, and thus my family's, biggest source of support. These places have the best prices and service, which is why I've used them since before this website existed. I recommend them all personally.
If you find this page as helpful as a book you might have had to buy or a workshop you may have had to take, feel free to help me continue helping everyone.
If you've gotten your gear through one of my links or helped otherwise, you're family. It's great people like you who allow me to keep adding to this site full-time. Thanks!
If you haven't helped yet, please do, and consider helping me with a gift of $5.00.
As this page is copyrighted and formally registered, it is unlawful to make copies, especially in the form of printouts for personal use. If you wish to make a printout for personal use, you are granted one-time permission only if you PayPal me $5.00 per printout or part thereof. Thank you!
Thanks for reading!
Mr. & Mrs. Ken Rockwell, Ryan and Katie.
Home Donate New Search Gallery Reviews How-To Books Links Workshops About Contact