Home Donate New Search Gallery How-To Books Links Workshops About Contact
PMA 2010 Report
© 2010 KenRockwell.com. All rights reserved.

It helps me keep adding to this site when you use these links to Adorama, Amazon, B&H, Calumet, Ritz, J&R and eBay to get your goodies. Thanks! Ken.
February 2010
Introduction top
PMA, the Photo Marketing Association, has a trade show once a year.
The exhibitors are the camera and photo gear companies, and the attendees are camera store owners and employees. It is not open to photographers.
This is the show at which half the new gear for the year is announced. The rest of it comes in the third week in August, and sometimes in November or June.
This year there aren't that many new things. Thankfully the digital age is behind us. As photographers are flooding to film, camera companies are regrouping to develop new RealRaw cameras. Therefore there were few, if any, digital introductions. Good riddance to digital; what were we smoking back in the 2000s?
Canon top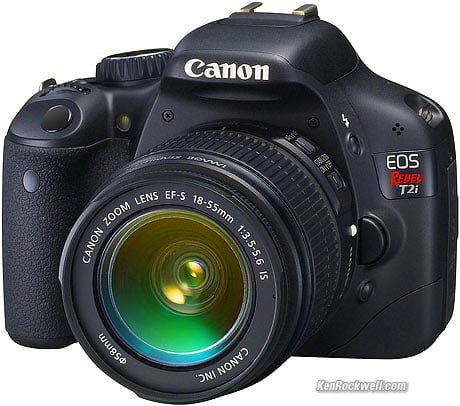 Canon T2i. preview review.
Canon announced the Canon EOS Digital Rebel T2i last week, so they didn't need to haul out and exhibit at the show.
Clik Elite top
It's hard to believe that Clik Elite is only a year old.
They had a slew of new things, in addition to their ultra-high quality bags, backpacks and cases.
Clik Elite bags are designed for people who actually get outside and shoot. They are not the usual boring backpacks bought by guys who never use what's inside.
They also have a series of ultralight ski bags coming, too. See more at their site.
Fuji top
Fuji GF670 Professional
Fuji announced the GF670 folding 6x7 and 6x6 (selectable) medium-format rangefinder camera.
What's new is that this now will be sold in the USA, and will sell for a little under $2,000. The exact price is not yet set.
It is the same camera that Fuji showed and started selling a couple of years ago internationally, but never sold in the USA. Previously, people had to find gray-market versions, branded the Voigtländer Bessa III 667, that used to sell for about $2,250 through other channels.
The GF670 gives film images roughly equivalent to a 200 - 250 megapixel camera, and it folds up to fit in a big pocket.
It has a six-element, 80mm f/3.5 lens with a 7-bladed diaphragm.
The viewfinder does something Leicas can't do: only one half of the finder frame moves to correct parallax as you focus, so it also corrects for the changing field of view.
It has an electronic shutter with manual and auto exposure.
It takes 120 and 220 film, for 10 or 12 exposures on 120, and 20 or 24 on 220 film.
It feels built to about the quality level we'd expect from Voigtländer or Cosina. It will work, but it's nowhere near as precise as a classic folding Zeiss or Agfa. It uses thumbwheel wind, not a lever.
Fuji has no price announced, and expects it to become available in the spring or early summer of 2010.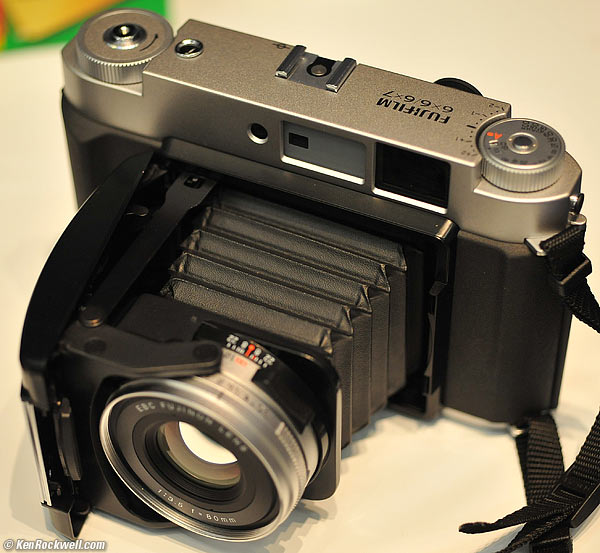 Fuji GF670. unfold more.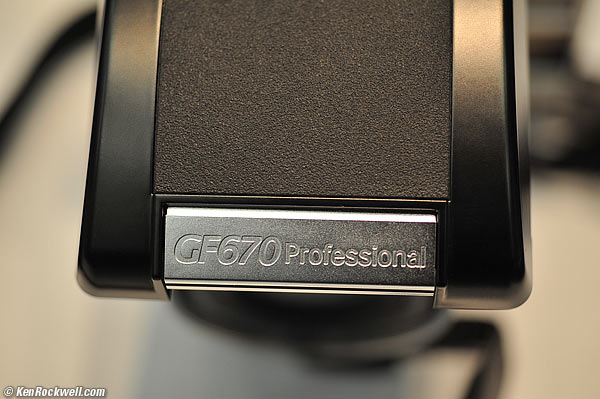 Catch, Fuji GF670.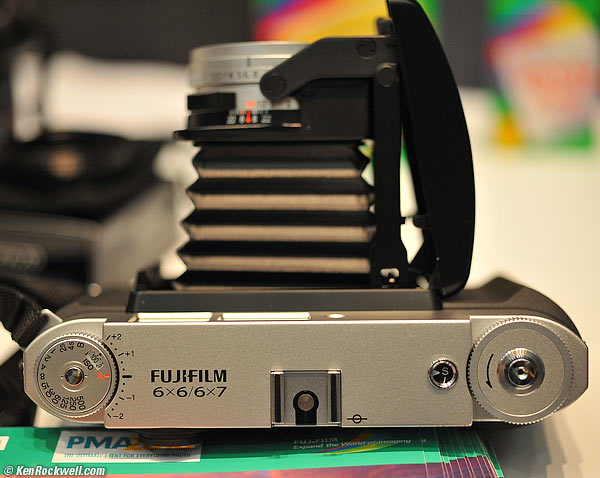 Top, Fuji GF670. bigger.
The shutter dial is as brilliant as the dial on a Leitz Minolta CLE or modern Zeiss Ikon. it's trivial to set the ASA, manual, auto or exposure-compensated auto exposure.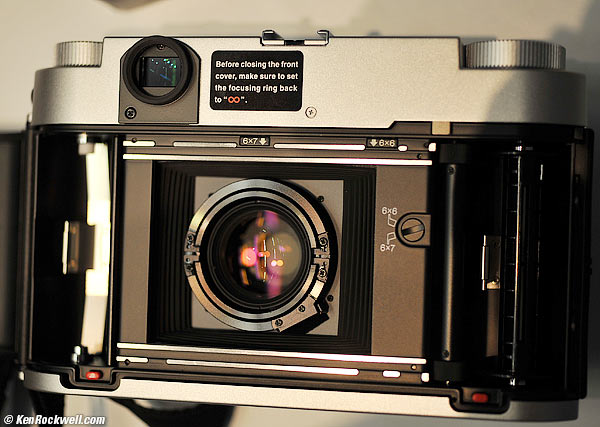 Back, Fuji GF670. bigger.

Bottom, Fuji GF670. bigger.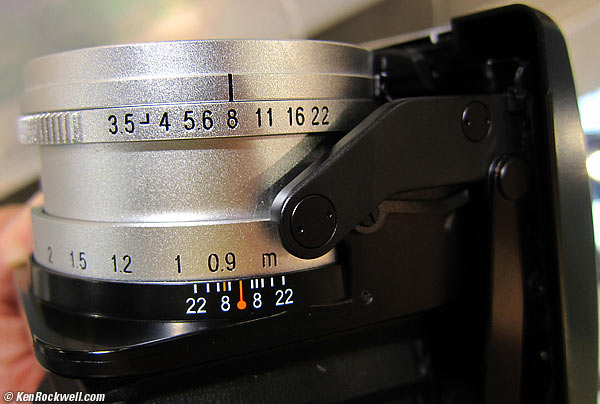 Lens, showing close-focus, Fuji GF670.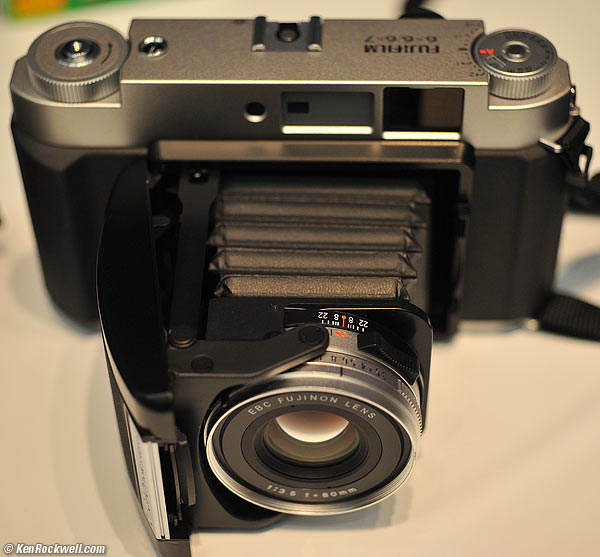 Fuji GF670. bigger.
Fuji Gallery top
Fuji Gallery.
The best-print-of-the-show award goes to Fuji this year.
Fuji had a wall of work printed from 8x10" film onto Super Gloss, and it looks awesome. More innocent people came up and asked "from how many images was this stitched?," and of course the answer is that each print was from just one exposure on one sheet of film.
With 8x10" film, one snap, and you've got a gigapixel.
Just to show off, Fuji even showed an image that was stitched from four 8x10" sheets of film.
Want to be a digital Ansel Adams? Then shoot it on film, as did Ansel Adams.
Fuji 3-D top
Fuji showed working 3-D digital cameras, displays and prints.
The prints are standard lenticular prints.
The camera is a slightly wide point-and-shoot, with two little lens holes.
They worked, but it was so weird I had to wonder.
Fuji Film Processing Mailers top
Fuji sells E-6 (slide) mailers, with no intentions of stopping.
Even though some have expiration dates, the Fuji reps said not to worry; as long as there is slide film, Fuji's mail-in lab will process it.
Fuji suggested not using Wal-Mart, but that there are E-6 labs everywhere if you look. One day I want to see if I can generate one.
The NYC Fuji rep said that even though there aren't as many pro labs around as before, that there is still a pro E-6 lab every couple of blocks in midtown Manhattan.
Fuji Binoculars top
Fuji showed a new Offroad 8x32, otherwise, all is good as before.
Fuji also showed some secret US Army military M22 and M24 binoculars that have a special magic filter inside that prevents our guys from being blinded by various kinds of lasers.
By secret it means that it's OK to look through them (they have a heavy magenta cast), but not to haul them away. No one wants anyone to be able to pull them apart and see how great the filters are, even though plotting the transmission won't tell you how to make more. How these filters are manufactured to work so well is the secret.
The Fuji rep cautioned that before any of our guys thinks about taking a pair home from the war, that they should recognize that it's apparently a pretty serious felony to get caught with a pair of these outside of actual military service because of the secret filters.
The German Pavilion top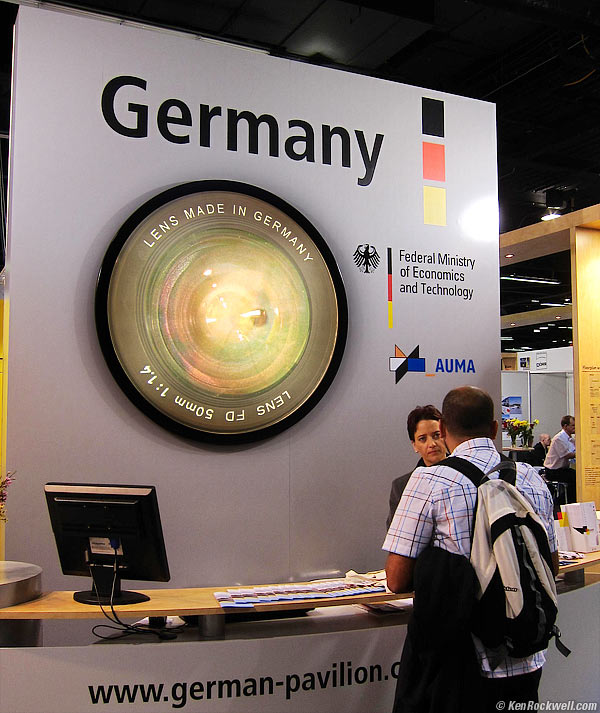 Made in Germany: A Canon FD 50mm f/1.4.
I always love the German Pavilion. It's loaded with German manufacturers like Zeiss and Linhof and Schneider and Rodenstock, and everything is made so well that it makes everything else shown at the show feel like toys by comparison.
I got a kick out of the backlit graphic used for the lens. As most of you recognize, that lens isn't a Leica, Zeiss or Schneider: it's a Canon FD lens from the 1970s! Hee hee!
The only explanation of which I can think is that if they used a real German lens, it would seem as if they were playing favorites.
Kodak top
Kodak announced that Ektar 100 will be available in 4x5" and 8x10" sheets in April 2010.
Leica top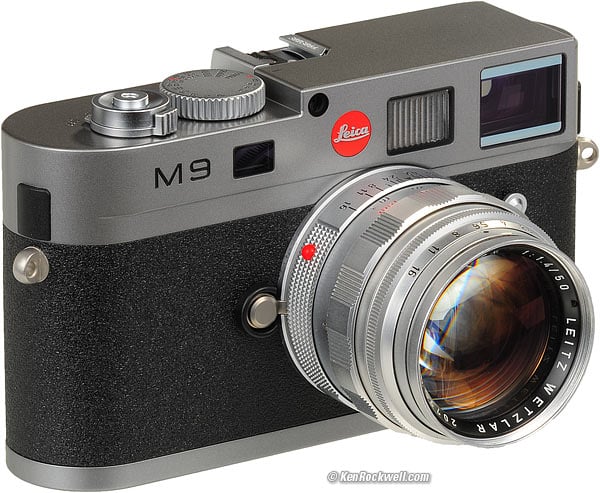 LEICA M9. full review.
Leica announced, and shipped, the world's best digital camera, the LEICA M9, last year.
Leica also announced the Edition Hermès du LEICA M7 last year. OC Camera, a short drive from the show at (949) 347-1276, even has one in stock. I saw it on Saturday. There are only 100 of these in the entire world.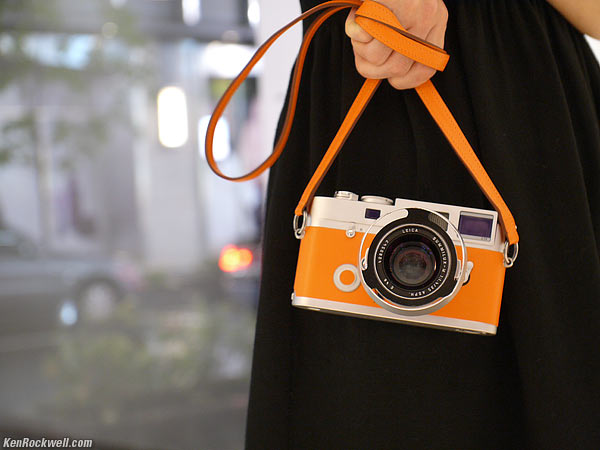 Leica M7 Edition Hermès. Vergrößern.
L'edition Hermès du LEICA M7 is a LEICA M7 and a LEICA SUMMILUX-M 35mm f/1.4, for people for whom the common versions just won't do.
Why use the M7 as a commemorative instead of the M9? Simple: the M9 is merely digital, and therefore not good enough for commemoration. The M9 will be obsolete in less than three years, and remember, if it's not on film, its not a photograph. Film is the future.
Leica does things right, so when it wants to commemorate something, it commemorates things worth commemorating: things of timeless value like the LEICA M7, and not passing fads like digital cameras. The M9 is the best digital there is, but it's still only digital.
Having introduced and shipped all this last year, Leica had no reason to trifle with the show. Likewise, Leica people don't go to places like Anaheim — too many germs.
Hold the show someplace like Monaco, Lago di Como, Ajaccio or Chamonix instead, and they'd show.
Minox top
Minox Digital Spy Camera DSC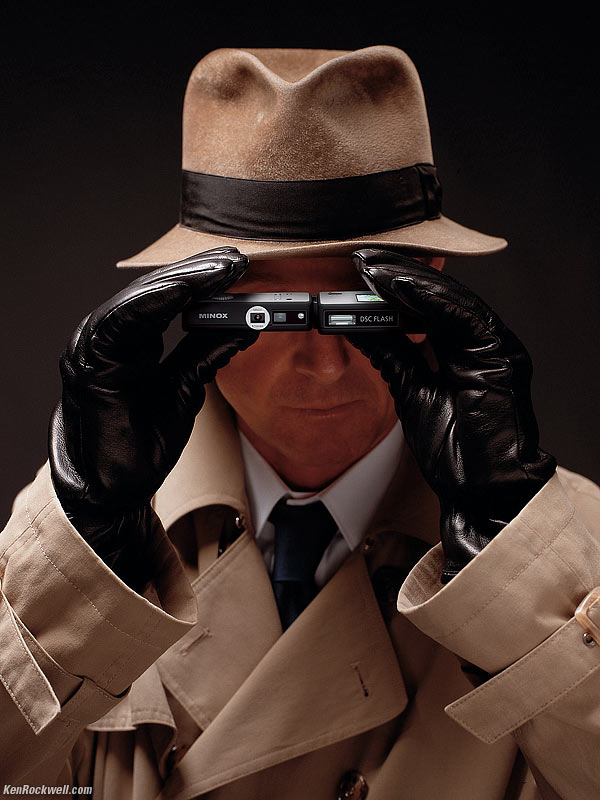 Minox Digital Spy Camera with Spy. Less stealthy.

Minox Digital Spy Camera. Less stealthy.
This new 5MP camera is a bit silly. When you pull off the flash and LCD component, what's left isn't very competent since all it has is an optical finder and no LCD.
Minox is based in the Holy City of Wetzlar, and seems more intent to celebrate what it once was, than to innovate as it used to. The good news is that Minox still makes film and processing available for its classic RealRaw cameras.
I didn't play with it very much; it seems like the camera section of a good cell phone camera, sold more as a commemorative goof.
Specifications: Minox DSC Digital Spy Camera
5MP
1.5" LCD on the removable flash (LED flash built-in to camera)
9mm f/2 lens, similar to a 42mm lens on a 35mm camera.
Size: 1.2 x 0.8" (30 x 21mm). Camera is 3.4" (86mm) long, flash is 3.6" (91mm) long, and together they are 7" (178mm) long.
Weight: Camera: 3.1 oz (90g). Flash: 2.8 oz (80g). Total: 6 oz. (170g).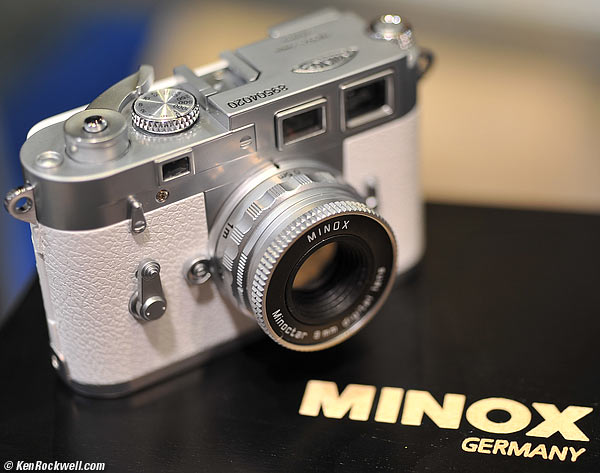 Minox M3 copy.
Minox still makes their little 5MP digital copies of the LEICA M3. I have to giggle; a real M3 was what I was shooting last week long Route 66.
No, I didn't use a Lens Baby. I shot at f/2.8 with my old 1986 Nikon 55mm f/2.8 AF Micro-NIKKOR, of which everyone poked fun, and lined up what I wanted sharp in the same plane.
Page 1 NEXT: Page 2 Page 3
Help me help you top
I support my growing family through this website, as crazy as it might seem.
If you find this as helpful as a book you might have had to buy or a workshop you may have had to take, feel free to help me continue helping everyone.
If you've gotten your gear through one of my links or helped otherwise, you're family. It's great people like you who allow me to keep adding to this site full-time. Thanks!
If you haven't helped yet, please do, and consider helping me with a gift of $5.00.
The biggest help is to use these links to Adorama, Amazon, Calumet, Ritz and J&R when you get your goodies. It costs you nothing and is a huge help. These places have the best prices and service, which is why I've used them since before this website existed. I recommend them all personally.
Thanks for reading!
Ken
Home Donate New Search Gallery How-To Books Links Workshops About Contact