Home New Search Gallery How-To Books Links Workshops About Contact
Sunstars
© 2008 KenRockwell.com. All rights reserved.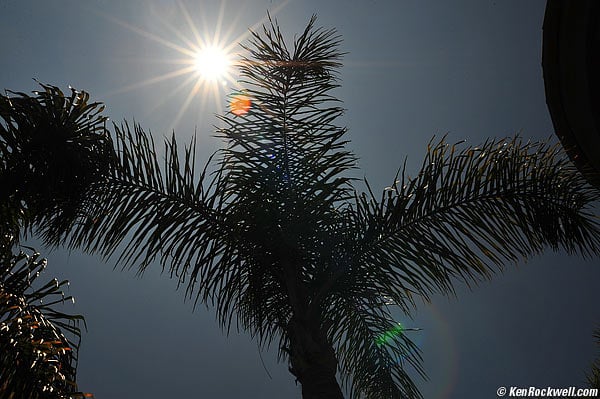 Blind Man's Last Sight. 20-35mm f/2.8 D AF, f/22, -1 stop exposure compensation.
July 2008
Sunstars are rays of light coming off the sun, or any other bright point of light. These points of light can be brilliant reflections off chrome bumpers and windshields, or streetlights at night.
Sunstars become more visible at smaller apertures, like f/22.
Digital images including the sun often wash out the sky, hiding sunstars. If your sky turns all white, instead of blue, around the sun, use Exposure Compensation (the +/- button) to darken the image so you can see the star against a darker sky.
The number of points you'll get depend on the number of diaphragm blades in your lens. You'll get stronger points if the blades are straight, and more diffuse spikes, if any at all, if the blades are rounder at the aperture used.
Here's how many points you'll get:
Diaphragm
Blades

Typically found in

Sunstar
Rays

2 scissors

Camcorders and point-and-shoots

4

3

Old cine lenses

6

4

Schneider 21mm f/3.4 Super Angulon (1970s)

4

5

Hasselblad

10

6

Old Canon EOS and most old SLRs

6

7

Nikon SLR lenses since 1960

14

8

Canon Teles, today's Leica 50/2, 35/2 and

21/2.8

8

9

Nikon Teles

18

10

1950s manual lenses, 3rd party modern rangefinder lenses

10

11

Leica M Lenses

22*

12

Leica M, Nikon Rangefinder Lenses

12

15

none*
* With 11 or 15 blades, it's very tough to see sunstars becasuse the light is divided up into so many places.
Each blade flicks light in both directions from a point of light. The number of rays is double the number of blades if it's an odd number. If the number of blades is an even number, the alternate rays line up on top of each other, so the number of rays equals the number of blades.
PLUG
I support my growing family through this website.
If you find this as helpful as a book you might have had to buy or a workshop you may have had to take, feel free to help me continue helping everyone.
If you've gotten your gear through one of my links or helped otherwise, you're family. It's great people like you who allow me to keep adding to this site full-time. Thanks!
If you haven't helped yet, please do, and consider helping me with a gift of $5.00.
The biggest help is to use these links to Adorama, Amazon, B&H, Calumet, Ritz, J&R and when you get your goodies. It costs you nothing and is a huge help to me. eBay is always a gamble, but all the other places have the best prices and service, which is why I've used them since before this website existed. I recommend them all personally.
Thanks for reading!
Ken
Home New Search Gallery How-To Books Links Workshops About Contact