Home Donate New Search Gallery How-To Books Links Workshops About Contact
Think Tank Hydrophobia 70-200
© 2011 KenRockwell.com. All rights reserved.
Intro Specs Performance Usage Recommendations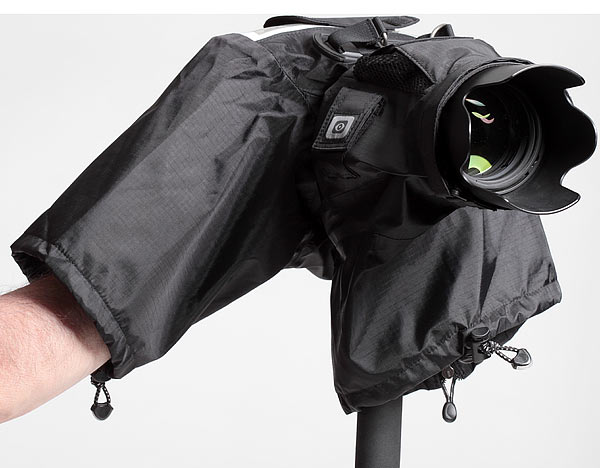 Think Tank Hydrophobia 70-200 (sans flash). enlarge. You can order it directly from Think Tank or from Adorama or Amazon. This free website's biggest source of support is when you use those or any of these links when you get anything, regardless of the country in which you live. Thank you! Ken.
Also for 300-600mm lenses.
February 2010 Think Tank Reviews All Reviews
Introduction top
Intro Specs Performance Usage Recommendations
The Think Tank Hydrophobia 70-200 is a rain cover intended for use with SLRs and a 70-200 pro zoom.
The Hydrophobia is intended for professional shooting in rain, snow, sleet, flying mud, salt spray and water-over-the-bow. It's not an underwater housing. It has two big sealed arm ports that come in from underneath so you can control everything on your camera and lens directly.
It's is a tough professional product, designed with numerous clever features inspired from constant input from working pros. It's not just another dinky rain flap.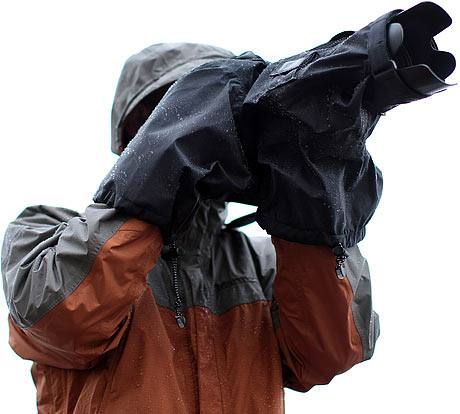 Thank goodness this isn't me. enlarge.
This cover needs a dedicated eyepiece sold separately to match each kind of camera. If you've got different cameras, you need only buy different eyepieces, not different covers.
The front of the Hydrophobia cover snugs around the lens hood, while the dedicated eyepiece pokes through the back.
The Hydrophobia cover has its own strap lugs and its own carry strap with which to hold your camera. If you have a strap on your camera, it snugs away in its own holder inside the cover so it doesn't get in the way.
The cover has a flap to cover the eyepiece when not in use. There is also a stowed, tethered front cover which, like a shower cap, can cover the front of the lens if you like to leave your camera set up in the elements if you step away.
The back of the cover is clear so you can see buttons and LCDs. This clear material seems like the same tough, clear flexible plastic that's used in convertible tops. The clear plastic in the sample I had seemed to have some sort of residual milkiness to it in spots. It is very tough and very flexible; it is not anything like the clear plastic we've seen in camera bags or cheap cases and covers.
Specifications top
Intro Specs Performance Usage Recommendations
Versions
It comes in a regular version seen above, and this version with clear, flexible plastic flash tower.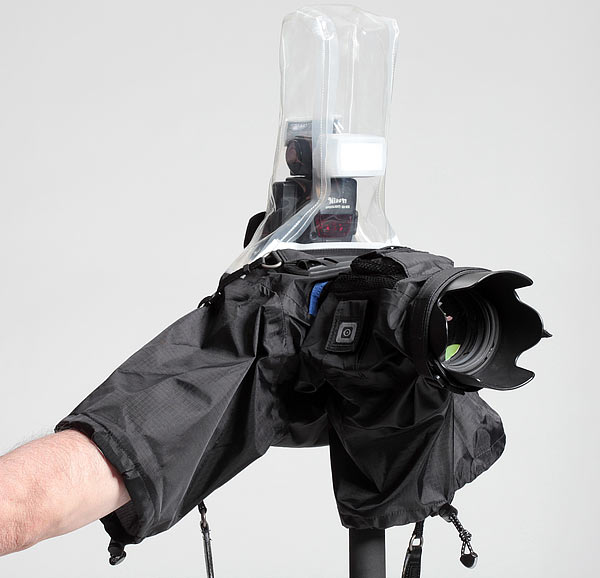 Hydrophobia Hydroflash. enlarge.
Size
17.5" long x 5.5" diameter, specified.
Weight
14.4 oz (408g), measured including eyepiece and carry sack.
12.8 oz (360g) cover only, no sack or eyepiece, specified.
Performance top
Intro Specs Performance Usage Recommendations
Build
This is a tough, durable, well thought-out professional cover.
It feels like a North Face tent or jacket crossed with the flexible rear window material from a Mercedes, along with the buckles and flaps from a camera case.
The seams all look well sealed. I don't think you need to do as we backpackers did 20 years ago and recover anything with seam sealer.
Size
It's more than long enough to cover any 70-200mm.
In fact, it just might fit a 300mm f/4 or f/2.8 if you're lucky.
It might work with wide lenses, however you get a lot of bunching-up of the fabric. Also, the front may not snug town tight enough, since it's designed to go around the fat hoods of 70-200mm f/2.8 lenses. It won't cinch tight over a hoodless Nikon 20-35mm f/2.8, for instance. Likewise, it would have to cover the manual focus ring of a wide zoom, since it can't cover the hood due to vignetting (wide hoods have no solid shafts to accomodate the cover).
I haven't tried it with the great Canon 70-200mm f/4 L IS, which has a smaller front (67mm filter size). It might not be able to scrunch down far enough for a tight fit.
Handling
It handles well. It is very well designed.
The two arm sleeves are positioned right where you need them. Your left hand is forward on the lens, and your right hand rear holding the camera and shutter button.
I'm not going out in the rain to try this. I can't vouch for how well the clear rear window resists fogging.
There is a tough internal strap that ties around the rear of the lens where it attaches to the body. This strap holds the camera when you use the Hydrophobia's own external strap. This internal strap may interfere with buttons or controls closest to the lens on the body, but I didn't find it a problem.
Strap
The Hydrophobia comes with its own dedicated strap. The camera straps inside the cover, and then the outside of the cover has its own lugs and included strap.
The included strap is a girly-sized thing, not really what you'd want to use for carrying this rig around your neck all day long. Its strap is only 1" (25mm) wide on a good day. Worse, this strap has dainty plastic buckles; the failure of either will drop your rig to the ground.
Good news: this lightweight strap is perfect to pull off and use on a set of binoculars or a rangefinder camera. I need to ask if Think Tank sells these by themselves. If they'd change the buckles to metal, they'd have a real winner lightweight pro strap on their hands.
Another advantage to the included strap is that it's anonymous: it has only a small embossed black-on-black logo visible from no more than a foot away.
You then can attach a tougher strap to the cover if you like.
Eyepiece
Since the eyepiece is about 1/4" (6mm) deeper than the standard eyepiece, I find that it give me a better view of the screen, blocking out more ambient light than the standard Nikon eyepiece! I just might prefer to leave the Think Tank eyepiece on all the time.
Glass
There is no glass in either the dedicated eyepiece or the front of the cover. If you want front glass, use a UV filter.
Oddly, there is no glass in the Hydrophobia's own eyepiece There is glass in the original Nikon eyepiece you must remove to attach the Hydrophobia's eyepiece, thus you have one less layer of protection for your finder, at least on Nikon. Canon's own eyepieces have no glass, so you're even.
The cover's eyepiece for pro Nikons (the round screw-in eyepiece) is about 1/4" (6mm) deeper than Nikon's own eyepiece. Since these Nikon finders are designed for lots of clearance between eye and finder, I can see everything just fine with the cover.
Stowage
There is a pouch to hold your lens cap while you're shooting. This same pouch holds the tethered front rain cap.
There is another pouch that holds the dedicated eyepiece when you're not using the Hydrophobia.
It stows in its own little bag, small enough to stow inside a larger camera case.
Usage top
Intro Specs Performance Usage Recommendations
Read the instructions that come with the cover. The eyepiece goes on the camera first, put the camera in the cover, put the cover's own strap around the base of the lens, tie off your camera's strap inside the cover, poke the eyepiece doo-dad (attached to the camera earlier) through the rain cover and snug the front of the cover over the lens hood.
Let it dry before putting away.
The nylon has a waterproof coating. If you need to wash it, rinse it in water. Don't use soap and don't put it in a washing machine.
Recommendations top
Intro Specs Performance Usage Recommendations
This is a magnificent professional cover. If you shoot in the driving rain for extended periods, I'd get one of these pronto.
Thank goodness I'm not a news or sports pro. I don't shoot in pouring rain. If it's raining, I stay home and do darkroom work, file film, or catch up on reading.
My girly-man whining aside, if you want a tough rain cover, I have never seen anything anywhere near as sturdy and as well thought out as the Think Tank Hydrophobia. It makes me glad I never have to go out in the rain!
For nature and landscape photography, I'm always out in storms because the best shots are as the storm rolls in or out. When it's coming down in sheets, I'm hiding, but my friends who are humanitarian photojournalists aren't so lucky.
You can order it directly from Think Tank or from Adorama or Amazon. This free website's biggest source of support is when you use those or any of these links when you get anything, regardless of the country in which you live. Thank you! Ken.
Also for 300-600mm lenses.
More Info: Think Tank.
Help me help you top
I support my growing family through this website, as crazy as it might seem.
If you find this as helpful as a book you might have had to buy or a workshop you may have had to take, feel free to help me continue helping everyone.
If you've gotten your gear through one of my links or helped otherwise, you're family. It's great people like you who allow me to keep adding to this site full-time. Thanks!
If you haven't helped yet, please do, and consider helping me with a gift of $5.00.
The biggest help is to use these links to Adorama, Amazon, Calumet, Ritz, J&R and when you get your goodies. It costs you nothing and is a huge help to me. eBay is always a gamble, but all the other places have the best prices and service, which is why I've used them since before this website existed. I recommend them all personally.
Thanks for reading!
Ken
Home Donate New Search Gallery How-To Books Links Workshops About Contact