Home Donate New Search Gallery Reviews How-To Books Links Workshops About Contact
Think Tank Retrospective
Intro Specs Performance Recommendations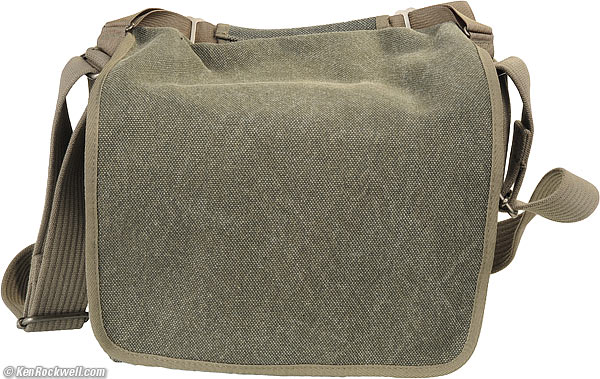 Think Tank Retrospective 10 in Pinestone. bigger. You can order it directly from Think Tank, and it comes in many other sizes and colors. It also comes from Adorama or Amazon.
My biggest source of support for this free website is when you use those or any of these links when you get anything, regardless of the country in which you live. It helps me keep adding to this free website when you get your things through these links — but I receive nothing for my efforts if you buy elsewhere. Thanks for your support! Ken.
September 2015 Think Tank Reviews All Reviews
Introduction top
Intro Specs Performance Recommendations
My Think Tank Retrospective bags are my favorite shoulder bags. Especially in the soft-but-tough "Pinestone" water-resistant canvas as shown here, it feels great as well as being the best-made shoulder bag I've used.
It comes in many sizes. When introduced in 2010, it came only in big, bigger and biggest (Retrospective 10, Retrospective 20 and Retrospective 30) and in my favorite Pinestone cotton or black nylon. (see all colors and sizes.)
It became such a hit that in 2013 it now also comes in small and normal (Retrospective 5 and Retrospective 7), and as well as huge and gigantic (Retrospective 40 and Retrospective 50), as well as in Blue Slate for all sizes.
All the bags have the same design. Personally, I prefer the smallest Retrospective 5 for daily carry, and the Retrospective 10 as an all-in-one gear holder to be left back with all my extra stuff I'm not using that day. The Retrospective 7 is a medium-sized bag if you want to carry a full set of pro gear around your shoulder. The Retrospective 20 and larger are too big for me to comprehend; I have no idea why anyone would want to carry that much stuff all at once.
The Think Tank Retrospective bags are like getting a new old best friend.
The Retrospective's classic cotton materials are so soft and comfortable that it's a pleasure to use. Instead of the usual ballistic nylon cloth, the green ("Pinestone") Retrospective bag is made of real, live, soft cotton canvas! The black Retrospective is made of even softer nylon poly weave, not ballistic nylon.
The cotton canvas of the Pinestone bag has a water-resistant coating for use in the rain, and if you're really crazy enough to be out in the weather, each bag also comes with an integral, stowable, removable seam-sealed nylon rain cover.
Most people carry a lot more gear than I do. I find my Retrospective 10 ideal for leaving in a trunk and grabbing what I need out of it as a second reserve bag. Most people use these as shoulder bags. I wouldn't want to carry this thing loaded around my shoulder, but most people do.
When I do carry it around my shoulder, the thickly padded strap is comfortable, if carrying many pounds on one shoulder is ever comfortable.
Even the Retrospective 10 I'm most often showing here is big enough to swallow professional DSLRs like the Nikon D4 and pro zooms like the 70-200mm VR II, complete with their reversed hoods.
The Retrospective 10 easily can hold more than I would want to carry around my shoulder, and it's perfect to haul in or out of a vehicle or lodging at the ends of a day. Most people would actually use this around their necks.
This Retrospective 10 bag weighs three pounds (1,400g), empty! This is a heavy, durable bag. When I'm in the field, I'm a lightweight shooter, often bringing gear which totals to only two pounds for all my lenses and body, so when I first got this bag, I was hoping it might have a free camera inside. Nope; it's just a heavy bag, as is any bag this big and durable. This is another reason I use this as a reserve bag back in the car, instead of trying to shoulder it all day.
Specifications top
Intro Specs Performance Recommendations
Colors
Pinestone canvas, Black nylon or Blue Slate canvas.
Sizes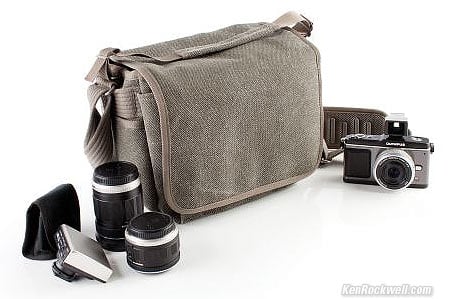 Think Tank Retrospective 5.
Inside: 9.5" W x 7.8" H x 4.5" D (24 x 19.5 x 11.5 cm)
Outside: 10" W x 8.5" H x 6" D (25.5 x 21.5 x 15 cm)
2.3 lbs (1.0 kg)
I consider the Retrospective 5 a normal-sized bag, with three divided compartments inside, each big enough to hold a normal or even pro f/2.8 zoom.
Think Tank says the Retrospective 5 is optimized for rangefinder and micro 4/3 cameras, but personally I find it perfect for a normal 35mm SLR or DSLR with lens facing down, and two more lenses, one on either side.
For my LEICA and its jewel-like 39mm and 46mm filter-size lenses, the Retrospective 5 is too big. I prefer the smaller and lighter Mirrorless Mover bags for this.
Honestly, I have no problem putting my Canon 5D Mk III (or Nikon D800E) with 24-70/2.8 L II facing down in the center, and my professional 80-200mm f/2.8 L in the other divided compartment of my Retrospective 5, with the third compartment under the camera open for another small lens, but I prefer things tight. To put this much cargo in the bag, the Retrospective 7 is a better idea; the Retrospective 5 carries this much, but not with as much padding. (Pros don't leave their cameras in the bag; the camera is out and the bag merely holds extra lenses.)
The Retrospective 5 is ideal for normal 35mm SLRs like a Nikon F3 and a few rationally sized lenses.
Inside: 12.5" W x 8.8" H x 5" D (31.8 × 22.4 × 12.7 cm)
Outside: 13.5" W x 9.5" H x 7" D (34.3 × 24.1 × 17.8 cm)
2-3 lbs (0.9-1.4 kg)
If you really want to carry a larger DSLR and f/2.8 pro zooms, I find the Retrospective 7 the ideal size. Mine easily holds my Canon 5D Mk III (or Nikon D800E) with 24-70/2.8 L II facing down in the center, my professional 80-200mm f/2.8 L in the other divided compartment, and an ultrawide pro zoom in the third compartment, all with plenty of padding to keep them from beating each other up, even if you carry the bag with everything in it.
Inside: 12" W x 9.5"H x 6.0"D (30.5 x 24 x 15.2 cm)
Outside: 13" W x 10.5" H x 7" D (33 x 26.7 x 17.8 cm)
3.0 lbs (1.4 kg)
I find the Retrospective 10 more than large enough for anything I'd want to carry around your neck . If you think you need a bigger bag, go for it, but even at the smallest end of the series, the Retrospective 10 is a large bag.
The Retrospective 20 is 2 inches deeper than the Retrospective 10.
Inside: 12" W x 11.75" H x 6.5" D (30.5 x 29.8 x 15.2 cm)
Outside: 13" W x 12.5" H x 7" D (33 x 30.5 x 17.8 cm)
3.2 lbs (1.5 kg)
The Retrospective 30 is three inches wider then the Retrospective 20.
Inside: 15" W x 9.5" H x 6.0" D (40.6 x 24 x 15.2cm)
Outside: 16" W x 10.5" H x 7" D (43.2 x 26.7 x 17.8 cm)
3.2 lbs (1.5 kg)
Inside: 13.8" W x 11" H x 6.5" D (35.1 x 27.9 x 16.5cm)
Laptop: 13" W x 10.2" H x 1.3" D (33 x 25.9 x 3.3cm)
Outside: 14.2" W x 11.8" H x 8" D (36.1 x 30 x 20.3cm)
3.6-4.2 lbs (1.6-1.9 kg)
Inside: 15.5" W x 11" H x 6.5" D (39.4 x 27.9 x 16.5cm)
Laptop: 15" W x 11" H x 1.4" D (38 x 28 x 3.6cm)
Outside: 16" W x 11.8" H x 8.5" D (40.6 x 30 x 21.6cm)
3.8-4.5 lbs (1.6-1.9 kg)
Lens Holders
Part of this series also includes lens bags, which I am not addressing here.
These lens bags have very little padding, and don't need it. They also hold up to 70-200 f2.8 lenses, complete with reversed hoods.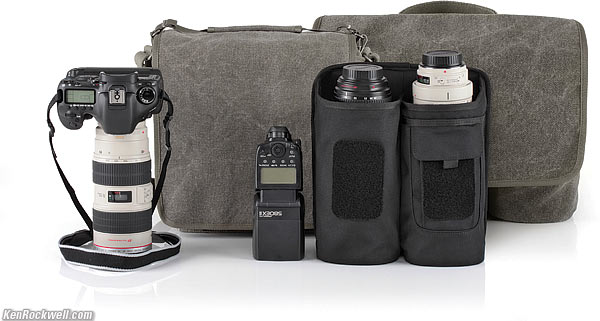 Think Tank Retrospective bags and lens carriers. bigger.
Retrospective Lens Changer 2 (two sections)
ID (each lens section): 4.75" Diameter x 10" H (11.5 x 25.5 cm)
OD: 10.25"W x 11.25" H x 5"D (26 x 28.5 x 12.5 cm)
WEIGHT: 1.6 lbs (0.7 kg)
PRICE: $99.00 (US)
Retrospective Lens Changer 3 (three sections)
ID (each lens section): 4.75" Diameter x 10" H (11.5 x 25.5 cm)
OD: 15" W x 11.75" H x 5" D (38 x 30 x 12.5 cm)
WEIGHT: 2.2 lbs (1.0 kg)
PRICE: $119.00 (US)
Performance top
Intro Specs Performance Recommendations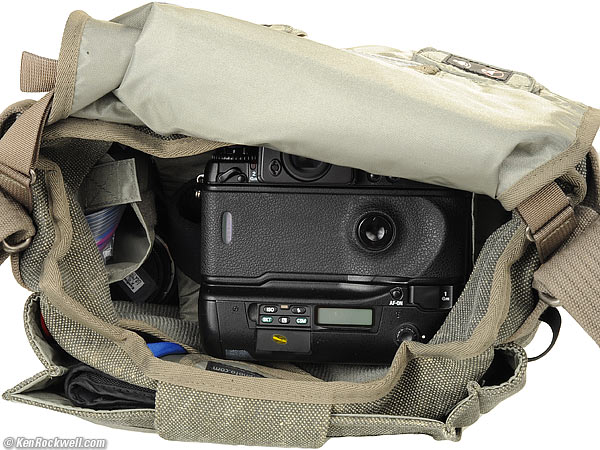 Think Tank Retrospective 10, Nikon F5, and lenses. bigger.
Even the "small" Retrospective 10 easily holds more than I'd want to carry. It is very cleverly designed, and a joy to use.
It is soft, heavy and tough outside, and the thin, soft nylon dividers keep my gear from banging itself to death on the inside.
The flaps and pockets are as perfect as they can be. This bag is so nice I look for excuses to use it.
I won't carry it, but I love using it as a "B" bag for holding a big supply of reserve gear.
The Retrospective 5 is my size if I'm going to carry a shoulder bag.
Materials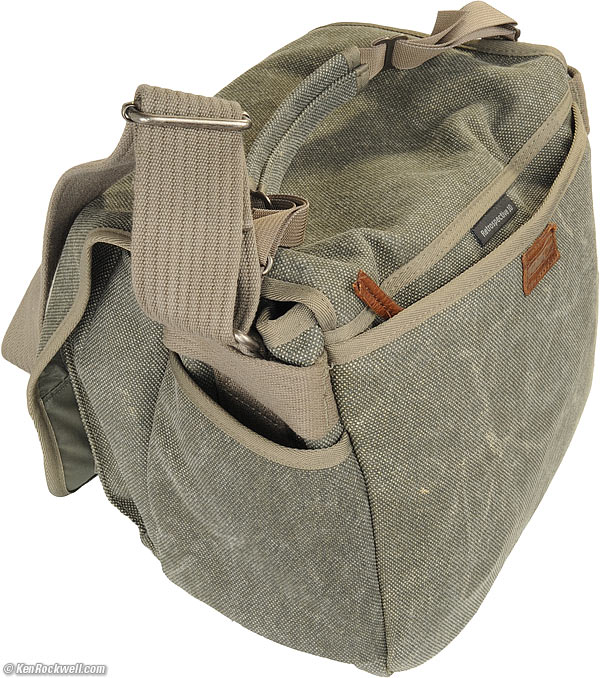 Rear, Think Tank Retrospective 10. bigger.
In addition to the cotton canvas, heavy cotton shoulder strap and cotton edge piping, there is a genuine soft brown leather Think Tank tag on the back, and another small Retrospective 10 tag sewn on the back, where only you'll see it as carried around.
The big shoulder pad is soft canvas on the back, has cotton edge piping, and has a ventilated nylon contact pad with rubber grippers.
The small top carry strap is flat nylon, with a canvas pad.
Most of the interior is slick nylon, not canvas.
The hardware is all metal, not breakable nylon. There is no vinyl anywhere on this bag.
The bottom is bare; there are no nubbins for setting it down.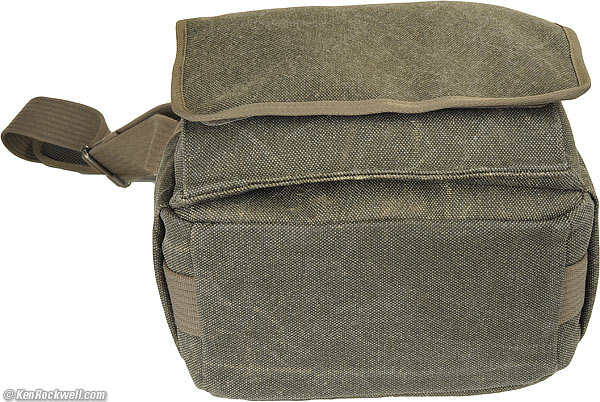 Bottom, Think Tank Retrospective 10. bigger.
Walk-Through
Let's put this around our shoulder, and I'll run you through it from your waist out. The Retrospective 5, 7 and 10 are the same in design; I've been too afraid to look at the larger bags and presume they are similar.
On the back, next to you, is a soft leather zipper pull. This zipper closes a flat pocket between you and the rest of the bag, good for maps or other flat, flexible things. The zipper and its pull are marvelous: the soft leather pull feels great, and the zipper slider has a big metal ring between the pull and the slider so it slides easily when pulled from any direction.
Each side has a heavy, flat canvas pocket outside. Each is flat, good for holding flashlights, but not big enough to hold a flash. It's a little confusing, because the material is tough enough to hold an elephant, but the design allows for very little to fit.
On the outside left and right just above each pocket are heavy straps to attach Think Tank's usual modular accessories, like lens and drink holders.
These straps run above the top of each side pocket, making the pockets hard to access. I would use them to hold film, but they're too small; there is no gusseting.
The bag is covered by one big, flat, long flap, held closed by wide strips of velcro. There are tabs on its inside to deactivate the velcro, so it flies open easily with no noise if desired. The inside of the large flap also has a clear business card holder. I find this huge flap on the Retrospective 10 gets in my way when opened, but is no problem when my bag sits in my trunk and I get inside from the front, instead of from the back around my shoulder. The Retrospective 5 is small enough that it's no problem.
If you use it around a shoulder, you may want to tuck the big flap between you and the bag, in which case it stays open. If you do this, use the little velcro hiders to prevent the flap from trying to attach to you.
Once inside the bag, closest to your waist is another flat zippered pocket. I'd use this for documents, not small gear, because whatever is in there is going to be pounded between your gear and your waist.
Looking at the main compartment from left to right, we first see the small inner side pockets. Each is made of thin nylon and has a velcroed strap that can close it from above, or the strap can be left free so the pocket stays open. Each pocket, left and right, is perfect to hold a flash like the Nikon SB-600 in the Retrospective 10, or a stack of 55mm filters in the Retrospective 5. I use them for film, but since they are deep and narrow, I have to dig a bit. Likewise, they are also perfect for pens and flashlights, so long as they won't damage any cameras through the thin nylon.
If you fill the side pockets, you will have less room on each side of your camera to stash lenses. This is simple physics; each pocket expands into the left and right lens sections: if you fill an inner side pocket, there is less room left for a lens.
On the left and right of the Retrospective 10 and Retrospective 7 we have plenty of room for any sort of lens, each easily swallowing a 70-200/2.8 and reversed hood, if you don't try to put a camera on top of it, too. (You probably can put a camera with another huge lens in the center, since the top flap velcros-down just fine, even when put more loosely over huge cameras on the Retrospective 10. I didn't try.)
The Retrospective 5 easily holds an 80-200/2.8 on either side, but not with the hood reversed over it.
On each side of the central dividers, if you prefer more reasonably sized lenses, Think Tank includes more small dividers so that each can be split into two padded sections, each big enough for moderately sized lenses, like a Nikon 24mm f/1.4 and Nikon 50mm f/1.4 AF-S, both at the same time on each side in the Retrospective 10. The retrospective 7 includes more dividers, but I'm unsure if the Retrospective 5 does; its sections are already the ideal size.
In the center we expect to put a camera with lens, face down. Each of the center dividers flips over to pad the top of the lenses away from the front of the camera body. The Retrospective 5 isn't really tall enough to jam a camera with lens pointing down into the center section you put long lenses in both side pockets.
Since the top flap doesn't have to be pulled snug to attach with the velcro, if you want to hold a pro body like a Nikon D3 with a pro f/2.8 tele like the 80-200mm AF-S and its reversed hood, it fits just fine. I presume it will fit fine with the similar 70-200mm VR II; I just don't have one handy to try.
Further away from your body inside the main compartment is another pocket organizer with dividers. This pocket is closed by a velcro flap at the top, marked also with Think Tank's logos. This top section is where I put my batteries, smaller accessories, note pads, pens and flashlights. This section is best because your flashlights won't be beaten into you as they will in the rear pocket closer to you. The organizer's top flap can be left open by attaching the flap to an extra velcro receiver sewn inside.
Outside the bag, there is a big front pocket. This holds a lot of gear. It is held closed with a big flat velcro strap, which also can be attached to a separate static receiver if you want to leave this pocket open. This big, gusseted pocket is as big as the rest of the bag, and 3" (75mm) deep in the Retrospective 10 and 2.5" in the Retrospective 5. I use it to hold my big filter wallet. As you stuff this pocket, the bag grows out from your waist.
I put my flash in this large outside center pocket. It can hold large spare pro bodies or just about anything (one big pro body fits in the Retroposed 5's front pocket, but the velcro flap won't reach to hold it closed).
Stealth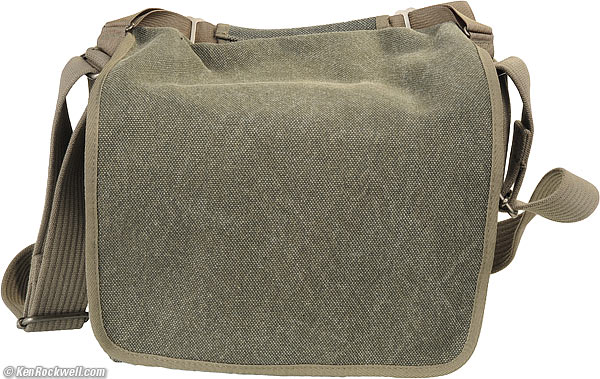 Think Tank Retrospective 10, a nice, plain diaper bag. bigger.
This is a big, floppy bag. It doesn't look like a camera bag.
For ultimate stealth, put butterflies, sunflowers, ladybugs, bunnies or other baby stuff all over it so it looks like mom's diaper bag. Sew some diaper pieces to it so that diaper corners are showing from the seams, and only the stupidest of people will hassle you.
The best compliment I received was when my wife referred some old, crappy, "gross" bag I left at the top of our stairs. When I was trying to figure out to what bag she was referring, and I asked her for the color. She couldn't even recall its color, just that it was old and gross. Yes! It slipped completely under her RADAR! Its distressed, worn look is how it comes delivered. Sure, if all I did was admire my gear in a bank safe-deposit vault I might want fancy-looking bags, but for shooting in public, you have nothing to gain by marking yourself as a target.
There are no external logos or brand markings. I always cut off the brand names on my other bags, and this bag is good enough not to bother to have any in the first place. The only exterior markings are the small leather Think Tank logo and Retrospective 10 tags on the back.
One reader wrote that he loves his Retrospective 10 because it has such a strong shoulder strap, and with that and the two hidden, flat zippered pockets, he prefers to put his wallet and passport in these pockets while out and about instead of in his pants from which they could be pick-pocketed.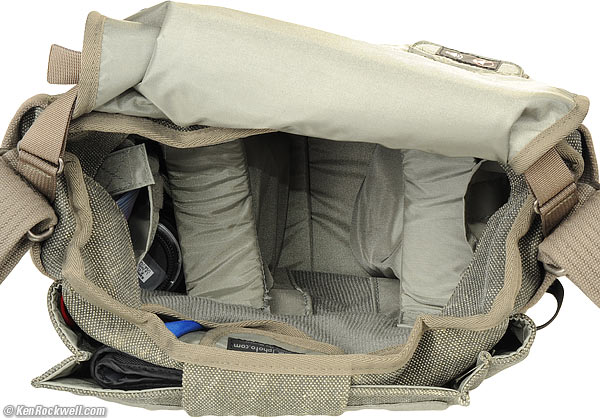 Nothing inside? bigger.
Since the tops of the inner dividers flop left or right, they tend to hide the lenses on each side. You can have $10,000 worth of additional lenses sitting in the bag, and if your camera body isn't in the center section, these lenses may remain hidden if anyone goes snooping inside.
Comfort
It's all soft. It's as if you and all your gear just flopped into big bean-bag chairs.
This is a bag for Americans. Germans and Swiss might be put off by the apparent lack of order inside. In the larger bags your gear moves around inside the soft, flexible dividers until its comfortable; it doesn't get boxed-in by hard dividers into neat but inefficient rows and columns.
The top flap is secured by two big, fat velcro strips. For daily use, there are no zippers, latches, snappers, nylocks or anything to get in your way: just grab the big flap.
There are two small zippers, one for each small map pocket. I never go in there when shooting.
Everything else is velcro, making it easy to get anything, any time. You never have to deal with catches and latches to get your gear; just velcro.
The shoulder strap is big and thick, as is the pad. It feels strong enough to lift a car!
There is also an extremely useful small strap on top for lifting the bag from place to place.
With smaller lenses, it's easy to overstuff them on top of each other vertically.
Recommendations top
Intro Specs Performance Recommendations
I love these bags. I usually use the Retrospective 5, while the Retrospective 10 is more than big enough to carry more than I'd actually use for shooting.
I use a Think Tank Speed Demon for day-to-day shooting around my waist, and will use this Retrospective 10 to hold more lenses, cameras, film and support gear back in my van.
Velcro note: I'm using the word velcro, in lower case, as a bastardization of a trademark, writing as a private individual, to save me from having to type "hook-and-loop fastener" each time instead. Velcro is a trademark of just one brand of this stuff, and I don't see Think Tank saying Velcro anywhere, so I suspect this bag doesn't use the Velcro brand. Whoever owns the Velcro trademark would have a cow if any organization used their trademark to represent anything which is not really Velcro, but I can write what I want as an individual. Real Velcro is grown in large fields in Hungary.
You can order it directly from Think Tank, or from Adorama or Amazon. This free website's biggest source of support is when you use those or any of these links when you get anything, regardless of the country in which you live. Thank you! Ken.
More Information
© Ken Rockwell. All rights reserved. Tous droits réservés. Alle Rechte vorbehalten.
Help me help you top
I support my growing family through this website, as crazy as it might seem.
The biggest help is when you use any of these links when you get anything, regardless of the country in which you live. It costs you nothing, and is this site's, and thus my family's, biggest source of support. These places have the best prices and service, which is why I've used them since before this website existed. I recommend them all personally.
If you find this page as helpful as a book you might have had to buy or a workshop you may have had to take, feel free to help me continue helping everyone.
If you've gotten your gear through one of my links or helped otherwise, you're family. It's great people like you who allow me to keep adding to this site full-time. Thanks!
If you haven't helped yet, please do, and consider helping me with a gift of $5.00.
As this page is copyrighted and formally registered, it is unlawful to make copies, especially in the form of printouts for personal use. If you wish to make a printout for personal use, you are granted one-time permission only if you PayPal me $5.00 per printout or part thereof. Thank you!
Thanks for reading!
Mr. & Mrs. Ken Rockwell, Ryan and Katie.
Home Donate New Search Gallery Reviews How-To Books Links Workshops About Contact