Home Donate New Search Gallery How-To Books Links Workshops About Contact
Think Tank Wired-Up 10 & Wired-Up 20
Intro Specs Performance Recommendations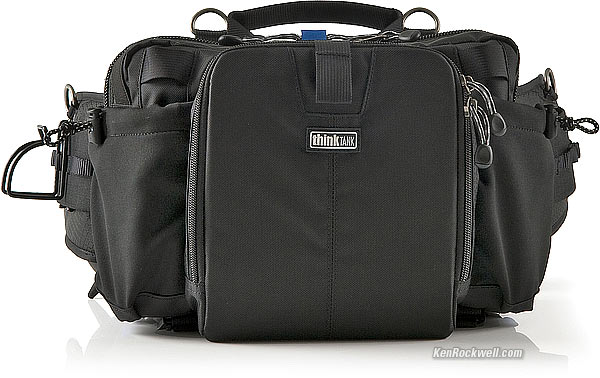 Think Tank Wired-Up 10. enlarge.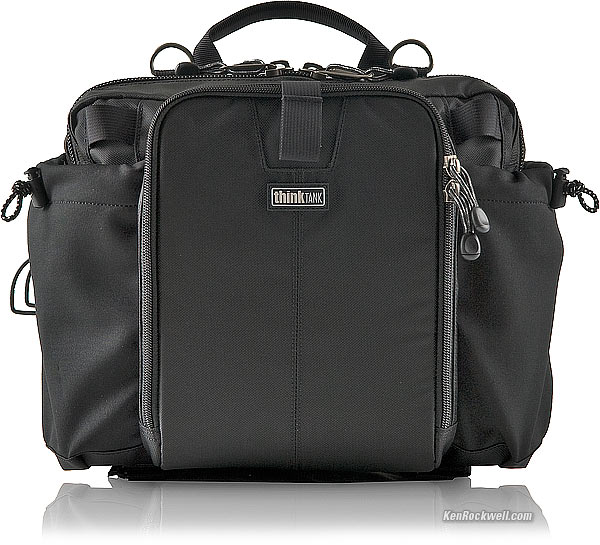 Think Tank Wired-Up 20. enlarge.
You can get them at Adorama and Amazon.
You also can get any of them directly from Think Tank, specifically:
This free website's biggest source of support is when you use those or any of these links when you get anything, regardless of the country in which you live. Thank you! Ken.
May 2010 Think Tank Reviews All Reviews
Introduction top
Intro Specs Performance Recommendations
The Think Tank Wired-Up 10 and Wired-Up 20 are camera cases optimized for electronic journalists, especially DSLR videographers.
Compared to photo-only cases, they have fewer external pockets, and are loaded with pass-through holes between the sections for cables.
As I write this, there are two models: the Wired-Up 10 and the Wired-Up 20. The Wired-Up 10 and 20 differ only in height.
They can be used as waist packs, or with the included shoulder strap, as shoulder bags.
Specifications top
Intro Specs Performance Recommendations
Warranty, Both Models
Lifetime, specified.
Wired-Up 10
Size
Internal: 11.5"W x 8"H x 4–5"D (29.5 x 20.5 x 10–13cm).
External: 12"W x 8.75"H x 6.5"D (30.5 x 22 x 16.5cm).

Weight
2 – 3.2lbs (0.9 – 1.5 kg), depending on accessories used.
Wired-Up 20
Size
Internal: 11.5"W x 9.5"H x 4–5"D (29.5 x 24 x 10–13cm).
External: 12"W x 10.25"H x 6.5"D (30.5 x 26 x 16.5cm).
Weight
2.2 – 3.6lbs (1 - 1.6 kg), depending on accessories used.
Performance top
Intro Specs Performance Recommendations
Size
The main camera section is a big, classic three-slot vertical arrangement. You can plop an SLR on top, facing down, and a lens on each side.
There's also a flat, full-sized section between the main camera bay and the belt strap. It's intended for a traditional paper reporter's notebook or paperwork. It's not big enough to hold anything electronic but an iPad, and if you wear it around your waist, you don't want a computer in there anyway since it might bend and break.
The larger Wired-Up 20 is just right to hold a fat Contax 645 medium-format SLR and three of its big lenses, like the 35mm f/3.5, 80mm f/2 and 140mm f/2.8. The 645's prism occupies some of the adjacent lens' bay. It's tight, but happy.
Pro DSLRs and some f/2.8 zooms ought to be fine, too, in the Wired-Up 20, but remember, the Wired-Up 20 isn't so much a bag for still photography as it is for videography with sound.
If you've stuffed it with a body and three big lenses, it's not big enough to pack film or more backs. There is but one small pocket on the front for filters or small batteries, and one small pocket on each side. For belt packs for still shooting, get the Speed Demon (smallest), Speed Freak or the largest Speed Racer, which have many more side pockets than these Wired-Up bags.
Handling
This bag isn't for me, but I'm not shooting audio or video as it this bag is intended.
If you are shooting audio or video, it's got pass-throughs between the sections so you can pass mic and camera cables between sections while it's all zipped-up. It's also got included, or available as accessories, headphone and mic hangers.
For me, I find the bag rides farther up on my belly than the Speed Demon, making it a bit weird. I do find it a good fit for a three-lens Contax 645 system, but its lack of multiple external side pockets or top storage leaves no place for film or holders.
There is no top flap; it's got one big zipper down the middle.
The front pocket has a great zipper, as well as a strap with a magnetic catch.
There's a handle on the top so you easily can throw the bag around if it's not belted to you. The handle isn't as nice as on the smaller Speed Demon.
Build
This is a tough, durable, well thought-out professional bag.
It is an extremely well made bag. It has a sturdy handle on it, so I do use it to tote my Contax 645 system from place to place.
Like everything else from Think Tank, when you have it in your hands, it feels much better made than what we get from Lowepro and Tamrac, who seem to have gone downhill since the 1980s and 1990s.
Recommendations top
Intro Specs Performance Recommendations
This is a magnificent professional case, if the logistics fit what you're doing.
If you're doing video, you need to check these out. For still photography without audio, I prefer the three "Speed" series belt packs, which makes sense, because these are the purposes for which these various bags have been designed.
More Info: Think Tank.
Help Me Help You
I support my growing family through this website, as crazy as it might seem.
The biggest help is when you use any of these links when you get anything. It costs you nothing, and is this site's, and thus my family's, biggest source of support. eBay is always a gamble (see How to Win at eBay), but all the other places always have the best prices and service, which is why I've used them since before this website existed. I recommend them all personally.
If you find this page as helpful as a book you might have had to buy or a workshop you may have had to take, feel free to help me continue helping everyone.
If you've gotten your gear through one of my links or helped otherwise, you're family. It's great people like you who allow me to keep adding to this site full-time. Thanks!
If you haven't helped yet, please do, and consider helping me with a gift of $5.00.
As this page is copyrighted and formally registered, it is unlawful to make copies, especially in the form of printouts for personal use. If you wish to make a printout for personal use, you are granted one-time permission only if you PayPal me $5.00 per printout or part thereof. Thank you!
Thanks for reading!
Mr. & Mrs. Ken Rockwell, Ryan and Katie.