Home Donate New Search Gallery How-To Books Links Workshops About Contact
B&H, New York City
13 August 2009, Thursday
09 10 11 12 13 14 15 16 17 18 19a 19b 20 August 2009
Photographed entirely with a Canon SD960 IS pocket camera.
Today was another important business day: I visited B&H Photo-Video! See also the exciting video.
I walked out of The New Yorker Hotel, and over to centrally-located B&H.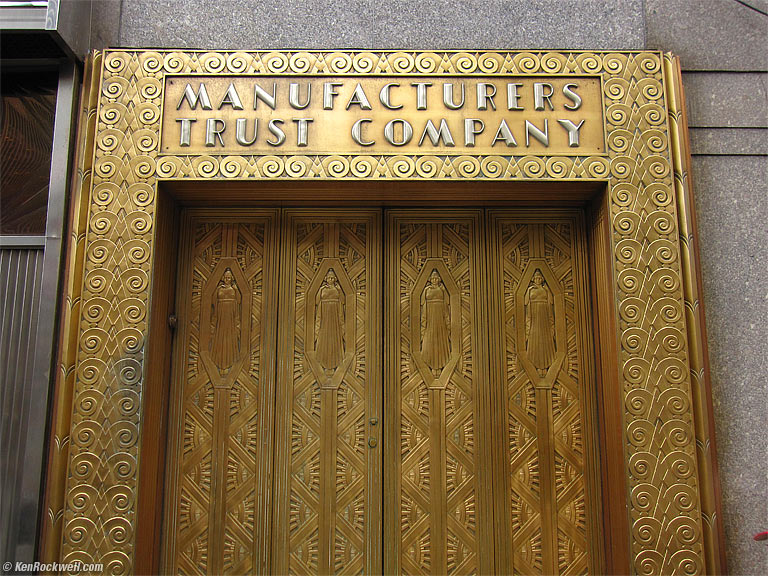 Manufacturers Trust Golden Door, New York City, 9:12 AM.
This is on the outside of the New Yorker Hotel, seen as I walked counterclockwise around the hotel to B&H.
As first shot, this was too blue, so I set a warmer white balance to retain the golden color.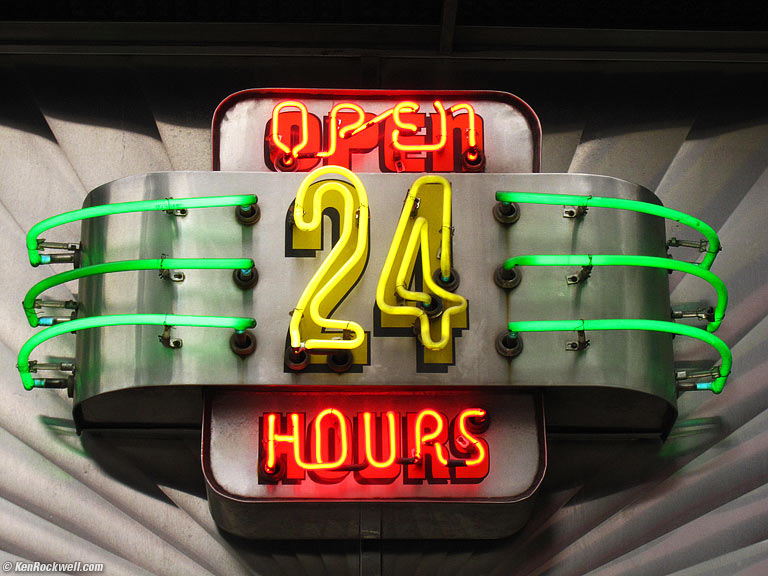 Tick Tock Diner, New York City, 9:13 AM.
I also saw the Tick Tock Diner on the other face of the building.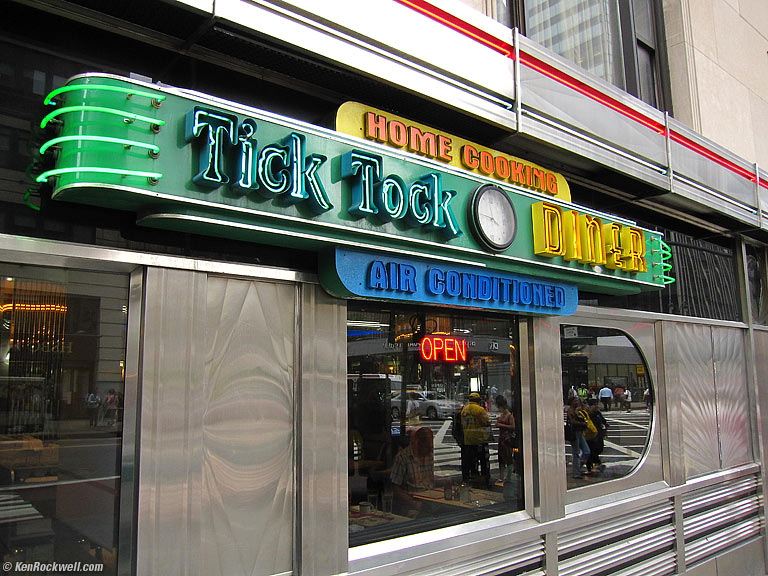 Tick Tock Diner, New York City, 9:13 AM.
Tesla Plaque, New York City 9:14 AM.
What in tarnation?
I saw this on the wall, about 20 feet above street level.
Tesla is following me. What's up with this?
I had no idea he had anything to do with this hotel; I didn't make the reservations.
Before this trip, I had no idea that Tesla had anything to do with New York, much less have worked on Long Island not far from my own home, or have died on this street.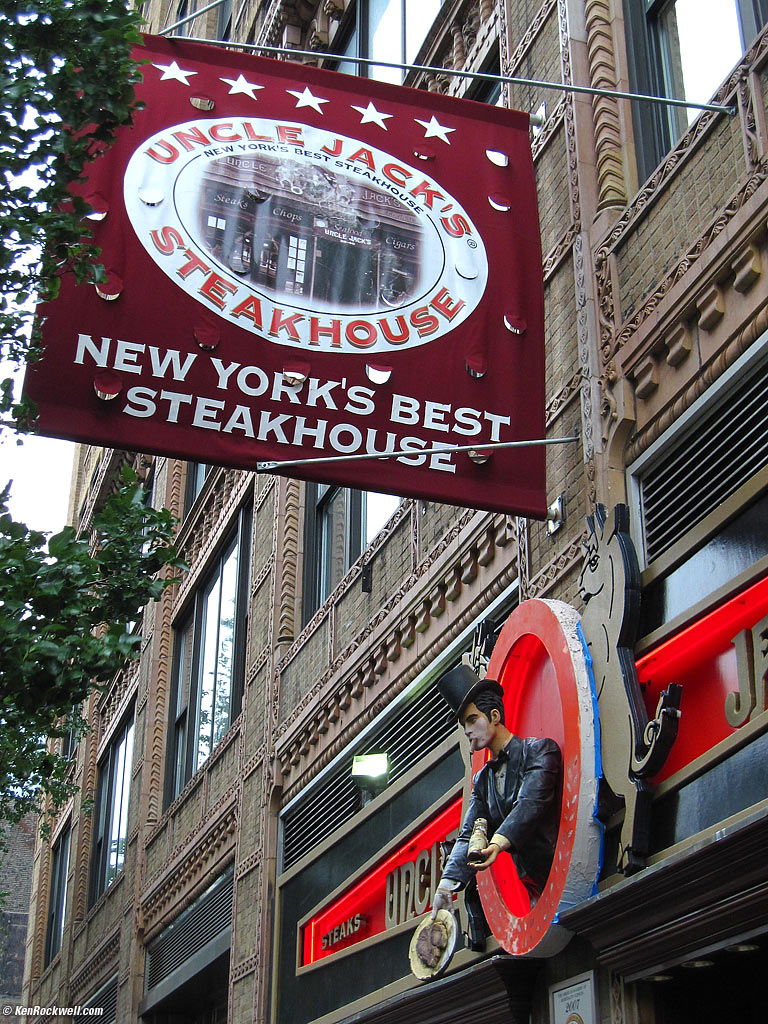 Uncle Jack's, New York City, 9:20 AM.
I saw this whimsical sign on the way.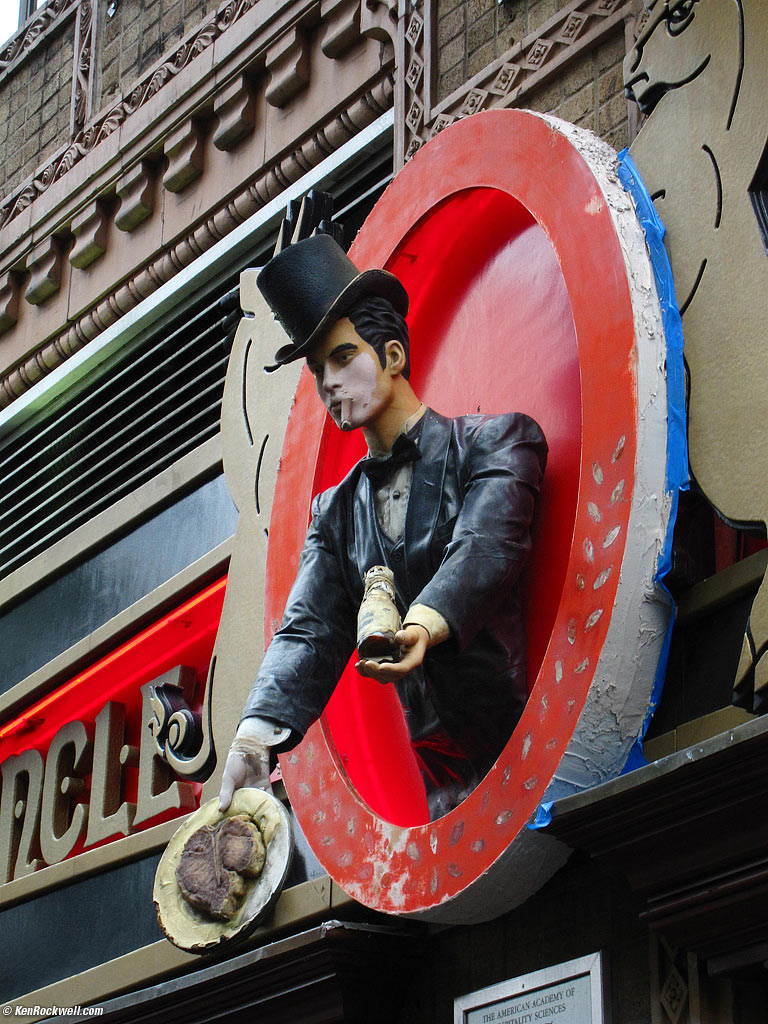 Uncle Jack and Steak, New York City, 9:20 AM.
The light wasn't very good, but I made this snap anyway.
I made this snap because I know that you never can go back and make a picture again. The only time is now; if you wait, someone my pull a truck in front of it, it could burn down, or who knows.
If you want a picture, take it while you can, even if it's not optimum.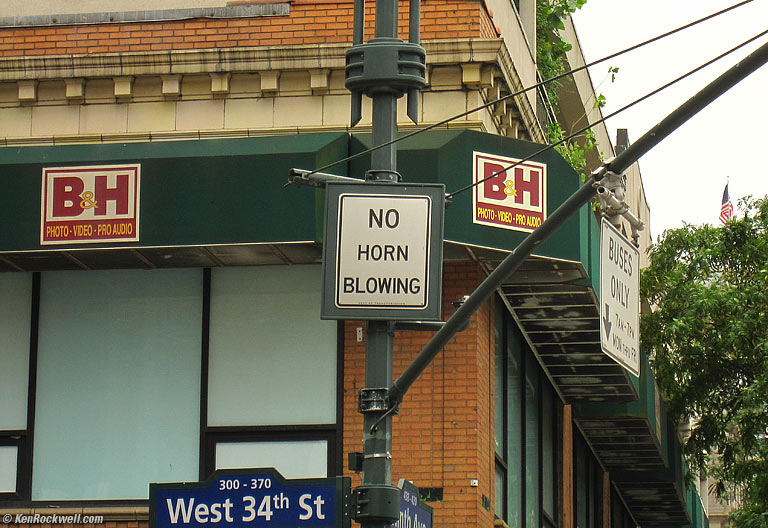 No Horn Blowing, B&H, New York City, 9:48 AM.
Wow! B&H must get people quite excited if people are blowing so many horns that it has to be outlawed.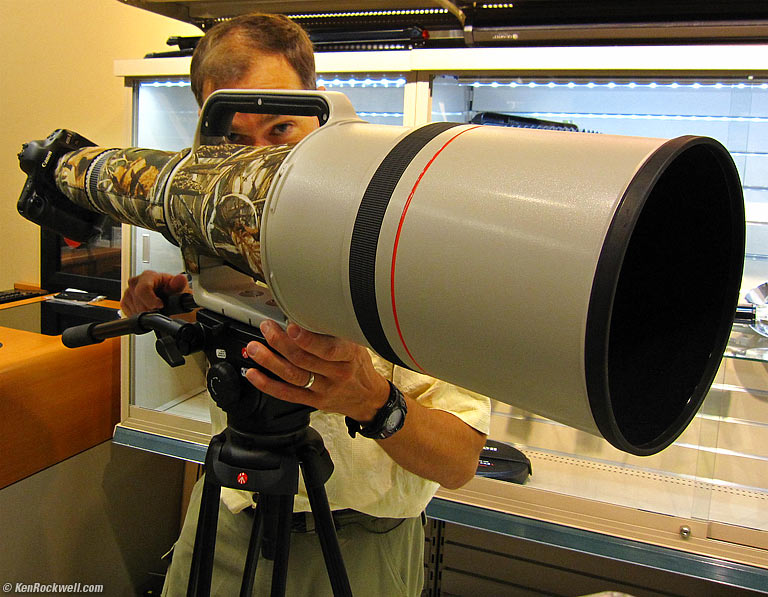 Rockwell and Canon EF 1,200mm F/5.6 L, 9:48 AM.
B&H is very proud of the ridiculously broad range of equipment they keep in stock.
This is a Canon EF 1,200mm f/5.6 L lens B&H had available used, with an asking price of $100,000 — used.
Canon only made these to special order, which considering the expense and limited use of something like this, means that only several were ever made.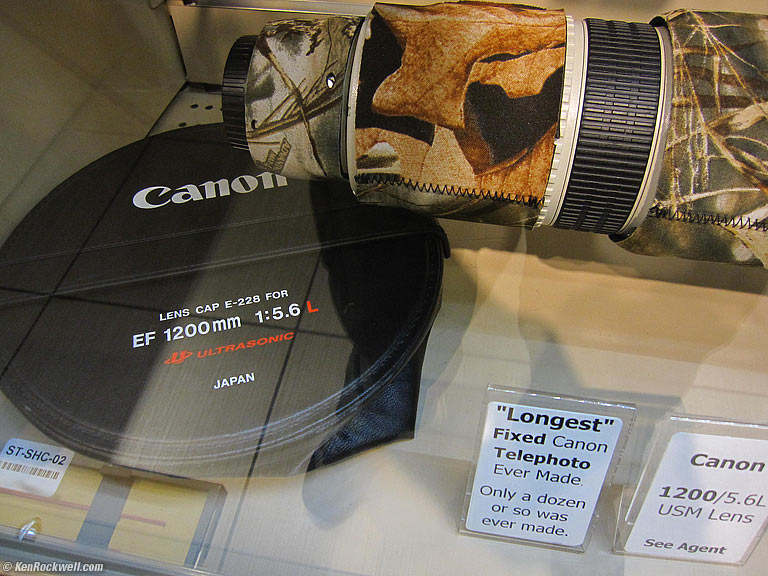 Canon EF 1,200mm F/5.6 L Front Cap.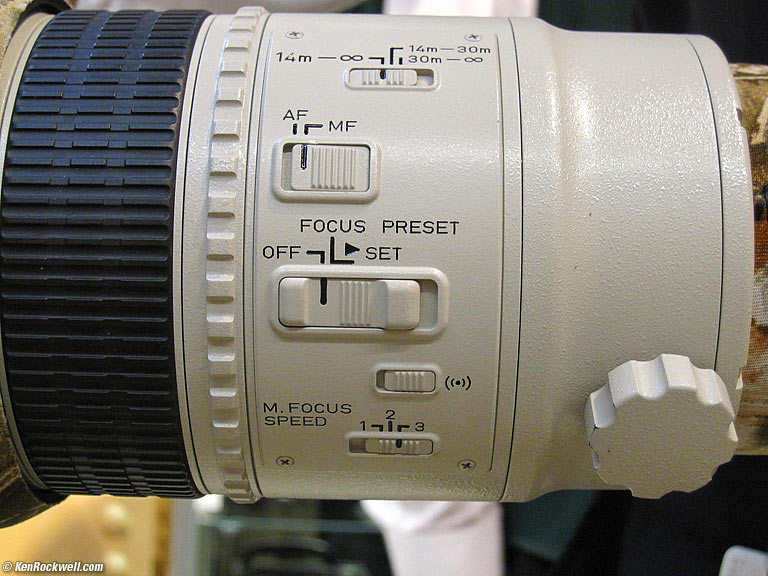 Canon EF 1,200mm F/5.6 L Controls.
Note the three-zone AF range selector and the three selectable speeds for manual focus.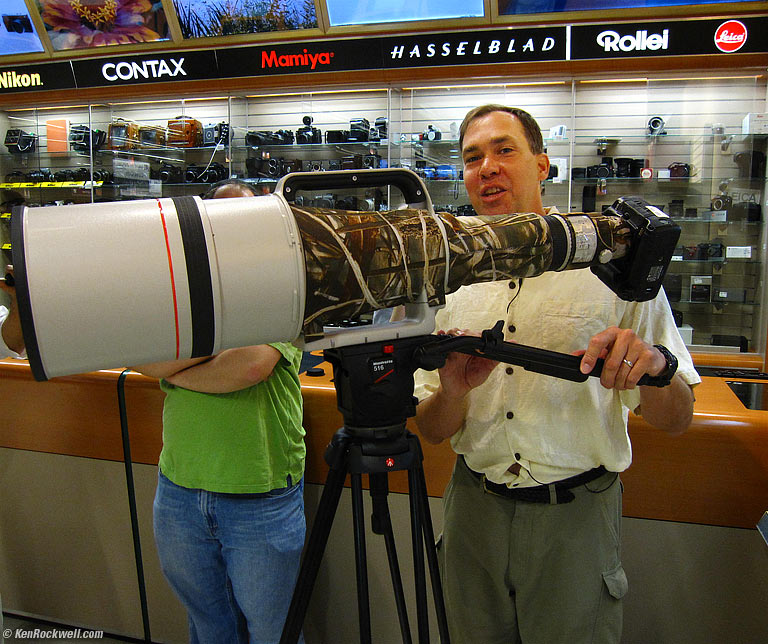 Rockwell in B&H's Used Department, 9:48 AM.
Behind me we see just a little part of B&H's used department, of which this 1,200mm lens is a part.
I spent a lot of time here. The used department has all the good stuff.
Candy at B&H, 10:19 AM.
B&H is a sweet place to shop; there's free candy everywhere.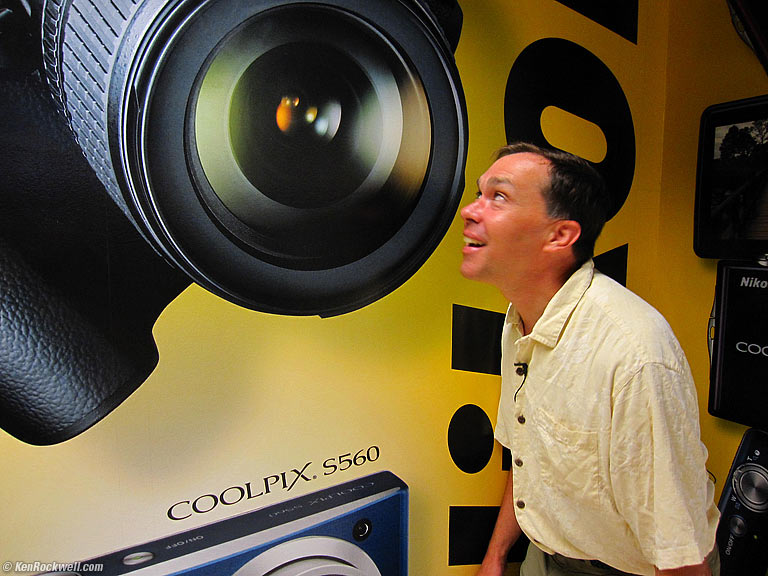 Rockwell is a Big Nikon Fan, B&H, 10:22 AM.
B&H is a big Nikon dealer, and here's one of the big Nikons they sell.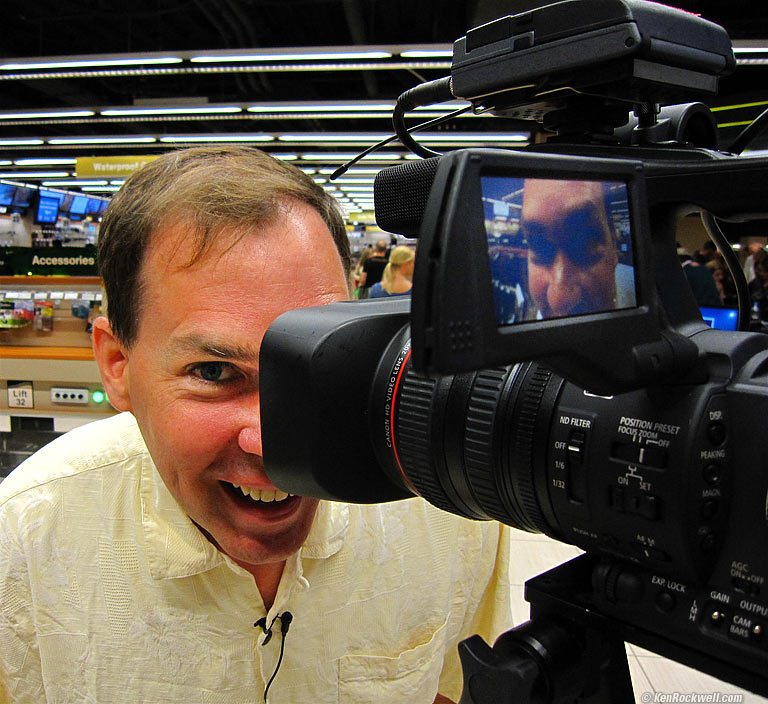 Rockwell on TV, B&H, 11:05 AM.
B&H didn't blow any horns for me because of the sign, but they sure made a lot of video of me.
You can see the video here of my visit.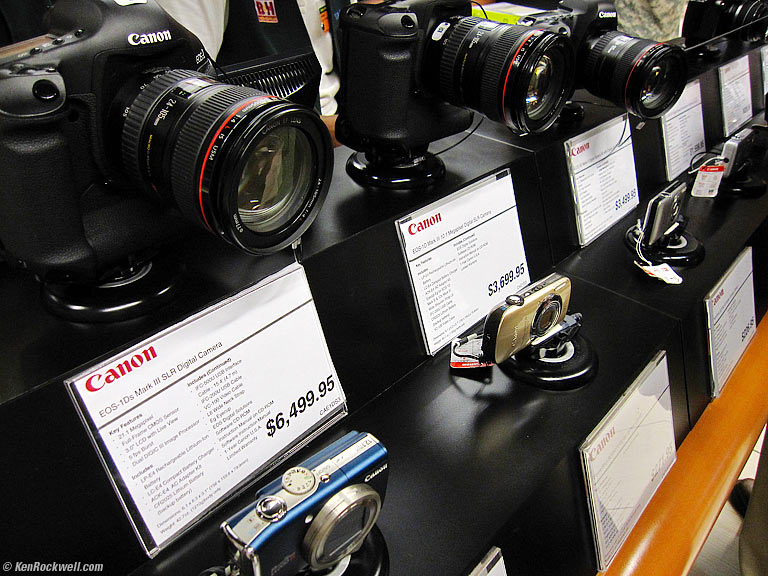 A Canon Shelf at B&H, 11:15 AM.
B&H has just about everything out on display.
What's interesting at this Canon counter is that they have everything from a $6,500 1Ds Mark III to $95 point-and-shoots on the same counter.
Not only do they have the $6,500 cameras out; they have real lenses on them so that you can play. This ain't Wal-Mart; this is the City of New York.
Not only are the pro DSLRs sitting next to the point-and-shoots on the same counter, the same B&H sales rep will take the time and patience to explain the advantages of both of them. It doesn't matter which you're buying, you get the same great service from salespeople who aren't on commission: they're only interested in your long-term satisfaction.
B&H continues to grow, while more short-sighted stores die, because B&H takes the long view. They know if they treat us right today, that we'll be back tomorrow. They could care less if I buy something today, because they know that I'll be back tomorrow when I do need something if they treat me right. That's why I've been shopping at B&H since the 1970s! I've never had anyone at B&H try to sell me a Sigma when I went in to buy a Nikon.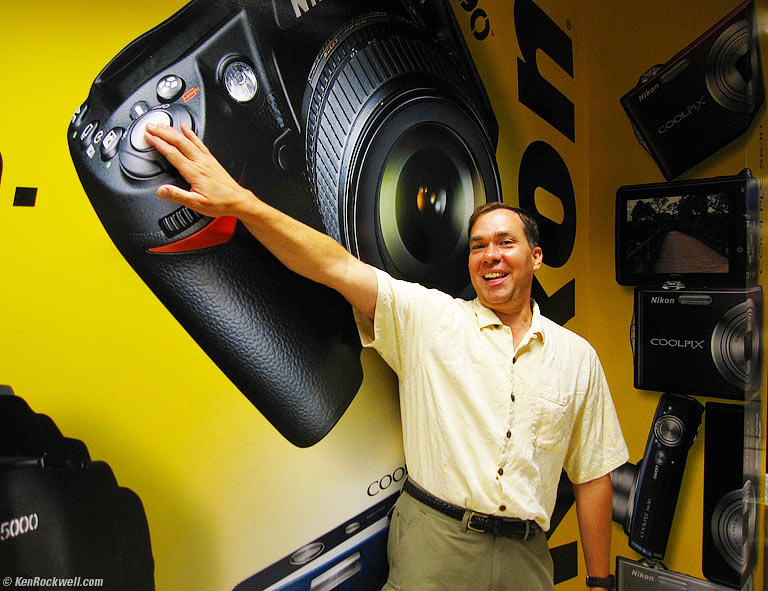 Rockwell Tries Taking His Picture with the Big Nikon at B&H, 11:19 AM.
Here's another one of those big Nikons.
I couldn't get it to work; the battery must be dead and the guy with the charger had left early for lunch.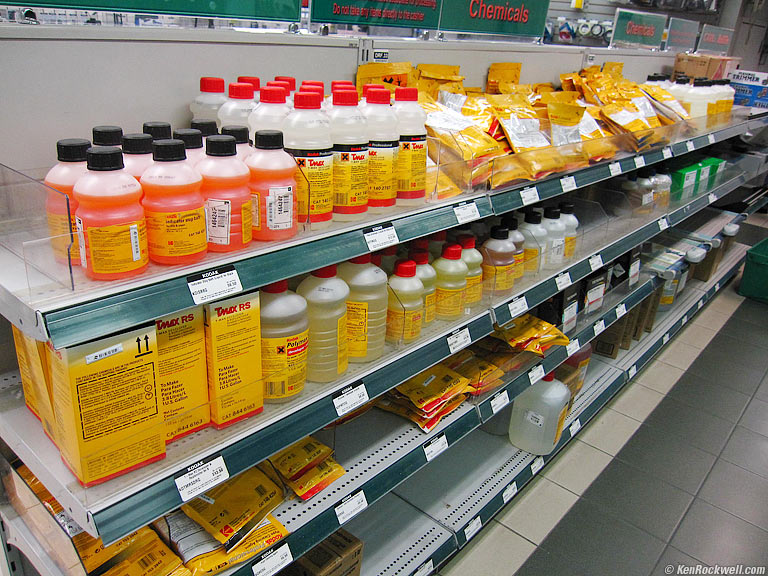 Darkroom Chemicals, B&H, Noon.
Need darkroom chemicals? B&H has enough on the shelf to develop most of the third world, and if that's not enough, they'll bring more up front.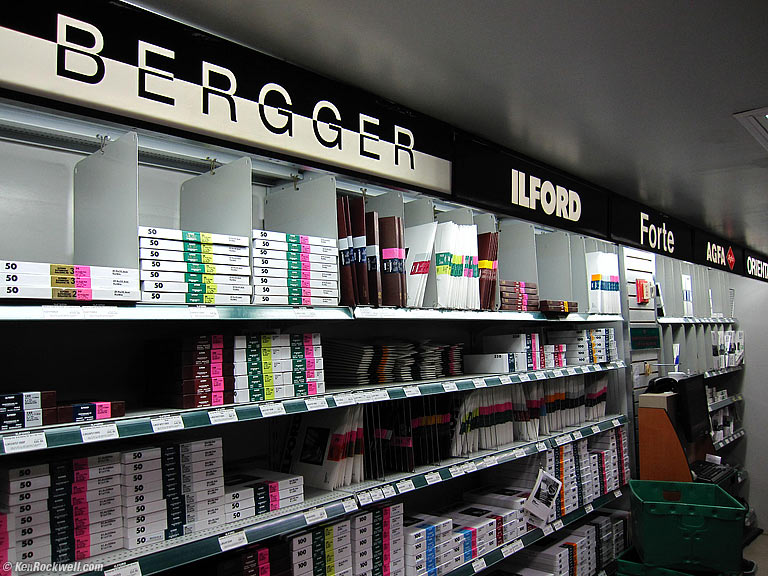 B&W Paper at B&H, Noon.
This is real black-and-white paper. The garbage people put in computer printers is elsewhere.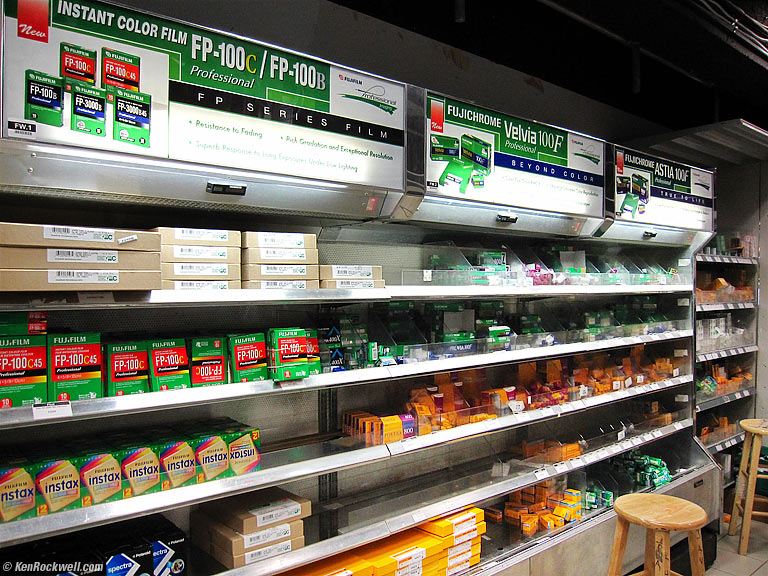 Just some of B&H's in-Stock Film, 12:02 PM.
Film? B&H has a wall of it, and again, this is but a tiny fraction of what they hold in their cavernous warehouse.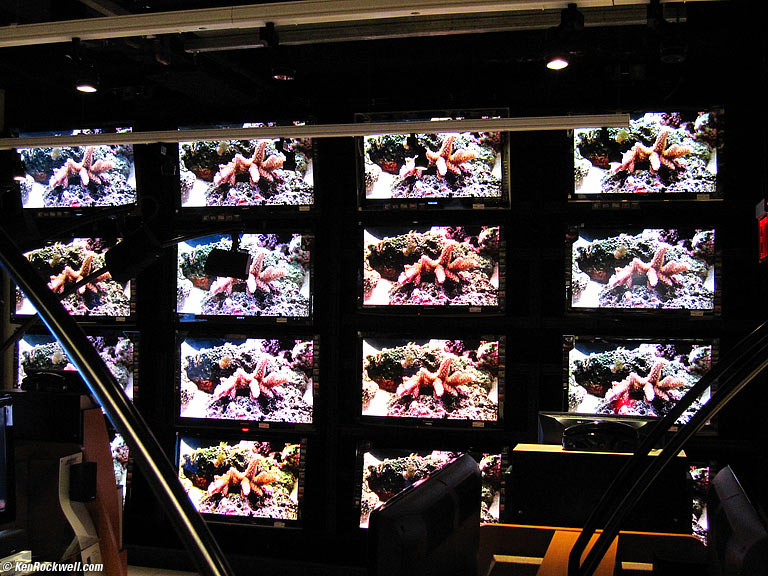 Some of B&H's wall of TVs, 12:06 PM.
B&H is the only store to which I've ever gone where all the TVs on the demo wall matched. Only in this environment could one actually see differences between TVs, as opposed to differences in the signals presented to each or the way each is mis-adjusted. In every other store, even when set to the same program, the differences have always been a lack of calibration instead of actual differences between sets.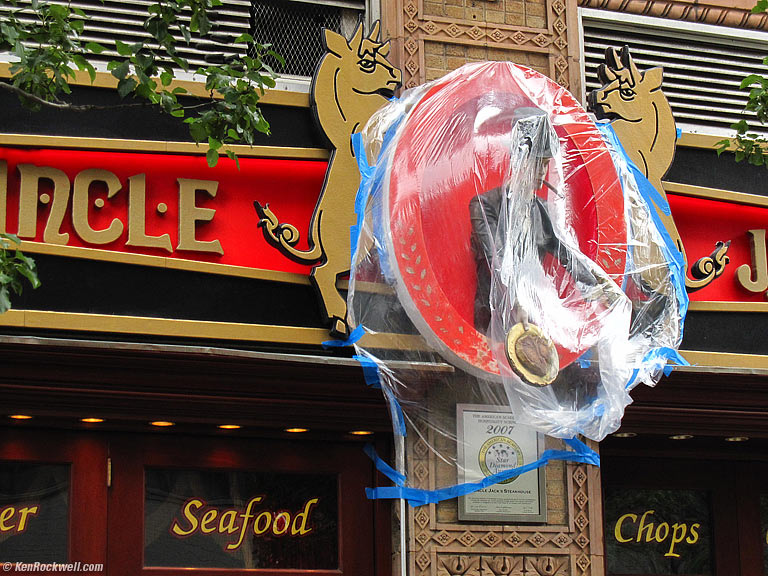 Uncle Jack and Steak, New York City, 2:36 PM.
Remember when I explained how you can't go back and take a picture again? When I came out of B&H just a few hours later, Uncle Jack was wrapped in plastic!
I was next treated to a tour of B&H Photo-Video's warehouse, which is the largest accumulation of photo gear I have ever seen anyplace on Earth in the 36 years I've been shopping for it. I can't tell you how big it is because B&H doesn't want me telling anyone. Imagine the largest aircraft assembly building you can, and double it. That would be about half the size of B&H's warehouse. Items that I rarely see anywhere B&H has in neat piles that go to the ceiling — and they have very high ceilings.
In addition to having a hundred times more of anything than anyone could possibly imagine, what matters to us mere mortals is that B&H's warehouse is air-conditioned.
I was in NY in the middle of the hottest 2 weeks of August. It was 100º and 85% humidity everywhere. Down in the subway stations, it was 140,º and as you step into the subway, hot air blasts up from Hell under the cars, and for a few seconds, you are roasted at about 180º F.
From what I understand, few warehouses are air conditioned. B&H is unusual in that their warehouse was quite comfortable if I had to work there. Thankfully I didn't drop anything, so I didn't have to.
Most importantly for those of us who buy from B&H, this means that our cameras and film hasn't sat in a hot warehouse for however long it sits there. I doubt anything stays in these warehouses very long (these sorts of operations turn their stock fairly quickly), and it is very nice to know that everything in B&H's warehouses is air conditioned.
After my warehouse tour, we had dinner, and I headed home to Long Island.
I didn't bother with a charger for my camera for the days I was in Manhattan; the Canon SD960 IS runs long enough to save me the trouble.
09 10 11 12 13 14 15 16 17 18 19a 19b 20 August 2009
Home Donate New Search Gallery How-To Books Links Workshops About Contact