Home Donate New Search Gallery Reviews How-To Books Links Workshops About Contact
Citizen Compass Face Watch
© 2014 KenRockwell.com. All rights reserved.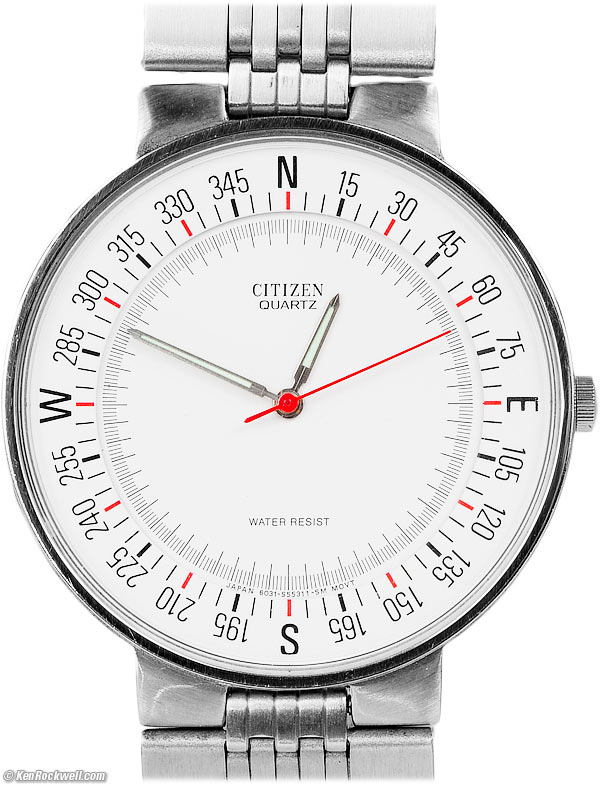 Citizen Compass Face Watch. (Quartz, 36mm outer diameter case, one 377 cell, about $50 used.) enlarge. I got this one at this link directly to them at eBay (see How to Win at eBay).
This free website's biggest source of support is when you use any of these links to approved sources when you get anything, regardless of the country in which you live — but I receive nothing for my efforts if you take a chance and buy elsewhere. I get no government hand-outs and run no pledge drives to support my research, so please always use any of these links to approved sources for the best prices, service and selection whenever you get anything. Thanks for helping me help you! Ken.
January 2014 Watch Reviews All Reviews
I found this by chance at eBay and I couldn't resist.
It's as clean, light and precise in person as it seems in pictures.
It's very thin and light, with a stainless steel case and band.
It has a very precisely printed dial.
The silver hands have very thin luminous areas as shown above. They are so thin that the luminous paint is invisible in the dark.
The outer diameter of the round stainless steel S18680 case measures 36mm diameter. On the wrist it looks like it's only 4mm thick, even though it's really 6mm thick, because the back of the case is a smaller diameter than the face.
The 54-Y0629 crystal is mineral.
The face says JAPAN 6031-S55311-SM MOVT. The outer scale is raised slightly so it's at about the same level as the hands.
It's as accurate as every other quartz watch, running exactly 0.3 seconds fast per day compared to WWV, or 9 seconds a month fast.
It looks great. If you need hours markers, those are in red every 30 degrees. Seconds and minute markers are on the inner scale, with markers every 5 degrees on the outer scale.
The only negative is that I find the band has slightly sharper edges than other metal bands, and tends to grab my hair on rare occasion.
These are hard to find. They also came with a black face with white markings and the same silver hands. As far as I know, they are from the 1980s and had about an $1,899 list price as part of Citizen's "Design Line," so very few were sold.
Good luck!
Help me help you top
I support my growing family through this website, as crazy as it might seem.
The biggest help is when you use any of these links when you get anything, regardless of the country in which you live. It costs you nothing, and is this site's, and thus my family's, biggest source of support. These places have the best prices and service, which is why I've used them since before this website existed. I recommend them all personally.
If you find this page as helpful as a book you might have had to buy or a workshop you may have had to take, feel free to help me continue helping everyone.
If you've gotten your gear through one of my links or helped otherwise, you're family. It's great people like you who allow me to keep adding to this site full-time. Thanks!
If you haven't helped yet, please do, and consider helping me with a gift of $5.00.
As this page is copyrighted and formally registered, it is unlawful to make copies, especially in the form of printouts for personal use. If you wish to make a printout for personal use, you are granted one-time permission only if you PayPal me $5.00 per printout or part thereof. Thank you!
Thanks for reading!
Mr. & Mrs. Ken Rockwell, Ryan and Katie.
Home Donate New Search Gallery Reviews How-To Books Links Workshops About Contact