Home Donate New Search Gallery Reviews How-To Books Links Workshops About Contact
Omega Constellation
Calibre 751 (24 Jewels, 1966-1975)
© 2014 KenRockwell.com. All rights reserved.
Intro Specs Performance Usage Recommendations More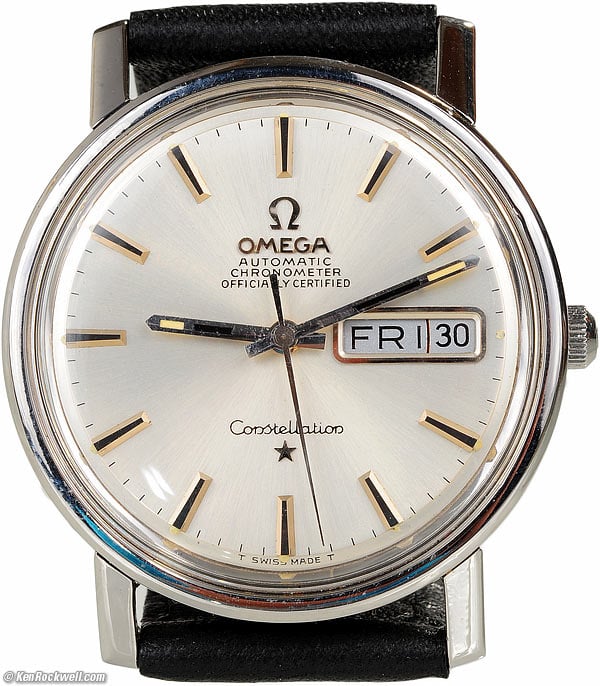 Omega Constellation Day/Date in Stainless 168.016 case, 1968 (19,800 BPH, 24 jewels automatic, 35.1mm diameter case, 11.1mm thick with crystal, 19mm strap lugs, 43.6g/1.537oz with band, about $700 used or $1,200 used for a really nice one like this, much more for solid gold of course. New ones sell at around $4,000 and up.) I'd get it at this link directly to them at eBay (see How to Win at eBay); using that or these links when you get yours is what supports me and this free website.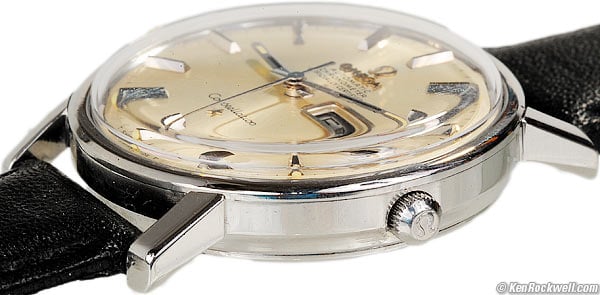 Omega Constellation Day/Date of 1968. bigger.
March 2014 Watch & Clock Reviews All Reviews
Introduction top
Intro Specs Performance Usage Recommendations More
The Omega Constellation is a classic watch of unerring accuracy. It's a lightweight, medium sized watch weighing just 43.6 grams including leather strap.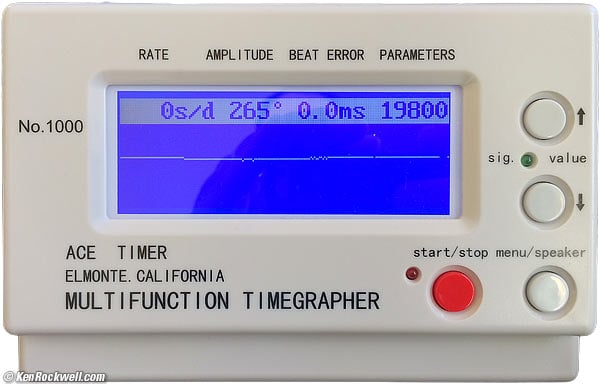 Omega Constellation: Perfection on the Timegrapher.
History
1952
Omega introduced the Constellation in 1952 as a marketing opportunity to celebrate the fact that they had just won another chronometer competition at the Geneva Observatory.
The Observatory at Geneva: Omega's promise of accuracy.
The eight stars represent eight big chronometer competition wins, which was a world record. This is found on the back of the 1968 sample shown here, as well as most other Constellations.
The Constellation has always had a self-winding movement.
As time went on, Omega added versions with the date, as well as many different cosmetic options in steel and gold and many different movements.
1966-1975
The 1968 sample shown here with a calibre 751 movement was Omega's first watch with the day and date, introduced in 1966. To add both the day and the date in a chronometer was quite a feat, since the added drag of moving the day and date every night makes it more difficult to maintain accuracy.
This 751 movement is pure Omega, not an ETA or Swatch movement as too many watches, including Omega, use today.
1975-
In 1975 Omega changed the movement to the 1021, which was a 28,800 BPH movement. Omega also offered quartz and tuning-fork (f=300 Hz and f=720 Hz) movements in the Constellation starting in 1975. As of 1975, pretty much anything goes.
2014
Today the Constellation comes in quartz and in coaxial automatic movements.
Specifications top
Intro Specs Performance Usage Recommendations More
Weight
43.6g (1.537 oz.) with band as shown.
Case
This one is stainless steel with a plastic crystal.
35.1mm outer diameter excluding crown or lugs.
11.1mm thick including crystal.
19mm strap lugs
It is splash resistant, with a rear gasket, crown gasket and carefully sealed crystal.
Dial
Tritium-based luminous compound for the hours dots.
Hands
Shiny silver-colored hands with a black line close to the center for daylight legibility, and tritium-based luminous paint on the tips for night legibility.
Calibre 751 Movement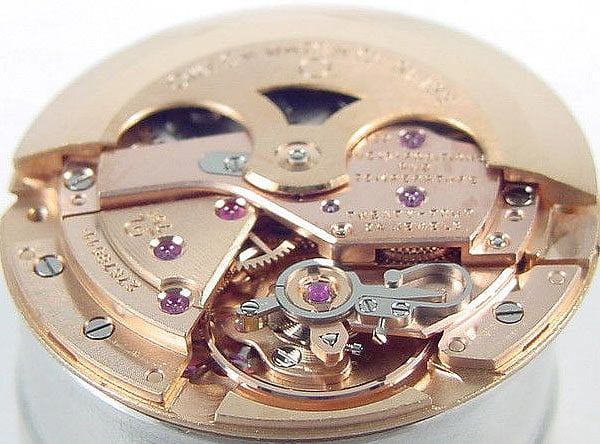 Omega 751 Movement. Photo: Tim Mackrain.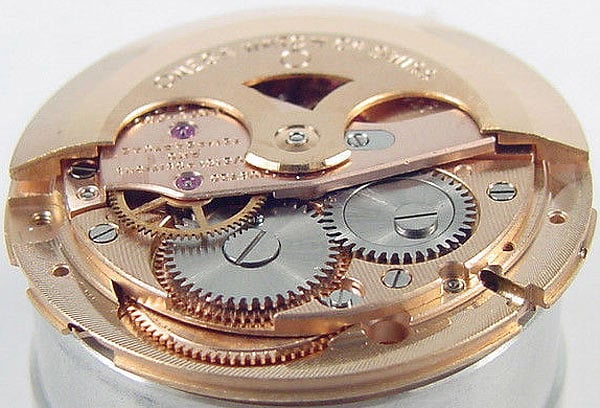 Omega 751 Movement. Photo: Tim Mackrain.
19,800 beats per hour.
5.5 beats per second.
Micrometer regulator.
24 Jewels.
Incabloc-style shock protection.
27.9mm diameter.
5.68mm height.
Bi-directional rotor automatic, with reverser wheels and 50 hour power reserve.
Chronometer grade.
Balance wheel made of Glucydur brand of tough, temperature-stable, non-magnetic, corrosion-resistant beryllium, iron and copper or "beryllium bronze" alloy.
The balance wheel is smooth, without the many screws along its periphery of similar quality timepieces of the era. The Omega balance wheel is poised (made to balance) by removing small amounts of metal from it during manufacture, which is still state-of-the-art today.
Flat balance spring made of Nivarox (Nicht variabel oxydfest) brand of nickel, chromium, beryllium, titanium, aluminum and iron non-corroding and non-magnetic temperature-resistant alloy.
The temperature coefficients of the balance wheel and balance springs are designed to cancel out, rendering the chronometer insensitive to temperature.
Tempered-alloy, temperature insensitive pallet lever.
Hard tempered-alloy escapement wheel.
Most of the plates and other movement parts are made of a copper-electroplated beryllium-bronze alloy, which gives the unique reddish gold color.
Bronze alloy rotor bearings. No jewels are used in the rotor bearing to give higher shock resistance, and no roller bearings are used to give quieter operation and higher efficiency.
Quality
Swiss Made.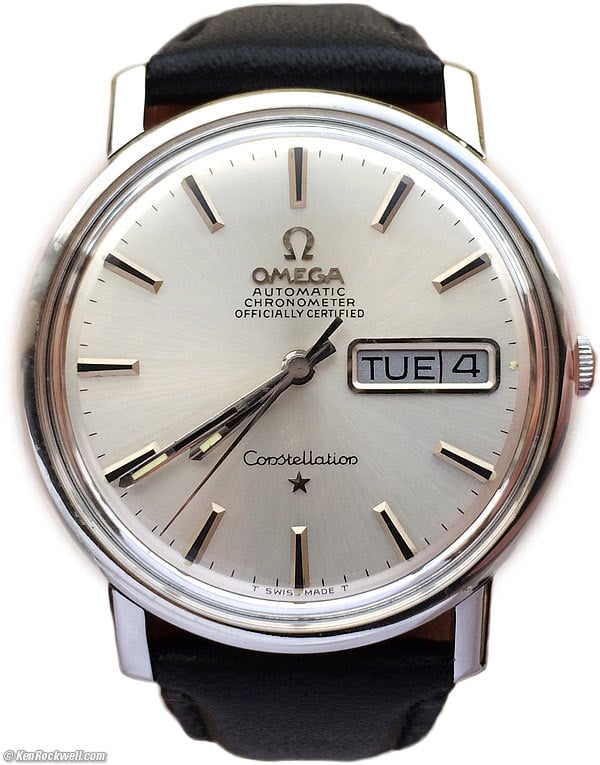 Omega Constellation Day/Date of 1968.
Performance top
Intro Specs Performance Usage Recommendations More
Accuracy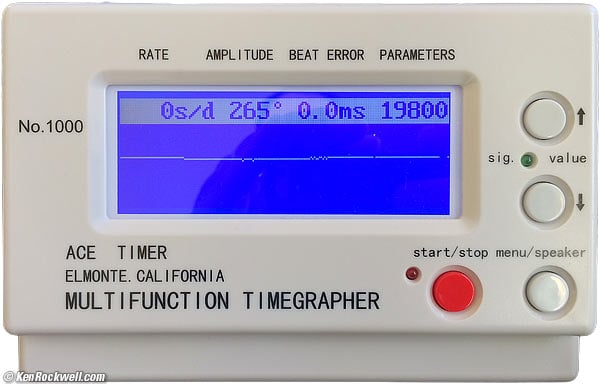 Omega Constellation: Perfection on the Timegrapher.
This sample, recently serviced by Tim Mackrain, runs to within a second or two of the same error each day. Not only is it accurate, its beat accuracy is dead-on and it's flat, flat, flat on the Timegrapher, just like a brand new watch. Not bad for a nearly 50-year-old watch!
As I write this, it's within better than 2 seconds per day as I wear it, and it repeats this every day. On-wrist for 12 hours per day as I wear it, it's about 1.5 seconds slow per day, and off-wrist it's just about perfect.
Every sample will vary, and of course this level of accuracy only happens if you have yours well taken care of and serviced regularly. Just like a 1968 car, it needs service and adjustment every so often.
Most people are perfectly happy with a minute a day accuracy, which is about what you'll get if no one has been keeping up on it. Like any other precision mechanical instrument, the accuracy you'll get depends on how well you take care of it and keep it adjusted.
Power
I wear it 12 hours a day, every day.
As an experiment, I took it off and it ran for 50 hours (two days and two hours) after a week of regular wear, exactly as originally specified in 1966!
After it stopped and I wore it just 3 hours before bed, it ran all night (11 hours) without fail.
As I wear it, it has seemingly unlimited power. If I wanted to take it off one night, not wear it the next day and not put in back on until the morning of the day after that (36 hours), I still wouldn't need to wind its tiny little crown by hand.
Legibility
Legibility is reasonable for the time and excellent for the day and date.
In diffuse light, the silver hands often blend into the brushed-silver face. The dark inserts are a big help for legibility.
The silver seconds hand is usually invisible. To see it you usually have to angle the watch just right.
It's invisible in the dark. Tritium has about a 12.5 year half-life, so today it's working at about 1/12th power, which is almost completely black even with my best dark-adapted vision. My Geiger counter registers nothing.
The luminous paint lights up well under ultraviolet, and fades almost immediately regardless of what sort of light its been in.
The day and date are bigger and clearer than on most other watches. Coupled with the thin hands, it's always easy to read the day and date. Even at quarter-past you can look under the hands and read the day and date. Bravo!
The date changes in about an hour, and the day changes twice over about two hours.
All the days are printed in black; Sunday is not red.
Sound
It's silent from more than a few inches away.
Durability
It's designed to be splashproof, and the carefully serviced sample seen here should also be splashproof today.
Don't take it swimming, but if it gets splashed washing your hands, don't worry.
Likewise, Incabloc-style springs on the balance wheel jewels ought to protect it against anything to which an owner of a fine classic watch like this will expose it.
Life Expectancy
This vintage Omega is almost 50 years old, and it runs flawlessly.
I see no reason your watchmaker wouldn't be able to service this for another 50 years.
Omega probably still services these in Switzerland as well.
They are engineered to run 265 years with original parts and regular maintenance. If a part wears out after 265 years, a real watchmaker can make the part.
Usage top
Intro Specs Performance Usage Recommendations More
Winding (cal. 751)
Turn the crown if needed, otherwise, it winds automatically.
I'm told that these early automatic movements may not stay wound all the way if you work at a desk or don't move around a lot. If this is the case, the watch will always be running in a mostly run-down state, and it's best to wind an extra 8-10 turns every morning.
You can tell by how long it runs after you take it off your wrist. If it only runs 12 hours or less, you ought to wind it manually as well. If it runs 36 hours or more after you've worn it regularly, you're AOK.
Setting the Day of the Week (cal. 751)
There is no fast way to set the day of the week.
To set it, you have to set the watch ahead or behind by 24 hours at a time and let the day change by itself. To set the time, pull the crown about halfway out and turn.
Remember that AM and PM matter, but aren't shown. If you set the watch off by 12 hours, the day and date will change at noon — oops!
Setting the Date (cal. 751)
There is no fast way to set the date.
After setting the day of the week, which also changes the date, the date is set by pulling out the crown all the way.
The date advances by one every time you pull out the crown to the last position. In this last position, nothing happens as you turn it.
This makes it easy to advance the date for short months with no worries of changing the time by accident, but it also means you may have to repeat this 30 times to go backwards by one if you pull the crown out too far by accident while setting the time.
This is why the Omega Man chooses a chronometer for his wrist. The chronometer rarely needs to have its time reset, so the only maintenance for his butler is to pop out the crown once every two months to compensate for short months.
Setting the time (cal. 751)
Set the time last because you have to change it to set the day of the week.
To set the time, pull the crown out about halfway and turn.
Be careful not to pull it out all the way or you'll advance the date by one, requiring you to repeat pulling out the crown 30 more times to get to where you were.
The good news is that the hands don't jump as you push the crown back in. They stay set exactly as you set them.
The Constellation usually will stop to set the seconds if you set the hands back a little bit, There is no formal hack feature; it keeps running as you pull out the crown.
Recommendations top
Intro Specs Performance Usage Recommendations More
The Omega Constellation has always been a first-class watch, in fact, much more so than was Rolex back when the this sample was made. Even Elvis Presley had a 1960 Omega Constellation.
These sell used today for about the same price as they did new, considering inflation.
Another advantage of owning a classic Omega like this is that it's much more likely to be a real watch. Brand-new Omegas, Rolex, Patek Philippe, Cartier, Breitling and every fancy watch brand today are also available as counterfeits which look exactly like real thing. It's much less likely that an older vintage Omega is counterfeit, although some people may swap old parts back and forth.
Get an Omega if you demand the best. If you want an accurate, high quality high-beat (28,800 bps) Swiss 25-jewel automatic watch to tell time well, consider also a brand-new Mondaine Automatic for half the price of a classic Omega.
If you've found all the time, effort and expense I put into researching and sharing all this, this free website's biggest source of support is when you use these links, especially this link directly to them at eBay (see How to Win at eBay), when you get anything, regardless of the country in which you live. Thanks! Ken.
Service
Tim Mackrain is the expert Omega specialist who serviced this sample. I don't know of anyone else who specializes in these. Tim is all about service and satisfaction.
More Information top
Intro Specs Performance Usage Recommendations More
Omega 751 Movement Instructions
Omega 751 Movement Specifications
Help me help you top
I support my growing family through this website, as crazy as it might seem.
The biggest help is when you use any of these links when you get anything, regardless of the country in which you live. It costs you nothing, and is this site's, and thus my family's, biggest source of support. These places have the best prices and service, which is why I've used them since before this website existed. I recommend them all personally.
If you find this page as helpful as a book you might have had to buy or a workshop you may have had to take, feel free to help me continue helping everyone.
If you've gotten your gear through one of my links or helped otherwise, you're family. It's great people like you who allow me to keep adding to this site full-time. Thanks!
If you haven't helped yet, please do, and consider helping me with a gift of $5.00.
As this page is copyrighted and formally registered, it is unlawful to make copies, especially in the form of printouts for personal use. If you wish to make a printout for personal use, you are granted one-time permission only if you PayPal me $5.00 per printout or part thereof. Thank you!
Thanks for reading!
Mr. & Mrs. Ken Rockwell, Ryan and Katie.
Home Donate New Search Gallery Reviews How-To Books Links Workshops About Contact