Home Donate New Search Gallery Reviews How-To Books Links Workshops About Contact
Yashica Auto Focus
Motor II D Quartz (1980-)
© 2011 KenRockwell.com. All rights reserved.
Intro Specs Performance Usage Recommendations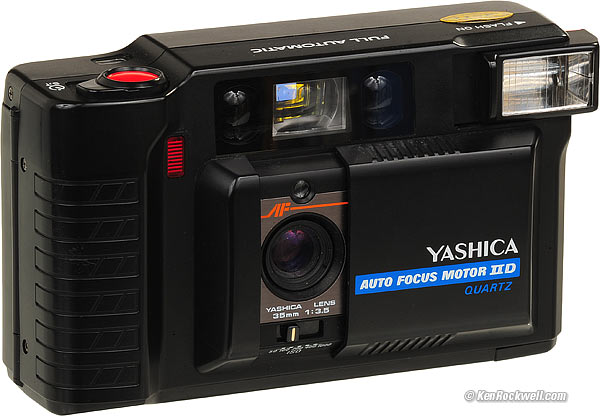 Yashica Auto Focus Motor II D. enlarge. This free website's biggest source of support is when you use these links, especially this link directly to them at eBay, (see How to Win at eBay). It helps me keep reviewing these oldies when you get yours through these links, thanks! Ken.
September 2011 Yashica Reviews All Reviews
Introduction top
Intro Specs Performance Usage Recommendations
The Yashica Auto Focus Motor II D is a basic 35mm point-and-shoot from 1980.
It comes in two models: the Auto Focus Motor II D Quartz as shown here with quartz date, and the plain Auto Focus Motor II without date.
There was an older model Auto Focus Motor that came before this model. It had a pop-up flash.
In 1980, autofocus was a big deal, and so was a built-in motor. It took Nikon three more years to introduce its first autofocus and first built-in motor camera, the Nikon L35AF, which wasn't an SLR, either. This Yashica was literally years ahead of Nikon.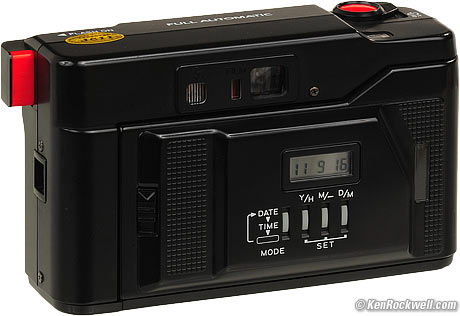 Rear, Yashica Motor II D, 16 September 2011. enlarge.
Specifications top
Intro Specs Performance Usage Recommendations
Finder
0.50x Albada bright frame.
83% coverage.
Lens
35mm f/3.5.
4 elements in 3 groups.
Focus
Active infrared.
1.1m - infinty.
Aperture and Shutter
Combined, two blades with semi-square aperture.
1/30 ~ 1/700 second; need to use flash when it gets dark.
EV 8.5 - 17 at ISO 100.
ISO
Settable to ISO 50, 100, 200, 400 or 1,000.
Flash
Constant output.
Guide Number 9 meters (30 feet), ISO 100.
6 second recycle with alkaline batteries.
Exposure calculated from distance and set with aperture: "flashmatic."
Manual on-off by sliding out.
In-finder blinking light telling you it's dark and please to use flash.
Ready light: neon light to left of finder.
Works great for fill-flash; just slide it out.
Flash range (rated)
| | | |
| --- | --- | --- |
| ISO | Near | Far |
| 50 | 1.1m | 2m |
| 100 | 1.1m | 3m |
| 200 | 1.1m | 4m |
| 400 | 1.1m | 6m |
| 1,000 | 1.5m | 10m |
Power
Two AA; rated about 120 rolls of 24 without flash, 12 rolls with 100% flash.
Do not use Ni-Cd or Ni-MH AA cells.
CR2025 for date back; rated about 3-4 years.
Size (rated)
Date model
75 x 124.5 x 51.5mm HWD.
2.95 x 4.90 x 2.03 inches HWD.
Plain model
75 x 124.5 x 46.5mm HWD.
2.95 x 4.90 x 1.83 inches HWD.
Weight (measured)
12.385 oz. (351.1g) with two AA alkalines and 36-exposure film (no strap).
11.605 oz. (329.0g) with two AA alkalines (no film or strap).
280g, rated, date version, without batteries.
260g, rated, plain version, without batteries.
Quartz Date
Clock runs from 1980 through 2019.
Only one date and time format.
Imprints either nothing, YY MM DD or HH - MM.
24-hour format only.
CR2025 cell rated for 3 or 4 years.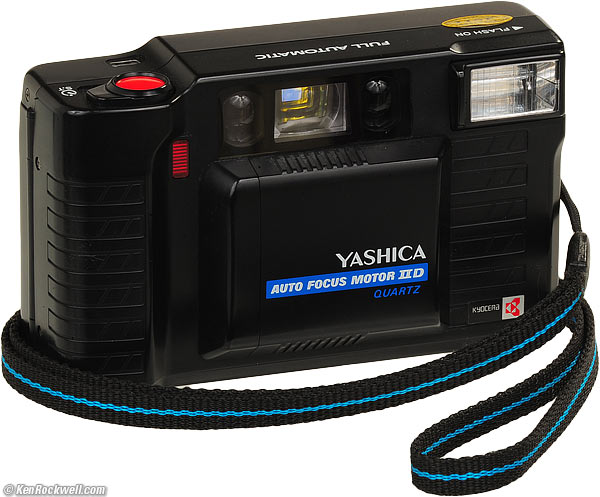 Matching Strap, Yashica Auto Focus Motor II D.
Performance top
Intro Specs Performance Usage Recommendations
I found this sample in the trash, complete with an unused roll of film which I promptly shot.
That could explain the low performance: exposure and advance are fine, but autofocus seems only to work at two distances: about 5 feet and about 10 feet. It won't autofocus to infinity, or closer than about 5 feet.
The AF confirm green dot is always ON when half-pressing the shutter on this sample, which seems broken.
The Flash Bolt blinks whenever it's dark.
Still, it works, and fill-flash works swell.
It's a self-casing clamshell design: slide the cover to turn on and off.
Usage top
Intro Specs Performance Usage Recommendations
Two AAs go in the bottom.
Check the battery by sliding open the lens cover, holding your hand over the lens, and half-pressing the shutter. THe in-finder "use flash" bolt should blink.
Load film by opening the back with the catch on the left side of the back. Place the film leader as shown on the sticker to the orange line. Set the ISO control under the lens to the ISO of your film.
Hint: if you forgot to check the film's ISO, you can read the film's ISO through the little window on the back of the camera.
If the clock is dead, load a new a CR2025 with the back open. It only can be changed with the camera open.
Close back, tap shutter, and it advances to the first frame. Check that the red and white film indicator next to the viewfinder window wiggles as the film advances. If not, re load until it does.
To turn on the camera, slide open the cover.
Point at the subject, half press shutter to lock focus, compose, and press the rest of the way down to shoot.
Film advances automatically.
For self timer, flick the lever around the shutter once. The red LED starts blinking, and the camera fires after about 10 seconds. To cancel, flick it again.
For flash, pull out the flash to the left.
When the film is done and it won't wind anymore, slide the REWIND switch on the bottom of the camera to rewind the film. Slide the REWIND switch back when it's done rewinding.
Recommendations top
Intro Specs Performance Usage Recommendations
I wouldn't go out of my way to buy one of these, but if you are given one, it takes pictures just fine, and handles a lot better and faster than most DSLRs simply because it's so simple.
Help me help you top
I support my growing family through this website, as crazy as it might seem.
The biggest help is when you use any of these links to Adorama, Amazon, eBay, Ritz, Calumet, J&R and ScanCafe when you get anything, regardless of the country in which you live. It costs you nothing, and is this site's, and thus my family's, biggest source of support. These places have the best prices and service, which is why I've used them since before this website existed. I recommend them all personally.
If you find this page as helpful as a book you might have had to buy or a workshop you may have had to take, feel free to help me continue helping everyone.
If you've gotten your gear through one of my links or helped otherwise, you're family. It's great people like you who allow me to keep adding to this site full-time. Thanks!
If you haven't helped yet, please do, and consider helping me with a gift of $5.00.
As this page is copyrighted and formally registered, it is unlawful to make copies, especially in the form of printouts for personal use. If you wish to make a printout for personal use, you are granted one-time permission only if you PayPal me $5.00 per printout or part thereof. Thank you!
Thanks for reading!
Mr. & Mrs. Ken Rockwell, Ryan and Katie.
Home Donate New Search Gallery Reviews How-To Books Links Workshops About Contact