beyerdynamic DT 1350
MADE IN GERMANY
Intro Specifications   Performance
Compared Usage Recommendations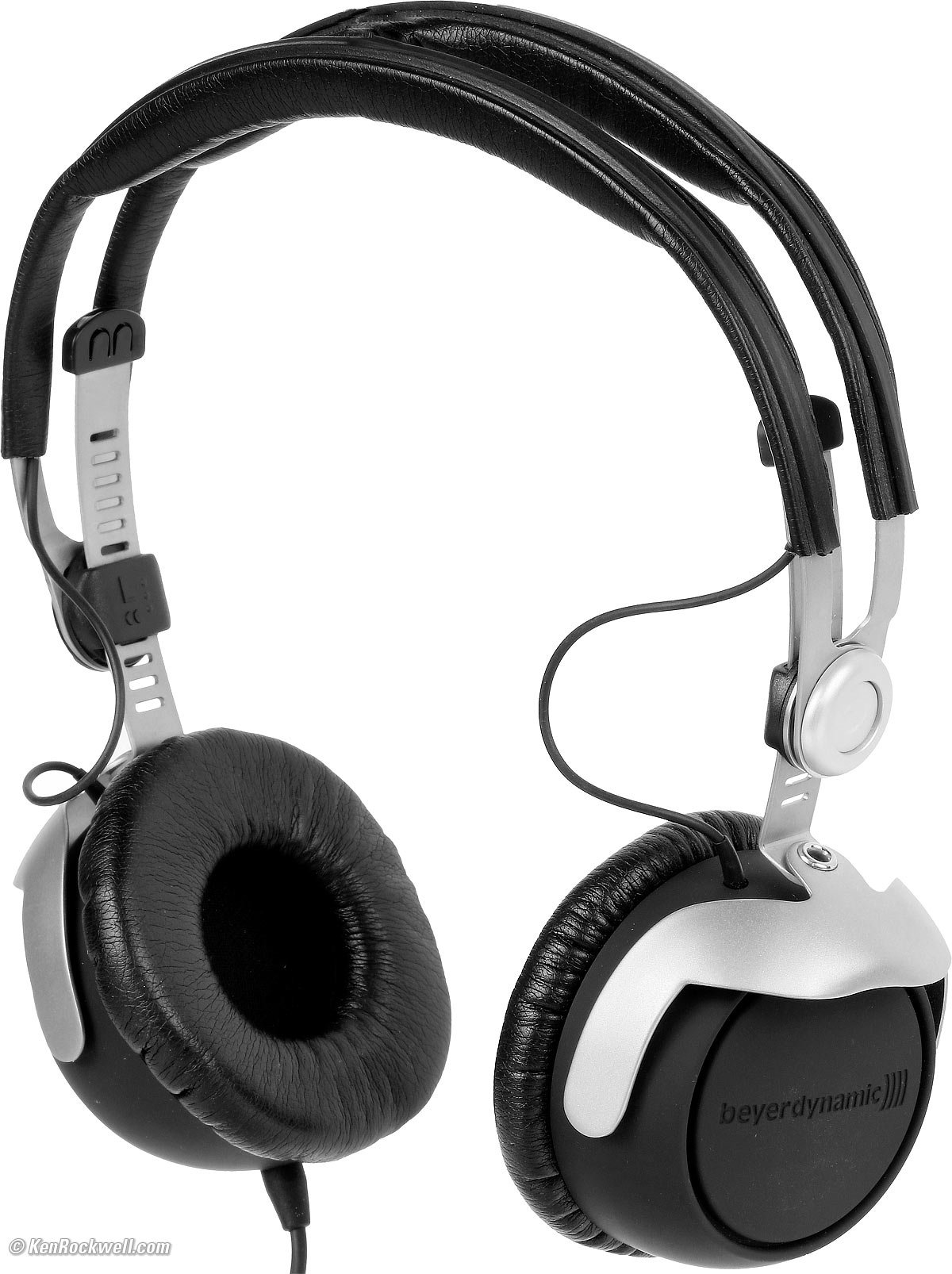 beyerdynamic DT 1350 (80Ω, 3.5mm plug with screw-on ¼″ and airline adapters included, 6.5 oz./184g without cord, about $250). bigger. I'd get mine at Amazon or at eBay (How to Win at eBay).
This ad-free website's biggest source of support is when you use those or any of these links to my personally-approved sources when you get anything, regardless of the country in which you live. Buy only from the approved sources I use myself for the best prices, service, return policies and selection. Thanks for helping me help you! Ken.
February 2018   beyerdynamic reviews audio headphones tube amps all reviews
Introduction
Top Intro Specifications   Performance
Compared Usage Recommendations
The beyerdynamic DT 1350 are the best dynamic headphones I've ever heard — better than the Sennheiser HD800, for instance simply because these DT 1350 have smoother response and deeper bass.
These DT 1350 are similar to the beyerdynamic T51i but lack any remote controls or mics. These 1350 offer smoother sound and more extended bass with slightly more isolation, but the 1350 have more headband pressure to get this.
These closed on-the-ear headphones are the genuine MADE IN GERMANY product from one of the world's oldest and best makers of professional headphones for almost 100 years; these aren't rubbish from China.
These are marketed by beyerdynamic as professional monitoring headphones because they are small, portable, tough, have superbly accurate sound and high isolation from whatever it is you're trying to record. For enjoying music at home, they are the best sounding headphones I've heard, beaten only in some ways by the STAX electrostatics. The T51i are more colored in a very good way, while these DT 1350 are more accurate. Either the DT 1350 or T51i are more enjoyable for listening to music than my STAX OMEGA SR-009 because the STAX are designed for laboratory flat deep bass, while most headphones like these beyerdynamics have bass better compensated for the fact that we hear the deepest bass with our entire bodies, which we can't do with headphones. The STAX are accurate, but these beyerdynamics are more fun, and cost less than 10% of what the SR-009 cost.
For use with iPhones and iPad the T51i offer a remote control and microphone, but for serious home listening these offer smoother sound with deeper bass.
Good
● Smooth, detailed natural sound.
● Smooth, tight, unboosted, non-resonant and non-boomy bass. Every note is distinct, and response goes below any other dynamic headphone I've heard.
● Very sensitive; no amplifier needed. Just plug into your iPhone or iPad and you're done.
● Just as sensitive as 32Ω headphones, but since they do this with an 80Ω impedance they load your source less which usually leads to less distortion.
● Lower price than anything else that sounds this good.
● Excellent carry case, ¼″ and airline adapters included.
● The headband can be expanded if you find that more comfortable. Gears keep everything properly aligned: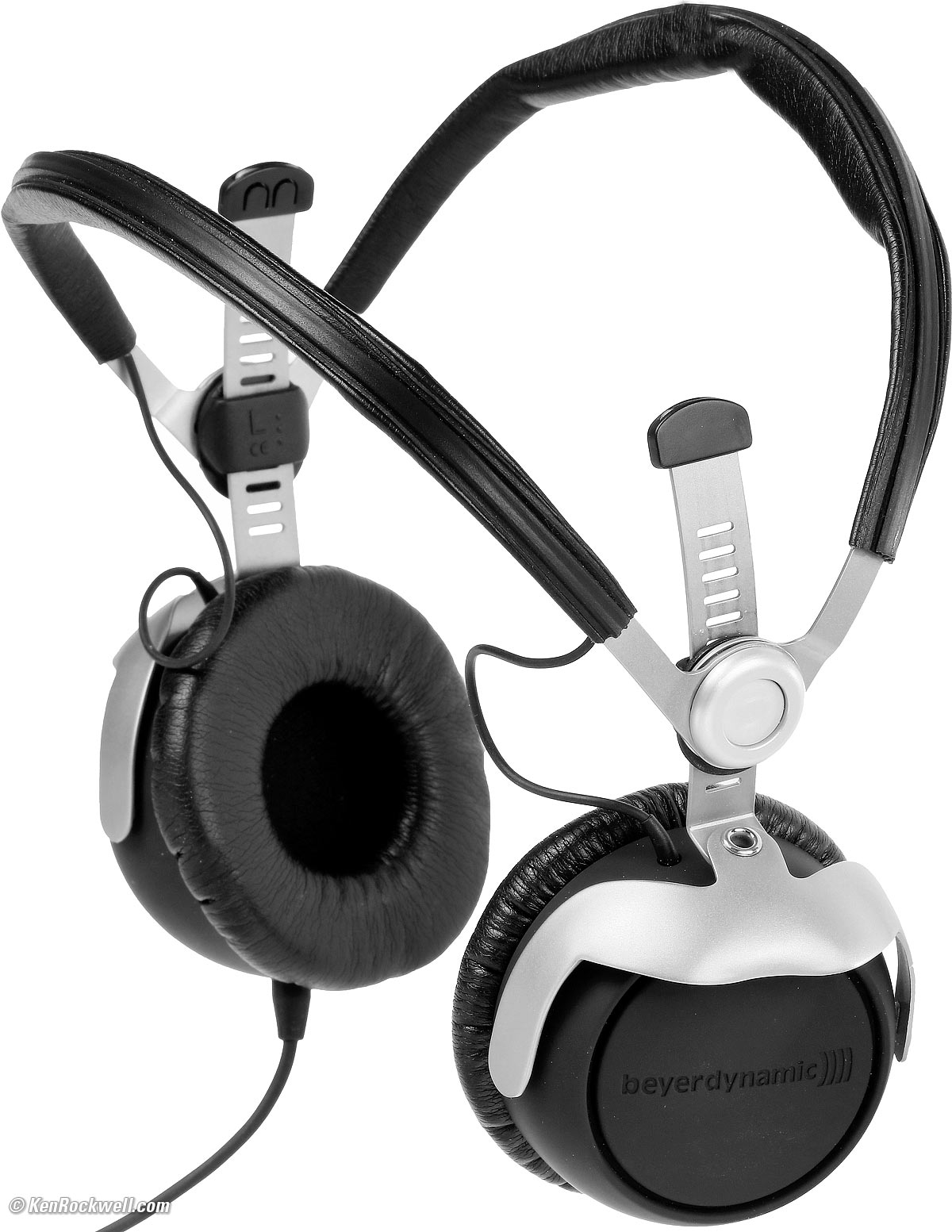 Adjustable harp. bigger.
Bad
● Nothing.
Missing
● No remote control.
● No microphone - but if your iPhone rings, pick it up and you can hear the call in these headphones while the iPhone continues to use its own microphone.
● No Bluetooth and no batteries — these are just headphones.
Specifications
Top Intro Specifications   Performance
Compared Usage Recommendations
Type
Sealed on-ear dynamic headphones.
"Tesla" drivers.
Earcups pivot ±90º.
Replaceable pads.
5.5 Newton headband pressure.
No remote control or microphone.
Impedance
80 Ω.
Frequency Response
5 ~ 30,000 Hz.
Sensitivity
Rated 109 dB SPL at 1 mW.
1 mW at 80 Ω is 282.8 mV (-10.97 dBV), so 109 dB at -11 dBV is 120 dB SPL at 1 volt input.
Maximum THD
0.2%
Maximum Power Input
100 mW.
100 mW at 80Ω is 2.828 volts.
Maximum Output
129 dB SPL at 100 mW or 2.828 volts.
Ambient Sound Attenuation
23 dBA.
Cords
5' Straight
DT 1350: Straight, thin 5-foot (1.5m) cord.
The straight cord is a bit microphonic: if you handle it the sound vibrations will transmit mechanically up the cord and be a bit audible in the left ear.
It comes with a nice curly-fry cord keeper.
8' Coiled
DT 1350 CC (less common): 8-foot (2.5m) coiled cord.
Included Plugs & Adapters
Molded 3.5mm stereo plug with thread for included screw-on ¼″ adapter.
It's a big plug; be careful not to bang or bend it if you insert it into a portable device.
In-flight parallel plug 3.5mm adapter.
Quality
MADE IN GERMANY.
Weight
6.48 oz. (184 g) actual measured weight without cord.
Rated 6.1 oz. (174 g) without cord.
Included
beyerdynamic DT 1350 case. bigger.
Headphones.
¼″ adapter.
Dual parallel 3.5mm plug airline adapter.
Curly cable holder.
Case.
Part Numbers
DT 1350 complete: 702.072 (EAN 4010118702075).
DT 1350 CC complete: 703.575.
Replacement ear pads (pair): 910.376.
Replacement curly spiral extra-cable holder (used to take up slack if there is more straight cable than you need): 906.816.
Replacement screw-on ¼″ adapter: 906.824.
Replacement airline adapter: 906.832.
Replacement case: 906.840.
Replacement headband pad: 913.200.
Replacement straight cable for DT1350: 908.045.
Replacement coiled cable for DT1350CC: 913.219.
Price, USA
November 2016 ~ February 2018: about $250.
It comes in various versions that sell higher and lower.
Performance
Top Intro Specifications   Performance
Compared Usage Recommendations
Overall
These are the best sounding headphones I've heard, short of electrostatics' and electrostatics don't have bass as enjoyable as these and don't isolate you from the room you're in.
These are closed headphones with excellent isolation, and sound better than open headphones. I suspect this is because of the tiny earcups which are so small that any resonances are well above the audible band and easy to damp completely.
Sound
The DT 1350 have nothing but smooth and natural sound. I could listen to these forever; there's nothing out of place. Nothing is emphasized and the bass is solid, deep and unboomy.
Its sound is clean, natural open and detailed, with a perfect warm balance.
it has what I call "Grade One" sound: I can enjoy complex choral and symphonic works for hours and hours. These have none of the coloration of lesser headphones that sound OK for pop music or for live monitoring, but can't cut it like these can for enjoying live, natural music.
Voices smooth and liquid; they're right in front of you.
Bass
Bass is solid! Fundamentals sing true, they're not covered up by the boominess that usually hides fundamentals on most headphones.
It's the deepest I've heard; the best Audeze aren't any better.
The bass is tight, deep and articulate. It's nothing like most headphones or speakers which are usually boomy to impress the innocent; these have no boom which lets us hear all the deepest bass below.
The deepest bass is just a little boosted, and it's bottomless. It's perfect for compensating the fact that our bodies, not our ears, hear most of the deepest bass.
Ergonomics
The earpieces have plenty of freedom to move so they sit perfectly on top of your ears.
The DT 1350 stay on your head if you move around because of the pressure against your ears, but try not to move around too much because the plug is big and could get bent of you banged it into anything or yanked the cord sideways.
The sound and the comfort make it easy to enjoy the DT 1350 for hours and hours. You'll not want to take them off.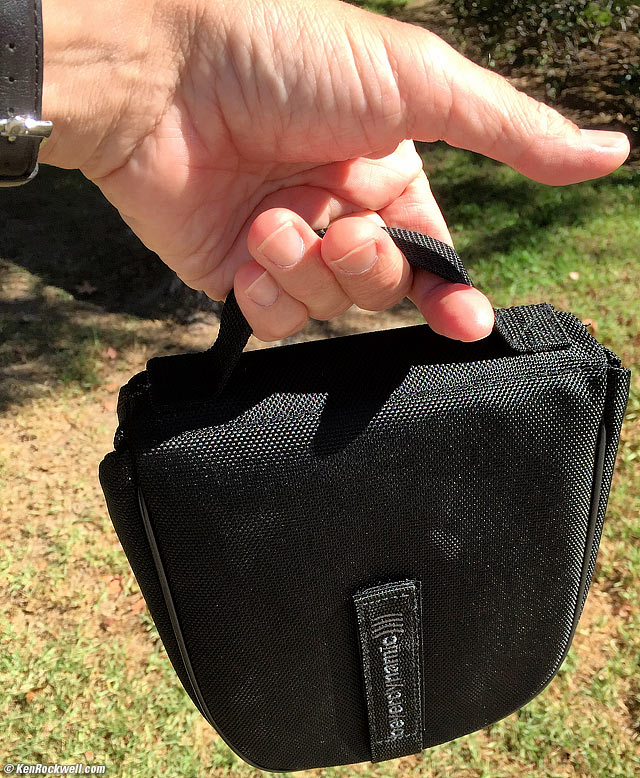 The case has a handle, and not much bigger than a CD carry case.
The included case is superb: small, tough, easy to open and close and has space for the headphones and adapters and even a couple of iPods.
Sensitivity
These are 80  Ω headphones with loads of sensitivity when plugged directly into portable devices. They have the same voltage sensitivity as 32 Ω headphones, which is remarkable. This means they play as loud, but usually with less distortion on many devices.
I only run the volume about halfway up enjoying movies on an iPad.
For music I also only run the volume about halfway up, and even for quiet sections of classical music there is plenty of sensitivity when plugged into an iOS device.
Isolation
These have a little more isolation at higher frequencies than most closed headphones.
This is great, letting you hear the room in which your music was recorded rather than hearing your own room — but you won't hear your wife calling you either, and could get you in trouble for not paying attention.
Leakage
There is no leakage. You can make yourself deaf and the person next to you won't know.
Mechanical Quality
These are first-class MADE IN GERMANY headphones. They are all metal, with plastic ear cups.
It has a fixed round plastic cable with a gold-colored 3.5mm plug and gold-colored ¼″ adapter.
Compared
Top Intro Specifications   Performance
Compared Usage Recommendations
Versus the beyerdynamic T5i1
These have smoother and deeper bass, more headpad pressure, slightly more isolation and have shinier, smoother highs than the T51i. The T51i have a remote and mic lacking on these DT 1350, and otherwise they are very similar in sound, mechanics, quality and included accessories. The T51i usually cost a little more.
The DT 1350 have slightly better sound and are better for use in a fixed location with serious audio equipment, while the T51i is better suited to portable use and with iOS devices due to its remote and tiny 90º plug.
Versus the DT 240 Pro
The DT 240 Pro are basic Chinese-made plastic headphones that sell for less than half as much.
There isn't much comparison between these. The DT 240 Pro don't even include a case.
Usage
Top Intro Specifications   Performance
Compared Usage Recommendations
Amplifiers
These are so sensitive that there is no need for special amplifiers. Just plug them into anything and you're good. The headphone amplifiers built into iOS devices (or Apple's Lightning Audio Adapter) are better than most other more expensive dedicated headphone amplifiers, so plug into your Apple device and you're good.
Likewise, these sound great plugged into any real Hi-Fi gear like my Benchmark DAC-1 HDR's headphone jack.
Left and Right
If you put these on in the dark, feel for the tits on the inside of the left side, or remember that the cable is on the left.
Headband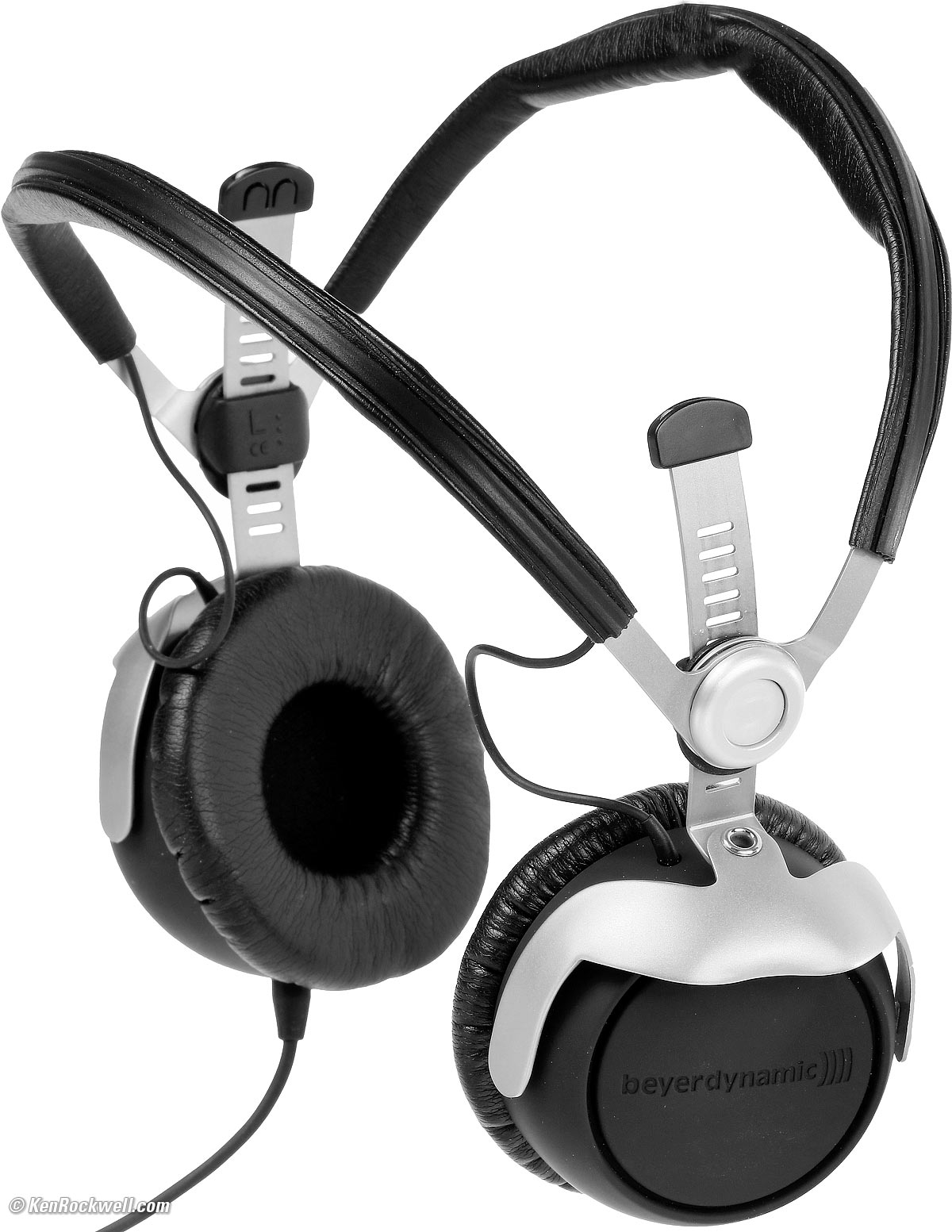 Adjustable harp. bigger.
The two parallel parts of the headband can be expanded. Just pull them apart if that fits your head better.
They are geared so the two parts of the headband and the earcups stay properly aligned.
Recommendations
Top Intro Specifications   Performance
Compared Usage Recommendations
The beyerdynamic DT 1350 are great for enjoying every and any kind of music anywhere.
These are flawless for all kinds of demanding classical music, with smooth and natural sound, and they shine for reproducing the 32-foot ranks of pipe organs and synthesizers as well. They do everything well.
I'd get mine at Amazon or at eBay (How to Win at eBay).
Enjoy!
© Ken Rockwell. All rights reserved. Tous droits réservés. Alle Rechte vorbehalten.
Help Me Help You
I support my growing family through this website, as crazy as it might seem.
The biggest help is when you use any of these links when you get anything. It costs you nothing, and is this site's, and thus my family's, biggest source of support. eBay is always a gamble (see How to Win at eBay), but all the other places always have the best prices and service, which is why I've used them since before this website existed. I recommend them all personally.
If you find this page as helpful as a book you might have had to buy or a workshop you may have had to take, feel free to help me continue helping everyone.
If you've gotten your gear through one of my links or helped otherwise, you're family. It's great people like you who allow me to keep adding to this site full-time. Thanks!
If you haven't helped yet, please do, and consider helping me with a gift of $5.00.
As this page is copyrighted and formally registered, it is unlawful to make copies, especially in the form of printouts for personal use. If you wish to make a printout for personal use, you are granted one-time permission only if you PayPal me $5.00 per printout or part thereof. Thank you!
Thanks for reading!
Mr. & Mrs. Ken Rockwell, Ryan and Katie.