Home Donate New Search Gallery Reviews How-To Books Links Workshops About Contact
Senal ASM-5
5" Powered Monitor
Intro Specs Measurements Recommendations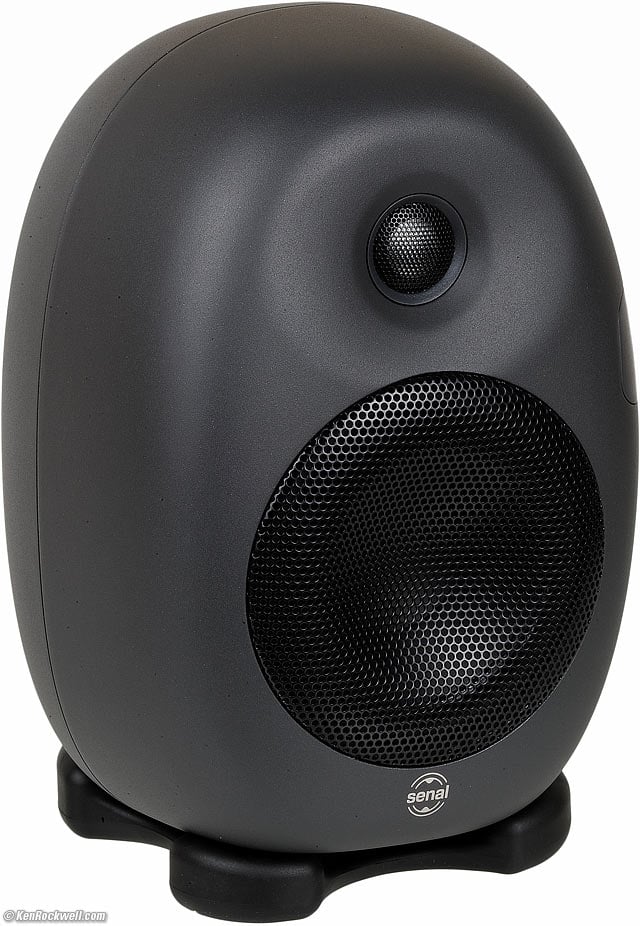 Senal ASM-5. (5" woofer, 0.8" metal tweeter, 70 W RMS internal amplifier, 12.5 lbs/5.7kg, about $350 each). enlarge. I'd get them at B&H or at Amazon.
This ad-free website's biggest source of support is when you use that or any of these links to approved sources when you get anything, regardless of the country in which you live.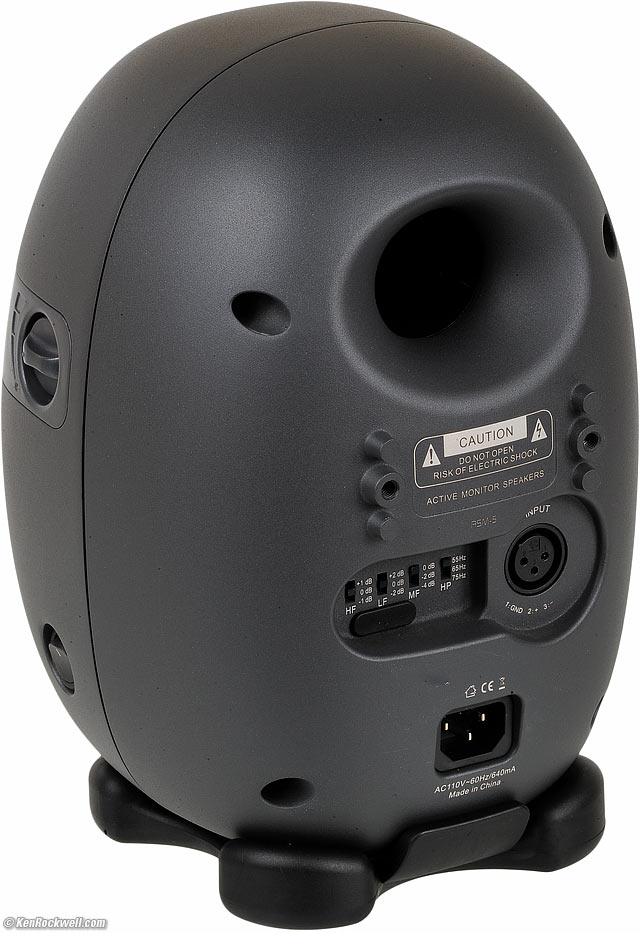 Senal ASM-5. enlarge.
September 2015 Senal reviews audio reviews all reviews
Introduction top
Intro Specs Measurements Recommendations
The Senal ASM-5 are tough little monitors that work about as well as the European Genelec M040, Neumann KH-120 and Focal CMS-65 monitors — for a fraction of the price.
All these pro monitors paradoxically have audible self-hiss from their internal amplifiers, and the ASM-5 is the quietest. You won't hear anything farther away than a few inches.
The Senal ASM-5 are the toughest of this lot, with indestructible egg-shaped aluminum cases and permanently attached metal grills. Rapping on their cases, they are at least as solid as my B&W Matrix 805.
They come in 3," 4," 5" and 6.5" versions. I have the 5" version, and find them ideal for use on my desk without spoiling my view.
They include a rubber stand, which is mandatory to keep these eggs from rolling off your desk. Of course you can rear-mount them to brackets.
The rubber stand allows perfect positioning at any angle, which is much better than any of the other monitors!
I use these spread farther apart and closer to my ears than most people use monitors. These aren't across my desk flanking a picture monitor. I put my monitors at the front edge of my desk, about 14" from each elbow at about a 120º apparent angle for a wider stereo image. When I stick out my arms, they reach over and to the back of each speaker.
The ASM-5 have a complete set of EQ controls, especially a desktop notch of -2 dB or -4 dB. Oddly they mark the desktop notch (about 160 Hz I reckon) as "MF."
Because I like to keep my monitors close and pointing straight into each ear instead of in front of my face, many of them need me to take a bit off the top around 6 kHz to reduce glare, while these Senal sound neutral as-is.
They sound neutral and great for pop, but they don't have much depth for enjoying orchestral and choral music.
They sound pleasant, but they lack the deep soundstage of Hi-Fi speakers for letting us hear deep into the orchestra. For music enjoyment they sound better than the Neumann KH-120, but not as nice as the Genelec M040 or Focal CMS-65.
These little speakers have the worst bass response of this bunch, breaking up into distortion even at reasonable levels below 100 Hz with test tones, but sound swell for music.
They can reproduce a clean 98 Hz G test tone, but an 82 Hz E test tone and below are wildly distorted.
You will need to use subwoofers for full-range use as with any desktop speaker, and the 55 Hz, 65 Hz and 75 Hz high-pass settings make it easy to integrate these without needing a dedicated crossover.
In my studio I set them to 75 Hz high pass and cross-in my subwoofers below 80 Hz, and they integrate swell.
There is no lock on the XLR input jack; cables will pull out if you yank them.
The gain control is simple, and the bottom three clicks are all zero level! No worries, they work great with my Benchmark DAC-1 HDR from which I drive them.
I don't like that there are factory frequency response adjustment trims under rubber covers on the back. These are just asking to be tweaked, which we users should never do.
They have no auto power switching. I use a smart power strip so they turn on and off with my picture monitor. The ASM-5 have very dim blue power LEDs at each gain control.
I really like that there are no pops or clicks when power comes on or off. Some of the much more expensive monitors like the CMS-65 pop every time I come or go, and that drives me up the wall.
They have nice dispersion; not much changes as you listen to them off axis horizontally.
Specifications top
Intro Specs Measurements Recommendations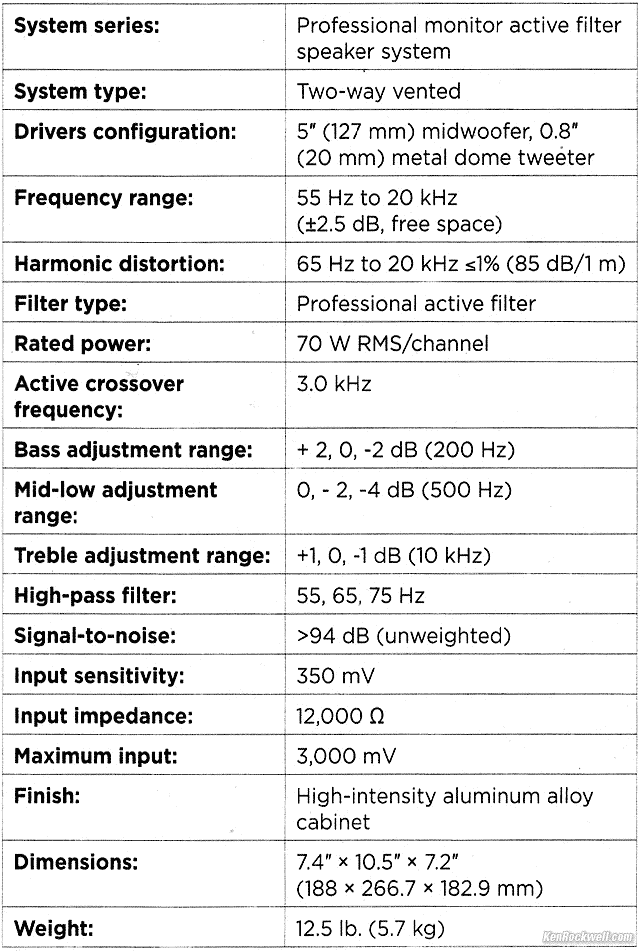 Senal's specifications.
Optimum listening distance: 0.7-1.8m (2.3-6').
Minimum recommended spacing from rear wall: 3.5."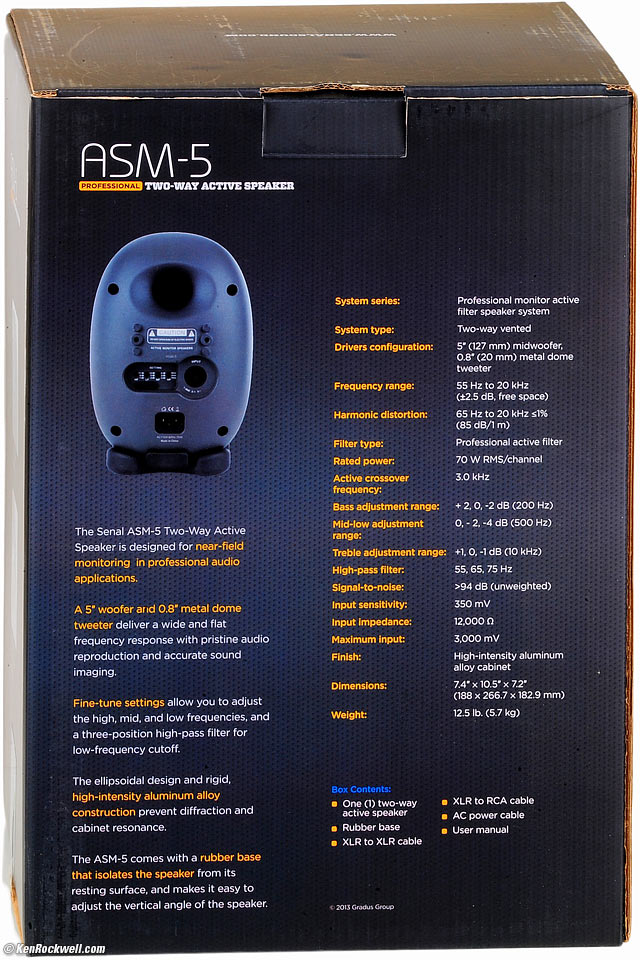 Back, Senal ASM-5 Box.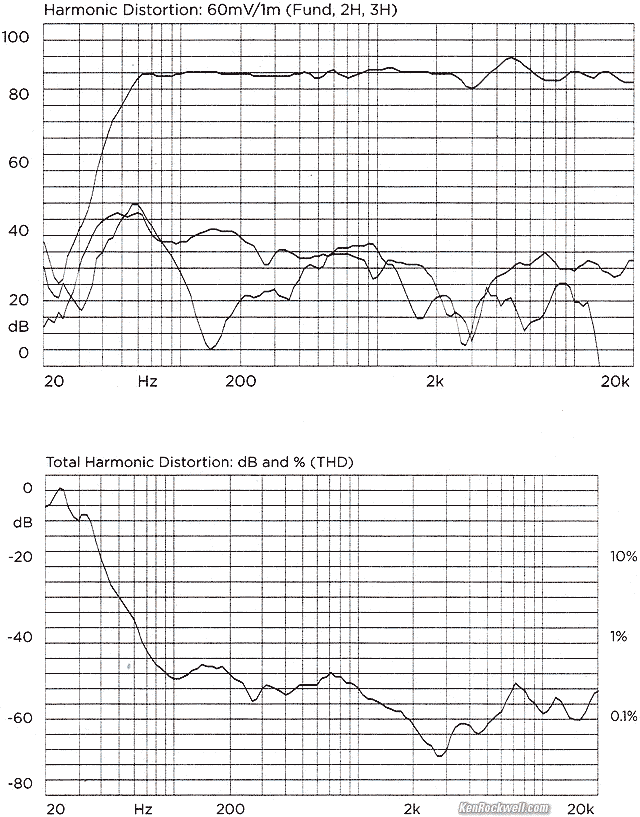 Senal's distortion specifications.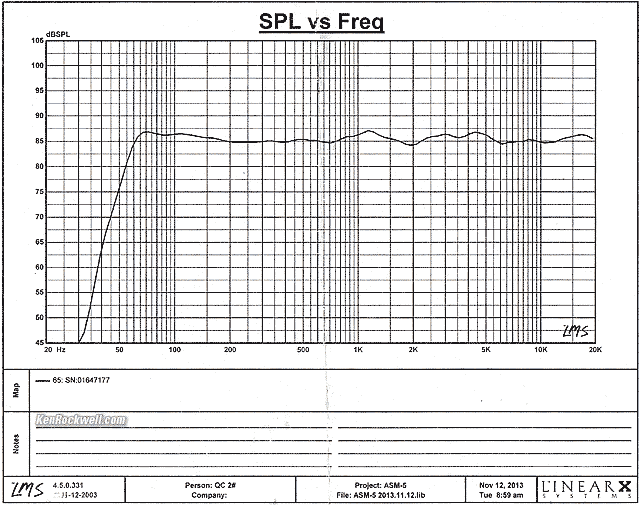 Individual frequency plot included with every speaker.
Included
Speaker.
Rubber base.
Power cord.
XLR cord with XLR plug for pro use.
XLR cord with ¼" male RCA plug for home use.
Paperwork including an individual response curve.
Quality
Made in China.
Price
About $350 each, July~September 2015.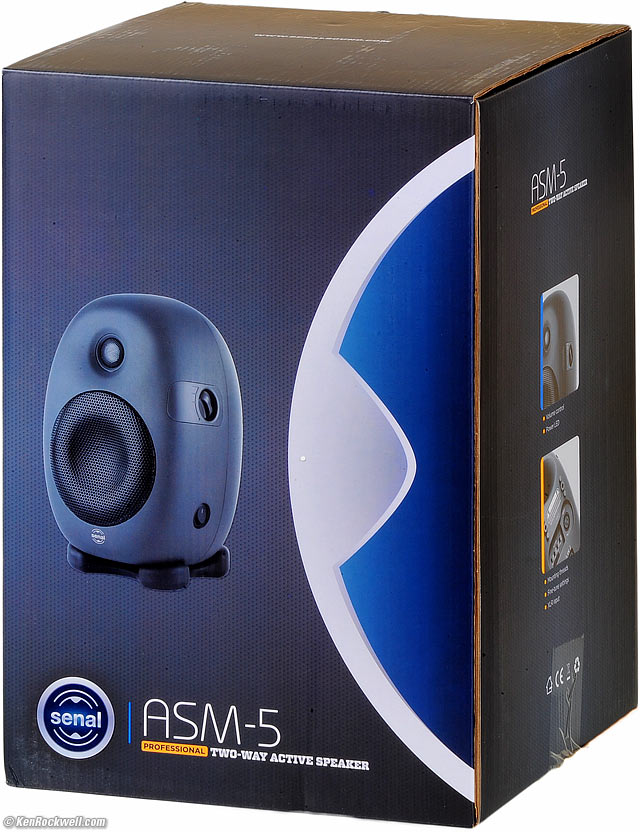 Senal ASM-5 Box.
Measurements top
Intro Specs Measurements Recommendations
Power Consumption
10W at idle (150mA at 120 VAC or a 65.3% power factor).
11W playing as loud as I ever want to hear them.
They'll draw 25W if played very, very loud, and 80W if played waaaay too loud.
They have a real power switch, and draw zero power when off.
The rear vent and top gets a little warm, and that's it.
Look out; they are designed for a fixed voltage depending on market; they don't have universal supplies like everything else today. Don't plug them into 240 volts unless you have 240 V versions.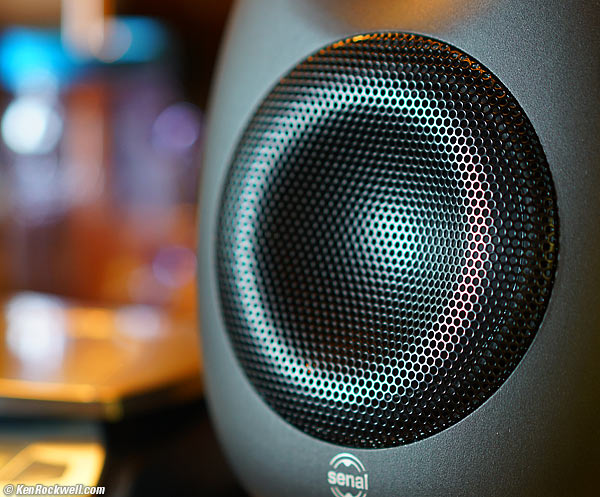 Senal ASM-5 monitor speaker.
Recommendations top
Intro Specs Measurements Recommendations
Except for being made in China, I have no problems recommending these great little speakers. They have none of the hum of the Focal CMS-65, they sound swell, and are indestructible.
For $350 each, they are a fraction of the price of similar first-world speakers. No, they aren't as sweet for enjoying music as the Genelec M040 or Focal CMS-65, but they do sound better than the Neumann KH-120, and these are for professional use (making music and TV); not for goofing off at home for Hi-Fi.
Professional means making money, not spending money on gear, which is the whole point of these speakers versus the European brands. The Senal SMH-1000 really impressed me at being just as good, and even a bit better than the Sony MDR-7506 they emulated and improved with features like removable cables and replaceable earpads, and likewise these Genelec copies work fine.
They are accurate; no worries here. What you've got is what you hear. Throw up an array of these with a subwoofer and they'll work great for multichannel, too.
I recommend them without reservation, especially for installation in facilities like schools or radio stations where they'll be used by jocks or students.
Of course if your studio bills by the hour you'll want to go with a name brand speaker for show, but if these are for your own use or the use of your employees or students and money matters more than conscience, by all means these are great news.
All this, and these are the only speakers of the bunch that come with a proof-of-performance sheet, two sets of audio cables and perfect rubber bases. I compared the two sheets from my two speakers, and they are indeed very slightly different; they aren't simply the same curve with different serial numbers.
In other words, when I unpacked these, they already came with stands and cables. All the others required I provide cables and I had to futz with tweaks or other stands to align the others well.
You can't lose; get yours at B&H and they have a 30-day full cash return policy if you don't love them. Amazon often has good return policies, depending on the seller.
If you find my work here helpful, my biggest source of support for this ad-free website is when you use that or any of these links to approved sources when you get anything, regardless of the country in which you live, it helps me keep adding to this free website — but I receive nothing for these efforts if you take the chance of buying elsewhere. Unlike a bottle of milk or CD, speaker boxes aren't sealed so you have no idea if you're actually getting a used product if you risk buying elsewhere. The approved sources I use myself all ship from secure remote warehouses where no one gets to blow your new speakers before you do.
Thanks!
Ken.
© Ken Rockwell. All rights reserved. Tous droits réservés.
Help me help you top
I support my growing family through this website, as crazy as it might seem.
The biggest help is when you use any of these links to approved sources when you get anything, regardless of the country in which you live. It costs you nothing, and is this site's, and thus my family's, biggest source of support. These places have the best prices and service, which is why I've used them since before this website existed. I recommend them all personally.
If you find this page as helpful as a book you might have had to buy or a workshop you may have had to take, feel free to help me continue helping everyone.
If you've gotten your gear through one of my links or helped otherwise, you're family. It's great people like you who allow me to keep adding to this site full-time. Thanks!
If you haven't helped yet, please do, and consider helping me with a gift of $5.00.
As this page is copyrighted and formally registered, it is unlawful to make copies, especially in the form of printouts for personal use. If you wish to make a printout for personal use, you are granted one-time permission only if you PayPal me $5.00 per printout or part thereof. Thank you!
Thanks for reading!
Mr. & Mrs. Ken Rockwell, Ryan and Katie.
Home Donate New Search Gallery Reviews How-To Books Links Workshops About Contact