Home Donate New Search Gallery Reviews How-To Books Links Workshops About Contact
Ultrasone Edition 8
Closed-Back Headphones (2009-)
© 2011 KenRockwell.com. All rights reserved.
Intro Specs Performance Compared Usage Recommendations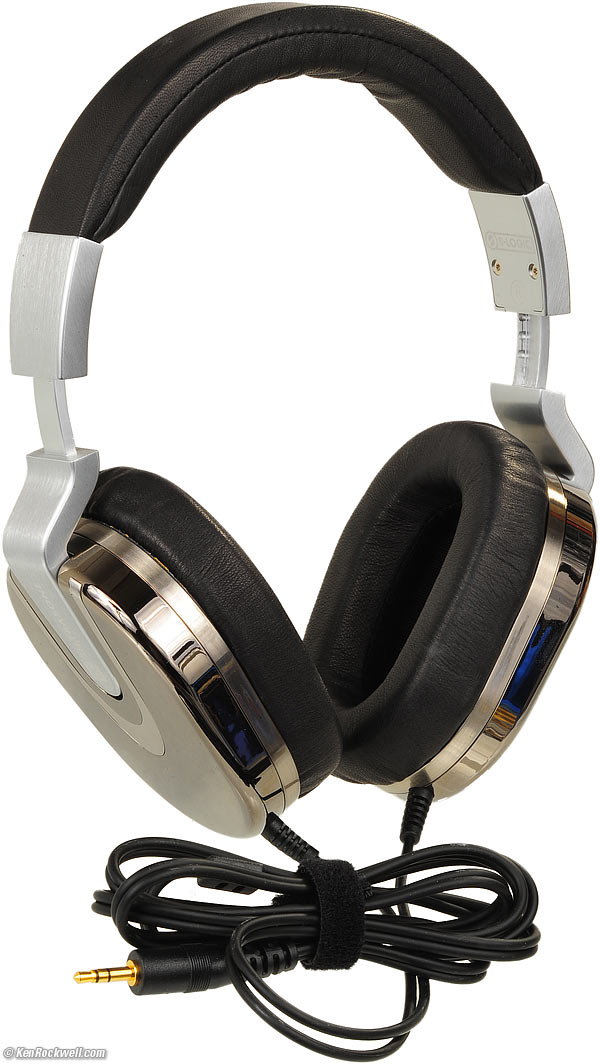 Ultrasone Edition 8. enlarge. This free website's biggest source of support is when you use these links, especially this link directly to them at B&H Photo Video, when you get anything, regardless of the country in which you live. Thanks! Ken.
May 2011 headphone reviews audio reviews all reviews
Introduction top
Intro Specs Performance Compared Usage Recommendations
The Ultrasone Edition 8 are the best headphones I've ever used with my iPod and iPad. When I first got these through B&H Photo Video, I couldn't get them off my head. I listened for hours and hours every day, enjoying my music and movies more than ever. Read the rest of this review if you want, but as soon as you get a set of these, you'll know exactly what I mean. They feel and sound great, and keep you wanting to hear more and more and more, regardless of the source.
The Edition 8 sound absolutely fantastic, and they can play loudly directly from an iPod or iPad without using any amplifiers. They isolate from surrounding noise, and don't leak sound to disturb others.
Of course they sound great plugged into a Grace Design M903, but what really sets the Edition 8 apart from the crowd is how well they sound plugged directly into portable devices without extra amplifiers.
Almost as important as the sound, they are built tough enough to carry in the field without babying them. The Edition 8 are not delicate like the Sennheiser HD 800 or Beyer DT-990. These Edition 8 sound much better than the overly bright HD 800, too!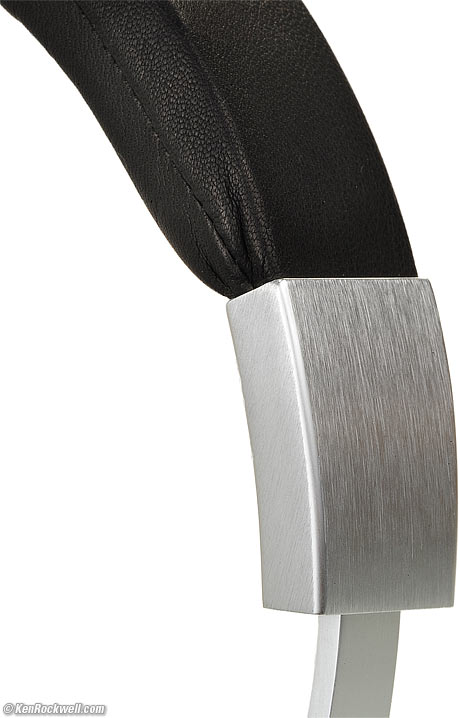 Leather and solid billet aluminum, not fuzz and plastic.
The Edition 8 are MADE IN GERMANY out of solid billet aluminum and real, soft leather, not pot metal and plastic fuzz like the HD 800 and most other headphones. The Edition 8 housings appear to be plastic, plated with shiny Ruthenium.
The Edition 8 look tough, and they are, but they are also very light.
Not only do they feel great and have a perfect 4-foot (1.2 meter) cord for use with portable equipment, they clamp tightly enough so that they don't fall off my head when I move around or look up or down.
While electrostatic headphones may have slightly more open and cleaner sound than these closed dynamic headphones, electrostatic headphones are very delicate, nearly impossible to buy, don't isolate sound in either direction, and need to be used with a special power supply and amplifier plugged into the wall. Electrostats are not portable, and they are very picky about source recordings, while these Edition 8 sound awesome with everything.
Unlike the Stax Lambda Professional's clinical accuracy that renders harsh recordings brutally (the HD 800 are even more harsh), these Ultrasone Edition 8 are always pleasant and enjoyable with all recordings. The Ultrasone Edition 8 never sound harsh. This is why I so enjoy all my music all the time with the Edition 8, never needing any EQ or amplifiers. Just plug in the Edition 8, and you're all set to enjoy.
I'm a serious music lover, and these also work great while enjoying movies on my iPod and iPad. Just plug-in and go, movies sound great, both for overall theatrical balance and deep bass!
Another great thing about the Edition 8 are their soundstage. Most attempts at bringing headphone sound out of the head don't do anything, while the "S-Logic" of the Edition 8 really do bring the sound out — a little. In some cases, like movie sound, sometimes I get completely fooled when I hear something in my room or outside my condo, and it's actually some foley (ambient sound) in the soundtrack!
Inexpensive
The Edition 8 costs a lot less than a new iPod.
Why? Simple: you'll be enjoying these headphones for decades, while most of us buy new iPods, iPhones and iPads every couple of years, or sooner.
In less than the past three years, I've gotten at least three new iPods and two new iPads. In ten years, I'll probably have paid for ten or more newer versions of iPads and iPods, while this same pair of Edition 8s will barely be broken in.
The Edition 8 is not a disposable electronic product like my new iPad 2 for which I paid a disposal fee before I even received it! Headphones work for decades with no need to repair them; even my far more delicate Stax New SR-3 headphones from 1973 still work great today.
The Edition 8 are inexpensive compared to getting what you don't want.
A typical audiophile throws his money away on a half-dozen ordinary $300 headphones, none of which makes him completely happy. It's much smarter to pay less and get just one set of these, which should last for decades. Unlike electronics, passive transducers like this serve for decades and decades and decades; my Koss 4-AA from the 1970s are still going strong, and my Beyer DT-990 from 1988 sound better today than when they were new!
Warranty
Ultrasone offers a 5-year warranty, and if you send in your registration card in the USA, extends it to a total of seven years.
Versions
These are the standard "Ruthenium" Edition 8.
For the fashion conscious, there is also the Palladium-Plated version, and the limited edition wooden-backed version.
They're all the same inside.
Specifications top
Intro Specs Performance Compared Usage Recommendations
General
Closed-back dynamic headphones.
40mm titanium-plated Mylar driver mit "tri-bass-tube."
NdFeB magnet.
Mu-metal shielded.
Input
30 Ohms, the same as Apple's own iPod headphones.
3.5mm mini plug.
Cords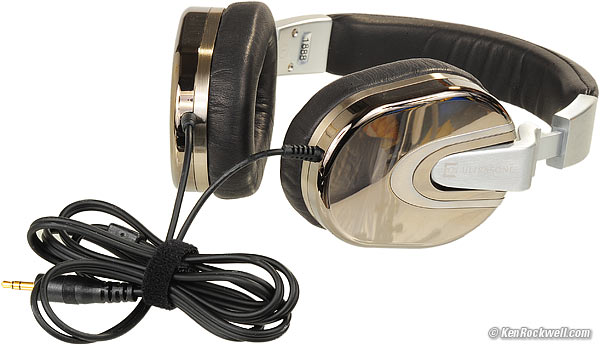 Cord and molded 3.5mm plug, Ultrasone Edition 8. enlarge.
1.2 meter (4 foot) straight OFC cord with a gold-plated 3.5mm mini-plug, perfect for iPods, Walkmans and computers.
It comes with a gold-plated 1/4" adapter for use with professional equipment.
It comes with 4 meter (13 foot) straight OFC extension cord for use in the studio. The cord has 3.5mm gold-plated male or female connectors at each end, so use the 1/4" adapter to plug into your Studer A820.
Neither the 1/4" adapter or extension screw-in or lock on. Pull them too hard, and they disconnect.
Sensitivity
96 dB, conditions not specified.
Roughly 113 dB SPL at 1 V RMS (33 mW if it's realy 30 ohms), measured, or about 98 dB SPL at 1 mW.
Frequency Response
6 - 42,000 Hz, rated, tolerance not stated.
Distortion
Not specified.
Maximum Output Level
Not specified.
Weight (actual measured)
264g (9.3 oz.) without cord.
293.9g (10.367 oz.) with cord, velcro tie and plug.
Ultrasone specifies 260g (9.2 oz.) without cord.
Quality
MADE IN GERMANY.
Fluff
Someone at Ultrasone showed up to marketing class they day they explained that adding an adjective before a word can make the product sound much more enticing. For instance, we all know that fine Corinthian leather is superior to regular leather.
In this sprit, Ultrasone tells us that not just any leather, but authentic Ethiopian sheepskin is used for the earpads and harp covers.
Not just any leather, but genuine Madras goatskin is used for the Ledersack (leather carrying sack).
Not just any metal plating is used on the outsides of the earcups, it's Ruthenium or Palladium. Ultrasone forgot to add adjectives to these, as in Western Bushveld Ruthenium or Siberian Norilsk Palladium.
Box und Ledersack
Box, front and back, Ultrasone Edition 8. click each to enlarge.
The box is dinky like a computer software box. It's not a fancy-dancy box like Sennheiser uses for shipping the HD 800.
That's OK, because Sennheiser's fancy box is useless. You can't use it to carry the HD 800 in the field: it has no handle, it is delicate, and it has no latch.
Far more useful is Ultrasone's included padded Ledersack (leather sack). The Ledersack has a dedicated inner pouch to hold the extension cord and 1/4" adapter.
The Ledersack is extremely useful. I use it all the time for storing and carrying the Edition 8. I'd much rather have the Ledersack than a delicate showbox from Sennheiser.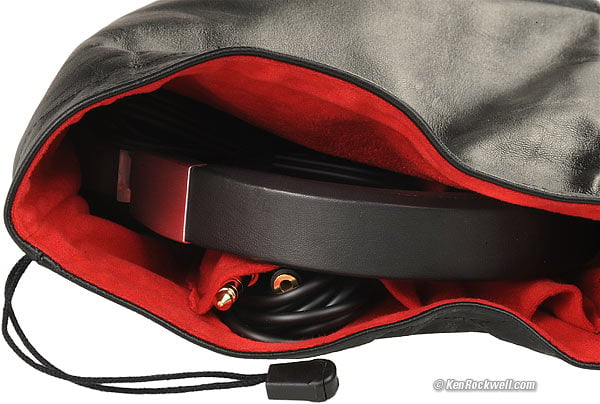 Ledersack, Ultrasone Edition 8. enlarge.
The Edition 8 is tough enough to throw in a pack by itself, and inside the Ledersack, well protected from sand and dirt.
What's Included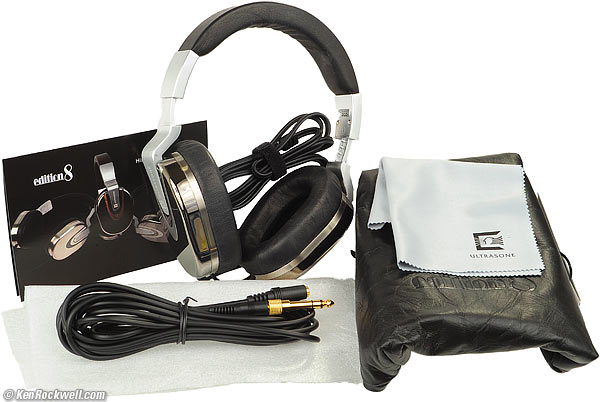 Ensemble, Ultrasone Edition 8. enlarge.
Headphones.
Extension cord (4 meters/ 13 feet).
1/4" adapter.
Ledersack.
Wiping cloth.
Minimal paperwork in gebrochenem Englisch.
$1,500: Standard "Ruthenium" Edition 8.
$1,700: Palladium-plated version.
$2,000: Limited Edition (wooden-backed) version.
Performance top
Intro Specs Performance Compared Usage Recommendations
Sound Quality top
Overall
The Edition 8 sound great. Everything is well balanced, and the stereo effect gets out of your head much better than other headphones.
Unlike lesser headphones that need dedicated amplifiers along with their own problems, just plug these in, and you'll immediately be so enthralled with the sound that you won't take them off for a long time.
The Edition 8 sound great even at soft levels. Most headphones are deficient in bass, which cause people to have to play them too loud. The Edition 8 have great bass, so even at low levels, you can hear it all.
Compared to my Beyer DT-990, I never realized how much was going on in the bass in all my recordings, and how much of it is in stereo, not just mixed to mono.
If you're sitting around a bunch of plugged-in equipment to drive them, the Beyer DT-990 and Stax Electrostatics are cleaner and more open compared to the closed-back Edition 8. The Edition 8 sounds like recorded sound, while the open phones get much closer to the sound of the original performance space. But wait: I'm driving the Edition 8 from my iPod, not a Grace Design M903. If I used a serious amp with the Edition 8, maybe it would sound even better. I'll let you know.
On the other hand, not only do those other headphones want or need power supplies and amplifiers, the Stax are completely unforgiving of harsh recordings, while these Ultrasone sound awesome with everything. These Ultrasones have an uncanny ability to tame bright recordings, while the Stax rub your nose in them.
Spectral Balance
Tonal balance is just right, far better than the too-bright Sennheiser HD 800.
Nothing is missing or over-emphasized.
Bass
Bass is fun with these headphones. Bass finally has just the right impact and depth.
Unlike most headphones, the bass tends to get stronger as it gets deeper, emphasizing the bottom octave. This is the way I and other bass players would come over and adjust your stereo, if we could. This gives these headphones a fantastically big bottom that hits the fundamentals solidly as the bass goes down the scale. The Ultrasone Edition 8 lets the monster notes out of the basement — watch out.
Bass is never boomy or bloated. The center frequency of any emphasis is more likely around 32 Hz than 60 Hz.
The euphonic bass rendition reminds me of the loudness contours of integrated tube amplifiers of the late 1950s and early 1960s: they boosted the low bass just right, and left the midrange and mid bass alone. (Transistor amplifier's loudness controls are awful by comparison, lifting the upper bass way too much.)
Bass is solid down to about A1, the A below the lowest E on a 4-string bass, or about 27 Hz. Oddly, the only music that goes below this are some of the synthesizers in some of my wife's girly music collection by Enya, Sarah Brightman, Annie Lennox and Celine Dion, of all people. I have no idea why women are using such low notes, as their female fans rarely want the 8-cubic-foot-plus-subwoofers in their homes needed to reproduce those notes well.
To my pleasant surprise, even though bass below A1 (27 Hz) isn't as strong (it's still stronger than other headphones), pipe organ music, even with 32-foot ranks (C0 = 16 Hz) sounds fantastic. This is because whatever the Edition 8s are doing, they are doing it right. The lowest 32-foot pedals come through sounding great. Even if some of the fundamentals don't pipe through, they still sound great, as their harmonics are rendered perfectly. Also for pipe organ, the Edition 8s seem to add just a little bit of light at the top, making for even better sound than the usual dullness I hear at live organ concerts. There is never any rattling, even when driven hard.
The Edition 8's bass is musical, meaning fun, never tiring and always thoroughly enjoyable. It's not free from resonance and as tight and dry as it is from great open headphones. It has a perfect euphonic peak deep down in its response somewhere.
Sorry to go on so much, but having spent years performing on bass and tuba, I notice these things.
Soundstage
Ultrasone calls their get-the-sound-out-your-head system "S-Logic."
Instead of putting the drivers in the usual spots, the drivers are at the very bottom of the earcups, and shoot up and back into your ear.
This patented system deliberately employs our ears' pinna transforms to trick our brain into pushing the sound out of our heads a little.
It really works!
Yes, these are still headphones, but the sound is pulled out of my head just a little bit. It sounds great.
If you think I'm kidding, just put the Edition 8s on backwards. The sound will appear to be coming from a bit behind your head!
Isolation
As closed-back headphones, they have almost the same isolation as a pair of basic hearing protectors you'd use at the shooting range.
The isolation is completely passive, needing no batteries, and doing nothing to alter the headphone's own sound.
This is especially great for practical use, where you can enjoy your own programming on your iPad in the same room that the rest of your family is watching something else.
Leakage
Unlike open-back headphones, very little sound leaks out of these, so they are perfect for use without disturbing others.
Ergonomics top
The Edition 8 are so much more fun to use because they aren't the usual delicate-as-a-hummingbird gimbaled garbage of other headphones. They are solid, so you can handle them as you'd handle a book.
The cable is the perfect length for portable use. It's long enough that there's always plenty of cord, and short enough so there is never extra cord in the way.
For carrying, there is a dedicated Velcro tab with which to wrap the cable.
If you need a straight 17-foot (5.2 meter) cord for running around the studio, just add the included 4 meter (13-foot) extension.
My only complaint is that everything else is so perfect that I miss having an iPod remote control on the cable, as on Apple's in-ear headphones.
Comfort top
The Edition 8 are circumaural, meaning the pads rest around the outside of your ears, making contact only with your head. Nothing touches my ears.
These are comfortable for hours and hours and hours of stress-free enjoyment.
The harp (top band) has a smaller radius than most headphones, which distributes the weight evenly across my entire head. This is why there are dog-legs near each earcup: to reduce the harp's radius. The weight isn't concentrated at just one spot, as it is with most headphones that use a broader harp.
Mechanical Quality top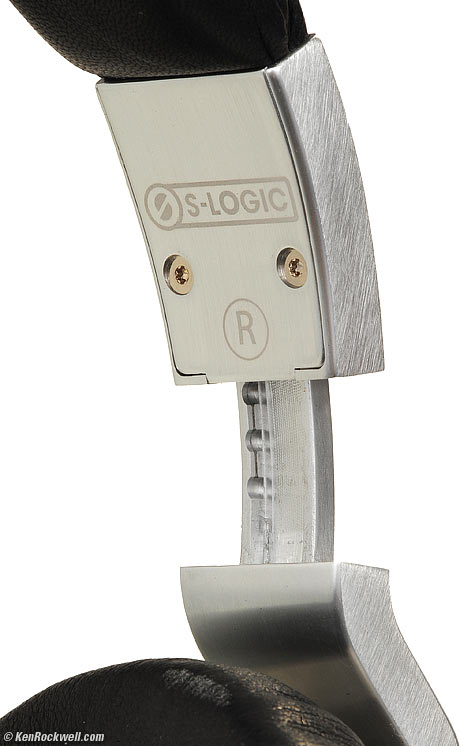 Edition 8: Machined from solid aluminum. Note click stops.
The Edition 8 are a treat: there is none of the pot metal or plastic fuzz common on other $1,500 headphones. Everything is either leather or solid billet aluminum. ( I think the interior of the metal-plated earcups is plastic.)
There are none of the delicate gimbals of lesser headphones: the Edition 8 feels as if everything is carved from one solid block of aluminum.
The earcups each pivot around one point.
I fear that if I sat on these, it is my rear that would get hurt, not these headphones.
This might seem minor, but it's very important. I can carry these around, and put them on and set them down without having to baby them as I do with every other set of headphones.
Cords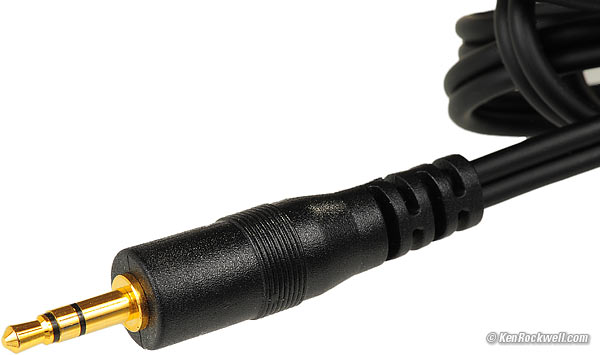 Cheap molded mini plug and cord.
My only complaint about the Edition 8 is the crappy cord.
The molded cord and included extension cable look and feel exactly like the cords I buy at the 99¢ store. They are nothing like the high-quality cloth-covered cables and separate plugs of the Sennheiser HD 800 and older Stax headphones.
Measured Impedance top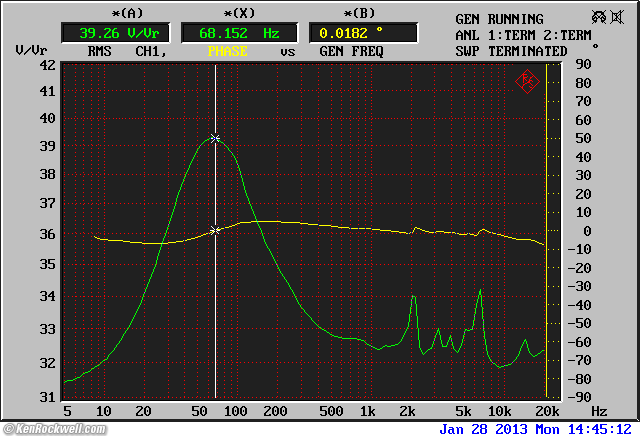 Ultrasone Edition 8 Impedance, off-head.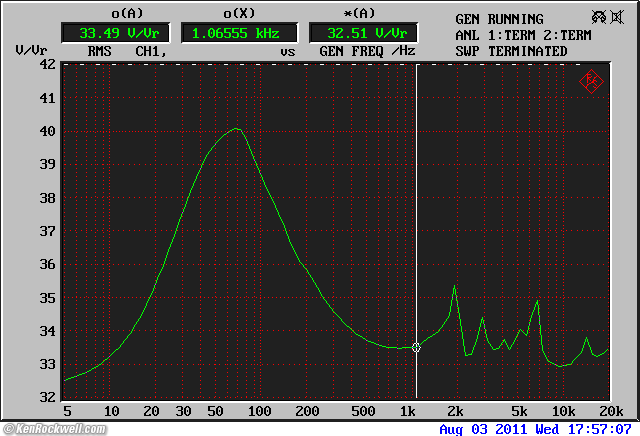 Ultrasone Edition 8 Impedance, on-head.
Compared top
Intro Specs Performance Compared Usage Recommendations
I've been making comparisons throughout this entire article.
The mechanics of the Edition 8 are the best I've ever used. They don't use gimbals, and they are tough enough so that I never have to baby them.
The Edition 8 are more sensitive than any other first-rate headphone, so I don't need to fiddle with amplifiers; I drive them directly from my sources.
The sound isn't as sweet and open as my Beyer DT-990 or electrostatic headphones, but these all require extra hardware and are very delicate, making them irrelevant for general portable enjoyment. Yes, If I'm in a studio with ten tons of gear plugged in, the Stax are cleaner, but the Stax are babies that never move from the same spot.
I love the sound of the Stax, but they are brutal if the recording has any harshness. These Edition 8 sound great all the time.
Apple's in-ear headphones are too bright for my taste. You'd think that because the Apple headphones are always in their little case in my pocket that they'd be more portable than the Edition 8, but no! The Apples require very delicate insertion into my ears, and likewise require very careful extraction, while I just grab these Ultrasones and go. The Ultrasones come on and off easily, while I always have to stop and wash my hands before I go jamming the Apples carefully into my ears.
Usage top
Intro Specs Performance Compared Usage Recommendations
Orientation
Don't wear these backwards. If you do, the sound will seem to come from behind!
When putting them on in the dark, feel for where the cord tits enter the earcups. These should be behind your ears, not in front.
Break-in
I think this is baloney, but Ultrasone and B&H assured me that these needed to be broken-in.
I cheated, and listened to the Edition 8 straight out of the box. They were fantastic! I didn't want to take them off my head to let them break in.
I did finally break them in for 175 hours with dirty pink noise at 85 dBC.
Amplification
These play great from an iPod or iPad, and you also have no ground-loop problems, since they run from their own batteries.
I find I run the gain (volume) only about halfway up with these on my iPod, so I have no need to screw with any other amplifiers. I do my transfers properly, so my iPod sounds great.
We all know laptops have headphone jacks, but did you ever look on the front of a current (2010) PowerMac? They also have dedicated headphone amplifiers, and a jack on the front. In fact, the headphone output of the MacPro is so strong that I often had to drop levels inside applications like iTunes and keep the Mac's gain set at minimum. It would be more elegant to keep the gains inside the applications at 100% and use the Grace Design M903 instead, but why bother?
These sounded so great plugged into my iPod that I rarely got to using any of my less-convenient equipment. Sorry, I'm a music lover, not a gear head, so I couldn't tear myself away from the music.
I had planned to evaluate these more seriously with a Grace Design M903 amplifier, but honestly, they sounded so good plugged into my iPod (tell your audiophile friends that iPods sound awesome if you know how to make good transfers), that I never wanted to unplug them and waste my time chained down by a power cord.
Among the gear most used:
Apple iPod Touch fed from both 1,411 kb/s AIFF files and well-converted AAC files. (Yes, you can drag uncompressed AIFF files into iTunes and they play on iPod.)
Apple iPad fed from well-converted AAC files as well as playing DVDs.
Sony PCM-F1 and PCM-601ESD Digital Master Recorders, fed from my own original recordings.
Apple PowerMac hex-processor (2010), front-panel headphone jack, playing well-converted AAC files and listening to KDB.
Recommendations top
Intro Specs Performance Compared Usage Recommendations
Ultrasone warned me that I'd better be sure I had good recordings, because these headphones would uncover all the faults. Quite to the contrary, I'm astounded at how great everything sounds on the Ultrasone Edition 8. While the Stax Lambda Pro are so direct that I'm constantly having to remaster every CD I buy with a couple of dBs of EQ here or there to get them to sound right, the Edition 8 just sounds great with everything right out of my iPod.
Sure, I wanted to get around to writing this review driving these headphones through some of the audiophile baloney used by tweakers, but hey, I'm a music lover, and these sound so fantastic that I just can't stop the music long enough to plug-in any of that other fluff favored by guys without girlfriends.
Audiophiles have little discrimination, which is why they buy 12 different amps and headphones and still never seem to be able to find one they like. These are the one set of headphones that make it all sound great, and they cost far less than an audiophile's shotgun-approach to buying everything that costs less.
Everyone's ears and tastes vary, but for me, the Ultrasone Edition 8 are the ticket to practical musical Heaven, and they work great plugged directly into any portable, feel great, don't fall off my head, and don't need to be treated delicately.
I got mine through B&H Photo Video, who is a huge professional equipment dealer I've been using since the 1970s. I suppose you also could find these at quirky audiophile dealers, but the advantages of B&H are that they are so big that they usually have these in stock, they ship from a huge automated and sanitary warehouse (so your headphones weren't used for back-room demos for a month in some local store before you bought them), and B&H has a full money-back return policy with no restocking charge, so you should be able to return these if for some unfathomable reason they don't work for you.
Help me help you top
I support my growing family through this website, as crazy as it might seem.
The biggest help is when you use any of these links to Adorama, Amazon, eBay, Ritz, Calumet and J&R and when you get anything. It costs you nothing, and is this site's, and thus my family's, biggest source of support. eBay is always a gamble, but all the other places always have the best prices and service, which is why I've used them since before this website existed. I recommend them all personally.
If you find this page as helpful as a book you might have had to buy or a workshop you may have had to take, feel free to help me continue helping everyone.
If you've gotten your gear through one of my links or helped otherwise, you're family. It's great people like you who allow me to keep adding to this site full-time. Thanks!
If you haven't helped yet, please do, and consider helping me with a gift of $5.00.
As this page is copyrighted and formally registered, it is unlawful to make copies, especially in the form of printouts for personal use. If you wish to make a printout for personal use, you are granted one-time permission only if you PayPal me $5.00 per printout or part thereof. Thank you!
Thanks for reading!
Mr. & Mrs. Ken Rockwell, Ryan and Katie.
Home Donate New Search Gallery Reviews How-To Books Links Workshops About Contact