Home Donate New Search Gallery Reviews How-To Books Links Workshops About Contact
Canon 5D Mark III Specifications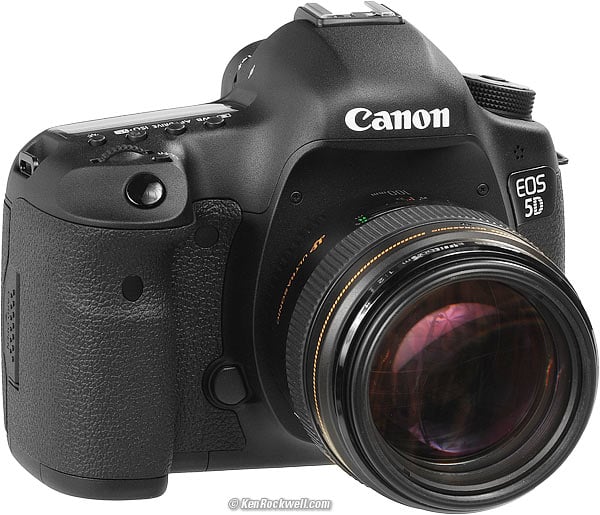 Canon 5D Mark III (33.7 oz./956g with battery and card, about $2,500) and 100mm f/2 USM. enlarge.
September 2015 5D Mk III review More Canon reviews all reviews
Specifications back to 5D Mk III review
Sensor
24 x 36mm full-frame.
5,760 x 3,840 pixels native.
22 MP CMOS.
6.25 µm pitch, RGB primaries, 8-channel readout.
Sensor cleaner.
ISO 100 ~ 25,600 (also whacko modes at ISO 50, ISO 51,200 and ISO 102,400).
HD video to ISO 12,800 (ISO 25,600 in a whacko mode).
14-bit analog-to-digital conversion (ADCs).
Image Sizes
No cropping ability for professional 5:4 or other aspect ratios.
5,760 x 3,840 native, JPG or RAW.
3,840 x 2,560 JPG Medium.
2,880 x 1,920 JPG Small 1.
1,920 x 1,280 JPG Small 2 (JPG FINE only).
720 x 480 JPG Small 3 (JPG FINE only).
M-RAW: 3,960 x 2,640.
S-RAW: 2,880 x 1,920.
Fluff
HDR mode.
Multiple exposures.
Video
Embedded timecode for professional editing, yay!
ISO 100 ~ 12,800, also ISO 25,600 and AUTO.
1,920 x 1,080 at 29.97p, 23.976p or 25p.
1,280 x 720 at 59.94p or 50p.
640 x 480 at 59.94p or 50p.
4 GB automatic file partitioning (continuous recording time 30 minutes).
Selectable all i-frame (bigger files for precise editing) or I-P-B (smaller files that look better) compression.
HDMI output (but no uncompressed live HDMI as do the newest Nikons).
Analog PAL or NTSC video output.
Audio (only with video)
Mono mic.
Stereo mic jack.
Auto and Manual audio recording level control.
Mono speaker.
Headphone jack. (use the Sony MDR-7506.)
Finder
71% magnification.
100% coverage.
22mm eyepoint.
-3 to +1 diopters.
34.1º apparent angle.
Fixed focus screen; no longer can we swap screens for manual focus of fast lenses as we can do in the old 5D Mark II.
New monochrome LCD overlay with a selectable grid, and an "!" you can set to let you know you're doing something stupid, like shooting in black-and-white. No big deal, Nikon's inexpensive N75 of 2003 did the same thing, but better, with actual NO FILM or LOW BATTERY icons.
Electronic Level
2-axis roll (360º) and pitch (±10º).
Visible on the rear LCD and in the finder.
Reads only in full degrees.
Autofocus
No AF illuminator.
Movies
No continuous AF, as a camcorder can do.
Still Images
All this below is only for still photos: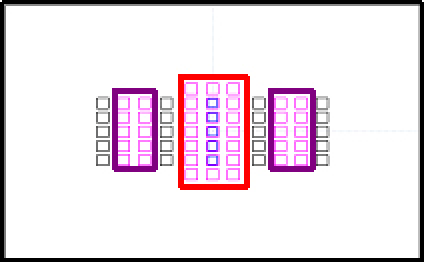 Canon 5D Mark III AF System.
61 AF points (41 cross-type at f/4, 5 dual-diagonal at f/2.8, ooooh!)
Rated to work from LV -2 ~ 18 at 73°F (23°C).
The AF system is so complex that it needs a dedicated AF menu tab.
Autofocus point selection is broken up into 6 different methods: Spot, Single Point, Single + 4 Adjacent Points, Single + 8 Adjacent Points, Zone Selection, and Automatic AF Point Selection.
There's a dedicated AF configuration tool for control of AI Servo AF III tracking parameters.
Good luck! No one will ever figure this out.
No EOS iTR (Intelligent Tracking and Recognition), so it can't recognize subjects based on face and color as can the 1D X.
Light Meter
Range: LV 0 or 1 to 20 at 73°F (23°C) with 50mm f/1.4 lens.
63-zone dual-layer meter. "Dual Layer" means it can't even see in full color; the 5D Mark III's meter only sees in warm and cool. Nikons have had 1,005 pixel full-color RGB meters since 1996.
The number of zones is irrelevant, what the firmware does with this data to determine exposure is far more important. My LEICA M9 only has one zone metering, and is more accurate than my Nikons or Canons, so what do you think about that, eh? Metering zones are irrelevant.
Flash
No built-in flash.
Flash Sync is 1/200, which is within a third stop of 1/250.
PC sync terminal.
E-TTL II exposure control works with all EX-series flashes.
Shutter
6 FPS (fast) and 3 FPS (slow).
Buffer: 65 JPG, 13 RAW, 7 RAW+JPG.
Carbon-fibre blades.
Silent 3 FPS and mirror-up modes.
150,000 shots.
1/8,000 ~ 30 seconds.
Sync is 1/200.
Remote: RC-6, also RC-1 and RC-2 remotes work.
Data File & Folder Formats
Photos
JPEG
RAW (14-bit Canon Original)
M-RAW
S-RAW
RAW+JPEG
M-RAW+JPEG
S-RAW+JPEG
Video
.MOV files holding:
Picture: H.264/MPEG-4 AVC coding.
Audio: 48 ksps 16 bit Linear PCM coding.
Storage
CF and SD slots!
CF: Type I and II, UDMA OK.
SD: SD, SDHC, and SDXC.
LCD
3.2" diagonal.
3:2 aspect ratio.
1,040,000 dot.
Auto brightness control.
Coated glass cover, bonded directly to the LCD to eliminate two more surfaces of potential reflection. This is great; in my Nikon D3, there's an airspace between LCD and protective cover like most cameras, and it's gotten cloudy, and Nikon refused to clean it when I sent it in for other repairs!
Power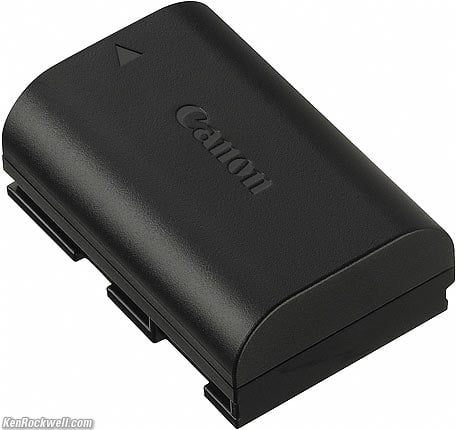 LP-B6 Battery.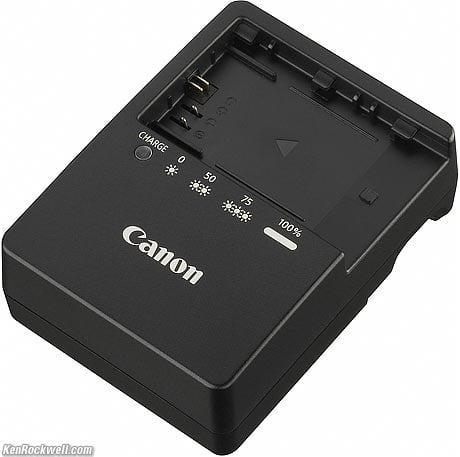 LC-E6 Charger.
LP-E6 Li-ion battery: 7.2V, 1,800mAh (same as 5D Mark II, 6D, 7D, 70D etc.).
Rated 950 shots (100 more than the 5D Mark II).
LC-E6 folding plug universal voltage charger.
CR1616 for clock.
Quality
Made in Japan.
Environmental
32 ~ 104°F (0 ~ 40°C).
0 ~ 85% RH.
Studs
Magnesium-alloy frame.
Size
6.0 x 4.6 x 3.0 inches.
152 x 116 x 76 millimeters.
Weight
33.705 oz. (955.5g), actual measured with battery and CF card.
Rated 33.5 ounces (950 grams) with battery and card. (5D Mark II was only 32 oz./907g with battery and card,)
Rated 30.34 ounces (860 grams) stripped.
Includes
5D Mark III Body.
Eyecup Eb (as in E flat?).
Wide Neck Strap EW-EOS5DMKIII.
Camera Cover R-F-3.
Stereo Video Cable.
USB Interface Cable IFC-200U.
Battery Charger LC-E6.
Battery Pack LP-E6.
Software Disk.
Software Instruction Manual on CD.
Canon 1 Year Limited Warranty
Real printed manuals: one in English, otro en Español.
Announced
02 March 2012.
Canon announced it on March 2nd, 2012 because that was the 25th anniversary of Canon's EOS system, which was born with the announcement of the Canon EOS 650 on 02 March 1987.
Shipping Since
The first 5D Mark IIIs arrived in photographers hands on 23 March 2012.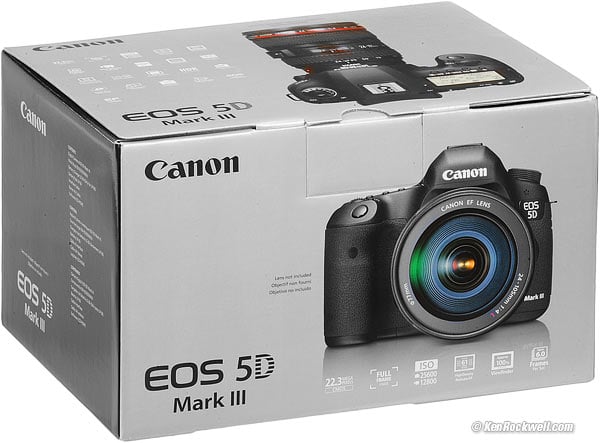 Box, Canon 5D Mark III. bigger.
Prices, USA top
September 2015: $2,499 after instant rebate, or $2,499 after $350 mail in Rebate and includes a printer and more.
August 2015: $2,149 after $350 mail in Rebate and includes free shipping — and you get $149.94 in Adorama Rewards to spend next time! $2,749 after $350 mail in Rebate and includes free shipping — and you get $185.94 in Adorama Rewards to spend next time!
July~August 2015: $2,499, $3,099 with 24-105mm IS L lens.
Christmas 2014-February 2015: $2,799 after rebate.
March 2014: $3,399 body-only (add-to-cart and it's only $3,299); $3,999 with 24-105mm lens (add to cart and its only $3,449).
November-December 2012: $3,299 body-only (add-to-cart and it's only $2,999); $3,899 with 24-105mm lens (add to cart and its only $3,599)
March-October 2012: $3,499 body-only; $4,299 with 24-105mm lens.
March 2012: $3,499.00; $4,299.00 with 24-105 IS L.
Wireless File Transmitter WFT-E7A: end of April 2012 , $849.99.
GPS Receiver GP-E2: end of April 2012, $390.00.
Battery Grip BG-E11: end of April 2012, $490.00.
600EX-RT flash: end of March 2012, $629.99. ($630 for a flash? They must be kidding.)
Flash control transmitter ST-E3-RT: end of March 2012, $470.00.
© KenRockwell.com. All rights reserved.
Help me help you top
I support my growing family through this website, as crazy as it might seem.
The biggest help is when you use any of these links when you get anything. It costs you nothing, and is this site's, and thus my family's, biggest source of support. eBay is always a gamble, but all the other places always have the best prices and service, which is why I've used them since before this website existed. I recommend them all personally.
If you find this page as helpful as a book you might have had to buy or a workshop you may have had to take, feel free to help me continue helping everyone.
If you've gotten your gear through one of my links or helped otherwise, you're family. It's great people like you who allow me to keep adding to this site full-time. Thanks!
If you haven't helped yet, please do, and consider helping me with a gift of $5.00.
As this page is copyrighted and formally registered, it is unlawful to make copies, especially in the form of printouts for personal use. If you wish to make a printout for personal use, you are granted one-time permission only if you PayPal me $5.00 per printout or part thereof. Thank you!
Thanks for reading!
Mr. & Mrs. Ken Rockwell, Ryan and Katie.
Home Donate New Search Gallery Reviews How-To Books Links Workshops About Contact