Home Donate New Search Gallery How-To Books Links Workshops About Contact
Canon SD4000 IS
28-105mm f/2-5.3, 2.5" LCD (effective), 10 MP, $350
© 2010 KenRockwell.com. All rights reserved.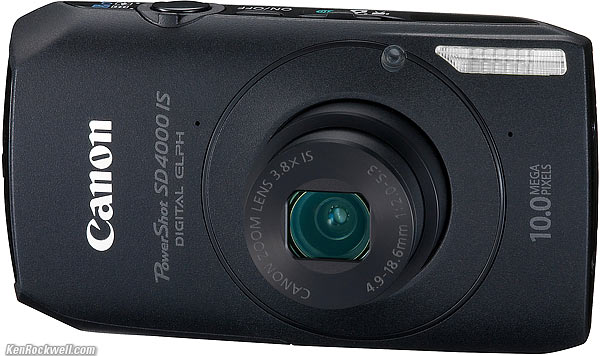 Canon SD4000 IS. enlarge. I'd get it at Adorama or Amazon in black, silver or red. It helps me keep adding this site when you get yours from these links, thanks! Ken.
May 2010 More Canon Reviews
Introduction top
The Canon SD4000 attempts to replicate much of the superb Canon S90 in a smaller package. The biggest things made smaller are the sensor and the LCD, along with everything else, too.
The sensor is only 1/2.3" instead of the larger 1/1.7" sensor of the S90, which suggests that the SD4000 won't have quite the clarity of the S90 at any given ISO. The S90 starts at a clean ISO 80, while the smaller-pixeled SD4000 starts at ISO 125, which is not likely to be as clean.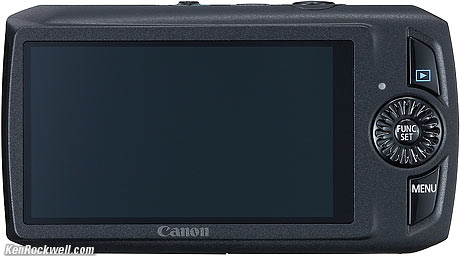 Back, Canon SD4000. enlarge.
Likewise, even though both the S90 and SD4000 are rated as having 3" diagonal LCDs, the SD4000's LCD only is equivalent to a 2.5" screen because its top and bottom are chopped-off. The S90's LCD is much bigger since it is full-height, not the short LCD of the SD4000.
The SD4000 has far fewer controls on the back than the S90, meaning it's likely that it won't handle as fast as the S90, with the S90's many more direct controls (and the S90's wonderful direct control ring).
The SD4000 has the usual trick modes, as well as HD movies and a lower-resolution 8.4FPS trick mode.
The SD4000 claims aperture and shutter controls and an HDMI outputs, and a 240 FPS slow-motion movie mode. (Shooting at 240 FPS and playing back at a normal frame rate of 30 FPS slows motion.)
The SD4000 takes the usual SD cards, as well as SDXC memory cards which theoretically could hold as much as two terabytes (TB) of data.
The SD4000 also claims Smart Shutter technology, which should automatically take pictures when a person smiles or winks, although I've never figured out how to get this to go on other cameras.
The SD4000 comes in red, black and silver, and should be available at the end of May, 2010 for $350.
Specifications top
Lens
4.9-18.6mm f/2-5.3 (28-105mm equivalent on 35mm film).
Sensor
10 MP
3,648 x 2,736 pixels; but only 1,824 x 1,368 pixels at stupid-high ISOs and frame rates.
1/2.3" CMOS.
ISO: Auto, 125, 200, 400, 800, 1,600 and 3,200.
LCD
2.5" effective, 3" rated.
It's only a chopped, not full-height, 3" screen.
230,000 dots; lower resolution than Canon's better 3" LCDs with 461,000 pixels found on cameras like the S90.
Size
3.94 x 2.13 x 0.93 inches.
100.0 x 54.1 x 23.6 mm
(the S90 is 3.94 x 2.30 x 1.22 inches or 100.0 x 58.4 x 30.9mm).
Weight
6.17 oz. (175g), rated, with battery and card.
The S90 weighs 6.942 oz. (196.8g) with battery and card, and is rated at 6.17 oz. (175g), without battery or card.
Introduced
11 May 2010.
Available
End of May, 2010.
Price
$350, USA, May, 2010.
Recommendations top
The SD4000 is most likely the best micro-compact camera there is. For me, I suspect I'll continue to prefer the slightly larger, and more competent, Canon S90.
Of course as soon as I try one of these SD4000 in person, my opinions may change.
As soon as I get one in my hot little hands, I'll let you know.
More Information
Canon USA's SD4000 product page.
Canon USA's SD4000 specifications page.
Canon USA's SD4000 press release.
Help me help you top
I support my growing family through this website, as crazy as it might seem.
If you find this as helpful as a book you might have had to buy or a workshop you may have had to take, feel free to help me continue helping everyone.
If you've gotten your gear through one of my links or helped otherwise, you're family. It's great people like you who allow me to keep adding to this site full-time. Thanks!
If you haven't helped yet, please do, and consider helping me with a gift of $5.00.
The biggest help is to use these links to Adorama, Amazon, B&H, Calumet, Ritz, J&R and when you get your goodies. It costs you nothing and is a huge help to me. eBay is always a gamble, but all the other places have the best prices and service, which is why I've used them since before this website existed. I recommend them all personally.
Thanks for reading!
Ken
Home Donate New Search Gallery How-To Books Links Workshops About Contact