Home Donate New Search Gallery How-To Books Links Workshops About Contact
Canon S90
World's Third Best Pocket Camera
© 2010 KenRockwell.com. All rights reserved.
Intro Specs Performance Compared Usage Recommendations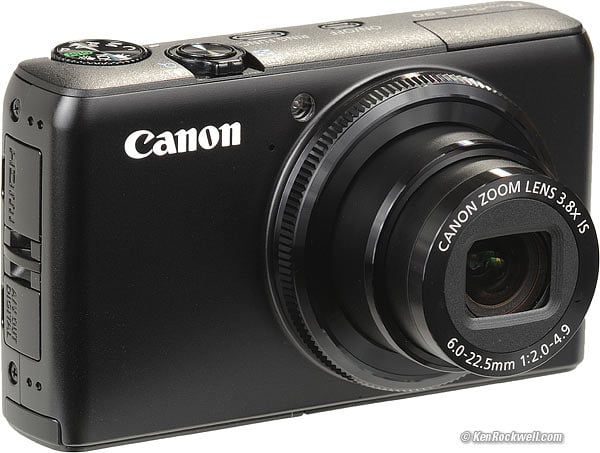 Canon S90 IS (6.9 oz./197g with batteries and card), larger than life. bigger. This one came from Adorama; I'd also get it at Amazon or Calumet. It helps me keep adding this site when you get yours from these links, thanks! Ken.
See the big ring around the base of the lens? It's a rotating, programmable control ring you dedicate to direct control of aperture, exposure compensation, or almost anything!
The S90 has a built-in pop-up flash, not seen in this shot since it's retracted.
July 2010 More Canon Reviews Recommended Cameras
NEWEST: Canon S100 World's Best Pocket Camera, September 2011.
NEW: Canon S95 World's Second Best Pocket Camera, August 2010
Canon S90 Sample Images: California's Gold Counrty April 2010
Canon S90 Sample Images: Death Valley and the Eastern Sierra January 2010
Canon S90 Sample Images: New York January 2010
Canon S90 Sample Images: Indian Country 10-15 November 2009
© Sample ISO 80 file (New York City Neon).
© Sample ISO 80 file (McGee Creek, California, in Snow).
© Sample ISO 80 file. (The Fiery Furnace, Utah).
© Sample ISO 200 file (Planting Fields Arboretum).
© Sample ISO 800 file (JFK at night, hand-held).
© Sample ISO 1,600 file (Icicles, hand-held).
© Sample ISO 1,600 file (Empire State Building, hand-held).
© Sample ISO 1,600 file (A flight over Manhattan at night, through a plexiglas window, hand-held).
Introduction top
Intro Specs Performance Compared Usage Recommendations
Just look at the links to photos above. The Canon S90 astounds me with the quality of images I can produce with it.
Every so often a camera comes out that stands out from the rest.
The Canon S90 is one of those cameras.
The S90 beats Canon's own flagship G11 at its own game. The S90 has the same oversized sensor as the G11, but adds a faster f/2 lens, a direct control ring and a bigger LCD in a smaller, lighter package for less money. So why would I want a G11? Just to carry more weight with a slower lens?

Top, retracted Canon S90, about actual size.
The ring around the lens is a control ring! enlarge.
What makes the S90 outstanding is:
1.) First compact camera with two direct control rings
This is better than DSLRs! Few compacts have even one control ring, and DSLRs have maybe one.
This means you can make your settings directly and instantly, without the stupid press-and-spin nonsense of DSLRs. The S90 lets you set your camera instantly, just like cameras of the old days. You can program the rings as you want. I program the ring around the lens as exposure compensation, and the one on the back as ISO. In manual mode, you can set one for aperture and another for shutter speed — just like a real camera!
You can flick the big front control ring with one fingertip. This is worlds better than the dorky top-mounted thing on the G10 and G11.
2.) Fast f/2.0 zoom.
This lets in twice as much light as any f/2.8 L SLR zoom, Powershot, G series or whatever.
3.) Full-Sized Image Sensor.
Well, not really, but considering that other makers lie about their 4/3 system DSLRs and E-P1 PEN as having full sized sensors (they are really only have quarter-sized), I'm saying "full sized sensor" here to light up the fact that the S90 and G11 have the biggest sensors of any compact cameras I've seen. Yes, they are a lot smaller than even the puny 4/3 system sensors, but about 20% bigger in each dimension (40% bigger in area) than most other compacts. (The old G10 also has the same sized sensor, but with too many pixels jammed in.)
The images I pull out of my S90 look about as clean as my DX SLRs do at ISO 1,600.
The "high sensitivity sensor" is a great help shooting at low ISO 80 in daylight, too. Compact cameras have sensors so tiny that even at ISO 80 they are very noisy and use firmware noise reduction, which smudges over details. A compact at ISO 80 is about as noisy as a DSLR at ISO 800, and the S90 gives me much cleaner, clearer files at ISO 80 than any other compact.
4.) Better resolution than 12MP cameras
Better means fewer pixels. Compact cameras have way too many pixels today. This makes them noisy and chokes-out details. Fewer pixels is a better choice. I usually shoot my cameras set to around 6MP, so the fat 10MP sensors of the G11 and S90 are much better ideas than 12MP and 15MP sensors jammed into other compact cameras. Finally, someone is getting serious in fixing the resolution problem.
5.) Amber/Blue and Magenta/Green White Balance trims!
Even my LEICA M9 can't do that, and if you load up the LEICA M9 with similar lenses to what the zoom of the S90 can do, you'd have to spend about $15,000 for the Leica system.
Other great S90 features are:
1.) A third dedicated mode dial on top, complete with a "C" (dedicated, saved camera setup) position.
2.) Also shoots raw, not that I care.
3.) 28mm - 105mm equivalent zoom. (3.8x ratio.)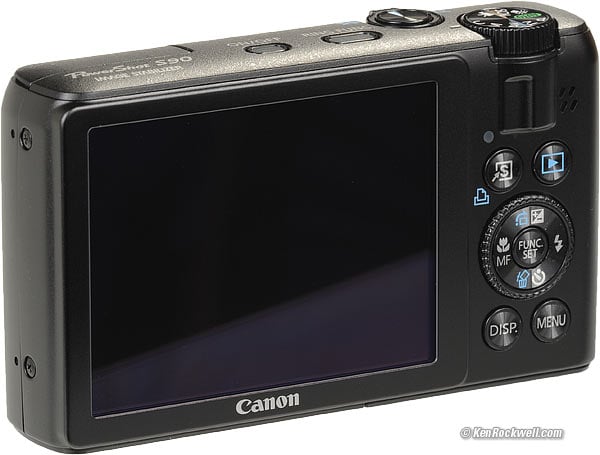 Rear, Canon S90, larger than life. enlarge.
4.) Big 3" full-height LCD (3:4 aspect ratio), not the crummy sliced-off ones becoming popular on compact cameras. Your images will fill the screen, not just the center as they do on other cameras with "chopped" (16:9) LCDs missing their tops and bottoms.
5.) Canon's good, traditional two-dimensional user interface when you hit the FUNC button. Some newer Canons use an inferior one-dimensional interface that requires a lot more button pushes to set everything.
6.) I'm jumping up and down with excitement over having two real control rings and a third mode dial on top. If this isn't enough, there is a programmable [ S ] button on the back, too.
What's Missing
No HD movies. So what? The S90 makes regular movies just fine. Thank goodness Canon optimized the S90 for photography, not for gadget hounds.
Zoom starts at f/2 at the wide end (good), but gets slower at the long end (f/4.9, less good). This is simple sanity; the lens and therefore camera would need to be much, much larger to stay at f/2 all the way through the zoom range.
No optical finder. The Olympus PEN E-P1 doesn't have one either. I never use optical finders on compacts. I prefer the full-size LCD.
No hot shoe, thank goodness.
It's only a point-and-shoot, not a real SLR, so of course it's not fast enough for action, sports or kids. For that, you need a real SLR like a Digital Rebel or a Nikon D40.
The only weak point is that the rear dial spins too easily. It is easy to bump it one notch backwards to ISO 3,200, even in daylight. I hate it when that happens, but since I watch for it, have had no more problems.
Specifications top
Intro Specs Performance Compared Usage Recommendations
Lens
6.0 - 22.5mm f/2.0 - 4.9.
(equivalent to 28-105mm.)
Diaphragm
Genuine 6-bladed diaphragm.
Shutter
15 seconds - 1/1,600.
Sensor
1/1.7."
10MP
Real CCD, not just CMOS.
Not that I've ever seen any visible performance difference in my back-to-back tests, but technically CCDs are superior to CMOS.
CMOS is less expensive to manufacture and therefore pushed more by camera companies because CMOS also allows more kinds of circuitry to be crammed on the image sensor. This saves camera makers a few chips and dollars over doing it right with a dedicated CCD image sensor and outboard sample and holds, analog-to-digital converters and DSP.
Image Sizes
3,648 x 2,736 pixels native.
Also 2,816 x 2,112 (M1), 2,272 x 1,704 (M2), 1,600 x 1,200 (M3), 640 x 480 (S), 3,648 x 2,048 cropped (W).
At stupid-high ISOs in the Amnesty International mode, image size is reduced to 1,824 x 1,368 pixels.
Movies
640 x 480 or 320 x 240 @ 30 fps. (No HD.)
ISO
AUTO, 80 - 3,200.
ISO Auto is perfect, and selects any speed between 80 and 1,600 exactly as I would, based on the selected focal length of the lens.
I think ISO 12,800 can pop up in the Amnesty International mode
Flash
Built-in, pop-up flash.
No hot shoe — why would any sane person put a big flash on a tiny camera?
LCD
3"
Correct full-height 3:4 aspect ratio.
461k pixels.
Body Covers
Metal
Power
NB-6L Li-ion Battery
CB-2LY folding-plug charger (USA). Works on 100-240 VAC 50-60 cps, so it works worldwide with a passive plug adapter.
(CB-2LYE is the corded charger.)
Rated 220 shots per charge; I get more.
1 hr 55 min maximum charge time.
Waterproof Case for SCUBA
WP-DC35, rated to 130 feet (40 meters).
Size
3.94 x 2.30 x 1.22 inches (100.0 x 58.4 x 30.9mm).
Weight
6.942 oz. (196.8g) with battery and card, but no strap.
Canon specifies 6.17 oz. (175g), with no batteries or card.
Announced
August 19, 2009, at the American Museum of Natural History.
Available
Started shipping in October 2009.
Price
$350, July 2010.
$399.95, December 2009.
$429.99 at introduction, August 2009 - November 2009, USA.
Performance top
Intro Specs Performance Compared Usage Recommendations
The Canon S90 is super easy to carry and to use, and the images are fantastic.
What really takes me back is how filmlike the images look at higher ISOs. Every other compact digital camera uses nasty noise reduction that smears over the images but leave big, colored blotches. The S90 does it just right so images just get a little grainier at fast speeds as does film, but never blotchy, as other digital camera do.
Look at my photos from Indian Country and from New York. It looks GREAT, especially because I can trim the AWB to be a little warmer as I prefer it.
Performance is incredible. You simply pick it up, use the CONTROL RING button to select which function you want to control with each ring, and then shoot the S90 like a real camera for ever more.
Once set as you like, you never need to use the CONTROL RING button again: just spin the rings like dedicated aperture rings or whatever.
This blows DSLRs back to the future. Dedicated rings are much better than needing to turn a command dial while also having to hold a button at the same time. On the S90, you never need to press any buttons except when you first unpack the camera. After that, just spin the rings.
Non-photographers don't appreciate how critical it is to get to your settings directly, without menus or buttons. Every time I point a camera in a different direction, I need to change exposure and white balance. The faster I can adjust the camera, the faster I can get that photo and be looking for my next great shot. Less fiddling means more great pictures.
With the S90, I can set exposure compensation with the flick of a finger as I compose from the front ring. In manual, I can set aperture and shutter speeds, each on their own separate dials.
The S90 has the good, traditional Canon menu system when you tap the FUNC button, not the crummier new one I've seen in some Powershots that require more button presses and remove some features.
Ergonomics
The buttons are flat.
The buttons feel sturdier than the G11.
If you simply mash the shutter, it will take a picture even if not in focus.
It's easy to confuse the mode dial for the shutter when you first shoot it.
It's also easy to knock the rear dial by mistake. You'll learn to keep your fingers off of it.
Image Cleanliness
The images are very clean. They look great, even when JPGs are lightened in Photoshop.
They are so clean that you can lighten things a lot and have no problems. They just look beautiful!
Distortion
The S90 uses internal electronic correction, and still has some barrel distortion at the wide end.
The CR2 raw files don't have this correction applied, so if you use non-Canon software, expect to see a load of distortion at the wide end which you will have to correct. DxO does a fantastic job correcting this automatically.
High ISO Performance
See the samples at the top.
Goodness, it's high ISO noise seems the same as the full-frame LEICA M9!
The S90 gets rid of noise by softening the images at higher ISOs, so the M9 has a much higher sharpness and signal-to-noise-ratio, but if you're not looking too closely, the S90 really does give decent images at ISO 800, slightly noisy images at ISO 1,600, and perfectly usable images at ISO 3,200.
More great news is that the effective noise reduction and softening keeps high ISO JPG Normal file sizes down to only about 1MB at full resolution.
Compare this to a typical pocket digital of a few years ago, like the SD700, which looked awful at ISO 400. The S90 looks better at 3,200 than the SD700 does at ISO 400, or so memory serves me.
Data
Auto ISOs read as IS255 in iView. Manually-set ISOs read correctly.
Default JPG DPI is 180 DPI.
Video
See for yourself. Here's an actual 23MB . MOV video file. The music is playing n a small radio.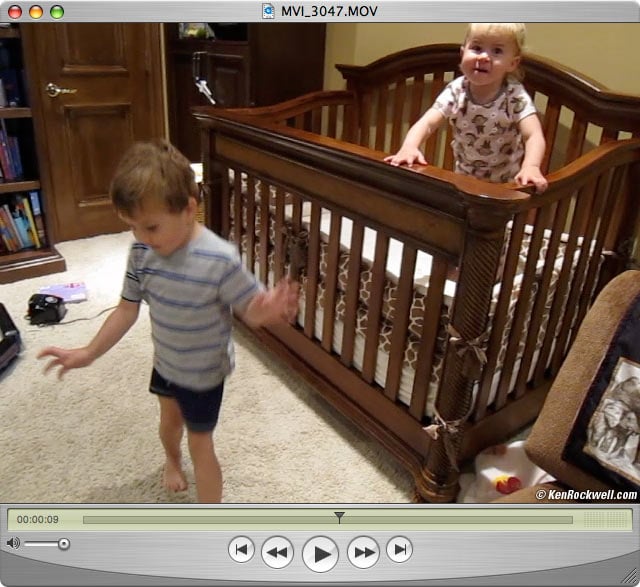 Ryan and Katie Singing and Dancing, 02 February 2010! (23MB . MOV video file.)
Compared to Other Cameras top
Intro Specs Performance Compared Usage Recommendations
Compared to the Canon G11
| | | |
| --- | --- | --- |
| | S90 | |
| Sensor | Large 10MP | identical |
| Lens Equivalent | 28-105mm | 28-140mm |
| Lens Speed (max.) | f/2.0 | f/2.8 |
| Direct Control Ring around lens? | Yes | no |
| LCD Diagonal | 3" | 2.8" |
| Camera Size | Pocketable | Big! |
| Weight | 6.17 oz | 12.5 oz. |
| Price | | |
Compared to the Leica D-Lux 4 (a.k.a. Panasonic Lumix)
There is no comparison.
Unless I missed something when I tried it, the Leica D-Lux 4 (Panasonic Lumix DMC-LX3K) lacks the emancipating direct control rings of the S90. Sure, the Leicasonic has a control switch around the lens for cropping, but no ability to control anything useful around the lens as does a real camera or the S90.
This lack of direct control, and the suffocatingly complex menu system of the Leicasonic that replaces the direct controls of the S90, relegates the Leicasonic to the consumer electronics aisle, not the photography aisle.
Recommendations top
Intro Specs Performance Compared Usage Recommendations
Buy an S90. The S90 is one of those cameras that will get more and more popular throughout its typically short product cycle life, and then the prices will skyrocket as it goes out of stock just at the peak of demand. Order yours today to avoid the rush.
The S90 fits in my pocket, and gives me SLR quality. For me, it has replaced my DSLR for nature, travel and landscape shooting. I only pick up an SLR for sports, action and people shots.
Order it while you can, since I see the S90 as being a camera that is so good that Canon and dealers will underestimate its popularity, making it very hard to get with long wait times after its first introduction. If you want one, order one now since otherwise you may have a long wait after they hit the street and people see how great they are.
Normally I go on and on in my reviews, but if you've seen my sample images at the links I shared at the top, you can see I'm having too much fun shooting the S90 to write about it. Just get one — or two!
Help me help you top
I support my growing family through this website, as crazy as it might seem.
If you find this as helpful as a book you might have had to buy or a workshop you may have had to take, feel free to help me continue helping everyone.
If you've gotten your gear through one of my links or helped otherwise, you're family. It's great people like you who allow me to keep adding to this site full-time. Thanks!
If you haven't helped yet, please do, and consider helping me with a gift of $5.00.
The biggest help is to use these links to Adorama, Amazon, Calumet, Ritz and J&R when you get your goodies. It costs you nothing and is a huge help. These places have the best prices and service, which is why I've used them since before this website existed. I recommend them all personally.
Thanks for reading!
Ken
Home Donate New Search Gallery How-To Books Links Workshops About Contact