Home Donate New Search Gallery How-To Books Links Workshops About Contact
Olympus PEN E-P1
(2009 - ) Quarter-frame, 3" LCD, $750-900
© 2009 KenRockwell.com. All rights reserved.
Intro Lenses Specs Performance Usage Compared Recommendations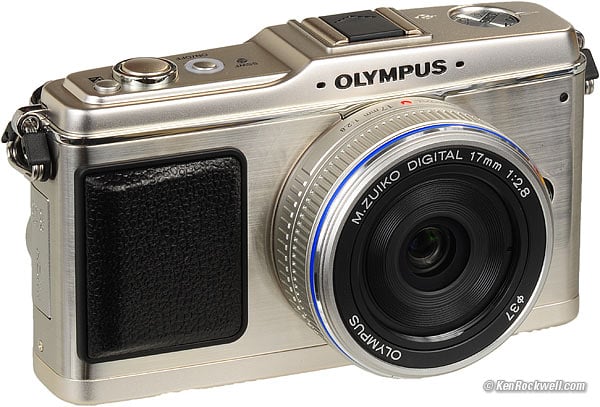 Olympus E-P1 (16 oz/455g with lens). enlarge.This one came from Adorama; you also can find it at it at Amazon, J&R and Calumet. It helps me keep adding to this site when you get yours through these links, thanks! Ken.
September 2009 Example snap (2.5MB) More Olympus Reviews
15 September 2009: Version 1.1 firmware update claims to improve autofocus. This is not an easy update; Olympus says you have to install the Olympus Master software on your computer and then open it. There is no simple Internet link from which it is downloaded. Once you've installed more software on your computer, connect the camera via USB to the computer and log onto the Internet. Use the Update Camera function from the Online Service menu, and good luck. I won't update the E-P1 I tried; I won't install camera-maker software on my computer since it is often buggy. Better companies allow updates by copying a file to a memory card; but not Olympus. This review is written using v1.0 firmware.
Introduction top
Intro Lenses Specs Performance Usage Compared Recommendations
The Olympus E-P1 really does have the technical image quality of a DSLR, or better.
Sadly, the E-P1 also has the slower handling of a pocket camera with which it has more in common.
The E-P1 has a very small dedicated lens selection — just two lenses today — and has no built-in flash.
These three lines summarize 95% of this review, and knowing Olympus, many innovative lenses are coming. Given the right lenses, I'd love to take the Olympus E-P1 on a dedicated photo trip instead of heavy SLRs like the D700. (The real winner is the LEICA M9, which offers all the benefits of the E-P1 and is part of a complete system.)
The Olympus E-P1 gives the highest technical image quality of any digital camera that weighs this little. It's a joy to carry all day and night, and brings back clean, killer images. It also shoots in a professional 4:3 aspect ratio, not the bogus, too-short 3:2 ratio left over from 35mm film that still handicaps DSLRs.
The Olympus PEN E-P1 is a missing link between SLR cameras and point-and-shoot pocket cameras. It's a solid little thing that straps around your neck, a little smaller than a DSLR but too big to fit in a pocket. I find it easier to draw and fire from around my neck than to have to draw a compact from my pocket.
The E-P1 is an overgrown pocket camera that has a much larger sensor (quarter-frame (micro four-thirds) 17.3 x 12mm) and interchangeable lenses for great technical quality, however the processing innards are still only those of a pocket camera. The operational speed and overall capability aren't much better than any other pocket camera, which means that the E-P1 handles crummily (slowly) compared to a DSLR, even if the technical results are extraordinary.
Because the E-P1 has a sensor almost as big as an SLR and many times bigger than pocket cameras like the Nikon Coolpix, Canon Powershot, Casio Exilim and etc., it really does have technical quality at least as good as real DSLRs. I'm not kidding: I've tried it, and the Olympus E-P1 really does give the same sharp, clear, clean and smooth images I expect from my SLRs.
The E-P1's images are a huge technical step-up from the grainy, smudgy images we accept from micro-sensored compacts like the Coolpix, Powershot and similar. Yes, I love my Canon Powershots, and I wish they had big, fat sensors like the E-P1 so their images were as clean and pure as what I get out of the E-P1. These differences aren't visible at internet sizes, and are visible if you're looking closely in print or at 100% on your monitors. These differences are obvious on close inspection especially in daylight at normal ISOs, not just at high ISOs.
Images from the E-P1 are clean and real, with no smudging from noise reduction. Details and textures are rendered as they should be, without the sneaky smoothing-over that happens in the images made from digital pocket cameras, like Canons. Yes, the E-P1 runs rings around any Coolpix or Powershot, including the best like the Canon G series.
The E-P1 is marvelous for travel, nature and landscape photos, but not for sports or action. It is a bit better than most compacts for groups shots of people, but once people start walking around, you'll prefer a real DSLR to photograph them.
For clarification, a DSLR (digital single-lens reflex) uses a reflex mirror to view, focus and meter directly from the live three-dimensional image coming through the lens, while the E-P1 and pocket cameras have no such reflex viewing. On reflex cameras, the mirror flips out of the way during the moment of exposure, otherwise, you're looking directly through the live lens all the time via a prism on top of the camera.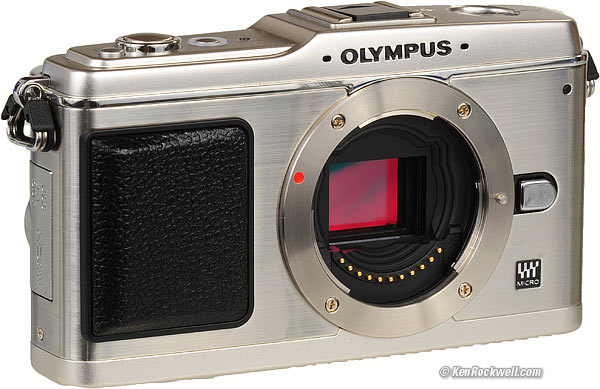 Olympus E-P1. Note bare sensor which is always exposed inside. enlarge.
The E-P1 and pocket cameras (Nikon Coolpix, Canon Powershot, Casio Exilim, etc) have no reflex mirrors, which makes them smaller, but also means that they have to do all their viewing, focus and metering only from the delayed, digitized two-dimensional signals created only after these cameras have processed the images that hit the sensor a fraction of a second ago.
If you're shooting landscapes, a fraction of a second doesn't matter, but if you're shooting action or moving people, the E-P1 and pocket cameras just can't cut it compared to real DSLRs like the Nikon D40 and Canon Digital Rebel T1i.
This means that the E-P1 is a fantastic choice for travel and general photography of anything that holds reasonably still, but is a poor choice for action or sports. The E-P1 work a little faster than most pocket cameras, but it's still awful compared to any real SLR.
For nature and landscape photos, the image engine of the E-P1 is so good that its technical image quality slightly outperforms some of the newest DSLRS with too many pixels, like the Canon Rebel T1i, because the E-P1 doesn't have to smear the image with noise reduction. The E-P1's images, when looked at 100%, look great, with no smearing of delicate textures as does the Rebel T1i SLR.
The gotcha is that the E-P1 still operates like a pocket camera, meaning that autofocus and metering isn't fast enough for sports or action. There is no viewfinder: you shoot holding the camera at arm's length and looking at the very slightly delayed image on the screen. You can slide a separate $100 passive optical viewfinder for only the 17mm lens into a hot shoe, but that doesn't count.
Even though the image sensor works great in low light, the E-P1's autofocus system doesn't work in dim light, and the metering system is inadequate for night photography. Indoors at night you take your chances with out-of-focus shots, and for tripod shots outdoors at night, you have to guess exposure.
The E-P1 has no AF assist light as does every other pocket camera, and since the E-P1 has no more AF sensitivity than a pocket camera, the E-P1 can go blind indoors below about LV 4 (1/30 at f/2.8 at ISO 1,600). When this happens, AF racks in and out and in and out, and never finds the subject.
Top, Olympus E-P1. enlarge.
The hot shoe works with all Olympus FL flashes, especially the new $100 FL-14.
The E-P1 has enough menu options to strangle a programmer. If you can figure them out (few people ever will), the E-P1 offers a lot of clever options to make operation easier. Good news is that most of the options are set as you'd want them right out of the box, so you can shoot away and not worry.
Image stabilization happens in the camera body.
I like the multiple crop modes. It shoots 4:3 native, and you can shoot images cropped to 16:9 (HDTV), 3:2 (35mm film) and even 1:1 (Hasselblad).
Lenses top
Intro Lenses Specs Performance Usage Compared Recommendations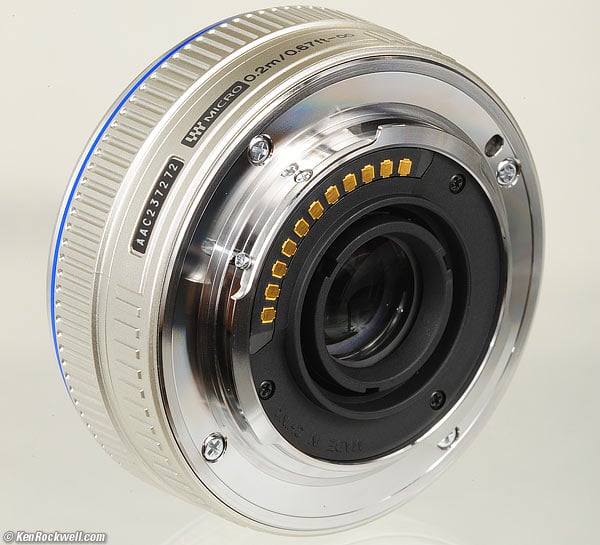 Rear, 17mm f/2.8. enlarge.
Today, the only lenses announced specifically for the E-P1 are a tiny 17mm f/2.8 and a 14-42mm f/3.5-5.6 zoom.
The 17mm lens takes a 37mm filter. It has an angle-of-view similar to what a 35mm lens sees on 35mm film or full-frame.
The zoom covers what a 28-85mm lens would see on full-frame.
You can use the new MMF-1 adapter ($180) to use conventional (non-micro) four-thirds system SLR lenses with auto exposure, IS, and some forms of autofocus.
The new MF-2 adapter lets you use Olympus OM manual-focus lenses, all with image stabilization.
With manual lenses, you can program their focal lengths in the menu system for EXIF and IS.
Since the flange focal distance is so short, loads of third-party adapters are available to adapt any 35mm or larger format lens to the Olympus PEN E-P1, but why bother? You could conceivably adapt Leica M and screw-mount lenses, too, but manual focus won't be fun, since you have to squint at a magnified image on the LCD with no other aids.
Auto exposure works, even with home-made adapters for any manual focus lens.
Likewise, Micro Four-Thirds lenses will not mount or adapt to anything.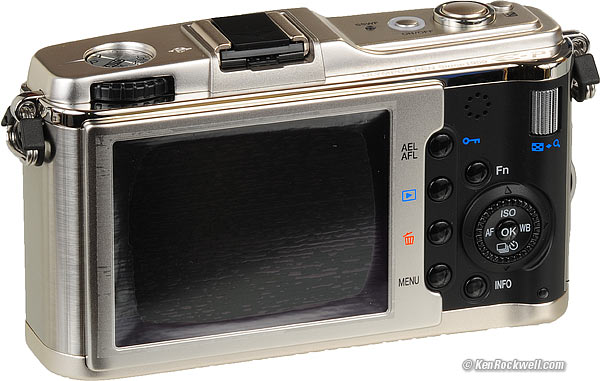 Rear, Olympus E-P1 (with protective shipping film). enlarge.
Specifications top
Intro Lenses Specs Performance Usage Compared Recommendations
Sensor
Quarter-frame (17.3 x 12mm). This is even smaller than the tiny 110 film format of the 1970s, which was a more generous 17 x 13mm.
Ultrasonic cleaner.
12 MP.
Image Sizes
4,032 x 3,024 pixels native.
Also 2,560 x 1,920 (M) and 1,280 x 960 (S).
If you activate the secret menu system, you can change the M and S settings to other values (3,200 x 2,400 or 1,600 x 1,200 for M, and either of 1,024 x 768 or 640 x 480 for S).
No matter what you do, you only get one setting at a time in M or S; you have to dig back into the secret menu system to change either value. If you want to, activate the secret menu system and press MENU > GEARS > GEAR G (<:: / COLOR/WB) > (scroll way down to) PIXEL COUNT where you can set each.
Good luck!
ISO
100 ~ 6,400.
Auto ISO runs from ISO 200 to your choice on the high end; ISO 1,600 is the default limit in Auto ISO unless you change it in the secret menu system.
File Types
JPG, raw (.ORF), and .AVI for video.
There are four selectable levels of JPG compression, but you'll only find two of them unless you set them in the secret menus.
Shutter and Sync
Vertical metal focal plane shutter.
You compose and view with the shutter open, so for every picture the shutter has to close, then open for the photo, and then close and open again so you can compose the next picture.
60 seconds ~ 1/4,000 and bulb. 60 seconds is twice as long as most cameras made in the past 20 years; this is a nice step in the right direction.
Fastest speed with flash (sync speed): 1/180.
Meter Range
I can't get it to read any lower than 4 seconds at f/2.8 at ISO 100 (LV 1).
Metering range is inferior to almost every other camera made in the past thirty years; the E-P1 is one of the few modern cameras that can't meter outdoor night-time exposures.
Video
720p and 640 x 480 VGA, each at 30 FPS.
Limited to 2GB file size.
Limited to 7 minute clips at 720p or 14 minute clips at 640.
Mini HDMI output.
NTSC or PAL analog output.
Audio
Stereo, 16 bit @ 44.1 ksps WAV.
That's a nice format, but the source audio is horrible (see Performance).
LCD
3."
Full-height 4:3 shape.
Anti-reflection coated.
Lower resolution: 320 x 240 pixels. You can see the dots, which give a slightly coarser image than cameras with better LCDs.
Data Storage
SD or SDHC card.
Colors
It comes in silver with black plastic leather, or white with light tan plastic leather.
Useful Features
Image Stabilization
Yes, but you have to turn it on in a menu.
It's in the camera and works with any lens.
Shadow and Highlight Optimization
Yes, but only if activated in a menu.
Aspect Ratios
4:3 is native.
It's easy to set the E-P1 to crop this to 3:2, 16:9 or even 1:1 (square).
Electronic Level
Yes, but only if you set it in a secret menu.
BS Features
19 scene modes.
6 "Art Filters," also work for video. Pop Art, Soft Focus, Pale & Light Color, Light Tone, Grainy Film and Pin Hole. Wow.
Music for slide shows. Gag.
TruPic V image processor: the same stuff as every other camera maker.
"Perfect Shot Preview" lets you see the effects of various settings before you take the picture.
Multiple exposure mode, which is used in playback to ruin perfectly good photos by adding your own shots of whatever, like fake moons. I'm waiting for a camera that has moons pre-loaded for this nonsense.
Power
BLS-1 Li-ion battery: 7.2V, 1,150 mAh.
BCS-1 corded charger: 100~240 V, 50~60 cps.
Size
Body only: 4.75" x 2.75" x 1.43" (120 x 70 x 36mm) WHD, specified.
2-1/4" (57mm) deep with 17mm lens, retracted. It pokes out a few more millimeters when turned on.
Weight
Camera with 17mm f/2.8 lens: 16.000 oz. (453.65g), measured, including battery and card.
Body only with battery and card: 13.505 oz. (382.9g), measured.
Naked body (no battery or card): 11.825 oz (335.2g), measured
(11.8 oz. (335g), specified, no lens, battery or card.)
Made in
Everything is made in China: the camera, lenses, battery, charger, printed manuals and probably more.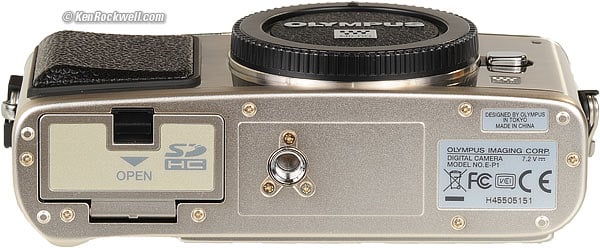 Bottom, Olympus E-P1. enlarge.
Lenses
| | | |
| --- | --- | --- |
| | | |
| Filter thread | 40.5mm | 37mm |
| Elements/groups | 9/8 | 6/4 |
| Diaphragm blades | 7 | 5 |
| Close Focus | 0.25m | 0.2m |
| f/min | f/22 | f/22 |
| Weight | 150g | 71g |
| Diameter | 62mm | 57mm |
| Extension from flange, flaccid. | 43.5mm | 22mm |
| Colors | Black or Silver | Silver only |
| Price, 9/09 USA | | |
There is also a passive $100 VF-1 viewfinder you may slip on the hot shot that sees the same angle of view as the 17mm f/2.8 lens.
More
Adorama has the details all typed out at their page on the E-P1.
Box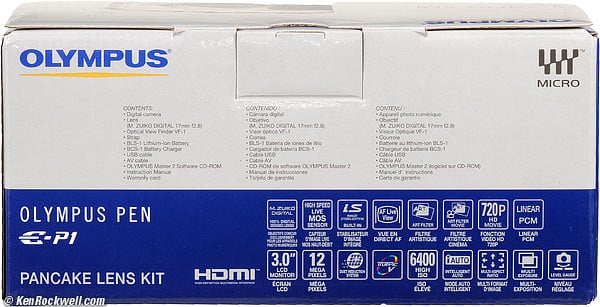 Box, Olympus E-P1. enlarge.
Performance top
Intro Lenses Specs Performance Usage Compared Recommendations
As I said at the top, technical image quality is superb, while overall speed and handing are only in the class of pocket-cameras.
The E-P1 is superb for travel, nature and landscapes, not really for weddings or portraits, and forget it for sports or action.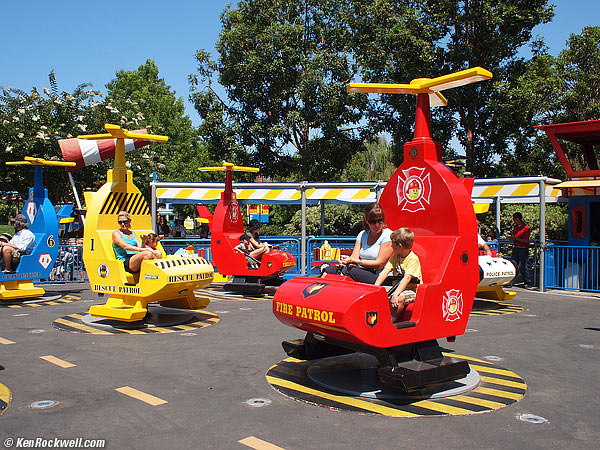 Up-Down at Legoland California. camera-original 2.5MB JPG.
Not that this is a good photo, but it's something to see basic sharpness and cleanliness. Note the lack of noise, and the clarity of subtle textures that you can't get from a pocket camera. There is some lateral color from the lens. Shot with the 17mm f/2.8 lens at f/7.1 at 1/500 second at Auto ISO 200.
Ergonomics
The Olympus E-P1 becomes very easy to use after you figure it out. An hour with the manual will be an hour very well spent, since Olympus hides many needed features in weird places. Once you figure it out, you can set the E-P1 to do many very handy short cuts and it becomes a joy to shoot.
There are four menu systems!
They are:
MENU: Press the MENU button for some menus. Sadly, when I hit the MENU button the E-P1 usually puts me back at the top, not where I left off.
Secret Menu System (SMS): To get all the menu options, you need to activate the SMS which is carefully hidden inside the regular MENU system.
OK: Press OK, and you get a basic easy-to-set collection of basics like WB and ISO. This is very similar to the good red, white and black menu system on Canon Powershots.
OK + INFO: Press INFO after you summon the OK menu, and you get a screen full of every shooting option you might want. I usually use this one while shooting. Pressing INFO toggles this menu system between the simple and the detailed shooting menu.
Olympus includes the typically crummy instruction manuals we expect from the Orient, which are so bad that I never could figure out how to set the Fn button or record audio-only.
That said, Olympus does include three separate full printed instruction manuals, one each in English, French and Spanish.
The lenses have no focus or depth-of-field scales.
The E-P1 acquires focus, exposure and white balance and then locks-on to targets a little faster than other compact (non-SLR) cameras, but slowly compared to SLRs.
There is a slight shutter delay, even after locked-on with a half-pressed shutter, because the shutter has to close, then re-open to start the exposure. Unlike an SLR, the shutter has to stay open for viewing and composition.
If you turn on Image Stabilization, there is an even longer slight shutter delay.
The E-P1 reloads fast for the next shot, somewhat faster than other compact cameras. Compared to a Powershot, the E-P1 is al lot easier for knocking off a lot of shots at a party.
It should wake up from sleep if you hit the shutter, but it doesn't. After the E-P1 goes to sleep after a few minutes, you need to turn it back on, just like any other compact camera.
There is an annoying green power LED which circles the power button. For use in the dark, you might want to cover the entire power switch with a piece of electrical tape.
The LCD image isn't live. No LCD image is live, but the image on the E-P1 is one of the least delayed I've used. It's good, but no match for an SLR. To compare cameras, wiggle your finger in front of them.
The E-P1 can't see in the dark. In dim light, other compacts slow down and slow the viewing frame rate to gather enough light to allow us to see the image and for the camera to meter the exposure and WB. By comparison, the E-P1 doesn't slow its frame rate, so in dim light the image is faster, but mostly black, and the E-P1 can't focus. Setting LIVE VIEW BOOST (Secret Menu System > MENU > GEARS > Gear D > LIVE VIEW BOOST) doesn't help.
Its a pain to swap between shooting video and stills because the MOVIE mode is 180º across the mode dial from the P mode. Contrast this to Canon Powershots, which have one switch that moves directly between these modes.
The play button doesn't turn on power; even if all you want to do is see images, you still need to turn it on and let the lens extend and then hit play.
The lenses don't have to retract very far, as do other compact cameras. Thus the E-P1 is ready to shoot a little faster and has a little less to break compared to other compact cameras.
When shooting, press INFO enough and you can get a screen with just your image and no other writing to distract your composition. When you half-press the shutter, you'll get just one green dot to confirm focus. I love this! I hate it when the Japanese insist on littering my compositional ability with on-screen crap as I'm trying to shoot.
The electronic level actually works, although it's so big that you have to hit a button to turn it off to finish composing, which limits its usefulness hand-held.
The battery doesn't slam right in or pop right out as well as other cameras. It takes a little more fiddling to get it in or out.
It's easy to knock the rear control button by accident and reset the ISO unintentionally. More than once I found myself shooting at ISO 6,400 in the middle of the day. Thank goodness it looks so bad that I figured it out pretty quickly.
The E-P1 has no flipping mirror, but its metal focal plane shutter generates just a little bit of recoil as it fires and recharges for each shot.
Focus
Autofocus
In good light, AF is as fast as any other pocket camera, which is much slower than SLRs. It's fine for anything except sports and action.
Forget it in dim light indoors, below about LV 4 (1/30 at f/2.8 at ISO 1,600). When this happens, AF racks in and out and in and out, and never finds the subject. The camera can't see details in the noise of the live view system, sorry.
There is no AF assist light, so in dim light, you're out of luck.
In dim light, setting continuous AF (C-AF) just has the E-P1 keep pumping the lens in out, looking for focus it will never find. In Single AF (S-AF), the lens pumps in and out once, and the E-P1 blinks a green dot on the LCD to let you know it gave up.
Other compacts fire an annoying assist light so they can focus in low light.
Metering
Olympus' ESP metering works great in most light without needing any compensation. This is better than Canon, which usually requires -2/3 outdoors and ±0 indoors.
The limitations of the E-P1's meter are that it's crappy in backlight. It shoots for the highlights, so backlit scenes are way too dark.
There is no built-in flash, so in backlight, you're sunk.
The dedicated +/- button is great, but even better, it's not needed! 99% of the time the meter is right. When you do need it, like in backlight or outdoors at night, the meter is so far off, you need so much shift that it's easier to use AE Lock or manual exposure.
Construction and Materials
The Olympus E-P1 is entirely made in China: camera, lens, battery and charger.
The E-P1 is no surprise. It feels just like we expect from Olympus: serviceable, but nothing like the LEICA. There is nothing like a LEICA.
The Olympus E-P1 is made with the usual Oriental quality. It's a mish-mosh of metal case coverings and plastic or metal buttons and covers and doors.
I usually prefer the feel of most Canon Powershots, which often have more metal buttons and feel tougher.
Survivability
Unlike an SLR, the sensor of the E-P1 is always exposed, even when the power is off.
I have no idea how well the ultrasonic sensor can keep the sensor clean over time.
Technical Image Quality
By "technical" image quality, I mean what you see when you're looking too darn close. This has nothing to do with image quality, which depends on your vision as a photographer to see strong compositions and use magnificent light. If you master these aspects, you can make extraordinary images with any camera. In other words, these technical issues are meaningless minutiae unless you are already an accomplished photographic master.
Clarity and Cleanliness
The E-P1 creates images with the same clarity, vivacity, presence and cleanliness as an SLR. At normal ISOs, there is no visible noise and no visible artifacts (smearing) from noise reduction.
By comparison, images from the tiny sensors of other pocket cameras are somewhat noisy and gritty, and show smearing of the more delicate textures due to the operation of the noise reduction which is frantically trying to hide the noise even at their lowest daylight ISOs.
The E-P1 is in a completely different technical class than compact cameras because of its relatively huge sensor.
If you set Gradation: Auto as I do to optimize shadows and highlights, darker flat areas will pick up noise as the Olympus E-P1 automatically lightens those areas, just like all other digital cameras with this feature.
Image Adjustments
Oddly, there is almost no difference among the VIVID, NEUTRAL and saturation adjustments. Differences among them are very subtle, unless of course you select B&W, which is B&W.
Contrast this to Nikon or Canon, whose SLRs allow settings everywhere from psychedelic to nearly B&W.
Higher ISOs
High ISOs look the same as any other non full-frame DSLR. Nerds can spend lifetimes looking for slight differences, but as a class, all these cameras are almost identical and not worth picking one camera over another based on these slight differences.
The images from the E-P1 are devoid of any visible noise at ISO 100 and 200.
At ISO 800 it's still very good, but there is a little visible noise. I wouldn't worry about it.
It's grainy and blotchy at ISO 1,600, but still quite usable. It's the same as every non full-frame DSLR.
ISO 6,400 is awful. Don't use it: shadows are a dull noisy gray, and if I posted a shot of my kids made at ISO 6,400, my wife would make me take it down.
Just like any SLR, use whatever ISO you need.
Data
File names brilliantly include the date, for instance, P903xxxx.jpg means 9/03 (September 3rd).
Since there is no extra digit for months 10, 11 and 12, October is A, November is B, and December is C.
Thus your Christmas pictures will all begin as PC25xxxx.JPG.
You can fix the first character to any value from 0~9 or A~Z instead of the default of P, and likewise for the second character normally used for the month.
Raw files are suffixed .ORF
Power and Batteries
I got about 300 shots across 4 hours of more or less continuous power-on shooting on a partial charge.
There is only a simple two segment battery meter.
Like Nikon, but unlike Canon, the Olympus E-P1 stays on if you open the battery door.
Video
Video is poor; the same as from a DSLR.
The E-P1 cannot focus while it's rolling, so forget making video of anything that moves.
The E-P1 attempts to change exposure as it shoots, but only by changing sensitivity or shutter angle, not aperture.
It will try to focus if you set C-AF, but all it usually does is keep hunting in and out. If you try this, there is a firmware flaw by which the E-P1 first tries to focus without changing exposure if needed, so it hopelessly tries to focus a hopelessly over or underexposed image without changing the exposure. You get several seconds of blown out white or black, only after which it gives up trying to focus and then resets exposure, and then hunts some more to get focus. When all this is done, say walking inside or outside, it takes ten to fifteen seconds to figure it out, of course wasting your take.
In bright light the E-P1 uses a narrow shutter angle (too fast shutter speed), so instead of fluid motion, you get sharp chops that look more stroboscopic than natural.
Hint for bright light: To help get a larger shutter angle for more natural motion, and to get more in focus, shoot in Aperture-priority at the smallest possible aperture and/or with a neutral density filter. With the small aperture, more stays in focus. Shoot in default S-AF.
If you quickly pan left or right, vertical lines tilt a bit, just like from a DSLR.
Audio
Audio is awful, either with video or alone.
So what if it's recorded at 44.1 ksps and 16 bits uncompressed; the analog source that's encoded is horrible because the low end is rolled off below 300 cps and a very strong AGC keeps yanking the levels up and down.
There is no apparent way to set audio levels manually.
This means background noise rises and falls as people speak, and music is recorded lifelessly without any fundamentals.
Playback
There is no diagonal scroll.
It's easy to zoom in: just spin the roller.
Scrolling around a zoomed image is slow.
Spin the roller the other way to zoom out, or to show bunches of images on the same screen.
Zooming out is a pain because it takes a while to throw up all the images. If you click the roller a couple of clicks, the Olympus E-P1 will remember this and go off on its own and take a while to draw one set of images, then the smaller set of images, long after you've forgotten about it and gone off to other settings.
There is no easy way to flick ahead and behind, because the rotary dial becomes the volume control, even for still images. All you can do is press the right-left control as fast as you can. Canon's Powershots are ages ahead here.
Unlike Nikon or Canon SLRs, there is no dial to turn to move ahead or behind when playing images. If you press the up-down button, you pop ahead or behind by 10 shots.
There is no easy way to click forward or back to compare the same magnified section of various images. (On Nikon SLRs, all you do is zoom in flick the rear dial.) On this Olympus E-P1, you can do this, but it takes quite a few button pushes. Hint: try pressing the INFO button a few times after you've zoomed in. If you can figure it out, several more button pushes will let you scroll to another part of the image and then do the same thing.
The E-P1 has the fastest orientation sensor I've ever used. Faster than any other camera, the Olympus E-P1 rotates the playback images as fast as I can rotate the camera between vertical and horizontal.
Pressing INFO while reviewing an image just shot doesn't swap among info screens; it mistakenly takes you back out of review to the shooting mode.
17mm f/2.8 Lens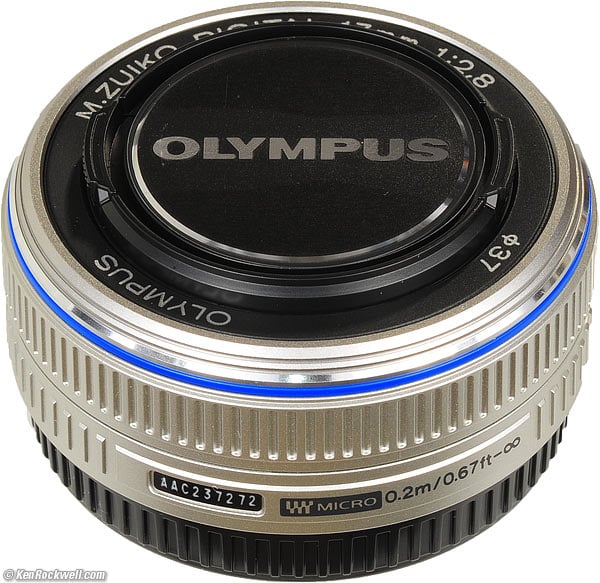 Olympus 17mm f/2.8 Micro four-thirds lens, much bigger than life. enlarge.
The 37mm filter thread is much smaller then the outside of the lens, which will make it a bear to get on and off.
It's sharp at all apertures. f/5.6 and f/8 are optimum. f/11 and smaller are softer, limited by diffraction.
There is some magenta-green lateral color. If these things bother you, shoot a second-generation Nikon SLR which are unique in correcting this automatically from every lens.
Bokeh is poor, but so what; you can't get much of the background out of focus with a 17mm lens at f/2.8.
This lens extends via a motor by about a quarter-inch (5mm) when the E-P1 turns-on. It moves in and out slightly to focus.
Usage top
Intro Lenses Specs Performance Usage Compared Recommendations
The continuous 3FPS shooting mode is just like point-and-shoots: you get only the same focus and exposure for each shot. This means you can't track anything as it runs from light to dark.
Be careful about potential sensor damage from the sun. The shutter is always open, so if you let the camera point towards the sun, you could burn you sensor.
Be careful of the rear control dial; I found it was easy to knock it to ISO 6,400 without realizing it in daylight.
Secret Menu System (Gears icon)
Olympus has hidden most of the menu system.
To turn the detailed menu system back on, you have to hit :
MENU > WRENCH > (gears) MENU DISPLAY > ON > OK.
Now a GEARS submenu tab appears when you press MENU.
It is in this originally hidden GEARS menu where several levels of more menus are hidden where you can set the geekier stuff.
Beeper
There is an annoying in focus beeper. You have to spend quite a while turning on the secret menu system to turn it off.
Once you've activated the secret menu system, press:
MENU > GEARS > GEARS D (disp / o)) / PC) > o)) > OFF > OK
to turn it off.
Thank goodness, Auto ISO automatically turns off in Manual exposure mode. Hallelujah, I've been trying to get Nikon to fix this for years, and Olympus has already done it in the E-P1. If you want Auto ISO to stay on in Manual exposure mode, you can set that, too, in the secret menu GEAR E > EXP/[xox]/ISO > ISO-AUTO menu, by changing the default of P/A/S to ALL.
You can tweak the minimum and maximum speeds of the AUTO ISO setting. They are ISO 200 and ISO 1,600 by default.
To change them, turn on the secret menu system and hit:
MENU > GEARS > GEAR E > EXP/[xox]/ISO > ISO-AUTO SET
and have at it.
Fn Button
The manual never explains how to use this button. It sends you back and forth to page 100, where it is never explained.
To set the Fn button, activate the secret menu system, then press:
MENU > GEARS > GEAR B BUTTON/DIAL > [Fn] FUNCTION and have at it.
For instance, you can set the Fn button to stop down the aperture so you can preview the depth-of-field without having to snap a photo.
Highlight and Shadow Optimization
Olympus hides this feature under "Gradation" in the menu system.
If you can find it to turn on, it really works. Just like the same systems in Nikon and Canon, it will increase noise in darker, flat areas if it has to lighten them.
It is off by default.
I leave it on, which is the AUTO setting.
In AUTO, highlights and shadows are dealt with automatically if they otherwise would get out of hand.
To turn this on, press:
MENU > [o1] > GRADATION > AUTO.
Camera State Memories
In MENU > [o1] > CUSTOM RESET, you can save all camera settings to either of two places, RESET1 and RESET2.
If you realize this, its not too hard to figure out how to save and recall two complete sets of camera states. (See page 96 of the English instruction manual.)
If you can get this to go, that means you can have one set to outdoor scenics, and another for indoor portraits, for instance.
My Mode modes
These are explained (poorly) on page 101 of the English instruction manual.
These seem to be more ways to save sets of camera states.
Good luck. You have to set the unsettable Fn button to do this. If you can figure it out, and I'm sure some of you will, this will be very handy.
Custom Menu Displays
I didn't dare try it, but page 97 of the English instruction manual says you can program the memories to your heart's content.
There is a two-axis electronic level.
To turn it on, you must fist activate the secret menu system, and then hit:
MENU > GEARS > GEAR D > LEVEL GAUGE > ON > OK.
Once you do all that, you have to hit INFO a few times until it comes up in the rotation of different screens that appear for shooting.
If you can do this, it's quite nice, far better than Nikon's one-axis level on the D3. The Olympus read both tilt (up-down) and roll (Dutch or clockwise/counter clockwise rotation).
Better, each bar graph turns from white to green as you hit neutral.
Once set ON and you're dialed-in, hit INFO again to select another mode to make the big bar graphs go away so you can finish composing.
Panorama Mode
If you can figure out how to turn on scene modes, there is a scene mode to support shooting images for later stitching. The instruction manual implies that Olympus includes this software on the included CD, and of course there are any of a zillion other software packages, like Photoshop, that can do the same.
Flash Tweaks
If you want to change flash exposure compensation, sync or flash exposure modes, good luck.
Turn on the secret menu system and then hit:
MENU > GEARS > GEAR F.
Sadly, some of the settings lack the range we need. For instance, the slow flash sync speed can be set away from its default of 1/60, but only in the range of 1/30 ~ 1/180. Of course SLOW SYNC mode allows any slow speed with flash.
Manual Focus
The instructions say that the LCD automatically zooms 10x when you move the manual focus ring, but it didn't for me.
The manual also claims you can change the direction of the focus ring in a menu someplace.
Whoops! Manual focus doesn't work unless you select it in a menu first. If you don't, the manual focus ring is ignored. If you do select it the hard way, then the LCD does zoom in automatically, but doesn't zoom out until you tap the shutter button.
But wait: set the AF mode to S-AF [MF] and it finally works as it should, meaning you get AF when you tap the shutter and MF override any time you grab the focus ring.
Now that I have, I only get 7x zoom, not 10x as promised by the manual.
Image Stabilizer
IS is in-camera.
It needs to be activated in a menu, otherwise it stays off.
There is a menu to set the focal length. The IS system needs to know that to compensate correctly. This menu stays active even when a regular four-thirds system lens is attached, for which the IS system is supposed to recognize the lens automatically.
Olympus says to turn it off on a tripod.
Olympus says that if you have a lens with IS inside the lens, to be sure to turn off at least one of the systems. Only use one at a time.
You will probably find the Normal and Fine JPG settings on your own.
To set Super Fine or Basic JPG settings, you have to activate the secret menu system and press:
MENU > GEARS > GEAR G (<:: / COLOR/WB) > (scroll way down to) <:: SET.
When you go there, you now can program all of the four easy-to-find presets to be whatever combination of image size and JPG compression you like.
File sizes are relatively constant; they don't vary much with the subject.
Compression ratios are:
| | |
| --- | --- |
| | Compression Ratio |
| Super Fine | 2.7 : 1 |
| Fine | 4 : 1 |
| Normal (use this) | 8 : 1 |
| Basic | 12 : 1 |
Normal JPG looks great, even under the microscope. I see no reason to shoot in Fine or Super Fine.
Basic JPG looks fine for everything, but you will see some HF JPG DCT (mosquito) noise around sharp light/dark transitions if you look closely at 100%. It's unlikely that you'd see this in prints, but if you care, shoot Normal JPG, otherwise, Basic JPG is great if you're shooting a lot.
Since file size is almost constant, you may want to select a higher setting, like Fine, for busy subjects with a lot of details and contrast, since they require larger file sizes to retain quality. Likewise, shooting flat subjects like overcast skies, you can get away with a lower setting, like Basic, since subjects with little detail require fewer JPG file-size bits to retain the same quality a more complex subjects.
Audio-Only recording
You can record audio alone as a WAV file, but it's difficult.
The E-P1 only records audio files as notes attached to an image, so first, shoot and then play an image to which we'll associate the file.
Once you have an image playing, press OK, click down one to the icon of the RCA 77 ribbon microphone, click it, click down to OK, and hit it. Hit it again to stop.
You now will have a .WAV file with the same prefix as the image you had selected when you were recording.
Compared top
Intro Lenses Specs Performance Usage Compared Recommendations
| | | | | | | |
| --- | --- | --- | --- | --- | --- | --- |
| | E-P1 | | | | | |
| Weight with lens and batteries, g | 455g | 179.0g | 221g | 415g | 391g | 506g |
| Weight with lens and batteries, oz. | 16 oz. | 6.3 oz. | 7.8 oz. | 14.7 oz. | 13.8 oz. | 17.9 oz. |
| Size with lens, inches, WHD | 4.75 x 2.75 x 2.25" w/17mm | 3.7 x 2.2 x 0.9" | 4.1 x 2.6 x 1.6 " | 4.4 x 2.8 x 2.0" | 4.9 x 2.9 x 2.3" | 4.9 x 3.0 x 2.2" |
| Size with lens, millimeters, WHD | 121 x 70 x 57mm w/17mm | 94 x 57 x 24mm | 105 x 65 x 40 | 109 x 70 x 50mm | 125 x 73 x 58mm | 125 x 77 x 57mm |
| Resolution | 12MP | 10MP | | | | |
| Maximum Aperture, standard lens | f/2.8 or f/3.5-5.6 | f/2.8-5.8 | f/2.8 | f/2.8 | f/2.8 | f/2 |
| RealRaw ready? | No | No | Yes | Yes | Yes | Yes |
| Viewfinder? | No | No | Yes | Yes | Yes | Yes |
| Finder? | Delayed | Delayed | Live | Live | Live | Live |
| Menus? | Yes, easy to use. | Yes; easy to use. | None; just shoot | None; just shoot | None; just shoot | None; just shoot |
| Filter Thread | 37mm | None | None | 43.5mm | 43.5mm | 39mm |
| Hot Shoe? | Yes, dedicated | None | No | Yes | None | Yes, dedicated |
| Battery? | Yes | Yes | Yes | Yes | None | Yes |
| Battery type | Specialized | Specialized | | | None | |
| Shoot without battery? | No | No | No | Yes | Yes | No |
| Battery Life | A few hours | A few days | A few years | A year | Forever | A few years |
| Price, 2009 | $800 - 900 | $300 | $89 | $15 | $5 | $700 |
| Available since | July 2009 | 2008 | 1979 | 1972 | 1968 | 1980 |
Recommendations top
Intro Lenses Specs Performance Usage Compared Recommendations
The Olympus E-P1 is a new kind of camera. It's much more competent than any pocket camera, and much slower than any SLR.
Technical image quality is as good as any non full-frame DSLR. Operationally, it is far inferior to any DSLR.
I'd get an E-P1 to take anywhere to shoot anything that holds reasonably still. Unlike pocket cameras, the Olympus E-P1 is reasonably competent for shooting slowly-moving subjects. You'll still want an SLR for moving kids, action or sports, however the E-P1 is much faster for this than any fixed-lens pocket camera.
Today there are just two dedicated lenses for the E-P1, even though you can adapt just about anything to it. I have no doubts that Olympus will continue to introduce their usual slew of innovative lenses for the E-P1, making it even more and more useful.
Would I buy an E-P1? No, because there are no tiny ultrawide or tele lenses to suit it, yet. I need a flash for fill, and there is no flash in the E-P1. If I add one on top, I'm now as big as a small SLR.
I prefer the LEICA M9 for compact digital excellence.
PLUG top
I support my growing family through this website, as crazy as it might seem.
If you find this as helpful as a book you might have had to buy or a workshop you may have had to take, feel free to help me continue helping everyone.
If you've gotten your gear through one of my links or helped otherwise, you're family. It's great people like you who allow me to keep adding to this site full-time. Thanks!
If you haven't helped yet, please do, and consider helping me with a gift of $5.00.
The biggest help is to use these links to Adorama, Amazon, Calumet, Ritz and J&R when you get your goodies. It costs you nothing and is a huge help. These places have the best prices and service, which is why I've used them since before this website existed. I recommend them all personally.
Thanks for reading!
Ken
Home Donate New Search Gallery How-To Books Links Workshops About Contact