Home New Search Gallery How-To Books Links Workshops About Contact
Canon SD880
28mm 4x IS zoom, 3" LCD
(aka Digital IXUS 870 IS)
© 2008 KenRockwell.com. All rights reserved.
Introduction Specs Performance Usage Recommendations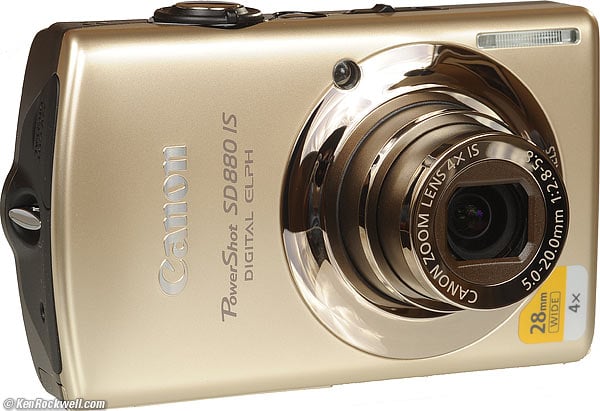 Canon SD880 in gold (much larger than life. enlarge even more.)
The SD880 comes in gold and brown as shown, or the usual ugly silver. I'd get mine at Adorama (that link gets you to all the colors), Amazon in gold (or Amazon in ugly silver), Calumet (both colors). It helps me keep adding this site when you get yours from any of these links, thanks! Ken.
November 2008 More Canon Reviews
Canon SD880 Example Photos: Arizona and New Mexico, November 2008
More Canon SD880 Example Photos: Monterey, June 2009 10 July 2009
August 2009: The SD880 is no longer available, get the Canon S90 instead.
September 2009: Canon fixed a tiny glitch in the SD880's firmware.
Intro Specs Performance Usage Recommendations
The Canon SD880 was my very favorite pocket digital camera from fall 2008 though summer 2009, when it was discontinued. (As of Fall 2009, get the new Canon S90 instead).
The SD880 takes great pictures; feel free to see my Gallery of Canon SD880 photos I took during a week in Arizona and New Mexico.
Feel free to read the rest of this review, but if you're in the market for a pocket camera, there is nothing else I would bother considering. The only dilemma I would bring up is if you're considering the much bigger and more expensive Canon G10, since this SD880 does the same thing in a smaller, better handling and faster package.
The SD880 is very similar to all the other excellent Canon Powershot ELPH compact cameras, and is superior because it works faster, has a better lens, and most importantly, because it has a completely new rear control layout which lets me shoot it using just one hand.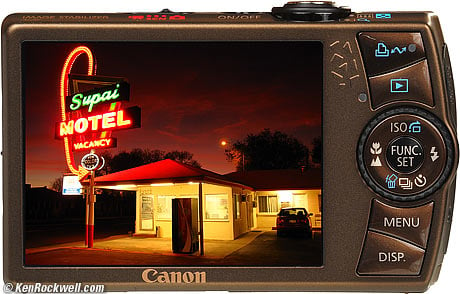 Rear, Canon SD880 (about actual size). enlarge.
See how there are four big buttons along the right side? I can locate these by feel as I draw the camera out of my pocket and can be ready to shoot faster than any other compact camera. I can be making settings before I can see the SD880 as it's flying out of my pocket.
What's not obvious from the photo is that there is also an excellent scroll wheel around the central button. Unlike earlier Canon compacts that had crappy scroll wheels, this one works as well, or better than, the scroll wheel on the back of most of Canon's modern SLRs. The scroll wheel of the SD880 protrudes just the right amount so it's also easy to operate from the right-side edge of the camera.
Compared to other Canon compacts
You can pay more for other Canon cameras like the beautiful black SD990, SD950 or SD890, however they all have smaller LCDs and lenses which can't go as wide.
The SD990, SD950 and SD890 only have 2.5" LCD, not a 3" LCD like the SD880.
The SD990, SD950 and SD890 can only zoom as wide as 36 or 37mm, not 28mm like the SD880.
Therefore I prefer the less expensive SD880 to any of these more expensive cameras.
Compact cameras are a bad choice for photographing people or action. I use my compacts to photograph scenic things and interiors, for which I prefer the widest lens I can get. For action, you need a true DSLR like the Nikon D40 or Canon Digital Rebel XS.
Compared to the Canon G9 and G10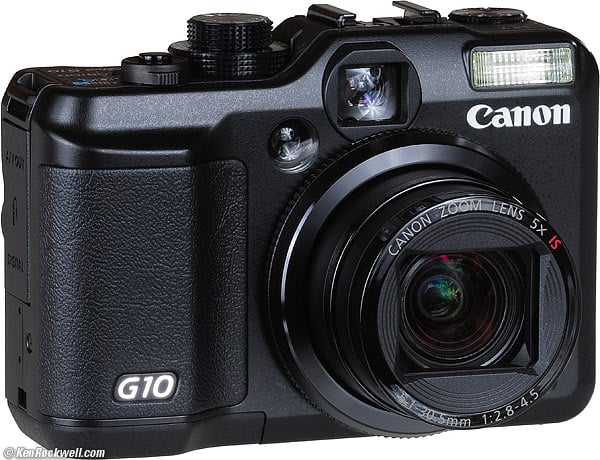 Canon G10. (about actual size)
When evaluating the SD880, I compared it most closely to the much bigger and more expensive Canon G10, which is the other Canon point-and-shoot with a 28mm equivalent lens.
I want wide, and the G10 and SD880 go much wider than the G9, so the G9's out of my picture. I compare the G9 to the G10 in my G10 Review.
The SD880 handles much better than the G10. The SD880 does everything a little bit more quickly, and it has a new button layout that make it easy to adjust and shoot with just one hand, while the G10 still needs two hands to adjust.
The G10 has a dedicated exposure compensation dial, while I program the SD880's top rear zig-zag printer button to be the exposure compensation control in the SD880. Exposure compensation is faster in the G10, but it takes a second hand to change. Everything else seems to work faster in the SD880 than the G10, so overall I much prefer the handling of the SD880.
The G10 has the old-style control layout, has mushy buttons and demands two hands to operate. The SD880's buttons not only feel better, with positive clicks and easy to find blindfolded, the SD880 responds more quickly to my inputs.
The SD880 fits in a pocket and can be forgotten. I can carry the SD880 and not know its in my pocket; the biggest problem is that it's easy to forget and throw it in the wash! The G10 is a chunky thing that wants to be worn around your neck, or put in a very large pocket of hiking shorts. The G10 is great if you're carrying it as your only camera on a dedicated photo outing, but too big to want to carry everywhere as you'd carry your wallet.
Lenses
Each covers about the same zoom range, starting at the equivalent of about 28mm on a 35mm film camera. The SD880 zooms 4x, to about 112mm equivalent, and the G10 5x, to about 140mm equivalent.
The SD880 has much less distortion (curving of straight lines) than the G10 at the wide end of the zoom range. The G10 has strong barrel (bulging) distortion at the wide end, while the SD880 has much less than any other compact zoom camera I've used.
The SD880 has some very slight barrel distortion in the middle of the zoom range, while the G10 has none.
The SD880's lens is as fast (f/2.8) at the wide end, and a bit slower (f/5.8 vs f/4.5, or 2/3 stop) at the long end. Overall, this translates to only about 1/3 stop slower in most of the range, not something about which I'd worry unless I shot at the long end most of the time.
Image Quality
Image quality is the same between the SD880 and G10. Go shoot them against each other yourself, and if you control everything properly, you won't be able to tell which image came from which camera.
The G10 looks tough on the outside, but the inside is the same stuff as every other Canon compact Powershot.
Canon SD880 and G10 overall look (Vivid mode).
Color rendition matches between the G10 and SD880, as do all Canon's other compact cameras. In this case, the biggest difference was my laziness to set their zooms to match!
Each is just as sharp as the other when viewing images at 100%. If anything, the SD880's lens has less lateral color fringing as well as less distortion at the wide end. I didn't expect this, but I shot them against each other and that's what they do.
Once you rescale the slightly smaller SD880 image (3,648 x 2,736 pixels) to match the slightly larger G10 image (4,416 x 3,312 pixels), the G10 can be slightly sharper if you're printing huge (like several feet or a meter wide), but the G10 has more distortion at the wide end, visible in any size print if there are straight lines, and the G10 has more lateral color fringes at the wide end.
As an example, here are two crops from the left side of greatly enlarged images. The crop from the G10 image is at 100%, and the SD880 image was upsampled to match the resolution of the G10, thus the SD880 image is a crop from a 121% image. If you printed either of these complete images at this magnification, each would print at 4 x 3 feet (110 x 85 cm).
Canon SD880 and G10 lateral color fringes, wide end.
Of course if you're a hobbyist and never printing bigger than 13x19" (30x50cm), you'll never see any differences in sharpness at those small sizes, but you might see the lateral color.
LCDs
The 3" LCDs look the same on both cameras. I tried them in person: colors, sharpness and brightness are identical. If you use a loupe, there are more dots on the LCD of the G10, making text very slightly smoother.
There is a very important reason the LCD of the SD880 is superior to the G10: one never can compose on the the LCD of the G10 without some garbage getting in the way. No matter how many times you press the G10's DISP button or program custom displays, you always have at least a meter mode icon and the exposure compensation indication on-screen, even if the compensation value is zero. The SD880's LCD can be cleared of everything except the image while composing, and only clutters up as you press the shutter halfway.
I consider the never-clear LCD of the G10 a firmware defect. I find the SD880 much better for shooting since I always use the LCD for composition. I'd never use the peephole of the G10 to compose because it's inaccurate.
Summary: G10 versus SD880
My choice would be easy between these two cameras.
I'd get an SD880 for just about everything, and maybe a G10 for use during a dedicated photo trip where it was the only digital camera I brought.
That said, I did bring the SD880 as my only digital camera for over a week of dedicated shooting in Arizona and New Mexico, and I'm glad I used the SD880 instead of the G10, just for its size and ease of handling.
I love the results from the SD880, and I love that I didn't have to lug around a G10, banging away on the inside back of my knees as the G10 does when put in my hiking shorts.
Specifications with commentary back to top
Intro Specs Performance Usage Recommendations
Lens
5~20mm f/2.8~5.8, image-stabilized.
Sees roughly the same angle of view as a 28-112mm lens does on a 35mm film camera.
Resolution
10MP, 3,648 x 2,736 pixels.
Also settable to 6MP (2,816 x 2,112), 4MP (2,272 x 1,704), 2MP (1,600 x 1,200) and 640x480.
There's also 16:9 cropped 7MP mode at 3,648 x 2,048 pixels.
ISO
Auto ISO from ISO 80 ~ 400 by default.
Auto HI runs up to ISO 800. Manual settings of 80, 100, 200, 400, 800 and 1,600, and a trick ISO 3,200 mode hidden in the SCN modes.
LCD
Brilliant 3."
Size
3.69 x 2.24 x 0.93 inches.
93.8 x 56.8 x 23.6 millimeters.
Weight
6.315 oz. (179.0g), measured with card and battery.
About the same as a deck of cards. I can put it in a pocket and not know it's there.
Power
Canon NB-5L lithium-ion battery, same as many other Canon cameras like the SD700.
3.7V, 1,120 mAh.
Charger
Excellent folding-plug charger included, at least in the USA.
100~240V, 50~60 cycles lets it be used anyplace on earth or space with nothing more than a plug adapter. Some countries may get the same thing with a detachable cord instead.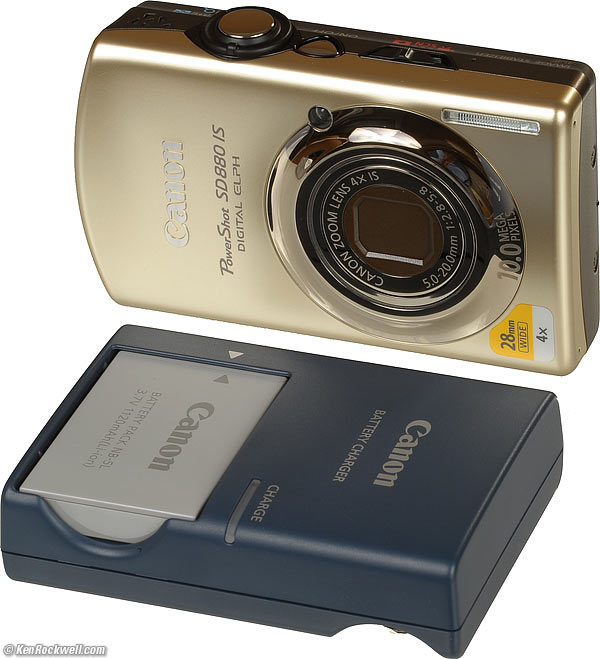 Canon SD880, CB-2LX G charger and NB-5L battery, easy to carry around the world together.
Introduced
17 September 2008.
Made in
Japan.
Price
$250 US February 2009, $300 US September 2008.
Performance back to top
Intro Specs Performance Usage Recommendations
Forget the details, look at my pictures made with the SD880.
Ergonomics
The SD880 is the best-handling compact camera I've ever used.
Pull it out of your pocket and your fingers are already where they need to be for action.
Unlike many compact cameras, you can get all the crap off the LCD when you compose so you can see what you're doing. Some of it comes back when you half-press the shutter, but hit DISP a few times and you can get a completely clean screen on which to compose before you half-press the shutter. Many more exotic Canon's can't do this.
My biggest whine is that all the crap keeps coming back to the LCD each time you turn on the power (which means for each shot), and even right after you return from playback . The only way to keep it off is to stay in the shooting mode and hit DISP once or twice to make the crap go away.
I set the top left zig-zag printer button to get me immediately to exposure compensation. I set this at the bottom item in the shooting menu.
The crap on the LCD also often comes back after you hit the top printer button to alter exposure compensation. I'm always hitting the DISP button to clear my screen to compose.
There's no way to eliminate unneeded playback screens; you have to click through them all the time. Personally I can do without the screen that shows the full image and an enlarged section.
Exposure
It's the same as all the other Canon compacts. I usually dial in -2/3 stop compensation outdoors, but may have to use anything between -2 stops and +0.3 stops depending on conditions. This is normal.
If you must have details, my few complaints come from the fact that the actual exposure doesn't match what I see on the LCD while composing. Oddly, I'll see one thing, then see something different when I push the button halfway to ready the SD880 to fire, and then the actual image playback can have an exposure different than either of the other two views. This isn't a problem, since I adjust exposure compensation based on what I see on playback.
Lens
It really is as wide as a 28mm lens on a 35mm film camera.
The lens is the best I've used in a compact. It is exceptional in having far less distortion (bulging or sucking of straight lines) than any other zoom I've used in a compact camera.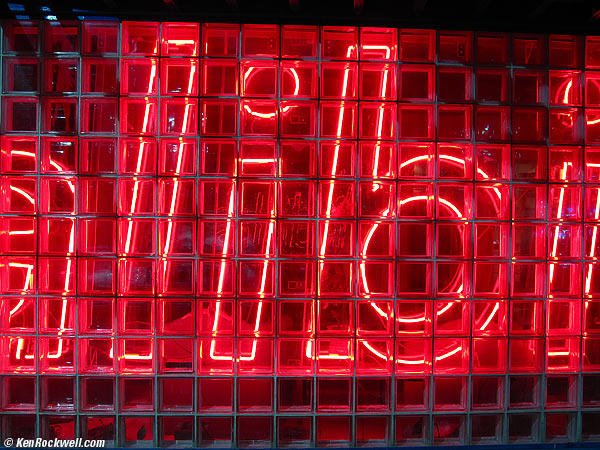 At 5mm (28mm equivalent).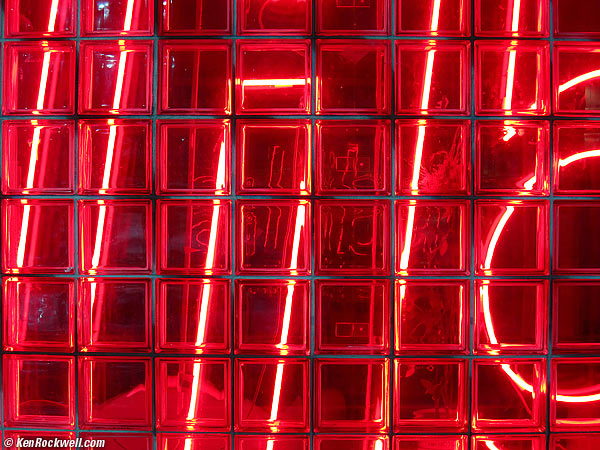 At 10mm (55mm equivalent).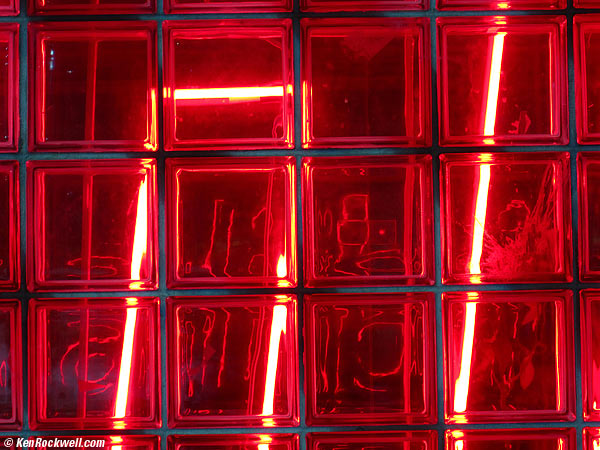 At 20mm (112mm equivalent).
The largest source of distortion was me not holding the SD880 straight.
By comparison, here's a shot from the G10 at its widest setting: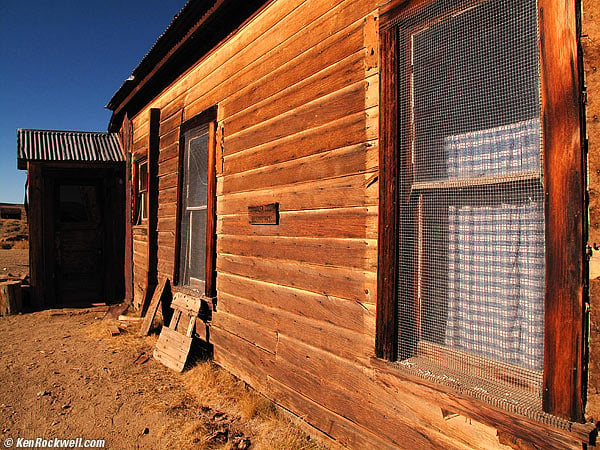 Bodie, California (Canon G10 at widest setting).
LCD
The 3" LCD is superb. It's anti reflection coated, meaning blacks are black even outdoors, and even better than that, the screen stays uncannily clean.
Unlike other anti-reflection coated screens and lenses, fingerprints just don't seem to stick. When they do, they are easy to wipe off with a shirt, and they come off completely.
Canon has used some sort of magic coating on the screen. I love it!
It's very bright as it is, but if you want it to be even brighter, there's a trick. Hold the DISP button a few seconds to brighten the display!
The SD880's LCD is easy to see off-axis for composing high and low shots. In fact, it's better at this than most laptop computers' LCDs!
The only bad thing about the LCD is that colors look more vivid on it than they do on a matte calibrated monitor. In other words, the camera makes the images look better than they will in print or on the web, unless your computer monitor is also a glossy screen.
Composing at night
If it's dark enough to be on a tripod at night, the LCD is slow to respond. No big deal, but if it's dark enough to need a tripod, you'll have to pan a little slower when composing.
You won't notice this unless exposure times need to be a few seconds long.
Panoramic Stitching mode
Like most Canons, there is a great mode that helps in shooting series of shots for stitching. You find this mode in the SCN modes selected with the top slider switch and spinning the command dial.
Canon's excellent Photostitch software comes with the SD880.
High ISOs
Like all compacts, high ISOs are noisy. Even ISO 80 is noisy compared to an SLR. If you need high ISOs, just buy a real SLR like the Nikon D40 or Canon Digital Rebel XS.
There is an ISO 3,200 mode in the SCN selections. I didn't dare try it; ISO 400 is as high as I'd go in dim light.
Auto ISO control
The Canon SD880 has very smart auto ISO, which is the default position. It increases the ISO based not only on the lighting, but also on the setting of the zoom control and if IS is on or off.
Smart new folder creation
Like many Canon compacts, I set it to make a new folder every day at 2AM. This way each day's photos are in their own folder, making it a breeze to organize when I return from a week out shooting.
Flash
Forget using flash for fill. Its exposure sucks, as does the exposure from the flash of every other compact camera I've used.
Its exposure varies all over the place, and no matter what I do, it ignores the setting of the exposure compensation control.
I never got it to work reliably. You might want to try the flash exposure lock, which you do in Canon compact cameras by hitting the ISO button once the shutter is pressed halfway. Good luck!
Data
Like other Canons, JPGs are optimally compressed, with file sizes varying automatically with the subject's sharpness and complexity.
Image Rotation
Auto rotation works great, on both shooting and on playback.
The only thing the SD880 doesn't do is rotate the image 180º if you hold the SD880 upside-down, for instance, if you brace it on a ceiling beam. For those shots, you'll have to rotate them later in your computer.
Video
Exposure compensation doesn't work while rolling.
Power
I was never able to run down the battery shooting 400 shots every day, and charging every night.
The battery gauge has multiple segments, so it's far more useful than the simpler gauges on most cameras.
Survivability
I put the SD880 in the ring with my two-year-old, and it lasted a full three minute round, including a slap-down to the marble floor and numerous attempts to extend the lens while holding it in, all with no damage. (Don't tell the guy who loaned it to me.)
The SD880 has the same two weak points as most compact cameras: a motorized, extending lens, and little retracting blades over the front of the lens.
Over time, many compact cameras develop erectile dysfunction, especially if you obstruct the lens as it's trying to extend.
Also dirt gets in the leaves of the lens blind, and over time most compact cameras' little lens blinds get stuck partly open or closed.
Only time will tell with the SD880; that's just the way it's built to be able to drop in your pocket 24/7.
The LCD is tough. I lived with it in my pocket for several weeks, and it suffered only minor abrasions. Fingerprints wipe right off.
Usage back to top
Intro Specs Performance Usage Recommendations
Colors
I prefer the Vivid color setting. To set it, press FUNC, click two down to OFF, and click one right to V.
Playback
To play, hold the play ([>]) button for a second. The lens doesn't need to extend.
Shooting
Be sure to zoom in. Unlike most other point-and-shoots, the extra-wide lens is usually wider than you need. This is especially important if you're handing your camera to strangers to take your picture and there is crap (settings) all around the outside of the LCD.
Movies
When making movies, watch your finger. I often accidentally cover the little hole on top, which is the microphone.
Power
When using the SD880 as my primary camera, I charge the battery each night. After making about 400 shots a day, it takes about an hour to charge.
Setting time zones while traveling
The Time Zone setting is one above the time menu in the menu lists.
When you get to Time Zone, the highlighted top line is where you select one or the other; avoid going down, which is where you set each one.
Recommendations back to top
Intro Specs Performance Usage Recommendations
August 2009: The SD880 is no longer available. Get the Canon S90 instead.
If you can find one, the SD880 is ideal for scenics, travel and landscapes, even as your only camera.
I'd pass on the Canon G10, since the images from from this SD880 look the same or better (less distortion at wide), and the SD880 handles much better.
If you're shooting action, events, kids or people, no compact is fast enough to catch them. Get a real SLR like the Nikon D40 or Canon Digital Rebel XS instead.
PLUG
I support my growing family through this website.
If you find this as helpful as a book you might have had to buy or a workshop you may have had to take, feel free to help me continue helping everyone.
If you've gotten your gear through one of my links or helped otherwise, you're family. It's great people like you who allow me to keep adding to this site full-time. Thanks!
If you haven't helped yet, please do, and consider helping me with a gift of $5.00.
The biggest help is to use these links to Adorama, Amazon, B&H, Ritz and J&R when you get your goodies. It costs you nothing and is a huge help. These places have the best prices and service, which is why I've used them since before this website existed. I recommend them all personally.
Thanks for reading!
Ken
Home New Search Gallery How-To Books Links Workshops About Contact