Home Donate New Search Gallery How-To Books Links Workshops About Contact
Canon G10
28mm 5x IS zoom, 15MP, 3" LCD
(2008-2009)
© 2008 KenRockwell.com. All rights reserved.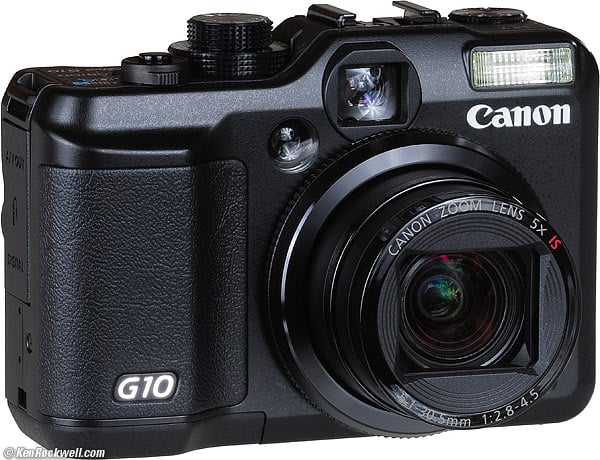 Canon G10. enlarge. I'd get mine at Adorama (the G10 may also be available as kits or refurbished). It helps me keep adding to this site when you get yours through these links, thanks! Ken.
October 2008 Canon G10 Example Photos More Canon Reviews
Excellent for: Landscape, nature and travel photos. See Canon G10 Example Photos to get the idea.
Bad for: Action, or for use in in dim light hand-held or with flash. For this, any SLR, like the Nikon D40 or Canon Digital Rebel XTi, are far better for about the same price.
December 2009: Replaced by the new Canon G11, which adds white-balance trims and superior low-light performance.
Intro Specs Performance Usage The G9 Recommendations
The Canon G10 is the best compact digital camera I've ever used, along with the much smaller Canon SD880.
I prefer the G10 over carrying an SLR for landscape shots for which the G10's 28-135mm (35mm film equivalent) lens applies. I prefer the SD880 if size matters, and prefer the G10 if I'm using it on a tripod, which is a little weird for a compact camera.
The reason you want a Canon G10 is to ride along in a large pocket for travel and landscape photos.
While out shooting in California's Eastern Sierra and Yosemite National Park, I preferred to use the G10 instead of bothering with my Canon 70-200mm f/4 L IS lens and Canon 5D I was also carrying. It was easier to pull the G10 out of a pocket than it was to change lenses back and forth on the 5D.
As I shot more with the G10, I left the 70-200mm lens back at the motel. I shot all my medium and long digital shots with the G10 instead of bothering with the 5D. All I used on the 5D was a Canon 14mm f/2.8 L II ultra-ultra wide lens, because there is no way to shoot that wide with any compact. I grabbed the 5D for ultra-ultra wide shots, and the G10 for everything else. You can see these G10 photos at my G10 Gallery.
The G10 is a regular Canon Powershot point-and-shoot, in a tough alloy body with added dedicated knobs for ISO and exposure compensation control. It feels better in-hand than any other digital point-and-shoot, but it's still no faster to shoot than any other excellent Canon point-and-shoot.
The G10 fits in a hiking shorts pocket, but it's too heavy to feel right to carry all the time. The G10 is too big to carry everywhere as an anytime camera as you'd carry your wallet. I carried the G10 in a large packet while on a photo expedition during which I was carrying lots of other gear. You'd see me with the G10 instead of a longer lens for an SLR, but you won't see me napping around the house with a G10 in my pocket just to catch the kids doing something cute.
Everyone who owns a G10 loves it, so if it fits your niche, by all means go get one. I'd rather carry a small SLR around my neck as my one camera, but for landscapes, I'd rather carry this G10 than a longer lens for my full-frame digital SLR.
At $485, the G10 is a bargain compared to the $460 I paid just two years ago for the world's first point-and-shoot with Image Stabilization, the Canon SD700. Then again, you can get a superior Nikon D40, complete with lens and flash for the same price if you're carrying it around your neck. In this case, it's not the size of your wallet, but the size of your empty pocket which will make your choice.
The G10 also has the best, biggest, brightest and sharpest LCD I've ever seen on any Canon camera. Its only fault is that the images look bolder and brighter on the camera's LCD than they do back on a calibrated monitor.
Gotchas
Why is it that as cameras get more processing horsepower, they never seem to handle any faster? The most important feature I want is speed, not more pixels! Unlike an SLR, the G10 still has annoying habits like having no EXIT button to get me out of what I'm twiddling and just shoot. Pressing the shutter halfway doesn't always get me out. I sometimes have to wait for it to get itself out of whatever I was doing before I can shoot, or worse, have to back-pedal through the menus myself before I can shoot.
Forget the marketing poop about DIGIC 4. The G10 isn't any faster doing things than any older Canon compact camera. All that processing power is being wasted somehow.
The G10 is the best compact digital camera I've ever used. The gotcha words are "digital" and "compact." Maddeningly, like all other compact (non-interchangable lens) cameras, the G10 still takes too darn long to adjust or change anything. Forget the G10 for moving subjects.
Don't buy a G10 for photos of family, friends, or of your kids. For photos of people and action you want an SLR like the Nikon D40 or Canon Digital Rebel XTi, which react far faster for action. Compact cameras like the G10 just aren't fast enough.
Forget shooting with flash. It can take forever (10 seconds) for it to recycle between shots, and like most compact cameras, exposure is all over the map.
The G10 has strap lugs, and feels best worn as a strap-on. That's the problem: if I have to wear it around my neck, I'd rather have a small SLR like a digital Rebel or D40, any of which outperform the G10 in both speed and and image quality.
The G10 has a great lens, but so what. If you're splitting pixels, its image quality is still hampered by its tiny sensor. High ISOs are crummy; even ISO 800 is obviously grainy in 5x7" (12x19cm) prints. Any SLR is far superior at high ISOs, even at ISO 200.
The G10's histogram is only suitable for shooting black-and white; there is no color histogram.
The LCD has too much junk on it. It's actually impossible to clear away all the junk to compose a picture! At the very minimum, you'll see an indication of the exposure compensation value (even if zero) and a meter mode icon superimposed over your image as you compose. Hello, Japan: the time for video games is not while I'm trying to compose an image!
No one who owns a G10 complains about any of this. People who own G10s bought them for travel and landscape photography, and for their compact size compared to SLRs.
The fact that I'm comparing the G10 to SLRs, and not to other compacts, should tell you a lot.
Raw: Who cares?
The G10 can shot raw files. So what? Like all compact cameras, the tiny sensor has so much noise, compared to any true SLR, that there isn't anything to lose in the JPG format.
JPG normal, JPG fine, and JPG super-fine all look identical. Raw won't do anything more for you, so don't buy a G10 just to shoot raw.
If you have problems with exposure, look at the picture on the LCD and spin the top left exposure compensation dial.
If you can't get your colors right, you can fix them easily in Photoshop's Color Balance tool, or Lightroom, or any photo software.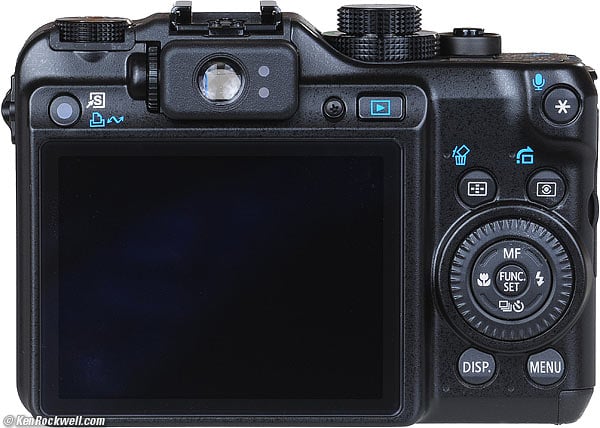 Canon G10. enlarge.
Specifications with commentary back to top
Intro Specs Performance Usage Compared to the G9 Recommendations
Lens: 6.1~30.5mm f/2.8-4.5. On the G10's tiny 1/1.7" sensor, this lens sees angles of view roughly similar to what a 28-135mm lens would see on a 35mm film or full-frame digital camera. Canon's spec says "28-140mm," but I've never seen a 140mm lens; in photography we call that a 135mm lens.
Image Stabilization: Yes!
Close Focus: 1.6 feet (50cm). It can focus as close as 0.4" (1cm) in a dedicated macro mode, however in this macro mode it can't focus beyond 1.6 feet (0.5m) and if you forget to set it back to the normal mode, you could accidentally make a lot of out-of-focus pictures
Viewfinder: Zoom peephole with dioptometric adjustment (and 3" LCD).
Color YRGB Histograms: No; black-and-white only (useless for color photos).
Shutter: 1/4,000 - 15s.
Sensor: 15MP, 4,416 x 3,312 pixels native.
Formats: JPG, CRW (raw) and MOV movies.
Movies: 640x480 or 320x240 @ 30FPS. MOV H.264 video with linear PCM mono audio. Maximum length is the lesser of 4GB or 60 minutes.
ISO: 80, 100, 200, 400, 800 and 1,600, also AUTO.
LCD: Brilliant 3" 640x480 LCD. Anti-reflection coated glass cover. It is impossible to compose pictures with no junk on the LCD; there is always at least an annoying exposure compensation (even if set to zero) and meter mode icon superimposed on your image as you compose.
Storage: SD and SDHC cards, one slot.
Power: Fat NB-7L battery, 7.4V, 1,050 mAh lithium-ion. Measures 1.782 x 1.272 x 0.6915" (45.28 x 32.30 x 17.57mm). Charger included.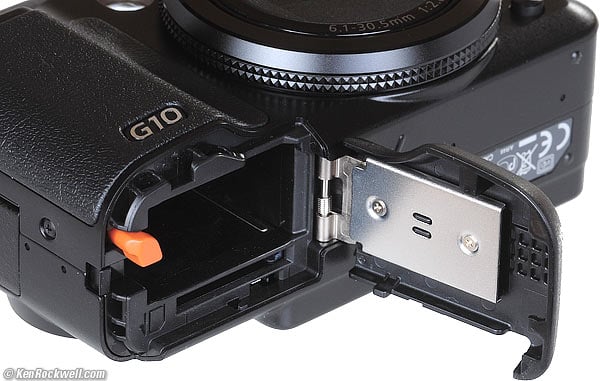 Canon G10 Card and Battery door. enlarge.
Size: 4.3 x 3.1 x 1.8" (109 x 78 x 46mm).
Weight: 14.150 oz. (401.2g), measured with card and battery, but no strap.
Announced: 17 September 2008.
Available since: Late September 2008.
Performance back to top
Intro Specs Performance Usage Compared to the G9 Recommendations
Overall
Want to see what sort of photos I can make with a G10? See my G10 Image Gallery and that ought to say it all. I'd have no qualms about enlarging these to any size. The rest of my comments are minor.
The Canon G10 is the best compact digital camera I've ever used.
Speed and Ergonomics
The G10 is like all other Canon point-and-shoots. It's extremely well thought out, but still maddeningly slow if you're trying to shoot action, like a wedding, with the G10.
This is why the G10 is great for landscapes, since it's fast enough for things that don't move, but abysmal for weddings or faster action.
While zoomed during playback, you can't scroll diagonally. The controller only scrolls left-right and up-down.
The G10 has a lot of lights on the top. You might want to black these out for security if you shoot at night. They only serve to give away your position; they don't light any of the adjustments, which are still illegible in the dark unless you look at the LCD as you turn them.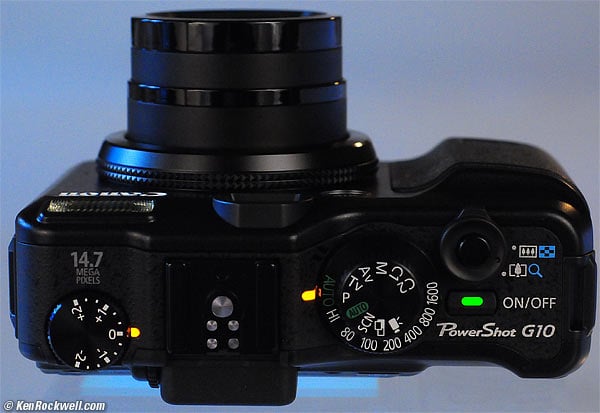 Canon G10 at night: lit up like a Christmas tree.
White Balance
There is no white balance fine-tuning. You have a few set positions and two manually-set positions, but once you choose any of these, you can't adjust it precisely as you can on an SLR.
Having two manual WB presets (those are the icons of two ramps with a dot in the middle) is fantastic. I can set a "golden" WB on a white object in shade and keep it, and use the second position for day-to-day items. Since there has never been a Shade setting on Canon compacts, I use the manual setting instead, and once I find a setting I like, I don't like to change it. I also have gotten good luck by using the fish WB ("underwater") setting in shade.
The G10 makes great images in good light, or with a tripod at night, so long as you shoot at ISO 80. At higher ISOs, like all compacts, the G10 looks crappy.
Exposure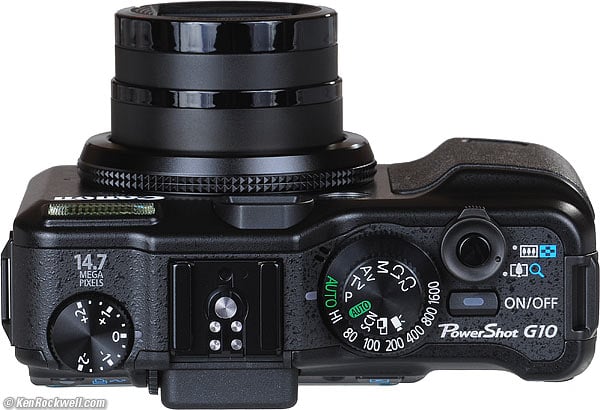 Canon G10. enlarge.
Hallelujah! See that knob on the left? That's the most important knob on the G10. Turn it to + or - to change the brightness of the picture you're about to take.
Unlike any other Canon compact, or most SLRs, film or digital, I love having direct control. I change compensation (brightness) more often than I change the zoom setting.
The old G9, and almost, maybe all, other compacts require a button and more to change this. This knob is why I would prefer the G10 over any other similar camera. This knob is that important!
Just like all my other Canons, I usually shoot it at zero indoors, and at -2/3 outdoors.
Aperture Range
Like all compacts, you don't want to shoot it any smaller than about f/5.6. Diffraction leads to softer photos from f/5.6 onwards.
The G10 usually gets everything in focus. If you want a tight selective focus, zoom to the longest setting and get close. No compact camera has much ability to blur backgrounds; you need an interchangeable-lens SLR for that due to their much larger lenses and sensors.
The sensor is so tiny in compact cameras that even the slightest loss of sharpness is obvious. That's why you cant' set apertures smaller than f/8.
LCD
The LCD is big, bold, bright and beautiful. That's the only problem: it's brighter and move vivid than life.
Images will look better on the back of the G10 than they will when printed, when seen on on a calibrated monitor, or when published or shared on the Internet.
I wish I knew the secret to getting the files made by the G10 to look as great as they do on its' LCD, but I don't.
High ISOs
High ISOs are as awful as every other compact camera. If this matters to you, buy any DSLR, and not a compact camera. The G10 excels for use in good light; but don't push your luck in the dark.
For instance, here is how the G10 compares to a Nikon D40 at ISO 800. Since the D40 has far fewer pixels, I had to enlarge the D40 image to match. These are crops from a very small central area.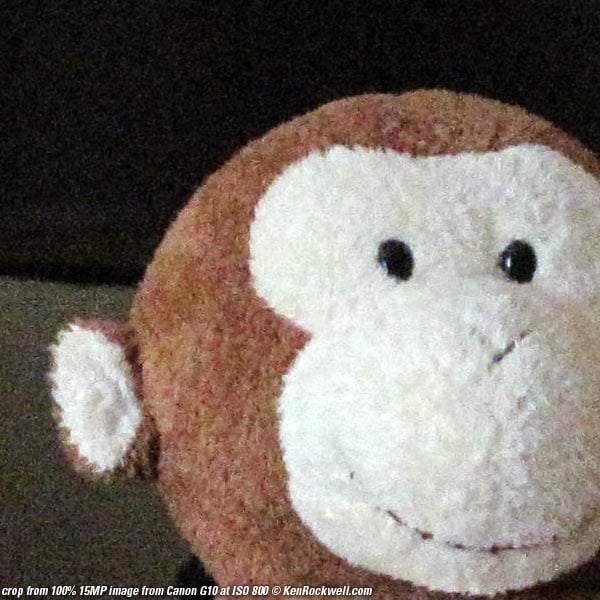 Crop from 100% 15MP G10 image at ISO 800. Roll mouse over to compare to a Nikon D40 SLR.
See what I mean? Not only is the D40 image far cleaner, but since the G10's noise reduction is working so hard, it smoothes over details and the D40 image is also sharper. Not only does the D40 have far more detail in the fur, realize that this is from a D40 image that has been upsampled to match the same magnification as the G10. Both cameras were zoomed to match the same framing. I used the kit lens included with the D40.
Flash
Forget flash.
It takes too long to recycle, up to ten seconds per shot.
Flash exposure is awful, like most compacts. It can vary wildly from one identical shot to the next.
The G10 is painfully slow for people shots, even at a funeral. With flash (especially the 220 EX in the hot shoe), you can't work around shutter delay because even when you hit FIRE after having previously locked-on, you get a preflash, and then the real flash about a minute later. (I could have used FEL, but kids move, so all it would do is lock exposure to where the kid was a minute ago.)
I grabbed my D40, 18-55mm kit lens and SB-400 flash, and remembered instantly why SLRs are so superior to any point-and-shoots (which include the G9 and G10) for photographing people.
The G10 is great for taking out of a big pocket for shooting nature and landscapes, but it's too darn slow for anything that moves.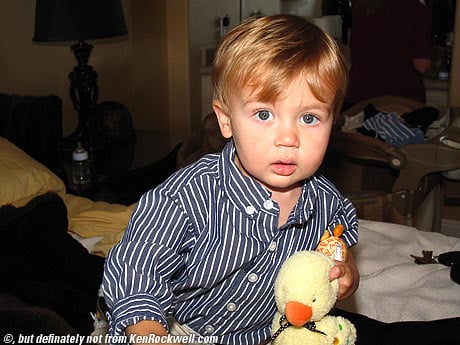 Crappy flash exposure, even at -2 stops! Ryan hates it! (G10)
Worse, the G10 flash exposure is horrible, as with other compacts. I gave up trying to find exposure compensation which would work to photograph my kid in his cute funeral outfit. I grabbed the D40, and it just worked instantly, and with perfect flash exposure, shot after shot.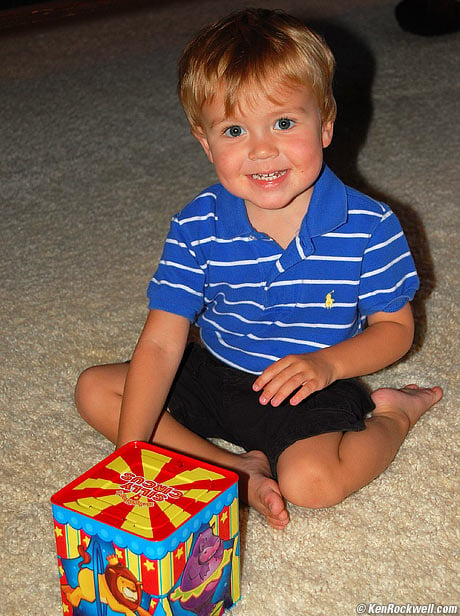 Much happier with an SLR's flash exposure. (Nikon D40)

If you carry a camera around your neck, skip the G10 since a D40 (or digital Rebel XTi) outperform any compact, but if you have to work out of your pocket, the G10 is great for anything that holds still.

The G10 is the best compact digital camera I've ever used, but no compact is as good as any real (interchangeable-lens) SLR.

Manual flash control isn't any better. There are only three settings: low, medium, and high. Good luck finding a setting which works for you in changing light.

A shot like this took many iterations.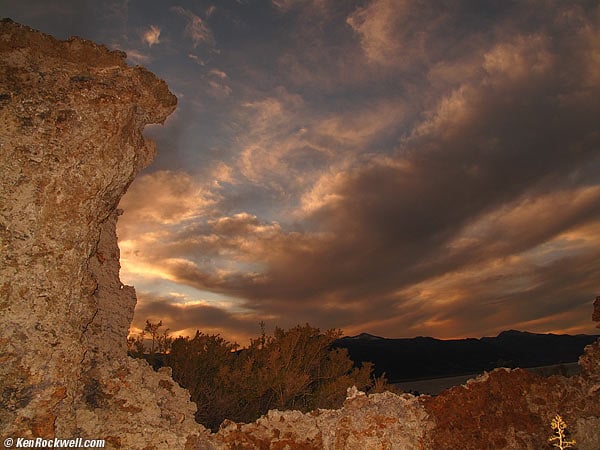 Mono Lake.
External Hot-Shoe-Mounted Flash
I shot a wedding with a 220EX flash.
It recycled immediately, but flash exposure was still horrible. I had to twiddle the compensation dial for just about every shot, and exposure would vary all by itself from frame-to-frame, even for the same shot!
Forget speed. The time between the preflash and the real flash and picture, even preloading the camera properly, seems to take forever.
Image Stabilization
Darn, IS works great! I couldn't make a blurry image until I got to at least a full second exposure. It's uncanny how the image stays still on the LCD as I compose.
Forget the tripod with the G10. You just don't need one unless it's dark outside.
Sharpness
Yes, it's sharp. The lens is excellent as expected.
The biggest limitation to sharpness is the loss of texture caused by the noise reduction in all compact cameras.
Distortion
As expected, there is some barrel (bulging) distortion at the widest end.
Much better than expected, there is no distortion in the middle and long end of the zoom range.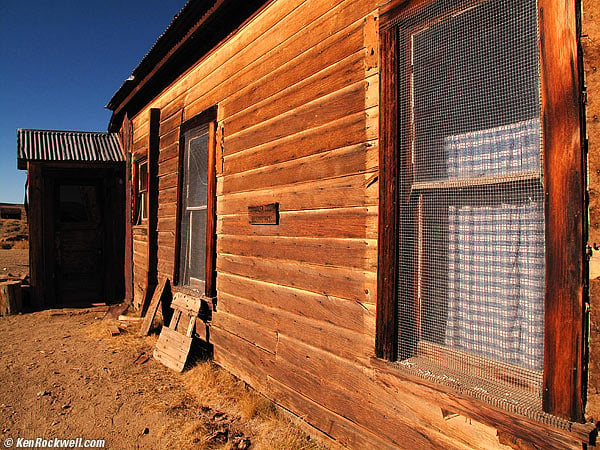 Bodie. Shot at widest 6.1mm setting: note curved window edge on right.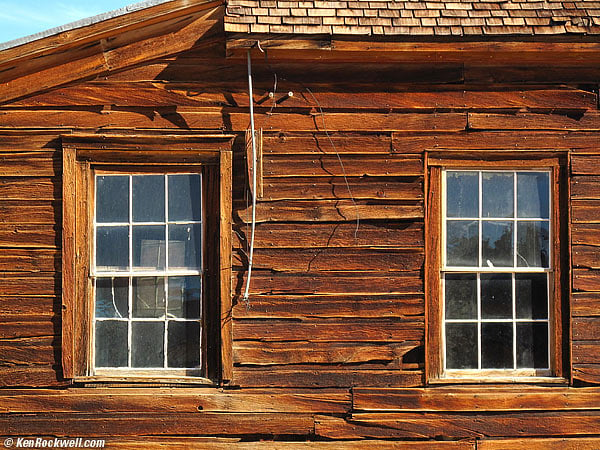 Bodie. No distortion at longer 25mm setting.
Sunstars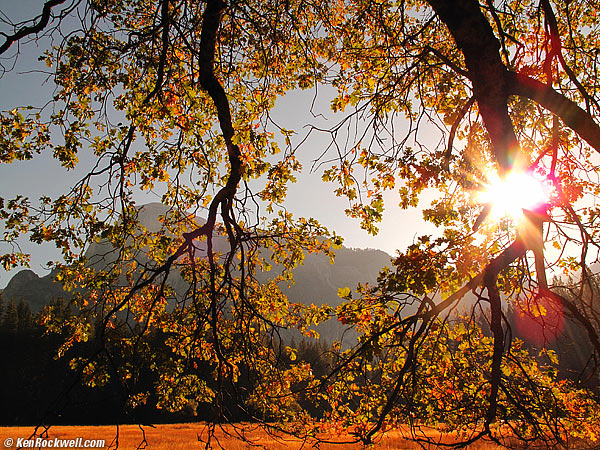 Stoneman Meadow, Yosemite Valley, 20 October 2008.
The Canon G10 has a six-bladed diaphragm, and makes six-pointed sunstars.
Battery and Power
The Canon G10 works as expected: the charger is fast and efficient, and I get at least 500 shots before needing to recharge.
I love the Canon chargers: their plugs flip into the housing, so there's no need for a cord, at least with USA models. The charger was travel-rated: it worked from 100~240V and 50~60 cps. This may vary by country.
Survivability
The Canon G10 has the same 2 weak points as most other compacts: the lens erection system, and the little plastic blades at the front of the lens which form a dust barrier.
Many compact cameras suffer from lens erection and retraction problems as they age. I had no problems with unintended erection while carried in my pocket; the power switch is well designed. Many other cameras turn on accidentally while in my pocket, and harm themselves trying to extend their lenses while confined.
The little plastic lens barrier blades on many compact cameras get stuck partially open, or partially closed, over time. When this happens, you either get black bars over your pictures (barrier stuck partially closed), or have an unprotected lens when put away (blades stuck partially open.
I doubt the G10 is any better than other cameras here.
Usage back to top
Intro Specs Performance Usage Compared to the G9 Recommendations
I use the G10 like every other Canon compact. The only difference is that you have a real knob for exposure compensation instead of having to jerk around in the menus.
Exposure Compensation
You set this on the big knob on the top left.
I set it to taste, which is usually -2/3 in bright light outdoors, and 0 indoors.
Exposure Mode
This is the little knob on top of the bigger knob.
I usually shoot on P, program.
If I'm on a tripod at night, I'll use M, manual mode, to let me zero-in on a long exposure.
ISO
I shoot in AUTO for snapshots. I lock it on ISO 80 if I'm shooting anything serious in decent light.
High ISOs look awful. I'd avoid shooting any compact digital camera in available light.
WB
You set this by tapping the FUNC button. WB is the top menu item.
I usually use AWB, and just as often, I'll use a warmer (more orange) setting like the cloud or the fish. I set the manual adjustment (the two ramps and the dot) to a white object sitting in blue shade, and often use the resulting very warm (orange) setting for effect.
Color
I prefer vivid colors.
To get these, press FUNC and drop down one below the WB settings. You'll see OFF on a new camera. Tap one to the left to V, and that gets you VIVID colors.
Resolution
I shoot at 15MP if I'm shooting landscapes. That's the default.
To change this, press FUNC and click to the bottom.
If I'm shooting family and friends, or just fooling around, I usually turn the G10 down to 5 MP. It looks great.
In fact, I have a 12x18" (30 x 50cm) print made from a 2MP (1,600 x 1,200 pixel) image from the G10, and it looks fine. My wife freaked when Costco's kiosk choked, saying RESOLUTION TOO DARN LOW!!, but for people pictures, my wife loves the print. (I had the resolution turned way down from shooting at ISO 800, where more resolution makes no sense, but when I popped in the flash (I was using the excellent, small outboard Canon 220EX flash in the G10's hot shoe), I forgot to crank it back up.)
If you're shooting at higher ISOs like ISO 400 and above, which I don't recommend, shoot at a lower resolution since the images are soft anyway.
Compression
I shoot at NORMAL. You set this with FUNC. It's the setting one up from the bottom.
NORMAL is a stair-step icon.
Canon cameras default to FINE, which is the quarter-circle icon. The images look the same, but take up twice as much file space.
Forget the Super Fine mode (an "S" in a quarter-circle). It wastes even more file space, and still looks the same as NORMAL.
Think I'm kidding? Shoot the same picture at the different settings, and you won't see any difference. The G10, like all compacts, has so much image noise, even at ISO 80, that the compression level makes no difference.
Ditto for wasting your time with raw. Compact cameras have so much noise and grit in the images to begin with, unlike SLRs, that there isn't anything to be gains wasting time, money and the environment on raw.
Compared to the G9 back to top
Intro Specs Performance Usage Compared to the G9 Recommendations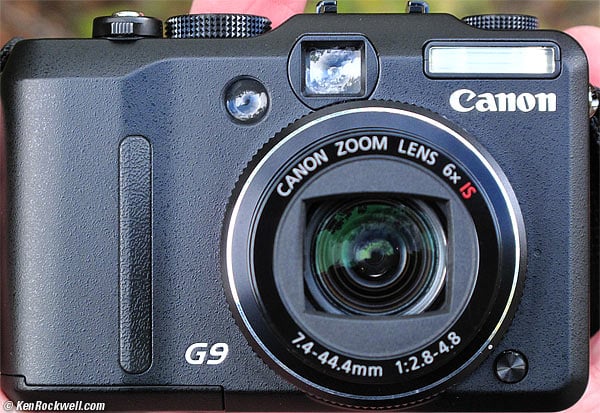 Canon G9 (for comparison).
What's Different
| | | |
| --- | --- | --- |
| | G9 | G10 |
| Exp. Comp Dial? | NO | Yes. |
| Lens Equiv. | 35-200mm IS (6x) | 28-135mm IS (5x) |
| f/stop range | f/2.8-4.8 | f/2.8-4.5 |
| Body Color | some silver on black | black on black |
| Rear Buttons | Perfect | Mushy |
| Sharpness | Slightly sharper | Slightly softer |
| Noise (all ISOs) | Slightly higher | Slightly lower |
That's about it. Almost everything else, including size and weight, the LCD, feel and operation, except for the added compensation dial of the G10, is identical.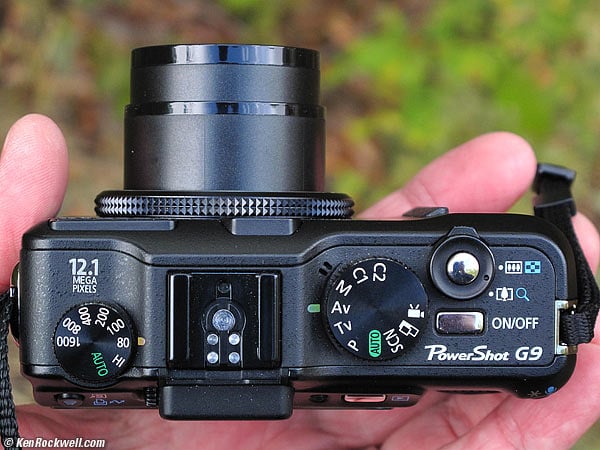 Canon G9 (for comparison). Note lack of G10's compensation knob.
Note the G9's serious lack of the compensation dial. On the G10 the ISO dial moves under the mode dial to make room for the G10's compensation dial where the G9's ISO dial used to be.
Discussion
The G9 has no exposure compensation knob. I use this knob more often than I use the zoom control, so for me, having to set this with menus in the G9 makes less sense than having to zoom via menus.
In addition to the new dedicated exposure compensation knob, the other thing that stands out about the G10 is the wider lens.
The G10 goes significantly wider than the G9. Neither the G10 or G9 have true zoom lenses; they only change focal length in discreet steps. The G10 goes two little clicks wider than the G9!
The G9 zooms much longer than the G10. The G10 starts off wider, and has only a 5x, not 6x, zoom.
The LCDs look identical. Both are big, bright and contrasty 3" LCDs behind anti-reflection coated glass.
The G9's LCD has fewer pixels, and can look a little coarser, but it also appears sharper. The menu graphics on the G9 can look a little coarser than the G10, but so what: the brightness and colors match between the two. Of the two samples I had, the G9's LCD was a little more magenta, and the G10's was a little more green, but I bet you that with two different samples that the results could reverse. The images made by each LCD match in color and tone; it's uncanny when you hold the two cameras side by side.
The buttons are better on the G9. The G9's buttons are raised, clicking buttons, while the G10 has flat, mushy buttons.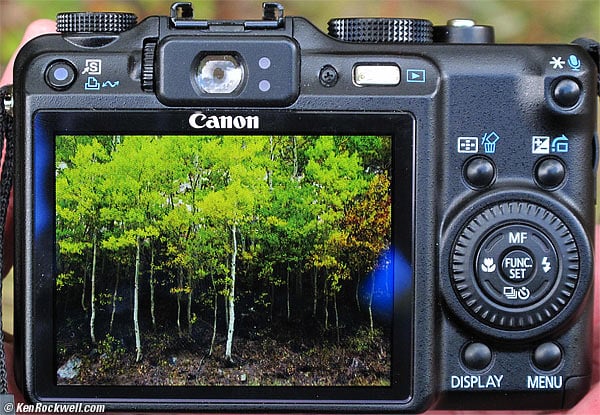 Canon G9, actual shot of live LCD. Note raised buttons.
The G9 is uglier than the G10. The G9 still has vestigial Japanese chrome on the front lens ring, and on the power, shutter and playback buttons. The G9 owner's girlfriend says that the neighborhood kids would call the G10 "murdered-out," meaning it's got a lot more black on it.
The G10 has a fatter grip. G9 aficionados used to glue custom billet aluminum grips on their G9s.
True for Japan, the special front lens accessory rings between the two don't interchange. If you've piddled with lens adapters for the G9, you'll have to buy new ones for the G10. (I'd forget these fast! if you want to piddle with filters and wider and longer lenses, grow up and just get an SLR for the same price.) The filters and converters may interchange, but you need a new empty adapter tube.
A funny thing happened to me while I was out shooting the G10: another shooter told me his story of how he preferred his G9.
He loved his G9 so much that he went to buy a second. When he tried to order it, he discovered that this newer G10 was out, so sure, he got a G10 instead.
He got home and compared the two, and discovered that the G9 was sharper! He returned the G10 and found a leftover G9.
He loaned me his G9, and I shot some comparisons for myself.
Yes, at 100%, the G9 is usually sharper than the G10. The G9 has less noise reduction, so it is usually sharper and has more texture. The G9 also tends to have a little more noise. I wouldn't sweat it; I much prefer the exposure compensation knob in exchange for slightly softer images.
Here's a typical comparison, using crops from the two images above. I upscaled the 12MP G9 image to the same 15MP resolution as the G10, then took crops out of each 100% image to show below. In other words, the G9 image is shown at 110%. The complete images would print at 33 x 45" (85 x 115cm) at this same magnification.
They look close enough for me. Exposure is far more important than sharpness. The G10 is less sharp because it pours on more noise reduction.
Recommendations back to top
Intro Specs Performance Usage Compared to the G9 Recommendations
Everyone who owns a G9 or G10 loves it. I loved the one I borrowed so much that I didn't even bother with the SLR I had around my neck. If you haven't already, look at the photos I made with a G10.
I'd buy a Canon G10 and use it for landscapes, travel, nature and the weird stuff I shoot instead of dragging along an SLR. Even if I was carrying an SLR, I'd rather grab a G10 than change lenses on an SLR. The G10 is that good.
I wouldn't use a G10 for people, sports or action, I'd use an SLR for that, like the Nikon D40 or Canon Digital Rebel XS. If you're going to carry it around your neck, the Nikon D40 feels like it weighs about the same, but it performs much better.
The G10 is great, and so are all of Canon's compact Powershot cameras. If size really matters, I'd much rather take a Canon SD880, which does the same thing as the G10, a a much smaller and fasterpackage. I can make great shots with a G10, but I also can make great shots with an SD880 or any of Canon's other Powershots. For instance, I shot these photos in Italy in 2003 with one of Canon's bottom-of-the line cameras back then, the 3MP Canon A70.
Users Manual: Canon USA.
PLUG top
I support my growing family through this website, as crazy as it might seem.
If you find this as helpful as a book you might have had to buy or a workshop you may have had to take, feel free to help me continue helping everyone.
If you've gotten your gear through one of my links or helped otherwise, you're family. It's great people like you who allow me to keep adding to this site full-time. Thanks!
If you haven't helped yet, please do, and consider helping me with a gift of $5.00.
The biggest help is to use the links to Adorama when you get your goodies. It costs you nothing and is a huge help. Adorama has the best prices and service, which is why I've used and recommended Adorama since the 1970s!
Thanks for reading!
Ken
Home Donate New Search Gallery How-To Books Links Workshops About Contact