Home Donate New Search Gallery How-To Books Links Workshops About Contact
Nikon D40
(2006-2010)
© 2006-2010 KenRockwell.com. All rights reserved.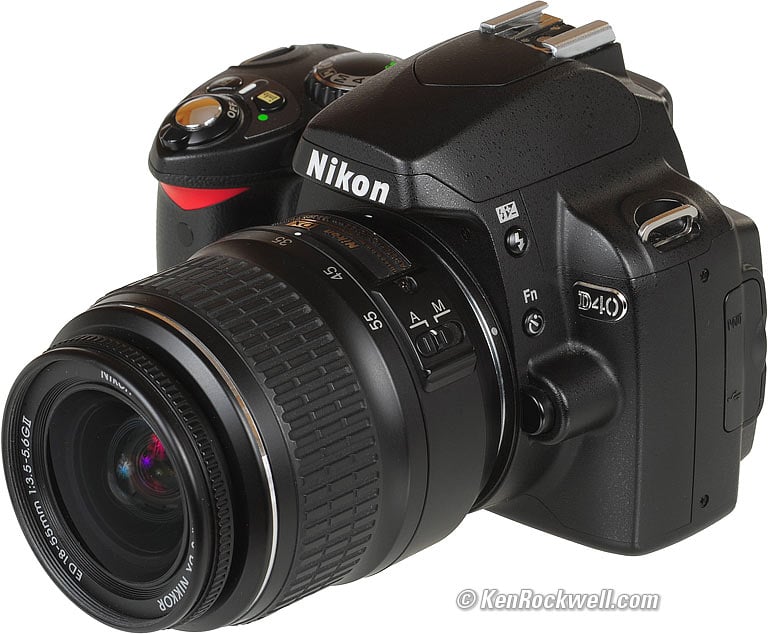 Nikon D40 with included 18-55mm II lens. enlarge.
Availability: As of September 2010, you can get them factory refurbished for $400. Otherwise, check Amazon for new cameras, and of course eBay for used. It helps me keep adding to this site when you get yours through these direct links to the D40. Thanks! Ken.
In place of the D40, the Nikon D5000 is the next best thing.
More Nikon Reviews
NEW: Nikon D3100, D3 and D40 High ISO Comparison 29 Sepember 2010
Nikon D40 Users Guide for iPhone and iPod 08 July 2009
Nikon D40, D5000, D300 and D3 high ISO comparison 27 May 2009
Nikon D3X, D3, D40, and Canon 5D Mark II, 5D and SD700 Sharpness Comparison 13 January 2009
High-Resolution example photos. December 2008.
20x30" print comparison. July 2008.
My Nikon D40 User's Guide. Plain-English guide to how I use my Nikon D40.
How to Use the D40's Autofocus System. 12 June 2008
Introduction top
Introduction Specifications Performance & Examples Recommendations
Lens Recommendations Comparisons
NEW: Nikon D60 and Nikon D40x, slightly downgraded versions of the D40, but with more pixels and a higher price. I prefer my D40 over the D40x and D60, even for the same price, and since the D40 costs less, the D40 is the deal of the past two years!
February 2008: D40 metering hack with manual focus lenses: Yes, a crafty reader sent me one he tweaked to do this and it works, but no, he doesn't have any plans (yet) to sell the thing. The D40 does not meter with manual lenses, but you always can guess and look at the playback on the LCD.
September 2007: The price drops to just under $500, with the excellent 18-55mm lens.
My D40 is too much fun. I own all sorts of serious cameras like the Canon 5D, Nikon D200, D80 and D70, but my D40, with its weightless 18-55mm lens and SB-400 flash, is what I grab most of the time as of May 2007 when I just want to make good photos easily. It works great with my other lenses like my Nikon 18-200mm VR.
As of May 2008, I've made over 20,000 shots on my D40 and it still runs and works like new. I get abotu 1,000 shots on each battery charge, and even after swinging around my neck unprotects these past years, the plastic LCD cover is still perfectly clear.
I prefer my D40 to my heavier cameras because I prefer the rear-LCD only display over my older cameras' film-era split displays on the top and back of the camera. Why should I move my head to look two places when I can have it all right in front of me on my D40? My D40 has about double the battery life of my D200, so I never need to buy or carry a spare battery, even to make 750 shots in a day or more.
I got my D40 for fun, and since have fallen in love with how fast and easy it is to use. The great images just keep pouring out of it. Its so light weight I carry it everywhere instead of my Canon SD700 pocket camera.
I don't use my D80 anymore. When I want a fun, light camera, I grab my D40. I only grab my big D200 when I've got something more serious to photograph.
Want to see what I've been shooting with my D40? See my baby Ryan Rockwell's page, most of which I shoot every day with my D40. My D40 and its included lens is the best camera of which I know for people and family photography. Get the lightweight SB-400 flash - it gives great, soft light when used in it's bounce mode, and adds little to the weight of the D40.
Firmware: Nikon has a new firmware update as of January 2007. I've never bothered to install it; the original firmware is fine and I'm lazy. All of this review is using my original firmware.
The D40 is Weightless!
The first thing I noticed, and so did my non-photographer wife, is that it's so light. We thought it would be much heavier, but no! It must be made of air. It's like not having a camera with you at all.
The light weight makes it a dream to carry around all day. Having a camera with you instead of left in the car or at home is the difference between getting a great shot or missing it.
My D40 lets me get make great results hand-held at slow speeds, probably because it also has very, very little shutter and mirror vibration.
Make Huge Prints!
If you're good, you can blow up the images from the D40 without limit. I've made great 20x30" prints from my D40. More pixels doesn't help: holding the camera still does. Your skill as a photographer is more important than your choice of camera.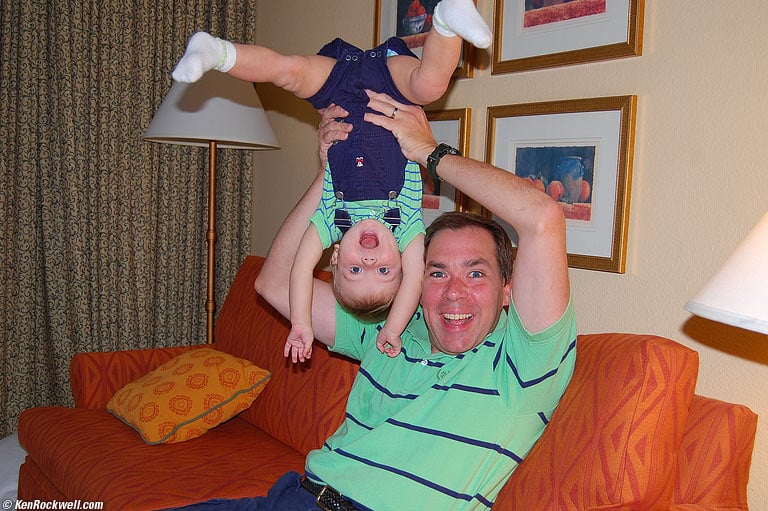 Example Photo: Ryan and Dad, November 2007 (snapped by mom). © original file (700kB). D40, 18-55mm II at 26mm, f/4.2 @ 1/60, flash. This is Nikon's cheapest DX lens, shot wide-open.
It has a Fantastic Screen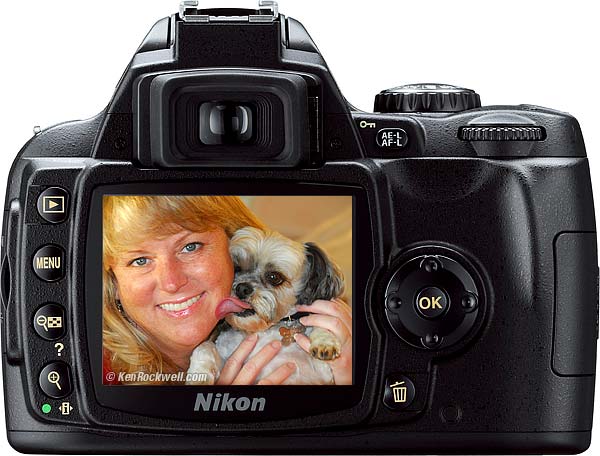 Nikon D40. (Photo dropped in in Photoshop, as are all camera illustrations)
The second obvious WOW! is the big, bright, sharp, contrasty and almost three-dimensional LCD screen. It looks the same regardless of the angle from which you view it. It's the same vivid, accurate screen as on my D80, which I think is the same thing as my D200.
It's actually sharper than the image above because it has higher resolution.
I don't know about you, but I use my LCD all day to set exact exposure and white balance, and this LCD is just about as accurate and is as bright as my calibrated 30" Apple Cinema Display which cost me $2,500 earlier this year. Next week I hope to stick my color meter on it to measure for sure.
If you're on a laptop, it's also much brighter than the illustration above.
It makes my Canon 5D look dim and pathetic by comparison. My D40's LCD is bright! It's almost blinding at night, a far cry from the dim Canon DSLR LCDs I've been staring at all week.
On the D40, what you see is what you get. The menus and images look awesome!
You have a choice of menu colors.
This little jewel of a lens is my favorite midrange zoom other than my Nikon 18-200mm VR .
It's so much fun I prefer to use it with my D40 instead of my grown-up 18-200mm.
The Nikon 18-55mm II kit lens has better optical performance in some ways than some of my other lenses, and on top of that, it weighs not much more than a lens cap.
Its light weight, super-close focus and unusually good zoom ring make it a joy to carry and use. I can zoom precisely with one finger, compared to the $1,100 Canon 24-105m IS which requires two fingers, and is difficult to zoom precisely at the wide end.
It is a perfect companion to the featherweight D40.
Nikon only sells the D40 with this great little lens in the USA. Don't throw it away unless you already have the much bigger Nikon 18-200mm VR, whose weight takes some of the fun out of the D40. The D40 works perfectly with the 18-200mm lens. Here's a look at them together: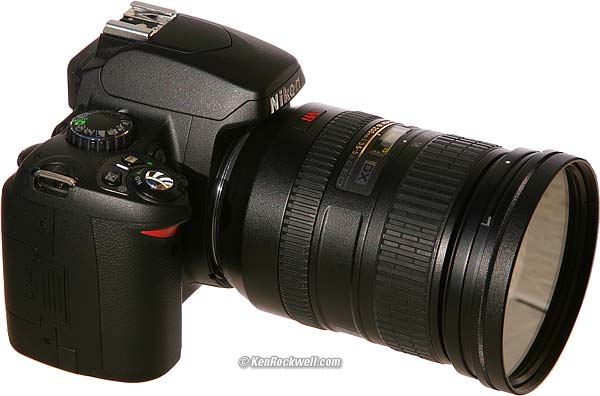 Nikon D40 and Nikon 18-200mm, complete with 72->77mm step-up and 77mm filter.
Lens Compatibility
My D40 only autofocuses with the latest AF-S lenses, and also the the older, professional, AF-I lenses.
You'll have to focus manually with traditional AF lenses, which means forget about older lenses except macros (I always focus those manually) and fisheyes and ultrawides (easy to focus).
Every AF lens made in the past 20 years meters and exposes perfectly; it's just the autofocus which won't work.
Every manual focus lens made since 1959 also works fine, if you don't mind focusing by hand and guessing at the exposure.
This is a smaller deal than it sounds, since the included kit lens and other modern lenses obsolete the older lenses I thought I might be using with this.
This is why I never waste my money on off-brands. All the Nikon lenses I've been buying since the late 1990s, like my 24-85mm AF-S, 80-200mm AF-S and ten-year-old 400mm f/2.8 AF-I work perfectly.
More at Lens Compatibility.
Basics
The D40 was introduced November 16th, 2006 and started shipping on November 30th, 2006. The one I bought arrived Friday, December 1st.
If you're looking for a great Nikon camera to make great photos, especially of moving kids or sports or indoor plays and concerts, this is it compared to any fixed-lens camera. If sports is your full time obsession, then you'll want a faster camera (5 frames per second) like the Nikon D200 or now-inexpensive Canon 20D or 30D.
The Nikon D40 is the D50 replacement. The D50 will remain available through about June, 2007.
The D40 is a much smaller, lighter version of the D50. It is a completely new design. It takes away some things, like two AF sensors, and gives more in return, like a critical RGB histogram and a fantastic LCD.
More > >
NEXT: >> Specifications with Commentary
DSLR High ISO Shoot-Out 03 October 2007
Nikon D40 vs. D200, D80, D70, D50 and Canon 5D and XTi
PLUG
I support my growing family through this website.
If you find this as helpful as a book you might have had to buy or a workshop you may have had to take, feel free to help me continue helping everyone.
If you've gotten your gear through one of my links or helped otherwise, you're family, THANKS!
If you haven't helped yet, please do, and consider helping me with a gift of $5.00.
It also helps me keep adding to this site when you get your goodies through these links to Adorama, Amazon, B&H, Ritz, and J&R. I use them and recommend them all personally.
Thanks for reading!
Ken
Home Donate New Search Gallery How-To Books Links Workshops About Contact