Home New Search Gallery How-To Books Links Workshops About Contact
Nikon D60
© 2008 KenRockwell.com. All rights reserved.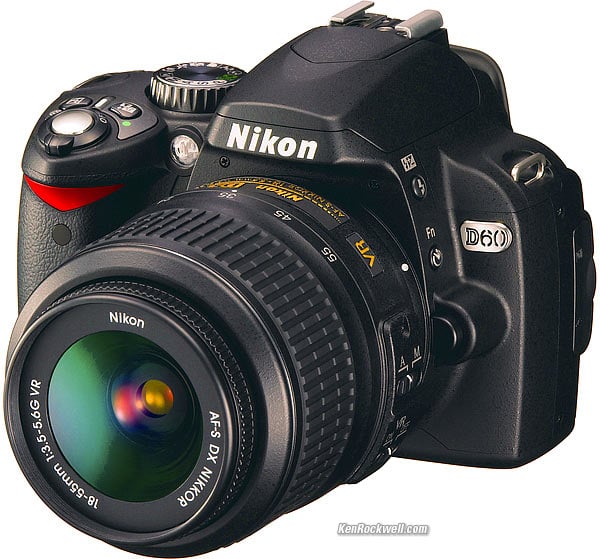 Nikon D60. enlarge. I'd get it at Adorama, Ritz or Amazon. It's usually sold with an excellent 18-55mm VR lens. It also comes as a body only for about $630 at Adorama and Amazon, and as a kit with both the 18-55mm VR and excellent 55-200mm VR lenses for about $800 at Adorama and Amazon. These links take you directly to the right pages, and it helps me keep adding to this site if you get yours through these links, too. Thanks!
NEW: How to Use the D60's Autofocus System. 12 June 2008.
June 2008 More Nikon Reviews Nikon DSLR Timeline.
Specifications Recommendations
The Nikon D60 is an inexpensive 10 MP DSLR that comes with an excellent 18-55mm VR lens for about $650 as of June 2008. It was a announced in January, 2008, and sold for about $750 with lens in February 2008.
The Nikon D60 is a replacement for the almost identical D40x.
Personally I prefer Nikon's least expensive D40 over the D60 or D40x. The D60, D40x and D40 are actually exactly the same cameras, differering only slightly in their internal electronics, but differing greatly in their prices.
The D60 is actually a D40 body with a few more card-clogging pixels, a VR lens and adaptive dynamic range, but a slower maximum shutter speed with flash.
The D60 is less sensitive to light then the D40 (its default ISO is only ISO 100 compared to the D40's default ISO of 200). Its less sensitive to light because the pixels have to be made smaller to cram more of them into the same-sized sensor. Smaller pixels collect fewer photons than larger pixels. Since the D60 is half as light sensitive, the D60 has to use twice as long a shutter speed or a larger aperture, which makes it more likely to make a blurry picture than the D40. OOPS!
Save your money and get the D40 instead. The D40's faster sync speed is invaluable for use with flash outdoors, and the extra light sensitivity in normal use will help make sharper pictures. These three cameras (D40, D40x, D60) otherwise, for most users, are identical. Compare them in person and you'll see. Megapixels don't matter.
(I detail the few fine points which are new in the D60 further below.)
I had my hands on a D60 back in January 2008. The D60 is an excellent camera, but for most of the people who will buy it, it's the same thing as the $300 less expensive D40. I'd suggest getting a D40 and putting the $300 towards more lenses and/or a bouncable flash.
In fact, the faster flash sync speed (the fastest shutter speed with flash) is more than twice as fast in the D40 (1/500 vs. 1/200), and along with the faster base ISO, the D40 is more likely to make sharper photos for most people, for hundreds of dollars less!
The only significant feature in the D60 over the D40x and D40 is adaptive dynamic range. The D60 does not have any of the other next-generation functionality of the D3 and D300.
The D60 is just a D40 with more pixels, but slower shutter speeds with flash outdoors and less basic light sensitivity due to the smaller pixels needed to jam more of them onto the same-sized sensor.
I make excellent 12 x 18" (30 x 50 cm) prints from my 6 MP D40; do you plan to print bigger? Really? The resolution makes no difference unless I'm printing at 20 x 30" (60 x 80 cm) or more.
Since the D60 costs $300 more than the D40, I'd much rather have a D40, 1/500 flash sync for better daylight fill-flash range, a minimum ISO of 200 and $300 left over to buy lenses and an external flash that I can bounce for better lighting. For instance, the D40, 55-200mm VR and SB-400 is a far better way to spend the same $750.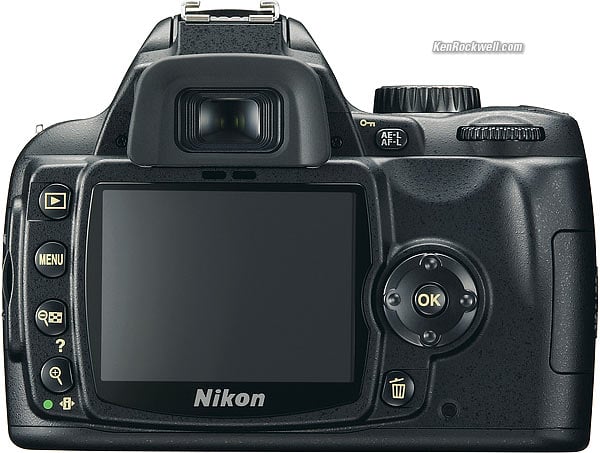 Nikon D60.
NEW:
Excellent Manual Focus Indication
Believe it or not, the D60 outdoes even my D3, since it has not just a dot, or a dot and two arrows, but uses the entire bar graph to display manual focus more precisely and over a broader range. I wish my D3 displayed this well. While the D60 manual focus display is more precise than the manual focus display of the D3, that doesn't mean that the sensors and mechanics that drive the display give the D60 more precise or more accurate focus; I suspect the D3 is better.
Of course the D60 has no metering with manual focus lenses, but this feature is handy when focusing AF lenses manually.
To get the most out of traditional manual focus lenses, get at least a D200 or D300 and preferably a D3. The D80 has no metering either with manual lenses.
The D60 is very smart. The bar graph becomes the focus display when you switch the lens to M, but if you go into manual exposure mode, the meter usurps the bar graph. Not to worry; the focus OK dot on the lower left still works.
Tricks
Animated movie trick takes multiple JPGs and makes a movie file from them. This seems really stupid, but is something I've wanted for years as I see movies happen as I scroll through my shots quickly. The format of the resulting movie file is AVI.
The D60 has no intervalometer, however if you rig one up, you can use this movie trick for time-lapse photography.
Sensor Cleaner
In addition to offering a traditional ultrasonic sensor cleaner, the D60 also claims to minimize the dust that can come into contact with the sensor through a unique Airflow Control System. This design supposedly works to channel particles away from the sensor with every click of the shutter, hopefully resulting in an even further reduction of dust.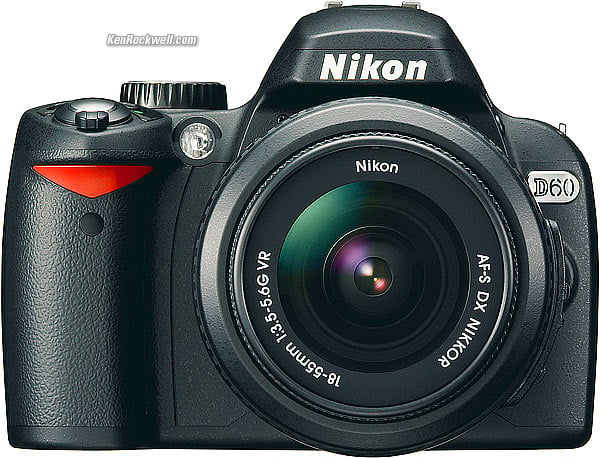 Nikon D60.
OLD:
The D60 has almost exactly the same body, mechanics, features and menu system as the D40 and D40x. I prefer the less expensive D40 over the D40x.
Specifications top
Introduction Specifications Recommendations
LENSES (See Nikon Lens Compatibility for details.)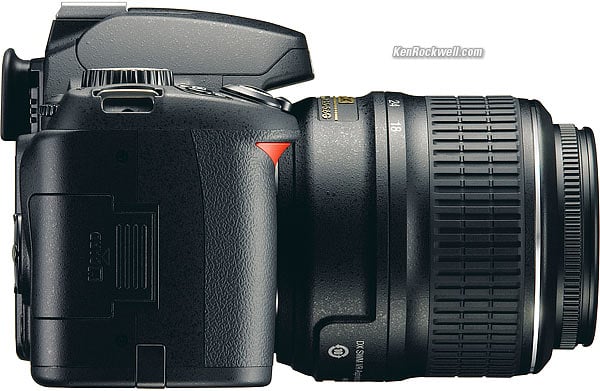 Nikon D60 and 18-55mm VR.
Standard Lens: AF-S DX NIKKOR 18-55mm f/3.5-5.6G VR.
Lens Compatibility: Just like the D40 and D40x, the D60 autofocuses only with AF-S lenses, and does not meter with manual lenses. This means you have to focus older AF lenses by hand, and that you have to guess at exposure with manual focus lenses.
This isn't a problem, since the folks buying the D60 will be getting new lenses at the same time.
Newest AF-S and AF-I NIKKOR: All functions supported.
Traditional non-AF-S or AF-I AF lenses without a built-in motor (including some G and D AF lenses): No autofocus, but everything else like exposure is perfect.
Non-Type G or D AF NIKKOR not equipped with an autofocus motor: All functions supported except 3D color matrix metering II and autofocus.
IX-NIKKOR and AF-NIKKOR for F3AF: No way José!
Type D PC NIKKOR: All functions supported except some shooting modes.
AI-P NIKKOR: All functions supported except 3D color matrix metering II
Manual Focus lenses (non-CPU): No meter, no AF, no nothing except a dot that lights when you're in focus. You can guess the exposure in M, but that's it. The dot (electronic rangefinder) requires a lens of at least f/5.6, which means you'll have to focus mirror lenses by looking at the ground glass.
FINDER top
Type: Eye-level penta-Dach mirror single-lens reflex viewfinder.
Coverage: 95% horizontally and vertically.
Magnification: 0.8x with 50mm f/1.4 lens at infinity. Of course that 50mm f/1.4 lens won't autofocus, and 50mm is a telephoto on this camera. With a normal (for DX) 28mm lens, the magnification is only 0.45x.
Eyepoint: 18mm, at normal diopter setting.
Dioptometric adjustment: -1.7 to +0.5 diopters.
Focusing screen: Type B BriteView Clear Matte screen Mark V.
FOCUS top
AF Points: Only three.
AF System: Nikon Multi-CAM 530 autofocus sensor module with TTL phase detection.
AF Detection range: -1 to +19 EV (ISO 100, 20 degrees C/68 degrees F).
AF-assist illuminator: Works to about 10 feet (3m).
AF-area modes: Single-point AF, dynamic-area AF, closest subject AF.
Autofocus lock: Pressing the shutter halfway in single-servo AF, or press the AE-L/AF-L button.
AF Servo Modes: Single-servo AF (S), Continuous-servo AF (C) and my favorite, Auto-servo AF (A). AF-A magically selects between the other two modes. Manual focus: Use the ground glass as Ansel Adams did, or Nikon also provides an electronic rangefinder, which is a simple "OK" dot that lights when you're in focus.
SENSOR top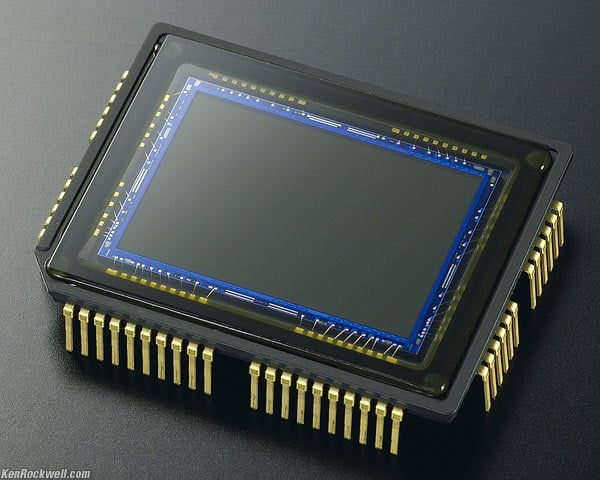 Nikon D60 10 MP CCD.
Sensor: 10 MP CCD (same sensor as D80/D200 for all I know).
Format: 23.6 x 15.8 mm DX.
ISO: 100 - 1,600 in full stops, also a trick ISO 3,200 mode.
Image sizes: 3,872 x 2,592 native (Large), also 2,896 x 1,944 (Medium) and 1,936 x 1,296 (Small).
Dirt Removal: Image Sensor Cleaning System, Airflow Control System. If you use Capture NX, there's an Image Dust Off reference data option.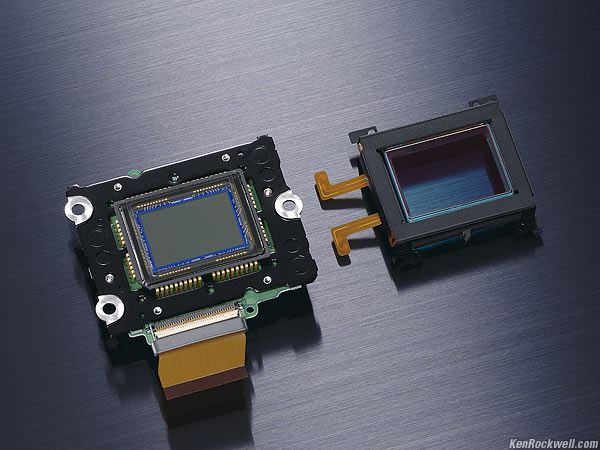 Nikon D60 sensor unit.
FILE FORMATS top
JPG: Basic, Normal and Fine.
NEF raw: 12-bit compressed.
Also JPG + raw.
Stop motion video: Creates a stop-motion animation from a sequence of images for added creative fun to your pictures.
SHUTTER, RELEASE AND ADVANCE MODES top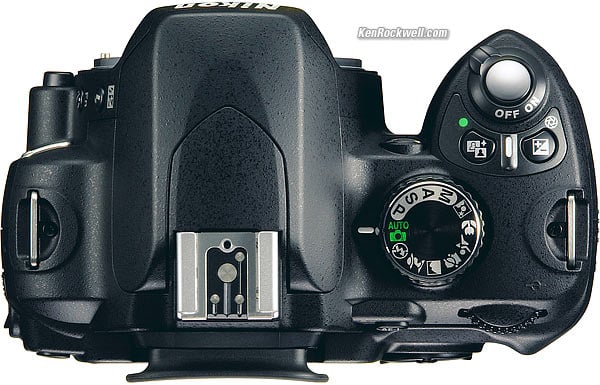 Nikon D60 top.
Frame Rate: Up to 3 FPS, for up to 100 continuous shots.
Shutter Speeds: 1/4,000 to 30 seconds in steps of 1/3 EV; Bulb, Time (optional ML-L3 Wireless Remote Control required).
Shutter Type: Electronically-controlled, vertical-travel, focal-plane shutter.
Release modes: Single frame, Continuous, Self-timer, Remote control (optional ML-L3 Wireless Remote Control required)
Self-timer: 2, 5, 10 and 20 seconds.
Remote Control: ML-L3, the tiny infra-red $17 remote.
METERING, EXPOSURE and WHITE BALANCE top
Metering: TTL exposure metering using 420-segment RGB 3-D Color Matrix Metering II.
Metering Modes: Matrix, Center-Weighted, and 3.5mm Spot.
Rated Metering Range: 0 - 20 LV; 2 - 20 LV in spot mode. My experience has shown that Nikon's meters always work great even in much dimmer light than rated.
Exposure Modes: P, S, A, M: manual flash pop-up with button release. Dummy modes: Auto, Portrait, Child, Close up, Night portrait modes: Auto flash with auto pop-up.
Exposure lock: AE-L/AF-L button
Exposure compensation: -5 to +5 EV in 1/3 stops.
White Balance: 8 modes (when Auto is selected, TTL white balance with main image sensor and 420-segment RGB sensor is available). Fine-tuning possible, yay!
FLASH top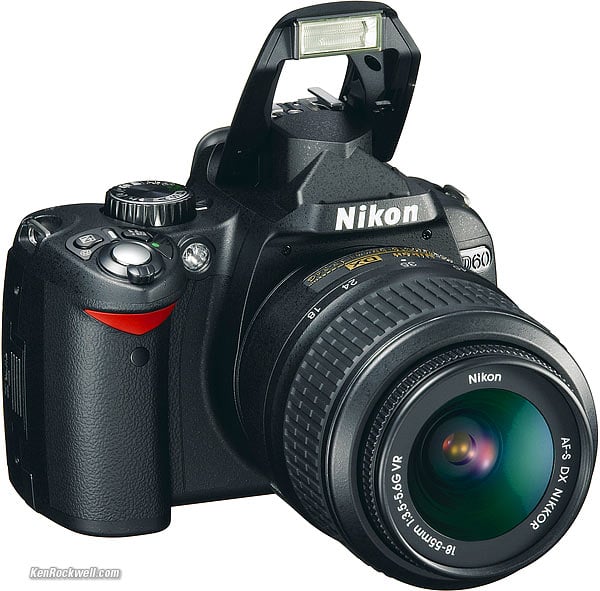 Nikon D60 with flash popped-up.
Built-in Flash? YES. Guide number 12/39 (m/ft, ISO 100, 20 degrees C/68 degrees F) or 13/43 in manual mode (m/ft, ISO 100, 20°C/68°F)
Maximum Shutter Speed with Flash (Sync Speed): Only 1/200.
Remote Flash Control: You need to buy an SB-800 or SU-800 to use as the commander.
Flash modes: Front curtain sync, slow sync, rear-curtain sync, red-eye reduction, red-eye reduction with slow sync.
Flash Brightness Compensation: -3 to +1 stops in 1/3 stops.
Flash-ready indicator: Lights when built-in flash or Speedlight such as SB-800, SB-600, SB-400 is fully charged; blinks after flash is fired at full output
Flash Sync terminal: None; buy an AS-15 Hot-Shoe Sync Terminal Adapter.
Flash Exposure System: Nikon's latest Creative Lighting System (CLS), just like everything since 2003. Flash Color Information Communication supported with built-in flash and CLS-compatible Speedlight.
TTL for digital SLR using 420-segment RGB sensor i-TTL balanced fill-flash (with metering other than spot) and standard i-TTL flash (with spot metering) are available with built-in flash, SB-800, SB-600, or SB-400, and CPU lenses.
Auto aperture: Available with SB-800 and CPU lenses.
Non-TTL auto: Supported flash units include SB-800, SB-28, SB-27, SB-22S, SB-80DX and SB-28DX
Range-priority manual: Available with SB-800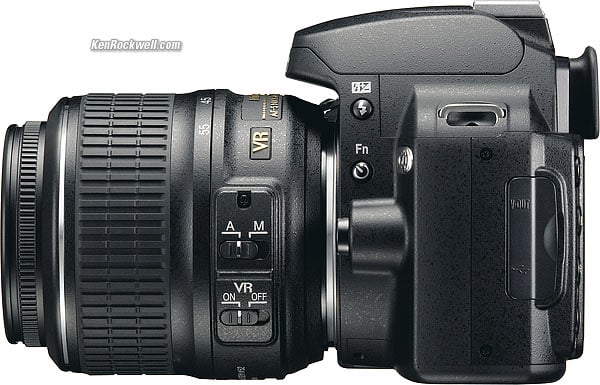 Nikon D60.
LCD and PLAYBACK top
LCD: 2.5" with sensor to turn it off when you put the D60 to your eye.
It's the same as the excellent D80: 230k-dot, low-temperature polysilicon TFT LCD with unneeded brightness adjustment.
Viewing Angle: An excellent 170 degrees.
Magnification: Up to 19 times.
Auto rotating LCD display: Provides automatic horizontal and vertical graphic display orientation. Cool!
Playback: Full frame and thumbnail (four or nine images), playback zoom, stop-motion movies created with the D60, slide show, histogram display, highlights and auto image rotation.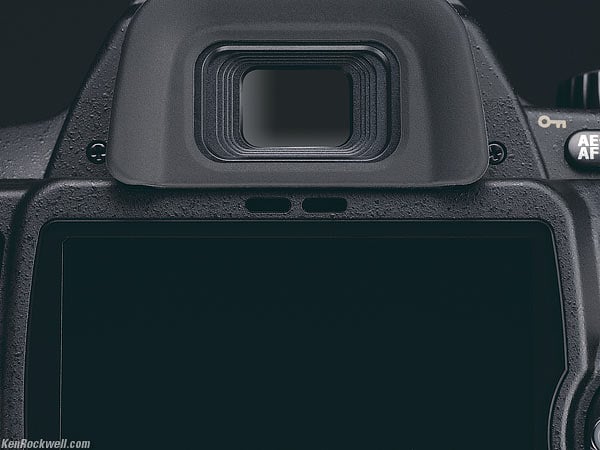 DATA, STORAGE, TRANSFER and VIDEO top
Storage: SD and SDHC cards, including Eye-Fi.
Hidden Text Input: Up to 36 characters. I use this to input "© KenRockwell.com" and my phone number into the EXIF data of every file automatically as I shoot.
Hokey In-Image Date Imprint: Date, Date and Time, Date Counter, or None (selectable).
Data Transfer: Hi-Speed USB; Data transfer protocol: MTP, PTP.
Video output: NTSC or PAL.
POWER and BATTERY top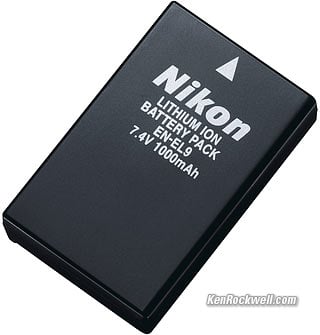 EN-EL9 - the same battery as the D40 and D40x.
Battery: EN-EL9: 7.4V, 1,000 mAh.
Optional AC Adapter: EH-5a (use with optional EP-5 Power Connector).
Rated Battery Life: 500 shots per CIPA. I usually get more, since I rarely use the built-in flash.
FLUFF top
Stupid Camera Tricks: In-Camera Image Editing and Enhanced Retouch Menu: Highly versatile in-camera editing features through the Retouch Menu include Nikon D-Lighting, Red-Eye Correction, Image Trim, Image Overlay, Monochrome (Black and White, Sepia and Cyanotype) along with Skylight, Warm Tone and Color Balance filter effects. New effects and controls include Quick Retouch, NEF (RAW) Processing, Cross Star and Color Intensifier filters. This provides greater creative freedom without the need for a computer for those who prefer to send pictures directly to a printer.
The D60 includes adjustable cross-screen star effects, color-intensifying filters as well as D-lighting, Red-eye correction, Image Trim and more silly stuff. The D60's Stop-Motion Movie mode is a D-SLR first that enables users to create stop-animation movie clips from a series of as many as 100 consecutive JPEG picture files.
Menu Languages: Chinese (Simplified and Traditional), Dutch, English, Finnish, French, German, Italian, Japanese, Korean, Polish, Portuguese, Russian, Spanish and Swedish.
SIZE and WEIGHT top
Size: 5.0 x 3.7 x 2.5 in. (126 x 94 x 64mm ), W x H x D).
Weight: 495 g (1 lb. 1 oz.) naked (no lens, battery, memory card or body cap).
ACCESSORIES top
Supplied Accessories: EN-EL9 Rechargeable Li-ion Battery, MH-23 Quick Charger, UC-E4 USB Cable, DK-20 Rubber Eyecup, AN-DC1 Camera Strap, BF-1A Body Cap, DK-5 Eyepiece Cap, BS-1 Accessory Shoe Cover, Software CD: Nikon ViewNX for browsing and organizing. (Will vary by country.)

Optional Accessories: ML-L3 Wireless Remote Control, Capture NX, Camera Control Pro 2, EP-5 AC Adapter Connector, EH-5a, AC Adapter, EG-D100 Video Cable, CF-DC1 Semi-Soft Case, Speedlights SB-800, SB-600, SB-400, R1C1.
PRICE and AVAILABILITY top
Announced: Monday, 28 January 2008.
Available: February or March 2008 (USA), depending on which press release you read.
Nikon Product number: 25438 (w/lens), Nikon product number 25436, body only.
Price: $750 with lens at Ritz.
Recommendations top
Introduction Specifications Recommendations
The Nikon D60 is a "sucker" camera sold mostly to people who are not professional photographers, but who are impressed by meaningless megapixels. Megapixels have nothing to do with picture quality. The less expensive D40 is the same thing as the D60, but better. The D40 is the professional's vacation camera. It's what I take when I'm on vacation or with family, too.
The D60 exists to allow Nikon to sell a camera in the $750 price range to less experienced people who feel better spending $750 on a camera than spending $470 on the superior D40. If you're smart enough to be researching cameras from people like me who are here to help you instead of trying to sell you an expensive camera, just get the D40.
If you want to spend $750, get a D40 and more lenses or flash. For instance, for sports, get a D40 and the excellent 70-300mm VR, or get the less expensive, and also excellent, 55-200mm VR for general telephoto use.
I wouldn't buy a D60 or a D40x. I would buy, and actually did buy, the superior and least expensive D40, which today sells for only about $470 complete with an absolutely excellent non-VR lens. The least expensive D40 has twice the sensitivity to light (ISO 200 base vs. ISO 100 base) and over twice the flash sync speed (1/500 vs. 1/200). The other features, like pixels and dust reduction, are just fluff. I've never had a dirt problem with my D40, and I change lenses a lot and have made 25,000 shots on my D40.
Pixels are a pain. Do you know that I own a $5,000 D3, and usually shoot it set down to 6 MP, not its native 12 MP?
If you have $5,000, get the $5,000 D3.
If you have $4,000 or less, get an $1,800 D300.
If you have less than $1,800, skip the D80, D60 and D40x and head straight for the superior D40 for only about $470, with lens.
If you have $1,000 you may want to look at the D80 if it's going to be your only camera, but honestly, I use cameras all day, every day, and when I go on vacation, I prefer my D40, not the D80.
PS: Canon was six years ahead of Nikon: Canon made the original D60 from 2002 - 2003. It had 6MP, ran at 3FPS, had a 1.8" LCD, can't use any of the modern Canon EF-S lenses, and people lined up for months to pay $2,300 for it back in 2002! It was ground-breaking because it had 6MP, up from 3MP of the Canon's first DSLR, the Canon D30. Today the Canon D60 sells used for about $300 - 400 - see why it's better to buy lenses than cameras.
PLUG
I support my growing family through this website.
If you find this as helpful as a book you might have had to buy or a workshop you may have had to take, feel free to help me continue helping everyone.
If you've gotten your gear through one of my links or helped otherwise, you're family. It's great people like you who allow me to keep adding to this site full-time. Thanks!
If you haven't helped yet, please do, and consider helping me with a gift of $5.00.
The biggest help is to use these links to Adorama, Amazon, B&H, Calumet, Ritz and J&R when you get your goodies. It costs you nothing and is a huge help. These places have the best prices and service, which is why I've used them since before this website existed. I recommend them all personally.
Thanks for reading!
Ken
Home New Search Gallery How-To Books Links Workshops About Contact