Today's News

Nikon: D5 D810 D500 D750 D610 D7200 Lenses Canon: 1DX2 5DS/R 5D Mk III 6D 7D II Lenses
Reviews: Fuji LEICA Contax Zeiss Sony Minolta Olympus Pentax
Recommended Cameras Best Cameras  Gifts How to Take Better Pictures random
Links: Adorama Amazon B&H Crutchfield eBay Video Tutorials Facebook Twitter
Adorama's Daily Deals Amazon's Deals-of-the-Day B&H Deal of the Day   Crutchfield's Sales
Phil Steele New Year's sale: 53% off Event Photography, 25% off Lightroom Made Easy, 15% off Photoshop Basics and 15% off Pro Portraits with Off-Camera Flash.
12 February 2016, Friday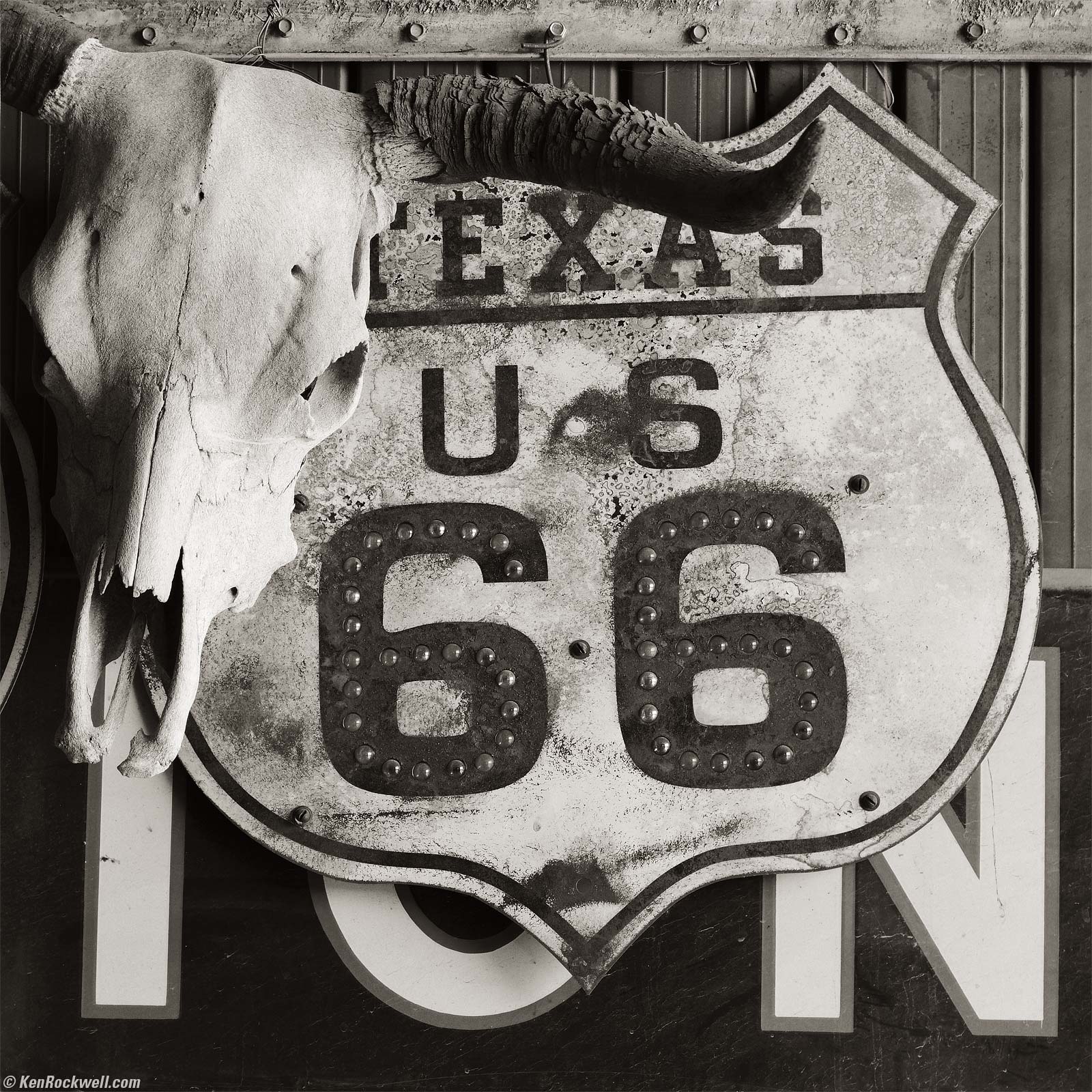 Texas Route 66 Sign with Skull, 4:14 P.M, 05 February 2016. 1987 Zeiss Sonnar T✻ 150mm f/4 CF, no filter, 7.2 foot focus distance, 1992 Hasselblad 503 CX with 1985 PME metered prism that says EV 8, Kodak T-Max 100 in 1993 A12 magazine, f/22 for 3 seconds to add ½ stop for reciprocity failure.
I'm impressed: I went through my first roll of 12 exposures, and I'll be publishing 7 out of those 12 images. That's a pretty good hit rate; with digital we can make 700 shots and wind up not having one decent image out of them all. With film, we have to concentrate, and voilà, better pictures.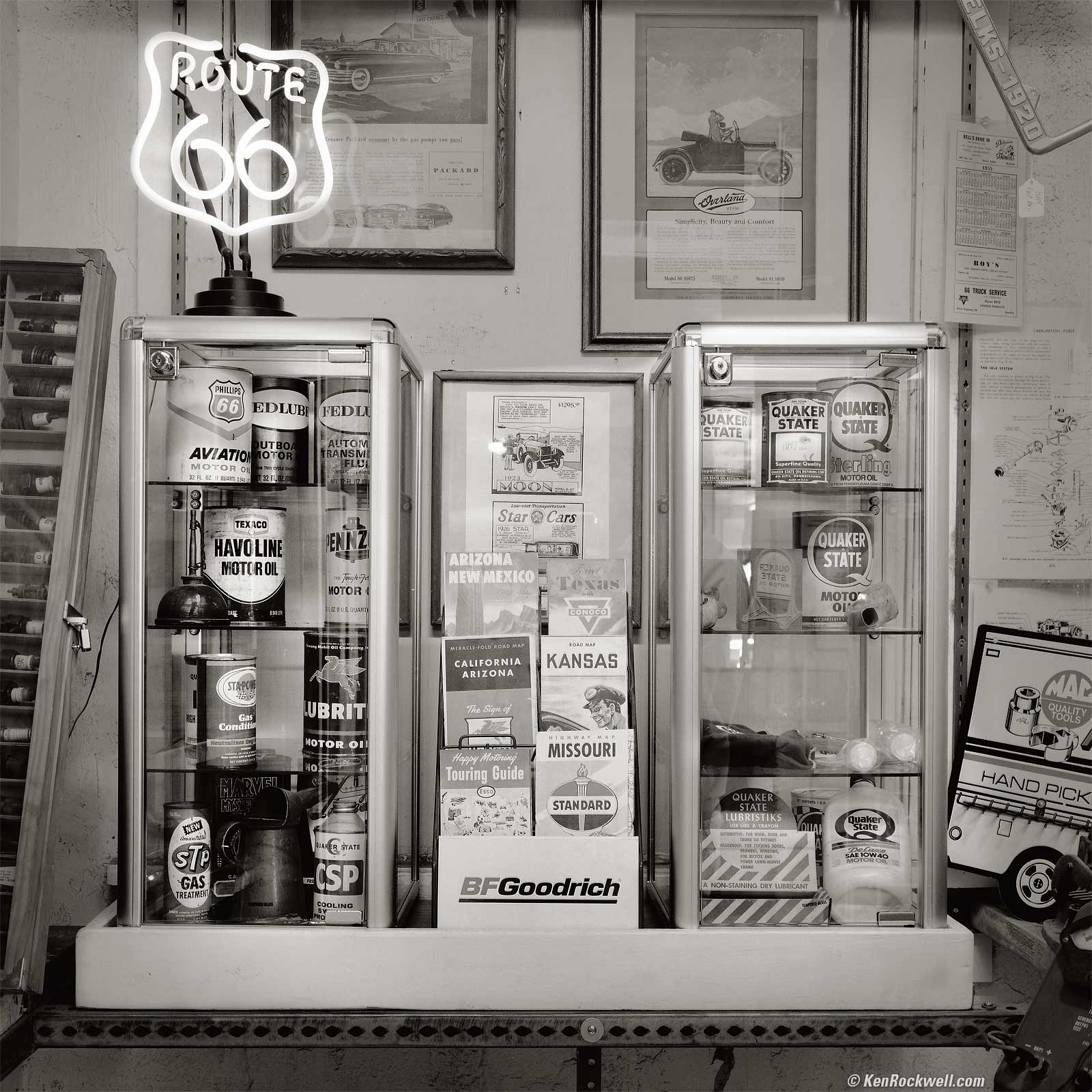 Oil Can & Map Display, Route 66 Museum, 2:51 P.M., 05 February 2016 1992 Hasselblad 503 CX with 1985 PME metered prism & 1993 A12 magazine, 1993 Zeiss Planar T✻ 80mm f/2.8 CF, no filter, Kodak T-Max 100, f/16 for 5 seconds. bigger.
The easy way to get perfect exposures on B&W.
Deal: $300 off MacBooks at B&H.
Deal, today only: DXO ONE for $200 off.
10 February 2016, Wednesday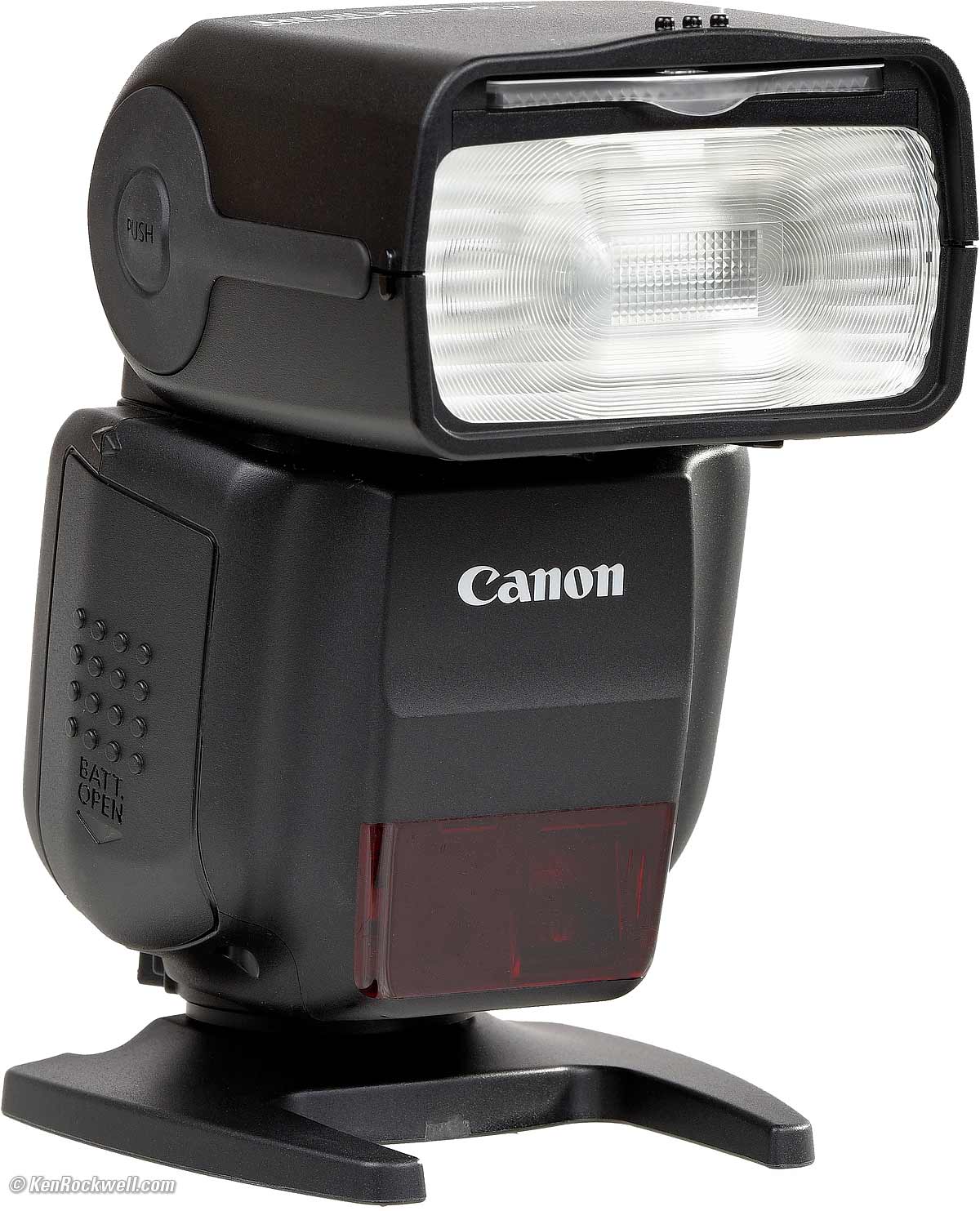 Canon 430EX III RT on included stand.
State-of-the-art midsize flash: loads of power, immediate recycling and radio and IR control.
New from Sony
You now can order these new Sony goodies:
Sony a6300 with 16-50mm



Sony FE 24-70mm f/2.8 GM (G Master) E-Mount NEX

Sony FE 85mm F1.4 GM (G Master) E-Mount NEX
05 February 2016, Friday
I've rewritten the entire page as of just now. If you read my drafts before, check it out again.
Deal: Canon T5i with 2 lenses & goodies: $449 after huge $350 rebate.
Bundle includes:
● Canon T5i
● Canon 18-55mm IS STM
● Canon 75-300mm III (not IS)
● Canon PIXMA PRO-100 Professional Photo Inkjet Printer
● Canon SG-201 Photo Paper Plus Semi-Gloss, 13x19", 50 Sheets
04 February 2016, Thursday
The Gray Market Returns: $1,000 off a 5DSR!
A reader just wrote that he really did get this brand-new Canon 5DS R for $1,000 off. It's the real deal: he got it in its original boxes and he is good to go, for almost $1,000 less than everywhere else!
I've been actively shopping for photo deals for over 40 years. Now that the US dollar is worth about 30% more than it has been since 1990, the gray market lets us get great deals the likes of which we haven't seen since the 1980s.
Gray market simply means that a store finds great deals overseas on brand-new cameras, and imports and sells them directly without paying middleman markups. They don't buy them from middlemen like Nikon USA or Canon USA; they get them directly from the manufacturers elsewhere and save us big dollars.
Back as a kid in the 1970s I'd read the olde-tyme "printed" photo magazines, and tried the ads in the back that offered crazy prices lower than my local store's dealer net prices.
I was shooting Minolta back in the 1970s and got both my new gray-market Rokkor lenses and Kodachrome direct from New York City's newly founded B&H and Adorama — I even bought gray-market made-in-France Kodachrome and it was great. It was still too fresh so it was too green, a big problem before Kodachrome professional sold correctly-aged Kodachrome. I shot Kodachrome professional, also gray market, when it came out, and hoghlights were still too green, but that's Kodachrome. I paid the same for gray market film and prepaid Kodak USA processing that I'd have to pay for the film alone at retail.
The dollar was worth about 300 yen in the early 1980s, so I ordered all my brand-new Nikon manual focus lenses direct from B&H and Adorama for less than these same lenses sold for used! No one believed I could do it, but it was the real deal. Instead of poring through classified ads in Newsday and Buy Lines for used Nikon lenses, I bought whatever I wanted brand new from the city for even less! Back then people shopped in old-fashioned stores that you actually had to drive to; there was no online, and people didn't trust magazine ads from places they'd never heard of. This is what I mean when I say I haven't shopped at retail since the 1970s; once I discovered Adorama and B&H there was no way I was going to waste my time traveling to a store when I could pick up the phone and get it for less.
I moved from New York to California in the late 1980s, and none of my friends believed that I could pick up a phone and give some guy out in New York my credit card number, and get anything other than scammed. I insisted, they saw the deals I got, and my friends warmed up to buying from Adorama and B&H back in the olden days when we still had "walk in" camera stores but no commercial internet. They were skeptical at first, and now for decades most photographers get all their gear from these guys. (This was long before Amazon.)
Most people have forgotten about these great deals or never got them back in the 1980s in the first place. The dollar has only been worth about 80 yen since about 1990. The dollar was at its lowest in 2010 and 2011, but took a huge jump to 120 back in November 2014 and has stayed there for the past year.
Because the dollar is worth about 50% more than it was two years ago, our Japanese cameras should cost us much less in dollars — but the USA middlemen haven't dropped the prices yet, hoping we won't go looking for gray market.
I've been warning the US branches of Nikon and Canon that they'd better do something since the gray market is going to become a very attractive option, and they've only slightly conceded on a few prices. The USA middlemen have been keeping their heads in the sand hoping no one notices and lets them keep US prices inflated.
The yen and dollar are always changing. That's why rebates come and go and change in value; it's how the US middlemen keep the catalog prices looking stable while letting them stay in business as their costs go all over the place.
Back in the 1980s all we had was the telephone and printed magazines. Today with eBay we can find anything from anywhere. eBay is loaded with iffy sellers, but read How to Win at eBay, and when you find a decent seller like 6ave selling gray market, it could be the 1980s all over again. They'll never come out and say gray market; they weasel around it and say something silly like "USA Seller" and "may have parallel warrantee" or whatever. The reader who got his 5DSR for a steal from them said that they also offered a full refund if he wasn't overjoyed with it.
Of course you have to realize I'm a New Yorker. We're known for our shrewdness, risk taking and financial exchange savvy. Heck, we're not only the center for the world's biggest camera stores and all the US middlemen for Nikon, Canon, Tamron, Sigma and others on Long Island, but also the world's financial center. We live this stuff. If you're more relaxed, you're always taking a gamble with gray market - but you have to be willing to lose to win.
By cutting out the middleman you're not entitled to the middleman's help on things like warranties. Good luck getting Nikon USA or Canon USA to fix a broken camera; you'll probably have to ship it to Japan or maybe the sellers offer some kind of warranty — but for $1,000 off, I'll take that chance. Presuming you can find a place to work on it, DSLR repairs usually only run about $300, even if you need a new sensor. LifePixel replaces scratched sensors for about $250. None of the gray market gear I bought in the 1980s has ever failed me.
Hey - the reader who got his 5DS R cheap just looked in his box: he got USA warranty cards!
Happy times are here again! Whoo hoo!
03 February 2016, Wednesday
Brand New from Sony
Full Frame
FE 24-70mm f/2.8 GM Lens

FE 70-200mm f/2.8 GM OSS Lens

FE 85mm f/1.4 GM Lens

FE 1.4x Teleconverter
Crop-sensor
Alpha a6300 (also comes as the kit with a6300 and 16-50mm)
02 February 2016, Tuesday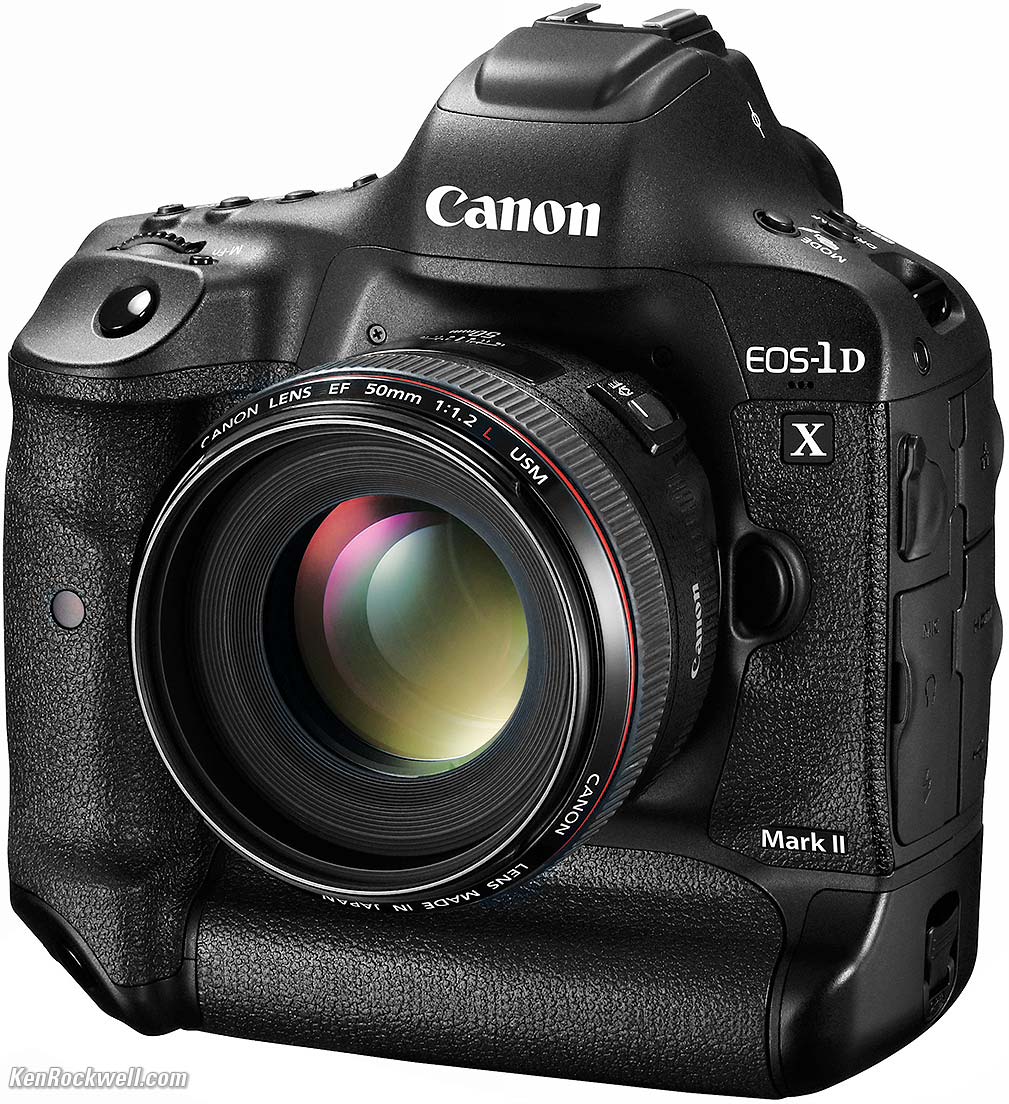 Canon 1DX Mk II and 50mm f/1.2 L.
20MP full-frame, 14 real FPS with full AF and AE tracking.
Updates coming live all day today; much more tonight.

EOS-1DX Mark II: $5,999, also at B&H and at Amazon.
EOS-1DX Mark II Premium Kit: $5,999, also at B&H and at Amazon.

EC-C6 focusing screen: $36.95, and $45 at Amazon.

LC-E19 dual battery charger: $399, also at B&H, but $540 at Amazon.

LP-E19 battery: $179.95, also at B&H for $169 and at Amazon.

WFT-E8A wireless file transmitter: $599.00, also at B&H for $589 and at Amazon.
AC-E19 AC adapter kit: $449, also at B&H for $399 and at Amazon for $700.
DR-E19 DC coupler for 1DX Mk II, $279.95, also at B&H for $249 and at Amazon for $350.

DR-E17 DC coupler: $49.95, also at Amazon for $60.
01 February 2016, Monday
Route 66 on Friday!
Our Route 66 photo trip starts this Friday.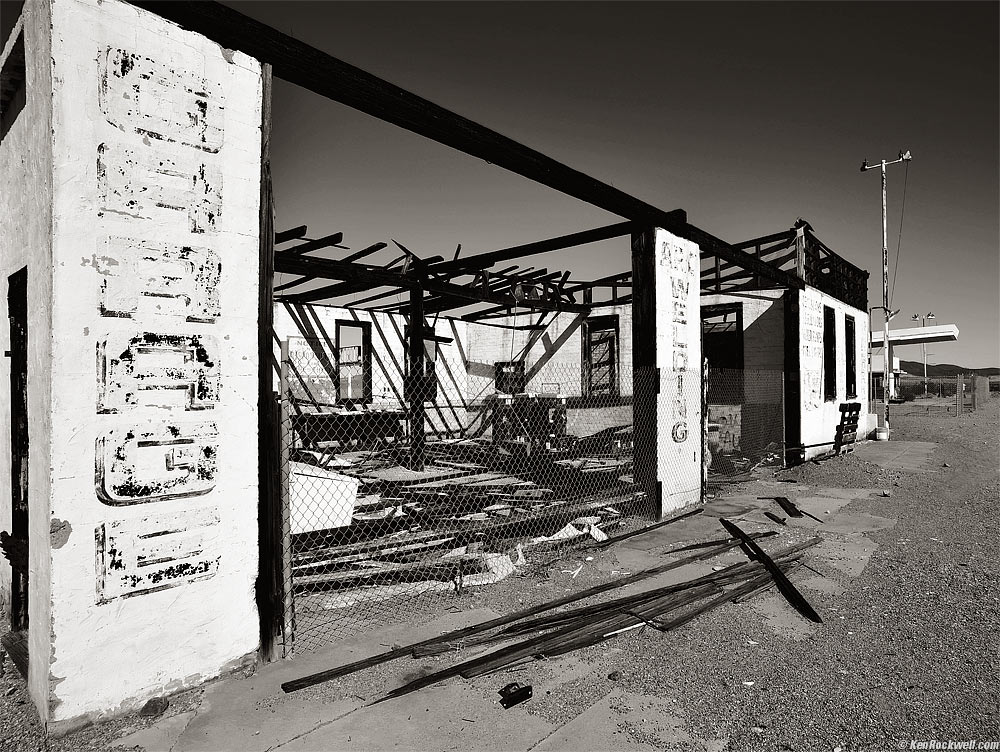 From last year's trip: Abandoned Route 66 Service Station. Nikon D810, Nikon 18mm f/4 NIKKOR AI, f/11 at 1/250 at Auto ISO 100, split-toned print.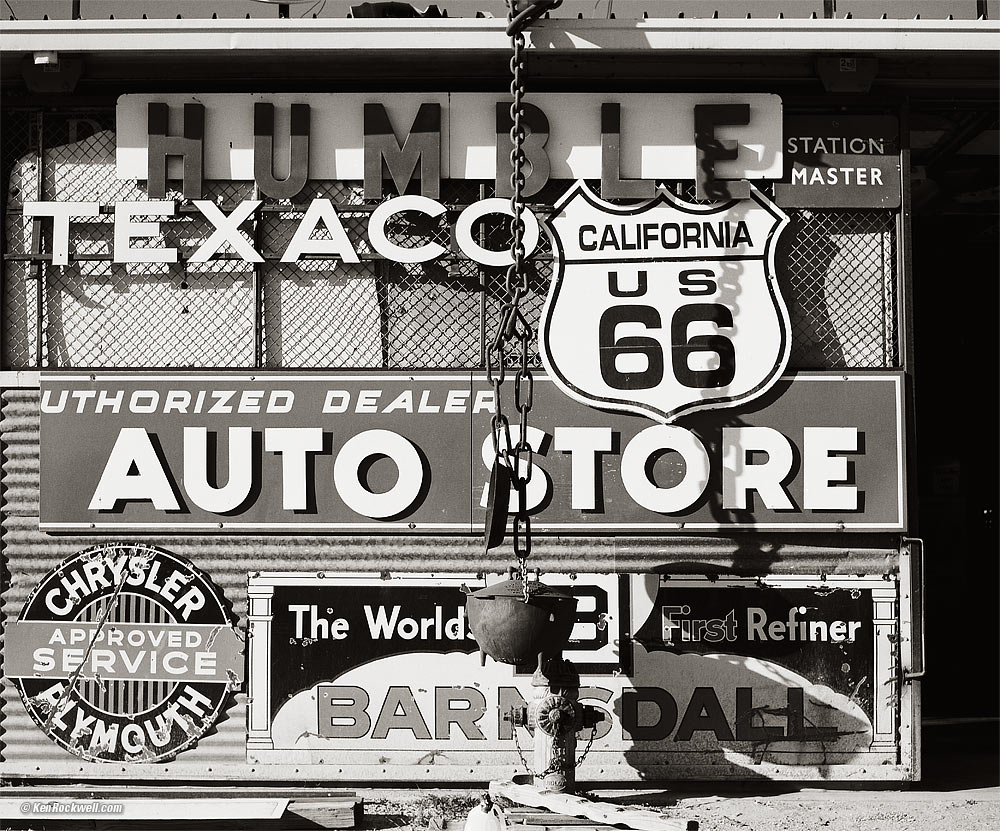 From last year's trip: Signs, Barstow. Made with a 1955 Agfa Super Isolette, Kodak T-MAX 100, orange filter, f/8 at 1/100 marked (really 1/60), split-toned print.
Dave Wyman and I are leading the tour. Dave's already posted a couple of biographies on some of this year's attendees. I also hear rumor that our resident astronomer, Richard Nolthenius, will be helping lead as well.
It will be a hoot. Feel free to join us. Call or eMail Dave Wyman at (323) 377-7565 in Los Angeles. Dave usually is out shooting, so he's rarely sitting by his phone or computer.
New Deals & Rebates
D750 & 24-120VR (Nikon catalog # 1549) $1,100 off: $2,296.95.

D810 Body (Nikon catalog # 1542) $500 off: $2,796.95
D810 & 24-120VR (Nikon catalog # 1556) $1,100 off: $3,296.95.
D810, 35/1.8, 50/1.8 & 85/1.8 Kit (Nikon catalog #13456) $500 off: $4,406.95.
Deals: Sony Lens Rebates.
Deal: Rokinon 50mm T1.5 Cine DS Lens for Nikon, for Canon and for micro 4/3: $379 (Reg. $414 - $549) with free shipping.
Deal: Panasonic DMC-G7 and Audio-Technica AT8024 Microphone: $597.99 (also includes $23.92 back in Adorama Rewards) with free shipping.
What Was New in:
Help me help you
I support my growing family through this website, as crazy as it might seem.
If you find this as helpful as a book you might have had to buy or a workshop you may have had to take, feel free to help me continue helping everyone.
If you've gotten your gear through one of my links or helped otherwise, you're family. It's great people like you who allow me to keep adding to this site full-time. Thanks!
If you haven't helped yet, please do, and consider helping me with a gift of $5.00.
The biggest help is when you use any of these links when you get anything, regardless of the country in which you live. It costs you nothing, and is this site's, and thus my family's, biggest source of support. eBay is always a gamble, but all the other places always have the best prices and service, which is why I've used them since before this website existed. I recommend them all personally.
Thanks for reading!
Ken