Home Donate Search Gallery Reviews How-To Books Links Workshops About Contact

Today's Updates RSS Hot Deals
all © 2014 KenRockwell.com. All rights reserved.

Nikon: D810 D750 D610 D7100 Canon: 5D Mk III 6D 7D II Fuji LEICA All
Ryan Katie
Recommended Cameras How to Take Better Pictures random
Facebook Twitter Video Tutorials
01 October 2014, Wednesday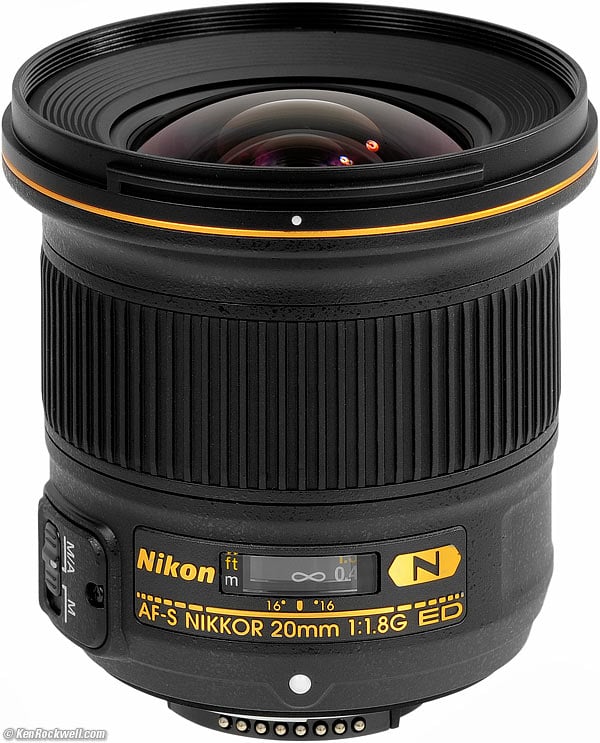 Nikon 20mm f/1.8 G.
NEW: Nikon 20mm f/1.8 G Review.
A complete review of what turns out to be Nikon's best 20mm lens ever. I'm very impressed with my 20mm!
My D750 is here and I'll be getting to that next.
26 September 2014, Friday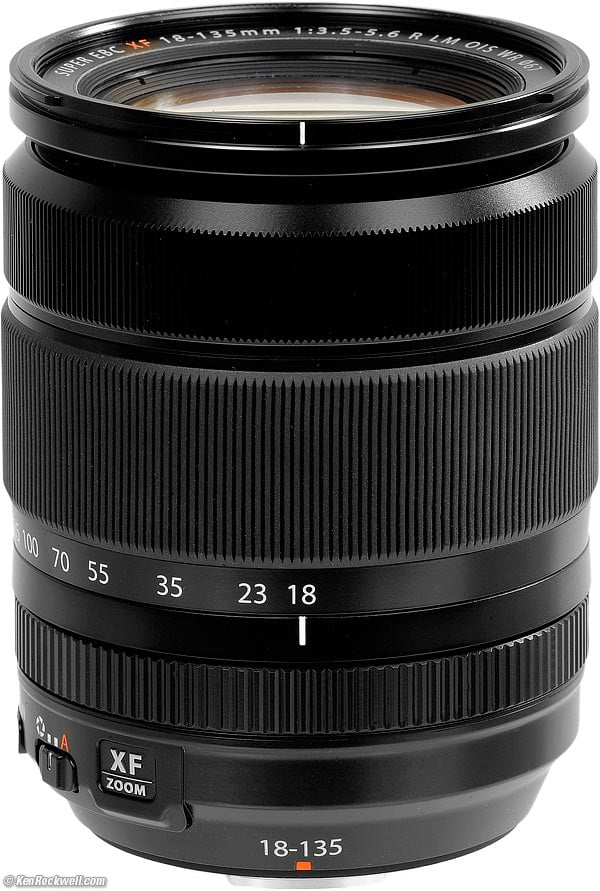 Fuji 18-135mm f/3.5-5.6 for X-mount cameras.
NEW: Fuji 18-135mm Review.
A great do-everything lens for Fuji.
25 September 2014, Thursday
In Stock: Nikon D750!
Adorama received their Nikon D750s yesterday, so we who ordered ours ought to have them today.
As far as I can see, Adorama has more in stock if you haven't ordered yours yet.
The Nikon D750 packs the superior AF performance of the D810 in the ergonomically superior D610 body.
24 September 2014, Wednesday
DEAL: Canon 5D Mk III with printer and more: $2,849 after rebate.
This includes the 5D Mk III, a PIXMA PRO-100 printer (Usually $398), 50 sheets of 13 x 19" Canon SG-201 Photo Paper Plus (Reg. $38.41), an Adorama Slinger Backpack/Shoulder Bag (Reg. $59.95), an extra Green Extreme LP-E6 Battery (Reg. $34.95) and an Adorama Flashpoint Battery Grip (Reg. $69.95).
To get the deal, you pay $3,399 at checkout, and get s $200 mail-in rebate on the camera and another $350 mail-in rebate on the whole shebang a total of $550 in savings. $3,399 - $550 = $2849!
All this, and it comes with free US shipping! This expires Sept. 27th, which is this Saturday.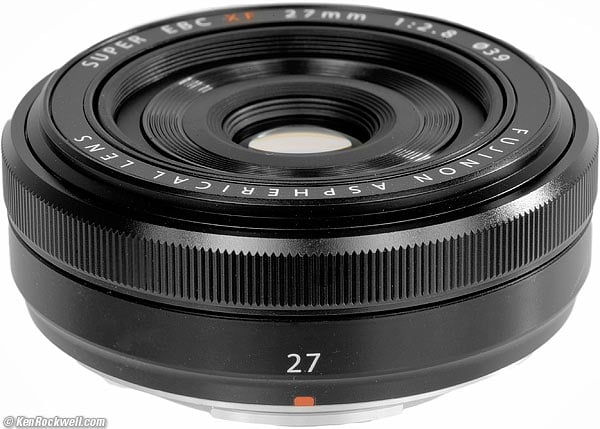 Fuji XF 27mm f/2.8.
NEW: Fuji 27mm f/2.8 XF Review.
A tiny perfect normal lens for Fuji X-mount cameras.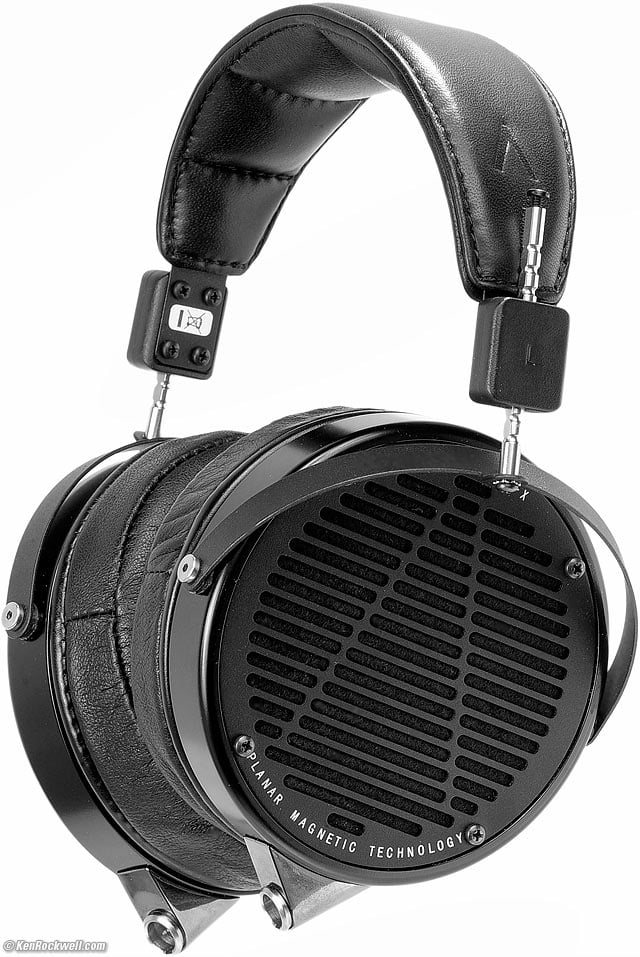 Audeze LCD-X.
NEW: Audeze LCD-X headphones review.
A higher-effifincy verison of the LCD-3.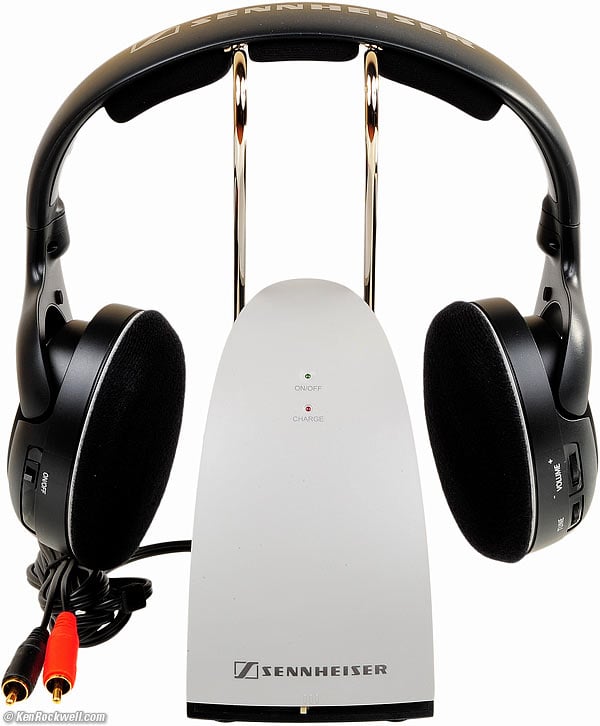 Sennheiser RS 120 system.
NEW: Sennheiser RS 120 wireless headphones review.
For $80, perfect for late night TV viewing.

AudioSource AMP 100.
NEW: AudioSource AMP 100 Review.
An automatic remote power amp for whole-house music systems. A steal at $125 brand new.

NAD 7100X.
NEW: Hitachi HMA 8500 Mk II Review.

NAD 7400.
NEW: NAD 7400 Review.
A classic high performance AM/FM stereo receiver.

NAD 7100X.
NEW: NAD 7100 and 7100X Review.
More classic AM/FM stereo receivers.
19 September 2014, Friday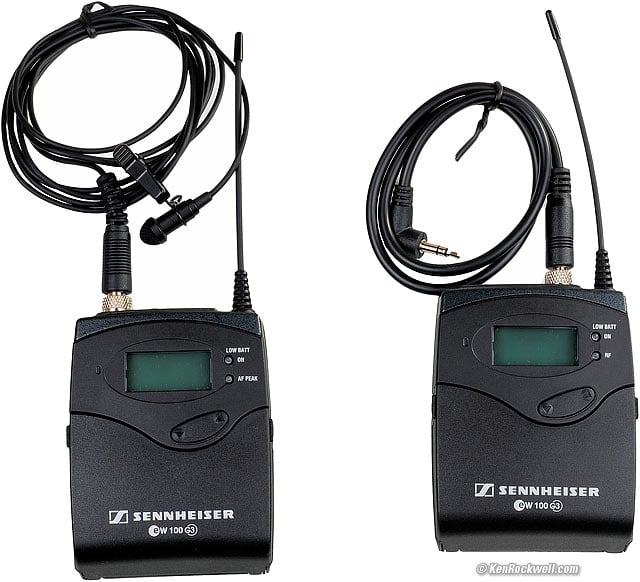 Sennheiser ew 112-p G3 wireless microphone set.
NEW: Sennheiser wireless DSLR mic review.
Complete with live truck video!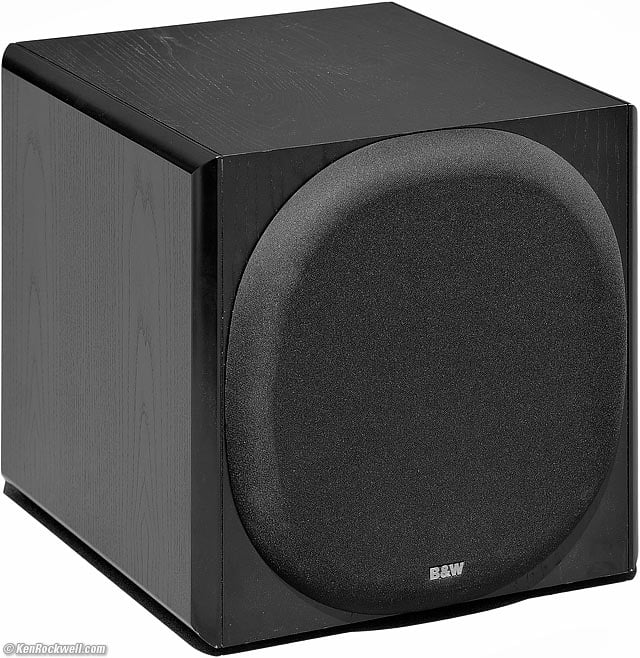 B&W ASW CDM Subwoofer.
NEW: B&W ASW CDM Subwoofer Review.
NEW: B&H now carries Audeze headphones.
I reviewed the LCD-3 recently as the world's best-sounding headphones that you can plug into a standard headphone socket, but you only used to be able to get them direct from the manufacturor. Now we all can get the LCD-3 direct from B&H.
These headphopnes are for serious music listening, not for feild monitoring for recording video. For feild monitoring as you'd use with the wireless mic above, the $100 Sony MDR-7506 are the world's most popular professional headphones. For slightly smoother sound but still with the same tough pro build, I use the $70 Senal
16 September 2014, Tuesday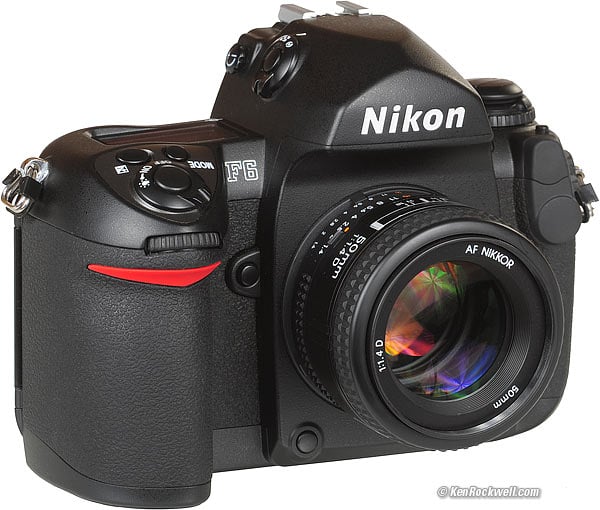 Nikon F6 and 50mm f/1.4 AF-D.
10 Anniversary: Nikon F6.
The Nikon F6 was announced on 16 September 2004, and ten years later, is still the world's best 35mm SLR.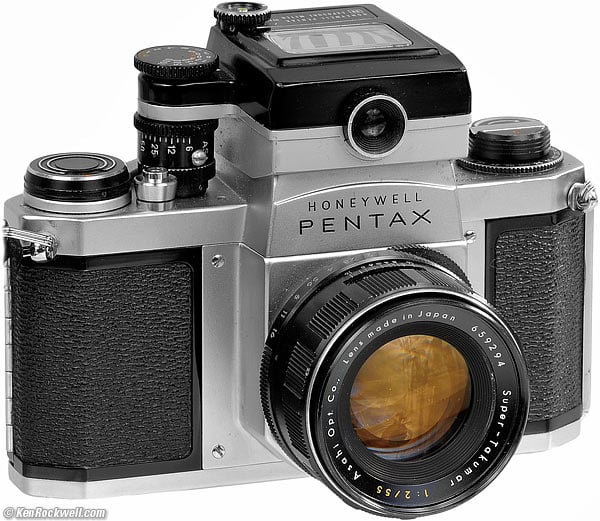 Honeywell Pentax H1a and clip-on CdS meter with Super-Takumar 55mm f/2.
NEW: Honeywell Pentax H1a Review.
15 September 2014, Monday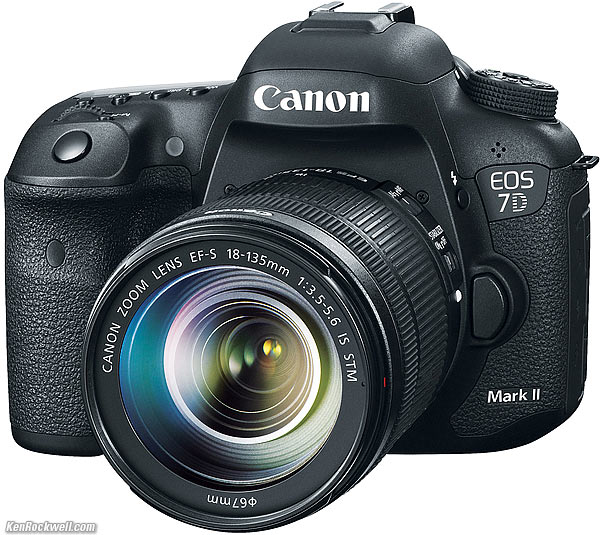 Canon 7D Mk II with 18-135mm IS STM.
NEW: Canon 7D Mk II.
Canon's replacement for the 5-year-old 7D. This new Mark II is now THE sports camera short of a $6,500 pro body, with 10 FPS shooting!
With the ability to synchronize itself automatically to flickering arena lighting, the 7D Mk II just became the world's best indoor sports camera at any price, unless you bring your own arena strobes.
NEW: Canon LP-E6N battery.
The 7D Mark II uses this new battery, which is included with the 7D Mk II. It charges in the usual Canon LC-E6 charger for the older batteries, too.
NEW: Canon WFT-E7A v2 wireless file transmitter for 7D Mk II.
Optional for 7D Mk II.
NEW: Canon BG-16 grip for 7D Mk II.
Optional for 7D Mk II.
NEW: Canon EF-S 24mm f/2.8 STM.
A tiny $149 normal lens for APS-C DSLRs.
NEW: Canon 24-105mm f/3.5-5.6L IS STM.
A bargain full-frame pro lens, just $599.
NEW: Canon 400mm f/4L DO-IS II.
The new version of the old 400/4 DO. They use a Fresnel element to weigh much less than a regular huge telephoto.


13 September 2014, Saturday
You have to love Amazon
Ordering is always easy from Amazon, and returns are even easier.
I just got a defective light switch from Amazon, went to the Amazon.com, and in about 15 seconds had a label printed out to return it.
Actually, all I did was stick the page in the box. Amazon is sending UPS back to my house to pick it up from me, free. I don't have to call anyone or drive anywhere to return it.
Nothing is more local than my front doorstep. Thank you Amazon!
12 September 2014, Friday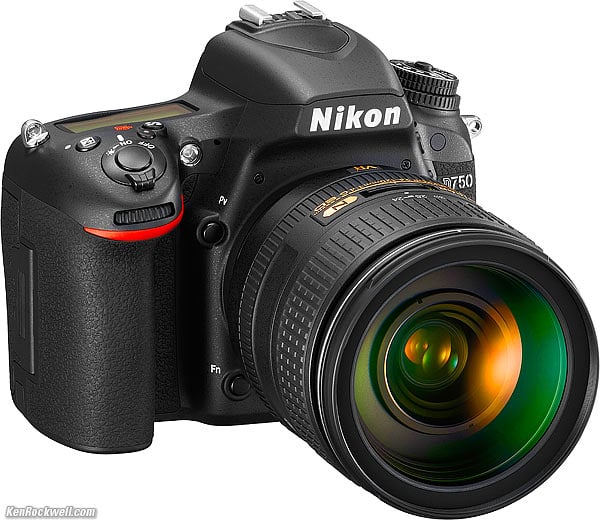 NEW: Nikon D750.
The D750 is a D610 with a flippy screen and the superior autofocus system of the D810.
NEW: Nikon 20mm f/1.8.
NEW: Nikon SB-500.
NEW: Nikon 52mm close-up lens.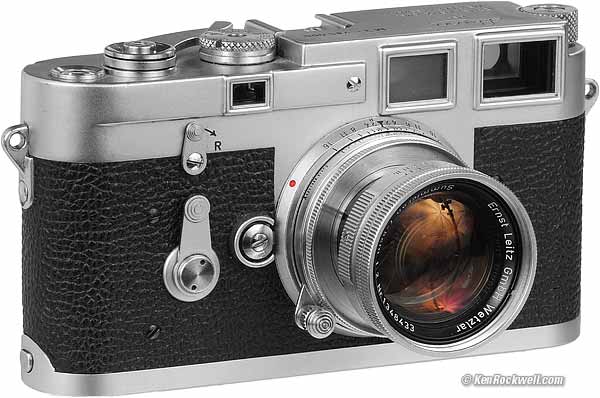 LEICA M3 and 50mm f/2 SUMMICRON.
NEW: Just Use It.
You can't wear out a good 35mm camera.
11 September 2014, Thursday
NEW: World's Largest SD Card: 512 GB.
But how will it fit my camera? Perfectly!
This new SanDisk card is the same size physically, but holds half a Terabyte. It must weigh a ton when full of pictures, though.
This series of card also comes in more reasonable capacities.
The biannual Photokina show is this coming week in Germany, so we'll be seeing new products announced all week.


10 September 2014, Wednesday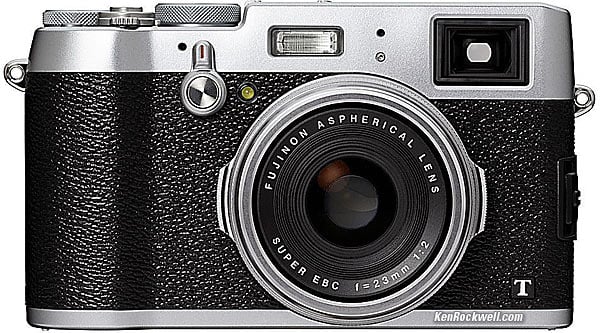 Fuji X100T.
NEW: Fuji X100T.
The X100T is the new version of the X100S.
It adds a bigger LCD, a new 1/32,000 electronic shutter, SEVEN customizable Fn buttons, Program mode goes to 4 seconds, ISO goes to 51,200, and a whole lot more — all for the same price as the old X100S.
NEW: Fuji X-T1 Graphite edition
Just a new color for the same great X-T1 (review).
Weather-resusitent pro tele lens.
Apodization (APD) means that this lens is designed to give even smoother bokeh than the regular XF 56mm f/1.2.
October Workshop Update
As usual, our Annual October trip to Yosemite is completely sold out and wait-listed. Who doesn't want to be shooting in Yosemite at the peak of fall color?
The good news is that we still have some room on our trip to the Eastern Sierra which starts immediately after the Yosemite trip.
See you in October!
UPDATED: Premium 50mm Lenses Compared.
I added links to all the more detailed comparisons I've made for each lens, and put those links in the master comparison. Now we have a comparison of comparisons!
UPDATED: Nikon D810 Review.
Actually I update this just about daily I added to the Performance section, and added an index, too.
NEW: Apple AirPort Express Audio Quality Review
it works great!
09 September 2014, Tuesday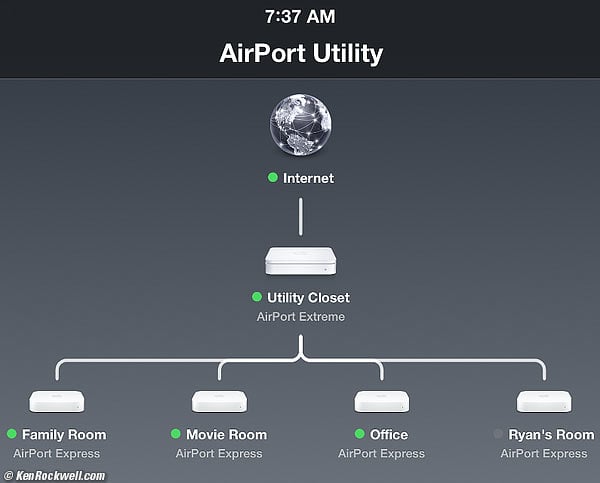 Apple AirPort Utility.
NEW: How to Create a Large Wireless Network.
Everyone says it's easy, but non one has ever actually documented this step-by step, as I just have.
I'm actually feeling pretty smart, because I actually just covered almost an acre of property with strong, fast Wi-Fi.
Now it's easy to set up your entire dorm building or neighborhood on one big happy network.
NEW: How to Create a Multi-Room Music System.
Once you've got your big network setup, all you need to do is plug it in.
08 September 2014, Monday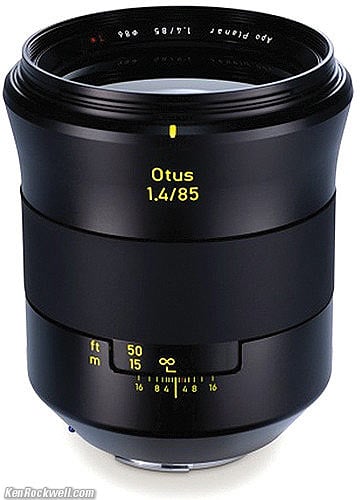 Zeiss Otus 85mm f/1.4.
NEW: Zeiss Otus Apo-Planar 85mm f/1.4 for Nikon and for Canon.
Another big, heavy ultra-high performance manual focus lens.
These are for the man who appreciates the feel of metal in his hand, and doesn't mind that autofocus is permanently broken on these Zeiss lenses. You people know who you are. If you appreciate that Zeiss also makes the lenses for the satellites I can't tell you about that can read the number off a golf ball from outer space, this lens is for you.
For me, I prefer my autofocus NIKKOR 85/1.4G, and the Canon 85/1.2 L II also has absolutely stellar performance, again for less than half the price of the manual focus Zeiss.
The Zeiss Otus is a special-purpose lens that shines for astronomy and for shooting from a tripod, and focussing with Live View.
04 September 2014, Thursday
NEW: Premium 50mm Lenses Compared.
A comparison of all the hot-rod 50mm lenses of today, with a few classics and f/1.8s thrown in for fun.
03 September 2014, Wednesday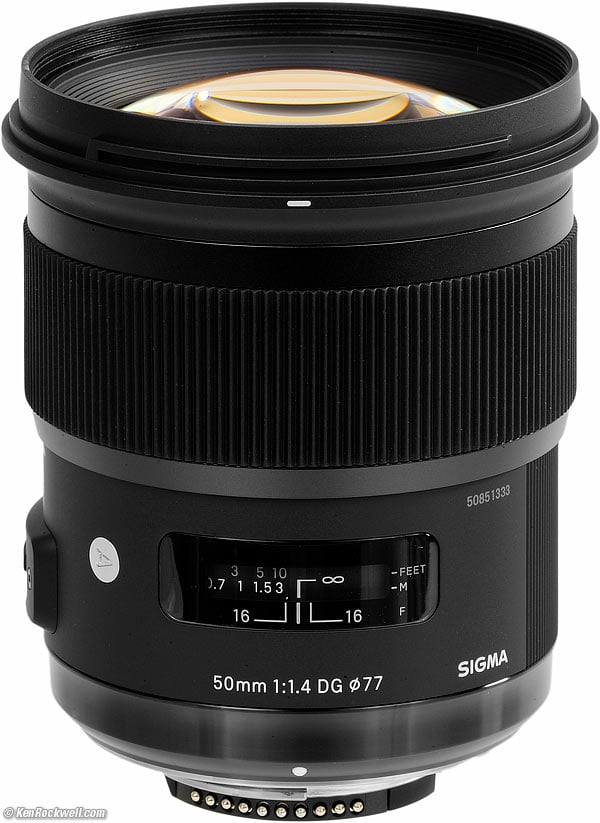 Sigma 50mm f/1.4 DG HSM ART.
NEW: Sigma 50mm f/1.4 ART Review.
02 September 1934, Tuesday
80th Anniversary of the first Canon camera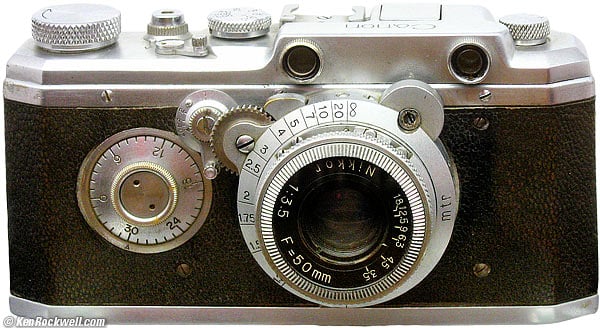 Kwanon Camera. bigger.
Canon was founded in a garage to make an inexpensive copy of the frightfully expensive new LEICA. The idea was to make the same camera, but at a price people actually could afford.
The Kwanon used a NIKKOR lens. Garage-shop Canon made no lenses, and since Nikon made no cameras, Canon simply had Nikon make lenses for them.
The Kwanon prototype came out 80 years ago, and production started in 1936.
These "Kwanon" cameras became very popular because they worked about as well as a real LEICA, and they cost much, much less. As always, Canon expanded the limits of technology and made cameras far more advanced than LEICA. For instance, Canon rangefinder cameras of the late 1950s and newer had life-sized viewfinders, something LEICA has never been able to do, and the Canon viewfinders changed their magnifications to match the lens used, something else LEICA has never been able to do. Canon leapfrogged LEICA in the 1950s, but LEICA has a saint and martyr, while Canon does not. Thus LEICA survives.
Today nothing has changed, except that Canon makes their own lenses, nikon makes their own cameras, and Canon cameras still outperform and outsell LEICAs by a huge ratio.
What Was New in:
Help me help you
I support my growing family through this website, as crazy as it might seem.
If you find this as helpful as a book you might have had to buy or a workshop you may have had to take, feel free to help me continue helping everyone.
If you've gotten your gear through one of my links or helped otherwise, you're family. It's great people like you who allow me to keep adding to this site full-time. Thanks!
If you haven't helped yet, please do, and consider helping me with a gift of $5.00.
The biggest help is when you use any of these links when you get anything, regardless of the country in which you live. It costs you nothing, and is this site's, and thus my family's, biggest source of support. eBay is always a gamble, but all the other places always have the best prices and service, which is why I've used them since before this website existed. I recommend them all personally.
Thanks for reading!
Ken
Home Donate New Search Gallery How-To Books Links Workshops About Contact