Today's News

Canon: 1DX II 5DS/R 5D Mk IV 6D II 7D II 80D 77D T6 SL2 Lenses
Sony: A9 A7R3 A7RII A7SII A7II A7 A6500 A6300 A6000 RX10 IV RX10III RX100V Lenses
Nikon: D5 D850 D810 D750 D610 D500 D7500 D5600 D3400 Lenses
All Reviews: Apple  Fuji  LEICA  Zeiss  Hasselblad  Contax Olympus Pentax
Recommended Cameras Best Cameras  Gifts How to Take Better Pictures random
Links: Adorama Amazon B&H Crutchfield eBay Tutorial Videos Infrared Facebook Twitter
Adorama's Daily Deals Amazon's Deals-of-the-Day B&H Deal of the Day   Crutchfield's Sales
20 January 2018, Saturday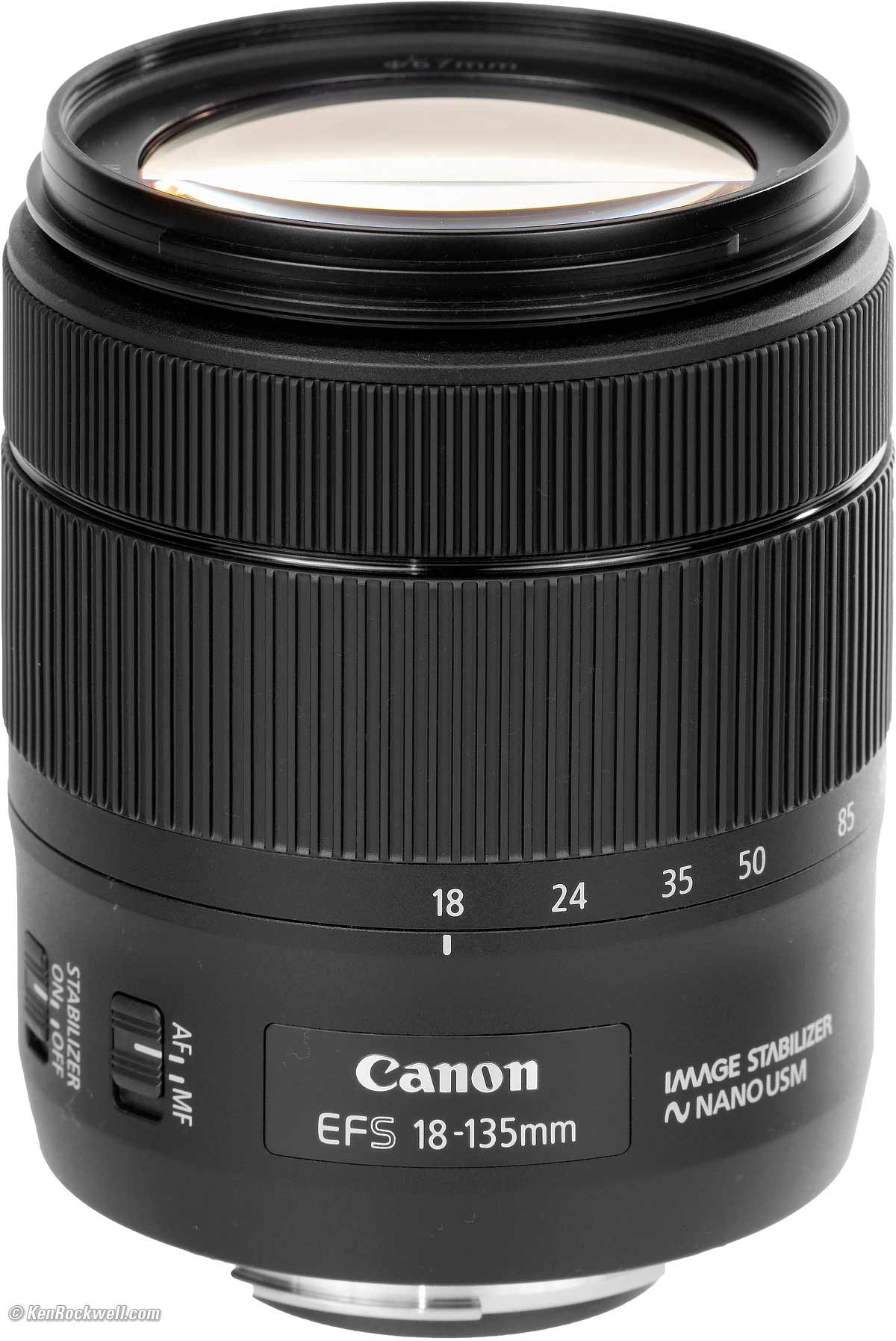 Canon EF-s 18-135mm f/3.5-5.6 IS USM.
19 January 2018, Friday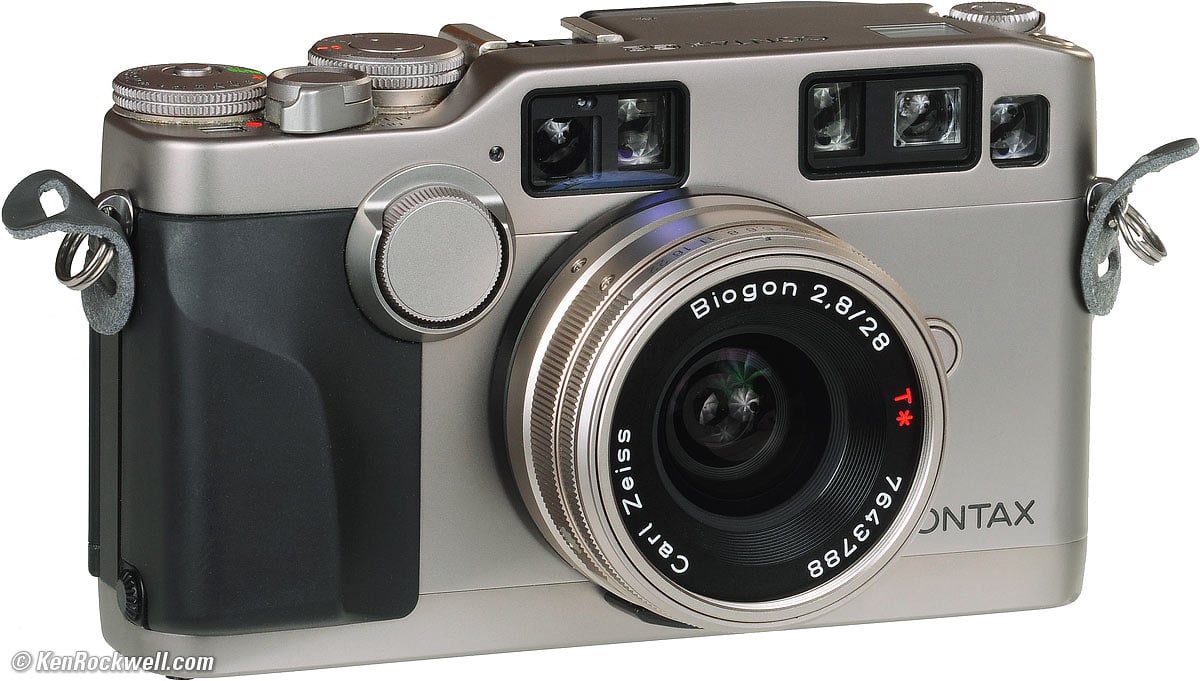 CONTAX G2 and ZEISS BIOGON 28mm f/2.8.
Updated: CONTAX G2.
As I've said long ago, the Contax G2 is the best modern 35mm camera system for what we shoot on 35mm today. No one shoots sports or action on film, so pro SLRs like the Nikon F5 and Canon EOS 1V are silly for today's more contemplative styles.
Contax' ZEISS lenses easily outperform anything from Nikon on film; heck, the results get from the ZEISS lenses make most of my Nikon SLR lenses look broken by comparison. LEICA's lenses are as good as the ZEISS, but LEICA's cameras are primitive and largely forgettable for any purpose other than men's jewelry, with their primitive manual focus and inaccurate viewfinders.
It turns out that as I predicted CONTAX G2 prices have doubled since I wrote about them in 2009~2014. The CONTAX, always a premium camera for superior people, has become a celebrity item. Here's an article from a fluff website about how one celebrity uses a much simpler CONTAX T3 point & shoot, which sells today for about $1,500 used, if you know How to Win at eBay. For you bargain hunters, the earlier CONTAX T produces incredible images, and is even simpler.
Weekend Deals
Nikon D800: Regular Price: $2,199.95, Sale Price: $1,499.95 (refurbished). 
Rokinon 8mm Fisheye for Canon: Regular Price: $269, Sale Price: $189.95. 
Fender Limited Edition Mustang Bass PJ Electric Guitar: Regular Price: $575, Sale Price: $400. 
Polk S50 Small Towers, S30 Center & S10 Surrounds: Regular Price: $929.80, Sale Price: $470 (open box).
Samson C01UCW USB Studio Mic: Regular Price: $70, Sale Price: $25.
ASUS Chromebook Flip 11.6" Touchscreen Notebook: Regular Price: $349, Sale Price:$299 if you use Coupon Code ASUS50JAN. 
ASUS Chromebook Flip C213 11.6" Touchscreen Notebook: Regular Price: $399, Sale Price: $349 if you use Coupon Code ASUS50JAN.
18 January 2018, Thursday
I brought these pages up-to-date.
Deals
Canon D570 Wireless Multifunction B&W Laser Printer: Regular Price: $229, Sale Price: $99.
HiFiMan HE560 Planar Magnetic Headphones: Regular Price: $499, Sale Price: $350.
Victorinox Swiss Army Cigar Pocket Knife: Regular Price: $65, Sale Price: $50.
17 January 2018, Wednesday
I added some new Sample Images.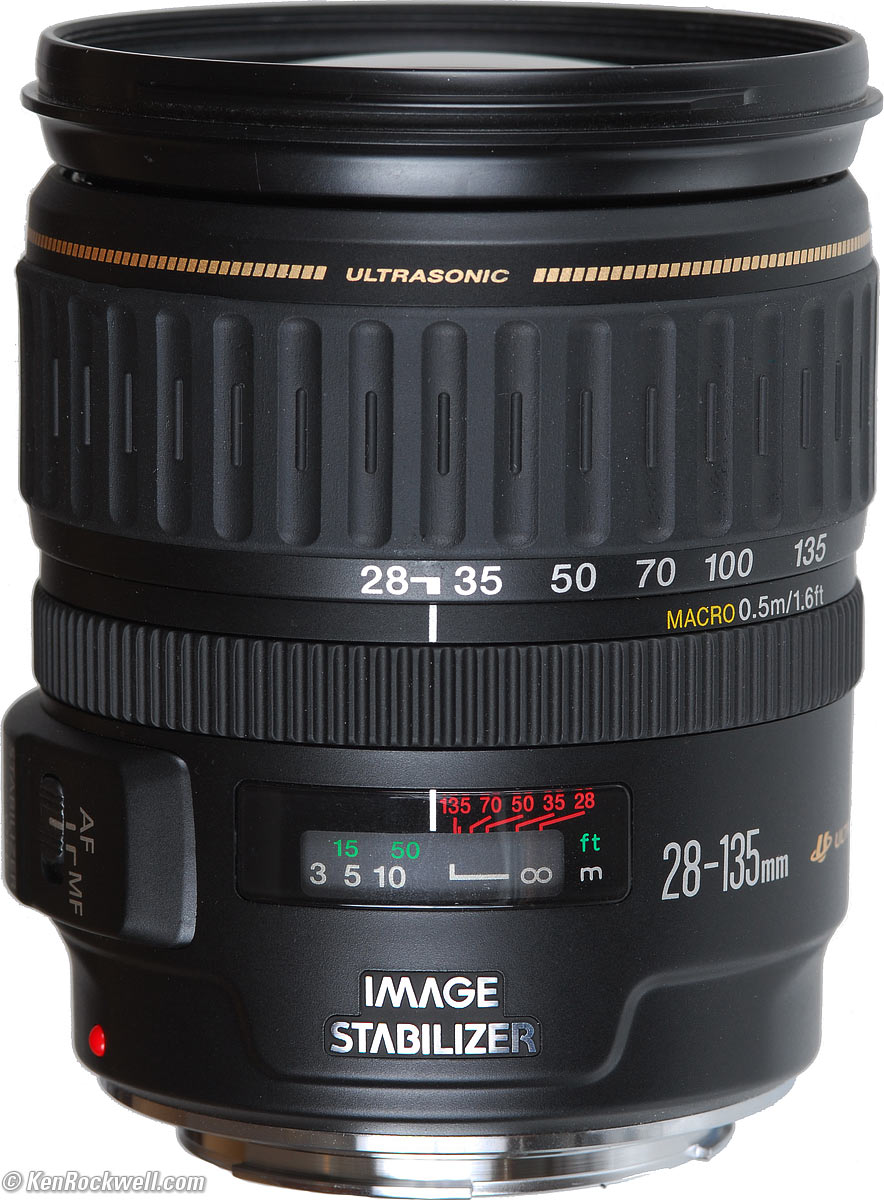 Canon EF 28-135mm f/3.5-5.6 IS USM.
Now only $100 used if you know How to Win at eBay, and works great on Canon's full-frame cameras. In fact, I used it on my 6D Mark II last week! It covers an an extremely useful range, focuses closely, and is small and light and has stabilization.
16 January 2018, Tuesday
The world's best mirrorless camera. Sony A7R III Review.
Deals
Hasselblad H5X w/HVD 90x Viewfinder, Battery and Charger: Regular Price: $7,800, Sale Price: $6,795.
Rokinon 14mm f/2.8 for Nikon w/3 year abuse warranty & accys: Regular Price: $400, Sale Price: $319.
Rokinon 14mm f/2.8 for Canon w/3 year abuse warranty & accys: Regular Price: $400, Sale Price: $319.
Rokinon 14mm F2.8 for Sony E Mount 3/3 year abuse warranty & accys: Regular Price: $400, Sale Price: $319.
Expires tonight at Midnight, NYC time: SanDisk 256GB Ultra micro card w/SD Adapter: Regular Price: $200, Sale Price: $129.60.
Epiphan Webcaster X2 Facebook Live and YouTube Live Encoder: Regular Price: $300, Sale Price: $270. 
Blackhawk Be-Wharned Folding Knife: Regular Price: $85, Sale Price: $50.
13 January 2018, Saturday

Canon 6D Mark II and Canon 50mm f/1.2 L.
All-new performance section, sample images and edits all around.
11 January 2018, Thursday
2018 Workshop Dates
Here are two of my 2018 workshops - so far. I may add more, but for now here are two of the ones in Yosemite:
21~24 October 2018: Fall Color in California's Eastern Sierra (exact dates TBD, runs right after the other trip).
New Sony A9 Firmware
Sony has new firmware for the A9. Download for Mac and download for Windows.
Improved:
Enhanced performance of continuous auto focus on moving subjects
Enhanced stability of the AF-C when zooming
New Functions:
Adds the function to assign Protecting images to custom Key
Adds the function to transfer (FTP) protected files at once
Note: Only for images protected using version 2.00 or higher.
Displays wired LAN MAC address
Inputs IPTC metadata to files
Note: IPTC information must be created beforehand using the IPTC Metadata Preset software.
Inputs camera serial number to metadata
More:
Improves operational stability
Improves accuracy of the overheating warning function
Deals
Pilotfly H2 Handheld Gimbal Stabilizer: Reg Price $1,100, Sale Price $899.
Pelican 1510 watertight hard case: Reg Price $220, Sale Price $170.
Inovativ Scout 37 equipment cart: Reg Price $3,100, Sale Price $2,900. This mama holds 600 pounds of production equipment!
Manfrotto Pro Light CC-197 case for video gear: Reg Price $189, Sale Price $150.
Sigma 300mm f/2.8 for Sony Alpha: Reg Price $2,890, Sale Price $1,990! refurbished. To use this on Sony E-mount (mirrorless), use the Sony LA-EA3 or LA-EA4 adapter.
SLR Magic Anamorphot 1.33 x 40 Anamorphic Adapter: Reg Price $799, Sale Price $679.
Rokinon Cine 20mm T1.9 for Micro 4/3 w/free goodies: Reg Price $799, Sale Price $499.
Tamron 18-270mm for Nikon: Reg Price $449, Sale Price $359.
Lowepro CS 300 Backpack fpr drone systems: Reg Price $130 Sale Price $30.
10 January 2018, Wednesday
Serious closed-ear headphones, but with silly glass backs for show.
09 January 2018, Tuesday
I was interviewed live on San Francisco's KCBS 740 AM / 106.9 FM at 1:32PM Pacific time about Kodak's latest announcement of a new cryptocurrency and a Kodak plan for monetizing and protecting photographs.
I said it's just Kodak trying to use some buzzwords to look hip since no one cares about Kodak anymore. The announcement has two parts: another bitcoin called "KodakCoin" (whose website still doesn't work as I write this) and a new platform to try to licence photos. Seems like others agree, but buzz-crazed investors didn't care about reality and doubled the value of Kodak stock in a day. Maybe Kodak just did it to raise development funds to make a better film than Fuji ACROS 100.
No one needs another bitcoin; eBay is better for online payments since everyone uses it and they only keep a couple of percent for the transactions. Let's face it, no one even knows what bitcoins are; unlike real coins made of gold or silver or cash backed by the US Federal Reserve, bitcoins are only worth what other hackers will pay you for them.
Kodak is trying to sell shares in an investment scheme (an ICO) unrelated to we photographers. An ICO is pure speculation for risk-taking people willing to invest in something in which they could lose everything in exchange for a small potential for wild appreciation. See my article on Risk; this is why this ICO will only beoffered to accredited investors (not the public who don't realize that they can lose everything) and only as an "exempt" offering, which I suspect means largely unregulated.
Second, Kodak claims a new platform that crawls the internet looking for photos that have been ripped off, but you can do this today for free at TinEye and I think Google. Kodak's plan might be useful if it had a strong and proven legal team with a serious track record of recovering damages and paying them to photographers, but I've seen nothing. A gotcha also is that unless you register your images with the Library of Congress, you can't do much to recover damages. If Kodak automated a system that 1.) registered images, 2.) found infringers, 3.) recovered damages, and critically 4.) paid these to photographers instead of keeping most of it for themselves as legal fees, we'd have something.
Whenever they get this going, I'd look at the fee structure, the history of recovery and payment, and tread very cautiously on this. Recovering damages for infringement is very difficult and usually costs about what you recover; for Kodak to help they need to have a very efficient process that recovers largely automatically, and is also smart enough not to send automated demand letters to parties with whom you already have licences other than through the proposed Kodak system.
My hat's off to whoever wrote the press release. It says nothing other than Kodak has a general interest in pursuing these two things, but that's it. Kodak's done nothing other than publish a press release, and doubled their stock value in a day. Bravo!
"Cryptocurrency" sounds cool, but it's fluff — its only value is what you can get other noobs to pay you for it. This reminds me of when I turned a $100,000 investment in technology stocks in the late 1980s into my first million dollars by March 2000, which then crashed and I lost everything in the great NASDAQ crash of April 2000. Heck, the NASDAQ today has only barely returned to its peak value of 5,400. New investors beware, bitcoins are the same thing — you can make fast cash, but only if you get out before everyone else does.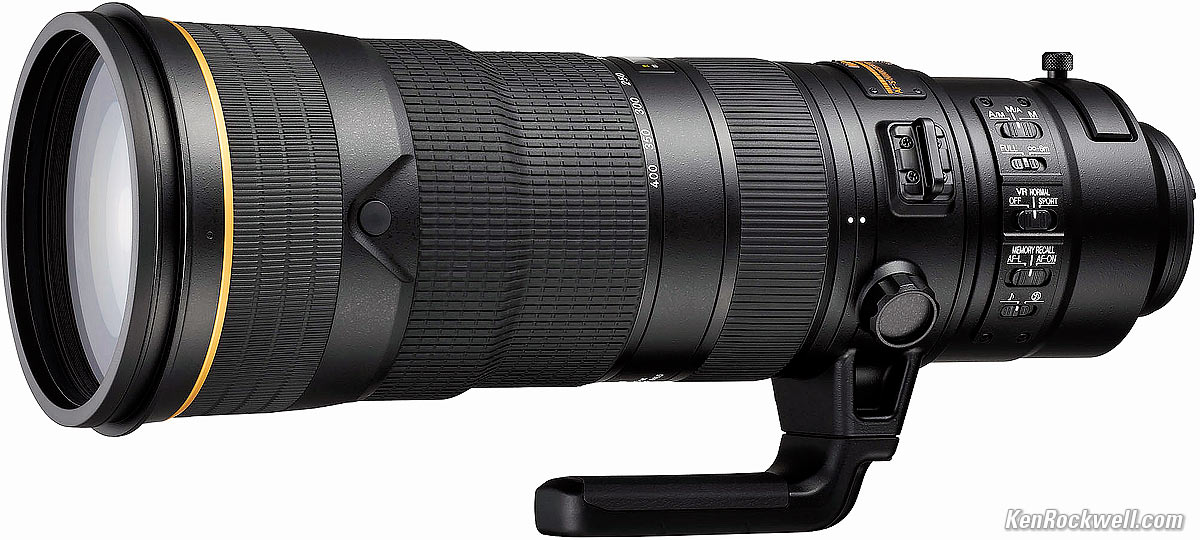 Nikon 180-400mm f/4E VR TC.
This new lens replaces the old 200-400mm f/4 VR II, and adds an easily switched in or out 1.4x internal teleconverter. Birders and wildlife fans be sure to put this on your Santa list today and be very good for the rest of 2018!
10MP stills, but mostly designed as an anamorphic 4K cine camera.
ISO extendable ISO 80 – 204,800.
Unlimited in-camera recording of C4K: 60p50p 8-bit, 30p25p/24p 4:2:2 10-bit, 4K: 60p50p 4:2:0 8-bit, 30p/25p/24p 4:2:2 10-bit. 1080p up to 240fps and C4K 60p VFR.
4K Anamorphic professional video production interchangeable lens camera system with high performance, durability, and mobility.
TC In/Out / Synchro Terminal (via included BNC cable), 3.5mm Mic Jack with Line Input, 3.5mm headphone jack 2.5mm remote socket, HDMI Type A Socket, USB-C 3.1 Socket.
Dual SD Card slots (UHS-II U3 Compatible), V-LogL pre-installed, and 4K HDR hybrid log gamma support.
06 January 2018, Saturday
05 January 2018, Friday
NEW: Flashpoint 600Pro TTL portable strobe.
Sale: MacBook Pros.
02 January 2018, Tuesday
New Year's Deals:
Sony A7R II w/Sony VG-C2EM Vertical Grip: Reg Price $3,246 Instant Rebate Price $2,696
Swarovski Optik 58141 10x30 CL Binocular: Reg Price $1,129 Sale Price $999.
Tiffen 77mm Variable 2~8 stop Neutral Density Filter: Reg Price $94, Sale Price $72.
Think Tank Perception Pro Daypack: Reg Price $150, Sale Price $110.
Rokinon 20mm T1.9 Cine for Canonw/Accessories: Reg Price $799, Special Price $499.
Video
JVC GY-HM170 4K Camcorder w/12x Zoom & Top Handle Audio Unit: Reg Price $1,795, Instant Rebate $1,245.
Manfrotto 509HD Video Head w/545B Legs & Bag: Reg Price $1,680, Instant Rebate $1,180.
Panasonic HC-WXF991K 4K Ultra HD Camcorder, Bag, Sandisk Extreme Pro 64gb card, & 49mm Filter Kit: Reg Price $1,036.49, Instant Rebate $936.49.
Panasonic HC-V770 Camcorder & Upgrade Accessory Bundle: Reg Price $629, Instant Rebate $529.
Computer
SiliconDust HDHomeRun Connect: Reg Price $100, Sale Price $70.
OKI Data Microline ML420 9-pin Impact Printer: Reg Price $749, Special Price $370.
Audio
Bose Solo 15 Series II TV Sound System: Reg Price $379, Sale Price $299.
Music
Fender T-Bucket 300-CE v3 Acoustic Electric Guitar: Reg Price $300, Sale Price $180 While supplies last.
01 January 2018, New Year's Day

Valid now through the end of New Year's Day. Use secret code KENROCKWELL.
Perfectly Clear (an old review of the oldest version) is the software I use on most of my photos to make them better, faster than I can do any other way. It has a free trial and money-back guarantee. so you can't lose. I love it.
LAST DAY: Holiday Sale on Phil Steele Photography Courses
My friend Phil Steele is having a private holiday sale on his courses. Phil's tutorials are the best I've seen; check out his previews and see for yourself. He has a 60-day no-risk money-back guarantee, so you've got nothing to lose and everything to gain. You can watch them from anywhere on just about anything, far better than a book, file or eBook.
SAVE 33%: Secrets of Successful Event Photography.
SAVE 30%: Lightroom Made Easy.
SAVE 30%: Photoshop Basics for Photographers.
SAVE 30%: Pro Portraits with Off-Camera Flash.
What Was New in:
December 2017: Canon 35mm f/2.8 Macro review, Sony A7R III review, Sony A7R III user's guide, Sony FE 24-105mm f/4 G OSS review, Sony FE 100mm STF G OSS review.
November 2017: Sony 50/2.8 Macro Review, Sony 90/2.8 Macro Review, LEICA CL, Sony 70-300mm G Review, Panasonic G9, iPhone X Review, How to Make Time Exposures with iPhone, 1X Photo Contest, Tamron 100-400mm.
October 2017: Nikon D850 review, Nikon D850 user's guide, Sony A7R III, Sony 24-105mm G, Sony 85/1.8 review, Canon G1X Mk III.
June, July, August and September 2017: Canon 6D Mk II, Canon SL-2, Canon 85/1.4L, Canon TS-E 50/2.8, 90/2.8 & 135/4, Nikon D850, Nikon 70-300 VR DX AF-P, Nikon 28/1.4E, Metabones Mk V Canon EF -> Sony E-mount adapter.
May 2017: Nikon 10-20mm DX VR, Nikon 8-15mm FX Fisheye, Canon 77D Review, Canon Rebel T7i Review, Canon 18-55mm IS STM Review, Springtime in Yosemite, Irix 15mm f/2.4 Review, Sony 16-35/2.8 GM, Sony 12-24/4 G, Fuji X100F Review, Laowa 12mm Review, Olympus TG-5.
March & April 2017: Nikon D7500, Nikon 19mm PC-E review, Nikon D3400 review, Sony A7 Mk II review, Nikon D5600 review.
February 2017: Canon 77D, Canon Rebel T7i, Canon EOS M6, Sony 24-70/2.8 GM, Sony 85mm f/1.4 GM , Sony 70-200mm f/4 G OSS, Sony FE 100mm f/2.8 STF GM OSS, Sony FE 85mm f/1.8.
January 2017: LEICA M10, Fujifilm GFX 50S, Fujifilm X100F, Nikon D5600.
November & December 2016: Fuji X-A10.
September & October 2016: Nikon 70-200mm f/2.8 FL, Nikon 19mm PC-E, Sony A6500, Sony RX100 Mk V, Sony Alpha 99 II, Canon EOS M5, Canon EF 70-300 IS II USM, Sony 50mm f/2.8 Macro.
July & August 2016: Canon 5D Mk IV, 16-35 IS II, 24-105 IS II, Nikon D3400, Nikon 105mm f/1.4, Fuji XT-2.
Help me help you
I support my growing family through this website, as crazy as it might seem.
If you find this as helpful as a book you might have had to buy or a workshop you may have had to take, feel free to help me continue helping everyone.
If you've gotten your gear through one of my links or helped otherwise, you're family. It's great people like you who allow me to keep adding to this site full-time. Thanks!
If you haven't helped yet, please do, and consider helping me with a gift of $5.00.
The biggest help is when you use any of these links when you get anything, regardless of the country in which you live. It costs you nothing, and is this site's, and thus my family's, biggest source of support. eBay is always a gamble, but all the other places always have the best prices and service, which is why I've used them since before this website existed. I recommend them all personally.
Thanks for reading!
Ken