Home Donate New Search Gallery Reviews How-To Books Links Workshops About Contact
Nikon 135mm f/2
NIKKOR, AI and AI-s (1975-2005)
© 2011 KenRockwell.com. All rights reserved.
Intro Specifications Performance Compared Recommendations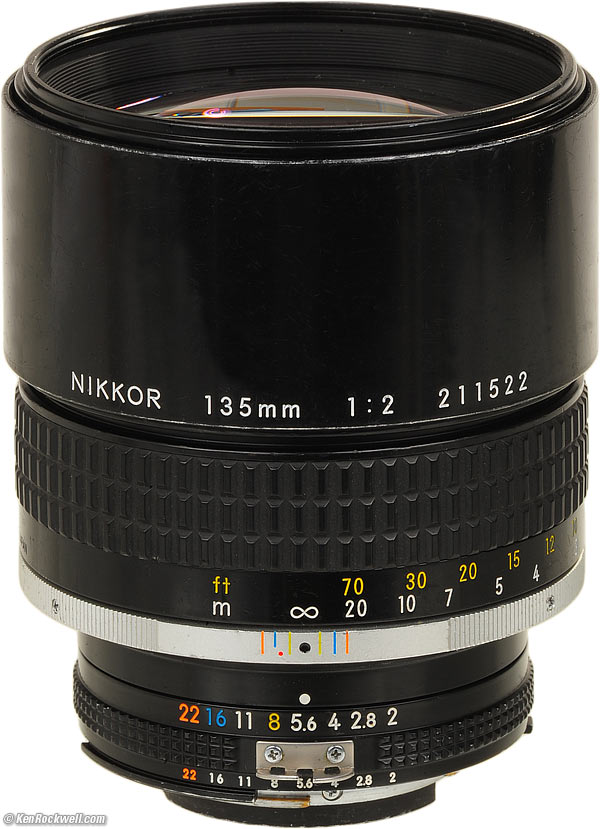 Nikon 135mm f/2 AI-s (72mm filters, 30.2 oz./855g, 4.25'/1.3m close-focus, about $400 used). enlarge. This free website's biggest source of support is when you use any of these links, especially this direct link to this lens at eBay (see How to Win at eBay), when you get anything, regardless of the country in which you live. Thanks! Ken.
August 2011 Nikon Reviews Nikon Lenses All Reviews
| | |
| --- | --- |
| Optics: | |
| Ergonomics: | (manual focus) |
| Usefulness: | |
| Availability: | Nikon only made about 45,000 |
| Overall: | |
See also:
Introduction top
Intro Specifications Performance Compared Recommendations
Compatibility History Production Pricing
The Nikon 135mm f/2 AI and AI-s have been professional secrets for decades. Offering a long focal length and super f/2 speed in a marginally pocketable lens, the 135/2 is longer and faster than just about anything else a reasonable person would wish to carry.
The 135mm f/2 is a superb portrait lens, especially for defocusing backgrounds. This 135mm f/2's bokeh is excellent.
Unlike the throw-away plastic lenses of today, this fully professional silky-smooth all-metal lens is built to last for more than a lifetime of spectacular images. Thankfully, today's 135mm f/2 DC is built just as well.
The manual-focus Nikon 135mm f/2 AI and AI-s works great with most Nikon cameras, 35mm and digital.
It works flawlessly with every manual focus Nikon ever made, from the F of 1959 through the FM3a and today's FM-10.
On the D3X, D3s, D3, D7000, D700, D300, D200, D2 and F6, use the "Non-CPU Lens Data" menu option to set 135mm and f/2 to get full color matrix metering, EXIF data and finder read-out of set aperture. It works great in aperture-preferred as well as manual modes on these cameras.
It works perfectly on every professional 35mm camera (F, F2, F3, F4, F5, F6), and adds Matrix metering on the FA, F4 and F6.
The meters of cheaper digital (D90, D5000 and below) and cheaper film cameras (N80 and below) will not couple (or work at all) with this lens, so you'll be on your own guessing exposure using the rear LCD or an external meter, or get a tiny Gossen Digisix meter and hotshoe adapter to meter manually.
If you have one of the very early non-AI samples,(1975-1977, serial numbers below 180000), you'll need to have your lens AI-converted to work on cameras made since 1977. Even these oldest samples still work great on every Nikon made 1959-1977, and of course all the AI and AI-s work great on the newest digital Nikon DSLRs.
See Nikon Lens Compatibility for details on your camera. Read down the "AI, AI-s" column for this lens.
All of these lenses have the same optics.
Only the mechanics and cosmetics were changed as the years rolled on.
1975-1977
Nikon first sold this as the 135mm f/2 AUTO NIKKOR IC.
AUTO meant an automatic diaphragm that reopened back to f/2 after each shot. That was hot stuff in the 1960s, but taken for granted today.
IC meant Integrated Coating, which is multicoating.
This first version was not AI; one had to turn the aperture ring back and forth to get the camera's meter to couple to the lens when mounted.
One needs AI kit 41 to update it to AI for use with Nikon's newest cameras.
1977-1981
Nikon updated this lens to AI, Automatic Indexing.
Now all we have to do is attach the lens and its aperture ring indexes with the meter automatically. It still works the same way on today's newest Nikons.
1981-2005
Nikon updated this lens to AI-s, which is the same as AI, with the addition of a different diaphragm mechanism to make automatic exposure easier for the Nikon FA.
The AI-s version has its depth-of-field markings on the silver ring, has slightly faster manual focus gearing and has a slightly longer hood, otherwise, a 2005 AI-s sample is the same thing and works exactly the same as a 1975 model after it's been AI-converted.
Nikon USA stopped importing them in 1996, so from 1997-2005 they came into the USA only as gray market.
1990
Nikon introduces the 135mm f/2 DC, and continues to make this original 135mm f/2 for another 15 years alongside it!
The 135mm f/2 DC has completely different optics.
Nikon made about 5,000 non-AI 135mm f/2 lenses from 1975-1977.
Nikon made about 7,500 AI 135mm f/2 lenses from 1977-1981.
Nikon made about 32,000 AI-s 135mm f/2 lenses from 1981-2005.
Price,
new*

Price in that era's dollars

1977

$1,400

$375

1983

$880

$389

1986

$845

$410

1987

$975

$489

1988

$1,150

$600

1991

$1,000

$600

1992

$1,000

$620

1994

$1,150

$750

1995

$1,250

$850

1996

$1,200

$830

1997

$1,125**

$800**

1998

$970**

$700**

1999

$970**

$700**

2011
* Corrected for inflation, 2011, and at full NYC discount. Very few people bought their lenses this inexpensively back then.
** Gray market.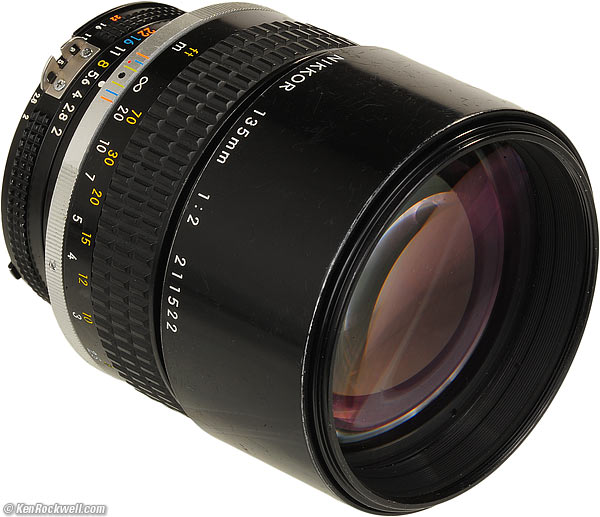 Nikon 135mm f/2 AI-s. enlarge.
Specifications top
Intro Specifications Performance Compared Recommendations
Name
Nikon calls this the Nikon NIKKOR 135mm f/2 AI-s (1981-2005), AI (1977-1981) or AUTO-NIKKOR IC (1975-1977).
Optics top
6 elements in 4 groups, an Ernostar variant configured by Yasushi MATSUI, who also designed the 180 mm f/2.8.
The Ernostar, designed in 1923 by Ludwig Jakob Bertele while working at H. Ernemann, was the world's first f/2 lens for still photography. The H. Ernemann company was eventually bought by Zeiss.
The highly asymmetrical and unit-focusing design of the Ernostar leads to more spherical aberration at close distances than symmetrical lenses like the Gauss variants. This is used to great advantage in the Nikon 135/2, as it's corrected for super-sharp images at far ranges, and the extra spherical aberration contributes to incredible bokeh at portrait distances.
It's multicoated, which Nikon called IC, Integrated coating, and then Nikon Super Integrated Coating (SIC).
Diaphragm top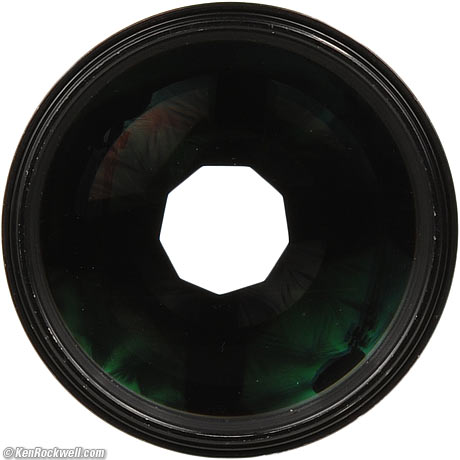 Nikon 135mm f/2 AI-s at f/5.6. enlarge.
9 straight blades.
Stops down to f/22.
Aperture Ring top
Yes.
Metal.
Full-stop clicks.
Close Focus top
4.25 feet.
1.3 meters.
Maximum Reproduction Ratio top
1:7.5
Angle of View top
18° on FX and 35mm.
Focal Length top
135mm.
On a small-format DX camera, this lens sees an angle-of-view similar to what a 200mm lens would see on a full-frame camera.
Hard Infinity Focus Stop? top
Yes.
This is great for astronomy; just turn to the stop and you have fixed laboratory-perfect focus all night.
Focus Scale top
Yes.
Depth-of-Field Scale top
Yes.
Infra-Red Focus Index top
Yes: red dot in depth-of-field scale.
Filter Thread top
72mm, metal.
Does not rotate.
Size top
Nikon specifies 93.5mm extension from flange (103mm overall) by 81mm diameter.
Nikon specifies 3.7" extension from flange (4.05" overall) by 3.2" diameter.
Weight top
30.152 oz. (854.8 g), measured, AI-s version.
Nikon specifies 30.3 oz. (860 g) for all versions.
Hood top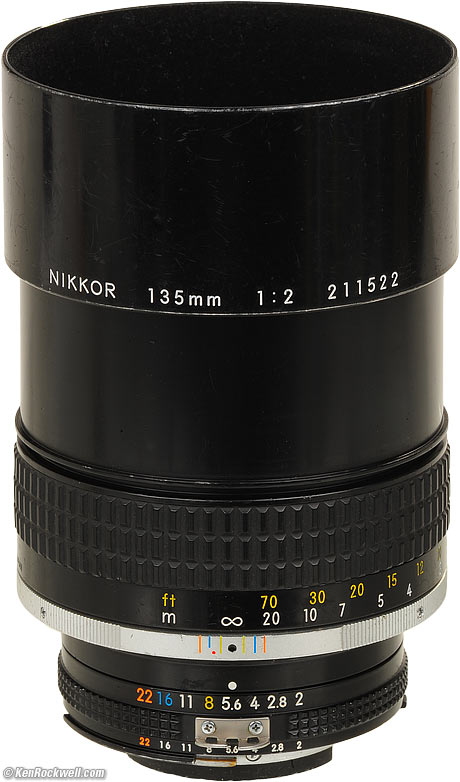 Nikon 135mm f/2 AI-s.
Built-in telescoping metal hood.
Flocked interior, non-locking.
Case top
CL-15 tubular case included.
Quality top
Made in Japan.
Teleconverters top
TC-200/201 and TC-14A.
Nikon warns of potential "uneven exposure" at high shutter speeds or apertures smaller than f/11, but after reading these warnings for over 25 years I still have no idea what they're talking about.
Packaging top
Gold-foil box, closed-cell white foam innards.
Performance top
Intro Specifications Performance Compared Recommendations
Overall Focus Bokeh Color Coma Distortion
Ergonomics Falloff Filters Focus Breathing Color Fringes
Mechanics Sharpness Spherochromatism Sunstars
Overall performance top
The 135mm f/2 AI-s is a marvelously precise chunk of professional performance.
It's optics are superb, and its Bokeh is particularly extraordinary.
It has some spherochromatism and spherical aberration that improve bokeh, but demand precise focus to avoid colored fringes if you're a window-screen photographer.
The 135.2 AI-s is an extraordinary portrait lens.
Focus performance top
Manual focus as smooth as silk, perfectly damped and with no play.
The D3, D3X, D3s, D700, D7000, F4, F5, F6 and most professional AF cameras have three very precise electronic manual focus indicators, with which this lens works perfectly.
Lesser digital cameras, like the D300s and down, usually have just one "OK" focus dot, which is not as precise as two arrows and a dot.
This will vary from sample-to-sample of camera and from sample-to-sample of lens, and my sample focused perfectly to just a tad close at f/2.
Focus is critical for the sharpest results at f/2. If you're not getting the results you expect, it's probably a lack of perfect focus on your part, not the lens.
Bokeh performance top
Bokeh, the character of out-of-focus backgrounds, not simply how far out of focus they are, is excellent. Even at smaller apertures like f/5.6, edges of out-of-focus highlights fade smoothly, letting backgrounds just melt away.
Here are full FX images focused on a reference phase lattice at 3 meters (10 feet) with synthetic reference vegetation at 15 meters (50 feet). This is about the distance at which you'd shoot head-and-shoulder portraits.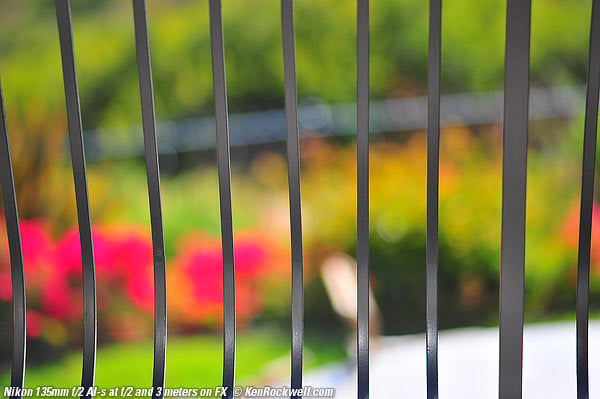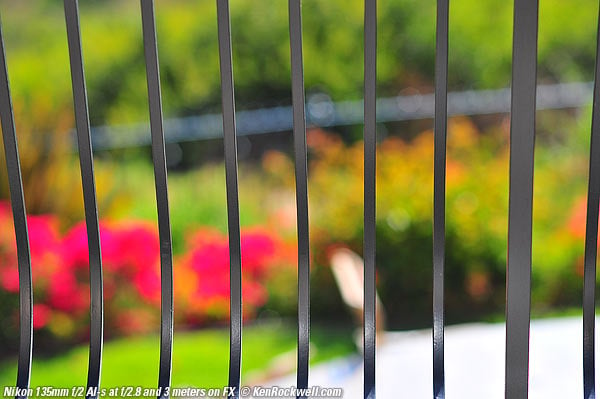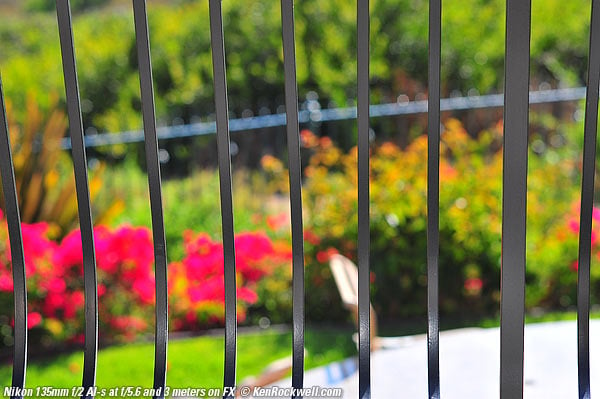 Color Rendition performance top
The color rendition of this Nikon 135mm f/2 matches all my other modern NIKKOR lenses.
Coma performance top
I don't see any coma, which usually affects wide, not tele lenses.
Distortion performance top
The Nikon 135mm f/2 AI-s has no visible distortion.
For scientific or other more critical uses, what invisible pincushion distortion remains can be corrected fully by plugging these figures into Photoshop's lens distortion filter. These aren't facts or specifications, they are the results of my research that requires hours of photography and calculations on the resulting data.
| | | |
| --- | --- | --- |
| | | |
| ∞ | -1.1 | -0.5 |
| 10' (3m) | -0.8 | -0.5 |
© 2011 KenRockwell.com. All rights reserved.
Ergonomics performance top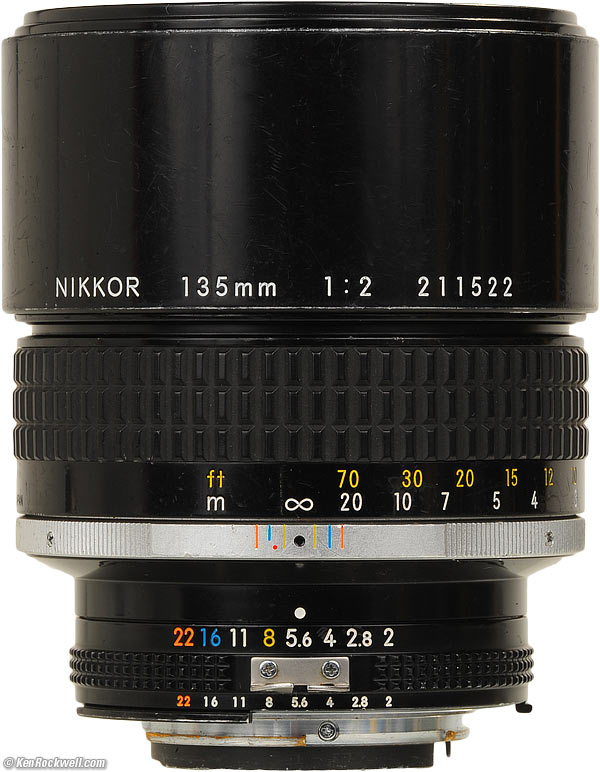 Nikon 135mm f/2 AI-s. enlarge.
The Nikon 135mm f/2's ergonomics are perfect, just like all of Nikon's manual-focus lenses.
Grab the focus ring and go. You can flick it and the aperture ring with a finger tip.
My only whine is that the hood has no lock, and keeps getting pushed-in with use.
Falloff (darkened corners) performance top
Falloff on FX is minor at f/2, and invisible at other apertures.
It won't be an issue at all on DX (see crop factor).
I've exaggerated this by shooting a gray field and placing these on a gray background.
Nikon 135mm f/2 AI-s falloff on FX and film at infinity, no correction.
© 2011 KenRockwell.com. All rights reserved.
Filters, Use with performance top
There is no problem with vignetting, even with combinations of thick filters.
This is typical for long lenses.
Focus Breathing performance top
Of interest mostly to cinematographers focusing back and forth between two subjects, as a unit-focusing lens, the image from the Nikon 135mm f/2 AI-s gets larger as focused more closely.
Lateral Color Fringes performance top
There are no lateral color fringes on the D7000 or D3, which corrects them.
There is some spherochromatism, which is a different color aberration that affects only out-of-focus sections of the image.
Mechanics performance top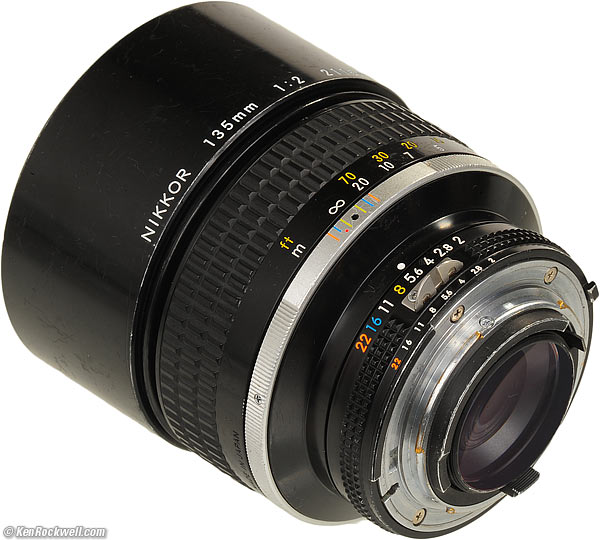 Nikon 135mm f/2 AI-s. enlarge.
Like all Nikkor manual focus AI-s lenses, the Nikon NIKKOR 135mm f/2 AI-s is built to the highest mechanical standards of any lens ever made. LEICA lenses aren't built any better, and in fact, NIKKOR lenses stay perfectly clear and don't get foggy after a couple of decades as LEICA lenses do.
Barrel Exterior
Anodized and enameled aluminum.
Filter Threads
Anodized aluminum.
Hood
Anodized and enameled aluminum.
Internal flocking.
Focus Ring
Metal, rubber covered.
Focus Helicoids
Brass and aluminum: smooth and silky with no play or need for damping grease.
Depth-of-Field Scale
Engraved and filled with different colors of paint, coded to the color painted for the various f/stops on the aperture ring.
Internals
All metal.
Aperture Ring
Cast aluminum, anodized and enameled.
Engraved markings filled with different colors of paint coded to the depth-of-field scale.
Mount
Dull-chromed brass.
Markings
Engraved into the metal and filled with paint.
Identity and Serial Number
On the outside of the hood, engraved and filled with paint.
Dust seal at mount
No.
Noises When Shaken
Mild clicking from the diaphragm blades and their actuation system.
Made in
Japan.
Sharpness performance top
Warning 1: Image sharpness depends more on you than your lens.
Warning 2: Lens sharpness doesn't mean much to good photographers.
With those caveats, the 135mm f/2 AI-s is slightly soft from spherical aberration and spherochromatism at f/2, much better at f/2.8, and super-sharp from f/4 on.
If your images aren't sharp or have color fringes, it's because they aren't in perfect focus. Focus is critical with such a long, sharp lens.
Spherochromatism performance top
The Nikon 135mm f/2 has some spherochromatism, meaning that out-of-focus background highlights can sometimes take on green color fringes, and foreground highlights can take on color fringes. (Laymen erroneously call this "color bokeh.")
This helps the bokeh, since background highlights are often green vegetation, which spherochromatism blurs even more.
Sunstars performance top
With its straight 9-bladed diaphragm, the 135mm f/2 makes magnificent 18-pointed sunstars on bright points of light.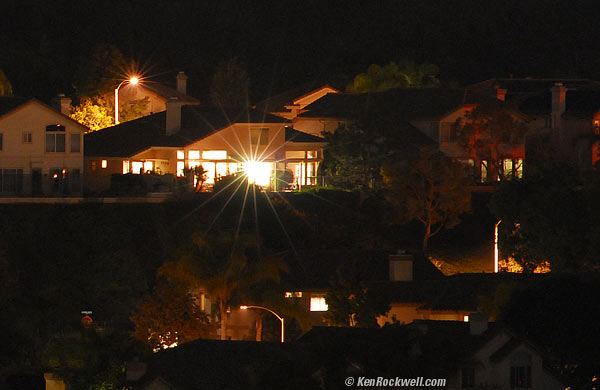 Nikon 135mm f/2 at f/5.6 and 30 seconds, ISO 500, cropped from Nikon D3.
Compared top
Intro Specifications Performance Compared Recommendations
Compared to the Nikon 135mm f/2 DC
The Nikon 135mm f/2 DC is sharper at f/2; this original 135mm f/2 is slightly softer than the 135/2 DC at f/2, and just as sharp stopped down. Bokeh is about the same between the two.
The Nikon 135mm f/2 DC has a rounded diaphragm, so it doesn't make sunstars as well as this lens.
The built-in telescoping hood of the 135mm f/2 DC screw-locks in place, while the same hood on the manual-focus lenses won't lock in place, so it slips back in use.
The Nikon 135mm f/2 DC is a traditional screw-focus autofocus lens, which most people will prefer over manual-focus only.
The Nikon 135mm f/2 DC weighs a little bit less (818g versus 855g) and takes the same 72mm filters.
The Nikon 135mm f/2 DC focuses slightly closer (1.1 versus 1.3 meters).
Thankfully, today's 135mm f/2 DC is built just as well.
A Nikon 135mm f/2 DC costs three times as much, used or new.
Compared to the slower Nikon 135mm manual-focus lenses
The Nikon 135mm f/2.8 AI-s and Nikon 135mm f/3.5 AI have the same optical performance at the same f/stops. The only difference is the ability to open to larger apertures or not, with the attendant loss in quality.
In other words, at f/4, all three lenses (this f/2, the f/2.8 and f/3.5) all perform the same.
The only reason to pay more for a faster version is to be able to use the faster f/stop.
If you're shooting at f/3.5 or smaller, all three lenses are optically indistinguishable, and all you've accomplished with the faster lens is paying more for it, and more weight to carry.
If sunstars are your thing, this f/2 has a magnificent 9-bladed diaphragm, while the f/2.8 and f/3.5 only have 7 blades.
This 135/2 uses a much larger 72mm filter, while the f/2.8 and f/3.5 versions take the standard 52mm filter.
Of course if you want spectacular defocus effects and are shooting at f/2, the slower lenses can't shoot at f/2. Even the 135mm f/3.5 will defocus the background fa more than a 50mm lens, while the f/2.8 and f/2 will do it a little bit more. If money is tight, the slower 135mm lenses are still wonderful, while the f/2 is fantastic for bokeh.
Recommendations top
Intro Specifications Performance Compared Recommendations
The Nikon 135mm f/2 AI-s is a manual-focus only lens. It's a solid professional portrait lens.
It's inexpensive to buy used, and will last more than a lifetime.
The Nikon 135mm f/2 DC is a spectacular lens, but if you don't mind turning the focus ring for yourself, this classic 135/2 can save you almost $1,000.
More Information
Nikon's story about the 135/2's optical design.
Deployment top
Get a new pinch-type 72mm Nikon front cap. The flatter originals never were as handy.
I'd leave either a 72mm Nikon Clear (NC - UV) filter, or a 72mm Hoya Super HMC UV on the lens at all times.
If I was working in nasty, dirty areas, I'd forget the cap, and use an uncoated 72mm Tiffen UV filter instead. Uncoated filters are much easier to clean, but more prone to ghosting.
For color slides like Velvia 50, I use a 72mm Nikon A2 filter outdoors.
For B&W film outdoors, I'd use a 72mm Hoya HMC Yellow K2 or 72mm Hoya HMC Orange.
Help me help you top
I support my growing family through this website, as crazy as it might seem.
The biggest help is when you use any of these links to Adorama, Amazon, B&H, eBay, Ritz, Calumet and J&R and when you get anything. It costs you nothing, and is this site's, and thus my family's, biggest source of support. eBay is always a gamble, but all the other places always have the best prices and service, which is why I've used them since before this website existed. I recommend them all personally.
If you find this page as helpful as a book you might have had to buy or a workshop you may have had to take, feel free to help me continue helping everyone.
If you've gotten your gear through one of my links or helped otherwise, you're family. It's great people like you who allow me to keep adding to this site full-time. Thanks!
If you haven't helped yet, please do, and consider helping me with a gift of $5.00.
As this page is copyrighted and formally registered, it is unlawful to make copies, especially in the form of printouts for personal use. If you wish to make a printout for personal use, you are granted one-time permission only if you PayPal me $5.00 per printout or part thereof. Thank you!
Thanks for reading!
Mr. & Mrs. Ken Rockwell, Ryan and Katie.
Home Donate New Search Gallery How-To Books Links Workshops About Contact