Home
Donate
New
Search
Gallery
Reviews
How-To
Books
Links
Workshops
About
Contact
Nikon FX Format Cameras
© 2007-2014 KenRockwell.com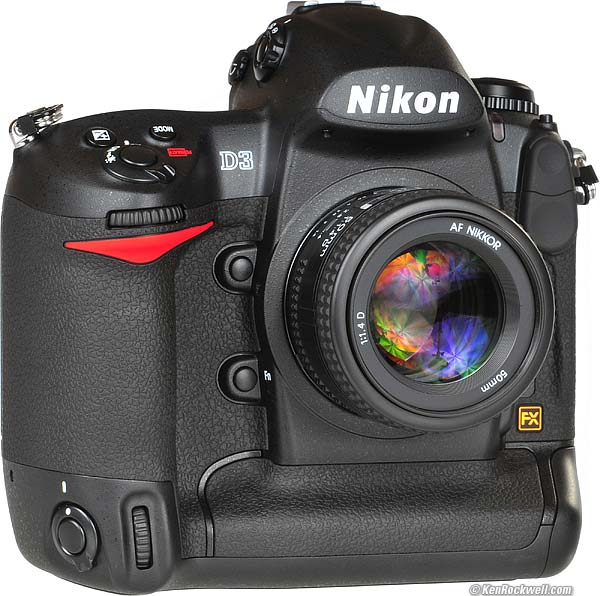 The Nikon D3: Nikon's first FX format Camera. This free website is supported by you using any of these links, especially these directly to Adorama, Amazon, B&H, eBay (see How to Win at eBay), Ritz, ScanCafe, J&R and Calumet, when you get anything, regardless of the country in which you live. Thanks! Ken.
October 2014 More Nikon Reviews Nikon Lenses All Reviews
In the beginning, Nikon made 35mm film cameras. They've shot film with an image size of 24 x 36mm since the 1940s.
In 1999 Nikon brought forth DX digital cameras, which used smaller sensors.
In 2007, Nikon introduced the Nikon D3, the first Nikon digital camera to use an image sensor the same size as 35mm film.
Nikon cleverly dubbed this new digital format as FX, which is much less cumbersome and more precise than saying "full-frame."
In 2008, Nikon introduced their second FX camera, the D700.
Lens Compatibility
FX cameras take every lens. They work wonderfully with old film lenses, even manual focus if you care to bother.
FX cameras can crop their sensors to use DX lenses. This wastes much of the capability of the FX cameras, but it doesn't waste the DX lenses. (DX lenses have reduced image circles that only cover the smaller DX sensor.)
See all at Nikon Lens Compatibility.
List of FX Cameras (1.00 Crop Factor) Top
Nikon D750 12 September 2014
Nikon D810 26 June 2014
Nikon D4S 07 January 2014
Nikon Df 05 November 2013
Nikon D610 08 October 2013
Nikon D600 13 September 2012
Nikon D800 07 February 2012
Nikon D800E 07 February 2012
Nikon D4 06 January 2012
Nikon D3S 14 October 2009
Nikon D3X 01 December 2008
Nikon D700 2008 July 01
Nikon D3 2007 August
All film Nikons since 1949, both SLR, rangefinder and point-and-shoot.
See also my list of Nikon DX cameras and my historical list of all Nikon DSLRs.
Help me help you top
I support my growing family through this website, as crazy as it might seem.
The biggest help is when you use any of these links to Adorama, Amazon, eBay, B&H, Ritz, Calumet, J&R and ScanCafe when you get anything, regardless of the country in which you live. It costs you nothing, and is this site's, and thus my family's, biggest source of support. These places have the best prices and service, which is why I've used them since before this website existed. I recommend them all personally.
If you find this page as helpful as a book you might have had to buy or a workshop you may have had to take, feel free to help me continue helping everyone.
If you've gotten your gear through one of my links or helped otherwise, you're family. It's great people like you who allow me to keep adding to this site full-time. Thanks!
If you haven't helped yet, please do, and consider helping me with a gift of $5.00.
As this page is copyrighted and formally registered, it is unlawful to make copies, especially in the form of printouts for personal use. If you wish to make a printout for personal use, you are granted one-time permission only if you PayPal me $5.00 per printout or part thereof. Thank you!
Thanks for reading!
Mr. & Mrs. Ken Rockwell, Ryan and Katie.
Home Donate New Search Gallery Reviews How-To Books Links Workshops About Contact