Home Donate New Search Gallery Reviews How-To Books Links Workshops About Contact

2017 Photo Tours & Workshops
We also do another Eastern Sierra trip immediately before or after the October Yosemite trip, and you should do both if you're going to do one — but we're still optimizing the dates for the 2017 Eastern Sierra trip.
See you there!
About our trips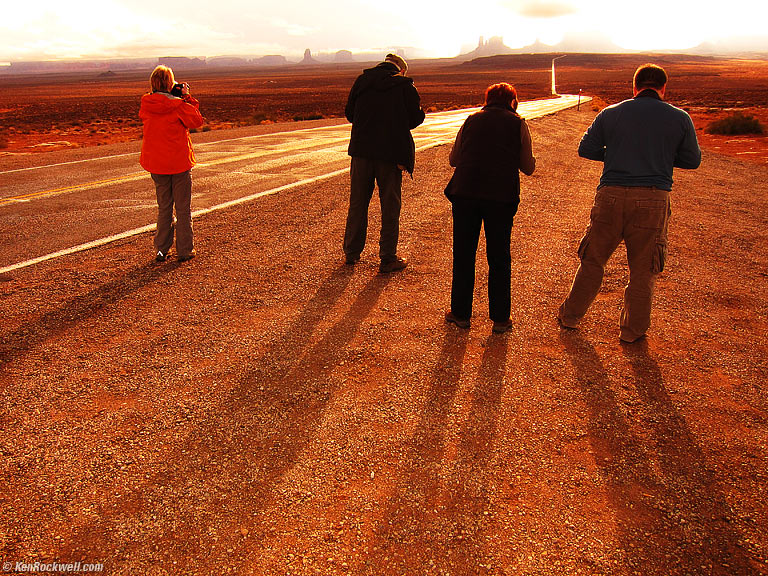 On the Monument Valley Tour, 14 November 2009.
People keep asking me to give them private lessons, but my schedule doesn't provide for that, even at the executive level — but come on these and I'm there for all the one-on-one help you'd like.
These are more tours than workshops, since we're out shooting all day, every day (as well as at night and before dawn), but we can also give you all the personal one-on-one attention you can handle. These are far more fun — and you'll get far better photos — than a more formal "workshop" spending your weekend inside a motel room looking at other people's computer screens.
We're shooting all the time on these, and we also have all the time you'd like to answer everything you've been meaning to ask, the best of both worlds.
If all you want to do is shoot; great! We're out shooting from dawn to dark, and we don't get up any earlier than we have to to catch the dawn. We've got this down.
We do get together when we get back in the evenings for the occasional short educational talk or review of images, but since we'll be up before dawn shooting the next day, we knock off early.
If you want a shooting tour that gets you the most and best possible images, and/or if you want to learn more about your gear and how to use it well, this is it. These aren't drinking tours spent indoors.
We come back with a lot of great pictures, and you can learn as much or as little as you'd like to about your camera, composition, lighting, interpolation matrices, shooting film, White Balance settings, or anything you'd like to know.
If you just want to shoot fantastic subjects in great locations, we'll leave you alone so you can enjoy the tour.
Like all outdoor and scenic photography, we start with a basic itinerary, and optimize it on-the-fly as weather and lighting conditions change. This is how we get to the best locations in the best light.
We're happy to teach you anything and everything related to workflow, image preparation and publication, monitor calibration, storage, backup and everything else computer related if you ask, but remember, you'll be spending time actually making pictures on these tours instead of just talking about it.
Since instruction is one-on-one, these are great for people of any level. Of course many attendees are experts, who spend all their time shooting, and many also have just gotten their first camera, who also shoot a lot. The good news is that Dave and I are available to you for whatever you'd like to learn, and I usually give a short talk about the key fundamentals of composition and how to make strong images that stand out, win contests and catch everyone's eye.
Professional photographers come on these tours to create the images that they'll sell later, and these same pros keep coming back.
These tours are so good that I see about 30% of the people are repeat attendees.
Bring any kind of camera. Most people shoot Nikon and Canon DSLRs, while others shoot film. Bring anything you want, but we probably move too fast for most large-format (4x5" and up film) shooters unless you're fast with a view camera.
Dave Wyman has just posted his 2016 schedule. I attend and instruct many of these with him, as you'll see in his listings. These sell out fast, so if you're going to go with us in 2016, don't dawdle.
To register and for any questions, click the links, or call or email Dave Wyman at (323) 377-7565 in Los Angeles. Dave is often out leading other tours, so he's not always sitting by his phone or computer. I instruct, while Dave organizes these tours
Dave Wyman is the author of at least three books about travel and photography: Yosemite in Photographs, Backroads of Northern California and Backroads of Southern California, all so popular they've sold out.
Dave has been leading outdoor hiking, educational, camping, historical and photo trips for decades and decades and decades.
Other Great Workshops:
Fire Breather.
I'm not on these tours which are lead by Harry Fisch. He won two 2014 jury awards at the Grand Prix de la Découverte, France, was a finalist in the Sony 2012 World Photo Awards and was selected in 2010 by Photoespaña, Spain's most prestigious photographic event. Harry is best known as the the original winner of the 2012 World National Geographic Photo Contest, especially after Nat Geo disqualified him for applying the standard photographic practice of spotting-out a distracting plastic bag in the corner. Photographers have been doing this since the 1800s.
Some of his upcoming tours are to:
Ethiopia: 17 October 2015.
China: 22 November 2015.
Varanasi and Kerala: 03 February 2016.
Cuba: 17 March 2016.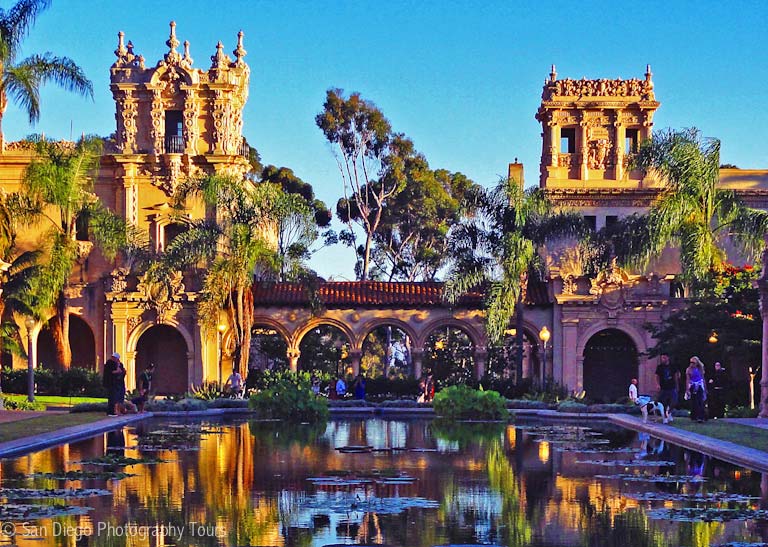 I don't do these, but I do know the people who do. These are half- or full-day hands-on photo tours of iconic San Diego spots with Julie Kremen as your guide.
Call Julie at (858) 692-8402 or see SanDiegoPhotographyTours.com for more.
Marc Muench is running trips all over the world. See all of these and more here on Muench Workshops site.
Marc and his partner Andy Williams have grown their workshops business over the years, to the point now where they will have an impressive 45+ workshops on offer. There are still openings in some of their 2017 workshops for , and they are rolling out new workshops for 2018 each month. Ask about them here or call (917) 854-8118.
Jay Maisel Workshop, New York City top
Jay leads workshops in New York City.
Jay is among the the best of the world's best photographers. Jay is a living legend, having been an internationally recognized icon since as I recall the 1950s, and he's still going like gangbusters today.
Like most of the world's best photographers, his formal degree is in painting, having studied under Josef Albers at Yale.
I had no idea he offered much in the way of workshops, and it looks like he runs a few each year. Most photographers on his level can't afford to run workshops because they are run ramshackled shooting $30,000-a-day jobs, so I'm impressed that Jay takes time out to offer these at all.
I've admired Jay's work for decades, and I learned more from sitting in on a 20-minute talk about what really matters in photography than I learned in many years of reading books, websites and magazines.
God only knows how much you'd learn taking one of his 5 full day workshops.
For instance, few photographers have any idea of what negative space is. If you don't either, you had better take one of Jay's workshops (or enroll in a university art degree program), because it's half of your picture!
Jay doesn't waste your time with irrelevant nonsense like Photoshop: Jay teaches you how to look, how to see and how to evaluate your work so you can improve continuously. You'll shoot digital in these workshops, but that's so everyone can see what you're doing while you do it. You'll be learning to take great pictures, not twiddle with software. Check out his workshops! Tell them I sent you.
To quote Jay: "The more equipment you take, the fewer pictures you'll take."
Dan Ballard Private Workshops top
Dan Ballard General Workshops top
NEW: Dan Ballard Workshops.
Dan Ballard has announced some new workshops:

Colorado Fall Color: September 25-27, 2015 Only FOUR spaces available!

Moab, Arches and Canyonlands: Oct 15-18, 2015 Filling up fast!

Ojo Caliente New Mexico Photo Retreat: Nov 12-15, 2015

Dan is still offering private workshops around the world. Some options are Patagonia, Lofoten Islands, New Zealand and Iceland.
Dan Ballard, based in Colorado, travels the world. He offers private and small-group workshops and instruction.
Dan Ballard usually does private workshops. These three above are more intensive teaching workshops with a lot of one-on-one instruction than photo tours.
Steve Cirone (Private Lessons), San Diego top
Bird ace Steve Cirone specializes in private instruction in San Diego. I've known Steve since the 1990s.
Steve is different: he'll let you shoot using his gear like his Canon 800mm f/5.6 and 1Ds Mk III. If you don't want to haul your birding gear to San Diego, you don't have to. Heck, with Steve, you get private lessons and don't even need to buy a camera!
See these shots? These aren't his life's best; they were what was on his screen to send me when I asked him for something to share here, since he hasn't been in National Geographic — yet.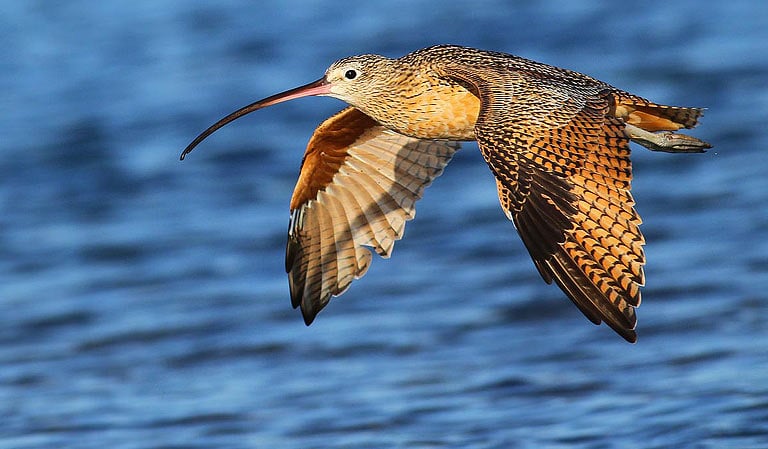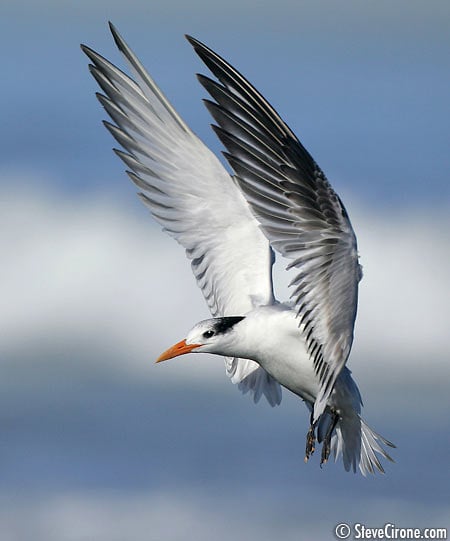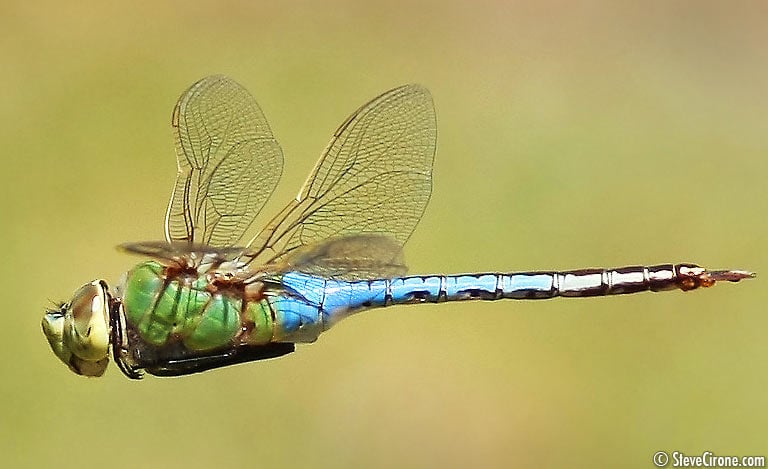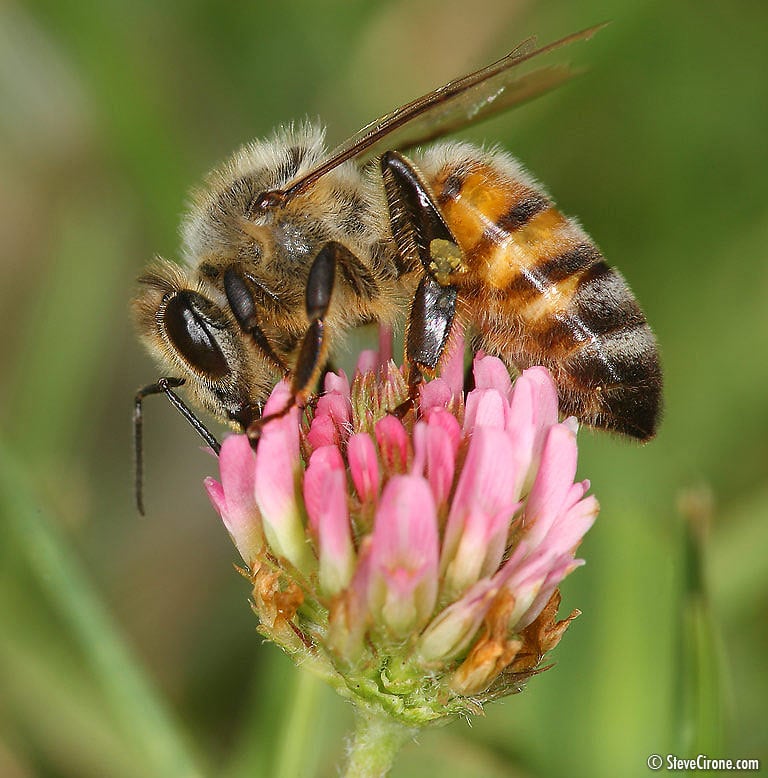 A Black skimmer ejecting accidentally snagged eel grass. A photographic first. They are fish eaters. No veggies!
Steve is out every dawn shooting birds, and has made the most incredible bird shots I've ever seen. What makes Steve's work special is that he's able to capture birds actually doing things with each other, while in motion, while in awesome light.
I've seen Steve teach. He's a riot! He's able to explain everything in the funniest and simplest possible terms. Steve isn't out trying to sell you idiotic exposure calculators with 259 different scenes and exposure compensations. Steve gives it to you straight!
Other Tours top
These are personal friends who organize these trips, as well as do great photography.
My photographer friend Paul Renner is always leading trips to Africa.
Paul was born and raised in Tanzania, speaks Swahili, and spent most of his childhood chasing or running away from wild animals.
Paul's website is RennerSafaris.com. People love his photo safaris!
I suggest my friend Jim Cline's tours of Latin America, Asia and southeast Asia.
I've known Jim for years and he really takes the time to do the forward research for his trips. Every time we get together it seems he's just gotten back from a scouting expedition in advance for his next trip, in other words, Jim has probably been down there the month before the formal trip to check everything out before you go.
Jim has been all over Latin America for a long time. He's not one of the usual guys who just lets you pay for his vacations; Jim puts a lot of work into these tours!
Karl Grobl: The Rest of the World
Another friend I've know for decades is humanitarian photojournalist Karl Grobl.
Today Karl spends most of his time today documenting the efforts of humanitarian organizations throughout Asia, Oceania and Latin America. He's usually away on assignment for weeks at a time, but keep checking to see if he has anything recreational planned. He'll get you places for which you'll need to consult an atlas. If you want to get places no one has been before he's your guy.
See what he has planned here.
Paul, Jim and Karl are accomplished, published, multiple award-winning photographers skilled at getting in and out of the right locations at the right time, are articulate and a lot of fun with whom to travel. I've been all over with all of them and wish I had the time to do more!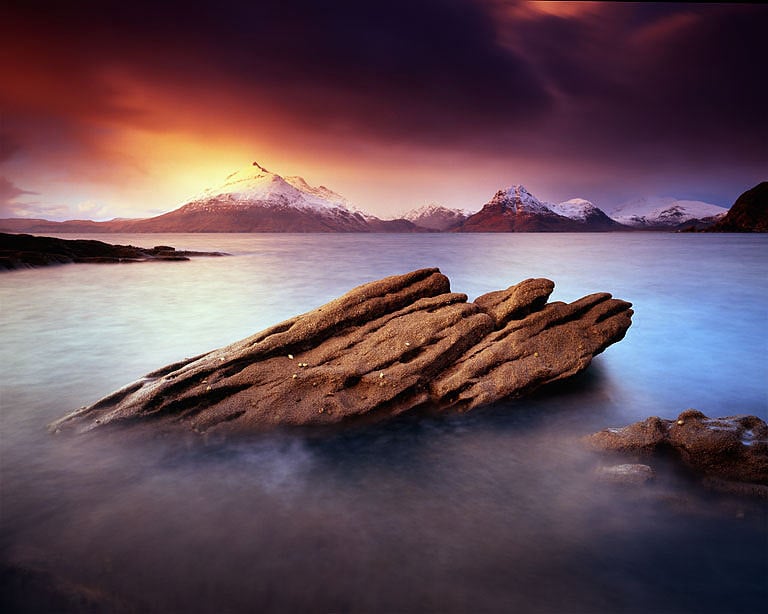 Isle of Skye, December 2010. Photo by Bruce Percy.
Bruce Percy's work speaks for itself. He offers "Light on Scotland" Workshops.
Bruce Percy is a Scottish Photographer who's work has been used by National Geographic Traveler magazine (Patagonian images), the Sir Edmund Hillary foundation in New Zealand, and Fujifilm UK amongst others.
He has weekend and 5 day photographic workshops running throughout the year in the highlands and islands of Scotland.
Speaking Engagements top
I don't organize my own trips. I teach when others invite me to events they have planned, like Dave's tours above.
I had the time of my life for a week in Italy in October 2003 when the Politechnico di Torino invited me to teach at their summer program. I volunteer to give presentations a couple of times a year through volunteer organizations like the Sierra Club.
Please ask if you'd like me to address your group, whether it's graduate students at Oxford, a class of excitable first graders, the local Police or Fire department or your local photo club or charitable organization.
The biggest gotcha is bribing my wife to let me head out so she can hire babysitters; that's why I have to get paid if it's anything commercial.
---
Photos from Completed Workshops top
19 ~ 22 October 2016: Fall Color in California's Eastern Sierra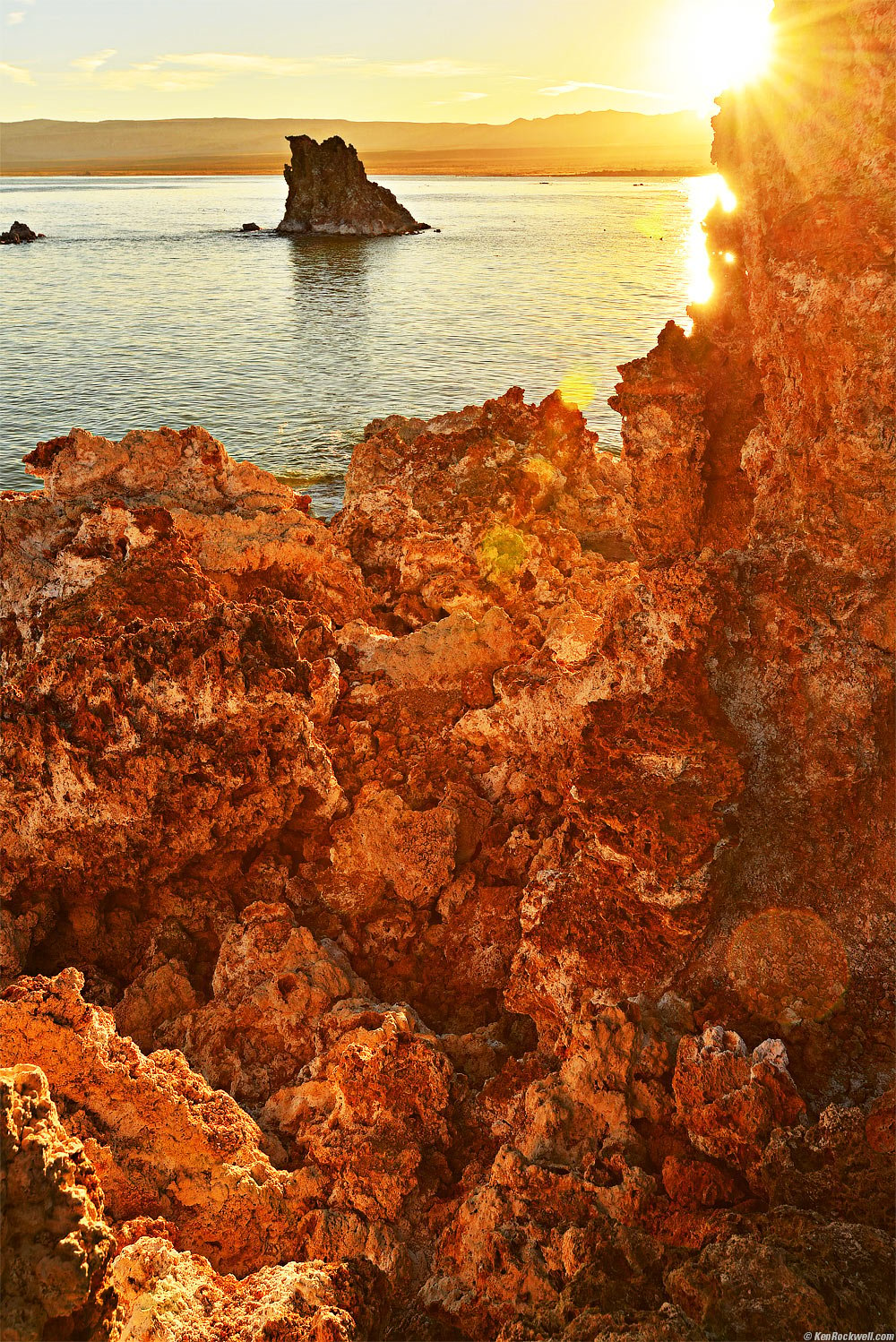 Sunrise over Mono Lake as seen on our 2014 tour. More photos from that trip.
Celebrating the tenth anniversary of our annual trip, we'll be exploring California's Eastern Sierra starting Wednesday afternoon, October 19th and shooting through Saturday morning, October 22nd, 2016.
It's primarily a tour of great locations with just one short presentation, and plenty of time for questions and hands-on in the field. We'll be all over, including Mono Lake, the Bodie ghost town, and finding fall color wherever it may wave.
You'll get all the one-on-one time you want for questions and individual instruction, as well as be in the field making great photos.
Here's more about the trip and how to sign up. Call or eMail Dave Wyman at (323) 377-7565 in Los Angeles. Dave usually is out shooting, so he's rarely sitting by his phone or computer.
If you come for this tour, for which Dave does the registration, be sure to come on our Yosemite trip below which starts the same day this trip ends. Registration is via a different organization, and it's not always clear that if you come for one, you should register for both since we're all traveling so far:
22 ~ 25 October 2016: Autumn Light in Yosemite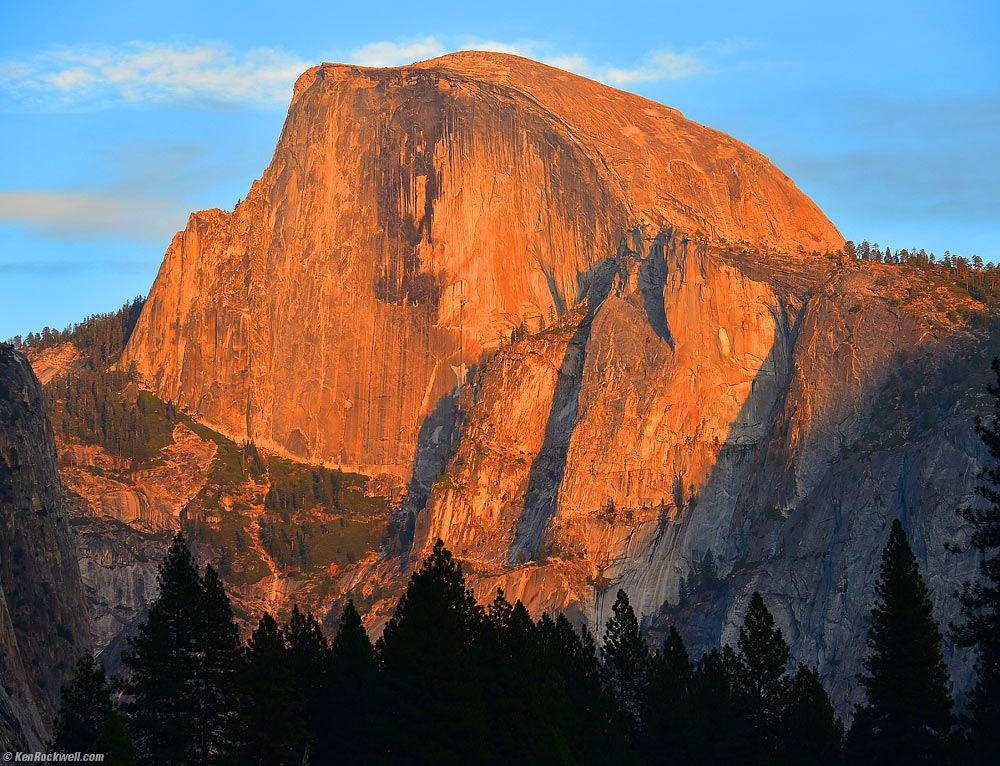 The Half Dome as seen on our 2014 trip. More photos from that trip.
I'll be teaching this Yosemite Conservancy Photo Trip in Yosemite from Saturday afternoon, October 22nd through Tuesday morning, October 25th, 2016.
This trip is run by the Yosemite Conservancy, so you register for it through them. Be sure to register also for the Eastern Sierra trip above, which Dave and I run right before this one back-to-back.
12 ~ 15 May 2016: Spring Light in Yosemite
Yosemite Conservancy Photo Trip in Yosemite Thursday afternoon, May 12th 2016, through Sunday morning, May 15th, 2016; photos coming.
5 ~ 7 February 2016: California's Route 66
This was the tenth anniversary of our annual trip.
October 18, 2015 to October 21, 2015: California's Eastern Sierra (coming).
October 22, 2015 to October 25, 2015: Autumn Light in Yosemite (coming).
Thursday, May 14, 2015 to Sunday, May 17, 2015: Springtime in Yosemite (photos coming)
06-08 February 2015: Route 66.
16-19 October 2014: Autumn Light in Yosemite.
19-22 October 2014: California's Eastern Sierra.
15-18 May 2014: Spring in Yosemite.
07-09 February 2014: Route 66.
17-23 October 2013: California's Eastern Sierra.
11-14 April 2013 (Thursday-Sunday): California's Central Coast — with a private chef! See photos!
17-19 February 2013 (Sunday~Tuesday): Route 66 Trip!
16-19 October 2012: The Eastern Sierra and 19-22 October 2012: Yosemite.
The Eastern Sierra trip follows right after the Yosemite trip.
These two trips are taught by Dave and I, however two different organizations are doing the registration.
If you're coming out for one, definitely join us for both. Photos from last year.
Register for The Eastern Sierra by calling or eMailing Dave at (323) 377-7565 for registration or more information.
Register for the Yosemite trip with The Yosemite Conservancy.
Southern California Photo Weekend: August 11 & 12, 2012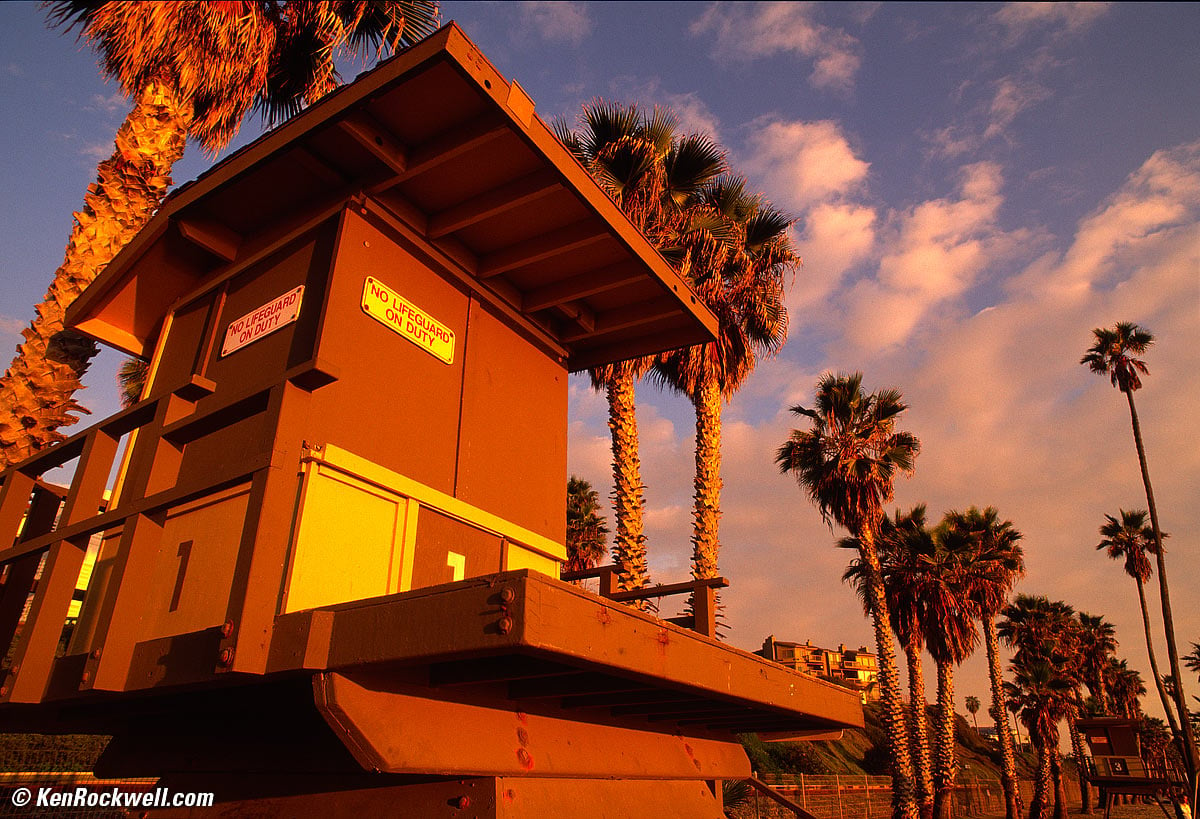 San Clemente (Nikon F100, Velvia, Nikon 20mm f/2.8 AF, Hoya 85C filter). bigger.
Great news: Dave Wyman and I are leading a photo weekend on Saturday and Sunday, August 11 and 12.
Come spend a vacation weekend, and bring the family. Your spouse and kids can go have fun in the sun while we go explore the best Southern California has to offer. Unlike most of our photo outings, you don't have to go alone on this one, since we'll be dead smack in the middle of where half the world dreams all year of vacationing. We'll be someplace the rest of the family will love, so they can come with you and go do their own thing (like Disneyland) while we go shoot each day.
Specifically, we'll be halfway between San Diego and Los Angeles in southern Orange County and northern San Diego County. This gives us the best access to the state's most scenic locations, and it's easy to get to from LAX or SAN, or just fly straight into John Wayne Airport (SNA) in Orange County.
We'll be at or close to the beach, so it should be very pleasant.
Dave's off leading other trips in Yosemite this week so he won't be back to answer questions or register anyone until Monday, July 30, but mark your calendars and we'll see you there! Dave's at (323) 377-7565 or davewyman@imountainman.com, but remember, he's off leading another trip this weekend and not by his phone or computer.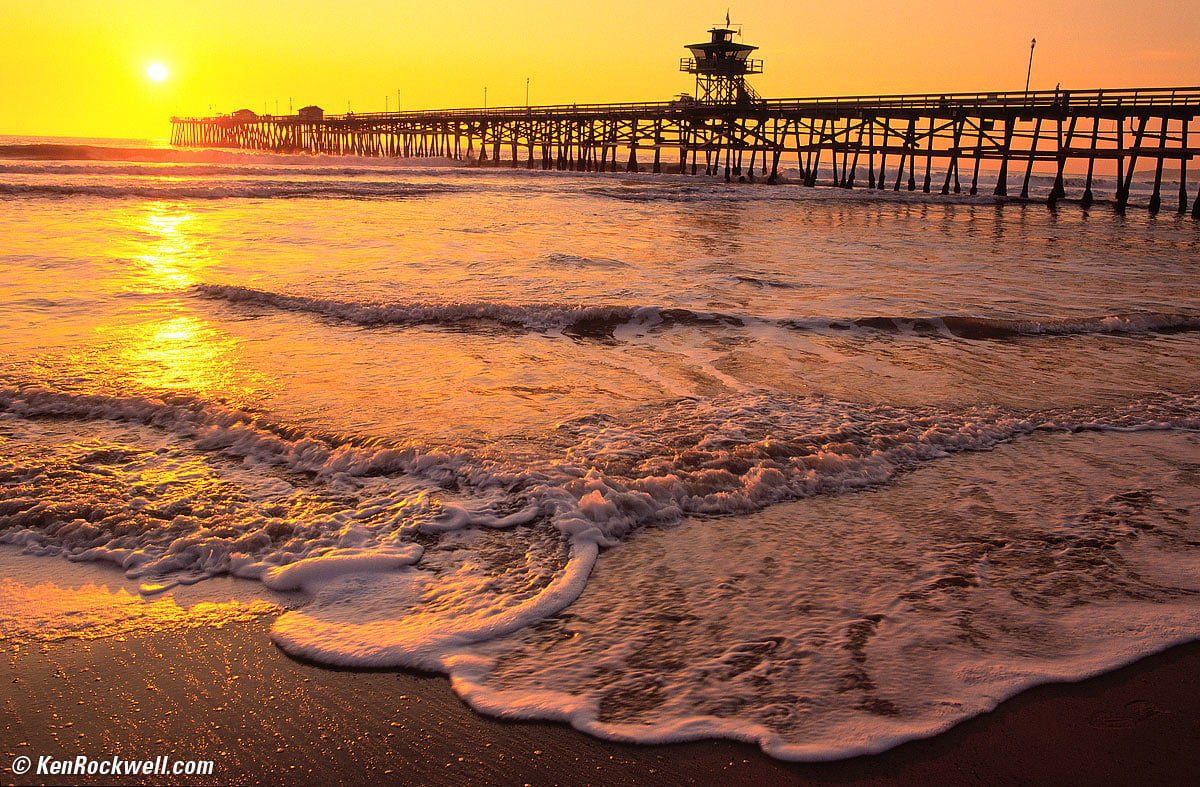 Wave, San Clemente Pier (a "downhill" surfing beach, note horizon). (Nikon F100, Velvia, Nikon 20mm f/2.8 AF, Hoya 85C filter). bigger.
12-15 April 2012: California's Central Coast en Plein Air (Thursday-Sunday).
02-04 March 2012: Olde Southern California (Friday-Sunday).
03-05 February 2012: Route 66 (Friday-Sunday).
17-20 November 2011: Yosemite for Serious Photographers (no DSLRs).
Dave Wyman and I are running a new trip to Yosemite in November, but only for seriously serious shooters. This means you're free to bring any sort of camera, except a DSLR. That's how we're defining serious.
This shot was made earlier this year with a 1963 LEICA M3, exposure set with LEICAMETER MR-4, 1957 LEICA SUMMICRON 50mm f/2 with close-focusing range, f/8 at 1/125, 39mm LEITZ Or orange filter, no tripod, frame 25 of roll 1 of Kodak T-Max 100.
Dave wanted to do an "alternative process" trip where the crazier you or your camera, the better. Dave and I tried to figure out how to define "alternative" process, and we didn't want to say "iPhone and pinhole only" or whatever, so the best we could dream up is simply NO DSLRs. Once we struck out DSLRs, what's left is all cool.
Bring your point-and-shoots, 35mm SLRs, real Hasselblads (no digital), wet-plate colliding, Pentax K1000, rangefinders (LEICA M9 is AOK), camera phones or whatever, but leave the DSLRs at home.
I was just kidding about wet plates since we'll probably be moving too fast for large format cameras, but we're serious about no DSLRs on this tour. Dave and I run enough tours for DSLRs, so bring your Canon S100, your kid's camera, your Mamiya TLR, Mamiya 6 or whatever, and be ready to make some great snaps with some even more exceptional shooters.
Digital cameras are fine for this trip, and so are any sort of SLR, just not a digital SLR. Bring anything and everything else.
02-06 November 2011: Neon, New Mexico, Arizona and Route 66 (2-6 November 2011)
Yosemite (16-19 October 2011) and The Eastern Sierra (20-23 October 2011). The Eastern Sierra trip followed right after the Yosemite trip. Photos.
26-28 August 2011: Monterey and the Central California Coast.
24-26 June 2011: The Southern California Photo Express. Photos.
16-19 MAY 2011: Yosemite Waterworks. Photos.
19-22 MAY 2011: Yosemite in Spring. Photos.
This was a unique photography workshop and bicycle tour of Yosemite.
14-17 April 2011: Plein Air (Outdoor) Photography along California's Central Coast. Photos.
Dave brouhgt along our own caterer and we enjoyed a few freshly-prepared French bistro meals, as if the Central California Coast in springtime wasn't enough.
The trip started with the San Luis Obispo Farmer's Market, about which which my wife some years ago remarked was "the best thing she had ever done with me."
22-27 February 2011: Yosemite in Winter. Photos.
17-20 October 2010: Autumn in Yosemite. (Sunday through Wednesday.)
This tour is run each year by The Yosemite Association, and is taught by myself and Dave Wyman.
Call (209) 379-2317 (ext. 12, ask for Pete) for registration.
21-24 October, 2010: California's Eastern Sierra: Bodie, Mono Lake and the Colors of Autumn.
This tour runs right after the Yosemite trip above, and many people join us for both trips. These two trips are extremely popular and sell out months ahead of time.
Details and registration (scroll down), or call or email Dave Wyman at (323) 377-7565 in Los Angeles.
My photos from last year's trip.
Cancelled due to family: 06-12 November 2010: The American Southwest: Northern New Mexico.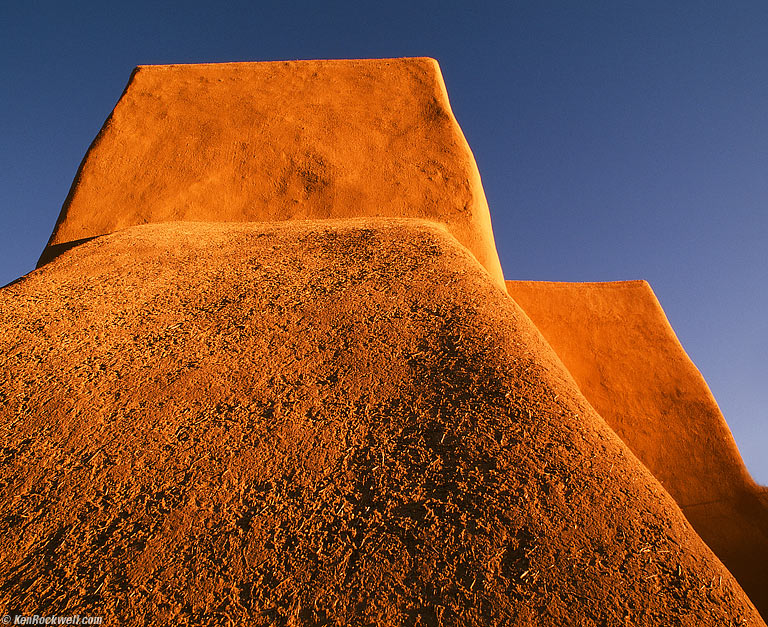 Rancho de Taos, New Mexico, from 2008's tour.
Details and registration (scroll down), or call or email Dave Wyman at (323) 377-7565 in Los Angeles.
My photos from 2008's trip. (we did a different version of this trip in 2009.)
26-29 August, 2010: Point Reyes National Seashore and Tomales Bay. (Thursday through Sunday)
Tomales Bay, as seen during last year's trip.
Dave's Photos from the 2009 Trip.
17-21 June 2010: California's Central Coast: San Luis Obispo to Big Sur. (Thursday through Monday.)
16-21 April 2010 (Friday night through Wednesday night.)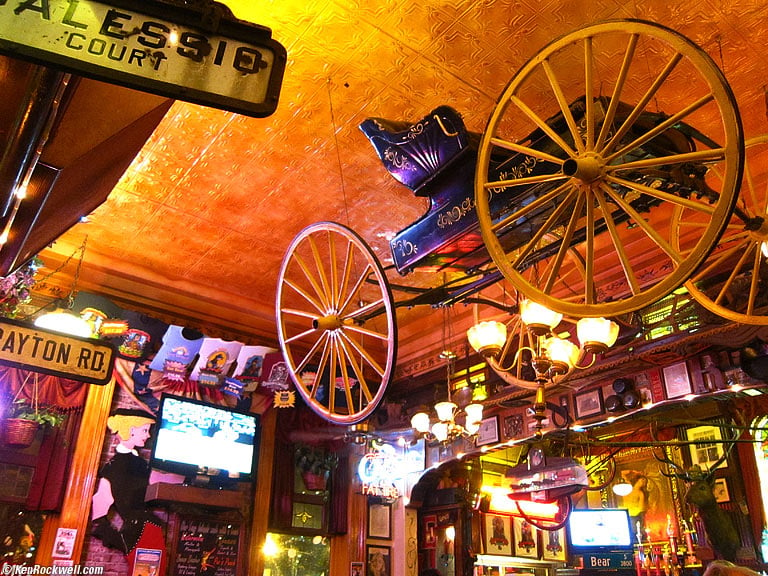 GOLDRUSH!, Highway 49 and California's Gold Country.
12-14 February, 2009: Route 66: Barstow, California.
14-17 February, 2009: Route 66: Barstow, California to Kingman, Arizona. (Sunday evening - Wednesday morning.)
My photos from last year's Route 66 trips.
2009 November: Monument Valley.
2009 October
Monday through Thursday, October 19-22, 2009: Autumn Light in Yosemite. registration.
Thursday through Sunday, October 22-25, 2009: Bodie and the Eastern Sierra.
2009 August and September
Sunday evening through Wednesday morning, 30 August - 2 September, 2009: Point Reyes.
(Photos pending)
2009 June
Friday through Sunday, 12 - 14 June 2009: Dave Wyman's photo tour to California's Steinbeck Country.
2009 April: Lands of Fire and Ice: Exploring the Backroads of Northern California
Dave Wyman and I will see you again, Friday through Wednesday, April 17-22, 2009. More info.
2009 February: Route 66
Friday through Sunday, 6-8 February 2009. More info.
Second Route 66 Photo Tour, February 8-10 2009 (Sunday-Tuesday): The first Rt. 66 photo tour this year was an instant sell-out, so to give more people the chance to make it, Dave Wyman added a second Rt. 66 photo tour which still has some openings.
Taos, Santa Fe and Northern New Mexico
Photos from trip: digital and film.
2008 October
Bodie and California's Eastern Sierra. and Autumn Light in Yosemite National Park: Photos from trip: digital and film and digital.
2008 January
The Route 66 Workshop, January 25-27 2008.
The 2007 Route 66 Workshop was written up in The New York Times's Travel Section, June 10th, 2007. The same great guy, Dave Wyman, is behind all of these.
2007 October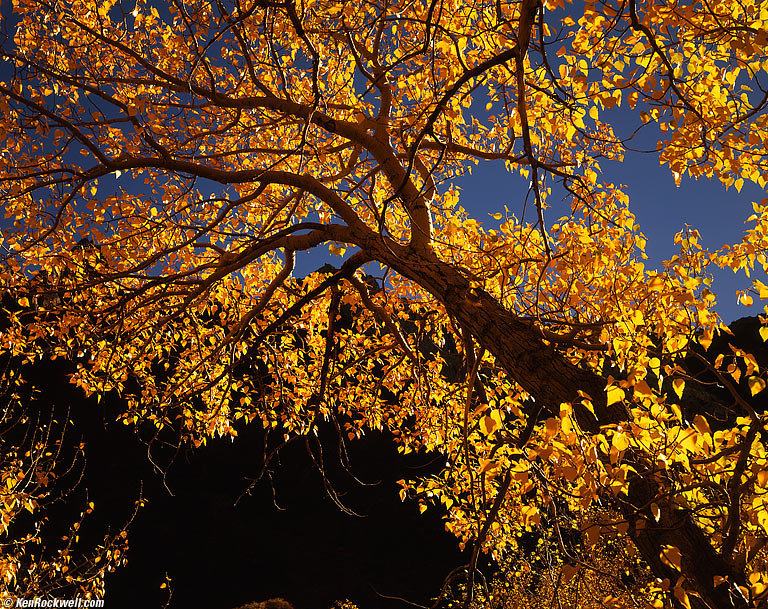 California's Eastern Sierra, October.
Thursday through Sunday, October 18-21, 2007: Bodie and the Eastern Sierra.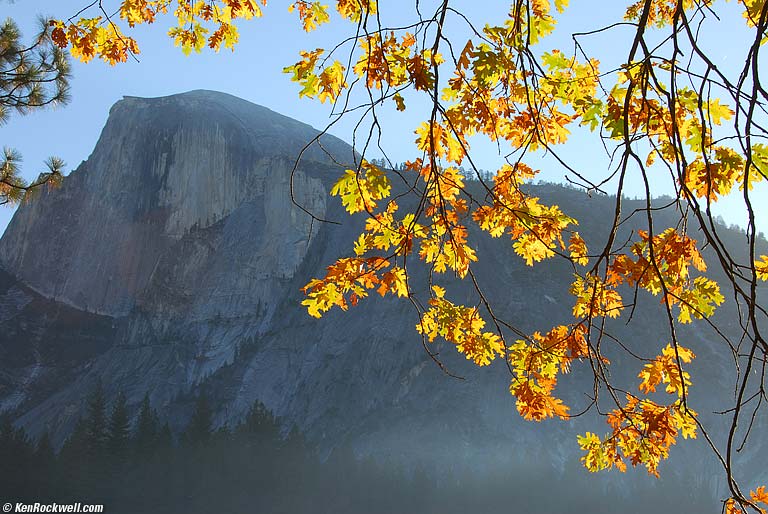 Stoneman Meadow, Yosemite National Park, October.
Monday through Wednesday, October 22-24, 2007: Autumn Light Photography in Yosemite National Park, California. I'll be helping teach this workshop sponsored by The Yosemite Association. Also see more about it here.
Home Donate New Search Gallery Reviews How-To Books Links Workshops About Contact